Silva ready to 'attack the market' this summer to strengthen Blues
Tuesday, 14 May, 2019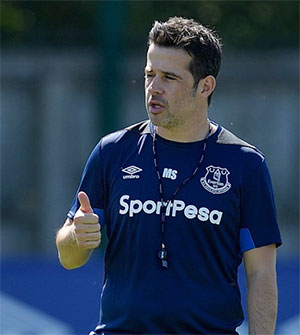 Marco Silva says that this summer's transfer business — in terms of both new signings and retaining key players — is going to be vital in terms of building on the relative successes of this season.
Both the manager and Director of Football, Marcel Brands, have already indicated that the club have their list of targets lined up and that they will be ready to "attack the market" but there is uncertainty over whether the Blues will be able to keep their two loan stars.
André Gomes has been open about how much he has enjoyed his first season in the Premier League with Everton and it seemed like almost a given that he would sign a permanent deal with the Toffees if a fee could be agreed with Barcelona.
Doubt has been thrown on that by reported interest from other clubs, in particular Tottenham Hotspur, and Silva admitted over the weekend that he has yet any word from Gomes over what he wants his next steps to be.
Meanwhile, Everton want to make Kurt Zouma a permanent signing this close season but his situation is complicated by the transfer ban imposed on Chelsea that has already gone into effect and which could prompt the Londoners to insist on keeping him at Stamford Bridge.
Regardless, Silva is expecting to make positive moves in the market during the upcoming transfer window which opens on Thursday and closes on 8th August.
"One of the keys for us, to give a strong signal for us and our fans, is to keep the level we have," the Portuguese was quoted as saying by the Liverpool Echo. "The starting point for us will be to keep the same level we have inside because just in this way we can start to improve.
"Keep the level and attack the market in the positions we should attack and improve our squad. In this way, step by step, we can improve as a team and challenge some of the other teams in the Premier League.
"For me it is key to keep the same level and then be creative and smart also in the market to attack the right players for us."
"We have to make the right steps to achieve being a top four team. For us to be ready to challenge them, we have to keep making the right steps but look in a realistic way.
"Of course, we need a strong market. It will be tough for us. We want to keep two key players who are on loan, we want to attack the market well. It is part of the job, part of the steps.
"The next market will be key for us and to keep our level."
---
Reader Comments (96)
Note: the following content is not moderated or vetted by the site owners at the time of submission. Comments are the responsibility of the poster. Disclaimer
Terry Farrell
1
Posted 14/05/2019 at 06:44:37
He speaks well and 'keeps it real' even after we have had good results and I like that. After a good result Bobby would bask in it and let us know how clever he was. We all know we need to keep gueye and zouma. If possible keep gomes and a consistent finisher is a must.
Mike Gaynes
2
Posted 14/05/2019 at 07:01:49
Brands and Silva are gonna be Butch and Sundance this summer, guns drawn and horses saddled. Go get 'em, boys.
But it's time to stop the endless droning about keeping Zouma. There is no way in hell it's gonna happen. He's gone, successor already in place, end of subject. Move on.
Sam Hoare
3
Posted 14/05/2019 at 07:19:48
The difficulty will be deciding how long to wait for your top targets. With Mina last summer for example the transfer was drawn out while Barça (and Mina?) waited for better offers.
With someone like Zouma we might be waiting for Chelsea to see if their ban is overturned and they buy new CBs. It's all very well planning to move quickly but any transfer will involve at least 3 different parties and aiming high means looking at players who are likely to have a few options and might feel they deserve European football.
Tony Abrahams
4
Posted 14/05/2019 at 07:31:15
Nothing more to write or say, just sit back and wait, because the manager has said everything!
Jim Bennings
5
Posted 14/05/2019 at 07:32:59
Closes on August 8th, bloody hell thats quite a short window of opportunity again this summer.
I think Silva is growing more and more into this job and I believe that mid-season crisis we had has actually been the making of him, he appears to have come through the other side stronger.
So we have just under three months to sort out getting Sandro, Niasse, Bolasie, Martina, Besic and company new clubs whilst trying to coax Gomes and Zouma here and shopping well for a more potent attacking player.
Silva and Brands will go up again further in my estimation if they pull that off successfully.
Martin Nicholls
6
Posted 14/05/2019 at 08:10:51
I'm sure Silva knows a lot more about the prospects of keeping Gomes and Zouma than he is saying. As for length of transfer window, it lasts for 12 whole weeks! If we (and others) can't get our transfer business done in that time then there's something wrong. I think our strategy is in place and trust our management team to carry it through.
Mal van Schaick
7
Posted 14/05/2019 at 08:41:41
After a topsy turvy season, I think Silva is settling into his job. Brands remains anonymous and he now needs to prove his worth in the transfer market. Aside from the difficulties with the loan players, I'm sure that there are enough players out there that would love to come to Everton. The Dutch league especially Ajax have some good young players. Who knows?
Raymond Fox
8
Posted 14/05/2019 at 09:00:20
Fighting talk from Silva but its easier said than done. Its hard enough keeping hold of our very best players let alone signing top four quality ones.
Digne has been an inspired signing we some more of his quality.
No doubt he'll be on a few of the money clubs radar though.
Its going to be an interesting summer.
Jerome Shields
9
Posted 14/05/2019 at 09:57:10
Silva is right in what he says and what he wants. But Moshiri and Brands have a agenda to reduce wages and it will be a similar Summer to last Summer where attempts where made to offload players by transfer or loan.
I expect that they initially will try to offload before buying. The priory will be to secure the services of Gomes and Zouma, though this is going to be difficult. The alleged situation that Mina has got himself into doesn't help. Any other signings will be late on, when Moshiri releases more money, UEAFA rules permitting.
The good news is Brands and Silva have a framework in place and know what they want to improve things.
Robert Leigh
10
Posted 14/05/2019 at 10:05:50
There are some good CB's out there - we obviously would love to get Zouma but as others say it isn't likely.
No doubt there will be other players linked, but two options I wouldn't be opposed to are Calum Chambers (Arsenal) or Fikayo Tomori (Chelsea, again!).
Chambers had a good second half to the season, albeit playing CDM at a doomed Fulham. He could be a good 3rd choice CB and an option for CDM if required.
Fikayo Tomori has received good reviews at Derby, is strong and quick and could be another shrewd loan signing if we can't get Kurt.
Graeme Beresford
11
Posted 14/05/2019 at 10:29:22
The issue here is going to be the whole 'starting again' scenario over the summer. If rumours are to be believed then Gana might be off and our two loan signings who have probably been two of the best players are off to other clubs or back to their parents clubs. This has forever been our problem.
We can't seem to keep a team together and have a history of getting to summer and letting players go. Then next season we will have some new signings that will take time to gel and we will call it 'a transitional' season. Then next season's summer transfer window comes around and again we sell. Gets pretty boring in my opinion. We have to start thinking bigger. After how good the champions league has been this season I'm hardly surprised players want to play in it, Everton need to start really pushing for it now. The time is now.
We should have a decent relationship with Barca. We should well be in advanced talks with them over Gomes. If he goes to Spurs or another team in our league then Everton have well and truly messed up. We need to become an attractive place for players to come instead of being the place where loanee's come, build up their career again, then leave us for apparently bigger things. When are we ever going to be successful.
This season has made me think more and more that we're never ever going to get onto the Liverpool/City level. Wouldn't surprise me if Richarlison and Digne throw in transfer requests for good measure. Why would they stick around if we can't even secure players like Gomes.
I want to see us have a positive transfer window and have a good go next year. Straight from the off. We have to start well in the league. We need to go out and try and buy proven players and not players like Tosun who scored 20 goals in Turkey for Christ's sake. How about Jovic or Belotti. Surly we are bigger than Frankfurt and Torino.
I would love Gomes to stay as he has been so graceful in his play, very Arteta like but some horrible feeling inside me says he's already made his mind up. London living, big stadium's, European football, at the moment it's all things we can't offer. Does my head in.
Tony Everan
12
Posted 14/05/2019 at 10:43:24
Marco has said it all in the there, as Tony#4 says there is not much to add.
A selling point to attract and keep players is to promote our uplift in form in 2019. We can keep that momentum going.
I don't know the stats but in 2019 alone we would be definite top 6 contenders and maybe more.
With the retention of Zouma and one or two other quality additions we can challenge the top 6 next season and win one of the trophies.
Tony Everan
13
Posted 14/05/2019 at 10:43:24
Marco has said it all in the there, as Tony#4 says there is not much to add.
A selling point to attract and keep players is to promote our uplift in form in 2019. We can keep that momentum going.
I don't know the stats but in 2019 alone we would be definite top 6 contenders and maybe more.
With the retention of Zouma and one or two other quality additions we can challenge the top 6 next season and win one of the trophies.
Steve Ferns
14
Posted 14/05/2019 at 10:46:00
Graeme, if you forget the rumours and look at Gomes' actions, then you will feel re-assured. After his ban, wouldn't a want-a-away loanee have gone "home" at that point? He's missing 3 games why bother hanging around waiting for the 4th? Or at least why not head off back to Spain for some sun whilst you wait for the contractually obliged last game?
If you are off, and you are not playing, then why come on and do the lap of honour? You don't have to be at the ground and you could skip it? Why do extra fan stuff for the club before the same game?
If all of this is because you are a decent guy, have some love for Everton and it's fans, but find the lure of Spurs and CL final too much, then surely a soppy farewell message on twitter or IG, both of which you are an avid user of?
For me, all the signs point to him staying.
As for starting again, in the summer window. If Gomes and Gueye leave, then I would expect Joao Mario to arrive. Inter are offering him to us on the cheap. He seems desperate for the move. Remember this lad played his best football for our Marco at Sporting. He then moved to Inter and had a loan spell under Moyes at West Ham. Silva knows the lad inside out and if he comes in then it will be because he thinks he can improve our side. Joao Mario and Sigurdsson would offer a lot of creativity and could be complemented by the resurgent Schneiderlin behind them.
Brian Harrison
15
Posted 14/05/2019 at 11:24:33
Steve
The reason that Gomes stayed for the last game of the season is because he was under contract so had no choice, also if he had gone back to Spain with 1 game to go what message does that send to prospective buyers. Also if he definitely wanted to stay he could have simply said if Everton and Barcelona can agree a fee then I will be at Everton next season but he hasnt.
Now I am not saying he might not stay but if Spurs are in for him then surely the lure of Champions League football could be a clincher, also its rumoured that Erickson is off to Real Madrid in the summer.

Frank Wade
16
Posted 14/05/2019 at 11:38:01
Just love the 'ready to attack the market' heading. So many unknown unknowns, so much competition, so many greedy agents, players we want to offload who are on more lucrative contracts than available elsewhere, clubs like Barcelona in the mix who drive a bargain to the wire, players we want to keep (Gana / Digne ) who are on the radar of CL clubs etc etc. But at least this time, we have a plan, other than just buying up a batch of number 10's. We have the owner's backing. We have a good Manager/DoF team. We're ready to go. What could possibly go wrong ?
Reminds me of a golfing quip. Standing on the 1st tee. Expensive driver in hand designed for distance & forgiveness. Brand new ball on the tee - designed for distance & forgiveness. Trees on left. Water on right. Expansive wide lush green fairway straight ahead. Sun shining in the blue sky. Birds singing.
Q. "What could possibly go wrong" ? A. Everything.
Steve Ferns
17
Posted 14/05/2019 at 11:40:24
True, Brian. But his actions go a bit further than that, particularly on social media. He would be strongly advised not to put any "Please sign me" messages out there or say he will be at Everton next season if Barca agree a fee, as that's more or less asking to leave.
If you look around at other clubs in the Premier League there's been plenty of other players posting thank you messages to their clubs. Not so for Gomes. He doesn't think that the door is shut.

Graeme Beresford
18
Posted 14/05/2019 at 11:49:11
I love your optimism Steve but I just don't see it. If you get a ban you can't just clear off. That's how players end up with reputations like Balotelli and get the term 'unmanageable'. Of course you would come and do the lap of honour, he's obviously not an idiot is he.
I just think he's off myself.
Steve Ferns
19
Posted 14/05/2019 at 11:54:57
Graeme, he's been at every game of the 3 match ban watching from the stands. Where was Mina? Others aren't prolific on social media, but you never see anything of the missing players like Lookman, Schniederlin (who was in France at parts of his missing spell on the sidelines), McCarthy etc. Gomes missed over 2 weeks of action, he could have easily got permission to go back to Spain. His role in training would have been diminished as Everton would train without him in key sections of the tactical preparation.
Robert Williams
20
Posted 14/05/2019 at 12:32:36
For once I am with Mr Ferns on this one - and of course I may be completely wrong but my take on it is this. The fellow was not happy at Barca, for whatever reason! At Barca he could have had the much vaunted CL status, whether he would have played or not is debatable. Who is to say that he would be happy at Spurs?
What we do know is that he has been 'very happy' at Everton and my money is on his return. The Club needs him, the manager wants him and the fans love him - so what's the beef?
Iain Johnston
21
Posted 14/05/2019 at 12:33:56
I doubt Gomes is off to Spurs. As most of us have read Pochettino is already concerned about the future and Levi isn't a big spender especially in an area where they already have a wealth of talent young and old.
Ok, so Erikson may well be off but that's been a close season rumour for 3 years now, nothing new there, plus Gomes is a different type of player.
They've signed no one this season, their only sale was Dembele to China and they still finished 4th and have reached the CL final. My gut says Levi is more concerned about recouping some of the money spent on the stadium with the team continuing as before rather than digging deep into his pockets for players he feels they don't really need.
I'm with Steve on this one, I believe Gomes will be our man. My only concern is if the club see him as a new signing rather than the permanent signing of an already important part of our squad... signing him adds nothing we've not already got. Same can be said for Zouma but I feel Sarri has plans for him.
Someone mentioned Jovic, (Graham?) maybe his team mate Haller would be more realistic as the former is already being media linked to City.
If we are looking at the Bundesliga though nothing will happen until June, I think they've still got 3 or 4 games left to play.
Iain Johnston
22
Posted 14/05/2019 at 12:44:36
Steve 14# Joao Mario is one rumour for me which has mileage to it especially if we do offload the midfielders deemed surplus, not good enough or who want away. I include both Schneiderlin and McCarthy in that group together with Besic (Besiktas?) & Vlasic (Moscow?)
Have you seen much of Carvalho at Forest, possibly the best midfielder in the EFL? I have a feeling he won't be there for long.
Derek Knox
23
Posted 14/05/2019 at 12:51:10
I think if any more loans are to be undertaken, we should negotiate a price with the parent Club beforehand, should the loan work out. I know a lot of people don't approve of loans, but it does give a good indication of 'will he fit in to our system' as I have said on here many a time, I do believe in 'horses for courses' both with players and Managers alike.
I was under the impression that was the case with Andre Gomes, and I was almost convinced that I had read somewhere that price was £23M. I can't find any track of that, so maybe I dreamt it.
As astute as Marcel Brands is, I'm surprised that he didn't do this with Andre Gomes, maybe he did, at least we wouldn't be in this situation where 'interest' from other Clubs could potentially elevate the price.
I hope we find an answer to this soon so we can either officially welcome him as an Everton player, or move on.
Colin Glassar
24
Posted 14/05/2019 at 12:57:06
Results have consequences. Our last couple of seasons (since Martinez I) have taken us off the radar of most top players and their agents.
Zouma will probably go back to Chelsea and who can blame Gomes after seeing the new stadium and the promise of CL next season.
Brands is going to have to be creative and Silva realistic. We are probably not going to get our first choice targets so we'd better have a B and C list ready.
Like I said, results have consequences. A mid-table team playing in a dilapidated stadium is hardly an attractive proposition for elite players to consider.
Steve Ferns
25
Posted 14/05/2019 at 13:12:34
Iain as stated above, I would expect Silva to adopt a pure 433 with Joao Mario. This would mean flipping that midfield triangle. We would need a holding midfielder, such as Schneiderlin, and then this could compensate for two more attacking midfielders, namely Joao Mario and Glyfi Sigurdsson. I think Gomes would also fit in here. Tom Davies is a curious on. He's not a holding midfielder, he's more box-to-box and so he would be a plan B type player, to utilise when tactics need to be changed.
As for Carvalho, I only saw forest once on TV this season. So I can't offer an opinion, though I've heard good things.
Tom Bowers
26
Posted 14/05/2019 at 13:32:18
It's always going to be hard for an ''unsuccessful'' club like Everton to keep or attract the top players.
Many players are not loyal to clubs but the big money and that's okay because careers can be cut short by injury so making hay while the sun shines is a priority.
However, these days, players agents are instrumental in stirring up the pot to engineer many deals from which they can line their own pockets.
Everton are down the pecking order until they can match teams like RS who can pay the kind of money they paid for Dick Van Dyke.
Until then they have to buy or take on loan players who are not regulars elsewhere but still get big wages.
Sadly they have had poorer players like Tosun and Niasse that are not top class strikers and I see them being off-loaded soon along with a few others.
Steve Ferns
27
Posted 14/05/2019 at 13:44:39
Tom, don't worry so much mate. I know where you are coming from, but remember last summer we attracted the Barca trio, Zouma, a Brazilian world cup semi-finalist, Richarlison, and Arsenal's under 18 European Championship winning keeper. I expect the same again with Brands having had longer to scout and work his magic, and for our recent form to be used to showcase that this is a club on the up with a manager who can make players better.
Mike Gaynes
28
Posted 14/05/2019 at 14:11:16
Steve, Joao Mario would be a reasonable replacement for Gomes if he departs. Similar player, maybe more versatile. Only saw him once this season but he seemed tippy-tap, not a long switch passer like Gomes. Didn't make much of an impression on me.
But your flipped midfield triangle is a headscratcher for me. Do you really think Silva is going to abandon the use of a defensive midfielder if Gana leaves? Remember Schneiderlin is a holding midfielder, not a ballwinner at all. Seems to me that having him back there alone in front of the back 4 leaves them very vulnerable.
Steve Ferns
29
Posted 14/05/2019 at 14:19:27
double post
Steve Ferns
30
Posted 14/05/2019 at 14:19:27
Mike, your right about Joao Mario not having Gomes' range of passing. He's a much more mobile player though. Covers a lot of distance. My point of reference though is those two glorious seasons at Sporting and his performances for Portugal that led to Inter stumping up €40m for him. That's why I compared him with Pienaar, who is similar in a lot of ways. Joao Mario has also played wide on occasion, but like Pienaar, is not very comfortable out there.
As for flipping the triangle, that's what Silva prefers. He's used it more often than not. One player holding, in the Schneiderlin mould and two mobile players scurrying around ahead of him, whilst not tacklers like Gueye, they were always players who could get on the ball on immediately make something happen. So Sigurdsson left and Joao Mario right.
The ball winning comes from these two advance midfielders and the closing down and work ethic of the team, rather than being dumped on the shoulders of one (very able) player. With Schneiderlin excused of closing down duties, in order to properly hold position, the back four is not quite so vulnerable.
Ray Smith
31
Posted 14/05/2019 at 14:43:10
All the above re Gomes and Zouma are of concern in respect of securing their signatures.
Hopefully but looking unlikely to keep Gana, fingers crossed.
However, what's the work permit situation with Onyekuru? He's been on loan for 2yrs now, so what's the hold up? Can anyone enlighten me as to why this is dragging on!!!
Why did we buy him in the first place? I guess our recruitment department didn't do their homework?
Was this a pre Walsh signing?
Iain Johnston
32
Posted 14/05/2019 at 14:43:26
Oh I dunno Steve, even Pep is looking for a replacement for Fernandinho, City aren't the same without him. Same for Chelsea and Kanté.
I'm as big fan of the 3G midfield we have, Gana, Gomes & Gylfi. We can have our triangle nice and pointy and inverted.
Derek Knox
33
Posted 14/05/2019 at 14:43:41
Steve, if Gana goes, which is highly likely, I would be extremely worried that Schneiderlin would be our main anchor. When he has played with Gana, the hard work and running/tackling has all been done for him, I fail to see, although he has improved the last couple of games, that he could possibly perform that role.
Remembering of course he is not the quickest of players to start with, and will be 30 when the new season starts. Personally, I hope we get a decent offer for him (not easy or probable I know) thank him for his time with us, and breathe the biggest sigh of relief imaginable.
The other thing to bear in mind of course is that very few of the many we have on the books, are Silva's players, or even in the mould he likes, so I would imagine, ultimately he wants 'his team' and if the money is made available, and we can offload a few, I can see a 'few new faces' arriving.
Iain Johnston
34
Posted 14/05/2019 at 14:47:28
Barrios & Mario perhaps?
They'd cover a Gana sale and a Gomes return to Barca.
Steve Ferns
35
Posted 14/05/2019 at 14:48:49
Ray, it was hoped that Onyekuru would get a work permit. however, injuries have limited his selection for Nigeria. Now he has a full season under his belt in Turkey and he's started getting capped for Nigeria. I think he still only has 8 caps. That's the delay. Plenty of clubs are interested in him, but our archaic work permit rules mean we can't use him ourselves. So maybe we will have to sell him in the summer unless we can persuade FA (for it is them not the Home Office who set the work permit criteria) that he is a special talent. Otherwise, it's a third season out on loan. Which considering we signed him at 19 makes it laughable he'll be 23 before we see him play.
Fran Mitchell
36
Posted 14/05/2019 at 14:50:56
Can't agree Steve, look at chelsea with the deep holder in Jorginho, it was too easily neutralized in these times of the high press. The deep sitting playmaker of old doesn't fit modern Premier League football.
If Gueye does indeed go, we will surely be in the market for a 'ball winner' - hence the link with the lad from River Plate.
Our effective form.in the last quarter was due to the fact that Siggy, Gana, and whoever partnered (Gomes/Schneiderlin) pressed the opposition, they didn't have time on the ball to tear us apart like they were having in the winter.
The high press, hard running for 90mins, that is the key for the moment, i'm sure Silva sees this.
Ajay Gopal
37
Posted 14/05/2019 at 15:07:09
Does any TWer know what definitely happened with Baningimine? His lack of visibility this season has been one of my biggest disappointments. Did he get injured? Did he stink at training? Did he go on drugs? What happened? He came on as a substitute in a couple of games towards the end of the 17-18 season, and he looked an absolute beast. 'The next Michael Essien' I thought to myself. Hope he can get his career back on track and that it is with Everton.
Kieran Kinsella
38
Posted 14/05/2019 at 15:13:23
Silva is positioning himself to quit. "For me it is key to keep the same level," AKA if these two loanees don't stay (which seems likely) then I can do what I did at Watford and bitch and complain about the club's transfer business. Then I can use that as an excuse to quit or as an extenuating reason when I get sacked and return to my life as a merry-go-around coach who never stays in one place for long.
Steve Ferns
39
Posted 14/05/2019 at 15:38:25
Fran, Schneiderlin is not Jorginho. Jorginho is a deep-lying playmaker and not a holding midfielder. Jorginho is not noted for his tackling, he's noted for his passing. He is also playing in a midfield that Sarri wants to work like Napoli's but with completely different components to what Napoli had.
If went with a trio of Sigurdsson, Joao Mario and Schneiderlin, then the pressing would need to come from the former two and the forwards. Schneiderlin's role is to protect the back four, then to recycle possession. He also drops into the back four to make an extra defender and allow the centre-backs to split when we have possession very deep in our own half (ie goal kicks).
Gueye has been playing further forward with Schneiderlin in the side. He's not lined up alongside him, like he did ineffectively under Koeman, but ahead of him. I would expect Joao Mario to play even further forwards with Sigurdsson working in tandem with him, so dropping back a little himself. So not a million miles away from the those three games where Gomes was missing (Burnley, Palace and Man Utd).
Tony Rice
40
Posted 14/05/2019 at 15:40:20
Need to move out substantial dross not an easy summer
Steavey Buckley
41
Posted 14/05/2019 at 15:42:08
Everton need to begin with a clear out of unwanted players. Everton have a plethora of players out on loan who are not progressing with their present clubs. The only player out on loan to have appeared to have done well is Mason Holgate, who will be playing tonight for WBA in their play off against Villa. The present Everton squad has players that need to move on somewhere else. If Holgate returns to Everton next season, Everton will have 3 full-backs with Silva in the market for another. The centre back situation is not as clear, because of the Chelsea ban on signing players, who would probably like to have Zouma back again. Upfront, Everton only have Richarilson who can score goals, yet, his goal return last season was 13. So it doesn't matter how many crosses come in to the box someone has to turn them into goals. That's why Liverpool have 23 assists from their full-backs but Everton have just 7.

James Hughes
42
Posted 14/05/2019 at 15:55:05
Kieran @38 What time is it over the pond, have you had a coffee yet mate. ?
How you get to that conclusion is beyond me. I'll give you a score of 10 for creativity though.
Jay Harris
43
Posted 14/05/2019 at 15:57:24
Im going to use a dirty word = Agent.
We need to cultivate good relationships with the top agents maybe even putting some on retainers to help us move on the unwanted and get us the players we want.
Once the players are off on their summer breaks some will be inundated with approaches. We need to be in the market for the best players not some South American kid with "potential".
We have had over 2 years to identify a proven goalscorer and all season to prepare for this window so as the statement goes "There are no excuses".
Personally I am not fussed about Gomes but feel it is essential we do all we can to keep Zouma. The likes of Chambers and other top 6 rejects should not be considered.
We need to go balls out for the 3 or 4 quality additions that will allow us to compete with the top 6 not the "best of the rest".
Rob Dolby
44
Posted 14/05/2019 at 15:58:59
Priority has to be a quality striker easier said than done but that's were we fall down big time compared to the club's above us.
Lacazette and Aubamyang have got Arsenal were they are the rest of their team is pretty average. We have a decent 11 but are toothless in front of goal which more or less means we will struggle again.
Rob Marsh
45
Posted 14/05/2019 at 16:05:31
Is there any reason why we can't loan Zouma for another season? And then whisper in the ear Chelski this could be factored into a full transfer when the ban is over!
Gomez has talent and it would be nice to have him, but if he does go we won't miss him too much, he looks like a confidence / prima maddona type player to me (I might be wrong though)?
Spurs can afford to keep a player like him on the bench and play him when he's feeling good, we can't, we need every player available.
Interesting transfer window coming up though, will be very interesting.
Silva has had his one bad season as far as i'm concerned, he should go into this transfer window knowing he has to get the right kind of players in to make an impact next season or else!
Tom Bowers
46
Posted 14/05/2019 at 16:14:46
Everton seemed to have a real good bunch of prospects a season or two ago but some just seem to have not stepped up or been overlooked by the Manager's preferred requirements. If these players were out on loan etc. then Silva needs to assess if they are worthwhile bringing back or releasing them.
Dowell is one such name who by now must realise he won't be in Silva's plans and the same situation applies to Niasse, Vlasic and the likes.
As said previously the dross needs to be moved out.
Kieran Kinsella
47
Posted 14/05/2019 at 16:28:20
James Hughes 42,
I wrote that before my coffee yes. I'll admit there is nothing to substantiate my comment, it is just I sensed a disturbance in the force. I saw many Watford fans crying out "hahaha welcome to the club.". Hopefully it was just a bad day dream
Minik Hansen
48
Posted 14/05/2019 at 16:30:21
Off-topic: Is there any pick your goal of the season and such, did I miss it?
Brian Williams
49
Posted 14/05/2019 at 16:33:40
Kieran. Some imagination you've got mate, gotta say.
Mike Gaynes
50
Posted 14/05/2019 at 16:37:16
Steavey #41, Holgate is definitely not
"the only player out on loan to have appeared to have done well"
... Robinson, Pennington, Connolly and Williams all got very positive reviews, albeit in very difficult situations. Robinson missed nearly 20 games through injury, and the other three had their clubs collapsing around them, but all stepped up well. Holgate
does
appear to be the only one fully ready for first team action here, but at what position is questionable. He hasn't played CB since last summer, and he didn't impress Silva when he did.
Rob #45, yes, there is one huge reason why we can't loan Zouma again (and my apologies to those bored by my multiple posts on this subject) -- Chelsea need him desperately. Sarri has a CL campaign coming up that will determine whether he keeps his job. He has two healthy CBs: David Luiz, who is 32 and can't be counted on for another 49-appearance season, and young Christensen. Rudiger won't be back to full speed for maybe six months -- meniscus surgeries can take a long damn time to heal. Cahill is gone. So unless the transfer ban is overturned, Sarri has absolutely no choice. He must have Zouma back.
Mike Gaynes
51
Posted 14/05/2019 at 16:38:22
Minik #48, my choice is Kompany. No contest.
James Hughes
52
Posted 14/05/2019 at 16:42:55
Mr K @47. Watford don't appear to have forgiven us for taking Silva or even forgiven us for 1984. Never know you may be proved right :)
Ray Smith
53
Posted 14/05/2019 at 16:46:48
Steve 35
Thanks for the explanation.
If we really want him, we would have made more of an effort to appeal special circumstances.
I do wonder at times!
Jay Harris
54
Posted 14/05/2019 at 17:04:10
Haha Mike,
love it.
John Keating
55
Posted 14/05/2019 at 17:08:19
Imperative we have to do everything possible to keep Gana. Get the rest of the in business done early and the rest of the time getting rid
Fran Mitchell
56
Posted 14/05/2019 at 17:40:44
Jay Harris, i'd say what we need most is 'South American kids with potential'.
The fact is, we aint got the money to buy ready made stars, nor do ready made stars want to join us. City just nonchalantly spend 50 million on that guy from Sporting, we just can't assume such risks.
Signing young lads with potential is Brands' memo.
Jay Harris
57
Posted 14/05/2019 at 17:54:08
I respect your point of view Fran but our need is now, not just 5 years down the line.
Tom Davies and DCL are prime examples. Kids with huge potential but the difference made by Gomes and/or Schneiderlin(on form) to Tom's contribution is night and day as I'm sure a prolific striker will lift the team onto another level much as I rate DCL.
We havent got 5 years to develop potential. We have already fallen behind the top 6 and unless we make some serious signings this summer will not bridge the gap.
Chelsea tried the same approach and have about 40 players out on loan with very few "South Americans with potential" making the first team or looking anything like good enough.
I would argue that we do have the money, we just need to stop buying duds and cash in on some of the deadwood or "potential" that wont make it.
Bill Gienapp
58
Posted 14/05/2019 at 17:59:15
Ray (53) - I'll also add that, even if Onyekuru never puts on a blue shirt, his value is only going up. So worst case scenario, we sell him for a decent profit. Obviously not ideal and I'd much rather see him play for us, but it's not bad business.
Kieran Kinsella
59
Posted 14/05/2019 at 18:26:24
Fran 56
Talking of South Americans, with the Copa America and African Cup of Nations this summer, it will be interesting to see what effect both have on transfers and player form early next season. Some of these guys from Brazil, Uruguay and Colombia have had near year round football for the last two years. The RS have Salah and Mane who had 60 odd game club seasons, two years and a row followed by international tournaments. We are relatively unscathed with Rich having last summer off, Mina having most of this season off, and only Gueye really having a mammoth couple of seasons.
Minik Hansen
60
Posted 14/05/2019 at 18:46:29
Lol Mike #51 alrite. I was thinking our clubs goals of the season, I'd like to see them, if someone has any link.
Steavey Buckley
61
Posted 14/05/2019 at 18:48:34
Mike #50 all the players you have mentioned except for Holgate have been in struggling teams that have been relegated or nearly. Although, Dowell was part of a Sheffield United team that was promoted, he hardly played. So if players believe they can be a part of Everton 1st teams they will have to be exceptional, because Everton have a manager in Silva knows where the quality players are from abroad. And that's where he will return to. It's going to be tough for players who have come through the academy to break through.
Mike Gaynes
62
Posted 14/05/2019 at 20:38:36
Haha, Minik, I think I'll STILL go with Kompany.
No, just kidding.
I'm open to nominations but the one that has stuck in my mind all year was Siggy at Leicester.
Rob Halligan
63
Posted 14/05/2019 at 20:56:37
Mike, Gylfi won goal of the season with his strike against Leicester.
Eddie Dunn
64
Posted 14/05/2019 at 21:00:56
Our problem seems to be that to merely maintain our current first choices, we need to do a lot of work behind the scenes.
Zouma may go back to his parent club, Gueye needs to be persuaded to stay and Gomez also needs convincing. All this just to stay at this level.
This is a big ask and means lots of work for the staff who will hopefully be engaged in sorting out other targets to improve the squad. A busy summer beckons in my opinion it was a good job we didn't finish 7th this time!
Conn Prosser
65
Posted 14/05/2019 at 21:07:32
I like the number of times Marco says "attack" - that can only be a reference to the need for striking power.
Other than that, I fear this will be a window of rebuilding, since we could lose up to five of our best six players by August 8, and not enough of our worst six players.
Mike Gaynes
66
Posted 14/05/2019 at 21:09:33
Great, Rob, thanks for the info! Nice to know I picked a good one.
Our first goal of the year in three years that wasn't from the halfway line!
Colin Glassar
67
Posted 14/05/2019 at 23:58:35
I see Wolves are going with safe standing next season. This will massively improve the atmosphere at grounds that follow suit.
Chris Hindle
68
Posted 15/05/2019 at 11:50:33
Rated player of the season for his club, 3rd most blocks in the Premier League, more headed clearances than any other premier league player, more goals than any other defender, knows the club, still only 27 years of age, relegated to the Championship and likely keen to stay in the Premier League: Shane Duffy as a backup in case Zouma deal not possible? Surely!
Aaron Wan-Bissaka, Duffy, Doucoure from Watford, Fraser and Wilson from Bournemouth all in. All of the obvious dead wood out (and I would throw Walcott into this category as we could still get a decent fee for him) DONE... simples!
Perhaps I need to stop playing Footy Manager!
Justin Doone
69
Posted 15/05/2019 at 14:03:00
Zouma was our best CB last season. I'm not confident of getting him because of Chelsea's ban but I think after a loan at Stoke and with us he would be willing.
But there's an excuse already. We wait until the end and Chelsea say no. We start with Keane and Mina or Holgate next season.
Gomes will have plenty of options so even if he wanted it his agent would get more money from a team playing in Europe. So another '99%' excuse just waiting.
I do like his over use of the word Attack. Let's hope we do get a top quality striker that fits in.
I'd keep Besic over Schneiderlin all day. McCarthy hasn't proved his fitness so probably best we sell him. Bolasie is what he is. He could actually still do well for us as an attacking squad player.
Jay Wood
[BRZ]
70
Posted 15/05/2019 at 14:37:17
I'm genuinely curious, Justin.
On what rationale or reason should the club retain Besic?
Peter Thistle
71
Posted 15/05/2019 at 17:07:14
Do we have the money to make quality signings ? It's all being wasted on useless players we loaned out and can't sell cos of silly wages. Who would want to sign Tosun, Mirallas, Sandro in particular etc. Wish there was a rule in football that if a player turns out to be utter shit you can sack them for not performing their job properly. Half our squad would be out the door in seconds.
Justin Doone
72
Posted 15/05/2019 at 17:50:00
On Besic, from what I have seen of him he's much more mobile and a better passer of the ball than Schnides.
So presuming Silva wants to retain and improve the teams pressing and counter attacking play he's a better fit.
Lower age, salary and hunger to win and improve could also be used as an argument.
However I take a one season at a time view on retaining current players.
We have younger and cheaper options but that's not the way to improve the team and squad for next season.
I'm more interested in keeping the best players for next season and to me Besic is ahead of Schnides and an unproven McCarthy who may or may not be able to play week in week out for a full season.
Stephen Brown
73
Posted 15/05/2019 at 18:23:16
Chris I don't think Duffy was relegated to the championship?!
Jay Wood
[BRZ]
74
Posted 15/05/2019 at 18:37:43
Justin @ 72.
So, you would retain Besic "from what I have seen of him" and because you want " to improve the team and squad for next season [by] "keeping the best players".
Where have you been watching 'what you've seen of him'? Because he hasn't been playing PL football for three seasons now, and one of those whilst at Everton included ZERO appearances due to injury.
He has been on loan at Middlesborough in the Championship for the last season and a half. Brands and Silva wanted to sell him in August, but we lost the sale because the player himself didn't agree personal terms with 'Boro in the closing hours of the transfer window.
You consider him "younger, more mobile and a better passer" than other players on our books. Such an assessment suggests to me you haven't been watching him as closely as you claim.
Other than one or two games in an Everton shirt - moments, even - Besic is a serial offender in giving the ball away and a liability as his poor positional play and lack of game awareness frequently exposed his side to danger.
He has neither the skill nor the discipline to fit into what Silva is trying to create at Everton. We'll be lucky if 'Boro (or anyone else for that matter) come back in for him in the summer so we can generate whatever funds we can from his sale.
Justin Doone
75
Posted 15/05/2019 at 19:35:34
Yes I would rather retain Besic over the other 2 players I mentioned. I'm not saying he woukd be my first choice, just a better back up / squad player.
It depends who your comparing him too but I believe he has more skill and the same discipline as Schnides and MaCarthy. Only he can pass a ball forward .
I have saw him live once earlier this season for Boro in which he played very well. Other than that just a handful of game's on TV. He's still a little ill disciplined but energy and effort a plenty.
On the subject of Squad that is what Silva mentions. Bringing in players to improve the squad. Other than wanting to retain the two loanees he doesn't mention bringing in first team players which I think should temper some of the positive hopes we all have of getting 4 or 5 top class players.
Mark Andersson
76
Posted 15/05/2019 at 20:20:50
Im sick of reading the same comments about the trio we must keep...
So thank you mr Ferns for a alternitive soloution and food for thought..
Its going to be hard for this club to move on to the next level the reality is it will ve hard enough to remain were we are..
Lets hope any new players are bought in time for a good pre season.
Silva is no Pep with all the money at his disposal so every season is going to be the same until we get lucky with a number of key players punching above to get us into top 4...
If Liverpool lose the Champion leauge cup thats going to hurt thier confidence for next season...
However I feel the gulf between the two sides will take years if ever to come closer unless the RS start going backwards...
Bobby Mallon
77
Posted 16/05/2019 at 18:03:26
I have to agree with Jay Harris, we need 2/3 top Quality players if we want top 4, that's down the spine striker, midfielder, centre half. That's that.
Stephen Williams
78
Posted 16/05/2019 at 19:34:43
Personally I'm still yet to be convinced about Silva. Sure we've had some good results and performance towards the end of the season but for every Chelsea (h) we have a Spurs (h), or Liverpool (h) a Soton (a), or Arsenal (h) a Brighton (a) or Utd (h) a Fulham (a). However we have to stick with him and hope the combination of M & M pushes us forward.
On that point, some are suggesting that without serious investment we may be no better than we have been and that 8th will beckon again. However if Silva can recreate those last 8 performances and results on a regular basis then (even allowing for defeats at the top six - which hopefully may not happen) we would be up to 68 points pro-rata which would have been good enough for 6th place (2 points off 5th or 3 off 4th). I'd take that as progress. By the way a cup run wouldn't go amiss.
Big question is: can Silva deliver the recent improvement on a consistent basis? As I say I'm not convinced, but I hope so.
Jay Harris
79
Posted 16/05/2019 at 19:59:45
Based on today's reports we will have to start the rebuilding without Zouma.
Frank Thomas
80
Posted 16/05/2019 at 20:16:06
This summer transfer window is the most important one in years If we don't get into the top 4 next year it might be many many years before we do if ever.
It is possible next year for the following reasons. Firstly the other teams.
Arsenal they have an owner who expects an income from his club he does not want to put any real money into buying new players.
Chelsea have an owner who is in dispute with the British government and he might not want to plough any more of his money into a team and country that is not exactly putting the red carpet out for him.
Man Utd in total disarray confidence is at a low and although they are willing to spend hundreds of millions it will take time to for the players to gel, (remember Koeman and his disastrous attempt to play a large number of news players from the beginning of the season).
Wolves, already people are targeting some of their players and they will be in the Europa league so that might tired them out.
Leicester need a few player but Man Utd's plan to disrupt other teams by buying their key players or stopping them buying players like Youri Tielemans might affect their chances next year.
The second reason is more important there is a plan to try and change the CL. It will stay as 32 teams but 24 of those teams will automatically qualify for the following year. Effectively turning the CL into a 'super league' and making sure that the Europeans stand a better chance of getting their hands on a large amount of money every year. This year nearly £170M (86M + 81M) will be paid to the English teams in the final of the CL and about £34M (18M +16M) for the Europa league finalists. (https://inews.co.uk/sport/football/europa-league-prize-money-2019-winner-how-much-chelsea-vs-arsenal-final/).
Next year 4th place will not be worth 1.9M more than 5th place because of entry in the CL the top four teams will automatically receive a payment of 15M Euros. So 4th is worth almost £15M.
So how do we qualify?
We picked up Gueye cheaply because no one else fancied him if he had turned out useless would he request a transfer to a lower division and lower pay? Loyalty and contracts work both ways. We have seen Liverpool (Suarez), Man Utd (De Gea) and Chelsea (Hazard) all deny their players transfer requests only Everton seem to shoot themselves in the foot by allowing their important players to leave when they want.
Last season we beat every other team in the PL for the number and quality of crosses so we need a player who is great in the air to capitalise on those crosses. ideally 2 attackers.
Midfield, lots of players have been linked and I think we will have some great surprises and great players. Hopefully Gomes stays but the formation works with him and without him. We can expect Spurs to try and take him because they hope we will be weakened by his loss. They did the same thing with Pienaar and Moyes, Andre should remember he gets a game every week with us but just like Barcelona he may not get a game for weeks at Spurs.
Finally defence, At long last we have serious competition for Pickford if he does not shape up he can have a rest for a game or two. He was the only player to play all PL games last season.
Zouma is a massive loss for us and a huge gain for Chelsea. Even if Chelseas's ban is removed there is no way they will sell him to us he is now very very good. We do have returning players with good but we might need another defender.
Frank Thomas
81
Posted 16/05/2019 at 20:23:05
This is the breakdown of this years Champions league prize money.
https://www.totalsportek.com/money/uefa-champions-league-prize-money/
Bob Parrington
82
Posted 17/05/2019 at 08:59:05
Sam #3 Do you know when the Chelsea appeal will be heard?
Justin Doone
83
Posted 17/05/2019 at 21:57:52
My comments on a few of the above comments.
Realisticy challenging the top 4 next season will remain a dream. Yes we would all love it and I will keep hoping to the end but..
Our biggest challenge will be to remain ahead of Leicester & Watford etc who will both buy and improve. It's good fun to poke fun at Brenda but I think he's a better manager than Silva.
Silva is not the long term answer to consistently break into the top 6, never mind top 4. I'm happy with him, the football is a massive improvement in terms of watchability but his faults and limits remain.
It's partly for this reason I'd like to keep some of the promising young players as I believe better managers / coaches would get more out of them.
The other main reason is he seems able to attract top talent. I don't think Ric, Bernard, Digne or Gomes would be here otherwise. Player's who I believe are very good, have improved the team and are good to watch.
Steve Ferns
84
Posted 17/05/2019 at 22:00:50
Justin, the plan would surely be to build a top 4 side, piece by piece. You don't aim to break the top 4 this season, but in 3 years time. You look for players who will be peaking in 3 years time, so all 18-25 now. You need to consider that the players would need to see progress so they don't get impatient, so yes, get ahead of Wolves and stay there, but keep assembling a hungry young side full of potential that can get you to the top 4.
Tony Twist
85
Posted 18/05/2019 at 09:33:01
Silva ready to attack the market, I hope not. He needs to concentrate on his coaching ability and his motivating skills. Brands job is to attack the market. One would hope DOF is the constant and coaches come and go. We can't keep splurging cash.
Dermot Byrne
86
Posted 18/05/2019 at 14:29:28
Just a bit of perspective...
Brian Wilkinson
87
Posted 22/05/2019 at 09:51:26
Derek@23, if it was not for loans, I doubt Turkey would have even one team battling on the European front.
Be interesting to know any stattos out there can name big money signings, from any of the Turkish clubs, and I do not mean outgoing transfers.
Liam Reilly
88
Posted 22/05/2019 at 12:43:04
Huge summer for the Club, because failure to challenge the top 4 next season and we can expect the agents of out better players (Richarlison, Digne, Pickford etc.) to be spawning rumors of unrest and desire for CL Football.
Re Gomes: In 1900 minutes: 1 Goal and 1 assist last season - whoscored.com have him strong in dribbling but weak in crossing, finishing and tacking and rate him 6.65 for the season
Compare him to Sigurdsson: in 3100 minutes - 13 goals and 6 assists - rating 7.16.
Point is: I know stats can be misleading, but Gomes needs to have much more influence on games if the club are to shell out the numbers being reported for his signature
Zouma fairs better but not by much: 2600 minutes: 1 tackle per game average, 3.8 clearances per game - rating 6.78
Would be good to get both, but are they going to take the club to the next level.
Kieran Kinsella
89
Posted 22/05/2019 at 13:31:34
Liam
What constitutes a tackle? One tackle per game average for Zouma? I can imagine when I was in high school how the PE teacher would react if our defenders commited to making one tackle per game... I realize the game is heading toward non contact but I didn't realize tackles were virtually non existent already.
Liam Reilly
90
Posted 22/05/2019 at 14:21:49
I assume it's when one player tries to steal the ball from a player in possession Kieran.
I'm just relaying that from the stat's site - I didn't count his tackles myself, but to be fair to Zouma, the game is changing and midfielders are more likely to put in tackles these days than defenders who are more about clearances or interceptions.
Point is - neither one is pulling up any trees. Zouma, like the rest of the squad had a hot(ish) streak after the mid season self-enforced break, but didn't cover himself in too much glory during the (winter) slump.
Kieran Kinsella
91
Posted 22/05/2019 at 14:48:22
Liam 90
I wasn't doubting the info I was just staggered at the stat. I remember when George Graham was at Arsenal and according to Nigel Winterburn, training for the back four consisted solely of tackling. The bag four just stood about in the box and tackled each other back and forth over and over. I get that we don't want a return to the days of two footed leg breakers going unpunished, but there was an art to the tackle. In thinking about it, these days the center backs seem there just to shepherd attackers into the channels and pick up loose balls. I do think it is a myth though that you have to sacrifice defending to have "beautiful" football. Everton in the 80s had the best of both worlds.
Kieran Kinsella
92
Posted 22/05/2019 at 14:52:57
Brian 87,
Galatassary's biggest signing was Jardel for 15 million back in 2001. That is also the current record transfer fee paid by a Turkish club. That apart Fenerbache seem to spend about 9 million every four years or so whenever their chairman gets out of prison.
Liam Reilly
93
Posted 22/05/2019 at 15:07:27
No disagreeing Kieran - I too miss the blood and thunder days of old. I still carry some bruises from Sunday League and I'm sure I left many a mark myself - all in the interests of fair play of course.
On another note see Shandy Andy is singing the clubs praises again:
https://www.dailymail.co.uk/sport/football/article-7049407/Ex-Everton-winger-Andy-van-der-Meyde-brands-club-s-urges-El-Ghazi-not-join-them.html

Kieran Kinsella
94
Posted 22/05/2019 at 15:39:36
Liam 93,
I saw that. I think AVDM makes himself look worse than Everton. He just draws attention to the fact his career went down the toilet because he spent three years out on the piss instead of training
James Hughes
95
Posted 22/05/2019 at 16:14:40
Yes Liam, saw that article as well. I gave me a good chuckle.
the old adage always applies- when in the wrong, blame someone else !
Mike Gaynes
96
Posted 22/05/2019 at 17:00:28
I wonder how wasted he was when he said it.
Add Your Comments
In order to post a comment, you need to be logged in as a registered user of the site.
Or Sign up as a ToffeeWeb Member — it's free, takes just a few minutes and will allow you to post your comments on articles and Talking Points submissions across the site.