Onyekuru scores title-deciding goal for Galatasaray
Sunday, 19 May, 2019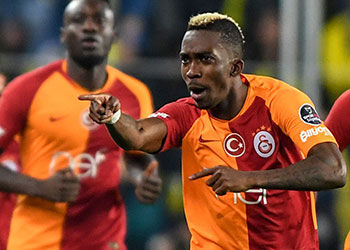 Ozan Kose/AFP
Henry Onyekuru scored the winner as Galatasaray secured the Turkish Super Lig in a dramatic showdown with title rivals Istanbul Basaksehir this evening.
The Nigerian striker, on loan from Everton for the season, netted the crucial goal in a game that descended into chaos at times as fans threw projectiles from the stands and Emmanuel Adebayor ended up being shoved to the ground.
Onyekuru scored his 17th goal in all competitions for Galatasaray this season after Soufiane Feghouli had cancelled out Riad Bajic's opener.
It capped what has been a successful season for the 21-year-old, one which will enhance his chances of more regular action for Nigeria and, in turn, bring him closer to meeting eligibility requirements for a work permit to play in the English Premier League.
His 14 goals in 30 league games meant he finished top scorer for Galatasaray but according to Paul Joyce of The Times, there are no guarantees Onyekuru would break into Everton's first team next season if he were granted permission to play in England.
Joyce quotes Marco Silva as saying: "I didn't decide yet. At this moment we have four [right-footed] wingers in our squad — Richarlison, Lookman, Bernard and Theo — and he is one more with a right foot. We would have to think about a work permit, also."
Onyekuru was signed by the Blues in the summer of 2017 and spent the next season on loan at Anderlecht for whom he made 19 league appearances, scoring nine times before suffering a knee injury.
To date he has seven caps for Nigeria but is expected to be in their squad for the Africa Cup of Nations which kicks off in Egypt in a just over a month's time.
---
Reader Comments (38)
Note: the following content is not moderated or vetted by the site owners at the time of submission. Comments are the responsibility of the poster. Disclaimer
Jon Withey
1
Posted 20/05/2019 at 08:26:34
Scores plenty in those leagues at least.
We are a bit overloaded with wingers, not to mention Bolasie, Vlasic and Mirallas even, we could also include Bowler and Dowell at a stretch - although Bernard habitually plays on the left for us.
Hugh Jenkins
2
Posted 20/05/2019 at 09:22:23
I don't know why, but I thought he was an "out and out" striker?
Surprised to hear that he is considered a winger.
However, if you look at his gold return and compare it to Theo and also compare the rages and the fact that Theo apparently wants to go to the MLS, I can see no contest.However, if you look at his goal return and compare it to Theo's and also compare their ages and the fact that Theo apparently wants to go to the MLS, I can see no contest.
Steve Ferns
3
Posted 20/05/2019 at 09:29:01
Some wingers prefer the left flank with a right foot, ie Richarlison and Bernard. In the case of Richarlison it's so he can try to ghost into the middle unmarked and score, or cut inside and attack right sided defenders on their left foot, and try to curl it in with his right. Bernard prefers it for the same reasons as Pienaar, that is that he can cut inside and use his right to pass. He's a central player operating from the left where he can find more room with a very able fullback behind him who can overlap and provide the width and natural left foot that he cannot. In addition, Bernard can use his left.
By contrast, Theo Walcott does not do well on the left at all. He certainly prefers the right. You would think that he, wanting to be a central striker, could copy the Richarlison style and use the left side to get central, particularly when the striker goes right. He scored a good goal doing just that a couple of weeks ago.
Lookman seems to be capable on either flank, and i'm not sure which side is his best. I used to think it was the left, but he looked very comfortable on the right.
Mirallas certainly prefers the left, and never did well from the right. He always used the wide position to cut inside, beat a man and shoot. He cannot do that from the right, as he has no left foot. Mirallas never liked getting crosses in, so having no left foot didn't hinder him on the left.
Bolasie is very right footed, but he can cross well with his left. He's clearly worked hard on his left over the years. Whether he can get the explosive speed back that underpinned his ability to beat a man remains to be seen. Whether he was good enough before his injury is a different debate all together.
Vlasic is not a winger at all. He's far too slow. He cannot beat a man wide, where you need pace. In the middle, his quick feet allow him to dance through congested areas and he's certainly quick enough there. He'll never be a winger for me though.
So Henry, I'd say, work permit aside, that there is a space for him. I doubt Theo Walcott would be sold, due to his big wages being too much for most suitors, but Lookman may well be sold and so Henry could easily take his space.
We've been linked to quite a few wingers in the press. That would indicate that we are looking at wingers. For example, Lossl aside, you don't see us linked with goalkeepers.
Personally, I think there's nothing better in football than a flying winger. I think Richarlison and Bernard are right up there and both can be better next season. I would like to think that Lookman can improve and find more playing time too, whilst Theo could be sold. I wouldn't be looking to sign a first choice winger, not unless a top class player is available (ie one good enough for a CL team). I would also hope that there's room for Gordon, Evans, Bowler or Broadhead to get a look in too. Gordon in particular (the youngest of the quartet) is my tip for the first team, he's more of a number 10, but often plays on the right for the u23s and is more likely to get games there than ousting Sigurdsson.
James Morgan
4
Posted 20/05/2019 at 09:56:36
The lad has to be given a chance if he gets his permit. On the face if it he seems better than Lookman and Walcott albeit in an inferior league.
Liam Reilly
5
Posted 20/05/2019 at 09:59:29
Strange comments from Silva; surely if he's good enough and potentially an upgrade on what we currently have in terms of depth, then (permit permitting) give him a pre-season.
Also, can see Theo heading to the MLS this summer, so that should free up a slot.
Ray Smith
6
Posted 20/05/2019 at 10:16:01
I read Silva's comment as they are not currently making too much effort to secure his work permit.
He deserves to be given a chance.
Other clubs seem to be able to get work permits, but Everton seem to sit back and accept it.
David Pearl
7
Posted 20/05/2019 at 10:37:51
Chelsea have far more out on loan than us. We need to bring both him and Vlasic back to look at them... and try Theo up top, though I'm not holding my breath. More to come from Theo if played in the right way. Bernard, for all his tricks just has to score more. All in all, if we keep what we have, we don't need that much. Just consistency.
Clive Rogers
8
Posted 20/05/2019 at 10:41:38
I also thought he was signed as a striker. As he has done well in those two leagues, surely he deserves a chance in the PL. Especially as he scores goals, which is more than Bernard and Lookman have done, neither of whom have really established themselves. It looks like Lookman and Theo may be on their way and they will be far more saleable than probably all of the loan players, excluding the youngsters.
Get him here and let's have a look.
Derek Knox
9
Posted 20/05/2019 at 11:17:08
Steve @3, good post there!
Ray @6, spot on there with the Work permit argument, as I have mentioned on here once or twice, other Clubs never seem to face these issues.
We could definitely do with at least running the rule over both Henry and Vlasic even if it's just a couple weeks at Finch Farm to assess their usefulness to us and see if they genuinely want go be with us.
The only thing with Vlasic, who allegedly has stated that he wants a move, is wanted but Russian side CSKA are unlikely to cough up what we should be asking for him.
The other side of the coin being as well is that if a Work Permit is sorted out and Vlasic was convinced to stay, would Silva give them decent game time?
I was a bit pissed off last season that when we went through that turgid period and crying out for change, or at least different tactics/personnel Silva kept picking the same crew and tactics which didn't appear to be working.
Sam Hoare
10
Posted 20/05/2019 at 11:36:42
Super Lig goals don't count for that much. Just ask Tosun. Premiership old boys Cisse and Rodallega have as many or more than Onyekuru in less games.
But he is absolutely rapid. And that's useful. Will he work as hard as Silva wants his wingers too? I'm not convinced.
Dean Johnson
11
Posted 20/05/2019 at 16:13:35
Theo is rapid too
Peter Thistle
12
Posted 20/05/2019 at 17:11:42
*Theo is rancid too
Tom Bowers
13
Posted 20/05/2019 at 18:33:08
Not sure about the quality of the Turkish league but it's not the Prem.
However, Henry has done well and who cares if he is another right footer if he can find the net.
Townsend of Palace is very one footed but does well on the opposite flank.
Theo and Lookman have failed to impress this season especially Theo who has had many opportunities but not enough goals when it mattered.
Tony Twist
14
Posted 20/05/2019 at 19:06:33
Bye Theo, hello Henry! Closest thing to Crystal Palace's Zaha, hopefully with more end product. He is a must for us.
James Flynn
15
Posted 20/05/2019 at 19:10:47
I sure hope we can get this kid in.
Jon Withey
16
Posted 20/05/2019 at 19:24:30
Even if we got him in, how long would it take him to pick up the Silva approach ? Lookman still can't manage it, seemingly.
Maybe we'll just sell him for double and put it down to a reasonable investment, Chelsea style.
Tony Rice
17
Posted 20/05/2019 at 23:34:50
He's a bit like the Loch Ness monster — we hear about him, but never to be seen in an Everton shirt?
Simon Smith
18
Posted 21/05/2019 at 00:05:46
All this talk about goals in Turkey do count or don't count, let's be honest, were in desperate need of extra goals to be found from within the squad, this young lad has hit them where he has played.
Onyekuru can only score within the league he's playing; imo, both he and Vlasic should be kept for our first-team squad until at least after preseason, and ideally until at least January to see what they offer us.
Gavin Johnson
19
Posted 21/05/2019 at 01:56:58
The kid's a good finisher and has pace to burn. If he gets his permit I'd like to see him played through the middle and for him to be one of our strikers, along with Calvert-Lewin and a new signing.
James Flynn
20
Posted 21/05/2019 at 02:05:40
Extended highlights:
Link
There is a goal Henry set up with a nice backheel pass. Video review cancelled it for a handball by a teammate. And then his goal.
Really want to see him at Goodison.
Derek Knox
21
Posted 21/05/2019 at 08:10:38
James @ 20, thanks for the link, that's the first time I have seen the goals and the celebrations.
I have never totally trusted a player who has half a sheep's arse on his head, but I think Henry could persuade me to think otherwise. I personally hope we can get the Work Permit sorted, even if only to assess him, and have a bit of a pre-season with us.
I know these clips can make players look better than they are, but he has scored goals everywhere he has been, so he must be doing something right.
James Flynn
22
Posted 21/05/2019 at 11:31:51
Derek - I don't want to know what situation you were in that caused your distrust in a man with half a sheep's ass on his head, but hey we're all God's children.
Henry is like the rest. It's all potential until we see them playing in the Prem. I'm with you, let's get him in and see what he can do. I'll say this, though, since I do make a point of checking up on him. For a scrawny-looking little fucker, he's actually very strong and definitely WILL fight to get the ball.
Hopefully, we can get him in and see what's what.
And that little backheel pass for the disallowed goal made me think of Pienaar. I remember him assisting on a goal or three with that backpass.
Tony Abrahams
23
Posted 21/05/2019 at 12:14:53
Watching that disallowed goal, I'm thinking is VAR, going to kill the game?
Bob Parrington
24
Posted 21/05/2019 at 13:14:05
I am left asking what was the thinking at the time of signing Onyreku? Did we have just a bunch of amateurs handling our transfer policies? Seems Like!!
Here we are, what 3 years on, and we still don't know if we can get the visa. Seems like absolute bullshit to me that deflects from the core of the business. good player or not.
Yours truly
Absolutely perplexed
Dave Lynch
25
Posted 21/05/2019 at 13:28:17
Bob, are you suggesting we where run by morons in the past?
I've got news for you mate...We still are.
Steve Ferns
26
Posted 21/05/2019 at 14:33:50
Tony, the RS and their greedy cohorts trying to get automatic entry to the Champions League (regardless of merits) is what will kill the game.
Tony Abrahams
27
Posted 21/05/2019 at 14:53:04
Fair point Steve, let them go, but this VAR, looks like it's going to have a mind of its own, and is very, very concerning going by what I've seen so far.
Dave Abrahams
28
Posted 21/05/2019 at 15:06:02
Financially, have we got a lot of the transfer fee back on this lad, three loan fees,no wages, I presume, it would be close to a free transfer, if he ever gets here.
Fran Mitchell
29
Posted 21/05/2019 at 15:39:04
Bob, we signed a very highly rated young player, much in demand. Unfortunately, he got injured which reduced his playing time for Nigeria. So he as of yet has not been able to get a work.permit.
Nothing to be perplexed about. If we do end up selling the lad, it'll likely be for more than double what we paid. Or, if we can get the work permit (if not now, maybe in January), we have an exciting new player.
Personally I hope he can make his career here, fast and skilful and decent goal record, and very young still.
Walcott is just not good enough, Lookman may not have a future with us, so wide players are much needed.

Alan J Thompson
30
Posted 21/05/2019 at 16:29:03
Bob(#24); What surprises me is that you can employ the player, that is pay his wages, but under the rules you can't actually take any benefit from that employment which somebody posted was at the behest of the FA, which used to be made up of the clubs, to the Government department. Throw in the possible outcome of Mina making ads for bookmakers and you wonder just what credentials these people have.
Brian Wilkinson
31
Posted 22/05/2019 at 01:16:38
Tony, our neighbours across the park will be lucky to finish in the top three when var comes in.
We have been on so many wrong decisions over the decades, if we get the right players in, you can bet we will not be 40 odd points behind them next season.
The also rans will hopefully start getting right decisions, but you can be sure the top clubs will be dreading var coming in.
Tony Abrahams
32
Posted 22/05/2019 at 07:29:15
I hope you're correct Brian, but the cynic in me thinks it won't make much difference?
How did Gala's goal get disallowed for a slight handball on the halfway line, Did one of the opposition players ask the ref to check the telly?
If he did then is this going to happen every time a goal is scored? This will eventually take the emotion out of the game, and it wouldn't surprise me if the refs then start deciding how to use this rule?
I hope we have a big fucking bouquet of flowers ready for Martin Atkinson anyway, because I'm sure he's dreading refereeing Everton, and finally having to give them a decision, so maybe this VAR, might just work!
Alan McGuffog
33
Posted 23/05/2019 at 15:53:05
Enjoying a glass of Raki in my favourite bar in Turkey. Waiter is a Nigerian guy from London. His considered opinion is that Henry is the dog's bollocks and we should be moving heaven and earth to secure him, or demand a huge fee. Over and out.
Waiter!!! One more please!
Martin Mason
34
Posted 23/05/2019 at 17:08:27
I worked with a lad from Ankara who is a big Gala fan. He raves about Henry.
Ray Smith
35
Posted 23/05/2019 at 22:20:26
Apologies in advance as slightly off subject.
Guys where do I find the Transfer Rumour tracker?
Mike Gaynes
36
Posted 23/05/2019 at 22:30:15
Right side of the home page, Ray... right under Recent Articles.
Ray Smith
37
Posted 23/05/2019 at 22:56:39
Alan McGuffog
38
Posted 26/05/2019 at 17:14:25
I canvas every Gala fan I meet. As one they are resigned to losing him and a lot seem to think the work permit thing will be sorted. To a man they would love him to stay at Gala.
This all points to him moving to Anfield.
Add Your Comments
In order to post a comment, you need to be logged in as a registered user of the site.
Or Sign up as a ToffeeWeb Member — it's free, takes just a few minutes and will allow you to post your comments on articles and Talking Points submissions across the site.