Everton sign Lössl on a free transfer
Friday, 24 May, 2019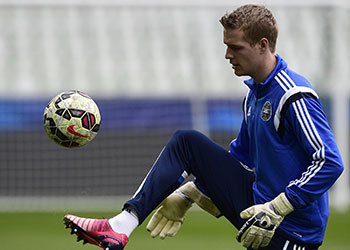 Frank Fife/AFP
Everton have made goalkeeper Jonas Lössl their first signing of the 2019 close season transfer window, picking up the free agent as back-up to Jordan Pickford.
The 30-year-old, whose contract expires at Huddersfield at the end of next month, will officially join the Blues on 1st July.
A Danish international, Lössl began his career at FC Midtjylland in his home country before moving to France with Guingamp and then Germany with Mainz.
He was initially loaned to Huddersfield for the 2017-18 campaign but then joined the Terriers on a one-year deal.
---
Reader Comments (64)
Note: the following content is not moderated or vetted by the site owners at the time of submission. Comments are the responsibility of the poster. Disclaimer
Karl Masters
2
Posted 24/05/2019 at 14:23:45
Underwhelming tbh. Any better than Stekelenburg? Virginia worthy of stepping up?
Who knows, eh?
But in Marco Marcel we trust IMMWT 😂
Shane Corcoran
3
Posted 24/05/2019 at 14:27:12
I don't see it as underwhelming at all. Premier League keeper with his best years ahead to put some pressure on our current erratic No.1.
Derek Knox
4
Posted 24/05/2019 at 14:29:43
Not exactly a secret but a welcome addition in my view, unlike many, I had little faith in Stek if called upon.
I think, or suspect Stek will move on either in a coaching capacity to join up, with either Koeman, or Marco's number 2 who is going to Portugal. I can't see the logic in having Virginia and Lossl in addition as back up for Pickford.
I believe also that Lossl will actually not be an Everton player till July 1st, but will sign a 3 year deal. Be interesting over the next few weeks to see who else comes in, as we have been linked with so many recently. Shipping out a few out is still first priority.
Jon Withey
6
Posted 24/05/2019 at 14:43:18
I suppose its value for money - he played in their better season too.
Hmm, Virginia going on loan somewhere ?
Mike Gaynes
7
Posted 24/05/2019 at 15:14:23
Jon #6, that's been my assumption since the first moment the Lossl rumor popped up.
There's no reason to have four first-team keepers, so I'm pretty certain this means that Silva and Brands have decided that the next step in Virginia's development is a season in the Championship.
Of course, it may also simply mean that Stek is departing and Silva wants a veteran backup keeper on hand.
Sam Hoare
8
Posted 24/05/2019 at 15:20:34
Stekelenburg could well be off or perhaps they have decided that Virginia will be best served by getting a season on loan to a Championship or League One team. I for one would like to know he's had some first-team experience somewhere before being trusted in goal for us.
That would leave us Pickford, Lössl and Stekelenburg as first-team keepers next season with hopefully an improved Virginia returning next year to take over from the out-of-contract Stekelenburg and challenge Pickford.
Liam Reilly
9
Posted 24/05/2019 at 15:24:06
Virginia should go on loan to further his development as he won't be getting any first team opportunities at Goodison any time soon.
Leeds need a new keeper, if the 2nd Play Off Semi-Final is anything to go by!
Kunal Desai
10
Posted 24/05/2019 at 15:29:58
Let's hope Pickford isn't injured or there isn't a need for this keeper to deputise as much. I've seen some of his performances last season and the less said the better. His positional sense as a keeper is abysmal.
I would have preferred for us to have gone for someone like Alex McCarthy.
Jim Potter
12
Posted 24/05/2019 at 15:52:02
For the last few years we've wasted big money in transfers and salaries on a lot of dross. This guy is a decent keeper and comes in on a freebie. Good business for me.
He's only ever going to be a No 2 keeper as Pickford is so obviously the No 1.
Yes, Jordan's had his clangers – but he's a young guy who is still learning, and in my opinion will only get better as he matures.
Send the promising Virginia out on loan – somewhere that guarantees him genuine playing time, otherwise it's pointless.
Welcome to The Blues Jonas. A positive addition with no financial Loss(l).
Derek Knox
13
Posted 24/05/2019 at 16:08:21
Jim @12, nice one there, I suppose you could say he has made his first save for us already!
Jay Harris
14
Posted 24/05/2019 at 16:14:18
I can't believe the negativity about this guy.
Did anyone watch Pickford against the RS and Newcastle?
All keepers have off days, the better ones have less of them and the pressure of looking over your shoulder should improve that.
Chris Green
15
Posted 24/05/2019 at 16:32:48
Agree Jay #14, don't understand the negativity. A good keeper, who was behind an abysmal defence. He costs nothing, is a good back up and will put pressure on Jordan.
If we had gone for say, Alex Mc as Kunal #10 suggested, he would have cost £m's and would he want to be a number 2? This guy knows the score, wants to stay in the Premier League, and is willing to be back-up and push Jordan. No negative here, unlike the Welbeck rumour being touted! God help us! :-)
John Audsley
16
Posted 24/05/2019 at 17:18:41
I don't get any of the negativity.
Good, solid back up keeper.
What are people expecting a keeper who will be No 2 all season to be??
Dasayev he aint but he will do for the No 2.
Bit of rhyme for you as well.
Andy McNabb
17
Posted 24/05/2019 at 17:31:57
I would like to add my welcome too, mate. All the best as part of our Blue family.
I remember being underwhelmed when Gana arrived. Shows what I know.

Pat Kelly
18
Posted 24/05/2019 at 17:34:40
Good catch. May well be needed if Pickford doesn't get his act together.
Paul Bernard
19
Posted 24/05/2019 at 17:38:25
Everton bringing players in before selling and then scrambling for a back-up keeper is a positive surely! Lossl is a good back-up.
One or two pages saying Aaron Mooy may join next. I think if we can get Gomes and a forward like Haller or Dzeko then we only need a centre half.
I know it's virtually impossible but I'd like to see Everton loan Umtiti or Langlet and then go back to Zouma next year. De Ligt seems to be Barca bound so who knows?
Frank Wade
20
Posted 24/05/2019 at 17:52:43
Welcome signing for me, especially with no transfer fee involved. Brands and Silva have a plan. Bringing in a guy like this with a sell on value boosts the value of the squad. Jonas looked a good keeper to me when we played them. Maybe Stekelenburg will transfer to the coaching team. It's hard to get a good solid backup keeper (- nearly said number 2 there, oops). A guy who is happy to sit on the bench without whinging.
Next step for me is a loan for Virginia, same as Pickford was loaned out a few times by Sunderland.
Karl Masters
21
Posted 24/05/2019 at 17:54:01
I'm not negative about it, I'm not excited either. I trust Brands and Silva to know what they are doing.
Kieran Kinsella
22
Posted 24/05/2019 at 18:15:07
Liam 9
I agree but my only worry is whether any manager at a decent level e.g. prem, higher end Championship, would have the balls to play a 19 y/o as his number one. I would hate for Virginia to go out on loan to say West Brom, Middlesborough or wherever and spend all season sitting on the bench.
Ray Smith
23
Posted 24/05/2019 at 18:22:30
If Stekelenburg goes, Virginia is number 3 keeper. If Stekelenburg stays, Virginia will not advance in his career and will need to go out on loan. So the 3rd choice keeper situation has hopefully been sorted and Stekelenburg goes IMO.
Of concern is the Welbeck situation. I'd be happy to take him on a free. However, he is quoted as saying he would like to team up with his old teammate Theo!!! What does that tell you; bye-bye Ademola and Henry.
We have to trust In Marco and Marcel, as it may well be Welbeck's agent touting his client! We shall see.
Si Smith
25
Posted 24/05/2019 at 18:37:13
Good solid signing, a genuine challenge for Pickford, imo a very under rated keeper.
A full season out on loan in the Championship or div 1 will be huge for Virginia in his progression.
Mike Gaynes
26
Posted 24/05/2019 at 19:08:25
Kieran #22, it won't be one of those clubs.
If I were to take a wild guess, I'd say Wigan. We already have a longstanding loan relationship with that club (Robinson, Baningime, McAleny, Garbutt), and they badly need a keeper. The incumbent is a journeyman named Jamie Jones, who is definitely not gonna get them into the promotion playoffs next season.
Regarding Lossl, he's an adequate backup who could handle a few games if Picks got hurt. He had a poor season at Huddersfield, low save percentage and definitely has a howler in him (Man Utd game a few weeks ago was pretty grim), but it was just a year ago that he came up with three miracle saves against Man City to keep Huddersfield in the Premier League. So he can fill the role.
Adam Carey
27
Posted 24/05/2019 at 19:43:30
Bloody Hells Bells. We aren't in Europe next year, have other areas of the team that need addressing as a bigger priority, not to mention England's No 1 already between the posts.
This guy has come on a free and appears to be relishing the opportunity. As many have said, send Virginia to Wigan for a season-long loan and let Stek play number 3 until he decides to retire or move to China.
Tony Abrahams
28
Posted 24/05/2019 at 20:23:37
Hope we get Cresswell as well, even though other areas of the team need addressing.
Get rid of as much dead-wood as possible then build a very good squad!
Frank Crewe
29
Posted 24/05/2019 at 20:23:49
I don't understand people complaining about this. An international keeper in his prime for free. Came from Huddersfield. So what? We got Southall from Bury. He turned out okay. Wasn't Pickford between the sticks when Sunderland went down?
I think getting players from Barca has turned us into snobs. We needed keeper cover and now we have it and it hasn't taken a bite out of our war chest. It's a win-win.
Alexander O'Brien
30
Posted 24/05/2019 at 20:32:17
Kunal #11 and how much would Alex McCarthy had cost? Over £10 million? I assume we've allocated funds for that area.
Alexander O'Brien
31
Posted 24/05/2019 at 20:33:36
For areas that of more a priority... ie, signing Zouma and a centre-forward.
John Hammond
32
Posted 24/05/2019 at 20:55:27
Decent backup keeper for free, no complaints from me. We need every penny we've can get for more urgent areas of the team.
Bobby Mallon
33
Posted 24/05/2019 at 21:49:34
Let's not forget, we paid £30 million for a relegated goalie. So another on a free is good business
Paul Birmingham
34
Posted 24/05/2019 at 22:39:49
Good deal in terms of cost and goalkeepers mature with age.
Let's judge Jonas at Everton, any goalkeeper would have been exposed with the Huddersfield team last season.
Ironically we couldn't beat them at Goodison Park.
Best of luck to Jonas, and to Virginia for this new season.
Jamie Crowley
35
Posted 24/05/2019 at 22:55:38
I said this when it was simply a rumor about Lossl -
Sell Jordan for big money and sign that 20-25 goal a year striker?
This signing, on the surface, just doesn't make any sense to me.
Virginia out on loan is the best explanation, but then what of Stekelenburg?
I dunno. Underwhelming, solid team move I suppose.
Unless Stekelenburg and Lossl battle it out for #1, we move Jordan on to a "big club" and sign a stud up top.
Bill Gienapp
36
Posted 25/05/2019 at 00:30:24
Perfectly solid #2 keeper. It's not like Keylor Navas is coming here to back up Pickford.
I'm fairly confident, as others have suggested, that Virginia will go out on loan and Stekelenburg will see out the last year of his contract as the #3 option.
Terry Farrell
37
Posted 25/05/2019 at 06:20:43
Cresswell is decent but we don't need him with Digne, Baines and Robinson advancing through the ranks.
Dzeko? No way – too old.
Welbeck? No way – too injury-prone!
Derek Knox
38
Posted 25/05/2019 at 07:32:27
Now here's something I fail to understand, we keep hearing that we have to cut the wage bill, and amount of players on our books, and quite rightly so.
Here we have Jonas Lossl, which I think is a good move as it is a free, and presumably Stekelenburg is on his way, or Virginia will be loaned out.
What puzzles me is this: Lossl when at Huddersfield was reportedly on £28k per week and had latterly fallen down the pecking order, with Hamer being preferred between the sticks.
We offer him a back-up to Pickford, who rarely gets injured, so basically he is bench-warming most weeks if chosen over Stekelenburg or Virginia (should either still be here next season) so, if believed, and I have seen it on several sources that, instead of offering him £30k/week – which would represent an increase of £100k over the year – we have offered him £52k/week! Why?
Eddie Dunn
39
Posted 25/05/2019 at 07:43:34
Derek, really? £52k per week! Why would we offer so much?
Derek Knox
40
Posted 25/05/2019 at 08:21:39
Eddie, exactly, I don't know but I have seen it on several different sites that is what allegedly has been offered by Everton, it beggars belief if factual.
Derek Knox
41
Posted 25/05/2019 at 08:52:25
Ben Howard
42
Posted 25/05/2019 at 08:53:57
We've doubled his wages to £53,000 per week. Astounding!
Tommy Surgenor
43
Posted 25/05/2019 at 08:59:42
Shocking indeed. However, I think it's roughly £8M over the 3 years.
I'm sure he was able to command that due to the lack of a transfer fee. Take £4M off that for what we would've paid as a transfer and it doesn't look as bad.
I believe that's how things work now. Bernard and Aaron Ramsey both commanded big wages which made up for a "transfer fee". It's the way modern football is going. Players will see out their contracts and then ask for what they believe to be their value to be added onto their salary.
Jon Withey
44
Posted 25/05/2019 at 09:14:02
Higher wages is why players wait to go on a free, so it's not that surprising.
Imagine you are paying a transfer fee and a percentage of that to his agent too.
Anyway, I'm pretty sure Moshiri and Brands can do maths and saw this as a valuable move overall.
Peter Warren
45
Posted 25/05/2019 at 09:28:13
Massive wages... I do wonder if Pickford on his way out?
Dave Abrahams
46
Posted 25/05/2019 at 09:37:14
Pickford ended the season playing okay; he had a lot less to do, so made fewer mistakes. The mistakes are still in him, so sell him while his stock is high – we might get a really good price for him now.
Andrew Ellams
47
Posted 25/05/2019 at 09:44:25
£53k pw is not a massive wage in 2019 and probably a lot less than Pickford is on.
Tony Abrahams
48
Posted 25/05/2019 at 09:54:42
Just like Man Utd want Richarlison and Everton have told them they want £100 million?
Derek Knox
49
Posted 25/05/2019 at 09:58:24
Andrew @ 47, it is, if you are basically a spare part, unless as some have suggested Pickford is to be moved on, or Stekelenburg (who has only a year left on his Con-trick) is on his way too.
Didn't even need to buy a 'Set for Life' Lottery Ticket! While I have no objection to the transfer in general, it does smack of Double Standards against the Club reducing the wage bill etc.
Mike Allison
50
Posted 25/05/2019 at 10:10:09
We seemed to have a well balanced squad of keepers before this. It would make sense if Stekelenburg was leaving but he was given an extra year.
It must mean we're going to try to get Virginia a loan into someone's first team and have Lössl and Stekelenburg as 2 and 3 respectively. If that's the case, then it's a move that makes sense.
I don't know how good he is but, if he lost his place in a poor Huddersfield team, it's a bit worrying. On the other hand, if everyone at Huddersfield knew he was running his contract down to leave, then it would make sense to give game time to the keeper who was more committed to the club instead.
Brian Murray
51
Posted 25/05/2019 at 11:42:22
What's with all this nailed-on rubbish about Pickford being our Number One? He was a hair's breadth away from gifting the shite the league and if that happened, his Everton Career would've been well and truly over.

He still has a hell of a lot to prove and Virginia is, as we speak, more commanding and maybe even our immediate future. Bollox all this loan talk. Good enough, old enough!!
Terry Farrell
52
Posted 25/05/2019 at 12:03:40
Pickford is a tremendous keeper and has won plenty of points this season. He had a few mares but move on.
Annika Herbert
53
Posted 25/05/2019 at 13:54:38
Sell Pickford!!? What are some people smoking on this site? De Gea also made a few errors but he is still considered one of the best.
Jack Convery
54
Posted 25/05/2019 at 15:12:31
To be a goalkeeper at Goodison you must have been relegated the season before. Obviously they have had plenty of practice too.
Jamie Crowley
55
Posted 25/05/2019 at 15:58:32
Annika -
I don't want Pickford sold. I like him - a lot.
But if the Club sells Pickford to free up money to sign a deadly striker, I'm fine with it.
In fact, albeit a gamble, it could be argued that would be a shrewd move for a team desperate for goals.
That argument is not a crazy one. And it doesn't dictate anyone smoking anything either.
Annika Herbert
56
Posted 25/05/2019 at 17:59:18
Jamie @55, now I see what you meant. I just took your comment as one that was suggesting it would be a good idea to sell Pickford.
I still disagree with the sentiments but I do understand what you meant better now.
Justin Doone
57
Posted 25/05/2019 at 18:34:15
I wouldn't be surprised if Lossl became our Number One. I think he'll put Pickford under serious pressure which will hopefully be good for him and us.
Also wouldn't mind another Huddersfield player Mooy-ving in the same direction.
Virginia needs games and I think he needs a loan next season to have that weekly pressure to learn and develop.
Stek should be released as we have Jags as back-up keeper and defender... Okay, that's a joke but it would free up wages.
Jamie Crowley
58
Posted 25/05/2019 at 22:01:48
Cheers Annika.
Alan J Thompson
59
Posted 26/05/2019 at 06:10:30
If Everton are paying this bloke – possibly the third-choice keeper – £53k per week, then somebody needs seriously bringing back in to the programme, from figures elsewhere on this site Stekelenburg is "only" on £30k.
I'm staggered, it may not be at the high end of footballers' wages but then it does not seem to be a high priority for Everton at this time. As they say, there must be more to be seen at training than we know.
Brian Wilkinson
60
Posted 26/05/2019 at 22:41:42
Who is to say Everton are not expecting a bid to come in for Pickford? If Everton receive an offer too good to refuse, then they would get their trousers ripped down, on signing another keeper after the sale.
Not for one moment am I saying that is the case, but could be an alternate option, hence bringing in a keeper beforehand.
Just a thought, that's all.
Alan J Thompson
61
Posted 27/05/2019 at 04:24:26
Brian (#60); If that was the case then we might as well pack in now. What sort of policy says buy some relegated teams cast off to replace your much wanted high priced first choice? That's not reducing the wage bill, that's threatening your long-term income and was the policy of former managers who begged/promised players a transfer if they would stay for one more season.
Brian Wilkinson
62
Posted 27/05/2019 at 19:44:43
Gaye and Pickford came from relegated teams, Alan, who is to say this keeper will not do the same.
Pickford is still young for a keeper so will get better, that is in his favour, but if we got a crazy bid for the guy, there are the likes of Heaton, Butland out there, who could come in if the worst-case scenario happened.
I am more concerned in bringing a top quality striker in.
Alan J Thompson
63
Posted 28/05/2019 at 16:19:51
Too true about a proven striker, Brian, but as for players from relegated teams, the two we signed that you mentioned were not reserve players given a free transfer. I'd say fair enough if the present (last season's) second choice keeper hadn't come the same way or was likely to move on in this window.
Kieran Kinsella
64
Posted 28/05/2019 at 16:31:30
£53k a week for doing nothing. There is no way this joker will displace Pickford as number one.
Alan J Thompson
65
Posted 28/05/2019 at 16:42:41
Very true, Kieran, I'm not even sure he is to replace Stekelenburg as second choice and all of this seems to mean Virginia, enticed from Arsenal, probably won't be rising that high for about another 5 years at least. And all this while supposedly getting the wage bill under control.
David Pearl
66
Posted 28/05/2019 at 16:47:46
Well, why don't we give him a chance, and trust that Brands knows what he is doing...
The money involved is of course obscene. Even if you fail miserably as a player or manager, you walk away smiling.
Kieran Kinsella
67
Posted 28/05/2019 at 16:52:57
John 44
"Higher wages is why players wait to go on a free, so it's not that surprising. Imagine you are paying a transfer fee and a percentage of that to his agent too."
Either side of that argument is that Lossl is currently unemployed. So he could go on the dole (if he qualifies now with Brexit) or join Everton for a very modest salary. I don't see why the club should have to pay over the odds because he is free as that simply means he is out of work. Most people who are out of work would be grateful for a job, not saying "pay me double my last salary."

Alan J Thompson
68
Posted 29/05/2019 at 05:54:21
David (#67); In which team do you think he will get his chance? In those Cup Ties in which we think we should play our best side or is this another one to be sent out on loan to improve through "game time"?
Add Your Comments
In order to post a comment, you need to be logged in as a registered user of the site.
Or Sign up as a ToffeeWeb Member — it's free, takes just a few minutes and will allow you to post your comments on articles and Talking Points submissions across the site.