Kenyon looks ahead to second phase of stadium consultation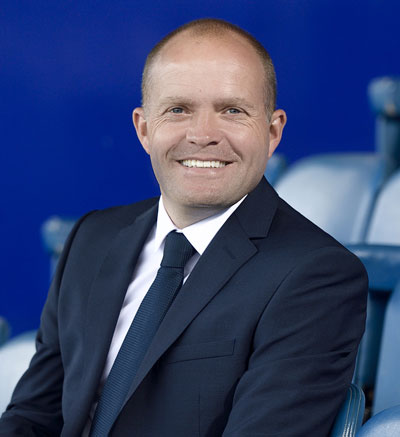 Everton's Director of Communications, Richard Kenyon
Everton's Director of Communications, Richard Kenyon says that eagerly-awaited impressions of what Bramley-Moore Dock will be central to the second stage of public consultation about the club's plans for the new stadium in July.
The head of the project's designers, Meis Architects, was heavily involved in the first phase conducted towards the end of last year but there still haven't been any indications of what the ground will looks like.
Speaking on the inaugural Alan Myers Podcast this past week, Kenyon explained that, "it's a very involved process. There's lots of people that we need to speak to along the way and engage with along the way ... lots of other groups through the planning process we have to talk to and make sure what we're eventually going to show is right for everybody.
"What we have to make sure is, when we do reveal this, is that it's absolutely right and it's what our fans will want.
"This is the second stage of the formal public consultation. It's really about sharing more details about the stadium, what our ideas are about what it will look like, and also to share some more high-level information about our plans for Goodison Park which is very important.
"We had great reaction to the first phase consultation — the feedback we got was very positive but also the numbers were phenomenal. We're hoping this stage is just as successful.
"The new stadium project is very high in the minds of supporters, obviously. The fans have really helped us shape the principles of what we've been working on with the designers.
"At this stage, we'll be showing how the stadium will look, obviously from the outside. From the inside, we'll be sharing different views from the stadium — still at a proposal stage but much more progressed from what Dan (Meis) showed fans at St Luke's Church more than a year ago.
"It'll be full renders of the outside, impressions of how the inside could look but still at the proposal stage so fans and members of the community can have their say and give us feedback on what they like and don't like about it.
"Obviously, we're hopeful that we've got the brief right and that the feedback is good but also that we'll get some good insights as well so that we can make it even better."
---
Reader Comments (75)
Note: the following content is not moderated or vetted by the site owners at the time of submission. Comments are the responsibility of the poster. Disclaimer
David Pearl
1
Posted 25/05/2019 at 16:44:53
While it's good to know of fan involvement in the design process, it would be good to know when the shovel hits the ground. How much longer will it take?
Tony Hill
2
Posted 25/05/2019 at 16:48:10
Picky, I know, but have we got funding in place yet? I'd have thought the funders are the most important "stakeholders" of all. Last I heard we were going to be borrowing £350m from private lenders.
Follow the money, or the absence of it.
Jimmy Salt
3
Posted 25/05/2019 at 16:59:42
?
Si Pulford
4
Posted 25/05/2019 at 18:01:13
Believe me, this is happening. All the paranoia is very understandable but we're a different animal now. Add scepticism to the intricacies involved in putting a football stadium on a World Heritage site (hence the consultations) and you get a slow process which encourages more scepticism.
Kevin Molloy
5
Posted 25/05/2019 at 18:46:51
We are now at the second stage of a public 'consultation' which is 'still a proposal'. Joe Anderson was getting a deal done 18 months ago... what the hell are they doing, other than giving us a bit of toffee to chew on???
I know people will say 'you have to consult', but this dialogue isn't part of a process laid out by statute, otherwise they'd give us the timetable, ie, public consultation date, submission of planning date, and we'd know what the hell is going on.
Instead, we're getting lots of 'we need to be really really sure' and 'everyone must have a voice' all this hogwash. If they were serious, they would be nailing things down, not opening them up so they can kick the can five years down the road.
Michael Kenrick
6
Posted 25/05/2019 at 19:45:44
It's getting beyond a joke, it seems, Kevin. It's now more than 2½ years and we still don't really even have "a proposal" that has been released to the public.
I'm amazed Dan Meis has stuck it out this long, trying to dance around the ever-changing directives he probably gets from a club that seems incapable of making up its mind and saying: "This is what we are planning."
The latest 'concept' shows the listed hydraulic accumulator tower was to be preserved but it's unclear how the Grade II listed retaining walls of Bramley-Moore Dock were to be preserved. Left in place but buried under the new stadium? With a nominal row of capstones visible as an incongruous feature behind the pitchside electronic advertising hoardings?
With Liverpool Waters threatening the World Heritage status already, and the seemingly impossible compromise of building new structures that will obviously obscure the old, that perhaps explains the impossible dance they have become engaged in?

I did find one report online that said this of Bramley-Moore Dock in 2010:
World Heritage Site asset. The dock basin with its associated remaining lock gate mechanisms and mooring structures is a key component of the Liverpool Maritime Mercantile WHS, of architectural and historic significance.

As a key physical attribute of the Outstanding Universal Value of the World Heritage Site, Bramley-Moore Dock is a designated heritage asset of very high significance.
If that's the case, no amount of blather is going to get them past that hurdle? Or has English Heritage somehow downgraded things? Building anything at such a site that effectively destroys the dock seems to totally fly in the face of the World Heritage designation.
Robert Williams
7
Posted 25/05/2019 at 19:49:15
Spot on Kevin (5). Prevarication I think is the word your are looking for.
In 5 years I shall be be. out the game!!

Phil Martin
8
Posted 25/05/2019 at 20:01:28
Consultation? We told them not to scrimp on the capacity and they are clearly not interested. I envisage the stadium design will be fitting of a club devoid of ambition (which is a shame considering the location).
Tom Edwards
9
Posted 25/05/2019 at 20:14:02
I personally have the feeling this project will not happen. I am beginning to think the club do too and they are attempting the equivalent of the parliamentary ruse of 'talking out the bill'. Eventually the time limits that I assume come with a lot of these various planning stages will run out. The club can then safely say that it wasn't for the want of trying etc. I hope I am wrong.
Michael Kenrick
10
Posted 25/05/2019 at 20:43:46
Your pessimism is understandable, Tom, but I don't think the clock has even started yet. No planning application has been submitted... and won't be for many more months, and I believe that is what sets the timer going... of course, if we even get to that stage?!!
Derek Knox
11
Posted 25/05/2019 at 21:39:44
David @1, if you look very closely at the photograph, the third pile of gravel/sand from the end has gone down considerably, from a few months ago. So I fail to understand how you can't see this as progress! :-)
David Pearl
12
Posted 25/05/2019 at 21:54:26
I didn't have my glasses on Derek, I apologise.
Enough of the talking and the fan participation. Get the thing built. If this doesn't happen I'll start building it myself on Stanley Park.
Kieran Kinsella
13
Posted 25/05/2019 at 22:54:12
If everyone locally gets on board they'll probably push to have a national referendum, maybe take it to the UN too. That should drag it out long enough for some mug to buy the club off Moshiri on the basis of the new stadium.
Tom Edwards
14
Posted 25/05/2019 at 22:56:59
Thanks for the clarification, Michael. I must admit to becoming somewhat jaded over the whole thing and the seemingly endless consultation etc processes!

Don Alexander
15
Posted 25/05/2019 at 23:11:38
Modestly blessed billionaire seeks to acquire an iconic club, by far the most successful of the twelve that established the Football League in 1888, it being a club that hadn't yet been acquired by other wealthier billionaires. He buys it, intending to make megabucks from eventually largely owning a largely publicly-bought new stadium on the river front, courtesy of the Commonwealth-famous Commonwealth Games.
The city fails to get those games. The financial demand on the modestly blessed billionaire increases exponentially as a result. Only then are the first of a series fan consultations announced "to influence the final design" at some never-stated year in the future.
You, dear readers, are probably by now falling to sleep as I am in typing it. But it's what we should be well used to after decades of chronically bad management in our, erm, boring-room.
Andy Crooks
16
Posted 25/05/2019 at 23:15:28
What is happening? For example, on Tuesday what work will be done on this? Say, next Friday, who will be working on this and what work will they be doing? Are we waiting on stuff? These things take time... By fuck they do.
What I can say, with absolute certainty, is that, as a supporter living in Ireland, I will never, absolutely never, be able to buy a ticket for a game and pop over at random when I can get a flight hotel etc. New stadium? We will all be dead.
Anthony Murphy
17
Posted 25/05/2019 at 23:24:49
I think it'll happen but what we end up with will be compromised due to UNESCO. Just like with EFC, the history of a once great institution is proving to be a barrier to moving forward.
David Pearl
18
Posted 25/05/2019 at 23:37:24
Andy, brilliant. We will all be dead. Well, that made me laugh. The ice caps would've all but disappeared. The red shite will have flags saying 10 times. We will be able to change channel on Sky by blinking.
Justin Doone
19
Posted 25/05/2019 at 00:01:44
Time passes slowly when there is no physicality indication of a new stadium but the 5 years is now 4 years.
In another year, we may have everything in place to give us permission... and, a year after that, we may start to see the site being transformed.
Just like the first-team progress. It's going in the right direction but it's slow and there will be a few setbacks along the way.
Karl Masters
20
Posted 26/05/2019 at 00:33:39
Spurs: started the process in 2008. Took 11 years in all.
Arsenal: started the process in 2000. Took 6 years in all.
Buying an urban site, getting it designed and over all the planning and financing hurdles takes time. And that's before actually building it! Just saying like...
Mind you, if it's only 52,000, it's hardly worth the effort. 60,000 capacity required all day long as far as I'm concerned.
Jamie Crowley
21
Posted 26/05/2019 at 01:45:59
This is incredibly frustrating.
Over here, once the owner takes the plunge of buying the land, the construction takes 1-2 years. Then you have your shiny, new, modern stadium.
As Karl points out, 11 years for Spurs (and one hell of a hiccup this year!) and 6 years for Arsenal.
Lord it takes a long, long time to put up a stadium in England! And I'm left asking, why? Why isn't municipal and government approval more streamlined?
It stifles progress in my opinion. The system needs serious revision from these American eyes.
Why would you delay the economic benefit of 1,000,000 new jobs? Barrett-Baxendale has assured us of this economic boon!
It just gets more fishy with time.
Buy the land, permitting should take 6 months to a year. Then break ground and start pouring the concrete and welding the steel already!
We should start a BMD Ghoul Pool. How many TWers will die before we open BMD? What's the over-under? Probably 250.
Bob Hannigan
22
Posted 26/05/2019 at 01:59:27
Just build it with the capacity they feel comfortable with and "can afford"
— designing it with the potential to expand to a higher capacity if necessary. Sometimes it's somewhat difficult to match both issues... but it's NOT rocket science.
Si Cooper
23
Posted 26/05/2019 at 02:05:09
One million new jobs? Are you sure of that number Jamie?
That would get it built quick enough. Got to be at least 3 noughts too many?
Eric Myles
24
Posted 26/05/2019 at 02:13:46
They are only just about to come up with a Concept Design? After all the years that Dan Meis has been on this project, I'd have expected a fully detailed design to be ready, down to the colour of the teapot in the Directors Box.
Just what have they been doing all these years?
It strikes me that this will go out as a Design and Build tender so there is minimal involvement on our side.
Kieran Kinsella
25
Posted 26/05/2019 at 03:44:05
Jamie,
Not sure about your part of the country but here in Kansas there's a brown-belt site across from my work. They announced plans to build there in 2008. Since when there have been public consultations, permit issues etc. They finally broke ground in December.
As of March, it stopped. Funding fell through... so now we are 11 years and counting for the entertainment, shopping, high-end hotel multiplex.
Alan McGuffog
26
Posted 26/05/2019 at 05:21:03
I am minded of the speech given by the late Dr Martin Luther King, regarding the promised land, and that he may not get there (younger readers... look it up on the netty web thingy).
I wonder if my grandson will get there?
I wonder if Gillmoss is still available?
Laurie Hartley
27
Posted 26/05/2019 at 05:28:16
It has certainly dragged on.
I feel a good part of the delay is down to the fact that messrs Koeman and Walsh spent a fortune and yet we ended up looking down the barrel of a relegation fight to such an extent that Moshiri got the wobbles and felt he had to bring Sam in to protect our Premier League status. That cost us at least one year in my opinion.
Earlier this year, Moshiri was faced with another mini crisis. To his credit, he (and Brands) held their nerve with Silva. Many of us wouldn't have. It would take nerves of steel for any investor to surge ahead with a capital project of this scale under such unstable conditions.
Hopefully Moshiri and potential investors now feel the ship has been steadied. Our transfer dealings this window will tell the story.
Jamie Crowley
28
Posted 26/05/2019 at 07:23:24
Si @23 -
I was being facetious. I believe DBB had said 1,500 jobs, or a number thereabouts. My flippant point was she promised the fucking moon.
Kieran @ 25 -
Florida is a proverbial human ant-farm. We build shit here quicker than they can supply the materials. Then when the economy tanks, the Godless developers and builders file bankruptcy, disappear with all the money, and there's unfinished complexes and subdivisions all over the place. It's like the Wild West of real estate development. So my clock with building is more like a stopwatch on cocaine, rather than a sun dial.
Be that as it may, there's a lot of bluster about BMD, and not enough shovels for my liking.
We've had DBB come out and give some absurd numbers and promises of the economic benefits of a new stadium. We've had consultations. Do we even have the financing secured yet? Is there a single tangible sign of progress other than the purchase of dirt?
Smell that? It's the faint waft of bullshit.
And I can't tell you how wrong I hope I am. But when things are going south behind the scenes, corporate honchos start spewing rainbows, and stringing out the process, while they look to salvage their desires and plans quietly.
What is the purpose of this public consultation? Why have it?
Ownership wants a new stadium to increase revenues so Everton continues life in the Premier League, to protect their investment.
Ownership wants a new stadium to increase the value of the Club, thereby increasing the value of their investment.
Nigel Broadfoot, the plumber who lives in Walton and scrapes together money for his season ticket – they don't give a shit what he thinks about the stadium layout and plans.
This, for me, is just a PR exercise, stringing out the time they need to get their ducks in a row, if they ever do at all.
My "don't trust this" radar is going off. I don't know why. I just have a feeling something isn't right.
I'm probably wrong and just grumpy. But until they actually put a backhoe on site and start digging, I'm not going to blindly believe it's happening.
A lot of talk, a lot of consultations, no financing secured to my knowledge, and no tangible progress.
I need something concrete. Pun intended. Rant over.
John Raftery
29
Posted 26/05/2019 at 07:37:40
Latest stadium announcement receives a guarded welcome on ToffeeWeb.
Ray Morgan
30
Posted 26/05/2019 at 08:20:15
This stadium will never be built!
Dave Abrahams
31
Posted 26/05/2019 at 09:00:18
Jamie (21), your last paragraph was a nice bright start to the day, something for me and a few more to look forward to, don't send any flowers, none requested!!!!
Martin Berry
32
Posted 26/05/2019 at 09:13:05
Mr Moshiri has not acquired the Liver Building only to have his office look over an empty dock site!
Eddie Dunn
33
Posted 26/05/2019 at 09:29:05
Surely the problem isn't with the planners and UNESCO regulations, these "so-called consultations" seem merely designed to pay lip-service to the views of the fans and the Liverpool public while buying more time for the moneymen to engineer the funding.
Moshiri may well (Martin) have his office in the Liver Building but that doesn't mean a thing. It's a nice place to work.
The scenario of us being dragged into the relegation scrap midway through the season would have had Moshiri and Co sweating buckets as they planned a spanking new stadium to potentially entertain Championship football. A big project like this is dependent on the club continuing in the top flight and keeping the money pouring in from the TV deals.
Moshiri's first priority will be to increase the value of the club so he makes his profit when he sells it on. Therefore, progress will be painfully slow and we will all have to be incredibly patient unless a bigger investor joins the party.... Usmanov?
Jon Withey
34
Posted 26/05/2019 at 09:53:10
So far it has created at least 3 jobs and kept another 20 people in jobs shuffling paperwork.
Phil Martin
35
Posted 26/05/2019 at 10:42:42
I expect a stadium design that is smaller and less glamorous than the Spurs stadium. Which mirrors our position as a club.
Kevin Molloy
36
Posted 26/05/2019 at 11:22:49
Clearly Moshiri is soft pedalling. This could of course be that he has hit several unexpected problems with Bramley-Moore Dock which need to be worked out, such as those touched on by Michael above. What concerns me, though, is why he isn't being transparent with us about what these are.
There is no need for secrecy if, eg, we've got to adjust the design to allow for sea walls etc. And this makes me think it's not problems with design at all. I reckon it's about the viability of the whole project. I suspect he's a carpetbagger who saw the Commonwealth Games thing, and the opportunity to make a fast hundred million, and couldn't resist.
I reckon he's now crunched the numbers, and whichever way he pitches it, even with the Council supporting him to build it, he probably gets more money now if he sells than in three years time with a new stadium which has a mortgage of £350m around its neck. Why? Any increased matchday revenue is probably more than offset by that gigantic loan.
If I was a betting person, I reckon he is scouting around now for offers. And the way these deals are done, the first we will hear of it is when it is all done.
It's all just a bit fishy at Everton. I mean, why on earth are we charging £299 for a season ticket? Tranmere Rovers charge more. It does make sense though if you're only gonna be around for the next 18 months and you don't want the fanbase getting overly restless.
Another whiffy thing is why do we have a charity person as our Chief Executive Officer? Well again, it doesn't make much sense, save that it makes it very difficult to overly criticise the club when we are involved in so many 'worthy' projects. Just like FIFA with their endless 'No to racism' adverts...
Brian Harrison
37
Posted 26/05/2019 at 11:28:11
I think most fans are of the mindset that we have been here before, starting with the Kings Dock, via Kirkby, and now to Bramley-Moore Dock. They are obviously further down the line than they were with either of the previous two destinations, but things seem still to be moving very slowly. Despite extensive consultations with fans and others last year, still more are planned before we apply to build the stadium.
Most fans seemed to want a 60,000 stadium but it seems like it's going to be nearer 52,000. So I don't know what else they want with further consultation? Surely all the consultation with various parties should already have taken place?
They have spoken to people and businesses in the area and have consulted with the Liverpool City Council since its inception, so who now do they want to consult with?
There is a thought that since it was decided that our new home was to be built at Bramley-Moore Dock, season ticket sales have increased since the announcement. Maybe the longer they drag it out, they think it will increase the demand for season tickets for the new ground?
For me, it's time for the consultation to stop and the planning application to be put in and build it.
Paul Birmingham
38
Posted 26/05/2019 at 11:38:43
For me this is an aspiration.
The club bought the ground allegedly for £25M, and you'd like to believe the Everton legal team undertook due diligence, into what type, how, where and when the can build on this ground.
My hunch is they may not have yet secured the capex, due to no clear design for the stadium and the surrounding area.
I could be miles off the reality, but the club will have set a budget for development and consultation, and doing it fully for such a monumental phase of the club's history is good.
What I don't see is building allegedly a 52k capacity on a tight space, which would then cost a massive amount to upgrade, say to 60k, in the future.
Surely the club can't underscore future growth of the club.
This is Everton, and whilst the glass is always half-full as in life, and we live in hope eternal for them to get back to the top of the game, the Bramley-Moore Dock project does need the club to make the right business descision.
Bearing the other thread about profit and loss, it's duly concerning how Everton FC is performing. Farhad also must be looking for a viable healthy business, but it needs a first-class and affordable state-of-the-art stadium.
At this rate, the RS will have extended the Anfield Road while Everton may still be procrastinating about Bramley-Moore Dock.
Benefit of the doubt again to the club; let's hope what is shown at the next public consultation is believable and is punchy and will give us all genuine hope for the future.
It's the future of the club at the top table, being able to compete, on par, which is at stake. I'm hoping for a nice surprise, but my instinct is airing on caution.
There's a long way to go... or so it seems to me.

Gary Carter
39
Posted 26/05/2019 at 11:39:19
I can't believe that none of the above comments, or the club, have blamed the "uncertainty around Brexit"!
Billy Roberts
40
Posted 26/05/2019 at 11:59:18
I think the plain fact that no images of our future stadium have yet to be seen is increasing this negativity from the majority of Toffewebbers, although some of it seems to be almost paranoid and conspiracy like.
This whole process to fans (myself included) does appear to be seriously overlong but, compared to the frankly amateur shitshow from the tragically missed opportunity of Kings Dock to the Tesco Kirkby farce, it is we hope just the natural process of a massive complex development like this.
Knowing nothing of this type of project, I am going to blindly keep my fingers crossed and hope it all comes good; the alternative is too depressing to consider.
One question I may have missed but please can someone say categorically what date can we see the images??
Jeff Armstrong
41
Posted 26/05/2019 at 14:08:44
How genuine is the consultation process if they've allegedly consulted with fan groups, who I, and plenty of others on TW believe, would prefer 55-60,000 capacity, even just to get one over the RS!
I doubt any serious fan consultation has gone on at all... hence 52,000.
Mark Murphy
42
Posted 26/05/2019 at 15:42:56
What's "a modestly blessed billionaire"????
Do you mean he has a small penis?

Bill Watson
43
Posted 26/05/2019 at 16:09:22
The consultation process is on time so no worries there. What does concern me is the alleged 'consultation' with fans over the capacity.
I'm a fan, I have a season ticket and I've been to every cup and league game this season, home and away. I'm also one of the 1500 odd small (no, not that small, Mark) shareholders. I haven't been consulted and I don't know anyone who has.
Maybe the club could enlighten us as to which fan group they actually consulted?
Jack Convery
44
Posted 26/05/2019 at 16:26:02
I can only assume the said ducks needed in a row have mutinied and refused to waddle single file. Ducking hell — just get on with it, FFS!!!
Kev Jones
45
Posted 26/05/2019 at 16:26:03
Jeff, #41, the fans have been consulted, more consultation is on the way but that does not mean that what some fans want is what they get.
Fan views are balanced against a business analysis of likely attendance in the future. So far, this has resulted in a plan for a 52,000 capacity and potential to increase capacity through rail seating. Decisions based on penis envy of Liverpool FC or Tottenham Hotspur will get Everton nowhere.
Mike Gaynes
46
Posted 26/05/2019 at 18:16:09
In the spirit of the past few posts and the discussion over seating capacity, let me add the thought that size is overrated, and I don't believe Everton management will phallus.
Brent Stephens
47
Posted 26/05/2019 at 18:23:58
Mike #46 - I agree. I don't think they'll have problems getting it up.
I'm so excited, "stadium erection" is a constant discussion in our household.
Jeff Armstrong
48
Posted 26/05/2019 at 20:08:40
Kev,45, that's my point, I don't believe its only "some" fans, I'd guess it would be a majority of fans who would want a 55,000 + stadium,and whilst I understand the commercial and business argument I still believe 52,000 is short sighted and lacks ambition.
Martin Mason
49
Posted 26/05/2019 at 20:32:53
Come on guys, give the club and us fans a break. The club is going to invest many millions in the new ground, they have many planning hurdles to jump over and they need to get the best advice possible before committing such a large amount of money. More importantly they have to be sure that they can repay this money and eventually see a return for it over its lifetime. They are spending millions on the necessary due process which shows a massive commitment to actually building the ground. Why we have to insinuate such ridiculous conspiracy as them not really wanting to build it is totally beyond me. Finance may not be in place but it doesn't need to be yet but Moshiri isn't going to pay for the ground so they will have to look for the best finance deal possible. All I see is a very positive and ambitious club who are absolutely intent on building a new ground but, correctly, intent on doing it properly. If they said anything more than they are now, and this is confidential corporate info, we would accuse them of King's Dock. I wonder sometimes what this fantastic club can do to satisfy some fans. Trust them and complain when we actually know that something is amiss.
52000 capacity optimistic? For a club that gets 38000 now and tickets are available? What is the miracle that gets 14000 new fans and remember, they can't afford empty seats. If anybody believes that 52000 is too low and can show it to be so then hand waving isn't the answer, get your info to the club so that they can take it on board.
Billy Roberts
50
Posted 27/05/2019 at 09:57:54
Sorry for repeating myself,
Does anyone know the date that the plans of the stadium will be revealed?
ToffeeWeb? Everton? Alan Myers? Joe Anderson? Dan Meiss? Speedo Mick?

Karl Masters
51
Posted 27/05/2019 at 10:15:16
Martin Mason it's not a miracle and you know it!
I'll give you three examples, and there's many more if you care to look:
Sunderland: crowds at Roker Park were around 20,000 or less for many years. Well under capacity and no season ticket waiting lists. As soon as the Stadium of Light opened crowds doubled and despite the Club's subsequent 20 years of yo-yo ing between divisions and winning nothing they are still at that level.
West Ham: Upton Park was a regular sell out at 34,000, but average sales of seats now ( if not always attendances ) have increased by 23,000. And that's is a stadium whose design is not exactly ideal for viewing football.
Everton: As soon as the new Park End Stand went up in 1994, average crowds jumped from 23,000 to 31,000, a 35% increase. Team was bottom of the table until December that first season. After the Fa Cup win crowds went up to 36,000 and have stayed at that level or higher since. That's with restricted views, high prices unless you have a season ticket and no success. Recently season ticket sales are record levels and capped, we've had 3 seasons now of sell out crowds and that's whilst watching some of the most dreadful football ever played at Goodison at times.
It's called the new stadium effect. It has happened at every single club who built a new stadium and even those who expanded what they already had.
Crowds would go straight to 52,000 sell outs I am certain if a 52,000 capacity got built. I think we'd go straight to 56,000 or so, so 60,000 leaves a bit of wiggle room. The Club has lost a lot of money by only building the Park End with a 6,000 capacity. Had it been the original 10,000 seat design from 1991, we'd be looking at crowds well over 40,000 now.
That lack of foresight and ambition in 1993 should not be repeated now.
They'll never extend it once it's built. Too tight a location. Rail seating might happen, but I can't see it adding 8,000 to the capacity. You'd need 16,000 minimum rail seats to do that and the leaked drawings show only the lower half of the 'Kop' style end ( so 7,000 max) plus a few seats in the away section. You'd get an uplift of no more than 4,000 from that with the maximum density factor of 1:1.5 being applied.
Steve Hogan
52
Posted 27/05/2019 at 10:15:47
Billy (50)
I believe it's the 26th July, external views only, inside the stadium still up for consultation.
Ta
Karl Masters
53
Posted 27/05/2019 at 10:24:02
Jamie Crowley, 21:
Ghoul Pool - love it! Haha
Billy Roberts
54
Posted 27/05/2019 at 11:10:31
Steve @50
Thank you, It may seem unimportant to some but it at least gives us the impression that things are moving ahead.
The debate when these plans are revealed (inside as well hopefully) will knock all previous debates out of the ring.
Frank Crewe
55
Posted 27/05/2019 at 13:03:55
What is with this obsession with the capacity? 52,000 would still give us give us the joint 7th capacity in the Premier League with Newcastle. Only two thousand behind the Reds and three thousand behind Man City and our ground would be brand new.
Having a 60,000 capacity hasn't suddenly turned the Hammers into a super-rich club and a bigger ground didn't stop Sunderland or Newcastle from getting relegated.
These days, the bulk of a clubs' revenue comes from the TV deal, sponsorship, merchandise and how much a billionaire owner is prepared to stump up. Moshiri has probably put more money into the club in the last three seasons than the fans have in the last ten. Ticket receipts are a small part of the revenue and really fans are there just to add atmosphere to games.
When a game is on TV, you can't tell what the capacity of a ground is. As long as it looks full, that is all that matters.
When this ground is finally built, I'm sure it will look just as good as any other club's ground and better than most. Especially as it will be positioned next to the river. Maybe they could put a ferry terminal in for the supporters from the other side of the river. Get the matchday ferry to the game.
Bob Parrington
56
Posted 27/05/2019 at 13:26:46
Unfortunately, this appears to be a kind of bullshit presentation by Mr Kenyon, saying nothing really. "You can fool some of the people all of the time and all of the people all of the time but you can't fool all of the people all of the time" comes to mind. Sceptic? Yes!
Martin Mason
57
Posted 27/05/2019 at 14:59:32
Karl @51,
You aren't spending a cent of your money to build the stadium and have no accountability if the calculations on capacity are wrong so it's easy to pluck ever higher figures out of the air. There is no such thing as a long term, sustainable new stadium effect and it didn't stop Sunderland sliding down the leagues even though they are an amazingly supported club.
52,000 capacity has a new stadium factor of 38% already so how could the club justify increasing this? The only thing that will put bums on seats is a better product on the pitch and we can't guarantee that. The loss of atmosphere that a partially full ground gives could also have a detrimental effect.
For me, the best way of increasing the capacity if it ends up too low is well managed standing accommodation. If we genuinely get to 60,000 potential then we could look at moving. I'm certain the club understands all of these options.
Bob, to be fair, your post also says nothing and remember that the most difficult people to fool is yourself or, in this case, the people who are taking the risk and actually spending the money. What possible benefit could the club get out of deceiving its fan base and paying a fortune to do it?
Karl Masters
58
Posted 27/05/2019 at 16:11:04
Martin, you were doing quite well until you suggested we could move again if 60,000 demand was ever reached! Now that really would be a waste of money and won't happen for at least another 100 years.
And whilst nobody knows for sure what the future holds, we can make predictions based on logic and what happened in the past. You are pointing at a 38% uplift in capacity, but crowds now are already 70% higher than the early '90s with the insatiable thirst for watching live football in the UK showing no sign of abating.
The Championship is the 4th best-attended league in Europe and many of those clubs are selling out regularly, especially the ones with relatively new stadiums.
Like I said before, this club already messed up once before by underestimating future demand. We are going to do this move once and once only. Safe standing won't make up the shortfall.
Just for once, Everton — do something properly and we won't be saying 'if only' and 'what if' afterwards.
Bobby Mallon
59
Posted 27/05/2019 at 16:39:24
Why couldn't Bill Kenwright sell to the sheikh who has just bought Newcastle, or someone of that monetary magnitude? We wouldn't be fannying about looking for backers...
Martin Mason
60
Posted 27/05/2019 at 19:54:47
Bobby, we have as much money behind us as we need which is basically a guarantor for sustainable financing. I want Everton to be successful but not because of Arab money. My expectations for the club are at best 4th or 5th with the very slight possibility of better. That would be real and attainable success.
Bobby Mallon
61
Posted 27/05/2019 at 20:05:39
Martin, I don't believe we have the money in Moshiri. I would love the Arab cash because for once I would love us to buy from Harrods and not have to worry about finance and asking other people to get involved. Just me.
Kev Jones
62
Posted 28/05/2019 at 06:57:00
Mike #46 & Brent #47 exposing the fallacies of each other's arguments is one of the many pleasures of ToffeeWeb, so stadium size was bound to matter.
Tom Hughes
63
Posted 28/05/2019 at 16:04:32
The 'new stadium' effect is a reasonably well-documented phenomenon but it's not a given. Sunderland is often cited, but Roker Park had been dramatically reduced in capacity long before the Taylor Report, and that clipped it even further again.
Yes, we're currently filling the place, but only the club know how big the waiting list really is, and how many individuals have bought tickets above and beyond that. What if 52k is closer to that ceiling?
They also know that cost per seat can rise almost exponentially with capacity (especially for larger stadiums) and will trim their capacity ambitions accordingly. The last thing they want is too much spare capacity.
Ironically, the only approach that could readily yield affordable spare capacity is a phased redevelopment, and once again this has been leapfrogged for the latest 'get rich quick' scheme. Hence, the convoluted arse-about-face process to date, where yet again we are forced to make the problem fit the chosen solution.
Yes, other clubs also had long drawn-out processes, but not normally after the site has been fully acquired. Spurs had to make substantial and complex property acquisition and clearances, and several joint venture partnerships. Arsenal, were pioneering whole new territory for large British clubs, and had lots of issues regarding the site, its suitability, infrastructure and preparation. Both published designs early in that process.
Bramley-Moore Dock was probably prompted by the Commonwealth Games bid and funding, and potential enabling projects via the Liverpool Waters scheme. None of which have been forthcoming, and the obvious problem issues still remain...
Anyone for the Loop site? The club rejected it out of hand because HOK's initial outline study mentioned a 55k capacity. The club said this was insufficient!!
Gerard McKean
64
Posted 28/05/2019 at 16:17:32
Bobby #59, it takes a rare dedication and patience to find a buyer for your expensive train set who will then let you continue to run it and control it.
Paul Burns
65
Posted 28/05/2019 at 17:30:43
Members of the community? What's the stadium design got to do with them? You think Liverpool FC ever ask anyone's opinion?
God, Everton are a stupid, gullible entity. By trying to please everyone, they'll please no one.
The only ones who count are Everton supporters, get on with it, for Christ's sake.
Paul Burns
66
Posted 28/05/2019 at 17:43:21
By the way, off on a tangent, I've heard the Champions League redshite semi win was fixed with Barcelona as part of the Coutinho deal as a prepared result next time they met. It fucken reeks.
Anyone else heard about this?
Jay Wood
[BRZ]
67
Posted 28/05/2019 at 19:21:33
Thank you, Paul Burns, for alleviating the boredom of the closed season.
That is as funny and as whacky a conspiracy theory I have ever heard on any subject.
Brian Williams
68
Posted 28/05/2019 at 20:02:18
Paul #66.
Anyone else heard that?
Are you serious, mate, honestly?
Tony Abrahams
69
Posted 28/05/2019 at 21:00:10
I heard that Liverpool let Barca win 3-0, as part of the Coutiniho deal, but only if Barca let them score four, because they actually paid less money for Suarez!
Uefa know about this but they didn't want Barcelona playing in the final in Madrid, but apparently Athletico are fuming because they don't want a team wearing an all-white strip to win the final at their new ground?
Gerry Morrison
70
Posted 28/05/2019 at 21:01:20
Any evidence for that, Paul?
Mike Gaynes
71
Posted 28/05/2019 at 21:37:12
Actually, both games were fixed as part of a larger political conspiracy involving Brexit, the Catalan independence movement, Putin's betting consortium, and the video of Trump doing the golden showers bit with Russian hookers.
Kieran Kinsella
72
Posted 28/05/2019 at 21:37:56
Bobby @61,
Juventus have pushed through the FFP rules to prevent the potential Newcastle owner, Moshiri or anyone else doing a Man City. Even City are in danger of being kicked out of the Champions League despite "negotiating" their own punishment for the same thing a few years back. So the only way for Everton to spend more is if the club generates more income.
Karl Masters
73
Posted 29/05/2019 at 12:01:59
I heard that Bill rang Barça and offered them the pick of any ex-Everton manager if they agreed to lose the Semi to Liverpool.
Surprisingly they bit his hand off and, despite the press saying Martinez or Koeman are in line, it is actually Unsworth that they want. True story.
Gary Edwards
74
Posted 31/05/2019 at 13:54:58
I make my living from the development and realisation of mega projects (the new stadium is not mega by definition) and as an interested toffee I like to keep informed of any progress, notable milestones etc. I hope that I'm wrong but in my World this project will fail.
Kieran Kinsella
75
Posted 31/05/2019 at 14:01:25
Add Your Comments
In order to post a comment, you need to be logged in as a registered user of the site.
Or Sign up as a ToffeeWeb Member — it's free, takes just a few minutes and will allow you to post your comments on articles and Talking Points submissions across the site.