Tosun restates his desire to remain a Blue
Monday, 27 May, 2019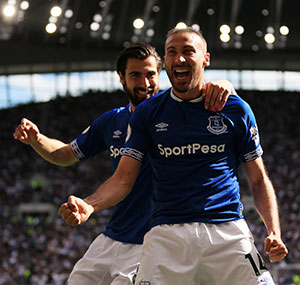 Cenk Tosun has reiterated his commitment to Everton, saying he is content with the Blues and is looking ahead to trying to get the club into Europe next season.
The Turkish international has struggled to make the first-choice starting role his own since arriving at Goodison Park in January last year as one of two signings made by Sam Allardyce and made just 11 starts in all competitions this past season.
He played second fiddle for the most part to Dominic Calvert-Lewin and with Marcel Brands and Marco Silva expected to target another striker this summer, there has inevitably been speculation that Tosun could move on.
A return to Turkey with his former club, Besiktas, has been mooted while there has been unsubstantiated talk of interest from Italy but the player doesn't appear ready to contemplate leaving Everton just yet.
"I had a good start in my career at England," he told Asist Analiz, "but I want to do more. I still have a three-year contract with Everton and I'm happy there.
"We couldn't qualify for European football, but we came so close. Hopefully, next season we will be able to do that.
"We are happy as a family in Liverpool and I want this to continue."
Quotes sourced from Asist Analiz via Sport Witness
---
Reader Comments (31)
Note: the following content is not moderated or vetted by the site owners at the time of submission. Comments are the responsibility of the poster. Disclaimer
David Pearl
1
Posted 27/05/2019 at 17:34:32
You have to say the ball is in his court. He has a contract on more than any other club would likely offer him. So his choice is to get his head down and when he gets his chance he takes it. He knows how to finish. I'm thinking of anything else encouraging I can say. Help
Derek Knox
2
Posted 27/05/2019 at 17:58:12
David, while I agree the lad can finish, I must add that is only when it's on a plate for him, and also that it is not his fault he is on a mega-money contract.
I would rather we get shut, at a loss if need be, as may be the case with many other passengers on the gravy train. I'm afraid Farhad must take some of the blame as he has presumably sanctioned a lot of the spending/wages.
Denis Richardson
3
Posted 27/05/2019 at 18:34:35
Not surprised he's happy to stay a blue on £65k/week! His contract has another 3 years to run so he can pick up over £10m just sitting on the bench for the next couple of years. Why on earth would he want to move somewhere paying a lot less?
Unfortunately I can't see this Allardyce panic buy leaving anytime soon as no other club is going to pay him any where near what we're paying him. Possibly a loan out and we cover a portion of his wages.
Add to the likes of Sandro, Niasse, Vlasic, McCarthy, Bollasie, Garbutt, Besic... highly paid players we simply cannot give away. At best farmed out on loan with us still paying part of their wages.
Just what was the club thinking when they handed some of these contracts out? Haven't even mentioned all of them.
Mike Gaynes
4
Posted 27/05/2019 at 18:40:04
I wouldn't call him a passenger, DK #2. I don't think he's good enough, but he never gives less than 100%, and his failures are never due to lack of effort or passion.
And fair play to Cenk or any other player who loves the club and the city and wants to stay. We certainly can't move him on without his approval, and if he is determined to stay on and improve his game enough to earn more minutes on the pitch, good for him.
Maybe he'll surprise us all.
Derek Knox
5
Posted 27/05/2019 at 18:51:27
Mike G, maybe passenger was a bit harsh, shall we settle for an unwanted hitch-hiker?
Darren Hind
6
Posted 27/05/2019 at 18:58:54
I wonder how long Moshiri will be paying for his shocking judgement when appointing Koeman and Allardyce?
The wages and fees we agreed to pay average players throughout this awful period only served to make us the ugliest team in England. They could have funded the stadium at Bramley-Moore Dock... and we would not have suffered the shame.
In darker moments, I wonder if we will ever recover...
Mike Gaynes
7
Posted 27/05/2019 at 19:00:18
DK, hmmm... more like a girl you took out on a first date to an expensive restaurant but then realized that, nice as she is, she's really not all that hot.
Darren, my impression at the time was that Tosun was more a Walsh signing than Fat Sam's -- still a Moshiri mistake, but give him credit for correcting it. I'm a huge Brands fan.
Jay Harris
8
Posted 27/05/2019 at 19:04:20
No wonder he is happy in Liverpool.
There is a huge Turkish community and on £65k a week he is probably the biggest earner so he can indulge himself and his family while sunbathing on the bench and enjoying the camaraderie with the lads.
We are far too nice a club. He needs to be pushed to either start performing or be shipped out. Preferably the latter based on his lack of mobility.
Tony Abrahams
9
Posted 27/05/2019 at 19:11:31
Not about being nice, Jay, just a player who's not going to go easily, unless he can make even more money out of Everton or another team before he leaves?
Brian Harrison
10
Posted 27/05/2019 at 19:37:28
This only highlights the massive problem that Silva and Brands are faced with this summer. These players like Tosun have absolutely no intention of making life easy for Everton to get shut of them. They know that no other club here or elsewhere will pay them the stupid money that they are on with Everton, so who is going to move to take a pay cut.
This applies to all the others who will not move away for less money, so as I have said on numerous occasions, these players returning to Finch Farm for pre-season training will have a toxic effect.
I think the only deals that Moshiri will sanction will be for Zouma and Gomes but, as the days pass by, it looks unlikely either will be plying their trade at Goodison Park next season.
Si Smith
11
Posted 27/05/2019 at 19:54:50
Tosun is very similar to many of our recent signings, he's overpaid and simply not good enough. It's not his fault we bought him, and he was never going to turn down the big wages.
He has a contract, he needs to be told we will make up the difference in what he is set to lose, that's the only way a lot of our fringe players will leave.
Andy Meighan
12
Posted 27/05/2019 at 20:04:54
I love this lad's attitude and love the way he has embraced our great club and its magnificent fans. But – and there's always a 'but' behind it – I get the feeling he won't get much playing time.
Under the way Silva plays, I think he will always be an asset coming off the bench late-on, when defences are tiring, but I don't think he fits into the way Silva sets us up. Still, he knows where the net is but maybe he'll end up in a league where a system suits his style.
Bobby Mallon
13
Posted 27/05/2019 at 20:07:33
Cenk will come good.
Martin Mason
14
Posted 27/05/2019 at 20:11:20
Surely none of these buys were mistakes. That conclusion can only made with 20:20 hindsight. At the time, we were desperate and, being underfinanced, we were taking risks. If we had done nothing, our complaints would have been even louder and more unreasonable.
David Pearl
15
Posted 27/05/2019 at 20:11:50
We could try taking away his locker.
Mike Gaynes
16
Posted 27/05/2019 at 20:15:56
David, that's been tried. Didn't work.
Jay Harris
17
Posted 27/05/2019 at 20:22:05
Martin,
That is true to a certain extent but you minimize the risk by doing a proper assessment of a player before taking the plunge. Moyes was so careful with the little funds he had but his successors have been like kids in a sweetshop and bought on instinct.
James Stewart
18
Posted 27/05/2019 at 22:14:34
Likeable or not, this guy is utter garbage and was daylight robbery at £27M!
Needs moving on asap.
Tom Edwards
19
Posted 27/05/2019 at 22:37:51
I have to agree with others on this thread. It doesn't matter how nice a guy he is, if he is shite, he should be moved on.
I think a lot of Everton's problems have arisen because we are too soft. Let's face it, most of the highly successful teams are sprinkled with nasty bastards who aren't arsed whether or not people think he is 'a nice fella'.
We need to be trying to get a few Roy Keanes, Vinnie Jones and dare I say it, Souness-type of twats to enforce our reputation on opponents.
Mike Gaynes
20
Posted 27/05/2019 at 23:07:27
You stuck in a time warp, Tom?
No, most of the highly successful teams are not sprinkled with "nasty bastards" anymore.
Guys like Vinnie Jones couldn't stay on the pitch 20 minutes in the modern game. They're not even around anymore.
What passed for routine fouls in the 20th century now bring flurries of yellow and red in the 21st.
And as for "moving him on", modern contracts mean you can't do that unless the player is willing to go.
Billy Roberts
21
Posted 28/05/2019 at 06:48:37
Tom @19,
Just in case you weren't around during that era, Souness and Keane were brilliant midfielders capable of everything needed and intelligent, so I believe they could have played today.
To call Tosun shite is over the top. Vinny Jones was shite all day long and really shouldn't be mentioned in the same sentence as the first two if you want to be taken seriously.
Eddie Dunn
22
Posted 28/05/2019 at 08:02:27
Tosun is not "shite", he has an eye for goal and gets in good positions, he fights hard for the ball and shows lots of effort. The system employed does not suit his style – he is a poacher and needs a partner to play off and so many times this season I have seen him overlooked by wingers or midfielders who have gone for a shot rather than pass. In the right set-up, he would justify his price tag.
Peter Warren
23
Posted 28/05/2019 at 17:33:54
Jay - Moyes seemed to make plenty of mistakes when spending what we considered big money for his time. Richard Wright, that centre back who couldn't head, James Beattie and Bilyaletdinov to name a few who came with hefty price tags and were either garbage or average.
I'm not saying this to criticise Moyes — he and his team plucked many a gem for a pittance — just pointing out that what appears like poor buys, like Schneiderlin, Tosun and Bolaise, do occur.
Jay Harris
24
Posted 28/05/2019 at 18:13:04
Peter,
I understand your point but the proportion of "failures" brought in is much higher recently IMO, and most on big contracts:
Kone, Bolasie, Vlasic, Martina, Williams, Tosun, Niasse, Tarashaj, Sandro, Rooney, Walcott, Mina etc.
Phil (Kelsall) Roberts
25
Posted 29/05/2019 at 07:48:58
Reporter: "Cenk. Thanks for your time to answer some questions. Are you happy here at Everton and looking forward to next season?"
Cenk: Answer A: "Yes, I am happy here." [under his breath - "I'm getting £65k per week!"]
Cue: Outrage on ToffeeWeb – not worth it; get rid; waste of space.
Answer B: "No, I want to play regularly and for a Champions League club like my last one."
Cue: Outrage on ToffeeWeb – no loyalty; who does he think he is?
Players being interviewed are just like Huddersfield – they can't win.
Denis Richardson
26
Posted 29/05/2019 at 09:02:36
Phil - don't think anyone is outraged at Tosun. There is no one on this site who wouldn't jump at £65k a week.
Fault lies squarely with the club.
Sean McCarthy
27
Posted 29/05/2019 at 19:59:32
Bobby #13. where is the evidence that tosun will 'come good'??
He looks total pants to me. Far too slow for the Premier League. I don't care whether he was a Walsh signing or a present to us from Fat Sam, hes simply not good enough
And Farhad Moshiri sanctioning his 65K pw on top of the 27m fee says all we need to know about our owner's footballing knowledge!!
Martin Mason
28
Posted 29/05/2019 at 20:39:05
To be fair to Tosun he works very hard. As part of the analysis on whether to buy or not the club have an algorithm based on many parameters which comes up with a prediction of whether Tosun could succeed or not in the EPL and he ranked highly. It is very difficult to know how somebody playing well in an inferior league will perform at the higher level.
Can he come good? No because he runs all over the place but doesn't have the necessary acceleration nor positioning instinct that the very best strikers need.
Club to blame? Not a chance, they were resource constrained and were trying to get that holy grail of a good player at great value. 20/20 vision is brilliant in hindsight. I'd sooner look at the great deals they've done in recent times like Zouma and Gomes on loan and the purchase of Mina who has a decent chance of making it.
Denis Richardson
29
Posted 30/05/2019 at 19:38:36
Martin 28,
Based on our general transfer dealings over the last couple of years, I'd suggest Everton stuff whatever algorithm they're using down the toilet and flush it away.
Better still, gift it to them across the park.
A blind donkey would have bought better for less money!
Jay Harris
30
Posted 30/05/2019 at 19:48:03
Totally agree, Denis.
Because of the "Moshiri fund" availablity, we seemed to buy out of desperation rather than proper research.
Martin Berry
31
Posted 31/05/2019 at 00:08:57
Well, I like him as he can really finish, his goals for his national team prove that. The problem is that he has still not got to the pace of the Premier League.
Will he be given another season to break through? Can we somehow get another yard of pace into him? Difficult, I know... but I would keep him a bit longer.
Add Your Comments
In order to post a comment, you need to be logged in as a registered user of the site.
Or Sign up as a ToffeeWeb Member — it's free, takes just a few minutes and will allow you to post your comments on articles and Talking Points submissions across the site.