Ryazantsev says new stadium is key to Blues' future
Wednesday, 29 May, 2019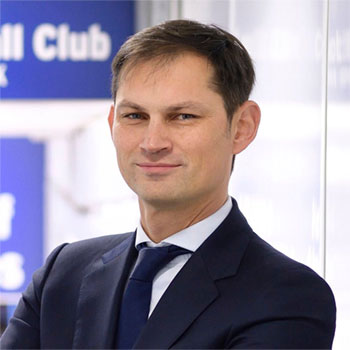 Everton's finance chief says that the proposed move to Bramley-Moore Dock is vital to the club's future and that Tottenham Hotspur have shown that it is possible to remain competitive while still funding such a large-scale project.
Speaking to fcbusiness magazine, Sasha Ryzantsev, the Blues' Chief Finance and Commercial Officer, explained that the new ground will give Everton a leg up in terms of commercial performance, with increased matchday revenue and wider sponsorship possibilities.
He also reiterated that the club's hierarchy envisage that the build will take three years from the time the planning application is approved and the first spade goes into the ground at the historic north docks site.
"We see the new stadium as an opportunity to further move the club towards the Premier League elite again," Ryazantsev said. "We will have more capacity and more concourse space enabling us to offer a better fan experience.
"We also hope to attract better partnership deals and earn more broadcasting revenue with an iconic setting for our stadium on the Liverpool waterfront.
"And the one thing that we very much hope to bring from Goodison is the atmosphere of our amazing fans.
"I think every year in the Premier League is a challenge for all of us, whether it is a new stadium, competing for the title, European places or if you're in a relegation battle. It is a very challenging league.
"I would almost rephrase it: would it be challenging for us not to move to a new stadium over the next decade? I think that it would be a much bigger challenge.
"If you look at the obvious example of a similar project recently," Ryazentsev continued, referencing the Tottenham Hotspur Stadium, "that team has managed to build a new stadium and compete on the pitch.
"We hope we can learn from that in terms of managing the construction process while also performing on the pitch and increasing our commercial growth."
Ryzantsev was asked where Everton are with regard to plans for the new stadium and when the club envisage breaking ground.
The club continue to plan for the team kicking off at Bramley-Moore Dock for the first time in 2023 but everything will be dependent on the planning application and securing the required funding.
"We have made steady progress so far," he replied. "We are on track to submit a full planning application for a new stadium before the end of the year.
"In terms of funding, we are in a good place; we have options available to us in both the private and public sector and will carry out due diligence on the best deal for the club.
"I am as keen as every Evertonian to break ground but we have been clear that this can only happen once we get planning permission and once we do, we estimate it could be a three-year build."
---
Reader Comments (71)
Note: the following content is not moderated or vetted by the site owners at the time of submission. Comments are the responsibility of the poster. Disclaimer
Alan J Thompson
1
Posted 29/05/2019 at 06:29:06
Sounds very much like the "steady as she goes" bit but, without planning permission, nothing is ringfenced.
Tony Abrahams
2
Posted 29/05/2019 at 07:26:59
That's a great picture you have put up Lyndon mate, just imagine how much better it's going to look in a few years, when it will have our new stadium on it!
Ray Roche
3
Posted 29/05/2019 at 07:47:29
There were some concerns that a car park would be between the stadium and the river. That photo would appear to disprove that idea.
Martin Berry
4
Posted 29/05/2019 at 08:09:26
Let's give Everton some credit here in appearing to be doing things the right way, having learned and taken on board the failings of other Premier League constructions failings.
Ray Morgan
5
Posted 29/05/2019 at 08:43:43
It will never get built!
Brian Williams
6
Posted 29/05/2019 at 08:46:22
Wondered how long that post would take............
Clive Rogers
7
Posted 29/05/2019 at 09:08:02
Please don't use the term "ring-fenced". It reminds me that the money for King's Dock was ring-fenced.
Tony Abrahams
8
Posted 29/05/2019 at 09:16:24
So much different than the Kenwright fiascos, which is the very reason some people have no trust that this stadium will ever be built?
Dave Abrahams
9
Posted 29/05/2019 at 09:18:52
Tony (2) and Ray (3), which photo? You haven't left me out have you Lyndon?
Dave Abrahams
10
Posted 29/05/2019 at 09:24:55
That was quick Lyndon, it's on now. Thank you.
Brian Harrison
11
Posted 29/05/2019 at 09:25:56
I find it a bit strange that he says its all dependent on getting planning permission. Liverpool City Council have been on board with this project since the start and have even put forward a plan to help finance the stadium. We have already had an extensive period of talking to businesses in the area and local residents, and Everton has said the feedback has been very favorable. We plan a further consultation later this year, so I would find it very strange if our planning application was turned down.
As for Spurs showing you can be competitive while building a new stadium, well they had a couple of transfer windows were they spent nothing. Same thing happened at Arsenal when they were building their new stadium. It will be interesting to see how much we spend in the transfer market once the building of the new stadium has begun.
Tom Hughes
12
Posted 29/05/2019 at 09:27:55
Ray (#3),
The photo shows the whole plot, and the car park could still be on the riverside. Anyone who has ever stood on the Quayside mid-winter would see the benefit of a decent wind barrier.
The photo's perspective is slightly deceptive, the distance to the Liver building is a good mile or more.
Matthew Williams
13
Posted 29/05/2019 at 09:56:59
Very true, Sasha... so is winning a trophy!
Brian Williams
14
Posted 29/05/2019 at 10:10:57
Brian #11.
I'm not being funny, mate, honest... but HE doesn't say "It's all dependent on planning permission." That statement was made by the author, I believe.
There's a huge difference in who said it and Lyndon has chosen to word it in that way which some could look at in a negatively.
Although "true" that, without planning permission, it couldn't be built (nothing can these days), I think how people take Lyndon's words depends on whether they're the half-full or half-empty team.
I suspect the club are making very sure that, when they apply, that the permission will be guaranteed, as they'll have taken the time and consulted with all those needed to make sure there's no problems and no need to revisit the application.
That's just how I see it. Mine's half-full!
Tony Abrahams
15
Posted 29/05/2019 at 10:46:36
Sky sports keep showing a picture of the beautiful Baku, and although Liverpool looks good coming from the south of the City, it looks the total opposite when you approach it from the north end.
For the future prosperity of the city, this whole regeneration package is going to be massive, and although Everton is the main concern of most people on this website, this is going to be such an incredible scheme for the city of Liverpool.
It's fucking incredibly huge, and hopefully by the end of it, this is what Everton Football Club will have become once again!
Tom Hughes
16
Posted 29/05/2019 at 10:47:17
It's not just the council that has to be happy with the application, the heritage people will also have a potentially major say, and the transport plan will have to be watertight too. Of course, much of the broadbrush issues should've been flagged up and resolved long before Bramley-Moore Dock was ever mentioned.
The initial clamour for the Commonwealth Games (and its funding) may have overwritten that, hence the long delays and presumably the period of deep reflection since that failed bid.
John Raftery
18
Posted 29/05/2019 at 10:59:49
Brian (11),
I am not sure the Council as a whole is on board. Mayor Joe Anderson most certainly was but as I recall there were quite a few councillors, not to mention members of the general public, questioning the use of public funds to meet the up-front costs. That partly explains why the club felt obliged to investigate alternative sources of investment from the private sector.
Brian Williams
19
Posted 29/05/2019 at 11:33:13
Tony #15.
Tony that'll all change mate when we hear the words we'll all relish.
"Tottenham Hotspur, Champions of Europe." 🤞🤞🤞
Bill Watson
20
Posted 29/05/2019 at 11:57:26
John; the council 'voices' against was some insignificant Lib Dem who was attempting to create an 'issue' to keep his name in the public demain. I can't even remember the guy's name!
I'm not sure exactly where the World Heritage Site ends but right next door is a sewage treatment plant which didn't seem to have much difficuly being approved.
Laurie Hartley
21
Posted 29/05/2019 at 12:15:30
I followed Lyndon's link in the OP to FC Business Magazine and read the full article.
It is well worth reading especially for anyone that doubts that the club is fully committed to the project.
Derek Knox
22
Posted 29/05/2019 at 12:38:51
Bill @20, The sewage treatment plant is proposed to be the away team dressing room on Derby days!
It's certainly looking as though they are going about this project in the correct manner, so let's hope that this time next year, we are actually seeing something positive happening on the groundwork.
Brian @14, mine is usually half-full too, but at the moment it's empty. It's your round by the way, thirsty work this! :-)
Kieran Kinsella
23
Posted 29/05/2019 at 13:32:26
So are we building on top of the actual dock? In the rectangle of water ring-fenced by concrete?
Kieran Kinsella
24
Posted 29/05/2019 at 13:32:26
So are we building on top of the actual dock? Ie the rectangle of water ring fenced by concrete?
Tom Hughes
25
Posted 29/05/2019 at 13:41:13
Brian #19,
Apparently Bramley-Moore Dock is just inside the World Heritage Site.
Not sure if the sewage plant predates it or is just outside or both.
Jay Wood
[BRZ]
26
Posted 29/05/2019 at 13:41:53
Laurie @ 21. I did likewise and followed Lyndon's link and read the whole article. Did you click forward a few more pages and read the single page article on the refurbishment of the Goodison Park hospitality lounges also?
It's an impressive magazine, actually, with lots of very good content.
On another thread, Kenyon's recent statement on the state of affairs related to the new stadium build, there was a lot of cynicism and scepticism about this ever coming to fruition. Most notable was that of one of the editors, Michael K., who in the past has been witheringly dismissive of the nay-saying of a huge new stadium sceptic, Tony Marsh. Even Michael seems to be wavering in his confidence that the stadium will be built.
If, as the more extreme cynics are inclined to believe, that this is yet another tale in a long history of Everton 'hoodwinking' the fans into believing we really are going to build a new stadium, it's a very public and very expensive charade they are playing.
As such, I have to believe they are sincere and fully intend to deliver on this project.
Kieran Kinsella
27
Posted 29/05/2019 at 13:49:12
Jay,
I think the lack of obvious progress, specific financing, and timelines has caused frustration alongside endless public consultations. In this piece, at least we have some tangible info on timelines. That is all we naysayers wanted along with news of financing.
Jay Wood
[BRZ]
28
Posted 29/05/2019 at 14:00:47
Kieran, the info you wanted to see has long been in the public domain. There is nothing particularly new or revealing in this article in that regard.
This article offers some interesting insight into broader marketing and financing of the club, rather than exclusively focus on the progress (or otherwise) of the new stadium build.
Jamie Crowley
29
Posted 29/05/2019 at 14:30:33
As Jay mentions, there is nothing particularly new or revealing in this article.
No financing.
No tangible progress.
A lot of bluster saying all the right things.
As soon as the financing is publicly announced as secure, I'll start singing a different tune. And I'll also be thrilled.
A shovel or two in the ground wouldn't hurt either.
Kieran Kinsella
30
Posted 29/05/2019 at 14:36:28
Jay 28,
That isn't really true is it? It has been a moving target. This article is talking about first playing there in 2023. Colin Chong Everton's "stadium director" said in August that the stadium would be ready by August 2022.
In March 2017, The Echo said Everton planned to start playing in the stadium for the 2020-21 season. They even mentioned a "2020 plan" with the idea being that three years from "now" which was then 2017, that the stadium would be up and running.
It is now midway through 2019, and as of yet, we are still at the stage where we are planning to submit an application by the end of the year for opening in 2023. Which means, three years on, we are at the same position we were three years ago in that we are looking three years down the road.
Jamie Crowley
31
Posted 29/05/2019 at 14:42:25
This is what I hear when they roll out their new stadium PR interviews.
Link
Tony Abrahams
32
Posted 29/05/2019 at 14:50:23
Sinaed O'Connor singing "Don't Cry for Me Argentina" is absolutely flawless Jamie, such a shame that a girl who was well ahead of the game with regards to bringing up child abuse in the Catholic Church, has seemingly lost her way, mate.
Graham Lloyd
33
Posted 29/05/2019 at 14:51:24
I do understand there is a pathway to go down so we can make this a smooth transaction, so I have not got a problem.
The neighbours seem to be very negative about everything to do with it.
I would like our owner to come to us with a definite statement that all is good and that as long as the planning is successful we will be moving.
I don't think we are appreciative of Mr Moshiri. I feel he has been a positive influence on our great club.
Derek Knox
34
Posted 29/05/2019 at 15:25:58
Jay @ 26, I read the article on the refurbishment of the Lounges at Goodison Park, both in the magazine and somewhere else which I can't quite remember. This is another project which is sure to raise suspicion among the sceptics.
It's like getting a complete re-upholstery of your old car, knowing that you will be scrapping it in the near future. I know and appreciate the Stadium will not be built overnight, even after all the planning etc, has been sanctioned and finances in place. However it does make you wonder, why go to the expense of refurbishment?
It's not as if the present Lounges are like a Scout Hut with a leaking roof and they are not welcoming in their current state, so why the outlay when presumably the place will be vacated fairly soon if all goes to plan?
Phil Martin
35
Posted 29/05/2019 at 15:47:53
A hard fixed 52,000 capacity stadium is not the key.
John Cartwright
36
Posted 29/05/2019 at 17:10:11
Couldn't agree more, Phil. If we don't show ambitions to match the new or redeveloped grounds of other clubs, we will be locked into mediocrity probably forever.
Tom Bowers
37
Posted 29/05/2019 at 17:14:09
Yep, the key to the future is a great team with a great manager, à la Pep.
New stadiums do not guarantee success. Yes, sometimes it happens together like in the case of Man City but very rarely.
Disturbs me that nothing seems to be happening on the team improvement front as yet. Are they waiting for the transfer deadline to loom large and then do some panic buying with inflated fees?
Enough of this Bramley-Moore crap! Let's get down to real business in getting this team great again.
Michael Kenrick
38
Posted 29/05/2019 at 17:38:30
Jay,
I've become increasingly disappointed (but not quite disillusioned) with the entire process, to be honest.
I thought when it first came up that the Commonwealth Games stuff was a ruse or a distraction but turns out that I think what Tom Hughes says repeatedly about it has been spot-on. It is only too clear now that they saw an opportunity to make a very fast buck, and when it fell through... well, " hence the long delays and presumably the period of deep reflection since that failed bid" — how else do you explain the inordinate delay? Once the bid failed, everything effectively stopped while they panicked... then regrouped.
I thought the public funding scheme spearheded by Joe Anderson was an all-round win but politics, of course, has seemingly scuppered that, with the club paranoid not to be seen to be using 'public money' to fund a private venture — no matter what the ultimate benefits may be.
Then they came up with this Public Consultation garbage... sorry but that's what it is. If people are set on opposing the project, no amount of public consultation is going to win them over. How many of the 6% unsupportive (that is 1,200 out of the 20,000) will it take to derail the planning application?
Perhaps only one or two if they happen to be English Heritage or UNESCO. There was a report the Echo referenced in one story, claiming that the way the city is going to manage this issue has been laid out and received the green light from UNESCO, seemingly removing those objections.
But, in reference to posts above, Bramley-Moore Dock is inside the designated boundary of the World Heritage Site. (I'll post a map lower down...) Nelson Dock, next door, is not, and was filled in to construct the sewage works. From Google Earth, that happened around 2012 but was probably in the pipeline for many years, I imagine, and plans for it likely helped define the northern extent of the WHS designation back in 2004.

And finally, there's the capacity issue, where I think they are making a massive massive error. I'll say no more than that topic.
None of this addresses the 'hoodwinking' issue or the utter nonsense of a similar vein posted by Tony Marsh. I basically have no patience for people like him who spout crap and make meaningless predictions on things they know nothing about. I find it pointless to ask if the club is being sincere or honest about this, that is just the path of conspiracy theories.
Projects like this move forward — always seemingly far slower than you think they should — until they either get built or they stop. I've never understood the need for some people to put their money on one side of that dichotomy or the other. It's just what happens. Sadly, our history so far is 0-3 for stopping. Does that mean this one will go the same way?
Er... Watch this space.

Kieran Kinsella
40
Posted 29/05/2019 at 17:39:44
Tom 37,
Don't worry: any day now, Unsie will announce that Harry Charsley has signed a new five-year deal and is like a "new signing" before being loaned out to the Dog and Duck Pub team in the Grimsbury Colour-Blind Athletes League.
Phil (Kelsall) Roberts
41
Posted 29/05/2019 at 17:43:15
Any thoughts on Brands & Silva's desire for younger players is so that we will not have older players retiring and needing to be replaced during the building phase?
Perhaps there is a long-term plan.
James Hughes
42
Posted 29/05/2019 at 18:05:42
Tony ~32, what the feck are you on about? The link takes me to a clip of Charlie Brown.
David Pearl
43
Posted 29/05/2019 at 18:05:47
I think that's exactly what's going on, Phil. Spurs did something very similar. Have they bought any new players in the last 18 months? Recruit young and hope they develop. Spurs are now able to buy again. Bramley-Moore Dock is vital.
Jay Wood
[BRZ]
44
Posted 29/05/2019 at 18:35:57
Kieran @ 30. What isn't true?
As you yourself state, due to changing circumstances a 'fixed' date as to when we would be in situ at Bramley-Moore Dock has been a moving target. When Birmingham won out over Liverpool to host the Commonwealth Games, the 'hurry-up' to get the stadium in place by 2022 went bye-byes.
The proposed public funding by Joe Anderson – which, as Michael mentions in his post @ 38, was always going to be a difficult sell due to party politics – was an easier sell with the association of bringing the Commonwealth Games to the city. Full or partial funding from public funds is not yet completely off the table, and Everton has been quite transparent that it is comparing alternatives from the private sector also.
Unlike some, I don't pretend to understand such lofty matters as funding or planning permission for such large scale projects. I certainly wouldn't expect to be privy to every inner circle conversation concerned with commercially sensitive info such as funding.
Given Everton's very poor record in attempting to relocate in the past 20 years, the current guardians – at least superficially – appear to be going about things in an orderly and very meticulous manner whilst being as transparent as feasibly allowed with the fans as they do so.
That it is possibly being too meticulous and slow-moving for some is evident by the reaction on here each and every time there is any news on the subject.
I can understand Michael's mind shift from 'believer' to 'increasingly disappointed' (but not yet disillusioned).
I have a lot of time for Tom Hughes's views, including those on that recent Kenyon thread that – as romantic and appealing as it may be to locate a stadium at Bramley-Moore Dock – due to potential challenges of building on a World Heritage listed site, we are possibly snookering ourselves and making the process more difficult than is necessary.
The Public Consultation process which Michael – quite reasonably – labels as 'garbage', was fine as a 'one-off', but to have a – what is it now? A second, even third public consultation – is over-egging it IMO.
The capacity issue is a thorny one and I align myself with those who think it should be higher than the (presumed) 52k the club is looking at. Paul the Esk has consistently presented a solid case why capacity should be higher than that.
This is a key issue as the inference from Dan Meis is there will NOT be much if any wriggle room to expand after the initial build, so that number has to be right from the off. But I personally have no hard data on which I can back up my inclination. The club, I'm sure, do.
I'm just not given to reading signs in the tea leaves that this will or will not happen as some are inclined to do.
Steve Ferns
45
Posted 29/05/2019 at 18:48:37
Guys you get too obsessed over details! The lounges get done up every few years. You can't let the lounges get tatty and then charge what they do for it. I'm in the people's club. It gets done every three years or so. It's been about five years since last time. And it's due a refurb. Don't get too carried away guys. This is business as usual and we were always gonna be here for another 3 years at least.
Mike Gaynes
46
Posted 29/05/2019 at 19:02:05
Tom #37, fer chrissakes the international window won't even OPEN for another two weeks, and you're already worried about deadline pressure at the other end?
Take a chill pill.
Tony Abrahams
47
Posted 29/05/2019 at 19:32:18
Look on the other side of the page James@42, I just hope we sign some players with better vision than you mate!
Joe Corgan
48
Posted 29/05/2019 at 19:49:04
I've posted this before but Everton's own hospitality manager told me in person that the lounges are being done up in slightly different styles as proofs of concept on what way they should do the lounges at Bramley-Moore Dock.
Far from being an indicator than BMD isn't really happening, the revamp is (according to the club) happening *because* of the move to BMD.
Kieran Kinsella
49
Posted 29/05/2019 at 20:17:21
Jay
When I say that's not true, I am referring to your statement "Kieran, the info you wanted to see has long been in the public domain." The info I am looking for is a tangible date. That "info" in its current form hasn't been in the public domain for a long time as they keep shifting the goal posts. The current version of it says 2023, previously it was 2022, and 2020.
Brian Wilkinson
50
Posted 29/05/2019 at 20:40:12
If and when the stadium is built, there was talk of a potential safe standing.
So if we do increase certain games as safe standing, how will this reflect on any season ticket holders who might not want to stand or give up their regular seat.
Anyone have a clue what would happen, it's okay saying safe standing, but what if a large part of that area prefer to be seated?
Brian Harrison
51
Posted 29/05/2019 at 20:41:58
I do think a lot of the points raised are very valid, I definitely agree with MK that the possibility of the City getting the Commonwealth Games certainly accelerated the desire to build a new stadium. Obviously there would have been government money pouring in to help build the stadium. Seeing Man City took advantage of inheriting a stadium built for the Commonwealth Games, I am sure Everton couldn't miss the opportunity.
Although the Commonwealth Games is no longer coming to the City, and all the costs fall on the club, I believe that Moshiri is fully committed to building a new stadium, as he knows without a new stadium he has very little chance of recuperating his outlay. Now I am not saying he will be looking to sell as soon as it's built but, at some point, he will be looking to sell, and a new stadium would be very attractive to any new owners. So it makes infinite sense to press ahead with the new stadium.
Jamie Crowley
52
Posted 29/05/2019 at 21:03:02
Tony @47 -
The Club better never sign me to anything because I have no vision! I'm with James @42 -
I don't see the connection between the lovely, talented Sinaed O'Connor singing Don't Cry for Me, Argentina and the teacher voice with m'man Charlie Brown?
Dude, this thick brained 'Merican needs an explanation!
Jay Wood
[BRZ]
53
Posted 29/05/2019 at 21:10:32
Kieran @ 49. You pre-empted your own clarification in your previous post when you yourself wrote "It has been a moving target [read 'date']" and then listed examples pertaining to that which I also highlighted as to why that has been the case. All perfectly legitimate, as far as the club is concerned IMO.
In its 'present form' as you describe it (and Ryzantsev's re-states this in the article of the opening post), it has been in the public domain for some months now that the club intend submitting a planning application in the second half of 2019.
Without knowing how that is likely to be received, or how long the due process will take, surely it's an exercise in futility for the club to categorically state: "we will start building in month 'y' in the year '20xx' and will open season '20xx' in our new BMD stadium" as you (and others) seem to be demanding..?
Projections are one thing. Cold hard dates as to when all this will be undertaken and come to fruition are another. Ask Spurs.
Tony Abrahams
54
Posted 29/05/2019 at 21:15:24
Jamie if you look on the other side of the page (anything is better than Charlie Brown) you will come across some great Irish female singers, so thanks for that because I love to listen to Sinaed O'Connor.
Try listening to "This is a Rebel Song" you might learn a little bit about the English, mate!
Phil Martin
55
Posted 29/05/2019 at 21:52:17
@Steve Fearns "don't get too fussed on the details". That should be the club motto.
Andy Crooks
56
Posted 29/05/2019 at 22:12:33
Tony, I share your admiration for Sinead. An incredibly talented women who is just tormented. Her version of Prince's song "Nothing Compares", when she is overcome, is just heart-wrenching. I guess that this should be Everton related... so, I think she is a blue.
Tony Abrahams
57
Posted 29/05/2019 at 22:26:31
Andy, you're correct, it should be about Everton mate, but I don't know why I've always hated Charlie Brown, and then I saw a picture of Sinaed, and it makes me sad that she's such a tormented soul.
I make sure I drive past Bramley-Moore Dock as often as possible and I can't wait to see what's behind the wall.
Sure, it's taking its time, but being an Evertonian has given me loads of patience, and because it won't be long until we see the first proper design, then surely people should just sit back and at least wait until then before they criticise something which is going to change both my city and our football club for the better.
Jamie Crowley
58
Posted 29/05/2019 at 22:27:13
Sinaed O'Connor is a Blue, no question.
And on that note, establishing her Everton connection, there's very, very few voices in this world quite as lovely, majestic, and beautiful.
She's so talented it's ridiculous. I'm not a huge fan, but my God anyone who hears her sing and doesn't appreciate it needs some help, and a bit of an injection of humanity.
I'm sure she's skeptical of BMD crossing the line and getting built as well. Seems to be how she'd view it in my opinion.
Tony, by the way, the other side of the page for you, I think, is simply and solely for you. I think those YT suggestions are based on your viewing history as well as some fairly complex algorithms. That is if you're saying the Irish singer options pop up on the YT link of Sir Charles of the Brown link, to the right hand side of the webpage.
Algorithms mate. Only for you. I get none of that on my link. Although Black Sabbath's The Wizard popped up. Odd link to Charlie Brown, but hey ho, whatcha gonna do?
Tony Abrahams
59
Posted 29/05/2019 at 22:31:56
Fair enough, Jamie, let's just hope the wizard gets the job of building our new ground!
David Pearl
60
Posted 29/05/2019 at 23:13:04
I've entered the twilight zone. An Everton fan? Sure she's heavily involved with BDM. Sinead O'Connor and Lindsay Lohan need taking off our streets. To be helped of course. Good voice yes but I'd rather listen to Sam Cooke or Ela Fitzgerald thanks. Jeebus

Paul Birmingham
61
Posted 29/05/2019 at 23:20:11
It will be an interest to see what, if anything, comes out publicly before next season about Bramley-Moore Dock. Hopefully Everton will tell the public what they are allowed to tell us.
This is a once-in-a-lifetime chance for the club to transcend decades of negativity, which in general is a fair grind, as Everton supporters have been let down more than most.
Our endurance and belief, and "glass half-full" view on all matters Everton and life is to be proud of.
But they must get Bramley-Moore Dock right, else look to expand on this footprint to achieve the desired capacity and optimum experience for all fans. I fear this design will really be cutting it fine, and there's little or no slack for mistakes with the build plan.
Without seeing the surrounding area and road, and station plans, it's hard to get perspective.
If we look at the Boro, and the Riverside, which can on matchdays present its challenges, but nowhere near like the say days at Ayrsome Park, I'd say they had a tight footprint to build on an old dock. Have Everton checked this, plus Sunderland's Stadium of Light? This build goes wrong and it spells big trouble for the future of Everton Football Club.
Do the club have any options to buy adjacent ground to Bramley-Moore Dock? And what's the club's 10-year projected business plan post a Bramley-Moore Dock stadium opening?
You want the best and Everton fans deserve the best. If we get 52k, we still go, but surely there's at least 50k now which is existing and potential ticket holders in waiting. Then the potential for pay on the gate for other people whose jobs means they can't always attend the match, tourists a plenty in the city these days.
It's gonna be a summer, hopefully for the good reasons with regards to Bramley-Moore Dock, that we will remember.
Let's hope so.
David Pearl
63
Posted 29/05/2019 at 23:44:15
I wonder if any provisions have been made for a ferry cross the Mersey from the Wirral? That would be unique... and lessen the traffic.
I'd rather forget all about Kirkby. Kings Dock put us back decades, we all knew it would. However, I think Bramley-Moore Dock is our destiny. I hope they used similar brick. It's going to be spectacular. And unlike the RS, we don't have to force out hundreds of families living around the area with metal shutters showing the houses they bought out. Fecking redshite. COYS
Laurie Hartley
64
Posted 29/05/2019 at 00:22:31
Michael K #38 - like you, I am disappointed that this has dragged on but I have tried to look at it from the man whose money is at stake - Farhad Moshiri.
No doubt as you assert, the failure of the Commonwealth Games bid was a major setback, but I believe that perhaps an even greater obstacle to progress, was the dreadful performance of the team at the start of Koeman's second season.
Relegation would have sunk the ship, stadium and all. That is why, whether WE like it or not, he adopted a safety first attitude with the appointment of Sam.
Despite us getting the wobbles again just before last Christmas this is what Moshiri said at the AGM in January:-
"We will complete this stadium and I will throw as much money at is as needed."
Reading between the lines, my take on Ryazantsev's comments in the FCBuisness Magazine is that, to maintain our Premier League status over the long term, EFC must have a new stadium – otherwise, it will be death by a thousand cuts.
He also implies that it has to happen as soon as possible so, despite my disappointment, I remain convinced that we will see the final design and the planning documentation submitted later this year. Then we will see some real progress.
Just in closing – I have wavered backwards and forwards on the capacity issue but my gut feeling is that the 52,000 is not set in concrete so I still have hopes of a 55,000+ capacity.
Alan J Thompson
65
Posted 30/05/2019 at 06:35:31
Steve (#45) puts his finger on the problems at Everton: The People's Lounge – full of bloody lawyers!
James Hughes
66
Posted 30/05/2019 at 07:55:12
Tony, on the other side of the page I have New Order, Thieves Like Us... not sure if YT is trying to say something.
You are right about vision, mate, anyone would be better than me, I was convinced Klaassen would make it... :)
In regards to the stadium, I am really glad we didn't get the Commonwealth Games as a running track would have been awful. The Europa League Final last night illustrated that perfectly, the pitch was so far away from the stands.
Tony Abrahams
67
Posted 30/05/2019 at 09:01:36
Funny James, but I've already been put straight by Jamie in post #58, something to do with algebra or something!
I think that more Evertonians have got to take a bit of time to make their feelings known during the second consultation because the general consensus on T/W seems to be that a 52.000 stadium is just not big enough.
I personally think 55.000 would be perfect, but we all have our own points of view, and mine is that Usmanov has got to be behind all of this, simply because of how massive this whole regeneration of the docklands is actually going to be (Steel).
You and Jamie can count yourselves out, though, James, because this whole project is all about "vision" so let's hope we see something to start getting excited about once we see some pictures in late July!
Liam Reilly
68
Posted 30/05/2019 at 13:42:41
That magazine is a god read; nice to see some media not devoted to Liverpool and Man Utd.
Interesting Ryazantsev says that Everton's revenue falls short of the top 6 plus West Ham and Newcastle because they have 'bigger stadia and can generate more income'. But they have 57k and 52.5k capacities respectively, so we'd only be coming in at the lower end and matching the Geordies who are perfectly placed to expand if and when required.
Mind you, both of these and the likes of Man City (despite their success) continuously fail to sell out their home venues, so maybe 52k is about right.
I wonder if safe standing would increase the capacity without another planning application (which is the biggest obstacle in my view to the 52k application as it could take years to achieve and implement).
As an aside – I just updated Wikipedia for Goodison Park as it was listed as: "Everton FC is the second club in Liverpool living in the shadow of Liverpool FC." Have these arseholes got nothing better to do?
Mark Andersson
69
Posted 30/05/2019 at 14:04:10
It matters not if the stadium gets built... the fans will still follow like lemmings right to the edge of the footballing cliff and step over the edge of delusion.
Michael Kenrick
70
Posted 30/05/2019 at 15:11:05
Brian @50, re safe standing.
Worth a listen to the Everton Business Matters podcast (Series 2, Episode 11). They talk at length about every angle on safe-standing, rail seating, safe seating! — Although Tom sounds a bit under the weather, like he's just had his wisdom teeth extracted!
Brian Wilkinson
71
Posted 30/05/2019 at 16:01:21
Cheers Michael, I will have a look for it if I manage to fathom out what and how to listen to a podcast, bit of an old fossil me when it comes to technology :-)
Michael Kenrick
72
Posted 30/05/2019 at 16:24:24
Steve Carse
73
Posted 02/06/2019 at 19:32:02
Tony (67), you are of course absolutely right in saying that the attraction for Everton's owner(s) is involvement in the whole north docks area regeneration. The area is unique in the country in being so large, so under-inhabited and so economically underproductive for an area so close to a city centre.
Once you accept that this investment opportunity is the driver then you begin to understand why the football side of matters, including the capacity of any future stadium, is of less importance to those holding the purse strings.
How else can you start to understand why the owner(s) are prepared to spend in excess of £500m to raise capacity by barely 11,000 when we could get near to this addition just by building a 15,000 capacity 'Goodison Wall' at the Park End? Location, location, location.
Mike Galley
74
Posted 04/06/2019 at 19:19:02
Only just got round to reading this article and I'm hoping some blues with more business acumen/knowledge than myself could answer some queries I have?
1. Will this be a gamechanger for the club in a financial sense? To my, admittedly limited thinking, any increase in match day revenues will be swallowed up with financing costs for the build.
2. What other options are there for meeting the costs? I'm aware naming rights will probably be involved. Could there be anything that involves the fanbase making a contribution? I seem to remember Arsenal doing something but can't remember exactly what.
3. Will a new stadium help us get better commercial deals? I can't see how it might affect shirt sponsorship, but is there anything else that I'm missing?
I apologise if any of these queries have been raised before and hope that you all don't mind me raising these points.

Add Your Comments
In order to post a comment, you need to be logged in as a registered user of the site.
Or Sign up as a ToffeeWeb Member — it's free, takes just a few minutes and will allow you to post your comments on articles and Talking Points submissions across the site.