Onyekuru prefers another season in Istanbul
Thursday, 30 May, 2019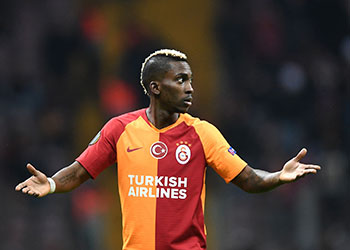 Ozan Kose/AFP
Henry Onyekuru has expressed his desire to stay with Galatasaray as speculation over his future continues with the onset of the close season transfer window.
The Nigerian spent last season on loan with the Turkish giants and was a hit, scoring 12 times in 26 league games, including the goal that clinched the Super Lig title earlier this month.
There has been talk in Germany that Bayern Munich and one other big Bundesliga side were eyeing a move for him this summer while a second loan spell with Galatasaray has also been mooted as Everton wait for him to accrue the requisite international caps to qualify for a work permit in England.
"My desire is to stay at Galatasaray," Onyekuru told Hurriyet, although he did not specify if that would be on a temporary or permanent basis. "If Everton listen to me, then I will gladly stay at this great club.
"But of course, this is something which can be decided between the two clubs."
Onyekuru, an £8m signing from Eupen two years ago, made his senior bow for Nigeria two years ago and has made seven appearances for them since but is expected to be included in their Africa Cup of Nations squad for this summer's tournament in Egypt.
The Premier League mandates that players not meeting the designation of "exceptional talent" play in a certain percentage of their country's matches in the preceding two years based on that nation's Fifa ranking — 75% in the case of Nigeria who are ranked 42nd.
Quotes sourced from Hurriyet va Sport Witness
---
Reader Comments (42)
Note: the following content is not moderated or vetted by the site owners at the time of submission. Comments are the responsibility of the poster. Disclaimer
David Ellis
1
Posted 30/05/2019 at 00:49:15
Let him stay another year there. A bit of stability will do him good and allow him to continue to get the caps he needs to get a work permit. Then we can decide whether he fits into our plans or not... and if not then cash in.
It will also give us another year to work out what to do with Lookman (I'd like him to stay and play).
Jamie Crowley
2
Posted 30/05/2019 at 00:51:12
Does anyone know how many games he has to play in to obtain the necessary percentage to come to England?
If he plays in all of Nigeria's 2019 remaining games and 2020, will he be eligible to play for Everton?
Mark Andersson
3
Posted 30/05/2019 at 01:39:19
Can't say I blame him for wanting to stay... Warm climate, loved by the fans, and getting better in a lower league than the Premier League.
Personally, I can't see him ever playing for us. Silva and Brands would rather get loanees that are better than the dross we have stealing a living.
Derek Knox
4
Posted 30/05/2019 at 04:03:15
I must admit I thought that eventually he would have been granted a Work Permit this Summer but, with our inflated player numbers, and priority being to offload as many as possible, I suppose another year getting regular playing time and experience is the next best thing.
As Mark @3, mentioned, will we ever get to see him in a Blue Shirt? We must be paying half of his wages all the same so he is still costing us, without kicking a ball in anger when we could be doing with more goals.
Jamie C, I am not sure what the criteria are as far as games played for country to qualify for a work permit. I think it depends on the country's standing in the Fifa World Rankings so it can vary from country to country. Barring any rule changes, we should see him next year hopefully?
Alan J Thompson
5
Posted 30/05/2019 at 04:54:46
If a work permit can't be obtained for the upcoming season, then Everton should tell him that he can stay at Galatasaray for another season if he agrees to sign an optional extension to his contract for 2 years more as, the way things are going, he'll get to Everton just as his contract starts winding down into the renegotiate or sell stage. If not, then perhaps losses should be cut.
Si Pulford
6
Posted 30/05/2019 at 06:27:58
Interesting one this. He seems a good player and has attracted big clubs for years. It was seen as a bit of a coup when we got him. Surely we can't let him wind his contract down while we're paying some of his wages then sell him on without seeing him in a blue shirt?
There would have to be some sale fee for us to even break even?
Sam Hoare
7
Posted 30/05/2019 at 08:14:29
On the one hand, another season there would offer him stability and undoubtedly more game time. On the other hand, if he's not coming here or ready to challenge Bernard and Richarlison, then perhaps a loan to a slightly better league (Germany perhaps) would help improve his game and value should selling be our preferred option.
Si Smith
8
Posted 30/05/2019 at 10:03:09
This will be his 3rd season out on loan. If he stays another year, surely we need him to sign a contract extension if we're to allow this?
Mike Allison
9
Posted 30/05/2019 at 10:42:13
How do you know we're paying any wages?
Brian Harrison
10
Posted 30/05/2019 at 12:15:21
You have to ask: Why sign a player who you know won't get a work permit? They know the rule so it was hardly a surprise when he didn't meet the criteria.
I don't know how long his contract is for but, if he stays there another year and he only has a 3-year contract, then he becomes a free agent.
Ray Smith
11
Posted 30/05/2019 at 12:35:37
Looking from the outside it does not appear that Everton are busting a gut to sort the work permit issue.
Nigeria have 4 games coming up shortly. So if he plays in all 4 I believe he will qualify for a work permit.
As I've said on a previous thread, other clubs don't seem to have work permit issues!!!
Hugh Jenkins
12
Posted 30/05/2019 at 12:41:03
Brian (#10) - I think the expectation was that he would qualify for a work permit soon after we signed him (subject to getting enough Nigerian caps), but unfortunately, he had a long-term injury in his first period at Anderlecht and therefore didn't get the necessary Nigerian games.
Brian Williams
13
Posted 30/05/2019 at 13:45:28
Ray #11.
He won't qualify for a permit by playing all 4 games. He'll still have nowhere near enough caps for his country.
Derek Knox
14
Posted 30/05/2019 at 13:57:58
Mike @ 9, any loan deals generally involve the parent Club paying the largest portion, and in some cases all of the player's wages. Especially if the parent Club have deemed the loan to give the player more playing time and experience.
Then again, it is not always as cut and dried as that, it depends on who has initiated the loan, if a Club approaches another with a specific desire to sign a player, it could, but rarely in reality, result in the loaning club paying all of his wages.
The Rule of Thumb, which doesn't really exist in effect, but generally it is 50/50 for most loan deals, like I said they are negotiated individually, and dependent who has initiated the loan.
Kieran Kinsella
15
Posted 30/05/2019 at 14:04:32
Nigeria aren't blessed with talent currently so, if he can't make their team regularly, it tells a story...
Fran Mitchell
16
Posted 30/05/2019 at 14:05:34
From what I can see on the Net, the last 2 years have seen 29 international games and Henry has played in 7.
Henry needs 75% i.e. 21 but has only 24%. Even playing all African Nations games he is still way off, so looking like another year.
To be more exact, you need to analyse each game in the two-year timeframe and keep tracking.
Hopefully another year and he will continue developing, playing Champions League football. With a contract extension, we should see him next year, if not, sell him for a good £20million + future sale %...

Mike Gaynes
17
Posted 30/05/2019 at 15:13:24
Kieran and Fran, he went the full 90 in Nigeria's last international, a friendly with Egypt in March.
We'll find out a lot more this coming month. They have friendlies with Zimbabwe and Senegal on the 8th and 16th, and then the Africa Cup of Nations starts on the 21st. This is his chance to start piling up caps.
Steavey Buckley
18
Posted 30/05/2019 at 16:24:04
Unless Henry Onyekuru is extending his Everton contract, he will be worth less next season if he remains on loan. Yet, I do believe unless he returns to Everton for the forthcoming season, Everton need to unlock his value and use the funds to purchase other players.
Michael Kenrick
19
Posted 30/05/2019 at 16:41:37
The lad is on a
5-year
contract with Everton. He's done 2 of those out on loan, which leaves 3 more years to get this work permit nonsense sorted out.
He seems to be only getting better, and *could* be the striker we need... but we really ought to be making the case to get him in for next season. Maybe I'm too focused on matters Everton, but it does seem bizarre that we appear to be the only club caught out by this nonsense.
Not that we don't have previous. Wasn't it Alex Nyarko given a 5-year contract when his work permit was only valid for 4???
Dave Abrahams
20
Posted 30/05/2019 at 17:08:23
Michael (19), do you know the terms of Onyekuru's contract? Have we received any loan fees for him the last two seasons? Do we pay any % of his wages to the clubs we've loaned him to?
It would be interesting know the answers. If we don't receive any loan fees and we are paying some of his wages, it seems like a lot of trouble to keep him signed up considering we have already laid out £8M to sign him in the first place.
Mike Gaynes
21
Posted 30/05/2019 at 17:17:21
Michael, seems to me Chelsea went through the same thing with Bertrand Traore, and I think I read something about BHA dealing with the same issue on some young South African phenom they own but can't bring in.
It's a gambling strategy. You can buy a young player a lot cheaper if he doesn't have a work permit yet. If Henry hadn't torn up his knee and missed so many internationals in 2018, he might already be qualified to play for us. So I think it was actually a pretty good gamble, even if it hasn't worked out so far.
Kieran Kinsella
22
Posted 30/05/2019 at 17:23:13
Dave 20,
No idea on terms but we are in a weak position to negotiate. He can't play for us, so if Galatassary offered a 1 penny loan fee, we would be better off than him not playing at all. So, unless Galatassary are run by Steve Walsh, I imagine the loan deal isn't favorable financially to Everton.
Denis Richardson
23
Posted 30/05/2019 at 17:26:10
Michael 19, thanks for digging out the contract info.
As others have mentioned, we really should try to negotiate a 1-2 year extension option ASAP. If he does continue improving, come this time next year he'll only have 2 years left and his agent will be in a stronger negotiating position to get him sold elsewhere (by threatening not to sign a new contract) or squeezing us for a massive pay rise when he'll have zero Premier League experience.
I can't imagine he's on a massive contract now so getting an option in place seems wise. If anything to save us the massive fees strikers normally cost. If he doesn't work out in the Premier League we just don't trigger the extension.
All the above obviously assumes he actually does get to the 75% mark in 12 months time to get a work permit – we may be in the same situation again come May next year... he's got to play virtually all of Nigeria's games in the coming year to make the grade.
Alan McGuffog
24
Posted 30/05/2019 at 17:32:02
Fellas, I bow to your knowledge of the ins and outs of this... but, to me, it's like the Emperor's clothes. We have a player who, by all accounts, is good. Certainly better than the players in his position currently on the books. But he isn't allowed to play for us, for whatever reason.
Sorry, but, to me, it is a further example of the cack-handed way this club operates.
Okay, I'm an aul arse but I remember snatching Alex Scott from the clutches of Spurs. Howard from signing for the dark side. Could we not go back to signing players who can actually turn out for us?
Is it that difficult?
Steve Pugh
25
Posted 30/05/2019 at 18:49:58
Who decides what constitutes an 'exceptional talent'? I was just wondering because there are young players with no caps who come into big clubs and play straight away.
Bill Gienapp
26
Posted 30/05/2019 at 18:53:48
The media, of course, are trying to frame this as Onyekuru wanting nothing to do with Everton, but it makes perfect sense from his perspective – he's coming off a good season, they won the league, will be playing in the Champion's League... and even if his work permit was sorted, there's no guarantee he'd get regular playing time here.
A lot of people seem ready to file this away as another Walsh cuck-up, but, like Mike said, if he hadn't hurt his knee, he probably would have made Nigeria's World Cup squad and this could be a very different conversation.
andy mcguffog
27
Posted 30/05/2019 at 19:02:14
Perhaps it would be useful to have some old sod in Turkey with too much time on his hands. He could stop swilling raki and check out if this kid is any use.
Fran Mitchell
28
Posted 30/05/2019 at 19:54:55
To be an exceptional talent, the club has to make a case and present it to a selected panel who review. Considering his form in Turkey, I'd have thought the club could try this... but not sure if there is an age restriction.
I remember Liverpool trying, and failing, some years ago with Sebastien Leto. Benitez went berserk if I remember rightly... He then spent his Liverpool career on loan in Greece and has stayed there ever since. Liverpool also have a young Brazilian, Allan Rodrigues, who is on loan at Fluminese, has had time on loan in Europe too. He is very unlikely to ever get a work permit.
So Michael, I think this is probably the case with all clubs, yet we only know about Henry because he's with us.
Mike Gaynes
29
Posted 30/05/2019 at 21:16:57
Denis #23, to be specific Henry's on a five-year contract worth £8,060,000, or an average of £1,612,000 per season. That's £31,000/week.
Dave Abrahams
30
Posted 30/05/2019 at 21:29:25
Mike, if those figures are true for Henry, then the way club was run when he was signed seems a lot worse than I thought,
If his contract runs the full course, then we will have paid him over £16M, and it looks like we have had nothing back since we bought him and already parted with £11M unless we are paying the original fee on the drip.
Something looks very wrong here.
Ian Bennett
31
Posted 30/05/2019 at 21:44:20
Dave - A loan fee and wages surely covered some or all of the above.
Mike Gaynes
32
Posted 30/05/2019 at 22:41:08
Dave, what looks wrong is that I think your numbers are off.
How will we have paid him over £16m? His contract is worth £8m total. We can't be on the hook for more than that.
We did pay a £7m transfer fee to sign him, but almost all of that would have gone to Eupen, not the player. And if we sell him, we'll get all that back and far more. (I believe £22m was the number mooted for the Bayern deal, eh?)
Plus Galatasaray paid us a £700,000 loan fee for this past season. I don't know if Anderlecht paid anything for the 2017-18 loan.
So even if we paid his entire salary for the past two loan seasons, he has cost us no more than £2.5m so far, and his value has increased much, much more than that!
Not so bad.
Andy Crooks
33
Posted 30/05/2019 at 22:50:48
Andy @27, this old sod is going to Istanbul on Monday. Now, I will be swilling raki but will try, in some lucid moments, to find out what they think.
Mike Gaynes
34
Posted 30/05/2019 at 22:52:13
Go get 'em, Andy mate. We'll be watching for your report.
Mike Gaynes
35
Posted 31/05/2019 at 00:08:23
Here's a lad to keep an eye on:
http://www.espn.com/soccer/norway/story/3865028/norways-haland-scores-record-9-in-u20-wc-win
Michael Kenrick
36
Posted 31/05/2019 at 05:53:38
Thanks, Fran. A little shocked you know so much about Liverpool FC but you showed me up for being a very one-eyed Blue!
Lyndon Lloyd
37
Posted 31/05/2019 at 06:06:39
Dave (30), according to Turkish reports, we received a loan fee of €700,000 this past season from Galatasaray for Onyekuru. I don't know how much Anderlecht paid for last season.
Darren Hind
38
Posted 31/05/2019 at 06:43:39
"Wasn't it Alex Nyarko given a 5-year contract when his work permit was only valid for four???"
Just when I thought I'd erased it from my memory. .

Paul Bernard
39
Posted 31/05/2019 at 19:18:40
I honestly do not mean to sound like a mindless racist here, but I don't understand how the UK is trying to take in refugees from war torn countries with little knowledge of their backgrounds, yet we can't have a professional footballer, registered to a professional business (club), paying a high amount of taxes who will be in the public eye for pretty much his whole career, unless he plays for a nation that may not need him?
Again please don't take that the wrong way but I thought we as a nation welcome doctors, nurses, professionals who have something to offer this country and it's people?
Someone please explain how the permit thing works? Much appreciated.
Brian Williams
40
Posted 31/05/2019 at 19:20:58
Paul, you're not alone in being dumfounded by the apparent lack of common sense in these matters.
David Pearl
41
Posted 31/05/2019 at 19:44:27
Common sense also stretches to it taking so long to introduce VAR into a sport that has millions and history riding on a fair outcome. Considering the amount of taxes the government take in you'd of thought he would be granted a work permit. I'm sure he's just as frustrated.
Alan McGuffog
42
Posted 01/06/2019 at 09:55:45
Andy and Andy... as I pointed out previously, I have canvassed any Gala fans I meet and they all say he's the dogs bollocks. Or maybe they were referring to something on the menu. Anyway none of them would swap him for Cenk...
Add Your Comments
In order to post a comment, you need to be logged in as a registered user of the site.
Or Sign up as a ToffeeWeb Member — it's free, takes just a few minutes and will allow you to post your comments on articles and Talking Points submissions across the site.