Martina due back at Everton
Friday, 31 May, 2019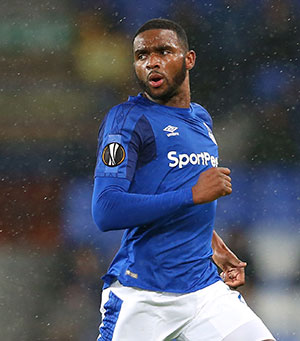 Cuco Martina's hopes of securing a move to Feyenoord appear to have been scuppered after the Dutch side declined an option to make his loan move permanent.
The Curacao international moved to the Netherlands in January after his season-long loan at Stoke City was terminated early and it looked as though he would stay at Feyenoord at the end of the season.
According to a report by Voetbal International earlier this month, Feyenoord have elected not to convert his loan into a full-time deal meaning that he will remain an Everton player for the time being.
Martina, who was signed by Ronald Koeman two years ago and has a year remaining on his contract with the Blues, will not be part of Marco Silva's plans next season and, as such, he will join the ranks of players surplus to requirements at Goodison Park who will need to be moved on.
The report says that the new manager at De club aan de Maas, Jaap Stam, needs to cut costs this summer and therefore has to make the best of what budget there is at his disposal.
The Liverpool Echo say that there is interest in Martina from other European clubs but that no firm offers have yet been received.
---
Reader Comments (38)
Note: the following content is not moderated or vetted by the site owners at the time of submission. Comments are the responsibility of the poster. Disclaimer
Frank Sheppard
1
Posted 31/05/2019 at 05:54:31
His return does not exactly get the pulse rating. Let's not forget he did put in decent performances, often out of position. Should be able to move him on.
Sam Hoare
2
Posted 31/05/2019 at 07:34:04
Will surely leave. Though not a priority as think his wages are on the lower end of our spectrum.
Duncan McDine
3
Posted 31/05/2019 at 08:10:56
My God, I'd forgotten about Cuco the Clown! This is one of many problems caused by a sack-happy board. I hope we can go for a few years with some stability now.
Justin Doone
4
Posted 31/05/2019 at 08:12:21
Just a thought, could he play centre back, possibly as cover or replacing Mina/Zouma?
He's a similar build and style to Holgate with a bit of added weight, strength and experience.
Derek Knox
5
Posted 31/05/2019 at 09:33:26
Frank the only thing that gets racing in me is annoyance, another reminder as if we needed one, of Koeman's cronies, jobs for the boys. He was like Al Bundy dishing out the contracts, and subsequently money, but with a difference, it was the Clubs money.
To top it all, he walks away with a megabuck pay off and lands a plum job into the bargain, makes my blood boil. Martina is probably one of the worst players I have seen in a blue shirt, but oddly enough he did try when played out of position.
Not the lad's fault I know, but the sooner we find a new home for him the better, for all concerned.
Andy King
6
Posted 31/05/2019 at 09:35:19
Obviously not the standard we want at the club anymore, but could he do a job for a season? Kenny needs games and experience so we can decide if he is truly capable of replacing Coleman. Maybe have Martina as substitute right back allowing Kenny to go out on loan.
There are around 20 players at the club that need replacing. If Martina's wages aren't extortionate, and him being there benefits Kenny in the long run then this could be a short term answer...
(Tin hat has been donned!)
Drew O'Neall
7
Posted 31/05/2019 at 09:36:56
Justin - He was described as a player who could play full back or centre back when acquired. Read in to that what you will based on his performances at full back. Did his best deputising for Baines.
Paul Bernard
8
Posted 31/05/2019 at 09:52:30
Andy #6 No need for the tin hat, its a decent suggestion only if Kenny goes on loan. The idea of us spending £30m on Meunier this summer isn't filling me with joy. I think we need a centre back (Hopefully zouma), Central midfielder - maybe even two, Gomes and another.
Until we reduce our wage bill like Bolasie, Williams now gone, then I think keeping martina and baines as cover will enable us to spend elsewhere.
I would much rather see what U23's are ready, they deserve a shot after winning the back to back titles. I wonder if they are thinking whats the point in winning domestic trophies to be blocked by the mega spending of the premier league clubs.
Alan J Thompson
9
Posted 31/05/2019 at 10:09:41
What's up with these Dutch? Their national team manager signs this Captain of his national side to play in the English Premier League and now another Dutch club can't see his value. I mean, the problem is with the Dutch, isn't it?
Sam Hoare
10
Posted 31/05/2019 at 10:28:42
Martina is a decent, experienced professional who does not expect to start and can potentially play anywhere across the back 4. I wouldn't want him to be second choice in any position but perhaps as a versatile back up able to step in during injury crisis on reasonable wages he's not the worst player to keep in the squad.
Having said that if we can get a few million for him then i'd sell him and give those opportunities to the youngsters coming through.
Derek Knox
11
Posted 31/05/2019 at 11:17:51
Duncan @3, I meant to mention before on the point you so rightly made, it's not just the financial and number burden, which is bad enough in itself, but the knock-on effect.
By that I mean, it looks like we have got a Manager, and a Technical Director, who appear to be going in the right direction, but their hands will be tied in terms of not only the monumental task of unloading the deadwood, but having money available to improve.
It's unfair that the reckless spending of Koeman and Walsh, and to a lesser degree Allardyce, should inhibit the progress we have made since their departures.
Matthew Williams
12
Posted 31/05/2019 at 12:33:33
Welcome back, lad... it's like you've never been away.
Sigh.
Duncan McDine
13
Posted 31/05/2019 at 13:14:18
Derek, I couldn't agree more with you're feelings about Koeman etc. In my opinion Moshiri has shown a lot of immaturity and wrecklessness since his arrival... none more so than the decision to setup a coach / board of director senario (I must be old fashioned!).
James Hughes
14
Posted 31/05/2019 at 13:28:50
it's like a new signing I'll get my coat
Duncan McDine
15
Posted 31/05/2019 at 13:28:52
I meant to say 'director of football'... or whatever the role of Steve Walsh was! I'm sure both he and the current fella do their best, but I don't think it's a good idea.
John Chambers
16
Posted 31/05/2019 at 13:45:17
Let him go, let Kenny go out on loan and bring Holgate back. He can provide cover at right back. Means we potentially benefit from any transfer fee for him, presumably a reduced salary budget as well and lets Kenny get experience like Holgate did this year. Then we can make the decision if either can succeed Coleman at the end of the season. p.s. Have I missed a decision on Jags? Holgate could also provide cover here behind Keane, Mina and (hopefully) Zouma
Kieran Kinsella
17
Posted 31/05/2019 at 13:58:56
The Echo have this pointless article saying Martina is expected to return for training. No kidding. He is contractually obliged to do so. I am on tenterhooks waiting to here that Bolasie and Sandro will be back too. We know no one has been sold yet so how does this qualify as news.
Don Alexander
18
Posted 31/05/2019 at 14:09:38
What concerns me regarding this lad and the plethora of others collectively known as "the dead wood" is the prospect of Brands, through no fault of his own at all, being unable to get rid of any of them without doing major damage to funds for a (repeat "a", just one) significant signing.
But way worse than that is the prospect of any of that dead wood being at FF at all next season. If we are to start behaving like a vibrant, cohesive side we really don't need that sort on canker infecting the set-up in training at all.
Brian Murray
19
Posted 31/05/2019 at 14:25:55
I see our resident cone mover' Big Dunc, is waxing lyrical about the talents of Dominc Calvert-Lewin!
Unbelievable club, it really is...
Jay Wood
[BRZ]
20
Posted 31/05/2019 at 14:41:16
As Kieran says, this is a non-story. ALL the out-on-loan players with time left on their contracts will be returning to the club.
Whilst this remains a huge albatross around our necks, it is what it is through no fault of Brands or Silva who, I'm sure, will be working hard to move them all on asap. No need to list names. We all know who have no futures at Everton. There is no guarantee of success that Brands will be able to so, but it won't be from lack of trying.
As for Martina himself, I for one will not criticise his contribution as a player. I doubt he is on massive wages and he certainly pulled his weight on the pitch.
Unpopular as it might be given how all of the following have been slated - loathed, even - to varying degrees, but when Sam Allardyce's hand was forced to play a back four of Martina (played out of position as left back, remember), Williams, Holgate and Kenny for a good run of games they actually proved to be the most resilient defence we put out in that season of turmoil.
David Pearl
21
Posted 31/05/2019 at 15:11:02
Exactly Jay. Now would you like to give Sam Allardyce credit for that fact? Come on, having those 4 at the back over what we have had this year and finishing in the same position.
What would be funny is if we hear that koeman is also coming back to to the club as new rules now state that if he wants paying off his contract he had to do some work at least. Like painting Finch Farm.
Jay Harris
22
Posted 31/05/2019 at 15:18:54
Where are these money grabbing agents that tout their clients all over the world when you want them.
I would forego a transfer fee on most of them just to get them off the wage bill and give some assistance to Brands who must feel he has joined the cast of mission impossible.
Mike Gaynes
23
Posted 31/05/2019 at 16:52:43
For those asking, Martina is on £35,000/week, or a bit over £1.8 million annually, with one more year to run on his contract. We save little by selling him on, even if we could find someone to sell him to. As DK and others point out, we wasted many times more on Koeman.
I'll not call Cuco a clown. He gave his all under very difficult circumstances, and never embarrassed himself or the shirt.
I'm sure we'll find someone to loan him to.
Paul Burns
24
Posted 31/05/2019 at 17:19:29
Can't play anywhere across the back four.
As if this weekend's not bad enough.
Kieran Kinsella
25
Posted 31/05/2019 at 17:22:10
Jay Harris
I think the "money grabbing agents" have done their work and cashed in their chips. Brands was saying a few weeks ago how premiership clubs pay a premium for players so if they don't pan out the overseas clubs cannot afford to buy them. Martina is a classic example. A decent enough pro but no better than say a Tony Thomas. He could be a decent utility player for a smaller club but once Everton were in the frame the wages tripled.
Andrew Keatley
26
Posted 31/05/2019 at 17:32:53
Nothing in particular against Cuco, but he should be moved on; he signed on a free, so any transfer is fine. I think we need to get rid of players who can cover two or three positions but are limited in every one. I'm sure Cuco could play centre-back in the midst of an injury crisis, but I'd rather Holgate or Morgan Feeney, or even Matty Pennington got the shout. Use the Under 23s to fill up the shortfall, and with any luck injury problems won't leave us over-reliant on youth - but if they do we'll find out how ready these highly-rated young players are for Premier League football.
Getting the right mix of which young players to keep in our squad and which to send out on loan is further complicated by also having to work out which of our senior players should be loaned out. It's probably fair to say that all those senior players who were out on loan last year - Mirallas, Williams, Bolasie, Sandro, Tarashaj, Vlasic, Martina, Garbutt, Besic, Niasse - are not likely to become an active part of Silva's plans and it's likely that every effort is being made to move them on. Onyekuru is his own strange saga, and the young players - Pennington, Connolly, Holgate, Robinson, Joe Williams, Baningime, Evans - will return to FF and pre-season will determine if they are ready to join the first team squad good and proper. Same for the other Under 23s like Bowler et al. I worry that players like Martina do block their progress - and we've got too many of them in the squad at present.
Paul Bernard
27
Posted 31/05/2019 at 19:05:51
Jay @20, just wanted to say I'm happy someone else appreciates what Cuco did during the horrific season. He isn't the best player but I only ever remember seeing 110% from him. If ever a game summed him up, it was the derby at Anfield we're he had Salah in his pocket until Salah pokes his backside out and put one in the top corner (Gana was also slow to cut the angle too). I agree with the majority that kenny out on loan with Holgate covering sheamus is the best scenario.
Steavey Buckley
28
Posted 31/05/2019 at 19:06:24
Everton have too big a squad of players of players not quite good enough. Thankfully, Everton now have a manager who understands quality. So it's going to be a busy summer for the manager of moving players out and bringing new faces in.
John Audsley
29
Posted 31/05/2019 at 19:14:16
35 grand a week Mike! Wow that's a shock.
But you are correct he worked hard for us, mainly at left back and was boo'ed very early on by the home crowd so while he hasn't had the best of times emotionally he has done rather well financially.
God I remember Rush re-signing for that lot in 1988 and getting 2 grand a week. My dad and I watched the news on a"pay as you go" b&w TV on some God awful holiday in Devon and we both gasped at the amount. and Dad swore alot
35 grand . top negotiation Cuco.
Darren Hind
30
Posted 31/05/2019 at 19:18:50
Mike
You are always very well informed when it come to salaries. Whats your source.
I can never find anything, conclusive
Brian Harrison
31
Posted 31/05/2019 at 19:43:07
I had forgotten about Martina still being our player, now if Mike is right and he is on £35, 000 per week he will be another hard to shift. With all the players that will be returning this summer and all back on the payroll in full our wage bill will be one of the biggest in the Premier League. How can a club with no European football sustain that wage bill I don't know. I also wonder how much it will restrict any future signings as with FFP around how much more in wages a week can we add to this already inflated wage bill.
Most of these players cant even attract Championship sides, even if we pay huge chunks of their salaries, so I don't see any of them moving in a hurry till into the last 12 months of their contracts.
Peter Gorman
32
Posted 31/05/2019 at 19:45:21
Cuco was never good enough to play for the club, but that wasn't his fault - he seemed like a decent enough egg for all his obvious limitations.
Didn't stop me raging every time I saw him on the pitch, a reminder of how pointless the signing was, how it was blocking the development of a young Kenny and how utterly annoying his manager was.
I am annoyed again to think that he was given such a long contract for a back-up player. God damn that Koeman.
Jack Convery
33
Posted 31/05/2019 at 21:29:22
If Jags goes to Sheffield United, I wonder of he'll recommend MArtina follow him - a decent squad player for a promoted club.
Kristian Boyce
34
Posted 01/06/2019 at 00:26:01
I'm surprised people are still shocked at £35k a week for a PL footballer. In fact this is on the low side for an average player. I read somewhere that the average wage for a first teamer now is around 50k. Yes it's disgusting but goes with the territory of the millions of pounds that is in the game now. If you think the Martina wage is ridiculous, Luke Garbutt is on around £25k a week.
Si Smith
35
Posted 01/06/2019 at 01:12:38
Super.
Mike Connolly
36
Posted 01/06/2019 at 10:37:10
Why are we surprised that Coco has returned with the other loaners? Why would a club pay for any of them, when they will get them on loan again? Win-win for the players – they get their wages and play every week. Maybe if they were not playing every week, they may drop their wage demands and actually sign for a club.
David Pearl
38
Posted 02/06/2019 at 09:59:47
I wonder when Mirallas comes back to the club if he will turn up for training in his gold Mercedes... with Sandro in the passenger seat of course. Bolasie and Besic in the back. Koeman and Walsh in the boot. Please let's get shut of these players now for good.
Tamhas Woods
39
Posted 02/06/2019 at 13:56:02
Liverpool get a European Cup. We get Martina back from loan
And so it goes on...
That said, he did have his best game against Salah in that 1-1 at Hades HQ.
Add Your Comments
In order to post a comment, you need to be logged in as a registered user of the site.
Or Sign up as a ToffeeWeb Member — it's free, takes just a few minutes and will allow you to post your comments on articles and Talking Points submissions across the site.