Everton Roundhouse vandalised by Kopites
Sunday, 2 June, 2019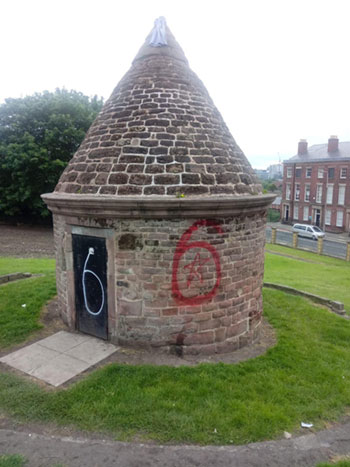 Photo courtesy of John Foster
The iconic bridewell on Everton Brow depicted on Everton FC's crest was graffitied following Liverpool's win in Madrid last night.
The Prince Rupert's Tower that has stood since the 18th Century has become synonymous with the Toffees since Theo Kelly incorporated it into the club's first badge was spray-painted on the brickwork and door with the number six.
Everton supporters have reacted with dismay on social media at the desecration of the 232-year-old structure which they deem as a step too far in reds fans' taunting in the wake of their Champions League success.
The Brick, a renowned Evertonian pub closer to Goodison Park, was also vandalised by graffiti.
The Roundhouse, now a Grade II listed building, was named after the Bavarian-born Duke who fought in the Thirty Years' War and joined Charles I's army in the English Civil War.
His army is said to have stayed in Everton before attacking the Parliamentarians who were holding Liverpool Castle at the time.
The bridewell was later used to incarcerate wrong-doers and drunks until they could be hauled before the magistrate the following morning.
In more recent years following a rehabilitation project undertaken by then chairman Peter Johnson, the tower has been used more prominently in the club's social media marketing campaigns and has often been lit up in blue light at night.
4 June Update After being scrubbed clean of the red and white paint, the tower was vandalised again with the number 6 painted on the door and brickwork.
---
Reader Comments (308)
Note: the following content is not moderated or vetted by the site owners at the time of submission. Comments are the responsibility of the poster. Disclaimer
Michael Lynch
1
Posted 02/06/2019 at 15:53:14
No shame. I'd like to think some decent kopites will volunteer to clean it up and their club will put out a press release condemning it. Can't those fuckers even celebrate a win with a bit of class?
Kevin Harnan
2
Posted 02/06/2019 at 15:55:06
It can't be Liverpool supporters; they're always the victims, never the perpetrators. Check the brickwork, they might have taken some for when City come to their place next.
Tim Welsh
3
Posted 02/06/2019 at 16:01:00
I don't often post on ToffeeWeb, but this has moved me to do so.
First the Manchester City coach, then this...they certainly know to how rack up ill feeling, don't they ?
Our reprisals should only take place on the pitch. This is the team talk before every game against them in perpetuity.
Have they have had anything to say about this ? I am expecting the usual claims of 'banter' and 'friendly rivalry'. I wouldn't accept an apology.
Conquerors of Europe ?
Les Moorcroft
4
Posted 02/06/2019 at 16:01:09
No shame no class. And they wonder why there fucking hated All round the world. Citys coach no one arrested list goes on.
Ray Said
5
Posted 02/06/2019 at 16:01:41
Not a surprise - terrible losers and even worse winners
Joe Parkinson
6
Posted 02/06/2019 at 16:03:43
What do we expect? It's the norm for that load of maggots. Utter scum, that's why they are the most HATED club in England.

More than likely they plead innocence and claim it was someone else who did it. No other word, GOBSHITES.
Karl Masters
7
Posted 02/06/2019 at 16:15:21
You have give their team the credit they are due, but by the same token you can only condemn this.
Pathetic and it does remind me why everyone I know, whoever they support, wanted them to not win the League. Only Arsenal or West Ham wanted them to win last night.
It's because their fans are infected with a sizeable contingent of self satisfied, conceited, gloating, patronising arseholes. Not all of them, but probably at least half of them. The sort of people you try and avoid whenever possible.
Si Pulford
8
Posted 02/06/2019 at 16:17:44
As soon as one of our lot sprayed 'paedo' on the Klopp mural this was always going to happen. As bad as each other. Fucking idiots.
Billy Bradshaw
9
Posted 02/06/2019 at 16:18:03
How can they lower themselves to do this, hope we all as good evertonions show no need for like for like reactions.
Marcus Taylor
10
Posted 02/06/2019 at 16:20:20
66? Must be a reference to our 3-2 win over Sheffield Wednesday in the 1966 FA Cup Final. Can't think what else they would be referring to!
Don Wright
11
Posted 02/06/2019 at 16:22:56
I don't post much but I fell I have to I bet the Lbc sorry BBC don't cover this or sky they would not want to upset their darlings and the syhte fans them self's will think this funny, I have six of the bastards in work I live in Bootle work in skem, and not one of the toe rags has a L post code and I have been to more games this season than they have between all six of them in the last two,and I am surprised they only put two six's on the tower is not their number 666.
Tim Welsh
12
Posted 02/06/2019 at 16:26:09
I remember the chants of 'Merseyside! Merseyside!...' back in the 1980s, they rang hollow then and they ring hollow now.
Ray Roche
13
Posted 02/06/2019 at 16:37:26
Well I've spent the afternoon dancing naked around a the carcass of a slaughtered goat, a dead chicken on my head, as I recite an ancient Mayan rain dance chant. Someone please tell me it's pissing down on their parade.
Mark Brennnan
14
Posted 02/06/2019 at 16:37:48
As disgusting as this is, it's not a patch on the nonce in the fountain in the square in Madrid.
Alan J Thompson
15
Posted 02/06/2019 at 16:39:28
Don(#11); Quite right but the idiots couldn't even spell that properly.
Tony Hill
16
Posted 02/06/2019 at 16:52:33
Ray @13, sadly, the sun is out.
Ray Roche
17
Posted 02/06/2019 at 16:54:44
Might as well put my kecks back on then.
Joe Parkinson
18
Posted 02/06/2019 at 16:57:14
Really looking forward to the Echo's 400 page pull out tomorrow, NOT. and I guarantee there will be not 1 single word mentioned with regard to this vandalism...
It will be brushed under the carpet as usual, just like the rest of their dubious history.
But Hey, Blue Boys, just suck it up, as it's only the " Cheeky lovable kopshites
A.W.T.V.N.T.B.

Jim Bennings
19
Posted 02/06/2019 at 16:58:26
They have no shame but after the way they show disrespect to dead Italians, and carry on as though they own the world what else can be expected?
They are only famous these days because of largely sympathetic neutrals regarding Hillsborough for example, even that they weren't white than white.
They really are the most odious scum on the planet, far worse than Millwall, at least Millwall have the face to accept they are shite scum but the Reds think they are just loveable little nice one lads having a laugh.
Scum, personally I'd take getting relegated next season if it meant doing the double over them and taking them with us!
Jim Bennings
20
Posted 02/06/2019 at 17:00:50
Just get over to Anfield and spray "Murderers" on the Shankly gates and let's see them all taking 40,000 Evertonians to court.
Absolute filthy victim bastards.
Tony Hill
21
Posted 02/06/2019 at 17:06:30
Probably for the best, Ray.
Tony Abrahams
22
Posted 02/06/2019 at 17:07:54
"Bitter and Twisted" Evertonians again. I seriously don't know how can we blame Liverpudlians, when we don't even know who done it!
Phil Bellis
23
Posted 02/06/2019 at 17:11:29
Spot on Mr Abrahams...deffo Chelsea fans again
Phil Bellis
24
Posted 02/06/2019 at 17:13:31
... or the Prisoner Appreciation Society

Darren Hind
26
Posted 02/06/2019 at 17:21:44
Just when you thought you couldnt hate them any more. .
Michael Lynch
27
Posted 02/06/2019 at 17:22:06
I think we should spray COYB on Klopp's teeth when we win the FA Cup next season
Jim Bennings
28
Posted 02/06/2019 at 17:27:03
I absolutely loathe them.
If there's one thing I want more than anything next season it's to finally beat those bastards and hear all their smug whingeing mutant followers claiming we were lucky.
John G Davies
29
Posted 02/06/2019 at 17:33:01
They win it and their first thought is us.
And they call us bitter.
Jimmy Hogan
30
Posted 02/06/2019 at 17:39:18
There is some debate over the Star of David inside one of the sixes. Is it meant to be an anti semitic slur against Spurs, or does it refer to the six Champions League titles? Whatever, all I know is the silly sods can't even get that right, as there are only five points to the star instead of six.
John Wright
31
Posted 02/06/2019 at 17:47:55
"Everton versus Liverpool is humility vs arrogance, loyalty vs entitlement and art vs pornography" - Dr. David France
Martin Mason
32
Posted 02/06/2019 at 17:55:33
Nice one Phil, very good
Ray Roche
33
Posted 02/06/2019 at 17:58:49
I would imagine it's the Star of David myself. Hey, let's insult everyone,eh?
Anyway, they'll be fucked now because it'll take the retards all year to realise they'll need to shove both hands in your face as they screech "6 times" at you.
Chris Leyland
35
Posted 02/06/2019 at 18:03:49
Ray. a lot of the mutants will be able to do "6 times" on the one hand.
Colin Glassar
36
Posted 02/06/2019 at 18:06:29
It's not a Star of David ✡️ it's the sign of the devil (the Pentecost?). The retards can't even get the (intended) insult right.
Phil Bellis
37
Posted 02/06/2019 at 18:06:46
Nah.. 5 fingers on left hand and fumble with your flies with the right...
Ray Roche
38
Posted 02/06/2019 at 18:12:22
Chris, cracker!
Colin, do you really think that they're that clever?
Sean Patton
39
Posted 02/06/2019 at 18:23:34
The day they get their comeuppance can't come soon enough.
Daniel A Johnson
40
Posted 02/06/2019 at 18:25:31
Let's put a big fucking blue zero on the kop end wall ( the number that symbolises the number of prem league titles they have).
Jeff Armstrong
41
Posted 02/06/2019 at 18:31:32
As someone on Grand old team said, it's not the worst thing they have done a European cup final night is it?
Mark Wilson
42
Posted 02/06/2019 at 18:31:43
Look this is clear cut revenge. Apparently tho still to be proved, EFC supporters scrawled nonce on Klopp mural at Anfield. Many on social media immediately forecast exactly this revenge attack and more. Si #8 is spot on, they are all idiots. Of course nothing has been confirmed about the Klopp mural thing. Was it photoshopped or did it happen ? How does anyone know it was Evertonians? It feels (sadly) likely but it's certainly not proved yet is it.
I'm stealing a comment from another blue but if some blues had been seen to clean it off, or at least attempt too, it might have made a difference and stopped what has happened and the worse mess I think could follow but hope not.
Naieve ? Maybe. But what price our new statue? Dixie? The pictures all round Goodison ? And the same from the RS perspective.
Nobody wins here. And by the way I hate them with every inch the passion expressed here. But keeping some form of neutral ground between us, like the grounds, the statues etc, and stopping the graffiti nonsense, it has to be right else where would it stop in a tit for tat nightmare?
Mike Benjamin
43
Posted 02/06/2019 at 18:34:18
Na Daniel@40, more like 39 - the number of Juve fans who died at Hysel. Next year will be the 35th anniversary of that atrocity so I wonder if LFC will hold a memorial? No, thought not. It is as lawrenson said in the Two Tribes video, that the club swept it under the carpet.
Derek Knox
44
Posted 02/06/2019 at 18:41:21
This should receive maximum publicity so the public and football world in general, see exactly how acrimonious the mutant followers of Satan's Club really are, and evidence of their 'sick celebrations'.
Tony Abrahams
45
Posted 02/06/2019 at 18:41:33
I'd sooner we started existing to win trophies ourselves again first Daniel.
I was reading Moyes last week talking about the Goodison atmosphere, a man who managed us for 11 seasons, got us to one cup final, and was clapped out of Goodison Pk, and think about how low we became celebrating coming best of the rest?
Everton football club have got to start winning again, because it's the only way forward in this football mad city, and also the only thing that really counts unfortunately.
Andy Crooks
46
Posted 02/06/2019 at 18:45:00
At least they didn't murder anyone this time. Not yet.
Dan Parker
47
Posted 02/06/2019 at 18:46:26
When they go low, we go high
Tony Abrahams
48
Posted 02/06/2019 at 18:55:43
No Dan, we are the club that never really recovered from Hysel mate.
Eric Paul
49
Posted 02/06/2019 at 18:59:04
Colin,
I thought the sign of old nick was a pentagram or pentangle and Pentecost was something to do with a week after JC rolled a seven... That said, I think they missed six off Prince Rupert's Tower.
Jay Harris
50
Posted 02/06/2019 at 18:59:51
I think it is 66 and meant to represent how many referees they have on their books currently.
Dave Pritchard
51
Posted 02/06/2019 at 19:01:21
Well said Mark Wilson. Fan rivalry is fine but these things can sometimes build up and boil over until something really bad happens.
Julian Exshaw
52
Posted 02/06/2019 at 19:01:53
I've hated Liverpool FC since I was in school as the only Evertonian in a sea of red shite. I couldn't watch the end last night. The media likes to stuff this club down everyone's throat, not only Evertonians. We could spend the rest of our lives though wasting energy on them. It's finally time our club got its act together, built that new stadium and put us on the football map for a change.
John Keating
53
Posted 02/06/2019 at 19:43:13
There are moments in a game that can change the whole momentum. A good or bad refereeing decision, a tackle, a goal.
There are games that can change the whole momentum of a season, either a win, loss or draw.
There are also games that can change the whole momentum of a Club. That happened.
On the 29th May 1985 at Heysel stadium 39 people died as a result of a riot.
Now the anniversary of Heysel was only a few days ago. I can't really recall much of any sort of recognition of its 34th anniversary, maybe there was, maybe I missed it ?
But let's be clear that night dealt our Cub a blow that we never recovered from.
We had a team, great individuals in a real team. A great mixture of youth and experience. A great backroom team from John Clinkard the physio to Howard the manager.
We were on a roll, great players, great character and great momentum.
At the end of the season we didn't need half a dozen new faces just a couple to improve the squad.
Who knows what we could have achieved and where we could have gone. We'll never know but all the signs were stellar.
Undoubtedly, at the time the best goalkeeper in Europe, if not the world. Young internationals, Experienced pros in Reid and Gray. A brilliant manager had assembled and instilled a winning mentality and physical fitness into a group that individually were not world beaters.
Anyway after that night at Heysel our Club went one way and we never recovered. During the ban we lost our better players and our manager.
Of course us "bitter" remember these things. Our cousins...……….well it never really happened, did it ?
Bitter ? Yes
Reason to be bitter ? Yes
Do things like defacing the Tower help ? No, but no surprise really.
Chris Leyland
54
Posted 02/06/2019 at 19:52:14
John, while I agree with you about some aspects of Heysel, I don't think that you can lay the full blame for our decline on it. Man U were not the global super power they became at the time. Chelsea were a yo-yo team up and down from the 1st and 2nd division, Ditto Man City. Yet all of these clubs have won numerous trophies since. The difference? They were all properly run with a firm plan to win things whilst we had Kenwright content to see us 'best of the rest' year after year whilst not really seeking anyone to invest and take us to the next level. We missed the boat and have gone from being the 4th most successful team in English football to an also-ran.
Ray Roche
55
Posted 02/06/2019 at 20:04:07
Chris, with respect,Chelsea, City and United all had something we didn't. Money. Crates of it. Ok, we were successful but our team broke up as a result of the ban. No argument. We were on the cusp of European greatness and it was snatched away from us. No team suffered as much as we did.
And the fact that those arseholes can brag about it sickens me.
The teams you mention all bought success.
Billy Roberts
56
Posted 02/06/2019 at 20:11:28
Get a grip with the anti- semitism honestly,
The star clearly represents a cup, you know like on a kit above a badge?
I wouldn't have given the wankers the exposure myself I would have had it removed asap.
Paul Tran
57
Posted 02/06/2019 at 20:14:04
Heysel played a huge part in our decline, but we have to acknowledge our failings too. In 85/86 we played some great football and just fell short. In 86/87 we won the league in a canter.
Where Heysel affected us was that it stalled our momentum. When Howard left, we made the mistake of appointing a manager who didn't really want the job. That's no reflection on the great Colin Harvey, who took the job out of a sense of duty. He signed some good players, but couldn't manage the rift between the old and the new. After the 1989 cup final we drifted, drifted, drifted ever downwards. We were badly managed, fell behind, lacked ambition, fell further behind.
We have a chance now. We have to stop talking about everyone else, focus on ourselves, get our house in order and pull together.
Moaning about Heysel won't help us, moaning about the pundits won't help us. We need to focus on helping ourselves.
John Keating
58
Posted 02/06/2019 at 20:23:05
Chris
The start of our success in the 80's was years before Abramovich bought Chelsea their recent success They were nothing at all special in the 80s
Man Utd again were nothing special at that time. Their time came under Ferguson at the start of the Premier League era.
We'd proved we could match the RS. And, as Kendall said at the time the goal was to catch them - we did, and then match their success. We didn't. Why ? Simple, Heysel.
The teams you mentioned came much later. In my opinion and it's only an opinion, if Heysel hadn't had happened I reckon we would or could have had years of success with the set up we had. Such that when the PL era started we would have been in a far better state than we were both financially and success wise.
Heysel was a pivotal moment for our Club more than any other.
Paul A Smith
59
Posted 02/06/2019 at 20:28:56
Before I read these posts from fellow blues obviousy as fed up as me, I am going to have my rant without influence.
Where to start though.
I am absolute sick of the way football has been taken away from us true fans.
Of all clubs that is.
The fan that pays to be there. The fans that prioritisesthe match over anything does not matter anymore
This has just been discussed with friends on a group chat and I am baffled as to why 90% of clubs in europe put up with the format of the Champions League.
I speak for a lot of clubs here but here, as Evertonians its even worse.
We have the bias and favouritism in our faces from phoney cling on supporters that often hate scousers and often idiotic individuals that have no intention of ever paying for a ticket.
I bet the kopite Banksey above has never been the game.
I could go on forever here but I tell everyone I would rather Everton won nothing forever and kept our roots and dignity before we became the McDonalds of football like that mental shower of cling ons.
If buying a shirt means your a fan and that helps your club to spend, then I suggest we all buy an Everton and City shirt because FFP is another favourable dimension for them to use their cling ons fans as an excuse to screw every other club over.
Soul selling devil club with nothing but the name connected to the City.

Billy Roberts
60
Posted 02/06/2019 at 20:29:27
Well said Paul@57, The European ban certainly affected Evertons prospects, to what degree we can only guess.
To keep on referring to it in 2019 is a bit embarrassing for me personally, we are talking about nearly 35 yrs ago ! Were we blaming world war 2 for our problems in 1980?
Paul A Smith
61
Posted 02/06/2019 at 20:35:40
As poor as it may sound to some I completely agree with Jim Bennings. No words are enough for me to hurt them but if a blue retaliated thats all it would be.
A reaction to their behaviour yet again.
I don't know if I hate them more than I love Everton. Always puzzles me that.
Philip Ashton
62
Posted 02/06/2019 at 20:37:54
Hopefully no Everton fans willrespond in kind. Regarding those who did this I've scraped better off my shoe.
Chris Leyland
63
Posted 02/06/2019 at 20:40:04
Ray, John - the points I'm making is that we may well have had a bit more success in the late 80's if it wasn't for Heysel, but that doesn't explain our decline today.
As I said earlier, Kenwright held us back by refusing to sell us and being desperate to cling onto his train set. I mentioned Man U, Chelsea, Man City as they all transformed in the Premier League era whilst we just stagnated and declined. That wasn't because of Heysel, it was because they had a plan and they had money we had a plan to stay in the top half of the league and not seek investment and we are reaping the results of that.
Look at the shite too, they also stagnated after the 90's but they also had a plan and a strategy under their latest owners and it is only the last 3/4 years that they have re-established themselves as back in the top 4.
Eddie Dunn
64
Posted 02/06/2019 at 20:42:32
Good points from many here, but essentially we need to man-up and start winning things. It's the only way of getting back respect and shutting-up those gobshites.
Brian Williams
65
Posted 02/06/2019 at 20:42:56
Billy#60.
Billy, part of the reason Evertonians still refer to it is down to the behaviour, since it happened, of the rs supporters/fans.
One of them last week on the Echo website posted "If they hadn't run the wall wouldn't have fell down. Not our fault it did."
Compare that to their stance with regard to Hillsborough which occurred only 4 years or so later.
One has been swept under the carpet, the other ...........
Tony Abrahams
66
Posted 02/06/2019 at 20:45:25
I mentioned Hysel, Billy, but more to answer that we don't go higher when they go low, but agree with everything that Paul T says, because football like life, has got to be all about yourself imo.
I think I'm disillusioned though because the lack of consistency throughout the game I love, is constantly getting justified by nothing more than a media circus.
Shaun McGough
67
Posted 02/06/2019 at 20:46:04
call us bitter as well, just shows what classless scum our neighbours are. Musnt have had any Italians to murder on Saturday night must they. But of course it wont be there faults blah blah Juventus made them do it, the building was asking for it, its not properly policed. In there so called bright future let them forget all about there shocking past, We may not have the cups at the moment but they will come in time, We will always have our class history of supporters something they will never have, Keep the faith blues.
Derek Knox
68
Posted 02/06/2019 at 20:52:44
Have just noticed on Newsnow Everton ( I know ) that the Daily Mail have highlighted the vandalism on both the Prince Rupert's Tower but also on the nearby pub, let's hope it merits a sizeable article in their newspaper, to the actions of those mindless mutants.
Paul A Smith
69
Posted 02/06/2019 at 20:58:06
Tony 66, that is true to an extent but how do Everton do that?
My intentions are to always think about us first but they are dictating everything through fanbase and media to stop or slow down teams like ours.
Fanbase is ultimately what dictates spending and success now.
I don't think enough people understand the implications of FFP for clubs like our that failed to join the rich ventures in the 80s and 90s.
City and Chelsea just about beat the worst of it but it means we can't have 4 200 grand a week players in our team.
It means if we have a player we can offer 100 grand to, Spurs can offer him 150.
We have all got to put up with this forever now while the top clubs can have all the elite players because fans in South Australia buy their shirts and they have CL money.
Its murder to crack a market now because they are swallowed by the richer clubs.
The fan in the stadium loses out to the idiot abroad with a shirt.
Jim Bennings
70
Posted 02/06/2019 at 21:03:29
I hope our management team plasters the blown up images of what those leper bastards done to The Tower on the dressing room wall before both derbies next season.
What they have done now has crossed the line and Everton Football Club should now put these scumbags on trial until we play them next season and punish these demons TWICE next season and really rub it in on them.
Even now as I sit here I'm thinking of ways to get to Anfield with a tin of blue paint and give the Shankly statue a new lick of paint.
Let's hope this incident of vandalism today is used to really fuck these dirty sewer skank rats over next season.
Billy Roberts
71
Posted 02/06/2019 at 21:05:21
There doesn't seem to have been much discussion about the penalty does there?
A bit like no-one wanted to mention the pitch invader at last year's final when Ronaldo had a chance to make it 4, I fuckin hate the way the national media also link the Beatles to the RS with headlines, images music to goals etc.
I long for the days when our own success means we can genuinely sing "we don't care what the redshite say " and mean it.
Marcus Leigh
72
Posted 02/06/2019 at 21:09:41
I hope whoever was responsible woke up this morning feeling ashamed. But they won't. They never do. Arseholes. As someone said earlier, let's hope the club uses this as a spur in the dressing room to wreck their EPL ambitions again next season.
You can't take it away from them, they have won 'it' six times. But I'll take being an ever-hopeful blue over being a classless red twat any day of the week.
Mike Connolly
73
Posted 02/06/2019 at 21:14:39
They have missed a 6 off which would have went nicely with their address Devils Gate Drive
Peter Cummings
74
Posted 02/06/2019 at 21:18:37
Like many of Blues I too trace the demise of Everton from the events at Heysel which, at the time and since, has been a real body blow from which we have never really recovered and I feel I may not see any significant recovery in my lifetime,
I still have memories in black and white of my two lads posing in front of the roundhouse on Everton Brow taken a week before we migrated to Canada in 1980 so it's really upsetting to see this beloved Everton icon vandalised by morons who obviously have severe mental problems a disgrace to the city and BOTH our clubs,
In closing lets hope Prenton Parks Tranmere continues to make their way up the promotion ladder to even bigger successes in the future, Well Done Lads
Tony Abrahams
75
Posted 02/06/2019 at 21:25:23
All good points Paul, but I think it can be done mate. First we need everyone on the same page, and then we've got to turn this anger into something that can unite us all, and then we can go and win the cup, which will help us start getting back our pride.
When Evertonians unite, they carry as much noise and passion as any set of fans, and if we can get in some more good players, then I'm certain the crowd can push these players on, but what we need more than anything is a real united football club, right now?
It takes time but everyone is saying how clever that Klopp is, but I'm really not that sure? Clever for doing Everton's team-talk before the last derby, which might have just cost his team the league. (World Cup final)
Clever for losing it on the young ballboy, who was laughing at him because he was a wise little scouse kid, who saw right through Jurgen's jibe? Or clever for telling his keeper to go up for a last minute corner in Barcelona, which would have resulted in his team conceding another goal if he'd obeyed his managers orders?
I'm not sure Klopp is as clever as he's being made out to be, but maybe I'm wrong, because the first thing he did when he got to Anfield, was to unite the players and the fans, and when everyone is on the same page then anything is possible, you've just got to have that real belief to begin with first? Imo.
John Boon
77
Posted 02/06/2019 at 21:35:06
People who do such petty acts of vandalism are always immature idiots and nothing anybody says will penetrate their neanderthal brains to change what they consider as humorous. They are probably incapable of writing a constructive letter to a reputable newspaper to vent their spleen on those they consider as their enemy. They prefer to remain anonymous mainly because there is a good chance that they will not know how to spell their own names.
As an eighty year old Evertonian, while I consider such acts as reprehensible, I am never surprised by what they do. The fact that they were Kopites is actually pleasing, as it gives me one more reason to despise the RS.
In the past I was delighted when we won any trophy. However Victory is fleeting and only lasts until the next defeat. As a fan you can only boast about it for about forty eighty hours. You can chant "We won the cup" and rub it in to all those who didn't. Unfortunately nobody else even cares after very short period of time. You also have to realize that all you really are is a supporter of a team and "YOU"didn't win anything the team did.
I will be Blue until I am no longer around and while we seem to be in a prolonged era of not winning trophies I will continue to be delighted when we win our next game. I NEVER regret being an Evertonian. I do my very best to never care what the Red In-breds do. By about Tuesday nobody else will really care either. It is only the next game that matters.
Paul Birmingham
78
Posted 02/06/2019 at 21:35:53
This is no surprise, the wanton vandalism, is not the first time, they have vandalised our club.II no doubt guess that the local media will turn a blind eye. The way the local media has gone on the last 24 hrs, just shows, that there's total bias and prejudice, towards EFC.
Doing this and I recall once they painted Dixie's statue, the Brick again, won't be forgotten, just like Heysel, won't be forgotten.
That's a fact of the start of our demise and it's a fact the directorship and leadership of EFC, has waned and waned. And we are making up the numbers in the EPL each season.
It's up to the EFC board, now to sponsor and drive for a success on the pitch and a new starting point in EFC history.
The clock of life doesn't stop for no one, but this season, EFC, must up the anti and aim for winning every game, and be ruthless against the RS.
EFC, must take stock, of what's happened and aim high, and higher, as the dynamics of business and progress conspire against us, due to Old Nick.
Lyndon Lloyd
79
Posted 02/06/2019 at 21:38:20
Mike (73), on another photo doing the rounds, there is another 6 around the left side of the tower as you look at it on the photo above. So they did indeed paint their number.
Also, I have to agree that the star inside the one 6 has nothing to do with Spurs or anti-Semitism — one of their lot tweeted me six stars denoting... well, you know what. Jammy bastids
Paul A Smith
80
Posted 02/06/2019 at 21:39:11
Of course Tony and its a great attitude to have mate I just feel football is a closed shop now.
The Swansea chairman once asked how can I win anything if I sign up to FFP before he sold the club.
Look who has reaped the benefits of it mate.
That shower flying high since it came through, Juve who were relegated 2 divisions a few years back now dominate Italy again, while the other shower hit the luck of facing the team in the champions league final couldnt buy anyone because the stadium was their funds.
That is sadly what we are up against Tony and I cannot help but see things from both sides as much as I want to favour Everton.
We have had great success with American players but no success in the American market.
How horrible is it that as a real football fan, that really matters now.
Off subject has anyone seen the video going around of their great supporters fighting with each other on what looks like a coach?
Its worth a laugh.
Paul Tran
81
Posted 02/06/2019 at 21:54:01
Tony, Klopp appears clever because he did the simple thing of sitting the whole club down, spelling out his plans and what he expected. He was clever enough to tell them to be patient and kept them on board. He does all the stats and detailed analysis, but his priority was establishing the collective and getting the players fit, confident and mentally strong.
Seems like what my Dad used to call common sense, but good man-management is seemingly regarded as genius these days.
Tony Abrahams
82
Posted 02/06/2019 at 21:56:41
The thing that bothers me Paul A, is the inconsistency within the media, which sometimes feels like an even bigger barrier than the things you mention above?
I've already mentioned it on T/W somewhere today, but I predicted Peter Walton would contradict himself the other week, and if you listen to his comments about the penalty last night, and then listen to his comments during Liverpool's game in Barcelona, when Messi wanted a pen for handball, then this is such a major worry for everyone who can see the level of inconsistency which operates within the game of football?
Who really needs ex-referees on the telly, when the game of football has already become a circus, especially when they judge, just like their mates referee, favouring one team, and not always being consistent with their decisions?
Brian Wilkinson
83
Posted 02/06/2019 at 21:58:36
Time for Moshi to paint the Liver birds Blue.
Tony Abrahams
84
Posted 02/06/2019 at 22:07:58
Paul, I don't think they've had to be that patient because he got them to two finals in his first part season, and everyone could see they had a plan from the minute he came into their football club?
He's got them very fit, he's got the crowd onside, he signed some good players and these are the things that got them really believing. And we all know how much confidence real belief brings, it's just been that long since we've had it at Everton FC, that most of us seem to have forgotten this?
Phil (Kelsall) Roberts
85
Posted 02/06/2019 at 22:09:03
Some of us never miss an opportunity to have a go a Kenwright.
1987 was the last trophy. 5 years later, the Premier League started. Two years later, we needed a 3-2 win over Wimbledon to stay up. We appointed Kendall Mk III and just survived with a draw on the last day. We sank farther and farther back into the pack as the Sky money took over.
And then, 17 years afterwards, Kenwright became Chairman. But no, it was his fault and only his. We lost our way over the previous 17 years and yes it did not get better except on the pitch and we became best of the rest - because for those 17 years we were nowhere near that. But let's blame him.
And let's try to commemorate Heysel. A match between Everton and Juve. What would have been the 1985 UEFA Super Cup.
We could even try to play it every 5 years as a memorial.
Si Smith
86
Posted 02/06/2019 at 22:24:13
Basically a few knob heads have done this, unfortunately there a atleast a few at every club.
Paul A Smith
87
Posted 02/06/2019 at 22:31:00
Tony that riles me too mate. Great point again and not to be underestimated.
A ref is being analysed by 3 reds in the studio and its not an influence on his character?
My arse.

Even more than the big decisions that go against less favoured clubs is the 50/50s that don't go your way and there is tons of them.
Them big sides get them niggly fouls and bits of holding all the time and the media never highlight who benefits.
Klopp was fuming when West Ham got all the momentum decisions at their place this season
He knows they are the decisions that affect games.
Ray Roche
88
Posted 02/06/2019 at 22:42:01
I see that they're claiming that 750000 people "lined the streets of Liverpool" to welcome the shite back on their open top coach. (so my naked rain dance din't work!)
The population of Liverpool post code area is 490000. So, if every man, woman and child in Liverpool area turned up...and that's all Evertonians, and everyone's Nan, every child, every person who think that getting paid a fortune for kicking a pig's bladder is shameful etc., then there is still a shortfall of more than a quarter of a million people. Half as many again as the entire population anyone else think that this is just not feasible! Maybe massaging the figures to make them appear more. popular than they really are?
Keith Harrison
89
Posted 02/06/2019 at 23:05:27
Although a bitter affront to us (pun intended) I would not advocate any reprisals on anything rs connected, regardless of whether a blue started it on a mural of Klopp.
I would rather Everton fc wrote to Liverpool fc asking them to publicly admonish the perpetrators - whoever they are- and plead for information on the same. Everton should also publicy appeal for no acts of reprisal.
That should show the World we are bigger than that shower of shite, which after all, is why we are Evertonians and not kopites.
Bob Parrington
90
Posted 02/06/2019 at 23:46:37
Correct Keith. Take the high road! Cant complain if we do the same.
On the topic of the penalty, I am surprised it was awarded and even more surprised that the VAR crew confirmed it. Typical luck of RS this entire season IMO. Corruption - who knows? probably just bad decision making, though.
Best track for us is to improve asap to the point of challenging for trophies!
Phil (Kelsall) Roberts
91
Posted 03/06/2019 at 00:26:56
Remembered my other idea to the 1985 UEFA SuperCup.
If our owner cannot raise the funds, can we set up a funding campaign to buy and install a number of blue coloured floodlights and sit them on top of the Royal Liver Building, owned through our own Mr Moshiri.
Having those Liver Birds highlighted in a wonderful blue colour every night is the best reminder that this is our city. And let them try and vandalise them!
Can cost more than £1 each to do this.
Derek Thomas
92
Posted 03/06/2019 at 01:34:11
Nothing changes; Poor losers and even poorer winners. rs; you always get exactly what it says on the tin.
Steve Brown
93
Posted 03/06/2019 at 02:16:20
Six things about Liverpool 1) they played superbly this season 2) they still required all the luck and cheating going to win something 3) VAR will see them 12-15 points down next season 4) everyone hates them 5) the media will turn on them now they've won something- the great British pathology of building them up to knock them down 6) their style of long diagonals, aggressive closing down and crosses reminds me of Wimbledon with a bit more flair. Let's forget this win and move on.
PS Great service to Football by Anthony Joshua to deliberately lose his titles so everyone would forget the win within 6 hours!
Kieran Kinsella
94
Posted 03/06/2019 at 03:09:44
I feel like we are over reacting a tad here. For all we know one 13 year old kid did this but we are acting as if the Liverpool supporting public as a whole are culpable: beyond that, the damage done was putting some paint on a hut built for locking up piss heads. Invoking Heysel and all that seems a bit OTT IMHO
Ed Fitzgerald
95
Posted 03/06/2019 at 06:19:56
That's very mature and magnanimous of you Kieran. Perhaps we should invite their squad to come and take a shit on the centre circle at Goodison as well. For many Blues going to work this morning they are going to experience a torrid time with all manner of RS baiting them and finding the actions of your alleged thirteen year old hilarious. We aren't invoking Heysel as though it was a mythical event - it really happened and their club was responsible.
For Evertonians of a certain age (50 and over) it is the lack of atonement on their part that rankles. The European ban hurt us but what truly pisses blues and others off is that the event is being air brushed out of history. No memorial, no victims fund, no enquiry fuck all. To quote that bitter blue Mark Lawrenson - the club has swept it under the carpet. It is little wonder the city is portrayed by outsiders as mawkish and hypocritical.
Alan J Thompson
97
Posted 03/06/2019 at 06:59:59
A lot can be put down to the events at Heysel but Everton's predicament lies at the feet of it's own Board. Everton could and should have have taken the ban to Court where it would rightly have been overturned on the basis that we were not involved and our fans had demonstrated how well behaved they are only the week before and in very similar circumstances but I'll never understand how they were let back in at the same time as everyone's ban was lifted.
Some have said that knighthoods were handed out for accepting our fate but, unfortunately, we've shown the same sort of boardroom leadership ever since and recently with the number of managers in a comparatively short space of time and an unambitious 52K capacity new stadium.
Their six European Cups will give them a place in football history but we must ensure that the present watershed we are at really is to our advantage.
Tony Abrahams
100
Posted 03/06/2019 at 07:11:37
I personally don't see or feel that as much these days Ed, and with so many outsiders now supporting Liverpool, possibly because of the way the families of the people who died at Hillsborough, conducted themselves and fought with so much defiance and dignity, then I think this is a point of view that has now changed?
These outsiders also call us "bitter blues" but probably don't even know how much Everton suffered because of the European ban, at a time when the hardest thing about winning the European cup, was winning the old first division, which is something Everton had obviously just done.
Growing up in this city, it's part and partial to take things on the chin, but it hurts when these smug fuckers laugh at our lack of success in Europe, for obvious fucking reasons, although you really do have to be over a certain age, to really understand this?
They hate us, we hate them, but as the song goes, "We shall not be moved" and deep down real Liverpudlians fucking know this?
gerard ryan
101
Posted 03/06/2019 at 07:23:19
Sadly, there will always be those that can't show the correct approach when a little bit of class and humility are required. It's been that way since Emlyn Hughes disgraced their club and their true supporters in his infamous comments in 1977. I'm afraid that set a division between us and them since then, particularly as so many Evertonians came out to welcome them back that day. Needs someone from their club to come out formally and condemn this action.
Ed Fitzgerald
102
Posted 03/06/2019 at 07:47:03
Tony
For a balanced and reasoned article about the issue follow the link below
https://www.ibtimes.co.uk/heysel-hillsborough-english-football-has-selective-memory-when-it-comes-tragedy-1503478
I don't disagree with a single sentiment about what you said about Hillsborough or the dignity of families. Like everyone else in the City I was appalled by the cover-up and the media manipulation of the tragedy. However I don't believe that outsiders view of the city will change until both tragedies are treated with a degree of equanimity.
Brent Stephens
103
Posted 03/06/2019 at 08:07:01
Ray #88 "I see that they're claiming that 750000 people "lined the streets of Liverpool" to welcome the shite back".
The population of the metropolitan county of Merseyside is given as 1,480,000. That's Liverpool, Wirral, Sefton (as far as Southport), St Helens (going as far as Haydock), Knowsley. So one in two (before you strip out Evertonians) from that whole area lined the streets?!
I hear there'll be 10,000 watching your golf day, Ray!
Drew O'Neall
104
Posted 03/06/2019 at 08:14:06
Some of my mates are Spurs fans. Upon returning to their coach after the game on Saturday, the group including three generations of Spurs fans, were set upon by RS scallys and a 70 year old gentleman was slashed across the face by a blade on the end of a belt. These were just families of fans on the trip of a lifetime who obviously didn't provoke anything. Disgusting.
Michael Lynch
105
Posted 03/06/2019 at 08:14:36
Ray @88, I was wondering about that figure myself, it does seem unlikely, but I guess it depends on who is coming up with the figures. Whenever there's a political protest march, the organisers claim a million have turned up, and the police say half that. I would guess the true figure for yesterday's march of the dickheads, err sorry I mean victory parade, is probably a lot less than half a million. Still a lot of dickheads though. I mean fans, sorry again.
Brent Stephens
106
Posted 03/06/2019 at 08:17:52
From Sky website "A spokeswoman for Liverpool City Council said there was near to half-a-million people out on the streets for the parade, but city mayor Joe Anderson put the figure closer to 750,000."
Joe Anderson of all people!
Tony Abrahams
107
Posted 03/06/2019 at 08:19:01
All true Ed, and sometimes I think that it's the lack of respect that is shown to Heysel, which has played a major part in the friendly derby, no longer existing?
They will call me bitter for resenting a song that talks about conquering all of Europe. This song might be all about the football to them, but to me it smacks of lacking class, and dignity, and also having no shame?
If Kenwright is to blame or not to blame, Moshiri is correct in that he's took over a relic of a once famous football club, and it's time for Evertonians to unite, and start making some real memories for ourselves once again.
For the people who don't believe it's possible, or for the younger generation of "UNFUCKINGBELIEVABLY LOYAL EVERTONIANS" I cast my mind back to New Year's Day on 1984, and think how poor my team had become, and then I go forward 17 months to Rotterdam, and the shivers I had in my whole body, when the English champions, had just won the cup winners cup, and the fans were leaving the ground singing ("Our Song" it fuckin is our song) "just like the team that's going to win the fucking lot, we shall not be moved", so don't tell me it isn't possible, because I know it bloody well is!!
Andy Meighan
108
Posted 03/06/2019 at 08:21:35
Brilliant post by Ed (95). As far as I'm concerned that night in Brussels shaped the destiny of our club. I'm 100% sure we would have gone on to big and better things under Kendall and that great side but because of the ban it's something we;ll never know.

What I do know though is we were the only club who suffered as a consequence of that vile club and its moronic fans. And people wonder why I'm bitter.
Dermot Byrne
109
Posted 03/06/2019 at 08:24:51
So #8: in a nutshell mate
Christine Foster
110
Posted 03/06/2019 at 08:38:31
This thread has become a little twisted, a stupid prank blown into hate. It was an opportunity to ridicule us by some little toss pot in the dead of night. Retaliation probably never entered his head, probably can't spell it either, only just mastered numbers..
Deep breath guys, let them have their moment in the sun and remember what goes around comes around. Of course there is bias against any team other in the media, not just Everton, but we feel it because we are close to the daily dose of self righteous opinionated ignorance.. But the pendulum will swing again have no fear.
We feel it because it wasn't us, we feel it because we want it badly, we feel it because it seems a long way off.. but it's the laughter and ridicule that cuts the deepest.
I only hope when Moshiri holds the next board meeting after he has been ridiculed personally by some colleague or competitor that he slams the door shut in that boardroom and shouts never again to those seated at his table.
Yesterday is history, tomorrow awaits, the sky will be blue once more, and so will the city be.
Paul A Smith
111
Posted 03/06/2019 at 09:04:34
Steve 93. No way on earth will the media turn on them. I don't how you think a media full of their fans will ever do that.
Does anyone really believe VAR will have the likes of Liverpool done out of many points.
That is wishful thinking.
Mark Wilson
112
Posted 03/06/2019 at 09:06:07
Jim Benning #70 I can see your pissed Jim, who wouldn't be, but this latest round of moronic nonsense appears to have been started by Everton supporters defacing that horrible Klopp mural at their shite ground. You seem to think that scrawling "nonce" all over someone's pictures face is somehow less significant than the equally stupid idiots painting the tower with graffiti? I can't believe this stuff. And then you joke, I hope it's a joke, about vandalising their ground. It is serious this Jim, if it escalates there will be no winners from this and I don't care if anyone thinks it's just a little bit of dull graffiti. It will only lead to things that matter to us being ruined. It hate for them is sound and well based. This crap isn't.
Dave Abrahams
113
Posted 03/06/2019 at 09:10:49
Those are my thoughts as well Christine (110), good post and yes we will be back, sooner rather than later I hope, but we will be back.
Jim Bennings
114
Posted 03/06/2019 at 09:34:09
Mark
Where do I advocate scrawling "nonce" over the Klopp mural?
And where does it even suggest the Klopp mural has been defaced with such a slur, as I can't find anything?
The point I am making Mark is it's about time someone hit back, they are like the playground bullies that think they can do what they want yet start whining and crying when someone does it to them?
I'm not arsed if anyone has/hasn't graffitied on their scrapyard, but if they have then let's be honest they can't moan and whinge because what goes around comes around.
Eugene Kearney
115
Posted 03/06/2019 at 10:17:34
Excellent post, Christine (#110).
We will be back, please God next season, but soon.
We have to build on the current progress that we have recently had - get ourselves an out-and-out striker and burst into the "Top Six" ASAP. nudging Man Utd, Arsenal or Chelski out ;-)
Defacing the tower was the lowest of low scumbag acts, only worthy of R. R. supporters. No class, no respect.
We must retaliate on the pitch - next derby.
Paul Bernard
117
Posted 03/06/2019 at 10:25:29
The nonce thing on Klopps painting was wrong, but if you think they only vandalised the tower for revenge, then again your wrong.
They call us bitter but moments like this is why we hate them, they just don't understand it or refuse to.
I honestly expect nothing less from a team who unveiled a banner seemingly pissing all over the Heysel tragedy just for 'banter'.
I hope that if Everton ever do become successful again, we don't give them lot a second thought. We will win a cup and they will throw 6 times at us - even if we won the league.
Ian Jones
118
Posted 03/06/2019 at 10:31:55
Not ignoring the fact that Heysel probably did impact the future success of our club, I wonder if the fans at the following clubs are still mentioning it. They were all affected by the ban to some extent.
Wimbledon, Oxford, Coventry, QPR Luton, Norwich, Southampton, West Ham, Sheffield Wednesday, Derby County, Nottingham Forest and Crystal Palace.
ln addition to the above..5 of the teams that now comprise the so-called Top 6 were also affected.
I think the initial ban was instigated by the FA, followed by UEFA's ban. The FA'S ban was probably put in place partly as a reaction to the general hooliganism taking place by English supporters following their teams abroad including those from Spurs, Leeds, Manchester United and the national team. Enough was enough.
If Everton had taken it to court to overturn the ban and been successful, as suggested in an earlier post, on the basis that our fans were well-behaved when travelling abroad, then other clubs could have logically tried the same thing.
Personally, it's difficult to argue that our club has been badly managed over the years from the top down. Having been part of the movement to instigate the Premier League, we just didn't have the commercial management team in place at the time to realise the potential of the Premier League and have been left behind...and will be playing catch-up for a while.
As many have said, football is cyclical. Our time will come.
In the meantime, whatever your national allegiance, let's get behind Jonjoe, Kieran and Dominic in the U21's Euro Finals
Paul Bernard
119
Posted 03/06/2019 at 10:32:11
Jim @114, I'm glad you mentioned the bully thing. Here is my take on them:
They are the school kid that gets picked on by the bigger, more powerful bully (United in this case), so what does a kid who gets bullied sometimes do? They come home and pick on their little brother (Everton). They hate the bully (United) without ever considering that they are just as bad as them.
If the little brother ever fought back (we win a trophy), they will still find a way to knock us back down. I hope one day we dominate to the point were the victim gives the bully a good old right hook and puts him (Liverpool) on his arse.
We have to stop acknowledging them because that's what they want, the world to make them feel special.
Steve Carse
120
Posted 03/06/2019 at 10:43:32
Steve Carse
121
Posted 03/06/2019 at 10:43:32
Having looked at the online Echo this morning I am appalled at the seeming glorification of the vandalism and loutish behaviour of large numbers of Gobshites in the city centre on Saturday evening. It seems it was all over-exuberance and hi-jinks. So that's alright then.

Steve Carse
122
Posted 03/06/2019 at 10:53:57
Ian (118), I suspect that yes the other clubs affected by Heysel do still mention it, particularly those like Wimbledon for who winning the FA Cup during the ban would have otherwise represented their one and only opportunity to have played in European competition.
In any event the long term impact of their 'punishment' pales into insignificance by comparison to that on Everton. That period should have been the time when we imprinted our name across European football, something that would have had a lasting benefit into the present age -- as it is our name barely registers across the continent anymore.
Alan J Thompson
123
Posted 03/06/2019 at 11:07:33
What's all this rubbish about a cycle? If that was the case then all clubs would have won about the same number of trophies, and that just isn't true, anywhere, and made even more so by the money now in the game. However, that doesn't mean a Leicester or Man City won't come along every so often.
As for other clubs getting a European competition ban lifted if Everton had, isn't it what justice is supposed to be about, if you didn't do the crime you don't do any time. And once you'd achieved that lifting all you needed to do was qualify via domestic competition.
And I can't agree that we weren't badly run because we participated in the formation of the Premier League and that not seeing the opportunity and organizing for it is not the fault of top level management. That's a bit like saying that continually losing or getting relegated is not the fault of the Manager/Coach, it's because we wore the wrong jersey.
Will the wheel turn and will we get our turn? Well, only if we prepare properly and don't just sit around waiting for it.
Michael Lynch
124
Posted 03/06/2019 at 11:12:17
It turns out that Dianne Abbot was responsible for counting the number of people on the parade yesterday. Her original estimate was just over 62,000,000 but Joe Anderson told her she might want to try again, so she offered him 2,432,907 rounded up to 750,000.
Three quarters of a million my blue arse.
Paul A Smith
125
Posted 03/06/2019 at 11:19:30
To be honest if you never went to the parade, which I am assuming nobody here did, its pointless and impossible to guess at what you never seen.
Paul Bernard
126
Posted 03/06/2019 at 11:23:00
Ian @118, I understand your point but when the formation of the premier league was taking place, we had lost some of our best players as a result of English teams being banned from Europe.
By many accounts of the elder Evertonians who were around at that time, we had a real chance at domestic and European success which would of gave us a headstart on our rivals if you like - something to build on.
United got the greatest manager possibly ever.
Chelsea have been given a boost by abramovich.
City with Mansour.
Liverpool had a pact with the devil.
Arsenal also employed one of the best in Wenger.
Only Tottenham for me have built up the old way with a combination of decent executives, good manager and a little luck that Harry Kane came through the ranks. When that happened to Everton with Rooney we were desperate for cash. Imagine a Rooney coming through now were we can offer decent terms!
I guess we will never know the true cost of the European ban.
Tony Everan
127
Posted 03/06/2019 at 11:24:24
Insults and mindless behavior such as this say a lot more about the person who done it than anything else.
Like people who kick over gravestones or put swastikas on war memorials, it says more about them.
It is disgusting and needs cleaning up today at the latest, but I won't let bastards like that grind me down.
The club just needs to bank that type of stuff and use it as a weapon for future derby matches.
NSNO
Dennis Stevens
128
Posted 03/06/2019 at 11:27:06
I suspect that the Everton Board(s) for the last 30 years would have been under a lot more pressure from supporters were it not for Heysel. It's become to some degree a bit of a fig leaf to disguise the incompetence of the Club from Board level down. Some of this stems from the inertia of the latter years of the John Moores era & the subsequent Boardroom turmoil leading up to the Kenwright era, which always seemed to be one of treading water until the Club could be passed on to somebody else. Hopefully the Moshiri era will prove to be the one where this all changes, at last. Then we really won't care what the redshite say!
David Midgley
129
Posted 03/06/2019 at 11:39:04
750,000----- Scandanavia must have been deserted.
Phil Bellis
130
Posted 03/06/2019 at 11:42:40
The Steaua Bucharest banner says it all
I notice a Klopp mural (so far, no moustache) in Jamaica Street; great idea to alienate most of the Scousers
Frank Thomas
132
Posted 03/06/2019 at 12:34:01
I think we are missing a few points.
Klopp has now done it, Emlyn Hughes did it I think Mark Lawrenson did it but to my knowledge the great Bill Shankly never did. The first three to their shame took a massive dig at us at their moment of greatest triumph. So is it any wonder that the Liverpool fans show no respect for people, property and the law. It comes from the top.
Even after all their clubs success for many red supporters it is the only successful thing they have in their lives and their supporters are everywhere, Maybe that explains why nobody was arrested for damaging the Man City coach, why nobody was charged or even given up to the police for printing counterfeit tickets for Liverpool games or why forcing people into fountains in their homeland is not chargeable.
Earlier we discussed the decline of Everton I think we hit the bottom in 2018 with Sam.
Everton declined faster than the reds over the years because we changed tactics with different managers and unsuitable players, the reds had succession Shankly, Paisley, Fagan and then it ended with Dalgjish who had known the system but had not really practised implementing it. We now have a good system, attractive entertaining football and a manager with a 3 year plan. We should now look at succession planning and invite Tim Cahill a die hard blue to become Marco's assistant coach just like Arteta has done with Pep that could give us a choice of 2 future coaches when needed.
We are the adults in this city and I believe our behaviour follows our motto -Nothing but the best is good enough.

Terry Underwood
133
Posted 03/06/2019 at 12:40:38
Please, a HUGE copy of this in our dressing room on derby day. When I played rugby, our skipper used to go round and slap everyone and shout "work up some hate" maybe a job for big Dunc?
BTW, opponents never knew what hit them in first 15 mins
Paul A Smith
134
Posted 03/06/2019 at 12:46:52
Frank, we had all that under Moyes mate. The devils club have things in their favour we will never have, we have never beat them at Wembley and how any times have they won a european trophy since we last did
I am 38 now and the likes of (future is bright) and (doing things the right way) are concerned I just find it all patronising.
We are all still waiting and it will never change. Just enjoy the day out with your mates because if we do ever win anything it will be few and far between regardless of any plan.
Football is over for fans like us that carry core values. And it is a sad negative fact I hate but its true.
Its a business and we are not about to become one of the biggest business.
Leicester shocked us and won the league then sold their main players except Vardy who almost joined Arsenal. Why didn't they want to challenge the next season?
Once they laid that message out, the game got even tighter for the likes of us.

Look how bad it is. There are fans in this thread thinking we need a photo of this mess on the wall before a derby.
My word, a photo to get fired up for a Derby.
And we are suppossed to have faith in our own footballers but require graffiti to fire them up.
It seems its not just the game that has gone mad.
James Hughes
135
Posted 03/06/2019 at 12:53:15
We own the Liver building and the Liver birds, something they never managed.
Some yard dog of a scally, picks up his spray can,does it matter that much?
Its disrespectful but that's nothing new. Move on
Steve Carse
136
Posted 03/06/2019 at 12:54:12
If you take 100,000 as a figure for those who lined the streets en route (itself a massive overestimate) then that would still leave a total of 650,000 in the city centre. How many hundreds of additional trains must Merseyrail have put on? And where did car drivers park their cars. ?
Never mind, it is already folklore. Next they'll be claiming they actually got 197pts in the PL this season.

James Marshall
137
Posted 03/06/2019 at 12:59:18
Frank@132
I read it's going to be Luis Boa Morte to become assistant coach to Silva.
As for the Tower - it amazes me that any of them can even count as high as six.
Paul Le Marinel
138
Posted 03/06/2019 at 13:10:57
How insignificant, empty and worthless their lives are to commit an act of vandalism such as this not just on The Prince Rupert's Tower, but also on The Brick Pub.
As far as I'm concerned, they are a disgrace to the community of Merseyside and all things football related. If there was any justice, they would be found, arrested and named and shamed by featuring in the Liverpool Echo and even on the local news.
The usual banter of trying to wind us up is one thing, but what those idiots have done who clearly are a few fuses short of a circuit, have crossed the line and gone too far.
Bob Parrington
139
Posted 03/06/2019 at 13:32:01
Steve #93 and they'll lose sneaky, shifty Salah!
Bob Parrington
140
Posted 03/06/2019 at 13:38:19
Thing is folks, the pricks won something! We can call them all the shits we want to call them but, luck or not, they won a trophy, which is something we've not done for eons!
Let's get on with it and win something next season!
Chris Leyland
141
Posted 03/06/2019 at 13:42:01
Paul A Smith - we have beaten them at Wembley- 1984 Charity Shield by a comedy own goal from Grobbelaar.
Brent Stephens
142
Posted 03/06/2019 at 13:44:21
James #137 "As for the Tower - it amazes me that any of them can even count as high as six".
Somebody might have said it already? It would only take one hand to count.
Christy Ring
143
Posted 03/06/2019 at 13:53:00
We all know the redshite fans are hated across Europe. As was said earlier, the Hysel tragedy was brushed under the red carpet, that tells you everything about Liverpool. As Big Nev said in his book, it cost Everton dearly. I still believe we would have conquered Europe, and being kingpins for years. Howard had a superb team, had money to spend, he bought Lineker, and freshened the squad every summer. But not been allowed play in the European Cup, finished him, and the players as well. Gary Stevens and Trevor Steven, leaving Everton to join Rangers, says it all, we went into free fall.
It turns my stomach, having to listen to all the ex Liverpool players on every channel on TV.

Alex Carew
144
Posted 03/06/2019 at 13:55:33
It's at times like this that I am glad that I live the other side of the world now. I remember the last time they won it they paraded down my road with an almost expectation that I take part in their success, I was livid sat in my front room trying to ignore them going past. I feel for all of you over there going through that shite again.
This does further prove though the gap between us and them. We think they've hit rock bottom when they nearly went into administration but they came through it unscathed and only a few years later are up at the top again. Us? Well we have not moved an inch, if anything just gone backwards. I'm sure I'm not the only one who doesn't even argue with them twats any more. It's their gloating and constant bitter bollocks that winds me up more than anything. But the worrying thing for me is that I worry about them more than I worry about my own team. Have we reached such mediocrity that I can't get excited any more? I've said for years that the club has been run badly since the 70's and it's hard to see where it's gonna change? Is it a case of believing? One things for sure is that those across the park always believe and yet we usually wonder when it's gonna go to shit. I've just had a further example of how bad we are run when I receive an email about a shop sale at evertonfc.com. I go on to buy some stuff and practically everything I wanted was out of stock? How can a commemorative kit be out of stock? It has no out of date on it? It appears that unless you want a lunch box, mug or some ancient Europa League shite then your out of luck.
Anyway, I've gone off topic here but I think we have to come to the conclusion that we are going to be badly run for some time and we will be force fed their shite from the media for many years to come as we watch them rub our faces in it. They're still twats though!!
Rob Marsh
145
Posted 03/06/2019 at 14:00:25
Kieran Kinsella #94
Hello Kieran, I doubt your average 13 year old toe rag from this city would would have any idea about mystic symbolism.
These are most probably your run of the mill retards, who've watched a Dracula movie and after a few cans of Tennent's Extra Strong or wraps of white powder they have done their stuff.
Is there any reason why we shouldn't expect more, they're on a roll?
Dermot Byrne
146
Posted 03/06/2019 at 14:01:22
"We own the Liver building and the Liver birds, something they never managed."
Now we are clutching at straws.
They won, some prat did some graffiti and there is absolutely fuck all we can do about it except support our club and hope we win soon.
Brian Williams
147
Posted 03/06/2019 at 14:21:13
It's done, it's passed and if the boot was on the other foot something similar would have happened to something of theirs because every team has knobhead followers, yeh even us, but it'll wash off hopefully.
Don't get too indignant, that's their preserve, forget it, look forward to who'll we'll buy who we'll sell and the start of a new season.
Don't waste your time on them, they're not worth it.
Paul A Smith
148
Posted 03/06/2019 at 14:23:53
Chris good point, I only excluded Charity Shield because it isn't major but you are right mate it is a win.
I hate them more today than I did yesterday. That is the only consistent buzz I get as a blue and the one thing I love about myself.
COYB
Ron Sear
149
Posted 03/06/2019 at 14:53:26
I'm quite suprised that this hasn't happened before. There seems to be an increasing trend for tagging and graffiti in Liverpool at the moment, normally of appalling untalented artistic or imaginative merit. Oddly enough (or not) it seems to be centred around the universities. However with this one it was probably just a couple of the usual drongos you will find on any street rather like the ones who keyed 'EFC' into a neighbour's car.
Shame that we seem to be living in an era with so many dedicated to making life less beautiful.
Dermot O'Brien
150
Posted 03/06/2019 at 15:24:33
Maybe the culprits were going to write "6.5" but got rumbled? You know, the "Foreign deaths caused by Liverpool fans per European cup ratio"...known in academic circles as the"No shame-Cunts" ratio, in honour of the early pioneers who tried to reduce the ratio by using National Front, Chelsea fans and Juventus fans dressed in red.
Bobby Thomas
151
Posted 03/06/2019 at 15:36:34
The only thing this club needs to do is reacquaint itself with some silver, and sharpish.
Seamus McCrudden
152
Posted 03/06/2019 at 15:40:02
Apparently cleaned off by LFC fans today?
Jay Wood
[BRZ]
153
Posted 03/06/2019 at 15:42:05
FFS! Whoa! Enough already!
Look, as an exiled scouser I know the banter and baiting that goes on between fans of the different hues.
I know it's going to be difficult for Blues in the city for a day or two, but so what? We WOULD do the same (having a dig) if the boot was on the other foot. And don't pretend we wouldn't.
Just look at OURSELVES! Just look at TW this weekend! There was a CL final thread put up. ON REQUEST, the Live Forum was opened up for the game. This thread on the mindless, but EXEEDINGLY trivial act of graffiti is up to 150 posts.
THREE DAYS AFTER THE EVENT and WE - EVERTON SUPPORTERS! - are still discussing THEM!!!
WTF???!!!
So much for the 'nah-nah, nah-nah-nah!' words of the mawkish and outdated ditty which should be binned from our match day 'we don't care what the RS say'. Evidently, we effing do! FAR too much!
Any and every time around a Derby game, or at moments such as this, when 'they' have a big game, this site is awash with people, scrambling over themselves to demonstrate 'oh, but I hate THEM much more than you do!'
Why-why-WHY do so many of you allow your support of Everton to be defined by 'them'? WHY?
And, as inevitably happens, so many Blues at times such as this bleat on about Heysel, the European ban and how THAT is the pivotal reason we are so far off the pace of the top six today.
BOLLOCKS!
Did it hurt us? Absolutely. 35 years on, should we continue to use it as a justification that we are no longer one of England's elite clubs? Absolutely not.
We WERE among the elite at the formation of the PL. Indeed, our very own Phillip Carter - also chairman of the entire English Football League at the time - BETRAYED the league he represented to help set up the PL.
We WERE as well placed as - better placed, even - the majority of the clubs that currently make up the 'top six'. Each and every one of them - at different times - ensured they would reserve their place at the top table. Everton, meanwhile, was reduced to feeding off scraps in the rubbish bins.
(And Phil @ 85...don't be so quick to exonerate BK's role in the club's demise: he has been on the board since 1989, just 4 years after Heysel and three years before the formation of the PL).
Now some are saying the FFP further ensures that nobody outside the existing top six can break into the cartel, so - what?! - there's no point in trying???
If those making those claims did but notice, there was another team competing in Saturday's game against 'them' - Tottenham Hotspurs. Based on the logic of the FFP doomsayers, they should not have been there. But they were - and on merit - and there are many similarities between Spurs and ourselves.
Living in the shadow of a more successful and more recognizable rival in the modern era? Check.
Many barren years without a trophy? Check.
Similar middling to nowhere league position to Everton? Check.
Actually finishing below Everton on occasion in recent years? Check.
Not regular qualifiers of European football, let alone CL football? Check
Got a windfall from selling a hot player for mega-bucks (Modric and Bale), in the same way Everton did from Lukaku, but buying cack with it? Check.
Had a mix of 'nearly-but-not-quite', together with 'never-should-have-been-appointed' managers? Check.
Had a modest training facility which they expanded and upgraded? Check.
Had a modest, but limited, stadium? Check.
NOT backed by billionaires with deep pockets? Check.
Now for the telling difference...Daniel Levy v Bill Kenwright.
Levy joined the Spurs' board in 2000 (having already built up a lot of experience at other clubs, including Rangers in Scotland). BK has 11 years more experience than Levy, having joined Everton's board in 1989.
BK's record on his watch does not need regurgitating.
Levy's husbandry of Spurs, the iconical stadium he has delivered (the projected match day income it will generate swamps every other PL club...incrementally, Spurs are going to be a major, major player for years to come as a result of this), shames BK's and Everton's efforts in the same time period.
Sorry, but some of you really need to man up!
Forget 'them'! Don't allow yourself to be defined by 'them'.
BELIEVE!!! Why can't we replicate what Spurs have planned and worked for and achieved in the last decade?
Gary Hughes
154
Posted 03/06/2019 at 15:58:52
Steve Brown #93 VAR will not change a thing as the VAR ref will be influenced by the staus of the teams involved in exactly the same way as any normal ref. Two major finals, two controversial handball decisions go the way of the favourites. Does anyone think for one second Croatia & Spurs would have got those decisions? Not a chance.
Chris Corn
155
Posted 03/06/2019 at 16:02:02
They make my teeth itch to be fair. I remember in the aftermath of the Heysel ban, the joke they liked to tell "What does NEC stand for ? No European Cup"
Thought it was hilarious and they take absolutely no responsibility for it and its effectively been forgotten about because it suits them.
14 supporters were prosecuted for manslaughter, 7 received suspended sentences. 7 received three years and served token amounts of months before being kicked back to England. However whatever sentences get handed down regarding Hillsborough will never be enough. I appreciate that will be controversial to some and I had friend and family at that match but that is my opinion. I wonder how they'd respond to
a call for investigation based on advances in technology to identify the many who got away with it.
Same with the ban The Sun campaign, yet they have taken hundreds of millions from Murdoch and his comapnies over the years in the form of Sky TV money. Never saw them handing that back in outrage.
Murphy, Saunders, Carragher and all the red Sky pundits are all heavily linked and appear on Talk Sport who are are a partner to The Sun. At least that Colin Murray fella had the balls to walk away from it due to TS links to it.
They've attacked team buses with CS spray. Vandalised other coaches, stolen tickets from their own, attacked ambulances with badly injured players in to name but a few things yet still they think they are the best supporters in the world.
Gobshites and hypocrites.
As I read earlier "We don't hang our flags outside our houses, we take them the match." COYB. Rant over.

Billy Bradshaw
156
Posted 03/06/2019 at 16:04:37
sure I read somewhere on the echo app yesterday that the mersey tunnels did not need closing because the crowds were not as big as expected.
Dave Ganley
157
Posted 03/06/2019 at 16:18:44
Jay wood, to an extent I agree with your comments. We should be adult about it, we should turn the other cheek, we should look at our own club as opposed to theirs and if they left us alone then I would be quite happy to do so. However, you talk about us discussing them, well for days now my FB feed is still them talking about us and being vindictive. Youd think they would just enjoy the moment of winning, a fine achievement in itself, but no they have to abuse us and still glorify in Heysel by calling us bitter. Individually the RS fans will all say Heysel was an awful tragedy yet none have any compunction about calling us bitter and flying the Steuea flag. I'm not even sure half of the RS actually know why they call us bitter.
I don't know how many of you TWers live in the city but I do and its absolutely vile. Far far worse than it was in 2005. They seem to have developed a new level of gobshiteness that far exceeds what we have witnessed before. They have also developed a new level of hangers on, glory hunters if you like. Again, 2005 in the city was nothing like the invasion that happened over the weekend. People who turned up are the same people who call liverpool a shit hole when they go back to their suburbs wherever they are. I doubt many of them have ever been to Anfield either. Even the locals have developed a new level nastiness. Why is it ok for RS to say to us that "they fucking hate everton" then laugh and think it's a joke? They have no shame and no sense of fair play. At some point the devil will exact the price he charged for entering into whatever deal they made with each other and I for one will piss myself laughing when its paid.
They are terrible losers and even worse winners and it's a million miles away from the banter we had 30 odd years ago. They are nasty and vindictive. They take pride in heysel and the fact that they had us kicked out of Europe. Yes I should be adult about it and ignore it but they make it too hard so consequently I do hate them, they are gobshites and deserve all the hate that comes their way from us and the rest of the country. They seem to think that normal behaviour doesn't apply to them, that they are the self styled best fans in the land and will be forgiven anything. Well fuck them and the pundits that encourage that lie, I'm bitter and proud. If they had any decency then there wouldn't be all this hate but they don't and there is. It wasnt us who murdered 39 people and consistently go on to glorify in it by ramming it down our throats.
Peter Roberts
158
Posted 03/06/2019 at 16:21:34
I agree we have been badly run. Dr David Marsh was a weak chairman & should have appealed over Heysel. Contrast this to when RS won in 2005 & found there was no automatic entrance for the holders. Rick Parry went round all the UEFA back doors pleading to be let in. This could have denied us if UEFA had decided to limit the English teams to 4. Instead they were given a walkover playing TNS. Collina may have been told to make sure we did not progress. We are still suffering from poor management. Niasse was banned for diving, how many others suffered the same fate? Jagielka's sending off is another example of punishing us & allowing the sky6 to get away with worse. We should be hilighting these inconsistencies. We can only become great again if we act like big boys.
Phil Bellis
159
Posted 03/06/2019 at 16:27:31
Jay, I live in town and it's been a nightmare, 3 days after the event and the tourists are still walking around in all the gear
Wish they'd just fuck off back to Stavanger, Kettering and Dorset
Steve Carse
160
Posted 03/06/2019 at 16:46:27
I wonder if Uncle Joe's planning to go up to Anfield and ask for a payout for his ludicrous '750,000' quote, now unfortunately being accepted as fact by the media. Clubs would pay a fortune for that kind of PR aggrandisement. They should consider putting him on their Board.
Jack Convery
161
Posted 03/06/2019 at 16:52:07
Disgusting act and I hope it gets the coverage it deserves on the media.
Liverpool City Council should have told the RS to remove the Citys crest from their shirt after Heysel - the Liver Bird represents the people of Liverpool.
With regards to the Heysel ban. I still believe it was a political decision by the Thatcher government to agree with UEFA to ban all clubs. The ban should have been 10 years for the RS only and that would have a sent a message to all English supporters to behave in future. The Tories always use the classroom punishment system - if one steps out of line punish the whole class.
Also if Thatcher and her ilk really believed Hillsborough was the RS fans fault why weren't they banned from the FA Cup for a number of seasons. After all that would have been a consistent decision given their decision to ban all English clubs from European competition.
There's a great saying I really love - Pride Comes Before a Fall.
On another subject anyone know where the European Super Cup game will be played - I can't see many European capitals wanting Chelsea and RS fans together in their city - a lot of hate in that combination.
Winston Williamson
162
Posted 03/06/2019 at 16:57:35
Dave (157) - everything you said!
I'm in a whatsapp group and half of them are rednoses. This perfectly sums them up:
"I'm not even sure half of the RS actually know why they call us bitter"
I've actually been to Anfield more times than all four of them put together, and I've only been once. Yet, they parade around in their shirts and scarfs, passing on their lack of knowledge to their own kids, never intending to take them to Anfield. I had my lad attending Goodison at 3 years old. He too has inherited hatred of all things Red. At least he's been taught our history, and why we're considered bitter for being truthful...
However, I also agree we need to concentrate on moving forward and change our mentality. Our club needs a "fuck the world" mentality.
Craig Walker
163
Posted 03/06/2019 at 17:02:33
I don't live in the city and am in the Midlands now. It was bad enough on Saturday night down here. Cars honking their horns. Glory hunting fans in their RS kits, bought especially for the occasion. People who've never set foot in Anfield and couldn't locate the city of Liverpool on a map revelling in their achievements. My 8-year old son will be subjected to ridicule again on Wednesday at school in his Everton top at football. The RS glory passed on to future generations across the country. I wore my Everton shirt proudly on Sunday as I do everywhere I go (win or lose). I've even had RS fans telling me what is wrong with our team - not only are they experts on their own team but they can tell you what's wrong with yours too, whoever you support. If you handed most of them a football, they probably couldn't pump it up but they're football experts. They have their ex-players all over the media fuelling this incorrect belief that the football world loves them.
I'm afraid though that I kind of knew this would happen when they got the early goal against Barca and I knew that Dembele squandering that chance at the Nou Camp would prove costly. We've seen it before with Dortmund and Galatasary and the final in Istanbul. They have this belief, particularly in European games that they're going to prevail. I think I'm right in saying, they didn't win a single away game in the group stages but win the bloody thing! I don't know what it is but journeymen players like Origi and Smicer can become world-beaters on the biggest stage.
What saddens me is that the hardships that we have suffered at their hands are slowly being airbrushed from history. The media peddle this belief that they're the best fans in the world with that song and their half and half scarves held aloft. Every Premiership match on the weekend in April recognises the Hillsborough tragedy and rightly so. Our club proudly stood with them and still does. Heysel never happened though. I didn't see a single column or news feature last week and the anniversary fell on the night of the Europa League final. The Bradford fire disaster was marked by Leeds and Bradford in rugby league the other week, a completely different sport. Because people went to a game and never came home and that should be honoured and respect shown. Football is the biggest sport I know to latch onto the bandwagon of any tragedy or bad-news story in order to promote itself as caring. But because Heysel doesn't fit with the narrative of the RS being the best supporters in the world then it is treated as an elephant in the room: as far as the Sky generation are concerned nobody should ever mention it, if you do, then you are bitter or vindictive.
The one consolation I take is that they effectively lost the league at Goodison park despite Pickford's Christmas present. Whatever they now tell you and how they now frame it, that is the prize they wanted. We last won it in 1987. They last won it in 1990. Their wait is nearly as long as ours.
We need to get our act together as a club though and I hope that we can build a stadium on the banks of the Royal blue Mersey that makes them green with envy and is the catalyst for us getting success on the pitch again.
Being an Evertonian is hard a lot of the time but I wouldn't swap for a day to support them lot.
Fran Mitchell
164
Posted 03/06/2019 at 17:25:05
Jay, I concur. Maybe it's the Brazilian weather, but I just can't be bothered with this 'god I hate them' attitude. Some of their fans are dicks, true. Some of ours are too.
It's just football at the end of the day, My brother is a Liverpool fan, most of my uncles and cousins too. My late father and grandfather were Liverpool fans. We would banter, but never with an ounce of hatred.
None of my family members are responsible for the death of anybody, and I really do wish Michael and Lyndon would set up a zero-tolerance on posts that constantly refer to Hysel and call of Liverpool fans as murderers. Hysel, more than anything, was the blame of Uefa, and was also a sad representation of the time. but calling Liverpool fans in general as murderers and such makes me even angrier than any trophy they win. And for some on here to even try to diminish what happened at Hillsborough because of Hysel, well I'm sorry, but you should be ashamed. I imagine countless blues on here know somebody who was lost that day, again the responsibility of the FA and the Police.
I avoided this post, cause I knew the sort of ridiculous comments that it would generate, and I would suggest removing from the page because quite simply these comments are embarrassing.
A bit of fucking spray-paint by some drunken fans is not proofs of any scumminess. and if win the PL before Liverpool do, I would imagine we'd do our fair share of graffiti.
John G Davies
165
Posted 03/06/2019 at 17:30:13
Fran 164,
I agree, you can't generalise against all Liverpool fans who were at Heysel.

The fact remains thought that several Liverpool fans were convicted in a court of law as being responsible for the deaths.
Kieran Kinsella
166
Posted 03/06/2019 at 17:51:35
Fran 164
I agree but I would also say it's self harming. I remember being in a crowd of Tottenham fans v Everton in the 90s. Lots of offensive comments about "thieving scousers, layabouts, murderers." Thing is, the S*n attitude to Hillsborough for example wasn't fueled purely by LFC. It was reflective of a wider prejudice against people from Liverpool. So I don't think we should feed that. Obviously some Liverpool fans are scum, but by the same token some Irish people are in the IRA and at the same game there were lots of chants not just about the IRA but Irish people in general. So once you start down the road of attacking whole groups of people where does it end.
Brian Williams
167
Posted 03/06/2019 at 18:11:49
Fran. I understand a lot of what you're saying but to state
Hysel, more than anything, was the blame of Uefa,
and
I imagine countless blues on here know somebody who was lost that day, (Hillsborough) again the responsibility of the FA and the Police.
is I'm afraid wrong, or more correctly not the complete truth.
I'm not going to get into an argument with you over it but UEFA didn't force several hundred "fans" to charge and attack opposing fans, that was their choice.
Likewise with Hillsborough there was more responsibility than just the FA and the police.
During the 70's and 80's it was commonplace for a vast number of the match going adult males to go to the pub and get tanked up and turn up at the ground as late as possible in order to drink more. It was also commonplace for several thousand to be at the ground without tickets and join in with those who had tickets in order to "force" their way in or force the gates to be opened. This was a contributing factor.
How do I know this?
Well I was sitting next to my mate at Villa Park on the day. His brother was at Hillsborough. We spoke to his brother often anyway but certainly about what happened afterwards.
I also know this because Evertonians did exactly the same thing when we played a League Cup Final replay at Hillsborough in 1977. I myself was pulled out of the Leppings Lane end and onto the pitchside because of the crush. I was, at the time, terrified. The crush happened because there were loads without tickets who forced their way in, and loads of them were pissed and I was with some of them.
Yes the authorities have to hold their hands up as they made terrible mistakes but the supporters/fans were a contributing factor.
I have the utmost regret that it happened and my thoughts are always with those who lost loved ones on that day.
It could so easily have been us.
Paul A Smith
168
Posted 03/06/2019 at 18:13:25
Fran 164 half my family are reds and I have no problem reminding them of their behaviour when they feel like digging or laughing at us.
These very same people laughed at us in the 80s and thought defining our sponsor NEC as No European Cup was hilarious.
I don't name any of them indvidiuals as murderers or anything brutal but I give it back strong ever since childhood and remind them they follow a tribe of scum and never admit it or hold their hands up to anything.
Its been pointed out in this thread but if their club had heart they would recognise Juve fans deaths but as a whole they are nothing like us I am afraid.
Ray Roche
169
Posted 03/06/2019 at 18:14:08
As Seamus points out at @152 Ruperts Tower has been cleaned up by, apparently, some decent LFC fans, no doubt ashamed by the actions of their fellow reds. They're not all bad.
Brian Williams
170
Posted 03/06/2019 at 18:24:24
Ray, that's true mate, they're not, and respect to those who DID clean it up.
Jim Wilson
171
Posted 03/06/2019 at 18:26:37
Whatever they win they are not Everton. They hate that and there's nothing they can do about it.
They have some good supporters and loads of glory hunters including ones who used to support Everton.
No matter what they win they are jealous of us and can't understand how we will always support Everton.
I will never forget how quiet they were at Goodison when we took two points off them to stop them winning the league.
I enjoyed that day, they didn't.
Brian Williams
172
Posted 03/06/2019 at 18:30:47
Oi Ray Roche what are you doing posting on a Hammers website eh? Lol.
Ray Roche
173
Posted 03/06/2019 at 18:33:25
Oi Brian Williams, what are you doing on Hammers website, eh? Lol yourself.

always good to know what the enemy are thinking. You should listen to "Woman's Hour" every so often. frightening!
Dave Ganley
174
Posted 03/06/2019 at 18:37:02
Fran, it's not the graffiti as such that annoys everyone, that is just another symptom rather than the cause. My sister is a red, a lot of my friends are reds, we are not hating for hating sake and not individually either. It's more the collective. We could be the bigger person, we could take it on the chin, in fact we have taken it on the chin for years, ever since many blues turned out to welcome the reds home in 77 after their first European cup win only for their team and fans to throw it back in our faces.
No the vast majority of reds didn't riot at Heysel and were appalled by the deaths, but even so they all still fuel it by repeatedly calling us bitter and flying the Steuea flag, revelling in the fact that they got us banned from Europe. I'm from an era whereby I used to go into the kop at Derbys and take and give whatever banter was there for the taking and most of it was good natured. However those days have long gone and been replaced by nasty vile so called "banter". Derby days are not nice and this has been growing for the last 20 years or so. How did it start? Well I'm sure theres lots of theories but for me it started getting bad when they stopped winning everything in sight. Little quips starting having a nasty edge and the "bitter" tags started with vengeance. I'm quite sure that we replied with kind but we have turned the other cheek for years and years now and I guess the fans have just had enough. We have the media version of liverpool fc rammed down our throat day in day out, we have had all their misdeeds ignored by the media and they revel in it. If they could just enjoy their success then it would be fine. I can take getting beat at football by a better team and they do have a good team but it's all the nastiness that we have to tolerate from them that sticks in the throat. We come on here to vent as generally we do take it on the chin from them in public. They have this article in the red echo so maybe you should see the comments section and see what the RS say, not pleasant reading.
To be honest I've not read all the comments on here but would be surprised if people are denigrating Hillsborough. We all stand together for that.
As I say, before you start having a go at us for reacting to their bike comments, you see how many of their fans don't glorify Heysel and don't call us bitter. UEFA may well have to take some responsibility for Heysel for a dilapidated stadium but there was no mandatory order that they had to riot. They did that all by themselves and resulted in 39 deaths. I seem to remember all those blues going to Rotterdam a week before without feeling the need to riot. And all who still repeatedly call us bitter endorse what happened at Heysel. No it's not nice what's going on but look closer to the red side before having a go at us for collectively disliking the dark side
Brian Williams
175
Posted 03/06/2019 at 18:37:42
Haha, Ray, I've posted on there myself mate, just awaiting moderation. Mine was on the same lines as yours you bloody reasonable person you!
Phil Bellis
176
Posted 03/06/2019 at 18:45:58
They've just took down the LFC flags in the Irish House in town to enormous cheers...the tourists still in their red tops were totally bemused
Jay Wood
[BRZ]
177
Posted 03/06/2019 at 19:02:56
Sorry Dave Ganley, but all you're saying is known.
Long gone are the days of the mixed friendly derby (even though, as you yourself testify, plenty of families still have reds and blues).
Long gone are the days where banter was expected, accepted and batted back without having a darker edge to it.
But the mocking, the jibes, are just words. What has happened to scouse wit (and resilience) if you can't summon a tart response and put them in their place, whatever they fling at you? All the more so if, as claimed, they are plastic non-scousers unused to such biting wit?
I stand by what I said.
Don't allow 'them' to define your emotions, your feelings, your passion, on how you feel about Everton.
It is beyond my comprehension how any Evertonian gives greater weight to their hatred of 'them' than the love they hold for their team, as has been expressed in this very thread.
LET. IT. GO!
Eddie Dunn
178
Posted 03/06/2019 at 19:13:49
Echoing some of the posters above I can confirm that here in west Wales there are quite a few Reds "fans". I heard that a couple of guys went up for an Anfield tour and got to see the parade. I know a few others who have been to tohe tour. Very strange. Luckily many of the kids round here support Swansea. Some also have an allegance to PL clubs and I do spot the odd Everton shirt.
There are also a smattering of blokes in their 40's who were kids in the 80's and though most have never been to Goodison(like the local Reds), they do seem to have an understanding of our plight in the shadow of our neighbours.
As for the under 30's who play five-a -side with us, -they have no idea of anything pre-Premiership.
Like the modern media, they are always looking forward to the next big thing.
Trevor Powell
179
Posted 03/06/2019 at 19:16:09
Console yourself with this little activity, type GOBSHITES into https://www.google.co.uk/maps/ and see where it takes you!
Johnny Rainford
180
Posted 03/06/2019 at 19:33:08
Jim #171 that's spot on actually mate. It's easy to be a glory supporter... Just ask 20000 Norwegians and otherwise. They don't get how they're not universally adored, they just can't comprehend it. There was a poll last week, sorry no link, stating they are the most despised supporters in the world and they don't seem to get this either whereas it's easy to see from the outside that the two things are inextricably linked.
As for us the best way to deal with it is to be better than them at club level, on the pitch to put them back in their box and the woodwork they've all crawls from. Be interesting to see how the owners actually propose to do this but I think the stadium will be a good start.
Darren Hind
181
Posted 03/06/2019 at 19:35:46
You've gorra love serenity and sense of fair play emanating of the grin-and-bear-it, turn-the-other-cheek bleeding hearts.
"I might have moved to the dark side of the moon thirty years ago, but I was born and bread in the city and I know a thing or two about about scouse wit and banter". . Utter bollocks.
This used to be a sporting City where although the rivalry was fierce, it was respectful and the losers would always take a jolly old ribbing. Now there is an intense dislike of each other. Evertonians have every right to be bitter.
We supported them through tragedy we consoled and shared their grief, we cried with them. The rivalry remained, but the there was a common grief which forged an unusual relationship. . . or so we thought.
We had long since fallen from Grace when we found ourselves having to beat an extremely tough Wimbedon to preserve our top-flight status. We had ceased being a serious threat to them, or anybody else for that matter. We were well and truly on the ropes.. but it wasn't enough for them. Sure they wished us well and told us they were rooting for us, but they were planning "going down" parties all over the City. Our close neighbours and ever so "friendly" rivals were desperate to see us dead and buried. How their true colours were revealed when they angrily hissed "You jammy bastards" after we denied them their party.
Two years later, they were frustrated again when they thought Coventry would send us down. There was no longer any attempt to conceal their desperation to see the demise of our club. Bucharest scarves, turned up in increasing numbers at derby matches. The behavior of their players and fans became increasingly hostile. Hateful, "Nice" Everton were being bullied in the stands and on the pitch. Their players were openly admitting to intimidating the referee. Evertonians making their way around to the Anfield road had to walk the gauntlet. The dirty bastards even threw piss from the stand above. Their "friendly" banter became more vindictive. It became spiteful and it became fucking relentless. How they have rejoiced at our decades of misery. They couldnt match Fergie's Mancs for years so they would try to make our day more miserable.
Those people who want to refer back to the days when banter was something you just had to suck up, have not got a scooby. They can excuse the all too familiar gobshitery which lead to the site of our badge being vandalised and Dixie's statue being disrepected, but they will never come up with an excuse for the oafish delight thousands and thousands of them have taken from these disgusting acts.
It's easy to upset them. They are desperate for praise, don't give them it. offer zero credit. It's ok to be bitter. You are not expected to act like Mother Teresa in the face of their incessant nasty mouths
Take it on the chin? ... Only if you are a complete fanny.
Tony Abrahams
182
Posted 03/06/2019 at 19:44:50
"It's easy to upset them, they are desperate for praise" will do for me Darren, as will Klopp, saying there is only one team for the kids to support in this city, obviously trying to get back at the young Everton ball boy, who saw right through him, and had the bully reeling, until he regained his composure and his big false smile!
Eric Paul
183
Posted 03/06/2019 at 19:50:27
Spot on Darren Hind. The friendly rivalry was ok by them in the 70s and early 80s but when we became a threat to their dominance they got nasty.

We may not have their success but we will never have their shame.
Derek Knox
185
Posted 03/06/2019 at 19:55:43
Darren you make it sound like a scene from 'The Fellowship of the Ring' but come to think of it you are unerringly accurate there, regarding our mutant adversaries.
Like you say friendly banter is a rarity these days, but maybe I am a tad biased, but I believe Liverpool Fans are amongst the worst for sparing any thought in the direction of their opposition fans, whoever they may be.
At the end of the day, they are only like us who have supported their team for years.
They think they have a God given right to win any match and without playing well, and never acknowledge that their 'luck' is viewed in Satanic proportion to all those who watch. They say these things even out in the end let's hope that next season is the start of it.
Jim Wilson
186
Posted 03/06/2019 at 19:57:22
Well summed up, Darren Hind.
I'm afraid everything you said is so true plus more.
The Brian Labone saying rings more true today than ever.
Dave Ganley
187
Posted 03/06/2019 at 19:59:53
Jay Wood to be honest mate I don't discuss football with any of them unless I know that they can be rational, as I said earlier, way too many them think its ok to come up to you and say they "fucking hate Everton" to your face and think it's funny. I just ignore them. For most part it doesn't bother me and I quite happily live and breathe with the more sane reds in my life. However there are times when I just have had enough and now is one of those times. You're quite right they are just words but living in liverpool at the moment is purgatory. It'll be fine in a few weeks when the new season is upon us but right now they cant just enjoy the win they have to be horrible with it. Chances are if the roles were reversed then we may be as bad (I'd like to think not but maybe) but as it is they're just horrible gits collectively at the minute.
Obviously individually I don't hate my sister, friends etc but collectively as RS fans I do. They have no class. However, they will never be of that much importance to me that I will hate them more than I love Everton. I will let this go in a short while, when the fuss dies down, the flags and scarves get taken down from windows and cars and they stop being arses and I will not give them a second thought until the first derby of the season but for now while they are being arses then collectively I hate them and TW is a great place to vent without stooping to their level in public.
Jay mate you and Fran are a beacon of sanity and in a couple of weeks will agree with both of you but not right now lol
Michael Lynch
188
Posted 03/06/2019 at 20:00:07
Brian @167 I've been saying much the same about Hillsborough for years. The fans - all fans, of all clubs - have to take some responsibility for what happened. That doesn't detract from any of the blame attached to the authorities, or to those who lied and covered up the truth. However, we allowed ourselves to be treated like animals and caged in, instead of fighting it, and we also allowed those around us at matches to act like animals, pushing their way into grounds without tickets and getting pissed to the point of violence and incoherence. It was a different era of course, but there are still reminders of the stupidity of fans now - like the RS attacking the City bus for example - that proves we haven't all moved on completely.
Hillsborough, like Heysel, and like Bradford, was a terrible tragedy that brought an end to professional football being played in crumbling death-trap stadiums, but, with the exception of Bradford, all fans have to take some blame for the way we acted and the behaviour we turned a blind eye to in those days. Realistically, Hillsborough and Heysel could have happened to any club's fans. The RS were (and still are) massive bellends, but I don't think they were unique in that respect.
Jim Wilson
189
Posted 03/06/2019 at 20:01:39
Spot on Johnny Rainford,
I love it when they are only 5th in the league and they say they are not interested in football anymore and their manager must be sacked.
Brian Harrison
190
Posted 03/06/2019 at 20:14:20
I am old enough to remember when it was the friendly Derby, now whether thats changed because they have so many non Scoucers supporting them I don't know. But the rivalry over the last 30 odd years has got steadily worse, the reds I have known all my life and still go to the game are the same as they have always been. But seems since Heysel everything has changed with a large section of their supporters, and of course with social media everything is out on display.
A few weeks back a group of Chelsea fans were singing a derogatory song about Salah and because someone posted it on social media, Chelsea identified the fans and banned them from Chelsea for life. So how come when about 40 or 50 of Liverpool supporters pelted the Man City coach with cans and bottles and there being a heavy police presence no arrests were made. Also a couple of weeks back while Liverpool were in Barcelona they pushed 2 people into a fountain in the square, again it was on social media and many named the individuals yet so far nothing from Liverpool.
Then while in Madrid for the final a man in his 60s was videoed and put on social media, he was sitting on a wall amongst thousands of Liverpool fans completely naked and was singing and masturbating at the same time.
Then today another video showed what looked like a man and wife sitting on the back of a bus dressed in a Liverpool kit and because it looked like a guy a few seats ahead wasnt singing along with them the wife got up and spat at him. This on a bus in Liverpool.
Jay Wood
[BRZ]
191
Posted 03/06/2019 at 20:22:50
Who's advocating 'taking it on the chin?'
Who's denying that there is not a darker edge to previous playful 'banter' between the sets of supporters?
We're an easy target for t'other lot in our own city due to the negligence of our own guardians for the past 35 years.
THAT should be the real target of our rancour.
But no. Too many Blues wallow in their own self-pity at 'their' success. Too many Blues continue to dwell on past injustices as the primary reason for the most barren spell, trophywise, in the club's history. And best not analyse our Derby Day results in that time.
If you gonna hate them, use it as a motivating force to insist on better from our own club instead of blubbing on TW and the like.
The popular consensus is you can't change 'them'. What each and every individual Blue can do is change their own mindset: DON'T allow 'them' to define how you feel about Everton and DON'T be so meek and submissive, repeating the 'victim' mantra 'poor ole us.'
'We don't care what the RS say?'
Phtt! Yeah, right.
Ian Riley
192
Posted 03/06/2019 at 20:34:09
Please don't put this down to being a fan of a club. Decent and good mannered human beings don't do this. This is not about being brought up in Liverpool. It is not where your brought up, but how. Shame on those individuals.
Anthony Murphy
193
Posted 03/06/2019 at 20:36:55
The problem with 'them' didn't begin in the '90s but there is a definite correlation between their '90s dip in form, the introduction of the Premier League and more recently the power of social media as far as how they tend to treat us.
As Blues, we used to have to regularly contend with local, clueless glory seeking gobshites, but now we have to hold our own against a global army of twats who to a man show nothing but ignorance to our great club whilst displaying an unbelievable lack of knowledge of the club they claim to love.
John Keating
194
Posted 03/06/2019 at 20:39:47
Jay,
You may well be right. But guaranteed if you were in town the last couple of days, never mind the last few years, you wouldn't have written your last posts.
Paul A Smith
195
Posted 03/06/2019 at 20:41:52
I love Darren Hind's stance and he is spot on correct.
Going back up the thread, some have called this retaliation to Klopp's Muriel being vandalised but there is no evidence that message was football related.
That could very well've been a non-football fan who sprayed 'Nonce' simply because he looks like one.
Tony Abrahams
196
Posted 03/06/2019 at 20:44:27
It's a symbol of life now, but not how we knew it, or how it used to be?
Jamie C, has wrote a fantastic tribute, about his mate on another thread, and how they used to wind each other up over their respective religions, and it reminds me of how life used to be in this city.
Used to be is what I say, because it's different now, and people very rarely see the funny side, even when something is actually funny, because the hatred has really grown over the last couple of decades?
Speaking for myself, it would be common to be in a group of around 15/20 lads on derby day, in my younger years, with as many blues as reds, and after the game we would slaughter each other for a couple of hours, and then put the ball away.
Nowadays it's very rare for me to even speak to a Liverpudlian on derby day, unless Mike G, needs a ticket ofCourse!
Jay Wood
[BRZ]
197
Posted 03/06/2019 at 20:55:42
John K @ 194.
...and I guarantee YOU John I would STILL express the opinion I have in this thread.
Because exactly as I've written, I don't allow 'them' to define me as an Evertonian, or influence the type of person I am.
How does part of the classic quote on being an Evertonian go..?
"Those who don't understand, don't matter."
Ed Fitzgerald
198
Posted 03/06/2019 at 21:06:40
Darren Hind - spot on - unless you are living or working in the City (or in Merseyside) you have little idea how febrile the atmosphere between the RS and ourselves is.
Phil Bellis
199
Posted 03/06/2019 at 21:11:14
Jay.. I shall sleep on your thoughts before responding, but methinks, seriously.
Jay, you have been away from our city too long....
Johnny Rainford
200
Posted 03/06/2019 at 21:21:10
Bloody hell boys even shankly saw them for what they were towards the end of his days after they effectively banned him from being anywhere near Melwood or Anfield and he started watching and training with us instead.
Horrible club. Horrible supporters. It's in their DNA.
But they erected a statue of him so that makes it okay...
Jealousy...? You are havin' a laugh.
Ben Lawrenson
201
Posted 03/06/2019 at 21:37:08
Ed 198 - I live in the Greater Manchester area but all my family come from L4. I might not live in the city day to day but absolutely feel the pain.
Those 'fans' are like a plague, they're everywhere goading and gloating. I saw some 50-year-old board a flight from Manchester to Menorca today, head to toe in Standard Charter. What a complete cretin!
It's hard to be a Blue, my only consolation is that I'm surrounded by Man City and Man Utd fans who absolutely despise those pricks.
John Keating
202
Posted 03/06/2019 at 21:37:16
Yeah, okay, Jay. No discussion, then; you're obviously a saint.
Darren Hind
203
Posted 03/06/2019 at 21:42:24
THAT should be the real target of our rancour". . what ? . . New to these pages ?
Kenwright and his cronies have justifiably been hammered for years on this site. You'd have had to be deaf dumb or blind to have missed it, but this is a different topic.
Lyndon has done what he does. He has reported an Everton related incident. There is little doubt that the perpetrators of this vindictive act of vandalism were kopites. This is the bit you need to try to get your head around. That's why people are talking about it. It's the topic of this conversation.
Somebody could easily come on and have a proper rant about the way our club has been run for thirty years, but people would think he had drunkenly stumbled onto the wrong thread.. Get it? They are different subjects.
There has been plenty of anger expressed about the way our club has been run in the past and no doubt there will be plenty more on other future threads... but read the bleedin title.
No doubt most posters would love to reside in a fairy tale where its only going to be difficult for blues in the city for a "day or two" But the overwhelming majority know that is utter bollocks.
You may have seen it as an "EXCEEDINGLY trivial act" but well over a hundred posters have seen the delight these morons have taken in their intended insult and they have felt disgusted enough to comment on the report... That's kinda the point of this site.
James O'Connell
204
Posted 03/06/2019 at 21:51:10
Ian@192 spot on mate well said.
Graham Coldron
205
Posted 03/06/2019 at 21:59:31
Well said Johnny (Post 200). I can remember seeing Bill Shankly at Goodison in the late 1970s and it always me made think that he was treated badly by the shite.
I live in Blyth in Northumberland but am from West Derby Road (not far from Ogdens) and have renewed my season ticket. Unbelievably there are some of the red shite living around the corner. Both born and bred Geordies who quite happily admit they have never been to Anfield or even the city of Liverpool. One told me that he used to be a Man Utd fan.
The way I deal with this is to think of what Brian Labone said. We need to beat these at the tin mine next season and this will dissipate some of the negativity we are feeling at the moment. COYB.
Jim Wilson
206
Posted 03/06/2019 at 22:03:45
Nail on the head, Darren, again. I am scathing about how our club has been run for years, but we cannot overlook how some supporters of LFC have behaved over the years.
I will never forget the behavior of some of them around the time of that Wimbledon game after all that had gone on before.
John Keating
207
Posted 03/06/2019 at 22:24:23
Graham,
What you and Jay mention regarding what Labone said is all very noble and well and good. Unfortunately that was a different time a different era, a lifetime ago. Then we went to Anfield and had as many in the Kop as they did at Goodison.
It would be great if those days were still today but they aren't. Now it's far more tribal at the game as you well know. From the Semele Hughes comments when they were doing well, to the time they were not at all happy with our success of the 80s. From the runaway success of the Ferguson era they have become more and more mouthy.
Possibly the fact that their place is now full of overseas fans paying Thomas Cook rather than locals going the match, who knows. The only thing I know it's getting worse listening to the tosses day in day out.
It's no longer good old banter unfortunately
Jay Wood
[BRZ]
208
Posted 03/06/2019 at 22:36:34
John @ 202. Nope! I've made no such claims for myself, 'cos I'm not.
Darren, you're doing 'that thing of yours'. Attributing to the words of another poster associations they haven't made and fabricating from that a contrived position invented in your fevered brain.
Not surprised in the least.
Graham Coldron
209
Posted 03/06/2019 at 22:38:45
John, you raise some good and valid points and in many ways your comments mirror the state of the modern game. We need to start beating the top 6 on a regular basis especially away from home which will raise our profile with Sky etc and might get us some positive attention for a change. Roll on next season.
Steve Ferns
210
Posted 03/06/2019 at 22:40:43
Seems like a war zone on here!
I think it depends who you knock around with. The reds I know are all like you guys say it used to be like and less like you say it is like. That's just not my experience at all, but I don't doubt the experiences stated above. As I said, it's probably just who you know.
As for the incident itself, it appears the actions of a couple of morons rather than the behaviour of an entire club. Two RS put it right, and for that they should be commended.
As for the last few days, all I can say is thank god I moved out of the city centre a couple of years ago. But as one of the people (forced) to watch the parade 2005, I bet a good portion of the reported 750,000 were actually blues.
John Keating
211
Posted 03/06/2019 at 22:46:04
Actually although it was reported a couple of RS went to do the honours it was actually cleaned up by the council.

Steve Ferns
212
Posted 03/06/2019 at 22:47:12
Really John? Two lads were named on twitter.
Ray Roche
213
Posted 03/06/2019 at 22:52:24
Steve @210,
I'm surprised that you've fallen for the "750,000 people on the streets" garbage. I mentioned on post 88 my reasoning for disputing this figure. Goebbels couldn't have done a better job.
John Keating
214
Posted 03/06/2019 at 22:59:10
Yes, they went to clean up but a couple of neighbours saw the council lads. Taking nothing away from them, at least they showed class going there, that's for sure.
Steve Ferns
215
Posted 03/06/2019 at 23:04:32
Ray, the 490,000 is City of Liverpool, it does not include Sefton, Knowsley, or Wirral. It also does not take into account all the flights from Norway, Denmark, and the cockneys who came up on the train, nor those people who object to Bramley-Moore Dock Stadium who came over on their "small boats" from North Wales (still can't forget one!).
But yeah, I think the figure is exaggerated for sure, just as it was in 2005, and I was there that day.
Ray Roche
216
Posted 03/06/2019 at 23:13:34
Steve, the piece I read stated that 490,000 was the population for Liverpool postcode areas. Does that include Sefton etc? Knowsley, isn't that L36?
490,000 is a hell of a lot of people for the "city" of Liverpool. And an influx of over a quarter of a million on top of every single person in Liverpool? Did you go? Thousands won't have gone because they have no interest.
John Keating
217
Posted 03/06/2019 at 23:16:59
Ray,
Looking at the picture on the thread. Obviously, Everton Brow is hidden by the lockup, to the left is Shaw Street, the right Netherfield Road. The grassy bit used to be Netherfield Road School. The white building, now the Brow shop, used to be the Garden Lane pub. The furthest white building, now a Chinese takeaway, used to be Coffee's pub. At the bottom was the Friary School — my old alma mater!
Point is: when I was a kid, there was probably 490,000 just in that area!!!!!
Steve Ferns
218
Posted 03/06/2019 at 23:53:41
No Ray, 490,000 is Liverpool minus Bootle and Sefton, and minus Kirkby, Huyton and Knowsley. 490,000 is missing big parts of what is actually Liverpool. Just in case you aren't that familiar with the boundaries: have a look at this:
City of Liverpool Boundary
Darren Hind
219
Posted 04/06/2019 at 04:25:15
Jay Wood
"Those who don't understand, don't matter". . Oh the irony.
You don't even understand what the thread is about and you certainly have no understanding of feelings being expressed by many of the posters on here.
Try listening. . . Educate yourself
This is an Everton website, the perfect place for people to share their feelings. Nobody needs you to come along and tell them how they should just dismiss this incident.and the stomach churning joy thousands of them have taken from it, as trivial.
There will be many, many Evertonians who will not let these fuckers define their feelings towards our club, but there wont be many among those of that mindset who will feel the need to keep coming back to a thread to repeatedly say so - You do understand why that would be ?
Here's some news for you. "Grand old team" is a tribal football song. It wasnt written by a great composer giving thought and meaning to the words. When people sing "we don't care what the Red Shite say" They don't really mean it. We care as much about what they say as they do about what we say. . And they do care. Why else do you think "The Bitters" (those who dont/wont accept their shite) make them so angry ?
More breaking news. .
We wont be "fucking you all wherever you may be" - Thankfully
We wont be "Hanging kopites one by one" - unfortunately
And nobody actually believed Bobby Latchford walked on fucking water
Ash Moore
221
Posted 04/06/2019 at 05:13:26
I respect the lad in Brazils knowledge most of the time, but not on this. I don't see any comments here about the favelas, the Red command or the corruption that seems endemic in Brazil - and with good reason, none of us live there so don't have a clue what's going on.
It's the same for you on this lad. You see the games on the telly, I'm not dismissing your football knowledge for a second. But your opinions on how we should feel or behave in the community we live in are not relevant lad. You're over there and we're over here, stay in your lane and stick to the football.
Dermot Byrne
222
Posted 04/06/2019 at 06:18:39
"This is an Everton website, the perfect place for people to share their feelings"
Oh and...
"Take it on the chin?. Only if you are a complete fanny."
Every important story will bring a 100+ really valuable posts and then sadly and seemingly inevitably descend into a personal battle between some loud voices with different views on nearly everything.
C'est la vie.
Terry Farrell
223
Posted 04/06/2019 at 06:41:12
This is a difficult one because we all know lfc fans who are good lads and lasses who are respectful and just love their club same as we do but there are now loads of bellends who follow them too. If you'd just won the trophy and your still in Spain I'd like to think days later the singing has stopped you have a few bevvies and make your way home gracefully on cloud 9. Saw a video yesterday of about 10 redshite with plastic blow up European cups and scarves invading a Barcelona club shop somewhere in spain bouncing around singing all on camera phones and lifting the cups in front of a large photo of Messi. No class provocative and they'd be the first to complain if a load of real Madrid fans had done this last year in front of photos of Klopp or Karius. The name Karius still brings a smile!
Colin Glassar
224
Posted 04/06/2019 at 06:46:41
I turned the game off after the Origi goal - it was crap anyway.. I didn't watch the cup being presented I haven't watched them on the news, read about them in the papers, didn't see their parade, haven't listened to any interviews etc it's helped me to cope with the gobshites being lauded as saviours of the universe by their fawning media slaves.
No longer living in Liverpool helps as well.
Dermot Byrne
225
Posted 04/06/2019 at 06:48:00
This made me laugh
Mike Kehoe
226
Posted 04/06/2019 at 07:05:34
It seems football can be like whiskey: it brings out the worst in people.
Sad to say but if I was a red I would be pissing myself reading through the hatred on this thread and would fully justified to dismiss it all as envy.
I have read in numerous places that Klopp united the fans and the team; probably easy to build a siege mentality around the injustice of Hillsborough. Our injustice is the European ban, the eternal scab that gets picked every time they succeed or we fail.
All energies should be about us getting our act together.
Mike Kehoe
227
Posted 04/06/2019 at 08:01:26
That should read
Would feel fully justified
Ray Roche
228
Posted 04/06/2019 at 08:29:22
Fair enough Steve, but if I can be arsed I will try and find the piece which states that it is "post codes", L4 etc, as a population figure.
But still, 750000? I need convincing, 7.5 times the attendance of the old Wembley? Really?
I had two hundred of my closest friends for dinner last Sunday. it must e true, I've just said it.
Brian Williams
229
Posted 04/06/2019 at 08:47:36
200 eh Ray? Where was my invite?
Tony Abrahams
230
Posted 04/06/2019 at 08:56:21
You come in at 316 Brian, and if there are any drop outs, you might just get a seat!
Rob Halligan
231
Posted 04/06/2019 at 09:13:52
IS IT SAFE TO GO HOME YET??
I've been away since Sunday 26th May on a Nile cruise. Travelled down to London Heathrow, and returned yesterday afternoon. I saw or heard nothing about the Non Champions league final, and only got told the result on Sunday morning.
I only got internet access late last night and to see this thread just made my blood boil. Ok, it's been cleaned up, fair enough, but it just shows the difference in class between us and those gobshites, as I hope that no true blue would ever stoop so low. The Prince Rupert Tower is over 300 hundred years old (I think), and is as much a part of the city of liverpool's history as it is Everton.
Due to leave hotel by Heathrow soon and drive back to Liverpool, so as I say .
IS IT SAFE TO GO HOME YET???
Ray Roche
233
Posted 04/06/2019 at 09:25:28
Sorry Brian administrative error!😊
James Marshall
234
Posted 04/06/2019 at 09:41:55
Colin@224
I've done the same thing mate. I don't live in Liverpool either so avoiding all the fawning, and all the bullshit hasn't been that bad for me either. I've blocked every RS post on social media from my RS mates, not looked at any photos or videos of them with the cup or anything. It's gone right under my radar.
Don't give them the satisfaction.
Some responses I've sent to RS mates on Whatsapp have been things like, "I don't know what you're talking about" and "Nah, I haven't watched any of it". This has been met with near silence from the lot of them :-)
Self satisfaction only works if you validate it. Ignore them.
Stan Schofield
235
Posted 04/06/2019 at 10:23:50
Regarding the vandalism to Prince Rupert Tower, like with any vandalism it's the action of a very stupid and very small minority, action that does not reflect the decent majority of people. It's difficult to avoid acts of vandalism, but we can clean up afterwards, which is what's been done. Beyond that, what more can be said?
Regarding Liverpool's win, again there will be some of their supporters who don't take victory gracefully, as they don't take defeat gracefully. But many are not like that. Such is life.
Surely, as a sensible way of dealing with people, you minimise interaction with stupid types and focus on more sensible types. Otherwise, you'd waste time in needless angst, and what's the point in that?
For me personally, I don't read newspapers (haven't done since about 1980), I minimise listening to the news (especially the BBC), seldom watch matches other than Everton's (because I can't be arsed, there's too much cheating in the game), and when I do watch matches I switch the sound off so as not to listen to drivel. Despite all of this, I seem to be as well informed about football as most folks I know, and possibly less misinformed.
This approach I have is not a deliberate action I chose to take, but something that arose slowly, starting with not bothering to buy newspapers anymore. It's an approach that minimises exposure to nonsense, and leaves me more time to focus on more interesting stuff, in which I include ToffeeWeb.
I didn't watch the Champions League final, because I was doing other stuff that's more important to me. I haven't read anything about it other than on ToffeeWeb. Some might say, big deal, so what?
The point is, I can control what I'm exposed to, not completely, but sufficiently. I focus on Everton, not the injustices of the past, but on former glories, the present, and possible future glories.
I've lived in Liverpool, been subjected to unpleasant shite about football, but have adapted, like you can adapt to most situations, to the point where the only thing that bothers me is Everton playing badly. When we play well, all is right with the world.
All that's important is Everton.
Steve Brown
236
Posted 04/06/2019 at 10:53:16
I just think we are a superior club with far better supporters -always have done and nothing they achieve changes that. Every supporter from other clubs I meet like Everton and despises them. I've already put their dreadful mini EPL out of my mind, forgotten as it deserves to be.
Brian Harrison
237
Posted 04/06/2019 at 11:14:11
Rob 231
No stay away for as long as you can, all the pubs are still decked out with their banners, and the muppets are still driving around with the stickers on. They will be celebrating this till the start of the new season, they will be on every radio programme telling all and sundry how they will win everything next year.
I don't know why they call us bitter, they hate Man Utd, Man City, Chelsea they are obsessed about talking about us when they win anything. First it was Hughes on the town hall after they won the European Cup saying "Liverpool are magic and Everton are tragic". Now Klopp inferring that he didnt know the population of Liverpool but everybody supports Liverpool as there isn't any alternatives. I guess the David Moyes quote of Everton being the Peoples club still rankles with them.
Brian Williams
238
Posted 04/06/2019 at 11:22:46
Stan#235.
Love it Stan. I've adopted a fair bit of "Stan's Way" myself and it DOES make a difference ...........most of the time. 😁
Jim Wilson
239
Posted 04/06/2019 at 11:25:43
I have always had the thought that the youngster who supports Everton usually has a better character than a red.
He knows football is not just about winning, he can take defeat and has a better outlook on life.
Take Klopp's advice if you must be a winner and can't handle a defeat.
If there's something about you support Everton.
The oldest and biggest team in the city for anyone who knows their history.
Amit Vithlani
240
Posted 04/06/2019 at 11:34:23
The biggest insult I was paid was a gobshite RS (fan since c. 2005), a guest at my house, spent Sunday trying to persuade my lad to switch allegiances.
As is wont for a young lad, the sight of players lifting a shiny big trophy on a bus parade was very tempting.
But, my lad dug his heels in and belted out a rendition of Grand Old Team.
My chest was swollen with pride.
That is until he put on his Juve top and CR7 boots and started re-enacting various Ronaldo goals in the garden.
Cue fits of laughter from my cretinous guest.
The misery of fathering millenials. No sense of loyalty to the tribe.
Charles Brewer
241
Posted 04/06/2019 at 11:35:17
On Saturday I turned on the TV at lunchtime and saw the England women play against New Zealand. It was rubbish.
I though, "How can they possibly be asking for as much money as the men, this is awful" It was slow, the passing was terrible and there was barely a shot during the entire period I watched.
Then I watched the utter dross in the evening, and thought: "I was wrong. I can think of no reason at all why women shouldn't be paid just as much as men, this is actually worse than the lunchtime game." From what I could see, the majority of the match consisted of Spurs passing the ball around their own penalty area, preceded by a penalty of such stupidity that an 8 year old would have received a severe telling off.
Tony Abrahams
242
Posted 04/06/2019 at 11:47:26
Amit, my youngest son tells me he's a red, and it's something I'm not going to be able to accept. My partners dad has definitely been down his ear, but it's a very major worry though.
We were on holiday the other month and I told him to pick a kit, and he went straight to a Liverpool one. No I said, why asked the Turk? Who do you support I asked Gala, Fenna? I'm Everton, he's my son, I said, and good on the Turk who was quick on the uptake, he told my son that they never had his size!
James Lauwervine
243
Posted 04/06/2019 at 12:14:50
Good stuff Stan 235, you have a remarkably similar approach to myself. Your point about turning the TV commentary down hits home as I literally can't listen to it. It's part of the reason I never watch snooker anymore, because the commentary nowadays is unbearable. If the blues are on TV just turn down the sound and sync the picture to the official site commentary, which is superb as you probably know. It transforms the game.
Stan Schofield
244
Posted 04/06/2019 at 12:52:47
Charles@241: I suppose women won't get paid as much as men because of demand. There's a massive demand for top flight men's football, a far greater demand than for women's.
That said, if women ever did get paid the same or nearly the same, we'd probably see male footballers who are good but not good enough to make the grade for top level claiming they are women so as to play women's football at top level. We'd probably then need to have genetic testing to make sure that a 'woman' footballer does not have XY chromosomes.
Money leads to politics and all that.
Paul A Smith
245
Posted 04/06/2019 at 13:14:17
Amit I find that a disgrace mate. Cheap mind games.
I have no kids but if anyone tried to convince a child of mine to become one of them or dressed them in their kit, they would be in trouble and I wouldn't let it go.
No adult should ever do that to either side, its beyond taking the piss and in their case it is encouraging a kid to never go the game but talk loads of shit.
Jay Wood
[BRZ]
246
Posted 04/06/2019 at 13:47:06
Darren @ 219.
Once again it's not surprising that a man that doesn't deal in subtlety is unable to follow and understand the nuances and flow of this thread which very quickly 'moved on' from its title subject, as many threads do.
(Or can we presume you are 'new to these pages' - copyright DH @ 203 - and aren't familiar with this TW phenomenon?).
"This is an Everton website," you say. "The perfect place for people to share their feelings."
Good effort, Darren. You got something right for once. I am not denying any Evertonian the right to express what they feel. You, seemingly, do wish to suppress opinion.
And - shock! horror! Football chants are not meant to be taken literally! You mean to tell me Andy King was not a real monarch??? And that Duncan McKenzie didn't have occultist powers???
Interesting that you - the most vitriolic and tart commentator on TW towards your fellow Blues - are effectively confessing that ' they' get to you, as others in this thread also admit to.
Interesting also that there are a number of posters in this very thread - both home city dwellers and more distant Blues - who, like me, prefer to focus on their passion for Everton, rather than their hatred of 'them', and as such are able to deny them the very things they crave: attention and a reaction.
Charles Brewer
247
Posted 04/06/2019 at 13:48:14
Stan, you are absolutely correct about payment and demand. My point was that there were two absolutely shocking games on television, and the quality of the evening one was if anything lower than the midday one. The only half decent performance I saw was from Spurs' Korean player, Son, who at least tried to show some skill, apart from that there was a somnambulent Harry Kane, who looked like he'd left his crutches in the changing room, and 11 RS players who looked like a pub team after a serious night out.
Jay Wood
[BRZ]
248
Posted 04/06/2019 at 14:07:52
Ash @ 221.
What a bizarre post. You do know I'm an Everton fan, expressing an opinion on Everton on an Everton forum, right?
Why does my location and history invalidate my opinion?
Read my first post in this thread @ 153. I say right out of the gate it's going to be a tough few days for city dwelling Blues.
But my comments are NOT exclusively aimed at city-based Blues, but the entire global family of Evertonians.
So sorry Ash, but yours is a nonsense post.
Terry Farrell
249
Posted 04/06/2019 at 14:28:45
Paul I'm with Amit it's a legacy thing. They can choose schools, clothes and anything else but the blues are a mandatory requirement!
James Hughes
250
Posted 04/06/2019 at 14:31:32
Tony/Amit I feel your pain it's hard when your offspring goes off script.
Tony, you will need to do your best Obi-Wan, do not let your boy fall to the dark side... :)
Amit - these so called 'friends' can be tiresome. Your boy was showing some class. Juve is the Old Lady of Turin, our ground is known as the Old Lady. Both clubs have a better standing than they ever will.
Not sure that last sentence holds up, but just take their attitude and be ashamed of nothing :)
Stan Schofield
251
Posted 04/06/2019 at 14:37:54
Charles, yes, I see what you're saying. I didn't see the game, but the consensus is definitely that it was crap.
Mind you, I find it a bit weird that in a modern-era competition called the Champions League, neither of this year's finalists has ever won the Premier League.
Brian Williams
252
Posted 04/06/2019 at 14:40:30
316? Jeez I'm as popular there as I am at home!!
Brian Williams
253
Posted 04/06/2019 at 15:04:50
Jay, as my old dad used to say "sometimes it's not just what you say, it's the way you say it."
Your original post has elements which come across as bombastic, overbearing and patronising.
If you can't or won't see that then you're not as smart as I've always believed you to be.
Why does it always seem to be you that kicks off the point scoring against fellow posters and being pedantic to the nth degree.
You make some good points, sometimes, but your posts are like fucking lectures mate.
People like barrack room lawyers about as much as they like some arsehole rs's.
Try to lighten up (please), you're among friends!

David Pearl
254
Posted 04/06/2019 at 15:07:12
I choose to simply close the curtains and watch Netflix. Simple. The only good reds l know are my aunt who is 71, and my uncle who is 89. The rest are gobshites, I even had calls from Madrid 15 minutes into the game. I turned the game off after about 27 seconds.
The tower being painted should of just been cleaned and not given a second thought. Unfortunately we have social media to spread whatever these days so we don't have an easy time to just give it a glance and nothing more.
On the subject of kids. I have a RS ask me to have his little lad for an afternoon a few years ago. He was 3. When I returned him I'd taught him a trick. When I clapped, from another room he shouted out Everton!! Every time without fail for the next month, he'd do it. Shame but I was never asked again to baby sit. Just think of the songs he missed out on.
Jay Wood
[BRZ]
255
Posted 04/06/2019 at 17:53:00
Brian @ 253.
You can think and express whatever you like about my posts and writing style. I'm cool with that. Unlike some sensitive souls I don't drop my bottom lip and get all precious if and when my posts and I are not well received.
So, ta very much for your advice, but if it's all right with you, I'll continue to write my thoughts, in my voice, in my style.
My original post @ 153 has 3 elements:
1) exasperation that 3 days (now 4 and counting) after 'that' game, TW, an Everton fan site, was being dominated by 'them' in the ways I listed.
2) That the disappointing, yet ultimately trivial vandalism, of Rupert's Tower was being used as a vehicle to trot out tired old cliches about our loveable neighbours, in particular that Heysel was the primary cause of Everton's demise in the last 35 years, which I rebut.
3) a call to arms to those despondently surrendering to the belief that Everton is eternally doomed to live in the shadow of t'other lot, offering a like for like example of Spurs who refused (unlike some Blues in this thread) to meekly accept their lot.
I stand by that original post and the way I expressed my thoughts.
Finally, I refute absolutely your charge that 'it always seem to be [me] that kicks off the point scoring against fellow posters and being pedantic to the nth degree.'
I know 1-2 that are inclined that way though.
Stan Schofield
256
Posted 04/06/2019 at 18:30:00
Jay, you'll see from my earlier post that my thinking about focusing on Everton is consistent with yours. Also, though, I can fully see why others on this thread are so frustrated with some of the attitudes from the RS, and why they articulate it as such.
My focus on 'Everton only' began as a coping mechanism to try to handle being immersed in shite when living in Liverpool, near both grounds, during my first 24 years. It started in the 69/70 title winning season when we lost 3-0 at home in the Derby. The 'ribbing' from RS went far beyond normal banter imo, and was the first inkling to me, at age 16, of unpleasantness. But at least we then beat them 2-0 in the next Derby and went on to win the title.
But of course, that great Everton team never took the football world by the storm it should have done in the 70s, and the unpleasantness from some RS simply escalated. It was arguably as bad as today, because of the frustration of knowing we had superior players, far more technically gifted than the cross country runners across the park. It got particularly bad after the disallowed Hamilton goal, when I found the lack of sportsmanship repugnant, and as we all know it has seemingly become even worse.
So I had to contrive a way of dealing with all this mentally, and of course anything improves with practice. These days, I always have a sharp counter to any unpleasant RS who I accident upon, and can deal with them easily. But inside, it's very irritating, something to be avoided if possible.
It's easier for me since I've been away from Liverpool, but I still need that coping strategy from time to time. But I can fully understand others who are still surrounded by all the shite thrown at them. If I were still in Liverpool, I suspect I'd be fuming a fair bit of the time. I'd still use my coping mechanism, but it would be more difficult when immersed in shite.
Chris Williamson
257
Posted 04/06/2019 at 18:38:23
Amongst all the petty squabbling I know for a fact they don't just hate us they see us as a joke. Last year I had the misfortune to work at castle greyskull on the new stand top couple of floors this is where the tours come through. After stopping where we were working after listening to all the shite about how good they are the tour guide tosser goes off at a tangent and starts ripping big nev saying he was a fuckin bin man a scruff but not a bad keeper, he then takes the laughing shower of beauts over to the port hole type window and says to some wool, what do you put at the end of your garden wool replies a shed tour guide pointing at Goodison there you have it people the peoples club cue hysterical laughter. Laugh I thought I would never start. I think there is only one way to stop this and that is to fuckin win something
John G Davies
258
Posted 04/06/2019 at 19:26:11
It was cleaned yesterday by two reds.
It's been painted again today.
Darren Hind
259
Posted 04/06/2019 at 19:27:19
Jay Wood
Once again you are thrashing around trying desperately not to drown in a pool of your own smartarsery.
The nuances and flow of this thread had NOT as you claim moved in a different direction. . YOU stepped in front of the traffic like a demented Lollipop woman screaming STOP!!!
"FFS! Whoa! Enough already" - see post 153
Not only did you tell everyone what they shouldnt be angry about, you tried (and failed) to change the course of the thread by telling them what they should be angry about. .
Your attempt to portray yourself as the streetwise exiled scouser who "knows the banter and baiting that goes on between fans " was truly toe curling. It's clear you don't have a clue
"I know it will be difficult for blues in the city for a day or two, but so what?". . Fuck me.. Why, when I was spending half an hour trying to talk my grandaughter into going to school after a tortuous day yesterday, did I not think of that little gem ? what a load off her mind that'd have been.
Many posters here know whats in store for their kids and their grand kids and They know it will be for a lot longer than the day or two you glibly talk about.. . It will be months even years.. . and its not just the kids. Tens of thousands of Evertonians will have to work in an environment of hostlity, arrogance and ridicule.
And you lecture them about wasting their anger ? Sorry but the doormats may think they are rising above it, but in reality you are simply being trampled under foot. Not everyone is happy to bend over, believing it will only be for a day or two. They are angry and they want to lash out, stand their ground in the face of this hostility. Meet them head on, Store and nurture their anger for such times when the can give it back in spades. . preferably without some pot herb telling them they should be rising above it.
Listen to what people better placed are saying to you. Allow yourself to be educated. stop telling them they don't understand and therefore don't matter. They have a far better understanding of the situation than you.
They are taking you to water. . the least you can do is make an effort to think

Mike Jones
260
Posted 04/06/2019 at 19:54:51
Vandalised again this afternoon/ evening.
Jim Wilson
264
Posted 04/06/2019 at 20:29:21
Darren
I have been looking for the right word to sum up the kopite nonsense
smartarsery
Nice one mate!
Rob Halligan
265
Posted 04/06/2019 at 20:33:08
Mike, I've just that. The original writing on the door was white, as per the photo above. The door is now painted in red saying "6 times".
They really are a low life bunch of vile bastards. A snakes belly is more off the ground than those gobshites.
Andrew Ellams
266
Posted 04/06/2019 at 20:48:31
Darren you don't have to be on Merseyside to be surrounded by the inbred cretins. I work in London and I'm surrounded by them.
Tony Hill
267
Posted 04/06/2019 at 20:55:45
Yes, if I was looking to define what it is that is so deeply annoying about the shite it would be their complete lack of grace. Nothing is done with any stylish consideration of the opponent. Their successes are always spoiled by that unpleasant edge, their reaction to defeats is even more abrasive. The smug, disrespectful photograph of Henderson with his feet on the trophy summed them up perfectly (an echo of the appalling Emlyn Hughes in 1977).
These dickheads with the spray paint are just the dim end of a very bumptious wedge.
John Keating
268
Posted 04/06/2019 at 21:13:57
Tony
Last week the South Korean U18 team were stripped of a trophy they won after a photo came out of one of their players with his foot on the trophy.
Not saying the RS should get the same but they are, well that thick of Henderson is, getting a good slagging.
As a collective they really are an obnoxious bunch of arseholes
Johnny Rainford
269
Posted 04/06/2019 at 21:47:55
Tony #267 nails it for me. It's the way they conduct themselves. From their shallow bandwagon glory supporting hoards, neverending victimisation / complaining of alleged injustice turns to neverending braggadocio when they win something and it really is extremely child-like. Fair to say kopites are the original millennials. They really are a horrible bunch. And last week's poll just confirms it.
Jay Wood
[BRZ]
270
Posted 04/06/2019 at 22:02:52
And once again Darren, you are doing 'yaw thang', the well-practised slight of hand of trying to drag others down the rabbit hole with you to play 'hide and seek' with an invented monster, running around the twisted labyrinth of your mind.
Happy Minaur tagging!
Jim Wilson
271
Posted 04/06/2019 at 22:15:20
Johnny Rainford - Brilliant and spot on!
Les Moorcroft
272
Posted 04/06/2019 at 22:19:04
268 john being from the brow my self I no what you mean when saying how many people lived there. the victims are at it again tonight. It will be tit for tat soon trust me
Brent Stephens
273
Posted 04/06/2019 at 22:27:15
What has the world come to when people from the same city can treat each other, and speak about each other, like this? Don't get dragged down to that level. And just as bad when two of our own insult each other here - in the very thread where we say we are better than them. Grow up, for God's sake and stop behaving like children ("no, but you started it"). You've both got off the point of this thread.
Oliver Molloy
274
Posted 04/06/2019 at 22:47:05
A shower of absolute self righteous pretentious human beings are kopites.
Brian @ 237.
Klopp has referred to them being the peoples club a few times since Saturday.
WE SIMPLY MUST FUCKING BEAT THEM NEXT SEASON AND LAUGH OUR BOLLOCKS OFF WHEN WE DO.
Mark Andersson
275
Posted 05/06/2019 at 02:19:02
I have to agree with Jay Wood 153... If the majority of Everton fans can ever move on from from their inferiority complex we just might rise to the top and win fair and square and once again have one over Liverpool FC.
Football like weddings and funerals can bring the worse out in people, petty squabbles and resentment. I believe in karma and so I have to accept that for all our frustration we deserve what we get in life both good and bad. Take responsibility for your own actions, learn to forgive and life becomes a lot more pleasant to live.
Roll on next season let's hope that Silva can beat the champions of Europe...
John Pierce
277
Posted 05/06/2019 at 04:36:19
Game-bot ruins another thread.
Paul A Smith
278
Posted 05/06/2019 at 06:26:52
Just read the tower has been resprayed again after the clean up.
What a sad idiot. But hey its only banter.
Dermot Byrne
279
Posted 05/06/2019 at 06:30:52
I remember my late Dad telling me that once a furious taxi driver got out of his cab at some traffic lights, marched over and banged on my Dad's window. My Dad lowered his window a bit, listened to a fairly length rant about what had just happened.
When the taxi driver stopped, my Dad purs

Looked up, pursed his lips and said "Give us a kiss!". The guy went apoplectic!
Was my Dad understanding the poor taxi driver's plight and emotions? Probably not. Was he just being a cowardly doormat for not getting out and going nose to nose? Who knows?
But I would wonder did the taxi driver move on and see this as a one-off moment? Might well have done. Who knows?
And my smart-arsey Dad? Suspect he was glad his window stayed in one piece and then went home with a funny memory to tell me and others.
A little snapshot of the real world.
Thankfully for all, they didn't spend the next 10 days at those traffic lights!
Jeff Spiers
280
Posted 05/06/2019 at 07:04:11
Got a call from an old friend, City fan. He too has to endure the vile shite from, not one, but two tribes. The RS and United. He just cannot understand why the Kopites are far more twisted than ANY other supporters he has met in over 50yrs. Fuckin mental retards. Alas he sends his good wishes and sympathy to all the blue half of Merseyside, don't lose yer rag. The freaks are definately not worth it
Tony Abrahams
281
Posted 05/06/2019 at 08:25:33
Mark@275, I don't have an inferiority complex when it comes to Liverpool mate, and my own take on this vandalism, is that neither do most Evertonians, who live in this city, and that is why some of them can't wait to try and get at us, especially when they should be celebrating a fantastic achievement?
Joe Royle had there number, beat them and then throw little snide comments, (scouse humour!) right into the mix, and they couldn't get the better of his sides, for this very reason imo? And that's why I will never have an inferiority complex over Liverpool FC, because I understand my neighbour better than anything.
Stan Schofield
282
Posted 05/06/2019 at 09:34:22
Mark@275. The essence of the problem is nothing to do with any inferiority complex if one exists (and it's difficult to see much evidence that it does). It is to do with reasonable behaviour and its absence. In the context of football in Liverpool, it is to do with an absence of sportsmanship, and a lack of gracefulness in victory and defeat. Reasonable behaviour, sportsmanship, and gracefulness in victory and defeat are always important, indeed vital. Without them, there is no point in football.
John Keating
283
Posted 05/06/2019 at 09:35:08
You know it's relatively easier for people in their 60's, 70's and 80's to laugh at the "2-3 day banter" our loveable neighbours give us.
We have seen times when we not only matched them but were ahead of them.
I suspect it's a lot more difficult for people in their teens, 20's and 30's. They've never witnessed us one season when we've been agead of them.
Then you've got the little kids. As we all know kids can be little sits.
It would be fair enough if we had to put up with this mythical "2-3 day banter" but this has been ongoing day after day for years.
We were dead lucky this season as, thank God, City just pipped them. I suspect next season may be another story because apart from City there appears nobody else to check the RS. All the other major players are still looking at rebuilding.
Yes we need to look at our own house and do something. Realistically, as normal, the only thing we can look forward to is a chance in one of the Cups. Not to be scoffed at obviously, but in the scheme of things...……..
Very easy to tell people, especially youngsters to turn the other cheek but hard to do when it's non stop every day !
Tony Abrahams
284
Posted 05/06/2019 at 10:12:35
A lot of truth in that post John, because it's got to be so much harder for the younger generation of absolute fanatic Evertonians, but if all the major players are rebuilding then Everton have got to sign the right players and go and grab the bull with both horns.
Let's build it on aggression, aggressive running, aggressive fighting, and loads of aggression from the fans!
Stan Schofield
285
Posted 05/06/2019 at 10:23:43
John@28: Set against that is the fact that Liverpool were very fortunate last season, in terms of absence of injury, and points gained through circumstances that had nothing to do with any football ability. In particular, they had at least 4 points gifted to them by two goalkeepers. But they still couldn't really catch City, who are on a different level.
In the 'Champions' League, they effectively did a Leicester-style advantaging from unusually below-par performances from top teams (Barca, PSG, Bayern).
They need that kind of advantage, because ultimately they lack the quality of the elite teams.
Football can be very unpredictable from one season to another, and advantages such as those highlighted can disappear rapidly.
Craig Walker
286
Posted 05/06/2019 at 10:25:54
Chris @257. I find that quite shocking that an official LFC tour would involve mocking us. If we don't matter then why do they continue to mock us? "Bin Man" Neville Southall has got more decency about him than their six CL winning squads put together.
"See that "shed" over there. That's where the 2018/2019 team lost the league everyone!"
We need to get BMD built and mock their cow shed.
Brian Harrison
287
Posted 05/06/2019 at 10:54:01
I think the quote from Dr David French becomes more pertinent as time goes by, and highlights the difference between the 2 sets of supporters.
We have humility they have arrogance, we have loyalty they have entitlement and were we embrace art they have pornography.
Brian Harrison
288
Posted 05/06/2019 at 11:06:34
Sorry its Dr David France not French a bit of a senior moment, I think watching the 75th anniversary of D day was to blame.
Kevin Molloy
289
Posted 05/06/2019 at 11:11:19
I've got no problem with Liverpool winning the CL. They absolutely deserved it for an outstanding season, and they show the merit in ploughing through disappointments such as the league and their CL last year, to ultimately prevail. I also think their success pushes our club on. If Liverpool hadn't been an unstoppable juggernaut in the early 80s, I don't think there would have been the same hunger at our club to achieve the success we did, they spur us on.
In fact, I don't think we are THAT far behind them if we make the right signings. Other than City I can't think of another club who ran them as close in a head to head last year. We absolutely should have won at Anfield, and it would have been done by more than matching them footballwise.
Kieran Kinsella
291
Posted 05/06/2019 at 14:57:38
Speaking as a professional wind-up merchant myself, I can tell you that the more everyone bangs on about the inhumanity of this stunt, the more the perps will be inclined to repeat it. Best thing is for the council to quietly paint over it and stop giving it maximum publicity.
John Pierce
292
Posted 05/06/2019 at 15:06:32
All I sate myself with is this, they won the CL but would cut a limb off to swap it for the league.
Even in victory they are unsatisfied, jumping around with 'six times' the prize got immense though it is is not what they wanted. It's torture for them.
Chris Williamson
293
Posted 05/06/2019 at 15:52:01
Well said Craig @286 this wasn't an isolated incident, the tours come through about every 30 to 40 minutes and everyone of them spouted the same guff, obviously can't say what was said on the foreign language tours ( I kid you not ). Muzzy man Aldridge and Pinocchio are always around the place ripping the piss pair of fuckin bellends weren't happy when one of the lads phones was accidentally left on z cars maximum volume, Thommo had a face on him like the smell of gas
Jeff Spiers
295
Posted 05/06/2019 at 18:32:44
Chris@293. Does the tour mention that EFC played and won the title at Anfield well before they were spawned? The pricks are only here because of pure greed.
Chris Williamson
296
Posted 05/06/2019 at 18:48:34
Funnily enough Jeff no, it's certainly an experience working there
Mike Edinburgh
297
Posted 05/06/2019 at 19:04:25
I wish I had the maturity to ignore them but when you've grown up with this starting with Hughes in 77 it's hard. It gets worse when you move away and the beauts multiply in Irish theme bars. Lord help us, what's the answer? Clive Owen has so much to answer for. Micky Quinn for god sake.
Jim Wilson
298
Posted 05/06/2019 at 19:05:21
The truth is the good spirit of football was ruined by some Liverpool supporters well before Heysel.
I well remember the saying 'there's only trouble at a Derby if Liverpool lose' and I went to many when Everton got beat when there was rarely an incident.
They got very fierce when it looked like we were overtaking them in the 80's and Evertonians fell for the false 'Merseyside' chants in the finals hook line and sinker, as we found out in no uncertain terms before that Wimbledon game.
The Jim Beglin 'accident' showed it wasn't just the supporters but the clubs mentality in question. Alan Hanson having to aoplogise for what he said in an Everton programme (same with Hughes a few years before).
Their players led the supporters with the disrespect.
Steve Nicol's ridiculous reaction to McCall's second goal in the 89 Final.
The list of vile incidents is a very long one.
Sportmanship died a very long time ago and Everton as a club have been very naive for years.
Am I bitter, definitely, but nothing like as bitter as them
Pat Kennedy
299
Posted 05/06/2019 at 19:08:02
Thought long & hard before posting on this thread.
I never cease to be amazed at the comments made in any thread which involves the other team in our City.
The level of bile, delusion and crass stupidity is beyond anything sensible people could imagine.
Jay Wood may be in Brazil but he's got his finger right on the pulse. As long as we continue to wallow in self-pity and engage in finger pointing we will make no progress as a supporter base or club.
Let's get to the heart of it- we would LOVE to be parading around our city with hundreds of thousands of people cheering whilst waving a trophy ( a league cup would do for me right now ).
If you want to find fault or apportion blame look no further than our own boardroom. Turning a great club into a plucky mid table team who everybody outside our city ignores has taken many years of criminal negligence. Nobody cares about us because we are not feared.
We have to focus on ourselves and work hard to rebuild. It will take time & patience.
LFC of course have a number of idiots amongst their supporter base but so do we. We have no right to occupy the moral high ground and kid ourselves that we are superior.
A few clowns painting 6's on the round tower is deplorable but so is defacing a mural by calling their manager a nonce or paedo. Equally brainless but hardly crimes of the century. Get a sense of proportion.
One final point - I come from a mixed family of blues & reds. My brother and his lad were in Madrid and went to the game.
Neither of them are murderers or scum because they support a different football team from me. I still want them to lose but it doesn't dominate my life.
As for me & mine we will continue to support our team and live in hope of continuing improvement.
Sadly, I don't expect any outbreak of common sense about LFC anytime soon on this site.
Les Moorcroft
300
Posted 05/06/2019 at 19:22:23
Pat 299. Over the years they have not helped them selfs much have they. I no its the minority but its the minority who get the publicity. I have a brother whose I red still say fuck them. Medea darlings.
Darren Hind
301
Posted 05/06/2019 at 20:27:18
Hang on A minute Pat.
I'm not one of those fans who think the problems we have faced down the years can be attributed directly to the events at Heysel. I'm pretty certain I've even never mentioned it on these pages before
However; Your claim that people refer to fans of Liverpool as murders simply because they support another team is absurd. Thirty nine people went to a football match and didnt come back . . just think about that. It has nothing to do with Liverpool simply being another team.
These fans were not killed due to an accident ?
I too have many reds n my family and I resent them being referred to as murderers, especially when half of them were not even born at the time. You cant accuse EVERYONE associated with the club of being responsible for events that night, but you would expect those who had nothing to do with it to at least respect the memory of those poor souls and behave.
Their actions in Greece. The piss throwing incidents in the Anfield road, The stoning of the Man City bus.. . the list is a substantial one.
If vandalising the tower was a one off, it would have been dismissed as the actions of a couple of Mings and instantly forgotten, but because it isn't and because it was unprovoked. It is seen as the latest episode in a catalogue of loutish behavior..
We were not even playing ffs, we havent played for weeks. this criminal act was unprovoked, at a time when they were meant to be celebrating.
Make no mistake, this was intended as an insult. An insult which was magnified a thousandfold by the sheer delight spreading across social media by huge numbers of their supporters.
You want to let wash over you ? Thats up to you, but you have no right to criticise others for being angry. nor to say their deep resentment felt towards them is simply because they support a different football team. There are around ninety different clubs in this country, none of there fans have behaved towards our club in anything like the manner theirs have.
Commenting on a thread which is about their loutish behaviour, doesnt mean they are dominating peoples lives. The only time I have thought about them this week is when spending 20 minutes posting and reading comments on this thread. I would imagine that applies to the overwhelming majority
Les Moorcroft
302
Posted 05/06/2019 at 20:36:38
Darren 301. You put it better than me. Agree with every word. Would just of finished with fuck them.
Jim Wilson
303
Posted 05/06/2019 at 21:05:28
I actually think Evertonians don't protest enough
We suffered a totally unjust punishment because of them. Banned from Europe when at our peak for doing nothing wrong.
We have never had and never will get an apology from Liverpool or their supporters just the continuous routine of them having a go at us. The painting of a number six on the tower just the latest irony.
If the shoe had been on the other foot, just imagine the uproar!
John McFarlane Snr
304
Posted 05/06/2019 at 21:06:16
Hi John [283] Approaching my 81st birthday I, [like yourself], sympathise with the younger supporters who for their 'football following' lives, have had to live in the shadow of our not so friendly neighbours. My 14-year-old grandson has occupied a seat next to me since he was 7 years old, I took him to Wembley when we lost to Liverpool, and when we beat Manchester United on penalties. and that is his brief flirtation with success,
I have lived in Skelmersdale for 52 years and I can assure you that the attitude of Liverpool 'so-called supporters' is no less than it is in the city, I say 'so-called', because they are in the 'main, armchair chair fans'. Like any club there are genuine lads who I have respect for, but I still have to remind them that I was going to watch Liverpool when they played in the Second Division. I was approaching my 16th birthday when they were relegated and 2 months short of 24th when they regained their top flight position.
I truly believe that things were soured by the Heysel incident, when Everton were robbed of the chance to shine on the continent, it wasn't so long after the chant of 'Merseyside, Merseyside' had reverberated around Wembley Stadium.
It's my that opinion that, prior to Heysel, there was rabid rivalry, and since that time, senseless violence. To finish I am attending the funeral on Friday, of my brother-in-law, a Liverpudlian and a gentleman, so let's not tar every "Red' with the same brush.
Johnny Rainford
305
Posted 05/06/2019 at 21:38:28
Jim #303, same mate. often thought the club just rolled over back in 90 when the ban was lifted. Mind you the team at that time including the likes of Neil McDonald, Mike milligan, etc we'd have gone out in the first round of whatever competition they allowed us back into. The team of 90 definitely were not the team of 85... . wonder who's to blame . Go back to top.
Billy Roberts
306
Posted 05/06/2019 at 21:41:55
Darren 301, "you have no right to criticise others for being angry"
Really? We do and just because you don't like it doesn't mean the opinion can be expressed.
Lots of love
Billy Roberts x
Billy Roberts
307
Posted 05/06/2019 at 21:54:32
Pat and Jay wood on numerous threads, well done for being brave enough to take the not so obvious road, ( I've took both recently) I have enjoyed your and Darren's jousting but cmon lads !! I live here and it's not like Yugoslavia in the 90s, some of the hysterical shit is just embarrassing, it hurts yes it does, for those of you who can't give It back to these lilly livered red twats learn some patter and don't back down, it's not a war it's not ethnic cleansing and come the new season we have a chance to go again, Sharpen your tongue it's our greatest weapon.
Jim Wilson
308
Posted 05/06/2019 at 21:55:52
Agree Johnny
Dermot Byrne
309
Posted 05/06/2019 at 21:56:26
Darren...how often?
Leighton Cooper
310
Posted 05/06/2019 at 22:18:13
Stan schofield 285 "they had at least 4 points gifted to them by two goalkeepers". Double that! They had Pickford, Speroni, the Fulham keeper and Lloris all throw in late winners for them. Also for the first time in African Cup of Nations history it wasn't played in Jan/Feb of the year, instead to be played in June. Imagine they had lost Salah, Mane, Keita, etc for 4-6 crucial weeks.
Steve Ferns
311
Posted 06/06/2019 at 00:33:53
They've done it again. No sooner is it cleaned than it has 6 times daubed in the door.
Ash Moore
312
Posted 06/06/2019 at 04:37:07
Ahhh, Brazilian lad doesn't get it. Bless.
A know nothing know it all. Awaiting your post on the favelas lad.
Darren Hind
313
Posted 05/06/2019 at 05:23:02
Dermot Byrne
This thread has attracted nearly three hundred posts. You came on bleating that it had been ruined but here we are 150 posts later and the debate is still raging. There are posters stating that they have enjoyed the thread. Yeah People on both sides of the argument have had their digs, but it would appear only those with nothing to say have taken exception to the tone.
You have posted 6-7 times on this thread alone, Not as many as Jay - Notice you havent asked him how many.
In fairness to Jay Wood, whether you agree with him or not, he always has something to say. (know what I mean) He has crossed swords with several people here giving and taking as he went along, but not once has he bleated or raised imaginary cards to the guys upstairs. He never does - Again, know what I mean?
If it was left solely down to your posts, this discussion would have consisted of a spoof story stating Liverpool would be allowed to start next season with this seasons points tally (which admittedly was funny when it surfaced three weeks ago) and a rather bemusing tale about your arl fella and a taxi driver. . Thankfully It isn't. Most of those who took the trouble to post have actually had something to say on the topic and the thread has rolled on
I was going to add I respect they way you have taken such a high moral stance regarding peoples reaction to this act of vandalism. . but then I remembered who it was who expressed his disgust when being the first introduce this story to these pages..
Steve Ferns
314
Posted 06/06/2019 at 07:58:57
So after 290 odd posts of outrage after the first time it gets done, no one is arsed the second time?
Tony Abrahams
315
Posted 06/06/2019 at 08:12:03
I think as the week goes on Steve, we all become less bothered by Liverpool, mate.
Like Darren said give them no praise, and I could feel one of my horrible red mates seething at my refusal to accept it was a penalty, but not as much as I was inside my head, when I had to listen to him coming out with some absolute fucking belters, that couldn't help but make me cringe.
I was Honestly looking at my mate thinking you can't have spiked hair cos you're baldy, but I'm definitely getting you a three star jumper and some Brown Air-Ware!
Brian Williams
316
Posted 06/06/2019 at 08:19:57
Steve#314.
Steve it's not that nobody cares second time around it's just that, like when you're in a Turkish jail and you have a red hot poker shoved up your jacksie for the second time. It still hurts like fuck but theres no point in screaming all over again.
Still haunt me those memories. 😟
Alan McGuffog
317
Posted 06/06/2019 at 09:10:14
We all have our own ways of dealing with this...we've had years to develop theses strategies. In my opinion the one thing that gets up their collective noses is that we are still here. They cannot understand / abide the fact that thousands of us don't buy into this Pravda style adulation. Let them brag, boast wind us up, remind us of their fucking trophy cabinet but just say youre not interested. It annoys them. Honest.

Dermot Byrne
318
Posted 06/06/2019 at 09:13:53
I rest my bleedin' case Darren.
Something to say? Read your last para. Hated the pathetic graffiti but that is how I see it. Pathetic.
Moral high ground? Read the post re my Dad. A little tale about heat of the moment, differing reactions and nobody being on moral high ground.
And just to add another thing in case you come ranting back with accusations of me not saying anything.
I find the statement from LFC spokesperson underwhelming and reluctant.
Sorry....I meant I find the statement an insult to me, my family, my culture and....blah blah blah
Dave Abrahams
319
Posted 06/06/2019 at 09:21:37
Dermot (318), "bleedin'" Order in the court.
Phil Greenough
320
Posted 06/06/2019 at 09:31:44
Dermot Byrne
321
Posted 06/06/2019 at 09:34:47
Last one that Dave. Promise!
Amit Vithlani
322
Posted 06/06/2019 at 10:13:10
The second act of vandalism in my view confirms the utterly cretinous nature of sections of the RS fanbase.
Yes they wanted to disrespect us. So far so normal. But to undo an act of good will by their own fans who had cleaned up the initial graffiti?
Did not think they could sink that low.
No wait. Actually its probably par for the course.
Brian Williams
323
Posted 06/06/2019 at 10:26:26
Dave#319.
FFS Dave you've frightened Phil#320 so much he's speechless :-))
Rob Halligan
324
Posted 06/06/2019 at 10:26:45
Listen lads, just for one day, let's not mention the red shite, as they're not worth it. I wouldn't piss on them if they were on fire. I wouldn't give them the steam off me shit, because, as I say, the fucking bellends are not worth it.
Today marks the 75th anniversary of the D Day landings in Normandy, which effectively was the beginning of the end of world war two. Watching the live programme from Normandy and the surrounding areas is so sad and humbling. Watching war veterans over there who are recollecting their memories of what happened that day, and the following weeks until Paris was liberated, brings tears to your eyes. One veteran interviewed was so upset as he recalled his mates dying in front of his eyes.
So, just for today, let's forget the red shite because they are not fucking worth it, and instead, remember all those thousands of British, American, Canadian and French soldiers who were killed that day .
June 6th 1944.
Brian Harrison
325
Posted 06/06/2019 at 11:04:54
Rob
Totally agree, I watched the ceremonies from Portsmouth yesterday what brave men they were. My Dad was a sergeant in the Paras in the second World War, but he didnt speak much about it. Makes you proud to be British, then you see pictures of the scum bags in Portugal supporting England fighting with the police and it makes me feel utterly ashamed to be English.
Those soldiers must have known that it was the most precarious duty they had to perform, knowing many would be killed and never come back. The words read out on every Armistice day are so true. " We gave our todays for your tomorrows" how very very true.
Add Your Comments
In order to post a comment, you need to be logged in as a registered user of the site.
Or Sign up as a ToffeeWeb Member — it's free, takes just a few minutes and will allow you to post your comments on articles and Talking Points submissions across the site.