Richarlison on target in Brazil victory
Thursday, 6 June, 2019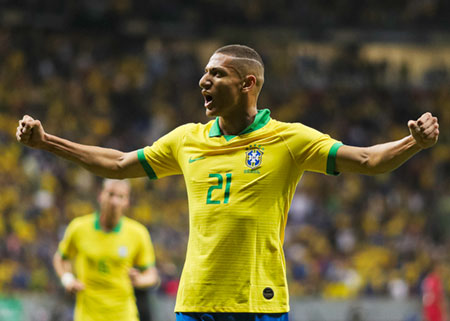 Buda Mendes/Getty Images
Richarlison scored one and laid on another as Brazil beat Qatar in a warm-up match ahead of the Copa America.
The Everton star put his country ahead with a majestic header and then played Gabriel Jesus in for the second in the 2-0 victory over the Asia Cup Champions in Brasilia.
Brazil's preparations for this summer's tournament, which they will host and which kicks off on June 14th, suffered a set-back, however, when Neymar was forced off with a potentially serious injury.
The Paris Saint-Germain man left the ground in a protective boot, throwing into doubt his availability for the Copa.
Richarlison, meanwhile, enhanced his chances of playing a prominent role in the competition with his fourth international goal.
Elsewhere, Antonee Robinson played almost the entire game for the United States as their experimental team lost 1-0 to Jamaica.
---
Reader Comments (34)
Note: the following content is not moderated or vetted by the site owners at the time of submission. Comments are the responsibility of the poster. Disclaimer
Derek Knox
1
Posted 06/06/2019 at 07:48:59
Well in Richie lad, keeping the flag flying for Everton, oh and Brazil.
Steve Ferns
2
Posted 06/06/2019 at 08:10:11
Keep proving you can achieve all your dreams whilst at Everton, meanwhile we will grow with you.
Jim Bennings
3
Posted 06/06/2019 at 08:16:53
Richarlison is only 21 but he's already proving he's the real deal.
He's cutting it up for the Brazilian National team, instantly that gains recognition and adulation.
I genuinely believe this fella can be anything he wants to be, 13 goals last season when not even playing up front for most of it, that's what I call real potential at the age of 21, the proof is there.
Jon Withey
4
Posted 06/06/2019 at 09:00:07
Great player, worth every penny. Sure, it's only Qatar but it all helps.
Tony Everan
5
Posted 06/06/2019 at 09:06:58
He is 21, and still improving, a great signing for us. With talent like Richie we have got a chance next season definitely of top 6, and who knows, top 4.
To keep hold of our top talent we need a big season. This summer's business will be crucial to the club progressing.
Derek Knox
6
Posted 06/06/2019 at 09:07:16
Just watched the 10 min highlights, Richie not only took his goal well but played a good role throughout and laying another on for Gabriel Jesus.
As Jon said above the opposition wasn't the sternest of trials but nevertheless a good work-out, Everton was in the team too, so I suppose you could say we were represented twice.
The only worrying thing being, if Richie carries on like this, there will be all sorts of 'big clubs' sniffing round our boy, although he has already said he is happy at Everton, such attention can be unnerving.
Dave Abrahams
7
Posted 06/06/2019 at 09:18:41
Derek (6), the more the attention the more we will get for him,and as long as the transfer fee is spent on new players the better for us.
Sam Hoare
8
Posted 06/06/2019 at 09:28:57
Yup, selling star players is going to be a part of our future as it is for most clubs unless you reach the very top. Even them it looks like Eriksen wants out of Spurs and I would not be surprised to see Mane or Salah move on to Real or Bayern or similar over next few years.
Selling star players is ok so long as the funds are well spent. Which was not the case with Lukaku!
In the meantime it will be interesting to see if Richarlison starts next season on the right. I still think he may end up as a striker (of the Firmino type) but it seemed like the Bernard, Calvert-Lewin, Richarlison trio was working well for the team at the end of last season.
Derek Knox
9
Posted 06/06/2019 at 10:13:37
Dave, I'm not sure even if we got an offer we 'couldn't refuse' for him it would do us any favours. Let's face it the lad's young, obviously talented, and he seems quite resilient and not easily injured.
How many times have we seen him take a knock, or been fouled and he just carries on? The likes of Neymar, ' look at me I'm God's gift to the footballing World ' gets a slight knock and he's gone off crying all the way to the hospital or treatment room. He's never had a sweet off the nurses yet for not crying. :-)
Plus there's a certain innocence or naivety about Richie which I like, he hasn't let his relative rise to stardom affect him like the prima donna I mentioned before, I just hope he stays grounded, and what's more with us!
Alan McGuffog
10
Posted 06/06/2019 at 10:19:15
If he goes so be it. Hope he doesn't. But at least take a leaf out of Spurs and the RS books. Name an astronomical price and stick with it.
Fran Mitchell
11
Posted 06/06/2019 at 11:10:06
Jesus we're a negative bunch. The lad recently stated his commitment to us, no big clubs are currently trying to prise him from us.
He goes to play for his country, plays well and scores and assists, a young lad with great potential and despite much derision in the media, social media (including on here), is showing what he can do and primising what could be an exciting year to come.
Yet what does the conversation turn into 'if he goes so be it' 'it's inevitable that he'll leave' 'we're a selling club'. borrrrriiiinnnnnggggg

how about discussing how, with another year behind him and without media ridicule, we could well see a wonderful season from this lad next year and he could propel us to the top-6. Personally, I feel he has 20+ goals in him this coming season, and a good number of assists too.
I think Rich and DCL will be a wicked combo for 2019-20
David Pearl
12
Posted 06/06/2019 at 11:11:54
If we can sign Zouma and Gomes, and get back Vlassic and Onyekuru we don't need much really to progress next season as they have lots of potential to improve. I'd still like to see Walcott up front or Richarlison. One more productive forward and a bit of tinkering and we will be up there. The deadwood of course are holding us back. Pity we cant send them to auction.
Geoff Trenner
13
Posted 06/06/2019 at 11:18:23
David @12. You'd have to find an auction house that didn't change for 'no sales'!
Robert Leigh
14
Posted 06/06/2019 at 11:42:11
He played on the right for Brazil last night, still finds himself in the box too so I'd keep him out there - doesn't need to play upfront to score goals, and with DCL covering the hard yards I expect we'll see 20 goals from him next season.
Jay Wood
[BRZ]
15
Posted 06/06/2019 at 11:54:17
Richarlison was very, very good last night. The standout player in the first half.
For me, he showed again how far he has come since joining us. Who recalls his performance in our final home game against Burnley? Unfortunately, he had to go off injured shortly after halftime, but I thought that was his best all round performance since joining us.
Not only was the play acting on being touched curtailed, but he was playing more with his head up and making passes and give and goes where previously it was too much head down and running into traffic rather than play in a better placed player.
Against Burnley he and the
team benefited from his greater awareness and ran Burnley ragged across their backline. It augured well for next season.
This was on display again last night. Nominally playing wide right, when a play developed down his flank he took up a good central position for his headed goal. His creation of the goal for Jesus was excellent work. Receiving the ball with his back half turned away from goal on the right edge of the penalty, the turn, speed, vision, precision and pace of his threaded pass left Jesus with an easy job.
Last night he never gave the Qatar defence a second of respite. Time and time again he was snapping at the heels of a defender in position which resulted in them coughing up cheap possession to keep Brazil on the front foot.
And Fran, whilst I agree with you we shouldn't be talking of seeing him move on, you know full well the Brazilian media like to see their stars play for the mega clubs. I fully expect Richarlison to have a very good Copa America and when he does, there will be quite a lobby from Brazil for him to 'better' himself.
And the Brazilian media really, REALLY like Richarlison.
Brian Williams
16
Posted 06/06/2019 at 12:47:19
Jay. Let's hope that Brands works his magic during this window and gives us a chance to get "up there" and match Richi's countymen's ambitions!

Stan Schofield
17
Posted 06/06/2019 at 14:00:13
He's a cracking player. If we as a club play well and achieve top-6 finishes and Champions League, we'll keep players like him for longer, and sign others of comparable ability. In contrast, if we stay midtable, they'll leave faster, and it'll be very difficult to attract good players. So, it's all down to us maintaining the good performances we had last season, Silva and Brands building on that, and achieving more next season, hopefully finishing near the top (or better still, at the top!).
Brian Harrison
18
Posted 06/06/2019 at 14:29:00
This next season is pivotal to where we go as a club, if we manage to win a trophy and challenge to get into the top 4 then maybe Richarlison will stay. But fail in these endevours then he will be looking for a new club. But if we ever hope to challenge for a top 4 place we have to keep Richarlison otherwise we will never break the glass ceiling. For those suggesting if he keeps doing well for Brazil it will increase his sale value, so we win nothing and lose Richarlison for lets say £120 million. But we will end up buying 4 average players with the money and still be plucky Everton.
I think if and its a big if we can persuade Zouma to sign and get a top centre forward, I think we could challenge for a top 4 spot. Reason for the optimism we started to keep clean sheets on a regular basis, nobody wins anything without a solid defence. Sarri will leave Chelsea as will Hazard and without him they are nowhere near the same threat. Man Utd will be starting to rebuild and bring in a few new players which will take time to settle into a new club. Arsenal still seem to have the same defensive frailties they had under Wenger and their away record is the worst of the top 6 sides.
Jay Harris
19
Posted 06/06/2019 at 15:00:52
Some good poiints from Fran and Brian.
If we have any ambition it is important we add more quality players rather than sell them.
We have too often been a feeder club for City and United.
It is about time we recognized we should be as big as them.
Dave Abrahams
20
Posted 06/06/2019 at 15:11:06
Fran (11), no it's not boring it's the truth, whether we wanted to sell Lukaku, Stones and Barkley or not, they wanted to go and so will Charlie at the present time or near future, when Usmanov comes in more fully, he's already partly here,things will be different and we will not only be able to keep our best players, there will be plenty gasping to get here. I really believe that.
Fran Mitchell
21
Posted 06/06/2019 at 15:22:11
My comment was nothing about whether or not in the future Rich will move on or not, my point is that people don't seem to enjoy the present.
He's our player, let's enjoy him and talk about how he can lift us and maybe win us silverware.
It's inevitable that we will all die one day, but if you bring it up in every conversation you armint gonna have many friends.
It's inevitable that Salah will probably move on, you reckon that's what our lovable neighbours keeo harping on about whenever he scores a goal?
If this was a news story about a club making a bid, or about Rich stating his desire to play for whoever, then ok. But it is a post about how he played and scored for his national team yet people try to change the conversation to something negative
Dave Abrahams
22
Posted 06/06/2019 at 15:48:24
Fair enough Fran, I'm glad he scored as well, to be honest I'm more excited that Moshiri has increased his share stake, now that is for today and our future.
Mike Gaynes
23
Posted 06/06/2019 at 17:24:08
Full game highlights:
https://www.youtube.com/watch?v=JiHe4GkNElM
Richarlison goal at 2:47, assist at 3:38.

Alan J Thompson
24
Posted 06/06/2019 at 17:42:11
To me the only move, if any, for Richarlison will be whether he comes in off the wing and takes up that role Sigurdsson has, making up the triangle with the wide men and playing off the centre forward, hence we seem to be looking at so many wingers. I really can't see Everton listening to any offers to take him from us.
Fran Mitchell
25
Posted 06/06/2019 at 18:59:14
On Richarlison, I think that he is the 20+ goal man we need, that almost 80% of voters in our poll think Brands and Silva must do all they can to sign this summer.
We constantly hear/read about our need for a goal scoring centre forward, but I disagree.
Most successful teams nowadays get most of their goals from the wide men. There are very few convential goal scoring strikers, Mbappe, Aguero, Kane and Suarez are the only ones that spring to mind. But goalscoring wide men are much more common, Salah, Mane, Son, Hazard, Sterling, Sane, from the top 4 alone.
This is why I think Brands & Silva will be in the market for a wide man. Yes, DCL needs more goals to his game, but what I think we'll see is more of a rolling front 3/4 with players able to take up many positions.
Derek Knox
26
Posted 06/06/2019 at 19:38:41
Fran, good point you make there with the emphasis being these days on a more dynamic high press attack from across the forwards, rather than a target man and conventional wingers.
The only thing I see with our present set up, DCL for all the work he puts in, is a bit behind in the goal scoring department. Also Bernard, who I love as a player, does seem to fail to find the target on many an occasion.
That then loads the onus on the rest of the team to come up with the goods, and in our present team there is only Gylfi and Richie who are producing, I know we get the odd goal from Digne and used to get a couple from Zouma. Sadly he is gone for the time being, even Keane seems to have dried up.
If we are to follow this trend and recruit some regular goal-scoring wide players, who makes way?
Fran Mitchell
27
Posted 06/06/2019 at 19:47:11
Bernard is a wonderful player, but he lacks that clinical edge, and it isn't a case of 'given time', because, across his career, he's never been a goalscorer. His career record is around 1 in 5 I think, and that is what he'll remain. But he has much to offer, his movement and skill can help us unlock defenses that are compact, but he is less effective when playing on the counter-attack where pace, directness, and that clinical edge are more important.
DCL, however, is still young and improving. Will he become a 15-goal-a-season striker? I don't know, but I think he can.
We need 4-5 forwards, for them to be challenging each other, and to give options depending on the opposition.
Jim Bennings
28
Posted 07/06/2019 at 07:44:19
Fran
I don't think DCL has that 15 goals in him to be honest, he's scored just six league goals since February 2018, that's not anything to suggest a massive turnaround in goals scored next season?
He needs someone to really get hold of him and start encouraging him to be more selfish and start getting more shots off at goal, I think Duncan Ferguson will only take him so far and that will be with the hold up part of his game which to be fair he's improving on.
We need to remember that Duncan himself was never really a clinical 20 goal a season poacher so what's he passing on in that regard?
I'd love to see someone like Ian Wright or Alan Shearer as our striker coach, it'll never happen but I believe they could really get into the head of DCL and show him where to take up those areas that buy you at least another eight to ten goals a season.
Right now DCL doesn't look like he's going to be more than a six to eight goals striker and I've seen nothing to suggest next season will greatly differ.
As for Bernard, here's a player that is blessed with the most fantastic ability on the ball but somewhere down the line he's never had a clinical edge, one wonders why, when he's got such skill on the ball?
I think Bernard will find the transition from scoring one goal to about six next season however than DCL will to scoring six to say fifteen.
Jay Wood
[BRZ]
29
Posted 09/06/2019 at 22:43:52
Another outstanding performance by Richarlison in Brazil's final warm up game today ahead of next week's opening of the Copa America.
Brazil won 7-0 against a woeful Honduras, reduced to 10 men after 30 minutes.
Richarlison was hugely integral in the opening goal; was fouled for the penalty for the third; headed on to set up Jesus to tap in the fourth; and scored the seventh and final goal himself.
He's in a good place to have a very good tournament.
Justin Doone
30
Posted 09/06/2019 at 22:56:36
The best goal scorers have a natural talent that can't be taught.
Looking at players of all ages (and I'm talking 3 years plus) some just have a natural 'stroke' a bit like the top golfers swing or a dancers natural rhythm, singers voice etc.
They can be coached to improve but generally they have it or they don't. There are many players that don't despite their footballing ability.
Bernard springs to mind, great balance, vision and technique but he's in the Pienaar mould when it comes to lack of composure and inability to truly strike the ball.
I don't think we have a true striker but Richarlison, Lookman, Sigurdsson and Calvert-Lewin are the nearest we have to one. Three of them are young enough to improve but by how much is unknown. They simply don't strike the ball as a true striker.
Anthony Murphy
31
Posted 09/06/2019 at 22:57:30
Jay, how is Richarlison viewed in Brazil? Hope we can hang on to him for a good few years yet, but no doubt he'll be hot property if he has a good tournament and continues to improve in the prem.
Jay Wood
[BRZ]
32
Posted 10/06/2019 at 00:23:59
Anthony @ 31, Richarlison is HUGELY regarded since he broke into the Brazilian side.
With Neymar's latest injury once again ruling him out of a major competition in his homeland, Brazil is looking for a new hero, a new figurehead for the team.
Whilst Neymar remains hugely popular, there are some grumblings that - unlike previous Brazilian greats - he has never fully lived up to the hype and carried the national team to greater heights.
Given the very public 'trial by TV' surrounding his rape charge, his injury could be a blessing in disguise as it clearly was/is a huge distraction with the Copa America coming up. The team, IMO, will benefit from his absence.
But back to Brazil looking for a new hero. Irish Blues may like the fact that the 'main man', the 'play-maker' of a team, is known as the 'Craque' in Brazil. Similarly, the MoTM is called 'o craque de jogo'.
Not for the first time, the commentators were purring at Richarlison's contribution to the team today, describing him in similar terms as I have above: as the potential 'craque', the 'inspiration' for the team, in the absence of Neymar or any other candidates.
His consistency is improving, as is his awareness and playing in others, rather than running head-down into traffic as he was prone to do at Everton.
I honestly think he is going to have a mega-CA and as a result, we can expect a LOT of interest from the usual Euro giant suspects.
We have an absolute gem on our hands, but he doesn't come from Wavertree!!!
Dave Abrahams
33
Posted 10/06/2019 at 09:13:54
Jay (32), thanks for keeping us informed about Brazil and more importantly, for Evertonians, Richarlison. I hope he continues to do well for both sides and we both benefit from his career...
Although, the more he improves, the harder it will be to keep him... Unless Mr Usmanov comes fully on board. Then Richarlison will be staying, and joined by other star players who will heading to Goodison Park and Bramley-Moore Dock.
Sam Hoare
34
Posted 10/06/2019 at 09:56:39
I'd give us another 2 season with Richarlison max unless we make headway up the league and into Europe. That's fine by me as long as re-invest the money wisely. Spurs' success has been based partly on the money they accrued from selling Bale (and a great coach of course).
Add Your Comments
In order to post a comment, you need to be logged in as a registered user of the site.
Or Sign up as a ToffeeWeb Member — it's free, takes just a few minutes and will allow you to post your comments on articles and Talking Points submissions across the site.