Moshiri increases his stake in Everton
Thursday, 6 June, 2019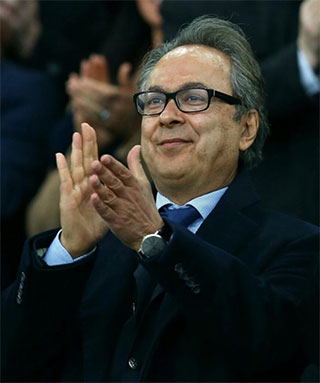 Farhad Moshiri has taken the expected step of increasing his shareholding in Everton, the club have announced.
The Iranian-born billionaire who first bought a major stake in the Blues in February 2016 took his controlling interest to 77.2% with the purchase of the shares long held by Lord Grantchester.
He had increased his holdings to 68.6% last September and had committed to take the step confirmed today no later than July this year.
---
Reader Comments (55)
Note: the following content is not moderated or vetted by the site owners at the time of submission. Comments are the responsibility of the poster. Disclaimer
Dermot Byrne
1
Posted 06/06/2019 at 14:29:45
Well, seems in it for the long haul. Not sure I would invest if I didn't think the club was going somewhere.
Is that too naïve?
Brian Williams
2
Posted 06/06/2019 at 14:37:52
Dermot. No, not at all. Though I don't believe he's in it for THAT long as I believe he'll sell to his friend Alisher at the appropriate time.
Jim Bennings
3
Posted 06/06/2019 at 14:45:12
Dermot
I think Moshiri is desperate for the club to move forwards and he will try his best to make it happen but the biggest challenge is taking that step and having the mental strength and belief to challenge the top six and top four which for me is definitely there to be breached.
The problem with Everton is whenever the opportunity is there we fail to take it and start playing when it's too late, last season the perfect example.
We could and probably should have one of United and Arsenal out of that top six but in Everton fashion we started hitting form too late.
Joe McMahon
4
Posted 06/06/2019 at 15:05:18
It's a real pity Kings Dock fell through all those years ago, as we would be flying high and established Champions League regulars now. I finally, after all the decades of letdowns and knives to gunfights, have faith in Silva and Brands.
Kim Vivian
5
Posted 06/06/2019 at 15:06:25
So NOW he has total control. No possible power of veto from other shareholders. It will be interesting to see how this develops and whether this is a part of a strategy involving Usmanov/new stadium etc etc. I feel the future could be massive. "Softly softly catchee monkey" as they say.
Pat Kelly
6
Posted 06/06/2019 at 15:23:55
Has anyone any idea how much is in the coffers for signings? I know we could raise some from sales, such as Gana, but the ones we want to shift aren't going to realise much cash.
Can Moshiri inject more capital or can the Club borrow more? I doubt either of those options are likely, meanwhile we are draining millions on long-term inflated contracts for players we don't have any use for. It's a long road ahead but at least Brands is in the driving seat.
Paul Dewhurst
7
Posted 06/06/2019 at 15:25:39
Jim 3 - You are right we have very rarely taken our chances league or cup. So often under Moyes we had a good team and good stats but we used to have average seasons but some really good calendar year performances used to really annoy me that.
I think there are three thing Silva needs to do to improve us one is to come up a plan of how to play against a team that just stick men behind the ball our run in showed that. Loosing to Fulham! Secondly, stop throwing away a lead score first then we would let the flood gates open.
Learn how to defend set pieces pick your system get everyone drilled in the same way (sounds simple but he's going to have to coach old / bad habits to get them doing what he wants them to do)
That being said if he hadn't have fucked up the start of the season because we had it easy and threw points away and then we lost our head when we lost at Anfield.
Mike Galley
8
Posted 06/06/2019 at 15:32:48
Can anyone tell how significant this is?
Personally, I'm taking this as a good sign for the future of the club. Am I right to think like this?
Also, can this have any effect on funding for the new stadium? Will it make generating funds easier?
Mike Gaynes
9
Posted 06/06/2019 at 15:49:39
The man knows a good investment when he sees one.
Phil Martin
10
Posted 06/06/2019 at 15:50:32
It isn't bad news. But I'd prefer it if his close friend Alisher was more involved.
John Malone
11
Posted 06/06/2019 at 16:00:45
Is no-one else concerned he has full control of our club?
The obvious link with Usmanov is hard not to get excited about but there is a slight worry that this one guy can do what he likes with us and no-one can stop him!
Hugh Jenkins
12
Posted 06/06/2019 at 16:00:51
I believe that I have read somewhere that, in some companies, if someone acquires a certain percentage of the shares, they are entitled to force the other shareholders to sell their shares to them. I am not sure if this is true, or, if it is true, whether Mr Moshri now holds the requisite percentage, or finally, if it only applies to public as opposed to private companies.
However, if it is true and all the conditions are met, he could now force Bill Kenwright and all the other smaller shareholders to sell to him so that he becomes outright owner.
Who knows where this might lead?

Alan J Thompson
13
Posted 06/06/2019 at 16:06:40
When I saw the headline, my first thought was that the "Greatest" had finally stood down but instead it turned out to be the man who never seemed to interfere.
Deflated again... maybe next time we'll get lucky, pick a winner, never tell.
Robert Williams
14
Posted 06/06/2019 at 16:18:47
HJ 12:
"Private Companies: Unlike publicly traded companies that must follow rules established by the Securities and Exchange Commission governing stock sales, private companies have a lot more flexibility when it comes to forcing stock sales. For example, a private company can require the heirs of a deceased stockholder to sell the shares back to the company. Private companies also may have agreements that require minority shareholders to sell to a majority shareholder who reaches a certain ownership threshold. In the case of employee-owned companies, employees are nearly always required to sell their shares back to the company if they leave."
Dan Nulty
15
Posted 06/06/2019 at 16:19:43
It can only be good news that he is ploughing on with this. Genuinely, I think this is Usmanov behind the scenes trying to do this right. He will want to show the Arsenal board what they could have had.
Alternatively, it's all a pipe dream and I wake up and realise I am an Evertonian and these things don't happen to us!
Chris Corn
16
Posted 06/06/2019 at 16:25:42
John 11, he had full control the minute he purchased his initial shares. There wasn't enough of the remainding shareholding to vote him down as many small shares were unaccounted for and died with their owners. People just like to keep the anti Kenwright rhetoric to a maximum.
Moshiri has been the decision maker. He appointed Walsh, Koeman and Allardyce and has allowed the poor signings on top dollar. He is driving the stadium. Anyone who thinks different is deluding themselves.
Denis Richardson
17
Posted 06/06/2019 at 16:26:39
I guess it's a positive as he wants to own more of the club given he's the one putting all the cash in. It would be interesting to know what he paid for the stake just bought on a share basis.
Re control - nothing new here as he already had full control with his 49.9% stake from 2016 given every single shareholder would have had to vote against anything he wanted to do to stop it. Highly unlikely given a small chunk of shares are held by 900 odd fans, many of whom don't take part in any corporate stuff.
Wonder if he can now force minor shareholders to sell their shares to get 100% ownership. Think with a 75% majority (which he now has) he can change the articles of the company to allow minority shareholders to be forcibly bought out at 'a fair' price.
Derek Knox
18
Posted 06/06/2019 at 16:28:18
Phil @ 10, yes I would have thought Alisher Usmanov would have been involved at some stage by now, especially as we are slowly showing some green shoots of promise for the future.
I am surprised that Bill Kenwright made a statement some time ago that he would be stepping down due to deteriorating health, and yet he seems to be as involved as ever.
I am equally hoping that, behind the scenes, Moshiri has reinforced the war chest; it is totally understandable why no statement has been made as such, as any potential transfer dealings could easily take on a new dimension.
Mike Galley
19
Posted 06/06/2019 at 16:48:37
Tell me if I'm being nice but I'm taking this news as follows:
He has increased his shares in the club which means he will benefit even more with any increase in value of the club.
The only way the club will substantially increase in value will be with a new stadium and, hopefully, the increase in revenues, value of commercial deals etc.
Therefore, he believes the ground move will happen.
Or am I being too simplistic in my thinking?
Dermot Byrne
20
Posted 06/06/2019 at 17:14:21
Mike #19: that is my take on it too. And seems good news to me!
Anthony A Hughes
21
Posted 06/06/2019 at 17:16:41
Any "war chest" money will come from the Sky and BT coffers and any out-going transfers.
Tony McNulty
22
Posted 06/06/2019 at 17:17:29
A psychologist gets out of a lift, only to see another psychologist entering it.
The first one says, "Hi."
The second one says, "Hello."
As they walk away, each one of them is thinking, "I wonder what he meant by that?"
After years of being an Evertonian, many of us are terminally suspicious. We want to take apart any change until we have worked out what the downside might possibly be.
Maybe this time it's just good news, and reflects our man's commitment to, and belief in, "the project." (I do so love that terminology.)

Tony Abrahams
23
Posted 06/06/2019 at 17:21:53
Keeping the anti-Kenwright thing going, I wish he was the one getting in that lift of Tony's after getting told Goodbye!
Brian Wilkinson
24
Posted 06/06/2019 at 17:28:51
John@11, a bit like John Moores, does not worry me, now he can do it his way and be ruthless if need be, enough of this listening to others, go out there and get us out of the past 20 odd years of stagment.
Starting with team building and the new ground.
Brian Harrison
27
Posted 06/06/2019 at 19:03:54
I think all thats happened is he has bought the Granchesters shares, they didnt sell to Kenwright but have now relinquished the shares given to them by Sir John Moores their father and Grandfather.
So it just gives Moshiri a bigger slice of the cake when he eventually sells the club. That is why there was never a doubt about him building a new stadium, selling Everton with a new ground will be more profitable than if we stayed at Goodison.
For those suggesting Usmanov might come on board, well even if he did we would still be under the constraints of the FFP rules. Which would prohibit in ploughing in millions.
Kieran Kinsella
28
Posted 06/06/2019 at 19:04:42
John 11
I don't buy into the Usmanov Trojan horse takeover. He has been in the clear to invest in the club since he sold his Arsenal shares a year ago. He hasn't made a move and his advisor has said he doesn't plan to. Where is the logic in some kind of long term secret takeover plan. Moshiri right now is on the hook for the stadium, team etc. If things improve, why would he suddenly want to bring in Usmanov to share the upside after he has endured the down side of flop signings, bad managers being paid off etc. From Usmanonov's perspective. Surely it would cost less to buy into 8th place Everton with a dilapidated old stadium than to buy into the future "super" Everton with a fancy stadium, regular champions league football etc.
Tony Abrahams
29
Posted 06/06/2019 at 19:09:53
Especially when his mate is already using his money Kieran?
Keith Harrison
30
Posted 06/06/2019 at 19:28:33
Moshiri had an effective majority share with 49.9%, as previously pointed out on here, not all shareholders are still alive or known, to vote against him. He increased this to 68.6% last September, which gave him the absolute majority interest. He therefore had total control then, and could not be Veto'd. It makes sense for him to buy up shares now at todays price so it will be to his benefit (if) when the share price increases as Bramley-Moore is rolled out with him bankrolling it.

Can't see it myself, but it would be superb if Usmanov did come in at some stage.
In the meantime, Farhad, let's celebrate by painting the Liver Birds in flourescent Blue, and see if the RS toerag hooligans manage to deface that!!
Tony Abrahams
31
Posted 06/06/2019 at 19:33:36
I'd take them birds down Keith, and put little replica towers of Prince Rupert up there!
Brian Williams
32
Posted 06/06/2019 at 19:43:33
Now I wonder whether he'd be allowed to remove those birds, hmmmm!
Brent Stephens
33
Posted 06/06/2019 at 20:01:39
He could always tell the council he was just going to take them down to clean them - like Delboy and Rodney taking the chandeliers down to clean them.
Derek Knox
35
Posted 06/06/2019 at 20:29:35
No need to paint the thingummy Birds blue, didn't they have lights around Xmas time (which were blue) illuminating the aforementioned mythical shitehawks?
Just make sure they are always on, when darkness starts to pull in. Simples!
Liam Reilly
40
Posted 06/06/2019 at 20:55:42
Usmanov is not coming any time soon.
Why would a Billionaire who owns a Sky 'Cash Cow' be interested in bringing in a more powerful billionaire to take over; cause Usmanov is not going to be a silent partner.
We've wanted a billionaire for years and now we have one. If investments in players had gone better, we'd be farther along but the managers and DOF that he brought in didn't stand up to their supposed pedigree.
Give him more time and 'let him build BM and they will come'. Good times.
Andrew Ellams
41
Posted 06/06/2019 at 21:19:39
Liam, Usmanov doesn't own anybody. He doesn't even have his minority stake in Arsenal any more.
Laurie Hartley
45
Posted 06/06/2019 at 23:21:47
Mike # 19 - your take on this looks very logical to me. I would take it a step further and suggest that "the finance" is in place.
Cue further speculation. I think we are in for an interesting 6 months.
Mike Galley
46
Posted 07/06/2019 at 00:52:54
Laurie #45,
Really hope you're right. I've reached a mindset where I believe the delivery of the new stadium is absolutely crucial to us having any hope of becoming a top club again in the future.
Laurie Hartley
47
Posted 07/06/2019 at 04:43:34
Mike # 46 - Farhad Moshiri made a couple of gaffs early in the piece but he didn't get to be a billionaire and business partner of Alisher Usmanov by luck. He is switched on.
Mike Gaynes # 9 nails it when he says "the man knows a good investment when he sees one". To use an analogy from the real estate industry - in Everton he bought the worst house in the best street of the best suburb.
For some reason I decided to look into the financial fair play regulations and came across the Eufa site. Worth a look.
After reading through that, and in particular the points dealing with the benefits/incentives of investing in young talent and stadium development, I believe I have gained a better understanding of Moshiri's "project".
I am convinced that we are heading in the right direction on the pitch and off it - The Megafon stadium will be built ;)
Mike Galley
49
Posted 07/06/2019 at 09:04:31
Laurie#47
I've just had a quick read of that link. If I'm honest, it made me a little bit pessimistic about the potential for future success.
If there's any truth in the rumours about Usmanov, or any other external investor, surely these rules place a limit on any difference they could make.
Hopefully, I've misunderstood what I've read and somebody has a different take on it.
Derek Taylor
50
Posted 07/06/2019 at 09:13:43
Brian @24. For all the celebrations that Bill's share is down to 5%, I can't see that Moshiri has covered himself in glory since the original takeover. His appointments record positively stinks and so do many of the players signed on his watch. And where is the improvement in the playing record ?
Oh, I forgot the Club is in transition. As ever.
Phil (Kelsall) Roberts
51
Posted 07/06/2019 at 09:25:23
Never realised until now.
This story on the mobile site has a different photo to the one on the front page of what shall we call it, the PC site.
Mobile site - glasses on
Internet site - glasses off
Photo at top of this page - glasses on
Bit like a transfer saga - on, off, on
Derek Knox
52
Posted 07/06/2019 at 09:36:20
Phil @ 51, how observant, you have obviously been to Specsavers!
Laurie Hartley
53
Posted 07/06/2019 at 10:37:10
Mike # 49 - it would be fair to say that I am having one of my optimistic episodes as an Evertonian.
My gut feeling is that there is an "angle to be exploited" in those FFP rules if you find the "right financier" for the stadium development. If there is, Ryazantsev comes across as the sort of operator capable of doing so.
The offer from Liverpool City Council to finance 50% of the stadium costs looked a great deal and yet there has been no definite announcement which suggests to me that there is another attractive deal on the table.
There appears to be a lot of potential income if you get a naming rights deal done. We are well back in the pecking order at this stage but we wouldn't be if we have a waterfront stadium on the Mersey. Some more interesting reading for those with the time to spare and an enquiring mind.
Stadium Naming Rights Estimates
On the playing front, last season we bought 3 young up and coming players two of whom, Digne and Richarlison, would get a start in a top six side. We got Bernard for no fee - a 26 year old Brazilian international. We are no longer taking our rivals cast offs
The appointment of Brands as the DOF also looks a shrewd move to me. I reckon he will get rid of most the deadwood this window and seal the Gomes, and maybe Zouma, transfers. I am also hopeful he will sign one or two more up and coming players from overseas.
We beat 3 of the top six at the end of the season and drew with two of the others. In fact the only top six side we didn't take points off were the champions. I see that as progress on the pitch and an indicator that Moshiri has appointed, and to his credit stuck with, the right manager.
So Mike, all in all, my glass is much more than half full just now.
Mike Galley
54
Posted 07/06/2019 at 12:27:10
Thanks Laurie. Hopefully, you're nearer the mark than I am and we can look forward to a great future for our team!
Phil (Kelsall) Roberts
55
Posted 07/06/2019 at 13:10:08
Derek #52 How did you know? Seriously, just got back from my 10:05 appointment at the Northwich store.
Mike Galley
56
Posted 07/06/2019 at 13:43:17
Perhaps not completely relevant to this article but I'm hoping some of you can add thoughts to these questions?
I've posted them on another thread so I apologise if anyone has already seen them!
1. Will this be a gamechanger for the club in a financial sense? To my, admittedly limited thinking, any increase in match day revenues will be swallowed up with financing costs for the build.
2. What other options are there for meeting the costs? I'm aware naming rights will probably be involved. Could there be anything that involves the fanbase making a contribution? I seem to remember Arsenal doing something but can't remember exactly what.
3. Will a new stadium help us get better commercial deals? I can't see how it might affect shirt sponsorship, but is there anything else that I'm missing?
I apologise if any of these queries have been raised before and hope that you all don't mind me raising these points.

Minik Hansen
57
Posted 07/06/2019 at 14:03:41
If we get behind him in difficult times, I believe it'll help massively on him to push this club forward. We've got a man, whose first few seasons were with great actions, especially the first one, though hit below expectations. He wants to, we'll motivate him the right way. Here's to Marcel and Marco to hit the ground running on the transfer front, all the best of luck. COYB.
Joe Corgan
58
Posted 07/06/2019 at 23:01:09
I wonder why Moshiri has increased his shareholding (twice.) It could simply be to realise, in future, greater returns. That would be the most obvious answer. He certainly didn't need any more shares to take full control of the club.
The other option is that he is planning a share issue to raise capital. If the club were to do so then the value of the existing shares would decrease (though I imagine only Moshiri and a few other shareholders would care.) It would allow Everton, assuming they can find buyers, to raise capital for the stadium without Moshiri having to put his hand in his pocket. While his shares would lose some value, it's likely that they would recover once the stadium is built and revenue increases.
I know we have some fans who are much more knowledgeable in these things than I am - so what do you think the likelihood is of a new share issue?

Jay Harris
59
Posted 07/06/2019 at 23:39:59
We seem to forget BPB is still actively involved in the running of the club as chairman and all Mosh has done now is buy out the main opponent to Bill taking over the club in the first place.
More bullshit about retiring at 70, being seriously ill and finding the right buyer for the club.
Don Alexander
60
Posted 07/06/2019 at 23:56:28
Now now Jay (#59), there's a few others on here who say they take exception to anyone suggesting (albeit repeatedly) that the last trophy-less 24 years have had any connection at all to the 24 year tenure of Kenwright at, or now just near, the top of our club.
For what it's worth there are a few more who believe we're right on money in lambasting him and his dubious, secret financial arrangements before Moshiri made him the offer he couldn't refuse, to the cost of 24 trophy-less years.
Well said Jay.
Derek Thomas
64
Posted 08/06/2019 at 02:11:46
Joe @ 58; It'll happen sooner or later. The usual track for 'Interest Free' loans is the promise of swapping 'debt' for shares down the line. Somebody well versed in such shenanigans will be able to come up with a senario where Moshiri's 28k shares will 'lose value' but increase in number, while still having over 50% of the Club.
It is not beyond imagination that the vast majority of those left will be 'sold' to...'somebody' to fund the stadium... plucks figure from air - £400M.
Justin Doone
65
Posted 08/06/2019 at 14:29:22
In 5 years if we're still in the Premier league, if we have a new stadium and if the finances in football are still astronomical then he can sell and double his money.
It's a risk worth taking if your a multi billionaire.
As for us fans I just want some silverware and to be competing at the top of the league and in Europe each season.
Joe Corgan
66
Posted 08/06/2019 at 15:28:14
Derek #64 - Exactly. That's precisely what I think will happen and it's probably the reason that financing for the stadium hasn't yet been agreed.
As well as a new share issue, I wonder if there might also be a significant stock split, making the individual share price low enough to regular, everyday fans to buy a piece of the club while, at the same time, funding the new stadium AND making, what should be, a solid investment.
Kieran Kinsella
67
Posted 08/06/2019 at 15:38:45
Mike Galley 56,
1. In the short term yes a lot of the increased income will go towards covering the debt but it's like getting a mortgage to buy a hotel. The debt costs decrease over time while the revenue remains the same or rises. Arsenal and now seemingly Spurs, were strapped for cash after the new stadium build but the last few years Arsenal have started to reap the benefit although their owner has decided to accumulate the cash instead of investing in the team.
2. Arsenal launched a bond scheme when they redeveloped Highbury. I think West Ham did something similar.
3. The location would help with deals because the idea is to redevelop the waterfront. So for example, let's say there is a Hilton hotel adjacent to the ground. Hilton would be more inclined to sponsor us in some way then they would if the nearest Hilton was miles away from Goodison. The new ground would be larger, so more room for marketing, and built with marketing in mind as opposed to Goodison which was built simply with accommodating fans in mind. Commercial income would also include executive suites etc of which there are very few at Goodison.
Jim Potter
68
Posted 08/06/2019 at 23:50:27
Moshiri and Usmanov have worked together for years. Usmanov is the man who has shaped Moshiri's career from humble accountant to billionaire.
They owned a fair slice of Arsenal shares - but had no voice on the board. Moshiri left and bought into Everton.
An Usmanov aide said before Mr U sold his Arsenal shares that Usmanov wouldn't be selling his Arsenal shares.
Usmanov sold them.
USM paid £75 million(?) for naming rights on Finch Farm. Why? That's surely worth a couple of mil a year at best.
We then hear Usmanov is looking for a club and that he's willing to help his old mate out at Everton should he want it.
An Usmanov aide said he wouldn't be buying into Everton.
Moshiri is now the majority shareholder.
In a while the curtain will be pulled back - and reveal Mr Usmanov.
That's how I see it anyway.
Remember, Russians love those dolls within dolls (although I think he was Uzbek born).
Alan J Thompson
69
Posted 09/06/2019 at 07:27:08
Jim (#68); I'm not too sure you can read too much into the shenanigans at Arsenal as Usmanov and the present owner seemed to be at loggerheads over who would and wouldn't be allowed a seat on the Board... but, as is said: he who knows the past knows the future.
Add Your Comments
In order to post a comment, you need to be logged in as a registered user of the site.
Or Sign up as a ToffeeWeb Member — it's free, takes just a few minutes and will allow you to post your comments on articles and Talking Points submissions across the site.