England errors cost them victory against the Dutch
Thursday, 6 June, 2019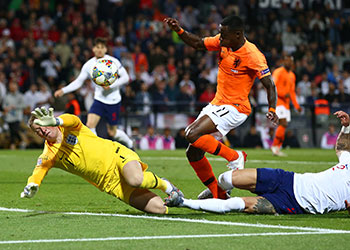 Jan Kruger/Getty Images
Jordan Pickford couldn't prevent England from losing their UEFA Nations League semi-final against the Netherlands this evening, the Three Lions going down to a 3-1 defeat after extra time.
England had gone ahead in the 32nd minute through a Marcus Rashford penalty but the Dutch hit back in the second half with a header from Matthijs de Ligt that forced another 30 minutes of play after Jesse Lingard's strike was ruled out by VAR.
The Netherlands then turned the match on its head in the first half of extra time when John Stones was caught in possession near his goal. Pickford made an excellent save but the ball was eventually bundled over the line by a combination of Quincy Promes and Kyle Walker, the latter accredited with an own goal.
England's fate was sealed a few minutes later when Ross Barkley, put under pressure by Stones's pass, gave the ball away and Promes scored Holland's third.
Michael Keane was an unused substitute in the loss but could get a look-in for the third-place play-off against Switzerland.
---
Reader Comments (237)
Note: the following content is not moderated or vetted by the site owners at the time of submission. Comments are the responsibility of the poster. Disclaimer
Brian Williams
1
Posted 06/06/2019 at 21:58:37
Stones is having an absolute 'mare. At fault for both goals. The second was shocking!
Rob Halligan
2
Posted 06/06/2019 at 22:00:05
Beat me to it, Brian. He's all over the place, and a disastrous moment for the second Dutch goal.
Mike Gaynes
3
Posted 06/06/2019 at 22:01:32
Condolences, England fans, but I just have to laugh at Stones.
Soundly beaten for the first goal and absolute idiocy on the second.
On the plus side, Pickford couldn't have been better tonight. That last save was a blinder.
John Pierce
4
Posted 06/06/2019 at 22:06:18
Yep, lump on Stones when both Barkley then Maguire put him under in the first place.
Mike Gaynes
5
Posted 06/06/2019 at 22:10:37
John, come on. His first touch turned him back towards the goal. All he had to do was play it back to Pickford for the easy clearance. Instead, he did three more touches and a 360 pirouette like a French figure skater. That was pure comedy.
Brian Williams
6
Posted 06/06/2019 at 22:16:28
Anything else to add, John?
Rob Halligan
7
Posted 06/06/2019 at 22:17:02
Comical defending again. Ross Barkley this time.
Mike Gaynes
8
Posted 06/06/2019 at 22:17:23
And Barkley and Stones team up for another comedy gem. The Laurel and Hardy of English football.
Kieran Kinsella
9
Posted 06/06/2019 at 22:17:41
At this point in his career, Stones should really have better judgment. He isn't a precocious teenager any more. Gomez is similar, younger and less error-prone. Keane isn't as fancy but is solid. I imagine Southgate will be promoting one of them from the bench for the next game.
At the other end of the field, a good reminder that, Kane apart, England don't have quality to unlock good teams. Yeah, they ran up the score on Czech Republic and Montenegro but better quality opponents aren't much troubled by the goal threat in this team.
Kieran Kinsella
10
Posted 06/06/2019 at 22:19:23
Stones completes his hat-trick of errors.
Mike Gaynes
11
Posted 06/06/2019 at 22:21:57
Although, Kieran, to be fair England did unlock the Dutch very nicely a few times tonight.
By the way, who the heck is Gomez? I saw him on the subs' list but never heard of him before.
Kieran Kinsella
12
Posted 06/06/2019 at 22:22:02
Barcelona should be paying attention here to see a couple of graduates from the Martinez school of football in action.
Derek Knox
13
Posted 06/06/2019 at 22:22:59
Mike G, another fine mess! Bullet-head Barkley.
Kieran Kinsella
14
Posted 06/06/2019 at 22:23:58
Mike,
Gomez Adams. Kind of a creepy older guy? No, it is the centre-half from the RS...
Don Alexander
15
Posted 06/06/2019 at 22:29:40
Stones surprised me in that he didn't gesture for the crowd to "just calm down" as all great centre-backs do.
And as for Barkley, well what can you say? Next season'll be another when he's more likely to get woodworm in his ass than a hammy from playing.
Kieran Kinsella
16
Posted 06/06/2019 at 22:36:14
Don,
Barkley was probably thrown off by the booing during the Dutch national anthem. Jagielka wasn't there to say "They're not booing you, Ross."
William Gall
17
Posted 06/06/2019 at 22:39:55
The only consolation is they can't blame Pickford for this loss.
Jay Harris
18
Posted 06/06/2019 at 22:47:45
Piss-taking aside, I thought Barkley ran the show for England amongst the worst midfield in recent times. Who the hell is Declan Rice that all the media are raving about and Fabian Delph can't even get a game in the Premier League.
Also, what has Jadon Sancho done to earn 5 England caps?
As for the defence, enough has been said already. Southgate needs a wake-up call and hopefully he got that tonight.
Kiern Moran
19
Posted 06/06/2019 at 23:07:23
Barkley and Stones each made mistakes resulting in goals. Sounds about right.
Andrew Keatley
20
Posted 06/06/2019 at 00:21:02
This England team is hugely over-rated. Fourth place at a World Cup seemed to disguise the fact that we lost twice in 90 minutes to Belgium, and couldn't beat Colombia or Croatia over 90 or 120 minutes. We only beat Sweden, Panama and Tunisia over 90 minutes - and needed a last-minute goal to beat Tunisia.
The midfield trio tonight - Rice, Delph, Barkley - were weak and overpowered. Stones, Walker and Maguire were all culpable of making terrible decisions/errors. I think Southgate is very bright and articulate but a bit soft on the players and very slow to react to on-field problems.
We also keep over-promoting our young players - Marcus Rashford is 21 and has 32 caps, and yet he still flatters to deceive for me. Hudson-Odoi and Sancho skipped playing for the Under 21s completely. Declan Rice looked out of place tonight; he's a good young player with plenty of promise, but he's not Frenkie de Jong. It's too much too soon.
Mike Gaynes
21
Posted 07/06/2019 at 00:38:56
You guys are way better off than we are. We just lost at home to fucking Jamaica.
Derek Knox
22
Posted 07/06/2019 at 02:42:31
So erm, Mike you won't be playing any Bob Marley songs for a while!
Alexander Murphy
23
Posted 07/06/2019 at 04:21:02
Stones in costly error fiasco's ?
Hmmmm
Now wasn't that a BIG surprise ???
Darren Hind
24
Posted 07/06/2019 at 06:06:49
Oh dear.
Park end panic merchants and getridofit crew enjoying the occasional consequences of playing the dangerous game
I was listening to a load of Chelsea fans say almost identical things about the brilliant David Luiz a few weeks ago. I thought to myself then "fuck me they have Philistines too ?"
I guess you understand what the the brilliance of players like these two bring . . or you don't
Trevor Peers
25
Posted 07/06/2019 at 07:32:40
Proof last night, if it where needed, that building a team around Stones and Barkley would have been absolute folly. Stones is a disaster waiting to happen in defence and Barkley spends most of the game passing the ball backwards and sidewards to be an effective midfielder, he made one telling pass in the whole 90 minutes.
If a player has any real quality he will put in a decent shift in the Derby games, Stones and Barkley never did, usually they were anonymous or worse a liability. Do we want them back ? No thanks.
Jim Bennings
26
Posted 07/06/2019 at 07:35:08
I do seem to recall coming on here about four years ago with my concerns that Ross Barkley was a player that never seemed to play with his brain, fans shot me down back then saying he's young and still learning, well he doesn't looked to have improved one jot in that four years.
I still believe to this day that Martinez was the only one that's ever come close to reaching Ross Barkley and getting anything out of him.
As for Stones, well it's also good to know that it wasn't Martinez encouraging him to piss about in defence but the very man himself.
Stones clearly has 100 percent faith in his own skills on the ball but it leads to disastrous consequences at times, we've been on the end of many of his mishaps.
Tony Abrahams
27
Posted 07/06/2019 at 08:01:38
Barkley had one of his better games until the Dutch stepped it up in the second half, and then he did what he does when you need him the most?
Stones got it badly wrong, but what class the kid shows at times, and I'm sure if Lingard was onside, then it's a goal they would have been showing for years, starting with so much calmness and impudence from the centre-half?
England need better midfield players, then the defenders won't need to take an extra touch, and that's what Southgate has got to find, if his team are to progress?
Stan S, I read the other day that you turn the sound off when you watch a football game on TV? Turn it back on and listen to the shite, being talked by these commentators who are getting paid a fortune mate, but only if you're in a good mood though!
Christopher Timmins
28
Posted 07/06/2019 at 08:07:48
Stones, Barkley and Lukaku, we picked up good money for players who have obvious flaws in their game.
Martin Berry
29
Posted 07/06/2019 at 08:13:59
It was evident before England took the lead that the Dutch were superior in ball retention.
There was a period around the 55m mark where we just could not get the ball off them, whether it was just lack of energy from a long season ?
England were very poor on the night, the midfield was outclassed and then of course we had the two clangers, but to single out Stones and Barkley is missing the point of the whole miserable display.
Stan Schofield
30
Posted 07/06/2019 at 08:17:50
The criticism of Stones is a bit daft. He's been outstanding for City and England since he left us. Every player has an off game, and to pounce on him because of last night's performance is like saying Van Dijk is shite because he made a couple of defensive lapses in a recent game.
Stan Schofield
31
Posted 07/06/2019 at 08:21:28
Tony@27: Yes, I've been doing that for some time. I do give the commentators and pundits a fair chance from time to time, leaving the sound on just to try and get the atmosphere and see if the commentary is OK, but end of switching it off again because they always end up delivering on the shite.
Anthony A Hughes
32
Posted 07/06/2019 at 08:25:58
Agree regarding the midfield. Rice and Delph are two very limited basic footballers playing in the area of the field were you need quality to run the game.
Brian Williams
33
Posted 07/06/2019 at 08:52:48
It's all very well defending Stones because "most" of the time he gets it right. Playing out from the back is most definitely the way to do things "most" of the time.
But part of a top class footballer's game is decision making and that's where Stones, and indeed Kyle Walker (who had a similar lapse) fucked up royally.
I used to do MY job well but if I fucked up and cost the company then I'd get it in the neck if what I'd done was unnecessary and easily preventable.
Darren it's not about NOT understanding, and it's NOT about being a Philistine it's about recognizing that doing the same thing despite what's going on around you, and despite it being the complete wrong thing to do (at that time) gets you punished.
I love to see cultured footballers playing the beautiful game but NOT when it costs you a place in the final of a competition and that's what happened last night, and it was there for all to see.
Support players through thick and thin by all means but when they fuck up badly when it was so simple not to then they're gonna take a bit of stick.
Having said that I thought the team as a whole looked off the pace and tired. Raheem Sterling, usually so brilliant and a player I've really enjoyed watching this season, struggled to find his best form as did a lot of others.
Last night's performance actually looked like the England of old to me.
Martin Nicholls
34
Posted 07/06/2019 at 08:56:00
I'm withDarren#24. Its easy to laugh and mock Stones and Barkley but I suspect that Trevor#25 is one of a very small minority who wouldn't welcome either/both of them back with open arms.
Andrew #20 has it spot on about this England team and it's selection process - like him, I wasn't taken in by the mass hysteria over their "limp" to last year's WC semi final. Jay#18 also hits the nail on the head.
Dave Abrahams
35
Posted 07/06/2019 at 09:17:21
Martin (34), I never saw the game but agree completely with you and Andrew (20) about England being over hyped after their World Cup performances and that applies to Southgate as well.
To be honest I didn't know much about this competition, what was it all about,was it a one off thing? Much ado about nothing.
Tony Abrahams
36
Posted 07/06/2019 at 09:40:10
I wouldn't want Barkley back, but I'd love John Stones though.
Martin Tyler was saying that the game was elite level football, and maybe the players are sending out the wrong message by trying to play out from the back, or words to that effect Stan, but only "after" Stones had messed up?
I know I shouldn't go on about these commentators, but the money they are on, and the games they get to see, then I'd sooner give the job to sensible football fans across the country, who might just be worth listening to?
Michael Lynch
37
Posted 07/06/2019 at 10:02:47
I'm still unsure about VAR. The Lingard goal was incredibly marginal, and I'm not convinced it's true to the spirit of the game to over-rule a linesman on such a tight call. That moment, followed quickly by VAR being used to judge a handball in the England box, did destroy the flow of the game. Sure, it can add a bit of cheap excitement, and it reduces the "we wuz robbed" element, but like I say, I'm still not convinced it's totally worth it. Goal-line technology sure, but this stop-start petty over-ruling and over-thinking of what seemed like perfectly reasonable decisions, perhaps not.
Alan J Thompson
38
Posted 07/06/2019 at 10:33:18
Now come on, People, forget the mistakes that led to goals that cost the game and tell yourself how good a player he is. And he calls others philistines without ever suggesting how to improve it or even if it needs to be. How does it go, there's none as blind
Derek Knox
39
Posted 07/06/2019 at 10:46:46
I believe Jordan Pickford was heard singing after the game:
Well I don't know why I came her tonight
I've got the feeling that something ain't right.
Clowns to the left of me,
Jokers to the right
Here I am stuck in the middle with you.
James Hughes
40
Posted 07/06/2019 at 10:46:59
I am easily distracted and Tony A #36 has done it again.
just had a chuckle and thought about commentators from TW I would love to hear.
Darren and Jim B as a double act would be worth a listen.
Steve fern to provide some analysis, Mike G would be easy on the ear from what I gather.
The one that has amused me is our very own Florida man, Jamie C. his unabashed bias would be amazing and really watchable
Just pictured him and Souness in the studio on derby day, it would be carnage. My money would be on Jamie to come out as the winner.
As I say I am easily distracted :)

Si Smith
41
Posted 07/06/2019 at 10:48:32
Imo England have 2 players who can be considered top level (below world class) and that is Kane and Sterling, the rest are in and around good to average at best.
Although Walker has made mistakes imo he would get games at Madrid, Barca, Bayern, Juve etc, but after that who else would ?
Maybe Miguire, possibly Stones (but I doubt it if I'm honest), then who ??
Midfield is average at best, forwards after kane are average apart from Rashford who has potential (same bracket as Sancho and Ali imo) but players who get games regularly for England are just limited imo.
Yes Henderson gets his games in a very good liverpool side (that hurt to say), but hes just workman like, hes just a half decent player at the top level, he isn't ever getting near the top 50 midfielders in world football, not on his best day. Same for Dier, Delph, Barkley, Chamberlain, or any one else we can mention.
Southgate has transformed the England way, it's much better to watch, and with the right influx of talented youngsters it could push us on, but the pundits are correct in saying that we don't have enough good ball players.
A part of the problem is the fact a fair amount of talented English players are held back, they don't play games when there in that vital age group were you can turn from good to excellent.
We are guilty of it ourselves, maybe the lads at us arent England international level, but we had 5 players who started a lot of u20 world cup games in our world cup winning squad, plus Davis was rested due to him playing a lot for us back then, but have we really brought them on at a rate you would like ?
Imo Lookman would be close to that England set up just like Sancho had we accepted that bid last season from Red Bull, yet now hes not even been picked for the u21s.
Hudson-Odoi was only being considered for Chelsea's side because Bayern offered £35m, I mean come on, if Bayern offer that money for an English kid he must be mega talented !
Sancho couldn't get a sniff at City yet rips it up for Dortmund.
Too many of our young lads don't get enough action within our league.
If Madderson at Leicester wants to become all that his potential says he can become he best stay at his current club for at least 2 or 3 more years, hopefully under Rodgers, as he will play. If he jumps over to Utd he will become another Jessie Lindgard, a player who just never really fulfilled his potential.( same as Wilshire, Walcott, Walbeck, and lots of others who chose a career of money and bench warming over playing for lesser teams but gaining massive amounts of experience).
We need the champions league bench warmers like Ross Barkley, Eric Dier and John Stones to either move on or move out, there stagnating as footballers, they can claim all they want (as Ross Barkley has) that they have improved with playing with better players, but the fact is they play training games with them instead of real games against them with other prem sides they will actually get in.
Southgate is doing well, much better than I ever thought he could, but he needs some help from players and managers alike to get young English players playing competitive football.
Simon Hermansen
42
Posted 07/06/2019 at 10:53:35
Why is every team doing the 'playing it out from the keeper to the defence' thing, then trying to play keep ball round their own box. Unless you're City or Barca you are asking for trouble, okay no one likes to see it lumped forward every time but enough is enough!
Brian Harrison
43
Posted 07/06/2019 at 11:09:29
I thought last nights game highlighted the inefficiencies that both Stones and Barkley had shown while still at Everton. While John Stones is an elegant player on the ball his decision making doesnt seem to have improved, and its that decision making that led to the goals not the philosophy of playing out from the back. Maybe its no surprise that Guardiola reverted to playing Otamendi and Kompany alongside Laporte for the crucial run in to the season.
Barkley for me is still the same player he was with us did some things very well but I never felt he could dominate from midfield against the decent sides. Even for Chelsea he doesnt dominate, maybe thats why he only got starts from the bench for the latter part of last season. And defensively he leaves a lot to be desired. When he left many said watch him now he has better players to play with, well I am sorry I don't see the improvement.
Tony Everan
44
Posted 07/06/2019 at 11:10:29
Stones and Barkley are not getting any decent game time for Man City and Chelsea. They are not good enough to be first choice starters for those teams. It's bad for their progress.
Stones wouldn't displace Keane or Zouma, and Barkley is not as good as Gomes, which means we are advancing as a team too.
Where them two eventually end up is anyone's guess.
Ray Robinson
45
Posted 07/06/2019 at 11:20:05
I was a big fan of John Stones when he was at Everton but I am also one of those Philistine Park Enders who berated him for taking unnecessary risks when that game was at 0-0.
I think most people would agree that a ball-playing centre back is a good way to go but it has to be tempered with good decision-making and lack of ego. If Stones loses the cockiness and calculates the percentages better, he could still yet achieve his full potential - but I'm not convinced he will.
I think the criticism of his performance last night is fully justified.
Terry Underwood
46
Posted 07/06/2019 at 11:26:27
This England team is going nowhere, sure, Harry Kane got a 6 goal golden boot, BUT 4 pens and a WTF? deflection leaves 1 open play goal. Sadly, Southgate does not have a world class goalscorer available to him. Ah, Shearer/Sheringham, Lineker, Wright fond memories
Liam Reilly
47
Posted 07/06/2019 at 11:38:22
Can't say I'm fussed over either of them: Stones always has a mistake in him and Barkley still lacks consistency and sustained concentration.
Moyes told Barkley to stay well away from his own penalty area and years later, he's still right.
Brent Stephens
48
Posted 07/06/2019 at 12:25:14
I'm afraid that was embarrassing defending again. Keep on making the same kind of mistake and you're going to be hurt. Stones is bad Kompany.
Jay Wood
[BRZ]
49
Posted 07/06/2019 at 12:47:46
In Stones, Barkley, Deulofeu and Lukaku we had four players of a similar age, football ability not many are blessed with and the potential to all become very, very special players.
I lobbied constantly and vocally if we had any ambitions as a football club, we needed to retain them and recruit players of a similar profile to compliment them.
Coached and developed properly at the right time, we could have been looking at one hell of a spine for Everton to which we could have built upon.
The stars on the management and investment side never quite aligned and all moved on. Subsequently, all four could legitimately be placed in the 'nearly, but not quite' category in the pecking order of great footballers.
To varying degress, they can all be considered to have had 'successful' careers without attaining the 'truly elite' label they once promised. It's not too late for any of them to still reach those dizzying heights.
But as a one-off last night, Stones - as with most of the England team - was pretty woeful. They all looked not just physically fatigued, but mentally fatigued. The sharpness and alertness you expect at this level was absent.
I actually thought Barkley was England's best outfield player on the night and our Jordan the only defender who emerged from the game with his reputation intact. ALL of the back four were dreadful, not only Stones. But there is no excusing Stones for the critical second goal England gave up.
Too radical to doff the cap to Koeman for turning Holland around in a relatively short time..? They look a decent side.
John Cook
50
Posted 07/06/2019 at 12:49:54
Whilst talking centre halves its reported in the Echo that Chelsea have had their ban suspended on appeal could be good for us regarding Zouna being signed.
Tom Bowers
51
Posted 07/06/2019 at 13:22:51
A disaster on the cards from the off with a poor team of starters and the only thing that was surprising was England taking the lead but that was another defensive error in a game full of them.
Early on, the likes of Barklay were continually coughing the ball up in their own half and was a precursor of what was to come.
Brian Harrison
52
Posted 07/06/2019 at 13:25:25
John
Chelsea have indeed appealed their transfer ban to the CAS but the Echo are saying they hope that the CAS will temporarily suspend their ban while reviewing their case. But at this moment their transfer ban still stands.
Tony Abrahams
53
Posted 07/06/2019 at 13:29:52
Si@42, it's a fashion, or even an obsession. And my own two pence worth is that sometimes it's poor coaching, that leads to so much indecision, because even when there's nothing on, players are still trying to play?
Si@41, to many young players are getting held back, is "in a nut-shell" imo mate.
Germany won the under 21 World Cup or Euro's beating Spain, two years ago, and they were an absolute pleasure to watch, again imo, and this was with about 8 of their original squad being promoted to the senior team, because they were taken to the confederations cup, possibly to gain experience.
Although this was not supposed to be anywhere near Germany's best squad, most of the players had still played senior football the previous season, mostly in the lower divisions of German football, because one thing the Germans excel in, is common sense!
Si Smith
54
Posted 07/06/2019 at 13:33:25
Terry 46,
Imo harsh comments R.E Kane, imo hes a quality forward who is easily as good as 2 on your list aswel as being one of the best out and out strikers about.
Mike Gaynes
55
Posted 07/06/2019 at 13:36:07
John #50, not true. Chelsea have registered their appeal with the Court of Arbitration for Sport, but CAS says it cannot provide a timetable for a decision.
The transfer ban remains in place, and so will Zouma as a Chelsea player.
William Gall
56
Posted 07/06/2019 at 13:41:43
For once the pundits were unable to lay the blame on Pickford who had a decent game. As for the midfielders who play mostly for one of the top 6 teams, they were out thought and outplayed by quality midfield players that England do not have in their squad.
Tony Abrahams
57
Posted 07/06/2019 at 13:43:13
Id only doff my cap to Koeman, if I was one of those Peaky Blinders, Jay!
He's getting paid a pittance off the Dutch, because this crafty, horrible, egotist is being very clever, and he's still getting paid a fortune off Everton. Possibly one for Moshiri's lawyers in the future, maybe?
Kieran Kinsella
58
Posted 07/06/2019 at 14:02:35
Tony 44
Media and Southgate have talked up lack of playing time as an issue but surely players bear some responsibility. Stones, Barkley, Drinkwater, Delph etc were all playing regularly for Prem teams. They decided to leave their clubs and make a ton of money at "big" clubs where there playing was always likely to be minimal. So the "poor England players can't get a game" argument doesn't really sit well with me.
Tony Abrahams
59
Posted 07/06/2019 at 14:15:57
I've heard Stones, is also going through a bit of a crisis in his personal life, which can't be doing him any favours, although that obviously doesn't exempt him from any of the blame for last nights mistakes.
Nicholas Ryan
60
Posted 07/06/2019 at 14:17:59
England beaten by a superior team, well-drilled and playing good quality football. They must have a good manager; why don't we sign him up? …. oh aah…. Yes well !
John Pierce
61
Posted 07/06/2019 at 14:47:56
I think the emphasis on last nights games is focused in the wrong place. It feels like a bit of a 'Gotcha' on Stones. He executed two passes poorly which he is more than capable of making, fair dos. Yet both Deligt for the penalty, Walker and Maguire all committed similar errors (unpunished) and yet where's the balance on the comments?
Furthermore Southgate clearly wants the team to play that way and Koeman had the Dutch press them all game. A wider view perhaps?
I will say I thought playing that way in extra-time was questionable when fatigue is definitely a factor. The key element for me was the midfield, the three we started with were too similar and rarely got England out of trouble under the press. Too often they received the ball and it came back to the defenders and eventually to Pickford to clear with a change of possession. Did you see Barkley turn and carry the ball away? We know he's capable. I thought he was very ponderous and often trapped the ball under his feet especially with his back to goal, his ability to assess the situation that deep definitely an issue. Delph too, with just short passes side ways and back, how often does he play there for city?! Stones' errors just felt like the symptom not the root cause. To lump on him I think is disingenuous.
Could Southgate have picked a more technical midfield? Certainly you cannot play that way if your midfield three cannot offer a way out of the press.
Andy Osborne
62
Posted 07/06/2019 at 15:10:48
Most of the comments here are about Stones and Barkley, and rightly so. But I will change tack slightly. I thought Pickford was fantastic. As the last man behind a woeful defense he made some brilliant saves. It could have been 6 or 7 to the dutch.
Nice to see the decisions to sell Stones and Barkley seem to have been the correct ones, strange to see Koeman doing well, when he was a complete failure here. International management seems to suit some. Particularly Martinez, am I correct in saying he is one of the favourites for the Barca job, god help them.
Denis Richardson
63
Posted 07/06/2019 at 15:58:00
Andy 62 - you say Koeman was a complete failure at Everton. I disagree and think people are too quick to come to that conclusion.
I can't remember many people complaining about Koeman in his first season when we finished 7th playing some decent stuff.
The wheels came off in the second season thanks largely to starting the campaign without a recognised striker after the club forced Koeman to accept Rooney, a player he did not want and who was given the highest salary at £150k/week. This no doubt would have had an impact on who Koeman could bring in and I cannot imagine was positive for the harmony of the squad - an over the hill player coming in earning the highest pay. Never mind his off field antics after.
Once the season started and the results started to go downhill, it was just a matter of time. Having to play Rooney also meant playing our record signing out of position - mistake after mistake. In the end it was inevitable the results would go south. Utter idiocy bringing Rooney back.
I'm not saying RK was a saint but think people are too quick to lay all the blame at this feet. E.g. his treatment of Niasse wasn't great but he was right, Niasse is shite. I still think he's a good manager and the club messed up.
Anyway, that seasons still rankles as it brought us to the low depths of bringing that corrupt twat Allardyce to GP.
Kieran Kinsella
64
Posted 07/06/2019 at 16:20:37
Denis
I was a fan of Koeman back when he was a player and used to spend hours practicing "Koeman" free kicks. As a manager, even after Everton I am totally on the fence about him. He has had some good seasons (like the current one with the Netherlands) and some terrible ones. He hasn't hung around anywhere for long either. So if we take the old Howard Kendall logic that "it takes 3 years to build a team" you could argue that Koeman has just picked up on other people's work everywhere he has been so his success or failure has more to do with his predecessor. With that being said, Southampton and the Netherlands were both a complete shambles before he arrived. With big stars having moved on, and untried kids and journeymen making up the squad. In both instances he immediately had success. Consequently, I am thinking he might be of the David Moyes mold e.g. someone who can get the best out of limited players, and young kids (who haven't yet got massive egos), but like Moyes he isn't so adept at getting his message across to established "stars" e.g. Rooney or people who falsely think they are stars e.g. Barkley.
Darren Hind
65
Posted 07/06/2019 at 17:02:42
It most definitely IS about understanding Brian.
Only David Luiz comes close to matching Stones for bravery. They will both take the ball in any position and under any circumstances.
We live in an era of the "High press" Defenders and midfield players find themselves ambushed almost before the ball reaches them. There has to be a get out, either a goalkeeper who is comfortable on the floor, or a center half who will invite them on and play around them. Somebody every member of the team knows will take COMPLETE responsibility.
Take a look at the City Liverpool game a few months back at the Etihad ? I thought I was watching the John Stones show. Klopp`s men pressed for all they were worth, but City players repeatedly played the ball back to him knowing he would take control,responsibility. Very few center halves would have dared to play like that . .even the more skilful ones. They simply wouldnt have the balls to do it.
These guys will never "learn" in a way the philistines want them to. Thats because they don't want to. They know better. . simple as that.
They know they will make a few mistakes in a season, but they are arrogant enough to believe it wont be today.
Its all about success. players like this know morons like Martin Tyler and the putyerfuckinfoothroughit army will round upon every mistake. Magnify it a thousandfold, scream the house down and learn nothing at all in the process. That wont bother either of them.
Stones was most definitely right to dismiss the panic merchants that day. We've had decades of "no nonsense" defenders achieving the sum total of fuck all and they still believe thats the way the game should be played. . These Philistines get exactly what they deserve.
Honestly; I find it truly staggering when I see people say Stones would not get into out team. OUR defenders wouldnt take a chance on a one horse race. Yet they have still made more mistakes than him this season. . Every one of them.
Give me a defender who gives away the occasional goal trying to take an attacker on and start an attack over three wooden tops who find themselves desperately back peddling to defend the most basic ale house ball.
EVERY defender makes a mistake, but for those who have been brought up on a staple diet of "avthatfucker" The mistakes when attempting to play football seem unforgivable.. . truly mind numbing.
Imagine Stones and Luiz meeting up when their playing days are over. They're sitting at a big fuck off table. The table has to be big because they are going to place all their medals down on it. They will not bring the transfer fees the greatest coaches of their generation paid for them, nor the offers that were turned down, why ?. . Because they wouldnt be able to find a table big enough.
Can you imagine the conversation at that table as they lament their nightmare careers ?
"Why didnt we take the safe rout wisely adopted by the likes of Jagielka, Keane, Zouma and Mina ?. T. . Why didnt we take any notice of those wise old Toffeeweb sages - Stephens, Bennings and Thompson ?
Paul Tran
66
Posted 07/06/2019 at 17:05:46
I'd have Stones back, despite his poor showing last night, though for the money he'd cost, I'd prefer to give Holgate a run of games.
Wouldn't touch Barkley. Ive seen plenty of talented players ruin their potential with poor decision-making. He's near the top of that list.
Denis #63, I wonder if Koeman's thinking about Walsh's fruitless trips to Europe, missing out on Sissoko & any striker and how things might have been different had Brands been there instead?
I know I am.
Tony Abrahams
67
Posted 07/06/2019 at 17:13:58
Listen to De Bruyna, and watch the third goal? I thought it was worse than the second goal in many respects because he's playing a ball to Barkley that Barkley doesn't really want, and that is the essence of playing out from the back, having midfield players who make you give them the ball, and not the other way around!
Tony Abrahams
68
Posted 07/06/2019 at 17:20:55
Good point about Brands Paul T, but do you think Schneiderlin was roundly booed because he's shite, or more because he never looked liked he really gave a fuck?
John Pierce
70
Posted 07/06/2019 at 17:33:14
Tony, that's exactly the point. The midfield was were the tactics failed. Those midfield three are completely unsuited to receiving, turning and beating that press, almost every time the ball came back to the defenders, then Pickford. No variety which made the Dutch press gain confidence knowing it was always going backwards. Any error would be a critical one.
He's picked two players in Delph and Barkley who barely start for their team and when they do not in those pivotal positions. Poor selection from Southgate and I saw no need to rest those players he chose to.
Jay Harris
71
Posted 07/06/2019 at 17:41:18
Tony,
If he is having a problem in his personal life Southgate should be aware of it and should have left him out last night.
We all know consistency and form goes with keeping the same group together.
Southgate always picks the flavour of the month and chops and changes the side hence we get the likes of Declan Rice, Jadon Sancho and Fabian Delph who should be nowhere near an England team and Rashford and Lingard are still under 23 level imo.
Paul Tran
72
Posted 07/06/2019 at 18:07:26
I think the Schneiderlin argument is more nuanced, Tony. He started very well in an OK-performing team, then was poor in a complete mess of a team. I've noticed on here in particular, there's a tendency to like players who 'look busy', so he was always one of the more likely players to get stick.
He played well at the end of last season, but for me, if we're going to chase the top six, he won't be a regular.
Tony Abrahams
73
Posted 07/06/2019 at 18:10:22
Southgate changed his formation though, and because England lack a bit of quality in midfield, then I'm not really sure that this was a good move, considering the Dutch, are a good team?
Playing out from the back, has definitely become a bit of an English obsession though imo, and although I like to see good football, (I love it actually) a lot more goals are scored by the high press causing mistakes, than they are by playing out from the back, and you only have to look over the park, to realise it.
Tony Abrahams
74
Posted 07/06/2019 at 18:21:27
I was meaning that the reason I didn't like Koeman, Paul, was not because I think he's a bad manager, more because he never put enough effort into the job mate, which was the same reason why Schneiderlin was roundly booed
John Pierce
75
Posted 07/06/2019 at 18:33:27
PT, re Schneiderlin. Has he ever truly got to grips with leaving United? He bombed there compared with his performances at Southampton not to near them again.
For me mentally looks weak and without the ball is very poor. When we were up against it that only exacerbated his weaknesses. He has some value but tellingly a higher than appropriate wage for his ability. That's the reason to move him on.
John Pierce
76
Posted 07/06/2019 at 18:33:27
PT, re Schneiderlin. Has he ever truly got to grips with leaving United? He bombed there compared with his performances at Southampton not to near them again.
For me mentally looks weak and without the ball is very poor. When we were up against it that only exacerbated his weaknesses. He has some value but tellingly a higher than appropriate wage for his ability. That's the reason to move him on.
Paul Tran
77
Posted 07/06/2019 at 18:48:55
John P, based on his alarming drop in percormamce, Id agree Schneiderlin is mentally weak.
Tony, I just don't buy this Koeman lack of effort stuff. He got a poor DOF who didn't get the players we needed, he clearly couldn't get through to the players and he spat the dummy out. I suspect there was plenty going on behind the scenes as well and he was the easiest to sack.
Leaving home on time doesn't make you a poor manager, but it's a very visible stick to beat him with.
James Stewart
78
Posted 07/06/2019 at 19:41:28
Wouldn't take Stones back on a free.
Frank Crewe
79
Posted 07/06/2019 at 20:19:24
The Golden Generation MKII. Over rated, over hyped and overpaid.
Terrible defence. weak midfield and puny attack. Only Pickford came out of the game with any credit. If it hadn't been for him it would have been at least 5-1.
No doubt the FA is lining up some weak opposition for them to beat so that the pundits can exaggerate how good "the lads" really are as we speak.
Mike Gaynes
80
Posted 07/06/2019 at 20:22:08
I sure as hell would, James -- as a defensive mid.
If he weren't the last man, his lapses wouldn't be nearly so damaging and his gifts would be put to better use.
I just don't think he'll ever have the judgement to be a top CB.
Nitesh Kanchan
81
Posted 07/06/2019 at 20:33:00
In my opinion England team has got a very bright future. Not for nothing they won the u 20 and u 17 World Cups. I think England will take the next step of winning trophies with the young lads coming through the youth teams. The likes of Foden, Hudson Odoi, Webster, DCL, Dowell, Loftus Cheek, Sancho will make a very good team in few years time along with the experience of Kane, Sterling, Keane and others.

Tactically Southgate got it wrong should have gone for three at the back with Keane, Stones and Maguire and started with TAA and Rose if he wanted to play from the back allowing Stones to get play as DM more like Guardiola utilise him at times.
Tony Hill
82
Posted 07/06/2019 at 20:47:22
Koeman had no feeling for Everton and had to go.
Stones is a fine player but needs to start fulfilling himself. He suffers from being so naturally gifted that he has got so far without really trying, and passing off his errors as the sort of lapses allowed to the gifted. He must lose the last bit, quickly.
John Raftery
83
Posted 07/06/2019 at 21:15:45
As one who attended this game sitting among a crowd of Dutch supporters it seemed to me the majority of players in both teams looked undercooked after three weeks or more with no matches. The England defending was comical to say the least but the game was there for the taking with better attacking play. As at the World Cup the team lacked a creative force in attacking midfield positions. Only Barkley showed any inclination to move the ball forward. The rest were too content to knock the ball back to the centre halves. Rice was industrious but no more than that while Delph was awful. With Walker and Chilwell both looking rusty at full back and Sancho and Sterling too often running into blind alleys it was left to Rashford operating with the minimum of service to pose any sort of threat to Van Dijk and de Ligt.
Yes, the English centre backs were poor but owing to the lack of midfield control too often their only safe options were to pass back to Pickford for a hoof upfield or to apply the order of the hoof themselves. The thing is of course they have both been encouraged to play out from the back and not resort to the hoof. With so little happening in front of them it was almost inevitable they made themselves look stupid.
The evening before I saw another game, Portugal v Switzerland, littered with errors by teams looking short of match practice and fitness. Joao Felix, for whom a ridiculous fee of £106m has been quoted, looked out of his depth. He is only 19, has pace and plenty of time for development but clubs must be barking mad to even contemplate paying such amounts for nothing more than potential.

Rob Halligan
84
Posted 07/06/2019 at 21:32:21
Watching the Denmark v ROI game. Shane Duffy has just equalised for the ROI, and has been outstanding all game. I'd seriously consider trying to bring him back if Zouma can't be signed permanently.
Andy Crooks
85
Posted 07/06/2019 at 21:37:10
International football is perfect for Koeman. Time for golf,loads of space, in fact I believe he will win the World cup. The tempo is perfect for him. He failed at our club because it was nothing more than a financial venture. We never meant a thing to him. Holland do. He will be special.
David Connor
86
Posted 07/06/2019 at 22:27:50
A friend of mine said to me I was mad to say I was glad to see the back of Stones and Barkley when they were sold to City and Chelsea.

After tonight's shambles I rest my case. They were not good enough then and they are not good enough now. To play for England is no great shakes these days as they are also not good enough.
Terry White
87
Posted 07/06/2019 at 23:15:16
Mike (#80), I agree with you completely. I see Stones as very much a defensive midfielder in front of the back line. Very much what Dier is doing for Spurs. Stones is top class player, and I mean "class", I'd take him back in a heartbeat.
Kieran Kinsella
88
Posted 07/06/2019 at 23:43:52
Rob Halligan
Duffy was born 10 years too late. Royle would have loved him to replace Watson alongside Unsie. They'd have given Adams and Bould a run for their money
Kieran Kinsella
89
Posted 07/06/2019 at 23:46:03
John 83
We've never had a creative mid since Gazza.
Tony Hill
90
Posted 07/06/2019 at 23:47:35
Sorry Terry and Mike @87 and@80, Stones doesn't have the body or capacity of a defensive midfielder (though I see the comparison with Beckenbauer in movement and attitude, blasphemous though that will seem to some). What you're really saying is that he's not good enough to be a central defender, so you're inventing a position for him elsewhere.
He is a natural born, God-given central defender (though with wider scope); he just needs to get his head out of his arse and start doing the work to focus his beautiful talent. Him and Holgate (another head wobble required) at central defence, that would be lovely thank you very much. I would buy him back immediately for that pairing, to be developed over the next two seasons.
I accept, of course, that none of that will happen, so it will have to be Keane and Holgate, please. I have high hopes of Keane, really high. It's just that he doesn't have the aesthetic stuff we like; Stones does. Ah, well.
Don Alexander
91
Posted 07/06/2019 at 00:21:07
No good, never mind great, centre-back in history has ever risked losing the ball in or near his own penalty area by doing a feint (or whatever) with an opponent right up his chuff - as Stones still regularly does.
He's now 25 but has never yet been selected for four consecutive games by Guardiola. He played next to no football in City's last third of the season or their Champions League campaign either. Hmm.
I hopefully said, years ago, that he had something of Beckenbauer about him but unless he gets his head out of his ass he'll only end up as memorable as "the great" Des Walker or Mark Wright.
(and as for the contention of David Luiz as a great centre-back, well, Darren Hind certainly does have a sense of humour after all!)
Alan J Thompson
92
Posted 08/06/2019 at 03:59:28
Or that old players conversation might end up saying that Know-it-all was right, we didn't learn anything and that is the problem, that they have to learn to cut out the silly mistakes which blights their better football.
Gerry Ring
93
Posted 08/06/2019 at 06:45:30
Rob #84. Oh to have Duffy back! No bullshit defender who will get you 7 or 8 goals a season. Martinez sold him because he felt his "ground game" wasn't good enough. It's good enough now. He gave a masterclass against Denmark & has been a rock for Brighton all season. He's certainly "head & shoulders" above Stones. He has unfinished business at Goodison, in my humble opinion!
Mike Gaynes
94
Posted 08/06/2019 at 07:15:47
Gerry and Rob, sorry, no thanks on Duffy. Yes, he's magnificent in the air. He's also hopeless on the ground. He's what he was when we shipped him out -- too slow, too ponderous, too unskilled on the ball for a club with ambitions. Remember Richarlison rounding him like a traffic cone at Goodison? Any attacker with any speed at all can do that to Duffy in the open field. He was good enough to help keep BHA up -- just barely -- but that's it. He's bereft of pace and passing. I don't think you'd even be talking him up if he hadn't played for us before.
Tony #90, no, I'm not inventing a new position for Stones, I'm suggesting the one I thought he should have been playing for us from day one. I saw him play it against Juventus years ago and was dazzled. He's a tremendously skilled player and outstanding tackler, but he's shit in the air and can't mark, and I've never thought he'd be a top CB because he lacks the mental toughness. Did you know he made a half-dozen appearances at DM for City this season? I still think his future is farther up the pitch, not last man.
And Tony, I'll bet you any amount that it won't be Keane and Holgate in the future, but Keane and Mina.
Gerry Ring
95
Posted 08/06/2019 at 07:54:48
Mike, we will agree to disagree however it's ironic that you're making a case for John Stones. Total liability & undependable. Believes in his own hype. We were lucky to get rid of him when we did before he was found out.
Darren Hind
96
Posted 08/06/2019 at 08:13:31
Yeah Don
Luiz will look at his player of the year awards. His title wins in Portugal, France and England. His cup winners medals in every country he has played in. His many caps for Brazil, His federation cup win. His two Europa cup winners medals and his Champions league winners medal. The fact that the world record transfer fee for a center half has been broken twice in order for elite clubs to sign him
And he'll think to himself "I must be one Jammy MF"
Darren Hind
97
Posted 08/06/2019 at 08:22:07
Duffy is a decent center-half and is imo considerably better than Mina, but you have to laugh at the suggestion that the he is "Head and shoulders above Stones".
While one has already won trophies and played for the world's richest club, the other will never win a thing and will never get near an elite club.
There are several very good reasons for that
Kevin Prytherch
98
Posted 08/06/2019 at 09:04:57
Mike 94 - Man City tried Stones here while Fernandinho was injures this season, presumably because of the qualities you point out.
He performed admirably, however the general consensus was that he wasn't a patch on Fernandinho. Stones has only ever had to receive the ball when he has the whole of the game in front of him, when in midfield he had to receive it and turn. The result was that Man City's high tempo game slowed significantly as he didn't have the speed of thought that Fernandinho did when receiving, turning and passing.
He did well, but without significant games in midfield he'll never make it there at a club challenging for the title. He will in defence.
Dave Abrahams
99
Posted 08/06/2019 at 09:09:57
Mike (94), remember Lukaku leaving Keane looking like a statue when he scored for us against Burnley. Duffy is slow as you say, doubt if Keane is any faster. I don't think he is good enough to be a permanent choice at the back, much too placid, lacks the aggression needed in this position.
He's not a patch on Alan Stubbs who also lacked pace but made up for it with other qualities, like reading the game and organising the defence. Keane gives me palpitations nearly every time the opposition attack.
Ray Roche
100
Posted 08/06/2019 at 09:27:22
I have to agree with Darren re Duffy. Decent centre half, good enough for BHA but, as people are always saying on here, "Would he get in a top six side" which is where we should be looking to be. Kieran mentions Adams and Bould. They would struggle to get a game in the Prem these days. The game has moved on and 90% of their tackles would be free kicks or penalties now. They didn't have the footballing brain that Stubbs has, as Dave mentions above.
As for Stones, I'd have him back, OK, there's a mistake there somewhere in some games, but can't that also be said of Keane? Or Pickford? Or Zouma?
And yes, he's better than Beckenbaur.
But Beckenbaur's 73 now.
John Keating
101
Posted 08/06/2019 at 10:02:26
There are times to play the ball out and times to just get rid.
Telling that after City got back on terms with the RS last season, certainly towards the end of the season the great pass pass pass expert Guardiola preferred the more no nonsense 200 year old Kompany to the young elegant Stones
Alan J Thompson
102
Posted 08/06/2019 at 10:14:51
Ray (#100); Yes, you'd take back Stones firstly at the right price and if we had a coach who can get the obvious faults out of him. To accept him without having the confidence that you can coach the errors that lead to conceding goals out of him is accepting mediocrity, not trying to improve him to what he could be and like some on here accepting second best.
If he had Duffy's tackling and aerial ability and cut out the obvious mistakes then there really is a player who could be Beckenbaur's equivalent but even Guardiola seems to have his doubts and having tried him in midfield positions he too sees a player but as a defender, one who makes too many unnecessary, easily omitable mistakes. I suppose you have to ask yourself which would you take first, Stones or Zouma.
Stand by for the Pelican to come in with his usual personal attack as he sees, unlike Stones, an alternative to his acceptance of something other than that which is in line with the club's motto.
Rob Halligan
103
Posted 08/06/2019 at 10:41:35
Mike #94. Each to their own I guess. For me a centre half (or centre backs, as they're more commonly known nowadays) should be there just for one thing, to clear the ball. Maybe not so much hoofball, but not play the way Stones tried to on Thursday night and end up losing the ball and consequently giving a goal away. For me, there has only been two CB's capable of bringing the ball out in such a manner, Bobby Moore and Franz Beckenbauer. Both classy CB's who never seemed to crumble under pressure.
I know possession is important in a game, but if the ball is 80 yards away from your goal then the opposition aren't going to score. Leave all the fancy stuff to the midfielders and forwards, when, should they lose the ball, it won't result in the ball ending up in the back of their net.
Ray Roche
104
Posted 08/06/2019 at 11:36:31
Alan J @102
If you could take Duffy's tackling and aggressive heading ability in the opposition box and Stones's undoubted calmness and ability to bring the ball out then you'd have some player!
As for coaching, I don't know what happened at Finch Farm but the penny must have dropped because our defensive record for the last part of the season was up there with the best. Maybe there is someone there who could improve Stones?
Alan J Thompson
105
Posted 08/06/2019 at 11:56:47
Ray (@104); His name wouldn't be Zouma, would it, a no nonsense central defender who doesn't hoof it or fiddle around with it before playing someone else in to trouble. Mind you, he does have Gomes rather than De Bruyne etc, so he must have something going for him.
Ray Roche
106
Posted 08/06/2019 at 12:05:32
Zouma and Stones. Only their mothers could tell them apart! You're right, Zouma knows when to get rid. Some player!
If only we can get Zouma, it'll make things so much easier! Chelsea have appealed to the CAS to have their ban overturned, apparently, so we can keep our fingers crossed.
Rob Dolby
107
Posted 08/06/2019 at 12:08:22
Stones would walk back into our team.
A couple of mistakes for England in a glorified friendly doesn't make him a bad player.
The "if in doubt, kick it out" mentality went out of football years ago thank god.
A modern centre back needs to be comfortable on the ball and start moves from the back. That's probably why Chelsea let Zouma go out on loan for 2 years as they think they have better footballing defenders.
Zouma has no doubt improved that side of his game meaning it will be hard for us to bring him in full time.
On the other hand, I wouldn't welcome Barkley back. He is punching above his weight at Chelsea thanks to his agent. Conte didn't want him and Sarri eventually dropped him.
Alan J Thompson
108
Posted 08/06/2019 at 12:24:19
Rob(#107); It is more than a couple playing for England and may be those against United and Watford should be taken into consideration but as you say, that doesn't make him a bad player but he is one who needs to know how not to make those sort of mistakes for him to be regarded as one of the best.
The same applies to Barkley and may be say Deulofeu as players of obvious ability who need a coach and team tactics to get the best out of their obvious ability. I'm not sure I wouldn't put the likes of Davies, Lookman and possibly Kenny and Dowell in that category as well. Sometimes you have to ask yourself how Digne seems to be so comfortable with what he does and how much is natural and how much improvement through decent coaching.
John G Davies
109
Posted 08/06/2019 at 12:31:09
Darren Hind
110
Posted 08/06/2019 at 13:04:58
I think this thread is really rather telling.
It provides a little window into the mindset of so many people brought up to "clear their lines". I think the most telling fact is after playing well in the world cup and all season for City. Some could not wait to jump all over Stones for a mistake in a tournament nobody will remember next week.
I'm glad Rob brought Bobby Moore into the discussion.
Moore was brilliant, truly brilliant, but to say he didnt have mistake in him or that he didnt occasionally take a gamble too many would be just plain untrue. I remember Jimmy husband picking his pocket twice in as many minutes. . .He got away with those. I also remember another when he was robbed when attempting to take a man on and it cost England a world cup place. He made far more costly errors in high profile games than Stones ever has.. . but if Bobby Moore didnt play the way he did, England would still be waiting for the day when they could call themselves world Champions. He was a giant. He was also a proper footballer.
Moore retired over half a century ago. . A succession of steady Eddies who knew "when to get rid" have followed and the national team have been systematically dispatched in every tournament since.

Stones was dominating not just City's defence. he was dominating their style of play. He was just too classy for top opposition trying to squeeze him - Most noticeably when he repeatedly side stepped the famous RS famous "High press" as if he was on the beach. . .City were winning games by cricket scores.
When he got injured and had to sit it out those who stepped in made it impossible for Guardiola to drop them. That's what happen when your team mates are world class too. . but in nearly all their games towards the end, it was pretty evident that City were not as potent going forward, they had to fight for almost every point. They were defensively sound, but they had stopped blowing the opposition away.
Luiz will be on the slide now, but Stones will be back playing for an elite club and will win many more trophies. The quaint little notion that they should have the risk "coached out of their game" made me laugh out loud.
It wont happen, because they wont let it happen. When a 20 year old is confident enough to tell 3,000 people to calm down. You can bet he believes in what he is doing.
The fact that so many on here were so quick to jump on an error from a former player, playing in a competition which only draws interest because theres nothing else happening would suggest Stones has not been forgiven. I'm sure he'll be distraught about that. He's winning and will continue to win trophies. . And years later, they`re still panicking
Ray Roche
111
Posted 08/06/2019 at 13:17:02
I saw Bobby Moore plenty of times. Great player. He also knew that on occasion he had to "get rid". So did Labone. In fact every top player has at some time, Luiz in particular puts the ball into row Z when required.
But they also have/had the other string to their bow because they had the ability to bring the ball out and to play football.
Fran Mitchell
112
Posted 08/06/2019 at 13:18:34
Yeah, Stones is crap. city should replace him with a 'propa' 'defenda' like Ashley Williams oh, shit yeah
Tony Hill
113
Posted 08/06/2019 at 13:45:19
Bobby Moore was great to watch but I remember him most fondly for passing to Alan Whittle who then ran from the halfway line to score superbly in our 69-70 title season.
Moore's performance against Pele et al in 1970 was, of course, magnificent.
Ray Robinson
114
Posted 08/06/2019 at 14:00:08
Darren, strip this conversation about Stones right back to basics. No matter how classy the lad is (undoubted), his recurring tendency to overplay from the back and take unnecessary risks is leading to cheap opportunities for the attacking side. Few people are advocating a return to the "clear it all costs" brigade - though occasionally this still remains the best policy! Football has changed from the old days - we nearly all recognise that.
But the fact remains that the lad can be a liability. Tony Cascarino's piece in the Times today is well worth a read.
Dave Abrahams
115
Posted 08/06/2019 at 14:07:43
I'd have Stones back in a heart beat, an excellent footballer, the only time I criticised him was the game versus Stoke City ( I think), three times he dribbled his man on the edge of the six yard box, never seen anything like it, absolutely ridiculous, he later gave a dubious penalty away, not sure it was the same game, that cost us the game. Apart from that it was a pleasure to watch him play for the Blues and it was obvious that he would go to a top team, Chelsea came in for him but we managed to keep him, probably with the promise he could go the next season.
I never hold it against him that he left us,he was a Yorkshire lad and had no allegiance to Everton, we made good money on him and made a good deal himself and went on to better things, with more happy days to come for him.
Brent Stephens
116
Posted 08/06/2019 at 14:14:14
Ray #114 Yes, Stones is undoubtedly a classy player and has some very fine skills.
"But the fact remains that the lad can be a liability. Tony Cascarino's piece in the Times today is well worth a read". And Daniel Taylor's full page article in the Grauniad today takes a similar tack ("Stones's failure to grow up").
Like you Dave (#115) I never held it against him to move elsewhere.
Kieran Kinsella
117
Posted 08/06/2019 at 14:25:38
Darren 110
It is about balance. When you're in the world cup versus Panama or in the premier league facing Troy Deeney or some lazy attacker like Sanchez or Lukaku, then yeah you can do Cruyff turns in the six yard box until the cows come home. But if you're up against a skilled attacker, who is pressing, and working his socks off, then you have to have some respect for your opponent. Yes Stones has skills but Dempay has better skills hence why he is an attacker and not a CB. So if he is all hyped up and not giving you an inch of space then you shouldn't just keep playing around as a point of principle. It is OK and wiser to just clear your lines. It doesn't mean you have suddenly become John Scales or Neil Ruddock. It just means that in that moment you made a correct tactical decision.
Kieran Kinsella
118
Posted 08/06/2019 at 14:33:21
Dave 115
Exactly. I never get this "so and so is a traitor he should have been loyal to us" unless we are talking about someone home grown who professes his love of the club e.g. Rooney, Barkley. Everyone gave Lescott grief but if he was loyal he would have stayed at Wolves to begin with. Ditto Lukaku at Anderlecht and so on. In Stones case the club seemed quite happy to let him go and reinvest the money. It was only after the Ashley Williams deal and other went south that suddenly people are second guessing the deal.
Alan J Thompson
119
Posted 08/06/2019 at 14:38:24
Make something up and pretend that all those who don't agree with you believe it to be the truth. Then pretend that he didn't make the mistakes that everybody has seen. After that try to say he is as good as we've ever produced, not because you believe it but that somebody else mentioned them in the same piece. Then say that all those who followed in the national team weren't actually up to it but that doesn't apply to said favourite as they play for a team, not their first, who have just had a magnificent season or two and therefore he must not have made those mistakes and if he did it's because he plays magnificent football. Then pretend you know what said player thinks.
And the conclusion; everybody else is wrong.
Then stand by to personally abuse others to cover the fact that not everybody, possibly not even the majority, agree with you.
Have an opinion by all means but don't abuse and call others names for having their own opinions.

John Pierce
120
Posted 08/06/2019 at 14:40:32
This thread is the twilight zone! Whilst Stones has some deficiencies, on his worst day he's better than most of the centre backs in the premier league will ever be on their best day.
He plays high risk, high reward football. Errors he makes are inevitably critical ones. So what? Are we balancing that out with the times he succeeds? Modern football demands that all positions give more than their nominal moniker. In sides who dominate the ball the back four can't just sit back and admire the rest of the lads! The number of outstanding, purely defensive centre halves, is dwindling, that's just not the game any more.
Duffy is an outmoded style of defender, Keane only slightly better. 'Rats' was more Stones than Duffy but we didn't mind him!
Stones will only get better.
Darren Hind
121
Posted 08/06/2019 at 15:13:12
Every player whoever played the game CAN be a liability. We've got a whole stable full of them and we don't get anything creative in return.
The reason I watch elite football is to see people do things with a ball that I never could. To take the risks I wouldnt dare.
All those steady Eddy stoppers named above - Zouma, Keane, Mina, Duffy etc may all be faster fitter and more athletic than me, but I never saw any of them do ANYTHING with a ball that I couldn't.. . and unless you have/had the touch of the arse end of a pantomime horse neither have you.
Stones does stuff us fans can only dream of doing. Not only does He take more chances than all of the above put together, He has been more successful than all of them put together. . . Wonder why that is ?
It's not that difficult to understand. . is it ?. . The more responsibility a player takes. the more he risks being a liability.
Every player Stones has ever played with has been more than happy to knock the ball and the responsibilty back to him knowing they are putting him under pressure. including world class players like De Bruyne and Silva. They know he is confident enough to draw players on therefore creating space for them he can put it back into.
It takes class, skill, awareness and enormous bottle to do what John stones does. He could very easily take the easy option and become a steady no nonsense type, become half the player he is, but why the fuck would he ? Why would he ditch his natural game because some don`t understand it ?
BTW Ray
You tube Poland vs England 1973.
Moore was never a row Z merchant. he had balls of steel and took responsibilty too. In even higher profiles games and as you can see. He sometimes paid a very heavy penalty - There were Philistines around back then too - but he was my fall time favorite non-Everton player. Loved him
Chris Leyland
122
Posted 08/06/2019 at 15:20:58
Darren, after all these years, I'm looking forward to you finally being given your chance in our starting 11 next season in central defence because, as you point out, Zouma, Mina, Keane etc can't do anything with a ball that you can't. All you need is a good pre-season to get yourself physically fit as them and you'll be ready.
Jay Harris
123
Posted 08/06/2019 at 15:27:57
Darren, Stones may have silky skills especially for a CB and can do things some of us lesser players cant do but thereagain so did Duncan McKenzie.
The key word is judgement and at the higher levels judgement is just as important as Skill and confidence or in Stones case overconfidence.
When it works the lad is a pleasure to watch but when you are the last man in defence any professional will tell you you do NOT take chances.
He could and should have passed it to Pickford and gone into space to receive it back but he didnt and as some have pointed out it is a major flaw in his game because it is a recurring theme.
Now that doesnt make him a bad player, far from it, but it does mean good opponents will look to exploit that.
Ray Roche
124
Posted 08/06/2019 at 15:28:07
Darren, I never meant you to think that I consider Moore to have been a Row z type of player, but, if necessary, like all players he'd do it if he had to. But his game was so good he rarely needed to. One of my favourite none Everton players too, along with Bobby Charlton. Great players, but with a dash of humility and modesty along with their undoubted skill.
Jim Baxter, Willie Henderson, John Charles, Alan Gilzean, Best. privileged to have seen such talent.
That could be a thread of it's own, favourite none Everton player. Tommy Smith anyone?
Brian Williams
125
Posted 08/06/2019 at 15:32:11
Darren. Stones lost England the game, and seriously if younthink you can do what Zouma and Keane can do then you've supped too much full strength something or other mate.
I, like you love watching elite footy and silky skills but don't want to see anyone in my team make schoolboy errors.
Stones has some great attributes but the truth of the matter is he, through making schoolboy errors lost England the game.
Jay Wood
[BRZ]
126
Posted 08/06/2019 at 16:02:05
AJT @ 119. A nicely constructed post.
The absolutism of some and their views is always entertaining on TW, even if not 'entertaining' in the way they possibly intended.
Between all the extremism (cutting both ways) about John Stones, there is plenty of reasonable and balanced views on the lad, and comparisons to our own players.
There are plenty who praise Stones and would welcome him back, but at the same time make the very legitimate point that he is prone to serious gaffs. This is known by fans and most certainly known by coaches and players. He can be 'got at' in certain situations.
Such was the case v Holland. Elite athletes take nano-seconds to make the right decision in-game. Stones had a 15 yards start and 4-5 seconds to do the right thing in the situation. His decision making was poor and it failed in the first priority in any defender's job description: don't concede a goal.
It was part of a general malaise from the entire England side on the night. Not only did they look physically fatigued, but also mentally fatigued.
I am 100% sure John Stones will be self-critical of his own performance, given his own words just 3 games into his City career under Pep Guardiola:
"We can all regroup from putting it in row Z sometimes. From last season [at Everton] to the start of this season [at City] I'm realising when to do it. That's where I believe I have come on quite a lot as a player.
"I was doing things before and then afterwards I would think, 'Why have I done that? Why haven't I just put it out in row Z?' Already I can see a difference in my decision-making."
Here's the link to the full article:
In his own words, then, it's not the case of being an 'either-or' defender - either a hoofer or a cultured ball player - but rather, an 'and-and', a defender capable of doing both as the situation demands.
Stones himself believes he is both.
He simply made the wrong play Thursday night.
Brent Stephens
127
Posted 08/06/2019 at 16:05:39
So, we're all agreed. Stones has wonderful skills. Stones makes shocking errors.
Ray Robinson
128
Posted 08/06/2019 at 16:06:09
Brian #125, Stones did indeed lose the game but it was a pleasure to watch wasn't it? Ok, maybe not. Jay #123, spot on - top players consistently exercise better judgement.
John Keating
129
Posted 08/06/2019 at 16:15:21
Brent
Indeed Stones has wonderful skills.
Stones, like all defenders, makes errors.
All players make errors
Stones, like all other defenders, from Bobby Moore to Beckenbauer to Labone to Luiz just has to realise that there are times when the ball has to be cleared route one.
Hoofing the ball out when circumstances dictate doesn't mean he's shite or a bad defender.
Actually it means he's learning from past mistakes and becoming a better defender
Some are just blinkered and can't accept anything but their own point of view
Tony Hill
130
Posted 08/06/2019 at 16:38:30
Mike @94, pleasing words from Mina's agent given the rumours of him going to Fenerbahce: "Yerry owes Everton and has to prove himself". If he comes good then hallelujah.
Tony Hill
131
Posted 08/06/2019 at 16:38:30
Mike @94, pleasing words from Mina's agent given the rumours of him going to Fenerbahce: "Yerry owes Everton and has to prove himself". If he comes good then hallelujah.
John Pierce
132
Posted 08/06/2019 at 16:42:00
Stones makes errors, yet so do the row Z merchants but they don't give you a way out do they? Had it been them on Thursday they would have made in all likelihood more errors and England would have been totally hemmed in. Just putting it into row Z doesn't alleviate the pressure it just delays the inevitable.
The number of times a player like Stones can beat the press versus the number of errors is so far in favor of the the former that it's completely worth the risk. Nothing wrong with his judgement just the execution, I bet he and both his coaches would want him to do the same time over. It's also worth noting Stones might have been the fall guy but the players in that system, especially the midfield three created most of that pressure because they were unable to carry the ball out of the press. They consistently left Walker, Stones and Maguire with little or no choice, no coincidence they all made huge errors. Walker gifted the ball to Depay, Maguire ruined down by his own goal line. It was only a matter of luck Holland didn't score. Yet the majority of the comments are all about Stones?! Make of that what you will.
Terry White
133
Posted 08/06/2019 at 16:43:41
I will return to Mike Gaynes's point that Stones is better equipped to be a defensive midfielder than a central defender where he lacks strength and aerial skills. In other words, he would fill a position that Schneiderlin held at the end of last season where he is facing the play, not with his back to it as a "regular" midfield player. Stones has the class and the skill to read the game, make the interceptions and then bring the ball forward or make the pass, a la Beckenbauer. Combine those skills with a player such as Gomes and imagine what our midfield could do.
Stones, in my opinion, will never be great central defender. He needs a strong player to be with him so Stones can be a "sweeper", a position long forgotten but to which he is best suited in a back line. Playing him in front of that back line is the obvious position for me. Pity we will not see it.
Stephen Brown
134
Posted 08/06/2019 at 16:49:25
My opinion, for what it's worth is that John Stones is one of the biggest myths in football!
Players these days seem to get lauded before they've earned it. He came into the Everton team almost by accident and had a few decent games and was decent on the ball! However the fact that he was English and young made people go totally over the top about him! This is partly because passing out from the back was the order of the day!
Naturally as a centre half myself ( at a very low level) I took a keen interest in watching him play closely. After a while it became clear to me that he is an average defender at best! He struggled physically against your Andy Carroll types and loses concentration and position against your Aguero types added to this his mistakes from over playing and he really is not worth his place in any top team despite being perceived as so good on the ball!
At the risk of sounding like a dinosaur defenders should be good at defending first and foremost and John Stones is average at best! Give me an in his prime Jagielka over Stones any day of the week despite his passing limitations! Of course if you want both skills it pains me to say you look no further than Van Dyke! ( hard to write that as I really can't abide him !!)
Stones is 25 now and really shouldn't me making these mistakes! Cruyff turns in extra time of a semi final at 1-1. Sorry but if I tried that in my team I quite rightly be crucified by my team mates!
John Pierce
135
Posted 08/06/2019 at 17:04:54
Stephen, I think that's the crux. Stones is a central half but he's rarely asked to defend in the way you describe, he need not be that good at it tbf. His skill set is staying on his feet, passing range, playing under the press the absolute antithesis of a by-gone centre back. He helps the team squeeze the opposition back into their half. Did you as a centre back do that? You most likely sat back and let the attacking lads do their job. The game at that level has changed, for years now we've lamented full backs don't defend as well because they're not asked to. It's the same for centre backs. Stones is the epitome of a modern centre back who would have a queue round the block for his services, Cruyff turn included.
Darren Hind
136
Posted 08/06/2019 at 17:06:48
Brian
We were not good enough to beat Holland.
There becomes a time in every close match when, if you want to win, somebody has to start taking risks. You either take them yourself or you expect somebody else to take them. The overwhelming majority of players will not put their necks on the line. Only the brave do that.
Stones knows he takes risks, Fuck knows enough people will tell him and he knows the consequences when they backfire - if his hands on his head or pained expression doesn't tell people that. they can always check out this blindingly insightful revelation in post 126. The guy has enormous belief in his own ability and that belief will dictate his decision making until the day he hangs up his boots.
If the defenders who don't take risks were immune to making game costing errors then it would be a different debate. but they're not. Safety first football is punished virtually every week, poor judgment when attacking corners is punished every week. lack of courage is punished every week. poor control is punished every week. . There will not be many defenders who made less mistakes than Stones did last season. He just makes the kind of errors the no nonsense crowd find unforgivable.
Me ? I find getting caught in possession when trying to play, infinitely more forgivable than conceding a goal because some lighthouse couldnt control it, or somebody panicked and wacked it out straight to an opponent. Or some clown could'nt judge the flight of a ball simple ale house ball.
This isn't what the hard of thinking would call "absolutism", nor is it about "extremism" (we`re debating football here ffs) Its about what people want to see.
Safety first football may keep you in a game, but it wont win it for you.
In over sixty years of watching the game I have yet to trouble the edge of my seat watching some one playing safety first. and other than one or two depressing examples I don't remember safety first winning too many trophies in that time.
I want to see risk taking and I want to see the risk takers succeed.
If people are so outraged by what they saw the other night, why watch? . the guy destined to become the most decorated English center back of his generation will continue to do exactly what it says on his tin.
Fuck. I wish he still played for us
John G Davies
137
Posted 08/06/2019 at 17:26:19
Posters are concentrating on Stones being liable to concede goals by his dallying whilst in possession. That's not his only fault. He regularly ball watches, not seeing runs made off him by forwards. He also loses his man at set pieces, was De Light his man for the goal he scored?

In my humble opinion John has improved massively since leaving Everton, in saying that he still has a mistake a game in him. As pointed out above there will not be many defenders who made less mistakes than him last season.

Two points contribute to that school of thought. He only played 20 league games. City have an average ball possession of over 75% for each game. You can't make defensive mistakes when the opposition haven't got the ball.
Mike Gaynes
138
Posted 08/06/2019 at 17:29:23
Terry #133, you said it better than I could.
John #120 and others, the other part of my criticism of Stones, aside from his judgement, is that he often doesn't do well on the fundamentals of defending. Specifically, as we saw on that corner kick, he's a lousy marker and gets caught out of position. Silky skills or not, you still have to do the basics. But John, you're absolutely right at #132, the other England defenders flopped as well.
Tony #131, thanks for posting that quote. I continue to predict that Mina will put us through hell for the first 20 games of next season with his rawness and mistakes -- and by January will be one of the best CBs in the Prem.
Don Alexander
139
Posted 08/06/2019 at 17:54:19
Darren, Stones received the ball in comfort, no hassling player really on him and elected take a risk by trying to outfox on the edge of his own penalty area an opponent only too keen to get at him given the previous times in the match where Stones had wobbled in possession.
That's not risk-taking, it's reckless and self-indulgent to the team's and fans' cost. The pass he made to start the offside goal shows the other side of him and that's the side that'll prevail in our memories if he ever manages to sort his own head out. Jay Wood (#126) quotes Stones himself as having said when he signed for City, "I was doing things before and then afterwards I would think, 'Why have I done that? Why haven't I just put it out in row Z?'", so even Stones himself seems to differ from you.
And on the "Cruyff Turn", well the first time I saw it the great man was on the edge of the opponent's area, not his own. 'Nuff said.
John Pierce
140
Posted 08/06/2019 at 18:06:14
Don, I'm afraid I don't believe you can have one without the other. If Stones lumps that ball into the crowd, technically gifted or not, that safety first mentality isn't there to play the pass which started the move for the offside goal, he doesn't play it because he stays safe. Kyle Walker walked the ball onto Depay's foot right down the middle in the 2nd half and Pickford bailed him out, but can Walker play the pass Stones' can? No way. I'm happy to take the rough with the smooth on Stones.

Oh I bet Cruyff would and could make that turn in his own area, arrogant S*B he was!! 😜
Ray Robinson
141
Posted 08/06/2019 at 18:16:39
Surely if Stones has admitted himself that on occasions he should put the ball into Row Z, this whole discussion has been superfluous?
Rob Halligan
142
Posted 08/06/2019 at 18:34:43
If only Sylvain Distin had decided on one particular occasion to put the ball into row Z rather than trying to play another pass.
Brent Stephens
143
Posted 08/06/2019 at 18:35:01
Ray #141 "Surely if Stones has admitted himself that on occasions he should put the ball into Row Z, this whole discussion has been superfluous?"
Amen to that.
Jay Wood
[BRZ]
144
Posted 08/06/2019 at 18:39:09
Ray @ 141.
Ya would think so, wouldn't ya?
Evidently not for some (or one in particular).
Hey-ho! DH is in the house! Groundhog Day!
Mike Gaynes
145
Posted 08/06/2019 at 18:48:08
Ray #141, one could argue that lots of the discussions here are superfluous. But that doesn't make 'em any less enjoyable, right?
Rob #142, I'd be willing to bet he thinks about that every day.
Dave Abrahams
146
Posted 08/06/2019 at 20:52:28
Rob (142), if Maryane Gueye hadn't been playing on the left wing that day Distin would have played the ball down the line, Distin saw him then decided to play it back to Howard. Gueye, another of Moyes's cock ups, that second half versus Liverpool was a monumental one.
Darren Hind
147
Posted 08/06/2019 at 20:54:56
That John Stones some times take a retrospective look and thinks he has taken the wrong option does not make the discussion superfluous - except for those who want to kill it
It simply means he is like everyone else on the planet. When it goes right he probably gives it little thought and when it goes wrong he thinks "I fucked up there"
Most of us would have known he knows when he'd fucked up by his reactions. . some, will have read about it and think they have unearthed a bombshell - no prizes for guessing who.
Nobody has disputed Stones makes occasional errors with his risky play, the argument here is about whether the rest of his game is strong enough to bracket him as a top player.. Would he have been so sought after by the likes of Pep and Jose if he played a safe no nonsense game ? if he did what the PEPM's wanted him to do, would have still been struggling in a team trying to crack the top eight ? Would he have won all those caps ?
If you want an example of a superfluous argument, you might want to take a look at the one which claims; He's crap in the air. He cant play center half. Not strong enough, Has no natural awareness, cant tackle. loses his man easily and fucks about with it too much
That argument has been laid bare, by the fact that he is one of the youngest center halves in history to have won the two medals playing against the finest opponents in the toughest league in the world.
Players like Stones and Luiz will continue to have to make more tough calls.
While the Steady Eddies of the premiership are impressing the shrewd judges by practicing hitting row Z in preparation for another fruitless, no nonsense season. Those two will have to decide which of their winners medals they are going to polish first.
No doubt the Philistines will be up in arms if they make the wrong call
Tony Hill
148
Posted 08/06/2019 at 21:18:20
Dave @146, I don't think any of us have got over it. But the real dagger to the heart was Gary Stevens's pass picked up by Whelan (or Molby was it?) in 1986. I replay those moments still. Let's hope fortune's wheel turns in time for us, mate.
Brian Williams
149
Posted 08/06/2019 at 21:23:09
Come on, Darren, it's not as black and white as you're making out, mate – it's about balance, just as this thread is about balance. There's a balance to be sought over intricate play from the back and ensuring safety.
Stones got the balance wrong, badly. There can't be any argument there. Anyone who watched the game knows he fucked up not once but twice. It doesn't make you a Philistine because you're annoyed that someone with his skills didn't also have the decision-making smarts to realise what he should have done rather than what he did do. He fucked up and he's gonna take stick for it. That's about the bottom line here really.
Going back to balance, I'd say that, if the balance between making mistakes that lose your team big games and successfully playing it out from the back under pressure gets out of kilter, then you need to readdress the balance.
I mentioned in an earlier post and I stick by it. It's all about decision-making and he made the wrong decision "twice" in a relatively short period of time. Didn't need to Row Z it, just needed to make a better decision.
Is he a top player as you say? Yeh he probably is. Did he fuck up royally and deserve a fucking good roasting for it? Yes he did.
Does being annoyed with what he did make me a Philistine? Not in my book, Darren mate, just makes me pissed off that England failed at the semi-final stage again when failure was avoidable with better decision making.
That's me done on it anyway. Time to look forward to arguing like fuck over work permits. 😁😁😁
Don Alexander
150
Posted 08/06/2019 at 21:24:55
Darren, were you in recent Brexit negotiating teams?
Brent Stephens
151
Posted 08/06/2019 at 21:30:06
For all his acknowledged skills – he fucked up in that game. That's all.
Rob Halligan
152
Posted 08/06/2019 at 21:31:36
Dave #146. I've been looking at your post for ages, and don't know if I'm missing something here, such as a sarcastic comment or whatever, but Gueye was years away from signing for Everton, which I'm sure you are well aware of, so I don't understand why you blame Gueye for the error by Distin? Or maybe you mean Marouane Fellaini? Or maybe I'm just missing something altogether.
Dave Abrahams
153
Posted 08/06/2019 at 21:33:49
Tony (148), I loved Peter Reid but I blamed him for that goal. All day, Stevens was hitting them all down the right-hand side for Steven or Lineker to run onto. But Reid signalled to Stevens to give it to him; that's when it was intercepted and when Liverpool won the cup, as you say, a dagger to the heart... more like a lance!!!
Darren Hind
154
Posted 08/06/2019 at 21:39:13
Fair enough Ray.
You're right, its not that black and white. Lets hope the cocky bastard drops a couple of monumental clangers against us
Mike Gaynes
155
Posted 08/06/2019 at 21:39:59
Darren #147, the fact is that he
is
crap in the air, regularly losing out to smaller players because he doesn't position himself properly for aerial challenges. As to whether he fucks about too much on the ball, I think that's been laid bare, all right. Time after blundering time.
Now, I don't recall anyone saying he lacks awareness or can't tackle -- hell, I think he one of the best-tackling CBs in the world. He picks great angles and executes them superbly. And his other talents are so extravagant that managers like Pep and Jose have found his potential irresistible.
But I would argue he has not yet fully realized that potential at 25, and I don't think he will. Yes, he again won a medal this year, but when that medal was at stake he was mostly on the bench. When the title was being decided in the final four games of the year, he played a total -- a TOTAL -- of eight minutes. Started only 3 of City's last 11 games. For the most important game of all, he was left out of the squad completely. When the chips were down, Pep didn't trust him. Gave him plenty of time to practice polishing the medal that his teammates won for him.
Stones has always had the potential to be elite. After 200 top-level appearances, I don't consider him an elite CB, and I don't believe he will be.
Dave Abrahams
156
Posted 08/06/2019 at 21:41:22
Rob (147) Gueye was the French winger who played that day, Moyes had dropped Drenthe after he had turned up late for training once too often.
Don't get you Rob over that sarcastic bit, why would I be that way?
Mike Gaynes
157
Posted 08/06/2019 at 21:43:05
Rob #146, I presumed Dave's post referred to Magaye Gueye. Wasn't he in the lineup that day?
Rob Halligan
158
Posted 08/06/2019 at 21:46:40
Bloody hell, sorry Dave. I've just looked up the team for that day and seen you mean Magaye Gueye. I'd completely forgotten about him. You should have mentioned his first name. Apologies.
Mike Gaynes
159
Posted 08/06/2019 at 21:47:50
Sorry, Dave, you and I posted at the same time.
I remember going to see us play Juve in San Francisco, and at the pregame Everton party there was an older gent wearing a Gueye #19 jersey. I chuckled to Lyndon that that was one shirt that wouldn't have any staying power as a souvenir. No Gueye nostalgia.
Dave Abrahams
160
Posted 08/06/2019 at 21:52:32
Rob (158), no problem mate, and to be honest he was very easy to forget.
Darren Hind
161
Posted 08/06/2019 at 22:42:34
Mike,
I thought I was done with this thread but you are not getting away trying to fob me off with that nonsense.
He played in the away grounds at all the top clubs – Chelsea, Arsenal, Liverpool and Spurs. They kept clean sheets at Spurs, Anfield and the Emirates... He also played in the 6-0 demolition of Chelsea and put in a MotM performance in the biggest game of the season against Liverpool... and Pep didn't trust him???
The Premier League is decided over 38 games and, despite injury costing him his place, he played considerably more games than Otamendi and Kompany – neither of whom played in those massive, title-deciding games... Yet THEY "won the league for him"??? My arse.
You`re sounding really churlish here and it doesn`t suit you.
.
Tony Hill
162
Posted 08/06/2019 at 22:44:23
Age and forgetfulness. I look forward to the day – not far away for some of us – when all I remember is a lovely tangle of Everton victories: teams, scorers, years (2019-20 heavily included) all melting into each other.
Mike Jones
163
Posted 08/06/2019 at 23:00:40
I'd sell Pickford. We need a better keeper.
Mike Gaynes
164
Posted 08/06/2019 at 23:32:31
Darren, you call my post
"nonsense"
and I'm being churlish? Good one.
Not sure where you got this "injury costing him his place" fairy tale, but it's not true. He was injured at Bournemouth in March and missed exactly one game because of it, at Watford.
The "massive, title deciding games" were the 14 in a row they had to win at the end. Even one draw would have cost them the title. Yes, one of those was at Chelsea, and Stones played the full 90. But down to the end, he was left out for LaPorte and Kompany. And the biggest game of all wasn't Liverpool, it was OT, and he was left out by Pep. Didn't even make the bench ahead of Otamendi.
You view it your way, and I'll view it mine, but when the season's at stake, you put your best 11 on the pitch, and Stones wasn't there. He was an unused passenger.
Andrew Keatley
165
Posted 09/06/2019 at 00:33:12
Fascinating thread.
Jay (123) finds the head of the nail for me; it's about judgement. It's about timing. It's about taking the advantage when you have it.
Defenders will always be scrutinised for the mistakes they make, and Stones is rightly under the spotlight right now. I like that he takes risks, and want him (and others) to continue to do so, but pirouetting on the edge of the area with no cover in case it goes wrong – and passing to a marked Barkley on the edge of the England area – were poorly calculated risks that had very little upside and huge downside.
I have always been a fan of his, and would love to have him back in Everton blue, but his judgement is far from world-class. I also think he can seem to coast at times, and is prone to lapses in focus/concentration. Ability-wise he is right up there though.
Derek Thomas
166
Posted 09/06/2019 at 02:01:25
Andrew @ 165; Talk about damning with faint praise. Ability-wise he's right up there, apart from - his judgement (which) is far from world-class. I also think he can seem to coast at times, and is prone to lapses in focus/concentration. Yep, apart from all those key things.
I'm with Mike Gaynes on this one.
I don't doubt, like Ashley Williams and Yerry Mina and others before him, he'll have, somewhere along the line, one good short, flatter to deceive tournament. Also, being a contender for an England spot is no big recommendation these days
The proof of the pudding (potential pun alert) will be if Pep offers him a new improved contract.
You never can tell, but I don't think any other top 6 team will be in for him.
Darren Hind
167
Posted 09/06/2019 at 06:52:21
Ha-ha, Mike,
You sound like the guy who couldn't bring himself to give credit to the Gourmet chef he didn't like and opted to praise somebody else because they served dessert.
Stones was reported as unwell before the game. Fair play to Kompany, he too is world class and, once he was in, he made himself undroppable... but take a closer look at your argument. After the minor injury, Stones was back for Chelsea and Man City smashed them.
In the remaining ELEVEN games, City scrapped their way to victory against Premier League juggernauts like West Ham, Bournemouth, Watford, Swansea, Fulham, Cardiff, Brighton (twice), Burnley and Leicester and – in the "toughest game of the season" – against an appalling Man Utd team who finished over 30 points behind them.
Unlike Otamendi and Kompany, Stones played the majority of games. He played against ALL the top teams, keeping clean sheets at Anfield, The Emirates and Spurs. He played in the REAL game of the season when Man City wrested back control against the RS - In fact he dominated it. The teams mentioned above all have top class players and City could easily have slipped up in one of those games handing the title to RS. They didn't.
Stones was imperious in those games. His poise skill and willingness to play was the catalyst for many a Man City attack. They were simply blowing teams away... He is a champion because he deserves to be. You can't change that fact.
And to say players who played in considerably less games against inferior opposition "won the title for him" demonstrates a resentment. Your reluctance and inability to give due credit is born out of the fact that you regularly want to portray him as somebody with a boatload of deficiencies. It does your argument no good at all when he keeps winning titles.
Chris @122
Only just seen your post. Get meself into training? I think that's a cracking idea.
I'm in my sixties. I'm two stone overweight. I drink unhealthy amounts of alcohol. I've only just recovered from a bit of a health scare. I have arthritis, suffer from Gout... and without me Giggs, I'm blind as a bat.
But if Yerry Mina can be considered...?
Tony Abrahams
168
Posted 09/06/2019 at 08:57:10
Just take up refereeing, Darren!
Stan Schofield
169
Posted 09/06/2019 at 10:39:08
Regarding John Stones, the posts that praise him seem to be correct, IMO, but so do many aspects of the posts that criticise him. In this respect, I found myself nodding agreement with both Darren Hind and Mike Gaynes. I think it's because, as far as I can see, Stones is a fantastic and consistent performer when he's playing in a setup that best suits him, but is vulnerable otherwise.
In this respect, he struggled with us when we struggled as a team, and is vulnerable with England at times because England are not as good and fluid a team as is being made out in the media. In other words, they've been a tad over-rated, and their basic mediocrity doesn't 'best fit' John Stones.
It strikes me he's a brilliant player when the team plays well, but vulnerable otherwise. He's not a player to raise a struggling or mediocre side. He fits in perfectly at Man City, and probably would fit in well at the likes of Real Madrid and Barcelona. He needs to be surrounded by outstanding players to bring the best out in him.
Some very good players are just like that. You wouldn't select them when the chips are down, but you'd be confident they'd keep a well-oiled machine working. It's not unusual for some very good players, world-class ones included, to be like that.
Eric Paul
170
Posted 09/06/2019 at 11:34:28
If John Stones and all our central defenders including Zouma we're available on a free which one would you take if you could only take one?
Rob Halligan
171
Posted 09/06/2019 at 12:19:03
Darren, sounds like you are in the peak of health then!!
Dave Ganley
172
Posted 09/06/2019 at 14:48:04
Stan #169, that's probably just about the most reasonable post on this thread. Stones does fit in very well at Man City because, if he does make a mistake, then it almost always is irrelevant due to the exceptional fire power they have in attack to score far more than the opposition.
At Everton and England, and, to be fair, most clubs really, they can't afford for a defender to make mistakes like that which leads to goals given away. Even the RS can't cede daft goals which is why Van Dijk was brought in to shore up their leaky defence.
Stones is a highly gifted player, of that there is no doubt; however, to make the step from a good player to a great player, then he needs to learn when to play out of defence and when to put his foot through the ball.
There is no shame in clearing your lines and it certainly doesn't make you a philistine to appreciate that a player has made sure that the opposition doesn't have the chance to score a goal. All the great centre-halves occasionally have to clear lines – it's just a part of the game – and doesn't make you into a hacker just because you do.
Paul Tran
173
Posted 09/06/2019 at 14:52:51
Darren #167, are you bragging or complaining? Get your application in for the VAR office!
Tony Abrahams
174
Posted 09/06/2019 at 15:05:56
I see the bookies are only giving odds of 1/100 that Everton will lose out on a major decision to VAR when they play Liverpool next season, Paul. You will need a few quid, but it's fucking buying money, unless Darren's application is accepted!
Paul Tran
175
Posted 09/06/2019 at 15:32:33
I'm not averse to a value short-priced bet, Tony, but even I'd walk away from 1/100.
You'd get better odds on Darren getting through the door into the VAR booth!
Tony Abrahams
176
Posted 09/06/2019 at 15:41:01
Even with all his ailments!
Paul Tran
177
Posted 09/06/2019 at 15:43:11
The ailments give us the value, Tiny.
Colin Glassar
178
Posted 09/06/2019 at 16:12:10
VAR, IMO, is a double-edged sword. It takes out a lot of post-match talking points in the pub but it might also mean that the Sky 6 might end up mid-table next season. So many dodgy decisions go their way season after season.
Tony Abrahams
179
Posted 09/06/2019 at 16:23:53
Wait and see, Colin, they say that camera's don't lie, but I'm not so sure about how that's going to be perceived by the powers that be in the control room though?
Kunal Desai
180
Posted 09/06/2019 at 16:47:04
Looks like we have a new penalty taker for next season
Brent Stephens
181
Posted 09/06/2019 at 16:48:02
Impressive, Pickford!
Rob Halligan
182
Posted 09/06/2019 at 16:50:02
Great penalty by Jordan, and a great save to win it for England.
Brent Stephens
183
Posted 09/06/2019 at 16:50:07
And again.
Rob Halligan
184
Posted 09/06/2019 at 16:50:54
Oh, and I see no RS player stood forward to take a penalty. Gobshites.
John Pierce
185
Posted 09/06/2019 at 16:56:15
Rob, I salute your bitterness. I did think I was up there, I now seek only to emulate you.
#upthebitterbloos!
Alan J Thompson
186
Posted 09/06/2019 at 16:57:17
The King's new clothes: Great players make more mistakes than others.
Andy Crooks
187
Posted 09/06/2019 at 17:11:39
I bow to no-one in my admiration for Shane Duffy. I watched him as a young player, supported him in his decision to opt for Ireland, was proud when he made his debut for our club.
When he was sold by... the lamentable Martinez, I was truly gutted. I genuinely saw him as our future captain. Imagine Duffy and Ratcliffe as our central defensive pairing; it would have been formidable.
In the dark days of Allardyce, I would have loved him back. It is with a heavy heart that I feel Duffy and Everton and parted for good and I believe, on reflection, it is for the best.
Champions League is our goal and I believe that Shane would struggle. Now alongside the right player, Stones for example, he could get away with it, maybe more than that (see how I already doubt myself). I see Stones and Zouma as the dream team but Zouma will be gone and Stones is never coming back.
So, I believe it will be Holgate, Mina and Keane. I think Holgate can be our new Stones, Keane the new Jags... and Mina, well I have a feeling that, when he settles, and if he is given time and patience, he will be fine.
If Shane came back, it would give me a huge buzz, but that ship has sailed.
Colin Glassar
188
Posted 09/06/2019 at 17:17:58
Rob, if you ever want to start a BitterBlues.com website count me in. I hate them with a passion.
Jay Wood
[BRZ]
189
Posted 09/06/2019 at 17:20:36
Haven't watched the game - just caught up on the result now and sort out highlights of the penalty shoot out.
Jordan the man! I love the CR7 pose before taking his stonking pen. And a top-top save to win it.
He looked like the only England player who took serious delight in the victory and celebrated with gusto.
Another penalty shoot out he has won for England.
Good on yer, lad.
Rob Halligan
190
Posted 09/06/2019 at 17:29:09
John and Colin. Did you hear what Carragher said during the post match analysis? That he'd have Joe Gomez in ahead of John Stones. What a fucking utter bellend he is. Then when they were discussing the pens he kept his horrible gob shut. Couldn't bring himself to give Pickford any praise.
Mike Gaynes
191
Posted 09/06/2019 at 17:34:10
Nice callout for Tim Cahill this morning in the Women's World Cup. Samantha Kerr of Australia scored and ran over to the corner flag for a quick sparring session.
John Pierce
192
Posted 09/06/2019 at 17:37:47
Rob I never understand what Carra has to say, too much spit. Maybe one day he and Bob Carolgees might get back together.
John Pierce
193
Posted 09/06/2019 at 17:46:27
One of my favorite keepers was Chilvert. His performance v France in '98 was right up there. Pens and free kicks no probs for him. Jordan! 👀
Colin Glassar
194
Posted 09/06/2019 at 17:49:41
Rob, a couple of seasons ago I stopped watching the Sky/BT pre and post match talk as it was doing my head in. Both are rs retirement homes (for the mentally infirm) so, as I don't give a toss what Messrs Carragher, Redknapp, Owen, Macca, Sourness etc have to say I simply just watch the game then turn them off.
I've cancelled my BT subscription as I refuse to contribute to Robbie Savage's wage. Another rs btw.
Martin Mason
195
Posted 09/06/2019 at 17:55:24
Our goalie is possibly the best in the world. His saving skills are top class and his distribution is little short of amazing especially those balls down the line. He has a rush of blood to the head very infrequently but that is non-existent compared to his massive positive points.
He is one of our best buys ever and we are lucky to have him, that he has become a real blue is also great. That he is young is another fantastic bonus. I love his eccentric behaviour.
John Pierce
196
Posted 09/06/2019 at 18:05:23
Martin that is the exact argument for Stones. His pros far outweigh the cons. Spot on.
Dermot Byrne
197
Posted 09/06/2019 at 19:37:20
Pen score and save by Pickford. Rubbish that lad!
Colin Glassar
198
Posted 09/06/2019 at 19:44:18
Pardon my ignorance but why isn't Gomes in the Portuguese team tonight?
Darren Hind
199
Posted 09/06/2019 at 19:59:24
Colin
Talking of Robbie Savage. I was very sorry to hear Justin Edinburgh past away today. I had the great pleasure of being involved in several coaching sessions with him. Even when he was playing for Spurs he couldn't resist getting involved. All the fun in the world. He'd try anything once. Eventually became coach of Rushden & Diamonds when they made their bid for glory in the noughties.
Edinburgh was a decent defender for Spurs for years, but perhaps his most famous moment was when he squared up to Robbie "Wanker" Savage at Wembley. Having initiated it, Savage went down as if Mike Tyson had hit him and stayed down. Edinburgh got his marching orders. He was eventually awarded his medal because slow-motion pictures showed there was no contact whatsoever.
Loving your stance. What a disagreeable fucker Savage is...
Paul T and Tony A.
There are no circumstances under which I would rule in RS favour of the RS. If I get the job... Lump on!

Mike Gaynes
200
Posted 09/06/2019 at 20:13:26
Colin #198, he's been on fringe status with the manager Santos ever since he fell off the map at Barca -- only two appearances in the last two years. I think he has to play his way back in with a good league season.
JP #193, I had the same thought. I saw Chilavert play a lot in South American qualifiers and tournaments. What a keeper, and what an artist on dead balls. I believe he scored about 40 league goals in his career, and I know he scored 8 for Paraguay.
Jay Wood
[BRZ]
201
Posted 09/06/2019 at 20:25:57
Now watching Brazil-Honduras, final warm up game before the Copa America kicks off this week.
8 mins in, Jesus scores for Brazil thanks to 3 quick plays by our boy, recognized by the commentators:
"Richarlison is becoming the inspiration, the great hope for Brazil in the Copa America."
In (yet another) absence of Neymar due to injury, Brazil is desperately looking for a new 'main man'. Irish fans may like the fact that in Brazil the playmaker is called 'the Craque' and the MotM 'o Craque Do Jogo'.
And there is a growing belief in Brazil that the new Craque could well be Richarlison.
And whilst I write this, he plays Coutinho in, clear on goal with just the keeper to beat, but the Barca man pulls it wide when it was easier to score.
Paul Tran
202
Posted 09/06/2019 at 20:29:18
Cheers Darren, it's a few years since my last 'insider trading' experience!
Jay Wood
[BRZ]
203
Posted 09/06/2019 at 20:39:37
Foul on Richarlison wins a penalty - Coutinho scores. Now 3-0 Brazil with Honduras already reduced to 10 men.
Darren Hind
204
Posted 10/06/2019 at 04:14:51
Getting told last night (by an ex-player) that Stones has been suffering mentally for a few months, which would kinda support the comment made by Ally McCoist that his personal problems were well known inside the game. In light of this, something Tony A posted (59) which didn't really mean much to me at the time, suddenly makes sense. Tony has clearly heard something.
Which begs the question; Do I believe the best centre-half this country has produced in decades was taken out of the firing line by a manager who was a little more astute than Southgate...?
Or do I believe the cockeyed theory that, after playing so brilliantly against all the top sides in this country, often keeping cleans sheets in the process, that Pep suddenly lost confidence in his man? On the back of the 6-0 mauling of Chelsea???
Tough call
Peter Warren
205
Posted 10/06/2019 at 08:08:32
I like Stones and actually have no issue him playing it out of defence as he ordinarily does it well. I appreciate he didn't against Holland but I rarely recall him making mistakes like that. It's his defending I take issue with - positionally, I consider he's poor.
Whether or not you think he is an excellent player, to me there's no doubt any team with him in has a soft centre.
James Hughes
206
Posted 10/06/2019 at 08:24:58
Darren, there were articles in the tabloids yesterday. Stones left his girlfriend of 9 years is now with a girl who is pregnant and well known to the team, make of that what you will.
Apparently there is a WhatsApp group and Stones has been given loads of stick on it. Saying how could he dump his girlfriend for the other. Allegedly the two events are not related. Stones is very unhappy being the centre of attention.
Stan Schofield
207
Posted 10/06/2019 at 10:21:36
Any player, no matter how good they are, will suffer a loss of form or make mistakes even when they're on good form, and John Stones is no exception. Trying to fathom out the reasons behind such things is quite ridiculous unless you're in the player's professional and personal inner circles, which I doubt anyone on ToffeeWeb is. So any comments on here on his personal life are simply nonsensical gossip. This is ToffeeWeb, not a women's gossip magazine.
Matt Traynor
208
Posted 10/06/2019 at 11:54:23
I didn't see the game as I was on holiday in Asia, but saw on Facebook people pointing out that the Hate Mail reported as "two errors from ex-Everton players Stones and Barkley". Sorry but one plays for Man City, and one for Chelsea. The continued media hyping of the top 4/5 and denigration of the rest really ruins the game for me.
Tony Abrahams
209
Posted 10/06/2019 at 12:41:25
I was told he came home and told his childhood sweetheart and mother of his child that he didn't want to be with her no more, James @206. (Now after one bad game for England and it's in the tabloids...)
Remembering how he was crying in the service station after receiving a bit of stick from Evertonians, then I would think that this is a much bigger deal for the kid (yes, he's still only a kid) and will definitely be affecting him mentally?
Tony Abrahams
210
Posted 10/06/2019 at 12:46:08
Agree Stan, but you only have to see the state of the head on him (hair-style) to see that he's definitely not himself at the minute.
And if he's traded his proper bird in, for one of these clever little gold-diggers, then I wouldn't be surprised if we've already seen the best of John Stones...
Dave Abrahams
211
Posted 10/06/2019 at 13:56:16
Tony (209-10),
Yes, John Stones was a nice genuine home bird, both he and his long-time girlfriend preferred the quiet life, as did both their families. Being in the public eye a lot more has changed their lifestyles and I think John, apart from being a genuine lad was maybe very naive and not very street-wise, he'd be eaten up by the wolves who hang around footballers these days.
It's a very sad tale for both families to absorb and John will most probably rue the day he finished with his young girlfriend. That's life and life is not a fairy tale.
Tony Abrahams
212
Posted 10/06/2019 at 14:25:48
Well it wasn't when I was growing up and having to live with you Dave! What?
James Hughes
213
Posted 10/06/2019 at 14:37:22
Stan just posting what may be a reason for Stones's issues. I have no opinion on the matter myself and wouldn't dream of judging him or anyone else.
You're not quite right on your last sentence though mate. There are a few who could more than fill the shoes of Les Dawson & Roy Barraclough. 🤣🤣
Brian Williams
214
Posted 10/06/2019 at 14:44:55
Come on Tony I bet it was like the Waltons (tv not Wallasey) in your 'ouse as a lad. 🤣🤣
Dave Abrahams
215
Posted 10/06/2019 at 14:50:53
Tony (212), funny, I always thought you were happy growing up, mind you,I know was when you left at sixteen to work away, deliriously so.
Brent Stephens
216
Posted 10/06/2019 at 15:14:01
Stan #207 "This is ToffeeWeb, not a women's gossip magazine".
If I can just hitch my bra up while responding. I sympathise with anybody going through personal problems, even though they might have made foolish decisions. In the case of Stones, I don't know what the true story is but Laurel and Hardy (sorry, Dave! sorry Tony!) seem to have their ears to the ground on this one.
Having said that, his defensive cock-ups are nothing new so I guess can't just be put down to his current personal problems.
I wouldn't mind earning their money - not that it would turn any female heads in my direction, not given my age and looks. Mind you, I can stumble as well as Stones.
Tony Abrahams
217
Posted 10/06/2019 at 16:14:16
I used to get sent on that many messages I felt like I was all of those Walton kids Brian!
I think it's true Brent, and another fine mess, might only be half of the tale, for young Johnboy!
Ray Robinson
218
Posted 10/06/2019 at 16:30:04
Please don't think me unsympathetic to personal problems but how does such an issue, however debilitating it may be, lead to a player foolishly and unnecessarily losing possession on the edge of his own area? It might lead to him withdrawing or stepping down from the squad but an individual error like that surely can't be put down to personal issues?
Kieran Kinsella
219
Posted 10/06/2019 at 16:35:46
JP 193, Mike 200
I loved Chilavert. On the Championship Manager I would always sign him although the computer version of him as a so-so goalie and not really prone to taking free kicks etc. Nonetheless, he was part of my Everton team that won the league 5 years in a row plus the European Cup. What a team I had: him, Rio Ferdinand, Shkodran Mustafi, Steve Guppy such a realistic simulation of real-life football.
Darren Hind
220
Posted 10/06/2019 at 19:17:42
Oh dear
It only takes one guy to fail to understand a point and before you know it others are following over the cliff.
Stan
I've scoured the thread and I cant find a single post suggesting Stones drop off in form was down to his personal problems. Reason ? There was no drop off in form. No excuses were needed.
My post was a counter to the claim that after playing him in over 90% of the games, including head to head battles against all the top boys. Guardiola decided ( after their best performance of the season ) that he doesnt trust Stones.
I heard The guy was having personal problems from some very credible sources and thought that was a far more credible reason for Guardiola to leave him out.
A quick scout around social media has confirmed that Stones IS getting stick from a substantial group of fellow professional. Its fact as opposed to the idle gossip you portray it as.
In today's day and age, you don't need to be belong to a players "inner circle" to know whats going on.. . social media tracks the every move. Ally Mc Coist was not muck raking or "gossiping" He was reporting the facts.
Whether people believe Pep dropped Stones because he knew about this issue, or whether they want to buy into the crackpot theory that He suddenly decided he didnt trust him after all those impressive performances is up to the individual. I personally don't care either way.
But to suggest anybody is using Stones's reported personal problems as an excuse/reason for his imaginary drop off in form. is - to use a phrase of yours "Nonsensical gossip".
Andy Crooks
221
Posted 10/06/2019 at 19:33:18
Ray, it can, it absolutely can. Some days you walk to work with a spring in your step.It is personal,a tiny worry can eat your heart out. These lads are vunerable.
Brian Harrison
222
Posted 10/06/2019 at 20:18:53
Darren
I have just looked at how many games Stones started for City since the 16th Feb, he only started 3 games for City against Bournemouth, Cardiff and the league game against Spurs that was in between their 2 champions League game with Spurs. He didnt play in any of the Champions League later stages games or the quarter or semi or final of the FA Cup.
Now that isn't a lot of games for your first choice centre back in the crucial time of the season. Also it seems that Pep wants Harry Maguire to partner Laporte for next season.
Ray Robinson
223
Posted 10/06/2019 at 20:31:49
Andy, I know from previous posts of yours and from the recent increased publicity given to mental health, that even the slightest personal problems can lead to a drop in efficiency- in any job. I'm not arguing otherwise. It's just that I don't believe a personal issue would lead to that individual error on that particular occasion. In fact, if I was that preoccupied with extraneous affairs, so much so that I couldn't reason clearly, I would have just cleared the ball or made a simple back-pass rather than invite further problems by cocking up, which then only magnifies the guy's problems through the resulting abuse.

Rather I think the type of mistake that Stones made is down to his character make-up and poor decision-making. It's not as if the it's the first serious error of that type that he has made, is it? He has previous. I think Pep knows this despite Darren's protestations.
Tony Hill
224
Posted 10/06/2019 at 20:54:53
A Life Too short: The Tragedy of Robert Enke, by Ronald Reng, is well worth a read.
Darren Hind
225
Posted 10/06/2019 at 21:39:58
Brian,
Goodness me, you detractors are getting desperate...
It's long been established that he was left out for most of the last lap of the season. Mysteriously after playing very well against Chelsea when Man City kept a clean sheet? He was left out of the squad completely.
You're right, he did play against Bournemouth (clean sheet), Spurs (clean sheet), and Cardiff (yet another clean sheet) and, as evidenced by the obvious pattern, the "drop off in form" is a simply foolishness, trumped up by those desperate to discredit him.
You are also correct in saying he was left out of the Champions League games against Spurs... remind me, how did that go?
Despite his absence on the last lap of the title race and the games he missed through illness and injury, Stones still played 24 times last season. I find it very sad that because a player has made an error in his first game for 9 weeks, people want to jump all over it and pretend he's been making errors all season. He hasn't. He's been a joy to watch... and he's a Champion.
Andrew Keatley
226
Posted 10/06/2019 at 21:40:04
Darren Hind (204 and everywhere else) - Blimey, you've really gone a bit far now.
I'm a big believer in John Stones but calling him "the best centre-half this country has produced in decades" really does show limited objectivity. He's got a long way to go before he gets even with players like Tony Adams, John Terry, Rio Ferdinand.
Sure, he's got a lot of ability on the ball, but his core defensive skills are still significantly short of those three -- and quite a few others from the last 20-plus years.
I hope he proves himself to be worthy of comparison with the best of his generation, but right now he's still largely potential over execution.
Eddie Dunn
227
Posted 10/06/2019 at 22:05:39
John Stones is still making the same sort of errors that he was making with us. His England performance was interesting because he was playing with players largely inferior to his club colleagues. The style encouraged by Guardiola may thrive with his quick-witted City goalie and his mates who are well versed in such pay.
However Stones displayed a rather stupid arrogance and, although he is good on the ball, he needs to remember that his game is studied by his peers and obvious "Cryuff turns" will be punished.
The pass to Barkley was unfortunate and the knackered Barkley got his legs mixed-up.
John Stones is a super player and surely will learn from such incidents. Perhaps his fall from grace will bring some more humility to his play.
Brian Harrison
228
Posted 10/06/2019 at 22:13:43
Darren,
I didn't try to discredit him, I just pointed out that, since the middle of February, he only started 3 games, 2 of those against teams in the bottom half of the table. So my question is: if he as good as you say, then obviously Guardiola chose to hardly use him at the most important part of the season... why?
Stones is an elegant player and has lots to admire, but he does have shortcomings which you fail to see. Guardiola chose Otamendi and Kompany ahead of Stones for the crucial run-in, and I think I will side with the judgement of possibly the best coach in world football at present.
Stan Schofield
229
Posted 11/06/2019 at 08:38:10
James @213: You're spot on with that last sentence. But despite occasional appearances, ToffeeWeb is definitely not a women's gossip magazine.
John G Davies
230
Posted 11/06/2019 at 10:32:56
Brian 222 & 228, Good points.
I would back the judgement of the best coach in football too. If he buys Maguire, a player much derided by some on these pages when it was suggested by ToffeeWeb posters that we should have bought him, I will back him on that also.
Hopefully John Stones will go on to be the best centre-half in Europe. He has a fair way to go to achieve that, in my opinion.
Darren Hind
231
Posted 11/06/2019 at 19:16:06
Dear Me Brian 228
I've done my best to respond to any post directed to me, but how many times do you want me to answer the same question ?
I don't know if you want to browbeat me into accepting the crackpot theory that Pep suddenly decide he didnt trust Stones after selecting him to play at the grounds of ALL the top teams and on the back of five personal clean sheets for the player...Sorry. That wont be happening. it's pure conjecture and invention. You want it to be true because it fits your argument but you really don't know. . Stop pretending you do.
The reports about Stones struggling to handle social media jibes about his new girlfriend coincide with the time Pep started leaving him out. Maybe Pep decided his head was gone and would`nt risk him. Maybe he thinks he`s a complete tart for letting it bother him . . who knows, We none of us have the facts, but it seems infinitely more plausible to me.
I must admit you and JG Davies gave me a genuine laugh out loud moment when you both declared you fully agreed with the judgement of the Guardiola when not playing Stones when City faced mainly lower placed sides in the last 11 games.. . presumably you both thought "the best coach in the world" was making a complete fuck up when selecting him EVERY TIME he was fit in the first three quarters of the season.
One thing is certain, If stones had have made all those errors his detractors on here have claimed he made last season. One of them would have put a few examples up. . They haven't, They wont. They cant.
As for Maguire;
I'd heard nothing of those reports linking him to City so I googled it to find out where the reports originated. . I might have known.
No comment from me on that point
Mick Hoban
232
Posted 11/06/2019 at 20:29:26
Eds - what happened to the 5 post rule ? Does it only apply during the season? Love this site. Love the banter. But my God - some of these threads just go on and on.
"In my opinion" Stones will reach his potential and "In my opinion" Barkley will flatter to deceive. But they both fucked up. And the best do occasionally. Deal with it.
Give your opinion and then get on with your life. For the sake of all of us (Happy, smiley face emoji).
Lock and load - see you when there's a signing

John G Davies
233
Posted 11/06/2019 at 21:03:11
https://www.premierleague.com/players/4505/John-Stones/stats
That's just the errors that ended up in goals. There were dozens more that didn't end up in a goal. If any more detail is required it's quite easy to find.
Nothing personal against John from my part. Where would be the logic in personal attacks against a person I didn't know. I rate him as a player I would have at Everton. Just don't agree with the tags he is given "best defender in Europe" etc. He's not even the best defender at Man City in my opinion.
Brent Stephens
234
Posted 11/06/2019 at 23:59:34
Mick #232 - they have to be 5 different posts. If you keep saying the same thing over and over, it doesn't count. I say, if you keep saying. the same thing.
Don Alexander
235
Posted 12/06/2019 at 00:58:50
I have adhered to the "five-post" rule in my participation (some others having stated, in words, that that's the limit of my intellect admittedly) but I do sometimes wonder whether curtailing the likes of Darren "Groundhog" Hind and the Brazilian Nut who coined that phrase about him might not just lessen the (inadvertent as far as the two of them are concerned) comedic value of their jousts.
David Cash
236
Posted 12/06/2019 at 12:27:25
John -post 223
I think you post settles this argument. Stones clearly has made mistakes that have lead to goals. Pep won't tolerate that which is almost certainly why Stones was left out
David Cash
237
Posted 12/06/2019 at 18:32:20
Oops
On a thread about errors, I've put one in my own net. I was just searching for other players on the website John put up and I realised there was a filter. The seven errors in JS's. stats are based over his entire career. Most of them as with us. If you filter on the years, he actually hasnt made one in the EPL which lead to a goal for three years.
I just thought I would say before somebody jumps down my throat

I'll go back to reading instead of commenting. LOL
John G Davies
239
Posted 12/06/2019 at 20:49:00
David 237, you're safe, mate, you didn't score an own goal.
I was pretty sure John had made errors resulting in goals while playing for City. Had a spare 5 minutes and checked:
https://youtu.be/vaRiH7bMbkI
Play it with no sound Dave. Unfair to a decent player.
Add Your Comments
In order to post a comment, you need to be logged in as a registered user of the site.
Or Sign up as a ToffeeWeb Member — it's free, takes just a few minutes and will allow you to post your comments on articles and Talking Points submissions across the site.