Jonjoe Kenny will join Schalke on loan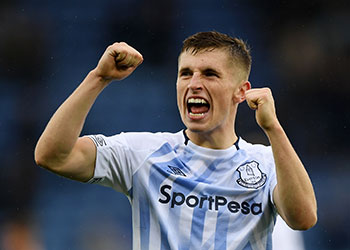 Shaun Botterill/Getty Images
It has been confirmed that Schalke 04 have signed Jonjoe Kenny on loan for next season.
The Bundesliga side, now managed by ex-Huddersfield Town boss David Wagner, will take the 22-year-old Finch Farm Academy graduate for 2019-20 amid speculation that Everton will look to sign a more experienced backup to Seamus Coleman.
Kenny, who made nine appearances deputising for the Irishman this past season but has yet to convince Marco Silva that he is ready to step into the role on a more consistent basis, will join up with his new team after the UEFA European Under-21 Championships with England this summer.
Kenny is the second Everton player to be loaned to a club in Germany. Ademola Lookman spent the second half of last season at Red Bull Leipzig and scored five goals in 12 appearances before returning to the Blues' fold.
---
Reader Comments (183)
Note: the following content is not moderated or vetted by the site owners at the time of submission. Comments are the responsibility of the poster. Disclaimer
Alex Fox
1
Posted 10/06/2019 at 15:42:13
He should hopefully see plenty of game time as they're lacking at right back. Tend to favour a 3-1-4-2 formation, so will be interesting to see if he forms part of the back three, or is pushed into a more attacking role.
David Pearl
2
Posted 10/06/2019 at 15:58:00
Unbelievable opportunity for him. Let's hope he plays lots of games and comes back better for it.
Dave Abrahams
3
Posted 10/06/2019 at 16:12:19
Alex, I wanted Jonjoe to stay and cement his place here but, as you say, he should get plenty of games in Germany and prove his worth.
Best of luck, Jonjoe, but don't get too attached to Germany, you belong here!
Tony Abrahams
4
Posted 10/06/2019 at 16:16:29
Brave move that by Jonjoe, I hope he does well, really enjoys himself and comes back to Everton a much better player. Good luck kid!
Paul Birmingham
5
Posted 10/06/2019 at 16:16:41
Best of luck to Jonjoe Kenny, and I'm sure the Bundesliga will give him a new lease of life.
He'll improve as he'll get regular game time and I sense also Wagner rates him highly.
Let's wish him well and to success this next season.
Alan J Thompson
6
Posted 10/06/2019 at 16:22:01
I find it difficult to believe we would loan out Kenny which I suppose means Holgate will be second-choice right-back but I really don't fathom announcing it now when he is to go out with England U21s. Unless of course there is some truth in Everton's interest in right backs like Meunier.

Kieran Kinsella
7
Posted 10/06/2019 at 16:25:19
Wagner loves to attack so it may enable Kenny to work on that aspect of his game, which is his greatest weakness. That can only be a good thing.
Jay Wood
[BRZ]
8
Posted 10/06/2019 at 16:42:47
It's up on the Everton club site as well now.
Given Silva's reluctance last season to give Kenny much game time when he had the opportunity to do so, presuming he will get more game time in a strong league, under a similar manager - Wagner - as Silva.
A possible win-win for all.
Now, who is going to cover/compete with Seamus for the right back role?
Peter Warren
9
Posted 10/06/2019 at 17:03:27
Good for Jonjoe. He can go over there now, settle in, start language lessons all well before pre-season.
What a challenge for him and I've no doubt he will rise to the challenge.
We're looking short of defenders at present even with Holgate coming back!
Christy Ring
10
Posted 10/06/2019 at 17:34:32
Good move for Jonjoe, wants to get first-team football, I'm guessing. Holgate will cover for Seamus?
Derek Knox
11
Posted 10/06/2019 at 17:38:41
Well I am surprised to a degree, but having said that it will be a good experience for Jonjoe, where I suspect he will get regular game time under David Wagner.
I liked Wagner but felt a bit for him at Huddersfield where his hands were tied with limited funds for survival in the Premier League. However, when they first came up as new boys, and an unknown quantity, they did pull off a couple of shocks.
Be interesting to know if Lookman offered him any advice of life in the Bundesliga and what to expect, by not only playing but living in a country where presumably German is spoken rather than English. We could have a German-speaking Scouser on our books if and when he returns.
Jim Wilson
12
Posted 10/06/2019 at 17:43:44
Stupid move.
We need him.
Holgate is no cover for Seamus
Johnjoe has done very well for us, in difficult times and situations and he should be here pushing Seamus all the way.
We now need to sign a right back as cover for Seamus when we had a young very promising player here already.
Yet another stupid management decision and I fear there is plenty more to come.
Mike Gaynes
13
Posted 10/06/2019 at 17:56:19
I'm delighted for JJK. He needs top-level games to develop into the pro he can be, and David Wagner is a brilliant young manager who will bring out the best in him. Spectacular opportunity.
Evidently Silva is entirely comfortable that Holgate can provide cover, based on his half-season at RB for West Brom. He may, in fact, be able to push Seamus hard -- he's faster than Seamus and apparently Darren Moore was able to help him improve his once-execrable passing.
Jim #12, I'd be interested to know what Silva/Brands decisions you consider "stupid" -- seems most of them have worked out pretty well.
Terry White
14
Posted 10/06/2019 at 18:00:20
Christy (#10) and Jim (#12), don't forget Martina.
Guess the glass is half-empty for you every day, Jim? Kenny will definitely benefit from playing in a first team rather than sitting on the bench with us most of the time. And it could just be that Brands and Silva do not rate him as highly as you do?
Derek (#11), I suspect they do speak German in Germany.
John Keating
15
Posted 10/06/2019 at 18:04:51
An excellent local lad who always gave 100% when called on.
Definitely one for the future and I hope a full season in Germany will see him return an even better player.
I think Holgate will cover for Coleman and possibly at centre-half too.
Danny O'Neill
16
Posted 10/06/2019 at 18:15:23
This will be great experience for him. The Bundesliga is a great standard and the atmosphere in the stadiums second to none. Schalke's fans generate a fantastic atmosphere on the "Nordkurve".
On Schalke, I kind of always followed them going back to the 70s; my Dad passed it on, who served with the Army in Germany. I go to watch them at least once a season in recent years.
A team from a city with a large working class population that fell into hard times during the industrial decline of the late 20th century, where football was it's outlet. Slight difference in their dependence was coal mining, ours the docks, but parallels nonetheless.
Both clubs play in blue & white and they are nicknamed "Konigsblauen" (Royal Blues).
Both clubs have great heritage and dotted periodic success but in recent history, have lived in the shadow of their more illustrious, media friendly neighbours who themselves are self-obsessed, self appreciating & sing You'll Never Walk Alone (to each other on occasion!). Not to mention this being cemented by the Klopp connection.
Jonjoe is joining a club with so many similarities to Everton. He could be back to play at Analfield in the Liverpool v Schalke friendly in August.
We should connect with those Schalke fans when they're over. A lively, passionate bunch of blues & we have common enemies! Let's not let them get tainted by the other lot and ensure they know they have allies here in the City of Liverpool!! Meet them in the pub before the match and have them singing "If you know your history" in the Anfield Road!!
Mike Allison
17
Posted 10/06/2019 at 18:17:21
I've had this conversation before so I won't have the whole thing again, but Callum Connolly is also an option to cover at right back. He has over 70 first team appearances in the Championship, many of them in a more demanding midfield role.
I'm only guessing but it could be his 'turn' to be at Finch Farm and be the backup while Kenny builds experience elsewhere. The way clubs develop young players is changing so we can't be sure what the thinking is.
Paul Tran
18
Posted 10/06/2019 at 18:22:33
Good move all round, on the proviso that he's been assured of his future with us. He'll develop even more getting regular games in a different league. If Seamus carries on his end of season form come August, he's the obvious first choice and captain.
Terry White
19
Posted 10/06/2019 at 18:22:59
Mike (#17), how many of Connolly's appearances in the Championship were at right back?
Charlie Dixon
20
Posted 10/06/2019 at 18:26:25
Seems a bit of a weird one.
I'd like to see Trippier come in.
Think him and Seamus could potentially play in the same side against the bigger teams with Seamus playing further forward.
Brian Williams
21
Posted 10/06/2019 at 18:29:04
Have to say I'm quite surprised at this as I felt he was more than adequate cover for Seamie, and Silva has stated he wants two players for each outfield position.
Kieran Kinsella
22
Posted 10/06/2019 at 18:31:55
Oh Mike Allison, you're starting this whole "Connolly is a right back" thing again even though he has essentially put that role behind him since he left the under 23s. If you think the lad is worth a look for the first team squad in the summer then yeah I will agree. But I don't see him as our RB
Kieran Kinsella
23
Posted 10/06/2019 at 18:34:02
Paul Tran 18
I don't think anyone is "assured of a future with us." Anyone who has a bad year is likely to be flogged, anyone who has an outstanding season is likely to attract bids from "big clubs." I cannot see many/any of the players having a Leon Osman one club career.
Terry White
24
Posted 10/06/2019 at 18:35:06
Charlie (#20), I think the days of the possibility of seeing Coleman as wide midfield player are long gone.
Adolf Ng
25
Posted 10/06/2019 at 18:42:59
Wonder he talked to Lookman before making his decision to move to Germany?
Mike Gaynes
26
Posted 10/06/2019 at 18:45:57
Terry #19, just two. His first two games of the season. Apparently that was enough for the coaches there.
So basically his last three managers have had a quick look at him at RB and decided, no way.
But Mike's still carrying the banner.
Chris Corn
27
Posted 10/06/2019 at 18:55:03
Good on him. He deserves game time. He's 22 and he won't get it here if Coleman's end of season form is anything to go by. Too many fringe/U23 players hang around and watch their careers pass them by.
Hope he smashes it and if he doesn't come back gets a good solid move out of it.
Andy Crooks
28
Posted 10/06/2019 at 19:03:30
I really do not get this. Seamus gets injured and who do we turn to? It would be a fantastic deal if we were coming down with top defenders, but, in Brands we trust.

Terry Farrell
29
Posted 10/06/2019 at 19:06:25
Mixed about this as although I rate Holgate highly I see him as a centre back and Jonjoe as our best right back after Seamus. At Seamus' age now the odds of him going injury free for the whole season are slim and we don't want trippier for example who has no sell on value. Sounds like we have a RB lined up. Back to Jonjoe it will of course develop him and Schalke fans will love his energy bottle and all out effort not to mention quality crosses.
Bill Gienapp
30
Posted 10/06/2019 at 19:09:15
Seems like a good move. A year in the Bundesliga should hopefully make him that much more equipped to succeed Coleman when the time comes. As others have said, I'm assuming Holgate will provide the necessary cover at RB.
Kenny Smith
31
Posted 10/06/2019 at 19:09:26
He's one for the future alright but I don't think we'll see him play for us again as long as Silva here.
I can't help but think he'll have a storming season in Germany and they ll sign him permanently for some inflated price.
Don't blame him for snapping up the opportunity though cos there's no point in him wondering if he'll even make the matchday squad each week at Everton. Good luck to the lad.
Martin Berry
32
Posted 10/06/2019 at 19:11:29
Good luck Jonjoe, I think he is a real talent and will do well in Germany. I can only assume that we have a contingency plan at right back if Seamus is injured?
It will be interesting to see who come in or what happens...

Darren Hind
33
Posted 10/06/2019 at 19:23:52
Disappointed with this.
I think he had already gone past Seamus. I just don't get it.
Mike Gaynes
34
Posted 10/06/2019 at 19:40:32
Darren #33, not sure why you'd have thought that. He only started eight games this season, and he never played a minute after early February, so clearly Silva thought he was nowhere close to Coleman.
Silva chose JJK only four times when Seamus was available (giving him a rest), and we lost all four games. Not blaming him, just pointing it out.
I think this is a great way for the young man to get his engines roaring again.
Jim Jennings
35
Posted 10/06/2019 at 19:41:42
"I think he had already gone past Seamus. I just don't get it"
Anyone who thinks Kenny has become a better player than Coleman, really does not get it. Some of you need to take off the Scouse tinted spectacles at times.
This imo is a good move for JJK and for EFC - he should come back a much stronger player with a year of first team football behind him in a top league. The only caveat: if Wagner plays a 3-5-2 then JJK has Daniel Caliguiri for competition and he's one of their main men. A back four would suit JJK but we have to assume he hasn't gone there to play back up.
Michael Williams
36
Posted 10/06/2019 at 19:54:37
Agree with Kenny at 31. If Silva though JJ would see playing time he would not allow him to go on loan. If JJ does well in Germany it's quite possible he stays. I think more likely than not we have seen the last of him. I hope not.
Michael Nisbet
37
Posted 10/06/2019 at 19:55:33
I don't think Kenny is anywhere near Coleman's ability yet. I'm sure he will be one day, and this loan move is perfect for him to develop. It makes complete sense. From the club and the player's point of view.
Andrew Ellams
38
Posted 10/06/2019 at 19:55:46
Darren, Seamus was a huge part of the late season run. There is nobody at the club even close to him.
James Stewart
39
Posted 10/06/2019 at 20:04:44
Good look to the lad. Never really struck me as someone who will progress to even half Coleman's level, but at least he now gets the chance to prove himself.
John Pierce
40
Posted 10/06/2019 at 20:05:42
Darren, previous threads long the same vein, I agree with that. Kenny has a higher ceiling, Seamus is in decline, albeit he arrested that slightly towards the end of the season.
The crux is Silva wants his full backs to live in the opposing half, the emphasis on crosses and passing. Kenny is way ahead of Coleman in both departments and that alone is reason to pick him.
Personally I think we will buy a first team ready right back, Coleman will back up, which makes little sense to me. I think we'd get a decent wedge for Coleman. Please though let this not be Baines Mk II, the transition needs to be smoother than that.
David Cooper
41
Posted 10/06/2019 at 20:06:32
I have a feeling that Kenny does not fit Silva's physicality profile. Jonjoe is only 5'-9" and at times has been out-muscled at full-back. I know the counter argument is that Seamus is about the same height but Seamus much better in the air to cover those attackers who come around the back of the line. We were caught short there on several occasions last season.
I agree with those who say that probably Holgate is going to be prepared to cover Seamus in case of injury but might also fit nicely into a back 3. We shall see!
Jamie Crowley
42
Posted 10/06/2019 at 20:07:09
IBWT.
I'm with Andy Crooks. It seems to me people rarely plan for injuries.
Cup runs too, which we should be in multiple seeing how we'll win the League and FA Cup next year. ;0)
On the flip side, Holgate can cover at RB, and he's also cover at CB in the event Mina is actually made of glass, so that flexibility is positive.
But Jesus if Seamus gets hurt, JJK for my money was a more than adequate replacement.
My God I'm learning to trust Brands entirely too much! What's that Marcel? You need my wife? Ummmm, OK!

Develop, grow, prosper Jonjoe! You have a stellar attitude kid, and to quote Finding Nemo, keep swimming!
Darren Hind
43
Posted 10/06/2019 at 20:17:17
Mike
I don't need to explain a simple opinion. . but I will.
I feel Kenny was in the team at a time the whole of the defence was a complete shambles. Experienced players didnt know whether they were coming with Silva's version of Zonal.
Kenny was sacrificed. Silva opted for experience
Seamus is a popular player, his swashbuckling style has endeared him to all, but he is not the player he was. The chinks which have appeared in his armour were exposed more times than Jim Bennings's judgement last season.
Coleman's had a bad injury and he is the wrong side of thirty. His experience will not be enough to haul him back next season. Trust me. He will not get any better. there is only one way Seamus is going and it aint up.
Ok; I exaggerated when I said He was exposed more than JB's judgement (not sure that would have been possible) but I believe the younger man will prove he has gone past him. Thats what happens and the gap will only get wider.

Mike Doyle
44
Posted 10/06/2019 at 20:18:30
Agree with Mike Gaynes #13. This is a great opportunity for JJK. Hope he takes full advantage, plays plenty of games and establishes himself. Good luck to the lad.
Kieran Kinsella
45
Posted 10/06/2019 at 20:27:00
David 41
Not sure about the size/physicality argument. If that was the case we could bring in The Undertaker from the WWE. I think it's more of a style issue, Coleman is more of a ball player and gets in behind the line.
Mike Allison
46
Posted 10/06/2019 at 21:00:44
I don't really understand why anyone minds that I think Connolly could play right back. At least two of you seem genuinely annoyed about it. Why would you be?
Maybe his managers saw him and thought: 'he's too good to stick at fullback, and I've got a decent one anyway, he can do a job in midfield'.
Even if I'm wrong, why such antipathy to such an inoffensive alternative opinion?
Amit Vithlani
47
Posted 10/06/2019 at 21:13:06
Bewildering. All I can think of is that it is part of a master plan to bring in a top quality RB and relegate Seamie to no. 2. Kenny earns his stripes at Schalke and Seamie winds down.
Holgate is a CB. He cannot deputise for Seamie.
If we are buying a top quality RB that could make us a very attacking outfit. Digne on one side, an upgrade on Seamie on the other. A very Portuguese/Dutch (Silva/Brands) tactic. Portugal v Holland showcased Raphael, Semedo and the Dutch RB, who were all very good attacking outlets in the Nations League finals. Even Blind managed to lumber up into advanced positions on the left in the second half, although attacking fullback he ain't.
If that is not the thinking behind loaning out Kenny, then well, I am stumped.
Billy Roberts
48
Posted 10/06/2019 at 21:19:55
Great opportunity for Kenny, to get a chance to experience playing for a top flight team in Germany and the chance to immerse yourself in another culture, not sure about his chances of mastering the German language in one year though!! Gaurdiola said it had his head in knots.
This does suggest they have someone as serious competition to Coleman in sight otherwise it's a gamble Everton can't afford to take, time will tell.
I'm optimistically hoping we have some absolute star lined up who will tear the league up next season. I base this on absolutely nothing.
Paul Dewhurst
49
Posted 10/06/2019 at 21:22:08
I think this is the first of many players we will get rid of, Brands was brought in to balance the books and that's what this is. I would imagine there is a list of players that Silva isn't planning on using next season and then Brands must try and get them loaned or sold. This will leave more available to the first team squad to balance books. If they are getting loaned out they are falling into two categories Young and need game time (eg JJK) or just get these useless lazy shites off the wage bill (eg Mirallas & many many more)
I think John (40) is right we will probably buy a RB this summer and I would expect whoever it is they will be a right footed version of Digne and it's probably it's fair to say if he doesn't sign Zouma who ever he replaces him will be another massive fella who would scare the shi*e out the boogy man like 4 like he's setting out his Blue Print.
What's interesting is what kind of striker is he looking for he's bought players for other positions so we all kind of have an idea on what he's looking for in wide players defenders MF BUT we don't know what he craves for in the strikers position?
Ideally need another 15 goal plus striker and try and get Bernard to double figures then you are looking at almost 60 goals a season. I think last year two different players scored double figures for the season surely that hasn't happened that often in PL years?
Terry White
50
Posted 10/06/2019 at 21:28:01
Mike (#46), as one of the "two" may I respond by saying I don't mind in the least that you think Connolly could play right back. He has always looked a neat player on the limited occasions I have seen him play (in positions other than right back). I also think that I could play right back as I used to do in my "prime". It's just that, as a suggestion, it seems highly unlikely that I will get the chance.
And with an experienced full back in Coleman, and potential cover on the books already in Holgate and Martina, both of whom have regularly played right back in their career, and with the possibility of signing someone else, why would we let Kenny go out loan and for cover for Coleman choose a player with little experience in that position?
It seems a decent enough thought that you have proposed before but one with very little possibility of happening. So, why bother?
Kieran Kinsella
51
Posted 10/06/2019 at 21:28:19
Billy Roberts 48,
JJK shouldn't have much trouble with German as both it and English are derived from Old Norse. A lot of words are pretty similar, and even the delivery is similar in terms of tempo. Spanish being a latin language is considerably different so it was probably harder for Guardiola to adjust.
Ian Bennett
52
Posted 10/06/2019 at 21:28:26
A good move for the lad. He had a great U20 World Cup a couple of years back, but he has struggled at Premier League level and isn't ready to challenge Coleman yet.
I am a big Coleman fan, but I do acknowledge he is going to decline at some point. Finding a good quality replacement, and getting Kenny experience would seem a fairly smart move.
Mark Murphy
53
Posted 10/06/2019 at 21:35:06
Kieran @51
My mum used to call Scouse (the stew) Lobbies.
I've heard people call it LobScouse too.
When I lived in Denmark I ate a dish of potatoes, carrots, onions and meat called Labskaus. (The "a" is pronounced "o".
Them vikings must've brought it over with them!
I never ate anything called Manctwat tho...
Mike Gaynes
54
Posted 10/06/2019 at 21:39:28
Darren #43, no question Kenny will pass Seamus at some point, but I just don't think he's gotten anywhere close to doing so yet, and it's obvious that Silva agrees.
The Seamus we saw over the final 10 games was, in my eyes, the old Seamus -- I predicted from the day of the injury that it would take two full years to get back to that level, and it did.
Meanwhile Kenny obviously didn't get any opportunity to progress this past season, and I think this loan is an ideal chance for him to do so and prove that he's Coleman's successor.
Obviously if we sign a new right-back, all bets are off, but I just have a hunch we won't go that way.
Kieran Kinsella
55
Posted 10/06/2019 at 21:40:32
Mark
I had to Google that and see what you mean. Guess they have it in Norway too. There is a book called Lobscouse and Spotted Dog. That must be for Evertonians while Lobscouse and Spit the Dog is for RS.
Mike Gaynes
56
Posted 10/06/2019 at 21:42:43
Mike #46, no antipathy at all. Not sure what was said to make you feel that way, but I'm not seeing it in this string.
Mike Allison
57
Posted 10/06/2019 at 21:48:05
Hi Terry, you weren't actually one of the two, as Kieran and Mike G's were the ones I meant. I don't think most people realise but Connolly has been a right back for most of his career coming through the youth system, he's extremely familiar with the position. This is why I wanted to point it out.
Kieran Kinsella
58
Posted 10/06/2019 at 21:56:27
Mike Allison,
I've never been angrier... just giving you grief, mate but I do honestly see him as a midfielder rather than a right-back at this stage.
I know some Wigan fans regarded him as a Number 2 but they said the same of Baningime and I think they meant something else. Bolton fans quite liked him though. :)
Darren Hind
59
Posted 10/06/2019 at 21:56:52
No telling which way it will go, Mike.
I know the interest has to be there to move a player on, but when I look at some of the hangers on that are still here, I just feel flat when I see a young talent allowed to go out.

Jay Wood
[BRZ]
60
Posted 10/06/2019 at 22:16:48
In a year's time Seamus will be closing in on his 32nd birthday, with two years left to run on his contract (ends the summer of 2022).
Personally, I would prefer Kenny to stay. However, I can understand if this is part of a longer game plan by Brands and Silva: to (potentially) give our best academy players more game time in a first team in a quality league.
Kenny forces himself into the Schalke side and makes himself undroppable, we benefit as he develops his all-round game, returning for the 2021-22 as a real challenger for Coleman's position as the years catch up on the Irishman.
Kenny doesn't cut the mustard at Schalke, it tells management he needs to be cut loose.
If, however, as Mike Gaynes suggests, we sign a new right back this summer, all bets are off.
All good speculative fun!
Rob Dolby
61
Posted 10/06/2019 at 22:19:52
Kenny has definitely closed the gap with Coleman. Kenny is better in the air than people give him credit for. He also has better quality on his delivery than Coleman.
Defensively they aren't far apart. Coleman moves the ball better and reads the game better at this moment in time. Coleman is more efficient with his runs whereas Kenny seamed to bomb on a lot but then struggled to recover. Hopefully he will come back a wiser more experienced player.
As for a stand-in, we have Holgate and Martina as reasonably safe bets whilst other clubs have converted wingers playing full-back; maybe even Walcott could be used there? Tin hat in position.
Andy Crooks
62
Posted 10/06/2019 at 22:21:31
The Shalke coach wants Kenny. The Everton coach thinks we are good enough at full back to let Wagner have Kenny. In my view, an utterly shite bit of business that we will regret.
Brian Williams
63
Posted 10/06/2019 at 22:24:05
I'd just really like to know, if we don't sign a right-back, who is the backup to Seamus for next season. Still confused!
Christy Ring
64
Posted 10/06/2019 at 22:26:18
Mike Gaynes @54,
I completely agree, Darren and a few others are getting carried away. Kenny is nowhere near good enough yet, and they're doing a complete injustice to Seamus, who was back to himself in the last 10 games.
Peter Mills
65
Posted 10/06/2019 at 22:27:03
I'll be very surprised if this is the last we see of Jonjoe. He's a very good player with an excellent attitude, but he did struggle at times last season. A season playing first team football in a different country will do him the world of good, and he should come back a much better player and more rounded character.
It does leave a gap, we need two good right backs. One is obviously Seamus, I expect the other to be Holgate, supplemented by the signing of another right-sided defender.
Brian Williams
66
Posted 10/06/2019 at 22:42:41
Rob #61.
Walcott? Feckin' Walcott?
He avoids a tackle like I avoid my Mrs when there's jobs to be done. Talking of my Mrs, she'd do as good a job at right-back as Walcott.

Mike Gaynes
67
Posted 10/06/2019 at 22:49:59
Brian, can we sign her?
Brian Williams
68
Posted 10/06/2019 at 22:53:51
Mike #67.
On a free mate, on a free. Preferably a long contract too!!
Tom Bowers
69
Posted 10/06/2019 at 23:01:22
Not sure if Jonjoe would ever have been a Seamus at his best but good luck to the guy. If he comes back and plays like Seamus did after his loan, then great.
Holgate is not a great right back but, with teams starting to play three at the back in many games, it may not be a big factor but I would like to see another class right-back to back up Seamus.
John Pierce
70
Posted 10/06/2019 at 23:14:39
The bar is Digne, so are either Coleman or Kenny at that level? I'd argue no. So the question is will either get there?
Digne offers a very attacking skill set, you might argue therefore the other full-back needs to be more defensive, perhaps. Personally, I don't think so under this coach. The ability to get up and down, provide good crossing and passing, whilst offering that over/under lap with the wide forward.
Coleman has never been a good passer, and has rarely crossed a ball well. His game is about athleticism and instinct, but rarely is he accurate. Sure he can get up and down but his passing really lets him down. Kenny is much the better crosser for sure, and has a better range of passes but his overall game isn't there yet.
Coleman will never get there but Kenny might, so why retain Seamus? Hard to know, but I think it points to Everton buying a new right-back and seeing if they can oust Coleman like Digne did with Baines last season.
If we are honest, after about 6 games in we totally forgot about Baines, such was the level of Digne. I just cannot see Coleman there anymore.
Fran Mitchell
71
Posted 11/06/2019 at 01:42:01
Think it could do him the world of good. He has potential, new location, tactics, language and regular football could really push him further.
Maybe he'll leave after....
Alan J Thompson
73
Posted 11/06/2019 at 06:22:34
I did say on another thread not so long ago that I hoped the Administration wouldn't overrule the football side and insist that reduction of the wage bill take priority. I have no evidence that this is the case but I find it strange that you'd allow your second-choice right-back to go out on loan.. how many players sent out on loan have actually returned noticeably better players? I don't include Coleman who had barely played for the club at the time of his loan and I don't remember who was right-back at the time.
As has been said, it may be considered that Holgate, Martina and even Connolly may be considered adequate cover in an emergency but are we freeing up the readies for a really big name signing in some position or are we just showing movement rather than progress? As always, time will tell.
Derek Knox
74
Posted 11/06/2019 at 06:57:42
John Pierce @ 70, I think you have hit the nail on the head there mate, and I also believe a very good and accurate assessment of Seamus. I have noticed on TW many times that players like Seamus and Leighton who we all love, are often made out to be better than they are in reality. Especially considering age and the increased tempo of the game.
You are also correct in saying that Digne has set the standard, a very high one at that I am glad to say. I have a feeling that they have someone in mind who will do a 'Digne' in Seamus's role and in the meantime assess Kenny as to whether his stint in Germany will add that dimension to his game where he can provide a stern possibility of ousting the new right-back or providing a viable alternative if needed.
Ray Roche
75
Posted 11/06/2019 at 07:16:45
Alan @73,
I think it would be Hibbert who was right-back.
Kevin Prytherch
76
Posted 11/06/2019 at 07:51:22
I think the whole situation has been made less confusing by the lack of European football.
Coleman is expected to play every game. There will be less fixture congestion.
Holgate shone as a player on loan.
Silva believes Kenny will do the same (he has said this).
It is more beneficial to have Kenny improve as a player by playing regularly.
Holgate can deputise at right-back if required.
Alan McKie
77
Posted 11/06/2019 at 08:21:55
Mike #67,
No chance. Work permit issues!!!
Brian Murray
78
Posted 11/06/2019 at 08:43:22
Nothing against Coleman but, if he is really the mainstay right back this season... well, I have Brands totally wrong and we are still happy to amble along Blue Bill style!!
Jack Convery
79
Posted 11/06/2019 at 08:47:39
Good luck, Jonjoe!

Brian Murray
80
Posted 11/06/2019 at 08:59:43
Class players can be found, so there is no need need to settle for the usual Everton standard.
Alan J Thompson
81
Posted 11/06/2019 at 09:33:41
Ray(#75); Of course, Hibbert, many thanks and I'll now go off for my mid morning nap.
Derek Thomas
82
Posted 11/06/2019 at 09:56:58
Not the worst move in the world for all 3 parties.
Russell Smith
83
Posted 11/06/2019 at 11:33:22
I think Kevin at 76 is spot on.
Coleman will be first choice as he is fully recovered from his leg break and was playing almost back to his best in our run-in period. He is only just 30 so has a few more years either as first choice or as a more than capable deputy.
Holgate having proved himself at West Brom will deputise for him and also cover one of the centre-back positions this season. Kenny will get a full seasons games (hopefully) under his belt in a competitive league. Coleman will then gradually be phased out with Holgate or Kenny becoming the new "pairing" assuming Jonjoe does well in Germany.
Whilst Martina (if we can't sell him) will only ever be a "deputy", can anyone really say he was our worst defender under Koeman? He was playing out of position when deputising for Baines. As a "deputy" getting the occasional game in his natural position, it wouldn't be the disaster some people imagine.
For these reasons, I doubt we are looking for a new right back – I think most of this is paper talk. If Brands has been tasked with reducing the wage bill, then signing a ready-made right-back, presumably on a lengthy expensive contract, does not seem to fit –especially as we have two young, less expensive players on the books.
There are other more important positions to fill such as a new centre-forward and someone to replace Zouma, which is where I expect to see any available monies being spent, and possibly a replacement for Gana if PSG come calling again.
Ajay Gopal
84
Posted 11/06/2019 at 11:38:53
Opinion seems evenly divided across this thread.
For people getting down (Darren, etc) on letting Kenny go, I would say, "Don't"! If you recall, Burnley and Crystal Palace were also in the mix to get Kenny on loan, and I am sure if Brands & Silva wanted to get rid, they would have easily found a buyer for about £8-10 million.
That they did not sell, but rather have loaned him out to a top German side, suggests that they believe in Kenny's long-term future at Everton. That leads me to believe that they see Holgate as good cover for right-back or even a starter in a back 3.
To be honest, I am not worried about the right-back situation next season. Coleman is doing very well, and he has at least a couple of years to give. He may not be as technically gifted as Digne, but he more than makes for it with his desire, loyalty and heart.
We don't need 11 sublime skill players, we need a team who will play for each other. Coleman is very much a part of this Everton team, in fact, he is the heartbeat of the team.
If the only business we do this summer is to sign Zouma and Gomes permanently, along with tying down Gueye on a 3-year extension and add a top quality striker, that would do for me. Of course, trimming the squad and letting go of surplus players, would also be nice.
Alan McKie
85
Posted 11/06/2019 at 12:23:31
Good post, Ajay, what you say makes a lot of sense. If Kenny does the business, great for EFC; if not, as you say we could receive a decent transfer value.
Thomas Lennon
86
Posted 11/06/2019 at 12:38:19
We need to move up a standard in a player, we also need to strengthen the squad. Coleman is great value, plays with great attitude & courage, sound defender but is older than the intended profile of the team. In my opinion he is good enough for a second string player, won't let us down. That said in 2 years Kenny will replace him if he is good enough
However, we struggled against mid to lower league teams last year due to lack of goal threat when the bus was parked. The right side was an issue as were crosses generally - not all to do with Colemen but still an issue. As an illustration, Coleman has provided 2-3 assists (and 2 -3 goals) per season (Digne similar) whereas Robertson provided 11 & Trent Arnold 13 in the last season - admittedly with better goalscorers available. That would provide some of the penetration we need.
We will likely bring in a new player to play right back, to be first choice.
Brian Harrison
87
Posted 11/06/2019 at 13:15:16
The Liverpool Echo have quoted Kenny saying he thinks the move will improve him as a person and he likes the way Wagner's team play, and is looking forward to joining Shalke.
The Echo are also saying that they expect Gomes to sign and they also quote that Marco Silva is fearful that Chelsea will not sell Zouma. So Everton are now looking at Djene Dakonam from Getafe as a replacement for Zouma.
Also the Argentine Under 23 manager is quoted as saying that Sosa is on the verge of joining Everton.
Sam Hoare
88
Posted 11/06/2019 at 13:23:40
If Kenny is to reach the standard required to play for a top 6 team regularly, then he needs a season where he starts 25+ games. It looks more likely that this will be the case at Schalke than Everton, where he would certainly be behind Coleman and possibly vying with Holgate.
So long as he can cement down their right-back role, then I think this could be a good move for everyone.

Bill Watson
89
Posted 11/06/2019 at 13:24:42
I rate Kenny as an outstanding prospect but can you still be a prospect at 22?
As he doesn't appear to be in Silva's immediate plans I feel a loan is the ideal solution. Hopefully, Kenny will come back a better player and, if Silva still doesn't fancy him, then he would command quite a reasonable transfer fee.
In response to a couple of posts about the language. The last time I was in Germany I found, much to my surprise, that most of the locals conversed in German!!
Matthew Williams
90
Posted 11/06/2019 at 13:54:37
Another wrong decision...sigh.
Dave Abrahams
91
Posted 11/06/2019 at 14:16:26
Russell (83), with all due respect concerning Martina, he was loaned to Stoke City last summer. They cut short his loan in January, he then went to a club in his native Holland, again on loan with the option of making the deal permanent; they never took up that option.
How he is on the reputed wages he is on (£30,000 per week) is another story but, to me, he is never a Premier League player. How he came to be an Everton player is a complete mystery to me, unless Koeman was his agent, that's the only explanation I can think of.
Terry White
92
Posted 11/06/2019 at 14:25:17
Dave (#91), Martina played for Koeman at Southampton, of course. Coleman was injured, Kenny was inexperienced, we needed a right-back on short notice and Martina fitted the bill. Koeman knew what he was getting in the player.
I don't think anyone expected him to be a regular starter when he was signed, he was backing up Kenny, but circumstances forced him into the first team and then, as Russell (#83) pointed out, he was an emergency left-back but with only a right foot. I always thought he did his best even if his best was not good enough for our lofty standards. I don't think he should be belittled for his efforts.
Jay Wood
[BRZ]
93
Posted 11/06/2019 at 14:55:24
With the remit of both Brands and Silva to bring down the average age of the squad and develop potential into proven PL, the Beeb has just put up an interesting analysis neatly showing PL squads split into three categories:
Past their prime (30+), At their peak (24-30) and Prospect (under 24).
Here's the link:
Unfortunately it only shows six PL teams and we are not among them. I wonder how ours would shape up by comparison?
Dave Abrahams
94
Posted 11/06/2019 at 14:55:51
Terry (92)well Terry you can speak for yourself, if Koeman knew what he getting why did he sign him, for the reputed £30,000 per week I'd have done more than my best,The lad couldn't even take a decent throw in, he was very poor to me.
He couldn't get in Southampton's first team, he was a reserve,.Stoke didn't want him, the Dutch team didn't want, belittle him? Koeman belittled me and a lot of other Everton fans by having to watch him.
It's quite possible that Martina is photogenic and looks better on TV, up close he never cut it for me.
Karen Mason
95
Posted 11/06/2019 at 15:29:45
Maybe Marco sees this coming season as Seamus's last big, full on season & is making ready JJ as his replacement. But, perhaps Marco, in his wisdom, does not think that JJ, warming his cute tush on the bench, is the best way to prepare him for action in the following season. Maybe he thinks that loaning the youngster to a club with a decent coach & getting plenty of game time, will enhance our homegrown RB's skills, decision making & experience. Just a thought for those puzzled by the loan. Shame we're not renewing Ashley Williams contract. He could have covered for Seamus. Calm down. Only jokin'!!!
Tommy Carter
96
Posted 11/06/2019 at 15:36:55
We absolutely do not need him as he currently is, when he plays he's a liability and for his age he is now severely lacking in experience at the top level
Hopefully Schalke will provide him with this experience and he can return to us an improved version of his current self.
I'm hoping they can too put him on some kind of intensive weights programme. He seems very under deveveloped for his age and his lack of physical power really undermines any ability he has.
Liam Reilly
97
Posted 11/06/2019 at 15:44:37
Will get shot down for this, but for me JJK is fortunate to be at a 'top' Premier League club.
He's had opportunities but he's not really taken them and he's not close to a fit Coleman, so this moves makes sense.
That said, the current Schalke right back may have something to say about Kenny playing 25+ games next season, because I doubt he's been guaranteed a start.
Terry White
98
Posted 11/06/2019 at 15:45:54
Dave (#94), I respect your view.
Brian Williams
99
Posted 11/06/2019 at 16:02:47
Karen#95.
Karen I really must protest at your sexualization of our young rightback when you refer to his "cute tush."
This blatant sexism is so rife in football these days and I'm deeply offended on behalf of those who are offended at almost everything on here.
What you've done is almost as bad as referring to a woman as a lady for God's sake (no particular God or deity, anyone you choose).
I'll be seeking the editorial team coming down hard on you and maybe even initiating a suspension.
It's not the sort of language one expects from a woman, or is it lady, or woman who's a lady?
See what you've done?

Pretty sure you've upset the LGBTQSTR people as well as the CGAF people. ;-)
Mike Gaynes
100
Posted 11/06/2019 at 16:18:53
Dave #94, Cuco's actually on £35,000/week.
Brian #99, you're just jealous that Karen's not complimenting your tush. (Which ain't bad, by the way.)
Mike Gaynes
101
Posted 11/06/2019 at 16:32:12
Liam #97, Schalke's incumbent right back at the end of the season was US international Weston McKennie, a central midfielder playing out of position by necessity. Both he and the USA manager will be ecstatic at his return to his normal spot. Schalke currently has no other RBs under contract. Unless they sign somebody, Kenny should walk right into the starting 11.
Like I said, a spectacular opportunity for him.
Dave Abrahams
102
Posted 11/06/2019 at 16:33:12
Terry (98), thank you, and I always respect yours.
Brian Williams
103
Posted 11/06/2019 at 17:03:25
Awww shucks Mike, thanks. :-0
Kieran Kinsella
104
Posted 11/06/2019 at 17:19:36
British players almost always excel in Germany. Keegan, Woodcock, McInally, Hughes, and all the more recent youngsters plus Hargreaves if he counts as a Canadian who grew up in Germany.
Liam Reilly
105
Posted 11/06/2019 at 17:37:38
Thanks Mike #101
I didn't know that and so it wouuld seem like a golden opportunity for the lad.
I hope he does well, but I have my doubts that he's the future right back of the club if Everton want to break that glass ceiling.
Justin Doone
106
Posted 11/06/2019 at 18:21:05
Great opportunity for Kenny, wish him well and hope he plays the majority of games.
Kenny is a natural full cback. His attacking assets are his passing and crossing ability.
Holgate is maturing into a centre back but can cover right back. He's a better defender but less of an atacking full back but has good pace. I don't think think he's yet good enough for either position.
IMO Kenny is the better fullback so I can only presume Holgate is saving us money and will cover both positions.
Mike Gaynes
107
Posted 11/06/2019 at 18:27:07
Liam #105, we should know for sure in about 11 months. A season taking on the likes of Bayern, Dortmund and Leipzig will tell us all we need to know about whether he's good enough.
Danny O'Neill
108
Posted 11/06/2019 at 19:29:56
Technically good English players Liam. I part grew up in Germany as a kid and played early youth football. They're almost the perfect balance of what we strive for. Strength, aggression (more hidden than ours), discipline & organisation but balanced with much more technical emphasis & ability. Yes I'm stereotyping, but in general that's the difference.
Mike don't forget Bayern on that list!!
Tony Abrahams
109
Posted 11/06/2019 at 19:41:30
A great description of the German footballer Danny, especially when they are playing for their national team!
Darren Hind
110
Posted 11/06/2019 at 19:47:03
I don't agree with the notion that Silva is sending JJ out for experience.
Steve Ferns penned many a lenghty report about Silva before and during the season. e covered just about everything, But the one thing which came out in virtually every one of Steves posts, was How much Silva wanted to work with and improve his players. . so why is he sending JJ out hoping somebody else will improve him ?
Having watched for a season, I actually buy into Steves belief that Silva prides himself on improving players. . The more I think of this loan out, The less sense it makes
Joe McMahon
111
Posted 11/06/2019 at 20:02:12
I'd rather DCL be loaned out to Schalke, it may be good for him and in the long run us, as that's the area that does need addressing - strikers scoring Goals.
Mike Gaynes
112
Posted 11/06/2019 at 20:11:31
Darren, then what's your theory? Why else would Silva be loaning him out?
Ray Roche
113
Posted 11/06/2019 at 20:19:40
JJK won't improve sitting on our bench, and for too many occasions he didn't even get a seat there.
I can't see anything but good coming from this loan.
John Keating
115
Posted 11/06/2019 at 20:40:50
Fully agree with keeping Kenny, smashing young player.
However if he's only going to warm the bench then better send him out to a good club where he will not only get game time but a ton of experience.
Normally we send our youngsters to a Championship team, at best. Here we have the opportunity to loan him to a good established Bundesliga team.
Has to be good for us and more importantly, Kenny
Derek Knox
116
Posted 11/06/2019 at 20:43:58
Off topic, but I have noticed that Iceland v Turkey HT (2-1) our Gylfi is playing, but there is no mention of Tosun even on the Subs bench for Turkey?
Hugh Jenkins
117
Posted 11/06/2019 at 20:49:37
Derek 116 - he's injured I believe.
Kieran Kinsella
118
Posted 11/06/2019 at 21:50:13
Kenny is an Irish name, meaning his ancestors were from the emerald isle as was Billy Bingham the former Everton manager. Him being from Northern Ireland so after that incredibly tenuous segue, got to give credit to Northern Ireland tonight. Wales with superman Bale are sinking like whale poop in an ice flow, Scotland are in trouble, but N Ireland have won 4 out of 4. Granted, Belarus aren't the greatest but population wise they are 10 times N Ireland's size. They also have a long history of producing decent players at clubs like Dinamo Minsk.
Mike Gaynes
119
Posted 11/06/2019 at 22:13:18
Our hopefully-not-former CB Zouma scored for France today against Andorra, his first international goal.
Hugh #117, you're correct, Tosun sustained a knee injury on Turkey duty a couple of weeks ago. No surgery but will miss part of the summer training.
Mike Gaynes
120
Posted 11/06/2019 at 22:18:01
Kieran, I actually played about 15 seasons of footy with a distant relative of Kenny's here in the US named Liam Kenny. He was Birmingham-born but his parents were from Northern Ireland. Knowing I was an Everton fan, he told me about his great-grand-nephew-once removed or something who was in the Everton youth system back then.
Clive Rogers
121
Posted 11/06/2019 at 22:22:13
Tosun is out for 6 months I heard.
Chris Gould
122
Posted 11/06/2019 at 22:50:31
Full-backs have become so important in today's game, that I wouldn't be surprised to see us bring in someone to compete with and replace Coleman. We need a fast right back who can cross the ball as well as defend. Full-backs need to be productive. Just look at Robertson and Alexander-Arnold. 23 assists between them in the league. Coleman cannot cross and his passing is only slightly better. I love his attitude and think he's a cracking player, but his end product isn't good enough.
I also think we'll bring in 2 wide front men to compete with Bernard. I don't think we'll get the centre forward that many are desperate for. I think Silva will continue to develop DCL and Richarlison. I realise that Richarlison struggled with the role after a bright start, but the whole team was struggling at that time, and I think with better service from the flanks that Richarlison will thrive. He is a very good finisher and has all the attributes. He just needs some decent service, which he wasn't getting from Walcott, Coleman or Bernard.
Time will tell, but I have every faith that Silva and Brands know what they're doing.

Brian Williams
123
Posted 11/06/2019 at 22:50:35
I read a couple of months but it still knackers our chance of getting rid.
Kieran Kinsella
124
Posted 11/06/2019 at 23:08:40
Mike Gaynes
That's neat. I had a distant cousin who was a contemporary of Kenny in Everton youth but he didn't make it past age 14 :( oh well once less relative on the Christmas card list lol
Derek Knox
125
Posted 11/06/2019 at 23:32:41
Thanks Hugh!
Mike Gaynes
126
Posted 11/06/2019 at 23:39:07
Clive and Brian, the club statement a week ago said he would miss the Kenya trip and some of the summer warmup games. Certainly nothing on the order of six months.
Brian Williams
127
Posted 11/06/2019 at 23:47:01
Yeh that's what I read Mike. Nobody's gonna buy him while he's crocked though!
Jay Harris
128
Posted 11/06/2019 at 00:08:07
If Kenny improves as much at Schalke as Coleman did at Blackpool we will have a cracking little player on our hands just as Seamus is getting ready for the knackers yard (not quite but you get my drift).
Holgate will be a capable deputy in the Kyle Walker mould. Very athletic with a bit of beef.
I think a CB MF player (Gomes?) and goalscoring forward will be the priorities. Note I did not say CF because I think the high press relies on a mobile front 3 who can interchange.
Jamie Sweet
129
Posted 11/06/2019 at 00:09:51
Thinking on similar lines as Chris Gould, I think this could signal a move for a new right back to eventually take over from Coleman.
The likes of Alexander Arnold have taken the role of fullback to a different level. He's pretty much the key playmaker of the team and it's all about the quality of delivery.
Love Coleman, but you aren't ever going to see him whipping in a ball from basically any wide position in the oppositions half, onto a sixpence in the box.
That's the future modern full back. More of a defensive attacking playmaking overlapping wide midfielder defender, if you will.
Pretty sure that will be on the Silva / Brands shopping list. Anyone know of a good one?
Derek Knox
130
Posted 12/06/2019 at 01:07:30
Re-Tosun, how does he get injured when not playing?
Tosun Pancakes or what, I've never known a more fragile bunch as some of these namby pambys, and cossetted mollycoddled overpaid players that we have.
Don Alexander
131
Posted 12/06/2019 at 01:21:12
Given JJK's slight 5'9" physical stature, about which he can do all but nothing, he'll have to be phenomenally talented in possession, especially, to get into a top six side. The truth is he isn't yet that talented but the likes of the two years younger A-A at the RS truly seems to be. Hmm.
Wan-Bissaka, a year younger but three inches taller (and wider?) than JJK, is now being touted as a £50 mill prodigy for Pete's sake after less than one whole season, but our guy's going to go to Germany in the mad hope that he somehow finds a large dose of (fresh, unused) talented, diminutive Lahm-juice.
Yeah, right - and that's not to denigrate JJK, it's a mere reflection on the way the game's going.
Terry White
132
Posted 12/06/2019 at 01:44:27
Didn't Tosun get injured playing for Turkey recently, Derek (#130)? He started the game against Greece on the 30th May.
Mike Gaynes
133
Posted 12/06/2019 at 01:48:53
DK #130, he WAS playing. He was injured May 30 in a "friendly" with Greece (as if there could ever be a "friendly" between Turkey and Greece!!) and limped off in the 55th minute.
Tosun Pancakes???
Derek Knox
134
Posted 12/06/2019 at 02:27:48
Thanks Mike G, and Terry.
Derek Knox
135
Posted 12/06/2019 at 02:54:27
Mike G, if it was in Scotland, it could have been Tosun the Caber.
Kieran Kinsella
136
Posted 12/06/2019 at 04:17:33
Jamie 129 Don 131
I get what you're saying but sometimes in sport you get phenoms. Remember in rugby we used to have little ferrets on the wings then the man mountain Jonah Lomu came along? Everyone thought he was the first of a new breed but he was more a one off. Then we had Viera at Arsenal, similar dynamic but when he retired we had 10 years of dreaming about a new Viera until Kante came along. Meanwhile the Inestas, Silva's, Vidal's etc did quite nicely for themselves. So I don't necessarily think TAA is the blueprint for all RBs. I just think he's really very very good.
Steve Brown
137
Posted 12/06/2019 at 04:36:23
Ashley Cole at his peak was the best English fullback. He wasn't huge but his technical ability, defensive awareness and interactions with midfield and attack were superb. TAA perfectly suits Klopp's tactics where he needs to push high up the field, and get early crosses into the box. But I am not sure he is the role model for fullbacks in, for example, Guardiola's set up.
Bobby Mallon
138
Posted 12/06/2019 at 06:15:00
Wouldn't it be a novel idea to actually have a right back who can defend and a winger who can cross a ball?
Peter Mills
139
Posted 12/06/2019 at 06:46:51
Terry#92, Martina always tried hard, especially when pressed into service at left back, but in much the same way that Eric Morecambe tried hard when playing Grieg's piano concerto.
All the right notes, but not necessarily in the right order.
Derek Knox
140
Posted 12/06/2019 at 07:08:04
Peter, or more like a Greig's Ham and Cheeese Pastie?
As many have previously mentioned why Assassin Koeman ever brought him in, smacks of jobs for old mates, at Everton's expense. I still think he is one of the worst I have ever seen in a blue shirt in recent times, although strangely enough when played out of position as LB cover, he did try, and appeared marginally better than at RB.
Stephen Brown
141
Posted 12/06/2019 at 07:30:39
Derek, he has some competition in the worst ever department!! Even for or a spot at right back - Mitch Ward, Tony Thomas, Marc Hottiger, Earl Barrett, John O'Kane. We are spoilt for choice in that area!
Dale Rose
142
Posted 12/06/2019 at 08:30:13
A good move for with plenty of game time. Best of luck to him. He will come back a better player.
Chris Gould
143
Posted 12/06/2019 at 09:26:57
Coleman quoted in the Irish Examiner as saying:
"I'm not getting any younger and there will come a stage where I won't be in the teams. But I'll keep fighting every single day in training. And you know, Jonjoe Kenny has just gone out on loan so you would imagine we'll be trying to sign another right-back and, as I said, every single day in training I'll fight."
He is expecting some incoming healthy competition.
Tommy Carter
144
Posted 12/06/2019 at 09:30:48
@Chris 122
I think Silva May wel stick with DCL and look to develop his game. I think he has shown enough to be a premier league player, his work rate and overall contribution are certainly good enough. He does lack any kind of quality when it comes to finishing or creating chances though. Hopefully this will come
However, I don't see a 25 goal a season striker being the be all and end all. We had one, and then had a team of players with him who couldn't score a goal.
I think we should explore DCL up top with his phenomenal attitude and work rate with a further goal scoring wide forward. We have Richarlison on one side capable of double figures, I'd even say capable of 15-20.
We have sigurdsson in the midfield capable of double figures.
If we can add someone like Hirving Lozano to the right wide forward position, then we are adding a further double figures player.
That's 3 players in double figures before you even count what DCL is able to muster.
These 4 players can form the basis of a strong attacking line up. With Digne and Coleman supplementing from the full back positions that would leave the 2 centre backs and Gana sitting with one other midfield player.
Rather than spend big money on several players, I'd like to see us add real quality with someone like Lozano instead. Give them £50m and lets get him on board.
If we are insistent on an upgrade on DCL then Belotti of Torino is another player worth the investment.
On a side issue. I advocated the signing of Fornals a long whil back, looks like he is going to West Ham. An opportunity missed by a lot of clubs here.
Sam Hoare
145
Posted 12/06/2019 at 10:01:29
Tommy, I also think we have not seen the end of Richarlison as a striker. The guy is a natural finisher and actually better at scoring than he is at crossing and passing, which we would expect of a winger. He needs to work on his hold up play as we saw last season but I expect Richarlison to convert to a striker at some point over the next few years.
This is also why Silva wants a left footed right winger this summer. I think Neres might be our top target though I'd also love to take a punt at Malcolm.
PLus a new right back I reckon (Maehle, Aarons, Reece james, Atal, Lazaro etc) Could be a whole new right hand side next season!
Tommy Carter
146
Posted 12/06/2019 at 10:23:11
@145 Sam
I do think Richarlison has the qualities to be a central striker but I think he gets more joy, freedom and chances from out wide. I think he benefits from having another forward, like DCL taking some of the physical burden away from him. Just my personal opinion though.
Malcolm appears to have a lot of ability but I'm not convinced he could have the same impact as Chucky Lozano. Lozano has played a lot of top level football for his age. I think he offers us more of what Malcolm will not, fighting spirit.
Careful time should be spent on adding those big signings, 2 or 3 required at most. And the rest of the time offloading players we do not need. Walcott and Tosun can go if we can offload them. Goodbye Sandro, Martina and Mirallas. Dowell should leave. Bolasie, Besic, Vlasic and Mccarthy can leave. And probably throw Stekelenburg in now we have signed Lossl. 11 players and a lot of wages saved. Speculatively I think we could hope to raise £35m in transfer fees from this lot too.
Derek Knox
147
Posted 12/06/2019 at 10:26:12
Sam, as Chris Gould mentioned about Seamus's article and comments, in the Examiner which I saw too, is a reasonable indication and assumption to expect a possible new RB before the window closes.
Of the ones you mention, I would plump for Reece james, but it's the Chelsea situation again, and I doubt whether they would allow a loan but you never know. I still haven't totally given up hope of getting Zouma back either.
A lot depends on their Appeal, the Manager situation, and of course Abramovich too. They have accumulated a lot of players over the years and I suspect they will be narrowing their wage bill, and capitalising on any assets should a new owner come in, unless he is another Trillionaire and only in it for the fun of it.
Geoff Lambert
148
Posted 12/06/2019 at 10:39:30
Geordies home first match of the season. Sky leak apparentley.
Sam Hoare
149
Posted 12/06/2019 at 10:57:55
Tommy, i'm a big fan of Lozano but a few things counts against him. Firstly he is right footed and I think Brands/Silva are looking for a left footed winger as we already have a lot of right footers. Also he is not as creative, he scores alot of goals but often that is because he is quite selfish, not necessarily a bad quality but maybe that Silva wants more of a team player. Finally I think Brands/Silva are looking to build team chemistry and the likes of Neres and Malcolm have connections with our current players through Brazil or Barcelona.
I would certainly be happy with Lozano signing but I suspect he won't be top of the list for those reasons.
I did think we would only be signing 2 or 3 this summer but now i'm not so sure. I actually think it may be more like 4-5 with a CB, RB, CM, RW and ST. Time will tell.
John G Davies
150
Posted 12/06/2019 at 11:03:36
Really hope this comes off for Jonjoe and he makes the required progress to be our future right back. A young man with a big heart he certainly won't fail due to effort.

Him being an Evertonian guarantees he gets the club. All the best Jonjoe.

Kase Chow
151
Posted 12/06/2019 at 11:16:32
I really like Bernardo but he just doesn't score goals. And on that basis I'm not sure where I see him fitting into an effective system
Unless it's to replace Gomes in a Junino type role
Tommy Carter
152
Posted 12/06/2019 at 11:18:20
@147
Reece James. Indeed. I've been massively impressed with him this season. Although I have very rarely seen him play right back and would be unsure as to what style of full back he would be. He was that good at championship level that Wigan put him in centre midfield and it often looked like a 28 year old with 400 games under his belt was playing there. I understand he's just picked up a bad injury and with the Chelsea transfer embargo it is unlikely that he'll move. A massive shame.
Another player that I've been greatly impressed with this year is the Czech Midfield player Tomas Soucek. He'd be available at a very low price and would be well worth the investment. He's an ideal premier league player and would add a distinct attacking threat to any team.
Brian Harrison
153
Posted 12/06/2019 at 12:05:10
Sky show opening day fixtures.
Spurs v Norwich
Bournemouth v Sheffield Utd
Crystal Palace v Arsenal
Everton v Newcastle
Southampton v Chelsea
Watford v West Ham
Burnley v Liverpool
Aston Villa v Leicester
Man Utd v Brighton.
Fran Mitchell
154
Posted 12/06/2019 at 12:06:34
We should bid for Max Aarons from Norwich, young player of the year in the Championship, very much in the attacking wing back mode. May be difficult to prise, but we could offer say Holgate and cash in exchange, maybe even a player like McCarthey too who would have much to offer a newly promoted club.
We should then focus on selling I know the window hasn't officially opened yet, but I am concerned at the lack of talk if sales regarding Niasse, Walcott, Besic, Sandro, Mirallas and a host of others who have nothing to offer us.
Si Smith
155
Posted 12/06/2019 at 12:14:13
For me Coleman is still our number 1 right back, and hes certainly still premier league level, so for me I'd save our money and use Holgate as back up for right back.
Let's see how Kenny gets on with a season in Germany before making any rash decisions in terms of buying a full back.
We also have Callum Connerly who plays right back, so without Europa football that should be enough cover.
Andrew Ellams
156
Posted 12/06/2019 at 12:54:02
Brian, the fixtures aren't out until tomorrow.
Brian Harrison
157
Posted 12/06/2019 at 12:58:42
Andrew
I know they are releasing all next seasons fixtures tomorrow but for some reason they have leaked these, the Mail on Line published the opening days fixtures.
Rob Halligan
158
Posted 12/06/2019 at 13:05:50
No surprise to see the RS are live on telly. Even when the opening day fixtures aren't authentic the bastards are on TV.
David Pearl
159
Posted 12/06/2019 at 14:05:15
Well Rob, no surprise. Even when they were finishing 6th or 7th they couldn't keep them off TV.
Dave Abrahams
160
Posted 12/06/2019 at 14:21:32
Brian (157) who are Man. City playing ?
Kieran Kinsella
161
Posted 12/06/2019 at 14:28:36
Dave 160
I guess Man City decided to forfeit their opener to Tottenham just to give the rest of the field a chance
Dave Abrahams
162
Posted 12/06/2019 at 14:32:39
Kieran (161), but Spurs are playing Norwich according to the list, I'm just too lazy to work out the missing team.
Kieran Kinsella
163
Posted 12/06/2019 at 14:34:08
If we do play Newcastle day one it brings back some good memories. If I recall correctly, we were slated to get hammered by Newcastle and their record signing Shearer on day 1 back when Royle was in charge. We won 2-0. Prior to that, everyone was at st James' on day one to see the new Brazilian samba "star" Mirandinha in action -- we won 4-0 Cottee hattrick. That said both those seasons went to crap. The Royle one was the worst, 2-0 up at United in game 2, until a late turnaround during "Fergie time."
Dave Abrahams
164
Posted 12/06/2019 at 14:35:36
City are playing Wolves away, if the list is true.
Kieran Kinsella
165
Posted 12/06/2019 at 14:38:43
Dave I'm so stupid I didn't see "Tottenham" and overlooked Spurs
John Pierce
166
Posted 12/06/2019 at 15:07:41
The first fixture is meant to be on the Friday night, right?
Raymond Fox
167
Posted 12/06/2019 at 15:46:32
I can only assume that we have secured a top experienced right back from somewhere, or if not its a very strange move on the clubs part for me.
As usual I see the rumours of all the fancy expensive transfers involve the top 6 teams with not a mention of Everton!
Par for the course is it not, second best are second best, trying to craft sows ears into silk purses very seldom works.
Ray Roche
168
Posted 12/06/2019 at 16:01:30
Didn't we have this last year? The Premier do a "dummy run " to make sure everything works ok and, presumably, all the big guns get what they want.
The first "leaked " list bore no resemblance to the real fixtures.
Jay Harris
169
Posted 12/06/2019 at 16:08:45
am more worried about the CB situation and don't have a lot of confidence in the names we are being linked with now that a deal for Zouma seems to be off.
Andy Meighan
170
Posted 12/06/2019 at 16:20:04
Kieran @163,
That Cottee hat-trick was at Goodison Park. Sharp got the other in a 4-0 win.
Kevin Prytherch
171
Posted 12/06/2019 at 16:23:37
I don't see the rationale of people wanting us to buy a right back, unless they are bought to replace Coleman.
We will only likely play around 40-45 games next season, Coleman will probably feature in at least 40. Why spend millions on a player who might only play 5 games?
If we spend money on a right back, it takes money out of the kitty for other areas. I would rather buy small amounts of quality, than large amounts of average.
We'll just end up with an Oviedo situation, a good player that will not be first team, but will block the path of others.
Rob Halligan
172
Posted 12/06/2019 at 16:37:55
Talking of German clubs, see we've got a pre season friendly in germany
2019 pre-season schedule:
Kariobangi Sharks - Sunday 7 July
FC Sion - Sunday 14 July
AS Monaco - Friday 19 July
Wigan Athletic - Wednesday 24 July
Werder Bremen - Saturday 3 August
Brian Williams
173
Posted 12/06/2019 at 17:08:50
Kevin~171.
Kev, someone probably had a similar outlook to yourself the split second before Seamus suffered his terrible inury.
Fact is a "squad" needs two players for each position for reasons in addition to the fact that a possible injury is only ever a tackle, a slip, or an awkward landing away.
Plus, we've previously slagged the club for being too sentimental and not ruthless enough so maybe the club buys a new right back in the manner to which we bought a new left back, just a thought.
Kieran Kinsella
174
Posted 12/06/2019 at 17:19:33
Rob
What a crappy pre season line up. We aren't in Europe next year so how does playing some mediocre European clubs prepare us for the prem? I would sooner see us travel to Celtic and play some top EFL teams. If we want European opponents make it someone good so we can test ourselves against the best.
Rob Halligan
175
Posted 12/06/2019 at 17:34:54
Kieran, there is also a European tournament over the weekend 27 / 28th july, but as yet no details announced.
Kevin Prytherch
176
Posted 12/06/2019 at 17:46:09
Brian - stick a clause in Kennys loan contract saying he can be recalled if there's a long term unjustly to Coleman.
Job done.
Kevin Prytherch
177
Posted 12/06/2019 at 17:46:38
Unjustly - injury.
Damn you autocorrect
Tommy Carter
178
Posted 12/06/2019 at 18:04:34
@ Brian 173
Too sentimental indeed. The Rat and Sharpy were well and truly done by 1988 and should've been replaced. Inchy was never international standard. Yet we stuck with these players based on their achievements years before. Whilst everyone around us were moving forward, light years ahead of us.
During that period Spurs were signing players like Lineker, Gascoigne and Waddle. Utd were bringing players in that would be the backbone of their Early Premier League dominance. Liverpool took in Barnes and Beardsley. The gunners were emerging with a core of brilliant young players.
Yet we stood still, and brought in players such as Ian Wilson and McCall to supplement the players who just weren't performing for us.
Andrew Keatley
179
Posted 12/06/2019 at 18:23:27
Kevin (176) - Would you be happy if we loaned someone with that sort of release clause? If Zouma had gone back to Chelsea in February last season because of an injury crisis it would have had a huge impact on the rest of the season. I think teams need to know what their squad looks like for the season, and any injury shouldn't have a knock-on effect for another club.
Danny O'Neill
180
Posted 12/06/2019 at 19:02:15
In fairness Kieran, Monaco are a decent name with pedigree who had a bad season and Werder Bremen finished 8th in a very competitive league.
I share your assumed like & affection of Celtic but that is like playing the League 1 Champions; I honestly think they would struggle in the Championship. Not relegation struggle, but maybe finish 8th?
So, mediocre teams from 2 of Europe's strongest leagues or the top dogs from a very mediocre league? What's the sterner test?
Karen Mason
181
Posted 13/06/2019 at 15:18:11
Hi Brian at #99,
So sorry to have caused any offence to you, any communities, or any God, when referring to JJ warming his 'cute tush' on the bench. Just to confirm & avoid any confusion, I am definitely no lady. (Ask my hockey team mates & opponents.) I do try to be politically correct, but somehow, just can't be that uptight!! I promise to try to stop referring to DCL as 'The Body,' and Gomes as 'The Eye Candy man'.
Normally, I am all about the footy, but sometimes a girl just has to give credit where credit is due, no matter how sexist!! Just love a bit of footy banter :-) so please don't have me suspended from ToffeeWeb.
Darren at #110,
I definitely agree with you that Marco seems to have improving players as his mission, which I absolutely support & applaud. He could, no doubt, improve JJ. But, if Seamus is fit & in form, the one thing he can't give JJ is valuable & sufficient game time. Maybe that is his thinking behind the loan. Our club also seem to have chosen a club for JJ, with a respected, modern coach.
Maybe this is wishful thinking on my part, but I would so love to see our local lad make it in our first team. I was just the tiniest bit disappointed not to see a homegrown Scouser on the pitch, in a Blue shirt, in the Derby game.
Paul Burns
182
Posted 13/06/2019 at 16:57:05
If he's not good enough, get rid. If he is, why loan him out at his age. More piss-farting around. For fuck's sake, somebody make quicker decisions, we're not a charity.
We waste millions on keeping players who are never going to be good enough, no wonder we never win anything. The future is now, if a gobshite like Klopp can put a side together in 3 years, there are others who can.
I'm sick of Everton "planning" for a future that never arrives.
Kevin Dyer
183
Posted 15/06/2019 at 15:08:40
No idea why anyone, assessing our current squad and what we need thinks that us spending on a 1st choice right back is a good idea. We need a goal-scoring striker, a CM (unless Gana is sold, then 2) and a centre-half. All need to be starting calibre i.e. not cheap. Unless we somehow turn up a brilliant youngster or bring in a veteran on a free or small fee we're looking at close to £100m. Wages would be around £100k EACH on average. Anything less and we've robbed someone (unlikely). OK we can hopefully offload some surplus players, permanent or on loan but net spend will still be large.
Our DoF has been tasked with trimming the wage bill too. Coleman is 30, entering the veteran stage but hardly at the level of Jags or Baines. For most of last season it looked like he wouldn't be able to overcome his leg break but credit to him he was back to 90% of what he'd been during the run-in. I'm not expecting any more this season but that level will do for me while we attend to areas of the squad that urgently need strengthening. We assess Coleman and Kenny next summer.
Sam Hoare
184
Posted 17/06/2019 at 14:09:07
Some links to James Justin in the press, a young right-back for Luton who played left-back a lot of their last promotion season. I've heard some good things about him. Fast, fit and able to contribute at both ends. Plus he could potentially play either side.
Leicester are also linked with him.
Tony Abrahams
185
Posted 17/06/2019 at 14:32:26
Sky are saying Leicester are talking to him now, Sam.
Add Your Comments
In order to post a comment, you need to be logged in as a registered user of the site.
Or Sign up as a ToffeeWeb Member — it's free, takes just a few minutes and will allow you to post your comments on articles and Talking Points submissions across the site.