Richarlison plays 45 minutes of Brazil draw
Tuesday, 18 June, 2019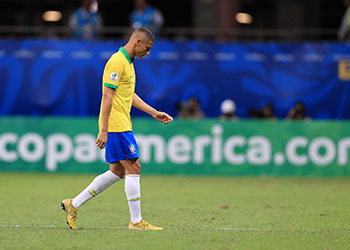 Buda Mendes/Getty Images
Richarlison only played the first half of Brazil's disappointing goalless draw with Venezuela in the Copa America in Salvador this evening.
The Everton forward didn't take the field for the second half and watched the remainder of the match from the bench as Tite's side struggled to make the breakthrough in their second Group B match of the competition.
The hosts were booed late in the game for their failure to register a second successive victory.
There were suggestions that Richarlison might have been holding his thigh as he left the field at the end of the first half but his comments afterwards in which he expressed his disappointment at being substituted suggest that it was a tactical decision on his manager's part.
"I'm an attacker and I want to be scoring goals," he said. "I had a chance to score but the goalkeeper took it. Going out [of the game] at half time is not normal, so I need to understand where I failed.
"The boos are normal, the fans are paying dearly for the ticket and want to see the show," he said of the home fans' displeasure.
Elsewhere, Dominic Calvert-Lewin came on for the final 15 minutes of England's 2-1 defeat to France in the Under-21 European Championships while Nikola Vlasic scored for Croatia Under-21s but ended up on the wrong end of a 4-1 scoreline against Romania.
England were reduced to 10 men when Hamza Choudhury was sent off for a terrible tackle on Jonathan Bamba and though the French would miss the resulting penalty, their second on the night, they eventually equalised and then won the match with an Aaron Wan-Bissaka own goal in the fifth minute of stoppage time.
---
Reader Comments (53)
Note: the following content is not moderated or vetted by the site owners at the time of submission. Comments are the responsibility of the poster. Disclaimer
Si Cooper
1
Posted 19/06/2019 at 09:07:52
Choudhury's challenge was idiotic and Wan-Bissaka must have panicked because the goalie was just about to pouch a totally non-threatening miss hit attempt on goal.
Very poor lapses and shows that it is not just our youngsters who have a lot to learn.
Kevin Prytherch
2
Posted 19/06/2019 at 09:47:43
Personally, I had a wry smile when the under 21's lost. During their whole qualifying and their form leading up to this, players like DCL, Kenny, Dowell and Lookman have been regulars. They get to a tournament and bow to the reputations of others, and lose.
Wan Bissaka might be good, but Kenny is a leader. Would they have given away 2 penalties, a red card and conceded 2 late goals with him on the pitch instead?
Tommy Carter
3
Posted 19/06/2019 at 10:20:40
@2 Kevin
What Kenny and Wan-Bissaka will achieve in the professional game will be light years apart in difference.
One completely freak incident doesn't make a bad player. This guy will be awesome.
Kenny on the other hand will have a steady championship level career and certainly no better.
Simply see Kenny for the goal against Leicester earlier this season to learn about his absolute to defend. One example of many where he has been hopelessly ill positioned and often not robust enough to defend at this level
Derek Knox
4
Posted 19/06/2019 at 10:43:41
Kevin, we must have similar thoughts, mine was 'serves you right for not picking any of our lads' but then again we could be accused of bias. :-)
Watched this through Premier Sport Channel, managed to get through Kodi/Rising Tides/Sports Channels, for anyone interested.
I thought Richie had a decent first half, although service to him could have been a lot better, there were others who should have come off before him but there you go. They actually (Brazil) had the ball in the net 3 times, but were over-ruled each time with VAR, which I'm still not totally convinced about, the time taken, and it's down to opinion at the end of the day, marginal offsides not interfering with play?
One valid observation I did make during the whole game was not from a Brazilian, but a Venezuelan defender (CB) called Yordan Hernandez Osorio (Paredes) Osorio on his shirt, played absolutely brilliantly thwarting everything that Brazil threw at his side. Putting his body on the line, I know it could have been a one-off display, but according to the commentary this guy is pretty much the same every game.
Now with it looking highly unlikely that we will ever get Zouma back, well not until next year at the very minimum, we could do a lot worse than have a look at this guy, he's just turned 25 (May) he's tall (6'2") plays mainly LCB. I just wonder if M Brands would even consider a player like him, who wouldn't cost a King's Ransom.
With the political situation in that country being what it is (most pros have had their contracts dissolved and told to make their own living elsewhere, he could possibly be a relative Peanuts Fee. Although I think he may be connected to Porto?
Liam Reilly
5
Posted 19/06/2019 at 11:26:38
Agree Kevin on the selection.
I mean how is Solanke - how many starts for Liverpool and hardly set the world alight at Bournemouth - don't even think he scored - selected ahead of DCL who lead Everton's line.
Isn't Davies in that squad also?

Amit Vithlani
6
Posted 19/06/2019 at 11:34:43
Kenny a Championship level career? Have a word with yourself. At a minimum a Prem League player for years to come. Hopefully he will bloom much like Seamie did after his loan spell.
That said, Wan Bissaka is the better RB - probably one of the best in the league.
Annika Herbert
7
Posted 19/06/2019 at 11:42:50
Tommy@3, just as 1 poor game does, nt make a bad playe, neither goes 1 good season guarantee player will become something special.
That the Palace player has looked good this season does not automatically mean he will become something special. He may well turn out to be a top player, but it is not a sure fire thing
Annika Herbert
8
Posted 19/06/2019 at 11:42:51
Tommy@3, just as 1 poor game does, nt make a bad playe, neither goes 1 good season guarantee player will become something special.
That the Palace player has looked good this season does not automatically mean he will become something special. He may well turn out to be a top player, but it is not a sure fire thing
Jay Wood
[BRZ]
9
Posted 19/06/2019 at 13:09:51
It was wall-to-wall watching of Brazil yesterday. First the ladies at the WC, then the men against Venezuela, so I missed the U-21 game.
I took a glance at the starting line up and - like others - had a wry smile at the selection.
As Kevin points out, the Everton players have been the bedrock of the team for 2 years now. DC-L was voted the team's player of the year and was the side's leading goal scorer.
I can only conclude Solanke must have been training like a combination of Messi and Ronaldo to get a jump on Dominic for the starting slot.
I haven't seen anything of the game, just read reports. It appears the manager had a bit of a mare with both his starting selection and in-game substitutions, given the sending off.
As for Tommy's pop at Kenny, that's not a convincing argument Tommy. Yup! Kenny was culpable in the goal we conceded at Leicester. So was Bernard in the build up to that goal. Kenny WAS woeful in that game...in the first half. He showed his grit and mental strength to come out in the second half and put in a great performance.
Championship level player? Is that how the Bundesliga is regarded these days?
Jay Wood
[BRZ]
10
Posted 19/06/2019 at 13:23:08
As for Richarlison and Brazil, Brazil was once again very ordinary last night as they have been since the WC in Russia last summer.
Derek @ 4, it wasn't your blue tinted glasses which made you question replacing Richarlison with Jesus at halftime. Our boy was again the most lively forward or midfield player, showing good movement and high energy. He was the only one to draw a save from the keeper for Brazil (from a legitimate shot) ALL game.
Maybe Tite's idea was that Firmino and Jesus would unlock the Venezuelan defence by them linking up down the middle. It only made it easier for Venezuela to defend.
But unless Richarlison picked up a knock - and there is no mention or suggestion of one - why he was sacrificed and not Neres was strange.
Because in that 1st half Neres was three times clear on goal coming in from the left and either shot wide or crossed wildly on each opening.
The loudest chant on the night came after an hour with the stadium chanting Cebolinha's name (Everton Soares) and he was finally introduced for Neres with 25 minutes to go.
He brilliantly created the last minute 'goal' for Coutinho, but it was rightly ruled off for offside with Firmino being directly in front of Coutinho as he scored.
Brazil roundly booed during and after the game. The first home game in 5 years they have failed to score, apparently.
Their problem is in midfield. There is little or no creativity with Coutinho, Casimiro and Artur all looking very pedestrian.
Very poor showing.
Before the WC Brazil's footy president declared publicly the coach Tite would continue in the position, regardless of how the Copa America went, until the 2022 WC.
Let's see if he holds his nerve if, in the event that Brazil doesn't win the tournament (given they've won all previous four Copa America's held in Brazil), the public bay for blood.
Tommy Carter
11
Posted 19/06/2019 at 15:05:47
Amit, Jay and Annika.
Kenny will have a championship level career. Just you watch. As for him joining Schalke, he won't get any more than 15 starts. Mark my words. After that he'll either do a Pennington and become a serial loanee well into his mid 20s, which are not that far away.
Or. He'll move on permanently to a lower Premier League team with which he'll be relegated or a Championship team with which he will play a few hundred solid enough matches.

Mike Gaynes
12
Posted 19/06/2019 at 15:29:58
Tommy #11, if he stays healthy and Schalke doesn't sign another RB, JJK will get 30 starts. He's the only RB on their roster. By the end of last season they were covering the position with two out-of-position midfielders.
DK #4, I looked up Osorio, and yes, he actually belongs to Porto. Played last season on loan at a lower club. Didn't play against the US last week and has turned out only 10 times for Venezuela, but this was quite a performance. They play Bolivia on Saturday.
Tommy Carter
13
Posted 19/06/2019 at 15:50:32
@12 Mike
Once they see Kenny start playing, they'll be singing a RB as a priority.
Dave Abrahams
14
Posted 19/06/2019 at 16:09:27
Tommy (11), you seem to have Jonjoe Kenny's career well marked out, I'll watch with interest how it turns out, for me Jonjoe will do a lot better than you forecast, we'll see how it turns out.
Jay Wood
[BRZ]
15
Posted 19/06/2019 at 16:37:16
Remarkable predictive skills you're displaying, Tommy.
I'll base my opinion on JJK on games he's played, rather than imaginary ones in the future.
He's been solid and reliable throughout his academy career and at every junior level with England.
A season and a half ago, following Coleman's leg break, he was drafted into a makeshift defence in a team in complete disarray following Koeman's dismissal and Allardyce's appointment. That defence was JJK-Holgate-Williams-Martins.
In the time they played together they were the most resilient defence Everton put out that season. JJK was consistently fearsome in the tackle, crisp and accurate with his passing, always capable of putting in more than a decent cross when getting forward. He has great pace and recovery. Nor was he ever a shrinking violet. He'll bollock his own player, no matter how senior they are, if he reckons they failed in their duty.
For me, when defending, he had a tendency to hang back a bit too deep on occasion, thus playing the attacking team onside if the ball was turned over and they came at us again, but from recall it never cost us a goal.
Even this last season, with Coleman back fit and having fewer playing opportunities, JJK proved a worthy understudy when he did play. Indeed, when Coleman's form dive bombed Silva dropped him for JJK and I wasn't alone in thinking he deserved a longer run in the side before Coleman - who still wasn't playing well at the time - was recalled.
I wonder if your assessment of JJK is based on the 'immediacy' rule: the last performance in which you saw JJK play. That was away to Newcastle when he was a very, VERY late replacement for Coleman who had to cry off just before KO. That was possibly JJK's poorest performance for the first team. And even then it was not as bad as some made out, but it is associated with a very poor loss.
You may well be proven right Tommy, that he will be 'found out' in the Bundesliga and end up trundling his trade back in the English lower divisions. The odds are in your favour. There are a lot of players - including from the academy - we need to move on.
But personally, I'm willing to put more faith in JJK 'making it' - and at Everton - than you evidently do.
Jay Harris
16
Posted 19/06/2019 at 16:51:22
So an U20 captaining a world cuop winning side is destined for the championship by someone who has only seen him play about 20 times.
Ive heard it all now Tommy.
JJK is every bit as capable as Wan Bassaka IMO but doesnt enjoy the media bias shown to London clubs, Liverpool and MAn U players.
None of us know how his career will progress but he ahs the potential to be even better than Seamus and somehow I don't think that warrants labelling him a championship player.
Tommy Carter
17
Posted 19/06/2019 at 18:51:51
I respect that you are all regular contributors to the fora on this site. So I will revisit this in 12 months time. And the 15 games or less for Schalke at that point we will be able to assess.
I base all of this on what I see of the player and his ability. Don't read too much into his achievements at England youth level
Tommy Carter
18
Posted 19/06/2019 at 18:53:51
And Jay, particularly.
I only needed to see Michael Branch play 10 times to know he wasn't going to cut the mustard.
Less for Peter Clarke.
Jay Wood
[BRZ]
19
Posted 19/06/2019 at 20:09:41
Tommy @ 18.
I take it all back.
Your two outstanding examples from 15-20 years ago clearly elevate you to football's greatest seer.
JJK may as well forgo his ambitions with immediate effect.
Derek Knox
20
Posted 19/06/2019 at 21:18:51
Mike G, @ 12, I am glad we both agree that this lad (Osorio) has something worth further scrutiny, unfortunately Marcel Brands has given me his number on many occasions, which I have only written down on the back of another unlucky Lottery Ticket, which I have hence discarded before realisation of the loss.
It could be worth a mention to him, as I dare not ask for his number through the Official Channels! :-)
Mike, seriously though, we have had a lot worse through our ranks, the list is too exhaustive to even start naming candidates for the Hall of Shame.
Rob Halligan
21
Posted 19/06/2019 at 21:32:00
Completely off topic, but I've just seen an unusual thing in the Women's World Cup game (I know, but there's nothing else on) between England and Japan, when a Japanese player played a pass, but the pass hit the referee, who immediately stopped play, and give a drop ball back to the Japanese.
Is this a new rule to be implemented next season, as I've never seen anything like that before?
Ray Roche
22
Posted 19/06/2019 at 21:37:27
Yes, Rob, it's a new rule. The referee drops the ball to the team who had possession.
Jay Wood
[BRZ]
23
Posted 19/06/2019 at 21:39:25
Yes Rob. Part of the newly introduced rule changes. Two players going in studs flying for a dropped ball is a thing of the past.
Changing sports, and knowing you like your clikky, enjoying Lancs form this season? The Red Rose county certainly benefiting from having the World Cup early this summer, pushing back the Ashes series to later in the summer, freeing up Jimmy Anderson to play more for the county than normal.
He and Onions are skittling through sides, aren't they?
Mike Gaynes
24
Posted 19/06/2019 at 21:49:39
Jay #16
"JJK is every bit as capable as Wan-Bissaka"
Whaa????
No. No. No. He is not.
Love your Blue support and I like the lad too but he is not remotely Wan-Bissaka.
Who just today became the most expensive fullback in Premier League history at £55 million.
No.
Tommy #17, how about a little sporting wager? For every game over 15 that JJK starts at Schalke, you donate a hundred to EitC. For every game less, I'll do the same. You in?
Rob Halligan
25
Posted 19/06/2019 at 21:56:45
Lancashire are the yo-yo team of cricket, Jay. They will probably win Division 2 then struggle in Division 1. You're right, they are winning games at a canter, and if it weren't for the weather would probably have won more games.
Back to the Women's World Cup, and the game between Scotland and Argentina ends in controversy. Argentina awarded a penalty via VAR. The penalty was saved, but had to be retaken as the goalie had both feet off the goal line. I know the rule says you must have at least one foot (or is it both feet on the goal line?) But unless the goalie is looking at their feet rather than the ball, then they will have no idea if they are on the goal line of not?
Mike Gaynes
26
Posted 19/06/2019 at 22:00:10
They're professionals, Rob, they should know. And the refs are carefully explaining the niggling rule to them before each pen, so there's no excuse for not adhering to it. Not sure whether this strict interpretation will survive, but that's the way it is right now, and with VAR behind it, the players all understand the consequences.
And let's face it, the story of the game was Scotland blowing a 3-0 lead in 20 minutes, not the rule or the VAR.
Rob Halligan
27
Posted 19/06/2019 at 22:05:31
Mike, is it one of both feet have to be on the goal line before the penalty is taken? This is the second such incident I've seen in the Women's World Cup, and only because VAR picked it up. With VAR to be introduced into the Premier League next season, I can see such incidents going on for ages, because let's face it, hardly any goalkeeper has one of both feet on the goal line when the kick is taken.
Mike Gaynes
28
Posted 19/06/2019 at 22:07:21
Rob, it's one foot on the line when the kick is struck. And you're right, VAR is picking up violations the refs can't possibly see.
Mike Gaynes
29
Posted 19/06/2019 at 22:08:09
The keepers just have to adjust, like they've had to adjust to so many rules changes in the past. There's no choice.
Rob Halligan
30
Posted 19/06/2019 at 22:14:34
Cheers Mike. I guess because I played in goal I'm sticking up for all goalkeepers in such incidents as this. I think it's about harsh if a goalie is only a few inches off their goal line. For me it's just a natural instinct to be on your toes and spring slightly forward before the penalty kick is taken.
John Pierce
31
Posted 19/06/2019 at 22:17:22
The change is too much IMO. The balance between the taker and keeper has irrevocably tipped to the point were keeper's cannot get spring or momentum from their position. It drastically reduces the 'arc' they can save a spot-kick from. The taker is allowed an (almost) unlimited run-up; the keeper gets nothing.
The attacking players are often further in the box than the keeper is off the line so where is the fairness?
Is this really a change which is righting vast numbers of penalties which have been saved by keepers grossly being off their line? Who was lobbying for this change? I watch and absorb so much footy and yet there's no groundswell for this change. It's misguided and overkill.
May as well just give a penalty goal and be done with it.
Ray Roche
32
Posted 19/06/2019 at 22:18:36
Mike, they'll have to start with both feet BEHIND the line so that their forwards momentum will have them, correctly, on the line when the ball is kicked.

Rob Halligan
33
Posted 19/06/2019 at 22:25:15
Exactly John. All new changes, whatever they may be, seem to be in favour of producing more goals in each game. Regarding the second penalty taken by Argentina, the Scottish goalkeeper made no attempt to try and save it, simply because she could not have the opportunity to be on her toes and spring forward. Are goalkeepers still allowed to move along the goal line, without moving off it, or has that been changed as well?
Jay Wood
[BRZ]
34
Posted 19/06/2019 at 22:25:15
Unfortunately Ray, that's part of the new ruling. Keepers must have both feet on the goal line at the time of the taking. No option to stand behind the goal line, which our youth keeper exploited very well in the Youth Cup away to Stoke this season just passed.
I agree with Rob. It's a natural instinct for keepers to bounce on their toes to get some spring to their leap. It tips the balance too far in favour of the penalty taker.
Great penalty saves - and we have one of the best in the business currently - are as key and as memorable as great goals. The new ruling potentially diminishes the likelihood of that happening.
Jay Wood
[BRZ]
35
Posted 19/06/2019 at 22:29:16
Rob - "Are goalkeepers still allowed to move along the goal line, without moving off it, or has that been changed as well?"
Given that their feet have to be touching the goal line at the point of the penalty kick, that has effectively been annulled as well. As has the habit of keepers of bouncing up and down and palming the cross bar as they wait for the kick to be taken.
Keepers now have a narrower line to walk than gymnasts performing on the beam!
Ray Roche
36
Posted 19/06/2019 at 22:33:10
Yes Jay, it's too much in favour of the kicker now. "Manufacturing " goals and excitement. Keep the goals flowing. Next year "Keeper! You can't use your hands!"
John Keating
37
Posted 19/06/2019 at 22:43:09
Unfortunately a relatively simple game is slowly becoming unfathomable even to the professionals.
Maybe it's the Luddite in me but the changes in the last few seasons from offside, or maybe not in the 3rd phase, to the present VAR are, in my opinion, slowly ruining the simple game.
Rob Halligan
38
Posted 19/06/2019 at 22:44:24
To not be able to move forward before the kick is taken is one thing, but to not be able to stand behind the goal line in order to get that spring forward before the kick is taken is just plain daft. I really don't see the harm in the goalie standing behind the line.
Ray Roche
39
Posted 19/06/2019 at 22:50:31
Instead of tackling the problems that are really ruining the game, time wasting, simulation, playing dead when you've only broken a finger nail, penalty box grappling, the powers that be are fucking about with poxy little rule changes like this. Who are these gobshites who are ruining football?
Derek Thomas
40
Posted 20/06/2019 at 01:14:35
Ray @39; who are they? They are – allegedly – part of the FIFA / UEFA mob, many of whom have been found to be taking bribes etc. So is it any wonder. It all starts from the top.
But then again, the money tail has always wagged the football dog.
John Pierce
41
Posted 20/06/2019 at 01:40:54
Rob 38. I felt so bad for Alexander, the Scots' keeper. You are so right, at a loss what to do, she was left flat-footed and had no way of moving, the penalty was poor and under normal circumstances would have been saved. The law was already good enough for a referee to deem if a 'significant' material advantage had been gained by a goal keeper to order a retake. They are looking in the wrong areas to improve the game.
The delay of the penalty decision, the time the referee took to set the penalty, then reset it was unedifying and not what players or fans want. Piss poor is what it was.
Michael Kenrick
42
Posted 20/06/2019 at 02:27:58
I only watched the highlights which I thought showed two good goals from Brazil... until VAR stepped in. What a travesty... especially the second one, where the offside player is clearly played on by the defender. Oh wait, we had that a while back and it no longer applies.
I reckon you'll be able to find some trifling contravention of the rules on VAR to deny any and every goal. It's really spoiling the Copa America for me.
Mike Gaynes
43
Posted 20/06/2019 at 02:29:14
I have a strong feeling that the FIFA rulesmakers will tweak this rule and the VAR use of it before the European league seasons open in August. It's weird, but they truly do view the Women's World Cup as something of a laboratory for these changes, and this particular one clearly does not work properly.
None of this is unexpected. The rollouts of replay technology in American sports, individually and collectively, were fraught with initial difficulties. The system has steadily improved over time as leagues and officials have learned better ways of using it, and VAR will too.
In the meantime, we'll have a lot of fuckups like this.
John Pierce
44
Posted 20/06/2019 at 03:27:36
Mike, it's not VAR really is it? The laws and the changes to them. Despite my philosophical opposition to it, I won't deny some clear improvements, offside definitely can work under VAR.
However, the changes are there to make the game binary without subjective decision-making, handball and this particular rule have been changed to make it black and white, it's sanitizing the product.
As for field testing it in the Women's World Cup that's a disgrace itself, why should they carry the can, for in all likelihood changes, made by men! If your product is not ready for market then it should 100% not be used.
It screams that Everton will be on the end of a stinker at Anfield, they will totally get a retake to our cost.

David Stranack
45
Posted 20/06/2019 at 09:55:29
He also had a great game against Argentina & Messi by all accounts:
http://www.newindianexpress.com/sport/football/2019/mar/23/venezuela-beat-argentina-3-1-on-leo-messis-international-return-1954772.html
Someone get onto someone at the club about the Osario kid...
Can be no worse than 50-pence head Krøldrup!
Jay Wood
[BRZ]
46
Posted 20/06/2019 at 12:01:05
Following up yesterday's discussion on just how restricted keepers now are at penalties, a glimmer of hope as to how VAR will be applied in the Premier League next season. Or rather, NOT applied in this case.
James Marshall
47
Posted 20/06/2019 at 12:41:10
VAR is a bag of shite. Sanitising the game, taking the human element away, making it all about getting the decisions correct at the expense of the reason the game is so popular in the first place - because people debate it and we all have an opinion on it. What do we have now? An opinion on whether the morons with the replays interpretation of their stupid new laws are right or wrong.
Fuck VAR, and fuck FIFA for bringing it in.
James Hughes
48
Posted 20/06/2019 at 12:59:35
James, wrong, wrong and possibly wrong again.
Steve Carse
49
Posted 20/06/2019 at 13:11:21
James (47), I agree totally.
My predictions for next season are for:
- a big increase in penalty awards,
- but the total number of goals scored to be fewer than in any recent season.
The VAR officals will find any reason to disallow goals, however subjective their decision -- it's human nature for no marks to want to become the star of the show.
If, as I expect, VAR ruins the spontaneity of footballing emotions when a goal gets scored, then the game is, James 48, ruined.
James Hughes
50
Posted 20/06/2019 at 13:28:16
it's not a question of sanitising the game it's about getting the crucial decisions correct. The powers that be are not using the VAR system in a way that benefits the game and their approach needs to change.
The game is so fast these days and players of all teams exaggerate all contact. Officials could use all the help they could. There are benefits of using the system properly as other sports are capable of.
Perfect example, it was years ago, Rodwell was given a straight red card in a derby, no contact was made. The decision at the time was wrong, everyone could see that, the ref made an instant decision. That decision could have been reviewed.
VAR will not kill the game but they need to adjust how they use it.
John Keating
51
Posted 20/06/2019 at 13:34:33
Next step will be something like the pools panel. A group of wasters will sit in some office in London drinking treble G&T's and deciding the results based on previous history.
Far too sanitized and all the craziness will be taken away.
Rob Halligan
52
Posted 20/06/2019 at 13:45:26
Jay, that's a good decision by the PGMOL, not to use VAR next season, on goalkeepers moving off the line before the kick is taken. It will be down to the on field officials to decide.
Highly unlikely I know, but we could have seen a goalkeeper saving say, 3 or 4 penalties only for VAR to say he wasn't on the line until either the penalty is scored or the taker puts it wide or over the bar. We could have been there all day!!
Talking of which, if a goalie is off his line and the penalty kick goes wide or over the bar, would it be retaken?
Tommy Carter
53
Posted 21/06/2019 at 21:04:30
Anyone see Kenny tonight?
Add Your Comments
In order to post a comment, you need to be logged in as a registered user of the site.
Or Sign up as a ToffeeWeb Member — it's free, takes just a few minutes and will allow you to post your comments on articles and Talking Points submissions across the site.