Everton expected to conclude Gomes deal this week
Tuesday, 18 June, 2019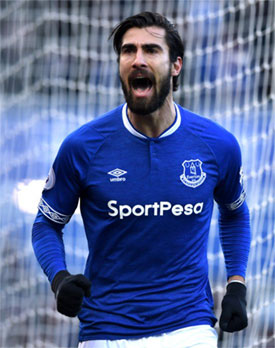 André Gomes will reportedly become a full-time Everton player in the coming days after a deal worth £22m was struck with Barcelona.
The announcement of the Portuguese's permanent switch from the Nou Camp after a season on loan at Goodison Park could come before Friday as the finishing touches are put on the transfer.
Gomes joined Barça from Valencia for €35m in 2016 and he made 46 appearances in La Liga before falling out of favour and, by his own admission, struggling psychologically with his poor form.
A move to Everton, facilitated by Director of Football Marcel Brands, together with team-mates Lucas Digne and Yerry Mina last summer gave the 26-year-old a new lease on life and he has made no secret of how much he enjoyed playing on Merseyside under compatriot Marco Silva in 2018-19.
Injury prevented him from making his debut until October last year but once fit he didn't look back and was only forced back onto the sidelines by fatigue, further minor injury or suspension over the remainder of the campaign.
According to reports, the deal with Barcelona includes another £2m in appearance-related add-ons that would take the final fee to around £24m should the Blues qualify for the Champions League during his time at Goodison.
This article was updated to reflect new information regarding the agreed add-ons for Gomes's transfer, revised down from £8m.
---
Reader Comments (98)
Note: the following content is not moderated or vetted by the site owners at the time of submission. Comments are the responsibility of the poster. Disclaimer
Brian Williams
1
Posted 18/06/2019 at 20:33:40
Gomes to be confirmed tomorrow €25m ????
Darren Hind
2
Posted 18/06/2019 at 22:09:51
Brian,
Where are you getting that from?
Brian Williams
3
Posted 18/06/2019 at 22:24:43
Had a phone call, mate, we'll see how reliable tomorrow! He said it's widely reported from reliable sources in Spain.
Again, we'll see tomorrow. Hope it's true like, specially at that price.
Paul Tran
4
Posted 18/06/2019 at 23:03:39
Seen a few more reliable links on Twitter saying done deal at €25m, which is a pretty good price, especially on the day there's reports that Msn Utd are talking to Walsh about a DOF job.
Thank you The Grand Visir!
Mike Gaynes
5
Posted 18/06/2019 at 23:42:13
Here are the latest reports on Gomes, all of which say the deal is all but done and peg the price at £21-22 million, or a bit under €25m:
https://www.sport-english.com/en/news/barca/barca--everton-finalising-deal-for-andre-gomes-to-remain-in-england-7511620
https://www.dailymail.co.uk/sport/football/article-7155949/Everton-close-signing-Andre-Gomes-permanently-Barcelona-22million-deal.html
http://sportwitness.co.uk/spain-everton-can-complete-signing-quickly-wednesday-terms-agreed/
Bargain, if true.
Jamie Sweet
6
Posted 18/06/2019 at 00:07:45
Yeah it's all over twitter now. Not always the most reliable source of transfer news, but the sheer number of verified accounts all saying the same thing would be unusual if it weren't true.
There is also a video of Gomes with the CEO of some Spanish e-sports club posted a few hours ago, and this chap references Everton, or Evertonians a number of times.
I would be hugely surprised if this deal wasn't concluded by the end of this week. Might still take a couple of days though for a medical etc according to some.
Frank Sheppard
7
Posted 19/06/2019 at 07:19:20
Sounds promising, let's hope there is no hitch.
Duncan McDine
8
Posted 19/06/2019 at 07:47:23
I don't think it's a bargain by any means but hopefully he can gain confidence by being in a place where he's appreciated. I thought he was pure class for a couple of months, but along with the rest of the team, he fell to pieces after the Anfield derby. Thankfully though his form gradually improved but it took quite a while.
Alan J Thompson
9
Posted 19/06/2019 at 08:10:45
And not a goalkeeper in sight?
Martin Berry
10
Posted 19/06/2019 at 08:15:30
I think it will be a bargain, he is undoubtedly a class midfield player.
He has the physicality for the prem, a ball winner and can really pick out a pass.
I can only see him improving as he becomes more familiar with the demands of the league, lets hope he stays injury free.
Justin Doone
11
Posted 19/06/2019 at 08:15:55
Class player. I hope it goes through but no rush.
More concerned about getting in a new centre back as I'm not holding my breath that Zouma will come who was our most consistent and reliable defender last season.
Then there is the striker or forward debate. I'm not to concerned about the 'exact title of the position' but we need more goals and creativity from somewhere.
Mike Gaynes
12
Posted 19/06/2019 at 08:27:14
Goalkeeper???
What do we need less than a goalkeeper?
Especially after just signing one.
Alan J, you crack me up.
Si Cooper
13
Posted 19/06/2019 at 08:54:30
Mike, Alan may just be referencing the earlier rumour that we were looking at doing a deal for Cillessen alongside the one for Gomes.
I think €25 million is cheap for a decent player with EPL experience these days. You will be paying £50 million and up for a potential world beater. If we assume that West Ham and Spuds were genuinely interested then I'm satisfied that Gomes is of the required calibrate. I liked what I saw last season but we do need him to be more consistent and work on some flaws.
I'm of the opinion that Gana is probably going so I don't expect this to be our most highly priced midfield recruit this summer.
Pete North
14
Posted 19/06/2019 at 09:07:46
The source of this story is Mundo Deportivo, Barcas mouthpiece so its very reliable. The article basically says efc offered 25m euros, suggests that west ham offered c27m euros but Andre insisted on going to Everton. West Ham then bought Fornals instead. It says that Andre can sign today if he wants so its just up to him and Everton to sign the papers.
Si Cooper
15
Posted 19/06/2019 at 09:15:26
I see that the media hacks are calling Walsh the Leicester mastermind again now that United want him (and Fergie apparently recommended him).
Hopefully it will hasten their slide back to mediocrity.
Pete North
16
Posted 19/06/2019 at 09:19:03
A side comment in the Mundo Deportivo article was that Cillessen is going to Valencia and Barca are claiming a profit of 24m euros on that deal.
Kev Jones
17
Posted 19/06/2019 at 09:27:45
I hope this goes through. While he has been inconsistent I think he is really talented and will get better. Given the speculation that he might have cost 30 million( was it Euro or pounds?) is the current price a good sign of Brands influence on transfer negotiations?
John G Davies
19
Posted 19/06/2019 at 09:48:31
What a bargain if we get him for that price.
A bit in and out last season but potentially top class.
Paul Tran
20
Posted 19/06/2019 at 09:56:02
Yes, John G, a bargain. I often wonder whether Gomes is a very good player, or a good player that occasionally looks very good. I'm hoping that after a pre-season it'll be the former.
Regardless, if he was a young English player that could run in a straight line, he'd be more expensive!
Steve Carse
21
Posted 19/06/2019 at 10:13:40
Gomes's best game last season by some distance was away at WHU. That probably explains West Ham's keeness to buy him. In that game he made maximum use of the space they were allowing us in the middle of the park and he looked the complete midfielder. In all other games he has seemed content (maybe ordered?) to play the link man role, displaying great skills but some way from being a dominant force in the middle of the park. Hopefully next season we'll see him develop the more forward-looking side to his game. If so the £22m fee will prove to be an absolute snip.
Sam Hoare
22
Posted 19/06/2019 at 10:13:48
I've made my doubts on Gomes clear across this site over the last month or so. I don't think he gets enough tackles, interceptions, forward passes, assists and goals to rank him as a top level box to box player. He also gives away way too many silly fouls. He has a good touch and for a team that has lacked composure in the middle since Arteta left I think that elevates him in the fans minds.
Having said that £22m would be a decent price for someone who is settled in the team and well liked by all accounts. He is also better than our other options. Continuity is something crucial to most successful teams.
I hope that he will continue to improve and we will see more of the West Ham (a) Gomes than the Newcastle (a) Gomes. He is clearly a confidence player and my worry is that Silva will persevere with him even when out of form as he did over last season's bleak midwinter.
Clive Rogers
23
Posted 19/06/2019 at 10:29:15
A decent player for the money imo, but needs to add a few more goals and assists. Good passer of the ball and defensively stays on his feet.
Chris Green
24
Posted 19/06/2019 at 10:41:13
I find it funny people think this isn't a good price for him. When you see some of the players being priced at £60m upwards, €25m if true is excellent value for someone who proved in his first season, after injury and psychological issues he himself talked about, that he can offer ALOT. I think he will be an excellent permanent addition.
James Marshall
25
Posted 19/06/2019 at 10:41:44
People are complaining as always about us signing a player - this isn't FIFA19.
What do you want, the perfect footballer? Or someone with some quality who can pass for fun with both feet, has vision beyond anyone else at the club, natural ability as well as Barcelona coaching under his belt.
I reckon people would still be on here moaning if we signed XXXX XXXX (insert your all time favourite player name).
Gomes is easily the best we (Everton) can A) afford and B) attract. It's all about levels, and having a realistic understanding of where your club sits in the current pecking order.
We aren't likely to sign Neymar, Ronaldo or Leo Messi anytime soon.
Ray Said
26
Posted 19/06/2019 at 10:42:05
If the price is around 25 mill then it seems a really good deal compared to some of the prices being paid for players much inferior to Gomes. There is also the advantage that he already knows the club, has settled well and is very well thought of by the fans.
I would like to see him given a chance further forward to take advantage of his dribbling and excellent shooting. A very good piece of business.
Derek Thomas
27
Posted 19/06/2019 at 10:59:56
Try before you buy works again and the price is right.
Derek Knox
28
Posted 19/06/2019 at 11:00:56
While not an unexpected bit of news, a very welcome one especially at that price, while I was very impressed with Andre Gomes, he did have a few question marks against him.
When figures of £30-35M were getting tossed around against what Barcelona paid for him, and the alleged release clause, I felt we should look elsewhere. I know most of the horseshit was fed by journos (what's new?) but I always tend to think about smoke and fire.
The 3 match suspension, for the childish retribution on Mitrovitch was not only something I hate to see in Football, but certainly deserved. He could have ended the lad's career, made me think differently about him, and the way we coped without him during that suspension almost confirmed that.
However, it's water under the proverbial bridge now, so welcome aboard!
Sam Hoare
29
Posted 19/06/2019 at 11:11:56
James@25, that's a lazy complaint. If you rate Gomes very highly then fine. But others may not and obviously no-one is suggesting that we can or should sign Neymar etc.
It may amaze you but I think there are players somewhere between Gomes and Neymar on the scale that we could sign. Feel free to look at my article if you want to see some names: https://www.ToffeeWeb.com/season/18-19/comment/fanscomment/38060.html
Anyway as Derek says its water under the bridge if/when he signs. I do think he is better than what we have and it sounds like Brands has negotiated a good price.
James Marshall
30
Posted 19/06/2019 at 11:29:48
Sam - my complaint is that there are always, without fail, people complaining for some reason about players we sign. I stand by the point, but thanks for your input. It isn't about Gomes as such.
I'm not amazed by there being other players available. but thanks (again) for your condescending tone on this one ;-)
Liam Reilly
31
Posted 19/06/2019 at 11:38:59
Good news. He's settled well and looks a player against some of the better teams (Spurs at home excepted); so would be a strong addition to the squad.
On Walsh; let's hope he gets the United role and he comes back looking to resign some of the 'quality' that he bought to Goodison.
Sam Hoare
32
Posted 19/06/2019 at 11:47:37
James, sorry, didn't mean to condescend.
I agree that fans have a tendency to complains about signings (and everything else!) and many do have unrealistic expectations. But on this thread and most others I don't think I have seen many people suggesting too many wildy impossible signing options. Every player comes with positives and negatives.
I do think the vast majority will be content with Gomes and I am too in many ways but without difference of opinion ToffeeWeb would be a very dull place!
James Marshall
33
Posted 19/06/2019 at 12:07:27
Sam, it's all good. I can mange the comments and differences of opinion with a smile these days.
You're right, of course, players always split opinion - I have a tendency to get mildly irritated with the notion that Everton should have some sort of divine right to expect the best (Nil Satis etc) but we also complain about this way of thinking when it comes to other clubs (the RS) making out they're something special.
As for Gomes - yes he has his limitations. He also has many of the attributes people look for, one of the most important (to your common, all garden Evertonian) being a little bit of perceived loyalty to us.
James Marshall
34
Posted 19/06/2019 at 12:18:12
#Barca briefing today that fee has now been agreed with #efc for Andre Gomes - £22m initial with add-ons that could take it higher (but no higher than £31m). Clearly a very good deal for Everton in this market.
Bill Gienapp
35
Posted 19/06/2019 at 12:19:24
Great news. I was in the camp that liked Gomes a lot, but didn't necessarily see him as being so indispensable that he was worth breaking the bank over. But at the reported price, this is a no-brainer.
Mike Corcoran
36
Posted 19/06/2019 at 12:32:42
Vlasic sold ? https://en.pfc-cska.com/news/team-news/nikola-vlasic-completes-pfc-cska-move/
Jay Wood
[BRZ]
37
Posted 19/06/2019 at 12:34:40
Opps! Just mistakenly posted this on another thread when it belongs here.
***
IF and when this is confirmed at the rumoured price, it further enhances Brands' reputation, IMO.
That said (with apologies to James Marshall) as I have done all along and as a few in this thread justifiably make the point, Gomes has to do more on a more consistent basis for Everton.
If he can perform as he did at Benfica and Valencia, he is a useful addition to the squad. If he plays as he did at Barcelona AND in many a game for Everton, then he may continue to disappoint and frustrate in equal measure.
He has the physique. He has the skill set. He has yet to prove he can be the 'main man' in our midfield who orchestrates everything. Maybe Silva and stability may bring that out in him. But on past record, I don't expect him to contribute much to our goals for column. He's never scored more than 4 goals in a single season and in 29 internationals is yet to score for Portugal.
A good addition at the price quoted if confirmed, but definitely more needed from the player and the team definitely needs more incoming players that carry more goal threat.
Derek Knox
38
Posted 19/06/2019 at 12:45:36
Jay @ 37, you are right there in what a lot of us believe that there is a good player in there but he has to show that consistency more, and I would like to see more serious attempts on goal.
For a player who gets forward as much as he does, his goals to date are numero uno, which ideally should be approaching maybe 10 or so. By the way it's okay to lay into him now he's our player, well almost. :-)
Bobby Mallon
39
Posted 19/06/2019 at 13:09:07
Duncan Mc dine it's a bargain
James Flynn
40
Posted 19/06/2019 at 13:24:02
Mike (36) - CKSA's Twitter feed announced it. SB Nation Royal Blue Mersey, among others, has picked it up.
Supposed to be a nice bit of change for him.
Sam Hoare
41
Posted 19/06/2019 at 13:26:18
Sounds like Vlasic has been sold. £14m, with a good sell on fee negotiated hopefully.
I think we could come to regret that one. He was ranked as one of the best players in the CL this year (though a small sample size of 6 games) and was one of the best players in the Russian league. Not bad at 21.
I thought he could be the eventual successor to Siggy as he has good technique, can shoot well off both feet, can see a pass and whilst not rapid has quick feet. Oh well, I guess time will tell.
Jack Convery
42
Posted 19/06/2019 at 13:37:09
Only Brexit has dragged on longer then this saga. Now to get Gueye to stay.

Steve Ferns
43
Posted 19/06/2019 at 13:52:19
I wouldn't worry about it Jack, it's not like he's missed any training because of it, and meantime we look to have saved £7.5m. Brands has handled this well.
Mike Gaynes
45
Posted 19/06/2019 at 15:07:09
Some great comments here.
My take is that an established player with a set of skills that we need most is absolutely the right move at this price, particularly since he's so enthused about staying. Well done Brands and Silva.
I do think that at 26 (next month) he has shown us his entire game and isn't likely to improve significantly -- I doubt he's going to add goalscoring, playmaking or consistency he hasn't shown before.
The best way Gomes can improve is by taking the foolish fouls out of his defensive game, and he showed progress in that area last season -- notwithstanding the Mitrovic incident DK mentioned. If he can mature beyond that kind of idiocy, that's good enough for me.
Hugh Jenkins
46
Posted 19/06/2019 at 15:26:48
I do get surprised by some of the comments on this and other sites relating to the value of footballers and the cost of transfers.
To my mind, it all changed again a couple of years back with the transfer of Pogba and Lukaku et.al. The "base line" suddenly shot up from £40 to £50million to £75 to £90million.
On that basis one only needs to look at this transfer to recognise it as a bargain in todays's terms.
The doubters might want to think of Harry McGuire - being quoted at £80 million as is Wan-Bissaka - who has only just had one good season in the EPL.
We, like everyone else, need to realise that anything under £50 million in today's market is cheap and £22.5 million for a player of Gomes quality is an absolute bargain in todays marketplace.
Alan J Thompson
47
Posted 19/06/2019 at 16:27:45
Mike(#12); I know the memory plays tricks but at least you are amused, I assume that's what you meant by cracked up, but wasn't there talk of Cillessen coming with him.
Chris James
48
Posted 19/06/2019 at 16:52:42
Fabulous stuff, we're securing the continuity with the same quality midfield that saw us playing some scintillating stuff at the end of last season.
Bernard, Gomes, Sigurdsson and Richarlison with Lookman (and okay maybe Walcott and even Dowell too) offer pace, guile and plenty of attacking outlet. I'm actually happy to start the season with DCL up top as he's full of running and effort and can get a few goals (although likely more a 10-12 p/season than a 20+ player) but also create space for these others.
I do think we should be looking for a proven centre forward IF a good option becomes available, not immediately clear who that is mind, as neither Tosun, Sandro or Niasse are up to snuff, but I agree that defence/defensive midfield could be more pressing.
Sadly I think Zouma has gone for good so we need a decent replacement to supplement Keane-Minna. Also, if Gana does push through his dream move to PSG (and I wouldn't fault him - he's worked his socks off for us and didn't throw the dummy out of the pram when we didn't let him go in Jan) then that will also be a key role to replace. Schneiderlein is too patchy and McCarthy clearly isn't fancied (and didn't have much passing range either).
Plenty of time to go though and for once I really do have faith in the men scouting and spending the money, wasn't even that gutted to see Vlasic go (looks good in Moscow but I can't recall him doing much of note in a blue shirt when he was here - lets hope we can shift some of Mirallas, Sandro, Besic, Bolasie, Niasse and Tosun too!)
Colin Quayle
49
Posted 19/06/2019 at 17:59:59
We are signing Gomez..great..nothing to do with the fact we were waiting to sell Vlasic was it?? Everton are still a selling club, have to sell to buy, just look at the net spend last year...
Paul Birmingham
50
Posted 19/06/2019 at 18:05:57
If true hopefully it will provide some momentum for EFC in this transfer window, and trade well.
Brian Hennessy
51
Posted 19/06/2019 at 18:12:30
The thing that annoys me most about Gomes and Everton is that I have bought several training tops and tracksuits from Everton Direct after seeing him wear them, yet something seems to happen them in the post when they cross the Irish sea, they never look near as good when I wear them.
Dave Williams
52
Posted 19/06/2019 at 18:13:05
Total no- brained at this price. I would think Vlasic going at the same time is just coincidence in that Moshiri is well able to lend the club the cash until others are sold if indeed we have to sell to buy. We have to face up to the fact that this is a business and just buying players is what has got us into our current mess of being loaded with players who are not good enough but who we can't sell on. Brands has his head screwed on and one in and one out makes perfect sense to me especially when the one out was never going to be in Silva plans.
Gomes is class and with better players around him he will thrive.
Andrew Ellams
53
Posted 19/06/2019 at 18:14:47
Colin when did moving on a youngster who was going to get little or no first team football and replacing him with an international who played 50 times for Barcelona in two years a selling club? Tbe squad is overloaded with players that aren't needed and Vlasic is the first one out of the door.
Karl Masters
54
Posted 19/06/2019 at 18:21:57
Baines has signed new one year contract.
Karl Masters
55
Posted 19/06/2019 at 18:24:26
Hope that's not the new Home shirt Bainesy is wearing in the photos on the Club website! Hopefully a training top?
Rob Halligan
56
Posted 19/06/2019 at 18:32:21
Karl, it's a training top Baines is wearing. I bought the same top a few weeks back.
Paul Hewitt
57
Posted 19/06/2019 at 18:33:57
I would expect the add on's to be if we win anything, or qualify for the CL. So £22 million it's is then.
Gordon Crawford
58
Posted 19/06/2019 at 18:38:26
Definitely a top 6 player, so it will be great to get him for the reported £22m. And I n that note, hats off to the negotiators for getting him this cheap. :)
Karl Masters
60
Posted 19/06/2019 at 19:05:38
Thanks, Rob, it's fine as a training top. Anyone know when the new kits are being launched? Seems very late this year for some reason.
Daniel A Johnson
61
Posted 19/06/2019 at 19:08:40
With Marco SIlva brooding on the touchline and the magnificent specimen of a man (not my words) that is Gomes signing on, it looks like my Mrs will be watching a lot more EFC on the TV this season...
It suddenly becomes clear: She already has a signed photo from Marco Silva. :-(
Darren Hind
62
Posted 19/06/2019 at 19:08:42
I like Gomes. He's a footballer, good to watch, he can do things with a ball most of the rest of our squad can't. I'd have been more than happy to pay 22m and more for him.
But some of the people on here need to step back and have a listen to themselves. Every season we have people whooping and hollering for every fucker we bring in and they think they are within their rights to shout down the "negatives" who don't agree.
I still haven't forgot the crazed euphoria as Walsh and Koeman spent a fortune on players who many believed would take us to the promised land. Remind me again?
Like I said. Gomes is my type of player, but those pointing to flaws in his make up are perfectly entitled to do so.
Daniel A Johnson
63
Posted 19/06/2019 at 19:13:47
All I can say is great business.
If he had an English passport he would be a £50M signing. So he's a total 100% bargain.
Great sensible business. More please.
Dermot Byrne
64
Posted 19/06/2019 at 19:28:28
Darren, my view is he is a great player and like you think a good signing. He is a classy player with an "eye".
But many, if not all of us, have felt the same about others and been mistakenly over- hopeful.
It is the essence of being a fan. Hope.
Otherwise it just becomes one side saying "I was right notto be hopeful" and the other saying "whoops". The myth of "I knew because I know the game" at some local rubbish level is just that. Thank God. Many who do this job all their lives (Walsh) fuck up.
Let's leave categorising people and let us exchange views, explore daft ones and have some fun.
I also feel often drawn into such categorisation but mostly regret when dragged into it or even sometimes start it. Mea Culpa.
And back to the team.
I see this as a start of the making of a potentially good team. Striker? Yeah but one who fits quickly.
Others?
Have faith in Brands.
Alexander Murphy
67
Posted 19/06/2019 at 19:58:23
The impending Gomes signing is encouraging.
His, self critical, view that he didn't settle as he'd have liked/or should at Barca perhaps goes some way to explaining how possibly he took a while to get back to his best after the derby debacle. Maybe thinking "Oh shite not again !".
What, for Me, it also does is demonstrate faith that Everton could be his ideal home and what follows could be him playing his best for a club that brought that out in him. I hope so for him and us.
As to this compulsion some TW's seem to have to compartmentalise other TW's, what a pointless hobby that is. Express you opinion honestly and lay out your reasons why, you might shed light for fellow Blues.
Far as I'm concerned, there's only one compartment worth being labelled.
EVERTONIAN.
Brian Williams
68
Posted 19/06/2019 at 20:50:40
Transfer has hit a bit of a snag I hear. Nothing too serious, just a couple of details concerning hair products to be ironed out.
Brian Wilkinson
69
Posted 19/06/2019 at 22:29:58
Excellent signing, when was the last time we went across the Park and took the game to them without being over run, freak goal ended the good work put in and Gomes had a lot to do with us driving forward that Day.
Well made up with landing Gomes, if only we could keep hold of Gaye, bring in a striker and somehow even if another 12 month loan at worst, manage to get Zouma then we could be in for a decent season.
Gomes and Bernard came into the team with lack of game time, both will add more next season.
Now it is just a case of what other business we get done, in and out, but Gomes is a great start to our rebuilding.
David Pearl
70
Posted 19/06/2019 at 22:31:45
Not a bad day for Brands is it... one in, one out. Improvements expected from our first 11 and hopefully a bit of fresh blood too. It's been a long post season so far... but its going to get better. I wonder of we will sign another centre back or put our faith in Holgate. So we can concentrate on getting another goalscorer in.
Tony Hill
71
Posted 19/06/2019 at 22:45:24
Regardless of trophies - though they would be very nice - I think we have a real chance of becoming the most attractive side in the league, that is to say the most purely pleasing on the eye.
Man City are great to watch but Guardiola's circulatory style has never really satisfied me. The Redshite, for all their success, have always had a formulaic, mechanical element to them. None of the other top 6 now has beauty.
I hope and believe that we're striving for more than a bit of swagger, for the joy of football, and this fella at his best plays in his own lovely time frame; it's like a ballet on occasions. I'm glad he's going to be here properly and that he will be joined by similar types under Brands & Silva.
Bill Gienapp
72
Posted 19/06/2019 at 22:49:07
Colin (49),
Yes, let's look at the net spend last year. We splashed over £47 million on Tosun and Walcott in January, while selling Barkley for a cut-rate fee of £15 million. Then we spent roughly £80 million on Richarlison, Mina and Digne over the summer, while — what? Selling Klaassen for £12 million and Funes Mori for peanuts? So I'm not sure what point you think you're making here.
Tom Bowers
73
Posted 19/06/2019 at 23:13:54
No matter who plays in a midfield 3 or 4 they have to play as a consistent unit, week-in & week-out, and not just one playing well one week and another playing well the next. Consistency and commitment is the key to a team that has a shot at winning a game.
Far too often last season, Everton's midfield were outfought which left the back four floundering at times. This was apparent early on when some of the new boys were not yet cemented properly in the side.
After the poor run resulting from the RS lucky last-minute goal, they did start to get things right but too late to get up the table where it mattered.
Bill Watson
74
Posted 20/06/2019 at 03:51:32
If, as expected, Gomes does sign I think it's a great piece of business for us but it also represents a good deal for Barcelona, too, as they will have recouped their outlay on the rest of his contract as most transfer fees are paid in instalments over the period of the contract.
He will be on their balance sheet as a depreciating asset, just like a piece of machinery. Every year, his value will be written down until, at the end of his contract, his value is nil.
Of course, if the machine was an outstanding success it would enhance the performance, and profits, of the company. Other companies may see the improvement this piece of machinery has made to your business and may make you an offer which was more than you actually paid in the first place. Or they could borrow the machine and either be so impressed they want to buy it at the end of the loan or, if it wasn't as good as they thought it would be, they will send it back when the loan period expires.
Of course, an expensive machine may not perform as well as anticipated and may be very costly to run. In such cases, it may be more expedient to take a hit on the initial purchase price to save on the day-to-day operating costs.
So, if Barcelona paid €30M for Gomes they will consider it good business to sell him for €25M after 2 years, considering he hasn't really enhanced their business performance. In accounting terms, it's a good deal for them.
Jim Harrison
75
Posted 20/06/2019 at 04:25:04
Happy with this if it does go through, but he does need to add a few more goals/assists this season.
Tony Abrahams
76
Posted 20/06/2019 at 07:04:11
I always think a player like Gomes could easily add goals to his game but I still hope we sign another midfielder and also keep Gueye and McCarthy.
Gerry Ring
77
Posted 20/06/2019 at 07:33:27
Tony @ 76. You read my mind. Gomes should have goals in him & regarding McCarthy, I think it would be foolish to off load him without giving him a chance to show what he's got after his injury. Pre-season games at least. Schneiderlin is not the better option in this case.
Ray Roche
78
Posted 20/06/2019 at 07:53:37
When you see the goal Gomes scored against Wolves, it's a mystery why he's not added to that great strike. I'd like to see us, as a team, have more shots from outside the area.
Sandra Bowen
79
Posted 20/06/2019 at 09:20:50
Classy player, yes he has a few flaws but not many players are perfect.
His ability to beat a man, drive with ball and start attacks from midfield gives us something that few teams in the league possess and we've certainly missed it since barkley in the first Martinez season.
Like many others, I agree that the petty fouls are annoying and need to be eradicated and also that more goals are required from him, he's definitely got the ability for it.
Thumbs up from me.
Kevin Dyer
80
Posted 20/06/2019 at 16:34:27
£22m is an absolute snip. It looks like he really wants to go to us, hence the low fee. Otherwise Barca would be hawking him out for the best price. Realistically he is a £40m footballer (didn't Fred cost United £52m?) so this is a very good deal for us. No doubt his wages will be large (£120k reported last I heard), though I imagine Barca would've be paying him something similar and for a nailed-down starter, of his age in a team intending to attack the top 6 next season, I'd imagine it'd be tough to sign a player on much less than £100k p/w.
I imagine his wages will be covered by what we've freed up with Jags and Vlasic moving on and Baines signed a deal on reduced terms.
Now we need a centre-half and a striker, assuming no major outgoings. Hopefully most/all of the wages for these additions will be covered by players getting moved on. Oh, forgot that Williams has gone too, so we are likely substantially in the black now in terms of team salary.
John G Davies
81
Posted 20/06/2019 at 18:12:22
Kevin 80
As you say, an absolute bargain at the price.
Transfers from last season
Fred £59 million
Keita £60 million
Fabinho £45 million
Jorginho £57 million
Torreira £30 million
Maddison £25 million
Adama Traore £20 million
Seri £30 million
Anguissa £25 million
I personally wouldn't swap Gomes for any of them.
Jason Broome
82
Posted 20/06/2019 at 19:56:59
If Andre Gomes doesn't score any goals next season I don't care. It would be nice, but for what he does and where he plays he is the pulse of a growing team.
Playing as a box to box Central Defensive Midfielder is the hardest position in the team. It is the engine room and I saw few better, if any last season than Andre.
It is also one of the most unselfish positions in the game. After putting your body on the line and converting defence into attack, you gallop down field to slip a through ball or long range pass so that your team mate scores and takes the glory.
It is also the heart of the team. Having the quiet temperament, skill and silent leadership to drive through a result. Never really the glory hound but so important to those who are.
As seen last season when Gomes played at full throttle the rest of the team rose their game around him. The results of which we saw against Liverpool and Arsenal to name a few.
If he consistently does what he does best then let the others get the goals (and they will) as I would be honoured watching his masterclass.
Arsenal need a Gomes right now whilst Man Utd need to fix theirs (Pogba).
Buy a striker, defender and right winger of equal calibre, and we might just have something here.
Darren Hind
83
Posted 20/06/2019 at 20:53:20
Phil Bellis
84
Posted 20/06/2019 at 21:30:40
Like Digne, this lad looks a proper footballer, a real Everton player, à la Colin Harvey, Mikel, Dobbo, Tony Kay...
Fingers crossed he's found the right club to kick on and blossom.
Sam Hoare
85
Posted 21/06/2019 at 09:15:01
John G @81, think I'd swap Andre for a few on that list! Maddison and Fabinho for certain and possibly Keita and Torreira too. Let's see if he pushes on in his second season.
I am surprised Brands is giving him £120k p/w. I thought we were trying to reduce the wage bill and that the top wage should only be going to one or two 'star' players. I thought he was on £80k at Barcelona and that matching that or maybe going up to 90/95 would be sufficient. I'd be surprised if Spurs or West Ham would have paid him that much.
Ajay Gopal
86
Posted 21/06/2019 at 09:57:33
Now get rid of these fellas:
Mirallas
Sandro
Bolasie
Besic
Niasse
Martina
Stekelenburg
Garbutt
Galloway,
And get an upgrade on (if possible):
Schneiderlin
Walcott
Tosun
McCarthy
Dowell,
And give more game time to our future stars:
Lookman
Calvert-Lewin
Davies
Holgate
Baningime (if he is still 'hot')
Feeney
Bowler
Retain Gueye
Sign Zouma and 1 'hot shot' goal scorer
And we could then have an exciting season to look forward to.
Mike Keating
87
Posted 21/06/2019 at 10:23:20
Hopefully this can be used to convince Gueye that his future lies in the Everton midfield.
Steve Ferns
88
Posted 21/06/2019 at 10:40:51
Sam, I am surprised. I don't think Maddison is as good as people make out. He didn't impress against us and was easily contained and offered nothing without the ball. He doesn't grab games and run them, but he is only young and it is hard to do. I think Maddison is not as good as Barkley was at the same age. I don't think Maddison will be as good as Gomes is now, never mind their current levels. The only one on the list I would consider is Jorginho who had a wretched time at Chelsea but was one of the best players in the world at Napoli and I think he could get back to his best.
The stats aren't kind to Gomes though. Whilst he has lovely technique and can score great goals, he's at best a five goal a season player. And for all his passing ability he gets only a few assists. Gomes at his best brings others into the game and for them to make the assist. The American's do "second assister" or something, and that's the stat that shows how important Gomes is.
I expect to see more of the player I used to see at Benfica when he exploded onto the scene in 2014 and convinced Valencia to spend big on him despite only having a season under his belt. As to where he plays, I think that depends on Gueye. If Gueye stays then more of the same, if Gueye leaves then I think he will be pushed further forwards.
John Keating
90
Posted 22/06/2019 at 10:33:16
I agree, the reported £22m these days is a good bit of business. However, the reported £120k a week?? As I mentioned in another thread, not even Dele Alli or Eriksen are near that...
What happened to reducing the wage bill???
Bobby Mallon
91
Posted 22/06/2019 at 16:45:31
Have we signed this fucker yet???
Joe McMahon
92
Posted 22/06/2019 at 17:02:25
John @90, I suppose we have to offer crazy wages, as we ain't got Champions League football to offer and play in a rather old-style clapped-out stadium. Christ, it's costing millions!
Pat Waine
93
Posted 23/06/2019 at 13:15:54
When Koeman was shown the door, I said that it would take years to repair the damage done. And so it has.
We are lumbered with the likes of Sandro, Mirallas (who had a contract that was nearly up and Koeman extended it), Bolaise, Martina, Schneiderlin, Besic... none of these are near to being sold. Note the delay with the deal for; if this doesn't happen next week, it's probably related to selling others.
Jack Convery
94
Posted 23/06/2019 at 13:40:26
It's now Sunday. Where is he?
Jim Harrison
95
Posted 23/06/2019 at 14:36:09
Our average wage last year was £4.2 million, so about £80k a week. Gomes is a player with top-level experience, entering his peak years. We would only be able to sign him on top wages. £120 grand puts him on the same as Bernard (gets lots because he was a free agent) and bizarrely Mina! But would make him joint top earner. Different sources put Sigurdsson on £150k, or £100k.
Everton paid 7th most in total wages last year. And, but for an exceptional first season from Wolves, would have finished 7th.
It's not all about wages: Man Utd paid the most, and whilst the wages for Sanchez and Pogba will be significant in that statistic, they clearly are not getting value for their investment this last season. But second highest, Man City, won the title. Liverpool and Chelsea, who pay their players around the same rate, finished 2nd and 3rd. The exception in the top 6 is Spurs whose salaries are significantly lower. But there is a fairly simple pattern. The best players play for the best teams and earn the highest wages.
If we want our team to challenge, we need to sign better players... but they want more money. There have been some cock-ups of late, but that principle is still upheld in general.
Spurs will hold on to their top players as long as they are challenging for the top 4. If they drop out, their best players will be offered the moon and the stars to move. Man Utd or Chelsea would kill for Kane. They will settle for lower wages so long as they can compete at the highest level.
Should it come off, signing Gomes could be the foundation of our midfield for seasons. He could be one of the players that the squad is built around. As such, his wage will reflect his status at the club.
Karl Jones
96
Posted 23/06/2019 at 14:37:16
It wouldn't be an Everton Summer transfer window without another "Manny Fernandez" style transfer saga.
Keith Gleave
97
Posted 24/06/2019 at 14:39:15
I was under the impression that things would be different this year with transfers. We know what we require, have a list as to who we want and to get business done as early as possible. Well, a week has gone by on this tied-up deal already, is it still the same in the background of the club???
If, as we do, need to move a number out and we need to replace with a better level or younger set, they need to be in ASAP. They need all pre-season to reach fitness and gel together to hit the ground running, pardon the pun.
Rob Halligan
98
Posted 24/06/2019 at 16:29:36
Reports that this transfer will be announced imminently, according to Mundo Deportivo via the Red Echo.
Sam Hoare
99
Posted 24/06/2019 at 17:02:55
Steve @88, I'd take Maddison over Gomes in a hearbeat I'm afraid.
Last season we struggled at many times to create chances. It was a step up from the Allardyce era, of course, but a long way behind the top 5. Our best creators in terms of chances per 90 minutes were Digne and interestingly, Lookman.
Gomes creates very few chances compared to other Premier League midfielders. About the same as Gueye. Whereas Maddison ranks very highly. He is someone who could really challenge Sigurdsson for that No 10 spot or even play deeper or wide if needed. We need more creativity and Maddison would undoubtedly provide that.
I know what you are saying about Gomes getting "second assists" etc but I'm afraid again the stats don't bear it out. He does not complete a lot of forward passes by Premier League standards. So if he is getting 'second assists' it is not by virtue of him playing incisive or progressive balls.
Yes, he knits the play together well but is that really enough for someone who adds very little in the way of goals, assists, tackles, interceptions etc? One of the top paid players in the team surely needs to be having a more noticeable affect on the games? It seemed to me like we hardly missed him during his suspension.
I do think he has talent. And clearly he is a confidence player. So hopefully now he has a more settled home with us he can really push on and influence games more often and more directly. But I'll have a gentleman's bet with you that Maddison might be featuring close to next seasons team of the year and that Gomes will not? Hope I'm wrong!
Tom Bowers
100
Posted 24/06/2019 at 17:15:04
Frankly. I don't care what they pay these players as long as they deliver the goods.
Moshiri may not have as much to throw around as Liverpool and Man City owners but it needs to be spent wisely and if Silva wants certain players for his set-up then everything should be done to get them.
Everton still have some deadbeats to off-load so why is it taking so long to get shut of them? I guess the agents of the likes of Mirallas and Sandro are really holding out for money they don't deserve.
Kevin Molloy
101
Posted 24/06/2019 at 17:26:04
I'll bet Peter Reid's stats weren't that great either. But he was Everton's most influential player all the same.
The week's delay in signing up Gomes has saved the club £125,000. Just sayin.
Kevin Molloy
102
Posted 24/06/2019 at 17:27:49
Tom @100. Did you really just ask why it's taking us so long to get rid of our deadbeats?
Keith Gleave
103
Posted 25/06/2019 at 20:55:35
Reportedly signed just now
Graham Coldron
104
Posted 25/06/2019 at 20:57:45
Gomes now a done deal. Looks like the delay might have been because he was on holiday. Now for Zouma hopefully.
Add Your Comments
In order to post a comment, you need to be logged in as a registered user of the site.
Or Sign up as a ToffeeWeb Member — it's free, takes just a few minutes and will allow you to post your comments on articles and Talking Points submissions across the site.