Everton trio suffer early U21 Euros exit with England
Friday, 21 June, 2019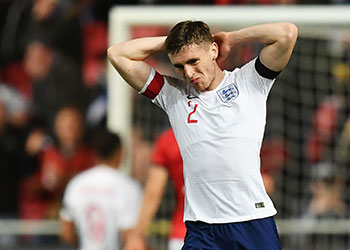 Dominic Calvert-Lewin, Kieran Dowell and Jonjoe Kenny were all in Adie Boothroyd's starting XI to face Romania this evening but ended up on the wrong end of a 4-2 scoreline.
Kenny was the transgressor with the foul that handed George Puscas the chance to put the Romanians ahead from the penalty spot with a quarter of an hour to go.
Demarai Gray's curling finish restored parity just three minutes later but Ianis Hagi, son of 1980s and 1990s Romania great, Gheorghe, quickly had England behind 2-1 before Tammy Abraham levelled again.
Florinel Coman wrapped things up with two late strikes, however, which condemned England to a second successive defeat.
England face Croatia in their final Group C game on Monday in San Marino but anything other than a defeat for France this evening would have ensured that it will be meaningless for Boothroyd's side.
---
Reader Comments (158)
Note: the following content is not moderated or vetted by the site owners at the time of submission. Comments are the responsibility of the poster. Disclaimer
Jay Wood
[BRZ]
1
Posted 21/06/2019 at 18:19:41
England v Romania U-21 must win game 0-0 at half-time. Wholesale changes see 3 Everton players starting – Kenny, Dowell and Calvert-Lewin.
Romania should be leading. On Sky in the UK by the looks of it.
Link here:
Derek Knox
2
Posted 21/06/2019 at 18:58:12
Jay, watching it myself. Dominic has a few excellent chances and again not capitalised on them. I can't fault his work rate, but there is always that nagging doubt over his finishing.
Tommy Surgenor
3
Posted 21/06/2019 at 19:13:23
Tamori mistake.
Brian Williams
4
Posted 21/06/2019 at 19:14:47
Fuck's sake, if Chelsea management are watching the U21s, they won't wanna rely on Tomori. Just gifted Romania a goal.
I'm afraid that we just don't have the very talented individuals that other nations have at ANY levels.
Derek Knox
5
Posted 21/06/2019 at 19:16:07
I think Dominic could be favourite for the Wooden Boot of the tournament. :-)
Brian Williams
6
Posted 21/06/2019 at 19:22:17
Comment of the tournament from Andy Hinchcliffe as Romania go 4-2 up with a minute to go.
"I think that could be game over."
Ffs!
Derek Knox
7
Posted 21/06/2019 at 19:24:49
Aidy needs a Boot in his Royds!
Give the job to Unsy! :-)
Jay Wood
[BRZ]
8
Posted 21/06/2019 at 19:36:01
Pulsating 2nd half to England vs Romania!
Agree with Derek, Calvert-Lewin had chances in that game, both with the head and being a tad back on his heels a couple of times from rebounds or balls across the 6-yard box. The keeper also did well for one of his on-target headers. He has to start anticipating things better to start upping his goal return.
Abraham could have had a hat-trick in the time he was on. Kenny giving up the penalty was not the worst piece of defending by England on the day. He was sucked in by very skilful play. The centre back and keeper did worse on their 2nd and 3rd goals.
Very pacy and skilful side the Romanians, but England were their own worst enemies.
With all the talent on the pitch from both sides, one player in particular looked as silky, controlled and technically superior to pretty much all of them: Kieran Dowell.
Always looking for the ball, even under pressure. Capable of turning and moving away from defenders no matter how tight they were to him. The ability to receive and play a pass with one touch accurately and the perfect weight. The vision to see a telling pass and open the game up.
He has SOOOOO much football ability. Will he ever add that edge, that devilment, the capability to remain involved across 90 minutes, rather than just sporadically, to his game?
Because if he could he would be a huge, huge asset.
Tommy Carter
9
Posted 21/06/2019 at 21:11:16
Did anyone see Kenny perform tonight? Abysmal. Not even amongst his peers as, at 22 years of age, he is older than many of his teenage opponents.
The majority of Blues are convinced there is a player here. Trust me. There isn't.
I've had this argument for so long on this website, it depresses me. These supporters only project the small club mentality we have become known for.
Ed Prytherch
10
Posted 21/06/2019 at 21:21:48
Jay - I am in complete agreement re Dowell. He played the Gomes role perfectly. Accurate one-touch passing and great positional awareness. Pity there was someone on the line to clear his header.
Kevin Prytherch
11
Posted 21/06/2019 at 21:22:33
That's right Tommy. Castrate a player for one bad performance. Next you'll be saying to sign Wan-Bissaka who had a worse game in the first match.
Talk about waiting for an opportunity to bash a player.
I used to be proud to be an Everton fan where we didn't Jussie a player like this, I'm ashamed now
Si Cooper
12
Posted 21/06/2019 at 21:29:40
I only caught about 10 minutes of the game but on what I saw it would be harsh to single out Kenny for criticism. Maddison coughed up possession cheaply twice in succession and Dowell was caught being far too casual when receiving the ball. The Romanians looked a far better team overall and it will be interesting to see how they perform in the next stage of the competition.
I do agree that I've yet to see much beyond workmanlike in Kenny's appearances so far but I certainly wouldn't write him off as a decent honest pro. More Hibbo than Seamus but has some time to work on his development before you'd give up on him in my opinion.
Annika Herbert
13
Posted 21/06/2019 at 21:29:57
Just as Wan-Bissaka had a terrible game the previous game, yet you made excuses for him Tommy!!

Tommy Carter
14
Posted 21/06/2019 at 21:36:22
Hey. I was saying this stuff before tonight's performance. Please see my forum entries of the past week.
He was terrible for the entire game. Well out of his depth.
Listen, I want home grown players to form the basis of our squad as much as any Blue. As much, maybe more but certainly no less. We are carrying this lad into his mid 20s and he is absolute garbage.
Si. Don't get me started on Dowell.
Tommy Carter
15
Posted 21/06/2019 at 21:41:33
Kevin @ 10,
I wouldn't say sign Wan-Bissaka as we don't have a cat in hells chance of making this signing. Plus the right back position is not a priority for us this season. Coleman is still a player for me, with Holgate an adequate deputy.
As I have commented on other threads, The career that Wan-Bissaka will have and Kenny will have will be light years apart.
In 10 years, one will have won league titles, will have played dozens of Champions League games, maybe even won a Champions League, many international caps and latter tournament stage appearances and amongst the best in his position in the world. The other will be Jonjoe Kenny, playing for Tranmere.
Jay Wood
[BRZ]
16
Posted 21/06/2019 at 21:42:54
Oh dear, Tommy. You really do not like Kenny, do you?
Any and every time you post on the lad, you have simply baldly stated 'trust ME! He's crap!' You haven't offered any analysis whatsoever on what you base that judgement, whilst others at least have listed reasons why they are not so witheringly dismissive of the lad as you are, oh great Nostradamus of football.
He gave away a penalty tonight, as have pretty much every defender in the history of the game. Beaten by clever play, not his own clumsiness.
Far worst errors were committed by his fellow defenders for the second and third goals Romania scored. Far more basic errors were committed by the likes of Maddison all night long. But no. You have to get your dig in at Kenny.
And to top it all, you have the gall to call out any Blue who doesn't agree with your bleak appraisal of Kenny as 'projecting the small club mentality we have become known for'.
Get the feck wid ya, ya pompous ass!
Mike Gaynes
17
Posted 21/06/2019 at 21:46:35
Tommy, I forgot to check back on that thread... did you accept my bet on Kenny?
Eric Paul
18
Posted 21/06/2019 at 21:58:47
No he didn't, Mike.
John OBrien
19
Posted 21/06/2019 at 22:00:36
On a different tact I was really impressed by Kieran Dowell in the sitting role which is a role he doesn't normally play.
He gave the ball away once all game, technically excellent, one touch passing, keeping the play moving. In the role he played, he got better and better as the game went on.
Particularly when Foden came on, it was Dowell who was getting him into those positions to threaten.
If he was casual, it only happened once where he lost possession in the entire game.
I thought he played really well tonight but I know there will be people on here who will vehemently disagree as I think he is a 'marmite' player for many Everton fans
Jay Wood
[BRZ]
20
Posted 21/06/2019 at 22:07:46
100% agree with you Joe. I posted on another thread that with all the talent on the pitch from both sides, one player in particular looked as silky, controlled and technically superior to pretty much all of them: Kieran Dowell.
Always looking for the ball, even under pressure. Capable of turning and moving away from defenders no matter how tight they were to him. The ability to receive and play a pass with one touch accurately and the perfect weight. The vision to see a telling pass and open the game up.
He played this deeper lying role you reference in a warm up game and absolutely excelled in it.
He has SOOOOO much football ability. Will he ever add that edge, that devilment, the capability to remain involved across 90 minutes, rather than just sporadically, to his game?
Because if he could he would be a huge, huge asset.
David Pearl
21
Posted 21/06/2019 at 22:11:21
Kenny didn't have the best of games... caught out of position or just not seeming to concentrate. Always better on the front foot. That's why he's going on loan. To play and to mature. Good luck to him. I think he still had a chance to make a top player.
Dowell for me was anonymous. He too needs to go out on loan and for a full season. He needs to play. Osman came back to us and settled late on; maybe Dowell will do the same. He needs a full season playing to get some grit and then let's see what we have.
Calvert-Lewin. Great hold-up play. Some leap on him but he needs to find the back of the net. He could be some player. Still improving. Can you teach someone how to score? Well, you should be able to. Don't we pay these coaches a fortune???
I'm not a fan of Boothroyd either. I couldn't see what the game plan was. English coaches should be better than they are, there is a real shortage of quality out there. It's much easier l guess for ex-players to do an hour for Sky etc.
Tommy Carter
23
Posted 21/06/2019 at 22:17:44
Bom Dia, Jay.
No need to be disrespectful. It's not about being Nostradamus. It's about recognising that, as a 22-year-old footballer, you have 8 years left at your absolute peak.
It's about recognising that, as scheduled, the next time Kenny will play for Everton, he will be 23, leaving 7 years of peak football. And, based on what I have seen, here and now, for a player in his peak, no matter how scouse he may be, no matter how many England youth caps he has won, the guy is not good enough and should be sold for his sake and ours. The fact that we keep this player on our books is symptomatic of our flaws.
My point being, on other threads, the ruthlessness shown by Liverpool in this department is one of the major contributing factors to their success since 2010, when we were pretty much level with them on squad quality.
Tommy Surgenor
24
Posted 21/06/2019 at 22:23:48
Kenny hadn't his best game by all accounts but I am far from ready to write him off. There is something there and I think with a bit of luck he will be a quality Premier League full-back.
Tommy #1 really does take any opportunity to write him off without any real evidence or sound arguments. He is this generation's Osman!
Wan-Bissaka has a worse showing in the first game and is seemingly "out of our reach"?! My money is on Kenny thriving in Germany and coming back ready to challenge. Don't get fooled by Wan-Bissaka's Fancy Dan stuff... he also has a long way to go!
Mike Gaynes
25
Posted 21/06/2019 at 22:30:28
Tommy C., I can't remember which thread it was, but I offered you a wager on whether Kenny would play less than 15 games at Schalke (your prediction) or more. The payoff would be one of us donating to EitC at the rate of £100 per game. Did you take me up on it?
Tommy Surgenor
26
Posted 21/06/2019 at 22:32:43
Kenny and Wan-Bissaka are the same age and have a similar number of professional appearances. Yet Kenny gets selected time and time again at all youth ages over him. All this by multiple managers with a lot more knowledge in both players than I have.
This season, Wan-Bissaka got an opportunity to string a number of appearances together and grow. That's what Kenny will get next season.
Dislodging someone like Ward from a starting 11 is a lot easier than getting picked in front of one of the best right-backs of the Premier League era.
Let's see how Wan-Bissaka does next season before crowning him the heir apparent.
Jay Wood
[BRZ]
27
Posted 21/06/2019 at 22:47:18
Tommy @ 22.
'No need to be disrespectful.'
Then don't post such bollocks as your own disrespectful post labelling any and every Blue who doesn't agree with your (still unsubstantiated) position that Jonjoe Kenny is crap.
Nobody is denying you your right to an opinion. But as your latest post again demonstrates you have put up no coherent case to support your claims. NONE!
'Trust me,' you keep repeating. As if you're wiser and more knowledgeable than anyone and everyone who holds a counter opinion to your own.
Why should we 'trust you', Tommy? What are your credentials? What makes your judgment so superior to anyone and everyone else on TW on this or any other Everton related topic?
If and when you can put up a post which outlines footballing reasons why you doubt Kenny is capable of a career at Everton or in the Premier League, there is absolutely nothing to debate with you and I'll just ignore you from now on.
Tommy Carter
28
Posted 21/06/2019 at 22:55:49
Hi Mike. Remind of the terms of your proposal and I'll consider.
Mike Gaynes
29
Posted 21/06/2019 at 23:01:54
Tommy, every game he plays less than 15, I will donate £100 to EitC. Every game he plays more than 15, you donate the £100.
Paul Birmingham
30
Posted 21/06/2019 at 23:19:11
I'd say as a collective this team had a bad day, and collectively were out-psyched, out-muscled and out-desired by a team who have some genius player genes. But they wanted it more. We've heard that one before; sadly it's true.
It's a learning point and the team moves on. Mentality and the manager also should not have under-estimated the nous and game management of players for Romania today. They had a few points to prove, as is the times.
The hype before the tournament and England's form going in wasn't great, but they've not helped themselves by the media.
Great players across continents doesn't mean coming together will guarantee a winning team. Every World Cup has proved it, and it makes football the game we love. This England team will know and won't forget today.
1953: 3-6, v Hungary, at Wembley, and I'd say Puskas and Co, that day, Josef Bojek, Hdiguti, etc arguably influenced and changed football that day far more than they got credit for
As Evertonians, we respectfully give and take, fairly, and give credit where due. No doubt the better team won. This England team will learn a lesson from today.
nb: My apologies, I've got the Magyar's players' names probably spelt wrong.

Tommy Carter
31
Posted 21/06/2019 at 23:29:12
I think he'll play about 15. But he has the opportunity to plain more than that so odds are stacked against. Alternatively, should he break his leg on match day 1, is that fair?
Andrew James
32
Posted 21/06/2019 at 23:56:17
Hello, Tommy,
I am going to defend Jonjoe Kenny. He does not have the raw talent that Seamus had at the same age in terms of attacking. He does not lock up as well as Hibbert did for nearly a decade. But he is his own man.
I was lucky enough to attend a lot of matches where he played last season under Allardyce and he is a clever player, he holds his ground and studies the opponent's feet. So many full backs will stand off or go flying in. He has fire in his belly and will run through brick walls but he also knows how to tackle cleanly.
But there is one side to his game many Blues don't seem to have picked up on. Because he's happy to attack but realises he cannot be caught out, he is a fan of the early ball into the box – something Coleman never does – and (I can't remember who it was against) he curled a lovely ball in for our forwards to score from last season.
You mention that someone of his age won't have much more than 8 years of a career. I would challenge that. Leighton Baines is still going (albeit as second choice) and he was signed by us in 2007. I suspect for players like Kenny, they will still be playing until they're 38 at the top level.
Just my thoughts. Some of our best players have come from Merseyside: Rooney, Reid, Watson, Royle, William Ralph, Harvey, Baines…to name but a few.
Let's support the likes of Kenny and not condemn them.

Andrew Keatley
33
Posted 22/06/2019 at 00:44:44
I think this England Under 21 side suffered tonight for not having at least one dedicated defensively minded central midfielder. When the same age-group of players won the Under 20 World Cup in 2017 I seem to remember they had two of Lewis Cook, Josh Onomah, Ove Ejaria, or Ainsley Maitland-Niles starting every single game.
Boothroyd only picked one defensive midfielder for the squad – Hamza Choudhury – and his red card against France left us desperately short. Mount, Foden, Maddison, Dowell, Gibbs-White - all good players, but all offensively minded.
On Dowell, I thought he played well tonight. He managed to pass well into the feet of the more advanced Mount, Maddison and (latterly) Foden - giving them time and space just outside the Romanian box. Where he let the side down was defensively; he seems to switch off so easily.
For the second Romanian goal, scored by Hagi, Dowell doesn't compete for a header (with Hagi), and lets the ball bounce; Tomori makes a total mess of the subsequent clearance, and Hagi picks the ball up – unmarked because Dowell has switched off and is ball-watching 10 yards back, and Hagi – under no pressure on the edge of the England box, has time to shoot and score.
It's those hard ugly yards that Dowell just does not seem to have in him, and that might mean he's a luxury player destined for the Championship.
Fran Mitchell
34
Posted 22/06/2019 at 00:59:19
Shame the England U21s have bloody Aidy Boothroyd as manager. Never done anything as a manager and woeful tactics straight from the Mike Basset playbook, so imagine the training and prep ain't all that good.
One wonders if it would be a good step for our own David Unsworth to make? He would be ideal for developing the future national side, and he's proven that he can get the best out of our lads; I imagine he'd be brilliant.
Dowell = the English Pirlo? Or maybe that is a role we could see him develop into? Maybe be Gomes's understudy? Here his 'less than urgent' style would actually suit.
On Kenny, a year in Germany will do him good. A bad performance doesn't make a bad player but, if we could, we'd be all over Wan-Bissaka and Maddison.
The blame for this woeful tournament is down to the woeful manager employed by the FA. On another note, what ridiculous body gives a manager a new contract before the tournament? Mindless.
Fran Mitchell
35
Posted 22/06/2019 at 01:04:17
On another sidenote: Florinel Coman looked a player. Got in double figures last season for Steaua Bucharest, winger/forward, left-footed, 21 years old.
Worth a punt, I'd say.
John Malone
36
Posted 22/06/2019 at 01:39:55
John 10, Jay 11, I have to agree on Dowell he has got a wand of a left foot and is a really nice footballer and I too think his best position is playing as a deep-lying centre-mid.
The problem he has is as John mentioned is his lack of tenacity and physical strength to compete off the ball, he seems to me like he would be more suited to play in Spain where contact is minimal.
It is a real shame he lack's this in this side of his game because he has a touch of Beckhamesque quality in his left peg.
On the subject of Kenny, I agree with Tommy the lad for me at the minute just hasn't got what it takes to cut it at top level. His positioning and decision-making is terrible, he often get's caught under the flight of the ball and too square and is very rash with his challenges and passing.
I really hope the loan to will serve him well but fear he will be 'found out' within a few games and lose his place in the Schalke first team.
Mike Gaynes
37
Posted 22/06/2019 at 02:05:59
Tommy, I'll gamble on the leg break if you'll gamble that he impresses Wagner.
But if the over/under of 15 seems unbalanced, how's 18? 20?
Either way, EitC wins, right? Whaddya say?
Tom Bowers
38
Posted 22/06/2019 at 02:33:30
Not impressed with any of the Everton trio. They do not have what it takes to be top players.
DCL will never be a prolific strike. His close range header was very poor and should have put England ahead but, 5 minutes later, Jonjoe was easily tricked and conceded the penalty. Sorry, guys, but not what we want going forward with Everton. And Dowell shows some nice touches but really isn't making the progress necessary.
Andy McNabb
39
Posted 22/06/2019 at 02:58:57
Regardless of how they performed I'm just glad they are coming home. When are players supposed to physically rest these days?
The new season begins in a few weeks and we will be wondering why Calvert-Lewin looks tired from the start.
Ralph Basnett
40
Posted 22/06/2019 at 06:23:24
Andy (#39), when the season starts, we should be wondering WHY Calvert-Lewin is playing, as he is not good enough, tired or not!!!!!
Mike Oates
41
Posted 22/06/2019 at 08:31:19
Dowell is the enigma, beautiful control, vision, great left peg, scores a few, yet never gives you the impression he's got the physicality to compete at the top of the Premier League.
I thought he was England's best player but cringed when he lost the ball on the halfway line and 10 secs later they scored their 2nd goal. He lost the ball as he never won a 60:40 ball in his favour.
He is, as someone else has stated above, more suited to the Spanish, Portuguese and even Dutch football, but I can't see him ever playing for Everton 1st team again.
Calvert-Lewin has about 3 months to show he can score goals; if he can't, he'll be on his way!
George Cumiskey
42
Posted 22/06/2019 at 09:49:03
Tom @ 38, spot on mate but you'll probably get slaughtered now on ToffeeWeb, for giving an honest opinion.
Calvert-Lewin a goalscorer? Abrahams came on and showed him how it's done, and a lot of Evertonians think he'll solve our chronic goalscoring problems.
Tony Everan
43
Posted 22/06/2019 at 10:13:19
It's easy to point the finger at one player, but half the team were very sloppy. I would much rather point the finger at the management setup there, organisation and team selections are poor.
Lookman, one of the most talented prospects for the U21s, wasn't picked for the squad. Anyone know why?
I would have thought the England setup would have been very enthusiastic about making Ademola the hero of this tournament for England. They have missed a golden opportunity.
Is Ademola frustrated and looking back to Nigeria again?
Annika Herbert
44
Posted 22/06/2019 at 10:35:19
Tom @37, Ralph @39 and George @41,
I, for one, disagree with your comments. I am not sure all 3 of the players mentioned will make it as top players. But I am willing to bet at least one of them does.
Still, it's all about opinions and we are all entitled to our own. Personally, I hope they all reach the very top.
The jury is still very much out on Wan-Bissaka as far as I am concerned; one good season as a regular does not make a world-class player.
Alan J Thompson
45
Posted 22/06/2019 at 10:50:00
I think it is a bit unfair to judge any player on the basis of this tournament.
The Coach/Manager fields what he believes is his best team that makes mistakes and on that basis makes several changes for the next game which seems to go the way of the first. So should we blame all those players involved or should we ask if the Coach was up to a tournament with such a short turn around between games?
To me, it would have been nice to see them go further in the competition but it has been an experience for them.
Harry Hockley
46
Posted 22/06/2019 at 11:48:14
Calvert-Lewin, Kenny and Dowell will never be good enough, end of.
Brian Williams
48
Posted 22/06/2019 at 12:04:26
I feel bad for Jonjoe Kenny, as we all probably should, him being one of us. I actually think he was very unfortunate with the penalty, having started to move his leg for the tackle, it's impossible to stop in a millisecond. He hardly touched the lad.
That aside, according to NewsNow, he's getting dogs abuse on Twitter, which is bang out of order and another symptom of the fucking horror show that is social media.
To try to pick out some positives, Kenny made several runs down the right which were invariably ignored by the right midfielder. Yeh, clutching at straws, I know, but I just feel bad for the lad who seems to be getting hung out to dry for a performance that was no worse than the majority of that team.
Chin up, Jonjoe, lad.
George Cumiskey
49
Posted 22/06/2019 at 12:23:13
Annika @43,
I'm willing to bet none of them make it as a top player and, if any of them do, I'll eat all the humble pie you can shove down my throat. Lol.

John Keating
50
Posted 22/06/2019 at 12:41:01
Saw a player the other night for Argentina... Messi? Something like that. Absolute shite.
Never got a look-in the whole game, central defenders had him in their pocket all game. I seem to remember someone saying they wish he played for us. What a joke, absolute crap. He'll never do anything.
Give me Niasse every time!
Peter Gorman
51
Posted 22/06/2019 at 12:57:33
Tommy Carter is an absolute clown, trust me.
Tommy Carter
52
Posted 22/06/2019 at 13:01:23
Peter @50,
Why do you say this? Because I have an opinion different from your own?
Why not see how things pan out before calling me a clown? Rather than labelling me as such simply because you find what I'm saying unpalatable.
Peter Gorman
53
Posted 22/06/2019 at 13:07:53
"The majority of blues only project the small club mentality we have become known for"
Equals Clown.
There, I've presented more evidence than you ever did.
As for Kenny himself, I can't recall you throwing out any 'trust me's when he won the U20 World Cup for England. Or the U17 Euros for that matter.
I'll pass on the whole trust issue, if it's all the same to you.
Tommy Carter
54
Posted 22/06/2019 at 13:24:05
It doesn't equal clown, it equals reality. We are viewed as a small club. In another thread, someone posted that, in Brazil, nobody has even heard of us.
Winning just 1 trophy in the last 30 years is where we are at. In 2010-11 we had a squad of players of similar quality to Liverpool. In the 2010 Goodison derby, we had a watershed moment. We had become better than Liverpool for the first time in a very long time. Since then, their progress compared to ours is astonishing.
A big part of why this has happened is their approach to player recruitment. They have tried to bring through young players. The ones who were not good enough generally by age 20/21 were sold on, Ibe and Solanke being two notable examples. No dwelling on what might be, waiting for this breakthrough. They have been ruthless. And it has really worked for them.
We have players such as Garbutt, Dowell, Kenny and Pennington who are well into their 20s and have achieved nothing in the game and shown no signs of being able to ever contribute meaningfully to our first team. Let alone improve it.
So you may feel that I'm a clown, but the above information is reality. And some people don't like it. I'm not judging our standards vs Liverpoool because they are our local rivals. I judge it on the fact that they are current European Champions after winning their second successive final.
The theme of responses to my initial comments seem like I am saying that Kenny won't make the grade at Everton because he had a bad game last night. No, that's not what I'm saying at all. The poor game was inevitable because this player has so many shortcomings in his game and is not of the required standard at this level. It was abundantly obvious last night. It was abundantly obvious many times last season.
He will be dropped for the next game.
David Pearl
55
Posted 22/06/2019 at 13:25:10
Fran,
Great shout on Unsworth. He would make a cracking Under 21 England Manager. At least he'd actually try to win the tournament.
What is it these days when managers think they can trust all of the squad to play any game? Why not play your best players in and find a system to accommodate that. And again so we can try to actually win it. Southgate did the same a few weeks ago.
Mike G and Tommy. Sorry to butt in but... if you're going to bet pick a middle number and a set sum and not a sliding scale that could cost one of you a couple of grand! It's a good bet though. Kenny may or may not settle. Let's hope he does and comes back a player.
David Connor
56
Posted 22/06/2019 at 13:30:34
Kenny, Dowell, Calvert-Lewin, Davies and Lookman are not up to the job, as far as I'm concerned. They are decent squad players and that's it.
Cash in on Lookman as I don't think he really wants to be at the club. Cash in on Dowell as he is Championship standard at best.
Kenny, Calvert-Lewin and Davies I would persevere with for a couple of seasons and see where they are then. If there's no great improvement, move them on. Kenny and Calvert-Lewin will be 24 then. If they ain't good enough then, they never will be.
We desperately need a top quality striker, that's for certain. Get rid of Tosun – he is absolute dross.
Brent Stephens
58
Posted 22/06/2019 at 13:46:32
Once somebody says "trust me", I automatically believe what they say. Why wouldn't you? They must be right – trust me.
Frank Crewe
59
Posted 22/06/2019 at 13:49:08
The U21 set-up is simply an indicator of the England international squads at every level. They almost always flatter to deceive and are never as good as the flag-waving media make out they are.
If English players are so good, why do they barely move out of this country while European players move around the continent continually, including the young ones? English players don't travel well and they are lazy. They're earning big money at a young age and they think they've got it made.
The reality is that most of them will never get beyond Championship level, or worse. By the time they reach U23 level, they are in the last-chance saloon and their parent clubs are looking to unload them.
Calvert-Lewin, Dowell, and Kenny are decent enough players but would they get near to Man City, Spurs or Liverpool first teams? I would say emphatically no. If they are not good enough for them, and if we have ambitions to be among those clubs again, they will not be good enough for us either.
Tommy @53 — I completely agree.
Darren Hind
60
Posted 22/06/2019 at 14:15:20
David Pearl.
Unwritten law, mate.
Never get between two men and a private bet.
Dave Abrahams
61
Posted 22/06/2019 at 14:33:48
Tommy (#53), that was Kenny's first game since Everton lost at Newcastle over two months ago; that might have been a factor in Jonjoe's poor game.
I never saw the match so I don't know how he played, but the fact that he hadn't played should be considered, although you seem fixed in your opinion of Jonjoe.
Jim Bennings
63
Posted 22/06/2019 at 15:28:10
The national team seems to have regressed once again after last year's hard luck story in Russia ended with a typical Semi-Final loss.
As for our lads, well they were just a symptom of a pretty bad bunch.
Kenny I think tries his bollox off but I don't think he's ever going to reach Seamus Coleman standards and I hope, if he doesn't remain at Everton, then he gets a decent career somewhere else; Schalke is a great move for him.
Dowell is nowhere near ready for the breakneck pace and physicality of the Premier League. Lovely touches but he plays the game like he's blowing on imaginary cigars... that won't work in this league.
Calvert-Lewin, people will say he's absolutely shite... he's not absolutely shite in terms of hold up play and leading the line; he is, however, a shockingly shite finisher and it's games like Palace away last season or at Fulham, fine margins where you need to be clinical with that one chance. He's not anything like clinical enough and I don't see that changing next season.
That's why we need a striker that can move us on to that next level. With the attacking options out there at present, we will not be at that next level.
George Cumiskey
64
Posted 22/06/2019 at 16:09:15
I thought the whole team were poor against Romania. The tactics reminded me of Roberto, just keep possession of the ball 25 passes and still in our own half, whereas Romania had 2 or 3 passes and were in our area having a shot.
We never looked dangerous till Abrahams came on. If I was Silva or Brands, I'd definitely be considering a bid for him.
Jamie Crowley
65
Posted 22/06/2019 at 16:23:47
I'm not defending Tommy Carter. He's a big boy, he can do that on his own. But.. .
If someone says a player is crap, why does he need to offer evidence that said player is crap? I don't see any real reason why someone needs to compile empirical data to make a claim a player is crap.
How about, "In my eyes"?
I can never aptly describe why I think a player is good or poor. I simply form an opinion based upon what I see. Further explanation of what I see and how I see it, I personally find very difficult to explain.
I saw Fellaini and thought he was good. I saw Seamus when Moyes was benching him and thought he was good. I've seen Tom Davies and think he's good. I can't really explain why. I just trust my eyes. And there's three players I liked that certainly won't be winning a Ballon d'Or.
I've also seen players I did not like. Some of which would be very controversial, like Jags. Love the man, great servant, never loved him as a centre-back. Can't explain why (sans chummy boy in the tunnel). People would say "Why do you not like him?" I'm not sure I could give a coherent answer. Just was never my cup of tea.
I don't know. I don't see the harm in Tommy calling out and saying he doesn't believe in Kenny. Or that he believes keeping the likes of a player like Kenny is why we lag behind, and have for 30-odd years.
There's some truth in it for me.
Trust me.
Insofar as England losing, I'm shocked. On paper, and of course the games aren't played on paper, as we're fond of saying here in the States, they should have been a force. Stunned.
Chris Gould
66
Posted 22/06/2019 at 18:00:32
Tommy Carter, I don't believe any of the trio have a big future with us. I would imagine all three will be moved on over the next few seasons.
Calvert-Lewin has proven his worth and helped us out, as did Jonjoe Kenny last season, but I don't believe they are the future. I doubt Dowell will play for the first team again. I wouldn't be surprised if Kenny didn't either.
Time will tell, no point in arguing with those that still cling onto the hope that they'll suddenly develop into top players. They won't, but hopefully Calvert-Lewin will continue to give his all until he's replaced. I like the kid and hope he has a decent career.

Don Alexander
67
Posted 22/06/2019 at 18:31:02
Tommy, I think you've got every right to state your opinion without boring the ass off everyone by seeking to prove it. I've said before that JJK seems to be too physically slight a figure to cut it at the top of the Premier League. That's not his fault but it'll restrict his ambitions I think, and ours if we rely on him.
Dowell has had more than enough opportunities to find some spine in his play, delightful as it can be when he feels like it.
Calvert-Lewin is a bit of a conundrum to me. I still think he can become a top-six striker but perhaps not in terms of goal-scoring. A goal-scorer may well feed off him though because I think he's improved no end in terms of receiving, holding and passing the ball.
Can't prove any of it though so maybe I'm as nuts as those in Brazil!
John Pierce
68
Posted 22/06/2019 at 18:51:09
Even during the quiet months of the summer Gamebot is still out there ruining threads.
Tommy Carter
69
Posted 22/06/2019 at 19:55:45
Glad some blues on here agree with me to some extent. Even if they find me boring.
Some are very like minded. They can see Dowell and Kenny don't have it. But that Davies and Calvert-Lewin might/do.
Credit to young Ryan Ledson. He was meant to be the best of the lot and the guy has gone and made a career for himself. I dread to think what would be going on with him had he stayed.
Mike Gaynes
70
Posted 22/06/2019 at 20:20:26
Tommy, not sure we can say Ledson has made a career for himself, at least not yet. He's is a second-stringer for a bottom-half side at Preston, started 14 games and subbed in 10 more. Spent long stretches as an unused sub. Distinguished himself only with two straight-red suspensions, one of which he will still be sitting out at the start of next season.
Don't think he's quite worth congratulating just yet.
Jay Wood
[BRZ]
72
Posted 22/06/2019 at 20:52:35
In other news, it's the final group game for Brazil in the Copa America against Peru, a game the hosts need to win to ensure passage to the quarterfinals.
Our boy Richarlison and David Neres have both been dropped for Gabriel Jesus and Everton Soares respectively.
Without playing particularly well Brazil is 3-0 to the good at the interval, with the 3rd goal the pick of the lot. The shiny new toy that is Everton Soares again showing what he can do, cutting inside from the left, looking up and surprising the keeper by hitting a speedy grass cutter inside the near post. Two in three games for the lad - and two of those games he only played as sub. Impressive goals to minutes ratio.
Tommy Carter
73
Posted 22/06/2019 at 20:55:18
Mike. If I said it was Saturday you'd argue that it was Sunday.
Ledson is younger than Kenny and Dowell and has played almost as many first team games as those two combined. He earned a move to a bigger club from Oxford.
Nobody said congratulations. But credit where it's due, he realised that rotting in the reserves or on loan at other clubs wasn't going to be for him. So off he went. 100 games under his belt later at the age of 21, I'd say the future looks brighter for him than it does for others still at our club
Andrew Keatley
74
Posted 22/06/2019 at 21:02:59
Tommy. I wasn't sure what to make of your posts. Then you cited Ryan Ledson as an example of how a young player's career should progress. Now I know what to make of your posts.
Phil Bellis
75
Posted 22/06/2019 at 21:07:08
I think a fair bit of Liverpool's "astonishing progress" has been thinking big, ruthless pruning, fucking off bad buys, luck, getting top dollar from Barca, and spending a fortune.
Gordon Crawford
76
Posted 22/06/2019 at 21:15:05
Jay love your optimism pal, but we ain't signing Everton. He seems a very good player, but think he is well outta our reach.
Oh and this site is full of spam again. It's getting bad.
Jay Wood
[BRZ]
77
Posted 22/06/2019 at 21:22:08
Haven't said we're signing him Gordon. I've simply flagged up who I consider to be the best player currently plying his trade in the Brazilian league and reporting how he is performing at the Copa America. Already 4-0 at the start of the 2nd half with a goal by Dani Alves.
Gordon Crawford
78
Posted 22/06/2019 at 21:41:43
I know you haven't Jay, but I'm just saying we ain't signing him anyway. He does seem like a talented boy.
Jim Jennings
79
Posted 22/06/2019 at 21:54:00
Jamie Crowley @65
Spot on. I too don't get the constant demand by certain posters for others to back up an opinion they don't agree on with empirical and/or statistical evidence.
There will always be the guy who says "I've seen nothing from him, I don't rate him, so trust me fellas, he's shite and will never make it" – just as there will always be the guy who says "Well, I know the lad since he was seven months old and me mam used to wipe his arse until he was five and he's a great lad so alls he needs is a run in the side and trust me, then just watch him go."
Like most things in life, the truth will probably be somewhere in the middle.
Andy Crooks
80
Posted 22/06/2019 at 22:06:19
Jim, we all, or at least I know I do, sometimes throw in comments like "He is shite." I think it is reasonable for another poster to ask why. It seems to me that there is post-match emotional comment and then, like now, debate.
If you have a strong opinion, back it up. If, for example, I said Alan Ball was vastly overrated, I would not be surprised if I was challenged and asked to elaborate. If you can't back your opinion in the cold light of day, perhaps you should reconsider it.

John O'Brien
81
Posted 22/06/2019 at 22:10:00
Tommy Carter
Ryan Ledson is a school year ahead of Dowell and was in the same school year as Kenny, he might be marginally younger than Kenny but he is definitely older than Dowell.
If you're going to start spouting facts, get them right!
He would also be eligible for the U21 squad but didn't get anywhere near it – unlike our 3 lads who have been part of the group all the way through.
We can all have our opinions.
For what it's worth, I think Kenny and Dowell have both got in them to have careers at the top level. People always focus on what they believe Dowell can't do – they question his physicality and defensive aspects to his game.
They never focus on what he can do, the technical ability, vision, passing, football intelligence. These are qualities that Tom Davies, who you rate higher, hasn't got. Do you think when Xavi and Pirlo were coming through as technical midfielders, the supporters of their clubs were saying they can't tackle? Neither of those two could tackle a 'fish supper' but boy, they were quality.
I'm not saying Dowell will be at their level but, with the right guidance and support, he could be a player in that position as a deep-lying playmaker, quarterback or tempo setter that we all want as a double-pivot alongside a more defensive-minded midfielder. With Gomes arriving, this may not be at Everton but some other club could benefit.
I don't think personally that there's an awful lot of difference talent-wise in that position between Dowell and Harry Winks who also isn't the most physical player. Yes, he's more experienced and has had more development but I think he could be as good a player easily with the right coaching staff.
Owen Hargreaves, who knows a thing or two about this position, was very impressed with Dowell recently and said he reminded him of Thiago Motta. There's definitely a player there.
Andrew Keatley
82
Posted 22/06/2019 at 22:17:45
John (81) - I agree with you about Dowell's potential with the ball at his feet, but if you don't think he's got to develop the defensive side of his game then I think you are letting him off the hook too easily.
Players like Xavi and Iniesta were so savvy. They often didn't need to physically tackle because their positional play and their discipline put pressure on the opposition. Whenever I have watched Dowell I have always been disappointed with the lack of desire he has to turn the ball over. I'd like him to take more responsibility to win the ball back, to be more aggressive and brave - then we'd really have a player on our hands.
Tommy Carter
83
Posted 22/06/2019 at 23:25:44
@74 Andrew.
I didn't cite him as any example. I cited him for credit. He refused to stay with us. His decision. And he's gained much experience in leaving. He'll have a much more successful career in football than Luke Garbutt. Who at 26, astoundingly is still registered as an EFC player.
@75 Phil
Do you honestly believe their success is down to flashing pound notes? During the period of 2011 - present they only signed Allison Becker and Van Dijk for more than we spent on Sigurdsson.
Tommy Carter
84
Posted 22/06/2019 at 23:49:29
It's also amazing that amount of personal critiscism I've received for not rating Jonjoe Kenny.
'Boring'. 'get te feck'
I did not know this was East Germany.
David Pearl
85
Posted 22/06/2019 at 00:02:03
Tommy.
Actually, if you said it was Sunday then Mike could say it was Saturday. Ye know time zones and that.
I don't particularly rate Kenny. However, I do think he could be anything at this point and needs to play. Same with Dowell and Davies. We've had a lot of players the last few years that we had high hopes for that just didn't make it. It would be nice to see some of them come through.
Simon Dalzell
86
Posted 23/06/2019 at 00:09:42
I'm with Tommy. Do me a favour. Compete for Champions League places with the likes of Calvert-Lewin and Kenny! Forget it. Championship at best.
Don Alexander
87
Posted 23/06/2019 at 00:16:47
Andy Crooks (#80), Alan Ball was sometimes shite. I thought so at the time and, to his credit, so did Bally. He publicly said so and said the crowd were fully entitled to share his opinion. It didn't happen often though.
Yes, we're now 50 years on but just how many games is it going to take our "home-grown-'uns" to measure up to the demands the Premier League, every club in it, our coaches, and the hugely paying spectators all know exist, even if those "sprogs" evidently don't?
Andy Crooks
88
Posted 23/06/2019 at 00:19:27
Tommy, you have not the faintest clue what personal criticism was like on this site back in the day. In the days of the MOB I would say that I was the subject of some monumental stuff. Mike and Lyndon have taken a firm grip on this stuff, though I do miss the no holds barred rage that went on.
Tommy, I pretty much disagree with you on many things, but it is never personal. Keep your arguments coming.
Don Alexander
89
Posted 23/06/2019 at 00:21:30
PS
I'm not completely sure our coaches know it either, unfortunately.
Andy Crooks
90
Posted 23/06/2019 at 00:23:45
Don @ 87. I didn't get my punctuation quite right. Let me be quite clear. Alan Ball was the finest of the finest.
Kieran Kinsella
91
Posted 23/06/2019 at 01:43:30
Off topic but Keane responded to a social media tag and showed up to meet Everton fans in LA. I really like this lad. Football apart, like Coleman he is a well brought up, humble young man. Contrast with Jlingz holidays.
Jamie Crowley
92
Posted 23/06/2019 at 03:15:02
David Pearl @85 -
Tommy.
Actually if you said it was Sunday then Mike could say it was Saturday. Ye know time zones and that.
I think you should know I thought that was so funny, I read it out loud to my wife.
She laughed out loud and said, "That's funny."
Well played.
Brian Cleveland
93
Posted 23/06/2019 at 04:08:11
I'm a little surprised at the people who thought Dowell had a good game. I saw a lot of square and backwards passing from him. I thought our other two were also pretty deficient on the night.
Kenny didn't seem to have the same desire and passion as he usually does. Calvert-Lewin willing but lacks goal poachers instinct. He needs to watch a bit of Bob Latchford, deadly from 6 inches.
I hoped for more from this team as a whole, not just our boys. I've been a fan of Kenny, hope he proves me right. Dowell silky but lacks a bit of grit. Calvert-Lewin, love his effort, fear he lacks that instinct needed in front of goal.
Dick Fearon
94
Posted 23/06/2019 at 06:01:19
Brian @93, Who or what ever produce match statistics ought to put square and backward passes into their own specific category.
I recently saw statistics that showed one team had over 300 passes but failed to mention that defenders circulating the ball between themselves while under no pressure accounted for most of that total. The commentator said the keeper had more touches than any other player on the field.
Darren Hind
95
Posted 23/06/2019 at 07:56:12
Jamie @65,
Can't agree, mate.
If posters didn't challenge opinion they strongly disagree with, this place would empty quicker than an alehouse out of draught.
I don't entirely agree with Tommy Carter, but he has played a blinder here. Tommy has had his judgement questioned. He's had his motives questioned. He's even had the courage of his convictions questioned. That's what happens in passionate debate... Opinion will always, always, always, lead to debate.
This has been a good thread, but it would have died a death after a few posts if Kevin Prytherch, Jay Wood, and Mike Gaynes hadn't tested Tommy's mettle or if Tommy hadn't responded so well.
Those who argue that the best thing to do is offer simple opinion and move on don't seem to consider just how short these threads would become. How quickly they would dry up. They don't seem to consider that, without clashes of opinion, they would not have these threads to read... or that, if they have lost interest in a thread, it is NOT compulsory to stay with it.
If it's deodorised empty-headed posts made in the certain knowledge that comments and opinion will not be challenged, there are numerous alternatives to TW. Try them... you'll be back before lunch!
Darren Hind
96
Posted 23/06/2019 at 08:00:46
Jamie
I know how much you enjoy yourself on here. Only the first paragraph in my post was directed to you.
Tommy Carter
97
Posted 23/06/2019 at 10:45:18
Disagreement and argument is what a forum such as this should all be about. I don't see the point in personal insults though.
Eric Paul
98
Posted 23/06/2019 at 10:56:04
The truth is nobody knows what will become of these young players. Seamus wasn't the best when he started in the first team... if I remember right, he kept giving free kicks and penalties away. Leon Osman was still on loan at Derby at 24 and he had a solid top 6 career.
Jim Bennings
99
Posted 23/06/2019 at 11:10:55
Dowell reminds me of Tony Grant from the mid-90s. Very neat and tidy on the ball but lacking the physical attributes or that oomph to really be a key figure.
Grant was very similar, he could pick out lovely passes to Kanchelskis but somehow you just knew he was never destined for a long successful career at the top level.
Brian Williams
100
Posted 23/06/2019 at 11:14:47
A decent rule of thumb – and one I think has been mentioned on here before – is, if you wouldn't say it to the fella's face across the table in the pub, then don't say it on here.
We've all had our tos and fros on here and I take it as the sort of banter I'd have with Blues in the pub before the game. What I don't like is when someone tries to make a fool of someone which thankfully doesn't happen so much these days. There's a fine line between taking the piss and making a twat of someone and, while it's obvious face-to-face, it isn't in print.
Things like "You're talking shite, through yer arse, a load of bollocks" are standard fare in any face-to-face pre-match bevvy, whether that be Guinness or port and lemon... 😉
But that's just my opinion, which could be a load of shite, etc etc. 😁
John G Davies
101
Posted 23/06/2019 at 11:24:25
"A decent rule of thumb – and one I think has been mentioned on here before – is, if you wouldn't say it to the fellas face across the table in the pub, then don't say it on here."
Well said, Brian. 👍
Phil Bellis
102
Posted 23/06/2019 at 11:28:17
Tommy, the point I was probably poorly making is that, after years of wasting money, Liverpool were able to use the windfall from Barca to wisely spend on the 2 players they really needed, without dipping into their transfer kitty.

Peter Gorman
103
Posted 23/06/2019 at 12:10:35
Tommy Carter, for what it is worth, I have no problem with you thinking Kenny is a garbage player even though I happen to disagree with you. It was the bizarre swipe at fans who want to give a young man a chance as projecting a 'small club mentality' that rankled.
You may well have been thinking little of Kenny for some time but I would still remind people he was probably England's best player in the U20 World Cup, which they won, so I try not to knee-jerk like so many England fans when pretty much the same set of players pile in at the next tournament. It is all part of a steep learning-curve.
Tommy Carter
104
Posted 23/06/2019 at 13:06:22
I see very often on this website, fans who are willing us to replicate the squad we assembled in the 1980s.
They compare Dowell with Sheedy. They defend signing players with poor injury records because Peter Reid and Andy Gray were written off.
This is common on this website and therefore a representation of the opinions and thoughts of some fans.
In my opinion, this is the mentality of a small club. Ambitious and successful clubs are quick to develop and think of new ways of doing things. They don't attempt to reflect or recreate characteristics of players from squads from 35 years ago.
Successful clubs do not carry youth team players into their mid 20s with them having shown little to no improvement in their game from when they were 19.
Jim Bennings
105
Posted 23/06/2019 at 13:18:03
Tommy,
I agree with you on that comparison.
You just can't do what happened in the 80s, the game has changed far too much now, whether we like it or not (and I personally don't); you can't sign players from lower leagues and expect miracles.
Kendall thought it was still possible when he came back for a third time in 1997 but, even by then, the game had moved on. He tried signing John Oster, Gareth Farrelly, Tony Thomas etc and we nearly got relegated.
If players aren't operating at the top five or six by the time they reach 25, then it's very rare that they become players that will ever be at that level, with the odd exception to the rule.
Jay Wood
[BRZ]
106
Posted 23/06/2019 at 13:20:21
Hmmm. As is often the case on threads, a sub-context has evolved from the topic of the lead post.
I don't see anyone – anyone at all – denying Tommy Carter the right to express his opinion. What I do see is a number of posters suggesting Tommy (and other posters) should not be challenged on their views in any way.
A couple of things here for context. Personally, Tommy Carter is a new name for me. He only came to my attention this week on another thread where – again – he denigrated Kenny with his 'Trust me. He's crap. He won't make it' line. Others – including myself – responded reasonably, courteously and playfully to his comments.
Immediately at the final whistle yesterday, when the lead post went up, Tommy was back on the case (his post @ 9 was originally #1 in this thread: other related posts were later drawn from other threads and posted here). He also posted about Kenny on another thread at the same time. Kenny, then is clearly 'an issue' for Tommy Carter.
Tommy has yet to lay out why he considers Kenny to be crap. He has failed to establish any sort of credentials as to why we should 'trust' his judgement above our own. Having failed to do so, I personally take the very simple decision to not give any sort of credence to Tommy's opinion on the subject of Kenny.
Now to the secondary issue that Tommy's post provoked. Not content with simply repeating the 'Trust me. He's crap' line in his post @ 9, he added an additional vacuous claim: "I've had this argument for so long on this website, it depresses me. These supporters only project the small club mentality we have become known for."
Now that is a considerable mindshift, from expressing a (bland, unsubstantiated) opinion on a player, to a blanket condemnation of all Blues who contest Tommy's views on Jonjoe Kenny.
As Brian Williams @ 100 says: "A decent rule of thumb... is, if you wouldn't say it to the fellas face across the table in the pub, then don't say it on here."
Also, as Brian adds, if Tommy stood up in a packed ale house before a game and called out fellow Blues who didn't subscribe to his opinion on Jonjoe Kenny in the terms he did, he most certainly would be buried under a scathing avalanche of similar phrases to the one I expressed:
"Get the feck wid ya, ya pompous ass!"
And I would be amongst those saying it to his face.
The notion expressed by some that a poster should be allowed to post 'he's shite'-like comments and left unchallenged without expanding on WHY they believe it so is just dumbing down legitimate debate.
Sadly, it's a feature of social media posting. People want the right to express their opinion, however bland, provocative or plain stupid it may be, but get immediately indignant (conveniently ignoring the offence their own comments are to others) when even mildly challenged. The shallowness of their views are often further exposed when they are unable to respond with plausible counters.
It's a reflection of Trumpism and growing nationalism in global politics. "If you're against me, you're a commie!" Tommy Carter actually uses this exact ploy in his post @ 84, bemoaning some of the criticism he has drawn:
"I did not know this was East Germany."
So now anyone who doesn't conform to his views are not only "supporters projecting a small club mentality", but they are as oppressive as the brutal Stasi. Bizzare.
I agree with Darren @ 95. If you're are going to post in a public forum, expect to be challenged. It's in the white heat of debate that opinions get exposed and impurities expunged.
As Darren also adds, any attempt to sanitise and deodorise TW and allow empty-headed posts to go unchallenged would be the death knell for TW.
Kevin Prytherch
107
Posted 23/06/2019 at 13:29:28
Tommy
To name a few...
Jesse Lingard – 23 before he played regularly for Man Utd
Harry Kane – 21 before he played regularly for Spurs
Kieron Trippier – 24 before he played in the Premier League regularly
There's plenty who didn't blossom until their early to mid twenties. There's no harm in keeping the most promising players until 22/23 just in case.
It's not necessarily small-club mentality; at times it's common sense.
Tommy Carter
108
Posted 23/06/2019 at 13:38:15
I expect to be challenged. Sadly I even expect to be insulted as people often are on social media. Personally, I think it's correct to challenge, incorrect to insult. Calling someone an idiot is an insult.
Kenny has shown no signs of improvement since his spell of regular of football in the 2017-18 season. He featured in a 5-2 defeat to Arsenal almost two years ago.
His positioning is generally appalling for a right-back and teams he is up against often attack down their left-hand side, exposing this weakness. Whether this is a preplanned strategy by the coach or self-instigated by intelligent players during the game, I don't know, but it happens. Frequently.
A trigger for an attack is often when the weakest link in the opposition defence becomes exposed, either positionally or when he is about to receive the ball. I fear that Kenny is this trigger in most games he plays in. He certainly was against Romania U21s.
Physically, he seems very weak for a 22-year-old. This is a shame because he actually quite robust in terms of his attitude for a physical challenge. His physical strength doesn't seem to have improved at all since he featured under Unsworth and Royle against Norwich some years back.
He dives/throws himself in at the slightest sign of someone pulling the trigger. Astoundingly, he often lunges or tries to block in completely the wrong direction. Against Leicester last season was a particularly poor example of this. Against Romania the other night... well, Kenny is very easily kidded at this level. Basically I think he is not good enough and players at this level are too physical for him, or too clever or both.
It's nothing personal. But I highlight it because it reflects our policy of hanging on to players who aren't good enough for far too long. We are not ruthless enough. Garbutt and Pennington are still on our books. And I fear that, in 2 years time, Kenny and Dowell will be — and, between now and then, will have played very little football. Certainly none for Everton.

Mike Gaynes
109
Posted 23/06/2019 at 13:53:40
Tommy #104,
"Successful clubs do not carry youth team players into their mid 20s with them having shown little to no improvement in their game from when they were 19."
We have two players on the payroll who fit your description – Garbutt and Galloway. (Pennington would arguably be a third, but he may yet crack our squad this summer if healthy.) Regrettable as their ongoing presence may be, I think it speaks to the bad judgement of previous management, rather than a "small club mentality."
Darren #95, I didn't even really challenge Tommy's opinions. I just offered him a charity wager over his certainty that Kenny wouldn't play much at Schalke.
Jay Wood
[BRZ]
110
Posted 23/06/2019 at 14:27:54
Ah! FINALLY, Tommy! After nearly a week you put up a FOOTBALLING assessment of Keeny's skill.
But to dispense with your opening paragraph first. Stop playing the 'victim' card. Take responsibility for your own words as expressed @ 9. If you are going to blanketly condemn ALL Blues who don't subscribe to your view on Kenny as 'displaying a small club mentality', then I have zero sympathy for you and the resultant scorn you deservedly received.
Now to your assessment of Jonjoe Kenny. Why you pluck out the fact that he was part of the 5-2 defeat to Arsenal almost two years ago – Ronald Koeman's final game before getting sacked – only you know.
Looking just at that game, the whole season to that point had been a cock-up. In that game, Koeman played a back three of Jagielka, Keane and Williams, with Kenny and Baines the wing-backs. Recognizing it wasn't working, at half-time, he replaced Williams with Davies and played a flat back four. Gueye was sent off on 68 minutes with the score 2-1 to the Arse. They ran riot only after that. By association, you are seemingly trying to make Kenny the determining factor in that defeat. He wasn't.
Kenny's positioning. Nope! Not seeing what you claim. The other day, on another thread, I acknowledged he does have a tendency to hang back and be the last man when repelling an attack, thus potentially 'playing a forward onside' should the opposition come at us again. But I don't recall us conceding from this apparent flaw. It is also something that can be trained out of the lad.
You claim Kenny is the 'weak link' in our defence when he plays that teams target. Again, I don't see the 'frequent' evidence of this as you claim. In the wake of Koeman's dismissal, Rhino's short stint and Allardyce's appointment, due to injury, the manager's hand was forced and he had to play a back four of Kenny, Holgate, Williams and Martina. Check out the results. They proved to be the most resilient defence we put out that season.
Physically weak? Jonjoe Kenny? Anything but. He is a superb tackler, with great pace, very good recovery. He also practices the dark arts of defending: either the ball or the player goes past me, but not both together! Nobody gets an easy ride in a game from Kenny.
Next, that he dives in 'at the slightest sign of someone pulling the trigger'. Again, not seeing that... and the fact that you have to go back to the Leicester game to offer up an example rather undermines your own claim. And as I already answered you on another thread when you referenced the Leicester game as an example of how woeful Kenny is, in referencing the goal Everton conceded that day, you ignore the poor play by Bernard that exposed the defence with 3 Leicester players running in on 2 Everton defenders, PLUS the fact that - yes - Kenny had a dreadful first half that day. But he was mentally strong to come out in the second half and have a very good second 45 minutes.
The issue on Everton's Academy policy and when to retain them, when to let them go, is another discussion altogether.
Jamie Crowley
111
Posted 23/06/2019 at 14:57:03
Darren @96 -
The entire post could have been directed at me. Wouldn't phase me in the least.
You make an excellent point regarding the need for challenging debate contributing to the site, and individual threads.
Dave Abrahams
112
Posted 23/06/2019 at 15:14:30
Tommy (108), have a good read of Jay (110) regarding Jonjoe Kenny's ability, physical and technical.
As for your assertion that Kenny's physical strength doesn't look like it has improved at all since he played against Norwich over two years ago... well, since I first saw him about five years ago, against Norwich in an FA Youth Cup game, he has never shirked a tackle, got stuck in no matter how big his opponent, same as Gana Gueye, Ball, Collins, Bremner, Giles and countless other small-built players; there is plenty of fight in Jonjoe, no matter what size he is.
You are entitled to your opinion, no-one denies you that, it is the dogmatic attitude of your opinion that doesn't come across very well, Tommy. Your opinion is either black or white with no shades of grey.
Tommy, keep posting, it all adds to the great site that is ToffeeWeb.
Phil (Kelsall) Roberts
113
Posted 23/06/2019 at 15:15:20
This thread has descended in parts to a lack of ruthlessness in getting rid of players in their early 20s who are never going to be first-team players.
There are two options: Sell or Release.
The latter earns the club nothing. So the question is so you hold on to these players in the hope that a club will come in to buy them. £1-2m for Garbutt justifies the decision to keep him on.
The criticism will be the realisation that they are surplus to the long-term plan but are we actively trying to get them off the books? Are their wages above the norm for the league which is their level?
Somehow, I cannot see the current Director of Football just letting things slide.
I think it is also a sign of the malaise in today's game. A life of picking up in a week what most fans earn in a year for just turning up for training, and no desire to lose a few grand (which is probably irrelevant at that level of income) to be involved in the excitement of playing in front of thousands of people each week, which was the incentive when they were teenagers.
Tommy Carter
115
Posted 23/06/2019 at 15:48:47
Arsenal 5 Everton 2 was references as it was Kenny's first start I believe. And I was making the point that this was almost 2 years ago.
Monreal reacts for their first goal, from their left hand side JJK stood next to him like a statue. Next goal. From their left hand side, JJK backs off continuously and fails to prevent a cross from which Ozil heads in.
Goal 3. JJK caught between Lacazette and Ramsey.
Goal 4. Ramsey cuts in from their left, leaving Kenny chasing helplessly. Poor positioning.
Goal 5. Their left hand side. Chipped over Kenny who is in no mans land.
Next game vs Leicester.
Vardy first goal, Kenny out of position.
Second goal, Kenny OG, slicing it inexplicably into his own net
Next game. Vs Watford.
Their first goal, Kenny abandons his position. It's crossed to the player on their left, Richarlison who then slots past Kenny on the line
Second goal. Not really his fault but he is stood still holding an attacker in the box 2 yards in front of the keeer
Next game. Palace away
Their first goal, keeer parties to an attacker, who reacts to knock home as Kenny, closest to him stands like a statue.
Second goal, ball out right across the box to an attacker, unmarked again a yard ahead of Kenny who should've been covering

Then a few games where he is not directly at fault for goals. Until we play Swansea
Leroy fer scored with Kenny again doing that defending from a corner where you stand still in front of the keeper holding an opposition player.
Bournemouth 2 Everton 1. Kenny at fault for Fraser's first goal. Fraser unmarked on their left and taps in with Kenny chasing back. The winner comes from their left. Fraser finishing with Kenny 20 yards out of position
Tottenham 4 Everton 0
Goal 2. Kenny embarrassed by Son on the halfway line who crosses to Kane then Kane scores
Goal 3. Kane peels behind the defence. JJK stood statuesque as he taps in
Goal 4. Kenny leaves his man who then scores.
Vs Arsenal. 2 of 5 goals from their left hand side
Vs palace. Williams concedes penalty but JJK right next to him trying to block a header with his arms.
Seamus then came back in for the remainder of the season.
In Europe. Vs Appolon. Their first goal. Attacker comes in from the left unmarked and scores.
This season vs Watford. Well out of position as Gray tucks in at the far post where he should've been
West Ham 3 Everton one. Goal 1 from their left hand side. Goal 3, Kenny fails to read and cover.
Arsenal 2 Everton 0. Ball player to lacazette. Kenny stands off befor collapsing in a heap trying to block the shot that goes in the top corner. Goal 2, the two attackers play a trick around Kenny to score.

Then the one vs Leicester. Honestly, I cannot believe how bad it is. Luckily, it doesn't cost us the game. He was dropped from the team for a long period after this.
Back in vs Wolves. Their 3rd, just watches as his man reacts to volley the ball home
Newcastle 3 Everton 2. Kenny throws himself in front of the ball trying to block Rondon after facing the wrong way. Fails. Goal. The winner. He's scrambling in the box before collapsing in a heap attempting to block. Runs into his own man. They score.
But what do I know?
Dave Evans
118
Posted 23/06/2019 at 15:56:49
Within the next season or two our young players need to show they are top six material. Most, at present, are a fair way off.
Have to smile at Tommy being pilloried for calling Kenny garbage. Experience tells me that, if two or three consecutive defeats happen next season, most regulars on here will be posting that most team players are a damn sight worse.
Andy Crooks
119
Posted 23/06/2019 at 16:17:13
Tommy, you were challenged to provide detail in your criticism of Jonjoe Kenny. My God, you have. Are you stalking the lad?
Just joking, Tommy, by the way.
Tommy Carter
120
Posted 23/06/2019 at 16:28:08
Thanks for reading, Andy.
I love Everton FC and I don't enjoy writing players off. Particularly homegrown players. And especially ones who seem like decent lads.
But I want us to progress. I've highlighted Jonjoe Kenny as a part of a lack of ruthlessness that costs our club.
I attribute 16 games above in which he has cost us goals, and in many instances the game. That's almost half of his total appearances for the club. Not good enough, and little sign of any progress made.
Joe McMahon
121
Posted 23/06/2019 at 16:33:45
Tommy @133.
Leighton Baines also has flaws. He has always been poor at stopping crosses and turns his back on shots. I'm happy for Jonjoe Kenny to go out on loan; personally, I'm more concerned about Calvert-Lewin's shooting skills.
John G Davies
122
Posted 23/06/2019 at 16:35:20
Tommy,
What can't speak can't lie. The examples you put up don't paint a pretty picture given the ratio of mistakes to appearances. Fair comments.
Darren Hind
123
Posted 23/06/2019 at 17:22:10
Sorry, Tommy,
You were doing so well early on in the thread but...
I think anybody – and I do mean anybody – could choose a defender and do the sort of hatchet job you have done on young Jonjoe Kenny. And it is a hatchet job, quite a vindictive one which exonerates and overlooks the shortcomings of all those more experienced players around him.
When somebody goes to the lengths you have gone to, to criticise an individual, there becomes a point when their argument begins to lose credibility. It becomes personal... You've reached that point mate.
Tip – start sharing the blame around other more experienced players in those games you mentioned. They are far more culpable.
Jay Wood
[BRZ]
124
Posted 23/06/2019 at 17:50:12
Tommy, I played back the highlights of those games. You are evidently determined to find blame in JJK to attribute the goals conceded as solely down to him.
I'll leave it to others to compare your interpretation of events to actual footage. Links to the games.
Everton 2 Arsenal 5 - Link
Clearly all Kenny's fault. Not.
Leicester 2 Everton 0 - Link
Case of mistaken identity? Kenny was NOT out of position. He got back into position from a very sharp Leicester counter-attack and had two men running into his area with no covering support and could do little or nothing to stop the cross coming in. Vardy runs off the back of the back-tracking Lennon to score. For the second, defender slices ball into own goal. Shit happens to even the best defenders.
Everton 3 Watford 2 - Link
'Their first goal, Kenny abandons his position' you say. This totally ignores JJK had to move across to try and close down the man played through the middle with both our centre backs missing. He is still the only defender bursting a gut to get back, as you yourself note, by being on the goal line when Richarlison lashes in an unstoppable shot. Your comment on their 2nd goal is further evidence how determined you are to denigrate the lad.
Palace 2 Everton 2 - Link
I think you struggle with spatial awareness Tom if you consider Kenny 'stands like a statue' next to the goalscorer. Second goal, no criticism of the left full back failing to prevent the cross coming in; no criticism of Keane or Pickford failing to stop the cross reaching the goalscorer. Nope! 'Kill Kenny!
You're beginning to sound like every episode of South Park, Tom.
Everton 3 Swansea 1 - Link
Continuing the theme, you contrive to blame Kenny for doing his job whilst others fail to do theirs, allowing Leroy to score.
Bournemouth 2 Everton 1 - Link
'Kenny at fault for Fraser's first goal.' Yup! Let's ignore Scheiderlin's woeful back pass from the half way line which totally exposed our backline, including Kenny who was in their half on the opposite flank, giving Bournemouth a free run in to beat Pickford.
It's getting tedious now, Tommy. Yes, Kenny is beaten in the tackle near the half way. There is plenty of cover, both of midfield and defensive players. The shot is a deflection to give Bournemouth a fortuitous winner. But of course, 'Kill Kenny' because he is 20 yards out of position.
Tottenham 4 Everton 0 - Link
'Kenny embarrassed by Son on the halfway line who crosses to Kane then Kane scores', you write. Very good striker shows great skill. Rest of the defence stands off and allow 1st very good striker an easy ball into the six-yard box for 2nd very good striker to tap in, could be another interpretation.
'Goal 3. Kane peels behind the defence. JJK stood statuesque as he taps in', or Kane runs off the back of his marker Holgate to score?
'Goal 4. Kenny leaves his man who then scores', or Kenny has to cover the centre once again in the absence of his centre backs and Spurs take advantage of the 2 on 1 overload?
Arsenal 5 Everton 1 - Link
Mangala's memorable debut, in an experimental back three line up. 3-0 in 15 minutes. 4-0 by half time. The experiment binned at the interval. But from Tom we get a vague claim that '2 of 5 goals from their left hand side', clearly inferring 'Kenny's to blame' when NO blame can be attributed to him on ANY of the goals.
I'm beginning to think if you step in dog crap anywhere in the L4 postal code, you'd be saying 'that fookin' Kenny!'
Everton 3 Palace 1 - Link
'Williams concedes penalty but JJK right next to him trying to block a header with his arms.' Now you're just being perverse, Tom. Let's ignore that JJK had just been the one heading away the first attempt on goal and blame HIM for Williams' handball. And let's ignore JJK's part in our third goal whilst you're at it, eh?
I really could go on, but there's no need.
'But what do I know?' you plaintively ask Tom.
There is a considerable difference between what you KNOW and what you think and believe.
From your posts in the last week, I now know whatever evidence is put before you, whatever counter opinions are offered, nothing will make you change your mind on how you think and what you believe about Kenny.
The BASTARD!!!
Ian Jones
125
Posted 23/06/2019 at 18:01:31
Hi Tommy, enjoyed reading your detailed account regarding Kenny's errors. I was interested to see what happened so looked at goals in the first Everton Arsenal match you mention and didn't bother looking any further. I will concede that Kenny may be at fault for some goals in that game and therefore logically at fault for goals in other games.
However, I think Darren is correct in pointing out that the shortcomings of those more experienced players around him shouldn't be overlooked. The last goal is an example...yes, the ball is played over Kenny's head to Sanchez who is allowed to run across the box at will by 3, 4 or possibly 5 players before scoring. Pity Kenny can't be in 5 places at one time.
Jay Wood
[BRZ]
126
Posted 23/06/2019 at 18:02:02
Andy @ 130 and John @ 134.
A tip. Don't take at face value anything anyone says in an internet forum, all the more so if their starting position is clearly a biased one determined to 'prove' their theories.
Check out the links I put up and see if you concur with Tom's claims that in '16 games he has cost us goals, and in many instances the game' stand up to inspection.
He is massaging, distorting and putting a malicious interpretation on actual events to maintain what is now clearly a hatchet job on Jonjoe Kenny.
Eric Paul
128
Posted 23/06/2019 at 18:07:32
Tommy,
You could do the same analysis on John Stones and come up with the same conclusion, and we got the best part of £50m for him. He is still making the same mistakes now but is one of the best defenders in the Premier League.
Tommy Carter
129
Posted 23/06/2019 at 18:10:33
You can spin it either way, Jay. But I invite people to watch the videos of these games and come to their own conclusion. I'm simply stating mine.
A common theme throughout is Kenny with his head in his hands after the goal goes in. He knows himself he is at fault.
The Lacazette goal at the Emirates and both goals away at Leicester are amongst the worst pieces of defending I have ever seen. At any level.
John G Davies
130
Posted 23/06/2019 at 18:12:12
Jay 128,
Thanks for the tip. That's an MO I used at one time on a lot of your posts tbh. I haven't needed to for quite a long time now though to be fair.
Jay Wood
[BRZ]
131
Posted 23/06/2019 at 18:18:44
That's exactly what I invite other people to do, Tom.
NOT to accept at face value your evidently biased reading of many of the goals you attribute to being 'Kenny's fault', but to look at the entire play and context which you studiously fail to do in your anxiety to 'prove your point' and reach their own conclusions.
As such, your Kenny blame-game is a contrivance, determined to find fault even where clearly in the majority of your examples there are others the finger could be pointed at before hanging it all on Jonjoe Kenny.
Michael Kenrick
Editorial Team
132
Posted 23/06/2019 at 18:21:05
Jay, just curious given your high standards on forum posting morals...
Why is it okay for you to denigrate a poster's opinions by labelling them with the emotive term 'bias'?
Rob Halligan
133
Posted 23/06/2019 at 18:29:33
You know what, at the end of the day, Jonjoe Kenny probably doesn't give a flying fuck what anybody on here thinks of him. The lad has won a Premier League 2 with Everton and the Fifa U20 World Cup with England, so clearly he must be doing something right.
Steve Carse
134
Posted 23/06/2019 at 18:34:15
Full-back is a very lonely position to play in if you're without a wing-back's assistance. Even worse if your centre-backs are frequently away with the fairies.
Actually I think I could do a Tommy Carter job on Trent-Alexander.
Jay Wood
[BRZ]
135
Posted 23/06/2019 at 18:36:12
Michael, I haven't spoken about 'high standards on forum posting morals' at all. I place myself in the 'anything goes' school. Just face up to the consequences of how people react to what you post. Some aren't willing to do that.
I've spoken in very broad terms about how on social media people post 'the truth' as they see it and how they take exception to such 'truth' being challenged. Nothing more.
And if you regard the word 'bias' as an emotive term, when clearly every single day on TW posters lean heavily on their own 'biased' view on all things Evertonian, that's your right.
It's not a definition I agree with and giving your own robust nature at times, I view your comment as a rather whimsical one.
Tommy Carter
136
Posted 23/06/2019 at 18:40:09
@129
Agreed. But Kenny isn't one of the best defenders in the Premier League. And never will be.
Billy Roberts
137
Posted 23/06/2019 at 18:50:57
Tommy Carter is Jay Wood's alter ego!!
Like Jekyll & Hyde or Batman's Twoface, I think Jay has gone troppo in his Brazilian jungle treehouse and, bored shitless with the dross and lack of any suitable jousting partners, has invented "Tommy".
Tommy/Jay don't take it too personally but you are coming across as a tight arse by not taking up Mike Gaynes on his more than fair bet. Put your money where your mouths are!!
Darren Hind
138
Posted 23/06/2019 at 18:52:34
Mike 109
Agreed, you didn't question Tommy's opinion, but by challenging him to a bet, you were kinda testing the courage of his conviction... weren't you?
Dave Abrahams
139
Posted 23/06/2019 at 19:00:27
Tommy (115), Tommy CARTER, remember the name !! I certainly won't, after that verbal assassination.
Joe McMahon
141
Posted 23/06/2019 at 19:53:18
Why am I thinking of The Clash song Tommy Gun?
Michael Kenrick
142
Posted 23/06/2019 at 19:58:49
Jay, to be fair, you do often claim the high moral ground in your posts.
And you rather sidestep the issue I raised by claiming that many everyday posts on TW are inherently 'biased' — I interpret this as you equating 'bias' with 'having a strong and polarized opinion'. Not the same, in my humble opinion. 'Bias' goes a step further.
I think accusing someone of 'bias', as you do above, in order to denigrate their opinion, goes beyond them having strong or firmly held opinion. You are invoking a prejudice or slant in the other person that implies some motive or predetermined objective.
In a way, it becomes almost self-fullfilling:
Someone voices a strong, provocative opinion.
You challenge them to back up their opinion with empirical evidence.
They eventually provide their view of the situations on which they base their opinion.
You systematically tear apart each situation.
They say, quite rightly, "You can spin it either way, Jay. But I invite people to watch the videos of these games and come to their own conclusion. I'm simply stating mine."
You then retort with the accusation of bias.
It's that last step I'm calling out. Although, perhaps inconsistently, I'm not that concerned with you and Darren calling it a hatchet job. Maybe because, to my mind, that better describes your assessment of a very harsh and unfair attack on the player, rather than imputing any hidden agenda, ulterior motivation, or vaguely ad hominem element contained in the accusation of 'bias'.
Simon Smith
143
Posted 23/06/2019 at 20:02:39
You can tell it's a Sunday during a football down time summer...
Michael Kenrick
145
Posted 23/06/2019 at 20:14:29
Yea, sorry about that, Si. It's the first(?) day of summer but cold and pissing down with rain here. I'm watching my first games on the Women's World Cup but (and here I admit bias!) it's really not doing it for me — even with all the shenanigans of the England v Cameroon game.

But the Copa America is also on now and arguably more rewarding to watch, and there's the Gold Cup too, so not exactly a down-time summer just yet... but maybe they are more difficult for some to watch live.
Simon Smith
146
Posted 23/06/2019 at 20:16:49
I know it's terrible. Although funny to watch for the sheer amount of calamitous moments you get each game.
Every goalkeeper has at least 3 mistakes a game!
Jay Harris
147
Posted 23/06/2019 at 20:18:35
Tommy,
I understand you want a successful top 4 team (don't we all) but even the Champions for the last two seasons have players who, by your criteria, would be called absolutely crap.
It is a team game and some of the team will be better than others but they will all make mistakes from time to time. That is when they need support and encouragement – not destroying them.
John Pierce
148
Posted 23/06/2019 at 20:23:33
Si & Michael,
Bronze or Jonjoe Kenny? Discuss!
Simon Smith
149
Posted 23/06/2019 at 20:25:41
John,
I think you should re address that question to Tommy. Haha!
Jay Wood
[BRZ]
151
Posted 23/06/2019 at 21:31:07
Care to offer examples of me claiming the 'moral high ground' in my posts Michael?
I don't consider I do. Do I write with conviction, sonetimes offering either statistical or empirical evidence or both to support my view? Yes I do. That annoys some, I'm aware, that I don't passively submit to their world view whilst stating my own.
What I never ever do is lobby to disallow views contrary to my own. Others do. As an editor you can also confirm that I have never ever complained about any post, even when I have been the recipient of the most foul-mouthed, snide and sneering abuse. I deal with such posts directly myself in two ways: addressing the poster directly or totally ignoring them.
I have never conferred sainthood on myself (as some have provocatively labelled me). On the contrary, I freely admit I can be as tart as anyone when the gloves come off. But my starting point is never to get personally abusive, but I can and will fend for myself if and when it gets 'down and dirty'.
My posts are also often sprinkled with IMOs, clearly an acknowledgement that other views are allowed and that I am not the absolute authority or final arbiter on what is right or wrong. Other posters are much less willing to entertain the idea that opinions other than their own have any validity whatsoever.
As for you taking particular issue with my use of the word 'bias', for me it is a question of mere semantics and personal interpretation of the word.
Equally, you could describe 'bias' as an inclination, leaning, partiality, predisposition, propensity, tendency, one-sidedness, partisanship, prejudice, plus many other synonyms.
Like 'bias', all could be construed as 'having a strong and polarized opinion' as you define 'bias'.
In the case with Tommy and JJK he has blandly stated for nearly a week now 'he's crap, he'll never make it, trust me.' I wasn't alone in questioning such a vacuous unsubstantiated claim. I wasn't alone in stating if he was unable or unwilling to expand on such a minimalist evaluation then there was nothing further to discuss. I wasn't alone in calling Tommy out for labeling those unwilling to 'trust' his opinion on JJK as supporters with small club mentality.
Today, finally, he HAS padded out his views, giving people the opportunity to evaluate why he is so dismissive of JJK and (horror of horrors!) some have exercised their right to reply.
Nothing devious. Nothing Machiavellian in their motives. Simply the natural ebb and flow of healthy debate I thought you'd wish to encourage on TW, rather than dumb down to a Facebook facsimile of sanitized smiley emojis and thumbs up for all.
Your comments to me are all the more bewildering Michael when you yourself conclude that 'perhaps inconsistently' (your words) you ALSO describe Tom's 'video evidence' as a 'hatchet job', a very harsh and unfair attack on the player.
Like it or not Michael, but with regard to TC's post, we are effectively reaching the same conclusion and saying the same thing, but in different words.
Michael Kenrick
152
Posted 23/06/2019 at 23:01:39
Well, Jay, you are being your usual self in not giving any quarter to anyone, and bringing up a load of other stuff not previously mentioned.
I was solely flagging your use of the word 'bias'.
I agree that it may be semantics. Significantly, you have listed a slew of the softer nuances, judiciously ignoring these: intolerance, bigotry, unfairness, narrow-mindedness.
In my opinion, the current use of the word on social media circles like this carries a hefty load of these meanings, and should be used sparingly. That's all.

Mike Gaynes
153
Posted 23/06/2019 at 23:59:11
Darren #138, kinda sorta... not his opinion about Kenny's talents (or lack thereof), but the certainty he expressed that Kenny wouldn't play 15 games at Schalke.
And I'm always happy to find a way to enhance EitC's revenues.
Peter Gorman
154
Posted 23/06/2019 at 00:01:44
Tommy, tbf that is a quite epic analysis of poor Jonjoe and I can't ask for more than that, even if I obviously err way over on Jay Wood's side of the interpretation.
My particular favourite has to be; vs Palace - Williams concedes pentalty, Kenny is still garbage.
This has been a great thread, I'm already pumped for next season.
Peter Gorman
155
Posted 24/06/2019 at 00:07:18
Taking Michael's post at 145 as an open invitation to segue into England vs Cameroon; did you see that Cameroon 'lady' take a massive gob onto the arm of Toni Duggan, formerly of Everton FC?
Shades of Voller/Rijkaard.
Jay Wood
[BRZ]
156
Posted 23/06/2019 at 00:18:43
I've responded directly and specifically to the points you and you alone raised, Michael.
I could further add that, as others have done in the past, your only contribution to the thread has largely been to challenge my posting style, rather than engage meaningfully in the actual footy debate related to the thread.
Your choice and I have no issue with that. But if you are going to address me directly in the manner you do, don't then be surprised if I choose to respond as I do.
I will close by saying it always amuses me when people take the time out to challenge my posting style whilst contributing little or (in most cases) nothing to the subject matter when I - as in this very thread - DO keep on topic.
Each to their own, 'n all that.
Darren Hind
157
Posted 24/06/2019 at 00:40:06
Fair play, Mike.
Although a hundred a game is probably what scared Tommy off LOL.
I like a bet, but I'd have walked away from that one too. You are either an intrepid gambler or you are better off than your average TW'r
Either way, remind me never to play poker with you. I don't mind losing my shirt but I`m not having me kecks removed for anybody<./p>
Mike Gaynes
158
Posted 24/06/2019 at 01:14:53
Darren, on the contrary, I'm a pretty crappy gambler. With my luck, as Tommy himself pointed out, Kenny could have been injured in Game 1 and missed the season, and I'd have been on the hook for £1,500. And my wife would have melted down.
You're right, I should have proposed less showy stakes. So yeah, maybe I was testing him there more than I admitted.
Andrew Keatley
159
Posted 24/06/2019 at 01:26:59
Correct me if I'm wrong Jay Wood (BRZ), but I think your use of the word "bias" was a reaction to Tommy's exhaustive list of alleged Jonjoe Kenny errors - which certainly read to me like "confirmation bias".
Tommy wanted to prove his theory of Jonjoe being to blame for multiple goals, and came back with examples that showed - in my opinion anyway - limited objectivity. If Tommy had just listed the handful of goals that Jonjoe is clearly culpable for then fine, but he didn't; he included goals in which any blame attached to Jonjoe is tenuous at best. Jonjoe has made mistakes - some of which have been more obvious than others - but tarring him with a number of goals where the blame could lie equally elsewhere amongst Jonjoe's team-mates (and/or where the attacking play was excellent) is not really playing fair.
Who knows how Jonjoe will develop from here, but I'd like to believe that there is a world in which he can improve on his shortcomings and rejoin our first team squad, even if he has a lot of work to do to manage it.
Dave Abrahams
160
Posted 24/06/2019 at 13:12:54
All three Everton players are starting tonight for England U21s, good luck to the three of them. Have a good go Jonjoe, you know who is watching you. If you score three and kick three off the line he might give you 5/10, he's generous that way.
Mike Gaynes
161
Posted 24/06/2019 at 19:52:16
The game kicks off in a few minutes -- I'm watching it in Spanish.
Darren Hind
162
Posted 24/06/2019 at 20:03:56
Indeed, Dave.
I want all our boys to do themselves justice. That said, I always get nervous when any of our players are on international duty. We seem to pick up more than our share of injuries.
Michael Lynch
163
Posted 24/06/2019 at 20:41:12
Kenny done again for the Croatia goal. Not having a great time really, the lad.
Tommy Carter
164
Posted 24/06/2019 at 20:53:48
Michael,
Completely. Didn't even know what way to face. Stood off. Did nothing. Statue.
I take nothing away from the strike which was unbelievable. But the strike doesn't happen if it is defended properly.
Look where the lad picks the ball up. If you pause it there and say 'He ends up scoring'. You're scratching your head and asking 'How?'
I'm certain people will still defend him. Maybe those who have doubts, watch all the clips I referred to above and re-examine his part in each of those goals.
Mike Gaynes
165
Posted 24/06/2019 at 20:56:51
Score one for Tommy's opinion. Jonjoe got completely turned inside out by a guy who plays second division in Germany. Not a good look.
On the plus side, Dowell nicely started the passing move that produce England's pen, and also made a good tackle and blocked a shot -- before getting a silly yellow for a shirt pull.
Vlasic has been inconsequential.
Mike Gaynes
166
Posted 24/06/2019 at 21:24:46
Wish I could delete that last line. Vlasic just scored an absolutely beauty. And promptly dropped in his tracks with a calf injury and was carried off.
Dowell has already been subbed off.
And Kenny just scored an absolutely spectacular goal, the greatest of his career by far. 25-yard rocket into the side netting. Gorgeous.
Rob Halligan
167
Posted 24/06/2019 at 21:28:21
Brilliant goal by Jonjoe Kenny.
Tommy Carter
168
Posted 24/06/2019 at 21:33:48
I take it all back. Sorry lads. And Annika. Get him back off loan.
Mike Gaynes
169
Posted 24/06/2019 at 22:13:49
Well, that won't settle any arguments. He was awful and sensational in the same game.
Paul Burns
170
Posted 27/06/2019 at 18:50:55
Tommy Carter is spot on – these players are never going to be good enough. Everton have become like those shit job-creation schemes designed to keep people off the dole and manipulate the figures.
Get ruthless and get rid and get players who are strong enough for the Premier League, who know how to score, who know how to defend, as well as go forward, before we end up with an Under-23 team with an average age of 30...
Jesus!

Add Your Comments
In order to post a comment, you need to be logged in as a registered user of the site.
Or Sign up as a ToffeeWeb Member — it's free, takes just a few minutes and will allow you to post your comments on articles and Talking Points submissions across the site.