Gomes can't wait to get back to Finch Farm
Tuesday, 7 April, 2020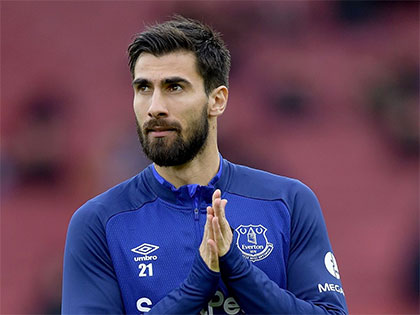 André Gomes admits that being isolated from his Everton team-mates and away from Premier League football is tough but he feels that the club is on the right track under Carlo Ancelotti for when the action finally resumes.
No sooner had the Portuguese made a remarkably swift recovery from a broken ankle than his season was he was forced to sit out for more time as Britain reels from the COVID-19 pandemic.
He recalls the welcome he got from Everton's fans on his first game back at Goodison Park following his horror injury and he aims to try and repay that love over time.
Premier League football has been shut down for almost a month now with no end in sight but Gomes says that he is looking forward to getting straight back to Finch Farm once restrictions have been lifted.
"I have had many really good moments at Goodison but I have to say this one [was the most special],". Gomes explained during an Instagram Q&A with fans. "It was such a warm welcome. The fans have always been incredible with me.
"Hearing [the reception], I felt really confident and happy to have the support from them.
"I'm missing my teammates and the club and, of course, the first thing I want to do after the quarantine is to go back to the training ground.
"At Everton, we have a really nice dressing room environment. The fans have always been so amazing with me, too.
"It's a tough moment and we must all try to respect the rules. Enjoy movies, TV series, do exercise when you can. Help yourself and others."
Gomes has played just a handful of matches under new manager Carlo Ancelotti but he feels as though Everton have appointed the right man to take the club forward.
"Carlo is a great human being. He is a really nice guy," the midfielder continued. "He has great experience and he is helping the team a lot. Everton is doing a massive effort to make the team better.
"I believe Carlo trusts in the club, otherwise he wouldn't have come here.
"We want to make the fans proud and we are on the right way to do that. The fans are with us all the time.
"We are trying to be better and improve the club. We want to reach a high a level. We all love Everton and right now I think we are on a good track to reach our goal."
---
Reader Comments (57)
Note: the following content is not moderated or vetted by the site owners at the time of submission. Comments are the responsibility of the poster. Disclaimer
Annika Herbert
1
Posted 07/04/2020 at 07:54:34
One of my favourite players and an all round, good guy. If we can improve the midfield around him and add a few other important pieces to the puzzle, he could be a top, top player for us.
Let's hope we get a chance to see him in action in the not too distant future. Until then, stay safe everyone and good health to you all.
Jim Bennings
2
Posted 07/04/2020 at 08:23:16
I know this is totally off topic but does anyone have a strategy in place for the reimbursement of the season ticket holders lost games?
Surely with 5 games left at Goodison that's over 𧵎 worth of matches gone, and half season ticket holders that purchased will have been even harder hit in the pocket.
Let's be frank, there's no way fans will be going anywhere near matches again until next year, this virus will not be something that simply goes away, even if it slows down in late summer early autumn, we could well be back in the same boat this time next year, it will continue until a vaccine is made available that is going to control it like the flu.
No way can clubs not reimburse fans that bought season tickets (many even already renewed for next season).
Clubs need to remember that people need some quick resolution to this situation, whether football returns in August or not, it will not have supporters at the stadiums, so the people in charge need to come up with some satisfactory results to help the paying fan that have been hard hit financially.
Martin Berry
3
Posted 07/04/2020 at 08:28:59
Annika #1
Spot on. It will be interested to see who lines up in midfield alongside Andre next season, also in other areas of the pitch after Carlo has had his first summer transfer period.
This assume that life and the football is back to some form of normality after these difficult times ?
Kev Dooley
4
Posted 07/04/2020 at 08:33:30
A Class act...
Ray Roche
5
Posted 07/04/2020 at 08:59:57
Jim@2
Difficult one Jim, I've already paid for my ticket for next season, if this season drags on NEXT season might be shortened as some are suggesting. Complete mess.
Brian Williams
6
Posted 07/04/2020 at 09:06:36
Personally I'll happily forego any part reimbursement of my season ticket.
Give the money to a charity or maybe somebody who's lost someone to Covid 19 and needs financial support, something like that.
The money's already gone and if you estimate 20,000 season ticket holders with an average of 𧴜 left that could be ٠m to a really deserving cause.
Ray Roche
7
Posted 07/04/2020 at 09:11:48
Good idea Brian. I'm not bothered about the remaining games of this dreadful season, a season ruined by VAR, the RS dominance and now Covid-19, but next season shouldn't be affected just so the RS can be crowned champions. Give them a certificate and a pat on the back.
"Let me show you what you could have won", and give them a papier-mâché cup as well.
In the rain.
Brian Williams
8
Posted 07/04/2020 at 09:14:57
Ray, you'll NEVER go to heaven, which is OK coz I'll need some company down there!
Patrick McFarlane
9
Posted 07/04/2020 at 09:22:30
I really hope that Gomes turns out to be the player many believe he can become but I'll have to see a lot more from him on a consistent basis to be convinced he'll play a major part in Everton becoming a real force again.
On Jim's point about Season Ticket's and the probable absence of fans from the remaining matches - most clubs will probably offer some form of 'free' access to whichever media platform is showing the matches as compensation. I don't think that they have a duty to reimburse us as the ticket always remains the property of the club and has strict terms and conditions attached.
I have heard on the grapevine that those accross the park are intending to charge their fans a surcharge of 㿞 a game for non attendance - just a rumour like but we would't put it past them and it would help to fund their non-playing staff?

Jim Bennings
10
Posted 07/04/2020 at 09:25:07
Giving to charity would be favourable yes, a far better thing than the clubs sticking the money down on players wages.
I can't see it being much different in August, they aren't all of a sudden going to allow thousands of fans at matches in autumn lets face it.
This is about until a vaccine is there to reduced the fear factor that people have now about this illness and reduce the numbers, allowing fans back to matches this year would be suicidal.
Tony Abrahams
11
Posted 07/04/2020 at 09:31:28
I'm not sure that would please everyone Brian, because we all know not everyone can afford Linen blue suits, but take a bow mate, a brilliant suggestion for those who can maybe afford it, and want to give something to the local community instead?
I can't wait to buy you another desperados now mate, so let's just hope everyone stays safe, because we're gonna need a good laugh, once we get through these depressingly morbid days.
It's Good that Brian, it would definitely do for me, and it would also show the rest of the country what genuine scousers are really all about!
Brian Williams
12
Posted 07/04/2020 at 10:09:32
Cheers Tony. To be honest mate, and you know how much I hate that lot and everything about them with a vengeance BUT if I could make a pact with the devil himself to make that all this never happened I'd present those fuckers with the Premier league trophy myself.
I don't really care whether they win it or not now or how. People are dying, people who wouldn't otherwise have died through ongoing health problems so those fuckers getting handed a cup is of no importance in this world whatsoever, and neither are they.
Lastly mate. You know I'm not a "genuine Scouser" (being from over the water and all that) but the fact that you refer to me as one I'll take as a huge compliment.
That's about 11 Desperado's now between you and your Dave........
Robert Williams
13
Posted 07/04/2020 at 10:22:17
Brian and Ray, Going to hell? You'll NEVER walk alone!!
Ken Kneale
14
Posted 07/04/2020 at 10:27:40
For Brian and Ray - a twist on the late great Dave Allen joke
An Everton supporter goes to heaven, and St Peter shows him around. They go past one room, and the man asks: "Who are all those people in there?" "They are the Man United fans," says St Peter. They pass another room, and the man asks the same question. "They are the Aston Villa fans," says St Peter. As they're approaching the next room, St Peter says: "Take your shoes off and tiptoe by as quietly as you can." "Why, who's in there?" asks the man. "The RS," says St Peter, "and they think that they're the only ones up here."
Dave Abrahams
15
Posted 07/04/2020 at 10:37:30
Brian (12), well that last line of yours prove you think like a Scouser, grabbing bar steward!!!
Tony Shelby
16
Posted 07/04/2020 at 10:38:22
Hugh Jenkins
17
Posted 07/04/2020 at 10:43:55
Ray (7).
On another thread I mentioned that there had not been and HYS threads on the BBC Sport /Football website, since the RS " Furlough" announcement had been made.
Last night one was opened about the extension of contracts at the end of the season.
However, 90% of the posts are about LFC and their Volte Face on the "Furlough".
Of the 90%, 99% are disgusted with LFC's original action and are saying the reversal is merely prompted by shame and the public reaction.
Own goal well and truly scored and - no forgiveness evident.
Any goodwill they had has, I believe, been lost and any attempt by the football "authorities" to now award them the EPL title, will, I believe, be met with an equally negative public backlash.

Tony Abrahams
18
Posted 07/04/2020 at 10:49:58
Beat me to it Dave, you don't have to be from Liverpool, to think like a scouser, Brian, but I think you will already know that, so just make sure you bring those photographs, (hopefully) so I can get a bit of value for my money, especially because we must be up to a bakers dozen by now! mate!
Tony Everan
19
Posted 07/04/2020 at 10:53:28
Like it Ken...

With regards Gomes, more than anything the club needs a proper coherent fully functioning midfield. For years we haven't had the right players or they have been misused.
I want a more organised midfield unit and Andre Gomes can be at the heart of it. In order to be an indispensable part of it he has to raise his game and raise his fitness. I think Gomes is capable of both, he has the core skills and strength. He needs to push himself to improve and Carlo and his coaches needs to help him to achieve that.
Part of his success will be down to who he is paired with in the central midfield. He needs that Gana / Kante / Makalele level of quality DCM for him to really flourish. It highlights on of this seasons biggest problems for us. Losing Gana and then his replacement. I'm hoping Gbamin makes a big impact, but Carlo will know we need a reinforcement there. It's such a critical position relying on anything other than Gana level top quality will see us suffer.
Brian Williams
20
Posted 07/04/2020 at 10:59:09
Baker's dozen's 17 on the Wirral!! ;-)
Tony Abrahams
21
Posted 07/04/2020 at 11:04:00
Not when they're shared between three!
Jerome Shields
22
Posted 07/04/2020 at 11:39:18
Patrick #9,
Gomes still has a bit to prove, if he is to be at the heart of Everton's midfield.
Ray Roche
23
Posted 07/04/2020 at 12:07:21
Heaven?
Right now Heaven would be walking down the first fairway of Las Colinas in Spain after hitting a 300-yard drive, miles past everyone else. Sun on my back, all's well with the world.
And knowing that the season had been declared null and void 😂
Ray Roche
24
Posted 07/04/2020 at 12:15:38
Hugh 17
I see what you mean. And still the RS try to justify their actions..
Len Hawkins
25
Posted 07/04/2020 at 13:26:50
Another little light-hearted story at this worrying time:
A German businessman on lockdown in a London Hotel decides he needs some female company so he taps one of the porters up for any suitable women. The porter gives him a telephone number and he arranges for a reasonably priced visit to his hotel room.
When she gets there, she tells him the price and he agrees. He asks if she would be prepared to wear certain items and blow a duck caller whilst having sex? She agrees for an extra 㿞.
Out of his suitcase, he gets some springs and a duck caller, he secures the springs to her hands and knees and asks her to get down on all fours and start blowing the duck caller. He kneels to her rear and couples up, then he starts bouncing her up and down and they keep going until they both reach orgasm.
"That was fantastic!" said the woman "I've never had sex like it, I can't move, I am in ecstasy."
He said: "Yes, you can't beat the German Four Spring Duck Technique."
Derek Knox
26
Posted 07/04/2020 at 15:04:31
Some interesting points and views on the Season Ticket situation, how about a compromise. For those as some have mentioned, who cannot afford to see it go to Charity, albeit a fine cause.
Could the Club give each and every Season Ticket Holder the choice of either forfeiting to Charity, or having the remainder of this season deducted from their Ticket renewal for the following season? That way it would be fairer for those who are not so well off.
Poor Gomes, it was a thread all about him yet as per usual a diversion has seen it go on to something else. I blame you Jim B. :-)
Brian Williams
27
Posted 07/04/2020 at 15:09:06
Derek. I've been in touch with the club and they think my idea was an excellent one. As a result they've now decided NOT to partially refund anyone's season ticket and the money WILL go to charity.
Good or what?

10..............9..............8 ................7.............................
Dave Williams
28
Posted 07/04/2020 at 15:09:15
That's terrible Len!!!
Very clever- nice one!
Brian Williams
29
Posted 07/04/2020 at 15:10:57
What sort of springs were they Len?
Kieran Kinsella
30
Posted 07/04/2020 at 15:18:08
To Jim Bennings point, they are talking about coronavirus being seasonal and hoping to contain cluster outbreaks in lieu of closing the whole country. Until there's a vaccine, I'd think a football match, pop concert etc would be high risk for creating clusters.
Derek Knox
31
Posted 07/04/2020 at 15:26:52
Brian @ 29, it strikes me as falling into the category of Fowl Play. :-)
Derek Knox
32
Posted 07/04/2020 at 15:42:20
Brian @27, can the less well off Season Ticket Holders apply/appeal for Charity? :-)
Dave Ganley
34
Posted 07/04/2020 at 16:16:18
Very funny Ken. Len rolled my eyes but couldn't help laughing though...🤣
Enjoying this thread nice to see some humour out of everything else thats going on.
As for Gomes, love that guy and this prolonged rest will do him good. Get properly fit and ready for when we start again. For me, hes a quality player and cant wait to see him playing again. Added to that the work hes done in the community, he seems like hes loving it here on Merseyside. Top player, top bloke
Dave Abrahams
35
Posted 07/04/2020 at 17:07:48
Len (25), good 'un Len, thought it was going to be about the Scouser and the penguin nosh, but it wasn't, I know you've heard the one about the penguin nosh so I won't repeat it.
Mike Gaynes
36
Posted 07/04/2020 at 17:46:06
Annika #1, I don't think there's any chance at all that André will ever be a top, top player... but he's a top, top human being and that's what matters most.
Ken, good 'un... but Len, I have to muster up my courage here and admit that I didn't understand yours.
Derek Knox
37
Posted 07/04/2020 at 17:51:46
Mike G, the Audi advert used to say at the end Vorstsprung Durch Technik. So you should be able to fathom from that. Don't know whether you had the same advert over there, but hope that helped.
Andy Crooks
38
Posted 07/04/2020 at 19:05:23
Brian@12, if it is possible to be a scouser, from " over the water" then I will put myself, Mike Gaynes and Jamie Crowley forward. just depends on size of water.
Brian Williams
39
Posted 07/04/2020 at 19:23:58
Andy, I personally don't believe it is to be honest. I was forever being told in the Yankee Bar by my match going mates from Huyton during the late 70's and early 80's "Yeh bu yer norra Scouser dough are yer." And most of em were that scary I didn't argue. 🤣
Martin Nicholls
40
Posted 07/04/2020 at 19:26:32
On the question of affordability, we've all paid so we can afford it - no different than if we were prevented from attending a game for whatever reason and couldn't sell ticket on.
Brian's idea of charity is a good one - maybe we could set one up to pay the rs non -playing staff? They had no qualms in trying to fleece the taxpayer so are unlikely to pass up the opportunity of taking advantage of a charity!
Brian Williams
41
Posted 07/04/2020 at 19:29:08
Hear hear Martin. How's Ted doing now there's no school by the way?
Eric Paul
42
Posted 07/04/2020 at 19:46:33
Derek@26
As the season tickets are already paid for
( and next season in my case and many others) so if the games were not played or played behind closed doors we would be saving money by not going to the game. So why not give it to charity.
Mark Andersson
43
Posted 07/04/2020 at 21:48:23
I see that ex-goalkeeper, David Icke videos on YouTube are being banned because he says the Covid-19 is fake...
It was an interesting interview.
Charity begins at home; look after your self.
Wake up, people, you're being scammed!
Eric Paul
44
Posted 07/04/2020 at 22:04:26
Would you care to expand Mark @43
Robert Tressell
45
Posted 07/04/2020 at 22:20:03
Mark @ 43. The Gabriel Maghaeles rumour thread got hijacked by some Ike disciples if you're on the hunt for some like minded. That was why I left. It's probably teeming with the flat earth brigade now too
Mike Gaynes
46
Posted 07/04/2020 at 22:21:51
DK #37, thanks. No, I've never seen that ad, which explains my having missed the joke.
Andy, past age 60 we become "can't hold your water" Scousers.
Martin Nicholls
47
Posted 07/04/2020 at 22:24:25
Brian#41 - good of you to think about Teddy Brian. Theoretically he could be at school as he is SEN however the school has recommended he stay at home as he would not cope well with the changes they've had to make. Rather than bore all the other guys with more detail, if you care to email me at efc_farndon@hotmail.com I'll fill you in.
Glad to see you're doing okay and still posting!
Michael Kenrick
Editorial Team
48
Posted 07/04/2020 at 22:30:17
Actually, let's not have Mark expand on his whacky nonsense, please. The Icke excursions were sickening enough. Let's try to keep it real – aren't these times difficult enough already?
Brian Williams
49
Posted 07/04/2020 at 22:41:15
Cheers Martin I'll do that and good to hear you and Teddy are good. We're all doing ok in ours thankfully.
Lucky for us in our area there're plenty of wide open spaces to use so as not to get too stir crazy.
Mark#43.
Your post is an insult to those who've died and those they've left behind.
And you're a tit!

Tony Hill
50
Posted 07/04/2020 at 23:36:04
It seems to me that untruth reigns generally, Mr Kenrick @48, reason having taken flight for a long time now, usurped by virtue-signalling sentiment. What makes it especially hilarious is that those who think they are keeping the truth are the biggest liars of all.
Mark Andersson
51
Posted 08/04/2020 at 02:29:33
Brian Williams I am merley keeping a open mind. I have every sympathy for any one whos relitives pass on no matter what the cause of death is.
In these times of unrest and chaos caused by corrupt leaders of the world only time will tell because the truth will eventually come out...
Some people say the premier league is currupt that VAR has cheated the teams below the 6 elite. Are they too tits.
Modern day FootbalFootball players don't live in the real world so I have no time for there nonsense.
As a sport when played to its best its a great form of entertainment. But thats all it is to me like a good movie or TV series I do not idolize any celeb or get caught up in the mya of it all.
Bob Parrington
52
Posted 08/04/2020 at 04:07:11
A good number of you on here are really making my day. Brilliant humour started by Brian@6 and Ray@7. Can't stop chuckling!
Great positives, too, about Andre Gomes. Top guy!
Brian Williams
53
Posted 08/04/2020 at 09:57:57
Bob. My post at #6 wasn't meant to be funny. I was very serious. I hope you meant #8 mate.
Brian Williams
54
Posted 08/04/2020 at 09:59:29
Mark, if you give any credence to David Icke, then...
Charles Brewer
55
Posted 08/04/2020 at 11:04:35
I'd almost forgotten about the VAR fiasco this season until it was mentioned.
If this season, with its terrrible refereeing, dubious after-the-event reassessment of goals, penalties and the rest was consigned to oblivion, it would be no bad thing.
Robert Williams
56
Posted 08/04/2020 at 16:37:42
55 posts and this topic seems to have dried up!
New balls please!
Brian Williams
57
Posted 08/04/2020 at 16:54:21
56.
Annika Herbert
58
Posted 08/04/2020 at 20:02:45
Mike @36, we will have to disagree on that point, but we will see sometime in the future.
On another topic, I hope you're wife and children are all okay, is there any news when they will be home again?
---
Add Your Comments
In order to post a comment, you need to be logged in as a registered user of the site.
Or Sign up as a ToffeeWeb Member — it's free, takes just a few minutes and will allow you to post your comments on articles and Talking Points submissions across the site.