Report
James Rodriguez inspires a fine Everton win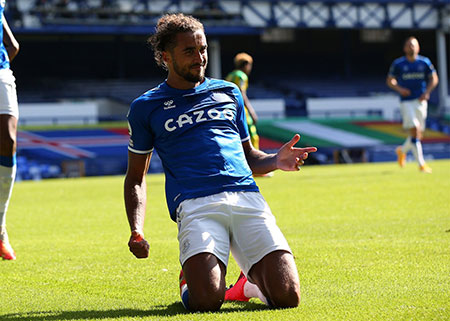 Dominic Calvert-Lewin returns after missing two games with a hamstring problem
Dominic Calvert-Lewin opened the scoriing with a fine goal against Sheffield Wednesday, two excellent corners from James Rodriguez making the winning goals.
The Toffees had Dominic Calvert-Lewin available again but Lucas Digne and Alex Iwobi miss out with minor injury complaints. Abdoulaye Doucouré and James Rodriguez both started in midfield. Sigurðsson and Richarlison would hopefully be providing supply to Calvert Lewin. At the back, Mina was preferred, with Michael Keene on the bench.
Youngsters Thierry Small and Tyler Onyango are also on the bench along with two more goalkeepers in Pickford and Lössl.
The early stages of the game saw Everton moving the ball around well. Richarlison had a shot blocked Reach got off a good shot at the other end that forced in early corner for Sheffield Wednesday.
A nice deep across from Coleman on the right was met by Richarlison at the far post but he could only had it at the goalkeeper who tipped it onto the bar. Richarlison then became the supplier, swinging in a fantastic cross from the left that Calvert-Lewin was too slow to react to.
A fantastic throughball from James Rodriguez was brilliantly fired home by Richarlyson but he had strayed just a yard outside at the critical moment on his excellent run. More good passing ended with Gome over hitting a pass poorly.
At the other end, Green tested Olsen with a fine shot.. some very crisp one touch passing from Everton set up Calvert-Lewin for the shot but it was just too weak. Everton were denied an obvious corner earnt well by Richarlison.
Green was causing quite a few problems for the Owls, giving the Everton defense some good exercise. Bannon swung in a really good corner for them that needed Doucouré to head it away.
James Rodriguez broke well from a Sheffield Wednesday attack and clip the lovely ball over the top for Calvert-Lewin to run onto but it was too far ahead of him. Calvert-Lewin tried to do an awkward backheel that didn't come off when he should've turned and shot from another angle.
Finally some persistence from Gomes on the left and a fantastic cross beat the keeper and was converted brilliantly by Calvert-Lewin stretching at the far post — a well-deserved and well-constructed goal that broke his duck so far in 2021.
Another lively move saw Sigurdsson cross back ahead of Calvert-Lewin, as Everton were attacking at will. Clever work by James Rodriguez set up Sigurdsson for a nice shot but he fired over.
More great play down the right and a good cross from Coleman created what looked like an open goal that ran behind Richarlison, put off by the defender.
Everton went in at the break with a slender one-goal lead after completely dominating the play and creating numerous chances from good running and passing.
Sigurdsson got things going again but the plays were mostly in midfield and scrappy. After Calvert-Lewin came wide and got Coleman moving forward, he crossed well over Richarlison. A dangerous free kick threatened The Owls goal but Godfrey could only head over at the far post. p>
Calvert-Lewin got some great power behind a shot and forced a good save from Wildsmith. Doucouré's shot flew wide, Sigurðsson's was deflected behind for a corner and, from that corner, a fantastic delivery by the Rodriguez was nodded nonchalantly into the net by Richarlison to consolidate Everton.
Another great piece of play saw Rodriguez feed Richarlison brilliantly and his shot was touched fractionally beyond the post. From another fine Rodriguez corner, Yerry Mina powered home for the third of the night.
Everton played it around, taking Calver-Lewin off for Bernard just after the hour mark, and relaxing a little as a consequence. Windass tried the profit from a free kick that Glanced off the back of Rodriguez.
Gordon and Kenny were playing on the wrong sides and had their work cut out trying to impress in the minutes remaining. Ancelotti then made Everton history bringing on the youngsters Small and Onyango for Gomes and Rodriguez. Small becomes the youngest ever player for the club.
Scorers : Calvert-Lewin (29'), Richarlison (59'), Mina (62')
Everton (4-2-3-1): Olsen; Coleman, Holgate, Mina, Godfrey [Y:72] (76' Kenny) ; Doucouré, Gomes; James, Sigurdsson, Richarlison (76' Gordon) ; Calvert-Lewin (67' Bernard).
Substitutes: Pickford, Lössl, Keane, Davies, Small, Onyango.
Sheffield Wednesday (4-2-3-1) Wildsmith; Urhoghide, Brennan, Borner, Galvin (61' Brown); Bannan, Pelupessy; Harris, Reach (68' Dele-Bashiru), Green (46' Windass), Paterson (61' Penny).
Substitutes: Jackson, Palmer, Marriott, Hunt, Kachunga.
---
Reader Comments (145)
Note: the following content is not moderated or vetted by the site owners at the time of submission. Comments are the responsibility of the poster. Disclaimer
Mike Keating
1
Posted 24/01/2021 at 19:14:34
We'll just have to carry the flag on behalf of our great city
Teddy Draper
2
Posted 24/01/2021 at 19:24:11
Sorry guys, I missed the last meeting between us and the Owls, but I didn't miss the 66 final. What a day that was! One of the best couple of days out in my life. And tonight gents we are going to stuff the Owls. COYB.
Jay Harris
3
Posted 24/01/2021 at 19:25:42
Let's just get past Wednesday before laughing at Klipperty and his mob. 😂😂😂
Thomas Richards
4
Posted 24/01/2021 at 19:27:57
Cardiff away 77.
What a day that was.
We were on the side and they were next to us behind a three foot wall.
Can still feel the dig a taffy hit me with

Justin Doone
5
Posted 24/01/2021 at 19:28:26
3 predictions.
DCL to pick up an injury.
Siggy to be a passenger and needlessly give the ball away.
James to be targeted for some rough tackles.
As for the score or scorer no idea, I just want us to get through the round and prepare for spurs.
We should dominate possession and win, but I'm also looking forward to a good exciting cup game.. hopefully lot's of goals, for Everton.
Mike Keating
6
Posted 24/01/2021 at 19:39:33
Jay - I wasn't laughing. I'm dead serious!
John Graham
7
Posted 24/01/2021 at 19:51:03
Great to see Small and Onyango on the bench. Heard Small has been doing great things and Onyango seems to have gone ahead of Baningimi so hopefully two for the future.
COYB
Ciarán McGlone
8
Posted 24/01/2021 at 19:52:01
Looks a bit unbalanced that.. not comfortable with either Sigurdsson or James on the wing.
Hate this kick off time.

John Skelly
9
Posted 24/01/2021 at 19:53:04
Don't know if anyone is interested but I watch all Everton games on a site called live football TV, I got in years ago so have no subscription.
John Skelly
10
Posted 24/01/2021 at 20:06:26
The ref and the other officials are in purple
Ciarán McGlone
11
Posted 24/01/2021 at 20:47:49
Thoroughly enjoyable half of football..some exquisite stuff from Rodrigues and Gomes playing for a starting spot on Wednesday.
Richarlison not at the races again.
Thomas Richards
12
Posted 24/01/2021 at 20:51:40
Unbelievable vision from James.
He can see the pass others cant and he can play the pass.
We have to build the team around him having a free role.
Wait until he gets 100 % fit!

Jay Wood
[BRZ]
13
Posted 24/01/2021 at 20:53:56
Entertaining game and Wednesday contributing to it.
Nice for Dom to get a goal again. Richy continues to be way, WAY off the pace. His full-back Urhoghide is possibly the visitor's best player.
The space they are allowing James is astonishing. Some really nice close interplay through the midfield.
One is never enough though. We've had the chances to get more, but spurned them. I'll breath easier with a two goal cushion.
Gerry Ring
14
Posted 24/01/2021 at 20:57:30
Richarlison is having a stinker. His touch is dreadful. What's the problem?
Thomas Richards
15
Posted 24/01/2021 at 21:01:14
Hes a big tart?
Tony Heron
16
Posted 24/01/2021 at 21:01:30
Maybe it's my age, but I remember watching the Brazil team play at Goodison in 1966 and marvelling at their skill. Since then I've seen other great Brazil teams and felt the same. So how the hell does Richarlison get in their squad let alone the team?The most overrated footballer I've ever seen. Drooling over Rodriguez.
Dave Bowen
17
Posted 24/01/2021 at 21:06:57
Playing some beautiful football, but we need a 2nd. I see Tosun isn't in the squad. On his way maybe? Didn't hear of an injury.
Justin Doone
18
Posted 24/01/2021 at 21:31:49
Happy for DCL with a goal and that he has gone off.
Ric scored a good header but his dribbling and general attacking play has been poor. He's won a lot of defensive headers too.
Coleman has put in 2 good crosses in the same match which he's not done for a very long time.
Justin Doone
19
Posted 24/01/2021 at 21:37:16
Last moan about James. Why will he not shoot? A few good opportunities where it has sat up nicely but he plays dinky passes to offside players. I expect a world class goal from him.. please.
Tony Abrahams
20
Posted 24/01/2021 at 21:54:30
A positive headline to go with a beautiful song; cos I've never felt more like singing the blues, when Everton win and Liverpool lose, oh Everton, you've got me singing the blues!
Jay Wood
[BRZ]
21
Posted 24/01/2021 at 21:54:57
Very comfortable.
The scream Richarlison let out on scoring an indication of his own frustration at his poor form and poor goal return, perhaps.
Coleman and Mina very solid all-round games. James a maestro. Nice to see Gordon, Small and Onyango get a little bit of game time.
Everton. Still doing all right.
Now for Leicester on Wednesday.
Tony Everan
22
Posted 24/01/2021 at 21:54:57
We would beat them any day of the week.
Just what the doctor ordered; a straightforward win, no injuries, no stress, a kickabout which was one notch above a training match.
A good workout that puts us in prime condition for the Leicester game.

Thomas Richards
23
Posted 24/01/2021 at 21:57:14
https://youtu.be/wJA8b3esxfE
Neil Lawson
24
Posted 24/01/2021 at 21:59:55
Justin. It seems the game has changed significantly. I would be interested to know how many goals have been scored from.outside the box in the Premier League this season compared to previous seasons. It does seem that players would rather stop, play sideways or back than attempt a screamer in the top corner.
It drives me spare when the attacking team end up back in their own half without the opposition touching the ball. Oh for Sheedy and Steven, Dave Thomas, Johnny Morrissey, even Ronnie Goodlass and Dave Jones.
Jay Wood
[BRZ]
25
Posted 24/01/2021 at 22:00:38
Oh! And Michael K. I've got to ask.
What the hell is this about?!
'Windows tried the prophet Thursday.'
Or are you embedding QAnon cyrptic messages in your live match reports for the TW conspiracists cabal..?
Please don't disappoint me and tell me it's the AI's auto-spellcheck kicking in!
Intrigued!
Colin Glassar
26
Posted 24/01/2021 at 22:02:24
I'd just like to say it's an honour, privilege and a pleasure to have a player like Rodriguez in our team! He makes it all look so easy.
Thomas Richards
27
Posted 24/01/2021 at 22:03:46
The prophet was found guilty
Victor Johnson
28
Posted 24/01/2021 at 22:05:02
A James masterclass! The way he moves around the pitch to find space is a joy to behold. What he does with the ball when he finds that space is worth the price of your ticket. What a player we have here, guys!
Can't wait till Wednesday, Bring it on! All we need is for Richarlison to show up and Calver-Lewin to have his shooting boots on. COYBB
Neil Copeland
29
Posted 24/01/2021 at 22:05:56
Tony #20, spot on! I have just been singing that to myself. The dog is looking at me knowingly, he's a blue as well!
Fran Mitchell
30
Posted 24/01/2021 at 22:08:27
Routine victory as it should have been. Nice to see Gomes playing with confidence, hoped will carry on into the Premier League. Rodriguez is class above anything I've ever seen in a blue shirt (I'm 35 years of age).
Great to see some young kids on at the end. The game was finished, and the first teamers were expending as little energy as necessary to see the game out, so they didn't get much opportunity to express themselves, but hopefully a good experience and more to see.

Will Mabon
31
Posted 24/01/2021 at 22:10:19
"Windass tried to profit Wednesday from a free kick that glanced off the back of Rodriguez".

...is the nearest I can guess. Is there a prize for the correct decode?
Danny O'Neill
32
Posted 24/01/2021 at 22:11:36
Well Justin, glad none of your 3 predictions came true!
Hey, not getting carried away, but that was a professional performance and we showed our quality.
Unlike recent games, we are not talking about our solid defence, but our forward players and midfielders. Gomes showed what he can do when he has time and space. But this is Sheffield Wednesday so he won't always get that. Sigurdsson also done very well. James was just different class.
We stole singing the blues from Sheffield Wednesday as I recall. They sung it first ("when Wednesday win, United lose, oh Wednesday you got me singing the blues"). Cheeky touch by Everton as our normal post match fair is "If you know your history".
We look good. Again, not getting carried away, but we are managing games like this much easier than in previous seasons.
Now to the league. We have a big week ahead.
Stephen Brown
33
Posted 24/01/2021 at 22:13:07
Watching James play is a delight! He oozes class.
The team spirit seems really good at the moment. A win on Wednesday would be a great result and put us in a very handy position. I'm getting nervous before games which is a good sign that we're doing well.
Brent Stephens
34
Posted 24/01/2021 at 22:14:10
Will that sounds feasible. Speech recognition software gone awry.
Paul Birmingham
35
Posted 24/01/2021 at 22:14:25
Good performance and a good clean sheet boost for the Leicester game, and good to see x3 players score.
Now to see how we set up for Leicester, and hopefully keep this tempo, going, as we approach some tough fixtures.
Michael Kenrick
Editorial Team
36
Posted 24/01/2021 at 22:16:13
Having to use an iPad here, Jay, and the thing has a mind of its own. Suffered a major meltdown of my hard drive on my laptop.
Will Mabon
37
Posted 24/01/2021 at 22:17:02
Stephen, Wednesday is an important game. Can never win them all, but it's time we started to succeed in some of the pivotal games that we've previously often bottled... and minimize the West Hams/Leeds performances. These make the difference.
Brian Wilkinson
38
Posted 24/01/2021 at 22:17:07
Great performance, everyone put a shift in, right subs, I despair if anyone can find anything to moan about after that.
Will Mabon
39
Posted 24/01/2021 at 22:18:50
Brent, I'm actually intrigued as to what caused it. If it is Wednesday, then how the hell did we get "Thursday" out of that? Weird!
Thomas Richards
40
Posted 24/01/2021 at 22:19:22
Brian,
You will 100% despair.
Guaranteed.
Kieran Kinsella
41
Posted 24/01/2021 at 22:20:33
Turgid shit in short supply as Everton waste banana skin. Everton missed a host of opportunities to give the ball away cheaply with James the main culprit. Twice he could have lofted aimless balls over the box but instead delivered pin-point crosses that led to goals.
Only Richarlison showed moments of profligacy as his advanced offside positions caused jitters at the Flat Earth Society. To add to the frustration, Ancelotti stubbornly refused to keep two youngsters on the bench.
Brent Stephens
42
Posted 24/01/2021 at 22:21:19
Will "If it is Wednesday, then how the hell did we get "Thursday" out of that?"
No mystery - that follows.
Thomas Richards
43
Posted 24/01/2021 at 22:22:50
Brent Stephens
44
Posted 24/01/2021 at 22:23:23
Kieran, don't encourage the naysayers.
Neil Copeland
45
Posted 24/01/2021 at 22:24:42
Kieran#41, what is wrong with you? - ha ha, very good!
Will Mabon
46
Posted 24/01/2021 at 22:25:34
Brent, that twists my melon - Man.
Gary Willock
47
Posted 24/01/2021 at 22:26:28
Dear Farhad, THANK YOU. That is all.
Jerome Shields
48
Posted 24/01/2021 at 22:26:55
Great tactics by Ancelotti. Sheffield Wednesday gave James and Gomes a lot of room, which the exploited well. They defended well especially the player marking Richarlison. They were out-done by set-pieces with great ball delivery from Everton. Sheffield Wednesday's marking up wasn't as good then.
Brent Stephens
49
Posted 24/01/2021 at 22:27:36
Will, don't call the cops.
Will Mabon
50
Posted 24/01/2021 at 22:29:36
Keiran, joking aside we have to find a way to create/allow opportunities for space for James, much as he often makes his own with movement and anticipation. Just a second or two is time enough for him to be deadly, what a difference it makes.
Will Mabon
51
Posted 24/01/2021 at 22:31:06
OK Rainmaker.
Sean Callaghan
52
Posted 24/01/2021 at 22:34:48
Kieran, brilliant. Tried to read it out loud to Mrs C but just ended up giggling like a schoolgirl.
Tony Hill
53
Posted 24/01/2021 at 22:35:50
Good fun that. Rodriguez is a rare one.
Brent Stephens
54
Posted 24/01/2021 at 22:37:03
Hey hey hey
Danny O'Neill
55
Posted 24/01/2021 at 22:46:41
It's about surrounding him with players on the same wavelength, Will.
I watched Peter Beardsley at Everton. Very rarely did I bemoan him for making a poor pass. He more than often made very good passes. It was just the the players around him were not on the same wavelength to read the game like he did and anticipate being on the end of those passes.
David Pearl
56
Posted 24/01/2021 at 22:58:38
Justin, 5. Them are some bad predictions. Good point about James. On occasion, I'm screaming 'shoot' at the telly and he tries a pass.
Richarlison will come good again, as will Gomes. A worry not having Allan or Doucouré for the midweek game (which is huge) but we have a good chance if on it. Pickford, Davies, Keane, Digne and Iwobi are expected back so Carlo has a few decisions to make. The squad isn't so bad is it... Not that we couldn't do with another forward!
Martin Berry
57
Posted 24/01/2021 at 23:04:18
A professional performance. Let's hope we make Mr Lineker choke on his crisps on Wednesday.
Peter Mills
58
Posted 24/01/2021 at 23:16:22
An excellent win, we played some lovely stuff, not many zombies out there.
We need to remember that Richarlison is young, not as good as he or his agent wants us to believe, but he needs to develop his football intelligence.
A very young, promising team, especially at the end of the match. We are making progress. But it takes time.
Will Mabon
60
Posted 24/01/2021 at 23:49:33
...and; there was mention a time or two of us being in contention/challenging for the title - shock, horror! Is our cloak of invisibility starting to wear off?
Bobby Mallon
61
Posted 24/01/2021 at 23:51:25
We need to keep Madisson and Harvey Barnes quiet on Wednesday, they are both very good. Madisson is my favourite midfielder at the moment. He has a tough call to make Wednesday, can Godfrey be dropped? My team:
Pickford
Holgate
Keane
Mina
Godfrey
Iwobi
Sigurdsson
Digne
Rodriguez
Calvert-Lewin
Richarlison

Will Mabon
62
Posted 24/01/2021 at 23:56:20
Bobby, this would depend on Digne and Iwobi being fit after their minor injury "complaints" as Michael quoted it. Possibly not the most accurate sit rep we'll ever hear from the club...
Kase Chow
63
Posted 25/01/2021 at 00:27:09
Good win
2 good halves
Something has happened to Richarlison: he's gone from very very good to just good (and sometimes not even that).
We didn't really give them a sniff (except the useless Bernard should have been penalised for a trip in the area).
Jason Wilkinson
64
Posted 25/01/2021 at 00:46:10
If there is one thing Ancelotti needs to work on, it is our midfielders defending in our box. Bernard could have given a needless penalty away. Gomes & Davies have both been guilty of such lapses this season.
A good performance without looking at full speed. No Vardy on Wednesday which is a major boost. If we can keep Madisson off the ball, we have a good chance of 3 points and climb above the RS. I hope Iwobi is fit. He had a blinder at the King Power. We could do with his pace to stop their full-back from bombing on.
Pickford will no doubt return. It is hard to choose between him & Olsen. The latter just gives me a bit more confidence. Maybe because he plays it simple.
Si Cooper
65
Posted 25/01/2021 at 01:04:09
Glad my 'spidey-sense' seems to have been operating nicely for this game. Confident we can beat Spuds if we end up with one of the 'glamour' ties (and hopefully a better kick off time) in the next round.
That seems a harsh assessment of that incident to me Kase and Jason. At full speed, I thought it amounted only to incidental contact once a toe poke tackle had whacked the ball well away from both players. I thought it was a good decision by the officials not to let a ridiculously strict interpretation of the law obliterate the spirit of it.
Jason Wilkinson
66
Posted 25/01/2021 at 01:20:47
Si,
I didn't think it merited a penalty. The problem is there is no need to be that tight to a player going away from goal. The interpretation of the laws are farcical but we have seen penalties given for the absolute minimal contact. Michael Keane at Brighton still has me scratching my head.
Leicester get plenty of penalties. Let's just hope we don't gift them a daft one.

Kristian Boyce
67
Posted 25/01/2021 at 02:55:23
Kieran @59, I missed the first few minutes and spent the rest of the game trying to figure out who was the co-commentator. I didn't recognized the voice and was racking my brain over former Sunderland players. He was pretty good, and showed good knowledge of both teams. It was quite refreshing not to hear a dour 'big name' showing complete bias towards a favoured team.
Jack Convery
68
Posted 25/01/2021 at 04:06:46
Well don, Blues – a really professional performance. Now having partaken of the first course of Owl it's on to the main dish of Fox. Followed by a dessert of Magpie. Dine well.
Kieran Kinsella
69
Posted 25/01/2021 at 04:35:40
Kristian
Yeah, I'd never heard Breen before. He's not a "massive" name but he had a decent career. I'm so used to the likes of Owen, Keane, Neville and whoever spouting off Ill-informed crap. Even no-names. For example some years back I remember West Ham "legend" Stewart Robson slagging off Moyes for an entire game for not giving our "young striker" a run out up top — he was referring to defender Jack Rodwell — but his co-commentator never dared correct his vindictive diatribe. But that about sums up the level of the commentators for me so Breen was a breath of fresh air.
Don Alexander
70
Posted 25/01/2021 at 05:16:03
Good result against bog-standard opponents. Not a complaint but our best footballer needs to find his scoring boots again to make his/our team viable as trophy winners this season:
https://youtu.be/WDwyOrBazXY
In addition, would a purposeful shot from outside the area be too much to expect from our 24/7 fabulously coached, as some would have it, players?
Thomas Richards
71
Posted 25/01/2021 at 06:45:18
This season Everton have won 15/23 matches.
Last season they won 16/43 matches.
Not inluenced by Ancelotti some reckon?
Charles Brewer
72
Posted 25/01/2021 at 07:43:45
Kieran, congratulations on getting Lineker's job on MoTD. All you have to do now is not take any refugees into your house and whine about Brexit and you're on 2 million a year for an hour's work a week.
Eddie Dunn
73
Posted 25/01/2021 at 08:20:52
I think the performance of the team was professional and the methodical way we took them apart contrast with our struggle to put away Rotherham in the last round.
I think that Olsen is not only a steady keeper but he gives a sense of calm to the team, unfortunately Pickford does the opposite.
For Leicester, I would swing Holgate back into rightback, bringing Keane back in to the middle. Coleman can sit on the bench.
John Burns
74
Posted 25/01/2021 at 08:23:43
Feel far more comfortable with Olsen than Pickford. I'm always waiting for that error in every game with Jordan. However, if it wasn't for him we probably wouldn't be just 2 points behind Liverpool with 2 games in hand (if you know what I mean!)
Ajay Gopal
75
Posted 25/01/2021 at 08:25:50
There are quite a few witty posters on TW, but Kieran's post (41) will feature in my list of "Top 10 TW Posts of All Time"! :-)

Jerome Shields
76
Posted 25/01/2021 at 08:53:54
Don#70
More goals from play.
Derek Knox
77
Posted 25/01/2021 at 09:26:57
With all due respect to Sheffield Wednesday that was a more accomplished performance, with all participants seemingly in harmony, and playing as an effective unit. It certainly paves the way for the real acid-test against Leicester, which will give us a better idea if we have actually started to be a force to be reckoned with. The next run of games could well define our season and give us that long awaited involvement in Europe and hopefully some Silverware too.
All players had a decent game, I am becoming more and more a fan of young Ben Godfrey as each game passes. We have got a real gem there, who will only get better, and when you consider he is basically playing out of position, it makes it even more impressive. True Doucoure will be a miss but I hope whoever plays in his place will do well.
Great touch from Carlo to give the two young lads Tyler Onyango and Thierry Small a cameo at the end, it can only augur well for both and boost their confidence, that they are in the Manager's thoughts. Doesn't look like any incomings in this window but hopefully a few going the other way, mind you it aint all over till the fat lady sings.
Tony Waring
78
Posted 25/01/2021 at 10:00:53
I thought the co-commentator on BT Sport was MacManaman. Whover it was he declared that he had started out life as an Evertonian any ideas ?
Thomas Richards
79
Posted 25/01/2021 at 10:02:52
Comes from a big family of Blues Tony.
Brought up off Stanley Road
Steve Brown
80
Posted 25/01/2021 at 10:23:39
Lampard rumoured to be facing the sack.
Very confident of the prediction I made on here that two out of Lampard, Arteta and Solskjaer will be sacked by the end of the season.
Derek Thomas
81
Posted 25/01/2021 at 10:29:44
Eddy @ 73; totally agree. 4 of a kind across the back and the same 'false No. 9' formation and ethos
But
with the much more mobile DCL as a sometime "false" 'false No. 9' to replace Siggi, who toiled manfully in the 'false' drop back bit, but was totally inadequate doing the 'No. 9' bit when needed.
Add in Richarlson, Iwobi...Coleman on the bench as cover... James obviously, any 2 from 4 from Gomes, Davies, Siggi and, if fit enough, Digne.
Easy this coaching lark.
Rob Halligan
82
Posted 25/01/2021 at 10:30:17
Don't know if this has been mentioned earlier on, but what was it with the BT sport coverage of the match, with the fake crowd noise? it sounded like a bunch of schoolchildren, or a bunch of Sunday school kids. I know we have the gwladys street school on one corner of the gwladys street, and St. Luke's church on the other, but that fake crowd noise was ridiculous. It was more akin to a fake crowd noise at Analfield, after all they all sound like a bunch of crying cissies!!
Clive Rogers
83
Posted 25/01/2021 at 10:32:08
We are improving all the time under Ancelotti, great manager.
John Boon
84
Posted 25/01/2021 at 11:16:22
Eddie Dunn 73. Holgate had a really good game at CB. Unfortunately I just don't think he is ever suited to play full back. I don't know if he needs more space but whenever he plays right back he seems incapable of going or passing forward. He just seems lost.
Dave Abrahams
85
Posted 25/01/2021 at 11:33:41
Doucoure while not at his best did his usual two man job covering and working tirelessly for the team, which he has to do when Allan is not playing, onWednesday night both of them will be missing so it will be very interesting to see who Carlo selects in this vital part of the side to play against Leicester, whoever he picks I hope we get the same result as we did when we played at Leicester, I think they will be a tougher proposition than Sheffield Wednesday, although beating them was very welcome.
Craig Walker
86
Posted 25/01/2021 at 12:05:14
Rob @82. Yes. It sounded like an old episode of We Are The Champions. Was half expecting Ron Pickering to come on and say "away you go!" at the end.
Michael Boardman
87
Posted 25/01/2021 at 12:15:06
Tony @ 78. Yes, McMananamenenenen was a blue - along with a whole list of them - Owen, Fowler, Rush, Carragher, David Thompson, Stephen Warnock, probably loads more. We got some who were boyhood Reds, think Peter Reid, but not totally sure.

Sean Callaghan
88
Posted 25/01/2021 at 12:17:56
I'm with you on Godfrey, Derek. Really calm, confident and understated performance again from him. I'm always struck by how rarely he lets a cross come in and he always seems to force the winger to go all the way to the goal line before putting his tackle in. Once upon a time I'd have hated this tactic - how long ago was it when an opposition corner would result in panic breaking out all over the side and an inevitable goal? We seem so much more organised at set pieces nowadays so if young Ben keeps blocking off the initial danger so we can regroup in the middle that's fine with me.
A quick word on the two youngsters, obviously a couple of minutes is no time to form a proper opinion but I thought Onyango did especially well. Getting some rave reviews in the U23 side and although this doesn't always guarantee success with the big boys, I thought he put himself about really well with a couple of tackles and showing for the ball nicely. Small had a bit less involvement but he seems quick and direct. Keep it up lads.
Tony Waring
89
Posted 25/01/2021 at 12:52:13
Steve (80) - just read online that he has been sacked. Tuchel being lined up to replace him.
Bobby Mallon
90
Posted 25/01/2021 at 12:52:25
Could Onyango be a curve ball and take Doucourér position on Wednesday ?
Brent Stephens
91
Posted 25/01/2021 at 12:59:06
Bobby, I think that might be too much of a curve ball. Davies much more likely? I like Onyango and his time hopefully will come.
Bobby Mallon
92
Posted 25/01/2021 at 13:09:39
Brent, it would not surprise me if he sticks Godfrey in there (if Deign is fit). That lad (I think ) would excel in the Allan role and could save us a fortune in the future. He can tackle he has a massive engine and can pass the ball. Just my observation.
Ernie Baywood
93
Posted 25/01/2021 at 13:22:04
Good professional performance this time. Not much to say other than that. We looked levels above Sheff Weds. As we should.
Obviously good to see the young players get some time. I'm sure that those few minutes are more about reward and motivation than real development. Neither got too involved, which probably gives you a good idea of where their development is at. I thought it was impressive that neither went 'out to impress'... ie they both kept the shape and kept it simple. It must have been tempting to try something flashy.
Brian Harrison
94
Posted 25/01/2021 at 13:25:25
Chelsea sack Lamphard and Thomas Tuchel is likely to take over, Tuchel who has just been sacked by PSG and so the merry go round continues. Quite what Abramovich expected from a young manager learning his trade I don't know, but Lamphard knows that Patience is not something Abramovich is noted for. I hope they win nothing.
Mike Gwyer
95
Posted 25/01/2021 at 13:26:44
Totally agree with Godfrey playing the central holding role, far more aggressive and quicker than Davies. With Carlo pulling him off yesterday I would say he's sure to play against Leicester..
Martin Reppion
96
Posted 25/01/2021 at 13:28:49
Is it just me? I think Holgate or Gibson could do a good job in the DM role.
Both tackle well, have pace and can read the game. And they can both pass to team mates.
Nobody bats an eyelid when a midfielder steps into the back 4 and does a job. (Snodin, Rice, Dier) but when it is the other way its 'square pegs in round holes'.
These guys are not defenders or midfielders. They are footballers. Yes some very good players excel at only a few of the skills and fit into a fixed role. But others have a broader skill set. In cricket we call them all rounders. Every team needs a few.
Thomas Richards
97
Posted 25/01/2021 at 13:39:04
Maybe Holgate but definitely not Godfrey to play in midfield.
In my opinion Godfrey will develop into a top class centre half. Even at this stage he would be first in line to start as a centre back.
Him and one other.
A totally different job midfield to centre back.
A centre back sees all of the play in front of him, a midfielder has to have a 360o view of the game.
It wont happen
Robert Tressell
98
Posted 25/01/2021 at 13:43:09
We now have 4 really excellent centre halves, two with pace - two with height. I'm not thrilled at the idea of sticking any of them in midfield, although Godfrey and Holgate certainly have better physical attributes than Davies - he is better on the ball and has a deeper understanding of the role.
Davies isn't perfect but he's played his part in wins and good performances already.
Will Mabon
99
Posted 25/01/2021 at 13:52:35
"
Lampard, 42, leaves with the club ninth in the Premier League after last week's defeat at Leicester City, having won once in their past five league matches.
" - BBC.
Klopp - won none of the last five league games - and Chelsea were top early last month, and are five points behind last year's champions. Perhaps there's something behind the scenes, a dressing room issue or other, but really. The expectations and lack of patience in this game are unreal at times. Watch out, Jurgen.
Christy Ring
100
Posted 25/01/2021 at 14:17:11
With Lampard sacked, what about a cheeky bid for Billy Gilmour, he already looks the real deal as a defensive midfielder, and probably won't get a chance under Tuchel.
David Hallwood
101
Posted 25/01/2021 at 14:32:13
If Davies' omission from the team yesterday was Anchelotti resting him (and we'll find out on Wednesday) that speaks volumes about his opinion of Tom, (Anchelotti? what does he know about midfielders).
I've said this this several times, but in recent games,Tom's been doing a job-an Italian job; because for the last 40 years I've seen Italian teams set up with a MF, it use to be behind the back 4, now in front, who does nothing spectacular, just protect the back 4, pop off 5 yard balls and the 5 (back 4+1) reduce chances on goal to virtually zero.
Seriously, remember those games, the red hot in-form striker not getting a kick, the blistering speed merchant with nowhere to go, and getting beat 1-0. How we cursed Italian teams for being boring and negative...but successful.
The dog's abuse heaped on dog is really unwarrented, especially vs. Wolves when he had a better pass % than James & Doucouré, but football is a game of opinions, and CA's is the only one that matters.
Graham Hammond
102
Posted 25/01/2021 at 14:42:11
I believe both Godfrey and Holgate could do a very good job at Defensive Midfield. I would even go as far as to say 4-1-4-1 may well even be our best formation with the players we currently have at our disposal and the squad balance.
Ajay Gopal
103
Posted 25/01/2021 at 14:54:42
Yep, a midfield of Davies, Iwobi and Godfrey is not unthinkable.
How about this team for Wednesday:
Pickford
Holgate Mina Keane Digne
Iwobi Godfrey Davies
James
DCL Richarlison
Subs: Olsen, Coleman, Gordon, Tosun, Bernard, Gomes, Siggy

Fran Mitchell
104
Posted 25/01/2021 at 15:35:26
Iwobi - Davies and Godfrey seems unthinkable to me.
Iwobi has played well this season on the wing. Godfrey has played well at left back. So now, 2 days to prepare (1 day of training), they are gonna play centre midfield against one of the in form teams in the league??? Bonkers.
Godfrey is athletic, but don't see him as a central midfielder. If any of our back four is, it is Holgate. But still don't see it.
I can expect 3-4-3 with Digne and Iwobi on the flanks, and Davies and Gomes in the middle. James playing free role, Richy and DCL up top.
Brent Stephens
105
Posted 25/01/2021 at 16:00:12
Bobby #92 yes that's a really interesting thought - Godfrey in for Allan. Something tells me Carlo will still go with Tom (as Carlo knows best!) but WHAT a buy Godfrey might turn out to be.
Derek Knox
106
Posted 25/01/2021 at 16:04:56
Fran, I just hope the selection is right against Leicester, while I like Davies attitude, he fills me with dread handling that important role. Sod's Law would have it that our two CDM's are both out together, and against a side, like many have alluded is not only in form, but have some really good players in midfield.
Yet if we are to be taken seriously and wish to challenge, for both an improved finish in the League standings, we have to combat teams like Leicester. We are at home, if that counts for anything with no fans there, but matching yesterday's spirit and performance could get us there with minimum disruption to the squad apart from the enforced absences.
Phil (Kelsall) Roberts
107
Posted 25/01/2021 at 16:08:50
Peter Reid came from a mixed marriage. His mum was(is?) an Evertonian and his dad was(is?) a Red and used to take him to matches.
Not sure if they are both still alive hence the was(is?) and I would never want to upset Peter by prematurely killing off his parents.
Len Hawkins
108
Posted 25/01/2021 at 16:30:31
Phil did no one report Reidy's old fella to the cruelty man.
Christy Ring
109
Posted 25/01/2021 at 16:48:47
Derek#106 I'd prefer to have Davies, Gomes and maybe Holgate against Leicester, especially with Tielemans, Maddison and Ndidi in opposition. We need a physical presence, and with Allan and Docoure missing, we need someone to break up the play.
Danny O'Neill
110
Posted 25/01/2021 at 16:56:07
I don't normally like getting into the business of picking or predicting teams as I leave that to the manager. But, for me it is likely to be Davies and Gomes behind a 3 of Iwobi, James & Richarlison. Holgate in for Coleman and then depends on Digne being fit.
Lampard was always going to be an emotionally driven gamble. He had hardly proven himself at Derby. Arteta could follow a similar fate.
Klopp is fine. I just want to see the meltdown if this continues like his last season at Dortmund. He's already getting snappy but trying to hide it behind that psycho smile of his.
Brian Wilkinson
111
Posted 25/01/2021 at 16:57:58
Well when we played Wolves and saw the lineup I thought it was going to be a long night, how wrong was I.
Carlo will put out a formation, let Leicester worry about us instead, yes they are a good team, we saw them off at their place, no reason why we cannot go into this game any different.
We have Richarlison and Calvert-Lewin back, we know Daucoure will be a loss, so will Vardy.
I have a good feeling about our game on Wednesday, it is important we get behind the team from the off, whatever we start with, no use moaning, even 15 minutes into the game.
The Blues are on the up, let us save any negatives, if there are any, until after the final whistle.
Andrew Keatley
112
Posted 25/01/2021 at 17:00:52
Leicester struggled to break us down at the King Power when we played Holgate Keane Mina Godfrey - but having said that I'd be tempted to move Godfrey over to right back (as I thought Holgate slightly struggled against Harvey Barnes at time) and play Digne at left-back.
If we were to try and convert one of our defenders into a defensive midfielder for this game then I think Holgate, Digne or Coleman are all better placed to step in than Ben Godfrey - as I feel they are better at keeping possession in tight spaces. The prospect of a midfield 3 of Davies, Gomes, and Sigurdsson is something that would fill me with dread. Will be interesting to see how much we mis Doucouré - who I think has been getting better and better as the season has progressed.
Danny O'Neill
113
Posted 25/01/2021 at 17:07:21
My guess is that whatever formation and whoever he plays, the tactic will be to deny the space behind as that is what Leicester thrive on.
So compact and solid as we were against them last time.
That said, did I read that Vardy is out? That could change things. If he wasn't a concern already, it becomes more about pressing Maddison quickly when they have possession.
But yes, let them worry about us too. I would see us going longer and more direct quicker because with Davies and Gomes, I would imagine more of a gap between the 2 and the front 4 (3 + 1).
Dale Self
114
Posted 25/01/2021 at 17:45:52
With that performance surely James has to give those black boots another run out. And where is the requeim for Frank? the hits just keep on coming.
Let's go Wycombe! Suck it Spurs.
Bill Watson
115
Posted 25/01/2021 at 18:14:47
I've just been reading the Sky report of the game. They had Richarlison as man of the match! Wtf!
Simon Dalzell
116
Posted 25/01/2021 at 18:15:21
Job well done. Very professional, albeit against a moderate team. How classy is James. A joy to watch.
Thomas Richards
117
Posted 25/01/2021 at 18:40:06
We should build a team around James.
Free role for him.
Derek Taylor
118
Posted 25/01/2021 at 18:50:44
Is Richie playing for a move ? Every sequence of play seems to be distasteful to him and he makes a drama out of even the mildest challenge by the opposition.
The crazy thing about him is that he is capable of some amazing build up play but so much of it comes to nowt. He does't need the likes of me to 'love' him but he comes across as a talented Mirallas - nearly but not quite.
Grab the money if it's offered.
Brent Stephens
119
Posted 25/01/2021 at 18:54:42
Derek "Is Richie playing for a move ? Every sequence of play seems to be distasteful to him and he makes a drama out of even the mildest challenge by the opposition."
I wonder if that's a double-edged sword - potential suitors might be put off by his antics.
Winston Williamson
120
Posted 25/01/2021 at 18:55:38
Leicester are weak on corners. We should exploit them there. My only concern is the midfield. Without the new signings, it's essentially the (non)midfield from last season.
I trust Ancelotti. I just don't trust some of these players.
Great, professional performance last night. James is great. DCL makes a huge difference though. He's a proper striker these days
John Boon
121
Posted 25/01/2021 at 19:00:13
Great to see such a good game with James outstanding and lots of other players taking up the challenge
Change of topic but has there been ANY mention of the new ground developements. Have heard absolutely nothing of late.
Tony Everan
122
Posted 25/01/2021 at 19:09:37
Interesting thoughts about the team selection for Leicester with Doucoure and Allan out. Even more interesting is that Digne has to play and Ben Godfrey just cannot be left out.

Pickford
Holgate Keane Mina Digne
Iwobi Gomes Godfrey Richarlison
James
DCL.
James in the no10 role and given licence to find space to work his magic with hat left foot. Godfrey takes the defensive midfield duties instead of Davies, it's not clear cut.
I think Godfrey has that extra dynamism and aggression, he's a bit more quicker and agile, and his desire for the job is incredible. The lad is a winner and has to be in the team. He's not a DCM but he has had a a season of experience there at a lower level with some success too. Also he has more than proved he is adaptable! With Leicester having a very strong midfield we need to try to match it without our two first choices Doucoure and Allan.
I think that team has a decent balance of toughness and solidity with a good helping of creativity and goal threat too. It's good enough to beat Leicester.
Bill Watson
123
Posted 25/01/2021 at 19:22:43
John # 121
The club is still awaiting the planning decision which has been delayed because of Covid19.
It's now expected sometime in mid February
Martin Mason
124
Posted 25/01/2021 at 19:30:17
Leicester will be a harder test than SW especially at home but I'm not so worried about us having a weakened team. We are gelling not only as a side but throughout a squad that improves in leaps and bounds as the coaching staff work their magic in improving players that we previously saw as dodgy like Mina, Iwobi, Davies, Siggy and Gomes and in fitting in new players like the staggeringly good Godfrey and the young lads who came on for such superb cameo spells on Sunday. It's a wonderful time to support this club and I see an EPL winning side possibly from the current squad with a few of the understated possibilities that we're linked with. The buys don't have to be Marquee signings, just look at how Villa are doing now with a few superb buys. we may lose against Leicester but if we play well and continue our amazing progress then I'll still be happy.
Stephen Brown
125
Posted 25/01/2021 at 19:33:01
I know Digne has been pretty much our best player for 2 years but I cannot see how you remove Godfrey from left back against Leicester?!
In the same way Mina and Keane cannot be broken up at CB.
Right back is up for debate?!
I'd go with:
Pickford
Coleman Mina Keane Godfrey
Davies Gomes
James Siggy Richy
DCL
Slightly worried about a lack of pace in midfield but Gomes earned his spot.
Jason Wilkinson
126
Posted 25/01/2021 at 19:34:31
Interesting to see some of the thoughts on the starting 11 to face Leicester City. What is so good is we have 14/15 players now who are all in contention for a start.
We still need a striker to deputise for DCL. We are a little bit unlucky with both Allan and Doucouré missing.
We have a few looking to push their way into Ancelotti's plans for next season. Gomes looks like he is getting back to his best. Davies has improved recently. Iwobi looks like a new signing. With James back to fitness we have a decent team. The age of our squad bodes well for the next 3-4 seasons.
John Skelly
127
Posted 25/01/2021 at 20:05:11
I don't profess to know anything about player formation or tactics but playing our strongest team with Carlo's nous should be enough to win this game.
I know it sounds trite but I am a simple man with big hope's for our team.
Martin Berry
128
Posted 25/01/2021 at 20:31:47
Godfrey can definitely not be excused.

Bogdan Kotarlic
129
Posted 25/01/2021 at 21:47:49
Great performance, I am so satisfied. Sheffield Wednesday is not the best team in the world but still a very worthy win. I hope we will win versus Leicester and continue with a good form. Top four finish is now a realistic aim and also we could do something important in the FA Cup after so many years.
Danny O'Neill
130
Posted 25/01/2021 at 23:01:16
Digne is our best left back. If he is fit, he should play.
Godfrey has been admirable but his position is centre back. Personally, if all fit, then it is Mina and Digne. Then choose between Holgate, Godfrey and Keane.
Combinations there could be Godfrey at right back with Keane alongside Mina. Or, Holgate at fightback with Godfrey alongside Mina.
That's just my thoughts. Isn't it actually nice to have a defensive selection headache?
Brent Stephens
131
Posted 25/01/2021 at 23:08:44
Danny, "Isn't it actually nice to have a defensive selection headache?"
Yes, I think back not that long ago to the likes of Keane and Mina having been written off by some. How things change.
Graham Hammond
132
Posted 25/01/2021 at 23:22:21
Olsen
Godfrey Mina Keane Digne
Holgate
Iwobi James Davies Richarlison
Calvert-Lewin
Godfrey and Holgate can be interchanged if necessary. Gomes for Davies when Tom tires or is having a poor game.
Danny O'Neill
133
Posted 25/01/2021 at 23:22:48
Well I'll come clean in the spirit of honesty and not always getting it right Brent.
I was dismayed with Keane. I called him an expensive dud. I still think he has his flaws but he has improved no end in addressing them and is looking good in this increasingly improving defence. Credit to Michael and credit to the coaching staff around him.
I have always seen something in Mina. When many criticised, I was confident that once he adjusted and settled, he would come good.
Both bring different values, but both are now looking like important cogs in a solid defensive machine that also weighs in with goals.
Always happy to be proven wrong. Equally happy when I call one right. Ultimately it matters not as long as it benefits Everton and in reality our opinions are mostly a punt right?
Justin Doone
134
Posted 25/01/2021 at 23:26:26
I would disagree and for me Godfrey is our best left back. In his 6 or 7 games there, I can only remember 1 time when an opposing player went past him.
Digne is a far better attacking full-back. Not only that but he and James are probably our 2 best creative players in terms of chances created.
So I completely understand the need to bring Digne back but I would have Godfrey back playing behind him or as our left centre-back to cover Digne's absence.
That means Holgate right back so we don't have 2 fullbacks missing in action against a fast, creative, counter attacking side like Leicester who are full of movement and energy when attacking.
The central midfield positions are a worry. We have no pace or real defensively minded players. I'm sure, that being the case, Carlo may switch things around.
Brent Stephens
135
Posted 25/01/2021 at 23:34:59
Danny, I have to come clean myself – although I was relatively more comfortable with Mina (relatively), Keane really did worry me. I suspect it's not so much a case of those guys improving as Carlo setting us up to minimise their weaknesses and maximise their strengths. Look at Keane's long, raking, pinpoint passes out of defence. We've not seen that before.
Danny O'Neill
136
Posted 25/01/2021 at 23:46:16
Probably a bit of both, Brent. They are improving because the coaching and influence is taking shape.
I don't want to get called a Carlo happy clapper; I'm not. But just over one year in, the difference is noticeable. Unlike trying to judge him in May with no signings and a pause in the season.
We are in a good place. The manager and his staff are managing a very thin squad quite well in my opinion and getting more out of players that I previously doubted under their predecessors.
It didn't happen immediately and against the backdrop of a pandemic. But we bought wisely in the summer and the signs are encouraging.
Brian Wilkinson
137
Posted 25/01/2021 at 23:51:04
Does anyone else know if the date is right for our 5th Round tie v Spurs, has it down for Wednesday 10 February – 2 days after the Man Utd game on Monday night 8 February. They cannot move it to Thursday, unless they switch our Fulham game to the Sunday.
Vijay Nair
138
Posted 26/01/2021 at 00:15:47
Spot on, Danny (136). Not getting carried away but the signs are encouraging.
On a side note, our under-16 coach Timmy Cahill has been appointed an Officer in the General Division of the Order of Australia. What a well deserved accolade!
Don Alexander
139
Posted 26/01/2021 at 00:43:04
To me our so-called four centre-back defence has been nigh on impeccable. Clean-sheets seem to prove it, for now — "now" being where our match is scheduled.
Maybe Seamus and Lucas need to address their own attacking credentials, good as they admittedly are, in order to win a shirt again. After all, they both have little success in the clean-sheet department this season so an improvement in "positivity" may be the key to their re-selection. I suggest it'd also make our matches much more exciting too.
Geoff Lambert
140
Posted 26/01/2021 at 02:59:23
A very important week ahead for us: at the end of the three matches, we could be 3rd or 10th. If past history is anything to go by, we can be looking at 10th...
But I see a change in our mentality and our ability to win games we never would have. So a comfortable 5th and not to far off the the top 4 is something I would settle for at the moment.
Terence Leong
141
Posted 26/01/2021 at 05:35:57
There is all to play for. That's the only way to approach the games, for the players and the fans. It's good that the atmosphere around the club (players and fans) is one of belief, ie, that it is more possible rather than just wishful thinking, that we can keep going.
The fact is that every game can go either way; like what was said earlier, we could be 3rd or 10th by the end of three games. Where's the fun being a fan by seeing the glass half-empty?
Like what Brent #135, Ancelotti has gotten players to play in a manner that emphasizes the players' individual and collective strengths. Long may that continue.
Gomes is playing more forward in midfield, and I think that helps him gain confidence, while minimizing the dangers should he lose the ball. Davies has played more defensively, and I think that's the way to go for him. Especially when he combines with Gomes.
For the game against Leicester, Davies need to do a job against Madisson. Vardy might not be fit in time to face us, so that's one less threat. The game against Leicester is a six-pointer; if we win, they lose, and the gap is closed by 3 points.
Lester Yip
142
Posted 26/01/2021 at 09:31:30
#Danny @ 113: Completely agree. Stick with what's worked. Let Leicester come to us and try to break us down. Frustrate them. Wait for the counter and set-pieces opportunity. Surely Carlo has taken note of the Chelsea game and would deny their mid-range shooting opportunities.
In my opinion, even a 0-0 draw is not a bad result. Do not concede is the key. Boring it might be. But I see it's the way to get an European spot. COYB
Derek Knox
143
Posted 26/01/2021 at 10:08:10
Terence @ 141, totally off topic but I have seen you post on here many a time and often wondered, if you or a relative, ever worked at Fiddler's Ferry Power Station near Widnes in the mid-70's? It is an unusual surname, and I say that with total respect, but you know what I mean.
The person I am thinking about was in Mechanical Maintenance, and in the Main Plant Workshop, a different shift to myself, as I was on the Electrical Maintenance side. I believe he lived in either Huyton or Kirkby and used to come to work on a Triumph (Bonneville I think). I think he must have left late '70s because I don't remember seeing him after that. Small World if it is!
Terence Leong
144
Posted 27/01/2021 at 06:42:47
Hi Derek@143, thanks for the shoutout, but nope, definitely not me.
Pretty slim chance that it's a relative that I am unaware of too : )
I'm from Singapore and haven't had the chance to visit Goodison Park in the flesh, even though I've been a fan since the 1984 cup win.
Hope to catch a game at the Old Lady, before we move to the new grounds.
Derek Knox
145
Posted 27/01/2021 at 08:52:21
Terence, thanks for the update, I just thought because of the rare surname in this country there was a possibility of you being related. All the best mate, keep supporting the Blues, you won't be disappointed.
Terence Leong
146
Posted 28/01/2021 at 08:14:21
Thanks Derek, yes, it's good to be with like-minded supporters via ToffeeWeb. Big thanks to Michael and Lyndon for keeping this platform going.
---
Add Your Comments
In order to post a comment, you need to be logged in as a registered user of the site.
Or Sign up as a ToffeeWeb Member — it's free, takes just a few minutes and will allow you to post your comments on articles and Talking Points submissions across the site.
---
© ToffeeWeb