Report
Lifeless Everton seemed totally uninterested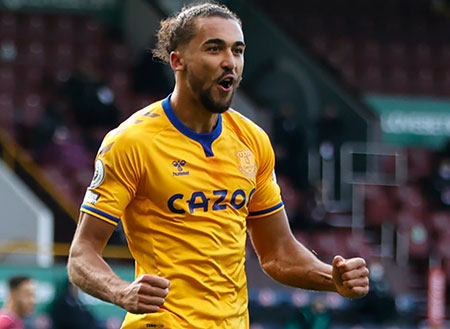 Dominic Calvert-Lewin misses out again with a recurrence of his hamstring strain
Everton 0 - 2 Fulham
A dreadful performance by Everton completely lacking in desire or intensity saw them lose a league game at home to Fulham for the first time ever .
The Blues welcome the Cottagers looking to build on two resilient performances against Manchester United in the Premier League and Tottenham in the FA Cup, performances that have hopefully injected some new-found belief into Carlo Ancelotti's charges in the build-up to a run of important fixtures.
Calvert-Lewin is joined on the sidelines by Jordan Pickford who has now missed three games with a rib injury. James Rodriguez and André Gomes are fit, however, and Josh King is eligible after being cup-tied for the Spurs match but fails to make the starting line-up, with Sigurdsson and Coleman starting.
Allan finally returns to the squad after more than 2 months on the sidelines, with both of Everton's more traditional centre-halves, Keane and Mina, demoted to the bench for this one, where there are finally 8 outfield players and only one keeper.
Fulham kicked off and went for a fairly pushy pressey physical start, intimidating Digne and Sigurdsson who was deemed to have been the guilty party for an early free-kick that needed defending.
Loftus-Cheek got in behind the Everton defence with a very smart run and seemed unlucky to be flagged offside but Olsen blocked his shot anyway... but something of an early warning, perhaps? Another deep free-kick went Fulham's way and Olsen was forced to make a poor punch that could have ended up in a goal conceded.
Ademola Lookman took the first corner for Fulham and it was brilliant, flicked on to the post and creating havoc in the Everton defence. With no Calvert-Lewin as a target man, it was 10 minutes before Everton finally got forward only for Richarlison to stray offside.
Fulham continued to press Everton back and they looked slow, sloppy and unimaginative as they tried to draw Fulham forward to create some space to attack. When they finally got forward, Digne was taken out in a nasty clash of knees with Tete but no free-kick given.
Fulham set up a nice chance for Harrison Reid, who sliced his determined shot wide of Olsen's goal. James had hardly had a touch with so much of the early play in Everton's half. Digne did win a free-kick when Tete challenged him in the air, Digne swinging the ball too far and too hard for Godfery coming around the wicket.
Somehow, a golden chance fell to Lookman who incredibly shot a foot wide when it seemed easier to score. What exactly Everton were doing for a game plan was increasingly hard to figure out as Fulham looked determined to end their ultimate hoodoo, having never won a league match at Goodison Park.
390 minutes gone and it was hard to remember a single Everton contact in the Fulham penalty area, Richarlison with only 4 touches in the match. Loftus-Cheek got through again and it needed a brilliant stop by Godfrey.
Everton's first vague movement toward Fuham's goal came with James putting a nice ball forward for Gomes, driven well wide. Coleman then did better in almost the same situation, whacking one off the base of the post.
A rare Everton free-kick, swung in by James, was repelled and recycled all the way back to Olsen, in a frustrating statement of Everton's rather reticent attacking intent. Lookman tried his luck with a hopelessly poor shot.
Digne won Everton's first corner off a good lofted ball from Gomes but, in the absence of Calvert-Lewin, Keane and Mina, James and Digne did a short-corner routine that ended up back in the centre-circle, with Fulham invited to attack again, Lookman's decent cross needing the clearance. What a strange, disappointing half... could even qualify as "zombie football".
The nonsense continued into the second half, with Carlo apparently reveling in the dreadful fayre. The inevitable then happened just 3 minutes in: Aina, a neat one-two with Lookman, crossing well for Maja to convert from 2 yards. Utterly ridiculous.
The pressure from Fulham continued unabated with Everton looking more nonchalant than in the first half. Carlo's tea finally awakened him to the situation, Keane and King coming on for Coleman and Davies, but not before Aina delivered another wonderful cross that Holgate just got his foot to before the Fulham player.
As shot by Reid came back off the post and Maja was perfectly place to tap in for his second of the night.
Bernard replaced Rodriguez but surely the game was up at this point. When you are playing so badly, you can't suddenly reverse the relentless path of the game — certainly if you've shown nothing even approaching intent in the first 70 minutes.
Digne did win a corner that was actually drilled in with some decent pace by Sigurdsson but it was punched clear. Fulham continued to control the gamme, Ebverton's highly paid stars unable to lay a glove on them. Richarlison finally got a chance to run with the ball, feeed Bernard, for Digne to win a corner, which came out to Sigurdsson, who fired goalwards... albeit to where the keeper was standing.
Gomes put a nice ball across to King who had strayed offside as he scored, the goal called back with barely 10 minutes left for Mission impossi.ble. Everton applied some pressure through corners but no chances ensued. Nothing was really happening as the minutes ticked away to another one of those astounding results that are simply impossible to get your head around. Keane 'headed' a cross goalwards off his shoulder as the on attacking highlight of the last 5 minutes. Richarlison won a corner, and a cross from Bernard was headed behind by Sigurdsson near a high boot as another miserable night at Goodison Park came to its sadly predictable end, enlivened by a bout of handbags and cards for Keane and Onomah.
Kick

-off:

7pm, Sunday, 14 February 2021 on BT Sport 1
Referee: Andy Madley
VAR: Kevin Friend
Everton: Olsen, Coleman (55' Keane) , Holgate, Godfrey, Digne, Davies (55' King) , Doucouré, Gomes, Rodriguez (73' Bernard), Sigurdsson, Richarlison.
Subs not Used: Virginia, Mina, Nkounkou, Allan, Iwobi,Onyango.
Fulham: Areola, Tete, Andersen, Adarabioyo, Aina, Reed, Lemina (90+1' Onomah), Reid, Loftus-Cheek, Lookman (83' Zambo), Maja (72' Cavaleiro).
Subs not Used: Hector, Odoi, Rodak, Ream, Ivan, Kongolo, Robinson.
---
Reader Comments (424)
Note: the following content is not moderated or vetted by the site owners at the time of submission. Comments are the responsibility of the poster. Disclaimer
Kieran Kinsella
1
Posted 14/02/2021 at 18:08:08
Hopefully the double D's in midfield still have some bounce after Wednesday. They made need so firm support.
Neil Lawson
2
Posted 14/02/2021 at 18:09:23
Seems a bit midfield heavy but let's just wait and see.
Mike Dolan
3
Posted 14/02/2021 at 18:13:25
We will measure just how much we are progressing by our approach to this kind of game. Hopefully a no drama clinical victory.
Dave Williams
4
Posted 14/02/2021 at 18:14:55
A very interesting selection. I wonder whether pairing Holgate with Godfrey is to see how it works with both RS and City not having big forwards who pose a threat in the air? These two could be better equipped than two huge centre halves who are slow on the turn.
James,Siggy and André all together suggests a slow midfield but if they have their passing boots on it could be very sharp and slick. Plenty on the bench to freshen it up and great to see Allan back in the squad.
Can Tom dictate play again - all very intriguing!
Geoff Trenner
5
Posted 14/02/2021 at 18:16:54
Interesting centre back pairing. I haven't seen much of Fulham this season, can anyone who has cast any light on the benching of our two most 'traditional' type centre backs?
Jay Wood
[BRZ]
6
Posted 14/02/2021 at 18:17:33
Pairing Holgate and Godfrey at centre back looks like having half an eye on the next two games to me.
Surprised to see all 3 of Siggy, Gomes and James starting this one. I thought Siggy might have been benched after going 120 minutes v Spurs.
Evidently King hasn't impressed enough or not yet up to speed for Carlo to trust him with a starting berth.
Strong looking bench even with the 3 academy players.
John Beesley
7
Posted 14/02/2021 at 18:18:09
Lets hope that they are a real handful.
Stephen Brown
8
Posted 14/02/2021 at 18:22:55
No Mina, Keane, DCL to defend corners! That's a bit of a concern for me! Is Mitrivic playing ? He's a handful in the air!
Phil Smith
9
Posted 14/02/2021 at 18:22:56
Why, oh why is King not starting? Richy or Siggy to get injured. Both looked knackered the other day. Thought he liked to rotate?
Barry Rathbone
10
Posted 14/02/2021 at 18:24:54
John
I saw what you did there 😄
Tom Bowers
11
Posted 14/02/2021 at 18:25:28
Surprised King doesn't get the nod but I suppose you can't leave Siggy out after his last outing.
No easy games these days and Fulham are fighting for their lives so expect a rearguard battle.
Everton going for speed at the back given that Lookman has been playing well recently.
Other results good for us over the weekend so surely they won't choke again with a chance of moving up given the games in hand despite City being one of them on Wednesday.
Simon Dalzell
12
Posted 14/02/2021 at 18:28:08
Made me Titter Barry. COYB.
Jason Wilkinson
13
Posted 14/02/2021 at 18:31:43
I'm hopeful this line up can get us a good foothold in the game early. Go in leading by 2 goals at half time then pick them off in the second half. I can see Fulham having problems with our front 3. I can also see some fragility in our back 4.
Brian Wilkinson
14
Posted 14/02/2021 at 18:32:01
I am not suprised King not starting, half expected it, we have played two games without a striker and to be fair won both games and played well.
He gives us an option from the bench, if we need to change our system. If Fulham sit back, then we need to go through them, so makes sense sticking with the tried and tested formation.
We have seen it before where a team sets up and we struggle to give Calvert-Lewin decent service, I just think this system could work.
Will Mabon
15
Posted 14/02/2021 at 18:33:24
Stephen, 8:
Agree. Keane and Mina left out together is quite a step – Holgate is not at his best yet. Mitrovic misses the game though.
Ciarán McGlone
16
Posted 14/02/2021 at 18:34:19
Be interesting to see what way that team lines up... pack the middle and let the fullbacks provide the width.
However I can't help feeling, like other games this season, that this is one we expect to win easily – and we all know how those games turned out...
No room for complacency.
Tony Abrahams
17
Posted 14/02/2021 at 18:36:02
Good point, Brian W, because I've been trying to get a picture of where everyone is going to play but I had Richarlison starting up front, which might just leave us short out wide, so I'm genuinely hoping we're set up to play without a recognised striker.
Thomas Richards
18
Posted 14/02/2021 at 18:40:24
Narrow midfield, Tony?
Richarlison up front, full-backs giving the width maybe?
Colin Glassar
19
Posted 14/02/2021 at 18:41:05
Decent lineup. Should be enough to beat Fulham.
Stephen Brown
20
Posted 14/02/2021 at 18:44:18
Thanks Will! That's good news.
Not 100% on Holgate and Godfrey together yet but hope I'm proved wrong!
Gavin Johnson
21
Posted 14/02/2021 at 18:45:10
It'll be interesting to see how the defensive duo go on. I think Godfrey and Holgate could be the answer in the long term if we play with a higher press if we make a couple of more quality additions and make Europe next season.
Tony Twist
22
Posted 14/02/2021 at 18:48:10
Very disappointed that King isn't playing from the start. Looking light-weight in attack. Ancelotti going too cautious again. Best form of defence in this games is attack.
Conor McCourt
23
Posted 14/02/2021 at 18:55:11
I think Sigurdsson will play up top with Richarlison and James either side.
Jay Wood
[BRZ]
24
Posted 14/02/2021 at 18:55:24
How the hell can selecting Gomes, Sigurdsson, James and Richarlison in the starting XI be interpreted as 'cautious' and leaving us 'lightweight in attack'?
Craig James
25
Posted 14/02/2021 at 18:56:09
As others have suggested, we've gone with speed at the back to negate Fulham attack, full-backs to provide the width.
Midfield will be where it is won and lost today, fingers crossed 3 points and Allan gets a few mins under his belt.
Carl Manning
26
Posted 14/02/2021 at 18:56:29
Carlo going too cautious again? He's playing our two attacking full-backs instead of 2 centre-backs. Sigurdsson has 3 assists and goal in the last game, James is James, Richarlison upfront. What other than the centre-back pairing could he have done?
If King was killing it in training, he'd be playing! It's like Jay says, he obviously isn't impressing enough yet.
Tony Twist
27
Posted 14/02/2021 at 19:10:38
Cautious as in one (Richarlison) at the sharp end up-front.
Ciarán McGlone
28
Posted 14/02/2021 at 19:18:46
This isn't working at all... 3 deep-lying midfielders taking turns to sit in between the centre-halves. Ultra defensive and handing the initiative to a mediocre side at home.
The deep defence of set-pieces is a disaster waiting to happen an all... change needed!
James Fletcher
29
Posted 14/02/2021 at 19:20:14
Yeah, the set-up – combined with some terrible passing – hasn't done much so far...
James Fletcher
30
Posted 14/02/2021 at 19:21:37
We're being overrun by a team that has almost no chance of escaping relegation at the half way point of the season. Some of our midfield need to take a long, hard look at themselves.
Pete Hughes
31
Posted 14/02/2021 at 19:28:47
They way things ate shaping up here I am expecting another Newcastle like result!
Phil Smith
32
Posted 14/02/2021 at 19:32:03
Not for the first time, Carlo has got the team totally wrong. No pace or movement. Sigurdsson for King now, please.
James Fletcher
33
Posted 14/02/2021 at 19:32:45
Holgate and Gomes repeatedly giving the ball away, Sigurdsson off the pace a bit and Richarlison not getting a look in. Something needs to change soon!
Alex Gray
34
Posted 14/02/2021 at 19:34:26
The team look knackered after the long game midweek. Not looking good at all in a must win game!
Phil Smith
35
Posted 14/02/2021 at 19:35:28
Holgate's passing out of defence is gonna lead to a goal if he doesn't watch out. Gomes can't shoot anymore. Awful thus far.
Anthony Jones
36
Posted 14/02/2021 at 19:45:19
Sigurdsson in the front 3? He will be playing Iwobi at left-wingback next!
James Fletcher
37
Posted 14/02/2021 at 19:46:31
Need to see Iwobi or King coming on at half-time as we're sorely lacking in pace and directness.
Ciarán McGlone
38
Posted 14/02/2021 at 19:49:24
Major surgery required to this system if we're to avoid defeat.
The peaks and troughs continue... like a gamestop chart.
Thomas Richards
39
Posted 14/02/2021 at 19:50:08
Shattered, the lads.
One game too far.
Kevin Prytherch
40
Posted 14/02/2021 at 19:50:11
1st half so far...
We have 2 quick centre backs playing, but seem to drop deep and defend on the edge of our area. Surely with a faster defence we could defend higher up the pitch and close the gaping hole between our midfield and attack.
I don't think Gomes has played a successful forward pass. Davies the pick of the midfield again.
Sigurdsson needs to be in that number 10 role or nowhere. Games like this are not to his strengths.
Holgate and Gomes have got lucky a couple of times.
Dave Round
41
Posted 14/02/2021 at 19:52:59
Need Iwobi on for Sigurdsson. I think the 120 minutes midweek has somehow made him even slower. I thought when I saw the team, it looked slow.
Peter Warren
43
Posted 14/02/2021 at 19:53:39
The good news is that it's 0-0...
Sean O'Hanlon
44
Posted 14/02/2021 at 19:53:43
West Ham, Newcastle, Leicester.
Fulham?
Jay Wood
[BRZ]
45
Posted 14/02/2021 at 19:54:22
Deary me. What DREADFUL fayre.
This has a whiff of Newcastle about it.
Right from the off the energy, the movement, the pressing - all was absent. The only one playing anything close to his game is - not for the first time in recent weeks - Tom Davies.
Whereas Fulham have all the space and time to pass and receive the ball, we are under pressure all over the pitch if and when we get the ball.
Mason Holgate is nowhere near the levels he was last season. Doucouré looks half a yard slow in everything. Gomes is being Gomes. James flickers but hasn't yet sparked. Sigurdsson anonymous. Richarlison starved.
If we get three points out of this game – any which way it offers itself – I'll take it. But that ain't happening based on that first-half performance.
Wake up, or lose Everton.
Paul Birmingham
46
Posted 14/02/2021 at 19:54:53
Everton are lucky to go in at 0-0, basically all Fulham. For me too slow and sluggish in midfield and coming out of defence it's becoming a lucky dip.
Fulham playing like the home team.
I'd bring on King or Iwobi for the start of the second half. This is a must-win, and hopefully a half-time special will see the Everton players get some fire and belief in their tanks.
Fulham are fighting for their lives and all credit to them but Everton must win this game to keep in touch at the top.
Tony Twist
47
Posted 14/02/2021 at 19:56:28
Allan and King in place of Sigurdsson and Gomes should fix it. Four-four with two up-front and Richarlison and King playing close together. Quicker more direct football required, need to put pressure on Fulham.
Dave Abrahams
48
Posted 14/02/2021 at 19:57:24
Whatever you done there, Carlo, you better undo it and quick because it's pathetic. When we start the second half kicking into the Gwladys Street, that will be the first time I've seen them kick the same way twice in the same game.
Come on, Carlo, only James the magician is working, doing his disappearance act, but the others are doing their best to out-act him... ridiculous!
Best not to expect anything, lift you up then knock you for six. Make me eat my words.
Richard Nelson
49
Posted 14/02/2021 at 19:58:52
Absolutely disgusting on the eye! Rodriguez worse than Barkley for work rate...!
Mike Oates
50
Posted 14/02/2021 at 20:01:22
We don't want counter-attacking football at home, get 30 yards up the pitch and dominate possession, keep them pinned in.
Holgate is a liability with his lazy attitude and useless passing.
Oliver Molloy
51
Posted 14/02/2021 at 20:01:39
Typical Fulham for me, lots of nice passing movements, a few chance and no end result. Lookman fits in there nicely.
There will be words in the dressing room, I expect us to get on the ball more second half and take the chances that will come our way.
COYB.
Jason Southon
52
Posted 14/02/2021 at 20:01:50
Can't sit through the 2nd half, Davies is championship quality, such a week midfield. No pressing, no movement. Need King and Allan on and take off Davies and Sigurdsson. Just waiting to concede like this, need to push up 20 yards to help Richarlison.

Tony Abrahams
53
Posted 14/02/2021 at 20:02:11
I know he's got to manage the squad with us being in the middle of a period with so many games, but Bernard could provide width, and he must also be the freshest player in the squad.
I'm just glad we are not behind, because we have been very poor, very lacklustre, which could be the result of our system, playing extra time the other night, or the weather, and most probably a combination of all three. But we definitely need more width, and more players further forward, if we are to get anything out of this game.
Ernie Baywood
54
Posted 14/02/2021 at 20:02:16
We're missing anything to pass to in attack. Richarlison is negated up front, Gylfi negated on the left, James and Gomes wasted with nothing ahead of them.
I'd get King on for either Gomes or Gylfi. Possibly Iwobi for Gomes or Gylfi too. It's just not working.
Ciarán McGlone
55
Posted 14/02/2021 at 20:08:53
Dreadful... Holgate lost his man again. He needs to go out on loan and practice looking cool somewhere else.
James Fletcher
56
Posted 14/02/2021 at 20:10:46
I think we're starting to realise that we can't play Coleman at right-back, he does well when he is free to bomb on which just never happens when he's at right-back.
Gomes just offers nothing at the moment, like nothing at all.
Sigurdsson can only play one position and Richarlison needs more support.
This is shocking from Carlo, why he didn't change anything is beyond me.
Tony J Williams
57
Posted 14/02/2021 at 20:10:57
We were never going to win this game as could have been level on points with Liverpool and, as usual, they have bottled it.
We have had a 100% record against Fulham in the league, now we will stay 3 points behind Liverpool.
James Fletcher
58
Posted 14/02/2021 at 20:12:08
If the players are knackered, then surely we play the youth, who at least might give a shit!
James Fletcher
59
Posted 14/02/2021 at 20:14:40
Fuck my life, he takes off the only midfielder earning his pay...
Danny Baily
60
Posted 14/02/2021 at 20:14:57
Subs getting ready, still plenty of time to turn this game on its head.
Whatever system Ancelotti had planned for this evening, it's certainly not come off. Time for a change.
Ciarán McGlone
62
Posted 14/02/2021 at 20:23:17
Are my eyes deceiving me or has he moved Sigurdsson into the defensive midfield role?
This is a shambles from Ancelotti.
Phil Smith
63
Posted 14/02/2021 at 20:28:42
Shambles indeed. What is the coach doing here? Some of these players were shot the other day. Needed freshening up with pace and movement. What does he do? Plays Sigurdsson and Gomes again. And they're still on!
Kevin Heath
64
Posted 14/02/2021 at 20:30:07
Why have we chosen this team for tonight's game? This game was the one we wanted to win with the next two matches coming up. The formation is unbelievable, plus one forward on the pitch and two on the bench. We have blown this opportunity.
Paul Birmingham
65
Posted 14/02/2021 at 20:30:26
Only Fulham want this.
Miracles happen, but this will be the parting of the Mersey if Everton, salvage a point.
Damning performance and typical of what this season has become, with a Jekyll and Hyde performance in context of the last couple of games.
Tom was in my view unlucky to be hooked, I'd have taken off Gomes, and for me this lad's got talent but no motor and not enough desire to get stuck in.
Again, another massive chance to make a statement and Everton decide to spew it.
Scary in view of the next few games, and hope eternal.
The hope does kill you.
Michael Lynch
66
Posted 14/02/2021 at 20:31:16
This has been an inept and embarrassing performance. Dreadful.
Ernie Baywood
67
Posted 14/02/2021 at 20:31:24
I'll never understand those subs. Loads of options available and they were a long way down the list.
I see James finally got himself out of the game.
James Fletcher
68
Posted 14/02/2021 at 20:31:33
I think every fan on the planet has seen that Gomes, Sigurdsson and James together in midfield lacks pace and energy now imagine that midfield but they're all shattered from a midweek game. Carlo chose that as his option wtf?!
Phil Wood
69
Posted 14/02/2021 at 20:31:40
Anyone with a brain should know that you cannot play Sigurdsson, James and Gomes in the same team. It is like the Dead Man's 100 metres.
.
Gavin Johnson
70
Posted 14/02/2021 at 20:31:54
This is even worse than the Newcastle game. The team selection was a joke from the first place. Iwobi or King should have started instead of Sigurdsson or James. Far too slow otherwise. And Coleman has been a great servant but he needs a free transfer up to Celtic this summer.
Tony Twist
72
Posted 14/02/2021 at 20:32:14
Joke of a manager. Screwed us over good style with this game and this ain't the first time from the tinkerman. Too slow reacting in the game also giving us a mountain to climb.
Mal van Schaick
73
Posted 14/02/2021 at 21:31:06
Team selection. Tinker man strikes again. Thanks for the false hope.
Benn Chambers
74
Posted 14/02/2021 at 21:31:48
Absolutely spineless performance, that, from a fucking gang of shitbags. If the fans are in that stadium, the boo's would ring out. They're lucky we're not allowed in.
Fucking disgusting that, from start to finish, and it starts from the manager. Let's call it how it is. That's on him, that result.
Holgate is fucking crap and is never a Premier League centre back, why start him? Mina and Keane have been rotated and rested plenty, they are your best pairing. Godfrey plays instead of Coleman. It's been working, why change it?
Then Carlo picks 5 centre-mids. 5!!!!! James, Sigurdsson and Gomes are the same player. They're slower than an amputee relay team and he plays all 3?!! It's a fucking joke. That's the type of shit Koeman did. Trying to play 3 Number 10s and no striker.
Whilst the players are shitbags, this one is on Carlo. Firmly!!!! That starting 11 was a disgrace. It's like he still thinks he has his old Chelsea squad. We barely have 11 half-decent players yet he's rotating. Play your best 11 every game, especially when your squad players are Championship at best!!!!!
He keeps banging on about the project and no rush but look at the table, this season is a real opportunity and he's just fuckin not arsed one bit. He's in no rush but we are!! Europe is there for the taking. I'm sick of the rotating now. Fuck off and play your best 11 baring injuries. If James isn't fit, fuck him off and stop picking him. Decide on Sigurdsson or Gomes and play the width that we do have. 5 centre-mids and Holgate at centre-back is unforgivable here.
This was the game we needed to win. Man City is a write-off. You get your points here and City is a bonus. Resting players ready for City makes no sense at all.
I've had enough of this fucking club. Seriously, it's weak to its very fibre. You've got teams like Leicester and West Ham having a go coz they sense it's now or never and we offer up this shite.
I'd set the fucking whole thing on fire and claim in the insurance.
Shit bags.
Ciarán McGlone
75
Posted 14/02/2021 at 21:32:29
Ancelotti's poorest performance so far. This wasn't about fatigue... it was a poor and negative system that allowed a mediocre side to run the midfield. Evident from the first minute and yet he persisted far too long and even compounded it to some extent.
0/10 for the manager. Pathetic.
Richard Nelson
76
Posted 14/02/2021 at 21:34:30
Disgusting performance from the Manager & the Team... Rodriguez & the gum-chewing Holgate... Desperate..!
John Hall
77
Posted 14/02/2021 at 21:36:21
Carlo was done over by two crooks in masks earlier in the week.
Today he was done over from the inside by a bunch of crooks without masks.
Disgraceful performance but what to expect when three midfielders all run like they have got concrete blocks dragging behind them.
I shall light a candle for us against Man City before the game starts in midweek.
Tony Twist
78
Posted 14/02/2021 at 21:37:29
This result could have been easily avoided. Just the same as Koeman and Silva, we have yet again got a manager who can't see something blatantly obvious that is right in front of him.
First win at Goodison Park for Fulham says it all, records are there to be broken, hey, Carlo? An absolute disgrace.
Robert Tressell
79
Posted 14/02/2021 at 21:37:51
That's an unbelievably shit result. Hard to get your head around.
Peter Gorman
80
Posted 14/02/2021 at 21:38:38
The result is embarrassing but the performance infuriating.
Do these fuckers actually even want to win something in their careers?
Kevin Molloy
81
Posted 14/02/2021 at 21:38:50
I've got a horrible feeling we actually have different tactics for each game, and no common strategy. So if the tactics don't work or the opposition don't play as we expected them to we are utterly dumbstruck. But the good sides have a style of play whatever the game, we've got nuthin.
Jim Bennings
82
Posted 14/02/2021 at 21:39:19
At least four of those players that started tonight should be relieved from duties at this club during summer.
Gomes absolutely a liability in every sense of the word, offers zero of anything, weak in tackles, no goal threat, aerial ability and physical ability zero.
Sigurdsson, been a decent goalscorer for us, but sadly the legs won't last out another season at the top end.
Coleman, legs gone, untidy on the ball, best years have passed.
Holgate, no good, been on the scene for four years or so but just not really what we need, too cocky without the ability to back it up.
I could go on and on really because we have a group of players that seems to hit a glass ceiling every time something is achievable.
Jamie Crowley
83
Posted 14/02/2021 at 21:39:31
We looked gassed. It was an awful game altogether. From the heights of the Spurs game to this.
I half-figured it was going to happen. Our players had to be exhausted, short rest, and a chance to draw level on points in 4th with games in hand. Just lined up perfectly for Everton shitting the bed.
I've a feeling we'll struggle against Man City. Whether the season comes down to a success or "just another season" will probably come down to the derby.
Final comment: I had to watch on my phone in a PF Changs (chain Asian restaurant over here). So it was a bit like watching miniatures play kick oval admittedly. But, not sure if it's me, but Mason Holgate looked awful to my eyes. I mean a real liability. Where is that swashbuckling kid we knew 1.5 to 2 years ago? He was our worst player Wednesday, and our worst player today from what I could see. He needs a rocket up the ass.
Bill Fairfield
84
Posted 14/02/2021 at 21:39:39
Nothing will change for the rest of the season. We are so inconsistent, you just don't know what's going to turn up, but tonight's performance was particularly hard to take... totally clueless and totally outplayed by a better team.
Terry Farrell
85
Posted 14/02/2021 at 21:39:44
Carlo is still God but you cannot play 3 players who can't run against any team in the Premier League and then compound the problem by taking Seamus and Tom off and leaving them on. Doucouré needed to be central with Tom to have more influence.

My Fulham mate in London texted saying he was crapping himself and they needed a miracle. They never had to break sweat. It stood out a mile what the problem was but we didn't address it! Annoying...
Tony Abrahams
86
Posted 14/02/2021 at 21:39:57
I'd agree with that score, Ciaran. Even with 5 midfielders, we couldn't gain any control of the game, simply because we never had any width. So it was definitely a well-coached team against a tired and poorly constructed team, and another 3 points squandered against one of the bottom clubs.
Steve Hogan
87
Posted 14/02/2021 at 21:41:11
Sorry, Carlo, you got pretty much everything wrong tonight. The team selection, the subs, the tactics... everything.
Gomes and Sigurdsson were like two OAPs in midfield, out-run, out-fought and both passing the buck on a regular basis.
Neither taking the risk of a forward pass, in fact a real act of cowardice, Sigurdsson does a wonderful version of an old-time traffic cop, directing the traffic with a wonderful pointing movement.
And the subs, leaving those two imposters on whilst dragging Tom Davies off, bewildering. There was absolutely no pace at all in that team, we were overrun all over the pitch.
Why on earth does the manager change the back four every week? I just don't get it. Holgate is a liability every time he plays, his positional sense is awful.
The whole game, Richarlison was feeding off scraps, unfair on the player and the team.
Stop tinkering, Carlo, it's not working.

Peter Gorman
88
Posted 14/02/2021 at 21:44:00
Jim, Jamie – there are no players who did themselves a favour tonight but Gomes and Holgate passing the ball directly to the opposition through sheer cockiness or laziness had my piss well and truly boiled. I don't want to see either in the team for quite a while.
Stephen Brown
89
Posted 14/02/2021 at 21:45:54
Holgate and his gum-chewing really wound me up tonight! What was he doing for the 1st goal! You can't swagger around like Sergio Ramos until you've actually achieved something!
You could see this was going to happen from the first 5 minutes! No width or pace!
Trying hard to not over-react as there plenty to play for but questions about the attitude have to be asked?! These players are just not winners?! Shame as I thought we were getting somewhere
Carlo definitely not beyond criticism for this shambles either!! Poorest yet!
So gutted!
Mike Keating
90
Posted 14/02/2021 at 21:46:35
Valentine's Day Massacre – not one Everton player deserved more than 3 out of 10. Their goalie didn't have to make a save until the 75th minute. They looked like a side battling for a place in Europe – we looked like a side who had already accepted relegation.
Pathetic!
Richard Nelson
91
Posted 14/02/2021 at 21:47:28
Kunal Desai
92
Posted 14/02/2021 at 21:47:34
I've not been one to have a go at Carlo in the past but he clearly is unable to produce a team to grind out results at home to lesser sides, the home form is very worrying.
Are these players only turning up against the better sides? Clearly shows many of these players are bang average and produce the odd performance now and again.
I think finishing 7th is now in the balance.
Kevin Murray
93
Posted 14/02/2021 at 21:50:24
Completely wrong from the manager in the first place.
The back four needs to be settled. Decide in your best back four and leave it. Do Man City, Leicester City, Man Utd etc piss about with their defence? No. Just pick your best back four.
If he can't see by now that Sigurdsson, Gomes and Rodriguez can't play in the same team, then god help us. It is so blatantly obvious, I can't understand how they can't see it!
Sigurdsson or Rodriguez plays... just one of them. Only in the Number 10 position because that's their position.
Richarlison can't play as a striker on his own. Doesn't work. Has never worked. Again, how they can't see this is beyond me.
Removing Coleman and Davies and leaving Sigurdsson, Gomes and Rodriguez on the pitch tonight?!?! I just can not see that at all.
Sigurdsson captain?!?! Never. He has improved his play recently but he is a coward without the ball. He is weak. He is not a leader on the pitch.
They'll probably get something on Wednesday but therein lies the problem. Clearly they have the talent and can be motivated for certain games but, in other games, the motivation is non-existent and the tactics and selections from the management are inept.
Shithouses tonight – the lot of them.
Graham Haines
94
Posted 14/02/2021 at 21:50:25
Awful performance.
How we can go from the Man Utd and Spurs performances to this effortless lacklustre crap, I have no idea. The home form is a cause for concern and is not good enough.
Ernie Baywood
95
Posted 14/02/2021 at 21:52:49
Well Michael Keane was our Man of the Match by a country mile.
I'm prepared to call time on Holgate now. He's a big strong boy who looks like he can play a bit - so you can understand why we might persevere through his development years. But it's a facade – he can't play. Those strange, no-step tap passes with the ball back in his stance can fuck off. Nowhere near the level and I doubt very much he ever gets to Premier League level.
As for the rest, played out of position, or without options to play to... it gets hard to judge. They didn't look interested but you can look like that when you've got nowhere to go.
Carlo gets the worst criticism. I wondered after 10 minutes whether he might make the required changes. Get proper options out wide and revert to a normal midfield. Get Holgate out of the side and get a striker up front. He made none of those changes. Instead, he put Sigurdsson on the left and our best winger up front where he is habitually ineffective.
At half time, he still didn't improve the side. When he finally made his subs, he managed to remove the only two players who you might imagine would fight to get back in that game.
Poor all round. You can argue that "Typical Everton" is a defeatist attitude we need to move past, but there's a reason why that view still pervades. It was classic "Typical Everton". "Easy" home game so the foot comes off the pedal.
Ian Edwards
96
Posted 14/02/2021 at 21:53:04
West Ham was bad. Newcastle was shocking. Tonight was the worst home performance I can remember.
Ancelotti might have Chmpions League wins on his CV but he is way out of his depth with our mid-table players. He's not improved the team. The tactics are negative. The team selections are bizarre and negative. The transfer business is baffling (offensive players sold and just King brought in). He's lucky there are no fans in the ground so he's getting away with it.
I don't even believe he cares. Extra time winner against Spurs and he sips his coffee and appears to not give a shit.
The Managerial appts since Moshiri arrived have been disastrous. I was petrified we were going to get Moyes back. But I would take him back in a heartbeat. Look at the West Ham team he's building. Can you imagine Ancelotti signing Bowen or Benrahma? He'd probably play Nolan up front with Rice just behind.
Either let's just get the rest of the season over with, accept it's going to be painful, and then boot him out after the last game. Or sack him now and let Ferguson have the rest of the season.
David Pearl
98
Posted 14/02/2021 at 21:53:35
Carlo not beyond criticism? We were shite. His formation was shite. What manager uses 5 different formations in a single season, for fuck's sake?? Pick a formation, let them learn it, and then rotate.
Played way too deep, even with our younger centre-back pairing. As per the Man Utd game, we left Digne completely exposed. Sigurdsson started up front as a false 9 for the love of god!! Perfect opportunity for Richarlison to score a few and get his mojo back and was left running after shadows all game.
And then, of course, Carlo can never change the game with his subs. Embarrassed doesn't cover it.
Once again we blew it at home. No excuses.
Julian Exshaw
99
Posted 14/02/2021 at 21:54:54
Benn Chambers @74. You've saved me writing my own post. Spot on.
Keith Meakin
100
Posted 14/02/2021 at 21:55:22
That was Criminal, we have now lost to the mighty Fulham & Newcastle. Jesus, we've dropped 9 points to our usual whipping boys... shameful. 💩
Mark Murphy
102
Posted 14/02/2021 at 21:56:43
As an optimistic happy clapper, can I just say that was absolutely fucking shite and indefensible from the players, the manager, the coaching staff and even the fucking tea lady. The cowardly shameful cunts should be fucked off to a man after that.
I'm very fucking angry that a team and management team that I have defended with optimistic belief have delivered such a load of shite, the likes of which I have never seen since Mike Wanker's days!
I upset the missus and gave her years of ammunition by rushing our Valentine's Day dinner to watch that shite.
Fuck off, Everton! Grrrrrrr...
Paul Birmingham
103
Posted 14/02/2021 at 21:57:57
Well, rarely do miracles happen in life, and that's the truth, along with for me the worst home performance for some years. I despair... too much respect given to a team languishing near the bottom of the Premier League. In time-honoured Everton fashion, they very politely stand down at home and let Fulham play like Barca in their plumb...
Angry, and it shouldn't be like this. La Vie, C'est La Vie... but with Everton, it's permanent.
No excuses, and I hope the absolution of the mess tonight is honest and forthright, and for the Man City game, Everton actually turn up, kick City and put in a shift.
For me, this was the worst game in Carlo's tenure... but the trials and strains of the last few dates for him and his family, since Friday evening, have been massive.
Sticking to football, this was the chance to get the home record improved and arguably the best chance of points for a while.
Taking a pause, and transcending the negativity, but the next 5 weeks, with the toughest run of games, will show where this Everton squad is.
Golden rules: never under-estimate the opponent, and in match-time, heed the signs.
Tonight was like a practise 11 match of Fulham vs Woking... No offence, Woking, you're a decent club.
That's the anger and angst to bear this week – and a tense week it will be.
But, knowing this team, they could turn it around on Wednesday although Goodison Park has become for this season Everton's Achilles heel where Everton rarely win.
Last note, no more trio of the slowest players in any Premier League squad in midfield.
André's at best a last-resort sub; Sigurdsson at best a false 9, and James is pure class in a good midfield. James has to be accommodated as he can see and pass like none since Sheedy.
I felt sorry for the forwards, who rarely got a sniff of a chance.
I'm not tempting fate and I don't revel in the days preceding a derby, as form goes out the door.
Surely starting on Wednesday, Everton can regain lost pride, as tonight in my view, Everton didn't turn up.
That's down to the manager and coaches, who must take responsibility for being naive – and I'd add unprofessional – for setting up the wrong team and terrible mindset.
For me, now's the time to appoint a new Captain of the first team. Seamus is a diehard, but the part can't be eclipsed and, for me, his decision-making now is becoming a big risk, but in my view Gomes doesn't give 10% of what Seamus gives on his bad days.
No squad can carry a player who makes one or two decent passes every game or two, with the odd decisive pass, even 6 or 8 games, and basic attributes in competing and tackling are nil.
Rant over, very pissed off, but in a way, it was on the cards and was a nap, in some aspects.
John Mitchell & Viv Busby we're reborn tonight by Mola and Maja?
Well done, Fulham, you played Everton off the park, tonight, from start to finish.

Kevin Dyer
104
Posted 14/02/2021 at 21:58:04
Easy to over-react and vent after watching that. Fatigue against a motivated outfit proved decisive. The team looked flat, slow, sloppy and lethargic right from the off.
Saying that – and notwithstanding our squad depth limitations – we put out the wrong team and wrong formation tonight. Sigurdsson as a false 9 was an odd choice and abandoned partway through the 1st half. Sadly, the fatigued Richarlison struggled up top and the shift pushed Sigurdsson out left, where he always stinks.
The Holgate & Godfrey combination did not work at all. Digne was dreadful. Doucouré looked like someone who'd run a 10-km race before kick-off, exerted no pressure, got nowhere near any Fulham player, and I was amazed he stayed on the full 90 minutes.
Davies didn't look at it either but at least was trying to get involved and be progressive. With no energy, legs or movement anywhere, Rodriguez struggled to orchestrate.
So Ancelotti dropped the ball here, albeit under difficult circumstances. Some of those players cannot have shown much in training beforehand so putting them out there was a mistake. Rather, a decision should've been made to drop reliable in-form players.
Nkounkou couldn't have been worse than Digne, or King than Richarlison. If Allan was fit for the bench, then he could have started instead of Doucouré. Play Keane alongside Godfrey and stick Holgate in defensive midfield instead of Tom. Play Bernard in place of Gylfi.
So, we were too conservative and put out a slow, tired team against a desperate outfit that is energetic and can ping the ball about.
Reading anything more into events tonight is a bit short-sighted.
Tom Harvey
105
Posted 14/02/2021 at 22:00:01
EURO PRETENDERS — NOT CONTENDERS!!!!!!
Firstly let me highlight the good: Tom Davies!
This kid is playing very well and was the backbone of that team until his ridiculous substitution – this is going unnoticed by many.
Ancelotti looked clueless on how to influence this game and his usual plan of Ali like "Rope-a-dope" letting them use us as a punchbag and bouncing back to get the win backfired tonight, just wait till Man City get us in the ring!
The team, other than Davies and Coleman were gutless tonight, James didn't want to know and the rest of them were sideways crabs. Ancelotti watched in a daze, did nothing and put out a team that did likewise.
Poor! Piss Poor!!
Keith Meakin
106
Posted 14/02/2021 at 22:00:03
I feel your pain, Mark.
Clive Rogers
107
Posted 14/02/2021 at 22:00:58
Shocking. Poor team selection. Best two central defenders both on the bench, no wingers. Why buy King then not pick him when Calvert-Lewin is out?
Coleman looked finished, Holgate can't pass, and Sigurdsson and Gomes can't tackle and have no pace. You could tell the goals were coming from the first minute. Couldn't believe there were no subs at half-time.
Jason Wilkinson
108
Posted 14/02/2021 at 22:02:09
So typical Everton. Have we done a deal with Sky not to upset their top six? Every time we have the chance to make a win count, something tangible, we throw in a shit performance like tonight.
It's not good enough to beat Spurs in an entertaining game if we can't battle against a side like Fulham. From the off tonight, we struggled to keep possession. Sloppy, predictable passing. Always trying to play directly to feet.
Richarlison didn't get into the game at all. Digne was isolated and got bullied off the ball. Holgate showed why he can't be first choice. He also showed he can't be considered to play in midfield.
Tom Davies was the only bright light in the 1st half. He tried to play on the turn. Shame none of his teammates could be bothered to give him options.
It's easy to blame Ancelotti but the players have to show more desire. We will no doubt look a different side against Man City. On the current evidence, we will lose that game too.
Mark Wilson
109
Posted 14/02/2021 at 22:02:14
If you don't think that result is mainly down to the manager, then you are taking the "Carlo is God" thing way way too far. This was no different to Silva, Koeman, or even bloody Allardyce! Terrible setup, an almost casual approach that screamed "Let's set deep, bring them onto us, then nick one from a breakaway or set-piece". Pathetic, absolutely pathetic.
I'm a big fan like most and think he's a great guy. But, you can't lose twice to Newcastle then give Fulham a record breaking win and, unbelievably, allow the likes of Bruce and Scott Parker to out-think you? What's the point?
Here's the thing: Which game should we have been holding back the best we have available for? The one against the rampant Champions-elect? Or the one against a bottom-three team totally adrift of safety after a weekend when results mostly went our way and 3 points would have gained us real momentum and top 5 spot?
Frankly, Man City on Wednesday shouldn't have mattered. Steal a point, brilliant, bonus. Today mattered much much more and this club failed again to recognise what matters most, and when.
You could tell from Duncan after the amazing Spurs result that the management, and I think players, felt that the cup was all that really mattered. Then came the draw and we all see how quickly that optimism can evaporate when your number comes out of the hat against the best team in the land at present.
Carlo may have expected slightly more from the players though his post-match interview didn't suggest that; he too seemed resigned that we were tired, so he won't have been too surprised by the result.
Of course, beat Man City midweek in one of two games in hand and it's all back on, I guess. But, if they can't get up for Fulham at home as the opposition are too lowly, then it's a disgrace that they can for a match vs Man City.
King on from kick-off, 4-4-2 and attack a team who haven't won at Goodson, ever. Play your best back four because, heck, we've had an extra day to recover from cup exploits and after all we did start Davies who ran the equivalent of a couple of marathons midweek and never once stopped that running.
I wish Carlo would have just stood up and said "I got it wrong and we were badly setup, too negative, no pace in midfield and no drive going forward". He's a hero and I still think we are lucky to have him but he's isn't god, he's fallible... and boy did we see that tonight.

Tom Harvey
110
Posted 14/02/2021 at 22:02:59
I am not interested in hearing about FA Cup fatigue, they should be rising to challenges like Fulham and a possible 4th place.
Kase Chow
111
Posted 14/02/2021 at 22:04:18
So that was pretty rubbish.
Awful team selection: 4 central midfielders 5 if you count James.
This meant no out-ball and no-one to pass to once we got in possession.
Just crap. Just when we get a chance to get above Liverpool we screw it up, as usual.
So difficult being an Evertonian...
Geoff Williams
112
Posted 14/02/2021 at 22:05:04
Holgate, James, Sigurdsson and Richarlison were the worst of a very bad bunch closely followed by Gomes and Digne. I have less faith in Olsen than Pickford.
Of tonight's team, only Davies, Godfrey and maybe Doucouré deserve another chance.
Mike Oates
113
Posted 14/02/2021 at 22:05:11
Ancelotti said 3-4 weeks ago the team play better sitting back deep, and it suits Mina and Keane as they lack pace. Well tonight he had our two fastest defenders as centre halves YET they still defend so deep, bringing back Davies to them, that it leaves the whole of the centre midfield open for Fulham to just bring the ball forward as easy as shelling peas – unbelievable set-up at home against a bottom 3 side.
You can't play Rodriquez and Sigurddson in the same team, both just slow the game down and it leaves us with no width at all. He dumped Sigurddson as the false No 9 after 20 min of not one attack; played him left, brought Rodriquez inside, and Fulham targeted Coleman as most teams do now. Doucouré was a physical wreck tonight, clearly not recovered from Wednesday.
All-in-all, an Ancelotti disaster night, with poor selection, useless formation and too late substitutions. He just spouted that we were physically shot and we didn't play to the game plan – same excuse vs Leeds, West Ham and Newcastle – Carlo at home, please go and attack with width.
Tonight should have been a front three of Richarlison, King and Iwobi. Behind them Davies, a fit Doucouré or Sigurdsson and Digne wide. Back 4, Holgate (provided he wakes up!), Mina, Keane and Godfrey. Forget Rodriquez, clearly not up for the Premier League intensity, injured again... oh dear.
City will take us to the cleaners on Wednesday!
Gary Willock
114
Posted 14/02/2021 at 22:05:15
Sooooo frustrating. Most bizarre season I can recall.
Glass half-full - quarter-final (maybe more), semi-final, and just a few wins from top 4 with just 16 games to go.
Glass half-empty – shit teams not only keep beating us, but they are making us look like relegation fodder and fools when they do. We will miss a golden opportunity because of this issue.
Carlo has massively improved our points total, but other than a few games here and there our performances sometimes seem as bad as always if not worse. Ball is a hot potato, no players to give it to.
Hopefully it's just going to take him time, but I think we need to find a way of beating lower teams quickly or it's mid-table mediocrity and "what could have been" once again.
Some final thoughts:
- Without a hard working right-midfielder in front of him (we don't have one), Coleman gets torn to pieces.
- This league needs pace, power and athleticism; playing all of Sigurdsson, James and Gomes together leaves us short in this area.
- If James wants to be a "quarterback", then you've got to play with pace and width.
- Rotating the back four is madness... pick your best four and keep it now until the end.
My team for next two (all being fit):
Olsen
Holgate Mina Keane Godfrey
Doucouré James Allan
King Calvert-Lewin Richarlison
Iwobi needs to come back into the mix off the bench too. He hasn't lived up to price tag, but he has attributes to help us keep the ball.
Paul Jones
115
Posted 14/02/2021 at 22:05:25
I assumed when it was announced that Mitrovic was not playing because of Covid – that was why we got no closer than 5 yards to an opposition player for most of the game.
Otherwise, if too tired after the midweek game, then how can these players think they are fit and good enough to play regular midweek games in Europe???
Like teams in the seventies – a team that flatters on a good day but will disappoint when expectations are modest.
Rob Dolby
116
Posted 14/02/2021 at 22:06:26
Worse performance under Ancelotti.
It looked like the players had never played footy before. We got lucky only conceding 2. Some really dire half-arsed performances. They can't have worked long on the shape in training.
The fundamentals of competing for 1st and 2nd balls just wasn't there. Tom Davies was unlucky getting the hook as I thought he was our best player in the first half.
Dropping the 2 senior centre-backs was a massive mistake. Godfrey and Holdgate are nowhere near the same level with their passing.
We needed fresh legs after the midweek game. So frustrating watching a team that will probably get relegated totally dominate us from start to finish.
I can't see us getting anything out of the next 2 games... in fact, playing like that, I can't see us scoring a goal – nevermind winning.
Mike Price
117
Posted 14/02/2021 at 22:06:43
He's an old man taking easy money. I've heard he watches training and then closes his office door with a glass of wine and a cigar and watches horse racing. As if he gives a shit about our club.
Moshiri's been taken again... which was obvious from the outset. The entire structure is a complete shambles.
Simon Dalzell
118
Posted 14/02/2021 at 22:06:59
Wow. I ran out of superlatives after Spurs. The total opposite tonight.
Not just hindsight. The selection looked awful before kick-off. How can a manager with his CV get it so wrong??? Not just selection, but in-game management also.
We seem to have had a string of managers who cannot react to situations. Of course, rotation has to be done in the current climate, but who in their right mind would have played Holgate and Godfrey together as centre-backs? At least one of Keane or Mina had to play for their ability, experience and being a goal threat. Lord help us...
Holgate thinks he's made it, swanning around like lord muck, passing to the opposition.
Surely King should have started, the balance was all wrong. Doucouré looked tired, Tom was doing akay and was taken off. James can be world class, but is so lazy. He bottled it tonight, and didn't even have the nous to limp off.
Sigurdsson was as bad as anyone. Why oh why wasn't the team changed at half time??? Mr Ancelotti, your career record is impressive. Today, you were catastrophic. Certain players should be ashamed.
Kase Chow
119
Posted 14/02/2021 at 22:08:37
Paul #103
Form goes out of the window before a derby???
Really? Really?
That's trite nonsense. We always finish below that lot and we never beat them. That tells me that form doesn't go out the window at all. In fact, the results always go with them and they usually finish above us.
I hate respinning the usual media phrases rather than just thinking about it...
Drew O'Neall
120
Posted 14/02/2021 at 22:08:37
Shocking performance by the manager. I've written him 4 commandments he can print out, laminate and keep in his pocket in case he feels the urge to get creative again:
1. Thou shalt not play Sigurdsson and James in the same team.
2. Thou shalt ensure Doucouré and at least one of Allan or Davies are on the field at all times.
3. Thou shalt not fuck up the balance by ensuring the correct ratio of passers to run-makers (Richarlison on his own is not enough of the latter).
4. When thou hast stumbled on a winning formula and thou loses a player, thou shalt not change thine whole formation; thou shalt just replace the missing player.
Tom Bowers
121
Posted 14/02/2021 at 22:10:47
I have said all season long that Everton lack a real leader on the field. After the first 15 minutes, you just knew Fulham had Everton's number. Press them high in their own half and they have no escape route.
Fulham came out with a purpose and Everton just didn't have a man in the middle who could really get at them and kick his own teammates up the ass to get them going. Hate to say it again but a Peter Reid or Alan Ball type would make a difference to this anaemic bunch.
Fulham will go down because they won't play a team who allows themselves to get mugged the way Everton did today. Carlo could be blamed to some degree for thinking the games against Spurs and Man Utd spelled a new Everton era but 8 goals against in those games plus mediocre performances before that against Championship bottom feeders showed up Everton's frailties.
God help us in the next two games.
Ian Riley
122
Posted 14/02/2021 at 22:13:08
After 10 minutes, I thought, "This is not right." At half-time, I thought "Phew, we got there." Expected changes and different attitude. Nothing!! Gutless, lazy, and a disgrace to the shirt.
I'm no football manager but Fulham have nothing to be afraid of. They are bottom 3 and can play with a free hand. They know our weaknesses, press and you should win. Again we let a less superior team run us! This was coming from the first 15 minutes and everyone could see it but the management.
Our best chance of fop 4 someone said. Not a chance! Top 4 teams work hard, run down lost balls and play each team as if they are top of the league! Today told us mid-table is all we can expect and deserve!
Tommy Coleman
123
Posted 14/02/2021 at 22:15:49
Another poor team that are more determined, fitter and sharper than us.
I give up.
Mike Connolly
124
Posted 14/02/2021 at 22:15:53
Carlo is lucky there are no fans in the ground – he would've been slaughtered.
Looking at today's game, I would swap our players for Fulham players. Maybe Carlo is not the man; he may have won heaps of things but I think he is coming to the end of his career.
Fans think Carlo will attract top players and get us into the Champions League. I for one would not like going into Europe with the shite we have.
Dreading Man City now...
Danny Baily
125
Posted 14/02/2021 at 22:17:57
Carlo messed up tonight. Plain and simple.
Their second going in just as the subs were made didn't help.
Sean O'Hanlon
126
Posted 14/02/2021 at 22:20:02
I wish people would stop chatting about qualifying for Europe. It ain't gonna happen.
Diabolical, disgraceful, rubbish!
Carlo, I think the burglars took more than your safe — they also stole your brains.
Michael Long
127
Posted 14/02/2021 at 22:21:36
Seen some bad and pathetic excuses of a performance this season, but this is the worst. I expected some players to be showing fatigue after the other night. Not from the first minute though.
Disgraceful performance. Ancelotti got it absolutely wrong tonight. Absolutely wrong. Three holding midfielders against a team who are in the bottom three at home and not a starting striker. Terrible tactics. But to not change anything at half-time was just horrific decision-making.
From the first whistle to last, there was no desire, no heart and absolutely no bottle from the players tonight. It looked like we were in the bottom three tonight and not a team that is supposed to be competing for top 4. No wonder the media look way down over us. We give them a reason to do it. Just a happy go lucky club that goes over the top when we win a game. Rather than keeping professional and focus oncthe next game. That's what top teams do. Something we are a million miles from.
Looking at some of them players tonight, they are a bunch of arrogant shithouses. Who think they're Billy Big Bollocks because we drew at United and beat a poor Spurs defence despite conceding four ourselves. No boundaries at all.
I never ever want to see Sigurdsson and Gomes in an Everton shirt again. Even if one of them scores the winner next week they still need to be fucked off at the end of the season. Poor players and deadwood players.
Holgate is not as good as people say he is. Just a bang average centrer-half at best. Coleman and his rally calls can do one too. Another player we kept for far too long like Osman, Distin and Jagielka come to mind.
James and Richarlison are good players on their day but it's only when they're arsed.
The club's mentality is still rotten to the core. I understand it is a 'project' season but, fucking hell, at least should be beating the likes of Newcastle, Fulham and Leeds at home.
Top 4 is over as far as am concerned. Just don't see the players having the bottle or mentality to compete for something prestigious. Especially the FA Cup. All I want for once is to see every player on the pitch give 100% on the pitch and look forward to opportunities to overtake the likes of Liverpool and Chelsea in the table and believe that we can actually achieve something. But I cannot see it. Especially with some players at the club and their egos.
Let's just get the next two games out the way and hope we put an effort in at least.
Craig Walker
128
Posted 14/02/2021 at 22:22:58
Nothing to say really. The awful thing is that it was all too obvious after the first 5 minutes. Just as we were laughing at Liverpool and lauding the likes of Sigurdsson, the curse strikes to bring us back down to earth.
We'll probably at least have a go at City but I've got players I've played with who would have done better tonight. We' would have at least put in some effort and tried to win the ball back. As bad as I've seen.
Tommy Coleman
129
Posted 14/02/2021 at 22:23:11
Another point: when we had Holgate at right-back and Godfrey at left-back, we were far tighter at the back. How many goals have we conceded since Coleman and Digne have returned to those positions? Keep Digne at left mid at least.
We can't play Sigurdsson, James and Gomes together, everything is just too slow.
Brian Murray
130
Posted 14/02/2021 at 22:24:04
Danny. You say "Carlo messed up tonight," as if it was an isolated incident. I just don't get how a Champions League level manager doesn't know a good player from an average replacement.
Maybe I'm missing something but I really want to know is it ingrained in Everton to get so far then fail or is it yet another blip? I genuinely want to know after decades of "It's just the Everton way."
Michael Lynch
131
Posted 14/02/2021 at 22:25:48
If Holgate was half as good as he thinks he is, he'd be captain of Man City. The lad needs a kick up the arse.
That was the worst 90 minutes I've seen from an Everton team in a long while.
Bobby Mallon
132
Posted 14/02/2021 at 22:27:14
Tom Bowers @121, it's 7 goals against, don't forget we also scored 8 goals as well: Won 1, Drew 1. We have lost 15 games from Carlo's 50.
Justin Doone
133
Posted 14/02/2021 at 22:29:23
Terrible, just terrible. 
Out-played, outf-ought, out-run and out-thought.
West Brom, Newcastle, Fulham, Leeds, sides we expect to win against have all outplayed us this season. You could add more to the list but the point is we again start slowly and struggle to retain possession. We help teams push up against us as we are too static. 
Without criticising individuals, we all know there is a lack of pace, energy, movement. "Backwards", a recurring theme. Players run back, the ball is played back, over and over. 
Today was a bad day. Team, subs, general play. But we have too many days like today. Gomes, Sigurdsson, James. All have good qualities but the three playing together isn't working.
They are too similar in lacking athleticism and need 'out' options, ie, other runners. When we had to dig in and fight against Leeds Utd, Man Utd, Spurs we play so much better. Attack quickly in numbers, defend quickly in numbers.
Maybe Carlo's player profile got nicked, but I can't understand starting the 2nd half the same after playing so poorly in the 1st half.
Another bad, backwards day!
Colin Glassar
134
Posted 14/02/2021 at 22:30:23
I'm not making excuses. I'm as sick, angry and disappointed as everyone else on here. That was a horrible, gutless, spineless, devoid of ideas display. No-one, with the exception of Olsen and Godfrey, can hold their heads up high.
It was also the performance of a tired team. A team knackered both physically and mentally. You play that game over and over again and I think you'll get the same result. They all looked like they had lead in their boots. Their bodies and brains just weren't reacting.
Maybe Carlo should have thrown in his squad fillers but, looking at him and his staff, the look was of acceptance. The tank was empty.
Not an excuse – just my take on things.
Benn Chambers
135
Posted 14/02/2021 at 22:30:42
I've calmed down a bit now from my earlier post but I'm still disgusted.
Carlo's team sheet and tactics were in that fucking safe. That's the only explanation for that Chernobyl of a fucking team selection.
Phil Rodgers
136
Posted 14/02/2021 at 22:34:17
Genuinely concerned now for the rest of the season. These players cannot be trusted to do their jobs. The manager got it all wrong tonight and we are now in complete disarray.
My advice, any time you have a good feeling or the slightest bit of optimism about Everton just expect the opposite. This loser mentality is entrenched in the club and I genuinely don't see it ever changing.
Dave Evans
137
Posted 14/02/2021 at 22:34:56
A pattern is emerging:
Carlo is telling the players to fight for a win every two or three games. The rest of the time, they can fuck about sideways and backwards like sheep frightened of the collies.
John Keating
138
Posted 14/02/2021 at 22:35:28
Justin @133,
Spot-on post.
Thomas Richards
139
Posted 14/02/2021 at 22:36:24
I always try to see something positive in our games. Nothing positive in that game.
Manager, coaches and players cannot be defended after watching that very poor performance.
Jay Wood
[BRZ]
140
Posted 14/02/2021 at 22:36:30
I presumed TW went into meltdown at the final whistle. Couldn't get on, just a 504 error message, so I'm surprised at so few comments.
Everton 0 Fulham 2. And we were lucky to get the nil.
That was awful, but you could see it coming straight from the first whistle.
Surprised at the starting line up including all 3 of Gomes, Sigurdsson and James. Two coming back from injury, the other played the full 120 minutes vs Spurs. None of them you can describe as capable of playing a high energy pressing game. So it proved.
Surprised also that Carlo didn't retain at least one of his 'go-to' centre-backs, Mina or Keane, but instead partnered Holgate and Godfrey together for the first time ever. It didn't work.
Someone above already used the word that crossed my lips about Mason Holgate. Liability. And not just today, for me. He is way, way off the standards he set last season Far too casual and lackadaisical in all he does.
Mason was lucky to stay on, quite frankly. Keane was as good as anyone with his forward passing when he came on, but that should not be his key role in the team.
Coleman and Digne were largely pinned back all game and so neutered. That came about because Fulham were very effective and relentless when we had the ball, whereas they had all the time and space in the world to play as they liked when in possession.
Surprised that, of the two holding midfielders who both also played the full 120 minutes vs Spurs, that Tom Davies was hooked and not Doucouré. Of all the Everton players on the pitch, Tom was the only one showing anything close to what he is capable of. Looking to receive the ball. Retaining it. Moving it on. Moving it forward! Getting in amongst them to close them down.
Doucouré, by contrast, looked half a yard off the pace all game. I honestly cannot recall one meaningful positive moment by the Frenchman all game.
Sigurdsson and Gomes improved marginally – very marginally – in the last 15-20 minutes, but nowhere near enough to what was required. Surprised and not impressed how quickly James wanted to be subbed out after a nothing tackle.
Up front, Richarlison had absolutely nothing to feed on. King's movement and finish for his disallowed goal was nice to see, but otherwise he was another grey man on the day.
I can only presume Iwobi is back to not impressing in training that Bernard got the nod in front of him. Iwobi had a very good game down at Fulham and his pace could have kept Fulham penned in a bit more than was the case and given us width.
The hard lessons learnt from the Newcastle game, which I'm sure they would have been reminded of during the week, seemingly forgotten.
Fatigue cannot be used as an excuse all for this performance. Winning teams overcome that. Embrace it. Expect it. Because playing twice a week means you are competing on many fronts because you are winning.
Winning teams don't miss opportunities like today. We've done it four times at home this season when a win vs Leeds, West ham, Newcastle and now Fulham would have seriously consolidated our position and made us genuine contenders for a top 4 finish.
For me, this is not about lack of technique, technical nous or fitness. We've shown we possess those qualities. This failing strikes me as more psychological, that we fold so easily as we have in those fixtures.
But let's also praise Fulham. They were excellent. Everything we wanted to see from Everton. They looked like the team challenging for a top 4 place. We looked like the team floundering in the bottom 3.
Everton. They don't half make us suffer.
Richard Mason
141
Posted 14/02/2021 at 22:37:22
Agree with everything in the comments. I think it's the first time I've switched an Everton match off.
Why not go out and try to win this one? Play your strongest team and a formation that works. Rest players against Man City then.
Sometimes you wonder: Is football fixed? How can you go from playing well to that?? That was the worst performance I've seen.
Paul Hewitt
142
Posted 14/02/2021 at 22:38:18
What a total and utter load of gobshites they are. Turned up thinking they would just win. Should be totally ashamed of themselves. Knobheads the lot of them
I'm fucking fuming. They won't give a shit.
Svein-Roger Jensen
143
Posted 14/02/2021 at 22:38:27
The mighty Fulham make us look like a pub team.
Ian Edwards
144
Posted 14/02/2021 at 22:38:57
Lots of criticism of Ancelotti on here tonight. Be careful as you're liable to get insulted by the Don Carlo fan club.
If we can't beat Newcastle or Fulham at home, who will we beat at home. No home league win since 19 December. Man City is going to be really ugly.
Jack Ledwidge
145
Posted 14/02/2021 at 22:41:15
The writing was on the wall about this match. Everton riding high were only 11/10 to win before a ball was kicked. Bookies are no fools. We have struggled all season with possession.
I remember the West Brom game. We were outplayed for long periods and our saving grace was their player being sent off. It papered over the cracks. Fulham away we were blessed to win it and they missed a pen.
Gomes tonight ran 12.5 km. The furthest of any player, but in a useless fashion. Most teams are dominating us and even Spurs on Wednesday night should have been 2/3 up before we scored.
I'm not paid Carlo's wages to sort it out but how come every ToffeeWeber can see exactly what I can see and yet we lurch through that 1st half knowing that, unless we change it, the inevitable is going to happen.
There were no leaders there tonight. I felt sorry for Coleman and Davies. They tried and have fighting spirit. I'm repeating myself from previous posts about Holgate. He looks as if he just doesn't care, chewing gum and smiling when we are 2 down.
A tactical sea change is needed. Allan will help but Carlo needs a good look in the mirror.
Paul Birmingham
146
Posted 14/02/2021 at 22:41:57
Kase, I respect your opinion, but in derbies, form doesn't always count, on the day, it's who wants it more on the day.
Takes guts and courage, let's see what transpires, on Saturday. Everton are over due in years for a performance at our old ground.
In football, teams don't give up up the ghost before the game and teams need to have deep faith and belief in their ability.
As in life and supporting Everton, to see each of the days with hope.
Facts show we have beaten Liverpool a few times, not enough, but now they are on a low, but typically Everton are now the inconsistent team.
Let's see, what this week brings.
Paul Hewitt
147
Posted 14/02/2021 at 22:44:50
I believe in Carlo. But nights like this give me serious doubts.
John Keating
148
Posted 14/02/2021 at 22:44:56
Ancelotti and the players deserve everything they get after that insult to the shirt and the Club.
Embarrassing... and there can be not one excuse from anyone.
Andrew Keatley
149
Posted 14/02/2021 at 22:46:51
It's just so tedious watching us habitually shit the bed whenever there is the slightest possibility of progress.
On some level, we probably all knew that another abject performance was a big possibility and that in itself is pretty damning. Is Carlo the chief architect of this shit-show – or are the players just happy to let the opposition out-run, our-muscle and generally out-manoeuvre us?
However many underperforming players we seem to move on, this lethargy and lack of energy and intensity seems to remain. When was the last-time that we dominated a side from start to finish in the way that Fulham dominated us tonight? Pathetic.
Nigel Munford
150
Posted 14/02/2021 at 22:46:56
I said in a thread last week, if we don't win our games in hand, then they ain't games in hand, and today proves that. We were this morning in a very good position in the league but...
Colin Glassar
151
Posted 14/02/2021 at 22:47:14
We are such a charitable club when it comes to other teams and players breaking their duck against us. Fulham hadn't won at Goodison in decades.
Our club motto should be, "Give me your tired, your poor, your huddled masses yearning to win a game". Apologies to Ms Lazarus.
Jerome Shields
152
Posted 14/02/2021 at 22:47:19
Haven't read any of the comments but the pattern was the same for the West Ham and Newcastle games. In addition, Olsen has a real problem coming off his line for crosses and organising the defence at corners.
In today's game, and the other two games mentioned, the right wing was the weakness. The Everton defender getting sucked in and the opposition play is able to run onto the released ball unmarked and untracked to cross unchallenged, even having time to shoot unchallenged, as was the case with the second goal.
Midfield was totally played off the pitch, with both James and Gomes both pushed deep, showing a weak stomach for the physical challenge. James even wanted to be subbed in the end. Sigurdsson supporting the attack was never going to get back and Richarlison never does. Fulham pushed up as they liked into midfield. In the final minutes, we were spared the sight of the whole Fulham team attacking, with Everton players looking on from the opposition penalty area, at least Davies, who was subbed, did try to put up a performance. Doucouré was poor and Holgate is still in post-injury form.
The attack consisted of long balls and wing play. Fulham, when attacked through the centre in the first half, looked vulnerable, but this only happened once in the whole game.
Everton relapsed back in to what Ancelotti calls 'no spirit', something as fans we are all well used to having seen Everton's progress flounder so many times as a result of it. These players do not deserve to p!ay in Europe. Lucky it was not 5-0.
I will be giving MotD a miss.
Andy Crooks
153
Posted 14/02/2021 at 22:48:05
Everton FC, the club always there to help the needy, in the community and on the pitch. That performance by the coach is nearly on a par with the Martinez show at Southampton. An utter shit show.
The consolation I take is the warped pleasure and hysterical laughter that sometimes occurs after placing an insane wager which predictably goes astray. Richarlison to score any time in the game. I did that.... I fucking phoned up and did that!!!
Laughter subsides.. another happy Monday. Back to normal Blues.
Michael Boardman
154
Posted 14/02/2021 at 22:48:41
Every team we play seem up for it. They seem more energetic, better on the ball and passing, but yet we seem to somehow get results (usually via some miracle that we defend well, or the sods somehow produce something).
By the same token, as fans, we see comments like "this is not good enough", yet one goal changes everything (recent examples Man Utd game, we got a last-minute equaliser, but to that point... and then Spurs, a totally out-of-form side, it was all shite until we won late on in extra time).
0-2 vs Newcastle and 0-2 vs Fulham is worrying – we'll still finish great and in a good position, but had we not turned some of the results we have had positively, where would we be?
I can't actually remember a game we have dominated this season where I think we've "lost" points, but can we say the same the other way, where opposition teams will feel the have been robbed? Yes, most definitely.
Jonathan Haddock
155
Posted 14/02/2021 at 22:48:44
Jay #140, totally agree with you on Holgate, I've not been comfortable with him the whole season. He's slower than you think, his forward passing is poor on the 5% of passes that don't go backwards. His positional sense is never on it. For me, he's the one defender who doesn't deserve a start.
David Pearl
156
Posted 14/02/2021 at 22:49:54
Leaving Digne completely exposed and expecting him to deliver from the left? Having Doucouré sitting and covering the right side when we couldn't get James in the game. Iwobi, Bernard and Nkounkou sat on the bench while the game passed on by with no width. If it's not working Carlo can't and won't change, he expects his players to.
This is the game we really needed to get 3 points from. Forget the Man City and Liverpool games. Piss poor home record. I can't even remember our last 3 points at home.
We can not play 4-3-3-, and especially without Calvert-Lewin. I don't even know what formation that was. Richarlison by the side of or in front of Sigurdsson meaning Gomes was covering left as Doucouré was covering right. That meant our midfield was wide open and ensured no width going forwards.
Carlo will attract players again maybe in the summer. Hopefully then he will have no fucking excuses because l have none for him. If we start off slowly we usually finish just as badly.
I'm also not having this "Gomes, James, Sigurdsson, Richarlison whatever can't play together" bullshit. They can if we have balance in the set-up. What we do always need is one of Mina or Keane at the back because it makes us impotent on corners and free kicks, both for and against.
Carlos charm is wearing thin on me. How many fucking times. Sort it out. Stop gifting points to shite teams and go out to win each game. No excuses. He was missing Calvert-Lewin. That's all.
Ian Edwards
157
Posted 14/02/2021 at 22:50:49
I've just used Italian to English Google translate to find out what Don Carlo is in English. It means Big Sam.
Soren Moyer
158
Posted 14/02/2021 at 22:51:20
Useless! Fucking disgrace! From the manager to most of the team! This was Fulham's first win at Goodison Park... ever!
A well and truly cleanup needed! Only 2-3 of current squad are worth keeping. The rest should go including our coffee-sipping-not-giving-fuck-all manager! Get Graham Potter in who actually knows what he is doing and has ambitions!
I have had enough of this club. Gomes, Holgate, Sigurdsson, Davies, Iwobi and even Richarlisson are not good enough!! You can't go places with this bunch of shite players! Get rid!!!!!!!!
David Pearl
159
Posted 14/02/2021 at 22:52:14
Oh, and on top of all that, Everton fucked up 3 of my bets and cost me over 𧽴. Silver lining... well Liverpool lost and Man Utd dropped 2 points. As it is, we are now playing catch up. Not a good thing to do.
Svein-Roger Jensen
160
Posted 14/02/2021 at 22:52:35
Is it first the time the Mighty Fulham have beaten us at Goodison????
Dave Abrahams
161
Posted 14/02/2021 at 22:54:08
I think the fact that quite a lot on here thought Davies was unlucky to be taken off speaks volumes of the tactics, formation and team selection of the manager — and not for the first time. You go for the 3 points playing the, supposedly, easy teams and worry about the superior ones when you play them. Can't swear on a Sunday, so I can't say anymore.
Tom Bowers
162
Posted 14/02/2021 at 22:56:34
Jack Ledwidge #145, you are so right. It's been a season of ups and downs alright but even the ups have been iffy. Losing to teams like Newcastle and Fulham is bad enough but the manner in which they lose is inexcusable for a team of highly paid dare I say ''professionals'' that Everton are.
We got very lucky against the RS at Goodison and they hate us for what happened to Van Dijk so it may be tough to escape with a point again and we cannot possibly hope for anything against Man City on this performance.
No two games are ever alike they say so who knows what will happen but it just seems like they keep blowing it.
Changing the back four is a no-no. Just look what has happened to Liverpool in recent weeks mainly through injuries which Everton haven't had.
Whilst it is unfair to question one area of the team the rest today were just on another planet.
The hardest thing the starting eleven did was take the knee for Black Lives Matter.
Everton should also take the knee for ''Everton Fans Matter''.
No words can really explain what we saw today.
Michael Boardman
163
Posted 14/02/2021 at 22:59:07
Ian (157). Big Sam also got results, and very nearly 7th place in his half-season. We got rid of him for being a dinosaur though (didn't we). Not sure he would have been given the leniency of playing defensively against Newcastle and Fulham, and get to quote "We need to be in Europe".

Ray Robinson
164
Posted 14/02/2021 at 22:59:26
How did Ancelotti think we were going to score tonight? No holdup man to replace Calvert-Lewin, no runners to carry the ball forward, no aerial threat from set-pieces.
I'm not going to go overboard about Ancelotti but his team selection was so obviously flawed. The potential problems were obvious to all except him seemingly.
One of the worst home performances I've ever seen in 60 years. Thank God I got my money back on my season ticket for today's match. Utterly pathetic.
Paul Birmingham
165
Posted 14/02/2021 at 23:01:17
Spot on Colin, the most charitable club.. Hence my reference to John Mitchell and Viv Busby, in 1975..
Scary that, more than most, Everton bottle the big games... if our FA Cup semi-final record is a benchmark for success, then it's a tough road ahead, and that's a fact. But we live in hope.
Thinking back, today was their day like our day at Elland Road when Rooney won us the game in 2002 after I recall 49 years since Everton's last win at Elland Road.
But until, in every game, every Everton player gives their all, for 95 mins, then it's snakes and ladders, and I live in hope eternal.
Josh King to bag a couple this week!
Dave Abrahams
166
Posted 14/02/2021 at 23:02:38
On another Everton website, Tom Davies is getting six times more votes than any of the other players, and a hundred times more votes than James, Gomes and Sigurdsson.
Mike Oates
167
Posted 14/02/2021 at 23:04:40
Ancelotti looked out of sorts tonight on his two post match interviews. It couldn't have been easy for him tonight after having his house burgled with his daughter in it on Friday night. To say his mind mightn't have been on this game since then is probably somewhere near the truth.
He looked floundered in the post match BT interview and the questioner actually said "Everton didn't look physically up for it, was it due to their 2-hour match on Wednesday?", which Ancelotti quickly agreed with, as he seemed short of ideas.
Then, in the second interview with the BBC, when asked what was the problem tonight, he responded it was a physical problem after 2 hours on Wednesday!!!! To me, it smacked of a guy not at the races tonight.
He went on to say he wanted to control the ball so he packed his midfield. Well, you can only control the match if you can move the ball forward through midfield, or through your wingers or full-backs overlapping, and on to your forwards. He had only one forward who couldn't even keep hold of any ball pushed up to him and his full-backs were pinned back and his midfield were either sitting on the back 4 deep line or were 2 yards short of pace to keep up with the game.
I felt tonight that the players didn't have a clue what they were supposed to be doing, where to play, who to mark, who was to show for the ball...
I hope Ancelotti recovers quickly, as I didn't think I saw a game tonight where Carlo was ever in control of it.
Svein-Roger Jensen
168
Posted 14/02/2021 at 23:05:52
Toothless, dysfunctional, and of no surprise.
Tom Harvey
169
Posted 14/02/2021 at 23:08:03
Traditionally, Liverpool are flying well above us before their home derby and looking how not to lower themselves down to our level of play.
This time around, they're down there with us and, to me, that makes them more dangerous. They're usually guarding complacency if anything going into derbies; this time they'll be hungry and I believe more up for it.
Bill Gall
170
Posted 14/02/2021 at 23:11:26
We all know Ancelotti is not leaving so calling for his head will not change things.
Today's game showed one of his weaknesses and that is a reluctance to change when his game plan doesn't work. It is difficult to name any two players who were having a good game after the first 20 or 25 minutes.
It may have been the game against Tottenham that made some players slow, but the manager should have changed a couple of players before they scored and not waited till after they scored. That gave them a boost, and an incentive to go for the three points.
We do not have a great squad but we have enough players in the squad that should have made this game against Fulham competitive; we did not. The question for the manager is: Why not? ... and Who's fault was it? To accept compliments, you have to accept criticism.

Don Alexander
171
Posted 14/02/2021 at 23:11:38
"Tired"? Tired"!! These millionaires inhabiting Finch Farm signed their contracts fully aware that they and we aspired to success in 38 league games, and 6 in the FA Cup, and 6 in the League Cup... minimum.
That's 50 games for which they need to be fully fit, injuries aside, and they all know it.
So don't ever give me "tired" from a squad of obscenely paid 24 professional players please, or their very comfortable ever-present, Kenwright-selected "coaches".
The truth is that they're just not fit enough, they're just not ambitious enough, they're just too comfortable on big money "doing it the Everton way". Which, to them (and just about anyone younger than 35) means turning up hoping to hell not to win anything to thereby increase the club's profile to such an extent that it might become attractive to winning players who'll terminate the chances of comfortable non-entities on the pitch and behind the scenes.
They really piss me off.
Svein-Roger Jensen
172
Posted 14/02/2021 at 23:17:17
It was a performance without intensity, without aggression, without getting the ball back, without counter-pressing.
In the 1st half, we were simply not on the pitch. It was not our level, I don't know why, but I can just say that it was not our level. In moving the ball, in possession, in counter-attack, in challenges, in intensity. By far, one of our worst games ever!!!!
Cristobal Aguirre
173
Posted 14/02/2021 at 23:17:26
After the first 30 seconds, I knew we would lose the match. It was too obvious.
The same performance as always when we have a suppossedly easy game. We lack quality, we do not have wingers or fast players. Our midfielders are the slowest of the league and Ancelotti insists on a defensive approach in our home fixtures.
Absolutely disgraceful but also absolutely predictable. And to make things worse, I am sure we will see the same story in all our "easy" home fixtures.
Jerome Shields
174
Posted 14/02/2021 at 23:19:43
Ancelotti set up Everton something the same as against Sheffield United, but the midfield were overwhelmed by a motivated Fulham, whilst Everton were a disgrace attitude-wise. Few Everton players were thinking of Europe.
Let Fulham enjoy it. They will still struggle with relegation. No other team will let them play like that.
Christy Ring
175
Posted 14/02/2021 at 23:20:17
Carlo messed up with his line-up tonight. Leaving Mina and Keane on the bench was a huge mistake, playing Sigurdsson as a false no.9, a player who doesn't like any physicality... why didn't he start King upfront?
Taking off Davies, who was the only midfielder putting in an effort, and bringing Sigurdsson back into midfield... unbelievable, what does he see in him?
As others have said Sigurdsson, James and Gomes together doesn't work, and was Seamus playing worse than Holgate? Definitely back to the drawing board, Carlo, for our next two games. Hopefully Allan, Doucouré and Davies in midfield for the Man City game and Calvert-Lewin back, but a huge setback tonight.
Tom Harvey
176
Posted 14/02/2021 at 23:20:22
Bill Gall @ 170
"We all know Ancelotti is not leaving so calling for his head will not change things."
You're right: calling for his head won't make the club change things... however, if Ancelotti turns out more performances like that in the coming matches, he might just put enough seeds of doubt in the Board.
Brands himself hasn't had his contract renewed and it's up this summer; this would be an ideal time for a full clearout. It's not impossible Carlo could go, this Everton side is looking very mediocre and too willing to ride its luck rather than act to influence the future.
Mike Price
177
Posted 14/02/2021 at 23:20:34
Digne should be sold whilst his price is recoverable, he's actually very average and slow, even though he occasionally wraps his foot around a good cross. Not fast enough, not big enough, not aggressive enough and not good enough. This is another long-term charity contract about to happen that will drag us down yet again!!
Svein-Roger Jensen
178
Posted 14/02/2021 at 23:21:02
Clueless, absurd & indefensible!!!
Paul Birmingham
179
Posted 14/02/2021 at 23:22:56
Back down to the derby mentality and winning your duels, and not giving away soft free-kicks.
Duellists, well I'd say we have all around duellists: Davies, Allan, Doucouré, Godfrey, consistently, aerial duellist Keane, blocking duellist Mina, and then you can split out the game of football in context of this Everton squad, but too many pretend footballers who'd be better equipped selling the Echo on the street corner.
Seriously, a massive U-bend scale result tonight, ahead of a tough run of aways and Man City at Goodison Park.
Surely this is gonna be a Man City 2012 result aka in this case instead of Darren Gibson, Josh King, but any Everton player, and Everton win the game.
Let's see which Everton team turns up, but hearts and minds are made in a team game by the manager and coaches.
Hopefully lessons will be learnt tonight.
Colin Glassar
180
Posted 14/02/2021 at 23:29:25
Mike 167, I agree.
The entire backroom staff look like they had given up after 30 minutes. The players looked tired and distracted. From the off, the stench of gloom hung over the place.
It was so bad, I was even hoping Iwobi might come on.
Paul Birmingham
181
Posted 14/02/2021 at 23:30:45
Svein-Roger, and Cristobal, spot on, I agree and, sadly the worst of home displays this season.
It's a squad game, and rotation excepted, today there was no passion, belief and guts to win this match.
For 90 minutes, Everton's players stood off Fulham and made them look like Vintage Barcelona.
Let's hope for better desire this week from the players and they are up for every duel and play for 97 minutes.
Kevin Molloy
182
Posted 14/02/2021 at 23:33:24
I also thought Carlo looked physically ill in the interview. I hope that burglary wasn't worse than is reported.
Cristobal Aguirre
183
Posted 14/02/2021 at 23:33:58
Olsen, Holgate, Keane, Mina, Godfrey, Allan, Doucouré, Davies, Rodriguez, Richarlison, Calvert-Lewin.
Any change in this line-up is a downgrade. Gomes should be sold immediately along with Pickford, Coleman (really sorry for him), Delph, Sigurdsson, Iwobi, Bernard and our players on loan except Kean and Branthwaite.
Aarons would be my key target plus two wingers, Isco and Olsen. Our line up next season should be:
Olsen, Aarons, Keane, Mina (Godfrey), Godfrey (Digne); Allan, Doucoure (Davies) Isco, Loftus (Rodriguez) Richarlison, Calvert-Lewin (Kean).
Svein-Roger Jensen
184
Posted 14/02/2021 at 23:34:46
This was our worst performance this season, especially in the first half. Everything was bad and I cannot find a positive thing to say.
The players were too relaxed. Maybe they thought we started off from the last match against them 3-0???
Jay Harris
185
Posted 14/02/2021 at 23:43:06
Congratulations to all who played today and the manager and coaching staff.
They have achieved something never achieved by any previous Everton regime in the league. Losing at home to Fulham.
Trevor Peers
186
Posted 14/02/2021 at 23:43:28
The tactics should've been simple tonight: go out and attack a team in the bottom 3, lacking in confidence, and destroy them.
What we got was some weird defensive set-up that invited Fulham to keep possession and attack us relentlessly. Worse still, these have been Carlo's tactics at home for most of this season in the league.
Managers don't like to change their tactics, as we have found out in the past with Silva and Koeman even Martinez. Therefore we can expect more of the same from Carlo each time we play at home. What an absolutely disastrous season at home in the league we are going to have to endure, unless there is a change of emphasis, to attack at home.
King should've played up front with Iwobi or Bernard on the wing. Only one of James, Gomes and Sigurdsson should have been in midfield. Elementary mistakes from a manager who should know better, but he has made and continues to make some horrendous mistakes.
Derek Thomas
187
Posted 14/02/2021 at 23:46:09
Everton bottle yet another 'big' game versus a team adrift in the bottom 3... I think Ancelotti had half an eye on the upcoming games.
Poor management decisions, poor team execution... hard to say which had the bigger effect. This could become a St Valentine's Day Massacre on how to blow 3 games in hand in a week... and if anybody is pinning their hopes on the cup game – dream on.
City haven't lost for 15 games, do we see Everton going there and doing a Fulham? Do we fuck.
The Liverpool manager, and since a week is a long time in football as well as politics, it could even be a caretaker manager – anyway, whoever it is, they haven't won in 8 games is it? We'll turn up, just like for Bruce of Newcastle, and gift him 3 pts.
If it does nothing else, this result should cheer up our neighbours across the park and their customers... makes it all worthwhile really...
And deep down, is anybody really surprised? No! That's the sad part... it's expected, nay, even compulsory maybe.
There's xGs and stuff... ladies and gentlemen – I give you... xBs: Expected Bottles.
Paul Birmingham
188
Posted 14/02/2021 at 23:49:45
Hopefully this display is the low tide mark this season, and will inspire better attitude and performance from the squad for the remainder of this season.
For me, now more than ever, it is time to appoint a new Captain as there is fuck-all leadership on the pitch, and especially when it's hit the crisis, and no ownership of responsibility, which is in most games in patches, and tonight, the whole match.
This is a serious issue, and the club will surely address. A few more like tonight, and it will be a tough end to this season.
But all considered, I hope the Ancelotti family are safe and well in view of the disgusting events last Friday.
Everton are on the up and, if the Achilles of winning league games at Goodison Park can be overcome, then, that is real potential and possibility, for this season and the future.
Svein-Roger Jensen
189
Posted 14/02/2021 at 23:52:42
Seriously think Goofy had picked a better team today!!
John Boon
190
Posted 14/02/2021 at 23:53:52
Team Schizophrenia... also known as Everton FC.
I am surprised that other Evertonians were surprised by the result. I have learned never to expect the normal.
I also won't be surprised whatever happens in the next two games. Remember we have donated points to the mighty Newcastle and now Fulham, and we should be really worried because we still have games against Sheffield Utd and West Brom.
Svein-Roger Jensen
191
Posted 14/02/2021 at 23:56:30
Every team must be licking themselves at the thought of playing at Goodison Park...
Brian Wilkinson
192
Posted 14/02/2021 at 00:06:26
Leeds away midweek, Man Utd home Saturday, 120 mins against Spurs midweek... was anyone expecting anything else with that set-up?
Should have freshened it up, Iwobi and King starting, possibly Allan, but when you take off Coleman and Davies, who were the only ones at least putting a shift in, then poor management. If anything, Holgate should have got hooked off, but to be a goal down and put a centre-half on is crazy.
Cannot do anything about the starting line-up once selected, but the three subs needed were so obvious: Allan, Iwobi or Bernard along with King. Why put a centre-half on, when you are chasing the game? Sacrifice a defender, but to put another defender on at home changed nothing.
Pete Summers
193
Posted 14/02/2021 at 00:07:25
I simply can no longer tolerate the negativity of fans of this site. Particularly those regular fools of the Live Forum. Some people need to have a long hard look at themselves.
I spent many years in the Upper Bullens with my late father sat in front of 2 old fellas who were the real-life versions of those guys in the opera box from The Muppets. My dad finally had enough one day and asked them why they bothered coming... they had no answer.
Tonight was an appalling performance, agreed. More appalling is the fair-weather support by those on here who seem to feel they are part of the obvious 'clique' in this site and therefore entitled to their mundane rhetoric.
Fuck You, ToffeeWeb. There are simply better balanced Blue sites now... thankfully.
Bookmark deleted.
Oliver Molloy
194
Posted 15/02/2021 at 00:21:25
Well, I got it totally wrong with my half-time prediction.
Too many below-par performances tonight, but special mentions for Holgate, who was awful again, and Rodriquez, who we all know is technically one of the best we have all seen... but, fuck me, he is a real pussy when things aren't going well.
We all don't know the full story of how the manager and his daughter are dealing with the burglary so he gets a bye from me.
We did look knackered.
Brian Wilkinson
195
Posted 15/02/2021 at 00:26:48
There are some decent posters on here, Pete; some will vent their opinion after the game, some will give it beforehand or even 5 mins into the game. I try to wait until after the game and give my opinion as a fan how I saw the game.
We cannot all agree, some will see things differently, some will agree, some will argue til the cows come home and be adamant they are right. I try to give a balanced view and see other posters' views.
What I put down comes from the heart. Often I may be wrong, but once I have vented what I saw, that is it for me, got it off my chest, forgotten before the next game.
For what it is worth, I thought Fulham played well tonight. Sometimes you have to take it on the chin. Hindsight is a wonderful thing, but I would have freshened it up tonight. Any of King, Iwobi, Bernard, Allan could have started.
The shocker for me was putting a centre-half on, after going a goal down. For me, we should have taken Holgate off, played with one less defender, and put either Bernard or King on earlier, then put Allan on. There was no need to put another centre-half on.
Jay Wood
[BRZ]
196
Posted 15/02/2021 at 00:26:59
Pete Summers?
Never heard of you.
If you're dumb enough to check into the Live Forum when it evidently upsets you, rather than focus fully on the live game, then more fool you.
Plenty of good content and positivity on TW. Always.
Always find it amusing when a poster grandstands and announces their 'retirement' from the site.
You won't be missed by this poster because you weren't even noticed.
Si Cooper
197
Posted 15/02/2021 at 00:39:45
Let's drop the anguish that Fulham have previously had a terrible record at Goodison Park. It's just not relevant as it's no guarantee that they will always be inferior.
I half-expected this performance, no matter who was picked, or whatever tactics were utilised. It seems we still have far too many players who can't get properly mentally prepared for the 'lesser' games. Whichever XI started, they simply had to be more switched on and sharper from the off. History tells us that this squad isn't good at upping the tempo of their play at will.
Whether it's the coaching, the players not giving the opponents the respect they should, or both, it has to be seen as unacceptable. Even if we were to win the next 2 games, I'll still be disappointed we didn't win this game.
You have to wonder whether the players feel the same or whether they'll celebrate like they've won the cup if we end up with 2 points out of a possible 9?
Phil Lewis
198
Posted 15/02/2021 at 00:51:21
I'm as disappointed as the next person, but we need to put this defeat into perspective.
Fulham are a decent side. They outplayed us tonight. They've drawn a lot of games which they should have won. Their league placing belies their ability. They have some very good individuals, notably Ademola Lookman. I've watched his recent performances on TV. He's a much-improved player.
Having said that, I'm sure that, on another day, with everyone fit, a different attitude, formation and battle plan, it would have been our victory. With the exception of Man City and one or two other teams, that's how fickle the Premier League is right now. Little separates those chasing Europe from those trying to fend off relegation. Anyone who thinks otherwise is fooling themselves.
Just because we've strung together a few decent results, people blind themselves with the false hope of a new dawn. The fact of the matter is that we are still at least 3-4 players off being a force to be reckoned with. Ancelotti knows as much.
It will take time. We could still pull off a Cup shock against Man City. We could still go to Anfield and beat Liverpool. Bigger surprises have happened in football. Admittedly not with the same approach as we had tonight...
Tonight was a shock result, but not entirely surprising. The mark of how far we have come under Ancelotti, is how the squad responds in the coming matches. Nobody has a divine right to winning matches. Give Fulham the credit they deserve. Put this setback behind us. Learn from it and every player prepare to do battle to make amends.
Kieran Kinsella
199
Posted 15/02/2021 at 00:55:15
I've had it. if Pete Summers is leaving ToffeeWeb then there is no point continuing with my "glass half-empty" existence. Goodbye forever!
Don Alexander
200
Posted 15/02/2021 at 00:55:44
Just like Dazza, our Jay "Nut" (as in Brazil) never misses an opportunity to use an entire post merely to denigrate another poster, and nothing more.
Why?
And Pete, you're opinion chimes with others and I'm confident most of us respect your right to express it.
Derek Thomas
201
Posted 15/02/2021 at 01:00:10
Phil @ 198; No, sorry, they aren't a decent side, they were
10 'kin points adrift at the bottom
Ten!!
We were that dogshit poor, we made them look like a decent side.
We also made the team they were 10 points behind look like a decent side too.
Ian Riley
202
Posted 15/02/2021 at 01:03:57
Had a moment to calm down, about 4 hours.
Today told us more about our season rather than the game. Firstly, no settled back four. Have one and build on it. A settled back four or five can bring success and structure to the team. Look at the team across the park. Back four unsettled by injuries. Whole team suffers.
There are games we carry players. Richarlison and James today were absent today. Davies tried but was let down by senior colleagues. Either we think we are good enough to perform at 60% and win or we just can't be arsed? Work rate at whatever level of football is crucial to getting results.
After the awful events the manager has had this week, you would think the players would have made his life easier and performed today.
Finally, our bench is poor as we can't drop certain players due to effort or form. This has to be addressed come the summer.
As much as we get a look-in at the top four, we are miles from it. Let's not kid ourselves, we are work in progress but still building on the foundations. An interesting few months ahead for our manager.
Phillip Warrington
203
Posted 15/02/2021 at 01:07:36
Typical! Every time Everton have a chance to break into the top five or reach a cup final we blow it. Maybe the Dutchman is right in one thing: maybe we are just a mid-table team who play out of their skin every now and again and give us fans hope that this is going to be the year.
Sorry to hear about the Ancelotti house being burgled, the person or persons who did it are real arseholes. As are anybody who burgles someone's house. Stay safe all.
Pete Summers
204
Posted 15/02/2021 at 01:13:47
Jay Wood,
You are one of the clique I am referring to. Your reactions may not be the negative ones I am referring to but they are very indicative of this 'club' within a club on here...
You've not heard of me?? Of course you haven't because I am just one of the fans... driven to comment for the first time on here by the crap I have seen written tonight.
Who are you, Mr Brazil?
My point is... why make this a fan site if it is the same folk banging on every week?
Just start a WhatsApp group if you can't handle truth from new blood.
Phil Lewis
205
Posted 15/02/2021 at 01:23:46
Derek #201,
I think you're missing my point, which is that – excepting City and a couple of others – there is not much difference in quality between the top and bottom teams in the division. That's why I'm saying results like tonight's are not that surprising.
Teams like Fulham, Burnley and Brighton are hitting form and playing decent stuff. It's not all kick and run like say, old Wimbledon style. That's why I said Fulham are a decent side. If you look at their results, they have drawn with so-called top sides and won against a couple. Nobody's battered them. Scott Parker has got them playing.
Unfortunately for us tonight, they had a game plan which ran all over our non-existent midfield and they executed that plan with precision. We could play them next week and overturn this defeat. I'm trying to point out that this is true of virtually all Premier League teams at present.
Ernie Baywood
206
Posted 15/02/2021 at 01:27:10
We can blame players but if you were to write out that team selection, can you then imagine a way we would score?
I can't. I can't see where it would come from. Clever through ball from James to Gylfi? He'd have to turn back due to lack of pace. Gomes never scores. Digne's crosses are a threat? But to whom would he be crossing? We didn't even have threats from corners with Mina and Keane out. What could Richarlison possibly do with no runners around him? I don't understand how we would ever score a goal with that selection. Not even a lucky one.
Surely a prerequisite to picking a team is understanding how they could possibly play together? How was this ever going to work?
Graham Hammond
207
Posted 15/02/2021 at 01:27:47
I just feel sad, very sad... and a little numb. In all honesty, I expected us not to win this one before the game kicked off; I thought we may scrape a draw at best... and so it sadly proved.
There was a genuine chance today to push on for a second-place finish and even that could not motivate this set of players, too little desire and intensity and need to win throughout. I placed my reverse bets accordingly, hoping I would lose my money today but the bookies and punters aren't stupid, the odds on the Fulham win were narrowing all the time.
It has been a shitty and harrowing week for Carlo but – for all the good he has done and for all the quality players he has brought in – he seems unable to motivate these players with any degree of consistency. Too often, there is little or no desire or intensity, as Michael Kenrick rightly pulled them up on at the start of his report.
Gomes, Sigurdsson and James all in the same team against mobile and motivated young lads? Not for me thanks,
I am with Trevor Peers and others on this: too many luxury players in blue there for my liking. I would sooner we had Lookman than James on that showing, that's for sure. A very sad day indeed.
Kieran Kinsella
208
Posted 15/02/2021 at 01:28:39
Derek @201,
Tony Abrahams and I commented before this game that Fulham have been playing well, conceding few goals and very unlucky. Their points tally doesn't reflect their performances. That doesn't excuse our non-performance but they actually are decent enough opponents.
Jay Wood
[BRZ]
209
Posted 15/02/2021 at 01:30:11
But... Pete.
I thought you'd flounced away for good?
So, let me get this right.
Your 1st post, declaring you are taking your leave of the site, is just that. Your first post ever on here, the open forum?
Am I missing something profound here?
Pete Summers
210
Posted 15/02/2021 at 01:42:45
Jay,
The Brazil location you need everyone to know about is akin to the owning of a library card not making you Yoda.
I will give you the last word..
COYB
Dale Self
211
Posted 15/02/2021 at 01:44:30
Pete, I wish we were meeting under different circumstances but pleased that you would show up when it's bad to voice support and concern. Your position and tone are much appreciated.
Andy Mead
212
Posted 15/02/2021 at 01:47:52
Up there with one of the worst performances in decades. Smith, Silva and Big Sam couldn't have done worse. You won't win games passing about at the back between the centre-backs and keeper every time you get the ball.
We were out-passed, out-fought, out-worked and totally dominated by a side that is in deep trouble in the Premier League. We made Lookman look like Ronaldo. Coleman was totally embarrassing and made to look like a Sunday league veteran.
Champions League? You're pissed if you think this clueless bunch will ever get there. And as for our "World class" manager, he had no idea how to stop us getting ripped apart on the right.
Totally fed up with this club ruining my weekends. Feel for Tom Davies. He was the only one other than Doucouré who was trying and he got hooked again. Seems to be the default sub.
We need a total clear out. Get rid of Sigurdsson, Coleman, Gomes, Bernard, Richarlison (he's been terrible all season) and rebuild.
Derek Taylor
213
Posted 15/02/2021 at 01:51:29
We were never going to finish the season higher than 7th and that is still within Carlo's grasp.
Trouble is he's prone to pick some crazy teams and is just about the worst decider of second half subs we have ever had to suffer.
No doubt if we have too many of these appalling displays, it will all be down to Pickford – not the midfield posers our genius manager likes to pick.
Pete Summers
214
Posted 15/02/2021 at 01:51:34
Thank you, Dale. I thought only the fucking Red Shite scrapped amongst themselves.
Jay Wood
[BRZ]
215
Posted 15/02/2021 at 01:56:08
Pete, are you randomly picking words out of a biscuit tin to form your sentences?
They're becoming increasingly incomprehensible.
Impressed by your football-free content, mind... whilst berating those who do talk about the footy.
Derek Thomas
216
Posted 15/02/2021 at 02:00:52
Phil @ 205; fair enough, they may be slightly 'on the up' compared to say September, but we still made them look better than they actually are – by being crap ourselves. 10 points adrift crap if we played like that every game, not just 1 in 5 or 6 or so.
Jack Convery
217
Posted 15/02/2021 at 02:02:39
I was speechless after the game but decided to have a doze and forget about it. My blood pessure needs lowering!!
My thoughts on the players are
Olsen – A No 2 all day long.
Coleman – given a difficult game by Lookman but kept at it and hit the post. Still, he needs to be a back-up right-back now, and not first choice. Played a really decent cameo as a right-midfielder vs Spurs. We need a new right-back for next season; it would be Lamptey for me from Brighton.
Holgate – appears to me anyway to be pissed he's not a first choice centre-back after last season. He missed pre-season training and has not kicked on this season. Looks lax on the ball and has a tendency to the rash challenge that will one day end up in a red card. Still the best alternative to Coleman right now.
Godfrey – despite looking knackered tonight, my Player of the Season and, as far as I am concerned, a better defending left-back than Digne. He would be my left-back for the rest of the season. With Digne ahead of him.
Digne – gets himself involved too often in a running battle with his opposite number instead of concentrating on his job, as tonight with Tete. When he's 100% on it, he's excellent. Right now, he looks better in left-midfield than at left-back. There is no partnership at all with him and Richarlison, as there was a while back with Bernard, despite the covering Richarlison does in front of him.
Keane – should be first choice centre-back every game unless injured or possibly nursing an injury, which might explain why he's being rotated and didn't start tonight.
Davies – playing well and did better than most of them tonight. Trying to play forward and not playing the safety-first option of most of his colleagues.
Doucouré – looked jaded and a yard behind the play most of the game... and who can blame after the Spurs game? Covered the space vacated by James and unable to influence the match at all.
James – unable to get into the game and, in my humble opinion, got himself subbed; I hope I am wrong on that one.
Gomes – appeared to have more energy than most of them and kept showing for the ball but only made one really good pass forward with a flick to Digne over the Fulham defence... was that the only time we got behind them?
Sigurdsson – one of his anonymous games, that we were all hoping were behind him. Why he wasn't rested and James allowed the No 10 role (or was it false No 9 role?) mystifies me.
Richarlson – starved of service and could not get into the game at all. After scoring against Spurs, I was expecting a lot more and I suspect so was he.
King – I liked his desire to get involved and he was a foot away from having a legal goal. I hope he plays versus Man City.
Bernard – I would have started with Bernard after the Spurs game. He must have felt up for it and maybe with him and Iwobi wide of Richarlison and King we would have had a lot more energy upfront.
Carlo Ancelotti – Not a good moment for him, given the burglary and the fact his daughter was alone in the house at the time. However, being a professional, he will be very disappointed with the performance and result, as we all were.
Fulham – thoroughly deserved their win. They had energy and an appetite for the game that Everton so sadly lacked.
Two big games coming up – will the real Everton please stand up! COYBs!
ps: Sometimes I wonder if Carlo is like that jockey who does not want his horse to get into the mix too early and waits until it really matters???
Pete Summers
218
Posted 15/02/2021 at 02:07:30
Oh Jay,
It was you who decided to make this about you.. My first post didn't refer to any one person. I was annoyed by the Live Forum crap I have seen many times. And I referenced 100s of days at Goodison Park.
You came at me... So Clarice... quit pro quo.
I made a point of this being a 'clique' and you snapped back that you never heard of me. I mean... who isn't getting what here??
Kieran Kinsella
219
Posted 15/02/2021 at 02:13:51
Pete 218,
The Live Forum features some who are little more than hooligans. I left about three minutes into the Spurs game due to the inane psychosis. A few in there are alright: Mike, Colin, Derek, but others seem like the type who'd mug you down dark alleys...
Dale Self
220
Posted 15/02/2021 at 02:17:23
Yeah, it's rough... but it's still Everton in there.
Pete Summers
221
Posted 15/02/2021 at 02:18:54
Positives:
Godfrey – heart of a Lion.
Olsen – just a bit better in stature and appropriate.
FA Cup quarterfinals and we are way beyond this time last season, points and outlook...
Negatives:
We could be top spot if our season kick-off form had continued...
With our new horizon with Carlo comes a heavier fall.
Do you want Marco with the last bit of Moyes... or Carlo with the last bit of Marco...?
We have fucking progressed!
Barry Williams
222
Posted 15/02/2021 at 02:20:20
It's a weird one this. I have no idea which Everton will turn up this season, and the only consistent team at the moment is Man City, in what is proving to be a weird season.
I didn't like that line-up today. For me, being an expert and all (sarcasm folks), Gomes, a Sigurdsson who's played 2 hours in mid-week and a returning-from-injury James, just didn't seem to offer enough legs to the team; but I thought that against Leeds too, and Everton won that!
What's happened to Holgate? I actually thought him and Godfrey would be a good idea today, but it didn't work out that way. For me, Digne has just come back from an injury, rest him after the midweek. Play Godfrey there, or take a chance on Nkounkou, at least for part of the game. Play King wide, put Richarlison in the middle from the off, and have Iwobi on for more legs.
It was a home game. I like Ancelotti, he is good for the club in many ways, but I just didn't understand that line-up today, so – maybe it is just me, and that's how football is, as it is not an exact science. But still, it's not the losing of a game, but the manner of the way it happened. I can understand the tired legs, but thought we could have come up with something better than that.
I guess it proves that this squad, not team, is not ready for the next level; and some!
Jay Wood
[BRZ]
223
Posted 15/02/2021 at 02:21:19
Erhm... no, Pete.
You have made it very much about you.
In reply, I have defended TW, the site, from the blanket condemnation of negativity you accuse TW and its 'cliques' you claim exist.
For someone who now admits your first post was literally just that – your first post ever on the open forum – and you used it to declare you were leaving TW (when in truth you have never been a contributor) and telling TW and all and sundry to Fuck You...
Well, it's been entertaining in a very comedic and surreal way.
And still not a single word from you on anything footy related.
Kieran Kinsella
225
Posted 15/02/2021 at 02:29:57
Barry
I'm not sure Carlo could have put out a winning team. Digne hasn't been in form for a while, Holgate neither, Coleman still has heart but not the legs, Nkounkou is untried, Mina is hit and Miss. James just didn't fancy it, Richarlison was pissing about offside, we don't have depth to cover all of their shortcomings.
Barry Williams
226
Posted 15/02/2021 at 02:37:35
Kieran Kinsella - 225
Yip, you may be right Kieran, still need a fair few in as the squad... just seems to be exposed when the fixtures pile up.
We don't know how much the team selection is also down to squad management, I guess.
But being at home, well, I just expected more! As an Evertonian, I should know better!
Alan J Thompson
227
Posted 15/02/2021 at 02:40:29
I've just finished watching the game and haven't read any of the other comments yet but Everton got that wrong on and off the park.
I still think Ancelotti is the man for the job but, the moment I saw the team, I wondered who would be playing up front with Richarlison and the answer was nobody. I couldn't tell you if Fulham's defence is any good as we didn't bother them and they didn't need one until the last 10 minutes.
Gomes spent the first half giving hospital balls to Davies. James was nowhere to be found, as was Sigurdsson, and Richarlison just didn't want to know. Holgate and Doucouré were absolute rubbish and I'd be happy if Holgate never plays central defence again, he just stands around watching.
It says something when, if looking for an Everton MotM, that the best were Davies and Coleman who were the only players putting any effort in, or one of their replacements in Keane who showed more creative idea than any of our much-touted midfield.
While I think Calvert-Lewin needs to work on some of his finishing, I doubt I will criticize ever again the work he does up front and he was sorely missed tonight but how do you hope to score goals if you don't put an attack out on the park?
Disgusted!
Jay Wood
[BRZ]
228
Posted 15/02/2021 at 02:40:34
Blimey Pete.
For someone who told all and sundry on TW to "Fuck You" and that you were deleting the TW bookmark and forever taking your leave of the site, you seem to be having trouble finding the exit.
Nice debating style. Liken another poster to the RS rather than genuinely engage. I think you'll find that won't go down well with the Ed's.
Christine Foster
229
Posted 15/02/2021 at 03:10:59
I was expecting the team to be a little jaded, but I was not expecting the attitude, for it was that above all else that underpinned the performance, or shall I say lack of it. The problem is we keep seeing it no matter how great we play in other games; even against Newcastle, we were better!
From a tactical perspective, poorer teams have sussed us out, press high and give the back four no time, high line of defence and everyone marking a man when they lose the ball.
The selection of James and Sigurdsson together should never happen. Two passengers when the cover is needed,; you can get away with one, never two...
Holgate for me is a weak link and always has been; last night ,he was utterly dreadful and frankly looked as if he couldn't care less. In fact, he personified the back four and midfield.
Going back not forward, no-one taking responsibility, no service to the forwards. You could count on one hand the number of times anyone in midfield played a killer pass. In fact, I don't think I need hands.
Carlo should have played King from the outset instead of Sigurdsson. Keane should have been in for Holgate, Allan should have had a half. We are losing and a centre-half is put on... Carlo – what were you thinking?
But above all, it looked as if we didn't want to know: no desire, no drive, no point. There is something still wrong in this squad, a lack of moral fibre... fight, steel – and it's either wrong players or wrong tactics. You can point at the manager but this has been with us for quite a while now and it's like moving deck chairs on the Titanic: it makes no difference.
So why is it some weeks we see brilliant movement and desire and other weeks, in lesser games, we don't? Commitment, attitude, arrogance, but above all, a total lack of commitment and effort. Not good enough. How do you coach players like that?
Answer... you don't. It was lazy "couldn't care less" football, played by players who didn't take responsibility to go forward.
Nicholas Ryan
230
Posted 15/02/2021 at 03:36:29
Our main striker, Calvert-Lewin, is injured: never mind, we've just bought a quick forward with an eye for goal, who will be the ideal replacement and is bound to start ... except he doesn't.
If Josh King is not going to start when Calvert-Lewin is injured, when is he going to start?!
Dick Fearon
231
Posted 15/02/2021 at 05:59:34
When asked by the anchor person 'Do you think Everton is a candidate for a European place?' both pundits instantly replied that our squad was nowhere near good enough.
The match commentators plus myself were puzzled when, in the opening minutes, a Fulham free kick 40 yards out saw our entire team make a defensive line in the 6-yard box.
Mal van Schaick
232
Posted 15/02/2021 at 06:17:55
Fulham played us off the park. They pressed high up the pitch all the game. They out-fought us, and wanted it more than we did.
Jeckyll and Hyde Everton. We don't know who is going to turn up at home games, but the manager should explain himself on team selection and tactics.
We had a great chance with games in hand to fill a top 4 spot if we had got this game right, but now that is cast in doubt because we just don't know which team will turn up.
John Hammond
233
Posted 15/02/2021 at 06:18:08
Angry? Yes. Surprised? No.
I just knew we'd struggle but didn't think we'd be that bad – it's becoming a habit.
Why we started Richarlison and Sigurdsson after the 120 mins against Spurs is beyond me. We could've started with a completely fresh frontline with King and Bernard coming in alongside James.
Yet again, when some above us drop points, we go and shoot ourselves in foot.
Jason Wilkinson
234
Posted 15/02/2021 at 06:19:58
I can't recall such a toothless performance. If I were Ancelotti, I would suggest they all donate a couple of weeks' wages to charity. 200 laps of all the Ironmen courses (another place), tide in or out, I'm not fussed. That was by far and away the worst show I can remember since some of the Arsenal capitulations.
Fulham played well. I'm not suggesting we should have battered them. The minimum requirement is to match the opponents for effort. Anyone suggesting they were tired needs to give their head a wobble. Our season looks like it will taper off with a whimper. I will predict an 8th placed finish. Out the cup in the next game. Another year passes by and we are also-rans.
No decent player would want to join this bunch of wasters.
It's the hope that kills you.
Laurie Hartley
235
Posted 15/02/2021 at 06:21:30
Serves me right -
"You have to be prepared to take the disappointment when it inevitably comes."
(Me). Deep down I think I was.
Roll on Wednesday
Michael Barrett
237
Posted 15/02/2021 at 07:13:30
Ben Chambers @74 – possible the best post I have ever read on ToffeeWeb, Nails it.
I couldn't post last night because the site crashed for me, just as well now, because I would have been banned for life with what I was going to say... but Benn Chambers says it a lot better than I could.
I wonder how the Happy Clappers will spin this on the run-up to the Man City game?
Svein-Roger Jensen
238
Posted 15/02/2021 at 07:19:32
Everton bottle it again!!!!!
Frank Fearns
239
Posted 15/02/2021 at 07:19:47
Great performance. Working quickly from defeñce with forward passing to the midfield player Reed who was always created space for himself with the opposition midfield unable to contend with his pace, skill and quickness of thought.
He likewise always looked for the forward ball to strikers who were again fast and linked up well and destroyed the opposition defence with two very well-worked goals.
The opposition looked lost and in a malaise and appeared clueless... sometimes passing back to the keeper from the halfway line.
Congratulations, Fulham, on that performance – you deserve to stay in the Premier League. As for the opposition... I'm speechless.
Jonathan Tasker
240
Posted 15/02/2021 at 07:27:48
Carlo out.
It's that simple.
I wish it was. Nobody will succeed at Everton with Kenwright still stinking the place out.
Danny O'Neill
241
Posted 15/02/2021 at 07:30:56
I don't know where to start; it's difficult to dissect a performance when the team (every single one of them) didn't show up. I felt angrier against Newcastle. I really don't know what to feel about that non-show.
Strange formation (not that I could work out what it was), strange tactics (ditto) and the players in a strange mood from the onset.
Strange.
The only positive I can cling to is that we haven't got all week to dwell on this and debate it.
We could have been sitting pretty. We're not.
I was thinking 4 points from the next 3 games (including last night) would be a decent return this week. We're Everton, why do things the easy way? It's going to have to be 4 points from the next 2 games then rather than having 3 of them in the bank already.
Svein-Roger Jensen
242
Posted 15/02/2021 at 07:32:43
Everton – the gift that keeps on giving!!!
Marc Hints
243
Posted 15/02/2021 at 07:32:56
I am not even going to be interested in Everton until a week on Saturday, because we all know the results against Man City and Liverpool, don't we?
I for one won't be watching after last night and feeling more upset and embarrassed this week.
Liverpool not playing well at the moment but you can guarantee that Carlo will play a team similar to last night and try for a draw.
Bobby Mallon
244
Posted 15/02/2021 at 07:35:11
Had a good sleep...
Wow, that was bad. Carlo got that game so wrong and it's solely on his shoulders.
Now... team for Wednesday:
Pickford
Godfrey
Keane
Mina
Digne
Doucouré
Allan
Davies
King
Calvert-Lewin
And, dare I say, Richarlison

Marc Hints
245
Posted 15/02/2021 at 07:36:23
And Carlo blaming fatigue last night absolutely annoys me.
If these players cannot play two, sometimes three games in so many days, then they should not be paid thousands!
Marc Hints
246
Posted 15/02/2021 at 07:37:12
Good team, Bobby, that's what he should've played last night!
Svein-Roger Jensen
247
Posted 15/02/2021 at 07:40:35
The cycle is well-rehearsed: make waves during the summer, build hype via high-profile transfer work, enter the season fresh with optimism... and come hurtling back down to earth pretty swiftly.
Already, we've seen numerous big-name teams tumble down the table, performing well below expectations, and some heads have rolled as a result. More, surely, will follow in the coming months.
Svein-Roger Jensen
248
Posted 15/02/2021 at 07:45:50
You can question pretty much every element of this Everton side. The defence was unbalanced and porous; the attack is so stagnant despite the luxuries it houses; personnel choices across the lineup can be questioned; and the team seems to wilt whenever the calendar presents an opportunity day.

Gary Willock
249
Posted 15/02/2021 at 07:53:22
Good team, Bobby, and certainly the kind of set-up we need to play for most games. Despite me picking a similar line up above, now feeling it be a little too bold against Man City and Liverpool to go toe-to-toe and 4-3-3.
Maybe back to basics time again:
Olsen
Holgate Mina Keane Godfrey
Iwobi Allan Doucouré Digne
Richie Calvert-Lewin (or King)
Unfortunately though, I don't think Carlo is ever going to drop Richarlison or not play one of James and Sigurdsson so, it'll be 4-2-3-1 with exposed full-backs, and isolated striker.
Duncan McDine
250
Posted 15/02/2021 at 07:56:11
Benn 74. You said everything that I was too pissed off to write. Fucking disgraceful team selection and performance. Ancelotti lost an awful lot of respect in this house last night.
Ian Bennett
251
Posted 15/02/2021 at 08:01:28
Just highlights that we are miles off Champions League.
Can you imagine what would happen playing Bayern on a Wednesday and a Premier League game at 12:30 on a Saturday? Gutless, but we just are nowhere near there when we have one or two injuries or we're asked to play two games a week.
Tony Abrahams
252
Posted 15/02/2021 at 08:18:19
We could analyze that until the cows came home and get nowhere, which is why that performance is on the manager's toes, because he hung a lot of players out to dry last night, imo. Everyone was raving about Sigurdsson's pass for Bernard's winner the other night, but it only happened because Bernard ran without the ball. Last night, Ancelotti picked a team of players that couldn't run without the ball.
Of course players are tired, but this tenfolds when you've got nobody in front of you running, and tenfolds again, when you're getting asked to do jobs that don't really suit you, and this was obvious after 10 minutes last night.
Gomes played in the same team as Sigurdson at Leeds, in a game that Everton played very well in, but the difference was we had balance, whereas last night we had none.
I'd find positives, I'd say our three midfielders have got to be Allan, Davies and Doucouré, and I still think we're getting closer to being a good team, but I'm not the manager, and I've got nothing positive to say about Carlo Ancelotti after last night's atrocious display.
Martin Mason
253
Posted 15/02/2021 at 08:19:58
I'm trying to be positive in life, the main aim being to stop drinking (difficult). I'm now going to do the most positive thing that I have never had the strength of will to do... and that is to stop watching or following football.
Barry Rathbone
254
Posted 15/02/2021 at 08:48:48
Hardly unexpected – this is what mid-table monkeys do – avoid relegation, win a few unexpected games, then fold like a house of cards when a win is expected.
My only advice to those posting "We'll beat these" is don't do it. Unwarranted "positivety" is delusion.
Martin Mason, sorry to hear you have issues with drink but it does explain things.
Mark Murphy
255
Posted 15/02/2021 at 08:49:15
Went to bed angry – woke up angry. Turned to the cricket to cheer me up - Good Christ, where's me razor blades?
Ian, I'm not about to jump ship for yours yet but last night was absolutely unacceptable from such an experienced manager and I'm not even going to try to excuse him. Taking off Davies and, to a lesser extent, Coleman was stupid and made us slower and less attack-minded.
We were sooooooo predictable last night, even with minutes to go – passing sideways or backwards. There was no visible attempt to take hold of that match and go for even a draw – let alone a result. It was cowardly from the players and the manager. We used to take the mickey out of Liverpool, saying that not only did the players know who was going to receive a pass, the whole crowd did, they were that robotic. We were robotic last night but we won't win anything like that.
We are better than we were... We should be better than last night, and Newcastle, and West Ham etc.
Your points, Ian, were totally correct last night (and in a few other games... but not all). All I would suggest is you drop the continuing Allardyce analogy. We get what you're saying but it's past its sell-by. We are well rid of Allardyce – Ancelloti certainly isn't over-achieving and is getting some games wrong, but he's 10 times the manager that charlatan is.
One final word from me – I expected Richarlison to lead that team from the front last night; he let me down even more than Carlo did. He needs either a kick up the arse or a spell on the bench. He should earn his ego.
Dan Nulty
256
Posted 15/02/2021 at 08:49:59
I am struggling to verbalise my rage at the performance last night. It was a disgrace to the fans, they disgraced the shirt, the club, the motto. They disgraced Moshiri who is paying them far too much money. I'm including the manager and coaches in this. Absolutely terrible.
This needs to be a watershed moment. If not, then it will be bye-bye, Carlo.
Tony Abrahams
257
Posted 15/02/2021 at 08:53:41
That's how bad it was last night Martin, because it's probably made loads of us question why we get so emotionally involved, but I've called you "the Duke" I was calling you "Tommy from Goodfella's the other night" but now I'm calling you Arnie, because I know that like the rest of us "you will be back!"
I'm lucky that I hate drinking in the house, I'd never drink again if the pubs didn't open, and although life is beginning to drive a lot of good/bad men insane right now, sunshine is hopefully around the corner, and that might come sooner than expected Martin, because if Everton win next Saturday night, that thing I said about never drinking again will be a big whopping lie, because I'll spend my night drinking, singing "WE SHALL NOT BE MOVED!!"
George McKane
258
Posted 15/02/2021 at 08:58:25
Did not want to write anything after that shambles but have to do it as a catharsis for myself.
I have written in the past few weeks about "something wrong at Everton". We seemingly have everything in place: Owner, Manager, Players... even other teams doing their best to help us up the table, but "something" not only stops us helping ourselves but seemingly puts us to sleep against very very ordinary teams.
Newcastle doing the double over us, Fulham (they are an average team, hence their League Position) , the sheer laziness of last night... complacency, incompetence from manager to players.
But worse was the absolute lack of any drive from anyone at Everton to see it was not working and to do anything about it.
I really thought that Holgate was going to be a regular after last season; not only is he playing woefully but he constantly turns his back to the play and to the ball, and strolls around chewing his gum. He is in good company though. I do not understand how anyone in any employment can do such bad work and seemingly not care about it.
I run Yellow House, a Charity using creative techniques with young people. I do a regular session called "Consequences" where we take an "action" that one of the young people have made. Then, using theatre techniques, we look at the consequences of the action and then redo the action knowing what the consequences are.
I would love to do some workshops with these lazy men. I would not accept some of these attitudes or performances if they were in Yellow House. A sense of reality needs to be shoved in the face of many of the Everton employees – who is going to provide that, I wonder?
Jonathan Tasker
259
Posted 15/02/2021 at 09:03:55
I see the "In Carlo We Trust" brigade out in force today.
Give him a few more transfer windows... bla bla bla.
I'm sorry but it doesn't work like that. In terms of punching above their weight, all of these managers in the Premier League are way outperforming Carlo:
Brendan Rodgers
David Moyes
Graham Potter
Scott Parker
Chris Wilder
Dean Smith
Sean Dyche
Marco Bielsa
It will be interesting to see the comments after the next few games.
Rob Hooton
260
Posted 15/02/2021 at 09:04:32
The only positive I can take from that is that the match was late on Sunday so they couldn't ruin my whole weekend with a dire 'performance'.
Holgate was woeful and should never play centre-back for this club again.
Davies seemed to be the only player trying to pass forward; maybe he was subbed because there was nobody for him to pass to so no point keeping him on...
Fulham were very good value for the win, though we made it so easy for them as they had all the time and space in the world to play.
I think Man City will absolutely spank us midweek, though who knows which Everton team will actually show up.
Shockingly bad, embarrassing to everyone associated with the club – we will never win a thing with most of these players. (Please prove me wrong!)
Mike Kehoe
261
Posted 15/02/2021 at 09:06:15
Although I expected us to shit the bed big time against Fulham, it was so hard to watch and incredibly frustrating; the only saving grace that it was Sunday evening so didn't ruin the entire weekend.
I do have faith in Ancelotti but I fully accept it will take time to make the changes needed. I can only hope he knows what he needs.
Kim Vivian
262
Posted 15/02/2021 at 09:07:53
Have we had a single apologetic word from any of that starting 11 or are they all hiding in shame? I possibly excuse Godfrey, and at a stretch Tom Davies, from that because they were the only two that seemed to care.
Great post George McKane.
Holgate is embarrassing himself – gum, red boots, fucking hair and eyebrow cut. If you're going to draw attention to yourself, at least back it up with some good football.
Lester Yip
263
Posted 15/02/2021 at 09:10:59
Again, we can't play out from the back when we got pressed. By Fulham, really? Seriously, Carlo needs to work on that.
I also find James overplayed sometimes in our own half when the ball was just cleared out. You don't need to play a killer pass in every single situation. Just clear the ball.
With 2 goals down, we still play the ball backwards and sideways? Just throw players upfront and cross the ball into the box!
Nick Page
264
Posted 15/02/2021 at 09:26:58
Kenwright's "too nice" Everton there yet again. We'll never do anything until this loathsome parasite and his hangers-on like Barrett-Baxendale are well and truly disposed of and the culture they have imposed on the club.
It's an absolute embarrassment. The club is crying out for a ruthless owner/manager/captain that simply won't accept defeat. And until that day comes, don't expect anything else. How dare you.
Brent Stephens
265
Posted 15/02/2021 at 09:28:04
No need for me to draw out at length the problems already identified - of team selection (3 snails in the middle; Mason's ship-wreck of a season...), substitutions (players and timing...), or the overall level of application...
It's just worse given that those heights of performance and results we've at times achieved this season just serve to raise our expectations (last night, justifiably so) and then accentuate the depths we can fall to.
If I can be allowed to get over this one so quickly and look for the positives and look forward, with just one point already made previously by others - while Mason has unfortunately regressed, Tom has been a revelation of late (as has Dominic). Tom has been far more than a stand-in.
I'm with the sentiments expressed by Tony #257. We'll be back!

Dan Nulty
266
Posted 15/02/2021 at 09:28:23
Kim, the only thing I've seen is Gomes on Twitter saying disappointing and they must learn from it and work harder.
I'm sorry, but hard work is the only thing I fully expect every week. It is a non-negotiable. Requires zero talent to work hard. Some of them need to hold their hands up and be honest that they just don't care.
Colin Glassar
267
Posted 15/02/2021 at 09:30:38
I see the Carlo Out brigade are out in force today. Yes, let's get Potter, Dyche, The Moyesiah, or Parker in etc... and after a few losses we can get them out and replace them with another saviour.
Yesterday's shambles was totally unacceptable from everyone. Gutless, spineless, defeatist – everything under the sun – but no-one can deny we are making advances. Our midfield needs a total rebuild. I know Gomes, Davies, Sigurdsson etc have improved recently but yesterday showed just how limited they are.
We are lacking strength in depth, eg, at right-back, right-wing, centre-midfield, striker(s). Yes, this does mean a couple more transfer windows, like it or not.
Alan Johnson
268
Posted 15/02/2021 at 09:37:56
Holgate??? What's happened to this guy? Last season, one of our best players. This season, he just can't be bothered. Strolling around, passing sideways, backwards. Lack of commitment. Leaves me baffled...
Mark Murphy
269
Posted 15/02/2021 at 09:38:00
Jonathan, you must be reading a different site if you think the "In Carlo We Trust" brigade are out in force. I have backed him all season but even I am appalled with him for that shite last night.
As for that list of managers – would you be happy if any single one of them came in to replace Ancelloti? Cos I think personally I'd finally give up and walk out on the love of my life, Everton FC.
I don't know what it is about Everton but we seem doomed to forever struggle. If Carlo goes, someone else will come in and do exactly the same – lose games we should win, blow chances we should take, win the odd game to build our hopes. In 50 years watching the Blues, I have never (with the exception of 3 years in the '80s) expected us to win.
Carlo fucked up last night – the players were shite as well – but it was Carlo's call and Carlo's fault – no excuses from me.
As for happy clapping up to the Man City game, I say, without reason or expectation – Up The Fucking Toffees!
Tony Abrahams
270
Posted 15/02/2021 at 09:39:54
I think back to when Everton last came 4th Brent, and imagine what Liverpudlians must have been saying, every time they lost a league game straight after a victory in Europe, and would imagine it would be very similar to the threads after our last two games of football, mate?
We have got some good players in our squad now, and some who still need moving on, and some others who might or might not be good enough. Although I'd lay the blame entirely at Carlo Ancelotti for last night, I still think we are moving forward, considering where we were when he took over just 15 months ago, when our mid-table monkeys couldn't beat anyone.
Brian Murray
271
Posted 15/02/2021 at 09:45:24
Nick post 264, couldn't agree more and sadly there will be many more nights like this until the mentality changes. I honestly don't think Carlo knows what this club is about and the underlying attitude. Or maybe that's not his problem.
Gerry Ring
272
Posted 15/02/2021 at 09:57:20
Watching James leaving the field "injured" summed up the night for me. I looked back on the incident; I could be wrong but there didn't appear to be any contact with his leg whatsoever. There are so many out there who would give anything to play for Everton. It was very disappointing!!
Nick Page
273
Posted 15/02/2021 at 09:58:25
Brian @271, that last night was the absolute epitome of Kenwright's Everton. Chastening defeat from the jaws of potential.
They say it's the hope that kills you but they're wrong. It's Kenwright. Long has his stench suffocated this once great club.
I watched Redknapp make his comments on Sky, on Saturday afternoon and I thought "You cheeky bastard"... but do you know what – he was right. Again. Like that horror Rodney Marsh was.
It's utterly despicable and Evertonians deserve so much more. But it won't change until He is gone and his cronies with him. Enough.
Brian Murray
274
Posted 15/02/2021 at 10:07:23
Nick, I got barred for saying what I really think (maybe said it too often). So I'll let you beat the drum... Ha ha.
Arsenal were dominating the Premier League with David Dein at the helm until he left, then it all collapsed when he left. No coincidence?
Every club needs a strong non-bumbling leader – doesn't matter if Pep is in charge and Messi is on the pitch!!
Alan J Thompson
275
Posted 15/02/2021 at 10:08:11
Some like to take positives from a game and the only positives I saw was how annoyed both Coleman and Davies looked when they were subbed. Davies hit the stanchion holding the net and Coleman looked as though he was going to rip the sleeve off that jacket.
I'd love to know the reasoning behind those two being taken off when they, and Godfrey, seemed the only players putting any effort in.
Tony Abrahams
276
Posted 15/02/2021 at 10:09:25
I shudder at Kenwright, Nick, but I was shuddering at Ancelotti last night though mate.
I know constantly playing matches is not easy for anyone, but we've got another "two big ones" in the next 6 days, and I just hope our manager doesn't get it so badly wrong again.
He rightly called the players out for their attitude against Newcastle, and they responded well, so hopefully now the boot is on the other foot. Ancelotti can pick a team and a system which can help us really compete in our next two fixtures.
Nick Page
277
Posted 15/02/2021 at 10:09:49
Tom Davies is one of the worst footballers I've ever seen pull on an Everton jersey. I wouldn't play the lad in my son's U13's. He's hopeless.
As for Gomes, he should be ashamed... once of Barcelona, he's just pure lazy. He never, ever shows for the ball. It's not even difficult.
And then add Sigurdsson into the mix and it's like playing with 8 men – which is exactly what it looked like last night. But, like I said, it's acceptable because that's the culture. I'm absolutely done with it. Thank God I had the '80s...
Dick Fearon
278
Posted 15/02/2021 at 10:10:48
We have seen it all before, previous managers resting key players for an 'easy' game to save them for one vs a top side... only to lose both games.
Carlo is no different to Moyes in that regard – plus a few other fools.
Paul A Smith
279
Posted 15/02/2021 at 10:12:14
I am a bit surprised at how surprised people are about Holgate. Last season, we were poor and it wasn't hard to look good with a bit of commitment.
Like many of his teammates he's not good enough and his cocky arrogance has got him through a lot of games, we were solid in anyway.
A right-back is essential this summer and yesterday Carlo should have spotted the damages a lot earlier than he did.

Jonathan Tasker
280
Posted 15/02/2021 at 10:12:42
Nick @273,
Yes it's Kenwright. Nobody will succeed whilst Kenwright continues to stink out the club.
But that doesn't let Carlo off the hook. He was never the right choice for the club.
One day, Kenwright will be gone.
Brent Stephens
281
Posted 15/02/2021 at 10:13:17
Tony #270. First paragraph so very relevant. Second paragraph, so balanced.
Brian Murray
282
Posted 15/02/2021 at 10:15:50
Them 12 points we basically threw away so far. Do you reckon Carlo really thinks that way or just shrugs his shoulders and says "It's a work in progress, need another window, yada yada..."?
Not slagging him I'm genuinely intrigued to know what his thinking and mentality is to Everton.
Nick Page
283
Posted 15/02/2021 at 10:18:53
Jonathan, I fear the Kenwright mob will be long in the tooth. He simply can't and won't give up the train set. And where he plays, they follow. It's disgusting.
The big actor has conned us all for so long. Bring any manager in, and his players, yet once you're okay with losing, which we are... it's all gone.
Bil Satis Nisi Kenwright.
Len Hawkins
284
Posted 15/02/2021 at 10:18:57
I posted after the Man Utd match that the first half against them was embarrassing... Well, the players, along with Carlo, put that one to bed yesterday: both halves were above embarrassing – they were a disgrace.
How many times do they have to give the ball away outside their own area, playing it out from the back?? They simply are not good enough to do that, the skill levels are abysmal.
And has Davies improved or the rest just dropped to a level that makes him look good?
Football is a simple game being made to look hard by incompetents from the top down.
Thomas Richards
285
Posted 15/02/2021 at 10:19:29
Paul A,
He's not good enough to start in a team looking to challenge top 4.
We won't be challenging this season anyway but, looking forward, he will make the bench if lucky next season. Personally, I would sell him.
Sigurdsson and Gomes are in the same boat, along with Seamus (sadly) — that's almost half of last night's starting outfield players who won't start next season.
Until then, there will be more games like last night.
Christine Foster
286
Posted 15/02/2021 at 10:26:48
I think the phrase "one step forward, two steps back" sums up the last week. Man Utd and then Spurs, dare we believe? Then the disgraceful, not even going to say 'performance' of last night.
With the benefit of hindsight, Carlo trusts his players to deliver, but this is a squad being replaced with good reason. In a season to come, I would expect many to have gone: Coleman, Sigurdsson, Pickford, Holgate, Iwobi, Gomes and more could probably be added. Take your pick with Richarlison even..
With the exception of Coleman, others have flattered to deceive, with the odd sprinkling of brilliance interspersed with anonymity... Lost in action.
Carlo is not stupid: he knows he has to work with what he has got until he can replace; he has to get the best out of them. Frankly, some days that's not going to happen, as he has found out... as others before him did. But he has to make them step up or ship them out.
Every game he plays with what he has, he gambles because there cannot be any trust in the players he sees given the performances they give. To those on this site who believe the manager is to blame, they are not yet the team he wants but the team he has. His skill to motivate can only take some players so far.
If you looked at the past 10 years of players bought by Man City, you would see a club with vast amounts of money willing to gamble on an additional 10, 20 players with potential – of whom, 2 or 3 make the grade, as well as a huge outlay on quality players with consistency. They play at higher levels.
We do not have that. On Wednesday night, we have to counter that with quality for one night only, with fight to run harder and compete. If that Everton show up, we will have a match, an even contest. That is Ancelotti's hope, that is our expectation. If we are to lose, then let them know who we are, let them know no prisoners, stand up and be counted. For yourself. For us. For our dreams.
Jonathan Tasker
287
Posted 15/02/2021 at 10:28:33
Brian @282,
Regarding Carlo, I'm getting the impression it's a case of turning up and hoping for the best. I have looked several times at the clip of Carlo when we got the 5th vs Spurs and that doesn't look like a person who cares.
I almost feel like, even when there are the occasional good results, it's in spite of Carlo and not because of him. What seemed like a great win vs Spurs now looks like a corpse being kept alive so it can be tortured at a later date.
Thomas Richards
288
Posted 15/02/2021 at 10:31:19
Christine,
Seriously good post that. Fantastic.
Hairs on the back of the neck stuff.
Michael Barrett
289
Posted 15/02/2021 at 10:31:34
Nick page... I missed that. What did they say, mate?
Tony Abrahams
290
Posted 15/02/2021 at 10:31:35
Definitely a work in progress, Brian? He probably tells his most trusted senior staff that he only really fancies less than half of his squad of players, but that's just how I'd see it, mate.
I wonder how much he blames himself for last night? I got in my car about five o'clock, it was blowing a gale, and when I shut the door, thinking about the game, I thought "Plenty of pot-shots tonight, Everton!
He's done this before, Newcastle away was similar, when I felt that Kenny and the young French fullback both got exposed that day, and sometimes when people say a player is shite, even though they might be right, sometimes it starts with the manager.
Have Coleman's legs gone, or was it because he never got enough help? Digne, who is definitely a player, suffered in a similar way last night, and sometimes/often a system can definitely make you look bad, especially when you're already a little bit tired.
Martin Berry
291
Posted 15/02/2021 at 10:36:05
James, Sigurdsson in the same starting eleven, only Richarlison who offers width but he was the main striker what do you expect.
We needed width with King up front and Iwobi and Richarlison on the flanks for an outlet, instead the game was compressed in the middle and they overran us.
The number of time Gomes for example looked up for a forward pass option but there was non.
Carlo got this very wrong as Fulham had a game plan and were energetic and deserved their win. Everton's extra time should not be used as an excuse – we had 4 days in between. We have 3 before we play Man City, God help us if we play the same way.
Anthony A Hughes
292
Posted 15/02/2021 at 10:36:23
I do like Ancellotti as a manager but I do believe the constant tinkering with the personnel (injuries aside) from game to game is disruptive to achieving any consistency.
I appreciate games are coming thick and fast but I think you need to keep a solid, regular core throughout the team, especially at the back and in centre-midfield.
Keane and Mina are our best centre-back pairing so keep that going, Godfrey has played his best football at right-back so keep him there.
If we are to include the mercurial talent that is James, then play him centrally in a No 10 playmaker role. Having him out wide does no favours to the full-back behind him.
Midfield is an issue but then we've always lacked pace and energy through the middle. Gomes, Davies, Sigurdsson and even Allan are all plodders and similar in style. With the present squad members, that area will be difficult to resolve to any real effect.

Brian Harrison
293
Posted 15/02/2021 at 10:42:41
I guess none of us should have been surprised at last night's result. Irrespective of manager or players, that's all this club has done for the last 25 years. Lets you believe and, just when you think that belief is going to turn into a reality, they snatch it away.
Fair play to Fulham – they are made up of rejects and journeymen, but they dominated the game from the first whistle to the last. I thought when we got to half-time level, that we may have dodged a bullet as they could and should have been a couple of goals up... but Ancelotti stuck with the same players and, more importantly, the same formation that failed in the first half.
That's 4 defeats in a row at home in the league, and it was the same story for those games as it was last night, with us starting slowly and getting worse the longer the game went on. I mean, we can't say we deserved to even get a draw in any of these games, so if you let Fulham and Newcastle dominate you at home, then you haven't got a hope-in-hell's chance of qualifying for a European place.
I am a fan of Ancelotti but last night was far from good enough, and he needs to get us playing more on the front foot than the back foot. The stream I watched last night had Stephen Warnock as co-commentator and, when Seamus was taking a throw-in, Warnock said you can hear the frustration in Seamus as he screamed to either Richarlison or James or both "Change your body language". Neither were up for it last night and both could have been hooked as could many others last night, well before Davies and Coleman were hooked.
Well all our eyes will be on our next 2 games, to hopefully see a reaction from yesterday, but it will take a monumental change for us to get anything out of the next 2 games based on yesterday's performance. I mean, if Fulham can dominate us I dread to think what Man City and the other lot will do to us. Without Calvert-Lewin, these games could be very embarrassing for us fans and, while last week I was full of optimism, I am afraid that has turned back to pessimism but that's what this club has done to me over decades.
Finally, I know many on here have slated Mina and Keane, and suggested because both are slow, that's why we sit so deep. Well, last night, we had our 2 quickest centre-backs playing and I have to say give me Mina and Keane. When Keane came on, he put in more forward passes than the whole back 4 had done all night, he played one delightful ball through to Richarlison, and even managed to have a header on target.

Mike Doyle
294
Posted 15/02/2021 at 10:45:14
Alan #275, Agree – I and would add Keane to that list for the short time he was on.
Davies & Coleman – whatever their shortcomings – were clearly trying and looked unhappy to be subbed.
The commentator on the stream I was watching claimed that, at one point, Seamus was shouting at James and Richarlison to "Improve your body language". Did anyone else hear this?
Aside from the fatigue excuse, playing Gomes and Sigurdsson and James in the same 11 doesn't work. I'm sure Carlo knows this.
Sean O'Hanlon
295
Posted 15/02/2021 at 10:46:04
Hi Barry (Williams).
Remember our discussion we had, when after 19 games we had 33 points? You reckoned that, after 38 games, we'd have 66 points (I predicted 55 points) – which is a fair assumption to make – for a reasonable football team.
We've played 3 games since then, and added 4 more points. If we keep this rate up, then, with 16 games left, we would have approximately 20 more points, giving us a total of 57 points.
After watching that abomination yesterday, I don't think we'll get more than 50 points come the end of the season. We have to play Man City twice, Liverpool, Chelsea, Arsenal, and teams like Brighton, West Ham, Spurs, Wolves and Burnley will all give us problems.
At the end of the season, when we look at our points tally, and performances, we have to ask ourselves is Carlo Ancellotti any better than our previous 4 managers?
Or will the usual excuses come flooding in: "He inherited a bad squad", "He needs at least 2 years." ... blah, blah, blah.
Barry, do you still think we'll have 66 points at the end of the season?
ps: We have the worst goal difference of the top 10 teams.
Pat Kelly
296
Posted 15/02/2021 at 10:47:17
James is a snowflake. A couple of tackles and he wants to go home. The Premier League is no place for him. The odd cameo appearance is all we get. We have enough of those already. Last night showed how far we've come. Flakey and not fit for Europe.
Ray Smith
297
Posted 15/02/2021 at 10:49:04
Christine @286, Excellent post.
With the exception of Iwobi playing down the right (I think there's a better player in there), with better players, you're 100% spot on.
Thomas Richards
298
Posted 15/02/2021 at 10:49:29
Sean @295,
Any chance of you giving us the Grand National winner, mate?
Tony Abrahams
299
Posted 15/02/2021 at 10:58:10
So you wouldn't blame Ancelotti for last night, Christine? No width, and players who probably wouldn't even compliment each other when fresh, getting preferred over last week's match-winner, and probably the freshest player in our squad, because Ancelotti doesn't appear to trust him.
I was honestly most disappointed in the team selection, very disappointed by the performance, and actually not that bothered by the result in the end, because, once the manager failed to change things whilst we were still in the game, I personally didn't think the result was ever in doubt.
Colin Glassar
300
Posted 15/02/2021 at 11:01:32
Christine 286, best post, so far, by a mile. It's like trying to squeeze the last bit of toothpaste out of the tube with this squad.
Let's be honest, how many players would you seriously like to see with us next season?
Defence: I'd stick with most of our defenders but have a serious look at Coleman (age), Holgate (attitude), Digne (defensive weaknesses).
Midfield: Doucouré, Allan and James to stay.
Attack: Calvert-Lewin
That, I believe, is eight (8) players I would definitely keep. The rest? Gomes, Sigurdsson, Davies, Bernard, King, Richarlison, Pickford. Some I'd keep as squad players but most I'd try and move on, if possible.
As for Iwobi, Delph and Gbamin, I'd cancel their contracts if necessary.

Mike Powell
301
Posted 15/02/2021 at 11:01:40
First of all, there is no excuse for that performance; Fulham deserved the win. We can't seem to play against teams that press us high up the pitch.
Do we practice passing in training, or are our players colour blind? Because they don't seem to be able to pass to each other.
Why oh Why do we keep passing it backwards? We must be the slowest team in the Premier League. I am disgusted with that performance. Sort it out, Carlo. There have been too many of this type of performance this season.
Brian Murray
303
Posted 15/02/2021 at 11:03:04
One thing Carlo will admit to is his defensive mentality which has served him so well over the years.
When we got it back to two each at Old Trafford, there was only one team interested in getting the winner. So if it's Fulham or Man Utd, the mindset can't and won't change... which is fine as long as – when you find a winning formula – fuckin leave it alone (defence especially).
I haven't a clue why the likes of me has to point out something so obvious to a veteran experienced manager who has forgotten more than I will ever know. Apparently.
Christine Foster
304
Posted 15/02/2021 at 11:12:33
Tony @299,
Ancelotti probably thought, the team he picked would do enough without the need for Allan or King, but he was wrong. His failure to redress in any way the disjointed midfield, the Holgate complacency, and the bewildering choice of substitutions, left me wondering what on earth he was thinking.
Somebody should ask him...
Brian Harrison
305
Posted 15/02/2021 at 11:15:14
Guys, am I missing something? How the hell has Kenwright got anything to do with what happened last night?
In case you hadn't noticed, we have had a new billionaire owner for 5 years who has another billionaire backer pulling the strings. This new owner has gone through 5 managers, spent hundreds of millions to be in exactly the same place as when he took over.
I don't give a fuck whether Kenwright is still here or not, he is only a bit-part player at best. Start pointing the finger where it should be pointed. Moshiri is in charge – it's his so-called trainset, as some keep going on about. So the people to blame now are our owner our manager and the players.
Dave Abrahams
306
Posted 15/02/2021 at 11:15:44
Christine (286),
Lots of truth in your post, as usual.
Just one thing. I've read your post twice, and usually you are so astute, but Christine – are you absolving Carlo from any blame for last night's fiasco?
I've got it down as another black mark for Carlo. He's got a few now, usually against the lower teams and at Goodison Park. After all, he selects the team and the tactics and use of the substitutions. He has got them all wrong too often, and I know how poor the squad is.
By the way, he has got a few good marks as well.
Christine Foster
307
Posted 15/02/2021 at 11:18:03
Okay, past my bedtime. Hopefully a good night's sleep will make up for the nightmare of this morning!
Dave Abrahams
308
Posted 15/02/2021 at 11:19:50
Christine, sorry, just saw your post @304. Looks like we were posting at the same time.
Your good judgement has been restored. Oh ye of little faith, that's me.
Christine Foster
309
Posted 15/02/2021 at 11:21:58
No, Dave, not absolving Carlo, just too bloody tired to care! I did say as much to Tony, he was seriously at fault but someone needs to ask him what on earth he was thinking...
Peter Mills
310
Posted 15/02/2021 at 11:41:30
I thought we played superbly, fast, aggressive, skilful football, I can't believe we lost, but never mind. And these new tablets I'm on are doing me the world of good.
Andrew Ellams
311
Posted 15/02/2021 at 11:41:52
Brian @ 305, spot on about Kenwright and Moshiri. I think people still want to blame the previous owner because, if they don't, it means accepting that the current one is not what we had all hoped when he arrived.
5 years next month he came in and has presided over one disaster after another. The sooner he gets his stadium built and sells up for his huge profit, the better, as far as I'm concerned.
Thomas Richards
312
Posted 15/02/2021 at 11:48:54
Andrew,
Do you think Moshiri should be doing the training sessions?
Pick the team maybe?
Can't work your post out, tbh.

Dan Nulty
313
Posted 15/02/2021 at 11:54:27
To be fair, Moshiri has put a huge amount of money into us. He has been badly let down by managers and Steve Walsh. I think the fact Leicester keep unearthing good players shows Steve Walsh wasn't solely behind their success.
I don't think the stadium will get built. We are a joke.
I can't believe how gutless the team is at times. With Man City and Liverpool coming up, we should have been out to steamroller Fulham. Disgrace.
Thomas Richards
314
Posted 15/02/2021 at 11:59:05
Dan,
Agree with all of your post.
Harsh to start blaming Moshiri. Last night was down to the manager and the players
Danny O'Neill
315
Posted 15/02/2021 at 12:11:33
Your second paragraph at 270 Tony; this.
Still a lot of work to do with this squad. Despite me purring like an overly content Cheshire Cat in the lead up to this game, I did say, that due to the thinness of the squad and continued limitations of some of the players in it, we will continue to have the odd "Newcastle" moment.
Well, I didn't expect it last night and I didn't expect it to be worse.
I'm still not going to even try to analyse the mess that was yesterday. The manager got the formation wrong (if there was one), the tactics wrong (if there were any) and the mentality was all wrong (back to fragile). It was bad enough that it started that way. How he failed to identify the blindingly obvious as it very quickly unravelled and change it is beyond even a mere mortal like me.
But we are in a much better place than December 2019 and, once the rawness of this goes away – quickly as we play Wednesday – many will see it that way too.
I now can't wait for the Man City build-up thread to start so it can replace what's on the TW front page as the headline. Funny what a difference a few days and a game can make; I didn't want the Tottenham one to go away.
They say those you love the most are capable of hurting you the most. Never a truer statement.
Ian Horan
316
Posted 15/02/2021 at 12:19:46
Yesterday's performance was a catalogue of: exhausted players, taking the opposition too lightly, and (I must admit) the wrong tactics from Carlo.
We played too deep, Richarlison was isolated with no service or support, and finally, we cannot field a team with Sigurdsson, James and Gomes in the starting 11. They aren't athletic enough.
I can actually see an Everton backs-to-the-wall performance against Man City and punching a point. That would be so Everton...
Andrew Clare
317
Posted 15/02/2021 at 12:32:49
Quite simply, our tactics were totally wrong. Okay, maybe the players were off-colour but it was our set-up that cost us the game.
After about 15 minutes, it was clear that a change in formation was required but nothing was done and the game was lost.
Disappointing... but I still think that we are on the right track and Carlo is the right man for the job.
Barry Williams
318
Posted 15/02/2021 at 12:33:23
Sean O'Hanlon - 295
And a good morning to you too sir!
As previously said, I might be wrong; you might be right! Only time will tell. I said on track for 66 points, not reckon – there is a subtle difference.
I am sure you hope I am right though, Sean!
However, mate, you seem to want to engage me on a bit of an online argument... not interested in that. Just discussion. I don't do the keyboard warrior thing.
It's a really weird season, very unpredictable, so who knows? We are 3 points off 4th, with games in hand and in the quarter-finals of the FA Cup.
I am sure we both want Ancelotti and Everton to be a success!
John McFarlane Snr
319
Posted 15/02/2021 at 13:03:36
Hi Dave [306],
You and I have seen many games over the years but I can't recall one as bad as last night's, the ones that spring to mind are the Bradford City and Tranmere Rovers FA Cup games, and the Ian Rush, Glenn Keeley [5-0] drubbing. There will be others no doubt, locked away in the back of my mind...
Regarding last night's fiasco, yes, Carlo Ancelotti must accept some blame for his team selection, but I think to blame him for the lack of effort is unfair. I'm trying to imagine his pre-match instructions if he was the culprit. I think it would go something like this:
"Let's have none of this self-pride and motivation nonsense, stay as far away from your opponent as you can, don't attempt to tackle, but, if you do accidentally win the ball, pass it immediately to a member of the other team."
I suppose the point I'm trying to make is that, once a player crosses the white line, the only influence a manager has is to convey instructions verbally.
Ian Edwards
320
Posted 15/02/2021 at 13:08:04
I agree with Jonathan 259.
Ancelotti has no experience of taking over a mid-table club and improving it. He's way out of his depth and it is showing badly at home.
Andrew Ellams
321
Posted 15/02/2021 at 13:11:31
Thomas @ 312, Moshiri employed Koeman, Silva, Allardyce, Ancelotti, Walsh
and Brands. So yes, everything that happens on the training ground and the pitch is on him.
Brian Harrison
322
Posted 15/02/2021 at 13:23:57
I know Ancelotti is always very calm, and probably last night at half-time we needed a more Alex Ferguson cup-throwing tantrum than some measured words.
I would have thought he might have been better served to tell Duncan Ferguson to go in and give them what for at half-time... this lot need a real kick up the backside after that performance.
Ian Edwards
323
Posted 15/02/2021 at 13:29:40
Brian 322. It was also Ancelotti that needed a kick up the backside. I'm not sure he cares. Sipped his coffee and didn't bat an eye when we scored an extra-time winner.
Anyone that cared wouldn't make the same team selection and tactical errors re West Ham then Newcastle then Fulham.
Sean O'Hanlon
324
Posted 15/02/2021 at 13:33:07
Colin, #267.
It is very admirable of you defending Carlo, but people have a right to their opinion. Everton are not Bayern, Real Madrid, PSG, Juventes etc. We are Everton. We do not have the quality in the squad for rotation.
I don't buy this "resting players" nonsense. Every professional sportsman would rather be playing than training. He luckily hit a good combination with the back four, a few clean sheets, Mina and Keane getting a couple of goals, and what does he do? Rotate!
The defence has gone downhill since then, conceding 9 in the last 3 games. Yesterday, he subs Davies, who was the best in midfield (of a bad bunch) and Davies's reaction said it all.
Coleman comes under criticism, yet what other player had a shot at goal, and actually hit the woodwork? Seamus at least moves forwards, instead of sideways or backwards.
Carlo will lose the dressing room judging by players' reactions recently. Rotation is affecting players' confidence, and their form, and Carlo does not see this. His decision-making is very questionable.
Why didn't he start Allan and Josh King? They were on the bench, so are fit to play. I'm afraid we have another Martinez-Koeman-Silva type manager...
Mick Conalty
325
Posted 15/02/2021 at 13:33:40
John #319,
Are you saying Carlo has lost the dressing room?
If so, he has to go???
Soren Moyer
326
Posted 15/02/2021 at 13:42:49
Fulham a decent side!!!!?? Take a look at the table and their results!!!! How can they be decent?
Tony Abrahams
328
Posted 15/02/2021 at 13:43:55
Jonathan @287, that's hilarious that mate, Stockley Park would do well to employ people who scrutinize things as well as you, mate.
Didn't you get Carlo's little smirk when you slowed it down!
Sean O'Hanlon
329
Posted 15/02/2021 at 13:44:44
Sorry Barry (#318), I didn't want to give that impression.
You're quite correct: I do hope you are 100% right, and Everton reach 66+ points. I also wish Ancellotti the best of luck. But, after recent performances, and Carlo's decision-making and team selections, I don't believe Carlo is the man for Everton.
I measure his performance on results and, in our recent discussion, we looked at the second half of the season, and how many points we thought we'd get. So I am using the last 19 games as a yard-stick, to see if our performance do improve or deteriorate – and with the teams we have yet to play, I am not optimistic. Cheers.
Christy Ring
330
Posted 15/02/2021 at 13:51:15
Carlo praised King for his performance last night. I still cannot understand why he didn't start him. Playing Sigurdsson as a false No 9, their centrebacks must have been sniggering, he was never going to have a physical confrontation.
Davies and Coleman were fuming coming off, and who can blame them. They were wearing their hearts on their sleeve, he put Sigurdsson back into Tom's position, a total waste, no effort whatsoever. Holgate was a disaster, and James couldn't wait to be subbed.
Fulham were always going to be up for it, but sadly we have passengers who don't put their foot in. I can't see how some are blaming Moshiri; he's spending his money trying to get it right.

Tony Abrahams
331
Posted 15/02/2021 at 13:58:39
I hope Fulham stay up, Soren. Although they were dreadful at the start of the season, they've definitely picked up now, and have been in a lot of very tight games since September, with only Man City and Leicester City (who they've also beat) beating them by a two-goal margin.
The gist of this thread covering last night's game isn't really about Fulham, though, it's about how poor Ancelotti and his team were. That's the much bigger concern for most of us.
Mike Connolly
332
Posted 15/02/2021 at 14:12:10
Whatever manager comes in, we still end up playing the same. I think it is down to the previous managers signing players on big contracts. So the next manager is stuck with them. So, like a virus, it streams through to every manager. Look at the way we play – you could not tell the difference between Martinez, Koeman or Silva and probably Allardyce.
The vaccine we need is clear everyone out. Bring in 15 players that have had nothing to do with the club. (No mix-and-match with the players already here). And then hopefully eradicate the virus that has hampered the club for years. If not, it will be same old Everton for another few decades...
Bill Watson
333
Posted 15/02/2021 at 14:13:46
Sean; who are your suggestions for a new manager?
John McFarlane Snr
334
Posted 15/02/2021 at 14:16:39
Hi Mick [325],
No, I'm not suggesting anything of the sort. What I'm saying is that he can't be held responsible for every decision a player makes. For example, he has no control over a player who misplaces a pass, or a player who shoots when he should pass.
Yes, he is responsible for the player being on the pitch but, when the player crosses the white line, the manager has virtually no control whatsoever.
Peter Laing
335
Posted 15/02/2021 at 14:19:49
Interesting debate, from various posts the blame seems to lie at:
A) Moshiri
B) Ancelotti
C) The players
D) all of the above.
I personally go with D, all of the above. I would also add in another (excuse) for our poor home form - lack of fans / atmosphere. Convenient, true... and, in true Everton fashion, we once again blow a glorious opportunity when the chips are down. So, looking at last night's debacle, it is clear that a number of things went wrong. Formation, personnel, fatigue, mental fragility.
Ancelotti says his ambition is silverware and I believe that he is true to his word. He has also questioned whether this current squad is ready to match his ambitions; on Wednesday, they answered that question but were again found lacking last night.
Personally, I think Carlo deserves to receive backing; he needs more money and a bigger clearout of the squad. We need a new keeper, right-back and a forward for starters. Probably another midfielder / wide player. He's been here for a year, there has been improvement but it has been staccato, it's bound to be.
Brian Murray
336
Posted 15/02/2021 at 14:26:45
Mick @332. You are right in that we need a total new broom and clear out all or most of these that are associated with this club. I see you failed to mention the biggest elephant in the room. I'll let you fill in the gaps...
Brian Harrison
337
Posted 15/02/2021 at 14:28:00
Peter @335,
You used to post on a regular basis but that's the first time I have seen a post from you for ages. I agree with everything you say in your post.
Barry Williams
338
Posted 15/02/2021 at 14:31:51
Sean O'Hanlon - 329
No worries mate, we can easily mis-interpret things on here.
I respect your opinion and many share it. For the record, and I have gone on record saying this, I thought that team selection was just not right yesterday. He definitely got it wrong there.
But yes, we all want the same thing to a large degree.
Soren Moyer
339
Posted 15/02/2021 at 14:35:16
Colin #300. My thoughts exactly. Get rid of those ASAP!
Sean O'Hanlon
340
Posted 15/02/2021 at 14:38:08
Bill (#333),
Mr Duncan Ferguson.
Tony Abrahams
341
Posted 15/02/2021 at 14:38:35
Brian @337,
I'd say what Peter wrote is probably the best thing written on this thread. It depends on how we see things, of course, but it resonated with me that post Peter, even if I was shocked with our manager last night.
Dennis Stevens
342
Posted 15/02/2021 at 14:40:51
Hear, Hear, Peter! #335. Very well put.
Soren Moyer
343
Posted 15/02/2021 at 14:41:32
Tony #331. I'll be keeping a keen eye on Fulham's next results, my friend.
Mike Connolly
344
Posted 15/02/2021 at 14:43:37
Brian @336,
I don't even think Chester Zoo could take that Big Elephant in the Room from us.
Tony Abrahams
345
Posted 15/02/2021 at 14:48:35
So will I, Soren, in the hope that they stay up, and that life starts up again. It's always a pleasure going to Fulham, especially when the sun's out, with that little walk along the river, which will never be taken for granted ever again!
Sean O'Hanlon
346
Posted 15/02/2021 at 14:53:24
Thomas (#298),
I did fancy Toffeemen, ridden by C Ancelotti, but just heard it's been withdrawn from the race. The horse is too unpredictable, and was pulled up in several previous grade 3 outings. There are fears now, he'll unseat his rider in future races.
For Grand National, Burrows Saint (Willie Mullins trained) is 20/1 now, but word from the stables is odds will shorten nearer the race.
Peter Laing
347
Posted 15/02/2021 at 15:02:25
Thanks Brian, Tony. I haven't posted for a long while. Probably a combination of factors – after Silva and the previous false-dawns, my patience with Everton kind of run dry. I still go the game (until Covid) but became tired of the analysis.
Since Moyes we've had every combination – manager with promise and who had won silverware but presided over relegation; Big name in the game but unproven as a manager in Koeman; firefighter and charlatan in Big Sam; untried rookie in Silva. All disasters in their own right, accompanied by a billionaire without a strategy.
Fast-forward to Ancelotti, proven as he's won everything in the game. However, Everton is his biggest challenge as there is so much that needs to be put right. I honestly believe that he's giving the players a chance, he did the same after the lockdown. He's been fair, he's shown them faith and discarded those who he knows have nothing to offer. Many of them are on big contracts that well pre-dated his arrival. This is the modern football: players rule and can work to rights and have a manager sacked in no time at all.
Patience is a virtue and it is in short supply at Everton. It's also in short supply if you look at Arsenal with Arteta, Ole at Man Utd, Jose at Spurs, and dare I say Klopp at Liverpool.
Back Ancelotti – at the moment, we have no alternative.
Tony Abrahams
348
Posted 15/02/2021 at 15:06:10
I wonder if they'll open the bookies and the pubs for Cheltenham and Aintree? No free bets this year, just free vaccines, and the greatest gift of all, enjoying life!
Steve Carse
349
Posted 15/02/2021 at 15:13:47
One of the more obvious changes that could have been made on Sunday was to move Coleman upfield to play wide right. You'd have thought after his performance in that role against Spurs that it would have been a change that Carlo Ancelotti would have at least considered when deciding to bring Keane in and shifting Holgate to right-back.
But, there again, I've stopped trying to work out his thinking on all aspects of team selection and substitutions. His replacement of Davies and retention of Sigurdsson to take up the former's role, including dropping into the back line, was classic Ancelotti. In the space of 2 minutes, Sigurdsson had been changed from being a false No 9 to a false No 5.
Tony Abrahams
350
Posted 15/02/2021 at 15:14:16
The rest has done you good, Peter: "a billionaire without a strategy" proving how important it is to have a proper plan.
Brent Stephens
351
Posted 15/02/2021 at 15:27:24
Tony #345,
"It's always a pleasure going to Fulham, especially when the suns out, with that little walk along the river, which will never be taken for granted ever again!"
The last time we played at Fulham with fans allowed was just like that – a walk along the river, through the park, on a sunny day. Brilliant.
Tony Abrahams
352
Posted 15/02/2021 at 15:34:28
I'm getting very restless now, Brent. I love walking through the churchyard, where they filmed the priest getting slaughtered in The Omen.
But hopefully the nightmare will soon be over for everyone, as the sun slowly begins to shine once again!
Brent Stephens
353
Posted 15/02/2021 at 15:40:13
Tony, walking through the cemetery to the Chelsea ground from the station is another delight on a fine sunny day.
Steve Brown
354
Posted 15/02/2021 at 15:41:41
Benn @ 74, your post says it all. It's going to be a long, painful week ahead.
Tony Abrahams
355
Posted 15/02/2021 at 16:03:11
From Fulham Broadway, Brent? I've never been through no cemetery mate, but I sometimes turn right out of the station and either go for a bevy or a bite to eat.
Stop it Brent, you've got me thinking about the greatest city in the world imo now mate. I wouldn't want to live there, but it's been a long time since I've been the smoke now, but I'm being positive for the club of many firsts, and here's hoping we're the first fans back at Wembley, watching "Who's our captain?🤔" lift the cup!
Trevor Peers
356
Posted 15/02/2021 at 16:26:24
Carlo seems to have forgotten the basics when playing at home. It's unacceptable to play teams like Fulham, Newcastle, West Ham and Leeds, who all won comfortably at Goodison, with negative tactics surrendering possession with the hope of breaking out and scoring.
If Carlo is to remain and improve us, he has to change tack in his thinking immediately and at least try to crush the opposition at home by earning the initiative in taking the game to the opposition. We may not have the players at present to win every time that way, but it is his duty to at least try.
Persist with playing the same tactics at home, Carlo, especially against weaker teams, and it will be your downfall; it just has to change. All our hopes for him will be shattered by these dreadfully negative tactics. The signs aren't good, it's your call, Carlo!!!
Dave Abrahams
357
Posted 15/02/2021 at 16:30:08
John (319),
I would be more interested in what he told those players at half-time, and how he told them. Whatever he said must have upset them because they got steadily worse and, after the substitutions, no better. A bad night by the players, aided and abetted by the manager, and a much worse night for what seems to be the only people who care: us!!!
I don't think I have seen many games as bad as that one last night, John, in terms of attitude, application and effort. It left me in a bad mood and I should be too old for that.
Rob Halligan
358
Posted 15/02/2021 at 16:37:24
See the usual "Carlo out", or "Carlo is not good enough" moaners are out in force again. Can't recall seeing them after the Leeds, Man Utd or Spurs games, but hey ho, I might be wrong!!
Anyway, as I said last week, if Carlo has his way, he will be here for the next 10 years. Obviously nothing can be taken for granted in football, but he wants to see silverware arrive at the club, he wants to get the club to the level Man City are at, and he wants to leave his own legacy at the club. He and all his family love the city of Liverpool, and hopefully what happened last Friday evening hasn't put them all off living in the city.
Looking at the game last night and just to brighten the mood, well I blame Ted Lasso!! Who's he, you might well ask. He's the manager of a fictional Premier League club, Richmond FC, in a comedy series on Apple TV. Ted is an American football coach who takes over this fictional club staring relegation in the face.
One game they are playing Everton away, with everyone in the club not giving them a cat-in-hell's chance of winning, seeing as they've never ever won at Everton. Scenes showing the crowd before the match were actually filmed outside Craven Cottage. Needless to say, Richmond won 1-0 and they all celebrated like they'd just won the league.
I'm only using the Craven Cottage connection, but if ever there has been a bad omen, well for me this was it. It was written in the stars, as well as by Apple TV, that we would lose last night!!!
Oh, and by the way, Richmond were relegated... so sorry, Fulham!!
Bill Gall
359
Posted 15/02/2021 at 16:37:54
We can all argue what we think is wrong and blame everyone from the owner to the tea lady. We played 11 players at the start of the game yesterday who have been praised numerous times when we have won, but suddenly lose and they are all rubbish.
I am one of the worst critics while a game is being played, even if we are winning; this is because I get too exited. But, after watching the game over again, I believe Ancelotti thought his tactics were right in using more players in the midfield, but how can you explain that, 3 days before, these same players who controlled the game against Tottenham couldn't win a ball or pass to a player???
I listened to Dion Dublin and Don Hutchinson: they both said Fulham played exceptionally well and it seemed Everton players were suffering from the cup game. I remember Don Hutchinson saying he fancied Fulham before the game for the same reason.
I believe that a fully trained professional with 3 days rest should not be tired... but, not being a fully trained professional, who am I to know??
My feeling is that Ancelotti got his tactics wrong and was reluctant to change it with the players he had. Yes, I get mad watching the game; yesterday, I did something I have never done before and that was to stop watching after the first goal.
We are still on track for what Ancelotti's ambitions are and that is a place in Europe, and any discussion of him being fired should be left until after the season is over; even then, I still believe he will be Everton's manager.
,
Danny O'Neill
360
Posted 15/02/2021 at 16:42:33
Glad the mood has changed even though I think we were all in unison and the mood was understandable.
Great viewpoint, Peter (335). One slight disagreement: the fans. That's a level playing field for all, but very sound assessment all around.
I have memories of the cemetery near Chelsea from the Phil Neville penalties FA Cup tie. I could only get one ticket so gave it to my son. Had to walk a few miles to find a pub that would actually let me in as they have this horrible rule about away fans so you don't get let in near the ground. That is clearly due to their own fans not trusting or restraining themselves, rather than the behaviour of away supporters.
Watched with a few locals and left with us losing as I had to get back to the ground in time to pick the lad up. As I was passing through that cemetery, I heard a roar and guessed by the sound it was the away contingent. Checked the phone – Baines!
So I now had to pace up and down that cemetery for extra time. Couldn't look at the phone, and pointless as I could hear anyway. When penalties came, I could gauge by the different tones who was scoring and missing. Torturous. I have no shame in admitting, I looked at a gravestone of a lady, put my hands together and asked her to give us her blessing.
I've lived in London for over a decade now. Not without its faults, like any city, but, for me, also the best city in the world. Just about has the edge on New York (and I love New York).
Thanks for bring me down off the edge, ToffeeWeb. Is it Wednesday yet? I need kill or cure.
Rob Halligan
361
Posted 15/02/2021 at 16:54:09
Danny, just out of curiosity, which pub did you go too to watch that match? Whenever we go to Chelsea, we get off at Parsons Green tube station and then turn left on the Fulham Road and head to the Durell Arms. A friendly pub which allows plenty of away fans, and is around 20-25 minutes walk from Stamford Bridge.
Danny O'Neill
362
Posted 15/02/2021 at 17:05:04
Google Map-sing now, Rob. I just randomly walked, but I'll find it.
Tony Abrahams
363
Posted 15/02/2021 at 17:08:07
Good story Danny, and looking back, if I was a Chelsea fan that day, I'd have been fuming with Ancellotti, whose team were coasting, but had no great desire to score a second to put the game to bed, and then Leighton Baines stepped up!
Everton had over 6,000 fans in London for a midday kick-off, brilliant support. I remember a Chelsea supporter saying to us on the tube, that her daughter stopped watching the game because she was mesmerised by the Evertonians that day, Danny. Although it must have been awful missing the game, I bet you the noise from the fans gave you loads of satisfaction, even if you was in a cemetery!
Ian Edwards
364
Posted 15/02/2021 at 17:12:47
After another shit home performance, what are the odds that the Club will release some ground information to divert attention away from the failings of Dinosaur Don Carlo?
Oh, they have.
Danny O'Neill
365
Posted 15/02/2021 at 17:16:28
Re-traced my steps, Rob. The Pembroke on Old Brompton Road, closer to Earls Court.
The cemetery is Brompton.
I live out Uxbridge way.
I've said previous Tony, I've watched Everton in some very odd places but I'd forgotten that one until the chat on here reminded me. Okay, I didn't watch them, but celebrating in a cemetery probably wasn't my finest moment.
Bill Gall
366
Posted 15/02/2021 at 17:24:25
I am not a fan of Bill Kenwright. That is mostly on new ground efforts. But can someone explain that he always gets blamed for a defeat but never mentioned when we win?
Tom Harvey
368
Posted 15/02/2021 at 17:27:27
Bill Gall @ 366
I'm not a fan of his either, but I'm surprised he hasn't been blamed for global warming by some posters on this site?
Mike Gwyer
373
Posted 15/02/2021 at 17:43:56
Rob Halligan #358,
It's great that you're supporting Carlo but I'm not having it that he's not responsible for that shit show last night.
The first 11 he picked was a major fuck-up; 5 midfield players who between them let Fulham's 3 central players take the total fucking piss. I was onto it after about 3 minutes; after 15 minutes I was screaming at the TV for Ancelotti to change the shape of the Everton team... pull either Sigurdsson or James out, and get some fucking pace on the flanks.
Now Carlo might be a stubborn fucker who sticks to his guns – fucking great when you're managing Real Madrid or Bayern Munich, but this is Everton and we do not have such an in-depth squad which allows rotation. For fuck's sake, put your best 11 on the park and get the 3 points.
I'm no fucking happy clapper and being honest, I hate that comment anyway, but last night's match was down to Carlo and he had ample time to change that horror show that was unfolding before our eyes; well for me he had 87 minutes to start thinking about changes it was that fucking obvious.
Rob Halligan
374
Posted 15/02/2021 at 17:44:55
Danny #365.
I can't ever recall going to Earl's Court before a Chelsea or Fulham game. When we're finally allowed at away games, maybe we can meet for a pint at the Durell Arms. I'd have no chance of dragging me mates to anywhere else!!
Brent Stephens
375
Posted 15/02/2021 at 17:47:34
Dave #357:
"I would be more interested in what he told those players at half-time, and how he told them. Whatever he said must have upset them because they got steadily worse, and after the substitutions, no better,"
Dave, my informant (a well-fed lady) tells me that at half-time he sang them a few verses from his favourite Italian composer, Alfredo Catalani, known for the soaring aria 'Ebben… Ne andrò lontana' (which I believe translates as "Well then, I'll go away") by La Wally, one of the cast. I kid you not.
Rob Halligan
376
Posted 15/02/2021 at 17:48:20
Mike #373. I'm intrigued.
Where did I say that Carlo was not responsible for that performance last night?
Brent Stephens
377
Posted 15/02/2021 at 17:51:56
Rob #371, Denise sent an email to her favourite fans (okay, maybe 'fan').
Rob Halligan
378
Posted 15/02/2021 at 17:58:04
Cheers, Brent. I hadn't looked at any emails, and just seen it now!
This would have been issued today anyway, regardless of the result yesterday, because it's news from Liverpool City Council and not Everton FC.
Mike Gwyer
379
Posted 15/02/2021 at 18:00:57
Rob<,/p>
It was your reference to "Carlo out" and "Carlo moaners"...
For me it was Carlo.. all day fucking long.
It was his shit show and he should've changed it; I saw Dunc have at least 3 chats with him in the first half and Carlo did his usual shoulder shrug – now I seriously doubt Dunc was asking him if he wanted a coffee...
Chris Leyland
380
Posted 15/02/2021 at 18:03:36
Still really angry at last night but ridiculous post of the day goes to Johnathan at 259 and his list don managers who are supposedly "way out-performing" Ancelloti this season.
All but 2 of them are below him in the table - the ultimate indicator of performance. The two that sit above him: Rodgers and Moyes. Rodgers who managed a single point from his two games against Ancelloti and Moyes who has an average points-per-game ratio of 1.69 to Ancelloti's 1.68 this season.
We are all angry and hurting after last night. The manager got it wrong but there's no need to spout such utter drivel.
Rob Halligan
381
Posted 15/02/2021 at 18:06:45
Mike, interpret that however you like, but it's not a denial from me that Carlo was not responsible for the defeat.
Mike Gwyer
382
Posted 15/02/2021 at 18:21:17
Rob.
I'm no "Carlo out" moaner but for me last night was his problem. I've no agenda and I would be the first to say that Carlo has taken Everton to another level. But for fuck's sake...
For me, I know he's got personnel issues that most of us would get time off work to resolve... and maybe he should have handed last night's game to Dunc.
That is 3 very winnable points gone. End of.
Rob Halligan
383
Posted 15/02/2021 at 18:35:09
Mike, I'm not disagreeing with you. I know he made mistakes last night. I would have stuck with the back four that are doing well at the moment: Godfrey, Keane, Mina and Digne, and also maybe started Josh king.
I also agree that maybe he could have took a few days off after his house was broken into. I said elsewhere I also found it unbelievable that Klopp didn't take time off following the death of his mother, and the fact he couldn't travel home for her funeral must have been very traumatic for him.
Ian Edwards
384
Posted 15/02/2021 at 18:39:17
Chris Leyland @380.
Jonathan was spot on. Considering the available budgets and personnel, Dinosaur Don Carlo is failing.
Rob Halligan
385
Posted 15/02/2021 at 18:44:35
Chris # 380. Spot on mate.
Darren Hind
386
Posted 15/02/2021 at 18:45:29
"Disappointing first half.... Could even qualify as "Zombie football"
The truth can be brutal. Especially when you take into consideration that things actually went downhill after that.
All so unnecessary. I thought there had been a change of mindset after the Spurs game. It's not as if it's the first time, or even the second, third or fourth.
Players badly let down by a foolish set-up which surrendered possession, initiative and eventually, the game.
Dale Self
387
Posted 15/02/2021 at 18:47:08
Carlo is to blame – even though he has made a fair return on the moves that failed miserably yesterday.
As a card-carrying Carlo supporter, I too am frustrated that some alternate plan using some youth against Fulham was not chosen. That was some tired shit, end of. And it is not like we weren't aware of the coming strain when Man City postponed originally.
While I can understand the frustration with the variance in performances, I certainly don't get the level of invective hurled at the players and coach. I'll take my share while it's shite... but thinking this is a fatal flaw exposed is misguided at best.
Richard Mason
388
Posted 15/02/2021 at 18:48:01
Is it the style of our play that doesn't suit players we sign?
I know they are in weaker leagues but the lads still have to score. Tosun scores 2 on his debut tonight. Kean is scoring most weeks, even scored playing on the right yesterday.
I just don't get it.
Bill Gall
389
Posted 15/02/2021 at 18:49:35
Tom #368,
He has; a couple of supporters on ToffeeWeb have said he is just full of hot air.
Thomas Richards
390
Posted 15/02/2021 at 18:53:22
Chris @380,
Really good intelligent post. Very well said.
Danny O'Neill
391
Posted 15/02/2021 at 19:03:46
Sounds good to me, Rob. I only ended up that way as I went for a wander until I got to somewhere friendly!! Happy to go with someone who has a regular watering hole!!
Good perspective, Chris.
John Skelly
392
Posted 15/02/2021 at 19:20:58
Still in shock after that unrecognisable performance. I haven't bought any papers or even read any of this thred... maybe the next game will lift my spirit.
Jason Wilkinson
393
Posted 15/02/2021 at 19:27:09
I'm not optimistic after Sunday's showing. We go again so let's hope for a performance.
Tom Bowers
394
Posted 15/02/2021 at 19:42:06
On reflection, I have to say Everton's performance was one of the worst by a Premier League team this season, all things considered. I still can't fathom it.
What the hell went wrong, only the staff and the players know... but anything like that in the next two games has to bring up serious questions about Ancelotti's present capabilities.
Jekyll and Hyde is one thing but that was ridiculous after the two games previous. Did someone spike the water??
Hugh Jenkins
395
Posted 15/02/2021 at 20:28:59
Rob (374) - Earl's Court is a natural stopping-off point for Stamford Bridge, (or Craven Cottage) if you are coming in off the M4. It has plenty of parking and good tube connections to Fulham Broadway.
I have used it often, myself, coming in from West Wales for games in the Fulham & Chelsea area.
Christy Ring
396
Posted 15/02/2021 at 20:41:38
We know the certain few people who are totally anti-Carlo, no praise for the manager when we drew with Man Utd and beat Spurs.
Carlo made a mistake with his line-up last night and especially his substitutes, to take off Davies and Coleman who give everything and, as Steve @349 said, moving Sigurdsson from a false No 9 to a false No 5... baffling.
But I still think he's the best man for the job.
Hugh Jenkins
397
Posted 15/02/2021 at 20:49:55
Ian (384). To be fair, you are both consistent and persistent in your diatribes against Carlo Ancelotti.
The amount of hate and vitriol you seem to have for this man suggest something beyond a sporting affiliation. Did he run over your cat and not stop to apologise, or something?
In your post at 384, you mention "budgets". How do you know what budget he has been given to manage this squad, over and above what was previously contracted by other managers?
For that matter, how do you know what budgets those other manager have been given?
Correct me if I'm wrong, but you are not a member of the board of Everton Football Club, nor of West Ham United Football club, nor of any other football club currently operating in the Premier League and in competition with Everton Football Club?
So, please, by all means continue, to spout your one-man battle to have Carlo Ancelotti removed as the manager of Everton FC, but don't try to do it on the basis that you have inside information on the terms and conditions that various managers in the Premier League are operating under.
Thomas Richards
398
Posted 15/02/2021 at 20:53:02
Hugh,
After reading repeated posts from Ian, we are all members of the bored.
Gerry Ring
399
Posted 15/02/2021 at 20:53:06
Watched that game last night & couldn't believe the number of times Seamus was left exposed, with two Fulham players attacking down his wing. Each time he had to pick a position, half-way between both, so as to try to cut out the attack. Doucouré wasn't to be seen & this was clear for the first goal when Doucouré let his man go.
Again, Seamus is an obvious target for scapegoating. While age is against him, the same standards of forward play don't appear to apply to Godfrey and Holgate.
I thought Carlo might use him on the right side, as he did so successfully against Spurs. The way things are going I'd expect to see Seamus moving on next season.
Roman Sidey
400
Posted 15/02/2021 at 20:53:22
I'm still a big Ancelotti fan, but last night he definitely got certain things wrong. I was worried about the centre-halves as Holgate isn't playing well lately despite what he'd probably tell you.
However, I can see why he probably made the subs he did, even though I probably wouldn't agree with them. Firstly Davies. I'm a huge critic of his but was surprised to see him subbed. Probably should have been Gomes. I think CA was probably aware that Sigurdsson can score a goal when needed whereas Davies hasn't shown that he can.
Secondly, Coleman. It's all good and well yelling at players and putting in maximum effort but he was getting beaten almost every time and aside from his run and shoot, offered bugger all in the match.
While Ancelotti shoulders a lot of the blame, there is no way a group of professional players should be unable to react in a match they're losing. At 0-1 it looked like they only needed goal difference to win the league, and at 0-2 it looked like they were winning 2-0. I think my TV has two burnt lines permanently on the screen from where Holgate and Godfrey passed between themselves all night.
Tony Abrahams
401
Posted 15/02/2021 at 20:54:03
I stayed in Earl's Court the night before that Chelsea cup tie Hugh, and we went to a cracking little wine bar, with a really good atmosphere. Then one of the bar staff decided he couldn't serve us because it was a private party, until someone came over and told him to stop being silly, because we were doing nothing wrong, and that's why I can never understand it when people say proper Londoners are nothing like us.
Rob Halligan
402
Posted 15/02/2021 at 21:04:52
Tony, you've just reminded me of a game at Palace at the start of the 2004 / 05 season. It was our first game of the season. Me and a mate were down there early, around 11.00am and went to a pub by Selhurst station. I was wearing colours but we had no problem getting in. After about 3 hours and 6 pints later, It was my turn to go the bar. As I ordered, a barmaid said "we can't serve you As you're an Everton fan". I explained we'd been there hours but to no avail. I told my mate to go the bar and order for me. He walked to the bar and got served, and handed me a pint. The barmaid who refused me seen this but said nothing more. Unreal!!
Stephen Williams
403
Posted 15/02/2021 at 21:06:35
I've read most of the posts with interest. There's a real mixture of the blame game on here - nothing new there. One thing we all agree with is this squad is nowhere near good enough to win something or get top 4.
BUT. how many of us would have said that it wasn't good enough to gain a single point out of Newcastle h&a, Leeds h, West Ham h, Fulham h? Add to that only a point at Burnley. Very few if any, I guess.
Carlo appears to be a great person and his background together with the inadequacies of the squad should cut him some slack and time to mould his own team. But he just has to throw off the cloak of negativity if we are to make any meaningful progress to be the team we all want it to be. Tactically we drop off at the front and organise our midfield to sit in front of the back four, thereby exerting no pressure on the opposition who then have free reign to do as they please. That has to stop and Carlo is responsible for it. That isn't anything to do with personnel - certainly not in those 5 games - it might be different against City, the shite, Utd, Chelsea etc. This all adds up to a massive wasted opportunity in a season when top 4 is up for grabs.
The remaining games till the season's end will tell us as much about Carlo as we already know about his players. Come on Carlo, I really want you to be successful.
John Boon
404
Posted 15/02/2021 at 21:26:23
Today West Ham and Chelsea did what they were expected to do WIN.I agree there have been upsets throughout this unpredictable season but this inability for Everton to deal with teams with the poorest records is dreadful.and very regular.
I am also one who is not the quickest to be too overly critical of Ancelotti but for the Fulham display I feel that he has to take most of the blame.
(1) I was correctly critical of the team selection. The major problem was that at least one of the two, Keane and Mina, should have started.
(2) Substitutions were wrong. Coleman and Davies had at least worked harder that most of the other players on the field.
(3) We had a ready, hopefully eager, replacent for Calvert Lewin. Why sign a ready made sub and NOT play him until it is too late.
(4). I observed that Fulham played well.. YES, but mainly because we allowed them to play. You should not look at any team's position in the league until you have beaten them.
( 5 6 7 8 9) and so on Does Ancelotti sufficiently psyche up the players when we are playing so called weaker teams.
Bobby Mallon
405
Posted 15/02/2021 at 22:46:15
Hugh@ 397 you will now be accused of abusing Ian now you have spoken out.
Bobby Mallon
406
Posted 15/02/2021 at 22:52:17
Johnathon Tasker 259 here's a list of managers doing worse than Ancelotti
Graham Potter
Scott Parker
Chris Wilder
Dean Smith
Sean Dyche
Marco Bielsa, all below Carlo in the league.
Mike Doyle
407
Posted 15/02/2021 at 23:15:07
Why have we not had a statement from Jags or Ozzie saying the players are responsible, let down the manager & fans etc and must do better in the next game etc...?
Or am I living in the past?
Barry Jones
408
Posted 16/02/2021 at 00:43:50
Rob, Danny, Tony. If you get off at Parsons Green, you should go to the White Horse, on the green itself. Its a fabulous pub and one of the busiest in Chelsea. Across the other side of the green on the New Kings Road, the Duke is a nice pub also.
I was in University in London in the 70s and I still have friends there, living just off Parsons Green. They are mad Chelsea fans. The last time I visited from Canada, about 2 years ago, they gave me their season tickets so that my daughter and I could watch the game (v Watford). It was really exciting for my 20 year old daughter to watch a game live with me for the first time. I think she found it somewhat surreal.
We drank in both the Duke after the match and had a really good interaction with some of the local Chelsea fans. Great day all round.
Bobby Thomas
409
Posted 16/02/2021 at 01:25:45
James is a liability. We function better as an 11 when he doesn't play as he unbalances the side.
After the opening 4 games of the season, generally the results and performances when he starts speak for themselves, especially at home. We never win, we don't create and are consistently very poor.
The way to get the home form back on track is to drop him.
Ian Horan
410
Posted 16/02/2021 at 01:28:09
Just maybe Davies was subbed to save his legs for City. The whole set up wS wrong, to deep a side we can't carry Gomes, Siggy and James In the 11. No mobility it didn't help that Duke was running on empty
Brian Murray
411
Posted 16/02/2021 at 02:32:00
Bobby post 409. I thought it was Siggy despite his one in five performances that hold us back because he's too slow and hides whenever he can along with his sidekick Gomes next to him who to be fair does try but this league is just too much for him. Now you saying our one saving grace who shows up now and again is the real problem?. I doubt any of them will be here next season so Carlo will persist with them. Painful or not.
Annika Herbert
412
Posted 16/02/2021 at 08:55:15
Brian @ 411, well said! I personally think Soggy should have a contract put out on him, not be awarded a new one
Kevin Dyer
413
Posted 16/02/2021 at 11:43:53
Mike #167 easily the most insightful, observant comment on here. Thinking back, his interviews were oddly passive. Probably if his head was all over the place he'd have been better off letting Duncan handle this match.
Those who talk of sacking Ancelotti and particularly those who keep bringing up stopgap manager Fat Sam, take a fucking moment to consider how idiotic such talk is. Consider the possibility of how badly your comments (some repetively posted after every poor performance, or setback) are going to age if we actually get into Europe by league finish, or win the FA cup.
James Marshall
414
Posted 16/02/2021 at 11:56:08
We're inconsistent, same as every other team in the league. On the forum before the game, everyone was predicting a win as always, but nobody ever seems to look at games realistically.
You can't predict any results in this league, apart from perhaps City winning every week, and they'll probably beat us tomorrow night.
All this talk of players seeming disinterested, I think comes down to numerous things - fatigue being one of the biggest. Fulham had more time to prepare and we played 2 hours of 6-5 football a couple of days before - this was pretty much guaranteed so I don't understand why anyone is surprised at what appear to be 'bad' results under current conditions.
The league is a mess, the games are unpredictable, City will win the league and we'll finish outside the top 4.
Rob Halligan
415
Posted 16/02/2021 at 12:16:40
Bobby # 406. Superb, I like that post. By the way, Jonathan thinks we should go for Steve Cooper at Swansea. Until I actually found out his name (that's how well known he was to me) I thought he was Graham Potter's brother! Jeez, imagine having him in your dugout, he'd scare the shit out of Dracula!
Dave Abrahams
416
Posted 16/02/2021 at 14:44:11
James (414), James, most fans were predicting an Everton victory over Fulham, I bet a good proportion of them changed their mind once the team was announced, and even more after five minutes of watching the way the team were performing.
Thomas Richards
417
Posted 16/02/2021 at 15:35:16
Dave,
I posted before the game about the odds on an Everton victory being 21/20.
Couldnt work out why the odds were so big.
I know now.
Didnt have the bet.
Crafty fuckers these bookies
Richard Mason
418
Posted 16/02/2021 at 20:22:44
I see Klopp being a smartarse today, bringing Everton up in his press conference.
Bobby Mallon
419
Posted 16/02/2021 at 20:51:56
Richard Mason what did he say
Richard Mason
420
Posted 16/02/2021 at 21:03:23
"Nobody is happy with being fourth and only having 40 points and (potentially) being level on points with Everton."
Their fans found it hilarious by all accounts
Bobby Mallon
421
Posted 16/02/2021 at 21:23:16
Their fans are cockwombles, 30 years in the making are the redshite and they are now panicking that the blue tide is rising and is going to engulf them like a tsunami.
Klopp and his lot are 27 or so points worse off than last season, he's got to shift blame.
Ian Edwards
422
Posted 16/02/2021 at 21:41:26
Bobby 421. In what way are we rising? We are 7th and if we lose to City we'll be 19 points off 1st place and 19 points off relegation. We haven't won a home league game since 19th December.
We will probably be playing Sigurdsson as a forward tomorrow despite Ancelotti having had three transfer windows.
He has basically admitted that he had nothing to do with the signing of Godfrey.
It's looking more and more like he's going through the motions, getting paid a fortune and seemingly uninterested when we score a late goal in extra time.
Thomas Richards
423
Posted 16/02/2021 at 21:42:52
More tea vicar?
Ian Edwards
424
Posted 16/02/2021 at 21:58:00
Two sugars please Thomas.
Tony Abrahams
425
Posted 16/02/2021 at 22:00:28
And get me two sleeping tablets Thomas!
Rob Halligan
426
Posted 16/02/2021 at 22:06:12
Ian, what's your thoughts that I understand Ancelotti would like to stay with Everton for the next ten years?
Ian Edwards
427
Posted 16/02/2021 at 22:10:35
Rob 426. That depends on results and performances. If they remain at their present level he won't last too long. He's living on his name and it's debatable whether he is doing better than Koeman, Silva or Allardyce. He's nowhere near early Martinez and no better than end Martinez.
Rob Halligan
428
Posted 16/02/2021 at 22:24:38
Football is no longer an entertainment business, but a results business. Although we'd all like to be entertained, at the end of the day it's results that matter. This season to date, we have a 50% win rate in the league, so if that remains we will win 19 games, throw in the odd draw here and there, and we're looking at around 65+ points. Might be enough for European football, might not, but it's not a sackable offence. So I think if results (not performances) last at their present level, or bettered, then he will last a pretty long time. Chairmen or owners base their manager on results, not performances, so in my opinion Ancelotti must feel pretty safe at the club.
Ian Edwards
429
Posted 16/02/2021 at 22:25:45
To put some meat on the bone of my previous post 422.
Out home points total is the same as Newcastle and Burnley who are fighting relegation. In the last 5 games form table we are 4th from bottom.
Apart from DCL we have no player with more than 5 league goals. Richarlison has 2. What does this suggest about the tactics??

Ian Edwards
430
Posted 16/02/2021 at 22:32:58
Rob 428. Results are on a downward spiral as the form table and home results show.
Next three home games after City are Southampton, Burnley and Palace. Anything less than 9 points is failure.
Rob Halligan
431
Posted 16/02/2021 at 22:49:28
Won't disagree with the home points total, facts are facts and it should be better, but I don't think Moshiri gives a toss about tactics as long as Ancelotti can deliver the results, and at the moment I think he's doing ok, but can and probably should be better.
Justin Doone
432
Posted 17/02/2021 at 00:43:37
Carlo, top bloke, top manager.
He looks after the player's by managing them well.
He goes about his business professionally to encourage players to think, to improve, to grow individually and as a team.
Thats why he rotates, plays different formations and why he doesn't scream and shout with every bad pass. He trusts his players to learn and improve. If not their out.
He'll bring in a few more top class players in the summer and we will grow again next season. We don't have the team or squad to really challenge or expect too this season.
Everton was never a quick fix, but we are going in the right direction. Throwing toys from the pram with every loss or dropped point's isn't the right way, it's not Carlos way and the sooner we can get fully behind the whole team the better.
A win or loss against City doesn't define or finish the season. It may well help cement who is and isn't worth keeping for next season though.
It's ok to criticise poor performances and result but calling for the manager to go... come on.
Who else can take us back towards the top, attract the top talent we need to supplement the promising youth all in a year?
We don't live in a wizarding world. A bit of stability and patience please.
Martin Mason
433
Posted 17/02/2021 at 09:49:39
I'm going to propose an FA fan award for Ian Edwards for his services to Statement of the bleeding obvious and not having a clue what the solutions may be.
Ian Edwards
434
Posted 17/02/2021 at 12:55:02
Martin 433 I know what the solutions are.
Thomas Richards
435
Posted 17/02/2021 at 13:45:00
What are they Ian?
Martin Mason
436
Posted 17/02/2021 at 14:59:54
Let's have them Ian but remember that you're just a fan and can't actually do anything. Don't forget to quantify why your solutions (that you can't actually implement or influence) will work when people who actually know something about football and who run our club are struggling at times under current conditions.
Rob Halligan
437
Posted 17/02/2021 at 15:11:07
Martin, you do realise what Ian's first solution will be, don't you? Unfortunately that solution is, in my opinion, and what I've been told, a long long way off!!
Martin Mason
438
Posted 17/02/2021 at 16:26:52
Rob, you'd say more of an opinion than a solution? Surely not?
---
Add Your Comments
In order to post a comment, you need to be logged in as a registered user of the site.
Or Sign up as a ToffeeWeb Member — it's free, takes just a few minutes and will allow you to post your comments on articles and Talking Points submissions across the site.
---
© ToffeeWeb