Allan first through the door as Everton confirm capture of Brazilian
Saturday, 5 September, 2020
Everton have sealed the transfer of Allan Marques from Napoli in a deal worth £21m.
The Brazilian became the Toffees' first signing of the 2020 close season after months of being linked with a move to Goodison Park, with Director of Football, Marcel Brands, working to negotiate the fee down from as high as £35m, the amount at which the Serie A club is reported to have initially valued him when talks began.
The price is more than half of what Paris Saint-Germain were said to be willing to offer Napoli for the 29-year-old last year before that proposed deal collapsed and since then it has been Allan's desire to link back up with his former boss, Carlo Ancelotti.
Allan signs a three-year contract and joins compatriots Richarlison and Bernard on Merseyside. He will wear the number 6 jersey.
"It is a real pleasure to sign for Everton. I am immensely happy to be here," he told evertontv. "It is a club with a rich history in the Premier League, has real ambition and then there is Professor Ancelotti. He has done everything possible to bring me here.
"It is the size of the Club and the name of the coach which means you don't think twice about coming to Everton."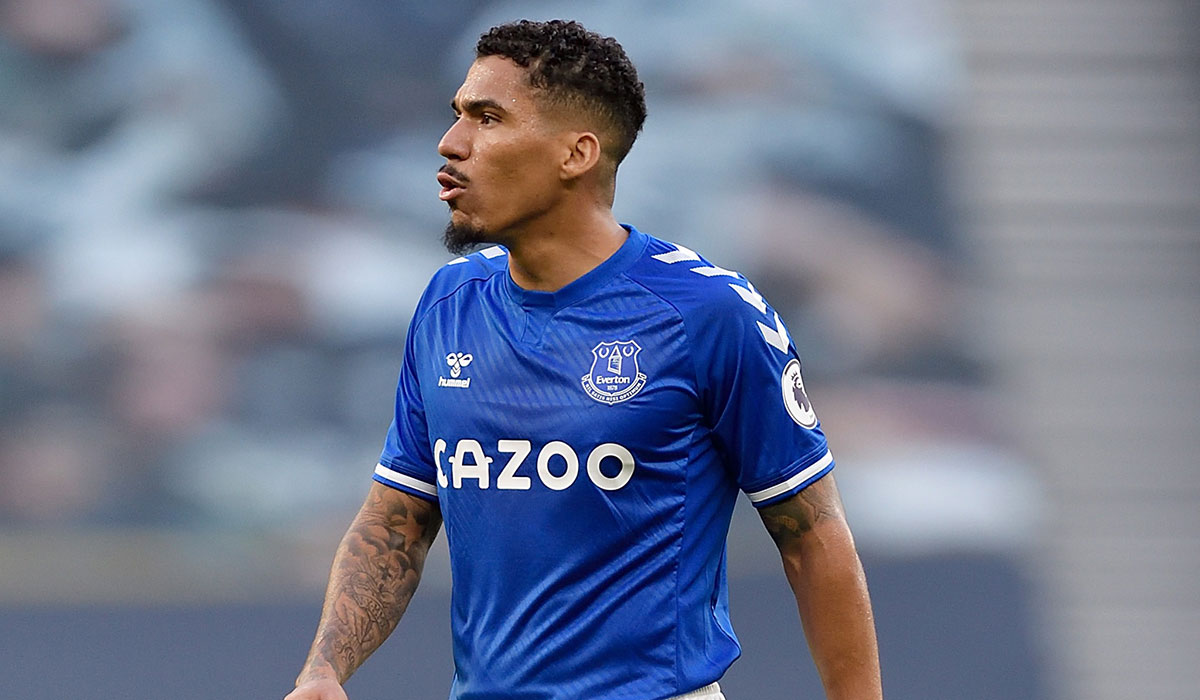 Ancelotti managed Allan at Napoli until he was sacked in December last year but the pair have been reunited at Goodison Park where the Italian has made it clear he needs urgent reinforcements capable of adding power and experience, particularly to the midfield he inherited from Marco Silva.
Allan, who has dual Brazilian and Portuguese citizenship, promises to add strength to that part of the team as well as more of a box-to-box presence than anyone currently at the club. While not a prolific goalscorer — he scored 16 times in 212 appearances in all competitions for Napoli — he is able to get forward, has a good turn of pace, and offers both strength and technique on the ball.
Listen
A segment from The Blue Room Extra interview with South American football journalist Tim Vickery, who offers his insight on Allan and James Rodriguez
He moved to Italy in 2012 after three years with Vasco da Gama in his native Brazil when he signed for Udinese and operated mostly as a defensive midfielder, helping that club to qualify for the Europa League in his first season there.
It was Allan's performances in 2014-15 that caught the attention of some of Europe's bigger clubs but it was Napoli who landed him in an €11.5m deal in 2015 and he would become a mainstay in the Partenopei's team.
He forced his way into his country's senior setup in 2018, making his international debut in London in a friendly against Uruguay and then played in the Copa America in June 2019, coming on a substitute in the dying minutes of the final against Peru after Richarlison had scored the goal that killed the match off at 3-1 from the penalty spot.
Regarded by many as one of the finest midfielders in Serie A before Ancelotti left Stadio San Paolo, Allan's form dipped under Gennario Gattuso but he was, nevertheless, a reported target of Juventus this summer. However, it was the pull of his ex-boss that drew him to Everton where he will become a central figure alongside André Gomes in the Blues' midfield.
Allan's arrival is part of a proposed overhaul of Everton's midfield, with deals for Colombian star James Rodriguez and Watford's Abdoulaye Doucouré reportedly done. Both players underwent medicals on Merseyside on Thursday and are expected to be confirmed in the coming days.
---
Reader Comments (36)
Note: the following content is not moderated or vetted by the site owners at the time of submission. Comments are the responsibility of the poster. Disclaimer
Jack Convery
1
Posted 05/09/2020 at 13:05:42
Bem-Vinda !
Everton Caetano
2
Posted 05/09/2020 at 13:09:00
Happy day! Welcome Allan, Monster Blue.
Colin Glassar
3
Posted 05/09/2020 at 13:10:34
Some Samba Pa Ti, please. Welcome Allan.
Danny O'Neill
4
Posted 05/09/2020 at 13:17:15
Looking good in Royal Blue!
Santa Krsh
5
Posted 05/09/2020 at 13:18:06
Great news finally... worth the wait. Really hope Gbamin gets back to fitness fast to help Allan play his natural game which is to help win the ball higher up the pitch and feed it to our flair players.
But my worry is where does Gomes fit into the scheme of things?
He is the one of the two players, Holgate being the other, who can spray a perfect cross-field pass!!!

Tony Everan
6
Posted 05/09/2020 at 13:21:45
We've been crying out for two quality central midfIelders who are prepared to put it on the line for the club and manager. Delighted Allan is confirmed, now for Doucoure.
James Rodriguez is the icing on the cake.
Will Mabon
7
Posted 05/09/2020 at 13:22:56
Good news. One completed.
"Professor" Ancelotti!
Joe McMahon
8
Posted 05/09/2020 at 13:27:19
Splendid stuff, keep bringing in quality and somehow sell the low quality. Carlo does have some pull!
Paul Birmingham
9
Posted 05/09/2020 at 13:37:14
Great news, and some genuine hope for this season, let's hope the others due incompetence no, arrive soon.
It's a good piece of dealing by Brands and Co if we get all three of them, at the quoted costs.
Hopefully the start of an era where Everton gets back its pride and can challenge the top six.
John Raftery
10
Posted 05/09/2020 at 13:42:56
I agree Allan will be a central figure once he settles in. I am not sure it will be alongside André Gomes though.
Jamie Crowley
11
Posted 05/09/2020 at 13:43:51
Buckle up, we're going for a ride.
Complete overhaul of midfield, exactly what we needed.
Now it's time for Carlo to coach them up.
Second best midfield of my time: Pip, Arteta, Cahill
Best midfield of my time: Barry, McCarthy, Barkley
Allan, Doucouré, Rodriguez: where will they fall in the pecking order? Time will tell, but I'm excited to see where we go from here.
Soren Moyer
12
Posted 05/09/2020 at 13:48:15
More players of this ilk, please! Please, Everton, remember the wise words of the great Inspector Clouseau: Out with the bad air, in with the good!
Minik Hansen
13
Posted 05/09/2020 at 13:49:56
A midfield with extra bite, that's gonna be tasty to watch. Shirt No 6, alrite. Exciting times again.
Each summer transfer window is different, so I'm all excited again for an outcome we're going to witness in the near future. C-O-Y-B!
Stephen Vincent
14
Posted 05/09/2020 at 14:01:37
Really glad to have him here. If we were getting just one he would be it. Hope the others follow soon, always a problem with Everton, never straight forward.
Cillessen talk seems to be gathering pace. Even though he sat on the Valencia bench for some of last season he won't be coming to us to do the same. Maybe Jordan is under serious threat.
Who is the keeper this afternoon? Everyone on international duty.
Stephen Vincent
15
Posted 05/09/2020 at 14:05:43
Answering my own question, it's Tyrer, who I know nothing about.
Robert Tressell
16
Posted 05/09/2020 at 14:22:12
A fee of about £22m or so. Really not too bad at all given that the rumoured fee was more like double that a few weeks ago. Presumably that's why it has taken time.
Rodriguez and Doucouré give us depth, experience and quality, assuming they sign too.
I'm assuming that will be it – bar teenage prospects or maybe a free transfer goalie who is better than Léssl (and possibly Pickford too).
It remains an extremely competitive league, however. So it will be interesting to see what Ancelotti can do with a squad that is still probably about 7th best (at best).
A Mourinho meltdown and an injury to Vardy or Aubameyang would make things very interesting.
Bill Gall
17
Posted 05/09/2020 at 14:33:17
Well now I see him in the shirt: congratulations, also well done to Brands and anyone else involved in getting the fee down to a reasonable price. This is the sort of negotiating we need and may explain the delay in other expected signings.
We needed this signing to show Everton's ambitions for the future, as the signing of this player could bring in other players that will improve the team.
Sam Hoare
18
Posted 05/09/2020 at 14:45:42
£22m is a good fee. Just a question of how well and how quickly he adapts. If he can reach the high standards he's shown in serie A over the last 6 seasons he will prove a hit I think.
I think the success of this transfer may well depend on Allans level of professionalism and conditioning. Is he going to be more Distin (who was still an incredible athlete in his mid 30s) or Rooney (who had almost totally lost his acceleration and top speed) by the time he hit 30)?
Unlike Gareth Barry a lot of Allans game when at its best is based on covering ground quickly. Fingers crossed.
Mike Gaynes
19
Posted 05/09/2020 at 14:57:53
We are pleased.
Steve Ferns
20
Posted 05/09/2020 at 15:01:38
The fee is a lot less than I expected. The deal is only 3 years. I can't see any downsides to this deal, after initially expecting a £35m fee and a 5 year deal. Brands has done well here.
The player will add some much needed bite to our midfield. I hope he can pick up the lingo quick, as we need him barking at his teammates.
Danny O'Neill
21
Posted 05/09/2020 at 15:05:06
He'll be fine Steve. Barking is a universally understood language. As a dog owner, it means the dog isn't happy so change what you're doing now!!
Mike Gaynes
22
Posted 05/09/2020 at 15:11:31
So you expect both bark and bite, Steve?
Si Cooper
23
Posted 05/09/2020 at 15:26:24
Barking can mean excitement can't it? I thought growling was the universal threat message, paired with a decent upper lip snarl!
Danny O'Neill
24
Posted 05/09/2020 at 15:56:08
True Si. I suppose whether the dog is barking or snarling, we kind of know what he means and wants!!
Bob Parrington
25
Posted 05/09/2020 at 15:59:10
Our kelpie dog, Penny, is delighted. She knows I will be in a good mood when I walk her in the morning!!
Si Cooper
26
Posted 05/09/2020 at 16:32:39
Well, at the moment, I am excited and keen to communicate! Not that I know a lot about the player, I'm just being optimistic that the expected(?) trio can make a big difference.
James Lauwervine
27
Posted 05/09/2020 at 16:33:29
I like him already!
Christy Ring
28
Posted 05/09/2020 at 17:10:56
Delighted we have a midfielder who can tackle, hope Doucoure and James to follow, and if we can shift some of the deadwood, maybe more signings.
Rob Hooton
29
Posted 05/09/2020 at 23:00:09
Welcome Allan!
Like most I was pretty despondent at the end of the season and we all knew that our midfield was the main issue, my glass is now filling up nicely with positivity!
Paul Hewitt
30
Posted 06/09/2020 at 00:20:02
Doucoure will sign. Not sure Rodriguez will.
Sukhdev Sohal
31
Posted 06/09/2020 at 01:24:28
James is already signing Everton fans signatures and was in Liverpool. These 3 players make total sense. I get the people who advocate signing young players, but understand this quote. 'Without short-term success there will be no long term'.
Derek Knox
32
Posted 06/09/2020 at 10:00:00
Thought I'd logged on to Cruft's website for a minute there, but that's a tale for another day!
Made up to finally see one of our intended targets wearing the Royal Blue, and echo fellow TWers' appreciation of Carlo, Brands, and the negotiating team for getting this across the line.
As to what the formation will be, we'll have to see, but assuming the others arrive soon and are fit, it will be interesting to see if all three along with Gomes will be employed as a unit.
Still think we need a couple more in at right-back, goalkeeper and possibly a striker too, but there is still nearly a month in the Transfer Calendar to organise something. A lot will depend on who we can move on too, like most windows, there is always a flurry of activity in the last day or two.
Steve Carter
33
Posted 06/09/2020 at 10:23:02
Bob [25], you and I know that kelpies are not merely dogs; rather 'beings'. 😉
Brian Harrison
34
Posted 06/09/2020 at 10:33:27
I am sure that both Rodriguez and Doucouré will sign in the next few days, and be pictured wearing the shirt.
I think what's a little bit more uncertain is how this very short pre-season will affect teams. We have played Blackpool when the players had only been back in training for a short period, then yesterday played Preston NE with most of the first team away on International duty. With also the likelihood of having 3 new players in the squad for the Spurs game, it will be interesting to see what our line up will be.
So not an ideal preparation for the start of the season, but I am sure most teams will be in the same position. I don't see the sense of International games taking place a week before the season starts.
John Keating
35
Posted 06/09/2020 at 12:59:57
Amazed they didn't announce Flanagans signing at the same time. I always thought of them as inseparable! Maybe Monday?
Anyway welcome Chesney!!
Charles Towers
36
Posted 06/09/2020 at 15:43:37
With James and Doucouré signing, a fast left-footed centre-back and scoring winger are a must.

---
Add Your Comments
In order to post a comment, you need to be logged in as a registered user of the site.
Or Sign up as a ToffeeWeb Member — it's free, takes just a few minutes and will allow you to post your comments on articles and Talking Points submissions across the site.