Ancelotti expecting big impact from Allan
Monday, 7 September, 2020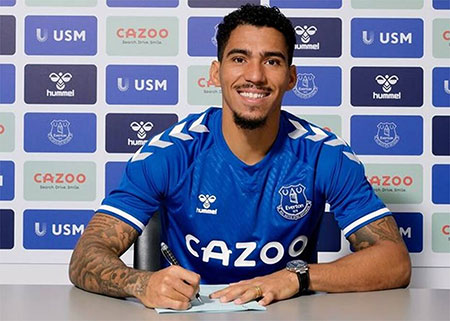 Carlo Ancelotti has predicted that Everton fans will love what new signing Allan will bring to the team and says that next season promises to be much better than the last.
The Italian took charge of the club on Boxing Day last year following Marco Silva'd dismissal and Ancelotti's own from Napoli and while he initially oversaw a revival in the Blues' fortunes, by the end of a campaign disrupted by the Covid-19 pandemic the scale of his task had been laid bare.
Everton limped to a 12th place finish on the back of just one win in their last six games, with central midfield exposed as an enormous problem area. Together with Director of Football, Marcel Brands, Ancelotti has worked over the close season to address those deficiencies, with Allan's transfer from Napoli confirmed on Saturday and Abdoulaye Doucouré and James Rodriguez expected to be unveiled shortly.
Ancelotti feels as though in Allan he has signed one of the best players in the world in his position and anticipates the Brazilian having a tremendous impact on the team's fortunes.
"We want to make progress," Ancelotti said. "The position last season was not enough. We want to improve and we are trying to do everything to improve the squad to be better next season.
"I am sure the fans will love Allan's characteristics. And I am sure the fans are also going to love our season.
"Allan is very aggressive. Defensively, he is really good. My personal opinion is that he is one of the best defensive midfielders in the world. He is intelligent tactically and he has got a lot of energy. He is a player whose energy can make the others better.
"It was not easy to find a deal but, in the end, we were able to do it and I think he will prove to be a fantastic player for us with quality and ability."
Everton kick off the 2020-21 season at the Tottenham Hotspur Stadium on Sunday but face an anxious wait to see if Mason Holgate will be passed fit after he hobbled out of the friendly win over Preston on Saturday afternoon.
The initial diagnosis was a toe injury and he is doubtful for the season opener but Yerry Mina has been training this week and his manager expects him to be fit while Ancelotti also hopes that midfielder Fabian Delph will be passed fit as he continues to recover from the soft-tissue complaint that dogged him over the "Project Restart" period between June and July.
---
Reader Comments (30)
Note: the following content is not moderated or vetted by the site owners at the time of submission. Comments are the responsibility of the poster. Disclaimer
Mark Andersson
1
Posted 07/09/2020 at 00:45:16
Welcome to the best supported team in the world.
Mike Gaynes
2
Posted 07/09/2020 at 00:56:53
Damn, he looks good in blue.
Everybody does, of course, but this guy definitely cuts a particularly snazzy figure in our shirt.
John Pendleton
3
Posted 07/09/2020 at 01:08:15
Welcome Allan – Ancelotti's first signing. Wonder if he was ever on Carlo's early wishlist or the needlist he rapidly drew up after the last 6 games?
Looking forward to seeing how a midfielder with energy and aggression plays. Who was the last player on our books to fit that description?
Si Cooper
4
Posted 07/09/2020 at 01:37:50
Mentally I'm already referring to him as 'All-in' (with 'le Duc' and 'J-Rod' pencilled in for our other two big signings). I'm hopeful he can live up to my expectations which are entirely based on what I have read about him!
Terence Leong
5
Posted 07/09/2020 at 02:32:35
His soundbites are hitting all the right notes. : ) Looking forward to seeing him in action.
It wasn't that long ago, that South American players (especially from Brazil) are seen as not tough enough to handle the rumble and tumble of the Premier League.
Now, our best bet for a midfield enforcer, is from the land of Samba football... : )
Interesting, isn't it?
David Pearl
6
Posted 07/09/2020 at 04:59:08
Ancelotti says he is sure the fans will love our season!? Bold words there. I hope he's right. The, hopefully 3 new signings are a bit of a step up from Klaassen and Martina... l mean surely we can't be any worse! I will love our season if we finish above the shite.
I will also try to find odds on Marco Silva being the next Barcelona boss as soon as he takes over the Portuguese national team.
Kim Vivian
7
Posted 07/09/2020 at 08:20:22
If anything, he could do with cutting that fuzz off his chin. Be looking pretty cool with just the muzzy.
Can't wait to see him in action, though, whatever he looks like.
Christy Ring
8
Posted 07/09/2020 at 08:35:31
Carlo says he's one of the best defensive midfielders in the world. Didn't we have a few comments from Steve, that he's not a defensive midfielder?
Colin Glassar
9
Posted 07/09/2020 at 08:42:08
Christy, maybe Steve knows something Professor Ancellotti doesn't know? 😉
James Marshall
10
Posted 07/09/2020 at 08:50:28
Steve's comments on 'Allan' have been pretty funny to read - I try not to comment too directly to people on here nowadays as I always get shot down, and torn to pieces like rabid dogs, but him talking about Allan not liking a tackle did make me laugh!
He was the top tackler in Serie A the last 2 seasons I believe. He's basically Gana – see ball, get ball. The kid loves a tackle, he even celebrates them like he scored a goal.
Dan Nulty
11
Posted 07/09/2020 at 08:54:11
Christy, don't get him started. Steve is a world renowned judge of a footballer.
Jim Bennings
12
Posted 07/09/2020 at 09:34:09
Christ, that's three Brazilian international players we have now! One time, if someone had told me that, I'd have thought we would have been monopolising the trophies.
Seriously, Allan will be a canny signing for that fee, the guy has been around the block and he's very much the type of player we have missed since Gana left, he may well prove to be a step-up again but let's wait and see first.
Every signing is a risk but there was no logical way that we could go again with that midfield from last season.
Ajay Gopal
13
Posted 07/09/2020 at 10:16:02
Jim (12), I agree about the Brazilian flavour to our Everton team. Imagine if we had signed Gabriel also, and the Barcelona right-back that we were reportedly interested in!
Nowadays, Everton has a distinctly South American feel – with 3 Brazilians and 2 Colombians (fingers crossed). It is high time Everton started making people sit up and take notice with our performances and results. We have underperformed for far too long.
Jim Bennings
14
Posted 07/09/2020 at 10:57:07
Ajay,
By rights now, with the international talent we possess, we should be performing far better than we have done in recent years.
The time for being overly patient needs to stop and we need to start showing ourselves as a force that should be reckoned with.
No more fear of going away to the top six – take em' on! Other clubs like Southampton and Palace – go to these venues with the mentality that Everton Football Club should go there with but so often don't.
It's time to start rocking a few boats!
Justin Doone
15
Posted 07/09/2020 at 12:42:13
I believe he'll be a top player for us no doubt. Gana with a bit of Barry composure and passing ability.
It may mean plenty of yellow cards until he learns and settles into Premier league life but he's definitely a quality player. A defensive minded energetic midfielder with a bit of pace and aggression.
Richard Parker
16
Posted 07/09/2020 at 13:57:10
It's certainly looking more hopeful heading into the new season... sometimes just one or two of the right signings can lift other players and give them the spark they need to perform. Hopefully Allan, Doucoure and James will all sign and do just that.
Allan and James will probably take a bit of time to adapt to the Premier League but, on the face of it, they are clear improvements over the current players.
I'd love to get off to a flyer with the 3 new lads at the weekend but I would also quite happily accept steady improvement over the next 3 months. I'm realistic about the impact of a rip and replace on the midfield and the time it might take for players to gel.
What I am excited about is that Carlo has not only helped us move decisively to fix a massive problem but also clearly enabled us to engage a higher quality of signing already. Can you imagine us talking to players of the quality of these three at any time recently?
Nicolas Piñon
17
Posted 07/09/2020 at 15:02:49
Hi guys, I'm Nicolás from Argentina. This question has nothing to do with the Allan signing but maybe someone can help me here.

Do you think spectators will go back to stadiums at some point in this new season in the Premier League?? Can't wait to go to Goodison to see this new team!
Martin Anderson
18
Posted 07/09/2020 at 16:19:04
Yes, I've had this feeling for a while that we are just a couple of players short of a good team - but those 2 players needed to provide skill, tenacity, grit - but above all strong leadership in MF - so I wonder if Allan can provide that & whether he will be a potential new captain … Last yr our MF was just dreadful - worst ever I wld say … but there were some really good contributions elsewhere - so I hope the new additions will drag the others to a new level … & Everton !
Jack King
19
Posted 07/09/2020 at 17:22:21
Imagine he was the next Alex Nyarko.
Patrick McFarlane
20
Posted 07/09/2020 at 17:36:42
First tackle Allan puts in, Sunday's ref Mr. Martin Atkinson will produce a card, probably red going on past experience with this particular official
Nick White
21
Posted 07/09/2020 at 17:48:39
I was thinking the same Patrick!
Danny O'Neill
22
Posted 07/09/2020 at 18:19:46
3 Brazilians and 2 Columbians if all the prospective signings come off. And those 5 will likely be first team starters if fit and available.
I never thought I'd see an Everton team line up with 50% of the team being South American. How times change hopefully for the better.
Jamie Crowley
23
Posted 07/09/2020 at 19:55:06
James @ 10 -
He's basically Gana – see ball, get ball.
Me and another TW 'Merican were impressed with Gana when there were a lot of naysayers. Me and another TW 'Merican were distraught when Gana left, and knew we had a big, big problem filling that hole. Being narcissistic as hell as it's all about me and another American's opinion being spot on about Gana in all respects, I'm hoping me and another TW 'Merican are two thumbs up on Allan when we see him play in Blue. He's filling a hole in our squad that your cousins across the pond have been screaming needs addressing.
Mike [said 'other American previously noted] can speak for himself, but I think he'd agree with the above.
We need, need, need this guy. No one in our midfield presently can do what this dude purportedly can do. He will instantaneously make us a better side.
Self-absorption dictates you ignore proper English and start sentences with "Me" and not "Person X and I". Thought I'd mention that, too.
Andy Sheehan
24
Posted 08/09/2020 at 00:34:56
Hopefully a Peter Reid type of player: fight, pass and "Fuck you, I'm here to win" attitude.
Martin Berry
25
Posted 10/09/2020 at 08:34:33
Allan is going to be a massive crowd favorite as he will be a relentless nuisance to the opposite player in possession.. I expect he will be cheered to the rafters when he wins the ball back ( crowd when permitted) which I expect him to do on a regular basis.
He is just what Professor Carlo wanted and that will do for me.
Thomas Lennon
26
Posted 10/09/2020 at 08:59:35
Agree with Andy #24.
The improvement I hope to see is better ball retention in midfield, especially when we move forward. Gana was top class at getting the ball back but he had far too much to do!
Colin Metcalfe
27
Posted 10/09/2020 at 09:27:01
Nicolás #17 difficult to say as Covid is on the rise in certain areas of the UK however the league plan on letting a few thousand into stadiums in the near future and it's a case of see how it goes
Len Hawkins
28
Posted 10/09/2020 at 09:40:01
Colin the Government saying up to 1000 spectators has non league clubs rubbing their hands at the prospect of doubling their average attendance.
Robert Tressell
29
Posted 10/09/2020 at 09:49:18
Telling that Ancelotti notes Allan's tactical intelligence. This is what Rodriguez also has. It is obvious that Ancelotti really values this.
Will be interesting to see how that tactical approach and the new personnel translates to a style of football.
Brian Harrison
30
Posted 10/09/2020 at 10:29:46
I think with the new restrictions announced yesterday, and the government now saying the possible trial of fans in stadiums are now on hold. There are reports in todays papers that these new restrictions are expected to last till next March, unless a successful vaccine is found. So doesnt seem as we will be allowed inside Goodison for quite a while to see our new players, which is a shame for us and them.
Also in the papers today I see Klopp is moaning that they are not like the clubs owned by countries and oligarchs. He seems to be saying that the lack of crowds is having a huge effect on what he can do in the transfer market, he says they cant change their model overnight. So if crowds arent allowed back till next March then it seems there spending will be greatly curtailed.
---
Add Your Comments
In order to post a comment, you need to be logged in as a registered user of the site.
Or Sign up as a ToffeeWeb Member — it's free, takes just a few minutes and will allow you to post your comments on articles and Talking Points submissions across the site.