Pickford gets vote of confidence from Ancelotti
Friday, 25 September, 2020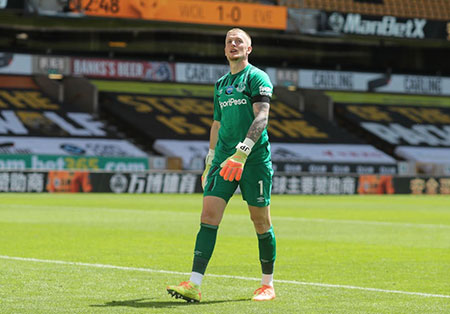 Carlo Ancelotti has given his backing to under-fire goalkeeper, Jordan Pickford, and dismissed speculation that he is actively looking to sign competition for the England international before the transfer deadline.
Pickford's position at Everton has come under fresh scrutiny in the wake of the goals conceded in the Carabao Cup tie at Fleetwood in midweek. He got caught dallying on an awkward back-pass from Michael Keane and saw his blocked attempted clearance fall to Matt Duffy who scored to make it 2-1 on the night.
Alex Iwobi restored the Toffees' two-goal advantage a minute later but Pickford was criticised in some quarters for not coming to claim a deep cross by Glenn Whelan a few minutes later and for not stopping a overhead kick at point-blank range by Callum Camps that made it 3-2.
Everton ran out comfortable winners by a 5-2 scoreline but Pickford's form has been a prominent feature of the post-match analysis.
"I am not really focused on him, like you [are in the media]," Ancelotti said in his pre-match press conference ahead of tomorrow's trip to Crystal Palace when asked about his goalkeeper. "He started really well and did a fantastic match against Tottenham."
"He is a great goalkeeper. He has my total confidence."
There has been talk of Everton buying another goalkeeper this month, with Jasper Cillessen and Sergio Romero among the names mentioned in the press. Indeed, a report in The Times suggested that the club were in contact with the Argentine's representatives but Ancelotti poured cold water on the suggestion, saying:
"We are not looking for this."
Everton have three goalkeepers on the books who have been involved in the first-team squad this season. As first choice, Pickford has started three of the four games in all competitions and Joao Virginia played in the EFL Cup second round tie against Salford City as Jonas Lössl recovered from a minor back problem.
---
Reader Comments (42)
Note: the following content is not moderated or vetted by the site owners at the time of submission. Comments are the responsibility of the poster. Disclaimer
Tony Abrahams
1
Posted 25/09/2020 at 18:29:55
Whatever I think about Pickford, which is a lack of competition, I think this is very good management, just as long as we bring another keeper in!
Gordon White
2
Posted 25/09/2020 at 18:58:07
He's a great keeper. I think he needs to work on his concentration, which will improve consistency.
The mistakes aren't significant when we're winning 5-2. But they will be against better opposition, where there's only a goal or two in it.
Brett Jonathan
3
Posted 25/09/2020 at 19:06:27
Standard professional man-management from an experienced coach here.
If Carlo doesn't rate him, he will get someone else in. For now, Pickford is all he has, so no need to piss him off.
Brian Williams
4
Posted 25/09/2020 at 19:44:54
What manager in his right mind would voice concerns about his keeper the day before a game???
Having said that, he did say we're not looking to buy a new keeper... so just maybe he does have full confidence in Pickford.
Philip McKeown
5
Posted 25/09/2020 at 20:04:33
Carlo never slated anyone last season but bought a new midfield.
I wouldn't pay much attention to these comments... Carlo knows what he has seen.
Barry Rathbone
6
Posted 25/09/2020 at 20:42:39
Well we all know what's going to happen at Palace now...
Justin Doone
7
Posted 25/09/2020 at 21:45:37
I'm with Carlo. I'd rather spend funds on a top class winger or central defender than a goalkeeper.
As much as Pickford has to take some blame for the goals conceded, I always apportion blame to the team.
Far to many needless backwards passes. The defenders need to deal with it better, to snuff out the danger before it develops.
There's a lack of understanding when to play out from the back and when to stop potential pressure against a team that has closed down and continued to press far higher up the pitch.
4 v 3 worth a pass if space available; 4 v 4 avoid the risk!
Peter Mills
8
Posted 25/09/2020 at 21:54:46
I suspect Carlo will be looking for a keeper.
Tom Bowers
9
Posted 25/09/2020 at 22:02:15
You have to expect a manager will support his players. Good for Carlo. Jordan will benefit from the vote of confidence.
How about the jerk who gifted Liverpool a goal at Chelski??
Neil Copeland
10
Posted 25/09/2020 at 22:02:27
Peter #8, yup.
Phil Sammon
11
Posted 25/09/2020 at 23:22:40
'An awkward back-pass from Michael Keane' and an 'overhead kick at point-blank range'.
Quite a favourable depiction of events.
Steve Ferns
12
Posted 25/09/2020 at 23:23:48
Carlo stands by his man, for now. Big Nev says to support him and he'll come good. We've just got to trust the manager and take the advice of the expert / Legend.
Kieran Kinsella
13
Posted 25/09/2020 at 23:25:45
Vote of confidence? Doesn't that mean he's three games away from the sack?
Steve Ferns
14
Posted 25/09/2020 at 23:27:56
You can't give Pickford the sack, Kieran.
He'd only drop it!
Jim Harrison
15
Posted 26/09/2020 at 02:43:59
Steve @12,
I read the comments from big Nev too. Gave me pause for a moment
Then I thought about his coaching career and thought better of it! He's also very big on social support. Which is lovely, but realistically Jordan needs a rocket up his arse!
Frank Sheppard
16
Posted 26/09/2020 at 07:36:11
No keeper is perfect. I like him a lot, he can make incredible saves. His unreliability is exaggerated imo, and he has not let England down. He is a fixture between the posts for England, and some on TW see him as a target for their arm chair criticisms.
Duncan McDine
17
Posted 26/09/2020 at 07:53:51
Carlo isn't daft. He's must be on the look-out for a new keeper, but I can't see us replacing Pickford in this transfer window.
You have to respect Big Nev's opinion, but I wouldn't be surprised if Jordan takes a career path quite the opposite to him – from professional footballer to bin man.
Jerome Shields
18
Posted 26/09/2020 at 07:59:33
Ancelotti is looking at every angle. He will try to improve Pickford by coaching, but also look for back up. It will be interesting how he manages the situation if Pickford does not improve.
He has managed change in midfield well. He wasn't long in getting rid of Schneiderlin, but kept working with the rest. They have all accepted their role in his tactical plan. Wonder what will be the story will be with Bolaise?
Sam Hoare
20
Posted 26/09/2020 at 08:09:14
Carlo spoke well of Tom Davies last season but he then bought two central midfielders to replace him.
Carlo is a 'pat on the back' type man-manager who's highly unlikely to slate his own player in public.
There's every chance that Pickford will remain our keeper for the foreseeable future but another error in the next few games and I'd not be at all surprised to see Romero or similar come in.
Martin Mason
21
Posted 26/09/2020 at 08:30:57
There are very few top keepers in the Premier League who aren't getting stick from some fans. The reason for this is that they have the most visible and difficult job of all team members. They can't hide and, when exposed, everybody and his dog will find fault if they don't pull off the save.
When the ball comes at them or into the area, it is totally random in terms of intensity and direction and what many mistakenly describe as flapping is the keeper trying to keep all options open on what is obviously a nervous high. As many teams develop this very fast counter-attacking charge, there are many shots now that are just unsaveable.
Remember also that the goalie isn't the only defender and he is often only needed because he has been left vulnerable by defensive mistakes. I believe that Gordon White above hits the nail on the head, Pickford is a great keeper who has a few character faults that he should be able to iron out. I trust the judgement of Carlo, Southall and Southgate.
Ian Horan
22
Posted 26/09/2020 at 08:48:10
It's crazy that every goal conceded brings about a crucifixion of Pickford, yet the chances missed by our forwards are commented on as at least he is getting in the right position.
Let us be honest, Pickford has been no worse than Richarliosn in my opinion. Richarlison missed a bagful away at Spurs, Pickford won us the game with his first-half saves.
As someone once said, "It's a funny old game."
Tommy Surgenor
23
Posted 26/09/2020 at 08:51:06
I desperately want Pickford to do well. In flashes, he is excellent. But he lacks consistency.
Also, his confidence must be shot as I haven't seen any of this fabled "distribution" of late.
Tony Everan
24
Posted 26/09/2020 at 09:27:01
Calvert-Lewin's header won the game at Tottenham, but so did Pickford's two outstanding saves from Alli and Doughty. Those two saves were as good as that brilliant header.
There has to be some balance to the criticism. I thought Carlo's vote of confidence was slightly veiled. We are not 'really' focused on him he said. Which translates as they are focused on him but not foaming at the mouth like the media tends to.
The fact we are winning games is giving him some breathing space with the manager. If he doesn't iron out his aberrations, he will rapidly lose his manager's trust. When or if that goes, he is finished at Everton.
Pickford is at a crossroads: if he has it in him, he needs to step it up right now. The team in front of him is deserving of a quality, consistent keeper that is an asset, not a weak link.
Paul Tran
25
Posted 26/09/2020 at 09:33:53
Pickford will improve, or he will be replaced. This time next year, we'll have a different keeper.
Mick Conalty
26
Posted 26/09/2020 at 09:45:09
Duncan #17,
Bin man?
Don't you mean Refuse Disposal Technician?
Martin Mason
27
Posted 26/09/2020 at 09:45:45
We need to recognise too that Pickford does exactly as he's told to by the coaches and Carlo's number one rule is play it out from the back at all times; that's why you don't see so many of his 50-m passes now as it can often lose the ball and you then get it straight back.
Carlo implied that this was the reason for Pickford not hoofing the back pass last week. He first looked for a pass and paid for it. Pickford is Everton through and through and has committed himself to the club consistently. We should try to give the lad some support.
Phil Bickerstaff
28
Posted 26/09/2020 at 09:51:39
I am new on TW but have read the comments over many years.
Pickford will only be as good as his defence. When he first joined us, he was a top keeper, good distribution and area management.
Now, the main thing is his concentration and the shite centre-halves we have. We need another defender like Jagielka or Watson to help him.
Brian Murray
29
Posted 26/09/2020 at 10:01:09
Very commendable of Carlo to publicly defend the goalie but surely it's only a matter of when not if he will be replaced. Total madness and another season wasted if we pin our hopes on him not costing us more games and points.
James Lauwervine
30
Posted 26/09/2020 at 10:18:32
I don't see Pickford as at fault for either of the goals against Fleetwood.
The first is a backpass which he takes a touch onto his left-foot to clear it and is closed down on his blind side very quickly, then there's a lucky ricochet straight to their player.
The second, the ball is blasted at him from about three yards. It seems like every goal we concede now, everyone points the finger at Pickford and it's bollocks in my opinion.
Phil Lewis
31
Posted 26/09/2020 at 10:26:34
Sam #20,
Carlo speaking well of Davies then replacing him....
There's a great scene in 'Goodfellas' where Henry describes how it is not the way of the mob to let you know that you're about to be 'whacked'.
He says that "They come to you with a smile, with their arm around you" (or words to that effect). As for Pickford? I'm sure that Ancelotti is well versed in 'The Italian way'...
Sam Hoare
32
Posted 26/09/2020 at 10:40:25
Phil, I hope so! I honestly struggle to see any pathway for Pickford but the Joe Hart route. He's a very decent keeper but he just doesn't seem to be getting better. The opposite in fact if you take a close look at his stats. Though he was great against Tottenham. More of that please.
Brian Williams
33
Posted 26/09/2020 at 10:42:45
Sam #20,
If that's the case, then those that want rid will have to hope he cocks up today or on Wednesday against West Ham because, after the Brighton game, which is a week today, there's only two days left in the window.
Steve Shave
34
Posted 26/09/2020 at 10:50:51
Who would buy him though? He's probably on decent wages and all things point to him being another Joe Hart as Sam rightly puts it. Best chance we have is a swap for another struggling yet high profile keeper at another club?
Sam Hoare
35
Posted 26/09/2020 at 10:53:27
Brian, I don't think there's any chance we'd sell him, mainly because who would offer £20m+ for him?
I'd really like to get in Romero, even as a more substantial backup, but our squad is so bloated and a centre-back is arguably a bigger priority currently. I expect Pickford to get the rest of the season to improve. Possibly January if his form reverts to last season.
Phil Lewis
36
Posted 26/09/2020 at 11:40:03
Jasper Cillessen of Valencia is the answer for me. I'm unconcerned about the fee. We need to think big if we are serious about challenging for a top 4 position.
Robert Tressell
37
Posted 26/09/2020 at 12:16:17
If Ancelotti thought we needed a new keeper as a priority, we would have one by now.
Thinking big and spending money on a new keeper is fine, of course, if we have the money to spend.
Being realistic I doubt we do.
Same goes for centre-half and right-back.
For the time being let's get behind him. He's talented.
Phil Lewis
38
Posted 26/09/2020 at 13:15:27
If a star striker became available and we got him even for a hefty fee, everybody would be over the moon. Why should the goalkeeping position cause different attitudes among fans when it comes to spending?
Max Murphy
39
Posted 27/09/2020 at 11:19:48
Pickford is the weak link in the team. He will not improve, and will cost us points. His cowardly tactics are so obvious, especially when he fails to cut out crosses, or challenge attackers. Carlo knows this, and a new keeper will be arriving soon.
Simon Harrison
40
Posted 28/09/2020 at 02:47:35
Phil [31]
I remember that scene in Goodfellas, what a cast, what a movie. How Scorsese never got nominated for that film, I'll never know.
Anyhow, like you say about the Italian (Roman/Sicilian) way, here's the quote in full for you:
"If you're part of a crew, nobody ever tells you that they're going to kill you. It doesn't happen that way. There weren't any arguments or curses like in the movies. So your murderers come with smiles. They come as your friends, the people who have cared for you all of your life, and they always seem to come at a time when you're at your weakest and most in need of their help."
Remind you of anybody? I wonder if Pickford is a 'morto che cammina', or does he actually have Carletto's confidence?
Alan J Thompson
41
Posted 28/09/2020 at 05:14:08
That's it then, let's ask Ray Liotta if he knows of a keeper (other than that great Evertonian Sly Stallone) who doesn't make mistakes and put a bid in for him.
Wot, there isn't one... what movie was that in, "The Man Who Never Was"?
Derek Knox
42
Posted 28/09/2020 at 06:04:51
Luca Brazi, may have done, but the last I heard, he had his head down with the fishes! :-)
Tony Abrahams
43
Posted 28/09/2020 at 07:34:39
Ray Liotta had a night at Goodison once, or was it the real Henry Hill? It must have been Henry because I remember my red mate was calling us all the snitching baskets under the sun!
---
Add Your Comments
In order to post a comment, you need to be logged in as a registered user of the site.
Or Sign up as a ToffeeWeb Member — it's free, takes just a few minutes and will allow you to post your comments on articles and Talking Points submissions across the site.