Everton's goal machine rolls over the Hammers in cup rout
Wednesday, 30 September, 2020
Everton 4 - 1 West Ham
Everton booked their place in the last eight of the Carabao Cup for the second year running as Dominic Calvert-Lewin grabbed his second hat-trick of the nascent season to propel the Toffees to another handsome win.
The striker followed up his treble against West Bromwich Albion 11 days ago with three more goals that put the tie to bed after Robert Snodgrass had curled the Hammers back to parity in the first minute of the second half. Richarlison grabbed the other and had another ruled out for offside as Everton comfortably advanced to the next round.
The victory was marred by three injuries on the night, however, and Carlo Ancelotti will anxiously await the results of scans of the damage sustained by Richarlison and Allan in particular, as vital first-choice players, while Jonjoe Kenny will also need to be assessed after awkwardly rolling his ankle in the first half.
Ancelotti had named another strong line-up, keeping his in-form strike force intact but this time adding James Rodriguez for his cup debut and Allan in midfield alongside Gylfi Sigurdsson and Fabian Delph. Niels Nkounkou and Kenny continued as the full-backs with Lucas Digne putting in another impressive display at centre-half partnering Michael Keane. Anthony Gordon missed out with illness while Ancelotti said Moise Kean was unavailable because he "wasn't feeling good".
Keane had impressed over the first few games for his defensive work but after Felipe Anderson had fired the first salvo with a low drive in the seventh minute that Jordan Pickford saved, the England defender turned away from his man expertly before delivering a peach of a ball over the top to set Calvert-Lewin for his first goal of the evening.
The striker pulled the defender's pass over the top out of the air with jaw-dropping control and then stroked the ball past Darren Randolph to make it 1-0 with 11 minutes gone.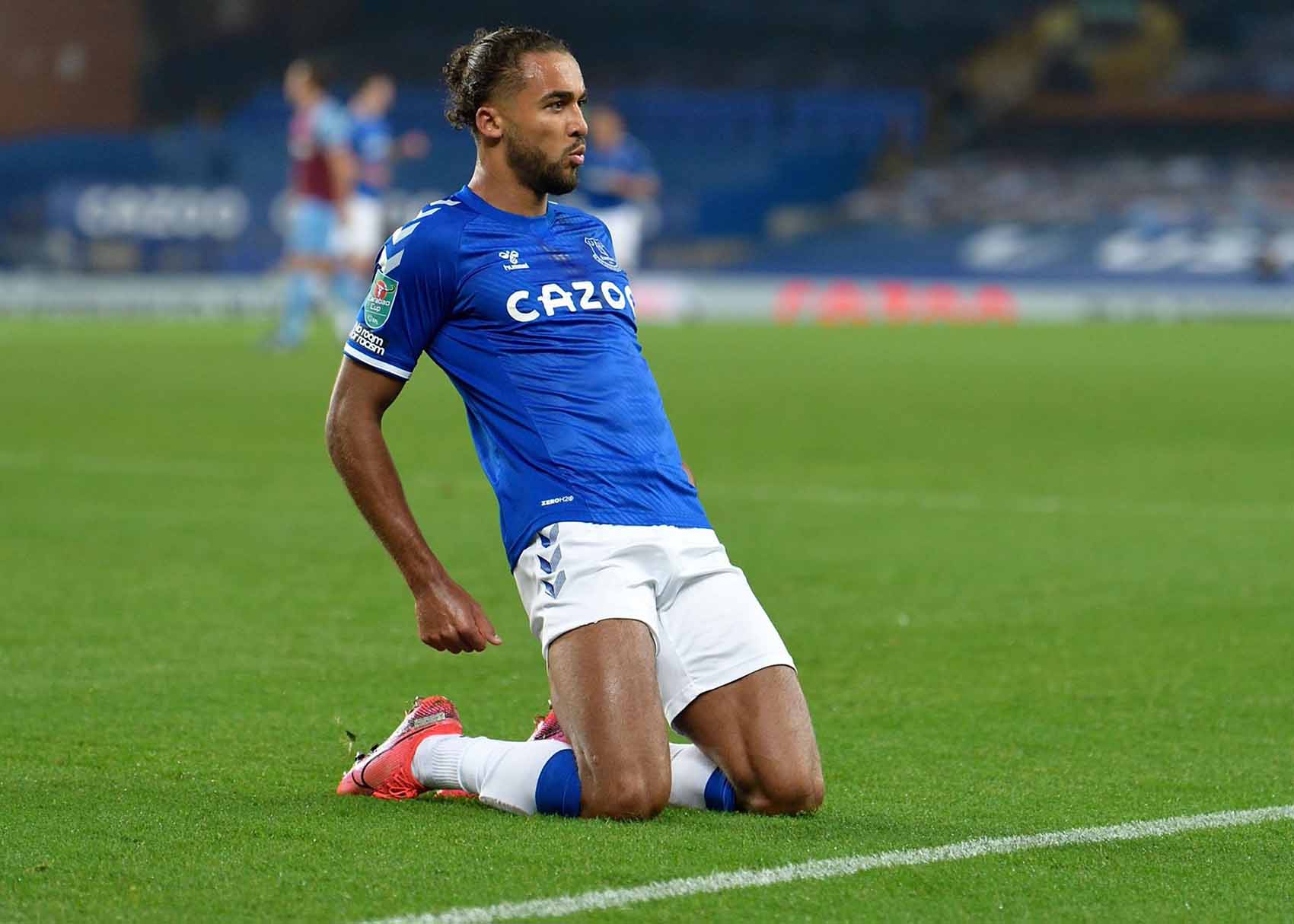 It was almost 2-0 with 20 minutes gone when Allan put Richarlison through into space but after the latter Brazilian had driven his way between two defenders and prodded goal-wards, he was foiled by a terrific one-handed save by Randolph who palmed it onto the roof of the net.
Two minutes later, Richarlison thought he had got his goal when a lovely Everton move was finished off by James's sublime defensive-splitting pass but while the Blues' No.7 slotted the ball between the goalkeeper's legs, the referee's assistant raised his flag for narrow offside.
Just after the half-hour mark, Calvert-Lewin raced onto another good ball forward from Rodriguez but blazed over before the visitors tried to press their way back into the game in lead-up to half-time.
Kenny covered well to block a powerful low cross from the West Ham left but his foot buckled as he planted it into the turf and he was left writing in pain before hobbling off to be replaced by Seamus Coleman.
Manuel Lanzini then dropped a glanced header narrowly wide at one end and Rodriguez's speculative effort on his weaker foot drifted over in stoppage time at the end of the half.
Everton had barely had time to set themselves for the second period before West Ham were level. Attacking straight from kick-off, the Hammers worked the ball forward and it ended up at the feet of Snodgrass in too much space and he whipped a shot past Pickford from 20-yards.
The home side's response was swift, however. Three minutes later, Richarlison collected Rodriguez's lay-off but saw his shot come back off the post and after Calvert-Lewin had ballooned another effort into the stands, Richarlison powered to the byline and cut it back for Sigurdsson but he was denied by another good stop from Randolph, this time saving with his foot.
Everton restored their lead two minutes after that, though. Richarlison again terrorised the Hammers' back line by running at them and then across the edge of the box where he unleashed a shot that deflected off Declan Rice and flew past the keeper.
Unfortunately, the Brazilian's evening was brought to a premature end just five minutes later when, tracking back to make a sliding tackle on an opponent, his ankle twisted under his weight and he, too, had to be helped off the field after it was clear he could no longer continue.
Alex Iwobi came on to replace him but Allan would follow his compatriot to the bench not long afterwards after collapsing to the turf clutching his groin in significant pain. Abdoulaye Doucouré was sent on as his replacement and though Lanzini sliced a good chance wide and Pickford had to push Sebastian Haller's overhead kick over his bar, it was Everton who scored next, again through Calvert-Lewin.
A short corner on the left side appeared to going nowhere but the ball eventually ended up at the feet of Iwobi in the box who curled a shot off the right-hand post and Calvert-Lewin was in the right place at the right time to tuck home the rebound with minutes left.
Listen
And the shoo-in for an England call-up completed his hat-trick six minutes after that. Rodriguez was involved again as Sigurdsson slipped "DCL" in behind the defence with just Randolph to beat which he did with calm, aplomb and a tidy left-foot finish. It was Calvert-Lewin's eighth goal of the season already and it capped another strong performance from Ancelotti's men even if they will be counting the cost in terms of injuries.
Though this wasn't as dominant a display as the scoreline suggests, there were, nevertheless, strong performances all over the pitch. Calvert-Lewin grabbed the main headline again along with James, who continues to make the game of football look effortless, but Sigurdsson and Delph put in their best personal outings for a long while and Nkounkou demonstrated the defensive abilities that weren't tested in the earlier rounds against lower-league opposition.
Importantly, the new-found confidence in the side was again in evidence. Where Everton teams of recent years might have been knocked back after giving up the lead and then losing key members to injury and, perhaps, struggled to a draw and had to survive the lottery of penalties, Ancelotti's 2020-21 edition simply carry on undeterred and score again themselves.
So with a strong showing over their first three rounds, Everton now have a break until the third week of December when the quarter-finals are scheduled to take place. At least five of the other seven sides left in the competition will be from the Premier League, four of them from the so-called "big six" but injuries permitting, the Toffees will fear few sides the way they are currently playing.
---
Reader Comments (75)
Note: the following content is not moderated or vetted by the site owners at the time of submission. Comments are the responsibility of the poster. Disclaimer
Danny Broderick
1
Posted 30/09/2020 at 22:40:47
Fingers crossed we get a good draw.
DCL was the difference tonight. No coincidence all these tap ins he's scoring. It comes from work on the training grounds - first time shooting, following in shots for rebounds etc. The England call up will be well deserved.
Ryan Holroyd
2
Posted 30/09/2020 at 22:53:18
Championship player
Phil Smith
3
Posted 30/09/2020 at 22:54:09
I know we ended up winning comfortably but it was poor management tonight, I think. We have a big squad that have done well in the cup. I don't understand why we played Delph and Allan, with James as well. Picked up 3 injuries and I'm not surprised. We could have won that with Tom and Iwobi instead and saved the big guns for Saturday.
Carl Manning
4
Posted 30/09/2020 at 22:59:33
Phil, Allan was the best player on the pitch before he went off and James was James! Creating space and cutting through them. Tom and Iwobi would not have done the same job! To even compare the ability of new guys to the old is laughable
Phil Greenough
5
Posted 30/09/2020 at 23:00:15
It's easy to say that with hindsight. Phil.
Will Mabon
6
Posted 30/09/2020 at 23:01:18
Phil - and West Ham had no injuries, did they? It's not inevitable. There were periods in which West Ham had good possession and play, then caught us out at the restart. I wouldn't call it hugely comfortable until the later goals. Not guaranteed that we would have won with a reduced strength side. It's part of trying to win stuff.
Patrick McFarlane
7
Posted 30/09/2020 at 23:16:16
The Hammers came to Goodison tonight on the back of a romp against Wolves. I would have been annoyed if we had sent out a weakened team and gone out of the competition, injuries can occur at any time in any circumstances, even during training. It wasn't as comfortable as the score-line might suggest, but that doesn't matter the aim was to get through to the next round and keep the feel good factor going.
Hopefully, Richarlison and Allan's injuries aren't as bad as they both looked and they'll be back sooner than expected. Perhaps a few weeks rest for Richarlison wouldn't go amiss and it would be interesting to see how we play without him on Saturday. Another tough test awaits against Brighton.

Mary Coleman
8
Posted 30/09/2020 at 23:33:29
What does Duncan Ferguson do at our club...?? Why is he there...?? Hilarious
Bill Gall
9
Posted 30/09/2020 at 23:34:53
Glad Ancelotti fielded a strong team as it is no use going into a game with a weak team and use it as an excuse if we lost. Isn't it the Everton experience going into a game, getting injuries to players and usually key players in our revival. We seem to have a strong squad this year, and after Saturday we have 14 days before our next game.
To me the 3 new signings have made the rest of the squad raise their game, and any changes that have to be made on Saturday will see a strong desire to keep their places.
Tonight was a good team effort but I think special mention should go to the young french boy at left back Nknoukou, he never ventured far up the field but he kept Yarmelenko quiet who is an experienced international. We want to get into Europe and 3 more wins in this competition will get us there, instead of relying on a top 6, that is possible, but with a lot more games.
Jimmy Hogan
10
Posted 30/09/2020 at 23:36:15
Played six, won six. When was the last time?
Jerome Shields
11
Posted 30/09/2020 at 23:36:45
Ancelotti must feel that Everton need to do well in this competition. I have always maintain that as well as a good Premiership run, a good cup run is needed.
The reason is two fold.
If Everton do well this season they are likely to be in two competitions next season like the top five are every season or else the will not be able to maintain themselves in the top 6 for the subsequent season. It is necessary to have a squad who have match experience to do this.
The second reason is to do well in the Premiership you have to have a squad fit enough to play in two competitions, because you are up against a top four who have this experience and necessary fitness, year in year out.
If Everton have injuries they have to treat them as effectively as possible and be adaptable enough to have replacements to maintain a high performance momentum.
Lee Courtliff
13
Posted 30/09/2020 at 23:41:31
If had to choose between winning one and losing one of West Ham and Brighton...then I would have picked tonight!
We need to win something.
We'll almost certainly come nowhere near winning the League but this Cup is doable, with a bit of luck.
And congrats to DCL. What a stunning development in a player who has learnt his trade the old fashioned way.
Paul Birmingham
14
Posted 30/09/2020 at 23:44:15
Hindsight's easy, but EFC, put out a team to win., today.
People have moaned in the past we didn't try in this competition.
The positives is Everton won, there's a cost to winning with the injuries, but the strength of the squad, is now tested the next two weeks.
Let's see how the injuries go, but the belief and hope in the squad will grow, and this win, in time may be a significant win.
No complaints, yet bar the injuries, which hits every team that's got genuine ambition.
Fighting spirit on Saturday, and Brighton, can be beaten, with or with out a few key players.
Let's hope the injuries are
Danny Broderick
15
Posted 30/09/2020 at 23:44:18
Lee (13),
I agree with every word!
Jay Wood
[BRZ]
16
Posted 30/09/2020 at 23:46:15
Further music to DCL's ears. Carlo said:
"He is doing a fantastic job - he is on fire. I don't know if he is the best [English striker] and I don't care - he is the best at Everton."
Phil Greenough
17
Posted 30/09/2020 at 23:46:42
Jimmy@10:
Everton have won each of their opening six games of a campaign for the first time since 1938-39.
Mike Gaynes
18
Posted 30/09/2020 at 23:52:03
This game was so injury-filled that even TW went down!
Rob Hooton
19
Posted 30/09/2020 at 23:54:06
Was happy to see a strong team as you can guarantee Europe early in the season by winning this - and it would be our first trophy since I was a teenager!
The injuries are concerning, let's hope they are not serious and we will have our key players fit for the derby.
Jerome Shields
20
Posted 30/09/2020 at 23:59:41
I hope Lyndon is still. on the roof sorting out the signal, because the edit button didn't work either.
Karl Masters
21
Posted 30/09/2020 at 00:05:20
Two West Ham mates of mine furious that Moyes picked a weakened team.
Apparently every season they are told that the Club will take the League Cup seriously. They are told that it's a cup they want to win.
And then they put out a weakened team and go out. Sound familiar? And their Chairman is a tight wad who even complained about paying £50k to fly their entourage up from London for tonight's match! ( ever heard of the team bus, Sullivan?😂)
Carlo Magnifico is the first Everton boss since Joe Royle to pick strong teams for this competition. He wants to win it! And he means it.
Karl Masters
22
Posted 01/10/2020 at 00:10:42
Mind you, under Big Joe we went out to Millwall and the mighty York City - and over two legs as well, so no excuses either time.
In fact other than winning the FA Cup in 1995, Joe was a disaster in cup competitions our FA Cup holes under him ended against Port Vale in 1996 and Bradford City in 1997!!
Kieran Kinsella
23
Posted 01/10/2020 at 00:13:53
Karl
Are you surprised? Now dour Davey can bring them down to Earth after Wolves and focus on the relegation battle
Si Cooper
24
Posted 01/10/2020 at 02:26:45
To some extent I'd be gutted if Richy and Allan aren't available for the Derby but I am happy we made sure of the result tonight and feel our back-ups should be good enough to get a result against Brighton.
Unless he is injured I'm really surprised Moyes didn't utilise Antonio. I thought his sheer strength and pace could have given our centre-backs a difficult problem, and nobody else in their squad currently seems to have that x-factor.
Hopefully Richy has enough flexibility in his joints that he only tweaked his ankle ligaments, and Allan has heeded the first twinge of a pulled muscle rather than having something tear.
Shoutout to the Ladies (do their games get reported on TW?). Saw the second half of their semi-final, in which I believe they were second favourites. Apart from the first 10 minutes they absolutely dominated with some lovely combinations, great goals and a clinical defensive display. Apparently their own renaissance is well under way and they could be capable of competing at the very top level like they did when the side included the likes of Jill Scott and Farah Williams. Looks like the squad has that nice blend of a smattering of top class international players, a solid core of proven professionals and a host of exuberant youthful talent.
Mark Andersson
25
Posted 01/10/2020 at 02:36:58
Another great win
Bravo Carlo for your team selection..
Im made up for DCL great goals for a champion ship player...
John Pierce
26
Posted 01/10/2020 at 03:22:06
Ancelotti picked a strong team to reflect him, a serial winner, a serious manager, which is what we've cried out for years. From Moyes onwards, we've never treated this competition properly.
Injuries are part of the deal. Post match Ancelotti feels Richarlison will make it Allan will miss out.
This was professional and clinical, West Ham had a spell before and after half time because we stepped off. The quicker we play the better we look.
Cannot wait for Saturday.
Phil Smith
27
Posted 01/10/2020 at 03:26:48
You're not reading what I said. We could have won that (against a rotated West Ham side) with the other players at our disposal. We have a big squad and the fringe players should have been capable of doing the job. I was annoyed b4 the game started when I saw it was almost a full strength team. Was fuming with losing Allan. He's key to this side. Now we don't have him for the next game at least and probably the derby. James was strolling round after 70 minutes and looked knackered. We can't play the same side week in week out. We have a squad. Use them. If it was City or someone, fair enough. I thought b4 it was risky. 3 injuries told me I was right to be apprehensive. Not doubting Allan was our best player for most of the game and James did well for 60 minutes. Did we really need him and James out there. I think no.
Nicholas Ho
28
Posted 01/10/2020 at 03:51:36
Last season, first 6 games: 3W 1D 2L, 9GF : 9GA
This season, first 6 games: 6W 0D 0L, 19GF : 6GA
Don't care how we did that COYB
Jerome Shields
29
Posted 01/10/2020 at 04:06:04
Phil#27
Prior to the game I said similar to what you have posted regarding squad depth and the need to allow fringe players match time. I did think that James did get his first experience of the Premier League pace against Crystal Palace, he was knackered at the end of it. I would have favoured resting him. I was surprised at the strength of the team when it was announced.
I thought that Ancelotti was serious about winning the game. I agreed with the importance of progressing. Thought that Everton in the first half-hour should have had more goals for their effort. I am concerned about the injuries.
So now we will see if Ancelotti has got the balance right with Brighton next week and two weeks of a risky international break. I am sure he will be working hard with the fringe players in the meantime.
Your argument is a valid one, Everton are about to face the inevitable injury test, a bit earlier than we would have liked. In favour of Ancelotti was the outstanding performance of Sigurdsson, Calvert Lewin and a much better Iowbi. Nearly forgot the old pro performance of Nkounkou and a new competent centre back Digne. Doucoure seamlessly replaced Allan and has hopefully learnt from his first half Crystal Palace performance. Suddenly Everton canv pass a ball without giving it away cheaply.
Interesting times we are not use to. We played against a side that where like are old selves. Glad we have seen the back of that after 20 years.
Brian Cleveland
30
Posted 01/10/2020 at 04:11:18
Great eventual result, but it now seems quite a regular pattern to let opponents back into the game just after half time. Tonight, Fleetwood, West Brom... 3 out of 6 if I'm not mistaken.
Guess it doesn't matter if we can always step it up again, but better opponents are more likely to stop us doing that.
A little more concentration after the ht tea and biscuits please.

Paul Smith
31
Posted 01/10/2020 at 04:32:43
So many ppl being smug about DCL this season not a single thread is without a poster and their self righteous indignation to those who dare to have cast doubt on his suitability for the Prem. Happy to have been proved wrong but let's move on hey.
Alan J Thompson
32
Posted 01/10/2020 at 05:09:42
Some time ago I said that we would see the best of Richarlison when he had a partner capable of putting away most of the half chances that came along. It seems he may have him now.
Steve Brown
33
Posted 01/10/2020 at 05:14:57
Bit damned if you do, damned if you don't on team selection for the league cup. If Carlo had rotated the squad for the match and we'd lost, he would have been criticised. Play a strong team and you risk injuries.
Personally, I would have taken the chance to play Davies and Iwobi from the start, but then Everton fans know Moyes. He was always going to play an under-strength team as he did countless times when he managed us.
We are lucky if Allan is out 4-6 weeks that there is an International break coming up for 2 weeks. Time for Delph to turn up in an Everton shirt.
Tim Constable
34
Posted 01/10/2020 at 06:57:40
Apparently Carlo hasn't lost a cup tie to lower league opposition since 1995 when he was Parma manager. It seems he learnt from that experience and I am glad that he has. We need success and this cup could just get the ball rolling.
Danny O'Neill
35
Posted 01/10/2020 at 06:58:53
Depends how you look at that one Brian.
I think what you are seeing is not just a fixing of the blatantly obvious midfield deficiencies, but a change in mentality. No longer do we have the fragility that saw us collapse at the first sign of a setback.
I get your point, but think we're focussed on our own game now. Concede? Hell, best go and score again then. Last season, the fear and anxiety would have set in.
Ian Jones
36
Posted 01/10/2020 at 07:30:00
It's always a moot point when it comes to cup games and the strength of the team selected. Injuries happen, part of the game. It's unfortunate. We are not the only team to suffer.
I prefer to play the strongest team available. Try to create a winning (or at the very least unbeaten) mentality. Winning becomes a habit. Players coming in should feel they need to raise their games so as not to let the side down.
We have now won 6 consecutive games. (Forget the pre-season games!)
It makes me laugh when managers complain about the number of games being played, (although Tottenham's current schedule is tough) but I guess if you turn up and win every time you play, there will be fewer complaints.
Dan Nulty
37
Posted 01/10/2020 at 07:37:13
Tottenham fixture list is not fair at all I'd say. I have every sympathy with them.
I do love the mentality we have, go out and win every game. We do have to try and balance that though with workload, 3 players and our squad quality is a lot better but it is paper thin. Be interesting to see how we get on without Allan this weekend. Good to see Delph fit though and hopefully he can fit in and do the same job. Iwobi has big shoes to fill of Richy is out. He needs to show why we paid 26m for him.
Ernie Baywood
38
Posted 01/10/2020 at 07:44:01
I was also surprised at the lineup. I don't James would have played the full 90 but for injuries, though.
I guess he figured that they have one more game to get through before the international break.
It's pretty unlucky to get those types of injuries. You could rest the players, get rolled over, and then they injure themselves in the next game. You can't really win. If the comp is important to us, then you put out a decent side.
Once Richarlison went off you saw the impact on James. He loves springing the early ball out wide to him. We're not quite the same without one of them (though we were still scoring!).
Tim Kells
39
Posted 01/10/2020 at 07:44:49
Delighted with the result and the strong team picked. Yes, we may have got through with some squad players playing but just after half time the game was still in the balance and our extra quality made the difference.
Interesting that Moise Kean wasn't even a sub. Maybe things are happening before the end of the international transfer window next week.
Denis Richardson
40
Posted 01/10/2020 at 07:45:10
Injuries will happen at some point, you just don't want too many and to your key players. Allen will be a really big miss and I just hope he's not out for a long time. Judging by what the papers are saying he's not going to be playing any time soon and I highly doubt he'll be available for the derby. Massive shame.
Sounds like Richies isn't that bad and he'll be fine for the derby. May need to not take a chance with him though against Brighton.
Still, we have a billion midfielders. Delph should be able to cover for Allen for Brighton and I would start Sigurdsson. I really wouldn't risk Richarlison at this stage of the season.
DCL going great guns. In the hat for the next round at least.
Brent Stephens
41
Posted 01/10/2020 at 07:49:09
Great dcl hat-trick again; goals made with really good build-up play. I was also drawn by the number of times Michael Keane made accurate, incisive passes, as well as generally defending well again.
Micky Norman
42
Posted 01/10/2020 at 08:00:48
James was quiet towards the end of the game no doubt. It must be hard dragging 3 markers around with you all night. The space that creates for other players is like playing opposition who are permanently down to 10 men
Mal van Schaick
43
Posted 01/10/2020 at 08:07:47
Rodriguez ran the show, Richarlison put a good shift in and DCL reaped the rewards. It gave Delph, Sigurdsson and Nk a chance to showcase themselves. Like others I am concerned if we get a long injury list, we haven't got the quality on the bench.
Kase Chow
44
Posted 01/10/2020 at 08:19:56
I was completely wrong about DCL. I genuinely could not see a player there how wrong I was!
Another win well done Everton. We can't simultaneously complain about not winning a trophy but also complain about playing our strongest team or doesn't make sense
Gutted if we don't have our strongest team for the derby it'd be typical. I would so love to give them a proper match for once. I hate their dominance over us so so much
Hey ho, they've won favour with the footballing gods in a way that we simply haven't
Anyway, back to tonight: what a superb win!!! We look fitter, stronger, more organised and more cohesive. The new players have obviously helped loads but mentality, desire and game play all appear to have changed too
Well done Moshiri, well done Carlo, well done Bill, well done Evertonians and everyone connected with the club. About time we got some happiness!
Come on you blues!!!
Geoff Trenner
45
Posted 01/10/2020 at 08:40:32
I'd have thought that James can play every game, as long as he stays injury free. He uses so little energy, no gut-busting sprints or unnecessary runs. A bit like the conductor of a well-drilled orchestra.
Fran Mitchell
46
Posted 01/10/2020 at 08:56:10
Question for debate:
Does signing DCL for £1,000,000 mean Walsh was actually a super-scout afterall?
Martin Reppion
47
Posted 01/10/2020 at 09:00:56
Great to see so few negative comments on here today.
Hindsight has 20/20 vision. But the way the injuries happened they could all have happened any time.
What we have seen in this competition is that we have a good squad player in Delph as long as h is fit. SIggy was not a complete waste of money now that he is motivated by players around him and Nkounkou is the find of the season. This weekend we should be strong enough to beat Brighton without Richarlison (a chance for Kean and maybe even Ellis Simms) and Allan, for whom we have a stack of cover trying to impress either Carlo or another manager.
The enigma for me is Iwobi. He was rubbish at the weekend when he came on and regularly trapped the ball ten yards. Last night he looked rejuvenated. Or perhaps he had heard about the scouts watching.
Whatever happens in the next 3 weeks. This has been our best start to a season since my late dad was a kid. I'm enjoying the ride. Positive thinking guys. Keep the faith.
Derek Knox
48
Posted 01/10/2020 at 09:09:24
Martin @47, Nkounkou find of the season? Find of the Century more like. As I said on another thread, we thought Seamus's deal, £60k from Sligo, would never be surpassed or even remotely matched.
Here we have Niels Nkounkou on a free from Marseilles, full kudos and appreciation to Marcel Brands for pulling that one off.
Phil Greenough
49
Posted 01/10/2020 at 09:14:00
I read that Everton had to pay Marseilles £250,000 for him.
Stan Schofield
50
Posted 01/10/2020 at 09:35:36
Geoff@45: Totally agree, it's great to see such economy of effort. I'm trying not to get carried away, being so used to being raised up and then let down. But I haven't seen such economy of effort from an Everton player, such easy elegance, with such effectiveness, since Alex Young and Colin Harvey. Perhaps Duncan McKenzie did it too. That's how good Rodriguez looks to me.
In fact the entire team seems to make it all look so much easier now, as if they know they'll score more than the opposition. The confidence, the ease of quick interpassing, the elegance, the last time I recall seeing it this good was the 1968-69 season. But I don't want to get carried away!
Stephen Vincent
51
Posted 01/10/2020 at 09:41:17
We did pay £250,000 but it was classed as development compensation not a transfer fee.
Christopher Timmins
52
Posted 01/10/2020 at 09:41:52
A follow-up win on Saturday and we will enter the International break in great shape.
We have momentum at the moment and Calvert-Lewin is playing out of his skin!
John Keating
53
Posted 01/10/2020 at 09:43:33
Apart from the injuries, the only negative from last night was the lack of concentration – again – after kick-off of the second half.
Once, against West Brom, is one of those things, now against West Ham is maybe something that Ancelotti has to bring up to the squad.
Dan Nulty
54
Posted 01/10/2020 at 09:44:44
Fran, really good point re Walsh, I'd argue that he is better than he would have been had Carlo not developed his game. Duncan has coached him really well but I don't think he'd be scoring so many if it wasn't Carlo pushing him to.
I also think Vlasic was a good player but wasn't patient enough nor had the manager he needed in Koeman or Silva.
Walsh received a lot of stick for some of his signings but I'm not sure how much he wanted to sign Rooney and Sigurdsson. Klaassen could well have been Koeman's call.
We will never know the full ins and outs but, as an Evertonian, I'm pretty sure he was gutted he couldn't enjoy the same success as at Leicester. No-one can argue with his record there. Vardy and Mahrez alone were a masterstroke.
Mike Corcoran
55
Posted 01/10/2020 at 09:52:37
Delph looked good last night, I hope he can slot in for Allan. How about putting
Nkounkou left-wing for Saturday and resting Richarlison to recover properly? As well as Iwobi played, I think the Nkounkou would be a real wildcard.
Sigurdsson looks reborn. Doucouré was excellent when called on. Digne was assured at CB.
Where did these versions of Michael Keane and Calvert-Lewin spring from? The James Factor is in full swing.
Brian Harrison
56
Posted 01/10/2020 at 10:00:27
Another win... but not without a possible downside with injuries to Kenny, Richarlison and Allan. I can't remember the last time we had to make 3 substitutions due to injury; all 3 were complete accidents.
I know Calvert-Lewin has got all the limelight and rightly so, but Richarlison gives us something that no other player gives us. He goes past defenders, either on the inside or the outside, and can score with either foot. He also creates a lot for himself and others and he is also a good header of the ball. So I think, if he was out for any length of time, it would hurt us more than losing any other player.
I thought at times last night we gave West Ham far to much room in midfield, and they did create a couple of very good chances, so no room for complacency. I see Brighton rested a lot of their first team last night against Man Utd, so their first team will be raring to go on Saturday.
There is no doubt that, under Carlo, Calvert-Lewin looks like the real deal; he has stopped him chasing all over the place and has got him concentrated on staying in and around the box, which is paying dividends.
A pity Gordon was ill and couldn't take part last night as he looks a real prospect but, with no more midweek games for a while, it might mean going back to the Under-23s to get some game time.
I suppose with neither Kean or Walcott in the squad, and nothing about them being injured, maybe both might move in this window.
Dave Abrahams
57
Posted 01/10/2020 at 10:07:19
Mike (55), I thought Delph was terrific last night.
He was involved from start to finish in all areas of the field, linking up play, breaking down West Ham's attacks, and urging the players on. My Man of the Match... although Dominic would get that because of his goals and many would pick James because of his ability to make the ball talk, we still need players to do the donkey work in the background.
Chris James
58
Posted 01/10/2020 at 10:13:27
I can't understand the people who were asking for a weakened side.
We're on a roll and playing a Premier League team who just came off a 4-0 win against a top 10 side and it's not like we have such a deep squad we can make like-for-like quality subs all over the pitch. There's also the international break coming up with rests (for some).
Yes, it's not ideal; we've likely lost Allan for a few weeks, as he's been a huge player for us (Richy sounds like he'll be fine), but I'd rather be facing Brighton without him and in the quarter-finals of a trophy that we have a genuine chance of winning, than be going into Brighton fully fit but with spirits lower.
For me, it's all about maintaining the winning habit at all costs, that's what top teams do, and to be at the end of the first Premier League month with a 100% record of 6/6 in all competitions and scoring for fun (19 goals, 8 for Calvert-Lewin!) is just frankly incredible. I'm sure we'll hit speed-bumps at some point and give the moaners a chance to come out of their caves, but right now we just have to sit back, enjoy and celebrate what Carlo, Brands, Ferguson and Co are serving up! Bravo, Everton, and Bravo, Moshiri – for sticking with it and continuing to support/invest despite earlier failures.
ps: Let's also have a HUGE shout out for the ladies, the first team boys may be in the QFs, but Everton Ladies have smashed Chelsea and Birmingham en route to a Wembley final. COYBG!!!

John Davies
59
Posted 01/10/2020 at 11:34:20
Phil #3. Poor management? Really? We wouldn't have been half as convincing last night had the Manager not put out those players.
We've all been crying out for our Manager to take this competition seriously for years. Had he not done that last night and we had lost YOU would have been the first one on here calling him out as a poor Manager. Poor Manager? Mr Ancelotti? Get real fella.
Bernard Dooley
60
Posted 01/10/2020 at 11:46:27
Along with shoals of other Evertonians, I was made up with the results last night and the way the Blues went about their work. The only blight was the injuries.
I was interested to note that Kenny sustained his injury when having to chase back, he had the opposition player on his left, but still chose to tackle with his left foot, an awkward one to get right. It mirrored Holgate's tackle in the same manner, which has put him out for so long.
Many of us will recall that Gueye chased back and tackled Martial using his "wrong" (according to Gary Neville) foot, won the ball but conceded a penalty care of John Moss, presumably because the tackle looked so awkward.
Last night, Richarlison was chasing back and found his opponent was on his right, but tackled with his right foot, again not the easiest one to bring off.
Pure chance, or food for thought?
Len Hawkins
61
Posted 01/10/2020 at 11:49:31
Delph has shown what he can do in a real midfield. I think he will cover for Allan okay. The passing has improved markedly but Sigurdsson gave a few stray passes to the 'Ammers last night. We're on a run, confidence is building nicely, the goals are going in... Have faith.
Michael Barrett
62
Posted 01/10/2020 at 12:25:47
Hey guys have a look at a show on YouTube called "The Kelly and Wrighty Show". Dalglish's daughter and Ian Wright.
The guests were Daren Lewis and Mika Richards... 20 minutes of praising our new players and the way we are playing... I was shocked, hahaha, but they slaughter Pickford. Defo worth a listen... remember, two of them are kopites as well.
Micky Norman
63
Posted 01/10/2020 at 12:32:25
If that first goal had been executed by two big name players it would be showing all over the web by now. Superb.
Derek Knox
64
Posted 01/10/2020 at 13:10:16
Didn't see anything of the game or much of ToffeeWeb either, the Hospital wi-fi is very erratic, and of course Sod's Law it was at it's worst last night during the game.
I believe TW actually went down too at some point in the second half. I was kept up to date by Ray Roche who delivered an excellent audio account of proceedings every 15 minutes. I think he missed his vocation as a Sports Broadcaster especially for Everton.
Have managed to see the highlights today and although the picture clarity could have been better, I was questioning the two disallowed goals, which I judged ( with a slight bias) to be good. Would appreciate any comments dispelling or corroborating my thoughts.
Jerome Shields
65
Posted 01/10/2020 at 13:57:34
I don't think Doucouré is more likely to take up the Allan role with Delph taking up the box-to-box Doucouré role.
Allan reminds me of the midfield players in the European Championship winning Greek team. Dedicated get in front, hard to get pass, in early, types who sit at the midfield crossroads recovering the ball back to the playmakers.
Doucouré slipped into the role well on substitution. I can't see that being Delph's role.
Alan J Thompson
66
Posted 01/10/2020 at 14:03:54
Fran (#46); I don't know how true it is but I seem to recall an article that said Calvert-Lewin was signed on recommendation of David Unsworth after, I think, an Under-23s game against his former club.
Steve Ferns
67
Posted 01/10/2020 at 14:05:12
Congratulations to Dominic on his call up. Very well deserved.
Danny O'Neill
68
Posted 01/10/2020 at 15:02:37
Caught up with the highlights today. Much to my disappointment, arrived at the local Sports Bar last night to discover Brighton v Man United was being screened. Not a lot to add. Pleased we're taking this seriously and fielded a strong 11.
To reiterate previous comments on other posts, it's so refreshing watching us at the moment. Like others, I won't get carried away, and we're not going to win every match, but shopping in Waitrose rather than Tesco's has clearly made a difference in how we will approach games. I like to now think that most of the time will can trudge off disappointed at losing but knowing we gave it our best. That's all you can ask of players ultimately.
The positive impact those players seem to be having on the group is also evident.
Look at Michael Keane. I mean, I've berated him as much as others. But, rather than the turning circle at the speed of a tank we'd become accustomed to, last night did I really see him remain calm under pressure and do a "Strictly" type move to turn on a 6-pence and swivel to shrug off the attacker before then sending a perfect ball through for the first goal? I personally had to look twice.
And DCL is clearly benefiting from following Carlo's instructions to stay central and be in the box. It sounds so simple, but we've watched our strikers become corner flag chasers over the years because they're "grafting for the team" or "putting a shift in". The striker puts a shift in by getting into goal scoring positions to score goals. The 3rd goal in particular was nice; 2 Everton players reacting with hunger to follow up the shot as the West Ham defence stood and watched. A familiar scene at Goodison recently but now it's not our defence!!
Phil Smith
69
Posted 01/10/2020 at 16:02:54
Risky management might be better, then. Easier to go with the same players again when we're winning. This is a long, tough season and although he says we have too many players, we don't have too many quality players, so why risk them against a much changed West Ham? It's not Arsenal or Chelsea. How far did the shite get with, basically, their U23 team last year? If we're picking up injuries now, what's it gonna be like at Christmas?
Santa Krsh
70
Posted 01/10/2020 at 17:57:49
Guys.. moving on.. any updates on the extent of injuries suffered by Allan n Richy? We were supposed to get updates right today?
Just Praying its not serious.. but even if its not serious, will surely not risk them against Brighton.
Our Starting XI should ideally be (4-2-3-1)
Pickford
Coleman Mina Keane Digne
Doucoure Delph
James Siggy Bernard
DCL

Danny O'Neill
71
Posted 01/10/2020 at 18:24:11
Not Gomez for Delph Santa? With more of a flexible 4-3-3 to 4-2-3-1 about it?
Jay Harris
72
Posted 01/10/2020 at 18:25:17
My guess Santa is that Jonjoe will be out for about 6 weeks with ankle ligament damage.
Richy Mild ankle strain may make the bench on Saturday.
Allan Groin/Abductor 3-8 weeks depending on the severity.
Brian Williams
73
Posted 01/10/2020 at 18:38:19
Quarter final draw tonight around 21:45.
We're number one in the "hat."
The shite are number eight.
Mike Keating
74
Posted 01/10/2020 at 22:59:49
Did anyone notice Stuart Pearce on the phone to Moyes?
In order to disguise the gems he had to dispense, he covered his mouth with his hand.
He was already wearing a mask.
Stupid Twat!
Santa Krsh
76
Posted 02/10/2020 at 03:41:14
Danny bro..I m sorry.. it was more of my wish or a dream to see 3 playmakers playing behind the CF!!!! Having seen Fabregas Cazorla Arshavin playing behind RVP and terrorizing teams with the numerous through balls they slide in.. just wanted to see something of that sort on Saturday!!! Otherwise it's Gomes for Bernie as u say!!
Ed Prytherch
77
Posted 02/10/2020 at 04:20:09
Pretty sure that Allan's injury is to an adductor and not an abductor. I had a few adductor strains in my running days.
---
Add Your Comments
In order to post a comment, you need to be logged in as a registered user of the site.
Or Sign up as a ToffeeWeb Member — it's free, takes just a few minutes and will allow you to post your comments on articles and Talking Points submissions across the site.