Disappointment in the camp that derby wait goes on
Saturday, 17 October, 2020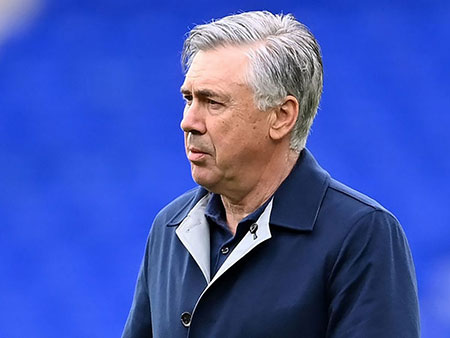 Carlo Ancelotti said he was "really satisfied" with Everton's performance against Liverpool today even if the result was a little disappointing.
The Blues twice came from behind to earn a point even though the reds thought they had won the game in injury time, only for Video Assistant Referee, David Coote, to rule out Jordan Henderson's goal for offside.
Michael Keane's 19th minute header off James Rodriguez's corner cancelled out Sadio Mané's opener and Dominic Calvert-Lewin rescued a draw with a superb striker's goal when he headed home Lucas Digne's sumptuous cross to keep Everton top of the Premier League table.
"The performance was good," Ancelotti said, although he acknowledged that some of his team's defending could have been better. "We wanted to compete and in the end we competed really well.
"We never lost confidence, we were able to equalise the game two times. We had an opportunity to go up but we hit the post with Richarlison. Apart from the result, the performance was satisfying. I am really satisfied.
"When you concede a goal you have to defend better. We have to defend better in certain situations but against Liverpool, it is a really, really difficult game, defensively and offensively."
Jordan Pickford was in the headlines again after making a series of excellent saves that was bookended by a terrible challenge on Virgil van Dijk that escaped any action from the officials and a weak attempt to keep out Henderson's shot that would have won Liverpool the game had Mané not been offside.
Ancelotti again refused to be drawn on any negatives where was goalkeeper was concerned, saying: "I think he played a good game, like the others. A good performance. I am not worried."
Meanwhile, the man who registered his 10th goal of the season, Calvert-Lewin, expressed the players' disappointment that they didn't put an end to Everton's long run of matches without a derby win.
"In the end [we are happy with a draw] but we're disappointed that we didn't kick on at 1-1," he said. "We'd done well to get ourselves back in the game.
"It's coming, I genuinely believe it's coming. I thought today would be the day but not to be.
"I'm disappointed as I wanted to win the game today. The fans did, too, so in that respect it's frustrating but in terms of the bigger picture we got a point and take it on to the next game. We didn't lose and we want to keep that unbeaten run going."
---
Reader Comments (46)
Note: the following content is not moderated or vetted by the site owners at the time of submission. Comments are the responsibility of the poster. Disclaimer
Stan Schofield
1
Posted 17/10/2020 at 22:29:58
I'm certainly utterly disappointed in that display, which wasn't a patch on the stuff we've been playing up to the international break. So frustrating not to have taken three points and in style.
Dave Williams
2
Posted 17/10/2020 at 22:35:05
I know what you mean, Stan, but the opposition was so much better than any we have seen so far this season and their closing down made it very difficult for us to play in the first half. We were much better in the second half and I thought we were the better team after the break.
Richarlison looked absolutely knackered to me and whilst he still worked hard he just wasn't a threat to them. On normal form, he would have scored that header.
Very satisfactory all told – this team needs more time to gel and, if we can keep fighting back and getting points while we do that, then the season looks promising.
Danny Baily
3
Posted 17/10/2020 at 22:49:43
Surprised at how good we looked on MotD, having hid behind the proverbial couch today.
Good to see we've got the RS rattled as well. Let's keep going and see how far we can take this.
Jay Woods
4
Posted 17/10/2020 at 22:53:55
I'm not happy with that derby result either. Worn out waiting for the elusive win; Ancelotti must be speaking in diplomatic cadences if he regards that as satisfying.
Jim Bennings
5
Posted 17/10/2020 at 23:11:17
I'm not too dissatisfied with the draw today, we were pretty shit and dodged a bullet. On another day when the decisions go against us, Pickford is sent off after 10 minutes and they have a penalty and probably win the game by a cricket score, so the draw was just slight relief really.
Personally I feel we lack a genuine out-and-out wide player with searing pace and I'm becoming convinced that playing Gomes and Pickford every week is flogging a dead horse.
Pickford needs time out now, his form is poor, decision-making is dreadful and everything he does is now being put under the microscope, take him out the team for four or five weeks and see what Olsen can do.
Gomes has been a passenger for a long time, even prior to the dreadful injury, but he's certainly not improved since then, he just doesn't offer enough really.
I'm struggling to understand the way Bernard has been pretty much bombed out. If he can recapture the form when he first came, linking up with Digne, then the guy can play a part surely?
Paul Birmingham
6
Posted 17/10/2020 at 23:28:56
Same from me as Jim @5 has said.
In my view next week, Sigurdsson will start on merit. I like André Gomes but the application and spirit has gone. I said on another post, his spirit of 2 years ago, all matters considered, has gone. For me, bar a miracle, he won't be a regular in this squad for much longer.
Sunday League Veterans, as he plays on the park, now with no awareness, and in my view, is no longer good enough for the job.
I'll hold my hand up, I want André Gomes to succeed, but for me like when Marwood done Inchy, he's now not the same player after coming back from a terrible injury.
I hope to be proved wrong.
Steve Shave
7
Posted 17/10/2020 at 23:54:15
I honestly don't get why people are having a go at Pickford today –0 normally, yes... but today he was contender for MotM.
We got lucky today, the red shite are fuming, we played some good stuff at times and we are still top of the league. We don't need a scapegoat for everything you know, and players have off-days.
Stan Schofield
8
Posted 18/10/2020 at 00:07:07
Well said, Steve.
John Boon
9
Posted 18/10/2020 at 00:14:02
We have every right to feel some disappointment, mainly due to the fact that we did not play as well as in previous games. However, that is the nature of following any football team. We have a whole season ahead and hopefully many positive displays.
However we will also play some lousy games, although I don't think Everton were as bad as some posters have suggested. We got a point off a good team and they lost two points just as we did.
For a change, we actually got some breaks. We are still a team in transition. We have a very capable manager and ups and downs will just happen as he still experiments with formations and gets to know his squad even better.
Mike Corcoran
10
Posted 18/10/2020 at 00:49:10
One more aggressive motor in the midfield 3 please, Santa.
Jason Wilkinson
11
Posted 18/10/2020 at 01:12:59
Let's not forget we played the best team in the prem today. With a little more luck (we got plenty) we could have had 3 points. I'm happy with a draw. I think the international break did LFC more favours than us. We looked a little bit jaded but you could see we weren't fazed going behind. Richy will be a big miss but we have talent waiting in the wings. Saints next and kick on. UTFT.
James Flynn
12
Posted 18/10/2020 at 01:13:16
We saw the difference between a talented side still developing into a team and a well-established talented team proving it.
They still couldn't beat us and we had a shot at all 3 points in the end.
Let's see what's what come February.
Jim Bennings
13
Posted 18/10/2020 at 08:01:23
Steve
On another day though Pickford's weak attempt at saving that Henderson shot loses yet another derby in injury time.
We know he's capable of some spectacular saves but nearly every game now he's making two or three massive errors, yesterday he's absolutely dodged a bullet with two of them.
David Price
14
Posted 18/10/2020 at 08:31:18
I'm failing to understand the red biased media that's calling the VAR error for the goal that was ruled out.
How is it lucky that the rules,as idiotic as they are, have been applied correctly.
The same rules that ruled out two Leeds goals at Anfield and gave Liverpool a ridiculous handball penalty.
No complaints from Klopp that day.
There is no mention of Robertson's petulance raking of Allan's ankle, nowhere near the ball, took out the man, deliberately and dangerously. That was a red card. Yet nothing on VAR review (if it was reviewed at all).
On Pickford, two magnificent saves, the latter keeping us in the game, however, it was a howler at the end. He's becoming Richard Wright reincarnated and the warning signs are clear for Carlo.
His clash with Van Dyke was a yellow card, reckless with his feet yes, but a coming together as both players went for the ball.
Agree about André to, For the next two away games may see Delph in there to
make us hard to beat but our counter attack play is under threat without Ritchie.
Tough test coming up, but the player's showed plenty of character yesterday against the best so I'm sure the manager will again get the most out of the lads coming in.
Derek Thomas
15
Posted 18/10/2020 at 09:02:49
rs, player, ex-player, coach, manager, supporter, biased media whore in...we didn't win it must be somebody elses fault, this must change, there must be a special dispensation for us, so it doesn't happen again - shocker.
#travestyofjustice
Give me a Vee
Give me an A
Give me an aaaar didums
Peter Neilson
16
Posted 18/10/2020 at 09:16:34
It's not just their incessant whinging when something goes against them but the way their cause is taken up with relish by the media. Their sense of self entitlement gets on my nerves.
Gio Mero
17
Posted 18/10/2020 at 09:28:37
Carlo is happy as he's looking at the bigger picture. You can't disregard the positives when you come twice from behind against a team which we can all agree has annihilated the competition just a few months ago while we were limping to 12th place. Gomes needs time on the pitch, he's got the quality to be in our starting XI.
Charlie and James were far from 100% I imagine due to the long late trip but watching MOTD some of James' passes were outstanding, we would not have drawn this without him on the pitch. Bernard: he will play when Richarlison is out I imagine; I suppose Iwobi's strength and size makes him a preferable choice for Carlo in certain situations but as a straight replacement for Charlie the choice should be obvious.
Duncan McDine
18
Posted 18/10/2020 at 09:36:15
Derek 15 - brilliant!!
Eddie Dunn
19
Posted 18/10/2020 at 09:38:40
The Gomes performance was worrying, he has looked like he is running in treacle. Has he got problems related to that injury? He has not had a huge workload and really should be lean and eager to run.
I noticed how he started to lose the plot and Carlo hooked him soon after. A sign of frustration with himself.
Colin Metcalfe
20
Posted 18/10/2020 at 09:43:40
We played one of the best teams in the world and I do believe the international break did effect our performance jet lag is a bitch to shake off, Firmino had a quiet game as well as our South American contingent.
Gomes did have a poor game it's true and he has had two weeks off however any talk of replacing him is ridiculous he is still class and in the first half against Palace he bossed it !
Pickford continues to be the center of attention having watched the Van Dyke tackle again it's more clumsy than malicious however it is a nasty one and he should of been punished.
Finally Klopp got them defending a little deeper so it wasn't easy to get behind them that high line just wasn't there to be exploited but we managed to get back on level terms twice so it's good that we have found some backbone because in the past we probably would of lost that game.
Len Hawkins
21
Posted 18/10/2020 at 09:54:04
Violently Arse Raped according to the Red Shite the Red Pundits the Red arse licking media.
David Greenwood
22
Posted 18/10/2020 at 10:29:23
David #14 nails it.
Well said.
They are worried, their friends in the media are worried. MOTD was an absolute disgrace last night.
Everything that went against them was highlighted and everything they could have been penalised for wasn't mentioned.
We also had Newcastle fan Shearer being given free reign to destroy Sunderland fan Pickford.
Also no mention of VVD walking off. How us that consistent with a season long lay off being touted by Klopp? If he is that seriously injured, and I doubt it, perhaps the LFC medical staff are at fauit and made his injury worse by letting him walk.
One final thing, if they played that well, they still couldn't beat us. Surely that highlights their failure and also shows that we are moving in the right direction. An under par performance doesn't mean we will lose, we have a mental strength gathering around us.
COYB
Dave Williams
23
Posted 18/10/2020 at 11:28:27
I wonder if Richi's suspension will open the door for Gordon as he is the only one who can provide the pace on the counter attack?
The bias of the media is distasteful and unprofessional. My wife was ironing while I was watching the game and at one point she remarked " those commentators really love Liverpool don't they"! Just the line up of experts on BT Sport told the story- Osman the token blue whilst there were three ex reds- why? Cole and Crouch are hardly experienced pundits so why load it three to one in their favour?
Ultimately it just makes what happened all the sweeter but we must not lose focus. Our team is still evolving while Klopp has had five years to create his team. Carlo has worked wonders when you recall the spineless and effortless performances we saw at the end of last season. We now dig in and fight even when not playing well. Allan was the epitome of this, he had a poor first half but didn't give up and played quite well in the end.
Coleman was clearly not fit, Richi was a shadow of his normal self and Gomes was hurried out of his passing accuracy.
This was a good game to draw and we now have three difficult but winnable games
Rob Dolby
24
Posted 18/10/2020 at 11:38:44
Frustrating that we never used the wings more yesterday. Villa seemed to get hold of the ball and get it out wide very early. Their weakness is that both fullbacks can't defend.
If teams take more than 3 touches against their 6 man midfield invariably possession is lost.
Gomes just couldn't get going yesterday and looked off the pace from the start.
Mina practically set up their 2nd with basic bad defending. Holdgate and Godfrey will fighting it out for that position soon enough.
Pickford did the same thing to Mina a couple of weeks ago in our 6 yard box. We know he is erratic but we also know he can make world class saves regularly.
Nevertheless a massive improvement on last year's team means that we can compete with teams albeit with a little help from var.
Barry Rathbone
25
Posted 18/10/2020 at 13:25:08
I know it doesn't sit well with some but as always the derby provides the acid test of where we are and once again we couldn't beat them. We have some reasonable players but are far from having all the ingredients of a successful team. In truth we got a bit of a chasing yesterday and somehow got away with it.
Kevin Molloy
26
Posted 18/10/2020 at 13:37:01
One issue worth underlining, is just what a breathtaking player James is, and the form he is producing for us on a weekly basis. he set up four stone wallers for us yesterday, two of which we took. He is world class, and absolutely key to our season. Hence Virgil's attempt to bone crunch him in minute 1. There was one cross fiels pass I think to Digne, which I think set up DCL for the miss, it may be the finest pass I 've seen at Goodison.
Patrick McFarlane
27
Posted 18/10/2020 at 13:41:10
Barry #25
Perhaps you're right and we don't have enough to challenge or be successful right now, but how many other teams are there in the division that are way ahead of us?
Man City and yesterday's opponents obviously, United and Chelsea perhaps but they too are prone to the same issues that beset Everton on occasion. If we can take a significant number of points from the next few fixtures then we might surprise ourselves, if not, then we'll have to take stock and adjust our expectations accordingly.
How long into Klopp's tenure was it when they wildly celebrated a 2-2 draw at home to West Brom? I think sometimes our negativity is so deep that we fail to recognise progress albeit slow progress, and are too easily dissuaded that we might be building something of substance. The difference between both clubs and some of the supporters is that they turn a negative into a positive we tend to do the opposite far too often.
Brian Wilkinson
28
Posted 18/10/2020 at 14:16:26
Let us not forget how many players we had out on international duty, there were three games played from the weekend off, up to this midweek, we had players over in South America, we had players playing for England, Iceland, France, most of that first team squad played most of the games, take into account those players being away for over a week with their a International squads.
Those having to fly back from Brazil etc had very little time to get back on the training pitch before the 12.30 kick off on Saturday.
You could say Carlo had to make do of players being away a good 10 Days of the 14 he would normally get, baring in mind it was an early kick off, it is fair to say Carlo had 2 Days max to work with the players.
Is it any wonder we did not look like the Everton in our past games and yes can argue other teams had players on International duty, but what was noticeable is we just did not have the same high tempo from previous games.
I certainly believe we will see a big improvement for our next game, but the International break came at the wrong time for Everton, especially with three games fitted in that ten Days of Internationals.
Peter Mills
29
Posted 18/10/2020 at 17:32:34
If I was Signor Ancelotti, I would suggest that the game be voided, with the result to be decided by a game of Rock, Paper, Scissors between the two managers.
It would show up the infantile red whining for what it is. I also suspect Carlo would win, gaining us an extra couple of points.
John Pickles
30
Posted 18/10/2020 at 19:31:19
If we are pointing fingers, rather than pick on the team that finished 12th last season and have just slugged it out without giving an inch against the team that was arguably one of the best in Europe last season, maybe we should be blaming the winless sequence on the players who finished much higher in the league, yet put in shambolic, cowardly or '10 players behind the ball' performances, against all the much inferior Liverpool teams.
As regards luck, it's not luck if the referee follows the rules and he did. It's not our fault if the rules are iffy.
Anyway, as Gary Player said "The more I practice, the luckier I get".
Martin Mason
31
Posted 18/10/2020 at 19:38:28
Stan @1 – we were playing Liverpool, what planet are you on?
Will Mabon
32
Posted 18/10/2020 at 19:47:52
I know how we can put this to bed - finish well above them in the league. Don't rise to their whinging. No public statements,
unless unavoidable
, if they blather their way into action being taken... and even then.
Rise above. Mouth shut, heads down, beat them.
Stan Schofield
33
Posted 18/10/2020 at 20:08:51
Martin@31: Not quite sure why you ask that question. I could say Vulcan, because in school they called me Mr Spock.
Anyway, in case you've forgotten, we're top of the league, we've been playing in a way that fits that position, and Liverpool have looked vulnerable in a number of respects. So although I could say Vulcan, I'm afraid it's more prosaic than that, Earth.
Karl Meighan
34
Posted 19/10/2020 at 09:08:39
To be fair to you, Stan, that probably was are worst performance this far. But coming away with a point against a top side who are Champions having been behind twice points to everything going in the right direction with the improvement quite something.
We will always want more, as I'm sure the players and Carlo also will, so let's enjoy the ride. Having genuine class in James doesn't hinder either – pure silk.
Hugh Jenkins
35
Posted 19/10/2020 at 09:16:27
The reason the RS complain about everything and ask for reviews etc isn't because they expect the Premer League – or anyone else – to overturn decisions.
However, in the next game they play, the referee and the VAR man will be aware that "this is the side that complains about every decision that goes against them" and, human nature being what it is, they will not want to be the potential target of any finger-pointing or media storm, if a decision they make is later shown to be wrong – so they will "err on the side of caution".
It is a clever tactic by the RS that influences decisions and wins them points they shouldn't get without any brown envelopes being involved.
The scenario is not helped by the sycophantic media that supports these ridiculous complaints in the first place.
John Kavanagh
36
Posted 19/10/2020 at 09:54:43
Once the RS and their media machine has had its way and got Pickford a retrospective ban, I'm half expecting a 'throw away thy crutches and walk' Billy Graham type miracle recovery following the incessant hospital bulletins on the life hanging by a thread Van Dijk. Interesting that no official estimate has been given as to how likely he is liable to be out for. Remember – he walked off the pitch.
Was he already carrying an injury that inhibited his ability to take out both James and Calvert-Lewin in the first 2 minutes?
The breathtaking hypocrisy of 'never hurt a fly' Souness, Murphy and other RS 'pundits' (too many to mention!) beggars belief. Even 'Jag's overcoat' Carragher was embarrassed.
Anyway we are already correctly focusing on our next match and how we cover for the loss of Richarlison. Time to unleash Gordon methinks, but Iwobi seems more likely to be given the nod. As for Gomes, I'd give him one more start to see if he can recover some form. Sigurdsson would not be an improvement.
ps: Stan, if Saturday was utterly disappointing, just remember how far that is from our FA Cup 'display' last season. For me, we showed the old Dogs of War resilience that will serve us well in the challenges ahead.
Mal van Schaick
37
Posted 19/10/2020 at 12:33:42
Can't fault Everton players effort in a scrappy match, but I must agree with others who expected a better performance on the form that we showed before the international break. Still top of the league, so I'm pleased that we started well. Let's hope we can see the season through with a top six or top four finish.
Hugh Jenkins
38
Posted 19/10/2020 at 14:05:42
John (36) - No retrospective action to be taken against Pickford - the BBC's Simon Stone's piece covering this is written in such a way as to indicated that the FA is wrong and his indignation at the result is very thinly disguised.
John Kavanagh
39
Posted 20/10/2020 at 09:36:05
So the police are now investigating death threats against Pickford and Richarlison. And the RS are STILL bleating to the FA about the two decisions and demanding a full explanation with all their media acolytes in tow.
It merely demonstrates their outrageous sense of entitlement - how dare anyone ever give a decision against them. It is probably just kids aping their imbecilic dads on Twitter, but if I was Jordan or Richie I'd avoid walking near any walls for the forseeable just in case.
Geoff Lambert
40
Posted 20/10/2020 at 09:54:02
Going to miss Richie for the next three games, Will the goal run of DCL continue or will he revert to type? Without Richy and DCL scoring we could be in for a barren run in the next couple of weeks.
Richard Mason
41
Posted 20/10/2020 at 13:26:37
I can't believe the RS put up a book of condolences on twitter for van Dick.
I don't think it lasted long with the abuse they got over it. It's disturbing how they act really
Will Mabon
42
Posted 20/10/2020 at 13:41:52
Richard, is it even surprising given:
- attitude of many RS fans.
- media hyping (suiting more than one agenda).
- social media generation.
- snowflaking.
I'm surprised there hasn't been a collection. I'm not joking. Thank God there are no fans at games, there'd be applause in the relevant minute, you just know it.
Take it as a satisfying reminder that you are from the last line of mostly psychologically normal humans.
Andrew Ellams
43
Posted 20/10/2020 at 13:54:01
Richard was it the club or was it the Red Echo?
Steve Shave
44
Posted 20/10/2020 at 14:00:24
Personally I'm loving the shift in rhetoric coming from the club this season, the soundbites hit towards disappointment at the result. that is a shift in itself compared to previous "knife to a gunfight" years. It seems to me that Carlo is changing the mentality along the way, instilling a fearless approach amongst the playing staff. I fear nobody right now and that feels so wonderful to say.
Brian Williams
45
Posted 20/10/2020 at 14:09:15
Andrew. I believe it was the club itself.
Richard Mason
46
Posted 20/10/2020 at 14:16:30
It's just mental, phychotic even. The short memories of what they have gotten away with, no other cub behaves like this. It's embarrassing.
---
Add Your Comments
In order to post a comment, you need to be logged in as a registered user of the site.
Or Sign up as a ToffeeWeb Member — it's free, takes just a few minutes and will allow you to post your comments on articles and Talking Points submissions across the site.