Digne ban downgraded to one game
Tuesday, 27 October, 2020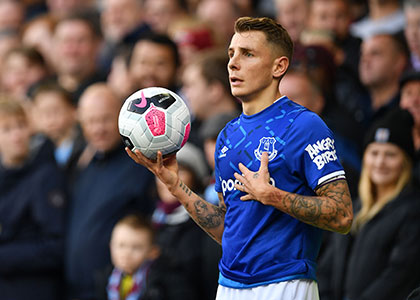 Everton have been boosted by the news that Lucas Digne's suspension for the red card he received at Southampton has been reduced to one match from three.
An independent regulatory commission agreed with the club's appeal that the Frenchman's dismissal against Southampton on Sunday was excessive based on the nature of the challenge on Kyle Walker-Peters.
Had Digne's ban been upheld, he would have been ineligible for the upcoming fixtures against Newcastle United, Manchester United and Fulham but he will now only miss Sunday's trip to St James's Park.
---
Reader Comments (80)
Note: the following content is not moderated or vetted by the site owners at the time of submission. Comments are the responsibility of the poster. Disclaimer
Tony Everan
1
Posted 27/10/2020 at 17:13:00
A three match ban would have been unjustified, I can accept this one match ban as being fair. Credit to them for a change for doing the right thing.
Jay Harris
2
Posted 27/10/2020 at 17:14:01
I think this was as good as we could hope for given the media's and pundits anti- Everton stance and their influence at the FA.
Why Dermot Gallagher is allowed to comment on his ex colleagues is beyond me.
The FA need to have more control over the media and sleazy agents.
Brent Stephens
3
Posted 27/10/2020 at 17:14:31
Great news. The three-match ban was an unfortunate slip, let's say.
John Kavanagh
4
Posted 27/10/2020 at 17:17:35
It seems a fair decision until you remember that Son had his sending off completely overturned - and his challenge was intentional - Digne's wasn't. I am fearful of whether we will be getting another RS sympathiser refereeing on Sunday. Clearly James and DCL are the main targets as Friend seemed desperate to at least get them on two yellows if a straight red opportunity failed to present itself. He had to make do with third choice Digne.
Simon Dalzell
5
Posted 27/10/2020 at 17:28:03
Thank goodness. A touch of sanity. I never thought it was more than an accident. Yellow at worst.
Jack Convery
6
Posted 27/10/2020 at 17:51:05
It was a yellow all day long. Son got away with no ban at all, yet the red mist had descended and he went after Gomes to put one on him. The consequence being he dislocated his ankle. Walker Peters was running around like a spring chicken within minutes of this accident. Without all the Derby chants of Murder Murder, this would have been no ban at all and we all know that it would either have been a yellow at best if it had been Robertson, though in all probability just a word in his ear, whilst Hendserson stood guard. ensuring the referee did nothing more. Next time Digne should just strangle him as you don't even get a foul awarded against you for doing that. Ridiculous ban.
Anthony Murphy
7
Posted 27/10/2020 at 17:51:57
Can't be bothered looking it up, but didn't think you could get only a 1 match ban for a straight red - so if the offence isn't a red card offence, he shouldn't be banned at all right? At least it's a result of sorts...
John Pierce
8
Posted 27/10/2020 at 17:59:00
So it looks like we didn't appeal the card itself but the level of punishment applied to it.
It's a good outcome but weird, as he wasn't going for the ball it can't be serious foul play but only violent conduct, which it wasn't.
They must have done some odd deal.
The FA "Look you lot, you need a suspension, you're a bunch of hackers...we need blood for all the 'cryarsing' teams in the league.
Us "How about one game?"
The FA "Sure that works for us. Deal"
Peter Thomas
9
Posted 27/10/2020 at 18:08:21
I might be wrong but he Digne just received a yellow card a matter of minutes before.
So for me, it was a yellow no more, so as a second yellow, then a ban fir 1 game makes sense.
Bill Gienapp
10
Posted 27/10/2020 at 18:11:05
I think this is a fair outcome, all things considered. Pleasantly surprised. Now all the RS fans are crying that the league's been "rigged" for us.
John Boswell
11
Posted 27/10/2020 at 18:12:09
We are all equal before the law.
However, some animals are more equal than others ( apologies to George Orwell ).
My long held view has been that our team will have to be great in order to gain victories against the self styled elite, the officials and the various media streams because they are resistant to change and do not want a new world order. The media fall out following the derby, I feel, underlines this view. COYB.
Tony Everan
12
Posted 27/10/2020 at 18:13:35
Yes John 8 , I think this has been a deal. I thought on the day it looked worse than it was and a Walker Peters doing the old World of Sport wrestler hand slap onto the turf didn't help. The fact that Digne had tried to bring him down as he started his run didn't help his case even though the latter foul was accidental.
I thought the ref should have used better judgment on the day. He should have took Digne to one side and given him a very stern warning and a yellow, like in the good old days. The fact that Walker-Peters screamed and was play-acting like his career was over definitely sold the referee down the river .
Bill Gall
13
Posted 27/10/2020 at 18:13:46
Well that is good news, unlike the right back situation we have a serious young contender to fill in this position. Regarding the right back, we may have to move James over to the left side bring in Gordon on the right so he can give Godfrey a hand in defense. The other option would definitely bring in Gordon on the left instead of Iwobi , 2 young speedsters on the left would give the barcodes something to worry about ,

Jerome Shields
14
Posted 27/10/2020 at 18:15:14
It was accidental rather than deliberate. A fair outcome.
Derek Knox
15
Posted 27/10/2020 at 18:28:16
Common sense has prevailed, which is good news for Digne, and us of course. I can only reiterate my favoured use of the slow motion cameras, which without, in 'real time' firstly appeared to the naked eye, to be a lot worse than it was.
Coupled with the reaction of Walker Peters, who carried on as if nothing had happened, such was the non-severity of the accidental collision. If he had sustained what he made it out to be, he would have been out of the game for several weeks.
Darren Hind
16
Posted 27/10/2020 at 18:33:43
He'll be breathing a huge sigh of relief.
If I had an understudy like his, I would not want to give him too many opportunities either
Phill Thompson
17
Posted 27/10/2020 at 18:33:47
One consolation is that Niels Nkounkou is given the chance to step up and show his capabilities at PL level for one game.
John McFarlane Snr
18
Posted 27/10/2020 at 18:35:54
Hi all, It's good to return to football matters, I find it difficult to understand how the 'powers that be' can downgrade the severity of the offence, if it was deemed to be a foul then the three match ban was justified, if it was considered an accident then the ban should have been rescinded.
Kieran Kinsella
19
Posted 27/10/2020 at 18:48:15
John 18
I don't understand the rational either but welcome the outcome. After retrospective action against Nissse for example I was half expecting them to double the ban
John Pierce
20
Posted 27/10/2020 at 18:51:53
Kieran. We played our 'top of the league' card. It entitles you to discounts and blind eyes amongst other things.
At Christmas if you are top you get given the easiest schedule etc. easy draws in the early rounds of the cup.
The brochure is a good read. It's pays to be top.
Steve Lew
21
Posted 27/10/2020 at 19:01:58
Ridiculous..its either red or not..sorry digne..this a halfway house..orange and yes retrospectively punishment of some sort carried over from the derby
Kieran Kinsella
22
Posted 27/10/2020 at 19:05:53
John lol I think you're onto something
Kieran Kinsella
23
Posted 27/10/2020 at 19:05:54
John lol I think you're onto something
James MacGlashan
24
Posted 27/10/2020 at 19:16:49
I don't understand this. As we know, reds get rescinded not downgraded. I cannot recall a previous example of this. Son had his card rescinded. He never had a ban. If this application to Digne was applied last season then surely, surely Son would have served some ban..? Is the PL saying it was a red card or not? I am baffled by this.
Anthony Dove
25
Posted 27/10/2020 at 19:19:00
Trying to look at it in a balanced way we will be due some payback for this decision and some of the decisions in the derby. Hope everyone remembers that
when the time comes.
Meanwhile back at the ranch Gordon has to start now.
Brian Wilkinson
26
Posted 27/10/2020 at 19:19:38
If we draw Accrington Stanley in the third round of the f a cup, I am going to look for that brochure John.
Dennis Stevens
27
Posted 27/10/2020 at 19:20:50
I think this sets a precedent that will be conveniently used in the future to minimise the impact of red cards on players of certain clubs in circumstances where they can't legitimately rescind the red card.
Edit: Or at least I would do had James not subsequently made the following post!
James MacGlashan
28
Posted 27/10/2020 at 19:21:32
I have been reliably informed by my daughter that he had already been booked. So this decision is it should have been a second yellow thus a red equalling one game ban. Not a straight red. Makes more sense now.
Brian Wilkinson
29
Posted 27/10/2020 at 19:22:50
Red card or not, I would keep quiet and smile at just missing one game, deffo bonus for us.
Good on Carlo for getting in their ears after the game, just like another certain club, not too far away.
Brian Wilkinson
30
Posted 27/10/2020 at 19:24:25
Cheers James, that seems to make sense.
Steven Kendrew
31
Posted 27/10/2020 at 19:24:33
It's a reasonable result when all is said and done but like for many on this thread, the decision makes no sense.
Either it is nothing, a yellow or a straight red. If its the first two then there should be no ban. Like Son.
Very odd indeed. I can imagine someone getting in the ear of the decision making body agitating against us as usual.

Brian Wilkinson
32
Posted 27/10/2020 at 19:29:52
I've just checked up James and there was only Bernard and Calvert Lewin who got a yellow card in that game for Everton so must have been a straight Red, baffling all the same.
Dave Abrahams
33
Posted 27/10/2020 at 19:31:59
James (28), are you sure Digne had already been booked? According to Michael Kenrick report of the game only Bernard and Dominic had received yellow cards.
Oliver Molloy
34
Posted 27/10/2020 at 19:34:10
Fair, common sense ?, well I think it was a bad decision on the day to send him off and I think this a Joke of a decision.
Totally unintentional and Digne should not have been banned for any games.
Anyone know who was on the panel ?
If picked Newcastle will a good test for Nkounkou hopefully.
Rob Halligan
35
Posted 27/10/2020 at 19:36:31
Anthony # 7. Pretty certain you can get a one match ban for a straight red, if the offence is denying a forward a goal scoring opportunity, without dangerous play being involved. Lucas Digne was sent off for "dangerous play" which normally constitutes a three match ban, but common sense has prevailed, reducing it to a one match ban, although in my opinion, it wasn't a red card offence.
Kevin Prytherch
36
Posted 27/10/2020 at 19:36:39
A red card for a professional foul can be as little as a 1 game ban, whereas one for violent conduct is a 3 match ban.
He must have been sent off for violent conduct, then downgraded to a professional foul.
Although I don't see how as it wouldn't meet the criteria of a professional foul.
James MacGlashan
37
Posted 27/10/2020 at 19:42:39
I shall be having words with the normally reliable daughter. Kevin, yes that sounds like what has happened. Just off for that chat now...
Kevin Prytherch
38
Posted 27/10/2020 at 19:42:48
Perhaps even more sickening
Lucas Digne will now be fined by the FA.
If I were to get sent off in my local league, I would face a £55 fine.
As Lucas Digne is a Premiership player, he gets fined. £55.
Surely the FA could review this, fine top flight players more for red and yellow cards and pump it back into grassroots football.
Paul Birmingham
39
Posted 27/10/2020 at 19:52:54
All in all, this is a good result for Everton, and I'm taking it as a massive change in luck for Everton.
Regards the laws of the game and VAR, then I'm not too sure any more, as every games having a different stance, and translation of what is or isn5 breaking the rules.
I don't recall the use of VAR, on this incident and just like the RS, game, they failed to use it against Sanecand Robertson.
God knows what could happen at Newcastle.
Footballs a simple game but now the rules as applied are becoming ridiculous, to contempt of the laws.
Does any body think the referees and their governing bodies, are tested and accredited on the rules of the game in the EPL?
Myself, I don't think so.
Still for EFC to show bounce back ability at The Toon.
Surely DCL, won't be isolation for this game, and lessons will be learnt for the manager, coaches and players.
Let's hope so.
John Pierce
40
Posted 27/10/2020 at 19:58:25
Don't quote me
We didn't contest the red card only the excessive nature of the punishment. Arguing what he'd been sent off for and the ban weren't commensurate with each other.
Looks like a smart move from us to allow the FA to show some leniency without quashing the authority of the original decision. I believe if we'd contested the card, it would have been upheld. Both the referee and VAR agreed it would be extremely rare to overturn a call unless it was completely in error.
John Pierce
41
Posted 27/10/2020 at 19:59:26
Kev £54.95 goes to pay for admin 😜
Mark Andersson
42
Posted 27/10/2020 at 20:01:39
Maybe the ref was going to give Lucas a yellow for the first offence but gave advantage, let play go on. Then the 2nd offence happened, play was halted and the ref gave what appeared a straight red.
I'm not defending the ref but that kinda makes sense if the rules of a red is as some say...
Danny O'Neill
43
Posted 27/10/2020 at 20:03:17
Change in luck Paul or we're standing up for ourselves rather than being submissive little Everton. Well done for standing up for oursleves
Jack Convery
44
Posted 27/10/2020 at 20:13:16
John Pierce - great insight. Probably spot on.
Brent Stephens
45
Posted 27/10/2020 at 20:14:49
John #40 an astute observation. That makes a heap of sense.
Brent Stephens
46
Posted 27/10/2020 at 20:18:30
Kevin #36 I think there's another category of offence for red cards - serious foul play. I guess that's what he was sent off for.
Brian Williams
47
Posted 27/10/2020 at 20:50:20
Hope to see Nkounkou play at the weekend against Newcastle and to be honest I'd like to see him given a chance on the left with Digne when Digne's ban has been served.
I think he'd be miles better than Iwobi.
Mind you so would I!
Steven Kendrew
48
Posted 27/10/2020 at 20:58:36
Good post, John Pierce!
Jack Convery
49
Posted 27/10/2020 at 21:07:46
Not for this thread but it needs noting. Barca President resigns and in resignation speech states after discussions he has signed them up to a coming Euro League. Plenty of smoke on this subject now.
Tony Everan
50
Posted 27/10/2020 at 21:20:49
Brian, me too. If Nkounkou deputises for Digne on Sunday against Newcastle and plays very well, I would like to see him playing further forward on the left the week after. I want to see more of those first class crosses being fired in.
Rich Pembo
51
Posted 27/10/2020 at 21:29:13
I like the idea that they identified 2 professional fouls in the same sequence of play that equated to 2 yellows rather than the one harsh red.

If that was the case presented in the appeal, you can understand how we got a downgrade from 3 games to a 1 match ban. Probably fair on balance.
Ernie Baywood
52
Posted 27/10/2020 at 21:30:55
I'm another one who can't quite understand this.
If it's not a three match ban then they've decided that it wasn't reckless or violent.
But it's still a red card and one match ban? What for? Have they downgraded it to a professional foul with 4 covering players?
This is a half pregnant type answer.
I get that we specifically appealed the punishment, but the panel reviewed the tackle right? And they decided it didn't warrant a 3 game ban. If it didn't warrant a 3 game ban then it didn't warrant a 1 game ban.
Bob Parrington
53
Posted 27/10/2020 at 21:34:54
I agree with Anthony@7. It's either a red or a yellow card. What duplicity from EPL.
But - I'll take the 1 match ban as others have on this thread as a sign that Everton is not beyond receiving some fair(ish) treatment. It is recognition that Kevin Friend was too hasty in his decision.
Steavey Buckley
54
Posted 27/10/2020 at 21:38:44
Digne can consider himself unlucky while the 'cynical' players are never sent off for pulling players back as an attacking player is on a 'run.'
Although Everton players should have realised by now that tackling players from behind is an instant free kick and in many cases a yellow card. So it is time Everton players stopped the madness of tackling from behind, that may lead to a serious injury.
Bill Gall
55
Posted 27/10/2020 at 23:34:08
Who cares about what the law states and how many times it can be interpreted differently, Digne got a correct decision at the time according to the referee, but the people who matter believed a 3 match ban was too excessive. We are not in a bind as we are with the right back situation, and I think if we put Gorden ahead of Noukoukou we will have a speed problem for the barcodes. The right side is the problem that needs addressing and I hope Ancelotti has a better plan than the last game.
Brent Stephens
56
Posted 27/10/2020 at 23:40:14
Bill "Who cares about what the law states and how many times it can be interpreted differently, Digne got a correct decision at the time according to the referee, but the people who matter believed a 3 match ban was too excessive."
Bill I might misunderstand you but the referee didn't give the three match ban.
Derek Thomas
57
Posted 28/10/2020 at 00:18:40
Be thankful for small mercies I suppose. Lucky he wasn't hung drawn and quartered and his head stuck on top of the shankly gates.
Si Cooper
58
Posted 28/10/2020 at 02:35:10
Brent (56), I think that a straight red for anything other than the technical offence of denying a goal scoring opportunity automatically carries a 3 match ban, so the referee knows the punishment that comes with his decision.
It's confusing because the straight red / 3 match ban combo is reserved for violent conduct/ reckless endangerment sort of things so by reducing the ban they are saying it wasn't as bad as the referee thought (and VAR didn't challenge him) but the red card hasn't been rescinded?
It does seem like a bit of a compromise decision but it is much better than the original 3 match ban.
Bill Gall
59
Posted 28/10/2020 at 02:55:08
Brent # 56 No the referee gave a decision that he believed deserved a red card and that is normally a 3 game suspension. His decision was what he thought that the tackle under the laws deserved a red card, and so did some of our supporters. The club believed it was worth putting in a request to have this rescinded the same as Tottenham did with Song. I don't believe that there is anything in the rules that say a red card is an automatic 3 game suspension and it can't be reviewed. The referee may expect it to be a 3 game suspension but he just applied the laws of the game and in his opinion the tackle deserved a red card
Alan J Thompson
60
Posted 28/10/2020 at 03:09:44
The result of arbitration, a decision reached in an attempt to keep all parties happy, something considered acceptable not necessarily correct.
Jason Leung
61
Posted 28/10/2020 at 04:04:30
What a joke. It wasn't even a red card to begin with. Digne didn't make a challenge, Walker-Peters actually slows down, what do you expect to happen when someone is running behind you? ... yellow card at most.
For it not to be rescinded is a complete farce considering Son's challenge on Gomes was reckless, high and dangerous. Reminds me of when Niasse got punished for simulation and no-one else gets done. Absolute joke.
Mike Gaynes
62
Posted 28/10/2020 at 05:07:33
Unbelievable that some people are still talking about Son's foul after all this time. Talk about irrelevant... who cares if his red was rescinded? He was out of our game, that's all that mattered. Couldn't be less interested if he played the next three games or not -- it wasn't against us.
Yet people are still venting about it. Enough already.
Brent Stephens
63
Posted 28/10/2020 at 07:15:22
Bill my point is simply the technical one that the ref makes the decision to send somebody off and doesn't decide the penalty.
James MacGlashan
64
Posted 28/10/2020 at 07:28:45
Mike G. (63). Peolle refer to Son incident because a. Our player got seriously injured. b. The sympathy from ex players and media was more for Son (bizarrely). c. We don't like injustice/unfair decisions in life and that does include football.
Eddie Dunn
65
Posted 28/10/2020 at 08:02:09
Driving along in my car and the car in front slams on the brakes, I have been driving a bit too close and bump him, he goes on a little futher and slows down but I the smash into the back of him.
It was an accident but I was too close and it is my fault. Digne was at fault and he got punished. I don't blame the ref for giving it there and then but perhaps there could have been better communication between Friend and the VAR suite, a one match ban is fair.
On Digne, he has had a patchy start after a very patchy end to last season. Switches off far too often. I liked him in the back three with Neils outside .
Ciarán McGlone
66
Posted 28/10/2020 at 08:15:32
The comparison with the Son tackle is interesting. I initially compared it because it seemed to be a bit of 'afters'. and Digne had nibbled at him already..
However the actual contact from Digne was worse than Son's on Gomes. The damage was done in the Gomes tackle by the way he landed.. it was a freak.
Anyway.. I've no idea whether Digne was deliberate or not, only the man himself knows. But given the benefit of the doubt, one game ban seems a fair result.
Hugh Jenkins
67
Posted 28/10/2020 at 08:26:03
I may be wrong but I believe that if an appeal is made against a card and the original decision is upheld the FA can also extend the period of punishment if the appeal is thought to have been "frivolous".
In the past I believe that that is what would have happened in this case, so perhaps the perception of Everton is beginning to change in the places where it matters.
As John @ (20) says, being top of the league helps.
Ray Roche
68
Posted 28/10/2020 at 09:05:34
Just one comment on this, aimed at the people who think it was either premeditated and deliberate, or reckless. Watch the incident from the opposite angle, where the players are moving (on screen) from right to left.
Digne doesn't break stride. He doesn't stretch in order to stamp on Walker-Peters, he just carry's on running. No malice whatsoever. No attempt to kick, trip or injure Walker-Peters.
Looked much worse than it was and made to look worse due to the 'performance' by Walker-Peters, who's interpretation of a fatally wounded soldier in a second-rate B-movie was worthy of a BAFTA at least.
Benjamin Dyke
69
Posted 28/10/2020 at 10:27:00
This is good news but in the context of how we've played the last 2 games I don't really care so much! We need a new attitude again and much better spirit and execution - the last 2 games have been a reminder of where we were recently. I know we won't become world-beaters overnight but we could easily drift after a 3rd poor performance.
Bernard Dooley
70
Posted 28/10/2020 at 10:31:33
If only we Evertonians could shed the conspiracy paranoia, maybe we could just introduce a bit more balance into these discussions.
Whilst I rather agree with Mike Gaynes when he laments the reference to the Son tackle on Gomes, for me the fact is the only one on this thread who has called it right is Ciarán McGlone #67.
First thing I did after the game was watch the Son tackle in slow motion. It wasn't high (toe height), didn't look malicious or premeditated. As Ciaran said, the fall caused the damage and maybe the collision with Aurier.
Digne's foot rakes the Achilles tendon of Walker-Peters above the ankle, and though not intended, could easily have caused a long-term injury.
Imagine that tackle on an Everton player, resulting in injury. We would have wanted a six-match ban at least!
Friend wasn't "looking" to punish us, he just called it as he saw it. A one-match ban is a good outcome.

Brian Williams
71
Posted 28/10/2020 at 10:45:08
With regard to the Son tackle. It was deliberate alright. From where I was sitting that day, I was able to see it unfold.
Gomes caught Son's face with his arm and Son was angered by that. You could quite clearly see the look of anger on his face when he then went for Gomes. Freak or not, Son had lost his temper and went for Gomes.
With regard to the conspiracy paranoia. We'd gladly drop that if only everyone wasn't out to get us. :-)
John Keating
72
Posted 28/10/2020 at 12:12:57
This banging on the pitch after a tackle seems to be the latest craze.
If a player is that injured then HSE should insist he take at least a 10 minute break to fully recover from a bashed hand and also allow the grass to recover from the smacking.
Tossers!
James Marshall
73
Posted 28/10/2020 at 12:34:23
I thought this was a certain red card watching it realtime - having seen it again since, it does look like an accident so a one game ban seems like a very reasonable outcome for all involved.
Nothing to see here.
Bob Parrington
74
Posted 28/10/2020 at 13:16:33
For the simple people like me, it was either red or yellow.
Clearly the KOMMITTEE, decide it was - er neither a red nor a yellow. So now we have a white card, usually used as a SURRENDER signal. This means that the whole decision process in completely flawed because the right hand and the left hand don't know which way to turn.
It was an accidental clash and so straight yellow! No immediate ban but watch out for the accumulation of yellows!
Alan J Thompson
75
Posted 28/10/2020 at 13:33:54
Mike(#62); If you think that is unbelievable then don't mention Clive the Bribe, I did but I think I've got away with it.
Kim Vivian
76
Posted 28/10/2020 at 13:39:56
John - 72. I totally agree (although bashed hands and crushed grass can probably be left to take care of themselves). But I have long thought that if a player goes down to the extent that he needs on pitch treatment, then an obligatory 2 or 3 minute recuperation period off the pitch should be imposed. That would put an end to (I estimate) about 85 - 90% of the faking, timewasting and attempts to get players carded.
I appreciate the need for due care but when players go down pretending to have been kicked in the head when in fact it was hit by the ball it really does make one sceptical about every apparent injury.
The Boy Who Cried Wolf is an eminently suitable parable for todays game.
Bill Gall
77
Posted 28/10/2020 at 14:20:29
Brent,
I never said that the referee advised a 3-match ban.
After a game the referees report goes to the FA and they decide under the laws of the game on the outcome of yellow cards, or red cards and any other infractions occurring before, during or after the game.
The laws stated are:
(a) If a player is sent off for a professional foul (eg, holding a player back when through on goal or a second bookable offense), they will be handed a one-match ban.
(b) Straight red cards for dissent will result in a two-match ban while dangerous tackles or violent conduct will result in a 3-match ban which can be raised to four or more games in extreme cases.
(c) Incidents of racism will certainly result in a ban longer than three-games while a red card for spitting triggers an automatic 6- match ban.
To me the FA disciplinary committee after receiving the referee's report and at Everton's request have examined the incident have decided that this was in a grey area between (a) and (b) and a one-match ban was sufficient. Referee's don't ban players on the next game or games the FA disciplinary committee decide on that.
Si Cooper
78
Posted 28/10/2020 at 22:48:14
Ciaran and Bernard (67 and 70),
The relevance of the Son tackle is whether it was deliberate, which it patently was. The injury caused should not be relevant to the referees because there is no consistent cause and effect for these challenges. In some ways, it could be said to be always reckless to deliberately trip a player in full flow because you just have no way of knowing how they may fall and injure themselves.
With Digne's challenge, the issues are was it deliberate or not, and if deliberate did he rake the calf or Achilles?
I never thought Son intended the injury that resulted from his challenge (whether his kick made the damage or not) but did think it was deliberate and so could be assessed as reckless.
I don't think you could in any way downgrade Digne's punishment unless there was sufficient doubt that it was a deliberate challenge. If it was accidental, then it can't deserve worse than Son's deliberate foul, but somehow only one player was completely exonerated.

Russell Smith
79
Posted 29/10/2020 at 13:57:08
Kim 76# Think that's a great idea but Richarlison would only be on the pitch for about 45minutes using your method.
Keith Gleave
80
Posted 30/10/2020 at 13:29:13
My thinking is that if this committee found the dismissal excessive, surely there should be no ban. By finding it excessive it means a yellow card should have been the outcome.
---
Add Your Comments
In order to post a comment, you need to be logged in as a registered user of the site.
Or Sign up as a ToffeeWeb Member — it's free, takes just a few minutes and will allow you to post your comments on articles and Talking Points submissions across the site.