Allan sustains unspecified injury on international duty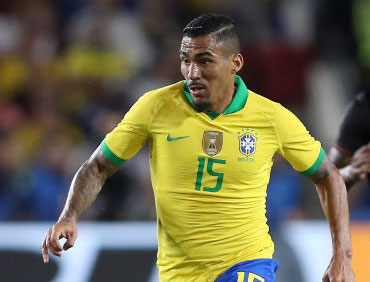 Allan picked up what Brazil boss Tite has described as a "clinical" injury and is doubtful for the clash with Uruguay tomorrow.
Everton midfielder sustained the unspecified muscular problem during Friday's win over Venezuela, a match in which he played the full 90 minutes as cover for the injured Fabinho.
The news raises concerns that he won't be available for selection when the Blues travel to Craven Cottage for Sunday's Premier League game against Fulham.
---
Reader Comments (175)
Note: the following content is not moderated or vetted by the site owners at the time of submission. Comments are the responsibility of the poster. Disclaimer
Phil Malone Jnr
1
Posted 16/11/2020 at 21:17:52
So sick of international duty injuries.
Jeff Armstrong
2
Posted 16/11/2020 at 21:28:07
And Carlo will raise the eyebrow and say, "This is football."
Not a murmur from him about international football in these ridiculous times.
Joe McMahon
3
Posted 16/11/2020 at 21:39:45
FFS, its incredible the cycle of shit luck just keeps on rolling, year after year.
Jonathan Haddock
4
Posted 16/11/2020 at 21:42:05
Any Everton supporter could have written the script here. Less than a 3rd into the season and we're living with a constant and repeating list of injuries. No Seamus and now no Allan for Sunday. Who's next?
Mike Gaynes
5
Posted 16/11/2020 at 21:48:51
I had a clinical injury once. Never went back to that clinic.
Jerome Shields
6
Posted 16/11/2020 at 21:49:34
Once a player is over a certain age, they should consider whether taking up an international call-up is worth the risk to their club career. The club should caution them against such a move.
Bobby Mallon
7
Posted 16/11/2020 at 21:57:04
What is a 'clinical' injury?
Fran Mitchell
8
Posted 16/11/2020 at 22:27:42
Bound to happen. International football in these times is absurd, based purely on the greed of broadcasters and sponsors.
In terms of Allan, you can't blame him for taking the call to play for his country. For 99% of Brazilians, the seleção is more important than anything, and this includes the players. At his age, he could still play for his nation at a World Cup, never mind the Copa de América.
The responsibility of injuries during international duty lies purely with the decision makers who are deciding that worldwide pandemics don't take precedence over contractual obligations.
Hopefully he isn't injured for long, because we need him.
Neil Copeland
9
Posted 16/11/2020 at 22:39:39
Oh well, at least we will have Sigurdsson available...
John Raftery
10
Posted 16/11/2020 at 22:53:05
A 'clinical' injury is a new one on me.
Kevin Dyer
11
Posted 16/11/2020 at 23:01:22
#4, not sure why you reckon he's out for Sunday? He's doubtful for the next Brazil game; hopefully he'll be okay for us.
If he is carrying a knock, we shouldn't play him imo. He's not looked 100% since the West Ham game.
I'd play Davies; if we can't trust him against Fulham, what's the point of retaining him?
Tom Dodds
12
Posted 16/11/2020 at 23:18:36
Just makes you want to spew.
The (now one-man – Richarlison) band of hope club with Captain Ahab still tied to us.
It'll be Seargeant Rock aka Cisco coming to the rescue next month.
After Brexit, we will be riding scooters 6 up around the potholes. While listening to constant shouts of 'Order! Order!' through the radios clasped to our ears.
Steven Astley
13
Posted 16/11/2020 at 23:28:30
Some proper oddball comments on this one! Quite worrying actually!
Bob Hannigan
14
Posted 16/11/2020 at 23:47:46
Book him a 1st class ticket back to Finch Farm ASAP 🙀😡
Derek Knox
15
Posted 17/11/2020 at 01:11:41
I got the impression that the last couple of games or so for us, he didn't look as though he was fully fit and it showed in his under-performance. I may be wrong, but why do they let players play, even with minor injuries, knowing they could risk being aggravated and hence out even longer?
Ajay Gopal
16
Posted 17/11/2020 at 03:52:46
Most clubs have suffered injuries on international duty. We have a squad of 30+ players, we can't keep giving out excuses.
Alan J Thompson
17
Posted 17/11/2020 at 04:29:41
While injuries are part and parcel of the game, it is the club that suffers. Some sort of compensation on top of paying the player's wages should be the minimum.
I see we are even having trouble with one of the "Top 6" in the Women's game.
Kunal Desai
18
Posted 17/11/2020 at 07:35:58
I don't think this would be an issue if we had adequate strength in depth in the side for cover.
We need to build out a squad over the next couple of transfer windows.
Derek Knox
19
Posted 17/11/2020 at 07:57:27
Kunal, nail on head there, mate, but that could be applied to so many positions. I know he has only been with us a short time but he has already become a definite on the starting eleven team sheet.
Now Fulham away is starting to look like a different proposition. Not being a harbinger of doom (there are enough on here already) but just highlighting the ridiculous situation we are in. The amount of money that has been squandered basically, and we are crippled by an injury or two.
Kim Vivian
20
Posted 17/11/2020 at 08:05:16
I think a clinical injury might be player prioritising his club – a little like 'pulling a sicky'... ie: Player claims to feel pain or tightness etc in order to be 'rested' or protected. It can't be actually verified, but he has to be given the benefit of the doubt, and can return to his club (us – his meal ticket) fit and well.
Rather than the opposite, where player claims all is okay, only to exacerbate an injury at the expense of the club...
Add name here!
Eddie Dunn
21
Posted 17/11/2020 at 08:29:35
Perhaps it's lost in translation. He pulled his groin a month or so ago and frankly hasn't looked as mobile since. Makes me wonder just how many anti-inflammatories and cortisone injections are being tossed about in our medical department.
This scenario is going to get worse as the fixtures pass by. The squad is thin on top quality but Tom Davies and Anthony Gordon will surely start to get some more opportunities as the injuries accrue. I would certainly give "lesser" fit players a start rather than patched-up first choices who play under par or aggravate the problem and then have to miss games.
Allan is a player that Delph or Davies can deputize for but Seamus is more of a loss as we have seen so far with Kenny and Godfrey nowhere near the task at present.
Bobby Mallon
22
Posted 17/11/2020 at 09:12:15
Eddie Dunn, Godfrey and Kenny have played 1 and 1.5 premiership games between them this season and saying they are not up to it is way over the top. They need at least 10 to 15 games. The problem is us fans don't want to finish below 10th we think it's bad. We need a philosophy either buy top quality like city the shite Chelsea or my favourite play youngsters of a certain quality and sell one or two gems and play attractive football either way
Andrew Clare
23
Posted 17/11/2020 at 09:14:37
Derek #19,
I agree. We will go to Fulham with a team chock-full of expensive internationals and struggle to compete with them because we have injuries to one or two key players.
Lookman, who failed to make it with us, will probably play a blinder, etc, etc... blah blah blah. We all know how it goes, being Evertonians. Until we have a strong squad, this problem will continue. Kenny, Davies etc are just not good enough.

Mark Murphy
24
Posted 17/11/2020 at 09:24:15
If we want a team full of quality players, we have to accept that they will represent their countries. I'm over the moon we have players who are actually in the Brazil team – not just peripheral.
All the "big" clubs have internationals who also get injured playing for their teams so it evens out.
The only one I have issues with is Eire in the cases of James McCarthy and Seamus Coleman.
Jim Bennings
25
Posted 17/11/2020 at 09:41:27
Kenny and Davies are not good enough for where this club should be going.
Sadly because we look decimated after one or two key injuries, we are back to the same threadbare shite of last season and the season before.
It's Groundhog Day with Everton every year.
John Pickles
26
Posted 17/11/2020 at 09:46:59
Most top teams could cope with this, but the Everton first XI is like a defective Jenga game, you take out just one piece and it collapses.
Tony Everan
27
Posted 17/11/2020 at 09:49:01
It's a blow as Allan was bought for a specific role that we were desperate for. There's no back-up for him when he is out or when he is playing when carrying an injury. As long as Carlo doesn't shoehorn Sigurdsson into the midfield, we should be strong enough to beat Fulham. My confidence is not as high as it should be though.
David Pearl
28
Posted 17/11/2020 at 10:08:15
I think Delph is more than capable of his role. He has, along with James, looked like he has been carrying an injury anyway. It's more important we keep the same shape and formation now that Richarlison available again. Cuz we don't seem to have a Plan B.
Brian Harrison
29
Posted 17/11/2020 at 10:10:53
It's inevitable that players will get injured whether in training or in a match, and there is nothing anyone can do to prevent it. But what is questionable is whether it was necessary for Fifa and Uefa to play these internationals at a time of a worldwide pandemic. Because the season is condensed this year players are playing more often, and that's why players are getting more injuries than normal.
But what is also even more concerning is the more players have to travel outside of their normal bubbles, the more we are seeing players become infected by the virus. Which means a 14-day quarantine, and this is becoming prevalent in all sports not just football.
I see no reason why elite sportsmen are being allowed to travel to all different parts of the world.
Tony Abrahams
30
Posted 17/11/2020 at 10:13:41
If moaning makes you feel better... then fucking moan!
David Pearl
31
Posted 17/11/2020 at 10:26:00
I think Delph is more than capable of his role. Allan has, along with James, looked like he has been carrying an injury anyway. It's more important we keep the same shape and formation now that Richarlison is available again. Cuz we don't seem to have a Plan B after spending £30M on a defender instead of a forward.
Eddie Dunn
32
Posted 17/11/2020 at 11:01:00
Bobby @22, if you read my post about Kenny and Godfrey, I said "nowhere near the task at present"! So not way over the top, just obvious.
Paul Burns
33
Posted 17/11/2020 at 11:12:19
I see Liverpool and Man City players have picked up their usual England injuries again that stops them playing internationals while other club's players risk injury in meaningless games but will be fit for their clubs at the weekend. With the collusion of the FA.
Brian Murray
34
Posted 17/11/2020 at 11:45:35
If Sigurdsson or Gomes are anywhere near the first team on Sunday, then once again it's a total lack of vision by Carlo. What's wrong with trying Beni Banigime or the impressive Tyler Onyango and being brave for once?
Stephen Vincent
35
Posted 17/11/2020 at 13:05:18
Jim #25, tell us who would you get in place of Davies and Kenny?
Remember when making your selections that they have to be better, they have to be affordable, and they have to be prepared to sit on the bench for upwards of 75% of the season.
Ray Roche
36
Posted 17/11/2020 at 13:16:55
I've said before that, if the governing body of whichever country the player is representing had to pay the player's wages in full, for the length of time of any injury the player sustains, there would be fewer senseless friendlies. McCarthy, for instance, wouldn't have been risked, nor would Coleman.
It's shocking that clubs have to fork out millions in wages for players injured on International duty, especially when the player's best interests have not been taken into consideration.
Stephen Vincent
37
Posted 17/11/2020 at 13:32:39
Ray, I believe that, if a long-term injury is sustained in a competitive game, then the governing body picks up the player's salary until he is fit to resume playing.
Pat Kelly
38
Posted 17/11/2020 at 13:34:18
This would never happen to Tosun. He doesn't do clinical.
Barry Williams
39
Posted 17/11/2020 at 13:44:33
Firstly, I have to agree in that these internationals are absolutely absurd. I left Shanghai at the end of January and have been back in Liverpool under virtual self-imposed house arrest since. I lived in Wuhan before that, but left there some time before the pandemic, but was in regular touch with ex-colleagues there, so had a little insight into how seriously this was being taken over in Asia, but not seriously enough elsewhere. So yes, these internationals stink of greed to me, and an unnecessary risk.
Anyway, on to the footy! Allan will be missed, if he doesn't play, but the rest might do him good long term. We do have players coming back into the squad from injury too. Holgate, for example, should be more up to speed this weekend, and can cover centre-back, right-back and defensive midfield. Davies might be a better player, with better players around him, and Delph can perform the role too. Kenny hasn't had a lot of game time, but I think whoever comes in at right-backneeds to have more cover than has been shown this season, something I am sure the management team will be more aware of, and get paid to sort out.
My view is that sometimes looking at the overall dynamic of a team is more pertinent than just swapping like for like. Coleman is used to playing with James, if we have an Allan or Doucouré in midfield, Take Coleman out, and Allan, reshaping and moving James into the No 10 role, as many have suggested, and thus reshaping the whole right side makes sense.
We shall see!
But yes, these internationals are ridiculous on a number of levels at the moment.
Kieran Kinsella
40
Posted 17/11/2020 at 14:08:55
Klopp, Solksjaer and Mourinho were complaining about injuries and schedules before the break. But there are two sides to the story. These players and managers make millions so clubs charge billions for TV rights to pay their wages.
If you're paying billions you want your money's worth so want games at times that suit you. Therefore all the whingers need to do is say "I will take a pay cut so you can lower the TV rights cost and give less power to the TV companies to control schedules." Problem solved.
Barry Williams
41
Posted 17/11/2020 at 14:17:01
Kieran Kinsella @40,
I have no problems with internationals, but I do have problems with internationals during a pandemic, and during a truncated season in which players and staff will travel more frequently than normal around a pandemic-hit country.

Dave Abrahams
42
Posted 17/11/2020 at 14:24:58
Stephen (37),
I read in one report that the FA will cover Gomez's wages after he was injured during training with the latest England squad. I don't know how true that is...
Sukhdev Sohal
43
Posted 17/11/2020 at 15:08:50
I really hope he is fully fit for Fulham. Interesting to see who will play right-back, as Lookman probably would have a field day against Kenny. Davies, Godfrey or Holgate are options there too.
Christy Ring
44
Posted 17/11/2020 at 15:25:33
What I find hard to take, he got injured against Venezuela, but played the full game?
Ray Roche
45
Posted 17/11/2020 at 17:25:38
Stephen @37,
Thanks for that update, I hope it's correct. However, I would be surprised if some of the, let's say smaller economic countries, could afford to pay the sort of money the likes of Mane will be on, for a long-term injury.
Ray Roche
46
Posted 17/11/2020 at 17:29:38
Dave, Stephen, maybe it's a reciprocal deal between the home nations? From things I read around the AFCON tournament, quite a few African countries couldn't afford it. Some couldn't pay their team for participating.
Neil Cremin
47
Posted 17/11/2020 at 18:02:54
Sometime, I can't believe the nativity of some posters on ToffeeWeb.
If I follow the trend of some of these comments, we want top class players but not ones who play for their countries.
I see the usual drivel being rolled out here but let's take a step back. When players get injured at Everton, like in the recent past (James, Allan, Coleman and Holgate), we end up playing them again before they are fully fit. Once declared fit by Everton, eg, all of the above, they are expected to report for national duty if selected.
Then, when they break down on international duty, some ToffeeWeb posters are full of venom against the relevant national association for playing them. Yet Everton were the ones who declared them fit by playing them the week before the international break in the first place.
This is not just new, we did the same with the likes of McCarthy in the past, again playing him when he was not fully fit and compounding his injury problems.
Is it my imagination, but does Everton seem to have a knack of buying in players and before long they end up on the Physio's bench for a couple of months? We constantly seem to have players on long-term injuries. Maybe we are blaming the wrong people or asking the wrong questions. Some posters on ToffeeWeb love their scapegoats.
Paul Hewitt
48
Posted 17/11/2020 at 18:35:17
Neil @47. Excellent point.
Andrew Keatley
49
Posted 17/11/2020 at 20:19:46
International football provides a big shop window for players, and that cuts both ways for players, fans and football clubs. We've signed and sold players largely based on their international performances, and we've had players whose value have increased or decreased due to their showings at international level.
Of course, injuries are annoying... but I'm sure the owners of Aston Villa are enjoying that they can probably add £10 million to the Grealish asking price, and £5 million to Mings too. It's a double-edged sword.
Mark Boullé
50
Posted 17/11/2020 at 20:25:41
Brian Murphy @34,
I'm fully expecting Sigurdsson to put in a Rolls-Royce of a performance tomorrow evening! He'll probably run the midfield, score two free-kicks, and look like an absolute world beater... :)
Darren Hind
51
Posted 17/11/2020 at 20:29:12
If Tom Davies had performed like Allan has in our last three games, he would have been keel-hauled on here.
It's okay if you're Brazilian though. You just have to get yourself injured. The longer you are out. The better you get.
Ian Horan
52
Posted 17/11/2020 at 20:39:32
Tom Davies is awful tonight for the U21s against a piss poor Albanian side...
Christy Ring
53
Posted 17/11/2020 at 20:42:58
Neil #47, Great post!
As I said earlier, Coleman got injured against Brighton, and was back for the derby; same injury again, and back for Man Utd; and now out again. Since when is a hamstring injury a two-week injury?
As you said, this was the reason for McCarthy's constant hamstring problem.
Sukhdev Sohal
54
Posted 17/11/2020 at 21:24:01
Fully agree, Neil, we should only play players if they are 100% fit. Even if we lose points, we should gain a lot back once they are fully fit.
Playing a half-fit James or Allan doesn't benefit anybody. Martinez forced McCarthy to play against Wolfsburg and look how his fitness regressed after that.
Bobby Mallon
55
Posted 17/11/2020 at 21:31:36
Oh, Darren Hind, behave! Tom Davies is nowhere near as good as Allan and would never get picked to play for Brazil. Allan has not been poor – his teammates around him have been poor.
Craig Walker
56
Posted 17/11/2020 at 22:09:02
Always surprises me how we all see the games differently. I thought Allan was the only player who has looked good in our last 3 matches. He covers so much ground.
Darren Hind
57
Posted 17/11/2020 at 22:09:39
"Can't be his fault. He's Brazilian. It's everybody else's fault he's been shite."
Is it any wonder we can't progress as a club?
Tony Abrahams
58
Posted 17/11/2020 at 22:37:27
He's covering too much ground imo, Craig, and this is something that Ancelotti has got to rectify very quickly.
Christy Ring
59
Posted 17/11/2020 at 22:37:41
Darren #57,
Picking out Allan, and a passenger beside him in Sigurdsson? Allan not in the squad tonight, looking bad for Sunday, but we have Siggy...
Mark Brennnan
60
Posted 17/11/2020 at 22:38:02
Scrap internationals now and in the future. I don't know one fan at work from the mix of supporters who look forward to an international.
Michael Kenrick
61
Posted 17/11/2020 at 22:55:48
I can see it now: Carlo's instructions before the game:
"Allan, you can play on Sunday because I like you. But please don't run around so much. You're covering too much ground. You know it's bad for you in your condition. I feel I must rectify this very quickly."
As if...
Tom Bowers
62
Posted 17/11/2020 at 23:18:31
Typical of what happens on ''international'' duty.
Coleman injured, Allan injured. Mina sent off. What next?
I hope Calvert-Lewin doesn't play tomorrow.

Fran Mitchell
63
Posted 17/11/2020 at 00:03:59
I thought Allan was poor in the Southampton game. But he was our best performer in the next two. And against Man Utd, I thought he was excellent – but expecting him to do the job of two men is too much. Nowt to do with him being Brazilian – Bernard is Brazilian and I think he shouldn't get near the team.
Darren Hind
64
Posted 18/11/2020 at 06:14:38
Tony,
Bang on the money. Allan (through no fault of anybody else) has spent the last few games falling between several stools. He has offered nothing going forward whilst leaving the defence totally exposed.
Headless-chicken ball-chasing will, get a few fans on your side – you only have to look at Tommy Gravesen to see that – but you will always be played around by better opposition. That is what we are seeing now.
Gravesen was a fans' favourite here, but he was only about 20mins into his first training session at Madrid before they started exchanging nervous glances with each other. People talk about him doing the work of two men, but anybody who has played the game will tell you how difficult it is to play with a ball chaser as a partner. That in itself is a specialist role.
Allan is better than Gravesen... miles better, but he has already seen how easy it is to please Evertonians. There-in lies our problem.
Virtually everyone who has come here has fallen off a cliff after initially impressing. They soon realise that there are no demands, no set bars, no expectations. Adoration doesn't have to be earned here. It is freely given, by fans who are endlessly grateful that you joined their club.
There are few midfield players in the world who could have created so little going forward and left their defenders as exposed as much as ours have been in our last four games, Yet still... Oh, I was forgetting, it's all Sigurdsson's fault!
Sigurdsson was already doing what he is doing now long before James, Doucouré and Allan got here; he didn't need their help to become anonymous. He didn't need their company in no-man's land either.
Please stop applauding shite. You will get nothing else until you do. These players are so much better than what they are showing us.
You do not play well and win games just because you are capable of it. You have to actually do it.
Neil Cremin
65
Posted 18/11/2020 at 08:20:20
Darren, a couple of comments:
Firstly, I think Real got their baldies mixed up and it was Lee Carsley's workrate that they wanted... Smiley!
On Everton, firstly, it is ominous that players who are so-called world-class, or at least offer so much promise, regularly disappoint when they arrive here.
Secondly, why do we have such a poor record on player fitness? The answer lies in the standards and expectations we set at the club. We need to demand and expect that everybody in the club live up to our motto: Nil satis nisi optimum.
This also applies to our medical staff and training regime. Why so may hamstrings, players rushed back before they are fully fit... and then out for even longer? This has been going on for years...
Nothing but giving of your best should be good enough to be a member of this club.

Tony Abrahams
66
Posted 18/11/2020 at 08:21:10
As if Michael? Okay then, I will try to spell it out a little bit better, you can't cover to much ground because that's a great gift, but sometimes the tactics force you to try and cover to much ground, and that is different.
The current tactics are exposing both the middle of the park and the right hand side, surely you can see this this Michael?
Si Pulford
67
Posted 18/11/2020 at 08:24:35
Darren (64). You say that Allan has ' already seen how easy it is to please Evertonians '
When?
It's not like he gets 35000 people celebrating his tackles like a goal or the game chanting his name when 'he's running round like a headless chicken...'
So how has he worked it out?
More likely he's a victim of playing in an inferior midfield to the one he's used to, is carrying a knock in a side where most of the team is carrying a knock. Oh-and is less than a dozen games into playing in a new league, in a new country.
Eddie Dunn
68
Posted 18/11/2020 at 08:38:04
Darren, I think the problem is that so many of our players have little competition for their places. If you let your standard slip, get a bit complacent the boss sticks with you and if he does put someone else in your place, they stink the gaffe out and you're back in next game. So many lads can subconsciously slip into easy street. I'm not saying all these guys are guilty of it but all of them could have done with more rivals for their shirt.
Pickford, Coleman, Digne, DCL, Richarlison, James and (until Holgate got back) Keane and Mina too have all lacked competition.

Trevor Peers
69
Posted 18/11/2020 at 09:06:07
Evertons problems, as I've said for a long time, lay in our attacking options. No pace or scoring threat down the flanks means the midfield has no outlet in attack. Until we sort this issue out we will remain, unentertaining and in the middle of the table, luckily we have Richarlison back against Fulham his absence has highlighted our squad limitations. Hopefully Carlo can add someone very soon.
On the the issue of supporter's being able to influence the teams fortunes, Supporters just support, If there's a systemic failure running through the management of the club there's very little evidence that a bunch of rabid supporters can alter the fortunes the club.
Look at Newcastle as an example, a club with a history of chronic bad management that has a huge and demanding support base, which has made little or no difference to the managements judgement in the persuit of the teams success, there are many more examples in the premiership. Everton have become one of them clubs.
Sukhdev Sohal
70
Posted 18/11/2020 at 09:34:22
Darren you say Allan gets away with a lot because he is Brazilian. Bernard gets called out a lot though. Do you see the problem with the premise of your statement?
Sam Hoare
71
Posted 18/11/2020 at 09:53:53
I'd say Allan has been the best of our midfielders fairly comfortably. And whilst being injured most of the time. He's not fantastic on the ball but he rarely gives the ball away and he's also carried the ball forwards more than any other midfielder.
He wins the ball alot and if his chasing ocassionally looks 'headless' its possibly because his team-mates are not pressing as intensely as he does.
I'm not convinced his talents are best used as sitting midfielder, a position that maybe requires a touch more discipline. Possibly when Gbamin comes back he may play there and allow Allan to play as an 8. Though then i'm not sure you can have Doucore and Allan as the two box to box players as neither is quite creative enough.
Allan is probably the closest we've come to Gueye since the 'tackling machine' left and his 4.6 tackles per match (the highest in the league) is testament to that but he's been part of a midfield that hasn't quite had the right balance somehow (possibly due to the poor performances of Siggurddson and Gomes) and Carlo needs to work out why that is and remedy it. Personally I think we've lacked that midfielder to knit defence and attack together, who can carry the ball and pass well. Siggy and Gomes have not shone in that role and it looks as though Carlo thinks Isco could be that player but i'd like to see him try Iwobi or Davies there before we spunk some more high transfer fees and wages on a 'star' player who I worry lacks the physicality for this league.
Danny Broderick
72
Posted 18/11/2020 at 10:08:20
People questioning Allan need to give their head a wobble. Like Sam says, he's doing more tackles than any other midfielder in the league! His pass completion is 89%! He is clearly doing his job in front of the back 4...
Trevor (69),
I've thought for years that the problem at Everton is not so much the attackers, but the midfielders. Take any attackers in world football, such as Kane and Aguero, they wouldn't have scored half of their goals in front of our midfield. Since Martinez left, our midfielders have been content to just pass the ball backwards and sideways without any tempo. Playing as a wideman next to the likes of Schneiderlin, Sigurdsson, Gomes, Davies is a thankless task. We've had half decent, pacy wingers in this time - Walcott, Deulofeu, Lennon, Bolasie. But they've all bombed.
I feel that we need to move the ball quicker if we are to progress, namely in midfield. We do have outlets - Rodriguez is always in space, and Richarlison is always looking to be played in. But the centre mids (especially the creative one, Sigurdsson!!) have to do much more and much quicker. It's like we have forgotten how to attack when I watch us play sometimes...
Brian Harrison
73
Posted 18/11/2020 at 10:15:59
Darren 64
I totally agree with your first line in your post, Allan has spent the last few games falling between several stools. And we all know what stools he is surrounded by which makes it difficult. He not only stops many attacks but his frustration with Doucoure or Sigurdsson to create anything has made him try to do their jobs as well as his own. I have been disappointed massively in Doucoure I thought a high energy box to box midfielder is what we needed, but so far hasn't produced the form he showed for Watford. I still hope that we see the real Doucoure soon.
Steve Brown
74
Posted 18/11/2020 at 10:31:05
Si @ 67 and Sam @ 71, stop talking so much sense.
Trevor Peers
75
Posted 18/11/2020 at 12:04:01
Danny#72.
The examples of attacking wingers you have mentioned have not been anywhere near good enough in the main, at present we don't have any wingers except Gordon who is largely inexperienced.
Hate to use the RS as an example, but look at the goal threat they pose with two goalscoring wingers, they do so without having a fabulous midfield.
These guys use thier pace, power and accuracy of shot to smash the opposition, the last time we had a decent winger was Kanchelskis and he was as equally devastating. Hard to get hold of maybe, but that should be our aim.
Jay Wood
[BRZ]
76
Posted 18/11/2020 at 12:11:12
If Tom Davies had performed like Allan has in our last three games, he would have comfortably been our best performing midfielder.
Tony Abrahams
77
Posted 18/11/2020 at 12:39:14
And yet our best performing midfielder has not been effective enough, even though he's got the best tackling stats in the league.
The middle of the park is such a hugh area of the pitch when your team haven't got the ball, and unless you get enough help then you become exposed very quickly, which is something I've witnessed in three of our last four games.
Danny Broderick
78
Posted 18/11/2020 at 13:40:33
Trevor (75),
Feel free to use the RS as an example!
You sort of make my point for me when you say they haven't got a fabulous midfield but they simply get the ball to their goalscoring wingers. Mane and Salah wouldn't have scored half their goals if they had been playing alongside our centre mids for the last few years.
I'd kill for our midfield to play like Liverpool's midfield and up the tempo of the pressing and passing. With Richarlison, DCL and Rodriguez, we have players who can score goals - we just need to get the ball to them!
Neil Cremin
79
Posted 18/11/2020 at 13:50:03
Trevor
Not sure I agree with RS limited midfield. They have Jordan Henderson, may not be flashy but certainly effective as the engine driving the team forward. I read recently on BBC that he was discovered in Sunderland reserves by Roy Keane when he was manager there. Keane was another player with limited football skill (viz a viz Ronaldhino's of this world) However also didn't tolerate below par performances and drove his team forward by example. Oh how we could do with that type of mentality in our team.
Michael Kenrick
80
Posted 18/11/2020 at 14:34:19
This has to win the Daftest Headline of the Week Award:
Fulham are perfect opponent for Gylfi Sigurdsson to ignite Everton season
I'm loath to post such abject negativity but come on... even the utterly useless Echo is having a laugh here!
The potential upside is that I am often wrong, and Sigurdsson might, just might now produce a decent performance to consolidate my own abysmal record at making predictions.

Tom Bowers
81
Posted 18/11/2020 at 15:15:13
Have to agree that midfield is where games are won or lost.
No point in having world class strikers if there is no supply line.
Everton are way off in both departments at the moment.
Yes, they have gotten by in a few games this season but the inconsistency is putting us back in our place.
I don't care where Fulham are in the table. They are playing better than they did since Lookman came and it's never been a good place to go for Everton although they have won 2 games in the Capital this season.

Even with a jet-lagged bunch of players coming back one would think that this is an opportunity to get back on track but I, like many others, have learnt never to trust them against any team.

Dave Abrahams
82
Posted 18/11/2020 at 15:56:41
Michael (80), no-one should make predictions, guesses really, but I doubt Sigurdsson could ignite anything. I'd be surprised if he could find a gas leak with a match.
Jay Wood
[BRZ]
83
Posted 18/11/2020 at 16:25:41
'I'd be surprised if he could find a gas leak with a match.'
Nice one, Dave.
Sadly, you could see the bright spark trying it...
Trevor Peers
84
Posted 18/11/2020 at 16:35:01
Neil#79.
Henderson and old arse Milner, your having a laugh, they're no better than Dacoure and Allan. Look at Henderson's performances for England, totally annoymous.The real difference between the RS and us is they have attacking goalscoring wingers.
That's what we need, but I doubt that Carlo sees it that way, we'll see in next few windows. We've already been linked with Isco, another no.10. you couldn't make it up.
Jay Harris
85
Posted 18/11/2020 at 16:36:26
Lets hope he can ignite an explosion.
It might liven all of them up.
Tom Bowers
86
Posted 18/11/2020 at 17:42:28
Have to agree that midfield is where games are won or lost.
No point in having world class strikers if there is no supply line.
Everton are way off in both departments at the moment.
Yes, they have gotten by in a few games this season but the inconsistency is putting us back in our place.
I don't care where Fulham are in the table. They are playing better than they did since Lookman came and it's never been a good place to go for Everton although they have won 2 games in the Capital this season.

Even with a jet-lagged bunch of players coming back one would think that this is an opportunity to get back on track but I, like many others, have learnt never to trust them against any team.

Tony Everan
87
Posted 18/11/2020 at 18:02:55
Michael 80
The Red Echo are taking the piss with that headline. Sigurdsson doesn't start. If he does we are all going to hell in a handcart.
Darren Hind
88
Posted 18/11/2020 at 19:14:39
"Its not Carlo's fault. Our midfield is shit"
"Gomes is shit".
"Tom Davies is shit" "
Schniederlin is shit"
Benni ? "leave him with the kids. He's shit too"..
"We are crap because we have a crap midfield"
"Wait until Carlo can get his own players in. Then our midfiled will be great"
Well the scapegoats have not been featuring and guess what ? ordinary teams like Southampton, Newcastle and Man United are still going through our midfield like piss through snow.
I cringe when I listen to some Evertonians these day...Its one excuse after another. When James, Doucoure or Allan don't produce, its down to the other midfield players. Well guess what ? . . . They ARE the fucking midfield. Its them three and another...And how come every time they play badly, people make excuses by claiming they are carrying a knock ? ALL players carry knocks
"Allan makes the most tackles in the league"...What does that even mean?
I would be impressed to read he made the best tackles, or made the most interceptions..or even read the game so well he didnt have to make so many tackles.
A player who has to tackle so often does so because he isn't reading the game well enough... You statto's do understand that ?
They're begining to struggle down at the excuse factory. People like Davies and Slidingin can not be blamed for the recent run of desperate performances.
The three musketeers have been drafted in, but we are STILL struggling to create chances and our defenders are being exposed with a worrying regularity We need a new excuse.
I know !... Its because our luck is cursed and for no reason at all the bastards have deprived us of Richarlison - Did anybody mention we don't win without our talisman ?
Fulham fans began this season wondering where their first win would come from, but you can bet your life they will fancy playing us this week.
Still, if we lose we can always point to the fact that England under 21's won 5-0 despite the "fact" that Tom Davies was shite.
One day Evertonians will stop apologising. they will say enough is enough. They will demand better. Unfortunately you only have to run down this thread to know that day isn't coming any time soon.
I often wonder When will the penny drop. When will people stop feeling grateful and lucky to "Greats" who show no visible sign of delivering the goods ?... Whats it going to take ?

Brian Williams
89
Posted 18/11/2020 at 19:32:52
Rob#88.
Are you sure Rob as he's named in the subs, or is there another Sigurdsson in the squad too?
Dale Self
90
Posted 18/11/2020 at 19:46:01
I'm not going to list the numbers but no, do not feel free to use the Red Shite as an example.
Danny Broderick
91
Posted 18/11/2020 at 19:46:22
Darren (89),
The elephant in the room is Gylfi Sigurdsson. Here is his contribution in the Premier League this season:
8 appearances
7 shots (1 on target)
198 passes (25 per game)
17 tackles (only 9 of which were won)
1 assist
0 goals
But yeah, you're right. It's all Allan and Doucoure's fault.
Sukhdev Sohal
92
Posted 18/11/2020 at 19:49:45
Danny, Gylfi's decline is apparent to everyone. It's a real shame because you forget how good he was at Swansea. Then again he played at CAM and not CM there.
Sam Hoare
93
Posted 18/11/2020 at 19:58:16
Darren@89, I'm really not sure what point you are trying to make here. Are you trying to equate people saying that Allan has been our best midfielder with them also saying that we have played well enough? If you are then at best its a generalisation.
"A player who has to tackle so often does so because he isn't reading the game well enough... You statto's do understand that ?"
I guess I'm a 'statto' then? Nice. But also what are you talking about? Yes interceptions are good, but so is winning the ball and usually to win the ball you have to be in the right position or predict which way the dribbler is going to move so, no, lots of tackles in no way implies that you don't read the game well.
"One day Evertonians will stop apologising. they will say enough is enough. They will demand better. Unfortunately you only have to run down this thread to know that day isn't coming any time soon."
Again, what are you talking about? Do you think what goes on here has much affect on the first team? Or are you suggesting that things will only get better if people hold some sort of Everton veto? What does demanding better look like to you and how do you think this will have a genuine effect on things? Some sort of hunger strike until we sign Messi? Am genuinely curious what it is that you're expecting that will change things on the pitch, especially given that fans aren't even allowed to attend at the moment? Or is this just provocative rhetoric because so many people dared disagree with your dubious assessment of Allan?
Darren Hind
94
Posted 18/11/2020 at 20:02:29
Tell you what, Danny. Why don't you take your own advice. Give your head a wobble.
Sigurdsson may well be crap, but throughout his entire career he as scored and created more than Doucoure and Allan combined.
Stats eh?
Patrick McFarlane
95
Posted 18/11/2020 at 20:04:28
I was delighted when Everton bought Siggy, even though the price we paid was way over his market value. I have a couple of great memories that he has provided with his goal at Leicester and a few others at Goodison but overall, Siggy has been one of the clubs worse in terms of value for money.
What I don't understand is how so many of us on the terraces and watching on TV can see that he has struggled not just for a few months but almost the entirety of his Everton career, yet he is constantly chosen over other players who may offer the team a more solid contribution.
He has been unable to find himself a niche in the Everton side where he can demonstrate his undoubted talent and each week it seems he delivers less and less on the pitch in terms of positively affecting the game. Whatever it is that a whole host of Everton managers see him do in training, he has far too rarely shown it to the Evertonians whilst wearing an Everton shirt.
Carlo is the latest who believes in Siggy, but surely he can't keep picking him merely with the hope that he will come good in the next match or the one after that. ?
Paul Birmingham
96
Posted 18/11/2020 at 20:04:54
It seems like ages ago, since the last match.
This is a Big game, and the squad must galvanise for a massive test, as Fulham, will no doubt, be fancying their chances, as would any other team, based on the last three games, Everton have played.
True grit, belief, desire, but which Everton, will turn up.
John Pierce
99
Posted 18/11/2020 at 20:15:09
Sigurdsson thrived in a side who didn't often have the ball often at Swansea. His spells at Spurs and Everton were most games the team has most of the possession he has struggled.
Wrong player, in the wrong system at clubs who expected more from a player to influence the game through rhythm and lots of touches.
Sigurdsson gets a lot of stick, from me too, however it's the poor recruitment that's sits at the root of this problem.
Danny Broderick
100
Posted 18/11/2020 at 20:18:02
Darren,
You sound desperate mate.
Sigurdsson is a creative player - it's his job to score goals and create assists. He is not doing his job! Certainly not as well as Allan is doing his job, which consists of winning the ball back and passing it. His job involves tackling and he's doing it very well.
Incidentally, Doucoure has had 8 shots in 8 games this season - more than Sigurdsson. He's also created as many assists as Sigurdsson (1). This despite doing far more donkey work than Sigurdsson.
But don't let facts get in the way of your argument. Our midfield problems are all Allan's and Doucoure's fault.
Sukhdev Sohal
101
Posted 18/11/2020 at 20:23:10
Expecting goal contributions from Allan and Doucoure is ridiculous. We should expect them from Sigurdsson though. That's the difference. Whatever Allan and Doucoure get are a bonus.
Darren Hind
102
Posted 18/11/2020 at 20:28:39
in 1979, Ipswich Town played Everton off the park at Goodison. They quite literally wiped the floor with Gordon Lee's Everton. For years, Evertonians had supported shites, sang "Everton are magic" when we were only marginally okay.
Not anymore, the fans released their fury: no more apologies, just anger. A few weeks later, the crowd were back to see if their reaction had made a difference when we played them in the cup... The same Ipswich side were duly dispatched.
Then came the night when boos rang around Goodison when we faced Coventry. The crowd knew we had good players... but they had been watching shite. They again unleashed a fury at the underperformers... the rest is history.
Everton fans stopped venting years ago, around about the time we stopped winning stuff. Mediocrity has long since been accepted. Knowledgeable fans have somewhere down the line been replaced by poor judges. People who greet every signing as if we have just signed a world beater. Signing for Everton at any level is like securing a full season without accountability. You are above criticism.
"Provocative rhetoric because people disagree"? Na, no point. It doesn't have any effect.
If creating next to nothing, whilst conceding 9 goals in our last four games (with our top-class defensive midfield players) doesn't show the "positive thinkers" they are barking up the wrong tree by excusing poor performance after poor performance, nothing I say will smear their rose-tinted specs.
Martin Mason
103
Posted 18/11/2020 at 20:49:55
Crap Darren, you lie back and accept mediocrity like we all do because there is nothing to do about it other than whine like you do. Come on, tell us how you don't accept mediocrity, how do you hold the owners to account, you fool.
Sukhdev Sohal
104
Posted 18/11/2020 at 20:55:02
Martin, there's no point in arguing with him. He wanted Dunc instead of Ancelotti and will probably delete my comments because he is a sensitive obese pensioner.
Brian Williams
105
Posted 18/11/2020 at 20:58:47
Sukhdev. Darren didn't delete your comments. He can't delete anyone's comments.
Your comment was moved (by ToffeeWeb) to another thread, along with some others, where it was more in keeping with the subject of the thread.
Sukhdev Sohal
106
Posted 18/11/2020 at 21:00:18
Thanks Brian. Let's hope Sigurdsson smashes in a goal vs Fulham and shuts all our fans up.
Martin Mason
107
Posted 18/11/2020 at 21:04:20
Bryan, you mean censorship? There should be no moving or deletion of threads unless they break the rules of the board. For far to long have posts been deleted and posters banned for not posting in agreement with the moderators views.
Brian Williams
108
Posted 18/11/2020 at 21:10:14
No Martyn, just a couple of comments regarding Sigurdsson that were moved to the England thread because they were about him not being in the squad to face England.
I've often seen posts moved from one thread to another as two distinct subjects become apparent when another thread already exists that covers one of those subjects, if you know what I mean.
Tony Abrahams
109
Posted 18/11/2020 at 21:23:37
What can Darren do if he's not happy, except vent his anger Martin? I think he has jumped the gun a bit early with regards to Ancellotti, but like always, only time will tell?
I can really relate to a lot of what you say about the Evertonians of yesteryear Darren, because although I was only a child, during the times of the fixtures you mentioned. I to remember what seemed like more knowledge, and also a lot less acceptance, and it was this defiance that I always admired the most.
Brian Williams
110
Posted 18/11/2020 at 21:29:17
Or maybe some people just don't want to be negative and moan all the time Tony?
People come on here for many different reasons and we all have a rant after a bad loss or poor performance but some like to leave it there and go in a different direction. Some don't.
That's what free speech is about mate. I wouldn't, though, mistake a lack of outspoken unhappiness as a lack of knowledge.
Dale Self
111
Posted 18/11/2020 at 21:35:09
All these threads are like making a run on the pitch. If you run somewhere your teammates don't understand they cannot support you with a supporting run or a pass. You just stand out there waving your arms and yelling, not a good look.
Sam Hoare
112
Posted 18/11/2020 at 21:36:18
I don't recognise this lack of anger or acceptance.
Admittedly I've not been to Goodson nearly enough but certainly these pages are filled with criticism and rage whenever we lose. The live forum is often a melting pot of vitriol even when we are drawing!
Maybe the crowds at Goodison are quieter than they used to be but my feeling is that the Goodison crowd turns pretty quickly on anyone making mistakes.
As for fans being less knowledgeable now again I couldn't comment for sure. I've met and known a lot of very knowledgeable blues, it sounds a bit like nostalgia to me but I could be wrong.
Andy Crooks
113
Posted 18/11/2020 at 21:39:17
Martin, I have posted on here for many a day and I have disagreed with the moderators on many occasions. It is impossible to comment accurately on censorship because we do not know what never sees the light of day. I suspect there might be some stuff that gets booted out for reasons that are appropriate.
But.. you have posted many opinions over many years that would be the opposite to the views of the editors. So have I. As you well know some of the stuff on here used to be ferocious.
Some personal invective is removed but if, as you suggest, there is a site party line, then I could name many posters who don't adhere to it. Their comments are still up and are still in the archives.
John McFarlane, who is a friend, made the decision to withdraw from the site. However, his articles were published and their was no censorship of his reasons for withdrawing.
I would welcome John's return and I believe the moderators would be happy to publish his stuff. I guess we all know a pub that even the fucking wolfman wouldn't get barred from. To me, ToffeeWeb is that pub.
Tony Abrahams
114
Posted 18/11/2020 at 21:45:26
Good point Brian, and Darren, had also made his point about Ancellotti very early, so I was surprised that he's been so quick to condemn, even if I do think our manager has got to sort out a couple of conundrums very quickly.
We started great, the quality "in parts" of the performances, made me start to think we could develop into a good team, and although I was aware the squad, wasn't big or good enough in certain areas, I can't believe how poor we have looked without Richarlison, and how easy we are to play against at the minute, even though I'm sure this can be rectified?
If it doesn't get rectified soon, then I think people will begin to question Carlo Ancellotti, but hopefully it doesn't come to this!
Darren Hind
115
Posted 18/11/2020 at 21:45:35
I'd be amazed if the professional player/team/manager who has not been influenced by fans has been born yet.
Be it radio, social media, meetings in the street, crowd reaction or websites like this which tend to offer a representation of all the others. The player knows what the fan is saying. If they have a place in the hearts of fans (straq) they know it. If they are disliked by a large section of the fans (Barkley).. Trust me they know it.
Players and teams know if the fans are with them. Managers would need to be deaf dumb and blind to not know when they have lost the fans.
Players, managers. coaches, and even tea ladies know when they are on easy street.
I would never waste a minute debating with somebody who is denying the huge influence fans have on the performances of every professional sportsman.
I would be far more interested to hear why midfield players who are offering zero protection to their defenders should be excused all forms of attacking duties.
"They are top notch players and form the basis of our midfield and yes, they have offered little to no protection to the defence, but you must consider anything the do in a creative capacity as an unexpected bonus"
Sigh
A world class midfield trio brought in and managed by a world class manager having their pants removed by Southampton Newcastle and one of the worst Man U sides seen in decades.
I guess there will always be people who think they are being positive when they defend and refute criticism of such low expectation.
Sukhdev Sohal
116
Posted 18/11/2020 at 21:51:53
Sam, surely it's likely that more Everton fans are knowledgeable now since we have access to so much more information?As the average human is compared to 40 years ago? I'm only 18, but what I've noticed is our less cleverer fans being defeatist and an overindulgence for calling players championship quality.
Tony Abrahams
117
Posted 18/11/2020 at 21:54:28
Maybe it's my nostalgia Sam, maybe it was different standing on the terraces, but Evertonians always seemed to be real defiant bastards when I was a child, and possibly a more united crowd.
I think this is United's best squad for years Darren, they blow hot and cold, but I thought we played well in the second half against them last week, I'm taking a bit of hope from that anyway.
Sukhdev Sohal
118
Posted 18/11/2020 at 21:55:25
Darren, literally no-one had brought up the topic of the lack of impact of fans on players and you jump to the statement that you wouldn't waste your time arguing with someone that did? So you created an argument with yourself? Wow.
Danny Broderick
119
Posted 18/11/2020 at 21:56:24
Darren,
You don't like it when fans have extreme views criticising the young lads like DCL and Davies - I am with you on that by the way. Yet you have an extreme view of our new signings. You seem to be dismissive of what they have done all season, as well as the manager. Yes, we have lost the last 3 games and we've been rubbish. But we won 7 on the spin before that! We were top of the league on MOTD for 6 weeks!
Be fair in your analysis. Allan, Doucoure and Rodriguez were a breath of fresh air at the start of the season. Even if they have had a sticky patch - which I don't think Allan has - surely you can appreciate that we are in a better place now than 6 months ago? Why are you so quick to criticise new lads who are settling in here, when you don't like people doing that to the young lads settling in?
Danny Broderick
120
Posted 18/11/2020 at 21:58:27
Sukhdev (118),
You speak a lot of sense for an 18 year old!
Sukhdev Sohal
121
Posted 18/11/2020 at 22:02:00
Danny, if that isn't a sarcastic comment I really appreciate it!😂
Brian Williams
122
Posted 18/11/2020 at 22:03:11
Maybe Darren, they make their point and leave it at that.
Some may not feel the need to make the same point over and over and over again.
Some probably aren't that keen on being referred to as Evertonians that need to wake up and realize what certain others already realize, almost as if there's a hierachy of Evertonians.
There isn't. There are Evertonians who have completely opposite opinions.
The thing is you very often, and (sometimes) subtly look down your nose at some Evertonians that don't meet your personal ideals. That's summed up by your last paragraph in post 115.
They just don't see things the same as you do Darren. That, as hard as it might be for you to accept, doesn't make them wrong. They just have a different opinion from yours.
Patrick McFarlane
123
Posted 18/11/2020 at 22:31:51
I think that sometimes we are all guilty of judging today's footballers against the players of the past and expecting them to react in the same way as our great heroes from the past reacted.
Frank Lampard said in a recent interview that "The life of a player is a bubble of selfishness to a degree," Perhaps that comment sums up the modern player, no real affiliation to the club he represents, little or no contact with the ordinary supporter, save his duty-bound appearance at some club charity event or similar contractual obligation.
Gone are the days of most players drinking and socialising with the ordinary man in the street end, most of them live a lifestyle that is far from ordinary and they are cossetted by the clubs that employ them.
Everton's greatest teams and players all showed that they cared about the club and its supporters, where it really mattered out on the pitch. The incentives were different because if they had a bad game they were often dropped and that meant a hit to their income and that mattered because they weren't on astronomical money like they are today.
Evertonians of all ages are a hardy bunch and they will forgive many things but lack of effort isn't one of them and too many times in the last six years that lack of effort has been on view far too many times, from far too many players.
Evertonians are a defiant bunch and it is one of the attributes that has kept the club afloat during hard times, but at the end of the day, the fans can only do so much either positive or negative, it is always and will always be down to the players and the staff to ensure that they perform to the best of their abilities and to show their defiance to avoid a defeat and do everything they can to win, which counts the most.
I'm hopeful that Carlo realises this and forges a team that the supporters can get behind, but like many on here and elsewhere I wouldn't put my life savings on that being a nailed-on occurrence, because, managers are also multi-millionaires and they can walk away from any situation at any time, without too much lasting damage to their bank balance, reputation, or ego.
As Les McQueen the almost successful rock star reflects in the link below.
Barry Rathbone
124
Posted 18/11/2020 at 22:36:32
I think fans go to the game for different reasons than those of yesteryear. It was very simple then you went to support the team nowadays footy stadia have become tepid places because they are just another place to play on a smart phone.
Plus previous generations played non stop you went to school for 8 and played till 9 then at dinner break you had another game before going home to play footy in the streets till bedtime. The production line of masterful footballers was never ending as a result.
The idea of stats to judge football is anathema to those who graduated from those times
Darren Hind
125
Posted 18/11/2020 at 22:40:44
Danny
I don't care if people criticise any player. Its poor judgement which pisses me off. I hated when Holgate would get slaughtered on here because I could see quality. I hated when DCL got stick because I could see quality. I hate listening to foolish comments labeling players like Tom Davies "Championship" when he has his entire career ahead of him and has already played more premier league games (under a succession of managers) than most manage in a career.
I'm not saying the three new signings are not good players. On the contrary. they are good players, but they are playing badly. thats not something I will ever excuse.. or applaud. Whats the use of signing better players if you get the same performances as you got before they were signed ? They play in the same team. together. How long will it be before they are accountable ? It cant always be somebody elses fault.
You go on about a sticky patch, but the sticky patch is longer than the purple one.
Every fucker who signs for this club signs up for a stint on easy street. It pisses me off to listen to the mustnt-grumble-brigade, grumble like fuck every time somebody legitimately criticises mediocrity.
You can make a different point every time you post, but the self proclaimed positives will see it as the same negative.
Perhaps we should all ignore the fact that we stinking the place out and are possibly on the brink of going into free fall. Pretend everythings rosey in the garden. After all, its only a game...Lets focus on the positives.
I`m glad I wont ever I share an opinion with people who cant stand criticism. It certainly isnt something I find hard to accept.
Sam Hoare
126
Posted 18/11/2020 at 23:00:29
Darren, who are these people who think 'everything is rosey'?
Who haven't been upset and concerned by the performances in the last 3 games?
Who believe we signed "a world class midfield trio" this summer?
I think you're making half of this up to fuel your own disapproval.
Tom Bowers
127
Posted 18/11/2020 at 23:24:50
This is so typical of what happens when Everton make signings and we all get excited that they are turning the corner. Everything has basically gone pear-shaped since we played Liverpool and even that game was a big indicator.
We signed Gbamin and he has played a total of 2 games, Gomes seems like another sick-note player – excusing his broken leg game of course – and now Allan. Seamus also seems like he is injury-prone
Yes, we do have some decent players who can come in but will they perform to the level expected in the Premier League in order to win games? So far, that has been a big disappointment.
Everton really haven't had a decent competitive squad since the eighties and I think we all hoped that this season may finally be the turning point under Carlo but, just maybe, we are all expecting too much.
We can all look to the next game and hope they get back on track but every game is a mountain when you are seemingly lacking in confidence.
Derek Thomas
128
Posted 19/11/2020 at 00:28:51
Players only love you when they're playing... I really don't give a toss about players' existential angst, they're either doing it for the club and the fans – or the money – and it's just a job.
All I ask is they do that job to the best of their ability because, when it's done well, it's a thing of beauty... which is what we pay to see.
Don Alexander
129
Posted 19/11/2020 at 04:27:35
Dazza (#125) well said, as is often the case when you're not regrettably demeaning the opinion of fellow devout fans.
In your post, you quite correctly allude to a miasma that consistently engulfs new signings just after they arrive at Finch Farm. It's been going on for years. Why is that, in your opinion?
Might it be that Finch Farm is still stuffed with Blue Bill's coach appointees, all of whom "get" Everton, and easy money as a consequence of licking up to the Teary One?
Brian Harrison
130
Posted 19/11/2020 at 10:35:04
Well thankfully that's the end of internationals for a while, I didnt realize till I read it yesterday that we have played 8 league games since the restart and in that time England have played 8 games as well. No wonder players are getting injured more this season than most other seasons.
Rennie Smith
131
Posted 19/11/2020 at 10:48:02
I get the call to try and protect players and not play too many games, but the "big" clubs are apparently asking once again for 5 subs in the PL. This is fine if you have a decent enough squad to fill those places, but most clubs aren't in that league.
And who was last having a whinge about it? Klopp after the City game. How many subs did he use in that game, surely 3? No, he used 2. What's your bloody problem?
Michael Kenrick
132
Posted 19/11/2020 at 11:02:56
I'll rephrase for you, Darren, if you don't mind too much...
"I don't care if people criticise any player, unless I disagree with them. then I come out guns blazing, no matter what."
Poor judgement pisses you off? Or is it just a difference of opinion that you can't stand?
I'll put this into perspective for you: much of the criticism voiced on here of Holgate, Calvert-Lewin and Davies was the product of perfectly good judgement – at the time and in the context of their performances in the games they played – and was thus well-founded. Bang on the money. What most have said was indisputable.
But you didn't like it. You say now it's because you "saw quality". In other words, you saw exactly what the critics were seeing at the time, but decided their criticism was wrong because what? You knew better or you couldn't stand criticism of your favourites?
Regarding new players: "but they are playing badly. That's not something I will ever excuse... or applaud." Yet you very clearly refuse to apply the same critical standard to your declared favourites.
Sorry, Darren, but I call Total Bullshit on your protestations because they lack any balance. No doubt you'll be able to accept this criticism with your characteristic good grace?
Pat Waine
133
Posted 19/11/2020 at 12:29:11
We are badly missing pace now, particularly when Richarlison is not in the side. Buy a fast right back, a solid keeper, and an energy-filled box-to-box midfielder.
Southampton looked wonderful in the middle against us. Allan is a fine player but lacks pace, as is James. It means we get overrun in the middle. We need to sort it...
Christy Ring
134
Posted 19/11/2020 at 12:34:40
What the last 3 games showed us is our squad isn't strong enough.
Richarlison, Coleman, Digne and an unfit James, were massive losses. To scape goat Allan is totally ridiculous. Carlo played Sigurdsson in the last 3 games... he was totally anonymous, and put extra pressure on our midfield.
He set up Llorente at Swansea, and was outstanding, but for £45M (not his fault), has been one of the most expensive flops we have ever signed.
I'd love to see Davies given a chance beside Allan and Doucouré on Sunday, at least he'll put in a shift.

Ian Horan
135
Posted 19/11/2020 at 13:02:25
A couple of points on this thread, Allan's perceived form!! Has any consideration been given to he is possibly playing to different instruction due to the loss of our more dynamic and creative players? I actually think Allan has been a consistent 7 out of 10.
The issue of 5 subs is a benefit to the clubs with greater finances, whereby their subs bench will have greater quality than the poorer teams, Klopp and Pep have the answer to player fatigue in their own hands: use the 3 subs every game. Oh, and the greatest pool of quality they have, how about rotating their starting 11 each game?
They want success but bitch about the number of games!!! 5 subs is a "Sod you, we're alright" mentality. A squad full of expensive internationals with 5 subs is certainly an advantage to a squad of mid-table or youth-team players with 5 subs options.
Tom Bowers
136
Posted 19/11/2020 at 13:42:15
We are all hoping that the return of Richarlison will bring something back to the team but we have other factors that have affected results of late.
Most of us have opinions about the team make-up and tactics, some very diverse and that's okay. Everyone has an opinion and we cannot possibly hope to make everyone happy about them.
The best laid plans are sometimes scuppered by one event in a game, a bad defensive error, a red card,or an unfortunate deflection etc. etc.

I think we are all in agreement that Carlo still doesn't have the squad he would like and although we have had some good early results it is apparent some players are just not effective enough on a consistent basis.
Speed can be a big asset and the likes of RS and City have proved this but Everton lack that kind of effective counter-attacking option.
Until that is rectified then Everton will have to play the slower methodical type of game which can be easy to read by other capable teams.
Andrew Keatley
137
Posted 19/11/2020 at 13:44:20
Michael (133) - Chapeau, sir.
Andrew Keatley
138
Posted 19/11/2020 at 14:02:15
A forum like ToffeeWeb surely welcomes discussion – a sharing of information and opinion. The idea that we, to a person, would ever arrive at a shared consensus about a player or a manager or the direction of the club is, frankly, highly unlikely – and beyond that, it is probably deeply undesirable. We come here to praise, to vent, to celebrate and commiserate – all the time knowing that there will be disagreement on the way.
And yet there are posters on here who don't seem to be able to stomach the fact that others might have an alternative outlook or insight, and they certainly won't concede the possibility that those other people might be right. There is a forthrightness to their posts, and dare I say maybe even a sort of messianic quality, urging the world to convert so that they can see the world how Darren Hind sees it.
Yes, Darren, obviously I am referring to you. Please let other people see the world as they see it, and not belittle them for seeing things differently from you.
Can you do that, Darren? I hope so.
Neil Cremin
139
Posted 19/11/2020 at 14:07:50
Trevor #84
No just pointing out that these players which you seem to think as average, give 110% every time. May not be fancy but put in a decent shift every game for the team. Wish we had these type of players. How do you think the wingers get their good possession to be able to launch regular attacks at such speed, by workhorses winning the dirty possession.
That is why be bought Allen. Same a Gana.
They win the possession and let the footballers do their stuff.
As Carlo said football is a simple game. Why do we continually try to complicate it.
Dave Abrahams
140
Posted 19/11/2020 at 14:13:49
I don't know if football supporters are any different now to what they used to be, I do know if players play with passion and give their all then Everton supporters respond equally with that passion and add 10% to it, we feed off the performances and that is why with too many half hearted players turning out for the Blues it turns the stomach of many of us to watch this and we react with the disdain it deserves, when players do their job we back them to the hilt, always have and always will.
It's down to the manager, coaches and definitely the players, get a good captain in, have we got one in the squad, and he will arouse the players and the crowd to a certain extent, and the rest of the players, if they care enough, it's a very big "if" with some of the present players,some are past it, too old, slow, indifferent and have had enough chances, we are just waiting for them to be moved on, see their contracts out and new players gradually moved in, I wish they'd bleedin hurry up and get out.
Kevin Prytherch
141
Posted 19/11/2020 at 18:35:00
Don 129
Non playing staff over U23 level are below. Which ones are "Blue Bills Coach appointees"?
Director of Football Marcel Brands[94]
First Team Manager Carlo Ancelotti
First Team Assistant Manager Duncan Ferguson
First Team Assistant Manager Davide Ancelotti
Head of Physical Conditioning Francesco Mauri
Sports Scientist and Data Analyst Luca Guerra
Video Analyst Simone Montanaro
Fitness Coach Manuel Morabito
Recovery and Performance Specialist Mino Fulco
Goalkeeping Coach Alan Kelly
Is there anything that isn't Bill Kenwrights fault?
Darren Hind
142
Posted 19/11/2020 at 19:02:34
Lets get a couple of things straight here. I do not do personal attacks. I do not single out individuals who have a different opinion to mine...Read my post. I very rarely even address an individual and if I do it will be a response.
What I DO do, is rail against a culture that over years has eaten away into this club and is, IMO a danger to the possibility of us ever being successful again.
Excuses..Endless relentless mealy mouthed fucking excuses. It starts at the top of this club. The very top and it filters its way down to the managers, the players and out to a growing number of fans. I fucking hate them.
The thing about attacking excuses is you never have to name names. The excuse makers will immediately recognise himself.
IMO. The only people who can be offended by attacks on excuses are the excuse makers.
It wouldnt be so bad if the excuse makers kept to their side of the fence, but they don't. Offer criticism and they will shout you down. Criticism of shite is seen as "negativity".
The people down the excuse factory have never quite figured the difference between being negative and being right. I've seen really insightful posters simply stop posting because they couldnt escape upsetting the self proclaimed positives - Evening Connor.
This great, great club has gone through thirty years of abject misery. We don't challenge for trophies. We are not respected by the big boys, We are always the neutrals choice to be last on MOTD. The school of science has long since been seen as the premier leagues ugly ducklng...but still they apologise. They never stop making excuses.
I've lost count of the number of times our dreadfulness has been excused away by a snapshot of some carefully selected "stats". The thirty five year picture is overlooked. Traded for the time we went unbeaten is 5-6 games.
Its not carlo's fault, its the players. Its not the three midfield players he signed at fault. its the one he inherited We cant win without Richalison. The new players are doing two jobs. The manager is not responsible for the tactics. The academy boys may well be amongst our biggest assets..but they're shite. Alan, James or Doucoure do not play poorly...they carry knocks.
It was all Walsh's fault. The media are dead against us. the Rs are in league with the devil (?). Jamie Carragher and Gary Neville hate us. Carlo will defy gravity and rise to the top again. we are always kicking up hill. We are plagued by fucken bad luck...What chance have we got ? Every ref fucking hates us.
Its easy to name instances where fan anger has changed a situation, but I would love one of the half-glass-full crew to offer an example of when apologetic pap got the job done...When making excuses really made a difference to our plight.
Michael.
Yes I saw quality when you didnt. Yes I said so at the time. No we were not seeing the same things. I saw quality in these players you didnt. I delighted in their progress. You didnt. When our young striker became one of the most coveted in the world. Your confirmation bias prevented you from given him any credit at all.
What a houdini act, you tried to pull off by delighting in us being top of the league whilst slagging of the kid who put us there... While the football world is proclaiming his brilliance in the air. You can only see someone who doesnt have neck muscles ? You judgement has long since been exposed There is a distinct difference between opinion and poor judgement.
And you think I have difficulty accepting other opinion ?
In your case I welcome it.
John Keating
144
Posted 19/11/2020 at 19:50:41
Some people have put their mental issues down to the covid epidemic
Some can't
Mike Gaynes
145
Posted 19/11/2020 at 21:14:50
"I do not do personal attacks. I do not single out individuals who have a different opinion to mine..."
Darren, you know I love you, dude, but... you do. (As do a couple of the guys who are criticizing you for it in this string.) Not always by name, perhaps, but clearly and directly and in a targeted fashion. I understand you don't perceive it that way.
And the thing is, it's pointless. Your opinions are generally so well-informed that deriding opposing parties simply isn't necessary. Nobody has disagreed with you over the years more often than I have, but I always learn from your viewpoint -- IF I'm not so pissed off by the inevitable insulting tone or remark that I just blow off the debate and move on.
That's why I can't wait to debate you over a beer. I just sorta assume you come across more cuddly in person (because if you didn't you'd be scarred and toothless by now).
Sam Hoare
146
Posted 19/11/2020 at 21:35:05
Here, here Mike. Darren, I agree with you about alot of things and think you know alot about football. I'm not sure, from this thread at least, you know quite as much about yourself.
Trevor Peers
148
Posted 20/11/2020 at 07:57:43
Talking about injuries, I see miraculously VVD is back in light training, I hope Everton now call the odious Klopp out for his contemptible pack of of lies over this incident. Which was in effect an accident.
Everyone knew the injury wouldn't keep the player out for the whole season, if we can't respond now and call them out for gross hypocrisy, then it will be just another example of how spineless we have become as a football club.

Patrick McFarlane
149
Posted 20/11/2020 at 09:33:26
Klopp is still banging on about that Pickford incident Trevor:
'With the Virgil van Dijk situation, it was not because of the intensity of the game. It was because of a very strange decision by one person [Jordan Pickford] which made it hard to deal with.
This is why the Beeb and the rest of the media are continuing to cast aspersions on Pickford's place in the England team, it's also clear that Klopp will get his wish for five subs and why his club is able to apply pressure on who can and can't officiate their games - we live in very strange times where one man's opinion sets the agenda for many in the media.
Meanwhile, over at Goodison, we get the two idiots Madley and Mason, who officiated the Brighton away game last year, where they wrongly awarded a penalty via VAR, in charge of our game at Craven Cottage on Sunday.
Eddie Dunn
150
Posted 20/11/2020 at 09:41:51
Trevor- surely it is normal to do some light training early in the recovery programme? It doesn't mean VVD will be back any time soon.
Trevor Peers
151
Posted 20/11/2020 at 10:36:50
You could be right Eddie, but I don't believe a word Klopp says. He clearly has no respect for Everton and is using the incident to further his own devisive plans like some tin pot dictator.
When Gomes got that horrific injury we just accepted it as part of the game, he was back a lot earlier than expected and I'd be surprised if VVD isn't back early in the new year.
Eddie Dunn
152
Posted 20/11/2020 at 12:09:15
Trevor, whatever the speed of the recovery, the whole episode reflect's Klopp's controlling influence on anything he can get his hands on.
Over two years ago I got banned from a BBC comments thread for having the temerity to call him a manipulative control freak and a bully.
Whoever was editing that football chat was very much on his side. Indeed my in-laws love him and think he is the loveliest man alive, so kind and nice.
I have always noticed his mock smile at refs making the "wrong decision" his head shaking and we all saw his outrageous run onto the pitch before the end of that Derby which should have got him a ban.
Imagine any other manager doing that!
He is constantly pressuring the authorities and the officials. A master puppeteer.
The thing is, I think he does have some usefull qualities(if he is your boss) but he also tries to disguise the fact that he is totally ruthless. gets rid of deadwood with no sentiment. He is clever and portays himself and his current club as holier-than-thou, when his players cheat and foul but is outraged when anything happens that might undermine his masterplan.
Trevor Peers
153
Posted 20/11/2020 at 13:17:36
Well said Eddie#152. Feel your frustrations as I'm sure we all do. The thing is I don't know why talented people like Klopp have to stoop so low, he needs to chill out otherwise it will make him ill.
Brian Williams
154
Posted 20/11/2020 at 16:45:44
On the subject of injuries I see Carlo reckons Gbamin could be back in full training in two or three weeks. I really hope the lad has some good luck and can find some form. In the short space of time he had minutes on the pitch for us I was quite hopeful from what I saw.
I know he wasn't up to the pace of the games (he admitted this himself) but I feel he had what it takes. Fingers crossed for him.
David Cash
155
Posted 20/11/2020 at 16:55:42
Mike I think you are wrong.
I have seen past battles between Darren and Jay, but I don't see any evidence of these personal insults you claim you see from him towards other posters. He hasn't even responded to you, or Sam...or several others Yet you have all gone for him.
Some posters hate Darren's alternative views
I have actually seen posts telling him to stop criticising the manager. He probably receives more personal insults than any other poster
Check out how many posters simply attack him and completely ignore the topic on this thread.
For the record, I don't agree with his prolonged anti carlo crusade either. But I believe in freedom of opinion.

Darren is no shrinking violet. He can hardly be portrayed as a victim. He often counters this with something equally unsavoury. Sweeping ridicule.. He knows what he is doing when he talks about the "excuse factory" or the "self proclaimed positives". He is often challenged by several. Usually the same group of people. I've noticed he responds to groups rather than go down the personal insult road you are accusing him of.
Dazza is ugly enough to fight his own battles, but I'm often shocked at the way people come out in numbers simply to attack him or his views. Incredibly they then claim it is his intolerance of other views that they are reacting to. I simply don't believe that.
He raises a legitimate point here whether you agree or not. Yet his detractors seem uninterested or unable to counter it. He is clearly not one to be shouted down or intimidated. But from where I stand that is exactly what some are trying to do.
He has great knowledge which enables him to raise some really insightful points.. if he delivered his points with a modicum of humility. He would receive far more positive responses. He doesnt. His point seems far more important to him than his popularity.Lets be honest. His views are not welcome here despite the protest. I know he likes posting on TW, but I think he should seriously consider giving it a wide berth

Finally. I never quite understand why people come on to get involved in an argument that has nothing to do with the topic of a thread. So I'll try to avoid doing it myself.
For me I would say we are getting value from Allan. James is wonderful, but he blows hot and cold. Which we all expected to happen and Carlo has only started assembling his squad. There is more to come from him. I believe his midfield will be fit for purpose.
CoYB
Sam Hoare
157
Posted 20/11/2020 at 17:32:17
David@155, I agree with lots you say, I've got alot of time for Darren and his contributions here and its somewhat ridiculous to be debating his posting style on a football site but i'll take one bite if I may.
He may not respond directly but as Mike said: " Not always by name, perhaps, but clearly and directly and in a targeted fashion"
For example in his post @88: ""Allan makes the most tackles in the league"...What does that even mean?
I would be impressed to read he made the best tackles, or made the most interceptions..or even read the game so well he didnt have to make so many tackles.
A player who has to tackle so often does so because he isn't reading the game well enough... You statto's do understand that ? "
He didn't name me. But he directly quotes me. Which is surely the same thing (or worse?) He then ridicules (slightly) my opinion on the matter and brands me 'statto' to boot.
There's a contempt and derision in his tone that is clearly provocative, perhaps deliberately so. Many people on here manage to disagree and debate with each other without this style. I agree with Darren on a fair few things but when we disagree I often find there is an 'unsavoury' quality as you put it. TW would be alot less interesting without him but if you're going to be provocative then you have to expect some reaction. I suspect he enjoys it in some way?
Tom Bowers
158
Posted 20/11/2020 at 19:50:52
Hot and cold is the right description of many of the Everton arrivals over the last ten years or more.
They come with reputations and decent records with other clubs but after a few games at Everton just become average performers and for the most part not even Prem. standard.
There have been far too many to mention and we still have a few on the books. They need to be rooted out and sent packing so that Carlo can instill the kind of quality that it will take to elevate this club.
We maybe can make one or two excuses for the last few weeks but things have to change quickly if confidence in Carlo is to remain.
Will Mabon
159
Posted 20/11/2020 at 20:12:43
You're right, Tom. It's a horrible problem, long discussed. All clubs occasionally fall victim but we seem to have more than our share of it. What it is, nobody seems to know but there's something...
Patrick McFarlane
160
Posted 20/11/2020 at 20:15:04
Tom #158
Someone has allegedly leaked Marcel's list of players that Everton might be interested in signing in January, it includes, Luke Wahm, Don Keigh, Al Coholic, Arty Fischel, and Jim Nasium.

Tony Abrahams
161
Posted 20/11/2020 at 20:27:00
Some great points again regarding your old mate David.
I always enjoy Darren's posts because he his very knowledgeable about Everton, but one of the biggest problems when he starts, is that he sometimes ends up getting wolf-packed from all angles!
I like Darren's views, he's been right about every single manager, and he might be right again with regards Ancelloti (who knows?) but I just wish he'd give our newest manager a bit of a chance, because at the end of the day, I'm sure if Carlo is successful, then Darren, will be as happy as any Evertonian alive, fingers crossed🤞
Tony Abrahams
162
Posted 20/11/2020 at 20:37:46
One thing I've been both heartened and confused by today, is that Ancelloti described James best position being as a number ten.
Playing Rodriguez out wide, is upsetting the whole balance of our midfield imo, and I think once we sort this out, we will massively improve?
I hope so anyway, because now that I think we have got some very good midfielders, it's very frustrating watching us, because I think we are just to easy to play against right now.
Tony Hill
163
Posted 20/11/2020 at 20:58:35
I think Darren Hind was badly wrong, and remains so (along with 99.9% of Blues), about Allardyce and what he would have given to the club in terms of hard-mindedness and success, but the overwhelming majority doesn't matter. What does matter in life is that we are provoked, offended and challenged. Otherwise, we are beige and vote Liberal Democrat.
Mr Hind is correct about the damning of Calvert-Lewin by large numbers on here. Those large numbers were wrong and they were wrong at all times, because they took short, blind views. He's also correct about Allan and Doucoure.
Most of all, though, he is right about our foolish patience with the crap we have been served for, at least, the last 33 years. Civility and an insistence on balance can be fatal, you know, because they can turn you into prey and carrion.
Mark Murphy
164
Posted 20/11/2020 at 21:43:27
Tony, if he doesn't play Sigurdsson no-one will buy him. Once Siggy has gone and we have someone who can play wide right Carlo will play James at 10.
Patrick McFarlane
165
Posted 20/11/2020 at 21:50:43
Tony #168
Carrion up the Khyber or Carrion Cabby, not sure which best suits Everton at the moment - but thanks for using a word I'd not come across before, obviously there are hundreds of thousands that I don't know - perhaps a new title Carrion flog a dead horse would be more appropriate.
Tony Everan
166
Posted 20/11/2020 at 22:01:51
Tony 162
Ancelotti has got to be thinking that too. with his no10 comments. We haven't got the right back to counter balance James's game. Seamus in his prime maybe would have. As a result of our right back weakness we are extremely vulnerable from focused attacks down that side. Managers are well switched on to it, even Fulham will be going for it big time. I think we may see a 4231 on Sunday to address it and bring back some balance to the team , with James switched to the no10.
Pickford
Holgate Keane Godfrey Digne
Allan Doucoure
Gomes* Rodriguez Richarlison
DCL
*Who plays here ? I've chosen Gomes as he can retain the ball better than Iwobi or Davies and may give us a bit more stability and balance feeding James and playing longer balls to Richie or through balls to DCL.
I am looking forward to he game.

Tony Hill
167
Posted 20/11/2020 at 22:09:07
Carrion Comfort, Patrick @165, by the majestic Gerard Manley Hopkins. A spiritual Evertonian and a priest in our city once.
Bobby Mallon
168
Posted 20/11/2020 at 22:16:38
Why has the format on my phone changed to a pc format on ToffeeWeb
Tony Hill
169
Posted 20/11/2020 at 22:30:15
He was at St Francis Xavier, Salisbury Street, for a couple of years as a Jesuit. He wrote that he was "brought face to face with the deepest poverty and misery". Aren't we all, Gerard, aren't all of us in the Blue?
The Lord mercifully took him 11 years after we were founded.
Patrick McFarlane
170
Posted 20/11/2020 at 23:06:22
Tony #169
Of course now I know the real reason that we fail whilst the neigbhours succeed, it's because they have "The Ability".
Tony Abrahams
171
Posted 21/11/2020 at 07:58:00
You don't win nothing without ability Patrick, so that has got to be the most logical answer mate, but when things don't go right for Everton, you only have to read some of the threads on this website, to see how loads of fans lose any sense of positivity very quickly.
I know we have been kicked from pillar to post, but that's where the defiance from yesteryear has got to show it's face, because right behind ability, must come that other very important commodity called "BELIEF"
David Cash
172
Posted 21/11/2020 at 08:21:15
Sam
Sorry, but after reading what's upset you. In post 157. I have less sympathy for your protests than I did in the first place.
All I see is your point being attacked, not the person. Is that not what debate is all about ?
I make a living out of Statistics. I am fully aware of the importance of the stat. So I find it staggering that somebody who had used a stat to support an argument should feel offended or "ridiculed " because he was referred to as a statto.
Really ? Is that was has driven you to keep coming back to express your outrage ?
More than ever I am convinced that this is an attempt to surpress opinion and the people doing the complaining are the ones doing the suppressing.
I see quite a few people expressing quite a lot of outrage, but the only real personal insults are directed at the guy with the alternative view. That makes me a little uncomfortable
Good job the fucker has skin like an armour plated Rhino.

Paul Tran
173
Posted 21/11/2020 at 09:37:52
My take on the season thus far is that we're a reasonably good team that happened to win the first four, got a draw against Liverpool and lose badly the last three.
Carlo messed up tactically against Newcastle. He messed up playing Allan & James when they weren't fit. He messed up playing a rusty Holgate, but I'm happy to see he's Carlo's first pick.
My take on Allan is that he's a good player, who's coming to terms with the intensity of this league, where there are no 'gimme' games. That's not an excuse, it's what I'm seeing. Happens often with non-UK players. Start off with adrenalin, hit a wall, then come to terns with the league. I'm confident Allan will shape up.
I'm looking forward to tomorrow. Are we the team that won four in a row, or the one that lost three in a row? I'm hoping Richarlison will show us, and Carlo, how much we need genuine pace.
Steve Brown
174
Posted 21/11/2020 at 09:52:21
It was good to hear from Ancelotti that he sees James as a number ten. He blows hot and cold, but he is a magician when on form and opens the game up for us by switching play and moving opposing defences out of position. Unfortunately, I think he will stay on the right until we sign a pacey, creative player to play on the right.
As for Allan, he didn't play well last game but he evidently wasn't fit. That was Ancelotti's selection mistake. Overall, I would say he has been our most consistent performer this season.
Tony Abrahams
175
Posted 21/11/2020 at 11:03:33
I think the type of combative player Allan is, he will relish this type of football, and I'd honestly give him the captain's arm band for keeps, starting from tomorrow.
What's Portuguese for, I need some fucking help in the middle of the park? Doucoure, stop going right, you're needed in here, gaffer, get someone out wide who can defend as well as attack, and let's start winning our battles in midfield, instead of getting dragged all over the place!
Conor McCourt
176
Posted 21/11/2020 at 13:41:07
Christy I think it was you that implied that Allan was being made a scapegoat but I would suggest it's others who have been so and this guy is perhaps one of the most overrated players we have ever had. Carlo, and others on this thread who seem to have forgotten what they said this summer, were describing him as a world class defensive midfielder. In essence they were promoting the idea that we would be watching him play like he did in the Spurs second half week on week where he was without doubt exceptional.
Personally I thought his first half against West Brom was one of the most ill disciplined, amateurish performance I had seen from a supposed holding player in Blue and Diangana continually exploited the space he left. Indeed their goal and them hitting the post came about through Allan going awol.
I thought it was silly when some Blues were saying he had a good game versus the saints and our neighbours as both teams clearly had targeteted the spaces in front the back four with great success and identified that area as our weak link.
Now we have unbelievably Fran suggesting he was 'excellent' against Man Utd. This after his direct opponent was given the freedom of Goodison, totally ran the game and was chief assassin with all three of their goals coming at the hand of Fernandes. United tired second half and he was a bit better but the damage was largely done.
Carlo had told us that Doucoure and Allan were to make us better without the ball, they have clearly failed in this duty. I can understand Darren's frustration with Sam who championed Allan's signing yet seems not to be able to offer a post without slating Gomes a guy who when he has played midfield is yet to be on the losing team and enhances Doucoures game as we seen against Spurs and Brighton as he releases him further forward. Sam then produces the same stat that supporters of Sidibe presented to suggest what a good defender he was and Darren with his football intelligence spots it a mile off.
For me this is a player who I really worry about and don't see much hope for unless he is tried in his natural position as like Schneiderlin before him he has been recycled to an unsuitable role possibly due to losing a bit of his energy. When we are turned and chasing a counter it is his job to sniff out danger but unfortunately he doesn't see it even when the whole picture is in front of him. He is reactionary and instinctively sees it too late when the ship has sailed.
Conversely when the game is in front of him you want him to be cool and be aware of where he needs to be, something the really poor Schneiderlin excelled at and why managers kept picking. Allan however wants to always get involved a la Gueye, the difference being that Gueye had much better timing, rarely gets played around and had the dynamism and energy to get him out of trouble when he was exposed. Once they are gone from Allan they ain't coming back.
He also continually points to others rather than focussing on his own responsibilities first before he can help others. Indeed one of our more dominant midfield displays came against Brighton where he wasn't involved and we weren't leaving those huge gaps in front of the centre halves. Those that say he is our most consistent midfielder are essentially arguing that he's less peripheral than guys like Delph and Siggy who we know aren't good enough. This guy was suppose to be a fixer not an exacerbator to the problem.
We have heard all sorts of nonsense why he has only ten caps. The quality of Fernandinho and Casameiro certainly explains why he hasn't 70 caps but other top young players like Douglas Luiz (who we should have signed) and Artur aren't struggling to amass caps at their tender ages, the difference is that they are quality players. Indeed other non stars such as Paulinho, Gustavo and Wallace have had no problem getting a cap or two over the years.
David-great post. The one thing I disagree with you is that Darren should continue to speak freely. I would imagine he is the most important poster to this site as he reflects the views of a significant minority who may not enjoy taking on the world as Darren clearly thrives on.

Dale Self
177
Posted 21/11/2020 at 17:01:40
With all due deference to the elder Evertonians making well crafted criticisms and astute observations Allan deserves the benefit of the doubt Holding MFs need a reliable outlet and position/runs to be predictable in order to tend their space Allan has hardly been given a proper chance to work out some details with his mates and it was a bit of a mess in midfield before he came.
With respect to Conor I'll try to raise my game and comment on specific performance aspects going forward on this. I'm used to armchairing my football opinions. I dig the way many here try to lay out a structural thing so that the forum doesn't get completely shouty and thus shitey The discussion with Darren is a good example.
Sam Hoare
178
Posted 21/11/2020 at 22:23:28
David@172, I'm not offended; if you don't think the term 'statto' is meant to be derisory then we differ but I don't need sympathy and I'm certainly not outraged! I was just agreeing with Mike. And I can't speak for others but I've made it pretty clear I've no desire to suppress Darrens opinions. Not that he'd care if I did.
James Marshall
179
Posted 22/11/2020 at 10:24:40
He's not mentioned in the 'injuries' list on the OS.
David Cash
180
Posted 22/11/2020 at 11:57:39
Sam
You are protesting too much. Youve been far more derogatory of him than he has of you.
As a writer your use of quotation Mark's to misrepresent him would not have been accidental.
You are not the only one to point out Allan's tackling stats on this site. You are not even the only one on this thread. Quite why you take a response to it so personally is a mystery to me.
I have see Mike call him out before, just as you have done, but he rarely responds to either of you. That could be construed as ignorance. Perhaps that's the problem.
I think I have told you before that I admire your work Sam, but thats not going to cloud my view. it doesnt matter how many times you come back. You wont make me see you as an innocent party.
It's a storm in a tea cup. Put it to bed and go and Enjoy the game.
Ps; Imagine Darren's face if Allan top corners a 25 yarder today

---
Add Your Comments
In order to post a comment, you need to be logged in as a registered user of the site.
Or Sign up as a ToffeeWeb Member — it's free, takes just a few minutes and will allow you to post your comments on articles and Talking Points submissions across the site.