Stadium planning process delayed into next year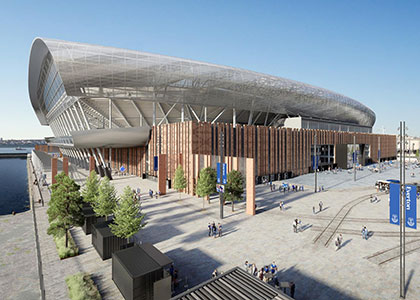 The formal decision on Everton's modified planning application for Bramley-Moore Dock stadium has been delayed into the New Year.
Plans were to be reviewed and a decision was expected before the end of 2020, with the club hoping to begin work on the project early in 2021. But a spokesman for Liverpool City Council has indicated that the review and decision process has been delayed by the Covid-19 pandemic.
A spokesperson for the council has told Building Magazine that the meeting had been pushed back to "some time in the New Year", adding: "With the volume of paperwork [the decision] was never going to happen this year."
The spokesperson also blamed Covid-19 for the delay due to council staff having to work from home because of pandemic restrictions in the city, which had one of the highest infection rates in Europe during October.
The delay is the latest setback to hit the scheme after the original plan for the new stadium, submitted 12 months ago, prompted objections from Unesco, Historic England and the Victorian Society because of its impact on the city's historic docks, a World Heritage Site.
Revised plans submitted in August added a new stepped plaza to the stadium's West Stand, pushed back a facade to improve views of the River Mersey and removed a multi-storey car park from the waterfront.
The full submission and amendments to the plans can be viewed on the Liverpool City Council website here.
---
Reader Comments (47)
Note: the following content is not moderated or vetted by the site owners at the time of submission. Comments are the responsibility of the poster. Disclaimer
Colin Glassar
1
Posted 16/12/2020 at 08:10:21
Looks like stadium plans are already sinking into the Mersey.
John Otway
2
Posted 16/12/2020 at 08:52:17
Colin, as ever, a little ray of sleet! Slippage on projects of this size is not unheard of.
Tony Abrahams
3
Posted 16/12/2020 at 09:41:04
Thanks for that reply to Colin, John. Let's keep things positive unless we hear some very bad news.
Maybe they are waiting to see if Joe Anderson is found guilty or not? But either way, we are talking about Billionaires, and not little millionaires!
Derek Knox
4
Posted 16/12/2020 at 09:52:36
Colin, Dan Meis has been making regular visits to Walton Jail (backhanders to the screws, a tip he got from Joe) so don't despair! Don't be a grinch either. :-)
Jay Wood
[BRZ]
5
Posted 16/12/2020 at 10:28:13
Deary me, Colin Glassar. Lighten up.
Perfectly legitimate reasons why the stadium planning application has been delayed to the New Year.
Kevin Molloy
6
Posted 16/12/2020 at 11:04:03
If they weren't all working from home on full pay, this "it's the pandemic, stupid" would carry more weight. I like the "Oh yeah, it was never gonna be this year. That's just crazy."
Lucky if it comes in before the summer the way he's talking...
Paul A Smith
7
Posted 16/12/2020 at 11:26:56
Bramley Moore 2055, renamed the quarterly vaccination arena.
There was always going to be delays. I work in building and there is a delay on an outside tap nevermind the actual building.
Paperwork leads to more delays – just enjoy the football analysis and let the businessmen slowly build the stadium.
Eddie Dunn
8
Posted 16/12/2020 at 11:36:04
It's all too easy to blame the pandemic for all such delays. I know poeple working on the council and they have only been working at home for a couple of months and the saving on travel time etc hasn't impacted their hours. I have been told that staff shortages are are problem, positions not being filled, so departments are over-stretched.
My own local council has used the pandemic as an excuse for everything.

Martin Berry
9
Posted 16/12/2020 at 12:15:49
All things come to those who wait. When it happens it will be worth the wait and it will happen no doubt.
Tom Harvey
10
Posted 16/12/2020 at 12:50:04
With Boris Johnson bending over backwards to get the construction industry moving, this should have been a simple rubber stamp by the council, central government will not say no to this, an injection of £500m into the economy!
The council should have treated this as a priorty, it being the city's and probably regions biggest building project at this time. At a value of £500m I can't accept the "volume of paperwork" is stopping this. What's the problem, planning permission for Mr Smith's garage extension up the road has greater priority and draws resources away?
Jay Wood @ 1, I hope you're right, but given the political situation at the moment and the will to get things moving in all sectors. There might be more to this than meets the eye?
And surely you have to take into consideration that Moshiri (or whoever really owns our club) might just be feeling slighty uneasy about taking on such a debt without fully knowing what the future holds.
The above gleamings aren't even in the realms of conspiracy theories, many wealthy business concerns are closing their wallets at this time, it would be reasonable for Moshiri et al to put the brakes on at this time.
Once again, I hope I'm wrong and this is just "administrative difficulties".
Tony Everan
11
Posted 16/12/2020 at 13:00:06
It's concerning they say "sometime in the new year ", it's very open ended.
They could have said, ' in the next few weeks'
Brian Harrison
12
Posted 16/12/2020 at 13:22:23
Quite ironic that EFC have gone to extraordinary lengths with 2 huge public consultation periods were every man and his dog were allowed to put their views forward. Yet when Hicks and Gillette applied to build their new stadium with practically no public scrutiny it was given approval in no time at all and given the fact that they couldn't even afford to build a portacabin seems unbelievable that our application is delayed still further.
I realise that Covid has had an impact on all aspects of our life in the last 10 months, but everything seemed to be progressing and all updates have suggested that the builders would start work early in the new year. I see the other lot are planning further extensions it will be interested to see how quickly they get approval.
Steve Carse
14
Posted 16/12/2020 at 13:30:24
Every delay comes at an economic cost to the people of the city. Presumably that does not come into it then.
As for the inevitable Covid excuse, how does working from home mean lower productivity? If it was that inefficient a way of operating why weren't staff being told to work from the Council offices?
Bobby Mallon
15
Posted 16/12/2020 at 13:48:15
80% of my business are working from home and we made 28 million profit this yr. Covid excuse is wearing thin. Jobs in Liverpool iare more important, get it ducking done.
Bobby Mallon
16
Posted 16/12/2020 at 13:48:15
80% of my business are working from home and we made 28 million profit this yr. Covid excuse is wearing thin. Jobs in Liverpool iare more important, get it ducking done.
Craig Walker
17
Posted 16/12/2020 at 13:52:04
The cynic in me thinks the decision has been delayed until the day after we either a) don't sign anyone in January or b) lose at Anfield.
Steve Ferns
18
Posted 16/12/2020 at 14:03:27
Don't forget the council will also have issues relating to the Mayor's arrest. Things like that always lead to a drop off in efficiency.
Jonathan Tasker
19
Posted 16/12/2020 at 14:04:54
Well I never
Rob Halligan
20
Posted 16/12/2020 at 14:12:57
SSN reporting the decision will only be delayed by 3-4 weeks.
Keith Slinger
21
Posted 16/12/2020 at 14:34:46
And Joe Anderson was arrested for what? Taking a back hander to get the planning permission dealt with quicker than usual? I smell a kopite rat somewhere in the planning committee, or Merseyside Police? Hope I am so? wrong
Christy Ring
22
Posted 16/12/2020 at 14:41:21
There was changes to the application, so a few more weeks won't make a huge difference. I personally don't see a problem, the benefits to the city and the council is massive, jobs and the economy are the no.1 priority, due to the current pandemic.
Paul A Smith
23
Posted 16/12/2020 at 14:44:09
Funnily enough I am working on the Municipal renovation now.
Those two dodgy veterans Joe the Doe and Mr Vain himself, Dirty Derek have caused a big mess to some of the citys future developments.
Everything will be scrutinised much deeper now. I'm just gutted they are both blues. Pair of absolute rip off merchants.
Who knows at this point if any of this underhand behaviour has bled into any Bramley Moore package?
Jay Wood
[BRZ]
24
Posted 16/12/2020 at 14:47:47
Jonathan Tasker.
'Well I never' straight back at you.
Misery will always find a way to be miserable, eh?
Joe McMahon
25
Posted 16/12/2020 at 14:50:16
I was hoping to be sat in a shiny new stadium when I was 35, then 40, then 45, then 50. I'm now 51, so 60 it is then.
My biggest concern apart from will we ever get a stadium is seriously how long can Woodison - particularly the Bullens last.
Anthony Murphy
26
Posted 16/12/2020 at 16:29:15
Few weeks delay is fine would have been great to see off this awful year with planning permission granted, but since we've waited for so long, a little longer isn't going to kill us. I just hope LCC don't let us down - coming out and saying it wasn't going to be granted this year anyway because it was too much to read shows an amateur approach - just say it was Covid - no need for anything else.
Tom Harvey
27
Posted 16/12/2020 at 16:42:29
Steve Ferns @ 18
Agreed, but at the end of the day Justice VS A huge pot of money in a financial crisis?
That investigation won't come anywhere near BM dock, even if there is corruption, central government will see to that, with £500m + other ancillary investments to be gained in the present economic malaise.
If Moshiri want's this it will go ahead and swiftly! If he doesn't then we will be experiencing GP's cosiness and unique atmosphere for many a season to come.
Jack Convery
28
Posted 16/12/2020 at 17:21:52
Sherlock Holmes said I do not believe in coincidences. A coincidence that Uncle Joe is arrested and then the planning decision pushed back to an unknown date in 2021 - me thinks not. I am convinced there are powers at play that do not want EFC to have this stadium. I hope I am proved wrong but being a cynic we'll see.
Phil (Kelsall) Roberts
29
Posted 16/12/2020 at 21:16:07
Normally we have a positive about the stadium after awful performances on the pitch to take our minds off the garbage being served up by our players.
So just to keep the balance - on a day where we have beaten a second top 6 side and kept a clean sheet in both games after 10 games where we never even kept one and back into the top 5 - we now have negative news about the stadium.
I love this club and its ability to keep our feet on the ground.
Mick Davies
30
Posted 16/12/2020 at 22:54:22
Paul A Smith @ 23, nice to see fairplay in action (not). You've got Joe and Degsy already trotting around the exercise yard in Walton. What about the billions of pounds this govt has made for themselves and their friends through the Covid outbreak, all thanks to the taxpayer? I haven't seen a single arrest there. It's all political, and as someone pointed out above; The Anfield yanks were automatically allowed to destroy a public park without so much as a 'whoa, hold on there boy' but when an Iranian attempts to clear up a smelly disused dock, the U.N. Interpol and International Rescue are called in to put a halt to it. As for these Unesco/United Utilities or any other group united against EFC, I'll believe the docks are a WHS when we stop getting poisoned every time a scrap metal site goes on fire in the North Docks area
Danny Broderick
31
Posted 17/12/2020 at 00:12:12
Just read the article about this on the Echo website:
"Everton remain confident that should approval be granted early in 2021, they are still on course to open the new stadium for the first game of the 2024-25 season."
Wasn't it supposed to be ready for the 2022 Commonwealth Games initially? We are not just a few months down, it's now 2 years late and counting! Still no spades in the ground, all we've got is a dream.
This stadium is never going to happen, typical Everton this. We've seen consultation after consultation and we still don't have planning permission. The architect has been fired! You couldn't make it up!
Patrick McFarlane
32
Posted 17/12/2020 at 00:40:24
Danny #31
Any possibility of Everton FC moving to a new stadium in 2022 was wholly reliant upon the City of Liverpool being awarded the 2022 Commonwealth Games, it didn't as Birmingham was chosen. Plus it wouldn't have been the design that we have before us now.
According to a tweet by Alan Myers earlier tonight, the planning department is likely to consider the merits of the Bramley-Moore Dock project in late January 2021, so hopefully only a few weeks to find out whether they approve, disapprove, or send it to the Government for its consideration.
As for Dan Meis, the architect, he was paid for his part in the project and then removed from the process, which I understand is not an unusual event in projects of this size.
I believe that there are some elements of preparatory work on the site that are taking place right now, in order to mitigate any delays should the Stadium be given the go-ahead.
As far as I can tell, and most fair-minded people would agree, the club has done as much as it could have done, but it is not in a position to dictate the diary of the City of Liverpool's planning department.
Jay Wood
[BRZ]
33
Posted 17/12/2020 at 00:54:31
'You couldn't make it up!'
You just did, Danny.
Sean Callaghan
34
Posted 17/12/2020 at 10:14:13
Spot on Mick Davies. The hypocrisy of the favoured and self appointed elites is beyond criminal. It's always easy to laugh off this kind of stuff as Trotskyist conspiracy but it's fecken serious stuff. Time the people stood up and said no.
Allen Rodgers
35
Posted 17/12/2020 at 11:53:46
Patrick @32 two scenarios worry me.
1. LCC approve the plan and English Heritage then ask the govt. to call it in , resulting in a years delay.
2. LCC refuse the plans, Everton submit an appeal and the govt. appoint a planning inspector to hold a public enquiry, also resulting in a years delay.
I'm thankful I've got a good seat at Goodison while we wait !

Raymond Fox
36
Posted 17/12/2020 at 12:25:15
The mayors arrest will delay the process, thats the biggest fly in the ointment.
Brian Murray
37
Posted 17/12/2020 at 12:34:42
The other crowd will have a street party's galore if it finally falls through because they are so jealous of it compared to their loft conversions. However we should at least have a swift savvy blue print to redevelop goodison just in case. Any incompetent or corrupt individuals should not be an excuse to delay bmd
Jim Wilson
38
Posted 17/12/2020 at 13:58:09
The last 9 months and next 6 months presented Everton with the best ever opportunity to develop Goodison Park. Instead, we pursued pipe dream number 3.
Goodison Park could be developed into a great modern stadium, certainly much better than Anfield, if only the people at the top could see what's right in front of them and stop looking at £ signs.
Jay Wood
[BRZ]
39
Posted 17/12/2020 at 14:06:54
Jim Wilson. This:
'The last 9 months and next 6 months presented Everton with the best ever opportunity to develop Goodison Park.'
How so? Because the stadium has been closed to fans due to the pandemic?
Yeah, the board need a sound thrashing for not anticipating the events of 2020.
Julian Exshaw
40
Posted 17/12/2020 at 16:34:17
I'm just waiting for the picture of Bill and Mr Moshiri with their safety helmets on and shovels at the ready. I just hope it won't be to bury our hopes!
Danny Broderick
41
Posted 17/12/2020 at 20:06:15
Jay,
Nothing I said was made up. And I am far from the only fan growing concerned at the slow progress made since we announced in January 2017 that we wanted to pursue a new ground at Bramley-Moore Dock. We still don't have planning permission nearly 4 years later!
Danny Broderick
42
Posted 17/12/2020 at 20:15:26
Patrick,
I hope you are right. And that it will be full steam ahead once planning permission is granted next month. However, the cynic in me suspects there will be a few hitches. The longer these things drag on for, the more the costs go up. And this is Everton we are talking about here. We have been talking about ground moves for 30 years and not handled any of the proposed moves particularly well.
I hope I am wrong, but I doubt we will be playing in Bramley-Moore Dock stadium in time for the 2024-25 season.
Jay Wood
[BRZ]
43
Posted 17/12/2020 at 20:23:02
'Nothing I said was made up'.
Sure about that, Danny?
* 'Wasn't it supposed to be ready for the 2022 Commonwealth Games initially?'
That was one POSSIBILITY on the table. That option was taken off the table when Birmingham won the right to stage the games.
* 'We are not just a few months down, it's now 2 years late and counting!'
What is this claim based on? The exploration of potential sites, the consultancy, the entire process continues to follow a transparent timeline in hundreds of pages of documents, openly shared by the club.
* 'Still no spades in the ground, all we've got is a dream.'
But there have been 'spades in the ground' and samples taken to check such things as the geological stability of the site and for any potential toxicity.
Construction 'spades in the ground' cannot commence without planning permission, made all the more challenging because the site lies within a World Heritage listed site.
* 'This stadium is never going to happen, typical Everton this.'
Speculative opinion, not 'absolute truth' as you wish to claim.
* 'We've seen consultation after consultation and we still don't have planning permission.'
Admirable thoroughness by the club to give the project every chance of being approved.
* 'The architect has been fired!'
No he wasn't. He was hired and paid for his services. His job was done. It's common practice, not 'typical Everton that' at all.
* 'You couldn't make it up!
I repeat, you did just that Danny.
Rob Halligan
44
Posted 17/12/2020 at 21:15:18
I know it's of little concern to anyone, but when Arsenal decided to re-locate in 1997 and build the Emirates stadium, from start to finish, ie, looking for land, obtaining planning permission and then building the stadium before it was finally opened in 2006, taking over 9years.
The same with Spurs. Plans for their new stadium were first announced in 2008. Planning permission applied for in 2009 and obviously granted, but a few obstacles had to be overcome before the stadium was finally opened in April 2019. So it took Spurs from start to finish 11 years to get their new stadium open.
Danny @ 41 says we announced our intentions to build at Bramley-Moore Dock in January 2017, and in four years we still don't have planning permission. Don't forget though, that it's almost 12 months to the day since the club submitted their planning application to the council (wasn't the planning application submitted on 23rd December last year?) so, since then, it's been out of the club's hands until the council approve planning permission.
These things can't be done in a couple of years, although I will admit we have had one or two hiccups along the way, notably with the Kings Dock, and thankfully, Destination Kirkby.
Danny Broderick
45
Posted 18/12/2020 at 03:13:13
Jay,
You've split hairs with that last post. I could be just as pedantic with all of your claims but I can't be bothered. Let's see if we are playing in this stadium in three and a half years time shall we?
Danny Broderick
46
Posted 18/12/2020 at 03:18:39
Rob,
We probably didn't help the process by submitting an amendment to the planning application in September 2020!
Brian Williams
47
Posted 18/12/2020 at 13:21:38
Update from Colin Chong vie email. Everything as it should be, all seems positive.
Cue the "Ahhh there must be something wrong if they've sent out an email saying everything's alright!" posts.
Justin Doone
48
Posted 19/12/2020 at 22:49:53
I havn't changed my time frame from 2024. Looking forward to it.
I only hope quality prevails for a long lasting magnificent stadium and symbol of our great club.
---
Add Your Comments
In order to post a comment, you need to be logged in as a registered user of the site.
Or Sign up as a ToffeeWeb Member — it's free, takes just a few minutes and will allow you to post your comments on articles and Talking Points submissions across the site.