Hope that Allan won't face long lay-off
Wednesday, 16 December, 2020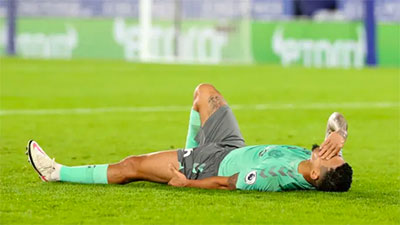 Carlo Ancelotti's initial assessment of Allan's injury suggests that he doesn't foresee the Brazilian enduring as long a lay-off as many feared but it is likely that he will miss the bulk of remaining games in December.
The 29-year-old left the field at the King Power Stadium on a stretcher after he pulled up in pain clutching the back of his thigh, with his body language suggesting he had suffered a tear to the muscle.
His manager was asked about the player's condition after the 2-0 victory over Leicester and he said that they will await the results of a scan before offering a full prognosis but he didn't think Allan was facing "so long" on the sidelines.
"It's a hamstring injury," Ancelotti confirmed. "We have to check in the next few days but, for sure, he will stay out, although not so long, I think.
"But we have to consider that Gomes came on the pitch and had a good performance."
Everton had to deal without the combative midfielder for more than 50 minutes against the Foxes but, thanks in large part to an excellent display by Abdoulaye Doucouré, they held on to the lead handed them by Richarlison's 21st-minute goal and made the game safe when Mason Holgate struck with 18 minutes to go.
---
Reader Comments (39)
Note: the following content is not moderated or vetted by the site owners at the time of submission. Comments are the responsibility of the poster. Disclaimer
Andrew Presly
1
Posted 16/12/2020 at 23:40:15
Excellent performance by Gomes?! Excuse me, what?!
Brian Williams
2
Posted 16/12/2020 at 23:45:08
The piece said excellent performance by Doucoure, and a good performance by Gomes, which it was.
Come on get yer "quotes" right at least.
John Pickles
3
Posted 16/12/2020 at 23:46:10
All teams get injuries, but does any team consistently get as many bad injuries to important in-form players as this club?
Steve Brown
5
Posted 17/12/2020 at 03:09:56
Even before Allan's injury, it was clear we needed an additional defensive midfielder recruited in January to cover that position. That would enable him to play further forward, which I think he will be more effective.
Gbamin could be the answer, but we don't know how he will recover from that dreadful injury or when he will be performing to a level to play in the first team. Gomes has not recovered to an equivalent level from his injury yet, technically or physically.
Phil Smith
6
Posted 17/12/2020 at 03:41:07
Gomes is a liability. He's no defensive midfielder. He's not much of an offensive one either. Can't have him and Sigurdsson in midfield; it's one or the other. Tom Davies is a better replacement for Allan. Or even try Godfrey there and put Kenny at right-back.
Keith Slinger
7
Posted 17/12/2020 at 05:05:47
Phil @ 6,
I would slip Holgate into the defensive midfield role and replace him at right-back with Jonjoe Kenny, Godfrey has been excellent so far in the left-back role, so I would keep him there at present.
Mike Gaynes
8
Posted 17/12/2020 at 05:21:57
Brian, my friend, if you saw a good performance by Gomes, I'm having the NHS send you those new spectacles right away.
Phil and Keith, no thanks on Kenny. Do NOT change the backline under any circumstances... not after two straight clean sheets. I hope and expect Carlo will go 4-1-4-1 if necessary with Doucouré as the holding mid, ad libbing any way necessary with the rest of the midfield, but keep those four CBs exactly where they are, thank you. In the midst of all these injuries, for god's sakes don't change the one thing that's working great.
Nicholas Howard
9
Posted 17/12/2020 at 05:51:17
Mike,
There is a high possibility Coleman will be ready on weekend against Arsenal...
It is very interesting to see what Carlo Ancelotti will do?
Duncan McDine
10
Posted 17/12/2020 at 06:57:44
Certainly hope he's right about Allan being out for weeks rather than months.
I didn't see the game so can't comment about Gomes, but I do feel that we'd be better off with Tom replacing Allan for now.
I agree with Mike that the back 4 should not be touched... when a manager stumbles upon a winning formula, keeping clean sheets, change as little as possible. Having said that, Mason was brilliant in his midfield cameos last season.
Mike Gaynes
11
Posted 17/12/2020 at 07:00:09
Nicholas, I hadn't heard that. If so, that would change the situation of course. Certainly we'd all be delighted to see Seamus back where he belongs.
Derek Thomas
12
Posted 17/12/2020 at 07:20:50
Nicolas @ 9; Ancelotti doesn't really have to do anything the way the back 4 are and it won't harm Coleman to have extra time to build up his strength... by all means let him have a 20-minute run-out. Such opportunities not to rush things are a rare luxury and should be grasped with both hands.
Steady as she goes, one game at a time, if it ain't broke don't fix it.
Fran Mitchell
13
Posted 17/12/2020 at 07:22:15
Doucouré dropping into defensive mid, Gomes starting. That is what Ancelotti will do.
I'd prefer to see Davies or, as some suggest, Holgate.
No doubting Allan is a huge loss.
Jerome Shields
14
Posted 17/12/2020 at 07:41:09
Gomes did play well, but he is prone to late tackling and striking out at players who have a yard on him.
Stephen Brown
15
Posted 17/12/2020 at 07:48:07
Davies has to replace Allan IMO. Gomes should not be relied upon defensively!
On another note if Digne, Coleman and James we're fit tomorrow, there'd be an argument that none of them get straight back in the team. I wouldn't have predicted that before the Chelsea game.
Duncan McDine
16
Posted 17/12/2020 at 08:07:28
Jerome, my Nan has a yard on him!
Bobby Mallon
17
Posted 17/12/2020 at 08:09:06
The club and us fans need to realise Gbamin will not play football competitively again. His injury was bad and I really don't think any sportsman or woman has come back from his type of injury. We either need to buy or get from within the club. Are there any second-string defensive midfielders at the club?
Martin Berry
18
Posted 17/12/2020 at 08:21:25
I hope Allan is not rushed back as this is the second time now that this has occurred.
As long as Doucouré stays fit, then I have no problem with Gomes filling in or Tom Davies.
Eddie Dunn
19
Posted 17/12/2020 at 08:40:51
Gomes was slow and almost gave them a penalty. Business as usual from him. I would have Davies in before him or even Baningime.
And Bobby, let's give Gbamin a chance to prove his fitness.
Robert Tressell
20
Posted 17/12/2020 at 09:12:53
Fran, I agree that Gomes will be Allan's understudy for however long. It will lead to some uncomfortable moments because he is very clumsy in the tackle. However, he is good on the ball. I'd rather it were Davies being given the chance but seems unlikely.
As the dust settles on the game last night, I think Sigurdsson played better than I gave him credit for. He didn't create anything much but he did keep showing for the ball, was disciplined in protecting the flanks, making himself available as a passing option and cutting out passing options. So he probably was a key part of our defensive strangehold on the game – and he was probably the most likely to make something happen along with Iwobi.
Bobby Mallon
21
Posted 17/12/2020 at 09:16:56
Sigurdsson's free-kicks and corners where very good last night.
Dave Williams
22
Posted 17/12/2020 at 10:06:18
It's a difficult one- Siggy could drop back to allow Bernard in but Siggy has been so much better playing further forward so it would be wrong to do that. Iwobi must also stay where he is as he is starting to look a good player for us. That only leaves Tom and Gomes as Carlo is unlikely to turn to the inexperienced Beni. I'd go for Tom as Gomes and Siggy together make the tempo way too slow- or play Mason as DM if Seamus is fit.
Many have been critical of Doucoure but what a game he had last night! He played like a man possessed and suddenly underperforming players seem to be finding their feet. Siggy hasn't been brilliant but he has done a decent job in the last two games. Richi is coming into form, Ben is looking very strong and I love the speed and aggression he and Holgate bring. Mina has played two excellent games on the trot, Keane looks imperious, Mason is getting it together again,Iwobi is unrecognisable playing with workrate and determination- something has happened to this squad and I just hope it continues with another win on Saturday.
Tony Everan
23
Posted 17/12/2020 at 11:02:26
Allan out is a big loss, I don't think it is clear cut on how replace him at all. I think Carlo will be very reluctant to change that defensive line up, even if Coleman is getting back to full fitness. Why break it up after two clean sheets against two very dangerous sides ? It's working!
So it's Gomes or Davies who replaces him. Davies has, vaguely, more similarities to Allan than Gomes does. But Gomes is stronger and can shield the ball better than Davies.
I would come down on the Tom Davies side of the fence, he has looked improved a bit this season and may well take his opportunity to impress. Gomes has looked still not sharp enough and not up to speed. Looked, to an extent, not on the same page energy wise as the rest of the team.
One of our transfer priorities should be sourcing a young "Allan" with huge potential to become as good. I think Brands needs to be looking long and hard to sign that young midfielder in the summer.
Dan Nulty
24
Posted 17/12/2020 at 11:14:25
Gomes did OK when he came on, yes, he gave the penalty away needlessly, he isn't the quickest. But what he does have over Davies is that he can pass to our players. He often calms things down with a bit of control or can spot a quick pass to set up an attack, neither thing Tom can do that I've seen.
I wouldn't say that he was good though when he came on but Carlo has to try talk him up for the player's confidence given he is likely to be needed in the next few weeks.
Poor Gbamin is very unlucky, none of us can say if he is the answer or not because we have barely seen him play.
Have we found out what is going on with nkounkou yet? I wonder if there has been some discipline issues not released to the press (which I like if so as it means the dressing room is a closed shop and can be trusted).
I wanted 7 possibly 9 points from the games leading up to Chelsea and we got 4, so 6 from 6 against the latest 2 means we are about where I thought we would be anyway. As frustrating as it is with the inconsistency, at least we are still competing up close to the top 4. Long may it continue.
Ray Roche
25
Posted 17/12/2020 at 13:12:01
I'm in agreement with some on here, we have one player from last night's starting eleven injured,Allan, so one change is necessary. No swapping players about, no square pegs etc, Davies, Gomes or Bernard in for Allan.
Gomes, tracking back, always reminds me of Reid chugging after Maradona in the World Cup. Never, ever, gonna catch the opponent.
Jay Wood
[BRZ]
26
Posted 17/12/2020 at 13:41:23
Dan @ 24.
'Have we found out what is going on with Nkounkou yet? I wonder if there has been some discipline issues not released to the press.'
Carlo twatted that one away this very week:
Brian Williams
27
Posted 17/12/2020 at 15:06:42
If Allan's injury was, as he himself suspected, a tear of the hamstring then he's gonna be out for about four weeks minimum and that's with only a partial tear. Anything more significant than even the smallest of tears and we're looking at quite a significant number of weeks off.
Derek Wadeson
28
Posted 17/12/2020 at 15:17:11
With Xmas and New Year fixtures coming thick and fast, predicting line-ups is a nonsense. Players will be rested, players will be carrying knocks and some will be fatigued.
I just hope Carlo goes with our strongest and fittest line-up against Man Utd in the Cup, a great chance to get into a semi-final and beyond.
As from today, he can name nine subs on the bench, so it looks like, with taking into account injuries, the entire squad will be involved on a match day.
Dave Abrahams
29
Posted 17/12/2020 at 16:15:09
When Allan pulled his hamstring versus West Ham in the League Cup tie in similar circumstances to last night, how long was he out for? Was he rushed back too soon? I don't think it was for too long – though he will most definitely be missed; centre-midfield is the weakest part of the team.
Kevin Molloy
30
Posted 17/12/2020 at 16:37:35
The last two games have been terrific against well-regarded teams, but that line-up won't be suitable for most games. We need to be able to mix up our play and have the fullbacks join in attacking teams when we are confronted by two banks of four. That's why Seamus and James will walk back in when they're ready.
Christy Ring
31
Posted 17/12/2020 at 17:02:27
Allan will be a big loss, and Davies is the only alternative, unless he starts Coleman against Arsenal, and plays Holgate as defensive midfielder.
Brian Harrison
32
Posted 17/12/2020 at 17:30:38
Allan will be a big miss, a seriously good midfield player the likes we haven't seen for a very long time. Who replaces him against Arsenal will be very interesting...
Also, Ancelotti said that he thought Coleman would be ready for the Arsenal game. Does he leave the back 4 that played last night unchanged or is it possible he brings back Seamus and moves Mason Holgate to cover for Allan?
We are entering a very busy period and Ancelotti has said that Calvert-Lewin, who has played every game, will need a rest. Also, I think Keane has started every game.
I don't envy Carlo having to give players a break while having to cope with injuries and suspensions, while not weakening the starting line-up too much.
I don't see Tosun being an alternative to Calvert-Lewin; the only option is move Richarlison to give him a break, the trouble with that scenario is we lose so much that Richarlison gives us out wide plus tracking back.
Will it mean changing formation as well as players when he rotates during the holiday, or can we get another striker in early in January? Just makes allowing Kean to go on loan very strange, especially with not bringing in a replacement.

Mike Gaynes
33
Posted 17/12/2020 at 18:07:31
Dave #29, Allan only missed one game (Brighton) from that previous tweak, and then played eight straight full games after that, so even if it's the same leg (and I'm not even sure about that), it seems unlikely the two injuries are related.
Jay Harris
34
Posted 17/12/2020 at 18:20:49
Latest reports seem to suggest that Seamus will not be available for the Arsenal game and Gbamin will not be ready until January (what year, I don't know).
Leaves us with a dilemma for Allan's place which we could bring Kenny in and play Mason as the holding midfielder. We will need strength in midfield against Arsenal and Gomes doesn't cut it for me.
Is Xhaka ruled out because of his red card and I think Gabriel is too so the 3 points are there for us to have a go at winning 3 in a row.
Dave Abrahams
35
Posted 17/12/2020 at 18:57:14
Mike (33),
Yes, I think you are right, I mentioned it on another Everton website and one fan said he thought the injury versus West Ham was more of a groin strain, so much simpler.
Pity, he will be missed more than most, especially in that central midfield position.
Rob Halligan
36
Posted 17/12/2020 at 19:04:48
Jay # 34. Arsenal will be missing Gabriel, Xhaka and Partey for Saturday's game.
Tony Abrahams
37
Posted 17/12/2020 at 19:57:50
Brian @32, the more I think about Moise Kean, the more I can see the logic in letting him go out on loan, but that's just my personal opinion of course.
I don't know the full story, but Kean never played much last season, and if that was going to be the case again, then that would have been really bad for the youngster's development. That must have also been taken into consideration before he was allowed to leave.
Kristian Boyce
38
Posted 17/12/2020 at 21:52:12
Bobby @17, I'm thinking on the same lines as you on Gbamin.
It's a bit like Danny Williamson back in the 90's. If he is passed fit next month, its going to be at least a year (if at all) before he is anywhere near the quality that he's meant to have been when we signed him.
Just look at Gomes, he's still struggling to get back to his pre-injury level and he was only out for a few months.
Andrew Bentley
39
Posted 17/12/2020 at 22:28:16
Think it'll be the same team that finished against Leicester with James coming on in the second half if he's fit and either Sigurdsson giving way... or Gomes, with Siggy dropping back into the midfield 2.
Doucouré did a good job covering as the main defensive midfielder when Allan went off. So I think he'll try and stick with a winning team.
Loving having Holgate back in the team as has that bit of needle we need in the back 4 and so wouldn't want to change it around when we've started looking so solid at the back. If we are struggling in midfield to get control, then bring Coleman on and maybe push Holgate in there.
Jamie Crowley
41
Posted 18/12/2020 at 16:47:08
If Seamus is ready against Arsenal, I'd put Seamus in at RB and move Holgate to CDM.
Big call for Carlo he needs to get this right. A midfield with Gomes and Siggy is too slow, and Doucoure can't do everything back there.
We'll see.
---
Add Your Comments
In order to post a comment, you need to be logged in as a registered user of the site.
Or Sign up as a ToffeeWeb Member — it's free, takes just a few minutes and will allow you to post your comments on articles and Talking Points submissions across the site.