Everton would consider selling Kean to PSG
Friday, 8 January, 2021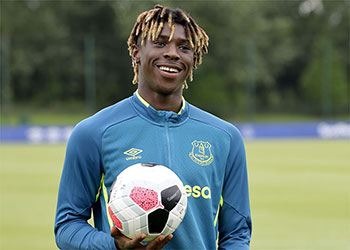 Carlo Ancelotti admits that Everton are open to offers from Paris Saint-Germain to make Moise Kean's season-long loan a permanent arrangement if that is what the striker wants.
The Italian was signed to much fanfare from Juventus in 2019 for £25m and was regarded at the time as a significant coup for the Blues. However, Kean, who arrived as a raw teenager, struggled to settle on Merseyside and didn't score his first Premier League goal until halfway through his first season.
There was much optimism that he would thrive under his compatriot, Ancelotti, once he arrived at Goodison Park in December 2019 but the form of Dominic Calvert-Lewin meant that there were few first-team opportunities for him.
His decision to join PSG last summer was viewed as either an opportunity to restore his confidence in preparation to return to Everton in 2021-22 or a chance to put himself in the shop window; either way, the Italy international made a flying start to life in France and is scoring at a rate of a goal every other game.
However, there are believed to be doubts at Everton about Kean's desire to return to Merseyside, particularly in view of the fact that he is starting regularly for a team playing Champions League football and in the running for a domestic title.
New PSG boss, Mauricio Pochettino indicated this week that he and his staff would be assessing the squad they have inherited from Thomas Tuchel and probably wouldn't be active in the transfer market this month but his superiors may feel it would be better to strike now before other suitors line up in the summer.
PSG were reported by Sky Sports to have discussed a £31m bid for Kean and while that is said to have been premature reporting, Ancelotti says that Everton would listen to offers if Paris want to keep the 20-year-old.
"First we have to look at the desire of the player," he said. "If the player wants to stay at PSG then of course the two clubs have to sit at the table to talk about this, and we are open to talk. The club is open to talk if PSG wants to sign Moise Keane, who is doing really well in this moment."
Ancelotti also put the ball in the court of Bernard when it comes to the Brazilian's future. Bernard has been the subject of talk suggesting he could move to Roma in part-exchange for Robin Olsen but the manager says the club certainly aren't looking to move him on.
"If the player desires to stay here we are not going to force him to leave," Ancelotti explained. "Until now he is happy to stay here. He didn't play a lot but he never came to say: 'I want to leave,' and we don't want him to sell him, full stop. This is the situation at the moment."
---
Reader Comments (45)
Note: the following content is not moderated or vetted by the site owners at the time of submission. Comments are the responsibility of the poster. Disclaimer
Paul Birmingham
1
Posted 08/01/2021 at 23:57:56
Stick or twist time..
For me Moise was potential but the club rule book, if it still exists, in any form, should make clear the minimal standards of conduct expected in training, playing and public life, when contracted to EFC.
No doubt his heads turned, by playing with some great players, at P S G, but overall it could seal his fate, as an underachiever, whom could have worked harder to make the grade, and improve his game, but who, knows.
I still reckon he has it in his locker to be a player but on face value, I don't see the desire and hear from the.Body language, these last 12 months, to stay in the North West, and play for Everton.
For me if he comes back, it would be some thing..A miracle.
Cash in and move on.
I think., a month, is a long time in football.
Peter Mills
2
Posted 08/01/2021 at 00:03:32
Right now, if I was in charge of transfers, if I could get rid at a profit and lose his salary, I'd take it.
Dale Self
3
Posted 09/01/2021 at 00:13:45
Ligue 1 is flattering that guy. Don't get stuck with more unmotivated talent, make the deal if it is a reasonable offer. I really wanted Everton to be a good landing place for the youngster after what he had been through but as a proud Evertonian I cannot support him as a developing talent. He gave up way too easy to be one of us.
Ian Horan
4
Posted 09/01/2021 at 00:15:45
Sell if its an offer we can't refuse!! Anything below 45 mill should be laughed at. For once Everton show some business bollix he is contracted till 2024. Tell kean if he wants PSG he needs to put a transfer request in so no loyalty bonus etc are payable!!
Maybe we should also get Daniel Levvy from spurs to negotiate the sale for us.
Any sale also needs to include a sell on clause 20%.
Derek Thomas
5
Posted 09/01/2021 at 00:18:11
Given the doubts over his commitment etc. unless he comes knocking Ancelotti's door, begging, wanting to play - take the money and run...because it won't happen.
Steavey Buckley
6
Posted 09/01/2021 at 00:32:28
Where is there another Moise Kean who at 20 years of age or similar Everton can buy at this time of year?
Jason Wilkinson
7
Posted 09/01/2021 at 00:57:59
If it was my decision I would tell PSG we will discuss a transfer in the summer. Get Kean back to FF. Get him training and see if he has improved or not. This would give us a stronger hand in negotiating.
Derek Knox
8
Posted 09/01/2021 at 04:17:23
I have to agree get the best possible deal for Everton preferably in this window. I had looked forward to him coming to us after believing all the hype, that he was the most sought after talent etc.
It is fairly obvious that Moise and Everton are not a symbiotic pairing, and maybe he has been over-hyped, but what was clear to me at any rate, it did not appear he wanted to be a part of Everton.
I just hope it's not left to the eleventh hour without having some sort of replacement lined up. Come on Marcel work your magic in both directions, and help take the burden off a lone DLC and hopefully give him some assistance and service.
Andy Mead
9
Posted 09/01/2021 at 07:07:42
Depends on the player really. If he wants to come back I think we should have him back. He didn't really have much of a chance did he? Mostly sub appearances for us so the stats are a little misleading. Also, it's hard for a teenager to settle in a new country especially with this virus going on. Atm we havnt got any other striker options and he has 3 years left on his contract so no need to rush a sale through. It would have to be £35 million + for me to sell now
Robert Tressell
10
Posted 09/01/2021 at 08:30:54
Steavey, one of the strange things with PSG is that they overlook their own excellent youth. They have an 18 year old striker, Kalimuendo, on loan at Lens doing very well. Very similar to Kean. I'd certainly take him as part of the deal. Dagba too, their right back.
Otherwise, the stand out players age 19/20 (that might be available) are Myron Boadu of Alkmaar and Abdellah Sima of Slavia Prague. The latter looks exceptional albeit in a weak Czech league. West Ham are interested after doing well with Soucek and Coufal.
If Kean doesn't want to stay then let him go and reinvest. Same with Bernard.
Steve Shave
11
Posted 09/01/2021 at 08:35:33
I know he's considered a talent, apart from a few flashes of skill here and there plus the Newcastle game where he finally got me off my seat he was trash for us. Now we sign quite a few players who don't justify the price tag or salary but honestly I got sick to death of the sulky twat. Even when he scored he didn't look pleased, now when he's chalking them up for PSG he looks like a player who wants to be there. that pisses me off. I don't want him back, as someone said earlier in the thread that attitute makes him not one of us. I think £35 million now would be a good deal for both parties, if he hits 20 goals for them this season we'll be asking for £10m more and should say that to them. I think Edouard could be picked up for £25m and some buttons, a very able deputy with high potential himself, he wouldn't arrive with a fanfare trumpeting his amazing skills and making us feel like we were lucky to get him. One things for sure, if we sell NOW it's because they have plans to spend the money NOW. I can see it going on a replacement (if Tosun goes as well) and an RB (with Kenny leaving) with maybe a loan to boot.
Barry Rathbone
12
Posted 09/01/2021 at 08:55:12
Complete mystery to me what the hype is around this lad I remember watching his Juve highlights thinking WTF??? He's another pacey player who wrestles with rather than controls the ball.. 30mil!!!
PSG is a perfect fit totally dominant in a noddy league with just enough games to keep him interested and an express train ride to Italy to see his pals when the first team is playing
Fully understand why Juve jumped at the 30mil and if we can cover our losses we should do the same.
Terry McLavey
13
Posted 09/01/2021 at 08:58:17
Sell, he clearly didn't want to play for us ?
Trevor Peers
15
Posted 09/01/2021 at 09:11:57
The fanfare surrounding Kean's signing goes down as the one of the biggest cons in our history. Definitely not good enough for the rigours of the premiership, his close control of a football was non existent.
His subsequent behaviour attending a wild party in lockdown just made a fool out of Marcel Brands who must be glad to see the back of him. Sell him quickly and move on to a better more professional option who hopefully can score goals.
Mike Kehoe
16
Posted 09/01/2021 at 09:15:06
I can see this becoming a top player but he never settled and never looked happy so be in all parties interests to move him on. We just need to make sure we aren't relying on Tosun as a back up striker for the rest of the season.
Tony Everan
17
Posted 09/01/2021 at 09:16:44
The kid came from Juve for big money and wanted to be involved. He couldn't get in the he team because DCL is undroppable. As a result he has been frustrated, unsettled and doesn't feel part of the club, he wanted out at the first opportunity. PSG are a good fit for him, there's no guarantee he would come back here and replicate that form in the Premier League just yet. I think he would do consistently better here with a bit more experience under his belt.
Get the best money we can get with add ons and a sell on clause , and wish him luck. We need to move on and get a quality back up to take the strain from Richarlison and Calvert-Lewin. It will benefit those two players to have some support and make us stronger in the forward department. With Tosun looking like he may be off to Palace this business is looking like a clear priority.
That doesn't mean rushing into a rash permanent signing. A loan until June would be the sensible option, then get the best on the market that Ancelotti and Brands can find. (The loanee deserves his chance to be fully considered too if he is a roaring success).
Bobby Mallon
18
Posted 09/01/2021 at 09:18:26
Dale self @3 I would say he was treated very badly by Big Dunk. It was a disgrace the way he was treated IMO. To be subbed liked that after 18 mins for Oumar Niasse was bang out of order, and for Dunk to say it was to waste time what a crock of shit. I would not want to come back either. but lets not be fooled here he should not be sold for anything less than 40 million
Brian Murray
19
Posted 09/01/2021 at 09:23:49
All these opinions for and against don't mean much. W me have a much coveted director of football who has to weigh up resale or potential to keep him plus his attitude etc, That's why we pat him to do what's best for us not some leech of an agent or sulky kid.
Brian Murray
20
Posted 09/01/2021 at 09:24:44
Pay him I mean.
Hugh Jenkins
21
Posted 09/01/2021 at 09:37:21
This is difficult for both the club and the player.
The player has seemingly flourished at PSG - but they now have a new manager who is already starting to rebuild the team in his own image.
Will this player fit into that image / philosophy.
On the other had, if he comes back to Everton - the same thing applies.
Who knows what the answer is?
Dave Abrahams
22
Posted 09/01/2021 at 10:14:02
It's up to the player if he wants to stay here, says Carlo,well I think when he looks back at the mostly five minutes here and ten minutes there when he was here his mind will quickly be made up.
None of us know what went on in the background at Finch Farm and at the club, Moise didn't convince many people when he got the limited chances on the field but there were times when you could see the vast potential he had, and that view is enlarged when quite a few on here say he shouldn't be sold for less than £40M and a % of any future sell on fee.
I go along with the point that Brand could have the last word, having weighed up the financial benefits to the club, I think he is a player who can become a very good player in the future, but Brands and Carlo will be thinking about the here and now.
Bobby Thomas
23
Posted 09/01/2021 at 10:14:13
On Keane, £35 mil, 20% sell on clause and let him go. We don't even need to sign an replacement immediately as he's had such little impact he won't be missed from the squad. We can fill that space in the summer in a considered fashion.
I'm more concerned about the fact we aren't attempting to get a cheeky deal for Bernard and his overblown +£100k wages. He is distinctly average, at best, and epitomises the slow, weak, unathletic and ineffective players (particularly midfielders) that we seem to have been obsessed with signing over the last few years.
Alan J Thompson
24
Posted 09/01/2021 at 10:28:10
Yeah, all these promising young players should be sold or sent out on loan while we stick with buying two or three 28 to 33 year olds not wanted by the "big" clubs each summer. A plan, well nearly a plan, for the erm...sometime or other, the bright side being that we've moved from United to Spain while stripping relegated clubs which is a formula followed by erm.. what's their name who won the thingy, was it the EPL 2?
Mike Keating
25
Posted 09/01/2021 at 10:38:14
BBC have posted a rumour that Pochettino is after Aguero
https://www.bbc.co.uk/sport/55579870
Brian Harrison
26
Posted 09/01/2021 at 10:53:43
Quite ironic that Kean is possibly going to sign a contract with PSG while Richarlison must look at that scenario and wish it was him signing for PSG to join his idol Neymar. Maybe that is why Richarlison has looked out of sorts lately. I wonder what impact this will have on us trying to persuade other young talent from abroad to come here, hardly a good message to send out.
I think his treatment by Ferguson was disgraceful, to bring on a kid as sub and then sub him some 19 minutes later, must have destroyed his confidence. No wonder he is happier and scoring goals for PSG, and if rumours are correct he might also have Messi as well as Neymar as a team mate next year.
Kevin Molloy
27
Posted 09/01/2021 at 10:53:45
I reckon Carlo's statement is all about keeping the agent happy, sadly. if you think about it, it's an astonishing position for the owning club to take, 'Yeah, if he wants to go he can go'.
The only reason we would be entertaining selllng a lad with his stats for the same price Liverpool got for Brewster is if we are fearful that the agent will take it very badly if we play hardball. I suspect Brands gave an undertaking at the time he was signed that once a big club came in we wouldn't stand in his way.
Tony Abrahams
28
Posted 09/01/2021 at 11:44:42
I'd say Ancellotti, is just using his managerial common sense, because if a player doesn't want to play for him, then he's better moving on.
Great post Robert@10, the thing I liked about Brands, when he first arrived at Everton, was that he said having money can make clubs lazy, and we all know if you look good enough, you will always find good players, especially at these super spending football clubs, who sometimes must neglect their own young talent?
Bill Gienapp
29
Posted 09/01/2021 at 12:12:07
I'd hate to lose another young asset after we had to cut bait on Lookman, Vlasic, etc... but if he doesn't want to be here, selling him for a solid profit and reinvesting the money in someone else would be smart business.
If he had Richarlison's work-rate, the thought of the two of them flanking Calvert-Lewin with James at the 10 is might tantalizing, but seems unlikely to materialize at this point.
Harry Williams
30
Posted 09/01/2021 at 12:13:38
#18 - Bobby you say it was a disgrace the way Kean was treated by Big Dunk, I say it was a disgrace they way he has played and conducted himself when at our club, no manager has played him not Silva not Dunc and not his compatriot Ancelotti, why?
#26 - How many goals did Moise Kean score before his Man Utd sub? Answer on a post card please?
Brian Wilkinson
31
Posted 09/01/2021 at 15:00:35
Bbby@18, Kean did nothing in the utd game, when Niasse came on he ran, he closed players down, no skill, but he harassed the opponents, Kean stayed in attack, hands on his hips and not putting pressure on their defenders, I think Dunc made the right call.
James Newcombe
32
Posted 09/01/2021 at 15:29:36
Frankly i'd be worried if he wasn't scoring in that poor league, surrounded by the talent at PSG. Get rid.
Justin Doone
33
Posted 09/01/2021 at 16:02:43
Regarding the early sub, we can not know what the instructions were or the thinking of player and coaches. File it under lost in translation, it was a mistake and move on.
As prv. said yes sell him for £30M plus and reinvest in this transfer window in better attacking player/ s that we need for this season and next.
M.Kean has pace and ability, just not the work rate, decision making or attitude that will help us in the next few seasons.
Christy Ring
34
Posted 09/01/2021 at 18:18:10
If Kean wants to go, Carlo is right to sell him. Buy Josh King for half the money, and maybe a right winger.
Bobby Mallon
35
Posted 10/01/2021 at 02:26:39
@ Harry 30, how many full 90 mins did he play. Why drop him after the Newcastle game.
@brian 31, what good did the running about By Niasse make, nothing they scored and made it 1.1. That's the problem really isn't it. Just like Lukaku I bet you wanted him out because you perceived him to be a lazy player.
Roman Sidey
36
Posted 10/01/2021 at 02:30:43
Some of the comments on here really boggle the brain and kind of sum up a real issue with supporters of most clubs. I'm not going to spell it out but I do wonder how fans would feel about Moise Kean if he were British.
Did he play well last season? Not particularly. However, could anyone point me to an Everton player they'd give a season score above 5 to in 19-20? He was 19 years old playing in a shit team in a new, harder league, getting five to 10 minutes here and there.
Any fan purporting to know the reason behind the Old Trafford debacle is selling something. In all probability, both Ferguson and Kean were both to blame. Kean may not have been playing to his directions and at the same time Ferguson seemed like he was trying to flex his authority where he really should have been a tad more delicate.
As far as Kean staying or going, I trust that Ancelotti and Brands will make the best decision for the club and team. What I would be disappointed with is if January comes and goes and we have no back up for Calvert-Lewin.
Fran Mitchell
37
Posted 10/01/2021 at 08:36:54
It seems inevitable that he'll go, which is a shame. Add to the list of Lookman and Vlasic of talented young players who are better than elder underperforming players that fill our ranks.
Lookman and Vlasic were discarded in similar fashion, not given any real opportunities. Given 5-15 minutes every now and again and lambasted for not playing like Messi, or lambasted for not sweating blood for a club that doesn't give them a reason to sweat blood.
Now, if we had Lookman as an alternative to Richarlison or Iwobi, we'd be far stronger. As it is we have Gordon who clearly isn't ready (should be loaded to Championship), or Bernard who just isn't good enough.
We could have Vlasic as an attacking midfielder instead of Gomes or Siggy.
But no. Get rid of young players if they ain't scousers and don't immediately set the world on fire.
Kean or Tosun? It's not even a debate.
Yet Everton get rid of the former and keep the latter. And fans applaud.
Everton that.
Daniel A Johnson
38
Posted 11/01/2021 at 19:29:52
Biggest problem I have with Kean is that he seems to be an utterly miserable individual.
Even at PSG he walks around the pitch looking like he's lost his last quid.
Robert Tressell
39
Posted 11/01/2021 at 19:54:52
Fran, that is why I'd like us to gather up half a dozen young players, some ready now, some not and develop them as our back up initially with a view to them being in the first team in the next 3 years or so. I did like what I saw of Vlasic in glimpses. Always had a soft spot for former Yugoslavia nations players after Stojkovic and Savicevic. A couple like that would be good.
Daniel, Kean is, I think, trying to look cool when he's really very self-conscious. A lot of young lads like that. It never looks right. The only time I ever saw him relax and look comfortable was right before he left. Maybe he was relieved to be leaving.
Joe McMahon
40
Posted 11/01/2021 at 20:03:02
Fran @37- I agree with every word and we would have a stronger squad with them still here. And no I'm not a Scouser either.
Ray Roche
41
Posted 11/01/2021 at 20:15:22
Fran I also agree with some of your post, but Lookman couldn't get his arse out of Goodison fast enough and, along with Kean, vies for the title Incredible Sulk. Vlasic would have been useful to keep, I liked him and he was, I think, quite young when he left.
We can't rewrite history. They wanted to go.
Tony Abrahams
42
Posted 11/01/2021 at 20:20:04
That's a very good point Ray, because what Robert says is great in theory, but it only seems to be the scouse kids who hang around, until they are told they're not wanted!
Danny O'Neill
43
Posted 11/01/2021 at 22:43:02
I would liked to have seen Vlasic stay longer and be given more time. I am disappointed this doesn't seem to have worked out for Kean. Lookman I'm a bit undecided on. Although like both Vlasic and Kean you could say the kid suffered from the instability around Everton during their stay (Kean less so), in my opinion several very different managers can't be wrong. And that included a spell in a totally different league when he went to Leipzig. And when available, only Fulham came calling. I smell an attitude problem personally.
The local lads hanging around until they are told they are not wanted is equally interesting. I'll throw this out there; they have lived in an academy bubble and know no different so it becomes their comfort zone. They're happy to stay there rather than smell the coffee and realise they need to move on and progress their career, be that on loan or a permanent move.
Not being anti-local or provocative, just a thought.
Justin Doone
44
Posted 11/01/2021 at 23:31:03
To recent comment's on this thread, it's often the players that decide they want to leave if an opportunity comes.
It may be easier to keep happy local lads that have limited opportunities than if they are from further away.
Everyone wants to play but it's often the players who have had loyalty shown to them and want to repay the club and are prepared to be more patient.
If I had a client or manager who wanted to double my pay, guess what, I'd take it.
Tony Abrahams
45
Posted 12/01/2021 at 16:19:07
That's exactly what happens in the end Danny, and once Kenny leaves, there will only be Davies and Lewin left. I'd say the kids who come through the system will have more of an affinity to the club and therefore want to play for Everton, whereas I'm not sure this would be case for the kids who haven't, and it's why I think doing what Robert says, is a lot easier said than done.
Not many kids anywhere in the world wouldn't want to play for their home town club, especially if they play in the big league, and that's why I'd disagree that it's about waking up and smelling the coffee, and more about lads wanting to achieve their dream?
Steve Carse
46
Posted 16/01/2021 at 12:11:27
Bobby (35), it was worse than that -- Carlo replaced Kean with Niasse when we were 2-0 up with about 10 minutes to play, after which we contrived to concede two goals, both in injury time!
Seems like scoring goals (as Kean did against Newcastle in an excellent all-round energetic display) doesn't secure you a start in the following game under Ancelotti. This season already he has omitted Holgate after he had scored his first-ever goal for the club and Tosun after he got his first Everton goal for who knows how long. But then I defy anyone to guess a Carlo starting eleven in two consecutive matches.
---
Add Your Comments
In order to post a comment, you need to be logged in as a registered user of the site.
Or Sign up as a ToffeeWeb Member — it's free, takes just a few minutes and will allow you to post your comments on articles and Talking Points submissions across the site.