Young Blues' dramatic last-minute cup win marred by Onyango injury
Saturday, 3 April, 2021
Man City U18s 0 - 1 Everton U18s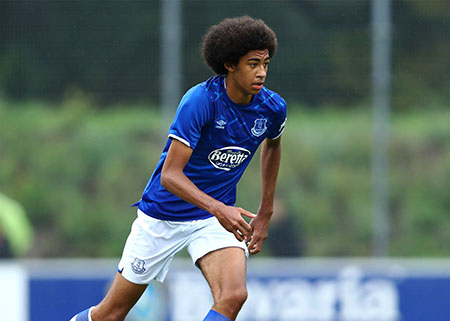 Everton's U18s pulled off a fantastic FA Youth Cup 4th Round triumph over Manchester City with a 97th-minute winner at the City Academy Stadium on Saturday afternoon but it was over-shadowed by what looks to be a season-ending injury for Tyler Onyango.
Everton had defended brilliantly with Zan-Luk Zeban making a number of fantastic saves to keep the hosts at bay which set the stage for substitute Luke Butterfield to fire home a great winner in the 7th minute of injury time.
Most that time added on had come from the lengthy stoppage required to first attend to and then stretcher Tyler Onyango off the field with a suspected leg fracture.
Onyango was bringing the ball upfield on the left when he was hacked down from behind by Alex Robertson and lay in obvious agony, grasping his lower right leg.
The referee showed Robertson a yellow card but the Everton players appeared to know what had happened and expressed their anger at the City player, who was obviously shaken and was substituted a few minutes later.
But the damage was done and Onyango, one of the stars of Everton's Academy who has already been on the bench a number of times in the Premier League, was stretchered off after a long break in play and looks set for an extended period on the sidelines as he recovers.
Everton have not yet confirmed the nature of the injury but the early diagnosis is based on a comment from David Unsworth, relayed over commentary by Nick Chadwick, who was on the sidelines as Onyango was stretchered off.
The Blues' youngsters had secured their place in the 4th Round after coming back from a 2-goal deficit to beat Wigan Athletic 4-2 after extra time in Southport last month.
Everton kicked off and tried to play the game in the City half, epitomized by excellent work from Charlie Wittaker who set up Theirry Small for a good run and shot on goal but it was blocked.
At the other end, City created a real chance but the Everton defenders reacted well to block all avenues. Another good run from Small won the first corner. Price did a short then long move but Onyango could not get enough power on his header at the far post.
A City shot from distance needed touching over by Leban, for a City corner that came to nothing. But City started to press more effectively and Everton's attempts to play out from the back were farcical at best, inviting massive pressure. Leban was out smartly to snuff out one opportunity when Issac Price was beaten to the ball.
An awful ball back from Cannon almost created havoc in the Everton defence but again they survived, looking ever shakier against the increasingly confident hosts. Cannon tried to break but McAllister's support wasn't strong enough.
Matthew Mallon rather dived in with his studs showing and got a yellow card for his troubles as Everton were forced to defend deep but effectively so far...
Tom Cannon finally got a sniff off a fine ball forward from Lewis Warrington but put far too much on his lob that beat goalie and goal. A great break led by Charlie Whittaker had the City defenders back-pedalling and his shot was just inches wide before the break.
City's pressure and dominance continued into the second half, and they eventually had the ball in the Everton net but it was ruled out by the referee for a handball from the goalscorer. Leban was the hero, making a number of excellent saves to keep Everton in the game past the hour mark.
A free-kick by Price, where he could have really created some danger in the City area, was criminally wasted, terrible delivery, setting up City for another lethal attack, with two more excellent saves from Leban.
Everton won a rare corner but it was defended away. Garcia replaced McAllister and immediately won another dangerous free-kick, delivered better this time by Whitaker. But it ended up with even more clear-cut chances for City, who still could not convert despite creating sheer chaos in the Everton area.
After Onyango's injury, City pushed and probed, winning another late corner that came to nothing as Everton blocked all avenues to goal.
A late Everton attack saw Whitaker cleverly win a corner, but Price put it too close to the City keeper and it was punched clear as the 4th official signalled 7 minutes of added time.
Price appeared to set up substitute Garcia for a chance but the Everton striker could not reach the ball. At the other end, more City chances and determined Everton defending. and another City corner defended away. It was an extremely competitive cup tie, with Everton defending to the last man, heading into extra time.
But one last Everton attack, the ball was back-heeled brilliantly by Garcia to substitute Butterfield, on for Onyango, and he made no mistake with a fantastic finish low into the corner from the dee.
The tremendous result sets up a 5th Round tie at Chelsea, last season's runners-up who present potentially an even bigger hurdle than Man City, having won seven of the previous ten FA Youth Cups!!! The match is set for Saturday 17 April.
Everton U18s: Leban, Mallon [Y:28'], Welch, Campbell, Small, Warrington [Y:72'], McAllister (71' Garcia), Price, Cannon, Onyango (76' Butterfield), Whitaker.
Subs not Used: Stewart, Lowey, Kristensen, Jagne, Metcalfe.
---
Reader Comments (77)
Note: the following content is not moderated or vetted by the site owners at the time of submission. Comments are the responsibility of the poster. Disclaimer
Dave Abrahams
1
Posted 03/04/2021 at 10:48:06
This will be a chance for Everton fans to have a good look at Thierry Small if he passes a fitness test to play against a very good Man City team.
Steve Carse
2
Posted 03/04/2021 at 10:52:52
More pertinent, it will give Man City the chance to decide whether they want to take him from us.
Michael Kenrick
3
Posted 03/04/2021 at 13:53:42
Jeez, look at the size of that place!
I assume it's the City Academy Stadium?

Phill Thompson
4
Posted 03/04/2021 at 14:02:27
That's a really strong City team, they'll be favourites but let's see what they can do.
Dave Abrahams
5
Posted 03/04/2021 at 14:05:26
Has anyone logged into this game game, I can't get it up?
Paul Jones
6
Posted 03/04/2021 at 14:08:08
Too much information Dave.
Danny O'Neill
7
Posted 03/04/2021 at 14:08:58
Dave, please!
Phill Thompson
8
Posted 03/04/2021 at 14:16:49
Dave, if you login in the normal way, you should find it.
Phill Thompson
9
Posted 03/04/2021 at 14:18:11
Onyango playing further forward today, with Price and Warrington further back as the two.
Danny O'Neill
10
Posted 03/04/2021 at 14:22:43
Watching on the official club site. Isn't City's facility fantastic?
Phill Thompson
11
Posted 03/04/2021 at 14:23:45
0-0 after 20 mins, City's pressing game has seen us give the ball away too often. Small very much as we've seen before, good in attack, not so good as a defender!
Thomas Richards
12
Posted 03/04/2021 at 14:47:11
Danny,
It's unbelievable the facility City have. State of the art throughout. The indoor facility is also very good.
Phill Thompson
13
Posted 03/04/2021 at 14:50:30
0-0 at half time, and the youngsters are making a good game of this. We've got a really young back four too, all 1st year Scholars, 2 of them still 16.
Michael Kenrick
14
Posted 03/04/2021 at 14:51:07
Remember Everton were going to build a small stadium at Finch Farm a few years back but someone (Silva?) put the brakes on that one.
Capacity is 7,000. Of course that means nowt at the minute... but still impressive.
Danny O'Neill
15
Posted 03/04/2021 at 14:52:40
All in the shadow of the stadium as I understand Thomas? Similar to Ajax and Schalke; the young players train and play with the inspiration literally right in front of them.
Our stadium news has been more than positive and Finch Farm is a top class facility, just a slight niggling shame we won't have that.
So far, impressed with young Lewis Warrington, our number 6. Also the City player Doyle.
Thomas Richards
16
Posted 03/04/2021 at 14:54:34
Just across the road, Danny. And you're right, the kids look across and seeing the stadium must give them inspiration.
Danny O'Neill
17
Posted 03/04/2021 at 15:08:34
I think that would be a great move Michael. There is nothing better than playing in a stadium and it really helps prepare younger players for the big stage.
Brian Murray
18
Posted 03/04/2021 at 15:29:15
Please someone tell me Onyango is ready to take the Premier League by storm and the likes of Gomes and Sigurdsson are history!
Brent Stephens
19
Posted 03/04/2021 at 15:37:27
Onyango injury. Stretchered off
Michael Kenrick
20
Posted 03/04/2021 at 15:37:53
Onyango stretchered off... probable serious ankle ligament damage by the look of it.
Paul Turner
21
Posted 03/04/2021 at 15:37:57
Sadly, Brian (18), Tyler's just been stretchered off after a horrible tackle; looks like his right ankle/Achilles...
Danny O'Neill
22
Posted 03/04/2021 at 15:39:48
Hope the lad is okay. He looks like he has potential.
Still impressed with the 2 I called at half time. Lewis Warrington for us and Doyle for City.
Tongue in cheek though, get our keeper in the first team squad! Some great stops from the young man.
Garcia appears to be our U-18 Iwobi; unpredictable. Not a bad trait to have at this age.
Paul Turner
23
Posted 03/04/2021 at 15:50:20
Apparently, Unsy's just said it's a fracture. Poor lad...
Jay Wood
[BRZ]
24
Posted 03/04/2021 at 15:51:53
Just said in commentary that Unsworth pitch side is saying Onyango has a broken leg.
Everton finishing strongly here.
Brent Stephens
25
Posted 03/04/2021 at 15:53:42
Been a good performance from us.
Don Wright
26
Posted 03/04/2021 at 15:56:49
wow
Jay Wood
[BRZ]
27
Posted 03/04/2021 at 15:57:08
WHAT. A GOAL.
Last kick of the game wins it.
Brent Stephens
28
Posted 03/04/2021 at 15:58:19
Superb
Danny O'Neill
29
Posted 03/04/2021 at 15:58:52
Now that is perfect tactical planning.
Wait until the 97th plus boys and score the winner!
Very interesting game of football regardless of result.
Brent Stephens
30
Posted 03/04/2021 at 15:58:56
What a strike by the sub
Paul Turner
31
Posted 03/04/2021 at 15:59:06
Fantastic late, late winner !! Well done young men!
Phill Thompson
32
Posted 03/04/2021 at 15:59:31
Fantastic result fantastic performance from them all, well done !
Michael Kenrick
33
Posted 03/04/2021 at 16:00:16
Tremendous finish to the game it goes without saying. Incredible spirit from the lads, playing to the Ancelotti mantra: KITAP1
Jay Wood
[BRZ]
34
Posted 03/04/2021 at 16:00:24
Why did the ref allow the game to restart? Time was done.
Two subs setting up and scoring the goal.
City in 5 of the last 6 finals.
Great win built on an outstanding and disciplined defensive display.
Brent Stephens
35
Posted 03/04/2021 at 16:00:28
Enjoyed that!
Rob Dolby
36
Posted 03/04/2021 at 16:02:14
Good win for the u18s. Doyle looks like he has a big future probably not at City.
Shame about Onyango.
Brent Stephens
37
Posted 03/04/2021 at 16:02:23
Well done, Carlo!!
Danny O'Neill
38
Posted 03/04/2021 at 16:05:06
Call me a paranoid Evertonian Jay (BRZ), but it was like he was just waiting to see if there was a goal in that last City attack?!!
Very impressed with Doyle Rob.
Michael Kenrick
39
Posted 03/04/2021 at 16:08:32
That's exactly what I thought, Danny.
They should add on 1 minute for a goal, but we had 2 extra by the end.
Dave Abrahams
40
Posted 03/04/2021 at 16:09:24
Great goal by Butterfield wins the game for the Blues, Leman man of the match for Everton, kept us in the game with multiple saves, what a game by Lewis Warrington, reminded me a lot of Colin Harvey.
Rob Dolby
41
Posted 03/04/2021 at 16:10:21
They have another Doyle that plays centre mid. Think he is earmarked as the next Foden.
Thomas Richards
42
Posted 03/04/2021 at 16:10:59
Carlo attention to our youth team second to none.
All credit to him 😁😁
Jay Wood
[BRZ]
43
Posted 03/04/2021 at 16:11:51
Watching the highlights back, the tracking, tackling and blocking all game was superb. The keeper in great form, but not convinced by his distribution.
The goal was excellent. Not sure if it was Canon's header at the edge of the penalty area that knocked it down to Garcia who flicks it on nicely, but Butterworth was superb taking one touch with his right foot onto his left foot and it is the speed and power of the shot that gives their keeper no chance.
Garcia when he came on helped us play further up the pitch. Lots of nuisance value this fellah.
Chelsea next round isn't it? Another serial winner of this trophy in recent years.
Brent Stephens
44
Posted 03/04/2021 at 16:12:01
Leban was busy - and impressive.
Phill Thompson
45
Posted 03/04/2021 at 16:12:43
People moan about our youth coaches but you have to say they set them up perfectly today against a side reckoned to be the best in the country. Disciplined, organised, well drilled into keeping their shape against a group of very talented individuals.
There were a lot of great performances today but I thought Reece Welch was superb. He was the leader at the back, marshalling the shape, marking Delap at corners, being available for Leban when needed. He looked good last season but he's maturing as a defender now. Garcia is a bundle of tricks and energy too, I wonder if he can last 90 mins know he's fully recovered from his injury.
Alan J Thompson
46
Posted 03/04/2021 at 16:13:46
I don't recall any talk of building a stadium at Finch Farm but I do remember Martinez wanting sleeping accommodation which, in itself, may be saying a lot more than is apparent.
Kieran Kinsella
47
Posted 03/04/2021 at 16:16:24
Alan
Was that for comfort as Martinez let the defenders sleep during the actual games?
Jay Wood
[BRZ]
48
Posted 03/04/2021 at 16:20:54
Alan it was absolutely planned to have a mini stadium at Finch Farm as this report recalls:
City Council to build Finch Farm stadium for higher rent
Given the political events surrounding LCC in recent months and days, I wonder at the details of the proposed contract and why it never came to fruition.
Thomas Richards
49
Posted 03/04/2021 at 16:27:05
"On Friday, the council's cabinet will consider whether to pay for a new recuperation block for first-team players, as well as a "show pitch" with spectator seating."
Not a stadium as such Would have saved them playing games at Southport though.
Danny O'Neill
50
Posted 03/04/2021 at 16:34:42
Dave Abrahams @40. That's a hell of an accolade. Here's hoping. He does indeed look a fine player so let's hope he can carry it through into the adult game, which is always the big step for young players.
Thomas Richards
51
Posted 03/04/2021 at 16:38:11
As I said Danny
Good judges of a footballer
Michael Kenrick
52
Posted 03/04/2021 at 16:39:35
Great points, Phill @45. I'm heartily sick of having fans on here do the Academey and the Everton coaching team down the banks. That was a great game plan for this fixture, executed perfectly.
Of course it doesn't put any youngsters in the first team... in fact the opposite: it puts one potential superstar on the sideline for months. But football is about winning as a team, and I really think that's what they are trying to instill at the Academy.
Tony Abrahams
53
Posted 03/04/2021 at 16:42:15
Just said on another thread that although I only watched 15 minutes, I really liked the look of our number 4, was this Welch, Phill?
Michael Kenrick
54
Posted 03/04/2021 at 16:45:54
15 minutes?!? Shame on you, Tony!
This in the Manchester Evening News:
"Just a day after Pep Guardiola name-checked several 'interesting players' in the academy to be able to fill the void that will be left by Sergio Aguero this summer, they showed they might not be able to be relied upon just yet after they crashed out of the FA Youth Cup in astonishing fashion to Everton."
Astonishing fashion! Fuck off, you Manc twats!!!

Brent Stephens
55
Posted 03/04/2021 at 16:54:49
Michael, the sense of entitlement that comes through in comments such as the MEN rag. Makes me sick.
Danny O'Neill
56
Posted 03/04/2021 at 17:13:45
I'll go with a slight difference of opinion. Youth football is about developing. The result isn't the most important thing. Today the performance of the team and performances of the individuals is what most impressed. I didn't care much for the result personally. City had some very good young players who put in very good performances.
That clip from the Manchester Evening News Michael; of course they can't be relied upon yet. They are kids right? Lazy journalism. Not you, the MEN by the way. I know you are calling it out too.
Geoff Williams
57
Posted 03/04/2021 at 17:22:51
I wish him a speedy.

Phill Thompson
58
Posted 03/04/2021 at 17:25:16
Tony #53, yep 4 was Welch, 5 was Eli Campbell whose even younger at 16. Welch played a lot last season as a Schoolboy, and has been in the same England set up as Onyango and Dobbin - Just a quirk of Academy years being different from International years.
He's about 6ft 3 and will hopefully fill out a bit too. Obviously a long way to go yet for him, but he's ticking the right boxes of size, England youth, playing above his age. He'll play some more u23s games this season.
Tony Abrahams
59
Posted 03/04/2021 at 17:27:04
Shame on me Michael, but no shame on this fantastic Everton website mate, because to be so up to date, even on a blank weekend for the first team, shows your dedication to our club!
Great for the kids, fight and work hard to stay in the game, then hopefully take your chance when it arrives, and what a brilliant strike it was by the young sub, who took his chance superbly after replacing the unfortunate Onyango.
I will be very surprised if he's broke his leg, (I really hope he hasn't) because it looked more like he turned his ankle when it got caught between the City players legs and the turf🤞.
David Milner
60
Posted 03/04/2021 at 17:31:00
Man City did look good on the ball & cost a lot of money to put together.
Our boys looked well drilled & did the job they had to. Zan Luc Leban was excellent in goal. Luke Butterfield's goal must be a contender for April's goal of the month.
Tony Abrahams
61
Posted 03/04/2021 at 17:40:01
I'd say it's more about winning when you're playing FA Cup games Danny, but I'm talking from a players point of view. It's an old chestnut, but I think you're views on grassroots, are very similar to mine, and watching the very young kids going back to play football today, it got me thinking about how much easier it is to develop skill in the warmer months, and hopefully this pandemic can be the start of a major restructure, that stops 6-10 year olds battling like mad playing against the wind, in the pissing down rain!
Thanks Phill, the first thing I noticed about Welch, was his composure, the second being that he also looks like he can pass the ball. You said all the back four were schoolboy footballers last season, and I've said many times that Martin Waldron, said this was the best group of players he'd ever seen at the club, although they were only under tens at the time!

Danny O'Neill
62
Posted 03/04/2021 at 17:48:13
You're right Tony, the player in us wants to win. That's the difference between a good coach, especially a good youth coach. They can put results aside because they want to see the players develop.
Restructure is indeed needed if this country is to release the potential of the players that are out there at scale. Today was great to watch, but unfortunately only the few will ever get to experience anything like that. I'm not saying everyone will, but we as a nation can do so much better.
I'm off rambling again, let me do a piece in the summer. Hopefully as we are planning our European travels next season.
Hugh Jenkins
63
Posted 03/04/2021 at 17:51:30
It may just be paranoia on my part but, as a club, we do seem to suffer an inordinate number of serious injuries and more often than not to our top players.
Whatever the outcome, I wish the young lad a speedy recovery.
Jay Wood
[BRZ]
64
Posted 03/04/2021 at 17:58:56
Danny @ 56.
Whilst in the main I empathize with your view that youth football should primarily be concerned with devlopment rather than results, for me that doesn't extend to the FA Youth Cup.
In recent years, like the FA's Blue Ribband trophy the FA Cup, this competition may have lost some of its allure, but I am sure people of a certain age group know it as a very serious competition.
Like the FA Cup it is open to all and each year attracts 400+ entrants countrywide. For professional clubs and its target age group - under 18s - it should be treated with and competed for with full respect. You surely WANT your young players to have a winning edge and mentality at this age and in this competition, or I suggest they will be destined for failure as an adult footballer.
Even today in commentary when the City player who did for Onyango was trying to apologise for his foul, the Blue commentator and former Everton player Nick Chadwick both took umbrage at it.
'That's not what the Everton academy taught me. You were taught to win, not to high five opposition players in game. Yes, shake hands at the final whistle, but don't be matey with them in-game.'
On that score, it was pleasing then to see Thiery Small in particular having none of it from the City player and telling him in no uncertain terms where to go.
As this link shows, a number of true greats have played in this competition. The list of winners in this near 70-years-old competition also shows how seriously the 'elite clubs' of English football have competed for this trophy in recent years.
John Raftery
65
Posted 03/04/2021 at 18:07:24
I thought the tackle was not dissimilar to the one by Son on Gomes. The tackler should have been sent off because it was a deliberate trip and with both feet off the ground he was not in control, thereby endangering his opponent. It was also a typical City/Guardiola tackle designed to halt the threat of a counterattack.
That the winning goal was scored by the substitute was poetic justice but of course no consolation to Onyango who now faces what might be a lengthy spell out of the game.
Dave Abrahams
66
Posted 03/04/2021 at 18:19:09
Jay (61), agree completely,the FA youth cup is a great trophy to win, should be an aim every year for every youth team in the country and their coaches, I've been moaning for the last few years that Everton haven't taken this trophy serious enough, today they won the only way they could by playing the game they did against an excellent City team, same as the first team tried to do in the FA cup against City. Well done lads.
Michael (54), The Manchester Evening News has always been a bit of a joke in Liverpool, they used to advertise it as " Your friend dropping in " on ITV news, that's what Scousers called their Giro's in the seventies, The Manchester Evening News because it was a friend dropping in each Thursday, erm so I believe!!
Robert Tressell
67
Posted 03/04/2021 at 18:35:22
Great win.
Really terrible news about Onyango. He was developing into a Fellaini-style midfield nightmare. Hopefully he hasn't broken his leg but sounds like he has.
Nice to see Garcia making a difference. It won't always come off, but attacking players need to be brave and use some imagination.
Doyle is a really good player. He'd be on the cusp of the first team for most Premier League clubs. He would be a good fit at Everton if he loses patience at Man City.
Danny O'Neill
68
Posted 03/04/2021 at 18:57:47
No, I get it Jay (BRZ). That balance between wanting to win and developing players. I guess it's just the win at all costs shouldn't be there at youth level in my view. It certainly wasn't today by the way. A fine contest between 2 teams of talented young players.
It is a great competition and the aim of being in it is to win it. If I recall, the last time we had a run anywhere near this in the competition was when a certain Wayne Rooney introduced himself to the outside world with his "once a blue always a blue" celebration.
If any of these kids are half as good as him, I'll take them. I do like the look of Warrington.
Tony Hill
69
Posted 03/04/2021 at 19:12:32
Great result. Onyango will be back. The very best of luck to him. I think he's a great prospect.
Tony Hill
70
Posted 03/04/2021 at 19:19:56
Dave @40, agreed about Warrington. What a comparison for us to be making though.
Derek Knox
71
Posted 03/04/2021 at 19:46:53
Good result, but sad news on Tyler, looks like that's his season over.
Didn't see the game, only realised it was on, too late.
John Dean
72
Posted 03/04/2021 at 20:08:44
I took the tour round Finch Farm a couple of years ago and very good it was too – a young Tyler Onyango was the only player in the gym that day. I asked one of the staff about the plan to build the structures necessary to host U23 games at the Farm and was told it was Martinez's idea and, after he left, nobody had bought into the idea enough to take it forward.
I've watched a few Everton teams at City Academy Stadium. The stadium is a real display of their commitment to, and faith in, all their football teams and the fans who watch them.
Paul Birmingham
73
Posted 03/04/2021 at 20:15:15
Great result and let's hope Tyler makes a full recovery from his injury.
To compare any player to The White Pele, Colin Harvey, is the top accolade for Lewis Warrington, long may he continue to progress his career at Everton.
I missed the game as I was painting the fence in view of the good weather.
Now for Palace, and a must win game for Everton.
Danny O'Neill
74
Posted 03/04/2021 at 20:29:35
Depends what you read Derek.
There is speculation of interest from other Premier league clubs. My son who reads from other more reliable sources than me thinks he could actually look to go to someone like Brentford in order to get more chance of first team football. And then there might be the prospect that he will stay.
Difficult to gauge, and I suspect the truth lies somewhere in-between. I just hope he makes a football decision whatever the outcome is.
Dave Abrahams
75
Posted 03/04/2021 at 20:52:48
Tony (70) and Danny earlier,yes you are both right, I better wind it in over Lewis Warrington I don't want to jinx the lad, but I've seen three or four times now and he's impressed more each time, like Colin Harvey he's good and comfortable on the ball, always looking ahead for the next move, wants it no matter where he is, always moving, can tackle and knows the game, better stop there I'll have him on the bench next Monday, mind you now I've said that - - - -
Danny O'Neill
76
Posted 03/04/2021 at 21:40:31
I don't like to get too carried away over a young kid Dave who clearly still has a long way to go. And I can only go off what I saw today as I've not seen him play before.
But what I liked was seeing a midfielder who was always making himself available to the centre-backs and the full-backs for the short pass out. And then, a player who had to confidence or know how to either give it straight back or, turn and play forward if he knew he had time and space. Be that a long direct pass that almost put our forward in for a chance on goal in the first half or a sprayed ball out to a wide player. Good range of passing from a player who I very rarely saw stray out of that pocket of space between the more forward midfielders and the defenders. A modern day sweeper who plays in front of the defence and behind the midfield??
Derek Knox
77
Posted 03/04/2021 at 23:36:39
Thanks Danny, he seems not only a good prospect but one of those you feel can and probably will go all the way. I am all in favour of kids in a similar position being loaned out to gain experience, but it can also tell you a lot about whether that potential can really cut it in a more competitive situation.
I hope they come to some arrangement where he is our player, but has a couple of loans, and then maybe he can step up, save us a shed load and establish himself. Many have tried before and almost disappeared into the lower echelons of football.
---
Add Your Comments
In order to post a comment, you need to be logged in as a registered user of the site.
Or Sign up as a ToffeeWeb Member — it's free, takes just a few minutes and will allow you to post your comments on articles and Talking Points submissions across the site.