Ancelotti: We're still in the fight for Europe
Tuesday, 13 April, 2021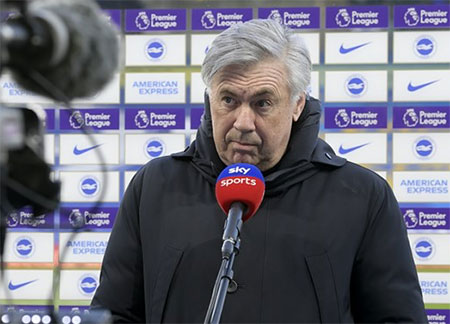 Carlo Ancelotti isn't giving up on Everton's European aspirations despite the fact that his side is winless in three Premier League games and battling a glut of injuries.
The Blues played out a dull 0-0 draw at Brighton last night, a game in which they managed just one shot on target all evening, which leaves them in eighth place, albeit with a game in hand over Tottenham, the team immediately above them in the table.
The Champions League spots are seven points away with eight games to play and there are places to fight for in the Europa League and Europa Conference League but Everton's form will need to pick up quickly if Continental football is to be a reality for the club next season.
"Of course, it's more difficult now … but it is a point," Ancelotti said after the game. "It is a point [earned] through good team spirit, although, of course, with the ball we could do better. We had difficulties to build up from the back, we missed a lot of passes. We were not able to reach our strikers with efficiency.
"I think that we are still in the fight but like I said it is more difficult. But now in the next eight games that we have to play, there's a lot to play [for] and teams really close to us and the fight with us, we are still there.
"Of course it is a difficult moment because we have a lot of players out but I hope to recover some players for Friday and fight against Tottenham."
The Italian hopes that Dominic Calvert-Lewin, Allan, Jordan Pickford and Josh King back for that clash with Spurs but Yerry Mina won't be one of those returning players.
The Colombian centre-half had to be withdrawn just short of the hour mark, becoming the 16th first-team eligible player to become unavailable to Ancelotti either because of injury or loans.
"Yerry Mina had a muscle problem on his abductor and he will not be available for a few weeks I think," the manager said.
Meanwhile, Ancelotti confirmed that Jean-Philippe Gbamin will be out of action for the remainder of the season after he suffered a freak injury during training:
"We are really sad because he was training well, showing good quality and was happy. He's going to have a scan. I don't know how long, but for sure, the season for him is finished.
"Digne fell down on his knee, unfortunately, and I think he has a medial ligament problem."
The Ivorian is set to undergo a scan in London to determine the extent of the damage but the understanding is that he will require yet another operation.
---
Reader Comments (56)
Note: the following content is not moderated or vetted by the site owners at the time of submission. Comments are the responsibility of the poster. Disclaimer
Terence Connell
1
Posted 13/04/2021 at 17:22:57
Man City last game of season could be crucial but that could go either way if City aren't arsed. Getting into Europe is vital to attract players but I remain pessimistic.
Kieran Kinsella
2
Posted 13/04/2021 at 17:35:20
Read and weep. The below is from a ToffeeWeb match review:
"Everton's aimless drift continues after 90 abject minutes of directionless football that was somehow enough to earn a point, while also confirming that this season will bear witness to the club's worst home record for a single campaign in its entire 138-year history.
"***** has been clinging desperately to his team's bafflingly superior points return away from home this season but every successive failing at Goodison Park surely puts another nail in his proverbial coffin as the Blues' manager. The paucity of quality in Everton's play will only deepen the fans' concern over the illusory depth in the squad."
I removed the name of the manager to make a point that this could so easily have been written about last night's match. In fact, it was written at this time exactly 5 years ago, when Martinez's team were still "hoping to get into Europe," and the likes of Barry and Jagielka were doing their weekly "We know we have great players, we are behind the manager, yada yada yada," routine as they slipped into 12th place complacently performing the same way they are now. It's just like a constant déjà vu at the club. To be clear, I am not blaming Carlo as we've seen the same core group fail for multiple managers.
There is also this match report from same stage last year:
"If this evening's performance was any indication, the players cannot find the drive within themselves to produce anything more than the lacklustre which leaves you at the final whistle wondering why you bothered tuning in.
"...they ambled their way through the final stages of a contest that was officiated abysmally from start to finish and which deserved its billing as a meaningless end-of-season affair... because in the context of the Blues' season and the now vanished hopes of Europe, that's what it was."
Dale Self
3
Posted 13/04/2021 at 17:38:07
Okay, now they're just playing with us.
Paul Melling
4
Posted 13/04/2021 at 17:57:24
I am now so fed up and bored of watching this Everton side that I take more pleasure from watching other teams, including West Brom. They are showing real passion and attacking intent.
Their manager was pilloried by nearly all Evertonians when he was our manager because of the boring, direct football that Allardyce is notorious for.
Well, the football that this current Everton side is playing is worse than anything played by Allardyce's Everton team.
Does any Evertonian get any pleasure from seeing our defenders (and midfielders) endlessly playing the ball across the back and backwards? I certainly do not. Why is Ancelotti getting off so easy?
Barry Rathbone
5
Posted 13/04/2021 at 17:58:38
"We were not able to reach our strikers with efficiency"
Tap dancing on the edge of bullshit right there... the correct phrase was: "This lot couldn't pass water."
Stephen Brown
6
Posted 13/04/2021 at 18:04:17
Utterly depressing Kieran!
It's so sad but we really are a pointless team. We bottle every big game so not really in European shake-up and we are not in the relegation fight.
Millions spent and not a step further forward! Nothing seems to be the answer to the questions posed! Every solution creates more problems!
Players come and go, managers come and go and we are left with nothing!
Am I overreacting? We are 7th or 8th I've stopped looking! Do I allow myself another let-down, hoping for 5 or 6 wins from 8! I think I've finally learnt my lesson! I'll expect nothing and unfortunately probably get it!
Tony Everan
7
Posted 13/04/2021 at 18:25:36
Kieran, you got me, I thought you were quoting The Guardian or some other erudite report of last night's match.
The hamster wheel of mediocrity keeps on turning. We were probably saying the same thing about what we need in the summer window too!
Kieran Kinsella
8
Posted 13/04/2021 at 18:29:15
Tony 7
No doubt we were talking about shifting the dead wood. We've got so much dead wood now it's a fire hazard, although some is so old (Besic), it's turned into charcoal.
Luke Welch
9
Posted 13/04/2021 at 18:30:36
I'm not sure how Carlo is getting away with it. My only guess is that either the owner is starey eyed over his past achievements and counts us lucky to have him managing Everton; or... he can't afford to sack him.
Andrew Ellams
10
Posted 13/04/2021 at 18:35:33
Luke if you're Moshiri and you've brought Ancelotti to the club and it doesn't work, where do you go next?
Tony Twist
11
Posted 13/04/2021 at 19:07:56
No chance Carlo, unless our Brazilian superstar suddenly comes good (not shown that form all season) and becomes the world beater that we hope he is and your game play has attacking intent.
Tony Everan
12
Posted 13/04/2021 at 19:13:02
"Besic" actually translates as "charcoal" in Serbian, wood you believe it? As in "Hey up, duckie, Chuck some more Besic on that there fire" can be heard in villages throughout the country.
Shame he's not actually charcoal though, as a 75-kg bag is probably worth a few quid.

Soren Moyer
13
Posted 13/04/2021 at 19:33:35
Which Europe Carlo!? I bet if we "somehow" qualify for Europe league, you would claim THAT was our target!!!
Dale Self
14
Posted 13/04/2021 at 19:54:42
I don't think he responds to that kind of tripe Soren. Try some reasoning instead of word play.
Luke Welch
15
Posted 13/04/2021 at 20:01:07
Andrew, that is the question! With the new stadium being built, sure progression on the pitch is expected, meaning European football every year has to happen..
I'm not sure if Carlo is one to get us there, then his jobs done and somebody will be given the keys to keep us there.
But who? Good question. But I think Carlo is here to make the next step, hence buying James and Allan... but they're getting on.
Grant Rorrison
16
Posted 13/04/2021 at 20:09:21
We keep changing managers and nothing improves. What's the point in getting rid of Carlo Ancelotti? I've seen terrible football under both 'negative' and 'positive' managers over the last few years. Why are professional footballers unable to pass the ball effectively?
Dale Self
17
Posted 13/04/2021 at 20:15:21
They have to pass around those defending and they have to do it while moving. It's complicated.
Soren Moyer
18
Posted 13/04/2021 at 20:26:04
Agree, Dale. That's too much to ask. They are only being paid to do sideways and backward passes with no movements whatsoever. On top of that, Everton only recruits players with zero footballing intelligence and / or pace.
Dale Self
19
Posted 13/04/2021 at 20:30:21
I think you've misread the contract, Soren. Your commitment to the club is Philbyesque.
Soren Moyer
20
Posted 13/04/2021 at 20:57:08
Could be. Call me Kim then 😉.
Don Alexander
21
Posted 13/04/2021 at 21:08:54
As I more or less said on another thread, this season is yet another Einstein-moment for Moshiri, meaning if he does the same thing again this summer as he's done in the previous five seasons how can he expect a different outcome?
So, has he got the balls to swallow all of the financial loss his meanderings have caused him (and us) and if he has, has he got the money to allow Carlo to sign three or four players who'll be seeking a top club?
And, per-lease, can someone sign Finch Farm staff whose work is reflected on the pitch by accurate passing, shooting and a sense of adventure?
Robert Tressell
22
Posted 13/04/2021 at 21:16:53
Don, Moshiri is here to build a stadium and redevelop some docks. He is not trying to get us into the top 4. He is just trying to keep us relevant. In particular, I doubt he particularly cares whether we finish 7th or 9th this season. Ancelotti has been appointed to ensure we don't sink too low and, with luck rather than actual investment, might get into Europe, win a cup or by some near miracle make top 4.
Jerome Shields
23
Posted 13/04/2021 at 21:52:03
Still think that Everton will get a Top Six finish but have concerns about Europe ambitions after reading this post by Andrew Ellams on another thread;
'The scary part about Europe next season is that the team that finishes 7th goes into the new Europa Conference League which has one team from each of the top listed nations and is then mainly made up of teams who weren't good enough to get through the early qualifying rounds'.
What does getting into Europe actually mean?Could the above explain the attitude of players?
Thomas Richards
24
Posted 13/04/2021 at 21:58:19
Ancelotti: We're still in the fight for Europe.
I hope we don't win the fight. Just watched the best game of football I have seen since I can't remember when, the standard is something from a different planet to ours.
Colin Glassar
25
Posted 13/04/2021 at 21:59:49
PSG showing how attack is the best form of defence - if you've got the players to do that.
Dennis Stevens
26
Posted 13/04/2021 at 22:01:02
Still in the fight? If last night's match is an indication of the player's fighting spirit then remaining in the top ten will be a challenge!
Kieran Kinsella
27
Posted 13/04/2021 at 22:15:19
Colin
I'm making a bold prediction: Chelsea v Dortmund in the final. Chelsea win and nick the Champions League spot off 4th-placed Moyes.
Tony Abrahams
28
Posted 13/04/2021 at 22:17:09
Brilliant game Thomas. It's hard to sustain how they play Colin, but how refreshing it is to see every single Paris player, all having the ability to go past a player.
Gueye, always thought he worked hard but was limited, until the last few months of his Everton career, when he went up a few levels, but the man was outstanding tonight, bringing energy, energy and more energy, to a very energetic game!
Martin Mason
29
Posted 13/04/2021 at 22:25:14
Watching the Euro games tonight you can see that the top sides are better than us but that's not the complete story. They also work very hard and play with an intensity that we can't seem to do. We've bought well but players without that intensity that's needed. Liverpool at their best play with massive pressing intensity and we don't.
Barry Rathbone
30
Posted 13/04/2021 at 22:26:37
Amazing how we all see things differently obviously Bayern and PSG are miles beyond us but I thought both quite ordinary. Beckenbauer, Muller, Breitner etc would be astonished at the lack of composure of the Bayern outfit.
I'm afraid the inevitable turning over of Madrid by the rs will have them salivating at getting among this PSG side if they meet up.
Trevor Peers
31
Posted 13/04/2021 at 22:34:30
The way we're playing we'll be lucky to win another game this season, never mind qualify for Europe. That said the law of averages says we must win a game again at some stage.
Even a crap manager like Silva could pull one out the bag every now and then. Hopefully it's against Spurs on Friday, I pity Ancelotti if we get a repeat performance of last night, he'll get slaughtered in the media at some point.
I plan to watch it, but if I'm bored shitless it will be going off, long before the 90 minutes are over, just like last night. Surprise us Carlo and attack !
Andy Crooks
32
Posted 13/04/2021 at 00:27:17
Kieran @ 2, that is a really remarkable post. I suspect, had our home performances this season been overseen by any previous coach, he would have been under intense pressure.
Carlo's record along with his demeanour have afforded him enormous goodwill. Most have been patient and accepting of the fact that he inherited an average squad that would take time to improve.
The win at Anfield certainly topped up the goodwill; the awful luck with injuries has kept most of us patient. But...
As a punter with mixed degrees of success but lots of experience, I know what it is like to always find a reason for defeat and to carry on, confident that the dwindling pile of chips will be replenished, luck will change, and my judgement and faith will be vindicated.
Right now, I am once more writing off another abject, fearful dull, turgid shambles for the same reasons I have moved on from the previous rubbish. I still cling to the notion that it is still too early to lose faith.
Also, I really see no alternative to keeping faith. This has just got to work. The fortunes of any club can change for often indefinable reasons. We just need to be ready for it. A bit of the intensity that Martin Mason mentions could kick it all off on Friday. Let's hope it's not Spurs who have it.
Neil Lawson
33
Posted 14/04/2021 at 08:34:38
An interesting range of contributions. I was tempted to add some thoughts, but decided I couldn't be bothered. Apathy is becoming contagious.
Alan Johnson
34
Posted 14/04/2021 at 08:52:43
Coleman, in his post-match interview: "Brighton are a well-coached team!!! We don't want any players coming in who want to walk around the pitch."
Realizing what he said, he then went on to say: "Carlos is a great manager." – 3 Times.
Carragher picked up on this and asked him how the dressing room was?
Am I reading something into this?
Jerome Shields
35
Posted 14/04/2021 at 08:57:08
Kieran #2
I don't think that Everton played aimless, directionless football. Everton were set up to achieve a 0-0 draw, with the possible bonus of nicking extra points. It was a case of a manager setting up a team making the best use of the players available. On the performance produced, this was the right formation and tactics taking into account player inadequacies.
As for your prediction, it's not beyond the realms of possiblity. It would add to Moyes's latent potential myth and make him more of a media martyr than he already is.
Ian Jones
36
Posted 14/04/2021 at 08:57:36
I didn't even know anything about the new Europa Conference League competition. Maybe we can be the first winners of that one!
Jerome Shields
37
Posted 14/04/2021 at 11:01:02
"The UEFA Europa Conference League (abbreviated as UECL), colloquially referred to as UEFA Conference League, is a planned annual football club competition held by UEFA for eligible European football clubs. Clubs will qualify for the competition based on their performance in their national leagues and cup competitions. It will be the third tier of European club football, after the Champions League and the Europa League. "
A kind of Third Division of a European League. Maybe it might be a good thing. Extra games to bring Everton up to speed. Finch Farm won't like extra work from the Spring onwards.
Neil Lawson
38
Posted 14/04/2021 at 11:27:07
Set aside my apathy for a mo.
Jerome. "we set up for a 0-0".
That really encapsulates where we are. A 0-0 away to Brighton with one shot on target can somehow be judged positively.
Returning now to complete apathy. Does Friday's game conflict with Gogglebox ?
Michael Lynch
39
Posted 14/04/2021 at 12:15:52
I hope they let us into Goodison for the last home match of the season, just so we can boo the fuckers on their "lap of honour". This is by no means the worst Everton squad I can remember, but it is definitely one of the most disappointing, frustrating, and complacent.
Dennis Stevens
40
Posted 14/04/2021 at 12:16:25
Thanks for posting, Neil, but I'm indifferent to your apathy.
Luke Welch
41
Posted 14/04/2021 at 14:04:14
Maybe the problem is simple, Carlo is see the points, and we are seeing the football.
Jerome Shields
42
Posted 14/04/2021 at 16:04:22
Neill#38
Unfortunately thats appears to be the plan, so Everton can progress this season. I do think some of the players are taken the piss. I doubt Ancelotti would want them to play as they did. Maybe there is a dressing room issue ref Alan#34. I agree it is hard to watch.
Jerome Shields
43
Posted 14/04/2021 at 16:04:22
Neill#38
Unfortunately thats appears to be the plan, so Everton can progress this season. I do think some of the players are taken the piss. I doubt Ancelotti would want them to play as they did. Maybe there is a dressing room issue ref Alan#34. I agree it is hard to watch.
Jerome Shields
44
Posted 14/04/2021 at 17:10:24
Jay Harris
45
Posted 14/04/2021 at 19:09:31
There is always a "dressing room" problem when teams are playing badly.
It would be disappointing if there wasn't.
However if there is no reaction then that tells you all you need to know about this group of players.
Rob Dolby
46
Posted 14/04/2021 at 21:25:19
We are all frustrated with how things are going but ffs look at the squad and injuries. Then ask yourself what is our strength and how can we win a game?
It has to be defensive tactics anything other is asking for a pasting with the piss poor midfield that we have.
Can anyone give an example of any great attacking team that gets results with a midfield as poor as ours? It doesn't exist so why all the uproar about how we should be attacking and beating teams when the midfield is dreadful.
Do people want to see us get smashed like Southampton because they attack
but have a shit defence or maybe have a style like Fulham and get relegated?
Momentum is massive in sport and currently we don't have any so don't be expecting a repeat on Friday of the 5-4 cup classic that was served up only a short while ago!
Tony Abrahams
47
Posted 14/04/2021 at 22:03:19
Barry@30, it is funny how we all see things differently, because watching that game last night I was thinking about Jock Stein, thinking all's that was missing was a crowd.
I'm made up your other prediction wasn't correct Barry, because it's great to be wrong sometimes isn't it mate!
Colin Glassar
48
Posted 14/04/2021 at 22:05:49
After watching some of the football played over the last two nights I think it might be a good idea to avoid Europe at all cost, at least for now. We are light years away from those teams.
Roger Helm
49
Posted 14/04/2021 at 22:18:34
My mate supports Norwich and like other yo-yo clubs, his life is a rollercoaster of promotions and relegations.
We, on the other hand, are stuck in a permanent limbo of mid-table mediocrity, never threatened by relegation, never in danger of winning anything. I am not sure which is worse.
With every manager we see the same thing; pedestrian sideways - backwards football, weak and slow players, too many injuries, too much bottling out when we do get in a good position, forever losing to bottom-dwelling teams.
European football my arse.
Kieran Kinsella
50
Posted 14/04/2021 at 22:41:09
Roger49
I remember in 1994 visiting me Celtic supporting cousin and bemoaning our relegation battle. His response was "be thankful, if you're not going to win anything you may as well flirt with danger. The mid table teams like QPR have got nothing to play for." I thought he was foolish at the time, but there is a logic there ASSUMING every relegation battle is ultimately victorious and kick starts something positive!
Barry Rathbone
51
Posted 14/04/2021 at 22:54:54
Tony abrahams 47
You said that with such glee almost as though you didn't understand an Evertonian predicting a fall for the heathen awakes the devil and he rushes to look after his own. But sweet talk them and old nic may slumber on.
An astute person might see the method in my "madness".
Mike Oates
55
Posted 15/04/2021 at 11:04:30
We will never qualify for any European event whilst Ancelotti believes in a defensive formation, made even worse by defending so deep. How the hell can we ever build up from the back or get midfielders running past our forwards to create chances - there is no way at all whilst we play with 5 across the back and 2 defensive central midfield players, 40yds behind the forwards !!
And finally how has a club managed to find itself with a squad so bare that we can never fill a bench, we have 2 goalkeepers, and 4-5 kids constantly on the bench - its a level of management which defies belief. Brands and Ancelotti should be on a warning. Why let Simms, Gordon, Walcott, Tosun, Kean, Kenny, go out on loan when we knew we've recruited players who spend most of their time on a treatment table - Delph, Gomes, Rodriquez, Allan, Mina, and poor unlucky Gbamin.
Europe wont be offered to the club in 8-9th position, because I don't see this team or manager improving over the coming 8 games. We will be lucky to win a couple at best.

Martin Mason
56
Posted 15/04/2021 at 12:03:56
We analyse why we are a sub Euro qualification team and we spray around blame from the hip. Solutions are in short supply apart from the totally ridiculous "It's Carlo's fault, get rid of him". Yet, if you look at what happened during the manager go round that has been Everton post Moyes, the fault is simple to see. When Moyes left we had no players who would have got into a top 5 team and during the manager go round until Carlo was recruited, we never bought any apart from Gueye and we couldn't keep him. Any, like Stones, that we developed we cashed in on rather than retained. We'd struggle to make a side who could stay in the EPL from our buys as none of them really improved on what we had when the manager go round started.
The concept that Carlo has yet had the time to turn the situation round is on another planet as is anybody who thinks that there is any manager in the game who could make a top 5 team out of our squad. The reality is simple. We will improve when we start to recruit players who would get into a top 5 team, it may be that this will never happen unless we can develop some talent ourselves. The risk of buying is so high now. In terms of improvement, we have improved in every respect since Carlo came on board in terms of putting us towards the top of our potential range which is probably 7th with our current squad. There will be no significant improvement until we get rid of the dross that we've accumulated and recruited or develop players of top side quality.

Ian Burns
57
Posted 15/04/2021 at 12:35:04
I'm with Colin (48) - watching those quarter finals over the past two nights was frightening to think of us on that stage with the team we have right now. Spurs tomorrow night is a pointer to where we are at because we are both fighting for 7th and that's about the limit of our ambition for this season.
It's going to be a very interesting summer transfer window because our European position won't bring in the cream, only Carlo's reputation and pulling power might get us one step up the ladder. However I wonder if any decent player will be looking at recent performances on the field and think - "thanks but no thanks".
Tony Abrahams
58
Posted 15/04/2021 at 21:32:51
Barry R, or a person who doesn't mind being wrong, might have just said, thank fuck for that!
Anthony A Hughes
59
Posted 15/04/2021 at 21:42:35
We have a unbalanced squad full of defenders, pedestrian midfielders, one recognised centre forward, some half baked no 10's and one player with some football intelligence in James who can't play two 90 mins in a row.
The whole squad lacks quality pace and balance and yes Carlo has selected some strange teams but the finger needs to be pointed at Brands. Give a man the tools to do the jjob and if he fails then yes have him for it.
---
Add Your Comments
In order to post a comment, you need to be logged in as a registered user of the site.
Or Sign up as a ToffeeWeb Member — it's free, takes just a few minutes and will allow you to post your comments on articles and Talking Points submissions across the site.