Betrayed 14 set for emergency meeting over Super League
Monday, 19 April, 2021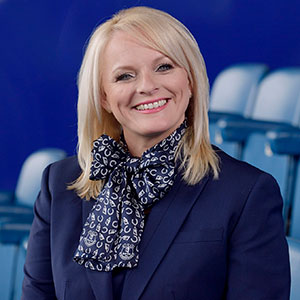 Everton Chief Executive, Professor Denise Barrett-Baxendale
The cohort of Premier League clubs left behind by the decision by six clubs to join the inaugural Super League will convene tomorrow for an emergency meeting to discuss their response to yesterday's bombshell.
Liverpool, the two Manchester clubs, Chelsea, Arsenal and Tottenham were all named among 12 clubs European clubs who intend to found a new competition with very limited access designed to run in tandem with their domestic leagues but at the expense of Uefa's Champions and Europa Leagues.
The announcement, made close to midnight last night, has sent shockwaves through the football world and been met with a tsunami of horror and opposition, particularly in England.
Gary Neville and Jamie Carragher continued to articulate their anger during Sky Sports' coverage of Leeds United's 1-1 draw with Liverpool and both Patrick Bamford and James Milner expressed their disappointment with the proposal after the match.
The 14 Premier League clubs not included in the plans, and who now face the prospect of being practically walled off from the new money league and left with degraded domestic competitions, had remained tight-lipped until this evening, however.
That changed with the Crystal Palace chairman, Steve Parish's interview on Sky during which he expressed incredulity at the cynical nature of The Super League and it's utter disregard for history and sporting merit.
And Fulham owner Shahid Kahn was quoted by his club's official Twitter account as saying: "I join with the entirety of Fulham Football Club, and 13 fellow Premier League clubs, in denouncing the proposed European Super League."
Representatives from all 14 clubs and Premier League Chairman Richard Masters will meet tomorrow, presumably virtually, to discuss their first move and could to agree to demand that the six rebel clubs leave the Premier League at the end of the current season. They would lack one vote to force through anything meaningful, however.
There have been calls for the Premier League and Uefa to kick the cartel, nicknamed the Dirty Dozen, from their respective competitions but the founders of The Super League insist they have the law on their side that would prevent expulsion of its new member clubs.
Meanwhile, FIFPro, the organisation governing players' rights, say they will resist any moves to ban players from representing their countries in major international tournaments should Uefa and Fifa follow through on threats do so.
Everton CEO, Denise Barrett-Baxendale, was vocal in her opposition to Project Big Picture, the initiative launched last year by the same "Judas 6" to consolidate voting power and revenue distribution amongst them, and is expected to take just as tough a line this time around.
As Patrick Boyland writes for The Athletic, Everton "were among the founding fathers of the Premier League and take their position as one of the English game's unofficial guardians seriously. Their main opposition will come behind closed doors in future meetings."
---
Reader Comments (183)
Note: the following content is not moderated or vetted by the site owners at the time of submission. Comments are the responsibility of the poster. Disclaimer
Peter Warren
1
Posted 19/04/2021 at 23:49:01
It's so easy to improve the game with this occurring. Fabulous opportunity for English (& welsh) clubs and remaining European clubs not in Super League. I hope the 14 remaining lead the way.
Simply agree to never ever buy a player or coach or staff from any of the "big 6". Agree and sign a contract that if anybody does then fine of £10 billion to each club.
They can still sell (that would infringe players rights otherwise) but never buy without the fine (meaning won't happen).
That will be fantastic for the game. They should state this in play after summer transfer window. This will result in
1. Exodus of first team players, coaches from "big 6"
2. Longer term who's going to sign for a club for circa 4/5 years knowing if don't make it or doesn't go well that could be end of your career.
3. Pool of players to pick from small for super league meaning diluting product.
4. Super league clubs will become top heavy or simply won't buy and all players meaning same old (as well as same old playing the other 5 a third a season).
5. Players in domestic league will be cheaper as more wealthier clubs won't generally buy them as players won't want to move there owing to risk (unless at end of their careers).
6. As such domestic leagues will thrive and be successful as more teams able to afford top players making leagues really competitive.
As I say a fantastic opportunity
Gavin Johnson
2
Posted 19/04/2021 at 23:51:34
I find it interesting that this league has been branded as just the 'Super League' on their logo. With people surmising that games could be played all over the world, who's to say that the other teams signing up might be a team from the MLS or an Arab team?! It's certainly not a European league at the moment with only three countries signed up.
It's the lesser of two evils for me, but the greedy 6 have to be kicked out! The premier league and champions league will be devalued and won't have the same level of TV money. However, we will actually have a better chance of wining trophies and playing in the CL so with that extra income we might break even??
Brian Wilkinson
3
Posted 19/04/2021 at 23:53:08
12 clubs European clubs who intend to found a new competition designed to run in tandem with their domestic leagues but at the expense of Uefa's Champions and Europa Leagues.
How can the above possibly work, if those six teams are not playing for a European place, it is going to make a mockery of the top 4 Champs league spots, and the Europa league spot.
If as they say, there could be a case for some legal technology to keep them in the premier league, then what is to stop the other 14 teams walking away, and forming a new league, be a very short season for those six teams, in their league.
If they are allowed to compete in the Premier league next season, should this breakaway league go ahead, then the remaining 14 teams need to make a stand and say, either kick them out, or we walk away, or refuse to play them.
They must not get away with being in a breakaway league, and also the premier league.
Brian Wilkinson
4
Posted 19/04/2021 at 23:59:25
Peter, spot on with number 6, covered this myself, the premier league will thrive, a new big 6 will take over, and in time, the premier league will grow stronger, no longer handicapped against the big boys on spending.
Most will be able to compete in the transfer market, and in time, will be a much better league.
Derek Thomas
5
Posted 19/04/2021 at 00:18:12
DBB, would say that, in fact she has to, given our public stance on all things of a touchy feelie mild paternalistic socialism nature. Up to now we've both talked the talk and walked the walk...as far as that small safe suburban street goes.
It makes me laugh how Palace and Fulhams 'small billionaires' are miffed at not being able to play with the bigger kids.
So I don't worry what DBB, says in public, in fact I commend it.
I do worry what Moshiri and ultimately Usmanov, think about it all in private.
Some form of this shite Will be...eventually, adopted.
This is just another version of Kerry Packers Rebel Cricket Tour 45yrs on.
The powers that be will run through the whole gamut of emotion from A to B; rejection, condemn, prohibition, exile, ban, sanctions, etc, etc.
And 45yrs on were all watching T fucking 20 with coloured flashing bails, a pink ball and pop music between overs.
Ah, give over Degsy, in 45 yrs well all be dead and who cares.
Well I care and things move a lot quicker now a days.
Let's wait and see where we are in 45 months.
"Come writers and critics
Who prophesize with your pen
And keep your eyes wide
The chance won't come again
And don't speak too soon
For the wheel's still in spin
And there's no tellin' who
That it's namin'
For the loser now
Will be later to win
For the times they are a-changin' "
Some compromise version(s) of this shite will get adopted.
It's the way of the world...and I don't like it one little bit.
Then down the track some more demands will be made.
Don Alexander
6
Posted 20/04/2021 at 00:22:12
The disintegration of integrity of professional boxing with its many very own "world champions" (not recognised by other of its rival cabals despite what true boxing fans perceive), like darts and snooker for a decade or two, is the question to be posed of the clubs, and their governing bodies, not chosen to be among the twelve traitors.
The response of those clubs and bodies therefore matters, with immediate, punitive effect to the twelve.
For once, grow a pair of balls "football", in favour of the "beautiful game" immediately being supported for the benefit of the fans in the immediate future and beyond.
What's being proposed by the Judas Dozen is the deliberate introduction of Japanese Knotweed to a previously fertile garden.
They are bastards.
Bill Hawker
7
Posted 20/04/2021 at 00:28:36
If this had happened 20 years ago, City and Chelsea would have been nowhere near this. Spurs now? They're having a laugh. No reason at all for Spurs to be included. This is rightly being condemned from all sides. I hope UEFA hammers these clubs as much as they can within their power. And FIFPro can fight players being banned for World Cup or the Euros all they want but they don't have the power to stop it.
Mike Gaynes
8
Posted 20/04/2021 at 00:31:36
FIFPRO can oppose an international ban as "vigorously" (to quote their statement) as they wish, but they are toothless unless players worldwide were to decide to strike
en masse,
and they won't.
FIFA has the power to ban all SL players from the World Cup. It's the FIFA World Cup and they own it.
The Forgotten 14 should call on FIFA to do just that. And FIFPRO would just have to eat it.
The ban would gut the SL of substantial talent as top players unwilling to abandon their World Cup dreams would abandon the SL instead. The parade of transfer demands would look like Paris on Bastille Day.
Come on, 14... make it rain on these bastards tomorrow.
Ian Riley
9
Posted 20/04/2021 at 00:36:06
These super league clubs are staying in their domestic leagues and legally nothing can be done! Well, let's see if the remaining 14 clubs have the balls to vote on creating a new league. Invite Celtic and rangers to join.
Let see what the super league clubs can do legally then? Imagine being a fan of the super league. No fa cup, European cup, no international competitions.
Tomorrow will tell all who rules football in England? My money is on the top 6 staying in the league and super league going ahead.
Please let me be wrong!!!!
Colin Glassar
10
Posted 20/04/2021 at 01:14:23
Oliver Holt (good journo) now saying two English clubs are wavering about joining the Dirty Dozen. Chelsea and Man City?
Tony Byrne
11
Posted 20/04/2021 at 01:20:54
I believe the opportunity of the 14 clubs in the premier league, is too good to miss in kicking these 6 clubs out of our league, I hope it happens as we will have a chance of going forward without the biased shite that always seems to go in the favour of these clubs, VAR always seems to go in the favour of this shower, they can have that as well.
On the other side of the coin, we will miss out on having 2 derbies a season & our usual ruck with the mancs,I'm not particularly arsed about the other 4 as we've shown in the past that we can compete with them, to an extent.
I would genuinely welcome the opportunity to go along with the remaining 13 other clubs in the prem, & include 4 teams from the championship to be promoted each season, an 18 team league, this would also have an effect in improving the chances of lower league teams to progress & be promoted to the upper echelons of the leagues, this sustains healthy competition within our countries leagues, top to bottom.
Well, I can dream.
Mike Gaynes
12
Posted 20/04/2021 at 01:23:24
Ian, if the Prem invites in Celtic and Rangers -- thus sabotaging the Scottish League -- how is the Prem any better than the SL? And how would the Glasgow clubs be any better than the carpetbaggers we are all criticizing now?
Steven Sturm
13
Posted 20/04/2021 at 02:39:03
Well, this will be interesting.
Jim Harrison
14
Posted 20/04/2021 at 02:58:59
Can't agree with offering the two leading Scottish teams a place in the English league. It would gut Scottish football in an instant.
What they currently have is large fan bases as opposed to strong teams anyway. It's been many years since either were serious European competition. Bringing them in would benefit those two clubs immensely. If they wanted in, they would need to join the league in the appropriate way and earn their way up.
And that is the underlying issue with this new competition. To get in you need to be a financially big club rather than qualifying on current merit.
Kick them out of the league after this season (silly to do it now) but don't allow the teams to qualify for the European competitions. Kick them out of next seasons league and promote 6 teams to replace them. Do the same down the leagues.
As for broadcasting, get ahead of the game and get streaming services up and running globally to increase coverage internationally.
Government grants to help keep ticket prices low to ensure match day turnout. Create an excellent product whilst these guys are trying to get their Spectacle up and running.
John Maxwell
15
Posted 20/04/2021 at 03:29:27
People power must prevail, the public get what the public wants... I can't see this happening.. or if it does all hell will break loose.
Kristian Boyce
16
Posted 20/04/2021 at 03:42:25
Colin, if you recall yesterday only 11 clubs were announced originally and 5 were English. I guess City were holding back but I hear they basically joined up in fear of missing out on the money train. Out of the 12 they are the most vulnerable to the threat of global sanctions by FIFA and the other confederations. Their City Group partnership teams could feel a ripple down effect due to the club's involvement. Also, being a state owned entity any FIFA involvement in the country could be under threat.
David Ellis
17
Posted 20/04/2021 at 05:10:32
The idea that we can kick them out of the PL and somehow break even by playing in the CL is a fantasy. If we kick out the Judas 6 then Premier League finances will collapse. TV deals will be cancelled. Income would collapse. Costs would not. The same would also likely happen for the CL without these 12 big clubs absent.
If the remaining 14 PL clubs formed their owned league it would have zero TV appeal abroad. The Judas 6 could bring in 14 muppets and keep the majority of the PL finances trucking along just fine, and they would more than recoup this by the Super League which would be the main game in town. They would play their reserves in the PL (and still comfortably beat everyone else - even us if we stayed in the PL - because of the financial inbalance).
I do think strong actoin needs to be taken. Honestly I would vote for automatic point decuctions for all 6. Not sure if that is possible under current rules. If not then expel the ring leaders - which seem to be the two NW red teams. This would allow the PL to more or less carry on financially as before.
Worst case - if we can't kick them out of the PL then, with FA approval, form our own league without the judas 6. Start with new TV contracts. Reach some accomodation with the players on salary cuts etc and hope that we can re-build the English League brand. Its awful but nothing could be more awful than "competing" in a league where we can only hope to finish 7th and lose to Big Six reserve teams every week it's already almost like that but this will be far far worse.
Darren Hind
18
Posted 20/04/2021 at 05:54:49
John.
I thought you were going full "Going underground" by The Jam for a minute there.
I agree mind
Lyndon Lloyd
19
Posted 20/04/2021 at 06:11:35
David (17), the suggestion in your last paragraph proves that kicking these clubs out isn't fantasy... but it would create chaos and a period of enormous pain and financial upheaval. However, unless the Judas 6 can be brought to heel and not only drop their avaricious demands for more control/money on the domestic front but in Europe as well, ultimately it will be worth it.
Because whatever compromise can be wrought from this situation, they will continue to have a gun to our heads and their demands will resurface. Them adopting Uefa's Champions League reforms is really just a watered-down version of the Super League. Any knockout Euro competition that guarantees teams entry regardless of where they finish in their domestic league makes a mockery of the sporting integrity and spirit of competition. So if the alternative is ripping the whole thing up and resetting without them, football would probably be better off for it.
Again, it might entail some casualties along the way and the re-drafting of player contracts up and down what's left of the PL so that salaries are more in line with the new (much lower) revenue structures but of it meant the top flight and the pyramid below largely survived it would be worth it.

Mal van Schaick
20
Posted 20/04/2021 at 06:32:27
This all comes down to money. Make no mistake.
Sky will not come out of this well if they throw their financial weight behind the Super league project and sponsor prize money and tv rights in the new league or cup competitions.
Those UK premier league teams left out, or not joining, will the have to consider if sky is a fit and proper company with its feet in both camps.
Then the fans can talk with their feet or wallet to thwart skys new business. It's all early days in development, but money will be the driving force of this project for the greedy owners and tv companies.
Dan Nulty
21
Posted 20/04/2021 at 07:11:13
So the reason Spurs and Arsenal involved is purely so these 6 can't be kicked out as they know they are breaking Premier league rules.
Can the remaining 14 even punish the other 6 legally? I'd guess not. Their lawyers will have gone over everything with a fine tooth comb before this announcement.
I'm hoping Man City blink. They out of anyone will be most nervous, the Emirates have a desire to be loved, unlike the Americans who are all about the profits and protecting their investment.

Paul Hewitt
22
Posted 20/04/2021 at 07:17:20
Let's be honest football has been going down him since the Premier League was started, and that was all about money. So now the other 14 Premier League clubs are now moaning because the big 6 want to start there own league. Tough you didn't give a stuff about the other clubs in the lower leagues all them years ago. The Premier League will probably just about survive, but no one will care about it.
Johnny Rainford
23
Posted 20/04/2021 at 07:35:14
Lets be honest... Whats the predictable outcome of the meeting today The Prem Totally fold and throw money at the greedy 6 to persuade them to stay. Then in five years it happens all over again... then in 10 years it happens again. Etc etc.
So the best option if they want to leave is make it easy for them and expel them NOW in order for the game to begin the long recovery process. Lets just get moving.
Peter Foy
24
Posted 20/04/2021 at 07:43:27
For the sake of all of European football, we need to fucking twat Arsenal on Friday and let the world know how ridiculous this is.
Kevin Prytherch
25
Posted 20/04/2021 at 07:48:33
Anyone else think that these teams have shot themselves in the foot a bit by announcing it before they have their full quota of teams signed up? They obviously expected Dortmund, Bayern and Porto to follow suit, but they've all declined. After the public fallout, who else will join?
Who are they going to get now? Rangers? Celtic? You might as well get Blackburn and Middlesbrough. Or will they get Beckhams team involved and go global?
Either way, the principle of playing the best teams regularly quickly becomes a diluted promise when there's only 12 so called top teams playing in the league.
Thomas Richards
26
Posted 20/04/2021 at 07:52:01
Reading reports of discontent amongst players of these six clubs.
Milner was interviewed and said he doesnt want it.
A big chance for the players to redeem themselves here.
Lot if fans have them down as mercenaries, some of them are, how good would it be if they joined forces and said "we wont play in this competition"
Contractually I hope it states they signed to play in the Prem and the cups in existence.
What would the owners reaction be if they did that?
They cant just give them away if they refuse to play
Rob Halligan
27
Posted 20/04/2021 at 08:08:51
Thomas, I don't think a players contract would say what competitions they are eligible to play in, just that they are contracted to represent that club. If no player is happy with the ESL, unfortunately they are stuck with it. The only way out is to either put in a transfer request, which the clubs will refuse instantly, or just run their contract down and then leave. It may eventually come down to these clubs being stuck with "over the hill" 30 somethings. Also, not many players will sign for these clubs if they are against it.
Peter Foy
28
Posted 20/04/2021 at 08:11:08
Thomas, I also wonder about the details of players contracts. Fifa should allow players to play for Fifa teams if they walk away from their contracts. Wouldn't that be wonderful? 100m players walking away from their clubs for free.
Andy Crooks
29
Posted 20/04/2021 at 08:12:21
The fourteen have a major advantage. They know exactly what supporters and politicians think and they have that often underestimated weapon of moral high ground.
Today is the day to do the right thing.
Danny O'Neill
30
Posted 20/04/2021 at 08:17:06
I too read that Man City were in two minds and came off the fence at the 11th hour, landing Super League side.
On today, I'll be pleasantly surprised if we see more than a strongly worded joint statement of condemnation today.
This is just the start of the negotiation process, with lots of poker yet to be played. The new Chairman (Real Madrid President) is already talking like it's a thing and how it can "save football".
I'm happy to be pleasantly surprised but don't think I will be.
Charles Brewer
31
Posted 20/04/2021 at 08:20:08
The best solution would be for UEFA/EPL to limit the damage by making a spectacular example of just one club. The others could then retain their presence and be admitted as repentant sinners.
The club chosen should be one with an extremely bad history. Perhaps one whose supporters had rioted and killed people, and whose supporters continue to attack visiting teams.
The club should be expelled from all competitions, the contracts of its players declared null and void, and it owners banned from any participation in the game. And where its name appears for winning any competition in the past, a blank should be substituted.
Any suggestions?
Mike Gwyer
32
Posted 20/04/2021 at 08:20:51
Mike Gaynes #12.
Its probably easier for yourself sitting on the outside looking in but we are very much sitting bang in the fucking middle of the inside. When/if the ESL happens Everton are fucked and believe me the big 6 want it. Big time.
The premier league has to come up with a model that viewers will want to watch, so Rangers and Celtic, plus say a team from Edinburgh and a more northern Scottish team, say Aberdeen would be a good start. It's no good saying "that will bugger up the scottish football" because whats about to happen here will totally fuck up English football, playing league games becomes totally pointless. The ESL fuckers will very soon go about snapping up all the good players at Villa, West Ham and yes, Everton. Probably why I'm hearing rumours of DCL going to United.
The premier league must come up with a good alternative and pronto.
Andrew Ellams
33
Posted 20/04/2021 at 08:26:55
I keep seeing calls for Rangers and Celtic to join the PL but isn't that just doing the same to the Scottish League as the ESL is doing to our league.
Also, I don't see UEFA allowing that. They tried to kick up a stink in the 90s on Swansea, Cardiff etc. when the Welsh league was formed.
Rob Halligan
34
Posted 20/04/2021 at 08:29:08
Charles, can't possibly think of who you mean, but it sounds a damn good idea to me!
Thomas Richards
35
Posted 20/04/2021 at 08:29:44
Mike G #12
Absolutely spot on.
Dan Nulty
36
Posted 20/04/2021 at 08:34:01
Yeah we can't take Rangers and Celtic, it isn't fair on Scottish football.
We shouldn't give any ground here, this will ruin the Premier league. There will be so many dead rubbers from March onwards with no top 4 and europa league positions to play for. TV money for the other 14 will be dramatically reduced meaning they can't sign good players or compete on wages if the ESL clubs come calling for their academy players. They are essentially turning the rest of the Premier league into feeder clubs.
We can kiss goodbye to our stadium if this comes off. There will be no chance of Mosh or Usmanov recouping their investment.
Rob Halligan
37
Posted 20/04/2021 at 08:40:41
Mike # 32. We are hearing of players who are not in favour of the ESL, and hopefully more and more players will come out in the coming days and say they are totally against it. So should the ESL go ahead, I doubt very much DCL will sign for Man Utd.
Thomas Richards
38
Posted 20/04/2021 at 08:44:39
Bruno Fernandes at Utd has made his case.
What is the scenario if a player of his standing refuses to play?
Rob Halligan
39
Posted 20/04/2021 at 08:48:01
Thomas, this ESL proposal will ultimately fall flat on its face. If players are against it what can the clubs owners do? They will be stuck with a club with no players, or as I said earlier "over the hill" 30 somethings. Player power will ultimately see an end to this farce.
Peter Foy
40
Posted 20/04/2021 at 08:48:41
Regardless of what happens Everton fans will still fill the stadium every week. That alone makes Bramley Moore a no brainer investment. Investment in infrastructure is boring and safe and just how the big finance companies like it.
Rob Dolby
41
Posted 20/04/2021 at 08:52:02
Mike 32. How is Mike Gaynes out of it? He supports the blues as much as anyone else. Just because he is in the states means nothing. The game is global and the EPL the biggest of the lot.
Do you not see that your call for the Scots to join the league is doing more or less the same thing as the big 6 are doing ?
We need leadership from the remaining 14. The pyramid can be used to fill any positions if the big 6 get expelled.
I expect the 14 to cave in and let the 6 and sky claim a compromise has been reached but in reality will grant more power and money to the 6.
Part of me wants the whole revolution.
New super League to run in parallel with the Prem. Euro super uefa, alongside old uefa and new super world FIFA alongside old fifa.
Uefa and FIFA are not squeaky clean before or after this. It's been a closed self serving shop for Blatter and the cronies for years.
The beautiful game is in a right mess and needs sorting out. Do any of the 14 have the leadership to sort out game out?
Danny O'Neill
42
Posted 20/04/2021 at 08:55:11
There has always been talk of Celtic and Rangers and others joining the English league in the same way the Welsh teams do.
There is obviously a mechanism for it given Cardiff, Swansea, Wrexham & Newport do it now. Similarly, Berwick play in the Scottish league despite being technically English.
Also, wasn't there recent talk of a "Celtic" League being formed encompassing Scotland, Wales & Northern Ireland (possibly even the Republic)?? I see Holland and Belgium are also going down that route with their top flight clubs supporting a proposal for a joint 18 team league.
I think if you're going down that path, it has to be a total revamp of British footballing competition and then you are likely considering scrapping individual nation FAs to establish a UK-wide organisation. And then, we have the emotive subject as to why not just compete internationally as the UK?
Anyway, I don't believe that is the way forward and with all due respect, not really convinced of the value added to any new league if it gets to that stage. Lets watch the politics play out and see them come to a compromise that favours the 12 but makes it look like the national leagues have clawed something back.
Brent Stephens
43
Posted 20/04/2021 at 08:58:38
If this drags on through the summer transfer window, it might be that players who might otherwise have signed for one of the big 6 this summer will be reluctant to do so given the uncertainties over what it might mean for their future careers. Increased opportunity for Everton in the transfer window??
Brent Stephens
44
Posted 20/04/2021 at 09:04:19
Brian #3 really interesting thought about the possibility of the remaining 14 clubs in time setting up a new premier league and excluding the greedy 6.
Andrew Ellams
45
Posted 20/04/2021 at 09:06:25
Don't be surprised if the FA and PL wait to follow UEFA's lead on this.
The head of the Danish FA made a statement yesterday that he expects Man City, Chelsea and Real Madrid to be expelled from the Champions League on Friday and I guess that means Man Utd and Arsenal from the Europa League too.
If UEFA do follow through on that then maybe the domestic associations will get a bit braver.
Rob Halligan
46
Posted 20/04/2021 at 09:25:57
Brent, exactly my point at post # 27. Players will simply not want to be part of this farce.
Brent Stephens
47
Posted 20/04/2021 at 09:29:00
Mike Gaynes #12 - well said.
Mike Gwyer #32 - Mike Gaynes is as much on the inside as any other poster / Everton fan.
Paul Burns
48
Posted 20/04/2021 at 09:30:26
Too late.
The horse has bolted.
This has been coming for years and Philip Carter's lack of ambition followed by Bill Kenwright's manipulation of the Everton's reputation to make his disastrous tenure appear glorious has reduced us to nowhere men on the outside.
Big clubs?
Tottenham with their 2 league titles?
Man City and Chelsea, scraping around in the lower divisions until becoming rich with dubious money?
I think not.
Football has finally ate itself, it deserves to die and also kill off the numerous parasites in the media, bias personified, from the landscape.
Foreign owners, foreign managers, foreign coaches, foreign players, foreign fans in the ground.
This circus, as far from the roots of the game as you could possibly get, has finally killed itself.
Good riddance.
Phil (Kelsall) Roberts
49
Posted 20/04/2021 at 09:32:14
Not only players banned from nonESL clubs, same for managers. When will Klippity jump ship being the honest bloke he is?
As for - cant kick them out - we can always not play them! Collective decision by the 14 not to turn up for matches against the 6 and forfeit the game. Make a mockery of the Premier table as the ESL have 84 points from those games and just play 10 games a season plus their ESL games. Papers and BBC then just show the table from 7th downwards.
Certainly will show the strength of feeling.
Think all ESL games need to be played in Coventry as that is where we are sending them.
And Peter #1 - exactly what I have been saying for the last few years whenever ESL is mentioned. And nothing about banning players from World Cup. We just don't select them. Going to play in France stops you being picked for England Rugby so there is a precedent.
Rob Halligan
50
Posted 20/04/2021 at 09:33:08
Everton have now released a statement saying they are saddened and disappointed with the decision of the six clubs to form the ESL.
Kunal Desai
51
Posted 20/04/2021 at 09:33:43
Everton statement just realised condemning this whole plan. 100% spot on in every word
Brian Harrison
52
Posted 20/04/2021 at 09:33:48
I find it odd that JP Morgan are the financiers of this project, 11 years ago they along with other banks worldwide had to be bailed out by various governments for their miss selling of mortgages. Now they were suppose to understand that market and still got into difficulty so I wouldn't have much faith they will get this right. Also if the owners of these 6 clubs believe this is the way forward, so why are they all so reticent to come out and tell their fans why its such a good idea. I see that since this announcement Man Utd shares have rose by 10% which will give the Glaziers even more belief that they are doing the right thing.
As I said yesterday the reason that both Bayern and Dortmund refused to join is because in Germany you have to be a German national to own 50% of their football clubs. So maybe they are also concerned about them leaving would impact on their fellow German clubs. Where here most Premier league clubs are owned by non British nationalists, so they are only interested in protecting their asset and have no concern of what will happen to the English clubs not invited.
I think all these clubs would have been prepared from the backlash from fans but seems like they are prepared to put up with as they see it short term pain for long term gain.
I wonder if they change their mind will it just be forgotten or will the fact they signed a deal have some ramifications. Maybe the Premier league may consider imposing what rugby did to Saracens for breaking a salary cap and imposed a 35 point deduction. This resulted in a team full of england internationals being relegated from the top division, so maybe a similar points deduction would see possibly both Arsenal and Spurs relegated. I think that would be a deterrent for this happening again.
Derek Cowell
53
Posted 20/04/2021 at 09:34:26
If, as I suspect, the EPL cave in to the 'super 6' and they remain in our league can all the other teams just refuse to play them?
Their season could consist of games against each other and just being given 6 points by all the other teams, increased to 20 (league of 26). The league table at the end of the season would show the top 6 having played 10 games but with 100 points with a line underneath and then the rest showing teams having played 38 games with the usual points total. A league within a league. We almost have that now anyway. Otherwise what will be the point of just playing their reserve teams every week while they save their top players for the ESL.
CL and Europa places can be awarded as usual from the top of the 'real' EPL downwards.
Crazy I know but it's a mad situation. It will all be decided by lawyers anyway!
Brian Williams
54
Posted 20/04/2021 at 09:34:41
Just heard the statement in full. Never felt so proud of my club. You should all read it!
Hard hitting and in my eyes taking the lead and encouraging the others to follow!
Brilliant from the club!
Brent Stephens
55
Posted 20/04/2021 at 09:34:55
Everton just released a statement. "Saddened. Disappointed. Tarnishing reputation of the league".
Brent Stephens
56
Posted 20/04/2021 at 09:37:10
Letter from DBB
Dear Brent
I feel it is only right that, as CEO of your football club, I write to you directly following the plans made public over the weekend for a European Super League.
As a proud custodian of Everton, I, along with my fellow board members, understand the responsibility that has been entrusted upon us to maintain the traditions of your Club and of the wider game.
Everton Football Club was a founder member of the Football League and a founder member of the Premier League.
Throughout our history the Club has always strived to move both Everton and the game forward. But we have always done so within the parameters of the pyramid structure which maintains the principles of open competition and sporting merit.
Sadly, the plans that have been made public by 12 clubs from across Europe - and six in our own Premier League - do not maintain those principles.
At this time of national crisis - in the face of a global pandemic and in a defining period for football - clubs should be working together collaboratively with the thoughts of our game and its supporters uppermost in our minds.
Disenfranchising supporters across the game and undermining the very structure of the pyramid that underpins the game we love is, quite simply, wrong.
The response from voices across the game and beyond over the last 48 hours is understandable – and those voices should be listened to.
Rest assured, I, along with my fellow board members, will do everything possible to ensure our position on these proposals is made in the strongest possible terms - and the voice of Evertonians is heard, loud and clear.
It remains our hope that by working collaboratively, football will find the right answer for its future.
NSNO.

Rob Halligan
57
Posted 20/04/2021 at 09:37:34
Everton is saddened and disappointed to see proposals of a breakaway league pushed forward by six clubs.
Six clubs acting entirely in their own interests.
Six clubs tarnishing the reputation of our league and the game.
Six clubs choosing to disrespect every other club with whom they sit around the Premier League table.
Six clubs taking for granted and even betraying the majority of football supporters across our country and beyond.
At this time of national and international crisis - and a defining period for our game - clubs should be working together collaboratively with the ideals of our game and its supporters uppermost.
Instead, these clubs have been secretly conspiring to break away from a football pyramid that has served them so well.
And in that Pyramid Everton salutes EVERY club, be it Leicester City, Accrington Stanley, Gillingham, Lincoln City, Morecambe, Southend United, Notts County and the rest who have, with their very being, enriched the lives of their supporters throughout the game's history. And vice versa.
The self-proclaimed Super Six appear intent on disenfranchising supporters across the game - including their own - by putting the very structure that underpins the game we love under threat.
The backlash is understandable and deserved – and has to be listened to.
This preposterous arrogance is not wanted anywhere in football outside of the clubs that have drafted this plan.
On behalf of everyone associated with Everton, we respectfully ask that the proposals are immediately withdrawn and that the private meetings and subversive practises that have brought our beautiful game to possibly its lowest ever position in terms of trust end now.
Finally we would ask the owners, chairmen, and Board members of the six clubs to remember the privileged position they hold – not only as custodians of their clubs but also custodians of the game. The responsibility they carry should be taken seriously.
We urge them all to consider what they wish their legacy to be.
Everton FC Board of Directors
Adam Fenlon
58
Posted 20/04/2021 at 09:39:50
If nothing else, its nice for us to be well and truly on the right side of history. Hats off to all involved in that statement. Hopefully concrete action to follow.
Derek Cowell
59
Posted 20/04/2021 at 09:41:11
Sorry Phil I was typing my view as you were typing the same thing!
Danny O'Neill
60
Posted 20/04/2021 at 09:41:23
No diplomacy there. Well said Everton.
Brent Stephens
61
Posted 20/04/2021 at 09:43:00
Explainer: the posts from Rob and myself are not exactly the same. It looks as if the Board have put out a statement (see Rob's post); and DBB has written to season ticket holders etc (see my post). Two different but consistent statements.
Colin Glassar
62
Posted 20/04/2021 at 09:46:37
Proud to be a Blue after that. Well done EFC.
Colin Glassar
63
Posted 20/04/2021 at 09:48:21
Thanks Brent, I thought you were both just making them up😉
Steve Brown
64
Posted 20/04/2021 at 09:50:38
Preposterous arrogance. Yep.
Ed Fitzgerald
65
Posted 20/04/2021 at 09:51:49
It's no good being reasonable with people who are being unreasonable with you. The fourteen clubs and the PL need to expel the 6 and then get ready for a legal battle. It may bring some of the clubs to their senses, I have a feeling that Man City may reverse their decision anyway given the furious response of everybody and the fact they don't need the extra revenue.
It's clear that the Spanish and Italian clubs are in dire financial straits and that the American owners and the concomitant financial structures at Man U, Liverpool, Spurs and perhaps Arsenal
that have driven this. (That's not intended to be Anti- American Mike Gaynes!)
As for the RS what can you expect a club that was born out of one man's greed back in 1892 and a club that could now implode under the owners greed. I actually feel a little (a tiny bit) sorry for their fans today.
Rob Halligan
66
Posted 20/04/2021 at 09:51:54
The message from DBB and the statement from the board of directors will no doubt be heard today at the premier league meeting. The premier league MUST listen to what Everton FC say and act accordingly to punish these six clubs. No doubt other clubs views will be heard, but if they are as strong as ours, then these six clubs haven't got a leg to stand on.
Brent Stephens
67
Posted 20/04/2021 at 09:56:35
Rob, good to see we're taking a lead publicly on this. (I blame Bill).
Thomas Richards
68
Posted 20/04/2021 at 09:57:13
That club statement.
If possible that has made me even more proud to be an Evertonian
Ian Pilkington
69
Posted 20/04/2021 at 10:02:01
I complained yesterday that we hadn't heard from the club. The statement from the directors and DBB's message to supporters were well worth the wait, magnificent.
I am very proud of our club.
Brian Harrison
70
Posted 20/04/2021 at 10:02:14
I listened to Gary Neville and Jamie Carragher on Sky and both put forward passionate views on the club owners who had taken this step. I think despite Sky's indignation at the prospect of a Super league, it will be interesting if it does get off the ground will they refuse to bid for the television rights to show these games. Or maybe there is already a deal in place with Amazon or Netflix to show these games, and Sky will be frozen out.
While the action of the 6 is abhorrent I do think that agents and players have contributed to why clubs need to look at added revenue streams. Year on year money paid to agents and players has gone through the roof, and yet the PFA have rejected any type of salary cap. When our own club are paying our players 85% of all our income its unsustainable, and we are also very close to our FFP limits. While I applaud the statement the club put out this morning, I would imagine if this league gets up and running then Everton will be doing all they can to get involved, lets not forget we were one of the prime movers in setting up the present Premier league, so we have form in this.
Danny O'Neill
71
Posted 20/04/2021 at 10:02:50
Just noted another snippet from Perez that I didn't pick up earlier:
"It will not happen, the law protects us," Perez added.
"We will not get into legal issues. It is impossible. The players should remain calm because the threats won't happen".
Seems confident so clearly done their homework. They will have anticipated a reaction, will let the storm blow and then start talking to achieve a compromise. Aggressive tactics to force change in a way they want it done.
Rob Halligan
72
Posted 20/04/2021 at 10:03:20
Everton FC stood by liverpool in their darkest hour after Hillsbrough. The RS are now in effect doing "The Dirty" on Everton. In a way I hope this ESL happens and they are booted out of English football for ever. I don't think this ESL will get off the ground though, but these six clubs needs sanctions brought against them to show that they DO NOT control English football.
John Pickles
73
Posted 20/04/2021 at 10:04:21
Just read the statement, I have never been prouder of my club than now. They could of hidden and waited to see in which way it would go but no they came out (echoing the sentiments of, I sure, the vast majority of their fans)and nailed their colours firmly to the mast.
Well done and thank you.
Christine Foster
74
Posted 20/04/2021 at 10:04:34
Spot on. Battle lines are drawn. We are on the right side of history, I understand too how worrying this is for everyone including Moshiri. But Everton have just announced distance between the greedy owners self interest, This is my Everton. This is why we love them, not to win at any cost, but to do the right thing. It is in the backbone of every scouser, even the fans of the other lot. Well done the board of EFC a rallying cry for the 14.
Dan Nulty
75
Posted 20/04/2021 at 10:05:47
Brian 52, JP Morgan owned a ship that in 2019 was stopped by US feds with 20 tonnes of cocaine in it.
Football has become a place where people are using it as a laundry.
In terms of punishments, you mention Saracens, unfortunately all the other clubs were against them and they were out on their own. The reason why it is 6 English clubs is because if it was any less then they could be punished. You need a majority of 15 to pass anything apparently. Don't be surprised if this has left the 14 completely powerless to stop it. We really need City to back down here, I can't see any of the other 5 doing so with the owners they have.
What I am most surprised about though is Barca and Real in particular because aren't they 100% owned by the fans? Surely they should have had to vote on this?
Colin Glassar
76
Posted 20/04/2021 at 10:07:02
Give the Dirty Dozen until Friday noon to withdraw this disgusting proposal or else.
I don't know exactly what the legal options are ( I know the six traitors are breaking rule L.9) but if they have an army of lawyers behind them I'm sure the other 200+ members of the ECA have enough, collective, financial clout to bury them under a myriad of lawsuits from now until the end of time.
Sorry, but I don't get the defeatism of some on here and other forums. The same old argument from the appeasers ie they'll eventually win, the authorities will collapse, our new stadium is doomed, they'll go it alone whatever we say etc... fucking hell, Neville Chamberlain would be proud. It's a simple fact, we are the majority they aren't. We are right they aren't. We are legion they are a few money grabbing twats. If we stick together, we win!
Stephen Vincent
77
Posted 20/04/2021 at 10:09:29
Farhad talking to Jim White in a bit.
Peter Mills
78
Posted 20/04/2021 at 10:09:31
It's an excellent statement from the club. I suppose it's in everyone's interests (financially) to offer a retreat route for the the Sleazy Six, but I hope collectively today the 14 clubs come out with a statement that if they don't stop their plan immediately they will be ejected from all competitions forthwith.
Rob Halligan
79
Posted 20/04/2021 at 10:10:39
Colin, the stadium will not be doomed.
Colin Glassar
80
Posted 20/04/2021 at 10:13:49
I know Rob. There's no way we can stop the stadium. If we blink now it will never get done. With or without the slimey 6 we need a new home to prosper. BMD MUST be built!!!
Danny O'Neill
81
Posted 20/04/2021 at 10:14:38
Oh, don't take me as being defeatist Colin. Far from it, I'm just making a few observations as I read across the web.
What I think should happen and what I can probably see happening are two different things, that's all. On the latter, I hope I am proven wrong and next week the are no ECL semi finals as only PSG will remain. Also, Everton holding 4th place as it stands in the league.
Let's see though. A lot of politics and holding your nerve to play out over the next few weeks.
Ed Fitzgerald
82
Posted 20/04/2021 at 10:14:51
That's a great statement from the club
Brian Harrison
83
Posted 20/04/2021 at 10:15:30
I think its quite interesting in the timing of this announcement about the new Super league, as we all know in the next few weeks the season ticket renewal forms will be sent out, and with how well the vaccinations have gone then we could all be back in stadiums come the start of next season. So will the fans of the 6 involved give up their season tickets, I think despite the majority of fans of these clubs being against the new league the majority will renew. Which will give another green light to the clubs to push on with this venture.
Ian Burns
84
Posted 20/04/2021 at 10:17:24
Wonderful response from EFC - never been so proud of our club and I have been supporting them since 1959.
Now let's follow these excellent words with action befitting the crime committed by the so called super six - my arse!
Bill Watson
85
Posted 20/04/2021 at 10:20:14
Moshiri is coming on Radio Talk Sport.
Sean Callaghan
86
Posted 20/04/2021 at 10:25:04
Just got the exact same email from Denise...I think she must just have BCC'd me in Brent's email. She didn't even take the time to send me an individual message and then she goes on to talk about not treating fans with respect! Utter hypocrisy of the highest order...People's Club? My arse.
Colin Glassar
87
Posted 20/04/2021 at 10:25:20
Danny, apologies. Maybe defeatist is the wrong word. When this story broke on Sunday I was scared shitless about what this could mean for Everton, the stadium, the future of the game etc..
Yesterday, that worry, concern, angst had turned to anger and rage. Screw the lot of them. I don't know what can be done exactly but I know if we stick together- the 14, reds and Blues, Uefa, ECA, fans all over Europe and the world this can be defeated. We must stay strong and united.
Infantino is to speak later on for FIFA. Now this is a guy who I don't trust but his words, and actions, could be decisive. This is only the beginning.
Grant Rorrison
88
Posted 20/04/2021 at 10:26:14
Isn't this how it's always been in football (and life) I don't understand why people are making a big fuss about this now.
Alan McGuffog
89
Posted 20/04/2021 at 10:28:51
I've absolutely no first hand knowledge of any of this but...BMD is more than just our new stadium it is potentially the catalyst for the regeneration of the much neglected north end.
Should it go belly up because of the greed of our cousins it ought to rest heavy with them.
It won't of course.
Danny O'Neill
90
Posted 20/04/2021 at 10:29:02
No worries Colin and certainly no apolgy necessary. The Chamberlain reference tickled me! Good shout!!
Moshiri saying the clubs belong to their communities. Wants points deduction from the 6 clubs for attacking the heart of the Premier League and not discussing it before.
We have pretty much called them backstabbers without saying it in those words.
Bill Watson
91
Posted 20/04/2021 at 10:30:16
Moshiri calling for a points deduction for the 6
Sean #86 I got the email, too, but it was addressed to William. That had me a bit worried as I was only ever called William when I was in for it!
Paul Hewitt
92
Posted 20/04/2021 at 10:33:29
Bill@91 A points deduction. The club's won't be in the PL next season anyway.
Sean Callaghan
93
Posted 20/04/2021 at 10:34:11
You mean she mis-named you Bill? What a disgrace...I hope you're ok. Stay strong.
Brian Williams
94
Posted 20/04/2021 at 10:37:31
Moshiri asking for points deductions!!
Champions league here we come!!
Colin Glassar
95
Posted 20/04/2021 at 10:38:50
Infantino came out with a half-arsed statement about his disappointment and hope for the future. He's one of the snakes Ceferin was probably referring to.
I missed the Moshiri interview. What exactly did he say?
Brent Stephens
96
Posted 20/04/2021 at 10:39:10
Sky suggesting that cracks are appearing in the solidarity of the greedy 6.

Colin Glassar
97
Posted 20/04/2021 at 10:41:26
The Scum 6 is the new term coined for the Scum 6!
Andy Duff
98
Posted 20/04/2021 at 10:43:45
30 point deduction and a 5 year European ban for them this then resets the UEFA coefficient gives us all a clean slate. For 2024 when the top 4 will no longer get Champions League
Brent Stephens
99
Posted 20/04/2021 at 10:43:52
Rob #72 "Everton FC stood by liverpool in their darkest hour after Hillsbrough. The RS are now in effect doing "The Dirty" on Everton."
Rob, that really does provide perspective on this. What has happened since Hillborough has been a city pulling together, two football clubs from the same city, and all their supporters, united in something bigger than "just football". I know "business is business", but to the extent that Everton can actually be weakened by this development, then it potentially weakens the city. I'm appalled that that other club would be aware of and connive in that.
And Alan #89 adds further perspective to that - if BMD goes tits up because of this, that hurts the city not just Everton.
Ernie Baywood
100
Posted 20/04/2021 at 10:52:08
Big points deductions makes sense. If you kick them out they'll negotiate with the Football League. You don't get rid of them. We'll end up with an even more divided pyramid.
By the way, why are the 14 one vote short? I thought it was a 2/3 majority needed?
Colin Glassar
101
Posted 20/04/2021 at 10:54:18
Just read the Infantino statement in full. It is stronger than initially thought. He basically is telling the Scum 6 they are either in or out when it comes to European competitions. So he's giving Uefa the green light for sanctions.
Sean Callaghan
102
Posted 20/04/2021 at 10:58:01
Not sure what the PL voting regs state, Ernie, but if major decisions can be scuppered by 6 teams voting against maybe this is why Spurs are allowed to tag along?
Brent Stephens
103
Posted 20/04/2021 at 11:00:07
Sean, I think that's EXACTLY why Spurs and Arsenal are included. Useful idiots being used to block any votes against the proposal.
Jay Wood
[BRZ]
104
Posted 20/04/2021 at 11:02:08
Everton's statement is given prominence on the BBC in the story they are running on FIFA's Infantino statement.
Everton Statement Reported on BBC

I expected nothing less from my club. We again took the moral lead when DB-B spoke fiercely and passionately back in October when the same Shameless Six had yet another secretive and self-serving 'Reset' proposal exposed.

The statement further reinforces a point I made on Paul the Esk's thread yesterday. Everton FC is exceedingly well positioned as an institution as diametrically opposed to the greed and avarice of the ESL Dirty Dozen.

Whilst members of the self-appointed 'elite' at the start of the pandemic couldn't lay off their low paid staff quick enough, Everton immediately came out to reassure ALL their staff that they would be retained on full salary.

The much maligned EiTC (by some) has been exemplary in their work in their hard hit community. Indeed, an avowed Red councilor was full of praise for the club on this very point when the LCC met to unanimously approve the clubs BMD and Goodison Legacy projects.

For genuine football fans and sponsors for who ethics and social consciousness matter, Everton is extremely appealing.
Dave Abrahams
105
Posted 20/04/2021 at 11:04:03
Brent (99), well said Brent, let's be absolutely honest here, Liverpool fans are as much against this proposal, by their club and five other greedy clubs, as fans all over the country, Liverpool fans were campaigning all day yesterday outside Anfield and Elland Road with banners proclaiming their disgust at their own club, we support different teams but are are against this " Indecent Proposal"
Hopefully because of the stand taken, all over the place, against those clubs involved they will back down pretty quickly and face the consequences.
Jay Wood
[BRZ]
106
Posted 20/04/2021 at 11:08:00
The pasted link in my post to the BBC article didn't work for some reason. Here it is again. I hope!
Chris Williams
107
Posted 20/04/2021 at 11:20:04
I think it's a 75% majority required in the PL I think so 16 is sufficient to get a result, provided they're unanimous. Already the Palace Chairman is equivocating a bit.
Ernie Baywood
108
Posted 20/04/2021 at 11:23:17
Dave 105 - I'd argue that the supporters of the 'Big 6' are the
most
affected.
We all know that deep down our clubs are businesses, but we cling onto the hope that they still possess a soul.
Liverpool fans found that out over the last few days. They're facing their team being whored out. They may even get franchised out somewhere else in the world. They've not just been been told that their club doesn't care about them; they've been treated with absolute disdain.
I wouldn't wish that on my worst enemy.
I don't speak in emotional terms very often, but if that was Everton, I think it would break my heart.
Craig Walker
109
Posted 20/04/2021 at 11:34:52
Just read the Everton board's statement and seen comments from Moshiri on Talksport reported on The Guardian's website.
I give our club a lot of stick at times but I'm proud of Everton's appreciation of its history, its fanbase and its community.
Everton's response to the pandemic was first class and this statement puts the moneyed-elite to shame.
Well done Blues.
Colin Glassar
110
Posted 20/04/2021 at 11:37:09
Ernie, one of them has promised to switch allegiance (on talksport) to Everton if this super league goes ahead.
The vast majority of the scum 6 fans are disgusted by what their clubs are doing.
Jay Wood
[BRZ]
111
Posted 20/04/2021 at 11:40:21
Nick Bower
112
Posted 20/04/2021 at 11:53:56
This is happening not only because of greed but also fear. The wealth gap of the rich teams to the "poorer" teams has been eroded year by year. Now that both Leicester & West Ham have been able to create teams that threaten the CL monopoly that had been set in stone by the PL, aided and abetted by Sky, there is a clear reason to break away.
Jim Wilson
113
Posted 20/04/2021 at 12:00:40
Kick them out of the PL now.
They will shit themselves and will do anything to get back in.
If they did leave it will make the PL stronger in the long run.
Less corruption and rigged var games.
Their league is nothing more than a 'Kerry Packer' silly league.
Mike Keating
114
Posted 20/04/2021 at 12:01:33
I was pleased to see Everton coming out against the League of Greed in no uncertain terms and accusing the Big Six of destroying the game and disenfranchising the fans and then I read this and feel completely depressed;
https://apple.news/A455iE89JTIGKZ5g_C8mb4w

Martin Berry
115
Posted 20/04/2021 at 12:04:10
Everton not mincing their words and quite rightly so. Other club supporters always mention Everton as their second club and with high esteem, this statement will not be lost on them or any others.
Proud of my club as always and especially today !
Jay Woods [LAT]
116
Posted 20/04/2021 at 12:06:34
Everton's statement, while welcome, is merely the proverbial firmly worded letter of protest. It's the footballing equivalent of "careful, now!"
The 14 clubs have to take action that hurts the 6; refuse to play them, demand their ejection from the league, etc. And UEFA should eject Chelsea, City and Real Madrid from the CL and just award PSG the trophy now.

Mike Keating
117
Posted 20/04/2021 at 12:09:13
#114 update
In case the link to Apple News doesn't work for you here's the direct link to Tom Peck's excellent but depressing article in the Independent;
https://www.independent.co.uk/voices/european-super-league-hate-football-brexit-b1833786.html
My biggest short term concern is the future of the BMD project.
Chris Jones (Burton on Trent)
118
Posted 20/04/2021 at 12:29:49
Like it or not, the Shitty Six have presented Boris Johnson and the Tories with an opportunity to garner widespread goodwill - i.e. were they to step in and offer real support (financial and otherwise) to the game's English pyramid in kicking out the pariahs and re-establishing the game on a more secure and fan-influenced foundation. Let's see what they make of it.

Jay Wood
[BRZ]
119
Posted 20/04/2021 at 12:31:16
Michael Lynch
120
Posted 20/04/2021 at 12:45:07
I wonder which one of the six will be first to talk? I would imagine FSG will be putting together some kind of statement - not to the wider world, but aimed at their core fan-base. Let's face it, nobody is noisier than our red brethren when it comes to outrage and being offended. I would imagine Empire of the Kop are already organising a march from the chippy to the Shankly Gates.
So what will FSG say? Perhaps "we are listening to our fans, they are the most important factor, it is their club, we are mere custodians. But as custodians we are trying to do our best for the club. And with the ESL, we not just ensuring the club's future, we are ensuring the future of the entire game, at grass roots level and beyond. Our commitment to the Premier League is absolute, and we assure our fans that will never change. We want to engage with you, and we want to engage with the football authorities to make this work for everyone."
Following this kind of bollocks, they'll offer a time limit on the founder members being guaranteed a place, probably using co-efficients which will, err, pretty much guarantee them a place. Then they'll offer parachute payments to all the clubs who qualified over the past few years for the CL. Then they'll offer places to the winners of the CL each year, and maybe the runners up too. So that way, the top four in the PL qualify for the CL, and then have the chance one year later to qualify for the ESL.
And everyone will be happy. And the fans will have been fucked over yet again. The end.
Tony Shelby
121
Posted 20/04/2021 at 12:50:58
I still can't get my head around Spurs being involved. Spurs FFS?!
Andrew Ellams
122
Posted 20/04/2021 at 12:59:05
Sounds like Man City and Chelsea are wobbling a bit.
Chris Williams
123
Posted 20/04/2021 at 13:05:27
Andrew,
In an article in the Guardian, it states that, allegedly from a board member of another club, whose club was approached to join this nonsense.
It also says that less than half of the 12 clubs are ' fanatics' about this league. I'm guessing they include Man U, The Shite, Barcelona and Real Madrid, who are all struggling a bit financially, mainly of the combination of COVID and how they are structured with loads of gearing.
Dennis Stevens
124
Posted 20/04/2021 at 13:10:53
Part of me thinks that the game overall might benefit in the long term if this went ahead & then failed. The financial impact on the tricky twelve would be huge, potentially devastating, & that might be good for the health of the game once all the dust had settled. However it would mean a few seasons of great upheaval, especially here in England.
Tbh, it's an odd league really - 3 from Italy, 3 from Spain, 3 from London, 3 from Lancashire! Some clubs will be destined to be regularly propping up the League tables, & with this format there will be 2 Leagues - so twice the amount of "losers". Many others will be regular mid table finishers. I can't imagine that going from being a big fish in a smaller pond to a non-entity amongst the bigger sharks will help build their global brand(s).
Andrew Ellams
125
Posted 20/04/2021 at 13:11:35
Chris, I did read yesterday that Man City were the last to sign up because they had doubts.
It's pretty clear that this whole idea has divebombed as far as potential members goes which is probably why we now have Perez making ridiculous claims about how this is going to save football. He needs to sell something that is floundering before it came properly to life.
Kristian Boyce
126
Posted 20/04/2021 at 13:13:00
It's amazing reading comments on other sites especially from fans of the 6 who were so outraged yesterday at their own club's have now gone on the offensive at Everton's response making fun of us saying we are jealous and would have jumped in if invited.
Danny O'Neill
127
Posted 20/04/2021 at 13:18:19
I wasn't really convinced whether the UK, or any other for that matter, Government could influence this too any great effect. Or there desire to set a precedence and get that involved.
But there are some strongly worded sentences coming out of Downing Street.
"The Prime Minister confirmed the Government will not stand by while a small handful of owners create a closed shop.

"He was clear that no action is off the table and the Government is exploring every possibility, including legislative options, to ensure these proposals are stopped."
Yes, words, but they do carry an air of determination.
Andrew Ellams
128
Posted 20/04/2021 at 13:18:47
Kristian, not the proper ones.
Most of the comments I have seen backing this are from blokes called Jordan who live in the South East and think the FIFA video game and actual football are the same thing.
Robert Tressell
129
Posted 20/04/2021 at 13:19:34
Dennis I completely agree. I also don't think enough has been made of France and Germany's exclusion - presumably because of fan ownership rules. The euro league just positions Spurs and Arsenal and the Milan clubs as whipping boys for the foreseeable. Crap for them. And how refreshing and competitive the big leagues look of a sudden.
Danny O'Neill
130
Posted 20/04/2021 at 13:22:51
Andrew (from your 125 post), that's why I still think this represents an aggressive early Bliztkrieg type tactic to force a discussion on the shaping of the future proposed Champion's League structure, which they (the 12, or most of them) are clearly not happy with.
To go through with something such as this, knowing they could be cut from the leagues and competitions they love and alienating vast swathes of their traditional support, you have to be 100% committed to living with those consequences. If they're not, there will be wavering and an underlying tone of pushing for a deal rather than a break.
Danny O'Neill
131
Posted 20/04/2021 at 13:26:16
Perhaps Robert (129). But if you read the statements from Bayern and Dortmund, there is a lot of genuine sounding sentiment about not even being involved in the discussions or planning.
Bayern do suggest the way to do this is through re-structuring the Champions League.
I said yesterday, if Bayern aren't in, there is negotiation to be done. And if they are ruling themselves out of a closed shop, then the 12 are cutting their nose off to spite their face.
I mean, no Bayern Munich but we've got Tottenham??
Bill Watson
132
Posted 20/04/2021 at 13:27:02
Sean #93
No, Everton have always called me that! lol

Eddie Dunn
133
Posted 20/04/2021 at 13:29:02
Been in hospital for best part of 2 days so haven't read all above (major nosebleed-high blood pressure) not helped by this news!
Let's face it, the clubs are not making enough money because they pay the players and coaches too much.
Even if they get their way and pursue this or use it to dictate the terms of the old competions, the wage demands will contiue to rise along with the revenue.
We were as bad as them as a big 5 member setting -up the PL and now we must try to scupper the dictatorship.
Also talk of the Auld Firm joining the PL is an awful idea, ruining Scottish footy in an instant.
One option is a UK PL, but the FA's would face demands to have a UK team.
Money is the evil.
Andrew Ellams
134
Posted 20/04/2021 at 13:31:18
It wouldn't surprise me Danny, but again this crazy idea of a 36 team Champions League where you only play 10 (randomly selected?) matches is a joke. And the two 'golden tickets' for the teams with the most points who fail to qualify via the normal route is just another step to the super league anyway.
Andy McGuffog
135
Posted 20/04/2021 at 13:42:51
The absence of German clubs is easily addressed. Given the geographical spread of Liverpool's home support, presumably under the franchise model seemingly favoured by the American drivers behind this scheme, LFC could create a new home on an industrial zone next to Frankfurt Airport. It would be handy for flights from Norway, Malaysia and Hong Kong
Danny O'Neill
136
Posted 20/04/2021 at 13:43:37
FT just released an article based on leaked documents:
1. It will resemble the structure of US sports such as NFL & NBA. In addition to the closed shop, there will be spending and wage limits.
2. It will generate upwards of $4bn annually through broadcast rights & sponsorship, twice that of the Champions League.
3. The founding clubs will share 32.5% of the commercial revenues.
4. A further 32.5% gets shared amongst all 20 participants.
5. 20% is allocated on merit / performance.
6. Final 15% on broadcast audience size.
I'm no expert in finance, but looks like the 5 who are invited in get thrown a few quid for making the numbers up whilst the pigs eat from the trough. And how will spending caps / wage limits apply to those teams?
Michael Lynch
137
Posted 20/04/2021 at 13:46:51
The one good thing that should come of it is pressure on UEFA/PL to introduce wage caps. That could transform the game.
Danny O'Neill
138
Posted 20/04/2021 at 13:47:17
I said that earlier and always have on that subject Eddie.
It would require an overhaul of British football, not just as simple as inviting teams into the Premier League. To do so smacks of hypocrisy given the unified sentiment towards this.
Danny O'Neill
139
Posted 20/04/2021 at 13:48:52
I see Zidane gave the subject a massive body swerve. Pep up next.
Jim Wilson
140
Posted 20/04/2021 at 13:50:13
Dennis Steven @124 - you are spot on. If the English cubs involved are thrown out the PL their idea will not work long term. Liverpool know their bread and butter is the PL and will not want to leave.
If they did, their silly league will run out of steam and the so called smaller clubs will be in a far stronger position.
Throw them out now and see what happens.
Bill Gall
141
Posted 20/04/2021 at 13:55:15
There is no way that the 6 teams from the premier league if after joining this super league can be allowed to play in the premier. The people forming this league have definitely not thought out the consequences for this greed driven League. The greedy 6 from the premier league have brought the league into a unattainable position in this action, and must have some form of discipline given to them. The problem in giving out disciplinary action it should not be used against the playing staff as from all accounts they were never involved in any of the discussions to the formation of this league.
Reading up on this breakaway it seems it is headed by clubs who are financially unstable to try to get themselves out of dept.
Football in England has been going on for over 100yrs and I believe once these clubs who wish to form their own league start running into problems, the greedy 6 may find that the grass is not greener on the other side. Any of these 6 wishing to return to England should be informed that they will have to start in the lower divisions if there is a vacancy.

Danny O'Neill
142
Posted 20/04/2021 at 13:58:44
Guardiola is being very cautious with his words, but I sense he isn't comfortable or happy.
Brent Stephens
143
Posted 20/04/2021 at 14:06:33
Danny, Pep seems pretty clear on his opposition to this.
Soren Moyer
144
Posted 20/04/2021 at 14:10:37
How about a heavy deduction of points this season and forcing them to start every new season on 30 minus points as long as they are a part of that league? Its certainly doable.
Steve Brown
145
Posted 20/04/2021 at 14:11:48
'It's not a sport when the relation between effort and reward doesn't exist,' Guardiola said.
'It's not a sport if success is already guaranteed. It's not a sport if it doesn't matter if you lose.
'I want a competition that is as strong as possible. It's not fair if one team fights, fights, fights to be at the top and they don't qualify. This is what I feel.'
Very clear.
Larry O'Hara
146
Posted 20/04/2021 at 14:12:05
For what it's worth this from a Man City friend. No idea if true
>> My sources tell me that Chelsea and City should be out by the end of the day. They were informed only late last week and stupidly jumped on board for fear of being left behind. ESL driven purely in the UK by the US owners of Utd, Liverpool and Arsenal
Michael Lynch
147
Posted 20/04/2021 at 14:12:12
I can see the attraction of a European League with a closed shop, loosely based on the NFL model with salary caps etc. But if there is a demand for it in non-European countries (which the ESL is aimed at, I assume), then why don't the owners start their own "franchises"? Build it from scratch. Of course, they could afford to buy a chunk of the fanciest players, but I don't think that would bother the true football fan.
If Richarlison wanted to go to the Madrid Madrigals to earn more cash and to be able to play against Neymar at the Paris Ponces, off you go mate. Because I don't care who is playing for Everton as long as they're better than Iwobi, particularly if the RS, Man U, Citteh etc are all in the same boat. The PL would be just as watchable without a few superstars, and more watchable if it was more of a level playing field. And the glory hunter international fans of Celebrity Clubs would have what they want - stadia filled with tourists watching all the best players in sparkling uniforms and half time entertainment from Beyonce.
I don't know why Boris doesn't just come onto ToffeeWeb if he wants to know how to sort this shit.
Brent Stephens
148
Posted 20/04/2021 at 14:12:16
Jordan Henderson has called a meeting of all premier league captains
Christy Ring
149
Posted 20/04/2021 at 14:12:44
Just looking back over Klopp's interview last night, he praised his owners, had a go at Neville and Leeds, got high praise from Carraghet? What part was a kick in the teeth to the owners??
Andrew Ellams
150
Posted 20/04/2021 at 14:12:45
This would give the English leagues the chance to reduce the numbers without needing to relegate additional teams.
Three divisions of 22 and 20 in the PL makes more sense.
Christy Ring
151
Posted 20/04/2021 at 14:15:34
Bit of class from Moshiri In his statement, fans come first, that's why we're the people's club in Liverpool
Nick Bower
152
Posted 20/04/2021 at 14:17:05
How many extra titles do we win if "the six" are stripped of their honours ? Anyone worked it out yet? 1963-64 is one of them.

Rob Halligan
153
Posted 20/04/2021 at 14:17:46
Talksport reporting the premier league meeting has just finished, and one un-named CEO has said something along the lines of "you will hear big news today" Have they agreed to boot these six teams out of the premier league?

Danny O'Neill
154
Posted 20/04/2021 at 14:18:30
I didn't watch Brent so I'm sure it came out more in the spoken voice now you say that.
I've been watching the BBC live feed, so just reading the text. I fully get the position he managers are in; they've got to walk a bit of a tight rope right and especially as it does seem they were kept in the dark?
Michael Lynch
155
Posted 20/04/2021 at 14:18:43
It's astonishing that the owners didn't think to sound out the managers or players before announcing this. Did they even float it as a concept to see what the reaction would be? It seems not, judging by the comments so far from Jurgen, Ole, Pep, Milner, etc
Incredibly how people can be so incredibly rich and so incredibly stupid.
Danny O'Neill
156
Posted 20/04/2021 at 14:21:58
I'd go further Andrew. Top flight of 18 teams unpinned by a couple of leagues before you break out regionally. I do believe there are too many teams in our pyramid. I believe in the pyramid but it is saturated. I don't want to distract from the main topic, so that is probably a discussion for elsewhere as I can go off on one about that!!!
Brent Stephens
157
Posted 20/04/2021 at 14:23:42
Yes Danny I think ur right when you say the managers are walking a tightrope in terms of what they can say.
Danny O'Neill
158
Posted 20/04/2021 at 14:25:39
I doubt it would come to that Nick, but we'd also get the one we threw away in 1985-86.
In honesty, I wouldn't be supportive of that however tongue in cheek you and I could be on it. The history and achievements of these clubs need not be taken away because of the decisions of the current owners.
Nick Bower
159
Posted 20/04/2021 at 14:29:09
Well said Danny - I agree mate
Jim Hourigan
160
Posted 20/04/2021 at 14:30:24
After the initial reaction of astonishment, disgust and betrayal, I am left to consider the options from here. Sadly I think punishment will be hard to impose with a lorry load of lawyers just waiting in the wings to also feed from the trough. As they say revenge is a dish best served cold so an alternative strategy, rather than a knee jerk reaction might be required.
Carry on with the PL but with a gentlemans agreement that the 14 clubs use their U23 sides to avoid possible legal threats. Nothing official from the clubs but tacit agreements about how to carry on.
If we can't kick them out of the PL then, going through the correct channels create a new top division, affiliated to The FA, UEFA, etc with a pyramid structure that is by invite only - and guess who is not invited.
Create new Cup competitions with strict new adherence rules that disqualify the 6 by default.
Get UEFA to also create new Cup competitions through genuine and real consultation with clubs in europe, not pandering to the so called big 6.
Sanctions and punishments are a minefield with every tom, dick and harry giving their interpretation of the rules, so avoid it and create something new without them and see how they like being on the outside looking in. Yes, it will be financially difficult without the 6 for some years, but surely that is better than being party to a self serving, greedy monopoly that will be just as financially devastating.
Michael Lynch
161
Posted 20/04/2021 at 14:30:34
PL statement seems to be "Down with this kind of thing"
Andrew Ellams
162
Posted 20/04/2021 at 14:31:36
I did read somewhere that if you removed those 6 teams completely from PL history alone we'd gain something like 8 league titles.
Brent Stephens
163
Posted 20/04/2021 at 14:32:59
Michael yes but they're waiving rule L9 around as a threat apparently.
Geoff Williams
164
Posted 20/04/2021 at 14:35:36
The owners of Utd and Liverpool own the respective brands which are marketable around the world. They are effectively franchises owned by Americans who don't respect history, tradition etc and will happily move the clubs to another city or country if it is financial beneficial to them. This is how they operate in the NFL/AFL.
Brent Stephens
165
Posted 20/04/2021 at 14:35:54
L9 - clubs need prior approval from premier league board during a season before they enter a competition not previously recognised by them and by the FA.
Michael Lynch
166
Posted 20/04/2021 at 14:39:03
Brent - does that need 15 clubs in the PL to approve though?
On a side note, what sort of a club sacks their manager the week before he leads them out in a cup final at Wembley? The kind of club that places more value on getting CL appearance money than winning silverware. Fuck me, I'd take a League Cup win over a fourth place every time. Jose might be a cock, but if I was a Spurs fan I'd be livid about what that sacking says about their club.
Danny O'Neill
167
Posted 20/04/2021 at 14:43:49
And no surprise that it is the owners of Liverpool, Manchester United and Arsenal (also an American - not American bashing by the way), that will adopt the the next most senior positions under Perez.
Brent Stephens
168
Posted 20/04/2021 at 14:47:19
Michael it seems this is the EPL board as opposed to the full membership of 20 clubs.
Chris Williams
169
Posted 20/04/2021 at 14:47:24
Michael
It needs 14 clubs to support it
Michael Lynch
170
Posted 20/04/2021 at 14:52:45
Sorry, just looked at PL rules and it does indeed say two-thirds (14 clubs) to approve rule changes. Just that I'd seen other people suggesting it was three-quarters.
Craig Harrison
171
Posted 20/04/2021 at 15:04:39
I think thats why they invited us and west ham along for project big picture so they would have the votes needed.
One question I have is player contracts, if teams are kicked out of the prem will the contracts be void as the player agreed to sign and play in the prem?

John Boon
172
Posted 20/04/2021 at 15:12:54
This whole thing has become a overly huge topic that has already divided the despicable six from the rest of the British Football. However with US type structural changes there will be some ridiculous possibilities that will allow for even the smallest of teams to rise to the top
EG
1.With both teams moving from Manchester there wiil be a place for an EFL team in Manchester and again based on the NFL model Blackpool can revive their 1950 's years by moving and become Blackpool Uncited.
2. Tranmere can move to Blackburn and stay Tranmere Rovers, but ignite a rivalry with Blackburn Rovers.
3 Wrexham can leave the National League and move to London and become Wrexham Hotspur and rehire Mr M.
4, To give Everton more competion Marine can get in the Prem by becoming Red Shite Athletic. OR
5. The remaining 86 teams will all move to Scotland to join Rangers and Celtic to form one hugely successful Scottish Premier League.
6. The remaining Scottish League will move to Iceland because they need to be even colder.
7.AND all the other European Leagues will move to Saudi because of THE MONEY
8.Finally the Despicable Six will apply to get in the Saudi League because of, what else, THE MONEY.
All problems solved. Apologies to MIKE GAYNES for not including the USA but they could also start up a new league where the "soccer" players could wear football helmets and shoulder pads. I just hope it all works out in the brand new Monty Python World Football Association.

Danny O'Neill
173
Posted 20/04/2021 at 15:21:55
Amazon now distancing themselves from it. That's quite significant considering their business strategy is seemingly based on get involved in everything to achieve world domination.
Andrew Ellams
174
Posted 20/04/2021 at 15:29:49
Bill Shankly's Grandson calling for his Grandfather's statue to be removed from outside Anfield.
Is it me, or do they seem to be getting the brunt of the abuse, at least in the UK.
Oh and Klopp now the bookies favourite to be the next manager out from one of the 6.
Danny O'Neill
175
Posted 20/04/2021 at 15:46:53
Bayern Munich at it again. Just as we have shown today, demonstrating their class and humility.
Mike Gaynes
176
Posted 20/04/2021 at 15:51:37
Michael #155 and #166, what major corporation asks its employees what they think before implementing a strategic change? Players and managers are corporate assets to them, nothing more.
Danny O'Neill
177
Posted 20/04/2021 at 16:01:03
It was interesting how the UEFA Chair singled out the English teams earlier Andrew. Part "shame on you" but part olive branch; "come on guys". As if he knows that is the best opportunity.
The Spanish and Italians are either heavily in debt or jealous of the money the Premier League make and want a piece so they need a few of them on board.
It might be clever counter tactics from UEFA to pull on the heart strings of a few of the English clubs to pull out. Like any chain, you only have to break a link or two for it to stop. The reaction in England plays to that. We may have become a more liberal and understanding society in recent years, but deep down we're still an aggressive bunch who shouldn't be messed with when it comes to being collectively riled!!
Trevor Peers
178
Posted 20/04/2021 at 16:29:59
An Immediate EUFA and FA Wage and Transfer Cap, is the only solution to this problem. It will have to happen at some point, because this is the real reason football is tearing itself apart.
These breakaway ESL clubs are crying they need more and more money the only obvious way to achieve it without breaking away from UEFA and the FA is to have a wage and transfer cap immediately. These clubs are all terrified of player power and thier agents, but a stand must must be taken to bring back some sanity to football, if it is to survive.
Transfer fees, wages and fees to agents are obscene and any money given to these clubs, from bankers J. P. Morgan, will just go straight into the greedy players and agents pockets. Unless this changes football is, and always was destined to spiral out of control and ultimately into oblivion.
The suggestion by Real Madrid that it will benefit smaller clubs is absolutely laughable. The only thing that motivates ESL clubs is greed and it's totally insatiable. The players and agents are mostly to blame for this situation I hope for them the party is finally over.
Michael Lynch
179
Posted 20/04/2021 at 16:56:58
Mike @176 I think, as you've seen from the outcry, that few people in Europe see football clubs as nothing but major corporations. Clearly, as in Germany, some bodies have legislated for this, but there has always been a tacit acceptance of the special nature of football clubs - as evidenced by the email I received from Denise Barrett-Baxendale this morning. She began by describing herself as the custodian of Everton and made it clear that disenfranchising supporters is - in the opinion of the board - wrong.
So, yes, I'm astonished that there was no attempt by anyone at the 12 clubs to gauge the possible reaction to their proposal with the people who are the face of that club.. And, if they are just "major corporations", then it's pretty appalling governance.
Dave Ganley
180
Posted 20/04/2021 at 17:11:02
Michael #179 yes I also received my email this morning off DBB, very classy response I thought. I also am staggered that the so called elite thought so little of their fan base that they just went ahead without gauging reaction. Money grabbing scumbags they are
Brent Stephens
181
Posted 20/04/2021 at 17:32:35
Mike #176 "what major corporation asks its employees what they think before implementing a strategic change? Players and managers are corporate assets to them, nothing more."
We always had a rule of them where I worked, if we were considering major change - if we thought more than 20% of staff would be against the change, then we were very cautious as to whether that change should go ahead (a sort of application of the Pareto principle). I'm surprised these corporations haven't tried to gauge the response. OK, they're fans, not staff - but still a major stakeholder, so the principle arguably still applies?
Dale Self
182
Posted 20/04/2021 at 17:44:23
I think having to inform others would have just accelerated the conclusion that this is about some over-leveraged clubs trying to get some kind of Force Majeure going so they can get a free pass for their profligacy.
Jim Hardin
183
Posted 20/04/2021 at 17:58:18
As an American whose country's sports leagues are vastly different than the entire football pyramid over there, I say that if the clubs want to go why stop them? Just make the re-entry when the new league fails require a restart in League 2 with a $350 million (figure negotiable) buy-in with that money to go to the three leagues below the premiere league, women's football, and youth football development.
Also, why not install a play-off system (top 6 so seeds one and two get a bye or top 8) for the end of season Premiere League Cup (can award regular season title if you wish) so that more teams' games are relevant. Order of finish determines seeding.
If the UEFA Champions "tourney" since that is what it is, still exists then award the Moose Cup, FA Cup, EPL regular season title winner and the EPL Cup winner the four spots and if any are the same then revert to the next team in order of finish as currently occurs.
I think the revised EPL would be more competitive with more teams having a go at winning the regular season title and the EPL Cup. Since right now the focus is on who will finish 3rd or 4th and the misery of which team has failed and is relegated, playoffs would at least give clubs' fans something to root for to win.
---
Add Your Comments
In order to post a comment, you need to be logged in as a registered user of the site.
Or Sign up as a ToffeeWeb Member — it's free, takes just a few minutes and will allow you to post your comments on articles and Talking Points submissions across the site.