Super League falls apart as English clubs withdraw
Tuesday, 20 April, 2021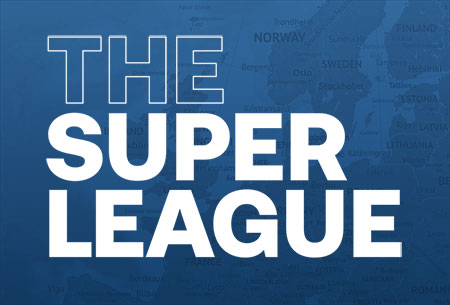 The controversial breakaway Super League all but collapsed this evening as Manchester City formally withdrew and were followed by all five of Chelsea, Arsenal, Liverpool, Manchester United and Tottenham out of a venture that has sparked a vociferous backlash by supporters.
As fans clogged the road at the players' entrance at Stamford Bridge ahead of Chelsea's Premier League match against Brighton this evening to provide a visual emblem of the near-universal disgust at the proposed closed-shop league, the founding of which by 11 other rebel clubs was only made official on Sunday night, the London club became the first to lose its nerve.
The BBC were first to report that Chelsea were preparing the paperwork to withdraw but City were the first to provide official confirmation later in the evening. Sources at Chelsea suggested that the process of extricating themselves from the binding contract they signed would be complicated but it was little surprise that the two clubs are believed to have been the last two of the "Dirty Dozen" to sign up having been given an ultimatum over the weekend were the first to bail.
Shortly before 11pm UK time, the two north London clubs and both United and Liverpool confirmed their intention to walk away from the Super League, with only Arsenal offering an apology in their statement to supporters.
Reports in Spain said that Atletico Madrid were the first of the Spanish clubs to jump ship, with Barcelona issuing a statement that they could not ratify their involvement without a vote by their supporters but as midnight passed there had been no formal withdrawal from either club.
Real Madrid president Florentino Perez cancelled a planned call with El Larguero as he was locked in talks with the other Super League stakeholders to decide how to proceed and as Sky Italia reported that Inter Milan were set to announce that they were dropping their interest in the plan, the Super League itself refused to give in, announcing that the launch would be delayed and reshaped in light of the departure of the Premier League contingent.
A statement read: "Despite the announced departure of the English clubs, forced to take such decisions due to the pressure put on them, we are convinced our proposal is fully aligned with European law and regulations, as was demonstrated today by a court decision to protect the Super League from third party actions.
"Given the current circumstances, we shall reconsider the most appropriate steps to reshape the project, always having in mind our goals of offering fans the best experience possible while enhancing solidarity payments for the entire football community."
Meanwhile, the much-maligned United CEO, Ed Woodward, will resign from his post at Old Trafford at the end of the season but Juventus denied that Juventus president Andrea Agnelli had fallen on his sword.
---
Reader Comments (467)
Note: the following content is not moderated or vetted by the site owners at the time of submission. Comments are the responsibility of the poster. Disclaimer
Colin Glassar
1
Posted 20/04/2021 at 19:32:02
It's dead and buried. The coup has failed so now let's kick the buggers while they're down! This is the gravest assault on the game we've ever seen. They need to pay for this. Let's get 'em!!! UTFT
Thank you Everton for firing the first shot.
Dan Nulty
2
Posted 20/04/2021 at 19:36:00
Have to be punished to prevent this happening again.
Mike Gaynes
3
Posted 20/04/2021 at 19:36:02
I can hear the sound of the air going out of the... ssssssssssssssssssssssssuper league.
Craig Walker
4
Posted 20/04/2021 at 19:40:32
Like cheating husbands going home to their wives, pledging loyalty.
Dave Lynch
5
Posted 20/04/2021 at 19:40:50
I said in a previous thread this was dead in the water.
Now let's see how big the FA's balls are.

Brian Wilkinson
6
Posted 20/04/2021 at 19:42:38
Thank god it was not our neighbours, who pulled out first, would have the second coming of Christ again, all praise for pulling out, instead they will be looked onto as pulling out, due to the others pulling out, put your last tenner on our neighbours coming out smelling of roses.
Steavey Buckley
7
Posted 20/04/2021 at 19:43:35
There is some credence in having super league if it was based on promotion and relegation, there are just too many teams in the premier league and ones who want to join it, where survival is measured as a success. Tonight's eye watering game Chelsea v Brighton is one team doing the attacking and the other team 'parking the bus' a big turn off for those who want to see big teams evenly matched.
Kevin Prytherch
8
Posted 20/04/2021 at 19:43:47
10 point penalty for each club...
Wouldn't affect City and Utd much, but Chelsea, Liverpool and Spurs would be 5, 6 and 9 points behind us respectively and would have very little chance of finishing in the top 4.
Enough to ensure that 4 of them can't reach the champions league this season.
Robert Tressell
9
Posted 20/04/2021 at 19:44:12
Wow, that was quick. To me it smacks of the big (and in the case of Spurs and Arsenal, not so big) traditional teams being terrified of new money (Chelsea, City, PSG), well run giants (Bayern) and, perhaps, clubs like Everton. The 4 clubs I've mentioned can afford to rebuild sides for different reasons - Real and Barca need to rebuild sides that they let decline and they can't afford it.
Unfortunately I'd be surprised if they were punished but I'd love to see points deductions and Leicester winning the title again as a consequence. Everton in the champions league (the real one) would be fine by me too.
Oliver Molloy
10
Posted 20/04/2021 at 19:44:26
Of all of them, Daniel Levy will be absolutely fucking fuming. He is a money grabbing pretentious arsehole.
Spurs in a super league - get a fucking grip Levy !

Michael Boardman
11
Posted 20/04/2021 at 19:44:57
This is so funny no RS or Maure backing away, so for once, it "is their fault". I agree with the above, let's take them for everything. Somebody needs the stones to do something though to deter Super League 2.0
Dale Self
12
Posted 20/04/2021 at 19:46:10
This could be a well-timed break between clubs and their financial masters. The internal tensions getting reported is remarkable. This could be some immature discipline in dealing with these types of issues in the social media age but I think it is something more substantive.
And who are those 14% on YouGov supporting this albatross?
Brian Ronson
13
Posted 20/04/2021 at 19:47:03
We can be unconditionally proud of our football club this evening whose statement earlier today showed great leadership to the rest. Congratulations to the Board!
Ian Horan
14
Posted 20/04/2021 at 19:47:55
Let's hope JP Morgan sue them for breach of contract, sky mentioned they all signed a 23 year agreement. Bankrupt them all
Michael Boardman
15
Posted 20/04/2021 at 19:48:09
Well done Bayern and PSG too - possibly amongst others, for telling them where to shove it too!! Oliver [10] totally agree on Levy.. I thought better of him to be honest. Spurs have won a magnificent 2 league titles though, so can see why they would warrant a place at the top table
Paul Hughes
16
Posted 20/04/2021 at 19:53:47
Heaven rejoices more for one (or two or three) repentant sinners than 20 just men.
So I'm not vindictive about Chelsea or City, as they have seen the error of their ways.
It'll be a different case for the US funded clubs (I include Spurs in that) who I think will cry foul.
Thomas Richards
17
Posted 20/04/2021 at 19:53:51
SSN
liverpool will be making a statement this evening
Bill Watson
18
Posted 20/04/2021 at 19:55:02
If the Prem League is to retain any credibility these clubs need to be punished and by a points reduction not a ludicrous fine of £25k., or so.
Chris Williams
19
Posted 20/04/2021 at 19:55:08
I think the ESL 'Ultras' appear to be Liverpool, Utd, Arsenal, Real and Barcelona.
A few there with heavy gearing and consequent massive.debts. Some struggling with COVID. Those issues remain if all this collapses. Plus all trust gone.
So what next?
In the meantime go and fuck yourselves
Robert Tressell
20
Posted 20/04/2021 at 19:57:36
Thomas Richards @ 17. Liverpool are set to announce that they only joined the super league because Jordan Pickford injured VVD.
Thomas Richards
21
Posted 20/04/2021 at 19:59:17
It has cost them billions Robert
Geoff Lambert
22
Posted 20/04/2021 at 19:59:34
Only 9 left now.
Think they might need to bring in some American and Chinese teams to replace them. Haha
Dale Self
23
Posted 20/04/2021 at 19:59:48
Barca is fading Chris, it's Perez and the gringae at this point.
Pat Kelly
24
Posted 20/04/2021 at 20:00:13
Relax, I've decided not to leave for the Super League Live Forum after all.
John Raftery
25
Posted 20/04/2021 at 20:01:32
As I said yesterday it was dead before arrival. Now all that remains is to punish these clubs with a points deduction for their attempted abuse of power. Also UEFA should scrap the new version of the ECL which was designed to appease the ugly morons.
Brent Stephens
26
Posted 20/04/2021 at 20:01:58
Will be interesting to see the share prices tomorrow.
Ron Sear
27
Posted 20/04/2021 at 20:02:30
Sometime, rarely, you get to sit back and smile smugly while you think to yourself "today was a good day".
Dale Self
28
Posted 20/04/2021 at 20:02:52
Ooh, goodbye Eddie baby!!!
Rob Halligan
29
Posted 20/04/2021 at 20:04:34
Ed Woodward resigned from man utd. Their share price will plummet.
Thomas Richards
30
Posted 20/04/2021 at 20:06:29
FYI
Mike Gaynes made a killing on the shares when they rose by 8.5% yesterday
Charles Brewer
31
Posted 20/04/2021 at 20:06:46
Looking forward to the financial catastrophe at Anfield and Old Trafford. What was done to Rangers after they went into administration? Demotion to the 3rd Division? I would say that Rangers' crimes were far less significant than those of the Redshite (r) and ManU mainly being about tax rather than the destruction of the other teams in the league.
I agree entirely with the sentiments Chris Williams expresses in his final paragraph.
Darren Hind
32
Posted 20/04/2021 at 20:06:50
Take a bow Farhad lad
You weighed them. You measured them and you labeled them
Brent Stephens
33
Posted 20/04/2021 at 20:07:55
Well said, Darren. Proud Evertonians tonight. Now for BMD and greater things. Heads held high.
Thomas Richards
34
Posted 20/04/2021 at 20:08:39
The Peoples Club
Brent Stephens
35
Posted 20/04/2021 at 20:09:38
Agnelli has left Juve!
Rob Halligan
36
Posted 20/04/2021 at 20:09:45
Thomas, the only share Mike Gaynes has is our hatred of man Utd and the RS. He can't stand man utd!!
Charles Brewer
37
Posted 20/04/2021 at 20:09:52
Spot on, Darren! Moshiri has behaved splendidly. He waited until the initial fuss died down and then launched a perfect, devastating attack.
Let's hope he keeps up the onslaught!
Stephen Colby
38
Posted 20/04/2021 at 20:10:52
"We are doing this to save football at this critical moment," Perez told Spanish TV show El Chiringuito de Jugones. Rather reminds me of the US Army officer who said to the AP correspondent, Pater Arnett, after their forces had bombed the village of Ben Tre "We had to destroy the village in order to save it"
This whole ESL mess was caused solely by greedy billionaires who never bothered to understand our working class culture and each one will have to resign, or face ignominy and hatred from fans if they ever attend a game again.
Dale Self
39
Posted 20/04/2021 at 20:10:59
The Force Majeure fairies aren't coming are they? Maybe we should give the bad actors the scarlet letter treatment and force them to wear 'Force Majeure' or 'We're Skint as Fuck' on the front of their shirts for a full season.
Oh and Mike was playing y'all. He was talking it up to get into a solid short position. Look out below!
Neil Copeland
40
Posted 20/04/2021 at 20:11:29
Feels good to support a proper football club
Oliver Molloy
41
Posted 20/04/2021 at 20:11:33
People stepping down ( obviously being told to do so ) at these clubs now.
It's all going pear shaped.
Michael Lynch
42
Posted 20/04/2021 at 20:12:26
This couldn't have worked out better. They've been scalped. Uefa should now withdraw all the changes to the CL and the PL should introduce a salary cap. There'll never be a better chance to put these fuckers in their place and make the game fairer
Pat Kelly
43
Posted 20/04/2021 at 20:13:14
I have a large box of Super League scarves going for half price. Anyone ?
Chris Williams
44
Posted 20/04/2021 at 20:13:43
All going down like Divine Brown!
Stephen Brown
46
Posted 20/04/2021 at 20:15:01
Everton board - take a bow !!!
Dignity and class throughout! We v should all be proud Evertonians tonight!
Ian Horan
47
Posted 20/04/2021 at 20:15:06
Angelli at Juventus has also resigned
Rob Hooton
48
Posted 20/04/2021 at 20:15:25
They should be docked enough points that they cannot make Europe next season and will be in a relegation scrap for the rest of this season - the two things they were trying to avoid ever happening again
Barry Rathbone
49
Posted 20/04/2021 at 20:15:57
Bit annoyed it's collapsing so quickly it's been the most exciting thing in footy for decades.
But kudos to Liverpool and their owners for hilariously enhancing the entertainment by impossibly negating the legacy of winning the PL and CL in just a couple of days - what utter fuckwits.
Here's hoping the authorities really get stuck into them now.
Paul Swan
50
Posted 20/04/2021 at 20:17:18
Whilst I fully welcome this apparent collapse, I don't think this will go away completely. Some of these clubs are so far In debt, this was their only way out. You can bet they will be still be working to the detriment of most football supporters. If anything the past few days have shown how fragile this whole mercenary business has become. Yes we took the moral high ground as a club- and rightly so but we ourselves are embroiled in the ongoing catastrophe where we see upwards of £30M pissed up the wall on talentless players. Football has got to take a long hard look at itself if the entire thing is to be stopped imploding.
John Raftery
51
Posted 20/04/2021 at 20:17:50
Time to take back control from the unelected 'big six' morons!
Oliver Molloy
52
Posted 20/04/2021 at 20:18:25
Tell you what Pat Kelly, I know a guy who lost an awful lot of money when Garth Brooks Croke Park shows were cancelled back in 2014, his garage is full of all sorts of stuff including a serious amount of scarves - when it goes wrong it goes wrong !
Matt Traynor
53
Posted 20/04/2021 at 20:18:26
Sadly, I think we all know, nothing will happen.
Sweet FA.
They'll probably put it down to "populism" amongst "legacy fans".
Shame, this was such an opportunity for a reset. Instead, UEFA will see it as a chance to solidify their position, which means pacifying these parasites.
Good job I can hardly be arsed these days.
Chris Williams
54
Posted 20/04/2021 at 20:20:20
Barry,
I await the news of Red Shite resignations.
Joe McMahon
55
Posted 20/04/2021 at 20:21:17
Oliver @10 you are certainly not wrong about Levy. He really is a lowlife (unfortunately a rich one)
Michael Boardman
56
Posted 20/04/2021 at 20:21:25
Deduct 100 points from all 6 and let then let them battle it out for who goes down. Then start nest season on -10 for going into administration when the well runs dry. See how many overseas fans want to see RS v Peterborough via their PPV
Dale Self
57
Posted 20/04/2021 at 20:23:13
This episode makes it less likely that any of the moribund cartel (trademark:Kevin) can claim to be too big to fail. No bailouts, no redrawn contracts and no executive parachutes. Play out your poorly planned organizational strategies and likely die off, thanks for playing.
Rob Halligan
58
Posted 20/04/2021 at 20:24:15
Interesting that Chelsea and man city were the first two to pull out. Was there a real threat after all, that they could have been expelled from the champions league?
Dennis Stevens
59
Posted 20/04/2021 at 20:24:28
Some serious steps need to be taken to punish the clubs involved, particularly those most responsible. The rules of the Premier League also need to be beefed up to prevent another attempt being made.
Ian Pilkington
60
Posted 20/04/2021 at 20:24:30
Atletico and Barcelona now reported to be out. That leaves 8, perhaps they could play each other 6 times each season.
Bill Hawker
61
Posted 20/04/2021 at 20:24:33
The coup has been defeated and the traitors identified. Looking forward to the punishment being handed out. The owners are the ones that need to suffer more than anyone else.
Pat Kelly
62
Posted 20/04/2021 at 20:24:58
The renegades' Chairmen will take the hit. Euefa and PL won't penalise the Clubs. They'll just be grateful it's over before it started. More likely Euefa will try to keep them sweet.
Matt Traynor
63
Posted 20/04/2021 at 20:25:00
Steavey #7 - there is no argument for a Super League. It is the increased riches of the UEFA competitions that have distorted the Premier League. Other clubs don't have the budget.
The distribution of TV finances in the Prem is amongst the most equitable in Europe, but these same clubs - led by our neighbours, have been trying to change that as well. It's not about them earning more, it's about suppressing challenge.
But it's too late for root and branch reform. The trickle down effects have wrecked the leagues below the Prem as well.
The Pandemic was just the cover these charlatans needed.
Thomas Richards
64
Posted 20/04/2021 at 20:25:26
Good shout Rob
John Raftery
65
Posted 20/04/2021 at 20:25:44
Paul (50) You are right it won't go away unless the rest of the football world seizes this opportunity to take back control of the game from these clubs. They must be made to face the consequences of their overspending.
Soren Moyer
66
Posted 20/04/2021 at 20:25:49
Thank fuck everything is back to normal now! Where were we before the news of ESL broke out? Oh right, THANK GOD WE HAVE A GAME IN HAND!
Surely there should be some sort of punishment for those clubs!!!! They must NOT get away with it that easy!!!
Darren Hind
67
Posted 20/04/2021 at 20:27:56
Proof - If it were needed - That Kopites are unquestionably Gobshites.
Robert Tressell
68
Posted 20/04/2021 at 20:28:20
Paul @60, I agree. Some clubs cannot even pretend to represent their community anymore. They're becoming more of a tourist attraction and a merchandise machine. Once it gets to that sad state, then what's the point of it all? We should all take a leaf out of Bilbao's book and proudly represent something win or lose.
Rob Halligan
70
Posted 20/04/2021 at 20:29:30
Darren, we've known that for years. Didn't need this ESL farce to know that!!
Alex Gray
71
Posted 20/04/2021 at 20:29:49
Watch them all pull out and get no punishment whatsoever.
Johnny Rainford
72
Posted 20/04/2021 at 20:31:01
Ian #14 I heard on sky news this PM that they were all tied in with binding contracts (source perez) so unless there was an exit clause the only way out will be to buy themselves out. Is this why the Mancs and Gobshites haven't bailed yet???
Darren Hind
73
Posted 20/04/2021 at 20:31:39
I know Rob
But its always nice to see confirmation
Liam Mogan
74
Posted 20/04/2021 at 20:32:43
Proud to be an Evertonian these last couple of days. The club played a blinder
Rob Halligan
78
Posted 20/04/2021 at 20:36:34
Didn't these twelve clubs also have all kinds of legal documents drawn up so that no action could be taken against them from the premier league, UEFA or FIFA etc? Holy knows how much that would have cost them? Seems they've pissed a few quid up the wall for nothing!!
Craig Harrison
79
Posted 20/04/2021 at 20:37:43
Johnny #72 I wouldnt want to be the person at JP Morgan to demand a Russian Oligarch and a Sheikh pay a penalty clause.
Bill Watson
80
Posted 20/04/2021 at 20:38:02
The best quote of the whole episode was local fans being referred to, by a spokesperson for the Septic Six, as 'legacy' fans!
Christine Foster
81
Posted 20/04/2021 at 20:39:41
Would have loved to be a fly on the wall at the meeting of the 14 clubs, by the sound of it they are not content with just accepting the 6 back but obviously want to balance keeping them in the fold but making them pay for trashing them. There have to be sanctions at both national and European level otherwise the wounded beast will sulk in the corner. I can see owners bailing as soon as they can, clubs banned from Europe, points deducted and fines. Transfer bans?
The 6 will have nowhere to go no matter how trite they are, they should not be allowed to get away with it.
As a club we did the right thing, now the powers that be have to back the 14..
Ray Robinson
82
Posted 20/04/2021 at 20:39:43
Robert 68, don't Liverpool restrict their season ticket sales to 25,000 to allow more match by match attendance to encourage more infrequent fans to spend fortunes on merchandise in the club shop? The gulf in ethos between them and us is enormous.
Bilbao is a peculiar situation as they represent the autonomous Basque region. A little bit of politics creeping in there.
Neil Copeland
83
Posted 20/04/2021 at 20:39:47
Rob, apparently yes. I find it unbelievable that highly successful business people can get it so wrong. Incredibly poor judgement.
Chris Williams
84
Posted 20/04/2021 at 20:41:50
Neil,
Greed can trump judgement. It happens a lot in business
Dale Self
85
Posted 20/04/2021 at 20:42:44
Rob, they were probably offered that assistance by the financial overlords. This is something not unlike the banks and property asset mgt companies extending terms and assistance to small and midsize property holders in the post 2008 crash. This has the look and smell of some (look the other way Mike) American bankers with their arms up some so-called owners bums.
Paul Birmingham
86
Posted 20/04/2021 at 20:43:09
If the rumours are fact this evening of some of the traitor clubs now changing their stance on the ESL, I still hope the UK government, EU, EPL, FA, UEFA and FIFA, take the appropriate action and ban the traitor clubs and fine them for breech of contract and insubordination, as applies etc in the respective leagues and competitions, and deduct 50 points from their league totals this season.
The counter measures to these clubs, needs to be very clear and decisive. No mercy to these traitor clubs, regardless if they do change their stance on this circus venture.
This can't be allowed to happen again.
Perez after seeing his interview on the news this morning clearly has other objectives, get rich quick, screw and forget the rest of football.
Interesting to see the feedback from the EPL captains meeting tomorrow, being chaired by Henderson.
I sense some thing across the park, is gonna happen and perhaps across all the traitor clubs, there will be a players revolt.
Everton has shown class, integrity, humility and the respect of a proper football club.
Well done Everton.
Andy Duff
87
Posted 20/04/2021 at 20:43:21
I'm convinced this was all a big plan that Uefa cooked up with them. The changes they just forced through are unacceptable and mean in 2024 top 4 will not get you Champions League.
Instead of outcry they pushed it through in the Monday when everyone was moaning about the super league.
Not a single news outlet has mentioned this and they won't.

Instead it's quite how lucky we are to have the Champions league again even with these essentially closed shop new rules.
There needs to be a European ban or wiping of their coefficient, this won't happen.
The clubs and Uefa got exactly what they wanted all along
Johnny Rainford
88
Posted 20/04/2021 at 20:44:48
So what we saying Craig does withdrawal have the potential to bankrupt them... Them already being in the shit...?
Maybe theyre waiting for the League to fail so that the contract is effectively frustrated and they get out that way like the sniveling gobshites they are.
Liam Mogan
89
Posted 20/04/2021 at 20:47:57
Football has forgotten itself imo. Happened a long time ago. Premier league, expanded champions league all part of where we are today. I actually don't care that much about winning or losing, I just love going to Goodison with my family. Its what we have always done. The rest is capitalism and marketing. Not interested
Tony Everan
90
Posted 20/04/2021 at 20:49:05
Proud of our club today and more proud to be an Evertonian than ever.
The "Greedy Six" have tarnished their brands long term.
The other clubs in the league should forever use this to their advantage. Any neutral now will have the choice of supporting a real football club or an anticompetitive franchise wannabe. We should never let them live it down.
I do like the idea that Michael has @56., deduct 100 points from them all and let the greedy 6 fight it out for relegation.
Neil Copeland
91
Posted 20/04/2021 at 20:50:59
Chris, yes I get that and agree, it's the number of them that has me open mouthed,
Dale Self
92
Posted 20/04/2021 at 20:51:20
The septic six is kind of catchy, credit to Bill there.
Jay Wood
[BRZ]
93
Posted 20/04/2021 at 20:53:05
Hah! Just back in from getting my 2nd CV-19 jab.
What delicious uplifting news. That didn't take long. Folding like a house of cards now.
It strikes me that a number of them stacked their whole stake on the roulette wheel zero and lost and are now running from the casino as if it were on fire.
Further resignations by the suits who endorsed this to follow I fancy, leaving many of this forever-tainted 'Dirty Dozen' in a potentially very precarious position.
The respective national, continental and world federations still need to punish them for their Machiavellian deceit. An insincere 'sorry' isn't enough.
Neil Lawson
94
Posted 20/04/2021 at 20:53:40
Probably the first time I have read in full all the comments on a particular thread. Thank you everyone. Really enjoyable.
Especially happy too, that our club deservedly emerges with such universal praise from so many sources.
Finish the week on a real high and stuff the Arse on Friday.
Rob Halligan
95
Posted 20/04/2021 at 20:54:08
Tony # 90. Any points deduction would be reduced on appeal from 100 to about 10, and then suspended for two years, with a warning, "Don't do it again"!!
Hit the bastards hard and show them that they cannot rule English and European football.
Dale Self
96
Posted 20/04/2021 at 20:56:30
Not like the live forum is it Neil? This has been a good and educational interchange and all as we observed the fantastic leadership from our club. A good day in football it was.
Barry Rathbone
97
Posted 20/04/2021 at 20:57:24
I can't get over the idea extremely wealthy and successful business people thought a European league which threatens domestic leagues would be a goer in any way shape or form. This lunacy has been hinted at for years and every man and his dog has predicted uproar.
The danger of echo chamber rationale and the hubris it provokes in full effect with these arrogant blockheads.
If you want to make a good decision ask opinion of people who are against your notion THEN (AND ONLY THEN) make a decision
Tony Shelby
98
Posted 20/04/2021 at 20:58:39
Take 10 points each off City and Chelsea. They're twats but they weren't the ringleaders and have folded pretty quickly.
As for the RS, Spurs, Utd and Arsenal - deduct 10 points plus ban them from Europe next three seasons. That might not be much of a punishment for Spurs and Arsenal but it'll kick the other two fuckers where it hurts!
Liam Mogan
99
Posted 20/04/2021 at 21:00:28
Bilbao has had a few mentions tonight. For those of you that have never been, when we are allowed, get yourself over there. A great football team and an even greater city. A truly magnificent place both humble and proud. If it was good enough for Howard then it's good enough for me.
Ian Riley
100
Posted 20/04/2021 at 21:03:19
Think the bigger picture is super league clubs can't have it their own way. Expelled from their domestic leagues, banned from domestic, european competitions, and international football was a possibility. Furthermore, the impact on local communities. Perhaps the fans have won this battle. This could have devided cities and families.
Owners are not to blame! Top level football is very, very expensive. Owners are business people trying to make their business better and more successful. Us the fans must take some responsibility. More and more comes at a price. The naivety of owners is not understanding the culture of football and what fans want. This could be all over by tomorrow?
Justin Doone
101
Posted 20/04/2021 at 21:04:14
No, ney, never..
The clubs involved will have to get some good legal advice but in the end this whole debacle will soon be forgotten.
I'd like to see a simple 2 season ban from European competition but that won't happen.
At best I can see suspended fines and threats.
..carry on.
If we want European football we will have to earn it the hard way.
Tony Everan
102
Posted 20/04/2021 at 21:05:35
Everton got banned from Europe and we did nothing wrong. If these clubs get away without a lengthy European ban it will be a grave injustice.
They should be heavily fined £100m each and the money distributed to the lower leagues, deducted 50 points and banned from Europe for 3 years.
Paul Birmingham
103
Posted 20/04/2021 at 21:06:07
Rob, let's hope the charges that have been proven will mean the maximum punishment for the football equivalent of high treason, treachery, insubordination, breech of contract, rules as applicable to their FAs, UEFA, FIFA, etc and the dirty dozen to oblivion.
They can't get off with a slap on the wrist they must be be made accountable and their clubs fined the equivalent of what they were going to take away from the EPL. And the other tournaments.
No mercy and total condemnation to the traitor clubs.
The RS, and the other traitor clubs, have done the best PR stunt and have shown the world what they really are and what they constitute.
Players revolt next at the traitor clubs, ban them all from European competitions for 15 years, and relegate them all and fine them to the sky.
Craztv days in world football.
"Whats Our Name?"

John Skelly
104
Posted 20/04/2021 at 21:09:47
Brilliant in any failed coup the protagonists are always prosecuted,
Roll on points deductions for the so called band of six 😂
Will Mabon
105
Posted 20/04/2021 at 21:10:04
Copied this comment posted on the BBC Sport site. It's actually quite indicative of how things evolve with ultra "Efficiency" - across
all
walks of life:


I for one can't wait for the European Super League. Give us more chance to watch exciting games between the "big six" like these thrillers from this season:

Man City 1 Arsenal 0
Man U 0 Chelsea 0
Man U 0 Arsenal 1
Chelsea 0 Tottenham 0
Man U 0 Man City 0
Liverpool 0 Man U 0
Arsenal 0 Man U 0
Tottenham 0 Chelsea 1
Arsenal 0 Man City 1
Chelsea 0 Man U 0
Liverpool 0 Chelsea 1
Brent Stephens
106
Posted 20/04/2021 at 21:11:09
Jay #93 some of those suits have already resigned.
Christy Ring
107
Posted 20/04/2021 at 21:11:44
Darren #32 Spot on, Moshiri dignified and showed total respect to our fans and the City. Liverpool didn't learn from putting there lowest earners on forlough, now they've really scraped the bottom of the barrel. Will there be any repercussions against the 6 clubs, deduction of points at the very least, the 14 clubs should insist on it, but I believe the FA and Premiership haven't the bottle.
paul davies
108
Posted 20/04/2021 at 21:12:10
Excuse my ignorance but having signed up to the ESL (23 year contract ?) Is it as simple as saying I've changed my mind and walking away or are they tied into the contract?
Trevor Peers
109
Posted 20/04/2021 at 21:14:49
It's the owners of these clubs who should be personally punished now, with €million dollar fines and sanctions, they were the orchestrators of this madness.
They should be forced out of English football especially the yanks who are an abomination and need iradicating from our game.
Peter Mills
110
Posted 20/04/2021 at 21:15:56
I'm disappointed this has collapsed so quickly. I await mea culpas all round, "we misjudged the mood".
The rs players and manager will be all over it, "As soon as we heard about it we got Hendo and Milner to speak to the gaffer who told John Henry "no way". We've saved football".
Mike Keating
111
Posted 20/04/2021 at 21:18:01
Andy @ 87
"I'm convinced this was all a big plan that Uefa cooked up with them. The changes they just forced through are unacceptable and mean in 2024 top 4 will not get you Champions League.
Instead of outcry they pushed it through in the Monday when everyone was moaning about the super league.
Not a single news outlet has mentioned this and they won't"
I hope you're wrong but have a horrible feeling you might be right. Fans euphoric that the Scum 6 never got their way find, when the dust settles, that they more or less have. Let's see if UEFA dish out any punishment.
Johnny Rainford
112
Posted 20/04/2021 at 21:19:35
Paul #108... See #72 mate... 😉🤣👍
Andy Finigan
113
Posted 20/04/2021 at 21:22:23
I can't stop reading these posts and grinning like a Cheshire cat. Paul 103 you are a hard master.
Colin Glassar
114
Posted 20/04/2021 at 21:22:47
United waited until the NYSE closed to announce the resignation of Ed Woodward. What a bunch of shithouses!!
Kevin Molloy
115
Posted 20/04/2021 at 21:24:50
an appropriate punishment is none of the six are in the CL next season.
paul davies
116
Posted 20/04/2021 at 21:25:42
Johnny 112. Thanks mate. Didn't have my readers on !
Dave Abrahams
117
Posted 20/04/2021 at 21:25:54
Justin (101), just let's see what the punishment, if any, is for the owners of these clubs, they are the guilty ones who tried to take control of European and more importantly, for us, the English premier league for pure greed, a unique situation, maybe a punishment to fit the attempted robbery of billions of pounds, year after year. The Great Train Robbers got thirty years each for robbing £3M!!
Jay Wood
[BRZ]
118
Posted 20/04/2021 at 21:28:37
Paul @ 108. I ask myself the same question.
Just yesterday we were told the 'Dirty Dozen' had signed in for 23 years and there were penalty clauses of BILLIONS if they now changed their minds and walked away.
Or...was that just one more bluff..?
Johnny Rainford
119
Posted 20/04/2021 at 21:29:36
Paul 👍👍👍 however still tbc by the looks of things mate. I hope it bankrupts them... Theyre practically there already mate.
Liam Mogan
120
Posted 20/04/2021 at 21:30:05
It's the marketing department at mordor I really feel for. What are they going to do now with their new slogan 'This Means More (Money)'?
Mike Doyle
121
Posted 20/04/2021 at 21:30:18
Peter Mills #110] I chuckled when I first read your comment. On reading it again it wouldn't surprise me if you are proved correct.
Michael Lynch
122
Posted 20/04/2021 at 21:32:46
Our red brethren are already heading for the moral high ground on social media. Their players wait until it's all over before saying they don't like it, but that is enough for the RS to act like they were the ones to bring the ESL down, rather than the instigators of it.
No shame but what's new?
Andy Crooks
123
Posted 20/04/2021 at 21:33:40
Pete, sadly I think you are right. Liverpool will spin this and their supporters will take credit for saving the day.
I also predict Gary Neville will swiftly reposition himself. If any one recalls Winston Churchill's ( grandson of the war leader) actions and speeches during the destruction of the mining industry in the 1990s you will see it being replayed by Neville.
The next few days will be hard to stomach because they are going to get away with it. The morally bereft making up with the even more morally bereft. We needed this to run and run, to get it done for ever. Next time they will be better prepared.
Neil Copeland
124
Posted 20/04/2021 at 21:36:40
The RS will need a new anthem; "Money makes the world go around" or "Money, money, money" would seem appropriate.
Michael Boardman
125
Posted 20/04/2021 at 21:42:25
Would this be the same RS fans who said out with the Yanks, to be replaced by, erm...... Yanks and of course they value their supporters, not like they're renaming them the Liverpool Red Socks or anything
Mike Doyle
126
Posted 20/04/2021 at 21:43:09
Neil #124] The RS will need to find a new timekeeping sponsor as Sky Sprts reporting Tribus (no, never heard of them either) appear to have terminated their agreement.
Liam Mogan
127
Posted 20/04/2021 at 21:44:27
We are not them. For this I am eternally grateful
Danny O'Neill
128
Posted 20/04/2021 at 21:44:37
Well.
Credit to the stand taken. Over the past few days I suspected this would be a stand off and means of negating a compromise. That may still be the case but I am glad if proven wrong that the elite may have been forced to step down from their pedestal.
I confess to being scarred from years of them getting their own way and I thought they would wriggle something through again. I never mind being proven wrong when it is right.
If this ends up going the way it seems to be, then credit to our club. Credit to our Chairman. We came out first this morning with an uncompromising shot across the bows. We led the way in English football with grace, passion and class. My Everton; our Everton. Despite the frustration and the pain of the past decades, I'm genuinely glad we never became them. Our future is in front of us.
These charlatans have lost face and value now. The hopeful reset, led by Everton having finally stood up to them, backed by the supporters (of all clubs) and even the government.
Neil Copeland
129
Posted 20/04/2021 at 21:45:32
Mike#126, just seen that also. I had never heard of them either but apparently they are a city based watchmakers of reds fans.
Paul Birmingham
130
Posted 20/04/2021 at 21:47:24
The dirty dozen, must be punished appropriately and they must pay the penalties for taking the game into their own hands.
The traitor clubs must also have no future rights to be part of any of their countries, FAs, UEFA, FIFA, organisations ambassadorial or charity roles.
They can't be trusted, dirty cantankerous scum bags.
The penalties must be drawn up and systematic and contractual.
They must be punished and the right examples made of them all.
They are all a disgrace to the game.
But let's see what happens.
John Skelly
131
Posted 20/04/2021 at 21:48:12
I am sorry this didn't go on for a few more days I personally was enjoying the circus
The Everton board proved Thier worth with dignity and a duty to us supporters, but saying that it could still be a uefa ruse😜.
David Pearl
132
Posted 20/04/2021 at 21:54:10
Well, what a disapointment. They will all back out, get no points deduction, no ban, no donkey. And slink back like nothing ever happenned. I only hope that the contracts are binding and they are hit hard in the wallet, at least.
Will Mabon
133
Posted 20/04/2021 at 21:54:50
Looks like it's all over - for now. Will be interesting when the biggest global players step it up, and they will. These latest unsavoury manoeuvrings may have provided some level of hedge against this down the road, if only for those clubs that were intending to compose this new league.
Football has much turmoil to come.
Colin Glassar
134
Posted 20/04/2021 at 21:56:23
The dirty dozen have lost face. Lost credibility. Lost prestige. Lost any connection with their fan base. Now they must lose their shirts.
Danny O'Neill
135
Posted 20/04/2021 at 22:00:02
Have to say, respect to the Germans. Totally blanked this. Even though they have arguably the largest club in world football right now who showed total disrespect and consistent disregard for this and have only backed out when they realised the backlash they probably could have seen coming. Unlike our "elite" clubs who couldn't help themselves.
I would like to call distinction between owners and club / fans. I think that's important to recognise.
Jamie Crowley
136
Posted 20/04/2021 at 22:04:48
If the end-game of this nonsense is that supreme douche Florefucko Perez resigns, great.
It's time for the EPL members to take a leaf out of the American NFL playbook. The NFL makes it very, very clear that individual teams are part of a LEAGUE collective. They have stated vociferously in the past to its members that the LEAGUE is what is important.
The sustainability, the success, and the product are the league. Not the individual teams.
As the late, great, last-good-liberal in the USA John F. Kennedy once said:
Ask not what your league can do for you. Ask what you can do for your league.
Greedy bastards still need punishment. If they get off without discipline, they'll just try this shit again in the future. When you have the bully on the ropes, you knock him the fuck out. You have to teach that lesson not to mess.
Jamie Crowley
137
Posted 20/04/2021 at 22:06:24
John Skelly @ 131 -
Great point about Everton. Fantastic, bird-chest proud response by Moshri for me.
Our Club has its head screwed on straight.
Proud.
Colin Glassar
138
Posted 20/04/2021 at 22:07:32
ESL dead. Chauvin guilty. Great day.
David Pearl
139
Posted 20/04/2021 at 22:07:38
Danny, American owners cant understand. They can pick up the teams they own and move them to another city. I once lived in Winnipeg and the Jets (ice hockey) were moved to Phoenix with just a few months notice. Our football teams belong to the fans, the community and we can't be bought. I get why they tried it. The likes of Barca and Real can wipe out the losses from covid in the stroke of a pen.
Robert Tressell
140
Posted 20/04/2021 at 22:08:00
Danny @135. I think it's respect to German club structures. They're all 51% fan owned aren't they? Or something like that. Someone can probably clarify
Brent Stephens
141
Posted 20/04/2021 at 22:08:29
Colin, amen to that.
John Skelly
142
Posted 20/04/2021 at 22:08:58
And also if Liverpool, arsenal, man.u plus spurs ? Don't issue a full apology for their greed we should never look at them again in any form of respect,
At least city and Chelsea have seen the light,or was it usimoves influence?
Brian Williams
143
Posted 20/04/2021 at 22:09:48
This was such a stupid move, destined to failure from the get go.
Which makes me suspicious that there's a lot more to it than meets the eye.
Dale Self
144
Posted 20/04/2021 at 22:09:59
I get the angle Jamie but the last thing we need from the EPL is to get more ideas from the NFL or JPM. Just to make the point, when the league let Modell split for Baltimore that was protecting a league of financial gentlemen not some league of teams in some wonderland of sport.
Dale Self
145
Posted 20/04/2021 at 22:10:33
Well spotted Colin. It seems to have been a good day.
Brent Stephens
146
Posted 20/04/2021 at 22:10:50
Colin, off-topic, I know. But poignant to see the man taken out in handcuffs.
Colin Glassar
147
Posted 20/04/2021 at 22:12:24
It was off topic, Brent but justice has been served.
Tony Hill
148
Posted 20/04/2021 at 22:12:57
Quite right, Will @133, the old models don't work.
John Maxwell
149
Posted 20/04/2021 at 22:13:34
Not sure of the legal side and what can actually lawfully be done to penalise these clubs if anything ?
I expect they will get a 12 point deduction, possibly a suspended one which on appeal will be wiped away after their lawyers get involved.
They will still have to deal with the backlash of supporters, even their own.
Roger Helm
150
Posted 20/04/2021 at 22:15:05
I predicted they would bottle, I'm just disappointed the saga didn't drag on for longer - it would have been great to see them twisting in the wind while the football world chucked rotten tomatoes at them.
I can't honestly see the FA or the PL dishing out any meaningful punishment even though they signed contracts undermining the governing bodies. I just hope they get a big kick in the wallets for breach of contract.
I still can't stop laughing at the thought of Spurs as a "big club".
Jamie Crowley
151
Posted 20/04/2021 at 22:15:23
Chauvin guilty. Ta. Well spotted Colin and I'm impressed a Brit saw this Minnesota based story so quickly.
File under "you can't do that" and send the dude to jail forever.
"Protect and Serve"
Brent Stephens
152
Posted 20/04/2021 at 22:16:28
Jamie, I watched much of the prosecution case and witnesses. Mightily impressive.
Jamie Crowley
153
Posted 20/04/2021 at 22:16:50
Roger -
Arsenal and Spurs - two teams in decline and wavering mid-table invited to the big dance.
What metric were they using? Probably the "greed" metric but there you go.
Jamie Crowley
154
Posted 20/04/2021 at 22:18:01
Brent -
The Defense Team it must be said I thought were absolutely brilliant as well.
A trial worthy of the word "lawyer" in an honest moment. Even if that sentence makes me puke.
Trevor Powell
155
Posted 20/04/2021 at 22:18:13
Besides the gormless English teams who are in reasonably good financial health, the same can not be the said for the the Spanish or Italian sides.
The Premier league is very attractive to broadcasters with its competitive style and drama. The fact that a rlegation threatened team, managed by a dinosaur can go away and slaughter a potential ESL team shows why we enjoy it so much by paying to attend and watch on TV.
In Spain, competition is token apart from the big two and possibly one from a group. RM, Barca are in serious financial straits and seemingly unable to regain their resources without a massive deal from any source. La Liga is just not a sellable product compared to the PL.
Italian football is often too defensive and very much a turn off to the global TV market and has been suffering attendance decline well before Covid-19. Several years ago Serie A demanded a half-billion cash injection from the Italian Government to make them more competitive in European Competitions. Juvenuts are heavily in debt as well!
So it maybe that Spansh/Italian motivation is for survival cash and the Anglo/American is just sheer greed!
A message must be sent to these clubs eg a five year ban from the UEFA club competions.
They need to be put back in the real world and sit on the naughty step and think about what they have done!
Robert Williams
156
Posted 20/04/2021 at 22:19:24
Whats that I saw re Champions League welcoming City back into the fold!!
Danny O'Neill
157
Posted 20/04/2021 at 22:19:59
The 50+1 rule is an informal term used to refer to a clause in the regulations of the Deutsche Fußball-Liga (German Football League). The clause states that, in order to obtain a license to compete in the Bundesliga, a club must hold a majority of its own voting rights. The rule is designed to ensure that the club's members retain overall control, by way of owning 50% of shares, +1 share, protecting clubs from the influence of external investors.
Shamelessly copied from Wikipedia rather than me trying to quote Robert, but yes, effectively, the club is owned by it's own. An external investor can only own 49%.
I suppose that politically protects them but also develops a culture of doing what is right for the club. If you look at Bayern's statement, it makes you proud of Everton because we were saying similar.
Will Mabon
158
Posted 20/04/2021 at 22:20:33
"
What metric were they using? Probably the "greed" metric but there you go.
"

Jamie - London.
Ernie Baywood
159
Posted 20/04/2021 at 22:20:54
You can see it playing out now. Those 6 are the saviours of English football.
I was actually quite looking forward to a massive reset.
I'm still shocked at how wrong they got this. In every single possible way.
Right down to a 74 year old millionaire telling the world what young people do and don't like.
Robert Williams
160
Posted 20/04/2021 at 22:20:56
Uefa president Aleksander Ceferin said he was "delighted" by City's decision and welcomed them "back to the European football family".WTF!!

Colin Glassar
161
Posted 20/04/2021 at 22:21:50
It was huge news over here, Jamie. I've followed it since day one. I hope the young guy who was murdered last week by the female copper also gets the justice he deserves.
Bets on who's next to drop out of the ESL bullshit tomorrow? I'll go for the rs seeing as they let their players send out a tweet tonight.
Dale Self
162
Posted 20/04/2021 at 22:24:29
Does anyone have a working link for that Zoom meeting taking place right about now?
Danny O'Neill
163
Posted 20/04/2021 at 22:24:51
Shocking Ernie. He was suggesting they were saving football. No, he was trying to save Real Madrid.
Liam Mogan
164
Posted 20/04/2021 at 22:24:56
City should have pulled out before helping create the bastard
Jamie Crowley
165
Posted 20/04/2021 at 22:26:20
Will - Hahahaha! Yup.
Colin -
Be slightly careful of rushing to judgment on these things. I don't know enough about that case in particular - I've been in youth soccer travel hell the better part of the last two weeks. But I've seen reports of things fizzle when facts surface.
That being said, this Chauvin case was an absolute slam dunk for me. After being subdued for a minute or two, that poor man should have been placed in the back of the squad car. it was a disgusting display of a man holding unwavering power over another, and seemingly relishing it.
Protect and Serve. Not "Power-Trip and Repress". Easy one, that.
I had no idea it was getting coverage over there. That's kind of neat, for lack of a better descriptor.
John Skelly
166
Posted 20/04/2021 at 22:32:58
Trevor 155 loving the naughty step ananology spot on.
Colin Glassar
167
Posted 20/04/2021 at 22:35:25
So former ESL candidate, Chelsea drew at home to lowly Brighton? Brighton should be fined for daring to draw with such a big club.
Jamie Crowley
168
Posted 20/04/2021 at 22:37:19
I know this is highly unlikely.
But after this I'd just LOVE it - like Kevin Keegan LOVE IT - if Everton gate-crashed the top 4. Win out, take 4th, and then ask:
Who's Super now ya fuckers??!!!
Hell, I now want West Ham and Leicester to finish top 4 if we don't. Anybody sans the six. Bastards. Any compassion I have for any of those Clubs is gone forever.
Jason Li
169
Posted 20/04/2021 at 22:37:37
Bizarely probably one of the best seasons for a long time in our rivalry with our neighbours:
>2 goals at Anfield and a win
>an ageing squad and no money (apart from recruiting a centre-back from Preston who can't get a game)
>they are still in our first stadium while helplessly watching us take the last best patch of land available in the city
>they can't do anything but watch us build an Apple/Tesla standard beaut of a 3rd stadium that's up there with the Sydney Opera House
>absolute humiliation in the Super League debacle
>everything they do this season is pretty much bordering on comedy genius

As the song goes:
So glad we've almost made it
So sad they had to fade it
Everybody wants to rule the world
Dave Southword
170
Posted 20/04/2021 at 22:38:29
Perez stated they all signed an agreement on Saturday. Is it significant that it is Man City who backed out first? If this is breach of contract, or there is a break clause, maybe JP Morgan say, "It's $150m to walk away." City would write a cheque as could Chelsea. Spurs and Liverpool can't so there's a chance they would have to stick it out until JP Morgan pull the plug.
Imagine that situation and it drags on long enough to ban them from Europe next season. That would be fun.
Michael Lynch
171
Posted 20/04/2021 at 22:38:54
Jamie - seriously? It's been massive news over here, constantly talked about, and was the main headline tonight, with more time devoted to it on the TV than even the ESL!
Jamie Crowley
172
Posted 20/04/2021 at 22:40:41
Michael -
I don't know why, but I am genuinely surprised. I just didn't think American news - that is not on a governmental, foreign affairs level, would get that much air over there.
File under naive?
Happy regardless!
Brian Wilkinson
173
Posted 20/04/2021 at 22:43:03
Levy must feel like, he was invited to the greatest show on earth, with endless pots of gold, penny for his thoughts right now.
Mike Doyle
174
Posted 20/04/2021 at 22:43:58
Colin # 161] I'm surprised the bookies aren't offering odds on who will be next to drop out of the ESL (perhaps some are and I've missed it?).
Like you I suspect the flurry of social media messages from players plus a vague statement from 'King Kenny' indicates that the RS may be next to drop. Only other activity seems to have been at Man U where Ed Woodward appears to be the sacrificial lamb.
Absolutely nothing from Spurs or Arsenal representatives that I can find. I'd have expected better from Arsenal who I've always considered to be a club who did things properly. Seems times have changed.
Jamie Crowley
175
Posted 20/04/2021 at 22:44:12
Brian -
Don't even give the man a penny for his thoughts. He'll bite your whole arm off to get that penny!
Jamie Crowley
176
Posted 20/04/2021 at 22:46:52
I wonder if the Fairy Tale is true, and these people who make money their god are in for a painful, horrific ending? 🤔
It's times like these a wickedly hope so.
Jamie Crowley
177
Posted 20/04/2021 at 22:47:58
It's times like these I wickedly hope so.
Mike Doyle
178
Posted 20/04/2021 at 22:48:04
Jamie 172] over here we are very up to date and follow all the big USA court cases avidly... any verdict in the OJ Simpson case yet?
Gary Willock
179
Posted 20/04/2021 at 22:49:23
We simply cannot allow this to be rug swept. These people tried to thieve our sport.
All clubs involved:
- 10 points deduction this season, 20 points from start of next.
- £100m fine (each) given straight to championship and EFL teams.
- 5 year incoming transfer bans, suspended to 2 years only if new owners and board are brought in.
Ring leaders and anyone who does not declare their exit within 48 hours also get;
- Owners banned as "unfit and improper" and given 12 months to sell shares or club banned from all sanctioned events.
- 3 year European competition bans.
- all players contracts declared void and to be renegotiated or bosman'd.
Brent Stephens
180
Posted 20/04/2021 at 22:51:35
Neville and Carragher talking sense again tonight.
The Aegean stables smelled better than this.
Justin Doone
181
Posted 20/04/2021 at 22:51:57
It's the business owners who are to blame, not fans, players, manager's etc.
From a business perspective it was very good theoretical plan that never happened (presuming it doesn't). They raised concerns and a business plan to minimise risks. How would they be punished? They are doing right in a business sense.
As much as clubs should be punished.. I can't see it as it's punishing innocent employees and fans.
As much as we wanted to think it's club fans that has brought about a reversal, we have very little influence sadly.
The real reason British clubs backtrack is because of threats from uk government and our domestic and European football governing bodies.
But just like in F1, the rich, powerful teams will come to an agreement and in a season or two push for more change in their favour again.
Jamie Crowley
182
Posted 20/04/2021 at 22:54:06
Mike - Innocent! But found guilty in Civil Court.
American Justice - buy your ticket.
Colin Glassar
183
Posted 20/04/2021 at 22:55:45
All four remaining "English" clubs to announce their retirement from the ESL tonight or tomorrow morning.
Michael Lynch
184
Posted 20/04/2021 at 22:56:29
Justin, even more reason why now is the time to scalp those power-hungry clubs. They've shown their cards and they've lost, so they no longer have any hold over UEFA or the PL/FA. I agree, there's not really anything to punish them for, so no fines or points deductions, but there is a clear way forward which is to scrap the changes to the CL which were solely there to pacify the Super League clubs, and to bring in proper salary caps to allow more clubs to compete on a level playing field.
Rob Halligan
185
Posted 20/04/2021 at 22:56:46
Arsenal have pulled out, Colin.
Ernie Baywood
186
Posted 20/04/2021 at 22:57:11
They all have now according to BBC
Colin Glassar
187
Posted 20/04/2021 at 22:57:26
Didn't last long did it, Rob?😂😂
Paul Smith
188
Posted 20/04/2021 at 22:57:53
Jamie where America goes we follow - media wise anyway. We literally have more American news reporting than our own. We are obsessed by everything American in this country we'll follow you to hell if need be and quite possibly will.
Just my opinion but apart from making great movies I can't see what all the fuss is about 😉
As for the ESL my main worry was BMD being built and with less TV revenue I reckon it was in danger so a big relief for me. I really want this new ground to happen I know it won't change the team but infrastructure is so important to advancement.
Gary Willock
189
Posted 20/04/2021 at 22:58:46
Justin@181 - when an owner takes a club into administration, nobody says "aww, can't punish the fans."
Those fans have only one set of people to blame for anything that now comes their way. The incompetents running them.
Rob Halligan
190
Posted 20/04/2021 at 22:59:13
Now United have pulled the plug. The RS are hanging on as they think if they're the last club standing then they win the trophy!!
The shite and spurs are out as well!!
Paul Birmingham
191
Posted 20/04/2021 at 22:59:25
Let's hope the football authorities show no mercy and punish these clubs severely.

Simon Dalzell
192
Posted 20/04/2021 at 22:59:42
Humility vs Entitlement. etc. Never clearer. The disgusting R.S have the owners they deserve. It's great to see them still tied to this grotesque albatross. No amounts of money or titles can buy them the ultimate gift of the Evertonian Ethos. Klopp bottled it yesterday. Concentrating on the Leeds protest shirts. Shit scared of saying anything worthwhile. lilly livered two faced coward. All 6 clubs must face severe punishment.
Rob Halligan
193
Posted 20/04/2021 at 23:00:12
All out, and arsenal have said they're sorry, it was a mistake to sign up!!
Colin Glassar
194
Posted 20/04/2021 at 23:01:46
Rob, the rs have pulled out as well. FSG said, "we've listened to our shareholders and key investors. ". Not a word about their fans!
Christine Foster
195
Posted 20/04/2021 at 23:03:53
Disgraceful by FSG.. the shame their fans will carry. Its deserved. The arrogance.
That will be the end of FSG, good riddance..
Colin Glassar
196
Posted 20/04/2021 at 23:04:10
The biggest climb down since Eric Sykes got off Hattie Jacques!!
Jamie Crowley
197
Posted 20/04/2021 at 23:04:22
Paul -
Here's the thing. Any American with a brain understands we're locked together - the English and the USA - like Lego blocks.
I do find it interesting there's so much American news coverage there.
It's also changing here. On sports radio, they read off the scores of the EPL and Champions League. They never even mentioned it when I was young.
Back to this EPL destruction, I agree with Gary @ 179 there simply has to be sanctions placed on the six. This can't happen again, and a slap on the wrist will only encourage them to try at a later date.
And they are greed-driven. They will try again. The only way to send a message is to hit them now, and hit them hard. I really believe the EPL has to act in this instance aggressively. The very League is at stake, never mind the culture and sport of an entire country.
Jack Convery
198
Posted 20/04/2021 at 23:05:05
So now we come to what counts as punishment for the Shit 6. In my opinion, they should be fined £100m pounds payable by 1st July 2021. Failure to do so will result in demotion to the Championship for 21/22. They should be banned from Europe for 21/22 and 22/23 and prevented from signing players until the January window of 2023. They should then be warned that any attempt to go down a £$L road or simliar in the next 25 years will result in immediately being told they are no longer part of the EPL.
This approach affects the owners pockets and makes them understand that football is about us the fans and not their share price. Hopefully they will sell up and p*ss off and do us all a favour. The Clubs value will have dropped too, hitting them where its hurts them the most.
Brian Wilkinson
199
Posted 20/04/2021 at 23:05:57
Forget fan power, if these teams would have been allowed to continue in the premier league, along with their midweek super league, not one of those 12 clubs would have pulled out.
Anthony Murphy
200
Posted 20/04/2021 at 23:06:17
Really pleased they're not getting their own way here and we can enjoy a fair and equal European playing field for all.
Oh, hang on
Bill Gienapp
201
Posted 20/04/2021 at 23:06:26
Really funny thread on Twitter in which some US historians drew comparisons between the Super League clubs and the states that seceded from the Union before the Civil War. Probably won't fully resonate with non-Yanks, but still funny, even without the proper context.
Juventus = South Carolina (started the whole mess. Too small for a republic, too big for an insane asylum)
Manchester United = Virginia (Started the previous regime. Used to dominate it. Worried its lost a step. Wants to be the big dog)
Arsenal = North Carolina (see Manchester United)
Atletico Madrid = Georgia (More important than you think)
Real Madrid = Florida (Sun-dappled haven for right-wingers)
AC Milan/Inter Milan = Alabama/Mississippi (Outsiders think they're the same - they obsess over their imagined differences)
Chelsea = Tennessee (Let's just say Nathan Bedford Forrest would be right at home with certain elements of Chelsea's support)
Tottenham = Arkansas (Everybody else is doing it. Just along for the ride)
Barcelona/Liverpool = Louisiana (We're different! We're special! Respect our unique culture!)
Manchester City = Texas (Nouveau riche. Thinks everyone likes them. They don't)
Bayern Munich/PSG/Borussia Dortmund = Missouri/Kentucky/Maryland (Border states that could tip things one way or the other)
Rob Halligan
202
Posted 20/04/2021 at 23:10:40
Apparently the contract for this ESL is 177 pages long, and certainly wasn't drawn up in a couple of days. It's been going on for months behind everyone's backs.
Hate to say it, but I agree with Justin @ # 181. Managers, players and fans do not deserve to be punished for this, it's the owners who should face sanctions, and the only sanction is one almighty hefty fine. Would they use their own money though, or the clubs and therefore pushing them into even greater debt?
Ernie Baywood
203
Posted 20/04/2021 at 23:12:51
There's only one part that they've played well here... that's the bit that football is all about the fans.
What it means? The clubs won't face punishment for the actions of their owners.
Which is strange when you think about it. Because they own the football club. It's their club.
There should be punishment. Otherwise we've set a precedent. Owners do what they want and get away with it.
Jamie Crowley
204
Posted 20/04/2021 at 23:13:16
Bill that is HILARIOUS!
Although the Real Madrid equating to Florida is accurate, but makes me a bit sick. 😂
Christine Foster
205
Posted 20/04/2021 at 23:14:03
Whilst pleased that its gone, make no mistake the weasel words they use about underestimating fans is absolute bullshit. This is about saving face, this is greed at its worst. This is about money not fans, do not insult our intelligence with an apology. You deserve everything you get.

Rob Halligan
206
Posted 20/04/2021 at 23:15:20
So when does work on Bramley Moore dock start?
COYB
FTRS!!
Jamie Crowley
207
Posted 20/04/2021 at 23:15:37
Christine Foster -
Speaking the Word of God.
Again.
Colin Malone
208
Posted 20/04/2021 at 23:18:01
Listening to Gary Neville on Monday night football, saying, the Glazers haven't done nothing to the Old Trafford Stadium / the land around it. Paint peeling off, rusty steelwork. Its creaking at the seams and they won't do anything to remedy it.
It reminded me of the Channel 5 program, Slum landlords. More like scum landlords.
Bill Gienapp
209
Posted 20/04/2021 at 23:19:50
Jamie - yeah, my brother is an historian, so he sent that thread to me. The AC Milan/Inter Milan one particularly cracked me up.
Jamie Crowley
210
Posted 20/04/2021 at 23:25:37
I really liked the Barcelona / Liverpool one with Louisiana.
So true.
Spurs one was great too.
Derek Moore
211
Posted 20/04/2021 at 23:27:56
Anthony Murphy has summed it up the best for me.
Football fans are acting as if they've "won" something here. Is it fair to remind them they've "won" no more than the unfair and unsustainable status quo we had three days ago?
The mindset and ambition has been laid bare now. This is a pause in hostilities but certainly not the end. Nothing short of wholesale change in the governance of football and among the leadership of the 12 breakaway clubs can restore confidence for me.
I hope there's not many naive enough to think that this is the end of it. Football still needs reform and change, now more than ever.

Jamie Crowley
212
Posted 20/04/2021 at 23:29:23
Colin @ 194 -
The absence of any mention of their fans speaks volumes.
Self-entitled, self-absorbed, greedy - three words one would do well to dodge like the plague.
Jamie Crowley
213
Posted 20/04/2021 at 23:32:02
Derek @ 211 -
Which is exactly why you punish them severely. Economic fines / sanctions of a very, very hefty level.
You have to get them to realize they can't try these shenanigans again! You don't negotiate with these people. They don't do so looking to find common ground and a good-for-all end game. They negotiate out of self interest only.
Hit 'em, hit 'em hard.
Christine Foster
214
Posted 20/04/2021 at 23:32:57
For me, there is a perverse justice in the outrage of Liverpool fans. For me they have owners who mastered in arrogance and entitlement. Their arrogance flowed downhill into the fans, enforcing and growing that sense of entitlement. Now they have been buried in the sheer arrogance and stunning greed that has opened their eyes to realise they have no entitlement, no pride, no worth as fans. Contrast the board statements from EFC and FSG, no contrite apology, no acceptance of a mistake, no shame.
Liverpool as a club are staring into the abyss, they can only go forward by leaving FSG behind. FSG are finished, not because of the fans but because they cannot do what they want to do.
Flip it over to Everton, the kudos in the country, in Europe, and worldwide will be immense. So perversely not being involved has benefitted the club, I feel we have already automatic entry into the CL.
Derek Moore
215
Posted 20/04/2021 at 23:34:06
Agree Jamie. We can't pretend this didn't happen. We can't ignore what they tried to do. Football is at a moral crossroads here - and sadly, football usually walks down the road with the most pound and dollar notes lying on it.
Jamie Crowley
216
Posted 20/04/2021 at 23:36:50
Christine -
As a life-long Red Sox fan, I want FSG / NESV out of Liverpool and out of football entirely.
This show of greed and self absorption by them is just too much. It shakes my foundational, cradle-born support of my Red Sox.
They've been brilliant owners in America - albeit under a far different set of rules and culture. I hope they exit football ownership quickly - they're looking like assholes and fucking up the works.
It's embarrassing.
Colin Glassar
217
Posted 20/04/2021 at 23:37:10
Yesterday I called some fans on here defeatists. I apologise, I should have said fatalists. The amount of posts saying the ESL will happen whatever we do, BMD is doomed, Everton will be poor forever etc... was worrying to see.
Let this be a lesson to all. The rich and powerful can be defeated. They can be stopped. Kudos to the fans, football authorities, EFC and Moshiri and, even the government for stopping this obscene coup d'etat.
Power to the people!!
Kevin Molloy
218
Posted 20/04/2021 at 23:39:52
yes of course the owners are the ones to blame. But i've been shocked at the ambivalence of alot of reds the last couple of days. When hicks and gillett were doing their thing, my word, the banners the songs the fury of it all. After this horrible plan was announced, half of them were 'yes it's not great, but you can't hold back progress'. They would have detonated the whole PL just so long as their little club was ok. Amazing really when you think how they go on about themselves.
Danny O'Neill
219
Posted 20/04/2021 at 23:41:16
Sad thing is I don't think they get anything.
I said earlier, it was an interesting tactic by the UEFA Chair to speak out to the morals of the English teams. He did and it had effect. He is now speaking with praise for their climb down.
Call me suspicious and cynical but now they get praise and potential recognition for their heroic stand down. Now punishment coming here.
Sorry, my earlier jubilation has turned to middle aged bah humbugness!!
Ernie Baywood
220
Posted 20/04/2021 at 23:44:29
Power to the people, but the clubs withdrawing at the same time sounds less like fan pressure and more like a collective decision to avoid whatever sanctions were coming their way.
I think they knew fan pressure would be coming. They're not that stupid.
It smells like a deal was struck, so don't expect further punishment.
Bill Watson
221
Posted 20/04/2021 at 23:44:55
RB Leipzig is, essentially, wholly owned by Red Bull. To comply with Bundesliga regulations they have a few token 'members' who are, apparently, all Red Bull employees.
Members have to pay an annual membership fee and compared to FC Bayern, Leipzig's, at around 1000 Euros, is very expensive.
Kieran Kinsella
222
Posted 20/04/2021 at 23:45:41
We shouldn't punish clubs we should punish individuals: Agnelli, Perez, Glazer, Henry. Fans, players and managers of the English clubs rallied against it.
Danny O'Neill
223
Posted 20/04/2021 at 23:47:56
No further punishment. They done nothing more than signed up for a proposal and then quickly backtracked when they saw the backlash.
They've lost credibility but that is about it as it stands.
It pains me to say that. Very much.
Phil Bellis
224
Posted 20/04/2021 at 23:49:07
Colin...the people united etc
Kevin...you've got the measure of their "non-leagacy" 🙄 support spot on
Danny...kill the fatted calf !
Andy Crooks
225
Posted 20/04/2021 at 23:50:03
Jamie, sadly there will be absolutely no sanctions against any of them. This unseemly business will be airbrushed, spun and used to disguise the obscene plans already being implemented in the Champions League.
They will get their way by a different route and an opportunity to reinvent our game will be lost. They have postponed the war, that's all.

Danny O'Neill
226
Posted 20/04/2021 at 23:55:32
RB very disliked in Germany for that reason Bill.
Looking forward to Perez's next statement (not seen one yet).
English football support united. Not seen this in a very long time. Or a government step in so strongly either.
Christine Foster
227
Posted 20/04/2021 at 23:56:21
Danny, not so me thinks, they have brought the game into disrepute, massively. They have undermined every club in the league and done significant damage to the EPL brand.
A few years ago when EFC board were doing things that ignored the majority of fans, I said that I supported the team on the pitch, not the board. I hear the same views from fans of the 6 clubs, there is a discord between many clubs and fans, I for one am pleased that Everton FC have over the past few years have become the club others aspire to off the pitch. All we have to do now is get it right on the pitch too. I am proud of Everton Football Club, all of it.
Mike Keating
228
Posted 20/04/2021 at 00:02:42
Mike #174
I'd have expected better from Arsenal who I've always considered to be a club who did things properly
Do you know how Arsenal got into the First Division following the First World War?
Danny O'Neill
229
Posted 20/04/2021 at 00:03:47
Christine, let me be clear, that was my blunt stating the obvious of how I believe it will be viewed now they have come back in line.
Not my personal view of how I believe they have behaved or should be treated for that behaviour.
I despise what they done, but now they have come home to roost, I don't suspect they will be punished other than getting a slap on the wrist.
I hope I am wrong, but I doubt it.
This is someone who didn't think this would fold so quickly, so don't go off anything I say, especially if I tip a horse!!
Danny O'Neill
230
Posted 21/04/2021 at 00:09:41
I was going to edit but I'll post again Christine. You're bang on. Today showed me more than ever we have it right off the pitch. Our Chairperson showed class. We may have despaired over the years but thank the good lord, whatever religious persuasion we all are, that we didn't end up with those we witnessed over the past few days.
We have a proud heritage. We carry those roots with us and that came out today. As I said earlier, our future is in front of us. Proud of our club today.
Barry Hesketh
231
Posted 20/04/2021 at 00:10:49
Public opinion stops Super League in its tracks? staff, current and former players, pundits, and loyal fans of the greedy gang are applauded for supporting the beautiful game and saving it for the rest of us?
The media has almost entirely sought the reaction of the 'rebel' clubs about a situation that was entirely created by those 'rebel' clubs in order for those 'rebel' clubs to be the sole beneficiaries of the planned new league.
Those 'rebel' clubs were and undoubtedly still are prepared to jettison every other club in the country, without any concern for their futures or their fans.
For that reason, the games governing bodies should come down extremely hard on the sickening six. From the start of the next season, all of the sickening six should begin every competitive game two goals down at the start of each game and when they play each other both teams should start at minus two goals.
I have no sympathy for the fans of those clubs as they have enjoyed the glory of their club's trophies and triumphs funded by the same companies and types as are running their clubs today. Few if any had any sympathy for the losers or the rest of the clubs who failed to attract the huge sponsorship deals which helped the Sickening Six, to succeed.
There is little doubt in my mind that the various governing bodies will in future days and weeks relate a tale of unity of the football family, but at what cost? Everton's statement about the formation of a closed shop super league, was accurate, fair, and objective, but it will largely be lost on the media as by the weekend the Sickening Six will have the most coverage, their players will be hailed as superheroes and the circus will move on as those responsible for the inception of a Super League will be air-brushed from history at least until the next time that the Sickening Six want to increase their revenue by fair means or foul.
The Premier League should make every member club sign a binding agreement that each and every club shall not seek individually or collectively to form any sort of league that undermines the Premier League. UEFA should also make every member club sign a similar agreement that should a member club be actively seeking to form another European competition that club will be stripped of all of its previous titles and will be banned for no less than five years from playing in UEFA competitions.
I remain unconvinced that the football authorities or the clubs themselves are willing or able to prevent the formation of a super league of any kind and unfortunately the proponents of this latest plan will merely lie low for a little while until an opportunity arises for them to form a more palatable super league, which may attract the support of the lesser clubs such as 'Wolves' and 'Everton' as one rival fan put it when welcoming with open arms the news of the formation of a super league.
Postponed but not abandoned is my take on this evening's events.
Jerome Shields
232
Posted 21/04/2021 at 00:12:14
As Mao Tse Tung said in his Little Red Book:
' A Leader a mile in front of his Army is a fool. '
These breakaway Clubs thought they where in the driving seat , but the road has disappeared from under them , with uncontrollable repercussions . Hence the unravelling panic.
Danny O'Neill
233
Posted 21/04/2021 at 00:17:15
Very true Jerome. Leaders leading from the front is a very brave and noble perception. But if you're out front, you get taken out.
The reality is leaders need to be a step back. Coordinating, organising, pointing and leading.
The quarterback or the sweeper.
Derek Thomas
234
Posted 21/04/2021 at 00:21:57
The 3 American owned clubs and their wannabe spurs, trying to slink out with all the members of the public after the bomb they planted in the theatre was found and defused.
Make no mistake, this is not an ill thought out possible plan...this was the real deal and they would've pressed the button on the bomb if not stopped.
This is nothing more than MUTINY. And should be dealt with accordingly.
What was usual after these things is nice words are spoken...yes we'll listen to your grievances.
They are then disarmed and the the 2 ringleaders Untd & the rs, are promptly hanged.
Their accomplices, Spurs & Arsenal, get 15yrs hard labour and the two silly chaps who were dragged along but didn't actually do anything, City& Chelsea, get 5yrs hard.
And everybody gets 50 lashes - 'Pour encourager les autres'.
Then - once the relegation teams are sorted out The Shit Six are deducted enough points to place them 11th to 17th, as determined by their relative league placings.
Any pots they've won League Cup or FA Cup, are confiscated and they start with -12pts next season.
David Baxter
235
Posted 21/04/2021 at 00:28:52
Just a thought
Suppose that Everton and not Tottenham had been offered a place in the ESL,how do you think our owners would have re-acted
Jerome Shields
236
Posted 21/04/2021 at 00:31:42
Danny #233
Yes brave, but I think Mao Tse Tung was thinking of bullets coming from the front and back. These break away Clubs find they are the target from both directions now and this is only the start of it.
It's like never imaging a virus could close down civilisation. What we will see in football in the coming months will be unbelievable.
The thread s on this subject on ToffeeWeb have been incredible. At least Everton got it 100% right. The Breakaway Clubs got it 110% wrong.

Barry Hesketh
237
Posted 21/04/2021 at 00:32:16
David #235
How do you know that Everton and other clubs weren't invited?
Just because somebody is rich doesn't mean they have no scruples, perhaps, and as unlikely as it may seem, our owner really believes in 'true' competition?

Geoff Cadman
238
Posted 20/04/2021 at 00:32:40
I would like to see all six relegated to the Championship. Unfortunately The RS, Man U, Chelsea, and Arsenal draw the biggest TV audiences generating the most cash, so the EPL won't do it. City despite their recent success are still playing catch up. Why Spurs are there is a mystery maybe Alan Sugar getting Sky's foot in the door in the first place. Same with Europe for the new deal, past history priority translates to raise more money
A lot of posts regarding JP Morgan penalties. I heard they recently purchased a large share of FSG Don't hold your breath
Anthony Murphy
239
Posted 21/04/2021 at 00:36:46
It'll be interesting to see where the media focus lies in the days to come - what punishment fits the crime or how football was 'saved' by fans. My guess is we will have to endure hours of the media fawning over the 'real' fans of these 'elite' clubs who have (along with the people's captain Jordan Henderson) saved the day.
As for a punishment - they'll all receive a 'substantial' fine and a strongly worded statement will be released - that's it.
Derek Moore
240
Posted 21/04/2021 at 00:57:33
I am one one of those people Mr Glassar cites. And fair play to him - this was a stunning backdown and largely orchestrated by people power. Football supporters from all clubs can be rightly proud of their united front. This was a humbling climbdown.
But someone has to piss on everyones chips right?
My issue is that three days ago we had a system unfit for purpose - the clubs outside it hate it, and apparently the clubs inside hate it as well. And despite the backdown, and Gary Neville and the feel good story of fans pushing back - we still have a system unfit for purpose now.
The underlying issues that lead to these twelve scoundrels thinking they could just walk away into the sunset have not disappeared. Indeed, the six clubs involved on the continent may well have been counting on this windfall to in some cases keep the lights on. What happens to them now?
Football must insist on better governance right now or we'll just be rehashing this argument in x amount of seasons is my view. What has been said and done cannot be unsaid and undone; it's a delicate and fascinating time in football.
Will we see some leadership finally?

Anthony Murphy once again has probably nailed it for me.
Ernie Baywood
241
Posted 21/04/2021 at 01:19:25
100% Derek.
We already have a European League. In fact we have two of them.
They're too much like a 'Super League' for the vast majority of clubs and their fans. They're not enough like a 'Super League' for a couple of handfuls of clubs. Yet, their evolution is undoubtedly moving in the direction of the minority.
It might not happen in one swoop like the 12 clubs proposed, but it is still happening. Mondays UEFA announcement was another little creep in that direction. They're boiling the frog and hoping we don't notice.
Football has to respond now. It can't be with any more concessions to these clubs and their owners. And it can't be with a system that needs such power grabs just for the most successful clubs in Europe to survive. It's really broken and needs fixing.
Steve Brown
242
Posted 21/04/2021 at 01:40:02
Florentino Perez is still searching for new members.
Mike Gaynes
243
Posted 21/04/2021 at 01:43:38
Well, that kept us all interested for 48 hours.
Next subject?
Si Cooper
244
Posted 21/04/2021 at 02:27:52
Well I certainly don't know the best way forward - sanctions for the 'founders', reform for wages and European competition???? - but I'm still glad the proposed ESL appears to be scuttled. Smokescreen for unappealing changes to Champions League?? Seems a bit too 'conspiracy theory-ist' unless the conspirators were happy to take massive amounts of negative publicity.
Jamie C - surprised you are surprised by the avid audience for the Derek Chauvin trial. You are aware that the unjust death of George Floyd triggered condemnation and movements across the Western world, if not globally?
We get far more than just your news.
Unlike Paul, I like plenty of stuff beyond the Hollywood film output. Procedurals, sitcoms, drama, current affairs, satire, comedy. The Wire, The Sopranos, CSI (various), Boardwalk City, Breaking Bad, The Walking Dead, Stranger Things, The Tonight Show, Saturday Night Live, Real Time, Last Week Tonight, Our Cartoon President, Resident Alien - all giving little insights into peculiarly American things!
Derek Moore
245
Posted 21/04/2021 at 02:42:37
Next Spurs gaffer Mike?
If they get this one wrong surely Kane will "do a Bale" and chase the trophy smoke elsewhere before it's too late?
Who would be the right fit for Spurs, and what would their ceiling be?
Darryl Ritchie
246
Posted 21/04/2021 at 03:33:51
It seems to me that the FA and UEFA need make some provisions in their " constitution ", that makes clear the penalties involved if anything like this is attempted in the future...and make every club in the UK and Europe sign it.
As long as billionaires are the driving force in football, they can, and will, value the bottom line above everything else. Unless steps are taken, this will happen again.
John Boon
247
Posted 21/04/2021 at 05:13:51
It is ridiculous that teams like Wigan, Sheff W, and Bolton have received negative deduction points that have resulted in relegation while this "DESPICABLE" six continue in the league without any sanctions.
The three teams mentioned are just a few who have had to pay the price for indiscretions. In each cse it has resulted in relegation, and rightly so, for all those who thought it was an injustice,
SO...the so called "Super Six have significantly disrupted the entire football league, entirely due to GREED. Comparitive to previous recommendations they should have significant penalties with fines and points deductions. This is my honest assessment because I dislike all of the mentioned teams. Except for Liverpool who I depise to the Nth degree, and far beyond what can ever be put into words without resorting to expletives that I only use when correcting the DOG.
Jay Harris
248
Posted 21/04/2021 at 05:50:12
Bringing the game into disrepute should carry a minimum 10 point deduction.
That will upset the players and fans of these clubs and bring about the necessary backlash against these greedy, deceitful cowards as well as reducing the chances of it happening again in the future.
I hope the mealy mouthed apologies will not be accepted as exoneration.
Andy Walker
249
Posted 21/04/2021 at 05:58:52
No surprise at all that the traitorous 6 are coming back into the fold.
Let's remember though, this was about 6 blokes (billionaires) wanting to make even more billions, it wasn't about the fans of those clubs. Many of those fans from all the clubs demonstrated against the plans.
Moshiri stepped up to the plate and demonstrated he understands the game is much much more than just about making money. Very reassuring and a validation of Kenwright's decision to introduce him to Everton. He's here for the right reasons.
It is with some dismay I read the posts of some folk who have previously and repeatedly laid into Kenwright, now attacking Liverpool fans as if these fans had anything to do with the ESL. A double whammy of bad judgement on their part sadly.
Mal van Schaick
250
Posted 21/04/2021 at 06:10:29
Can't be prouder of our owner and the whole of the clubs stance on this issue.
We have to remember our grass roots, and where we came from, this allows other clubs with aspirations of reaching a top competitive league to soldier on, and one day, their time may come.
We are open to change in an ever evolving football world, but let us never forget that all those involved in the football leagues deserve their chance to have ambitions or else there would be no point in their existence.
Ernie Baywood
251
Posted 21/04/2021 at 06:14:50
Andy, it was far more than 6 blokes. It wasn't just John Henry who did this at Liverpool. JH doesn't get to just sign a contract and it all happens. Those clubs are more morally corrupt than you're implying.
Which is why this hasn't gone away. Those clubs still believe certain things. They're still going to push the same agendas. They've still just brought the game and the league into disrepute.
No, it wasn't the fans. Obviously it wasn't - the fans were the ones being told that their clubs couldn't care less about them. As for the players, well they can choose who they want to play for. Anyone signing, for example, at Man Utd this summer should know who they're getting into bed with. They make their choices, and they take their many pieces of silver.
While I'm proud that pretty much everyone other than the leadership of the 12 clubs thought this was a disgusting idea (because it was)... I'm not sure I can take hearing how City, or Liverpool, or whoever, saved the day through fan power. 'Hendo' didn't save the day either. The clubs were well prepared to cop flack for this and I doubt they underestimated the fans.
There is more to the withdrawal and I'll guess the remaining 14 clubs and the PL wielded every bit of power they had.
Paul A Smith
252
Posted 21/04/2021 at 06:15:36
The outcome was obvious.
Now watch what they get out of UEFA, which is the real intention.
And watch Carragher and Neville start to say the players shouldn't be punished by the owners actions.
These people are so two faced its unreal. How many times have they said "we know football has to change", god knows why it has to change but its to justify their Champions league pasts which effectively made football a closed shop anyway.
Why does football have to change? so Man U and Liverpool can get more money?
Ernie Baywood
253
Posted 21/04/2021 at 06:27:42
Football has to change Paul, but not in the way they think.
Their view is that to make the game more sustainable, top clubs have to earn more money. It's a simple as that to them, because the alternative of stopping the obscene spending hasn't occurred to them.
Football has been a bubble for a long time. COVID has gone very close to popping it. These clubs couldn't afford to suddenly earn less than they used to, because their debts are serviced by future borrowing against ever increasing TV incomes.
Danny O'Neill
254
Posted 21/04/2021 at 06:39:20
After the content of seeing this collapse, the danger now is what others allude to above.
We don't seize the moment to change the game. We revert back to and if anything, now fuel the belief that the Premier League and it's European counterparts are fit for purpose. They still mainly serve to benefit the few and do not cater or care for grass roots. It's still a top down view of football.
Let's not forget, they are what fuelled this and let's not be under no illusion there will be ongoing discussion to reform based on the "needs" of the likes of Real Madrid.
The danger here is that after 48 hours of passionate intervention, we rapidly descend back into the normal. Nothing to see here.
Meanwhile, the same 6 we have vilified plot their next move. Hopefully I am being overly cynical and we can use this moment to give everyone a voice in reforming the game, not just the self-proclaimed elite.
Danny O'Neill
255
Posted 21/04/2021 at 06:43:30
And apologies for repeating myself. Whilst I am proud of Everton's leadership like stance, but special credit to the German giants. I knew once Bayern "dissed" this, there was hope.
No disrespect to all of our clubs who made a great fist of standing up to this. But we did because we had no option. Bayern and Dortmund will have had a choice and they chose the moral high ground because they knew it was the right thing to do. Unlike 6 English clubs who couldn't help themselves.
Don Wright
256
Posted 21/04/2021 at 06:49:55
Danny, Bayern and Dortmund had no option to join as they are both fan owned clubs and the fans would have to vote on it.
Andrew Ellams
257
Posted 21/04/2021 at 07:05:41
I can't help feeling it may be a little naive to believe that the people who showed nothing but contempt for the supporters have thrown their plans into the bin because of the anger shown by those supporters, although they will tell us they listened to repair some of this PR disaster.
Surely there were phone calls going on in the background were they guaranteed at least minimum sanctions if they walked away now.
Andy Walker
258
Posted 21/04/2021 at 07:09:02
Hi Ernie, if you think it wasn't the owners of the 6 clubs driving this I think you're very much mistaken. It is THESE OWNERS that control the clubs, that set the strategy and that employ people in their own vision and change and create new cultures within their clubs. These guys own the clubs. Any moral corruption is a consequence of the new culture introduced by the new owner into the club. It could have happened to us, fortunately it didn't as our owner has decent values.
Are you seriously suggesting that this wasn't driven by individual owners, but by the Boards of each club somehow pushing the clubs in a direction the owners don't want to go to by pulling the wool over naive owners eyes? Not a chance.
These billionaires are billionaires for a reason. These people know their own minds, have been extremely successful at making money and are extreme alpha males. They do what they want to do. Mark my words, this is driven by a few billionaires with their self appointed lap dog directors following their orders.

Robert Tressell
259
Posted 21/04/2021 at 07:20:05
The players weren't at fault when Leeds and Rangers were docked points for financial issues. The players weren't at fault when Everton and others got kicked out of Europe after Heysel. We get it's not the players - but the clubs have to be accountable. The powers will have to issue a harsh punishment for a blatant attempt to tear football apart.
Andy Walker
260
Posted 21/04/2021 at 07:20:49
Hi Andrew. I'm sure these owners haven't changed their minds about what's the best strategy to follow to maximise financial gain. I suspect what they didn't understand and therefore anticipate, as they don't understand the social roots of English football, was the pretty much universal outrage from all fans including those of the 6 clubs concerned and the media and Government.
It is this that has forced them to drop their plans. It will be interesting to see whether these billionaires who've now demonstrated their true primary motives for wanting to invest in their clubs (in other words make money), now reflect and think, 'why am I investing in this club?' 'I can't get the returns I was planning to now'. If they do, this could lead to some of these owners now reassessing their whole business strategy and look to sell their interests and seek investment opportunities elsewhere that offer better returns and opportunities. This is a real possibility in my eyes. If they do this will be to Everton's benefit.
Thomas Richards
261
Posted 21/04/2021 at 07:24:47
Liverpool echo all over this.
7th article down on thier website.
Articles ahead of this story include one about a pizza oven and one about a housing development.
Andy Walker
262
Posted 21/04/2021 at 07:27:55
So now certain billionaire owners have shown their true motives for buying into English football and have been well and truly slapped down, will they start to sell their interests in the clubs and invest their money in enterprises that can control 100%?
I hope so. It would be brilliant for Everton and Moshiri.
Stan Schofield
263
Posted 21/04/2021 at 07:51:18
Back in October 2020 both Liverpool and Man Utd were forced to back down over Project Big Picture. The latter was essentially a grab for more control of the Premier League by the so-called 'big 6'. The Everton CEO Denise Barrett-Baxendale demanded an apology from Liverpool and Utd for their attempted power grab, but of course they refused.
These clubs signing up to the Super League was merely the latest manifestation of a long-term process of attempting to secure greater control of elite football and its monies.
If strong punishment is not now taken against these clubs, with particularly strong punishment against Liverpool and Utd, then there is likely to be no real prevention of further attempts by these clubs to control football, and a sure sign that elite football is no longer worth watching.
Gerry Quinn
264
Posted 21/04/2021 at 08:09:22
Why do I just know and believe that not one of these arrogant clubs will be punished in any way, shape or form? That, to me, is blatantly obvious...I pray that I be proven wrong!
Ernie Baywood
265
Posted 21/04/2021 at 08:11:52
Andy 258 - I never said that others convinced the owners. I said it's far bigger than just 6 wealthy people. And I stand by that.
By the time we got to signed contracts and announcements there must have been hundreds involved, including some fairly normal successful people.
I haven't heard of swathes of football club executives resigning or whistle blowing lately.
To get to this point, the clubs are riddled. No-one stopped it from happening. The silence around this was maintained perfectly.
No, it's not the fans. But the clubs? Yes, absolutely.
Trevor Peers
266
Posted 21/04/2021 at 08:15:30
I agree Gerry @264, these creeps will be back with an ammended plan in no time, no doubt it will be a new version of the same thing with a few concessions.
This should be an opportunity for a complete reset of the whole corrupt system and the ending of obscene players wages and agents fees which are killing football.

Lennart Hylen
267
Posted 21/04/2021 at 08:25:45
Great news. I feared that BMD would be cancelled if super league would have been launched.
Really fantastic that greed failed.
Hope this will ignite some energy into our boys. Up the Toffees.
Danny O'Neill
268
Posted 21/04/2021 at 08:27:31
You're correct Don Wright, although if they wanted to they could have lobbied, albeit met with stiff and swift resistance.
And doesn't that speak volumes as to how they are run and owned? I've bored many on here with my using the German football system as a model to be admired.
My fear now is we go back to the status quo of Premier League and Champions League, which is now seen as the knights in shining armour when really they were the catalyst for this type of thinking many years ago.
An opportunity to genuinely overhaul our football system or fall back into compliant line?
Ed Fitzgerald
269
Posted 21/04/2021 at 08:28:18
There should be full disclosure from the six clubs in relation to the planning and timeline of meetings that led to the formation of this absurd idea. If they aren't prepared to provide the PL and the other 14 clubs these facts to help rebuild some commercial and professional trust then they should be relegated. Regardless they should face significant points deduction as they wilfully compromised the viability of all other clubs in a deceitful manner.
As for those saying you can't punish the fans and players of these six clubs have the media forgotten about Heysel, yes of course they have.
All other clubs were out of Europe for five years no fault of those clubs, players and supporters.
paul davies
270
Posted 21/04/2021 at 08:28:22
Gerry @ 264. Because the dirty dozen are the sky darlings and the league can't be seen to step on the toes of its money making machine
Steve Pugh
271
Posted 21/04/2021 at 08:29:00
How much of this backdown is due to Sky saying they won't bid for the TV rights? and how much of that is because they would lose billions on Premier league rights?
Will the super league raise it's ugly head again around the time TV rights for the Premier League are due for renewal?
Andy Riley
272
Posted 21/04/2021 at 08:29:04
There now needs to be serious sanctions imposed on the Judas Six. Surely there has been a breach of rules by signing the contract. Is there still a football offence of bringing the game into disrepute? If so then the evidence for serious sanctions seems overwhelming
Paul A Smith
273
Posted 21/04/2021 at 08:31:00
Ernie 253 I understand it has to change for the good but Neville uses words like -evolve- knowing quite well the Champions league format helped United evolve away from the likes of us.
Does Darts Boxing Tennis etc evolve? The game is what it is and only the business side evolves.
Colin Glassar
274
Posted 21/04/2021 at 08:32:14
48 hours later and I'm emotionally drained, physically exhausted, spiritually empty and totally pissed off.
I don't know if I will ever feel the same towards football again. I feel betrayed, rejected and angry. Football is part and parcel of who we are. It's ingrained in us from the moment we first kick a ball in the back garden, street or living room. And yet these fuckers come in and think they can take it away from us in the blink of an eye?
It will take me a long time, if ever, to trust in football again. I feel cheated and abused. I'm just glad Everton were not involved in this sordid affair but if the Dirty Dozen are not punished accordingly then I doubt I will ever regain my love for the game.
Farhad, Bill and co. Do the right thing. Call for reform from top-to-bottom, clean up the game, change the rules if necessary but whatever you do, punish these snakes so they'll never again try to steal OUR game. Thank you.
Danny O'Neill
275
Posted 21/04/2021 at 08:34:10
Colin. I'm with you. I considered a glass of wine for breakfast but the dog gave me a disapproving look. I'll wait until lunchtime.
Bobby Mallon
276
Posted 21/04/2021 at 08:39:56
I really dislike mickey Quinn that twat is a typical red nose supporter. Hearing him saying they should not be punished as they have been punished enough by the football community what a divvy
Paul Birmingham
277
Posted 21/04/2021 at 08:40:14
Spot on Colin. I'm the same, there must be punishment and it must be appropriately heavy, but if there's not then, the traitors will have got off free.
Just seen Barnes giving it his version of big business finance in football and before him, The RS owner, Henry.
I'm expecting some some seriously heavy hint from the football powers, the next few days, and perhaps by Friday they punishments will be assigned.
But I'm living in hope that it does, and no more at this moment in time.
Tony Everan
278
Posted 21/04/2021 at 08:41:31
It's clubs like Everton that worry the hell out of two or three clubs within the Greedy Six.
The spectacular Bramley Moore stadium, the Moshiri/ Usmanov influence is a a direct and real threat to the status quo in future years.
Curtailing these threats permanently from clubs like ours, and other well supported clubs with similar aspirations, lie at the heart of all this.
The punishments have to fit the crime. I agree with fines and point deductions as being an essential part.
However, First and foremost the Greedy Six clubs should have all voting rights completely removed for five years.
They are not fit and proper clubs to be making any decisions on the future of the Premier League at the moment. That is a clear and obvious fact.
Then the reliable and trusted members of the Premier League can sort out affairs and together create a new binding charter without malign and greedy influence.
All clubs then will have to sign this new charter to play in the Premier League.
Danny O'Neill
279
Posted 21/04/2021 at 08:41:55
For those of us who feel that although welcome, this is a hollow victory as we head back to the greed driven status quo, John Barnes of all people talking realistic sense on the BBC.
We (him included) might not like it, but he was saying it how it is in terms of football, even with this closed shop nonsense beaten down.
Colin Glassar
280
Posted 21/04/2021 at 08:42:08
Steve 271, it might have gone under the radar but I heard on sky yesterday that Uefa have signed, or are on the verge of signing, a $6bn deal with a company called Centrix (something like that) to finance their new champions league format.
More money for the chosen few no doubt had a comforting effect on the scummy 6 prem insurgents. Whatever happens, they will be financially rewarded.
Eddie Dunn
281
Posted 21/04/2021 at 08:44:19
I would suggest a an FA/PL inquiry into whether the owners of the six clubs can be considered "Fit and proper". If not, they should either be forced to sell their clubs or the clubs should be banned from our leagues.
Eddie Dunn
282
Posted 21/04/2021 at 08:44:19
I would suggest a an FA/PL inquiry into whether the owners of the six clubs can be considered "Fit and proper". If not, they should either be forced to sell their clubs or the clubs should be banned from our leagues.
Justin Doone
283
Posted 21/04/2021 at 08:50:07
It's easier and quicker for EPL, FA, UEFA and FIFA etc to bark than to bite.
They run the competition and set the rules, they'll do as little as possible to get involved with some long winded, legal threat against billionaire business owners.
I hope I'm wrong, but as in F1, the business element will not stop. These clubs will be back planning the next moves. We can try to stop them, but easier said than done.
FFP was to help clubs stop overspending and have a fairer playing field. All clubs signed up to FFP and any breaches implemented without recourse. City basically overturned the decision in court.
The champions league reformat has already stepped in the direction of bowing to big team pressure. Another unfair move, shame on them. The should back track on that now, they won't.
Next we will be TV rights for individual clubs, weather it be domestically or overseas.
Money makes the world go around and rules are there to be broken. That's the mentality, not one of sporting integrity.
Andy Riley
284
Posted 21/04/2021 at 08:50:39
Hopefully an immediate 30 point deduction for all six teams involved. That will hit them where it hurts. Less finish money for this season and no European football next. Reform and rebalancing all in one go.
Michael Lynch
285
Posted 21/04/2021 at 08:52:43
John Henry has apologised to the RS fans. He should be apologising to us, the fans he wanted to fuck over.
This will be spun as "fan power" and spun to show the RS as the fans who stopped it happening. It will play into their self-obsessed and selfish myth as being the special fans - forget the smashed windows of coaches, forget setting fire to the Liver Building, forget Heysel, forget denying the racism of Luis Suarez simply because he's "one of them".
Their manager made a few ambiguous noises about the ESL and their players condemned it only when it was clearly collapsing, but the RS fans will laud them as heroes.
There will be no reaction to the sorry affair from UEFA and the PL, they'll simper on the sidelines, saying how great it is that all the fans love the current "product" so much that they fought hard for it.
Nothing will change. The rich clubs will dominate, the CL will get over more bloated. The only thing that's come out of this is that the fans of the majority of clubs have been reminded how badly football has been stolen from them, how its become an absolute parody of the game I started to watch with my dad in 1969. Overpaid players, greedy agents and owners, world cups awarded to murdering regimes, and the same clubs winning everything again and again and again.
I remember watching Forest in the first game after promotion at Goodison in 1977. They demolished us and went on to win the title and the European Cup playing some brilliant football.
Never again.
This whole tawdry affair has done nothing but make me a little bit sadder about what we've lost since Big Money corporatised football.
Robert Tressell
286
Posted 21/04/2021 at 08:52:56
At the moment, a 10 point deduction for the Shit 6 would result in:
- Man City champions almost certainly
- Man Utd, Leicester and West Ham looking very good for a champions league spot
- Us, Leeds, Chelsea and the RS challenging for fourth place but a bit adrift.
Lost track of where things stand with the cups.
This is the least you would expect as a punishment - given it doesn't actually have a huge impact.
Dan Nulty
287
Posted 21/04/2021 at 08:56:11
Let's not forget these bastards not only did this all in secret, while nodding and pretending everything was OK in Premier league, Uefa and ECA meetings, for months if not longer. Then, they deliberately announced this on a Sunday night and had filed the lawsuits in England, Italy and Spain in an attempt to stop their plan being prevented by the Premier league and Uefa. It was cold, calculated, underhand and they have to be punished.
Andy Walker
288
Posted 21/04/2021 at 08:56:26
Yes Ernie, of course employees of the club (employees of the billionaires) are doing the job asked of them by the owner. The instructions, culture and strategies are set solely by the owners though, not the employees, including the owner appointed directors, of the club.
Many of us will have worked for employers who ask us to do stuff we don't agree with, but we do it as we are employed and paid to do it. It's inevitable that if you're employed by someone you'll be asked to do something as some point that you don't agree with, or think is not in the best interests of the business you work for. That's the life of an employee though. To hold such employees to account for following their employer's LEGAL instructions, is unrealistic and applying some sort of moral self righteous high ground. That is fantasy.
Now there may be a small number of directors appointed by the billionaires owners, that hold the same values and views as the owners. Sure these people could be viewed in the same light as the owners. But these people are only at the club because they've been appointed by the owners, or because they have the same values as the owners. There won't be 100s of them though, just a few appointed in strategic positions by the owners. If the owners left the club, these folk would not be employed by a new owner with different values. They'd be weeded out.
As I say in businesses with sole ownership, it's the owners that drive everything. It is they who impose their own morals and values on any business/football club. It is these few people who are ultimately responsible and accountable in my book.
Thomas Richards
289
Posted 21/04/2021 at 08:59:35
"'I want to apologise to all the fans and supporters of Liverpool Football Club for the disruption I caused over the past 48 hours.
'It goes without saying but should be said that the project put forward was never going to stand without the support of the fans. No-one ever thought differently in England. Over these 48 hours you were very clear that it would not stand. We heard you. I heard you'.
John Henry
Stan Schofield
290
Posted 21/04/2021 at 08:59:55
Colin@274: Re my post @263, for me the emotional drain has been prolonged and steady over a number of years, and the events of this week are merely the latest in a saga of bias, cheating and corruption that comes from the very top of football business organisations.
Players, fans and manager of LFC have come out with moralising statements this week, but those same people are willing accomplices to the chronic actions of owners of that club. The cheating and win-at-all-costs attitude of LFC on the pitch is a reflection of their entire cynical culture which starts at the top of the organisation. They have all been in it together. And they should now suffer together. Supporting a club involves taking the rough with the smooth. They're all happy to take success when it comes, including success based on cheating, so they should now take a hit, a very big one.
And if there is no such punishment from the authorities, then elite football is doomed, and I for one will no longer be watching it.
John Boswell
291
Posted 21/04/2021 at 09:04:16
I have not caught up with this mornings posts yet but has anyone raised Project Big Picture from as long ago as last October?
The very same "big six" premier league clubs were pushing for reforms in the Premier League (that would benefit them the Most) more money, more voting power, fewer games to play etc.
They were floating this to save the football pyramid, more money was on offer to the lower leagues.
The main players behind this new world were Liverpool and Manchester United, backed up by City, Chelsea, Arsenal and Tottenham.
If the relevant authorities do not punish these clubs in a meaningful way, for their disgraceful behaviour we know for certain that the will be at it again, very quickly. COYB.
Johnny Rainford
292
Posted 21/04/2021 at 09:08:43
Yeh that grovelling "apology" from Henry is cringeworthy.
As a Football club Liverpool and its fans have bought disrepute to Footy for decades and those supporters need to think about what sort of a club they are supporting otherwise they are complicit.
Nasty vile club.
Craig Walker
293
Posted 21/04/2021 at 09:11:08
There'll be no punishment. Sky Sports this morning seemed pleased to have their "Big 6" back. Come August, the season will kick off and Carragher and Neville will be lauding their favourite clubs. All this will be forgotten. The "best league in the world" will return. The usual few clubs will strengthen again and get in the Champions League. VAR decisions will go their way. The world will keep spinning.
Sky were telling us on Monday how they've been good for the game when they reinvented football in 1992. I used to be able to pay £4 and stand on the Gwladys Street End to watch a team of players that I felt I could relate to. They earned a good living but weren't earning £100k per week. Now I have to pay ten times that and would struggle to get a ticket for me and my lad. The club changes their 3 kits every year to milk the cash cow. Players earn multiple times the average national wage in a week. Managers are sacked and walk away with a king's ransom. The games used to be on terrestrial TV. Now we need to pay an exhorbitant amount each month to watch the games. Not content with it costing us a fortune, the half time analysis features two commercial breaks, interrupted only by Sky telling us about the next big event they're broadcasting. On top of this, a lot of the adverts are for betting companies pushing people into gambling money a lot of them don't have.
Carragher and Neville are up in arms about a breakaway when they helped build this "Big 6" myth. Carragher talks about respecting fans after retaining a lucrative job having been caught spitting at a fan whilst driving. Meanwhile, one elite club is running away with the title, the usual teams are in the European competitions thus widening the gulf for the following season and clubs like Bury go out of business.
Great for the game. Believe in better.
Andrew Clare
294
Posted 21/04/2021 at 09:22:01
and the beat goes on .
Andy Walker
295
Posted 21/04/2021 at 09:24:00
Hi Craig, there may not be any direct punishment but their may well be long term consequences for these clubs.
The owners of these clubs who bought in purely with the prime motive to maximise their return on investment (we know that for fact now) have just had a massive reality check. All of a sudden they realise their strategic model of global football exploitation won't be accepted by the fans. This has potential MASSIVE consequences to these clubs. These billionaires who've just had their wings clipped, will now be asking themselves should they remain invested in football, an industry they can't manipulate as they would like for their own personal financial gain. They'll now be thinking about alternatives, this ultimately could mean they will look to sell their stakes and move in to other opportunities that are more attractive financially for them and their hedge fund mates. That could have huge negative consequences for these clubs.
Steve Brown
296
Posted 21/04/2021 at 09:25:02
Agree there won't be points deductions applied to the big (debtors) 6 - there should but there won't be. Fines won't hurt them much.
The bigger risk now for these rich owners is that the government will proceed with legislation to change to governance of football (e.g. through implementing the 50 + 1 rule) and/or the appointment of an independent regulator with beefy statutory powers.
The government have said today they plan to push on with this review.
Dave Abrahams
297
Posted 21/04/2021 at 09:26:11
Danny (219), re your second to last paragraph: It 's like an arsonist getting praise for phoning the fire brigade after starting the fire.
The Liverpool media mafia will be all over the place today starting to give the praise out to their wonderful owners, and plenty will listen, daft bastards!!
Rob Halligan
298
Posted 21/04/2021 at 09:28:22
There should be sanctions imposed on the septic six. Fine them, give them a points deduction, even relegate them, yes relegate them!! Bit harsh really, as the managers, players and fans will suffer, and were totally unaware of events unfolding behind their backs. Are these sanctions a bit harsh, yes, just like it was a bit harsh on Everton, spurs, man Utd, Southampton and Norwich city back in 1985 when these clubs, and every other club in the preceding years, were banned from Europe through absolutely no fault of their own. Kick the bastards where it will hurt most, in the pockets and on the pitch with a points deduction and relegation.
Chris Williams
299
Posted 21/04/2021 at 09:31:07
This isn't over. The people behind this haven't changed. The people who run football haven't changed. The greed and mentality that drove this hasn't gone away suddenly.
The agenda still exists.
Yes, appropriate punishment must occur. And then what?
It seems that the enquiry into football governance is still going ahead, and that's good, at least on the face of it. The fans to be at the heart of it. I hope so. But I also hope it doesn't drag on and get watered down. And prolonged inaction by the decision makers leads to all momentum trickling away.
The same way that BLM momentum seems to have been dissipated, and taking the knee has become an increasingly empty gesture, as time has passed, with no meaningful lasting changes. Still widespread daily abuse and racism. No institutional racism in UK,according to an official enquiry recently.
This is only football, and this is not finished with yet. Enjoy the moment but like McArthur, they will return.
Andy Walker
300
Posted 21/04/2021 at 09:31:25
Hi Steve, absolutely agree. The landscape has been completely changed for these billionaires who naively and wrongly viewed football (certainly in Europe) as just another industry where money is all that matters.
The fans and Government have slapped them down, in the most public humiliation. Billionaire egos will be bruised and battered, anger will be bubbling under their fake apologies and new risk of Government regulation represents real financial risk to them.
They know what the answer is, sell up and move on to try and rape another industry. Will they though.?.
Stan Schofield
301
Posted 21/04/2021 at 09:36:03
John@291: See post 263.
Brian Harrison
302
Posted 21/04/2021 at 09:36:22
Without a points deduction then all the condemnation will be meaningless, and I mean a points deduction in the region of 30 points that will probably relegate Arsenal and Spurs and take out Man City, Man Utd and Liverpool from Champions league places. But this wont happen it will be viewed as look they all realize they have made a mistake and they have all apologised, the fans will be told they won a great victory and everything will be like nothing happened. Liverpool fans and Utd fans will probably want a change of ownership so they will swap 1 greedy billionaire for another, with exactly the same ideals as the previous owners.
Already we have seen a statement welcoming City and Chelsea back into the European family, and no doubt the new rules that UEFA are bringing in and the added finances will be some sort of sop to the breakaway group.
The Premier likewise will do exactly the same no sanctions as they wouldn't dare upset Liverpool or Man Utd as they are a main reason why there is so much money in the game.
Thomas Richards
303
Posted 21/04/2021 at 09:38:47
Attempting to repair some of the damage, John Henry said: 'I want to apologise to Jürgen, to the players and to everyone who works so hard at LFC to make our fans proud. They have absolutely no responsibility for this disruption. They were the most disrupted and unfairly so. This is what hurts most. They love your club and work to make you proud every single day'.
He added: 'If there's one thing this horrible pandemic has clearly shown, it's how crucial fans are to our sport and to every sport. It's shown in every empty stadium. It's been an incredibly tough year for all of us; virtually no-one unaffected. It's important that the Liverpool football family remains intact, vital and committed to what we've seen from you globally, with local gestures of kindness and support. I can promise you I will do whatever I can to further that'.
Ed Fitzgerald
304
Posted 21/04/2021 at 09:39:03
Rob - You mustn't mention Heysel or their pitiful response to the events of 1985 that's just being bitter. I heard Micky Quinn on talk sport earlier trotting out the usual kopite moralising and saying how their fans had stopped this happening it would of course be wrong to punish these clubs as that would punish players and fans FFS. On Sunday and Monday Neville was advocating punishment for the six clubs let's see whether he still holds this line now.
Dan Nulty
305
Posted 21/04/2021 at 09:44:58
Sorry Ed, why can't we mention Heysel? We were denied the right of seeing the best team in my lifetime compete at the highest level and watch our best players disappear. It wasn't fair, it was not our club, players or fans fault that some thugs went on the rampage. We had to endure it though, we had to suck it up. Let's not forget, these aren't thugs killing people, these are billionaire owners who are seeking more money and to protect their investment at the expense of other clubs in England and around Europe.
Uefa punished the lot of us then, the least they can do is punish the 12 now.
Anthony Murphy
306
Posted 21/04/2021 at 09:45:08
Was this just a proposal or a done deal? Big difference.
Andy Walker
307
Posted 21/04/2021 at 09:46:10
Hi Brian. I disagree the condemnation is meaningless. Firstly it's stopped the ESL going ahead, secondly it has shown the handful of billionaires that own these 6 clubs, that their strategic plan for maximising their financial returns on their investments in the clubs, are no longer valid.
This has potentially huge implications for these clubs. These billionaires may look to sell. If they are replaced by other billionaires there will be one huge difference, namely the new billionaires are buying in knowing they can't destroy our game as we know it, just for their own financial gain. In other words new billionaires buying in will have values much more closely aligned to those of the fans, much like Moshiri has already demonstrated he has. Can only be good for our club and the game in general, if these few scum bag billionaires get the hell out of our league's clubs.
Ian Jones
308
Posted 21/04/2021 at 09:50:03
Unless there is anything specific in the current regulations and rules indicating points deductions and fines applicable in such cases, then I imagine there will be nothing that is detrimental to the clubs involved. If any punishment was dished out, the clubs would just appeal. Slapped wrist, a 'we are watching you as we no longer trust you' message is all that is likely to happen, followed no doubt by decisions that will potentially harm all clubs, such as another go at financial fair play, more scrutiny of owners. Let's hope we don't suffer unduly from any fallout
Andy Walker
309
Posted 21/04/2021 at 09:57:27
Just to add. Even if the owners of these 6 clubs don't look to sell in the short term I'm almost certain they will not be looking to invest as much into their clubs as they have in the past as they now know they can't get the returns they were hoping to via the creation of a Super League. They also know risk of failure on the pitch and the resultant financial risk, will continue which it wouldn't have done to anything like the same extent had the ESL come to fruition.
This could be a watershed moment for English football and an opportunity for clubs like Everton to catch up.
Rob Halligan
310
Posted 21/04/2021 at 10:02:35
Andy, it's likely that these owners will be hounded out of the club by the fans, certainly the RS and man utd. Any potential buyers could offer buttons to purchase the club from the current owners. If nothing else, hurt the owners the most, and leave them out of pocket.
Ian Burns
311
Posted 21/04/2021 at 10:08:45
I've read all of the passionate posts this morning but the to cut to the truth, as some have said, nothing will happen. That has already been made clear by UEFA, welcoming the clubs back into the fold, no mention whatsoever of recriminations. The EPL are not all as brave as EFC/Mr Moshiri. How many came out with independent statements such as that EFC put out?
The president of Madrid has said they need to re-think their strategy, so for sure he will try again.
None of the owners will leave, unless they are ready to make huge losses at prices they will obtain in today's market.
A fan led change to the structure of football clubs would be most welcome but it will be something discussed for a while, then it will dissipate.
The bald truth is the EPL needs these six clubs prospering because that's from where their main income is derived. Most neutral fans from the UK and much further afield, will watch when one of the six are playing, less so when WBA are playing Sheff Utd.
We cannot go back despite how much we all yearn for a re-set of sorts. We as Evertonians just need to pray EFC can get into the CL mix as soon as possible and get amongst them because they ain't go away in the short or long term.
Sorry if this bursts a few passionate bubbles but I am sure this is how it will all quietly play out.
Andy Walker
312
Posted 21/04/2021 at 10:08:58
I really hope so Rob! They deserve everything thrown at them. They're not wanted and they now know they can't just arrogantly do whatever they want with our game. That will be a shock to these ignorant egos. Hopefully they'll fuck off with their tails between their legs at some point which will constrain the future power of their current respective clubs both on and off the pitch.
Brian Harrison
313
Posted 21/04/2021 at 10:12:14
Andy 307
I hope you are right but history tells me the rich and powerful always get what they want in the end. You only have to look at how the European Cup has evolved to suit the rich and powerful. This competition was for all the clubs who had won their national leagues and it was a free draw were anybody could play anybody. But the rich clubs said hang on if for example we Man Utd draw AC Milan we could go out in the first round so we will make very little money. So they then evolved the competition at the instruction of the powerful which would allow clubs finishing 1st 2nd 3rd and 4th to compete, again even if the rich and powerful had a bad season they had a greater chance of being in the comp now there were 4 places up for grabs. Then not satisfied with that they wanted a seeded system so the rich and powerful could progress to the later stages and make more money. Then not happy with that they didnt want any club not in the cartel to Gatecrash the party by acquiring an owner with untold wealth, so they brought in a FFP rule to try and curtail that. So I have very little faith that this little set back will hurt them to much or change football for the better. They will just push for further changes that protect the cartel.
Dan Nulty
314
Posted 21/04/2021 at 10:17:05
They need to update the Premier league rules immediately to allow 14 clubs to make decisions and metre punishments. They need to detail exactly what the punishments are.
At the absolute very least it has to be 30 point deductions suspended for 10 years. If this happens again then in that time period then those points deductions are handed out immediately.
John Boswell
315
Posted 21/04/2021 at 10:18:30
Stan (301 & 263) thank you. Your post at 263 is just the point that I was wanting to make. These business men will still look to take more control to their benefit and the detriment of all other league members. COYB.
Colin Glassar
316
Posted 21/04/2021 at 10:24:01
So Agnelli has accepted defeat, for now. Perez is like hitler in the film, Downfall screaming for his non-existent armies to come to the rescue.
They haven't given up. This is a tactical retreat. Like Neville said, the PR and Comms people will be working overtime to redo their image. Already the media are painting the Chelsea and rs fans as saviours of the game, not a peep about our effort yesterday.
This feels like a victory. I hope it's not a Pyrrhic victory. If the truce is over, can we go back to hating our rivals?
John Skelly
317
Posted 21/04/2021 at 10:27:22
So it starts the media are already fawning over the teflon sixes magnanimous decision to return to the fold, it makes me sick to my stomach.
Donal Armani
318
Posted 21/04/2021 at 10:28:15
A transcontinental clash between financial assets/mindsets and cultural assets/mindsets which, lo and behold, the latter won
Kevin Molloy
319
Posted 21/04/2021 at 10:30:56
Derek
I think the current system is in better shape than it's been in for years. Twenty years ago, United could blast any club out of the water if they wanted a player. But thanks to the wealth generated by the PL, even little clubs can tell the big clubs to get lost, and it has led to genuinely more competition. That's how Leicester were able to hold onto Vardy, and Villa Grealish. As a result of the wage distribution in the PL footy is in better shape than its been in for years.
Tony Abrahams
320
Posted 21/04/2021 at 10:45:32
I know we suffered over Heysel, which was very unjust on our part, but why should the fans of these spiteful six suffer, also through no fault of their own?
Make the clubs suffer in the pocket, but not through fines, but giving back to those fans they had absolutely no regard for, whatsoever.
Make them issue free tickets for every game played inside their stadiums, to both home and away fans, for the next two years, why should anyone else receive the fines?
Alan J Thompson
321
Posted 21/04/2021 at 10:48:29
I can't help but wonder what the outcome might have been had they run it by UEFA or FIFA first and asked one of them to head it, with the appropriate management fees, of course, and not to mention the necessary commercial confidentiality.
Derek Cowell
322
Posted 21/04/2021 at 10:51:38
Brian at 313. They have already sorted the next stage of the carve up with UEFA's new rules for their comps.
As I understand it, from 2024 if say us, West Ham and Leicester finished 2nd, 3rd and 4th and the RS, Utd and Chelsea came 5th, 6th and 7th those latter 3 'big' clubs would go onto Champs League with us more successful 'minnows' without the UEFA qualifying quotent, going into the Europa League.
Cue outrage and protests. no, probably not!
Correct me if I am wrong.
Michael Lynch
323
Posted 21/04/2021 at 10:52:42
Tony, I hear what you're saying, but EFL clubs have had points deductions leading to relegation after financial mismanagement. The fans suffered from the owners' misdeeds. The precedent is that if rules are broken by clubs, fans suffer. The only question here is whether the clubs have broken any rules. If they have, then the fans must accept the punishment sadly. If not, then no sanctions.
I'm not sure if rules have been broken, but didn't the clubs withdraw from the one of the European football bodies? If so, then surely they shouldn't be allowed back in without sanctions? If they gave notice, for example, to withdraw from the CL in favour of the Super League, they shouldn't be allowed back in for perhaps five years.
I won't hold my breath though, judging by the reaction so far.
Danny O'Neill
324
Posted 21/04/2021 at 10:54:50
Not quite how I saw it shaping out, but I still hold my theory that was an aggressive tactic to start the discussion. UEFA came back with a strong counter that has stopped them in their tracks for now. Once they're off the naughty step, they push the agenda again but this time on re-shaping the Champions League. Maybe even re-name it Super League!
Tony Abrahams
325
Posted 21/04/2021 at 11:09:40
Fair enough Michael L, but I've just watched that absolutely nauseating video by John Henry, which is being given the main headlines by sky on the net. He's going on about the fans being the lifeblood of the sport, but never once, nobody behind this very cynical move thought to seek out the feelings of the fans?
Sanctions should be made, but it's something that the governing bodies are going to have to get right. No way this is over, and once it settles down now, the PR machine's of some of these clubs, will start pointing out that none of them wanted to leave their respective leagues, and although they got things wrong, it was an attack on UEFA, and not the EPL.
David Baxter
326
Posted 21/04/2021 at 11:14:57
Looking at this from another angle
6 clubs get asked to join the ESL with promise of $310 million up front,and they all scream YES YES YES.
14 clubs don't get asked,and everyone says "We wouldn't have joined anyway.
Bit like asking the prettiest girl at school for a date,she tells you to get lost,and then you say ;I didn't fancy her anyway.
Just a thought.
Kim Vivian
327
Posted 21/04/2021 at 11:15:02
It may just seem like a slap on the wrist but at least it would be making a statement.
1) Some sort of pretty hefty (legally imposable) fine to be imposed by the FA - the proceeds from that directed into the lower tiers. The six English clubs at say £150m each would raise just under £1bn.
2) Let this season play out, but barr all 12 clubs from entering any European competition next season, leaving them having to earn it the following season. That opens the door to a number of clubs to reap the rewards of at least one season in Europe thus helping them to be increasingly competitive off the back of that.
If our season ended exactly as it stands now, that would let Leics, WHam, Everton, Leeds, and Villa, into either Champs or Europa. The criteria for qualifying via the FA cup would need to be worked out if one of the Horrible Six were to (theoretically) qualify.
Michael Lynch
328
Posted 21/04/2021 at 11:16:55
Tony, you're 100% right about John Henry. He's apologising because he's been caught, not because he's done wrong.
And John Barnes is absolutely right. This isn't a victory for the fans, it's a victory for UEFA and the Premier League, it's a victory for the status quo. We're back where we were three days ago - worse in fact, because now there are two places in the CL reserved for any big club that finishes mid-table instead of in the top four.
Paul Smith
329
Posted 21/04/2021 at 11:20:04
For us BMD can be built giving us a fighting chance to join the Super league or namesake when it happens in the future 😉
Mike Keating
330
Posted 21/04/2021 at 11:24:58
A statement from the ESL today;
"Despite the announced departure of the English clubs, forced to take such decisions due to the pressure put on them, we are convinced our proposal is fully aligned with European law and regulations as was demonstrated today by a court decision to protect the Super League from third party actions"
Doesn't sound like a climb down to me.
They've given in but they haven't given up.
Tom Harvey
331
Posted 21/04/2021 at 11:27:20
For anyone demanding apologies from this disgusting 6, don't bother!
They're financial paedophiles, they'll reoffend later on and rape the cash pot again.
I have no doubt an apology would look sincere, but they wouldn't mean a word of it.
Punish them now and sicken them with what any further attempts would mean. Years out of the CL and Relegation with heavy points deductions, forcing them to fight for promotion, let's teach them the value of competition!

Ernie Baywood
332
Posted 21/04/2021 at 11:29:32
I can't believe Evertonians, of all people, are buying into the "don't punish the fans" rubbish that is being put forward. By that logic you would never punish any infraction. Henry is practically begging you to think that way.
The clubs did this. There's a common thread, and it's not just overseas owners. It's this 'Big 6'.
The clubs did it and should be punished for signing up to join an unrecognised league.
Colin Glassar
333
Posted 21/04/2021 at 11:31:27
Darren Lewis (daily mirror?) is almost in tears. He's been deeply moved by Henry's "apology". These corrupt journos are just as bad as their corrupt, corporate owners.
The cover-up has begun!
P.s. And for those with the "don't punish the fans/clubs" well, weren't we punished for Heysel? What's good for the goose........
Michael Lynch
334
Posted 21/04/2021 at 11:34:11
Colin, we're all being gaslighted now. Did it even happen? And if it did, it was Jordan Henderson who stopped it! All praise to John Henry for being man enough to admit he was wrong!
Fucking hell, I've seen it all now. The six won't be punished, they'll all be given Knighthoods.
Colin Glassar
335
Posted 21/04/2021 at 11:35:54
Knighthoods or sainthood, Michael. This is just the beginning of a massive PR offensive.
Tony Everan
336
Posted 21/04/2021 at 11:36:14
The Champions League qualification by legacy coefficient has to go immediately.
Another preposterously arrogant and greedy power grab that stifles competition and self serves and protects the current elite.
We now need action, not words.
Danny O'Neill
337
Posted 21/04/2021 at 11:36:29
Should they be punished? Absolutely.
Will then be? I'm not optimistic it will happen and if it does it will be financial, which they will absorb with next year's pay cheque.
This has turned me into a right cynic.
Yes, I wonder if this will be another unsightly episode airbrushed from history.
Ian Jones
338
Posted 21/04/2021 at 11:39:49
For those that are wondering how the new UEFA Champions League will work in terms of the 4 extra places added, this is off the UEFA website, para starting 'Qualification...'

Assuming the current system is kept in place for the first 32 places. I think the first additional place here goes to France, as their league is the fifth ranked national association behind Premier League, Spanish, German, Italian leagues
The Champions Path includes all league champions which do not qualify directly for the group stage, and consists of the following rounds: Preliminary round (4 teams playing one-legged semi-finals and final): 4 teams which enter in this round.
The final 2 places and the highest club coefficient will be interesting to see how that pans out.

'Qualification for the UEFA Champions League will continue to be open and earned through a team's performance in domestic competitions.
One of the additional places will go to the club ranked third in the championship of the association in fifth position in the UEFA national association ranking. Another will be awarded to a domestic champion by extending from four to five the number of clubs qualifying via the so-called "Champions Path".
The final two places will go to the clubs with the highest club coefficient over the last five years that have not qualified for the Champions League group stage but have qualified either for the Champions League qualification phase, the Europa League or the Europa Conference League.'
Clear as mud. Good luck everyone!
Jim Hourigan
339
Posted 21/04/2021 at 11:42:34
These clubs must be punished through either bans or points deductions or both. Yes it hurts the fans and players who did not make the decisions BUT did they think about the fans and players who would have been hurt by their decision. Did they care about the 12 founding members of football, did they care that teams might have gone under. Did they worry about their fans and players - not one jot.
A ban from European competitions, points deductions and or relegation will hurt these clubs for 2/3 years, but they will come back because sadly they are big clubs. Teams like Crewe or Blackpool or orient may not have survived and never come back. A few years of hardship for the so called glamour clubs is a small price to pay for the treachery and deceit of their owners. Do I care about their fans? No I care more about football and what it means to the supporters of Tranmere and Preston than them.
Tony Shelby
340
Posted 21/04/2021 at 11:43:57
The punishment for each of the 6 clubs should be:
- 10 Point Deduction for 2020-21 Season

- Exclusion from all 2021-22 European Competition

- Club Fined £10m. Funds used to develop grassroots football
Michael Lynch
341
Posted 21/04/2021 at 11:44:14
Ian, I'm guessing that means that if one of the Sexy Six finish 7th, they are in? What I don't know is whether England is limited to four places in total, and therefore if we finish 4th in that season we'd lose out to whoever finished 7th, or if the extra place is exactly that - an extra place in addition to the top four.
Answers on a postcard please.
Ernie Baywood
342
Posted 21/04/2021 at 11:46:04
Andy, I know how a business works.
There's no fantasy in expecting that someone would have said "that's a bad idea, don't do it". I doubt it was like a Dr Evil scene where henchmen were dropped into a pit if they dissented, while John Henry stroked his cat.
There are a lot of people at those clubs that went along with it. They may have even raised the initial idea. They certainly worked on making it happen.
And they certainly would have helped Henry to craft the "it was all me, please don't punish the fans" crap that is being lapped up now.
Whether they were following direction or not, they did it. They directed others to support the plan. The clubs did it and should be punished.
Anthony Murphy
343
Posted 21/04/2021 at 11:47:19
As pointed out - new CL format gives them what they want yet no one is questioning it - too distracted by what might have been than what is actually happening and we're meant to be grateful. Jeeez
Billy Roberts
344
Posted 21/04/2021 at 11:48:37
David @326
Just not a very well thought out " thought".
The pretty girl was in fact extremely ugly.
Michael Lynch
345
Posted 21/04/2021 at 11:51:39
Having looked again at the new CL format, it's a bit mad. 36 clubs all in one league, but you only play ten other clubs, five home and five away. It doesn't say how that is decided. So in theory, all the big clubs could have to play each other if it's an open draw? Following that, the top 8 qualify, while everyone else up to 24th has a two legged play off. The 8 shit clubs then each have to face one of the 8 top clubs, so the round of 16 is seeded.
If they are also going to seed the initial ten games, then it's a total farce, basically guaranteeing the top clubs a clear route to at least the last 16, and then that game is seeded too, so probably to the quarter finals.
God, I miss the old European Cup.
Colin Glassar
346
Posted 21/04/2021 at 11:52:28
They left the UCL, they left the ECA, they wanted to leave the premier league so, exclude them from next years CL. That way, Leicester, WHU, Everton and Leeds (currently) would qualify.
I'd also ban them from all domestic cups next season. Deduct them 15 points next season. Fine them £50m each and exclude them for three years from any involvement in premier league meetings. Make them feel like the shits they are.
Michael Lynch
347
Posted 21/04/2021 at 11:55:46
Colin, did they actually go as far as leaving the CL though? If so, absolutely, it would be crazy not to ban them for at least one season. Sadly, they didn't want to leave the PL - they expected to have their cake and eat it too.
Bill Fairfield
348
Posted 21/04/2021 at 11:58:12
It's one rule for the big clubs and another rule for everybody else.Look what happened to Wigan when their owner stepped out of line last season,punishment was meted out quickly
Steve Guy
349
Posted 21/04/2021 at 12:12:00
All these snowflakes talking about how the fans of these Clubs shouldn't be hurt by any punitive action is getting on my nerves. I didn't see any protests from these fans in recent months when UEFA and their Clubs were discussing and subsequently approving the newly expanded CL that all but guarantees the likes of the RS permanent inclusion...how does that sit with Guardiola's "sport must be competitive" ? Also happy to see their Clubs inflate the transfer market so that other Clubs are constantly playing catch up. I didn't see anyone saying "don't hurt the fans" (of all the other Clubs including [yes] Everton) when the RS got everyone banned from Europe for 5 years. These Clubs have a fantastic knack of coming up smelling of roses everytime they fuck up and this is likely to be another example...for "don't punish the fans" please read "if you punish the owners you'll become the bad guys because you'll be punishing the fans and players". Already there is a reported split amongst the 14 as some try to hedge and play a long game over their own aspirations; instead of doing the right thing, the moral and ethical thing and throwing enough punitive measures at these Clubs to make them consider very long and very hard before even thinking along these lines again. Don't forget, our own plans for a new stadium hung in the balance on Monday and these Clubs and their sociopathic owners didn't give a shit and were happy to throw us under a bus for their own self serving interest. I have no doubt Moshiri had this in mind when he called it on Talksport. So why should anyone care if these snide, avaricious snakes now get a taste of what it feels like to be crapped on too ? Consider the punishments meted out to teams in recent years for far less impactful transgressions and a 20 point deduction this season plus starting next season from a minus 20 point position would hurt were they hurt most their P&L.
Danny O'Neill
350
Posted 21/04/2021 at 12:14:02
I think the problem will be what I interpreted from the legal language last night.
As I understand, they only signed up to a proposal. So unless they can be punished for intent, I'm suspect about being able to do anything to them.
Told you. It's turned an eternal optimist into a raging cynic.
Andy Walker
351
Posted 21/04/2021 at 12:20:35
No Ernie, people would not be dropped into a pit if they were dissenters. They would have been given their P45s though.
What exactly do you think employees of an organisation should do when the 100% owner of that business tells them to do something they don't like, but is legal? Walk out on principle and take the moral high ground whilst the bank repossesses their homes a few months later?
Turn it around. If you are that owner and your subordinates aren't doing what you asked them to do, what would you do? Let them get away with it and undermine your authority? That's a route to disaster.
This whole issue is one of greed of a few elite billionaires who own football clubs. It's not about football, or trying to label some fans, or club employees, better than others. That would be arrogant and self righteous.
If we'd had a different billionaire owner, Everton the club, you and me and all us fans, would have been wrongly branded by association, with the same bad label, by those folk with self proclaimed, false superior morals. That would be bollocks.
Christy Ring
352
Posted 21/04/2021 at 12:36:00
The more I look at John Henry's grovelling apology the more I cringe. He doesn't give a shit about the fans, the same as the other 5, he's no other choice, it failed because of the backlash from the fans and the media. Only for Chelsea and City getting cold feet, it would have went ahead and fuck the other 14 Premiership clubs.
I'm flabbergasted that Everton fans on here want no sanctions against the club's because of the fans. There should be heavy sanctions against the club's, they didn't give a shit, and let the owners take the blame. Souness said last night not to penalise My Club, did he give a shit about us in '85. Let's see will Neville and Carragher still want the club's to be heavily punished. Let's not forget, this was greed, nothing else, they were turning there back on every club in England. If and when club went into administration, they were deducted points and relegated. Is this not a lot worse, and if the club's not the owners get away with this, it's a kick in the teeth to every club, "Not the so called elite"
Andy Riley
353
Posted 21/04/2021 at 12:44:36
This a a real opportunity now for appropriate sanctions on the Judas 6 to lead to a rebalancing of the PL which in itself will be a real and welcome reform. Basically they started a war and have lost so to the victors the spoils - had they have won they were happy to destroy the Loyal 14
Bill Fairfield
354
Posted 21/04/2021 at 12:46:18
Fans of the snake bellied six need to keep the pressure on for change.Saying sorry now is sickening.
Kevin Jones
355
Posted 21/04/2021 at 12:46:50
The words "The Big Six" when describing these teams should be banned. Never again should any football pundit or media outlet be allowed to use this term. Sky started it all with results against the Big Six Bollocks etc.
No wonder they have this feeling of superiority. And if I hear that fucker from the Spirit of Shankly say we (meaning the Red shite ) represent this City one more time, I will find him and I will kick him squarely in the nuts. No you fucking don't you deluded arsehole. Tell the scumbag 6, you're all fined £50 Million each, and put that money into the lower echelons of football. Dock them a minimum of 15 points and ban them from Europe for 2 seasons, then we'll see how fucking Big they really are. I hope JP Morgan Sue's the arse's off them all for loss of potential income.
Brent Stephens
356
Posted 21/04/2021 at 12:48:44
John Henry has apologised to the fans in the "other place" - not to the football world.
Geoff Cadman
357
Posted 21/04/2021 at 12:51:00
Andy Walker # 274
The RS are valued at more than 10 times what FSG paid for them. I don't see them selling up in the near future. The one that Worries me Is Kroenke at Arsenal if he decides to sell up who do you think would be first in the queue to take over.
Christy # 352
Like watching a Donald Trump speech wasn't it.
Colin Glassar
358
Posted 21/04/2021 at 12:56:29
Michael 347, they set up a rival champions league, so of course they would've left the Uefa sanctioned CL.
Uefa should now repay them by saying "enjoy your ESL next season. See you in 2023 - perhaps".
Lee Gorre
359
Posted 21/04/2021 at 12:59:38
With all the false platitudes from our CEO about how important fans are and also the laughable outrage from Sky and their false praise about how important fans are, can we now expect to see the importance of fans actually carried forward and not have us travelling up and down the country for ridiculous timed 8pm kick offs on random week nights, and maybe more than the odd Saturday 3pm kick off?
Ernie Baywood
360
Posted 21/04/2021 at 13:01:42
Andy, there's not a single successful leader that operates that way. John Henry is a successful business owner.
The owner doesn't simply say "Here's what we are doing, now you sort the contacts, you organise the non disclosure forms, you prepare the dolphins with frickin' laser beams..."
To get to the point that they got to, there would have been agreement. There would have been teams working on it. There would have been strategic alignment within the upper levels of the club.
You simply don't broker billion dollar deals on one man's say so and a couple of yes men doing the admin.
That speaks to the culture at these clubs. There problem is that it could happen at these clubs. There would be plenty of clubs where it couldn't happen in such secrecy. And yes, people do align or leave employment. They do it all the time in matters nowhere near as ethically disgraceful as this.
Yes, it could be other clubs doing terrible things; I wasn't born yesterday. But it wasn't - it was these 6 that did it. They held clandestine meetings with the intent of fucking over the vast majority of the professional levels of the sport... for their own benefit.
Then claimed that they would never have done it without fan support. Really? Not for one second did they think the fans would back this. They knew that full well and were still prepared to do it. The ultimate level of fan revolt may have surprised then, but it wasn't what stopped them and caused them to abandon the idea in such a synchronised way. They were prepared for fan revolt.
Henry and his associates are playing people like fiddles here. Fans are repeating the rhetoric... "you can't punish the clubs, that would be unfair on fans and players". When else has that ever been a thing?
Fuck it, award Everton a premier league title. I know the club didn't win one, but that's not our fans' fault is it? Give one to everyone.
Rob Halligan
361
Posted 21/04/2021 at 13:03:42
Let's get one thing straight here, these six septic clubs haven't pulled out because of fan power, media power or whatever. They have pulled out because they were scared of missing out on the pot of gold at the end of the premier league rainbow. They were scared of missing out on the pot of gold at the end of the champions league rainbow. They were scared because they would have had to leave the premier league to join the ESL, with very little prospect of ever returning. They were scared of a possible ban from UEFA of banning them from European competition. I find it very interesting that Chelsea and man city were the first two to pull out. Had they really been threatened by UEFA with the threat of expulsion from this season's champions league?
Without the premier league and champions league pots of gold, the odds are they wouldn't have been much better off financially, maybe a few million quid, but that's about it. If JP Morgan were stumping up say four times as much what they were going to, then the septic six would have gone.
They couldn't give a rats arse about the fans. Any apologies are futile and already some fans of the septic six are being taken in by it.
Hit them hard, massive, massive fines, points deduction and I'd go as far as relegation. They couldn't gives a rats arse about English football and the premier league. Well English football and the premier league need to show we / they don't give a rats arse about them. No club is bigger than football and they need to pay the consequences for their actions. Unfair on the managers, players and fans for these sanctions, after all it's not their fault, Ha, where have we heard that before, no they're right, it's not their fault, just like it wasn't our fault back in 1985 for getting a five year European ban.
Paul Jones
362
Posted 21/04/2021 at 13:09:53
From what I've taken from the ongoing coverage is that those involved particularly the US owners are saying is the plan was a good one were it failed was the marketing strategy was wrong.
They did not engage with all the appropriate "stakeholders" ( mainly fan groups and sports media) before presenting their plans in the best possible light. So I expect them to come back and try and sell another vision for the game.
What they see as the failing is the managing consent of the fans and media outlets. They will be back, given that some alleged fan spokespersons seem more concerned about their lack of consultation.
Andy Crooks
363
Posted 21/04/2021 at 13:14:23
I agree, Rob, but it won't happen. They will all be best mates again. There is a lack of shame which is peculiar to the very entitled. Whatever they might say, the Judas six will feel they have been wronged and, sadly, the betrayed could not muster a backbone between them.
Colin Glassar
364
Posted 21/04/2021 at 13:21:19
Same here Andy. The prem is like one of those posh gentleman's clubs. All the members know who the kiddy diddlers are, who's into a bit of S&M, who's into cross dressing and rent boys, who likes a snort and a puff etc.. while the others smile with a wink and a grin. They're all the fucking same!
Stan Schofield
365
Posted 21/04/2021 at 13:30:58
Ernie@360: Spot on. Einstein said that the world is a dangerous place not because people commit acts of evil, but because others stand by and watch.
Many fans actually think that was a victory. But it's simply a continuation of a process of corruption that's been happening for a long time.
If these clubs are not punished heavily, to really hurt them, as other less fashionable and less wealthy clubs have been punished to date, then top level football is utterly fucked. Not only will I not be watching football if this episode goes unpunished, I will not be able to muster coming on ToffeeWeb anymore, because I just couldn't bear any more involvement in the corrupt nonsense that is elite football, even commenting on it amongst fine Evertonians who's ToffeeWeb company I've enjoyed for the past 6 years.
I realise that that single personal response does fuckall to make things better, but if enough people walked away from the corrupt luxury item that is modern elite football, then it would have to change. But they won't, and it won't, and they'll continue to stand by and watch, with occasional episodes of protest like this week's that will ultimately improve nothing.
Jerome Shields
366
Posted 21/04/2021 at 13:33:13
Just heard John Henry's apology on the radio. It had all the hallmarks of servers of writs banging on his door as expensive public relations experts advice him on content, deliver, tone and right level of contritness in his public statement. The aim being with a large dolop hope of emergency damage limitation and containment.
Moshiri has played a absolute blinder, help in no small part by Evertons reputation. Bill and Denise will push for 100% advantage with in the football authoritive bodies.
Colin Glassar
367
Posted 21/04/2021 at 13:34:46
The Curva Sud declaration is by far the best I've read by far. Clear, concise, hard hitting. Seems like fans all over Europe feel the same indignation as we do.
I can't copy and paste but if anyone could be so kind as to post it.
Christine Foster
368
Posted 21/04/2021 at 13:35:26
Rob, absolutely correct. The wheels started to come off this machavelian plan as soon as it was clear they couldn't stay in the PL or play in the other European competitions. Cake and eat it. This is the sole reason alone for the backtracking in my opinion. Not one iota of credibility do I give to the power of the fans, this is a mere pandering used to cover their power play gone wrong. They tried to bully and bluster the other 14 clubs but I actually think the Everton statement scuppered them. I really think it set the tone for the response.
The fans of those 6 clubs deserve answers because ultimately they have to live with them or get rid of them. Those fans and teams will bear the brunt of any responses and that's how it should be.
Michael Lynch
369
Posted 21/04/2021 at 13:37:03
Jerome - I'm not so sure about Moshiri and Everton's reaction to the collapse of the ESL. I'm guessing it will be a bit stronger than UEFA's "welcome back to the family", but not much. Our club are as much interested in the status quo as anyone - especially with BMD on the horizon.
I expect some more waffle about being custodians, a few words about needing to tighten up governance and maybe set up some kind of fans' committee, and then nothing.
Danny O'Neill
370
Posted 21/04/2021 at 13:40:17
Ernie:
"there's not a single successful leader that operates that way. John Henry is a successful business owner.
The owner doesn't simply say "Here's what we are doing, now you sort the contacts, you organise the non disclosure forms, you prepare the dolphins with frickin' laser beams..."
Spot on statement. In the military one of the values & standards is "moral courage". More than most an environment where people follow orders. But they are also taught to challenge and leaders taught to accept being challenged if the team don't think something is right. You don't simply and blindly follow orders. You may have to eventually but you will have your say if you feel something is immoral and a good leader will listen. Otherwise you're in dictatorship territory.
Barry Hesketh
371
Posted 21/04/2021 at 13:41:18
Colin @367
I'm guessing this is the link you referred to?
The horse has bolted, the barn has been turned into a fast-food outlet and a new improved reality show has used the space to attract millions of new subscription viewers. Welcome to the 2020s.
Michael Kenrick
372
Posted 21/04/2021 at 13:41:59
I think this is it, Colin @367:
"Honestly, it makes us laugh to see all those people in the control room of football suddenly claim we fans are first and foremost. The Super League is just the latest in a long line of innumerable manoeuvres over decades that has made football into a business," they said (via FI).

"The birth of this new competition would certainly be another shove to the football of old, which is by now a distant memory, and will inevitably obscure the tradition of the various national leagues, robbing football of the undeniable principle of sporting meritocracy.

"But the thing that most leaves us indignant is the hypocrisy of all those who contributed to making this sport nothing but a business, those who today stand up in name of the fans, but only because they saw their remunerative and seemingly untouchable project fall apart.

"Football did belong to the people until the 1990s, when the Champions League was born, destroying the old European Cup. From that moment, an unbreachable chasm has been created between the big and small clubs.

"Football did belong to the people even when nobody lifted a finger to stop the increase of ticket prices that was imposed by some Presidents.

"Football did belong to the people even when nobody stepped in to stop the rise of the super agents, who took player salaries to ever more astronomical figures, which could only be sustained with TV rights, the same TV companies that imposed increasingly chaotic fixture lists, with games on improbable days and kick-off times.

"Football did belong to the people even when rules were imposed to stop any rapport between the players and the fans.


"Football did belong to the people even when Supercoppa Finals were played on other continents or the dates of some games were changed a few days before kick-off, damaging those fans who had booked trains or planes to get to the stadium.

"Football did belong to the people even when some clubs were allowed to circumvent Financial Fair Play, while others with less influential Presidents were penalised.

"Football did belong to the people even when the World Cup was forced to Qatar in 2022, despite moving the entire calendar and disregarding human rights violations.

"We could list numerous other examples to show the absolute hypocrisy of the words we're hearing from the football chiefs over the last 48 hours.

"The Super League is just the latest disgusting step, but those who took football to this point are no less grotesque, so save us these ludicrous performances of rhetoric and morality.

"Now that the money is running out, feel free to fight it out between yourselves, but don't you dare name the fans. PIGS!"
Colin Glassar
373
Posted 21/04/2021 at 13:44:11
Cheers Michael, that's the one.
Christine Foster
374
Posted 21/04/2021 at 13:44:42
Michael Lynch, I think the 14 clubs issue now is a complete and utter lack of trust in the 6 clubs owners and representatives. No favours or considerations in forthcoming negotiations or decision making. The Trust has gone, the only way back into the fold at the PL level is change of ownership and that will take time. The power has shifted. They lost, all that's left is a front.
Ernie Baywood
375
Posted 21/04/2021 at 13:44:51
Stan 365 - The standard you walk past is the standard you accept.
The PL simply can't walk past this standard. Nor can UEFA. Big 6 fans already didn't accept it, but fell straight back into line once they got back to their comfortable status quo.
It's sickening.
John Raftery
376
Posted 21/04/2021 at 13:45:29
If these clubs are not punished with sufficient severity to deter a repetition of this attempt to steal the game, we can be certain sooner or later they will be back with another attempt. The personnel may change but they will be back.
Any appeasement now from the authorities or other clubs will only encourage them. If football fails to seize this moment, governments must do so nationally and at EU level. Otherwise we will be facing the same scenario within five years.
Brent Stephens
377
Posted 21/04/2021 at 13:47:54
Colin, Michael - thanks. That Curva Sud declaration is a really powerful statement. Hard-hitting, at the right targets.
Colin Glassar
378
Posted 21/04/2021 at 13:50:54
As Miguel Delaney just said on talksport, now is the time to act if these clubs are to be punished. They are in a very weakened position. They turned their backs on their domestic leagues, they withdrew from all Uefa sanctioned governing bodies including the ECA (where they created rules for their own benefit), they are universally despised, they are on the back foot and are reeling.
If we don't act now and hit them while they're down they'll soon recover and be back to their dastardly ways. No mercy!!
Soren Moyer
379
Posted 21/04/2021 at 13:55:18
So no proper punishment for the Devil's six!!!? Reminds me of the quote from George Orwell's Animal Farm: " All animals are equal but some are more equal than others".
Paul A Smith
380
Posted 21/04/2021 at 13:56:35
We should have all quit this game when they Collina'd us in the Champions League qualifiers.
When they changed the rules for Liverpool a message was sent. When they brought a ref out of retirement for one game, the piss was taken.
Every man and his dog, including reds, knew Everton had been fucked over and where was our protest? Where was the integrity of the game, where was the media backlash.
I couldn't care for the feelings of the reds I am unfortunately related to, nevermind the ones I don't know. I hope Henry robs them all.
Soren, never hold your breath for that wish mate. It'll be, why should James Milner have to suffer for these selfish people. See if Neville backs you or Milner the big nose phoney.
Barry Hesketh
381
Posted 21/04/2021 at 13:57:08
Christine @374
Has the power shifted? The elite clubs have the power, they know the numbers, the various governing bodies need the elite clubs more than the elite clubs need them, Everton and clubs like it need the elite clubs more than the elite clubs need them.
Toothless governing bodies have appeased the rich and powerful clubs every step of the way for nigh on half a-century if not longer and only when those governing bodies looked as if they'd lose their cash cows did they speak out.
Eventually, the richest clubs will get their own way or they will continue to maximise their influence on the governing bodies of the game until they do.
I refuse to believe that last weekend's initial announcement was anything other than a 'test the water' scenario to gauge reaction and see which way the wind was blowing unless of course, the group of twelve were so arrogant to believe that their ideas would be welcomed by all and sundry without criticism. It could also have been a good way to hide the finer details of the revamped Champions League rules which are not dissimilar to the closed-shop Super League.
The power lies with those elite clubs and that will not change for some considerable time.

Stu Gore
382
Posted 21/04/2021 at 13:58:31
6 up from the championship. Relegate and 20 point deduction next season plus a three year European ban. They will all get back though it may take three of them 2 years. Spreads a lot of cash around. Championship gets a higher profile. 6 sides get a good chance of staying in the Prem. Several sides get a good tilt at Europe.
Brian Wilkinson
383
Posted 21/04/2021 at 14:06:32
Nothing will change, no points deduction, no punishment, everything will be back to square one.
Even before talk of the breakaway, they revamped the Champions league, ensuring should any of the usual suspects miss out, they can use their trump card of past history, in the Champions league to gain entry.
For me that has to be removed, or they are no better then the breakaway failed bid, they are giving more power, to those who have nearly always qualified each season, how can that be right, you should gain entry, based on the results for the current seasons only, not what you did ten years ago.
Secondly, forget fan power, this has nothing to do with fan power, once the threat of not being able to play in the premier league as well came to hand, that is what made the clubs think.
No suprises, city and Chelsea folded first, both still in the Champions league, had neither been in the Competion still, or the threat of expulsion from the premier league not come to hand, I very much doubt, any of the teams would have bowed to fan power.
So do not be misled by this we listened to the fans bullshit.
David Baxter
384
Posted 21/04/2021 at 14:08:54
It must have been a toss up between Spurs and Everton for the 6th spot in the ESL.Evertons 9 championships should have won the day.If that had been the case,Moshiri would have $310 million to put toward BML.
As a hard nosed business man,could he have rejected that much wedge.
Soren Moyer
385
Posted 21/04/2021 at 14:13:17
Paul @380, Spot on. I don't buy this " Klopp and players wasn't informed about it" crap. They all knew! I am sure of it.
Michael Lynch
386
Posted 21/04/2021 at 14:16:57
It's important to differentiate between the ownership of the Six. Chelsea and Citteh are vanity projects, their owners want to look good and have an impressive plaything. They also both crave respectability. The RS, Arsenal and Utd are owned by American Sports corporations. They want money and a world-famous franchise. Fuck knows what Spurs want, they're just an embarrassment to their fans.
Anyway, it's no surprise that City and Chelsea folded first, while the RS and Utd had to be dragged from the ESL project kicking and screaming (oh, sorry, I mean FSG "listened to the LFC family"). We all know how deluded the RS fans are, but even the stupidest Kopite must, deep down, be able to see through John Henry's bullshit statement.
Christy Ring
387
Posted 21/04/2021 at 14:17:09
John Henry apologised to Klopp staff and players, because he alone was responsible. Fair play to him for being involved for months, and for writing the 177 page document. Absolute bullshit, LFC were completely involved as were the other 5 clubs. The clubs have to be held accountable and punished,
Rob Birks
388
Posted 21/04/2021 at 14:32:52
I jusT Hope that we do not go back to the status quo with this farce? If these greedy, we don't care about the fans, billionaires x10, don't get hit hard in the goolies with fines/sactions to Europe next year and a points reduction then this will be swept under the door and yesterday's news quicker than we can blink!! There just As to be repurcussions
Michael Lynch
389
Posted 21/04/2021 at 14:38:17
Steve Parish totally on the money here:
https://www.standard.co.uk/sport/football/european-super-league-crystal-palace-steve-parish-reforms-coup-steal-football-b930857.html
Pity nobody will listen to him, it's only Crystal Palace after all. Who have won as much as Spurs have recently.
Andy Walker
390
Posted 21/04/2021 at 14:44:54
Ernie, I think the only area we differ on is the degree to which we think the influence that a billionaire investor (or in the case of Henry a person representing a hedge fund) can singularly have on a club. I think a guy who's coming in and investing his own personal fortune will want total control over the club. He will set the culture, the objectives. He'll put his stamp all over it. The odd employee who disagrees with the new owner's direction/culture may well leave if they are fortunate enough to have another position to go to, most don't have the luxury of this option in this tough economic climate though and put up with it. The club becomes a reflection of the owner's values whether the employees, playing staff, manager etc of that club, like it or not.
Sure I agree he'll have teams of people (they won't be that big though, most EPL clubs have around 500-600 non playing staff so are not huge employers) tasked with delivering those objectives, but these sort of guys have the final say on anything of strategic importance. They don't have boardrooms voting on anything of real importance, the quorum is the owners vote. End of (from an owner's perspective).
Let's agree to differ on the little bit we have different views on, if you're ok with that..
Craig Walker
391
Posted 21/04/2021 at 14:46:28
The real losers in all of this are Autoglass. Just think of all the work they could have got with Man City and Real Madrid buses rolling into town every other Wednesday night.
Ian Burns
392
Posted 21/04/2021 at 14:51:42
"The only thing UEFA care about is money" - Koeman.
That's a bit rich Ronald!
Stan Schofield
393
Posted 21/04/2021 at 15:08:17
Craig@391: Nice one. I sent it to some reds I know. They haven't responded.
Ernie Baywood
394
Posted 21/04/2021 at 15:09:35
Andy, happy to agree to disagree on that. Obviously a sole owner comes in hoping to shape the business. We disagree on the extent to which the senior team around them contribute to strategy and decision making. That's fine.
Let's not forget though, that the starting point for all of this was whether clubs or the owner should be punished.
It's still the club, right? Regardless of who is accountable, or who was completely innocent. Liverpool FC, as a football club, signed up to be the founder member of a rebel league that threatened basic sporting concepts for the club's financial gain.
That's punishable. In fact, it has to be punished.
John Raftery
395
Posted 21/04/2021 at 15:16:28
I see that JW Henry apologised to the fans of LFC. There was no apology forthcoming to other clubs or their fans. His words are those of a mealy mouthed cretin.
Bill Fairfield
396
Posted 21/04/2021 at 15:16:35
Even the way the champions league has been re-jigged is a disgrace,looking after the same greedy clubs that have put the knife in,there's just no justice,just pure greed
Andy Walker
397
Posted 21/04/2021 at 15:20:28
Again I agree Ernie, the club as an entity is accountable for its actions.
Realistically, unfortunately I am not sure how these clubs can be punished now that they've done u-turns and not gone through with the new league. It leaves a very bad taste in the mouth and the foulest of smells, but legally I'm not sure if any football body can do anything.
For me, as I've mentioned, the longer game may be the punishment that comes to the clubs, if these owners start to sell off their interests in the clubs, or at the very least, stop investing as much money in them as they no longer see the opportunity to create global football mega franchises, using English clubs as a means to their own financial ends.
Derek Moore
398
Posted 21/04/2021 at 15:23:00
Don Hutch talking Everton up on ESPN for the club statement the club issued on the ESL.
"I've never loved Everton so much as when I've seen their statement this morning, it made me really ultra proud to have captained that football club."
Noted!
paul davies
399
Posted 21/04/2021 at 15:30:26
I posted this to talk sport after hearing Mick Quin stating the ESL clubs shouldn't get sanctioned:-" Points deducted for going into administration etc. The clubs involved get punished. For those who remember that football started before 1992 will remember all the clubs punished with a 5 year European ban for something that didn't involve them. Just a thought but the six clubs who were going to stick their fingers up to the rest of the teams are the sky sports darlings so I expect the premier league won't sanction them in fear of upsetting their money machine."Probably filed in B1n
Andy Riley
400
Posted 21/04/2021 at 15:34:03
Andy 397 - haven't they all brought the game into disrepute which I thought was against FA regulations. That's apart from no doubt breaches of their contract with the PL which probably amounts to a breach of FA rules.
Tony Abrahams
401
Posted 21/04/2021 at 15:40:00
We got punished in 1985 Ernie, and it's left a very bitter taste ever since. Looking at the Chelsea fans outside Stamford Bridge last night, forcing their owners into a very quick climb down, makes me feel there must be better ways to punish these greedy bastard owners, rather than the fans, although obviously that's just my own opinion
Andy Walker
402
Posted 21/04/2021 at 15:40:43
Who knows Andy. I certainly don't!
Brian Wilkinson
403
Posted 21/04/2021 at 15:44:24
Paul@399, you stole my thoughts but I am still going to say something along simular lines.
The big six are saying that it has nothing to do with their fans, players or Managers, so should not be punished.
Yet in 1985, Everton Football club, the players and Manager, had nothing to do with events elsewhere, was no fault of our great football club, but yet we were still punished.
These clubs should not escape punishment, but we all know they will not get punished, it will be brushed under the carpet, an example has to be made on these clubs, but I will not hold my breath.

Bill Fairfield
404
Posted 21/04/2021 at 15:59:53
If this lot get off the hook then football deserves the shit it's in,it's like authority is frightened of them.
Geoff Williams
405
Posted 21/04/2021 at 16:10:00
This hasn't gone away for good and it will resurface in a year or two and these Super Clubs will be better prepared next time. On this occasion they got it all wrong but next time they will up their game and get the PR machinery in operation much sooner. The American owners are in football to make as much money as they can pure and simple.
Soren Moyer
406
Posted 21/04/2021 at 16:12:27
Right. Sky has started interviewing footy people who think point deduction isn't a sensible punishment as it will make the club and fans suffer!!!!!!!!!!!
Strong indication of how this is gonna go down!
Eddie Dunn
407
Posted 21/04/2021 at 16:13:59
I hope that clubs like ours point out to the media that the changes pushed through to help those teams that have been qualifying regularly at the expense of those who only occasionally get top places, is wrong in the same way.
They want to ensure that a small elite keep their places at the top table and therefore earn the most revenue and exposure on tv.
It smacks of a cartel. These are greedy gangsters extorting advantages for each other.
It's the same principle as this super league and it should be ripped-up and binned.
John Boswell
408
Posted 21/04/2021 at 16:26:20
I would suggest that a suitable punishment from FIFA would be a 5 year ban on all European competitions, with 4 years suspended for a period of 22 years. Any future infringement of FIFA rules in that period and the remaining 4 years kick in.
That time petiod covers the original period of the ESL.
Make no mistake, these greedy guys are not going to give up lightly. To fail to punish these clubs now is to pave the way for a new world power for the running of football. FIFA needs to clean up its house very quickly, starting with revoking the new rules for running the Champions League announced last Monday because they are a nonsense and were brought in to pacify the big clubs of the ESL. Grrrrrrr, COYB.
Michael Lynch
409
Posted 21/04/2021 at 16:27:24
Soren - it's so illogical; there are reasons not to deduct points from them, but not because it would harm the supporters. Points are deducted all the time for financial irregularities such as clubs going into administration - not the fans' fault, but the fans suffer.
If they don't deduct points, it should only be because the rules clearly say they shouldn't. Nothing to do with whether the fans will suffer or not. I guess "the fans can't suffer" is Sky Code for "our viewing figures can't suffer".
Barry Williams
410
Posted 21/04/2021 at 16:35:50
Go back to 2005 I think it was, when Everton finished 4th and Liverpool 5th; though they were the reigning European champions. Well, the rules were changed back then to let them in. The writing has been on the wall for a long time - Man U opting out of the FA cup for one.
As many have said, before the 'Super League' came to light (how long has it really been in the making?) the plans to shoehorn the 'big teams' into the champions league, if they haven't qualified by the normal methods, should now be vociferously opposed. If you have all the resources at you disposal that these 'big teams' have, but cannot qualify - well, hey ho!
The game as a whole has stunk for a long time. I only hang onto Everton by a thread - 1 local lad in the team, a lot of imports rolling around and feigning injury, and players leaving the pitch like they have just stepped out of a housewives salon! It doesn't inspire me that much anymore. Oh and Kevin Morales' golden car - was it a Rolls or a Benz!!?? Cannot remember.
That said, Everton's behaviour during these times, and its community work as a whole, are laudable and at least makes you feel like they are part of the fabric of the city.
Justin Doone
411
Posted 21/04/2021 at 16:38:07
I understand the Heysel comparisons and agree the clubs should be punished. I just won't hold my breath.
But the punishment from Heysel was also in particular against the English FA for the constant crowd trouble and hooligans that came out of the woodwork for most English (domestic and international) team games.
I think it was also a real threat 5 years ago at Euro 16 with many fights involving English fans before the tournament kicked off.
So they can and could apply hard punishments but I sadly doubt it unless other country's FA's push for it.
Dale Self
412
Posted 21/04/2021 at 16:39:18
Ace Craig. If minutes of meeting indicate some heavy handed influence by those who've been caught out here then the CL revamp should be scrapped and new talks set up with limited moribund cartel input
David Pearl
413
Posted 21/04/2021 at 16:40:35
They will all just slink away and that will be that. If the clubs get anything it would be suspended. Of course a 1 year European ban would be great for us but seriously, l would be shocked... and stunned. Just how can they be punished? A 1 year ban would reset things a bit. We could attract a better player, gain more income, more exposure... but not bloody likely
Alan McMillan
414
Posted 21/04/2021 at 16:42:06
The worst thing about this sorry debacle will be the illusion that fan power forced these cretins to row back on their decisions. Their "apologies" are pathetic and disingenuous, and only because they were caught trying to pull off the greatest stroke in the history of football. FA/premier League, uefa must punish them with European bans, for their own long term credibility. Then these clubs will experience what it is to play when it means nothing.
Brian Harrison
415
Posted 21/04/2021 at 16:58:02
I see Sky are saying the 14 clubs not involved in the scum 6 are split as to if the 6 should be punished. You couldn't make it up, and it just highlights that the rest of the premier league clubs with possibly the exception of Everton are scared shitless of the scum 6.
Should there be no deduction of points for these clubs, then I think it opens the door for Moshiri and Usmanov to smash the FFP rules, would they dare punish Everton for breaking the FFP rules after letting off the scum 6 if that happens.
I listened to Dean Smith the Villa manager the other day regarding who decides who are the most powerful clubs in the premier league. He said I remember when the premier league was started and Everton were one of the powerful clubs that have brokered the deal, so he asked how come they werent invited to join the ESL. Apart from Arsenal Everton have the longest unbroken record of being part of the top division.
So I would say to those amongst the 14 who are undecided about whether the 6 should be punished, then don't start crying when something similar is drawn up by these clubs as as sure as night follows day it will happen again. The main opposition was not the setting up of this elitest league, it was the fact that it was a closed shop for other clubs to join. So the next time these clubs will allow teams to be promoted into the cartel, then thats everybody happy really? And I cant believe some Evertonians of all people backing this bollocks from Souness that you shouldnt punish the fans or the players as they have done nothing wrong. Well the players and the fans of clubs who were relegated because they went bust werent to blame, but the supporters through no fault of their own like Bury saw their club expelled from the football league completely.
Derek Moore
416
Posted 21/04/2021 at 17:00:37
I agree with most, virtually all of Barry Williams post (#410).
Mirallas wheels was a Gold Bentley if I remember correctly Barry. I thought football had jumped the shark back then!
How wrong I was, we were practically naifs in those innocent days. World cups in Qatar, FFP (snort), the super league - the writing it has been on the wall for a long long time.
Andrew Keatley
417
Posted 21/04/2021 at 17:02:37
The extent of any possible sanctions on the 12 clubs is going to be very interesting. Getting the balance right in terms of punishments that do not have an adverse knock-on effect for UEFA or any of the respective national federations and leagues is going to be hard to get right. I doubt UEFA would want the Champions League to suffer, and the Premier League will more than likely differ with Italy and Spain in terms of how they might want to mete out any domestic punishments.
This concept of the ESL was motivated by financial greed, and therefore I think each of the 6 clubs should be punished with a large financial fine that would create a fund that should be distributed to the other 86 league clubs, semi-professional clubs and to grass-roots football in general. The size of the fine should be a kick in the shins, a rabbit-punch to the kidneys and a slap to the chops - but it shouldn't cause any of those 6 clubs to be put under a level of duress that is going to threaten the club as the fans of those clubs should not be made to suffer.
I'm picking a number from the thinnest of airs but something like £25 million per club would make a £150 million fund for the UK; if that was filtered successfully to clubs in the pyramid that will have struggled hugely over the last 12 months then this whole episode will have managed to somehow resolve itself by helping the infrastructure of football... and isn't that what those charlatans like Perez and Agnelli and their EPL counterparts claimed they were hoping to do by creating the ESL in the first place?
Dale Self
418
Posted 21/04/2021 at 17:05:23
I think the thing to keep in mind is that the conditions that produced this capital cabal clown show are not going away anytime soon and they've more than lost the element of surprise going forward. Good luck at the table gentlemen, there's about to be some turnover amongst your friends and servants.
Jamie Crowley
419
Posted 21/04/2021 at 17:11:54
Dan Nulty way back @ 287 -
Let's not forget these bastards not only did this all in secret, while nodding and pretending everything was OK in Premier league, Uefa and ECA meetings, for months if not longer. Then, they deliberately announced this on a Sunday night and had filed the lawsuits in England, Italy and Spain in an attempt to stop their plan being prevented by the Premier league and Uefa. It was cold, calculated, underhand and they have to be punished.
Of all the comments on this thread, I think yours is the one we all need to remember.
This attempt to exit the league, leave it in a chaotic state, while padding the pockets of the "big boys" was calculated and here's the buzz word for me:
Premeditated.
It was an undercover operation months in the making.
That alone shows how these clubs acted in a bottom-feeding, pond-scum, weaselly manner.
All these calls about employees, players, etc. being hurt through sanctions? My family and I have a saying:
When Mickey Mantle strikes out, the whole team loses.
Sorry, life is difficult and unfair. Your employers acted horrifically, and they simply must be punished.
Again, premeditated.
Thank you Dan for that post.
Eddie Dunn
420
Posted 21/04/2021 at 17:23:56
And now lots of fans at the so-called Big 6 are coming out to say they didn't want this. Unfortunately I wonder if their protestations are now aimed at reducing the consequences of their actions.
We really should take this issue and use it to force clubs to include fans in the ownership, like in Germany. Then these fly-by-nights won't be able to bully the boards into such acts.
Andy Riley
421
Posted 21/04/2021 at 17:35:39
One of the roots of this problem was admitting Liverpool to the CL in 2005 when under the rules in existence then they had not qualified. That led to a conspiracy to avoid 5 English clubs being in the group stages including bringing Collina out of retirement for one game. Basic rules never apply to certain teams and they've got away with that for many years
Neil Copeland
422
Posted 21/04/2021 at 17:41:32
Jamie #419 and Dan #287, spot on. Someone, and I truly hope it is Everton, needs to stand up at the next meeting of the 14 and absolutely demand punishment. They have brought the game into disrepute at a level not seen before for which I believe the proper punishment is a very MINIMUM of a points deduction, even that is letting them off very lightly. "Lesser" clubs would be relegated or even expelled and forced to re-apply,
I was working with a Man U season ticket holder earlier today and he was saying a similar thing. He is only 1 voice I know but interesting that the fans of the traitors seem to be thinking the same thing as many of us.
Jerome Shields
423
Posted 21/04/2021 at 17:52:18
Michael#369
Know where you are coming from. Moshiri was probably trying to capitalise financing by being on the right side of all this. In the coming months I shall abandon of scepticism of 'The Peoples Club ' as it is rammed down the throats of the Breakaway six, instead of my mine , which for years felt as if someone was patting me on the head.
With a bit of luck Bill will end up as Chairman of the Premier League and Denise will be in the running for the Chief Executive role. It might do no good, but many Everton fans would be in favour of it.
It will interesting to see Paul the Esk. analysis of the finances of these Breakaway Clubs as a reason for what they attempted. In his analysis of the affects of Covid the effects where stark for these overcommitted Clubs. I heard on the Radio analysis of some of the Europen gaints involved ;Juventus has borrowing of 1 billion Euro, Barcelona 500 million. It was suggested that the reason for the Breakaway was motivated by the affects of Covid and a urgent need for financal stablity. .
John Henrys motives for his apology where financial panic , as their attempt has worsened their stablity.
Mike Doyle
424
Posted 21/04/2021 at 18:02:16
I guess many of us received the email from DBB yesterday morning stating EFC's position on the proposed Super League.
This morning I replied to it - congratulating both her and Mr Moshiri on their public statements, and asking her to be equally proactive in encouraging the "Legacy 14" of the need to press for sanctions against the 6 otherwise this or something similar will happen again in a few years time.
I wonder if I'll get an answer?
Rob Halligan
425
Posted 21/04/2021 at 18:07:48
Mike, you might get an answer, but not the answer you want to hear!
Mike Doyle
426
Posted 21/04/2021 at 18:12:54
Rob. I'm not holding my breath.
John Raftery
427
Posted 21/04/2021 at 18:19:31
This nonsense about not punishing the fans or players needs to be consigned to the bin. These clubs need to be taught a lesson that nobody connected with them or any other club can forget for the next fifty years. Nothing less is required than the application of significant points deductions, heavy financial penalties plus a suspended sentence in regard to future misbehaviour.
We are hearing the specious argument that these clubs drive the bulk of TV income. This too is arrant nonsense. They only drive the TV income by virtue of their league positions which have been financed largely by their unfair share of the money coming into the game.
Dale Self
428
Posted 21/04/2021 at 18:19:32
Here's a bit of good news:
A sustainability rating agency has downgraded JP Morgan Chase after the US bank was revealed to be funding the failed European Super League (ESL) breakaway attempt.
See? things are working out swimmingly! We may come to find out that the weasels that tried to force this through to cover their losses will simply have given a signal to the market that those losses exist at a financially significant scale. Oops, masters of the universe strike again.
Bill Fairfield
429
Posted 21/04/2021 at 18:24:34
They smile in your face
All the time they want to take your place
The back stabbers
John Raftery
430
Posted 21/04/2021 at 18:27:01
Bill (429) Superb! I wish they would play the O'Jays at Goodison!
Paul A Smith
431
Posted 21/04/2021 at 18:27:58
The fan power thing makes me howl. More jargon from the media. If Man U and Liverpool have more fans than the rest of the clubs in this country i'd be a bit suprised.
What I mean by that is we have let these clubs rule for years and done nothing.
I seen above someone posted it seems only Everton are not scared of these clubs but everyone is.
Our statement had to go out because without these 6 clubs we won't be getting a stadium as all revenue will fall massively.
This is not a criticism of Moshiri and it was also discussed on talksport yesterday. He was spot on with what he said but he was protecting his interests like the big 6 were, but in his defence he had to.
He had to because that is the position the big 6 have put him in previous to the breaking news and all of his investment would be useless if they left the league or were thrown out.
Fan power should have been far more vocal for years. Everyone wanted Leicester to win the league when it was close because we all knew it was needed for football. It was fresh.
These clubs are on voting panels which over the years has decided on fixtures, travelling, Kick off times etc. That affects all of the other clubs and all the benefits the "elite" clubs get will grow and grow.
The best thing about this is fans who have been in denial may be woken and keep fighting to share football as a sport.
The majority of my posts since joining ToffeeWeb have been in consideration of the bigger picture and I am going to keep at it until football is at least reasonable because we can't win a trophy while football is what it is.
COYB
Anthony Murphy
432
Posted 21/04/2021 at 18:42:01
How predictable. The narrative quickly turns to the 'power' of the fans who for years have turned a blind eye to inequality and who embrace the success and advantage this uneven playing field has provided.
Duncan McDine
433
Posted 21/04/2021 at 18:51:17
A lot of fans would probably welcome a fresh and exciting new version of the Champions League, but one in which teams earn the right to be there... not some bullshit league where it's the same fucking teams every year. Let's face it, Spurs and Arsenal would have been the "San Marino's" of the league anyway!
Danny O'Neill
434
Posted 21/04/2021 at 18:58:30
I've been harping on about the need to change football from it's roots up for decades Paul A Smith.
This could be an opportunity. I won't hold my breath, but it could be.
Barry Williams
435
Posted 21/04/2021 at 19:24:48
Derek Moore - 416
Yes, it was a Bentley.
The world cup in Qatar is just ludicrous on so many levels.
But, they have the money!
Paul A Smith
436
Posted 21/04/2021 at 19:26:33
Good post Anthony Murphy. If you pay your money in any way Danny you have a right to fight for your moneys worth.
This is why I don't hype players and may seem like I don't rate them all but compared to the "elite" teams in this league I don't rate many.
Its plainly obvious we cannot have top players for long unless they have deficiancies like injurys or lack of pace etc for the elite.
Its plainly obvious when we have a top player because these clubs are all over them and the media help it along.
Until that changes its always going to be a difficult season for us and will probably end in disappointments.
I always feel like I might aswell highlight the divide because its a bigger problem than any problem we have on the pitch.
Barry Rathbone
437
Posted 21/04/2021 at 19:29:47
No meaningful penalty will be applied the grovelling apologies have allowed. "influencers" in the game to backtrack as the vested interests of broadcasters and the footballing authorities have been restored.
The ludicrous spin involves not punishing innocent fans and staff sidestepping the fact these same people supported hoovering up of top talent with money the owners didn't have.
The new scam is dead long live the old scam
Geoff Lambert
438
Posted 21/04/2021 at 20:16:38
Now lets get the Big man on board and outspend these super six. Just let them try and stop us. The blue tide is rising.
Michael Connelly
439
Posted 21/04/2021 at 20:40:29
The Super League was just a smoke screen to extort more cash from UEFA. Clubs knew well they couldn't force a Super League without any consultation with the fans. It's probably worked too:
https://www.bloomberg.com/news/articles/2021-04-19/uefa-is-said-to-discuss-eu6b-financing-proposal-from-centricus
Pre-prepared apologies then reeled out to deal with the known outrage.
Dale Self
440
Posted 21/04/2021 at 20:44:37
Bloomberg isn't the source for what's going on. It is the source for the public line of the monocle men.
Michael Boardman
441
Posted 21/04/2021 at 21:03:44
Standard politics - let's use petrol tax. The government announce they are going to add 10p to tax on petrol, public outcry, they then wait until the last minute and announce at the budget this will be 4p. Result, the public thanks them as people power has worked and we've all saved 6p per litre (saved??). Same logic in wage negotiations, before we even think of the logic of releasing everyone to be able to go to the pub from a lockdown just before an election is held. Is this situation likely to be any different in football circles (Result - Big 6 get a bigger wedge of the pie)?
Paul A Smith
442
Posted 21/04/2021 at 21:37:26
Barry Rathbone is on it. Very sharp post just about says it all.
Brian Wilkinson
443
Posted 22/04/2021 at 01:56:21
Not read through all the posts, but apologies if this has already been mentioned.
We all know that this is down to the owners, nothing to do with fans or the players, so if teams that have been put into administration have had points deducted, why are these six not having points deducted.
You cannot have one rule for the haves, and another for the have nots.
Si Cooper
444
Posted 22/04/2021 at 02:32:06
Michael (441), not quite sure what point you are trying to make but it seems like it could be another case of false equivalence.
In my mind, people seem to keep missing the point that a genuine sporting spectacle requires elements that aren't really necessities elsewhere in business (from the point of view of the businesses themselves). These include, but are not limited to, healthy competition (so your rivals need to be on a level when it comes to 'product'), variety (not many want to see the same matches too frequently) and an element of risk/ reward (if there is nothing riding on the outcome -good or bad - the level of competition tends to slump).
Therefore, clubs shouldn't be me, me, me all the time for their own good unlike the opposing factions in your examples.
Si Cooper
445
Posted 22/04/2021 at 02:42:09
It is sickening that the perpetrators are getting off with grovelling apologies only directed to their own fans and then restitution is considered paid.
Well at least that is how things were when I switched off the radio because there was a special appeal for Kopites to come on and express their disappointment on how their owner just didn't understand their club!
Ernie Baywood
446
Posted 22/04/2021 at 04:14:49
I keep thinking that there must be more to this. That these people can't be this deluded, entitled and, quite frankly, dumb.
Then I read about Florentino Perez's latest interview...
Link
"It cannot be that in England, the six lose money, and 14 make money. In Spain the top three lose money, and the others make money. It cannot continue - at the moment the rich are those who are losing money."
Stop spending so much money then!
If the likes of your club didn't sign galacticos for obscene money there would still be top teams in the world, there would still be top players in the world. And you wouldn't be in huge debt.
Status would be based on history and current performance. And current performance would be based on good management, not complete mismanagement as is the case right now.
Rob Halligan
447
Posted 22/04/2021 at 08:26:51
Ernie, this is an extract taken from the interview by Perez
"It is not just a chosen few. The 15 clubs founder members are those who have earned it. The clubs who have made UCL semis and finals, and who have fans all around the world".
What exactly have Spurs done to warrant entry? Spurs didn't earn the right to gain entry, in fact Spurs have done nothing to earn the right to gain entry.
What's that saying again "One swallow doesn't make a summer". Well "One champions league final" doesn't warrant entry to a super league.
Spurs ...........big club my arse!
Michael Barrett
448
Posted 22/04/2021 at 08:56:08
It just shows how far Everton have fallen, not a mention anywhere whether we will be asked to go in it, not that anyone wants it like...
Ray Roche
449
Posted 22/04/2021 at 09:11:15
A couple of posts mentioned Manchester United choosing not to participate in the 2000(?) FA Cup. I might be wrong but wasn't it at the request/order of the FA that they didn't play? I'm sure that the club wanted to play in the competition but were 'required' to help promote the worthless World Club Championship or whatever it was called.
Michael Lynch
450
Posted 22/04/2021 at 09:40:41
Ernie @446 that's a fascinating interview, and not just for the jaw-droppingly deluded sounding stuff.
Of course, as you say, the simple answer is to spend less money, and most of the money is spent on eye-watering wages for the same players who are posting "football is nothing without the fans" memes.
Questions are being asked about football right now, but I'm not sure they're the right questions.
Actually, talking of questions, could someone tell me the arguments against a salary cap? I can see one - if a team gets relegated they would need time to adjust to a lower salary cap, and I can see the argument that a successful club should be allowed to spend its money how it sees fit, but other than those? How would it damage the game?
Peter Mills
451
Posted 22/04/2021 at 13:19:08
As I understand matters, significant punishment such as expulsion, possibly even just points deduction, has to be sanctioned by at least ¾ of the clubs in the Premier League.
That means that, if 6 clubs don't agree with a proposed punishment, it won't happen.
I wonder where that idea came from?
Brian Wilkinson
452
Posted 22/04/2021 at 13:43:42
Then again Peter, those 6 clubs, plus another 6, held a meeting, without the other 14 teams invited.
Another way you can look at it is, those 6 clubs will not be allowed to have a right to vote on the punishment. It would be like a judge sitting in on an offence he had committed, and then setting his own sentence.
They may have a right to try and defend themselves, but I very much doubt they would be able to have a say with a vote.
I am sure I read somewhere that 13 out of the14 clubs wanted swift punishment handed out, with just one club voting against it... has anyone else heard similar? I would love to know who that one club was who said No.
Eric Myles
453
Posted 21/04/2021 at 13:46:12
Paul #108, it would all depend if there really was a Contract. Or was it a Statement of Intent? or Articles of Agreement? Both contractual documents.
Even in a Contract there would be caveats, ifs and buts and maybes as the ESL was not a fully functioning entity at the time of signing up.
Brian Wilkinson
454
Posted 22/04/2021 at 13:50:51
One thing's for sure: this is one for Paul the Esk, in regards to if points can be deducted, have they breached any rules, what are the fine lines in punishment etc?
Please give us a write-up, Paul, and your knowledge on this.
Barry Hesketh
455
Posted 22/04/2021 at 13:57:48
Brian @452
My guess and it's purely a guess would be Southampton, but it could also be any club including Leicester or West Ham, but surely not Everton as that would be catastrophic.

Mike Doyle
456
Posted 22/04/2021 at 14:21:16
Brian 454] Paul the Esk posted his thoughts on his Twitter feed yesterday.
While I'm sure most of us would agree with them - esp mandatory relegation to the championship for all 6 - it's difficult to the EPL going that far as it would probably have a negative effect on the value of the Sky TV deal (which all 20 have a vested interest in).
Then of course there are the inevitable legal issues - which seem to be unknown at this stage.
With the season almost over, Hopefully all will become clear soon.
Chris Williams
457
Posted 22/04/2021 at 15:05:57
Peter,
It's 2/3 required, so that's 14 clubs in a 20 club league needed to carry a change like points deduction or fine. Major changes also need an independent tribunal, probably including legal input. They can also vote on expulsion, but I'd be surprised if they did. Delighted though
They voted against the proposal to move to five substitutes remember
Brent Stephens
458
Posted 22/04/2021 at 15:26:29
I can't see the Premier League relegating the greedy ones - the time taken for that to be decided on plus appeals (including a high court case etc) possibly mean that we'd be into next season before my learned friends had finished. And if the greedy ones eventually won their case, how the hell would that mess be sorted out - greedy clubs needing to be reinstated mid-season? and compensated? and substitute clubs now to be demoted (further appeals and dosh for my learned friends).
I would have thought the greedy ones would stay in the EPL, with fines and or points punishments - lost appeals could easily reverse the penalties. And now Sky contractual / financial implications.
Thomas Richards
459
Posted 22/04/2021 at 16:44:43
One vital thing to take into account for those expecting severe punishment.
It's Liverpool FC. The root sum of fuck all will happen to them. Balanced against their actions in the past, they will get away with it.
It's not as if anyone died.
Stu Gore
460
Posted 22/04/2021 at 19:39:06
I've had a read of the rules (yes, boring).
Because 6 of the slimy bastards colluded, the remaining 14 can't force 'em out as a majority vote of greater than 75% is required ( that's why Spurs were in).
But they do seem to have resigned. Resigned is fine. Off you go but later on in the rules it does appear to say that player registrations of the resigning club go to the League, who can then dispose of (sell) as they see fit and distribute funds of sale about the league or elsewhere. So they can go but can't take their players.
They can be points deducted and fined to an unlimited level.
When is the league applying the rules?
Barry Hesketh
461
Posted 22/04/2021 at 19:55:08
Stu @460
I don't think any of the Judas Six resigned from the Premier League, did they? They did resign from the ECA (European Club Association).

Stu Gore
462
Posted 22/04/2021 at 19:58:19
Shhh. make an argument that they did resign by saying they were off and make the league a reasonable offer for City's squad. It might just work.
Ian Riley
463
Posted 22/04/2021 at 20:39:46
Nothing will happen to these 6 clubs. Why? They have spent years working out every permutation that may be thrown at them. Simply they know the remaining 14 clubs need them.
The revenue from tv rights worldwide would be cut in half without the big 6. Sadly ya West brom, Brighton or Sheffield United don't cut it in multibillion pound tv contract negotiations.
Soren Moyer
464
Posted 22/04/2021 at 20:53:39
I struggle to see how Spurs are included as one of the biggest clubs tbh!!! How are they having an impact on the worldwide TV revenue!!!!!?
Steavey Buckley
465
Posted 24/04/2021 at 20:27:22
The fans who opposed their clubs decisions to join a super league should not be punished by their stupidity of their clubs by having their clubs punished by the EPL, because the fans have been superb opposing their clubs stupidity.
Barry Hesketh
466
Posted 24/04/2021 at 20:47:56
Steavey @465,
I just can't agree with your view at all. Henry Winter as a fully paid-up member of the elite club narrative, tweets:
Lot of talk about sanctions for the six plotters. No to point deductions; that punishes players & fans who fought owners. Definitely remove arrogant old execs from committees; demand new faces who respect PL/CL/pyramid. Govt may demand fan on board. nb: The 6 booed when the fans are back.
Following Portsmouth's punishment he tweeted:
Pompey's nine-point deduction confirmed. Sad for fans, innocent victims, but the wages were mad. Other clubs might temper their own extravagance now.
All the clubs that have had a reduction in points over the last dozen or so years, may have deserved the punishment, but their supporters didn't deserve the falls in grace their teams suffered as a result.
If Moshiri overloaded Everton with unsustainable debt, there's not a dicky bird Evertonians could do about it, if we went into administration we'd fall down the slippery slopes too. Fans are there to support the team, if the administrators and owners run the club badly, then the club suffers the consequences and so too the fans by association, whether they behaved properly or not.
What the media in general and a lot of fans too, forget, is that these six clubs sought an unfair advantage by creating an even greater financial disparity between themselves and the rest of their rivals.
There has to be a form of punishment that will deter any of the clubs rather than purely the directors and owners from ever being so cavalier with the game in the future. Large fines won't cut it, they'll write it off as a tax loss or some such.
If Perez is correct and the European Super League is not dead but slightly dazed, how many of the 'super' clubs fans' will shed a tear for the rest of us? It'll be an interesting few months and whilst I expect nothing to happen regards punishment, I'll be surprised if an equally abhorrent European Super League, administered by UEFA isn't up and ready by the start of next season.

Andy Finigan
467
Posted 25/04/2021 at 19:29:19
I see there is 72000 super liegue shirts from the 6 English clubs that were made to celebrate the the new competition going on ale at a reduced price of 29.95
You couldn't make it up could you.
Andy Finigan
468
Posted 25/04/2021 at 19:39:35
Sory they have lowered there sale price to £2 each, still a ripoff. Hope they get everything coming to them.
Rob Halligan
469
Posted 25/04/2021 at 19:41:48
We were punished, club, manager, players and fans in 1985 for something we didn't do. Was that not fair? As a gesture of goodwill, UEFA and the premier league should offer us a place in the next five season's champions league.
Gerry Quinn
470
Posted 26/04/2021 at 16:26:37
Barry Hesketh
471
Posted 26/04/2021 at 16:42:58
Gerry @470,
I thought Bill's piece on Sunday was ill-advised because the more that Everton FC sticks its head above the parapet, the more likely we'll get articles like the one you linked.
Journalists that are embedded with the greedy gang will seek out anything to deflect and obscure the true nature of what the greedy gang proposed.
Their plans for the ESL are not the same as the formation of the Premier League – no matter how often the Journalists say that it is; this was and is a real power grab to close off any chance of any club outside of the usual suspects being able to replace them as 'top dogs' in any competition at home or abroad.

Danny O'Neill
472
Posted 26/04/2021 at 16:50:12
You make a good point, Barry.
I've been vocal enough in the seeming hypocrisy of the Premier League and Uefa. There is a degree of irony in the fact they are fighting the monster they created as I have described it.
But, at least those competitions were not a closed shop. Promotion and relegation as well as qualification in theory is there for all.
Ask Newcastle, Aston Villa, Leeds United, Manchester City and Leicester City.
Yes, Uefahas tried to safeguard the elite, "the club" over the years; that is what the Champions League design sought to try and guarantee.
But it wasn't a closed shop in the way this was being proposed. Okay, not a complete closed shop, but 75% permanent membership regardless of performance.
---
Add Your Comments
In order to post a comment, you need to be logged in as a registered user of the site.
Or Sign up as a ToffeeWeb Member — it's free, takes just a few minutes and will allow you to post your comments on articles and Talking Points submissions across the site.