Ancelotti: We got back some points we have deserved
Friday, 23 April, 2021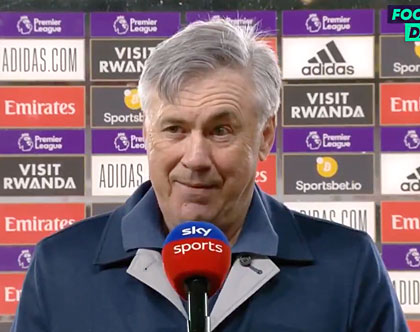 Carlo Ancelotti hailed an important result after Everton buried a 25-year hoodoo on Arsenal's home turf, admitting that his side was perhaps fortunate to take all three points but pointing out that they arguably deserved more against the likes of Crystal Palace and Tottenham in recent games.
Bernd Leno's 76th-minute clanger and an excellent late save by Jordan Pickford handed the Blues their first win at the Emirates and their first away to the Gunners since 1996 and moved them back to within three points of fourth place.
"It was a good result; an important result because we are still attached to the top of the table," Ancelotti smiled afterwards. "It is what we needed. I said before we need to keep fighting.
"The team played a good game. We had difficulties in the game but we tried to play and had some good opportunities. Defensively we were good so I'm satisfied with the performance.
"I think, honestly, it was a draw. Arsenal had more control of the ball. We were good defensively and in the first half we were not so clinical with possession.
"So, honestly, it was a draw but that can happen. Last game we played against Tottenham I think we deserved to win. Against Crystal Palace we deserved to win so today we got the points we lost against Palace and Tottenham."
---
Reader Comments (24)
Note: the following content is not moderated or vetted by the site owners at the time of submission. Comments are the responsibility of the poster. Disclaimer
Gordon White
1
Posted 24/04/2021 at 00:17:59
We've done the double over them. And we buried another hoodoo this year. Across the way.

Kev Dooley
2
Posted 24/04/2021 at 00:34:24
That penalty shout, though... I felt like jumping through the screen to floor him proper.
He'd even put Salah to shame, and that says it all.
Pete Gunby
3
Posted 24/04/2021 at 02:44:55
Ugly wins count the same as pretty ones. Scrambling to the finish and hopefully we can have a rebuild over the summer.
Mark Andersson
4
Posted 24/04/2021 at 04:54:45
Good post Pete Gunby...
Carlo seems realistic unlike some of our past managers...
Can we scrape and crawl over the finishing line...and into Europe..
As always, TW is full of differing opinions... makes me laugh that Holgate in some eyes is now the new whipping boy and, at the same time, local lad our Tom is getting plaudits for being on the bench
At least TW is more entertaining than some of the games... so I hear.
Kieran Kinsella
5
Posted 24/04/2021 at 05:55:33
Funny thing is that some muppets (Darren) on here still argue that we missed out by letting Bouffon, choker; traitor, can't take a corner, Arteta get the Arse job over Everton. So somehow we missed out. Yeah, like we missed out on Stuart McCall et al. At least McCall had the balls to show up in big games, unlike Bouffon, deadline day hissy fit, See you next Tuesday Rangers reject.
Dave Williams
6
Posted 24/04/2021 at 08:18:22
All that counts now is points – we can save the pretty stuff for a crowded Goodison next season.
Well done, boys!
Neil Lawson
7
Posted 24/04/2021 at 08:42:14
Just wish Carlo would buy himself a decent polo shirt. I imagine he can afford it. Maybe also, at least 4 or 5 matching players.
Tony Everan
8
Posted 24/04/2021 at 09:22:21
We played very well against Tottenham and got 1 point when we deserved 3. We played poor and disjointed last night and got all 3 points. So these things tend to even out a bit.
Arsenal without Aubameyang and Lacazette are toothless and not much threat. We didn't do enough creatively at all to really trouble them, which continues to be a major issue for us.
It shouldn't be lost on anyone that the goal came from Richarlison beating the full back and firing the cross in from the byline. Having the capability to do that always, without fail, gets many goals. I couldn't care that it was a Leno error , the goal came from excellent play by Richie beating his man and firing it in , this good play forced the error .
How often do we see that from us this season ? I'd like to see us sign a player this summer who can do that regularly. A good bit of acceleration and pace, accompanied by technical skill and control. We need more offensively and we have to spend well getting this player.
Jay Harris
9
Posted 24/04/2021 at 13:34:36
Carlo is an honest, sincere and principled man who I'm very pleased to have as our manager.
Compare that to Klipperty today saying everyone needs to get over it and calm down.
A points deduction would never seem so appropriate.
Dave Abrahams
10
Posted 24/04/2021 at 13:40:50
So did we get five points for last night's win, three for last night and two more from the Spurs game?
It's not showing in the Premier League table, we only got three.
Barry Rathbone
11
Posted 24/04/2021 at 13:51:09
At least he admits we were lucky.
Such a likeable man, I do hope he pulls it together over summer.
Jay Harris
12
Posted 24/04/2021 at 15:55:26
25 years without a win at Arsenal
22 years without a win at Liverpool
13 years without a win at Tottenham
All 3 put to bed in one season.
Carlo Magnifico.
Stan Schofield
13
Posted 24/04/2021 at 20:39:26
We're bloody hard to beat, we've scored a lot of goals in style (which seems to have been overlooked by some on here), but we can be dour. I'll take the last one, because of the first two.
And yes, I like Carlo Ancelotti. I think he fits Everton like a glove.
Bill Watson
14
Posted 25/04/2021 at 00:09:20
The penalty decision was ludicrous; the offside one even more so.

Kieran Kinsella
15
Posted 25/04/2021 at 00:14:03
Bill
You know the penalty was ridiculous when even Souness says so.
Laurie Hartley
16
Posted 25/04/2021 at 02:38:03
Jay Harris # 12 - that says it all for me. He bamboozles me at times Carlo but let there be more of it.
He is changing the mentality of the club.
Alan J Thompson
18
Posted 25/04/2021 at 07:01:37
Some of what happened in this game shows the dangers of knee jerk rule changes.
The "penalty" seemed to be a case of referees being told to clamp down on any contact that isn't stand up, face to face, 5-a-side tackling with or without intent and while Richarlison's boot did come into contact with the Arsenal player's shin, he seemed to take another step and then realize what had occurred and took the dive followed by the obligatory rolling around holding the offended part as though only a blast on the magic whistle could heal it.
Then we had the dubious couple of minutes trying to decide which player's sleeve was further beyond which side of an imaginary line which in years gone by would have been merely a matter of if there were two opposition players wholly between him and the goal and while the referee might have let it go, VAR could have judged offside or not within seconds, although it may also have changed our goal.
And while I'm at it, does anyone remember from the late '60s, early 70's, a skinny little Ref with a moustache, Hill, Hunt or Hurst, who apparently used the most foul language (that none of us would be allowed to use on TW) but could keep up with the game and had the utmost respect of the players?
Personally, I'd swap VAR for two more Linespersons(?) even if the cost of extra changing rooms might be an extra financial strain on those of ESL persuasion.
Tony Abrahams
19
Posted 25/04/2021 at 07:44:42
The second thing I thought Darren, was that there was no way you would have wanted Arteta as our manager? (I've never seen you say that) The first being, that Kieran, knows you usually get up early, and must have been waiting for you, "to try" and wind you up.
I watched a little bit of Leeds - Liverpool, the other night Alan J, and the Leeds fullback dived after overrunning the ball on the halfway line, and ended up getting the Liverpool player booked. It was a disgraceful decision, and the Leeds player was still laughing at how bad the ref was 30 seconds later,and these are the type of things that retrospective should be brought into football for imo, to help us get rid of the cheats
Phil Wood
20
Posted 25/04/2021 at 07:46:17
Absolutely thrilled for Arteta with this result.
I am always an advocate of giving ex Blues a great reception when returning but one character I have never warmed to since his departure from us is Mikel Arteta.
Beloved as a player for us as a very classy player but after leaving for Arsenal has not shown the slightest inkling of affection for his former Club (unless I have missed something!).
I remember his first match against us for Arsenal and my abiding memory is of him brandishing imaginary cards at the ref to get his former team mates booked or sent off. Maybe I was expecting too much but I never like to see this let alone against former colleagues/friends.
Think he is holding onto his job at Arsenal by his fingertips. He certainly looked under pressure with his interview after the game. No respect for us at all. Carlo looked positively Top Class with his wry take on the issues and result.

Thomas Richards
21
Posted 25/04/2021 at 08:02:40
'You just can't fool people in football, especially not the fans' – Everton chairman Bill Kenwright.
Morning
Tony Abrahams
22
Posted 25/04/2021 at 08:22:24
The biggest contradiction is life itself Thomas, which I'm sure must be the first thing they must teach in acting schools mate!
Paul Appleyard
23
Posted 29/04/2021 at 16:40:59
@18 Alan. One way to improve VAR offside rulings is to follow the current process, but then ADD a 30cm (1ft) margin of error in the attacking team's favour i.e. effectively make the line defined by the defender 1ft thick. The attacker would then have to be ahead of that line to be offside. Any "errors" in interpreting the edge of the 1ft thick line would only result in ruling a player offside when he certainly was. True, many goals that would currently be ruled offside would be allowed to stand, but I think most fans would be happy to see the benefit of the doubt go to the attacking team, rather than goals ruled out by millimetres. Kind of let goals stand by a foot, rather than ruling them out by a millimetre. I think it's the ruling out of goals by a millimetre than really annoys fans the most
Alan J Thompson
24
Posted 29/04/2021 at 17:42:41
Paul(#23); I'm not sure that any further tinkering with the offside rule would change any of the dubious decisions and I don't like rules that include any benefit of the doubt but I suppose it could read gaining an obvious and undue advantage. While your suggestion might make it easier to arrive at a VAR decision it wouldn't do much for any defender and I'd prefer the onus to be on the attacker.
I remember Dave Whelan, later of Wigan fame, in the FA Cup final for Blackburn against Wolves (1960 or 64) claiming that a goal shouldn't have been given as the scorer was offside as he was behind the goal line and therefore couldn't have been keeping him onside as he wasn't on the field of play. The Ref later said that he didn't have his permission to leave the field therefore he must have still been on it. But then I suppose that comes under cricket's, "if in the opinion of the Umpire".
I still believe it should never have been changed to begin with and that there should be two defenders between the attacker and the goal rather than online/level with a defender.
Paul Appleyard
25
Posted 05/05/2021 at 12:58:08
Alan #24. My suggestion isn't changing the rule, it is simply in how the current VAR could be applied. Currently the VAR system identifies two lines, one based on the (last) defender, and one based on the attacking player receiving the ball. If the latter line is advance of the former it is deemed offside, which in principal is how rule should strictly be implemented. HOWEVER, and in my opinion, the margin of error in drawing these two lines is now far too small. We're talking millimetres, as the people in the booth strive to accurately position these lines relative to the players bodies. Arguments about whether the line should be based on the foot, or the shoulder/armpit etc. ensue. So, what happens currently is that any error (whether that be through machine error, or "interpretation" error) could go either way; it is as equally likely for a goal to be ruled out when it should have stood (error-1), or for a goal to be allowed when it should have been ruled offside (error-2). I believe an error-1 is far more annoying to fans than an error-2, and against the spirit of how most think the offside rule should be implemented i.e. give the benefit of the doubt to the attacking team. My suggestion would still require the VAR officials to strive to draw lines based on players bodies, but would completely eliminate the infuriating error-1. As football fans, I believe we can all live with an error-2, even if it costs our team! I hope this makes sense!
---
Add Your Comments
In order to post a comment, you need to be logged in as a registered user of the site.
Or Sign up as a ToffeeWeb Member — it's free, takes just a few minutes and will allow you to post your comments on articles and Talking Points submissions across the site.