Aston Villa vs Everton
Wednesday, 12 May, 2021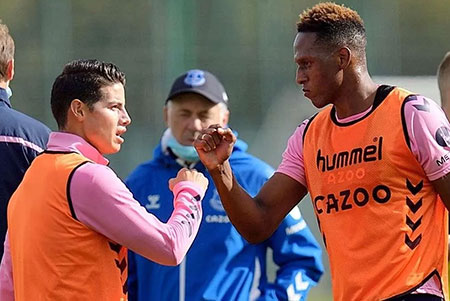 Everton's Colombian duo will be absent as the team travel to Villa Park but there is hope both could be fit to face Sheffield United on Sunday
With their European hopes very much alive following their narrow victory at West Ham on Sunday, Everton are on the road again as they travel to Aston Villa looking for what would be a club record-equalling 12th away win of the season.
The Toffees go into the game sitting three points behind the Hammers and with the knowledge that a victory would leapfrog them into joint-fifth place, at least until Liverpool, currently occupying fifth, play Manchester United in the 8pm kick-off.
While lamenting his team's home form, Carlo Ancelotti has rightly lauded his player's performances away from Goodison Park and as the chase for Europe heats up with just a few games to go he will be geeing his men up for a final push.
He will be without James Rodriguez again, however, for the trip to Villa Park and Yerry Mina will also be sidelined for the game. James was set to face the Midlanders in the reverse fixture at Goodison Park a couple of weeks ago but was forced to withdraw during the warm-up when he felt tightness in his troublesome calf.
He missed the win at West Ham on Sunday but is expected to return to full training on Friday with a view to playing a part against Sheffield United in the Toffees' penultimate home match of the season.
Mina was forced off at Upton Park on his latest return from a thigh injury, with the complaint flaring up again during the second half of the 1-0 win.
Carlo Ancelotti is hopeful that he, too, will be available for the game against the relegated Blades this coming weekend.
Villa's dream start to the season is a distant memory at this stage and according to SportsBettingDime.com, oddsmakers are split on which team should be favored this weekend when Everton visits Villa Park. One sportsbook has the draw-no-bet odds at -112/-107 in favour of Villa, another has it at -104/-111 in favour of Everton, while a third has it even. Basically the odds are as close as you will ever see.
Villa will be without the suspended Ollie Watkins who was sent off for two bookable offences during his side's 3-1 home defeat to Manchester United but manager Dean Smith has indicated that Jack Grealish is expected to return following a long injury lay-off, although he is unlikely to start.
The absences of Watkins and Grealish from the starting XI works in Everton's favour, of course, but regardless Ancelotti has promised that the Blues will play "very differently" to the way they did in the reverse fixture at the start of the month.
That evening, the Italian fielded something akin to a 4-3-3 formation whereas Sunday's win in London was based on a three-man back line with Seamus Coleman and Lucas Digne as wingbacks. That is likely to be the approach again against Villa, with Mason Holgate likely to come in for Mina.
In midfield, Abdoulaye Doucouré could start for the first time in weeks after being given an additional few days' rest by not being used at West Ham and that will probably mean Tom Davies dropping back to the bench. That is unless Ancelotti opts for four at the back, keeps Davies as the holding man in front of defence and affords Allan and Doucouré license to press forward, with Gylfi Sigurdsson also asked to participate more in attack.
Win and Everton will have propelled themselves right into the mix for the Europa League and despite Anclelotti dismissing the notion out of hand, depending on how Chelsea and Leicester fare in their final two games, the top four is still a mathematical possibility.
Put simply, the recipe for Everton is to keep winning.
Kick-off: 6pm, Thursday 13 May 2021 Sky Sports
Referee: Martin Atkinson
VAR: Graham Scott
Last Time: Aston Villa 2 - 0 Everton
Predicted Line-up: Pickford, Coleman, Godfrey, Keane, Holgate, Digne, Allan, Doucouré, Sigurdsson, Richarlison, Calvert-Lewin
---
Reader Comments (79)
Note: the following content is not moderated or vetted by the site owners at the time of submission. Comments are the responsibility of the poster. Disclaimer
Jay Harris
1
Posted 12/05/2021 at 15:47:18
Not a disaster because Villa will be high intensity for 90 minutes and JAmes goes missing for large parts of the game.
Although he is class give me High energy and workrate every time in this game.
We need to learn the lesson from Goodison and beef up the MF so I would have Allan, Davies, Doucoure in there.
Godfrey to mark Watkins and keep him out of the game, Michael Keane as sweeper and Seamus and Digne with Siggy just behind DCL and Richy.
Ray Roche
2
Posted 12/05/2021 at 15:55:53
Jay, Watkins is suspended.
Brian Williams
3
Posted 12/05/2021 at 15:57:38
Anyone else think extending Rodriguez's contract would be madness?
Ray Robinson
4
Posted 12/05/2021 at 16:00:01
Brian, absolutely not worth it despite his obvious talent.
Andrew Ellams
5
Posted 12/05/2021 at 16:09:24
Brian, yep it would be crazy. Would we even be crazy to let him go over the summer if we can replace him with pace?
Robert Tressell
6
Posted 12/05/2021 at 16:11:51
It's been an absolute pleasure having him but a more reliable, dynamic player is needed really. I also think he gets off very lightly compared to Sigurdsson who also has moments of sheer class and is often played out of position too.
Frank Crewe
7
Posted 12/05/2021 at 16:13:58
Rodriguez is high maintenance. Picks up a knock in the warm-up and he's out for two weeks. Unfortunately he's turned into Columbia's answer to Delph. He simply doesn't have the physical capabilities to cope with the rigours of the Premier League.
Andrew Ellams
8
Posted 12/05/2021 at 16:20:53
If we could really bring in somebody like Leon Bailey on the right and somebody who could do the job Barkley could do when he first played behind Lukaku then I don't think we'd be missing James Rodrigues too much.
On the subject of new players, surely we can get Sandre Berger away from Sheff Utd for a lot less than the £35m being quoted in the press today.
Brian Williams
9
Posted 12/05/2021 at 16:21:54
Yes I've loved watching him play when he's been on it and I hope he'll play so I can see him "live" against Wolves next week but (IMHO) despite his sublime skills he's a luxury I don't believe we can afford going forward.
David Cooper
10
Posted 12/05/2021 at 16:21:58
Most calf injuries involving tears etc. never really clear up as they leave scar tissue. I suspect this is James problem which he felt in the warm up against Villa at home. I had a calf tear nearly 40 years ago which flared up yesterday and makes walking normally difficult. This is after having multiple physio sessions and my calf "healing" enough to get back to normal but it never goes away.
Robert Williams
11
Posted 12/05/2021 at 16:34:10
James, A luxury we can ill afford - pity!
Brian Williams
12
Posted 12/05/2021 at 16:34:26
David#10.
Well that's you scrubbed from the list of possible replacements mate.
Robert Tressell
13
Posted 12/05/2021 at 16:38:41
Andrew @8. There was a report yesterday that Berge has a relegation related release clause set at £12m. An absolute steal at that price - so competition for his signature may take it up to £20m I suppose. It could also be bollocks, of course.
Andrew Ellams
14
Posted 12/05/2021 at 16:46:13
Robert, Sheff Utd have apparently dismissed that today. The claim his that his release clause has dropped from £45m to £35m due to the relegation.
He has had injury problems this season though.
David Cooper
15
Posted 12/05/2021 at 16:50:58
Brian #12 - Still think I could give Delph a run for his money even on one leg!
Terry Farrell
16
Posted 12/05/2021 at 16:55:42
Please don't mention James and Delph in the same sentence, even in jest! I'd absolutely keep James next season for the effect that he has on others in the squad, his nous and super skills. I love him.
Rob Birks
17
Posted 12/05/2021 at 16:57:58
Sell both Columbians. Crocks extraordinaire
Thomas Richards
18
Posted 12/05/2021 at 17:23:04
Who to?
They're crocks
Jim Bennings
19
Posted 12/05/2021 at 17:29:44
Mina will be a big miss because he's our best defender in terms of doing just that, defending!
All I can say is Carlo please please don't partner Keane and Holgate together, what a recipe for disaster.
On the James topic, I'm on the fence, I love him because he's got an absolute wand of a left foot and he was majestic in our win at Anfield and aided our 3-3 draw at Old Trafford but he's just not out on that pitch anything like enough.
I had high hopes that he would be our modern day Dennis Bergkamp or Matt le Tissier if you like, a relatively slow player athletism wise but streets ahead in footballing intelligence terms but he's never going to be a 30 game a season player.
Alan J Thompson
20
Posted 12/05/2021 at 17:34:24
I'd definitely keep James but perhaps be a bit more imaginative with his contract, say, so much basic plus appearance bonus which could fluctuate in line with games played compared to those missed through injury.
And now I expect somebody to chip in about an old time bonus Everton used to pay based on the crowd and win,draw and lose payments especially the crowd bonus for 4000 and the blokes who put the ball on those little stands for throw ins.
Joe McMahon
21
Posted 12/05/2021 at 17:37:20
Jim, so did I but that's why he's here, cos he's only fit enough to start so few games, if he was as fit as Bergkamp he'd be at CL team.
As stated above Holgate and Keane together, has to be a no, surely?
Mike Oates
22
Posted 12/05/2021 at 17:42:04
In an interview somewhere last week an old Real Madrid physio claimed James had the calf injury years ago, before he joined them, and it wasn't treated properly at all and has left severely weakened tissue which will forever be a problem with him. At Bayern Munich he missed a hell a lot of games through the calf problem, weeks and months at a time.
At best we'll have him for at best 50% of games - if we are lucky !!!!
Steve Brown
23
Posted 12/05/2021 at 17:43:55
Mina has played 28 times this season and James has made 22 appearances. How does that make them a crock?
Tony Everan
24
Posted 12/05/2021 at 17:48:14
Mina is a loss, he has had a decent season. To me he looks like he has acclimatised well to the Premiership League now. Thought he was very good marshalling Antionio at West Ham, he's such a powerful and tricky customer, it was no easy task.
Rodriguez is one of the most gifted players in the entire league, it's a crying shame for us that he can't get fit. You have to ask now is the the league too physical for him? Who would bet against him having similar problems next season?
Jay Harris
26
Posted 12/05/2021 at 17:59:16
Steve how many of those 22 games did James play 90 minutes?
For James think Fernandes, Grealish, Maddison.
MF is where we need the creative spark.
Where James plays we need a fast goalscoring wideman and Siggy can do the job James is best at.
For me we should push the boat out for the best wideman we could afford along the lines of Leon Bailey.
WE need to unload all the crocks, Has beens and never will bes in the summer and get some top quality in otherwide we will never bridge the gap.
Ray#2
Well pointed out so that should make our CBs job a little easier.
Brian Williams
27
Posted 12/05/2021 at 18:00:37
David#15.
My 96 year old mutha could give Delph a run for his money lol.
Matthew Williams
28
Posted 12/05/2021 at 18:02:43
No there's a novelty!.
We'll win without them.
COYB
John Cook
29
Posted 12/05/2021 at 18:21:45
Must be an age/nostalgia thing but imho James is the best footballer I've seen at Everton since Duncan McKenzie.Its this type of player why I started supporting the blues some 62 years ago now. Luxury player ? Fuckin right he is.
Don Wright
30
Posted 12/05/2021 at 18:34:26
On the subject of injuries have aliens taken over the BBC the is a piece on their web site about dick van dick not being fit for the euros and no mention of our blue assassin Jordan anywhere ?
David Pearl
31
Posted 12/05/2021 at 18:34:59
Yeah we knew what we were getting with James and for the viewing figures alone we won't be getting rid of him.
Now that Mina is used to the prem it would be madness to sell him. Our best defender, best in the air in both boxes also.
They will be missed but we can handle Villa with our away set up. Got to be the 352 variation again.
Barry Rathbone
32
Posted 12/05/2021 at 18:44:47
All footballing purists love James but the poor lad is an adornment rather than a major cog which is a crying shame given his ability is the bar all players should aim for. What a player
Joe McMahon
33
Posted 12/05/2021 at 18:47:42
Just watching City fans on the news celebrating, wouldn't it be nice to win even just 1 trophy.
And yes they also stated the PL trophy will be presented in front 10,000 fans at home to, yup you've guessed it!
Derek Taylor
34
Posted 12/05/2021 at 18:48:48
James and Mina are far from the worst 'value for money' signings of recent times. Retain them both with revised terms to reflect availability -if they don't buy into that, say Bye-bye !
Brian Harrison
35
Posted 12/05/2021 at 19:13:51
As far as keeping James, the guy is a class act but you cant build a team around a player who misses far to many games. I think Mina has got better the longer he has been here and him and Keane are our best CB pairing.
I am sure James and his agent will sit down with Carlo and Brands at the end of the season to see where he thinks his future lies. My main gripe with Carlo has been chopping and changing formations and players far to regularly, and the time he has been here he must now decide his best 11 when everybody is fit.
Bill Gienapp
36
Posted 12/05/2021 at 19:42:02
Calling Mina a crock is a bit of a stretch. He was injury-plagued his first season, but basically remained completely healthy last year until Project Restart. This season he's been sidelined by a minor issue here and there, but nothing serious.
The James deal remains a steal, but the debate over whether we need someone who can stay on the pitch more consistently is a valid one.
Nicolas Piñon
37
Posted 12/05/2021 at 19:48:38
I liked the message of making a contract to James depending on his playing time
That sounds pritty fair if it's possible
Mina is our second best defender after Godfrey definitely, Shame his physical part but I'd keep I'm
Tomorrow the important thing would be getting doucoure starting and putting a reliable formation.
Great advantadge for us watkinss abscence
Won't be easy but I think it's possible. Holgate won't mess again at all I expect after he got sent to the bench on the last game after that clumsy mistake at goodison.
My team:
Pickford
Coleman keane Godfrey digne
Davies doucoure allan Richarlison
Siggy & DCL
My prediction anyway is somehow Coleman Or holgate will start, don't see Ancelotti risking that much doucoure and Allan with such tight fixtures.
NSNO
Martin Berry
38
Posted 12/05/2021 at 19:51:27
Lets give these Columbian lads a bit more rope. Mina seems susceptibleto injurty just due to his frame for some reason, as for James he knows the deal now and what is expected in the Prem so hopefully with a good pre season his body may be up to a few more appearance,s if not then we may move him on.
I expect us to beat Villa tomorrow night, we are the better side and providing (?) we put in the shift then we will shift up the table.
Annika Herbert
39
Posted 12/05/2021 at 20:02:29
Robert @ 6, I have clearly missed those rare moments of sheer class from Sigurdsson! I have seen some decent games from him this season. But definitely no moments of sheer class.
We need a lot better than what he has to offer if we want to progress.

Thomas Richards
40
Posted 12/05/2021 at 20:05:49
The finish against Spurs?
Rob Halligan
41
Posted 12/05/2021 at 20:12:47
Sheer class finish,Thomas!!
Colin Glassar
42
Posted 12/05/2021 at 20:18:42
Even at 50% fitness he's the best player we have. No other Everton player comes even close to his vision and skill. When James is fit to play you have to play him even if he's on crutches or, replace him with a like-for-like player who will cost £60m+.
As for Mina, well I had my doubts but he looks to be finding his feet but, like Keane, Holgate and Godfrey, he needs a settled partner to create that telepathic understanding players need, otherwise he will continue to struggle.
Brian Williams
43
Posted 12/05/2021 at 20:32:15
Annika#39.
You must have missed his Spurs goal which was undoubtedly sheer class.
Nicholas Randall
44
Posted 12/05/2021 at 20:35:23
The game on Sunday was played at London Stadium. West Ham do not play at Upton Park now.
Graham Mockford
45
Posted 12/05/2021 at 22:41:00
James is doing a good impersonation of Darren Anderton.
Undoubtedly a good player but fuck me he's fragile
Graham Mockford
46
Posted 12/05/2021 at 22:49:22
Annika # 39
Agreeing with Brian, you must have missed his 7 goals and 9 assists this season.
Tbf he was gash last season, it is a harsh critic that doesn't appreciate his improvement this year.
I personally don't think he is a starter in a top 4 team but I think he's a decent enough squad player who despite his age still has three years or so left in him.
He's certainly a better player than Gomes, Iwobi, Delph or Davies
Dale Self
47
Posted 12/05/2021 at 22:53:45
Damn Graham, I admit it is frustrating but putting 'sick note' on that is a bit much for one season.
Tom Bowers
48
Posted 12/05/2021 at 23:06:45
It's been a frustrating season for many reasons and despite some unexpected wins away they have been countered by some awful results at home.
There have been some highlights but only a small handful.
The injuries don't help but most clubs have suffered so I don't think Everton's results would have been much different over the season.
It would be really nice to finish the season well starting with a revenge game at Villa but I do hope Holgate doesn't start.
We now have a serious shot at finishing 5th. and I hope they don't blow it like many other opportunities this season.
Phil (Kelsall) Roberts
49
Posted 12/05/2021 at 23:12:31
For those who love their stats (any of you apart from me?).
James has started 20 premier league games this year plus two appearances from the bench. He has played the full 90 minutes in 8 games. He started the first 6 games and then his other 16 appearances have come in 4 blocks of 4 matches.
He has been on the field for 1698 minutes, the 11th highest amongst the first team. He will be 12th after tomorrow as Allan is just 6 minutes less at the moment.
Mina is 10th with 1849 minutes and 22 starts and one sub appearance.
I think that would make the verdict "not a crock"
Mike Keating
50
Posted 13/05/2021 at 01:02:04
Joe #33 - I did see the so called celebrations of City fans - Three locals in a car park near Droylsden struggling to uncork a bottle of Pomagne.
These buggers won SFA for 35 years until they struck oil and are already so complacent about winning stuff they think it has become their birthright!
Let's piss on their chips and nick a euro spot we hardly deserve.
Ian Smith
51
Posted 13/05/2021 at 01:21:26
If we can get James fit, it will be like a new signing!!!
Kieran Kinsella
53
Posted 13/05/2021 at 01:51:47
Brian Williams
I wouldn't give him a new contract now. But as Carlo said, no rush he has a year left on his deal and the option to extend. I'd wait until Christmas, see if he maintains his form and if his absences don't increase
Steve Brown
54
Posted 13/05/2021 at 04:46:07
Jay @ 26, James has 6 goals and 8 assists from 25 games (I under counted). So he is very productive when he plays, although like you I would love to see him on the pitch more. Sigurdsson has contributed 8 goals and 9 assists from 40 games and serves as a usual backup.
As a big critic of Sigurdsson's attitude, contribution and leadership as a senior pro over the last few years, I have to acknowledge that he has been decent this season. Given his salary though, I still wouldn't give him a new contract.
Alan J Thompson
55
Posted 13/05/2021 at 05:41:39
Mike(#50); They won SFA in that time until our very own benefactor turned down the opportunity to sell to the very people who brought (bought?) City their success and turned Malcolm Allison's, "scare the arse off Europe" to fruition. Grassroots, 50+1, Fans Board, I'll even go as far as saying that their owners wouldn't even know that a Boy's Pen is not a spot kick from 6 yards sorry, metres!
Derek Knox
56
Posted 13/05/2021 at 05:46:51
Martin @ 38, " Let's give the Columbian lads a bit more rope " I pretty much agree but when you factor in wages against time playing it doesn't smack of a good business model, but I do like both players, when fit, can be a really positive asset. Talking of rope, if there's any left over, it could be employed gainfully with several other players.
Gomes : Tethered to the other donkeys at Southport, or Blackpool (I believe they all got a Transfer) he has a moment (and only a moment) of something positive in any given 90 minutes if he lasts that long, in a game.
Holgate : For tying him to a desk and making him write out at least a thousand times or longer if it doesn't register. " I shall not be so arrogant in thinking I am better than I really am, and giving the ball away, and making stupid schoolboy errors, in almost every match in which I am lucky enough to be picked "
Delph : " To the Medicine Cabinet, or a fitness trainer, so that we may just see a little more of him as a useful sub, but not as a regular starter. "
Tom Davies : " To Harmony Hair Spray, Pantene and all the other hair products, please concentrate more on the game in hand and you could be an invaluable squad player, cut out the sideways/backways passing, the opposition goal is at the other end Tom!
Iwobi : " To a Football Manual. Again start to show us why you were transferred at an almost unbelievable Fee, you have some good skills that seem to evaporate in the final third, please look up and realise that your team-mates play in the same colour top as yourself. Go to Specsavers if necessary, or get checked for colour blindness, maybe a dispensation could be given for a Labrador to play alongside you. "
Pickford: To the goalposts. Whatever is that you are doing now, beggars the question, where was it all before? A change of diet possibly ? These brainfarts seem to have been well and truly eradicated, or am I speaking too soon?
Michael Keane : To the First Team sheet. I think you have vastly improved this season and were unlucky to lose your place a couple of games ago, keep it going whatever it is. "
Moise Kean : To any Club that pays. You certainly seem to be banging them in at PSG, possibly better players making it easy for you, whatever it is keep it up and earn a lucrative Transfer to give us more to spend. Clearly not suited to life with us, but no hard feeling and wish you all the best wherever you end up.
Ah well no more rope left, but hopefully we can end this season on something of a higher note than looked likely after blowing all those games in hand, and succumbing to teams we should have easily beaten especially at home. But then again, this is Everton and you never know what you are going to get, till the Fat Lady brings more rope!
Eddie Dunn
57
Posted 13/05/2021 at 08:51:18
If we recruit well in the summer the two Colombians can merrily put in their 25 appearances and other members of the squad can do the rest. I bet there some quality players at Man City who struggle to accrue 25 appearances.
And Annika please give credit where credit is due..Siggy has had a solid season sprinkled with some lovely assists and goals. Remember his winner at Sheffield?
He hit a tremendous free kick that his old Swans teammate touches over the bar In east London the last game.
If James was fit as a fiddle there could be a reason for outsing Siggy but Gylfi has been an important player this term and I think Carlo will retain his talents next season to annoy you some more!

Martin Nicholls
58
Posted 13/05/2021 at 09:04:52
Sell the most technically gifted player we've had for at least 40 years before most of us have the chance to see him in our shirt? It's a huge no from me, whatever the "business" arguments might be. Carlo says we don't need to sell before we buy - assuming these comments are based on the outcome of the reported meeting he had with Moshiri, Brands and BPB, that's good enough for me.
Christopher Timmins
59
Posted 13/05/2021 at 09:12:26
Lyndon, I will go with your 11 and if we can produce a performance in line with last Sunday then I expect 3 points by close of business this evening.
As for who stays and who goes at the end of the season we can worry about that after the 23rd of the month.
Stan Schofield
60
Posted 13/05/2021 at 09:56:51
James is the best ballplayer at Everton since Colin Harvey, and I include Duncan McKenzie, who was also sublime.
Our problem with injuries relates to a lack of strength-in-depth compared with very top sides. We need to keep James, whilst increasing our strength-in-depth.
Not only do players like Harvey, McKenzie and James make football a beautiful game, they are examples of crucial players who are game-changers, and who can make the difference between being a middling team and a top team given a sufficient quality of squad.
Brian Harrison
61
Posted 13/05/2021 at 10:12:55
Well with only a couple of games left apart from the top 2 in the Premier league all the other places from 3 to 10 are up for grabs. Just a pity we have thrown away so many points at home otherwise we would have been right in the mix for a top 4 spot. I think its possible we could get 6th place but we will have to win tonight and against Sheffield at home at the weekend to have any chance. I would love us to be able to start Doucoure tonight but seeing Carlo didnt give him a minutes playing time in our last game I doubt he will start him tonight. I think he will probably go with a 3-5-2 formation tonight, but it will be important we start well and not on the back foot like we have started so many games this season.
Me personally I think there is only 1 competition in Europe to be in and yet again it looks like we will fall short again. The Europa league consists of to many games and the money clubs receive for being in it is a pittance compared to the Champions league, and that's why it is always the main priority of the top teams to make sure they qualify for it. Get through the group stage and you get £40 million for the likes of a Leicester that does 2 things massively increases the money they can spend in the transfer market. And it also elevates the sort of player you can attract being in the Champions league. I have never heard a player say he wants to play for a club in the Europa league its always they want to play in the Champions league. Now if the Europa league is so badly funded I cant see anything going for this new Conference league UEFA are looking to set up, although they have called it the right name.
Ajay Gopal
62
Posted 13/05/2021 at 10:27:30
My team for Aston Villa: 3-4-3
Pickford
Holgate Keane Godfrey
Coleman Allan Doucoure Digne
Siggy Calvert-Lewin Richarlison
SUBS: Olsen, Nkounkou, Davies, Delph, Iwobi, Bernard, King
Without Ollie Watkins and Grealish, we should be able to win this if everyone plays with the same intensity as against West Ham.
Rudy Chinchilla
63
Posted 13/05/2021 at 10:38:33
I just want to chime in to say, please, I implore you all, when talking about James or Mina, it's Colombian, with an "o." The country is Colombia, not 'Columbia'. Just one of those pet peeves.
Mike Keating
64
Posted 13/05/2021 at 10:43:20
Alan #55 - are you sure about that? My memory is that the Mansour family were looking to invest in either club but City came with a brand new stadium. Not sure we can blame Kenwright for this one although I still haven't forgiven him over the Kings Dock.
Derek Knox
65
Posted 13/05/2021 at 10:46:12
Good puint Rody ! :-)
Sorry mate, I was as guilty as the others, but hold my hands (op) or oops, up! You are right of course, I stand well corrected. I will administer appropriate punishment to the others as I see fit. 😜💙
Clive Rogers
66
Posted 13/05/2021 at 11:42:45
Mike, 64, my understanding is the when BK learned he wouldn't be able to remain as chairman, he refused further communication with the sheiks.
Mike Keating
67
Posted 13/05/2021 at 12:25:15
Clive #66 - Thanks for the update. This is worse than the Kings Dock fiasco.
Alan J Thompson
68
Posted 13/05/2021 at 12:45:24
Mike(#67); You could ask Lyndon if he still has copies of certain emails he may have seen on the matter.
Jerome Shields
69
Posted 13/05/2021 at 12:45:25
I do think Mina will be missed he is suited to opposition play in front of him, which is the way Villa play. Godfrey and Keane in the Centre back roles. Holgate at right back to compensate for Keane's tendency to tuck in, a source of alot of goals against. Seamus in front of Holgate. James through balls and shooting will be missed, but Godfrey provided as good of a ball in the last game. Hope Richarlison gets on the goal sheet, will be douable marked the whole game. Calvert Lewin now has to live up to a goal scoring reputation to create space. Expect Allan and Davis to start. Doucoure of the bench.
Dave Abrahams
70
Posted 13/05/2021 at 12:47:02
Brian (61) I mostly agree with your first paragraph and agree 100% with your second one while we are in the position we are at the moment.
Pete Williams
71
Posted 13/05/2021 at 12:47:58
How come Grealish gets lauded for his efforts at Villa but James gets slammed for similar impact with us? I think rotating him with Sigurdsson works and it's often the rest of the midfield failing around them e.g. Gomes. If we can sign a better No 10 I'd agree we should, but if we can't, then we keep going as we are?
Worst thing for us tonight will be starting with Holgate and him being arrogant like he can be. He needs to be like Coleman and Godfrey. Let's hope the penny has dropped? Maybe he needs Big Dunc to wind him up! Apart from that, same approach and performance as W Ham should get us a result. Only niggle is Allan's pace. Maybe Doucoure with Davies?
Pete Williams
72
Posted 13/05/2021 at 12:54:52
On DCL I loved the way he and King worked together. Maybe we should give him more than 5 minutes? Might be better than Richy and DCL who too often don't gel as a pair. Also nice to see DCL score in a one on one with the keeper, he usually messes those up. Could be more of the same tonight if we play on the break like I expect us to.
Jerome Shields
73
Posted 13/05/2021 at 13:09:09
With the way results are toing and froing, two wins for Everton could end up with a surprise position. Ancelotti has set up Everton to take advantage. But I draw back when I think of the many times before I have thought like this prior to a game, only to be disappointed. Spirit, motivation and workrate is the key to getting that lucky break.
I do agree that the Europa /Europa Conference are lesser competitions financially, but do believe that Ancelotti has Moshiri's backing to be in them as a plan to push necessary change at Everton, as a recent meeting would suggest.
Jason Li
74
Posted 13/05/2021 at 13:10:17
I'm feeling a quick start.
ga
DCL and Richie have goals in them, so does Siggy who knows how to arrive in the box at the right moment - ignore what he does outside as his job it looks like is to man the position but be in the box to do what no other midfield player in today's team can do which is finish. Let's hope Doucoure gets game time too which allows Siggy to get in the box more often as him and Allen win the ball higher up the pitch. Or Allen plays 65 mins and then wrapped in cotton wool and Doucoure comes on for our 2nd boost in the middle.
On DCL, I like his run and goal in the last game. That was like Brazil's Romario or The Phenomenom Ronaldo in the old YouTube videos, the untracable bending run past the centre halves and one-on-one with the keeper. Another improvement - well done. A few more like these please.
Terence Leong
75
Posted 13/05/2021 at 13:42:50
With regards to James' suitability for the team, I reckon there would always be different / polarizing views.
My inputs are as follows:
1. James didn't really have a pre-season and he has played a good deal of games.
For someone who is supposedly injury-prone, without a pre-season, and playing in the EPL for the first time, I think that needs to be taken into context.
2. I don't have the stats, but I'm sure someone would have worked out the wins-draw-losses ratios, with James in the side, compared to without him in the side.
3. How many of James' assists and goals were key contributions, compared to inconsequential ones? e.g. one thing levelled against Lukaku was that he seldom made key contributions.
4. Part of a team moving forward, is being able to have different gameplans. James is different from anyone else that we have, that allows us to that option.
5. "Blood and thunder" style of football can only serve a team so much; Leeds is probably the epitome of what I think some fans are imagining us to have.
But if Leeds is what we are aspiring to be, then we are going to remain mid-table.
Pekka Harvilahti
76
Posted 13/05/2021 at 14:03:02
My lineup would be:
Pickford
Holgate Keane Godfrey
Coleman Doucure Allan Digne
Siggy
DCL Richarlison
David McMullen
77
Posted 13/05/2021 at 15:52:37
Let's do these. One thing we haven't had for some time is some goals. Really hope we have a go. Considering we're away.
Kieran Kinsella
78
Posted 13/05/2021 at 16:25:59
I'm still upset about the 6-2 defeat in 1989. Everyone in my school supported Everton, as did the school chaplain. Right before that game his boss (a Villa fan) came to a school assembly and was mouthing off about how Villa were going to beat Everton. We all thought he was a joker, but David Platt and co proved him right.
John Boon
79
Posted 13/05/2021 at 16:26:30
Regarding the Calvert Lewin Richarlison connection. I just don't really see much "working together"
STATISTICS: Both good players but CL has had "0" assists and Richy "3". this entire season.I would like to see King start somewhere rather than the last five minutes. NO player can demonstrate their worth to a team when always thrown on for the last few minutes.
Gary Willock
80
Posted 13/05/2021 at 16:29:51
Kieran - if it's the same game as I remember, it was televised too. I was a teenager with food poisoning at the time, and one of my worst memories ever. For that alone we deserve a win. Coyb.
Kieran Kinsella
81
Posted 13/05/2021 at 16:35:14
Gary
Yeah it was on TV. If I recall correctly, we were getting hammered, then Cottee got a couple of consolation goals and came off beaming like his two goals somehow offset the team's loss.
---
Add Your Comments
In order to post a comment, you need to be logged in as a registered user of the site.
Or Sign up as a ToffeeWeb Member — it's free, takes just a few minutes and will allow you to post your comments on articles and Talking Points submissions across the site.