Everton are back in black for 2021-22
Friday, 21 May, 2021
Everton have unveiled the first new kit for next season by giving supporters their first look at the 2021-21 away kit.
The primary change kit evokes the famous "Black Watch" outfits that the team wore in the 1881-82 season and is available to pre-order online or in store from today (Friday 21 May).
The black shirt with a burnt orange sash and accompanying black shorts and black socks will be on sale in store, as well as online at evertondirect.com, from Friday 4 June, and will be worn by the First Team for Sunday's final Premier League fixture of the season away at Manchester City.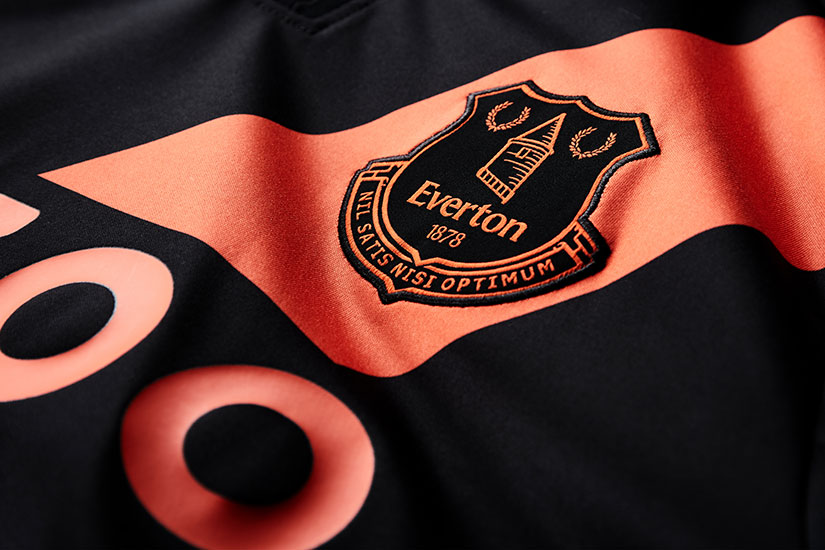 The first wave of the 2021-22 training range is also available to pre-order now, ahead of release online and in-store on Friday 4 June. 
The new away kit up close
---
Reader Comments (142)
Note: the following content is not moderated or vetted by the site owners at the time of submission. Comments are the responsibility of the poster. Disclaimer
Danny O'Neill
1
Posted 21/05/2021 at 08:29:51
Erm... That's a red sash, right?
Red???
Bobby Mallon
2
Posted 21/05/2021 at 08:32:43
No it's not red, it's salmon and it's the best away kit in ages. I love it. I'm 55 and I'm getting it.
Jim Harrison
3
Posted 21/05/2021 at 08:32:43
Danny,
"Burnt orange" – apparently.
Kevin Prytherch
4
Posted 21/05/2021 at 08:32:53
I've just seen that, Danny. Wasn't that our first ever kit when we were nicknamed the Black Watch?
Jeff Armstrong
5
Posted 21/05/2021 at 08:48:57
Link to the original kit:
Danny O'Neill
6
Posted 21/05/2021 at 08:58:09
Not with a name and number on the back though, please, Bobby!!
Salmon / burnt orange and history I'm good with.
It just looked very red at first glance but I've since seen other shots so I'm calm.
Duncan McDine
7
Posted 21/05/2021 at 08:58:49
Burnt orange for deffo. Don't mention the R-word.
Looks good, but not on dudes in their 50s. Only joking, Bobby, I'm sure you'll do it justice.
Bob Skelton
8
Posted 21/05/2021 at 08:59:24
Not for me. Irish support gone.

Shane Corcoran
9
Posted 21/05/2021 at 09:29:31
Bob, Irish support is gone – why?
Rob Halligan
10
Posted 21/05/2021 at 09:35:51
Next season is the 140th anniversary of the team nicknamed "The Black Watch" hence the idea for the strip. We will get our first look at it on Sunday when it will be worn against Man City.
Brian Harrison
11
Posted 21/05/2021 at 09:44:01
I know everyone will have a different take on it; mine is it's horrible: black shirt with an orange stripe.
Danny O'Neill
12
Posted 21/05/2021 at 09:44:35
I think where Bob is coming from Shane is the sash. Especially if it's got an orange reference to it.
Let's not go there Evertonians. Liverpool is a city that was ahead of its time in comparison to Glasgow and Belfast in ignoring the sectarian divide. Yes we had / have banter but really we embraced both Paddys Day and the 12th in terms of a good day out.
I am a Roman Catholic from a second generation Liverpool Irish family on my Dad's side. My maternal Grandfather was a Protestant from the Antrim Road in Belfast who watched Everton regularly from the Upper Bullens. My Grandmother from Glasgow. both who moved to Liverpool and settled in Speke. after the war.
We've always been a city of diversity, not one of division despite our cultural links, which are very important to me personally.
Thomas Richards
13
Posted 21/05/2021 at 09:53:24
A football shirt. That's all.
Anyone using religion as a stick to hit each other with is living in a different time. Our city doesn't do that in general.
Good socialist background to our city. Staunch people who mainly support each other. Long may that continue.
Danny O'Neill
14
Posted 21/05/2021 at 09:59:48
Well said, Thomas.
With reference to the Black Watch and I know this would be a total PR stunt, but we've done bagpipes before at Goodison! Get the Black Watch / Royal Scots to pipe us out. Especially if it's in recognition of a significant anniversary as Rob Halligan points out.
I know there's isn't a direct lineage to the Scottish Battalions but there was a Liverpool Scottish Regiment that fought valiantly in World War 1. They were aligned to the Kings.
Apologies, going off on a tangent!!
Brian Harrison
15
Posted 21/05/2021 at 10:13:15
A few posters have commented about the orange sash, thankfully we haven't had any sectarian trouble in this city for many decades, so why produce a kit that could attract that negative thinking?
I suggest they change it to a white shirt with a blue sash – after all, our team colours are blue and white, not black and orange... maybe give it to Blackpool.
Ed Fitzgerald
16
Posted 21/05/2021 at 10:23:44
I like the away kit but we should have stuck with the original colour of the black watch sash which was a crimson, scarlet, err red sash. No doubt those getting upset about the orange sash would be doubly incensed by a red sash and apoplectic by the fact that we first won the league in 1891-2 wearing ruby (red) shirts trimmed in navy blue.
I can't believe some posters are making any reference to religion and inferring that some Catholics may be offended by the colour being orange. Our 'Irish' support only really emerged after the Second World War when a lot of Irish players played for us and, let's be honest, loads more Irish footie fans follow Man Utd and Liverpool than us.
I was born and raised a Catholic myself but follow Everton FC founded by Methodists – What the fuck does it matter as most people don't have any religion at all.
When we move to Bramley-Moore Dock, we should perhaps adopt a new badge which incorporates an image of the Liver buildings with both liver birds (we do own half of the building after all) – hopefully that wouldn't offend any religion but might upset the kopites – a lot!

Chris Williams
17
Posted 21/05/2021 at 10:55:19
Ed,
We wore a red sash 11 years before Liverpool FC was invented, so there was no emotive issue back then.
Burnt Orange is just fine, from any perspective and looks very nice too.
Steve Brown
18
Posted 21/05/2021 at 11:06:30
Interesting tweet from Everton FC Heritage Society on the new kit.
The 1881 kit included a crimson sash.
Justin Doone
19
Posted 21/05/2021 at 11:08:39
New kit... ugly!
I don't like the sash, it ruined Southampton's kit and I only hope its a one-off and we do not keep it for next seasons other kits.
I know there's a few South American teams that have a sash set so I'm wondering as well as the Black Watch nickname, is it to help influence our next few South Americans signings?
But I really don't like it and will not be spending my (or Santa's) good money on something so ugly.
Hummel have Plummeled!
Allen Rodgers
20
Posted 21/05/2021 at 11:20:49
Not sure whether I like it or not but it's £60.. so, for that reason, I'm out!
Colin Malone
21
Posted 21/05/2021 at 11:24:09
Nothing in my house / wardrobe is red. Not for me.
Dave Williams
22
Posted 21/05/2021 at 11:25:01
A bit different for us and very smart. What about the shorts and socks?
Danny O'Neill
23
Posted 21/05/2021 at 11:30:48
Marketing wise, they need to make that not look so red and reflect the colour it's supposed to be!!
Aside from that, I'm happy with it.
Michael Kenrick
24
Posted 21/05/2021 at 11:31:33
Thomas:
On 20 June 1909 Liverpool experienced its worst outbreak of sectarian trouble when Catholics and Protestants violently clashed in the streets.
A proposed march from a local Catholic church ended in riots with police when members of the Protestant community tried to block the route.
The sectarian violence led to the city being dubbed the 'Belfast of England'.
The trouble, in Juvenal Street near Scotland Road, led to several days of trouble across the city.
Brian Murray
25
Posted 21/05/2021 at 11:31:55
Last time we dabbled in salmon pink or whatever it was, we nearly went down.
Just sayin'.
Tony Everan
26
Posted 21/05/2021 at 11:40:26
Maybe it is burnt orange, salmon rhapsody, or sunset glow, but the sash etc looks a bit on the red side for me.
Someone posted that their Everton mad uncle wouldn't eat tomatoes because they were red. I wouldn't necessarily go that far but I'm on the spectrum.
Other than that I like a nice all blacks-esque kit , the refs may even be lenient to us when we are wearing it
Tom Harvey
29
Posted 21/05/2021 at 11:45:45
Have we change our name to Everton Palace FC?
Someone please tell me that stripe is not red.
Craig Walker
30
Posted 21/05/2021 at 11:53:06
Think it looks good.
A bit optimistic of Everton Direct where they allow the name printing of Delph and King. Can't see there being many takers on those options!
Chris Williams
33
Posted 21/05/2021 at 11:58:03
I think the sectarian history of the city is well documented, and several well researched books are available if you're arsed.
But it's not sectarian now as far as I'm aware, and hasn't been for many years. Unlike other cities as recent events in Glasgow show, and in Belfast.
Martin Berry
36
Posted 21/05/2021 at 11:59:13
Sashes are for beauty contestants but this is not the most attractive kit. I understand the sentiment but I wont be buying.
Paul Hewitt
37
Posted 21/05/2021 at 11:59:36
Not bothered what the kit looks like. Just hope the players wearing it put some bloody effort in.
Sean Kelly
39
Posted 21/05/2021 at 12:03:33
I think we should have done a white and blue combination. Religion / politics should be nowhere near football.
I'm a non-practicing Catholic from a mixed economy and Presbyterian background. I've had family shot and killed by those aspiring to different cultures and religions. My old man and his family from Northern Ireland were interned at His Majesty's Pleasure during WW2 for being Roman Catholic and a nationalist. But none of that matters now.
With Everton, all that matters is winning with entertaining football. All the rest is bullshit. As Michael says, look around at what is happening in the Middle East.
Stephen Vincent
40
Posted 21/05/2021 at 12:04:20
I won't have cherryade in the house.
The kit is okay – nothing special, not the worst or the best. Agree that £60 is way over the top. I'm assuming that there will be new 1st and 3rd kits as well.
Brian Harrison
42
Posted 21/05/2021 at 12:09:09
So this is supposed to be a nod to the team that won the league in 1881, which is typical of a backward looking and backward thinking club.
Rennie Smith
43
Posted 21/05/2021 at 12:10:03
Only this site could turn a simple review of a football shirt into a discussion on religious sectarianism!
It's a simple question lads. I like it, a bit Crystal Palace but one of the better designs of recent years.
Colin Metcalfe
46
Posted 21/05/2021 at 12:13:58
That's a well cool kit ! Love it
Danny O'Neill
47
Posted 21/05/2021 at 12:15:06
A bit Crystal Palace Rennie but also Manchester City back in the day too?
But that was our life time. If Everton were doing this 140 years ago we were setting the trend??
Brian Murray
53
Posted 21/05/2021 at 12:29:03
Palace where dubbed the team of the 80s with that sash and el tel as boss. Maybe it's our turn.
Derek Knox
54
Posted 21/05/2021 at 12:29:24
Someone suggested to me before by text, that it resembled a Miss World Sash!
I think reflecting on this last season, a Miss Goal would be more Accurate! :-)
Howard Sykes
57
Posted 21/05/2021 at 12:34:05
That sash is a definite red. Prefer the amber shirt.
Andrew Ellams
58
Posted 21/05/2021 at 12:34:31
If it is red we can use it to rub RS noses that we wore it a decade before they were even born.
Saying that, I don't think that's a good picture. I've seen others where it's lighter and definitely salmon pink.
Danny O'Neill
60
Posted 21/05/2021 at 12:48:22
I like the sash and the Black Watch link. Salmon Pink was our colour apparently but need some of the more qualified historians to confirm that. I also wonder if the sash comes from military links hence the Black Watch tag. Sashes are traditionally worn by Senior Non-Commissioned Officers. And yes, they are usually red!!
James Marshall
61
Posted 21/05/2021 at 12:50:57
I love it!
I've been crying out for a 'Black Watch' kit for years and finally they've done it! Brilliant kit, and I love how all the dumb RS are all over Twitter going on about the 'red' sash. Not one of them has a clue this was our kit before they even existed!
Chris Williams
63
Posted 21/05/2021 at 12:55:53
Someone linked a page on here from Evertonresults.com that shows a pictorial record of all our kits through the ages including this one. Salmon Pink was one of ours once upon a time as well. It's under miscellaneous.
I don't know how to link using an iPad but if anyone has the skill please feel free. It's very interesting
Derek Cowell
64
Posted 21/05/2021 at 13:00:35
Amber and blue every time for me. It just reminds me of my childhood football hero, Ballly and that great 1970 team. Everton, nott Brazil (although they were not too shabby either).
This should be a 3rd kit at best but we should be going nowhere near any shade of red! Who makes these decisions?!
Michael Kenrick
69
Posted 21/05/2021 at 13:16:53
Danny O'Neill
70
Posted 21/05/2021 at 13:21:29
The kit is growing on me. I just hope it's not as red as the photos make out!
Derek Knox
72
Posted 21/05/2021 at 13:25:43
I'm very much with Howard Sykes in that any away kit should be either amber or white and blue, but that beggars the question: Why do we need two away kits?
The likes of away games at Tottenham, Palace, Leeds and many others, why can't we wear the home kit? There's no clash of colours!
I suspect it is another money-making venture, to bleed even dryer the guy with two or three kids, who all want the home and away kits, poor sod!
Kieran Kinsella
74
Posted 21/05/2021 at 13:38:58
Derek
I'm with you. I'd rather wear blue unless it's absolutely necessary to change. They used to blame black-&-white TV and say solid colored shirts looked the same. But even in poorer parts of the world surely there aren't many black-&-white TVs that still work? But yeah, money is the real driver here.
Chris Williams
76
Posted 21/05/2021 at 13:44:27
Thanks for that Michael.
Didn't go blue until RS came along!
Frank McGregor
78
Posted 21/05/2021 at 13:48:23
I hope this is not an omen for May 2022, could be the "Gods' already know we will be relegated and then we can all wear black.
I really would like for ToffeeWeb to remain a topic for football rather than politics. I find it disappointing that clubs find it necessary to continue the kneeling before games, just another political ploy we have to contend with to keep the BLM – Burn, Loot, Murder brigade – happy.

Kieran Kinsella
81
Posted 21/05/2021 at 13:58:19
I think it looks a bit like the outfits baddies used to wear in shows like The Avengers.
Eddie Dunn
82
Posted 21/05/2021 at 13:59:18
I'm with Derek Cowell, I loved that amber and blue kit. This new one is at least a bit of a change. I won't be buying one at £60 though – it would need to be cashmere at that price.
Barry Hesketh
83
Posted 21/05/2021 at 14:03:25
If you know your history... trouble is, when it isn't purely related to the club itself, things can be misinterpreted and people react according to their individual sense of history. I don't think it's the orange sash on its own that is causing some to distance themselves from the new shirt, it's likely that the term "Black Watch" has caused some to take offence.
I'm no expert in the politics of Ireland and I'll leave it to those who have a better grip on the subject. However, the Everton Supporters Club 'Emerald Everton SC Ireland' tweeted the following:
We have had a lot of complaints from our members about the new away shirt. As a club we listen to all our members concerns. Majority of our members will not be purchasing or supporting the sale of this new shirt.
Kieran Kinsella
84
Posted 21/05/2021 at 14:10:58
Barry
It's because the Black Watch is the nickname of a Scottish regiment that served in Ulster during "The Troubles." But completely unrelated to Everton of 80 years earlier.
They need to get over it: same name, different era, different context – nothing to do with football or Liverpool as a city.
Derek Wadeson
87
Posted 21/05/2021 at 14:40:23
If we wear this strip on Sunday against Man City and win, I think the argument on ToffeeWeb will be: "Why can't we wear it every week??"
Jim Bennings
89
Posted 21/05/2021 at 14:42:33
I'm impressed by Hummel so far, that have out together some smart kits so far, particularly liked the yellow/amber this season and the home kit.
Danny O'Neill
90
Posted 21/05/2021 at 14:46:10
Also Kieran, the title goes back to the Regiment's origins way back in the 1700s. Their current lineage and those who carry the name are 3 SCOTS (or the 3rd Battalion the Royal Regiment of Scotland to use their formal title). As you say though, no relation to Everton or football, so I probably shouldn't have used a connection I did earlier. Apologies and no offence meant to anyone.
Anyway, I'm liking the top the more I look at it, just need to filter the red out!
David Baxter
91
Posted 21/05/2021 at 14:47:55
Cut the sleeves off the new shirt and call us the Essendon Bombers.
Tony Abrahams
93
Posted 21/05/2021 at 14:51:44
Never mind in Black, I just want to hear the fans singing the first three words of the title once again!
Jim Bennings
94
Posted 21/05/2021 at 15:07:07
Any news on the new home kit?
I wouldn't be too against keeping this one for another season but I think those days are gone now, aren't they?
I don't know about anyone else but I'd love to see a return to those continental-looking hooped socks we had in the 1995-96 season (first worn in the FA Cup Final win).
Classy kit, that one.

Brian Harrison
96
Posted 21/05/2021 at 15:21:40
I said in post 15 that I was concerned that the orange stripe could produce a negative response, and it seems the majority have posts have included a religious connotation. So maybe not the cleverest thing that Hummel have done, I have never seen any of our previous kits produce this sort of response. So can only assume if it had any other colour stripe it would never have had so many religious posts.
Danny O'Neill
97
Posted 21/05/2021 at 15:27:05
I think it was the one comment about losing support from Ireland that sucked us in Brian.
Back to the kit. It's a nice kit. I like it. I just need to see it looking like a less red stripe!!
Mike Gaynes
99
Posted 21/05/2021 at 15:42:07
I don't know me history or me sectarianism or me regiments, I just don't like black kit for field players. Never have. It's only cool for goalkeepers.
Iakovos Iasonidis
100
Posted 21/05/2021 at 15:45:19
For me this is the best shirt since the 2011 home kit. A collar at last!! I also liked this season's away very much except the lack of collar. I hope first and third will have different pattern like they used to in the past and not only different colour as is the norm nowdays.
Jim Bennings
101
Posted 21/05/2021 at 15:49:03
Iakovos
Is that the one with the amber trimming to the collar if memory serves me right?
I liked that one too, different from the usual colours but stylish still.
One of my recent faves in terms of away kits, who remember that little cream (or ecru) number we had back in 2010/11?

Barry Cowling
102
Posted 21/05/2021 at 15:51:57
not for me, I don't like it. As far as I am concerned it should be amber and blue.
Danny O'Neill
104
Posted 21/05/2021 at 15:57:33
Mike @99. I like that!!
Eddie Dunn
105
Posted 21/05/2021 at 16:00:15
Mike- I'm of the opposite view. I always liked the All-Blacks rugby kit, made them look mean and lean and Mike Tyson in his black shorts, and black boots. I would dispense with the sash and pair it down and get black socks and insist that all boots are black.
Oh and whilst we're on it, let's just have Surnames -no more of this James, Adama, etc, etc.
Michael Lynch
106
Posted 21/05/2021 at 16:01:48
Is it orange or is it red?
Not sure which is worse to be honest, looking like a wannabe Orangeman, or looking like a wannabe Gobshite.
I think I'll pass on this one. Anyone planning to buy one, can I suggest not teaming it with a bowler hat and a big drum.
Mike Gaynes
107
Posted 21/05/2021 at 16:06:58
Eddie #105, I agree completely. The All-Blacks, Iron Mike and my hometown Chicago White Sox baseball team make it look great. So did one of my all-time goalkeeper heroes, Chilavert of Paraguay. I just don't like it on footballers in general.
That said, it's a hell of a lot better than salmon pink. I hope we never wear that one again.
Iakovos Iasonidis
109
Posted 21/05/2021 at 16:09:04
That was the one Jim. The away shirt you mention was also super.
James Marshall
111
Posted 21/05/2021 at 16:12:38
It seems the general consensus is people aren't keen (I love it). For a club who lives off it's 'istory, it's weird that you don't like a kit that reflects our history.
Who gives a fuck if is has red/orange/salmon in it? It's a great kit, better than all those awful salmon, or that crappy green thing we wore. I love a kit with an angled stripe, like Palace often wear. Proper old school look about it.
You can link it to anything you like regarding modern day clubs, football or otherwise, the fact remains it's a reproduction of one of our early kits so why Evertonians who are massively obsessed with history don't like it, is beyond me.
Also, religion? Really? How about dinosaurs?
Danny O'Neill
112
Posted 21/05/2021 at 16:14:27
For the sake of diplomacy and de-politicising this one Michael @106, it's Salmon. The marketing photo just made it look red!!
I'm for Amber aways kits. Loved this seasons. But amber, not yellow. Remember that mid 90s concoction that had zig zags all over it? Dreadful.
Joe McMahon
115
Posted 21/05/2021 at 16:18:32
I like it, but more concerned about the quality of player that will be wearing it.
Danny O'Neill
116
Posted 21/05/2021 at 16:19:32
And lets not talk about that "Vinny Samways" art nouveau white top that someone spilt some paint on.
Then there was the Linekar white bib home kit.
And the One-to-One yellow stripe one that wasn't Royal Blue.
Sorry, the strip talk has made me think of some bad ones we've worn!!
James Marshall
118
Posted 21/05/2021 at 16:26:08
Danny@116
I still have that One2One kit. It's a shocker. The sponsorship logo is too stiff and kinda doesn't let the shirt sit right. Proper 90's stinker that one!
Kieran Kinsella
120
Posted 21/05/2021 at 16:28:40
Danny
Forget the shirt, let's not talk about Vinny Samways.
Lyndon Lloyd
Editorial Team
121
Posted 21/05/2021 at 16:29:39
A fair number of comments have been removed from this thread, mostly the religious stuff, although I've left a few references in for context. As you know, we like to foster a bit of non-Everton discussion and debates around politics around here from time to time but not when it becomes the dominant topic on the thread and especially when it's around as something as sensitive as religion. Once we went from the Troubles to Palestine, it was time to swerve the whole thing.
Dale Self
123
Posted 21/05/2021 at 16:36:13
As an atheist let me just say Thank God or make that Thank Danny for it being salmon not red. Not really into black but many are these days so I'll roll on that. If the club goes camou, I'll go for that season.
Philip Bunting
124
Posted 21/05/2021 at 16:40:41
I am beginning to think our support are colour-blind or infatuated with the Redshite. If you define that as red you may as well get to Specsavers before another lockdown, that is most definitely a shade of Orange.
And why oh why must people see half a diagonal line and state that it's a sash? It's exactly as it looks, a diagonal line– not a bloomin' sash!
Danny O'Neill
125
Posted 21/05/2021 at 16:42:27
I don't know which is the worst James. That or "the bib".
Fair one Kieran.
Lyndon, as always and I don't mean to sound patronising, genuine thanks to you and Michael for allowing the discussion to flow but mediating where appropriate.
This site has been a valuable outlet and god send to me in the past 12 months. Partially due to what we've all experienced but also some personal & family experiences.
Love you all blues. Even those who we occasionally lock horns with.

Tony Abrahams
126
Posted 21/05/2021 at 16:42:28
The first thing I thought when I saw this kit was "the sash my father wore", Lyndon.
Others saw red, I saw orange, and Hummel are probably delighted because of all the publicity this is generating.
Religion is a touchy subject, but it has played a big part in our city's history, and I don't know how many different kits Everton have played in since the last time they won something, so let's just hope this kit gives us a lot of luck.
Neil Lawson
127
Posted 21/05/2021 at 16:44:08
Not overly impressed. Was hoping for a Harry Potter invisibility shirt to suit the majority of our current team.
Neil Lawson
128
Posted 21/05/2021 at 16:48:54
On a separate note, the Echo is reporting that No 1 priority for Carlo is a winger who can score goals, cross, defend and make sacrifices.
That's Trevor Steven then. Sorted.
Lyndon Lloyd
129
Posted 21/05/2021 at 16:49:40
Tony (126):
so let's just hope this kit gives us a lot of luck
Starting its life away at City might not be the best introduction! But then again, maybe it will. Stranger things have happened 🤞
I really like this kit. If I had my way, our away kit would be black every season, but that's just me. I love that hummel have produced something bespoke for us rather than one of their templates.
Could it have been salmon pink? Probably, because in certain light, the sash does look red but I'm secure enough in my "Evertonianism" that I can handle it. The striped change kit with the salmon from the 90s looked pretty red as well at times.
Kieran Kinsella
130
Posted 21/05/2021 at 16:50:18
Kieran Kinsella
131
Posted 21/05/2021 at 16:53:02
Neil,
Do such wingers even exist these days?
Dale Self
132
Posted 21/05/2021 at 16:59:22
Amber top and black shorts were a good look in the Cahill days.
Paul Jones
133
Posted 21/05/2021 at 17:01:32
The kit gives is a good reflection from our early history and would suggest that it is viewed in that respective. I would assume we will have a third kit and maybe the design should reflect the world that we aspire to.
A kit that encompasses all the diversity strands would be good. A rainbow sash / bib would do this.
Given we have a women's team too maybe one of our kits should reflect this. Other clubs have had pink shirts, stripes or sashes to support Breast Cancer charities and awareness.
Ray Roche
134
Posted 21/05/2021 at 17:11:36
Dale'123
If they can't find each other wearing bright Amber they've got no chance in Camouflage.
Ian Burns
135
Posted 21/05/2021 at 17:13:36
Going through that link Michael posted 69 - I must admit to being a tad old fashioned (in fact you can take out the word "fashioned"!) but the clean cut kit of 1967-72 was the standout kit for me. Simple, smart and represented some more wins at GP than we have seen this season!
John McFarlane Snr
136
Posted 21/05/2021 at 17:19:05
Hi all, I was brought up on the understanding that Everton were once known as the "Black Watch" and the reason for this was illustrated in the book 'Football on Merseyside' by Percy M Young [1963]. It states that, at first the Everton boys wore blue and white striped shirts, while their recruits from elsewhere wore their own strip. Uniformity however appeared desirable, and the multi-colours were regularised by black dye, the resultant black shirts then being relieved by a red sash two inches wide.
Dave Williams
137
Posted 21/05/2021 at 17:29:43
What colour are the shorts and socks?
Brent Stephens
138
Posted 21/05/2021 at 17:33:52
Ray "If they can't find each other wearing bright Amber they've got no chance in Camouflage."
If it's called "Covid Amber", they won't know whether to go or stay, attack or defend.
Mike Gaynes
139
Posted 21/05/2021 at 17:35:38
No, Brent, but they will be really good at closing down.
Brent Stephens
140
Posted 21/05/2021 at 17:40:40
Nice one, Mike!
Danny O'Neill
141
Posted 21/05/2021 at 17:51:15
John Senior, thank you as always for the historical context. I wonder if the Black Watch tag will stick just as the People's Club one did?
Mark Andrews
142
Posted 21/05/2021 at 17:59:15
A nice nod to the 1881-82 season, which if memory serves me, was the last season James played 3 consecutive games in a row.
Rank kit BTW.
John Skelly
143
Posted 21/05/2021 at 18:14:02
I like the kit a lot but wearing it in Dublin would not go down well, so I will stick to the home kit for football pub games when if ever they open again here.
Barry Rathbone
144
Posted 21/05/2021 at 18:22:15
Went on 12th of July lodge days to Southport with uncle Mike and the cousins when I was a nipper- great times - and finally got on a march with my mate Joey a few years later. Unfortunately we got stoned by youths strategically positioned on a bridge above Rice Lane.
It was a seminal moment for me as amidst the uproar I heard Joey shout " fucking catholic bastards" and I remember thinking "but Joey - I'm catholic"
Unusual place Liverpool back in the 60s.
Lovely kit btw
David Pearl
145
Posted 21/05/2021 at 18:22:35
All black socks and shorts Dave
I would prefer the cazoo to also be black but l like it in fact lve liked all the kits hummel have done so far
Si Turner
146
Posted 21/05/2021 at 18:23:39
I don't care if we wore this kit in the 1800's, it looks red and I don't won't the "mighty blues" to be associated with the same colours as the other shower.
Seems a real marketing gaff this.
I am 32 and we have never wore red in my time and I thought we never would.
As such I won't be buying.
Danny O'Neill
147
Posted 21/05/2021 at 18:38:41
My Belfast born Grandfather used to ban my mother from attending the Southport Lodge days Barry.
A proud Ulsterman who settled in Liverpool, he didn't care for that. But he adopted and loved Everton.
Dennis Stevens
149
Posted 21/05/2021 at 18:42:51
I don't think they should have bottled out on the crimson sash, or maybe it's appropriate for a team of bottlers!
Btw, if red is ok for Nev the Save in '85 ECWC Final then it's fine by me.
John McFarlane Snr
150
Posted 21/05/2021 at 18:48:05
Hi Danny, [141] what little knowledge I have of Everton FC I owe to my Granddad and uncles, as a boy I would listen to their tales of bye-gone days, and the nickname of the 'Moonlight Dribblers' often cropped up in their discussions. Percy M Young refers to it as follows, "Mr Treasurer" Ramsey can recollect the days when Everton were known as the 'Moonlight Dribblers', a nickname awarded because the players used to occupy themselves up till dark in tilling and arranging their ground, being their own groundsmen in fact, and then expending their superfluous energy enthusiasm, by playing football by the light of the moon, which was the only time they had to spare.
Paul A Smith
151
Posted 21/05/2021 at 18:50:45
Its how we play in the kit that matters.
Brian Hennessy
152
Posted 21/05/2021 at 18:57:33
They can call the sash what ever colour they want. Plain and simple it is far too close to red to be anywhere near an Everton kit.

Will Mabon
153
Posted 21/05/2021 at 19:08:32
I like the black. I don't have the world's best colour vision but that looks mighty red to me in the first picture (but orange in the second). Maybe the studio lighting, so irrelevant.
Since the kit is principally black, could it have had a blue/dark blue sash within the kit rules? Is the colour supposed to relate to Cazoo?
Karl Masters
154
Posted 21/05/2021 at 19:08:55
I like this kit a lot. Like the colours and like the subtle things like a woven badge, the collar and Hummel logo in shadow black.
Luckily I'm not into all this religious stuff, but it's a diagonal stripe, not a sash and you play football in it or hang out, not play a tin whistle and match up and down. As per usual there are people everywhere just waiting to be offended. No doubt somebody will write to the Club demanding 'compensation' because it's hurt their feelings...
Danny O'Neill
155
Posted 21/05/2021 at 19:09:50
You don't have little knowledge John. I always look forward to your posts and views. Genuinely.
Gerry Clarke
156
Posted 21/05/2021 at 19:27:50
Don't like the new kit, I am a big fan of the amber always have been. As a Dublin based Evertonian we get enough stick from all the RS and ManU fans over here without wearing a shirt with an orange sash. You'd be a target for every drunken yob in the pub. Don't expect they will sell too many over here.
Dale Self
157
Posted 21/05/2021 at 19:48:15
Go to the youtube showing and it doesn't look as bad as the pics. Something like a burnt orange but brighter than the usual muted version.
Seb Niemand
158
Posted 21/05/2021 at 22:53:06
Ugh. That's awful. It looks like a desperate attempt to be trendy.
Brian Wilkinson
159
Posted 22/05/2021 at 00:54:35
I have finally found a school programme that was on in the seventies about Everton, never knew what it was called but was for schools and collages.
Finally found it today on YouTube, it was called searching for clues Everton.
Most of us over 50,s will have seen it on itv and also in school, when they wheeled the big tv in the classroom.
Well worth a watch about the area of Everton.
Sorry for going off track, but been looking for this for well over 40 years, hope some fellow Blues find it and have as much enjoyment remembering it.
Still undecided about the new top, Sunday will be a good indication of how it looks when worn for the city game.
Danny O'Neill
160
Posted 22/05/2021 at 08:57:55
Do you have the name of it Brian. I'm still not quite 50, that comes later this year, and as I spent my earlier years in Germany, didn't have access to English television. Would like to watch that.
John Senior, your Midnight Dribblers made me do a Google and guess where it took me? Yes ToffeeWeb!!! Relevant to the strip:
Everton had several kits and nicknames during the first decades. The original blue and white stripes were soon transformed to a mess when the new players wore their old team's shirts. Soon it was decided in the name of uniformity, that the shirts would be colored black, to save expenses! During this time, Everton were nicknamed The Black Watch, after the famous army brigade.

When the club moved to Goodison, they played in salmon stripes with blue shorts (this is the origin of the Centenary celebration kit), and later still, ruby shirts with blue trimmings and dark blue shorts.

The famous royal blue jerseys with white shorts were first used in 1901-02. This is of course the origin for the nickname "The Blues". In the early days, Everton often trained late into the night, so they were nicknamed "The Moonlight Dribblers", or so it is believed. The scientific style lead to the name "The School of Science". After Everton moved to Goodison, they picked up another nickname, "The Toffees" or "The Toffeemen".

There are two versions to explain how this name was adopted: the better known is that, in those days, a Mrs Noblett had a candy store near Goodison called Mother Noblett's Toffee Shop, where she advertised and sold her tasty merchandise on match days. Another reason might be that there was a house called Ye Anciente Everton Toffee House near the Queen's Head hotel. The word "toffee" also referred to Irishmen, of which there was a large population in the Liverpool area at the turn of the century.
Ray Roche
161
Posted 22/05/2021 at 09:09:35
I'm sure I read that Liverpool's first kit was Blue. When Everton left Anfield for Goodson they'd left behind an old blue kit which the new Liverpool side used to save buying a new one.
Anyone else recall that?
Billy Roberts
162
Posted 22/05/2021 at 10:06:15
I'm taking the credit or abuse for this superb kit, I mentioned it (twice!) on previous ToffeeWeb articles about kits how I would love to see this black shirt with scarlet, red, orange whatever sash. It proves once and for all that officials from Everton are reading TW!
On the subject of the controversy or misinterpretation of the colours? I don't believe anyone owns any colour? Certainly not Liverpool FC, an Army regiment, or a marching band.
One thing I don't like though, there is always just one thing – that 'Cazoo' going right through the middle. Without that, it would be flawless.
Brendan McLaughlin
163
Posted 22/05/2021 at 10:21:18
Is the "go faster" stripe a cunning physcological ploy to address the lace of pace in the squad? Look forward to watching Gomes burst into a trot come Sunday.
John Pickles
164
Posted 22/05/2021 at 10:48:13
I'd be interested in seeing it with a little silver adorning it.
Maybe we can put in next to the SportPesa Super Cup.
Billy Roberts
165
Posted 22/05/2021 at 11:17:02
Ray @161,
Yes, I'm sure your right, definitely about the kit (not sure of its colour) so that's the ground, the kit, and the badge... friggin scavengers.
Ed Fitzgerald
166
Posted 22/05/2021 at 11:31:47
Ray @161
It's my understanding that Liverpool played in sky blue, white and navy for four seasons from 1892- 96 before adopting red.
Mick O'Malley
167
Posted 22/05/2021 at 12:59:09
Woeful kit. I prefer amber and blue.
Although it's who's wearing them kits next season I'm more interested in.
Mike Hanlon
168
Posted 22/05/2021 at 14:41:31
Hard to believe that the Club has scored such an own goal with this latest kit release. The original kit it was based on never even had any orange on it! Extremely disappointing by the marketing department (again).
If unhappy with the issues this has caused, as well as not buying it, contact Everton Fan Services via email: servicedesk@evertonfc.com, or via their Twitter account, plus contact the Fans Forum.
Sadly if the hierarchy are so out of touch, this feels like the only way us fans might actually be heard?
The division it's caused flies in the face of the fact that is supposed to be promoting Evertonians being together 'As One'.

Brian Wilkinson
169
Posted 22/05/2021 at 14:46:10
Hi Danny, if you type in "Hunting for Clues Everton" on YouTube it will come up it's about 20 mins long, first 20 seconds tracking is out, then when the Granada sign comes up, it is tracked perfect, must have uploaded it from a video recorder.
They start of at Goodison, show a bit of Everton playing, then he stands in front of the Park End for a minute, talking about the club, the badge, and the Toffee Lady. There might be some posters on here, in the crowd in the old Park End. It then shows you the Toffee Lady throwing sweets in the old Bullens Road terrace, close to the Park End, and the badge. Then he visits Rupert Tower and the sweet shop where they made the toffees, it was the early seventies so some good shots outdoor of the old tower blocks.
As the titles roll at the end, it plays out with the On The Hillside Stands A Lady, who she is I do not know. Then they sing a chorus of We All Live in Everton, with a wall in the background saying Everton FC in graffiti.
Someone with a bit more tech knowledge than me, might be able to upload the video, or the link on here.
Brian Williams
170
Posted 22/05/2021 at 14:51:31
If the colour of this kit has actually "caused division" as opposed to liking it or not, then people really do need to get a life, for fuck's sake.

Brian Williams
171
Posted 22/05/2021 at 14:53:11
Mark Andrews#142?
🤣🤣🤣🤣 👍
Jeff Armstrong
172
Posted 22/05/2021 at 15:03:01
Brian 169,
I remember that programme well. I saw it twice in the 70s, never since. I reckon it was filmed about 1972 or 1973. The match footage from memory was against Burnley, I think Mick Buckley was taking corners on some of the shots.
I think it was a Northwest educational programme rather than national.

Danny O'Neill
173
Posted 22/05/2021 at 15:10:40
Perfect, found it Brian.
The search also brought up another that caught the eye: "The Story of 1969-70: Everton, Champions of England.
I think you've just ruined my wife's Saturday evening and I'm sleeping downstairs with the dogs again!!
Barry Hesketh
174
Posted 22/05/2021 at 15:18:11
The presenter sounds like he was rejected by playschool for not being authoritative and serious enough:
Brian Wilkinson
175
Posted 22/05/2021 at 15:21:46
Nice one, Barry; glad you enjoyed it, Danny.
Barry Hesketh
176
Posted 22/05/2021 at 15:37:54
I liked the adapted lyrics to the 'Liver Birds" theme tune, used at the end of the programme, sung by the kids "We all live in Everton, Everton, Everton, We all live in Everton, Everton by the Mersey".
Will Mabon
177
Posted 22/05/2021 at 16:06:00
Great find, Brian!
That really takes me back to some of the "Feel" of the time.
Jeff - I tracked the match down (by seeing Dave Clements as the penalty taker). A 1-0 win vs Burnley, 20 October 1973. 41,000 there, including almost certainly – me! Though I can't remember it specifically.
Brian Wilkinson
178
Posted 22/05/2021 at 16:24:10
Nice one, Will, good detective work.
Jack Convery
179
Posted 22/05/2021 at 18:48:41
Not for me. Not the worst but nowhere near the best.
It reminds me of something City came up with during the bad times. Even worse, it reminds me of something Southampton, Crystal Palace or Luton would come up with. Get rid of the sash and it will be – as Mr Darcy once said of Elizabeth Bennett – "tolerable".
Brian Wilkinson
180
Posted 22/05/2021 at 22:18:59
Barry @174,
Poor guy was up against Brian Cant. Brian cornered the TV hogging, long before Phil Schofield and Ant and Dec.
Danny O'Neill
181
Posted 23/05/2021 at 11:45:46
Well, this link took me to
"The Story of 1969/70: Everton Champions of England"
as I mentioned earlier.
Just watched properly and definitely 23 minutes and 24 seconds of my life well spent. I've never seen much footage of that team, just listened to my Dad's stories. Great watch and seriously recommend it for Evertonians of all generations. Joe Royle provides most of the narrative.
Apologies if this is a bit scattergun, but I just wanted to download my brain dump of thoughts.
Interesting comments on John Hurst, a player I personally do or did not know much about from that era. "The ball was his friend". What a statement. And that Harry Catterick saw that because he recognised the game was changing and Hurst was good on the ball so he brought him in. I get the impression that whilst maybe not the most personable manager, he was forward thinking.
Derby defeat at home and that own goal. Great header!
Ronnie Goodlass saying it was a privilege to clean Alan Ball's boots and it doesn't get much better!
We clinched the title on April fools day and the joy of winning the title. It is a fantastic feeling. So fortunate I've felt that feeling twice. I hope I do again, but more importantly I hope those who haven't yet do so as well.
Colin Harvey being described as a great player but never a great goal scorer. The perfect number 6? Peter Reid was similar in that respect.
3 jewels in the crown; Kendall, Ball & Harvery. Joe Royle's comments on Ball intrigue me as I don't always buy the physical pace thing. He describes him as being sharp but having no break away pace. But he had quick feet, a great first touch and vision. To me that is what I always refer to. Its not always about being able to run fast. Its about pace in the mind, pace in the feet and quick decision making. I love the comment that they were all different but could find each other in the dark!
Last point (promise), but interesting to hear the thoughts on Catterick. Not a tracksuit manager but brought in players who made a difference. And an interesting balance of investment from outside (e.g. Kendall, Ball) alongside youth. It certainly seemed like he had presence and I get the impression he was the manager who had his coaches doing the coaching. Howard must have learned that from him as in my opinion, that's what happened with the 80s team once he brought Colin Harvey in. Although I feel Howard was more approachable. The type who would put his arm around the players, but Colin coached.
Anyway. Great watch and great insight if you haven't seen it.
Brian Murray
182
Posted 23/05/2021 at 12:01:27
Travesty we never dominated at least part of the 70 s. Streets ahead of teams like Derby and Man City who fought out the title early in that era. The catts ill health and really bad replacements ie Henry Newton Harper and tiger ( jeez ) not sure if he signed all of them but we never do dynasties I suppose.
Pete Clarke
184
Posted 23/05/2021 at 13:09:24
I bought myself a nice little jacket back in the late '80s. It was reversible with one side salmon pink-ish and the other being blue but spoiled by a stripe running down the back so I did not like that side of it.
Anyway, I went to the match one day with this jacket on and a few of the lads were taking the piss out of it being salmon pink. As the beers flowed down in town after the match, that said jacket at some point was torn to pieces by myself and the mates and is probably laying decaying around various streets of inner city Liverpool. It was a nice-looking jacket but just too close in color to you know what.
I sort of like the kit with the stripe but as above.
My 16-year-old has actually just texted me right now saying he loves it and wants his auntie Mo to send it over to us here in Perth.
I'm not going to explain anything about that kit to him other than Everton wore a similar kit at the beginning of its history. He goes to a Catholic school here in Perth but has no religious feelings whatsoever.
Going back to that article about the troubles in 1909. St Joseph's was my school and local parish and we saw a lot of those troubles around Everton Road in the early 70s but never once in my life have I been bothered about the religious side of things myself. We just watched it all because it was exciting.
Pity I can't say that about our football right now!!


John McFarlane Snr
185
Posted 23/05/2021 at 14:28:10
Hi Barry [174] thanks for the link 'Hunting for clues' it brought back many childhood memories, when I was born on 15/7/38, our family home was 75 Everton Road, a three or four minutes walk rom what we knew as Prince Rupert's Tower. The word was that there was a tunnel under it that led to the Mersey, and was the home of crocodiles, at the age of six or seven we firmly believed this to be true, but thankfully the door was always locked. We were roughly the same distance from the water tower that was featured in the link, we never called it a water tower we always referred to it as the 'reservoy' because it was bordered by Reservoir Street. There was a raised playing area where we were able to play football, but unfortunately it was a concrete surface but they were 'happy days'.
Andrew McLawrence
199
Posted 24/05/2021 at 19:13:28
As a supporter from Northern Ireland, I am sick to death of how the simplest thing degenerates into a green versus orange political bollocks. It's a football shirt end of. Any offended Irish supporters can do one.
Matthew Williams
200
Posted 24/05/2021 at 23:12:50
Nice kit... shame about the team.
---
Add Your Comments
In order to post a comment, you need to be logged in as a registered user of the site.
Or Sign up as a ToffeeWeb Member — it's free, takes just a few minutes and will allow you to post your comments on articles and Talking Points submissions across the site.