Colombia manager explains James Rodriguez decision
Monday, 31 May, 2021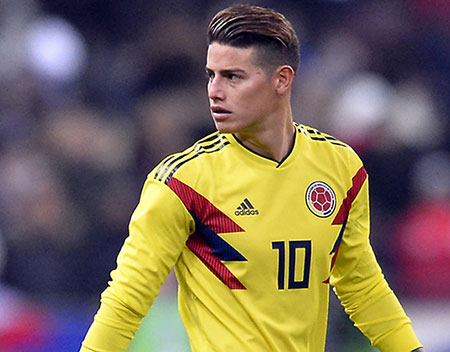 The head coach of the Colombia national team has explained his decision to "sacrifice" James Rodriguez from his squad for this summer's Copa America, one that appears to have been at odds with the assessment of Everton's medical staff.
James was left out of the Colombia squad for the tournament, that was at one stage to be joint-hosted by his home country but which has now been moved at late notice to Brazil, due to his recent injury problems, with Reinaldo Rueda now admitting that he couldn't risk the Everton star's long-term health or include a player that wasn't "500% fit".
He told the Colombian presss that he made the decision after a joint review of his fitness with Everton and his national team's medical staff, although the club have said they would have had no issue with him playing this summer.
"Prior to the Federation's statement, I met with James by telephone for the results of the exams and to review the information exchanged by the doctor of the Colombian national team and Everton regarding the [condition] of James," Rueda said. "That is why the decision was made that we must take care of him.
"We know the importance it has for the national team and our immediate future of the next 10 games that are coming, as I explained to James. I considered [the situation] myself and it was the conclusion I reached after evaluating all the situations that have arisen in this semester and this last quarter.
"That is why I told James I made the decision to [withhold] him from selection [and] for him to make his recovery accordingly ... so he can enjoy a full pre-season with his club and we can have him in the next few squads.
"I preferred to sacrifice him now with all that James means for the national team, for the group and for the country. It is not only the healing of a recurrent injury in the same place, but then the readjustment to the competition, especially according to the report sent by his club and the preparation [needed for] a tournament such as the Copa America.
"We cannot harm ourselves, we cannot harm James and the national team. I consider that the national team requires the James that we all fell in love with. I told him we need him but [only] when he is 500%, because we know that 100 per cent is not enough for the selection."
Rodriguez issued his own statement describing his "pain" at being left out and Rueda acknowledged how difficult it was as well as the support the player has received from some of his international team-mates.
"[H]is feeling ... is normal," Rudea said. "If I put myself in his shoes, and captains Juan [Cuadrado], David [Ospina], Falcao and the players in solidarity with him, [I would] feel the same "His reaction is normal, he is a player and wants to play and be in the national team, and even more so because he has lived glorious moments with the national team .
"It is the pain of a moment that he is going to have to grieve and that's why I told him, 'think about it, reconsider and in a few months we'll talk and see how you feel'."
However, Everton director of medical services, Danny Donachie, says that the only doubt in the club's mind was over whether he could play in the two World Cup qualifiers against Peru and Argentina next week.
As far as the Blues' medical team were concerned, he looked capable of playing in the Copa.
"It was a very small injury at the end of the season and we had no issues at all with James joining up with Colombia," Donachie told the Everton official website.
"He was hoping to play in the two qualifiers and the only discussion we had with the Colombian FA was whether that was a good idea, or whether it would be more prudent to prepare him for the [Copa America] tournament.
"We decided collectively it would be better for him not to play in the two World Cup matches, then he would be absolutely ready for the start of the Copa America and able to play the entire tournament without any issues.
"I have seen the tests carried out by Colombia and there is nothing in them to say he is not going to be fit for that competition.
"We agreed he would be fully fit, without any questions, for the start of the Copa America.
"We spoke about his rehab and they agreed to continue the process but there was never a doubt in our mind he would be in top condition in time for the tournament.
"James will be back with us on July 5th and ready for a full pre-season"
---
Reader Comments (63)
Note: the following content is not moderated or vetted by the site owners at the time of submission. Comments are the responsibility of the poster. Disclaimer
Frank Wade
1
Posted 31/05/2021 at 14:18:32
"I told him we need him but when he is 500 per cent, because we know that 100 per cent is not enough for the selection"
Wow, just imagine having a 500% James Rodriguez in a blue shirt, can't wait.
I see Argentina's hosting of the Copa America tournament has been suspended due to the Covid situation.
Dave McDowell
2
Posted 31/05/2021 at 14:24:27
The final paragraph suggests after the decision to omit him from the squad James told the manager he quit international football.
Why else would he say "think about it, reconsider and in a few months we'll talk and see how you feel'."
Anyway my opinion is that the manager didn't want him in the squad and took the fitness issue as an opportunity.
It would be interesting to know if there have been past issues between James & Rueda, anyone know?
The problem is Rueda cannot outwardly state this given James "national treasure" status.
It wouldn't be the first time an international manager decides a player's contribution has tipped into a negative factor whether that's by attitude, tactics, dressing room presence or form.
Anyway the Copa looks in real jeopardy now having been originally pulled from Columbia and now subsequently being pulled from Argentina.
Michael Kenrick
3
Posted 31/05/2021 at 14:26:25
Most of what he said seems eminently reasonable, except for the 500% stuff.
Time was 100% was all you could actually do, cos it was like physically impossible to be more than that. Then they rationalized 110% as showing additional effort beyond your natural capacity and limitation. That soon became 120%.
Now, thanks to South American hyperbole, it's been rapidly inflated to 500%. The EMF should hold an enquiry.
Derek Moore
4
Posted 31/05/2021 at 14:28:42
Hmmm. Seems a little unlikely. After the World Cup obviously, this is the biggest tournament Colombia will play. If you wouldn't take a punt on him for this, it's a long road back at age 29.
Especially if Colombia enjoy any success without him.
Feels from afar like the last days of international level Gazza in truth. Sad.
PS - Dave M, only just saw your post and I must agree with a lot of it. I pointed out similar on a different thread. Do any South American correspondents have the inside skinny as it were? This feels more political non-selection than fitness, from a distance.
Ray Robinson
5
Posted 31/05/2021 at 14:29:25
I fully understand those that think James is worth keeping even if he only plays 20 games a season but there is another side to it. James declares himself fit and walks straight back into the team. What effect does this have on the player(s) he replaces over the course of a season, paticularly if that player has been in good form? Bad for dressing room morale?
Kevin Dyer
6
Posted 31/05/2021 at 14:47:30
#3 Michael, I appreciate you putting 165% into every article you write for the site, I'd expect nothing less!
Kevin Dyer
7
Posted 31/05/2021 at 14:54:16
#2 Dave - they've had a few shambolic results at the end of last year with some resulting fallouts re: James, but there was a denial from all parties of any problems or disruption. Regardless, Rueda wasn't involved as he's only been in-post since January.
#5 Ray - you're describing the situation that effects every team that has "star" players. Pretty sure Rodriguez could have played more games for us this season and was voluntarily held out by Ancelotti, so I don't think this applies, really. Anyway, if we're talking about a semi-fit James displacing one of his underperforming replacements, such as Iwobi, Bernard or Sigurdsson, well I don't think any of those fellas would have much of a grievance, to be honest!
Tony Everan
8
Posted 31/05/2021 at 14:59:54
Michael 3. It's a slippery slope.
Once the percentage assessment goes into the exaggeration zone it actually dilutes the meaning.
I mean, what, only 500%! Colombia and Everton deserve a million percent, and nothing less.
Danny O'Neill
9
Posted 31/05/2021 at 15:00:15
Interesting stuff. It would be good to get some context from our South American contingent. As always, some of this can get get lost in translation, so would be good to understand any native speakers out there who've read the original text.
In Danny's simple head. The player travelled and looked like he was delighted to be on his way to represent his country. The coaching staff has taken a look at him and thought "sorry son, not this time". He's reacted badly and potentially threatened not to represent his country again?? Speculation and reading between the lines on my part.
As we've discussed elsewhere, I hope he takes time over the summer, sorts his head out and comes back to be 100% for us next season. If we get 75% out of this player, he earns us points and wins us games, so a 100% James is gold.
Kevin Dyer
10
Posted 31/05/2021 at 15:04:41
Good to see that they (the Colombians) actually conversed with the Everton medical staff over his injury and fitness state.
Dave Abrahams
11
Posted 31/05/2021 at 15:22:50
Frank (1), loads of players could be 500% or more and be flying, but another player would have to take their drug test at the end of the game, be easy in Colombia as well!!
Ray Robinson
12
Posted 31/05/2021 at 15:30:39
Kevin,
Your comments about a semi-fit James replacing the likes of Bernard and Iwobi are of course self-evident but, if we do manage to assemble a better quality, more rounded midfield, I'm not so certain I'd want a semi-fit James replacing a consistently performing player. Star player he may be but, unlike other star players making their comebacks after a longstanding injury, I don't see many other players indulged in the way James appears to have been.
It seems to me to be that he only plays when he feels he's up to it, almost on a match-by-match basis. That must occasionally grate on other team members.
It's not as though he's brilliant every time he plays is it? For every stellar performance there's a rank mediocre one! And I'm not downplaying his obvious niggles by the way.
Barry Hesketh
13
Posted 31/05/2021 at 15:42:53
"There was no way he could be involved in the final two games last season and he was frustrated and disappointed about that.
Everton Director of Medical Danny Donachie speaking on the OS, says James Rodriguez was on course to be fully fit for the start of Colombia's Copa America campaign.
"We track every player individually and have information on every element of their physical condition and performance.

"And, in terms of this particular injury, there would have been no long-term risk in him playing the Copa America.

"James loves playing football and will do anything to get back on the pitch.

"He is desperate to play for Colombia, that is for sure, and he always wants to be on the pitch for Everton."
That last line from Donachie will perhaps get a few posts on here - play for Colombia on the pitch for Everton...
Shane Corcoran
14
Posted 31/05/2021 at 15:47:22
I blame the economists. Not for James's injury but for saying that things increased by 123%. Everyone else just thought they'd use it in their walk of life too. But sports people just throw it around.
I give a maximum of 70% in everything I do. Especially in the summer when it's warm.
Rudy Chinchilla
15
Posted 31/05/2021 at 15:48:47
Per the EFC site, Everton's director of fitness said James was "on course to be fully fit" for the start of the Copa America.
"'I have seen the tests carried out by Colombia and there is nothing in them to say he is not going to be fit for that competition.'
'We agreed he would be fully fit, without any questions, for the start of the Copa America.'
'We spoke about his rehab and they agreed to continue the process but there was never a doubt in our mind he would be in top condition in time for the tournament.'"
I think the statement is a way for the club medical staff to absolve themselves from any responsibility for James missing the Copa, but it's a bit silly. It doesn't contradict the Colombia staff's assessment that James wasn't fully fit, so now it just seems like Everton is engaged in a public blame game against the Colombian medical team, creating unnecessary friction.

Mike Gaynes
17
Posted 31/05/2021 at 16:01:29
Kevin #10, yes, amen.
Rudy #15, I read it differently. I agree Everton wanted to make it crystal clear that they had nothing to do with the decision. Didn't want James blaming them in any way. That to me is a positive measure, not a negative one.
Dave #2, I think your speculation is 180 degrees off target, evidence Rueda's comment that "I consider that the national team requires the James that we all fell in love with." The World Cup is what matters most to Colombia.
I think Rueda is looking at next week's qualifiers and seeing a win over Peru and a loss to Argentina, no matter whether James is there or not. Where he will matter most is in the September and October qualifiers with Chile, Uruguay, Ecuador and Brazil. They need those results to get to the World Cup Finals. Makes perfect sense to save James for those games rather than risk him on next week's foregone conclusions.
Rudy Chinchilla
18
Posted 31/05/2021 at 16:09:21
Mike, I agree. It was a statement tailor-made for an audience of one: James. But what I'm getting at is we don't want another medical team spat like the ones we had with James McCarthy and Ireland.
In this James instance, the club could have just said something like, "We determined James would be fully fit by the start of the Copa America, but the Colombian medical staff may not have wanted to take the risk and we respect their decision," and left it at that.
Dan Nulty
19
Posted 31/05/2021 at 16:22:00
It makes perfect sense to me, let him rest now in order for him to be more likely to be fit for the World Cup.
Kieran Kinsella
20
Posted 31/05/2021 at 16:26:03
Is this the same coach who said a few weeks ago that Everton were going to fake an injury to stop James playing for Colombia? Now James says he's good, Danny Donachie says he's good and this guy says "oh, but, well, ahem, he's injured"
Jay Wood
[BRZ]
21
Posted 31/05/2021 at 16:32:09
I reported on TW last night at 11pm Brazil time when the news broke that the Copa America had been 'suspended' from being played in Argentina.
It's now been confirmed - and the BBC has already picked up on this (Copa America to be Played in Brazil) - that at the invitation of Brazil's great humanitarian, President Jair Bolonaro, and the Brazilian Football Federation that Brazil has offered to stage the tournament. An offer the regional federation CONMEBOL has accepted.
Marvellous. Second highest CV-19 death toll in the world. Even with falling numbers still clocking up 2,000+ deaths most days and 75,000 new daily cases. Low vaccination rate. Near zero social distancing and resistance to mask wearing. No effective national lockdown. Cases of Serie A football squads having 15-25 players go down with the virus simultaneously.
Perfect environment...for Bolsonaro to deflect attention from the Parliamentary Enquiry currently investigating his governments (non) handling of the pandemic which daily tightens the noose around his neck.
Kieran Kinsella
22
Posted 31/05/2021 at 16:36:56
Jay,
Somehow I knew Bolsonaro would swoop in. If Trump was still about he'd have offered to host it at Mar Es Lago on condition no attendees had masks or were vaccinated.
Mike Gaynes
23
Posted 31/05/2021 at 16:38:07
Rudy #18, my take is that Dr Donachie's statement addresses your concern. It emphasizes their cooperation with the Colombian medical staff, the joint consultation:
"He was hoping to play in the two qualifiers [on June 4 and 9] and the only discussion we had with the Colombian FA was whether that was a good idea, or whether it would be more prudent to prepare him for the tournament. We decided collectively it would be better for him not to play in the two World Cup matches, then he would be absolutely ready for the start of the Copa America and able to play the entire tournament without any issues."
That sounds to me like the opposite of Everton's dealings with Ireland over McCarthy. I think we've handled this just right.
And personally, I'm delighted James won't be playing in the Copa America. That tournament is a hackfest and grind under the best of circumstances. Now it's a chaotic, protest-besieged mess with no host country 12 days before kickoff. Better our talisman be kept away from the chaos. Bravo, Rueda.
Update/addendum: ...especially now that the tournament is apparently going to take place in the Covid crucible of Bolsonaro-land. Cheers Jay for that update -- hadn't seen that yet.
Oy vey.
Thomas Richards
24
Posted 31/05/2021 at 16:47:30
Sounds like the Brazilian public are not accepting the social distancing, masks etc in the main.
Is the low vaccination uptake due to the public response or is it due to lack of availibility?
Mike Gaynes
25
Posted 31/05/2021 at 16:49:49
Kieran #22, funny, but there's no way Bleach Boy would have offered to host all those dark-skinned Spanish-speakers... aka "drug dealers, criminals and rapists."
Kieran Kinsella
26
Posted 31/05/2021 at 16:51:42
Robert Williams
27
Posted 31/05/2021 at 16:54:28
500% sounds good to me, fitness and effort and Everton should settle for nothing less from All their players.
Jay Wood
[BRZ]
28
Posted 31/05/2021 at 17:03:07
Mike G, I saw Tom Harvey call you out on the Moise Kean thread for 'enabling' the pandemic.
Nice to have a name to nail and blame for the global crisis.
Who wooda thunk it, that such evil dwelt amongst us on lil ole TW?
I might have missed it, but did mom-in-law ever make it out of Wuhan to the States?
Ajay Gopal
29
Posted 31/05/2021 at 17:39:44
Rudy (#18),
EFC should appoint you as the Director of Communication! That was exactly what Everton should have said.
Steve Brown
30
Posted 31/05/2021 at 17:44:19
Donachie also sald, "There was no way he could be involved in the final two games last season and he was frustrated and disappointed about that."
Belies the claims that he was saving himself for Colombia.
Mike Gaynes
31
Posted 31/05/2021 at 17:48:41
Jay #28, thanks for asking, but no, she didn't. And we are still unable to travel to China to see her. So our little family remains divided for the moment. But nobody got COVID, so it's nothing to what you and yours have gone through.
China is at the opposite end of the scale from Brazil -- so paranoid about the virus that they overreact to everything. My sister-in-law was unable to visit Papa in the nursing home for two weeks because four cases popped up... 200 miles away in another province. Every nursing home in the eastern half of China was shut down.
Dave McDowell
32
Posted 31/05/2021 at 17:48:54
Mike #15 you may be right however I'm not inclined to put too much stock in a guy who says:
"I told him we need him but [only] when he is 500%, because we know that 100 per cent is not enough for the selection."
Which is just nonsensical.
However the stand point from your post, that sent a shiver down my spine, was mentioning the World Cup qualifiers in September and October.
So are we going to have a tentative or even absent James prior to these qualifiers (especially important as you stress he's missing these matches to be 100% blob on)?
I hope we have a Plan B when James is prioritising Colombia because we sure as hell didn't have one last season.
Nathan Jones
33
Posted 31/05/2021 at 17:58:19
There seems to be a conspiracy theory around James's injury.
The initial thought was that he was not playing for us because he wanted to be fit for Colombia for the Copa America, but he turns up there and they say, "We are not selecting you, you are injured."
So it turns out he was injured all along. I think we all knew when we signed him for nothing on 'reasonable' wages, that he had some injury issues because a fully fit James wouldn't sign for nothing and, in all honesty, wouldn't sign for us either... Real Madrid, Bayern Munich, Everton.
So what we have is a tremendous player on his day with an injury problem. We'll probably get 25-30 games a season from him. Let's love him when he plays – not hate him when he doesn't. Because a fully fit James doesn't play for us at all.
Thomas Richards
34
Posted 31/05/2021 at 18:00:37
Spot on, Nathan.
He would be nowhere near this mid-table team of ours if he was 100% fit.
Mike Gaynes
35
Posted 31/05/2021 at 18:02:42
Dave #32, don't take the Rueda quote too literally. He's an old journeyman who says odd stuff sometimes, and translations are inexact.
As for a Plan B in the fall, I'm sure every club has one for their internationals. We're gonna lose Richarlison, James and Mina for those South American qualifiers. That's just the way it is. The only way to avoid the problem is to have only non-internationals on your roster.
Kieran Kinsella
36
Posted 31/05/2021 at 18:10:49
It is reminiscent of Gazza in 1998. He been injured but said he was fit as he'd played tennis with Merson. Robbo said he should be ready for the World Cup but Hoddle left him out. Gazza retorted that he was fit and the media went into a frenzy.
I was working a lunch shift as a college student when that news broke and the whole place erupted into acrimonious rows with conspiracies and the pro-Gazza crowd going at it with the pro-Hoddle crowd.
Kevin Molloy
37
Posted 31/05/2021 at 18:40:01
It's very good news for Evertonians. First, he gets a rest; and second, it's proof he wasn't in any way messing the club around by missing games.
Colin Glassar
38
Posted 31/05/2021 at 18:57:56
Blimey, reading the first part of that very melodramatic declaration I thought he was going to end up say, James has terminal brain cancer or something.
Okay, so he's upset. It's not the end of the bloody world, is it?
Mike Gaynes
39
Posted 31/05/2021 at 19:17:41
Colin... "blimey" and "bloody" in the same post? Quite a treat.
I'm chuffed, mate. Cheers.
Brian Wilkinson
40
Posted 31/05/2021 at 19:35:12
I want to applaud the Colombian medical side, for sacrificing his selection, in order to let the injury heal.
They could not have been further apart from the Irish who insisted that our players should play, against the advice of our medical team.
This should now give James a bit of time to get sorted for the new season.
I think this is great news for Everton.
Jay Wood
[BRZ]
41
Posted 31/05/2021 at 19:49:09
Mike @ 31.
Wow! So sorry to hear that. I had presumed you had all been reunited by now. I know you had a couple of fails at getting her stateside. Didn't realise you are still being frustrated on that.
Tough for all concerned.
Quite a contemporary history between China and Brazil over CV-19. Bozo BR and his cronies continue to badmouth them, even though the Chinese Coronavac vaccine is responsible for 70% + of vaccinations in Brazil to date.
Your Bleach Boy doesn't come close to the grotesqueness of our Bozo, as hard as that may be for you to believe.
Dave Abrahams
42
Posted 31/05/2021 at 21:58:27
How does anybody know when Rodriguez is fit, I mean is he ever 100% fit, or is he 80, 70, 60% fit some weeks, one week he called off, after being selected to play, just minutes before the game started, was he 100% fit when he went on for the kick around, but after loosening up trying to, did he become 80% fit but not fit enough to play, that game he told Everton he didn't feel fit enough to play, then he goes to Colombia, tells them he is fit and ready to play but the Colombians tell him no you're not, so who knows for sure if he is fit or not, or do they toss up to decide, best out of five.
Paul Birmingham
43
Posted 31/05/2021 at 23:25:21
Dave, agreed, strength is honour..
James on his day, is a God send for Everton, but you can't realistically build a team and win a football tournament, when your best players, are not, available.
Looking back, a recentish, different era, I've had a recall, and Louis Saha, was in my book, a Monday to Friday player, too often, when it suited and went sick, when big games came up.
I'll never know, but that's what I recall of Louis Saha, he was always missing, for big games.
Four goals v Blackpool, great achievement but it didn't cut, as he was rarely if ever there, for the games that counted, for Everton.
Seriously makes it ironically worst when, we acquired Rom, and sold him, with 4 years.
Good business but how Everton have papered over the cracks.. in more or less most positions.
Hope eternal.
Danny O'Neill
44
Posted 31/05/2021 at 23:29:32
Saha is a great call Paul. On his day totally up there with the best, but did he want it enough and often enough?
I always like comparisons. and, although not a direct one in terms of style or play, that's not a bad one now that you've got me thinking.
Paul Birmingham
45
Posted 31/05/2021 at 00:05:38
Agreed Danny, Vino Tinto, the ToffeeWeb Lagerfest, beer fest, wine fest, will hopefully boost the local economies, where ever, they may be held, days of old, and past to be debated, in the best spirit, and respect. "What's Our Name!"
Seriously Louis Saha, for me was the pointless buy, when it counted, for the supporters, as in hindsight, he crapped out in the big games.
It was a nap, he would get the Friday afternoon bug, like that lazy crud of blight, like, Delph, does, when contracted at EFC.
Seriously some great catch ups to be had, when the TW, Beer Fest is scheduled.
I guarantee, people will know, whom they knew, never, thought they knew, but got to know, through, going the match, hope and away, and supporting Everton.
Jim Harrison
46
Posted 31/05/2021 at 00:07:49
So, they are looking at his long term prospects?
How unusually refreshing!
Probably realise that having him on the pitch for half the tournament could be more disruptive than beneficial. Let him take the off season to try and get fully (500%) fit
If he can do that, we will have a hell of a player
Nicholas Ryan
47
Posted 31/05/2021 at 00:07:58
I wish MY employer would say: 'Only turn up for work if you are 500% fit'!!
Kieran Kinsella
48
Posted 01/06/2021 at 00:39:39
Paul/Danny
"Missing for big games."
Didn't Saha score the fastest goal in the FA Cup final for us? I don't remember him being as you describe. He had a lot of injuries but when fit usually was one of our better players.
Paul Birmingham
49
Posted 01/06/2021 at 00:59:20
Kieran, good call and in essence is the story.
You've called the enigma out to the point, spot on thus the point.
He didn't do the business in the hours of need, when contracted by EFC, in the big games.
Kieran Kinsella
50
Posted 01/06/2021 at 01:14:35
Paul,
Sadly, I'd say we've had only one goal scorer in the last 25 years who was there in an hour of need: Tim Cahill. Us and Australia both actually.
Roberto Birquet
51
Posted 01/06/2021 at 01:50:22
And what now, if Ancelotti is dropping us like a bad habit for Madrid?
Frank Wade
52
Posted 01/06/2021 at 01:52:06
Dave #42, Niggles can appear in warm-up sprints. I much prefer a player to do as Rodriguez did and pull out, rather than (1) Take a chance and play the game giving less than 100%, protecting an injury (or 500% in his case) or (2) Take a chance and start the game but pull up injured and be out for a much longer spell with an aggravation.
If you read books written by players like Leon Osman and Tim Cahill, they speak of how great they were to play with injuries, injections etc. I'd be rightly pissed off sitting on the bench with a team mate playing at 75% capacity. In Ossie's case looking back, there were days when he seemed very sluggish, other days where he was very lively. The sluggish days were regularly picked up on ToffeeWeb. It was amazing he could play at all with one leg a few centimetres shorter than the other.
Nice YouTube compilation of James's Everton goals and assists here Link
Kieran Kinsella
53
Posted 01/06/2021 at 02:32:12
Frank @52,
That's interesting information. Walter Smith got a lot of stick for patching people up, injecting them with pain killers and sending them out to play. Moyes seemed to have less bad luck with injuries but, if he was having his doctors freely dispense injections, then that adds a darker aspect to his legacy. Moyes Memory Out! But in all seriousness, it does make you wonder.
This year WHU were lucky in that their first 11 seemingly steered clear of injuries. Now I am wondering... The thing is, there's a fine line between patching someone up, and screwing up their health long-term, eg, Michael Ball's knee under Smith. I am wondering now where Moyes falls...?
Don Alexander
54
Posted 01/06/2021 at 02:35:51
Thirty years of increasing Premier League scepticism as we've sunk to no-mark mediocrity in a rare good season (and "thanks" for that, Kenwright) forces me to listen with a jaundiced view to what James has said this season; namely that he values playing for Colombia above everything else but he's also looking forward to a very imminent retirement as a £20mill-plus millionaire, with chronic injury issues informing his judgement.
Now he's had a proper boot in the plums from the Colombia manager after having been private-jetted over there with the eternal "tiredness" the rest of us at Everton have had to try to get used to.
So, what's he now going to do next season? Graft like never before (for us of course) in a bid to force himself into the 2022 World Cup competition, even though his country has a mere four points from four matches, standing 7th as South American qualifiers – with a seriously negative goal difference to Chile in 6th, only five countries maybe, at an unknown best, due to qualify?
Or might he take full account of everything from the length of his hair to the length of his toenails before deciding whether or not he wants to be an actual professional multi-millionaire footballer for a club with passionate fans with a very open heart to any tremendously talented footballer pulling his tripe out in their, and his own of course, cause?
Dave Abrahams
55
Posted 01/06/2021 at 09:43:10
Frank (52),
Yes, very good selection of goals and assists. I enjoyed them all, but getting back to his fitness and his usefulness to Everton. I think the lad has a massive ego and he plays when he wants to play, when he deems himself fit to play, always with himself in mind. He plays for James; he is not a team player where Everton are concerned.
He will not push himself for the Blues, but will do anything to play for Colombia and the glory and admiration he gets from their fans. That's how he comes across to me.
Steve Brown
56
Posted 01/06/2021 at 10:42:39
Dave, those are big judgements on James!
Danny Donachie confirmed that he was indeed injured for the final two game of the season and there was no way he could play. Donachie also confirmed that Everton advised that he miss the two world cup qualifiers but that he would fit for the Copa America.
Dave Abrahams
57
Posted 01/06/2021 at 10:55:56
Steve (56), well that's exactly as I see Rodriguez as an Evertonian, it's possibly true that Real Madrid and Bayern Munich fans saw him that way as they had longer to judge him and plenty of star players to watch, or maybe they had plenty of fans who saw him as you and other Everton fans see him, I'm only speaking for myself.
Frank Wade
58
Posted 01/06/2021 at 11:19:00
Dave #55, Wow, You're a harsh taskmaster. Sometimes the body just says no, don't play, it's too much of a risk, especially for someone like James who is constantly targeted by opposition players. I had a manager like you back in my early 20's. I had hurt my knee in a college game and it was swollen. I turned up at our game and reported unfit. He sent me home on the back of a team mate's motorbike to get my boots. I played the game but was injured for about 6 weeks after. For years after, 20 or so, I had a tingly numb feeling in the skin in that knee, where the swelling was.
Kieran #53, The Michael Ball case is the perfect example. Here we have a club asset and we risk that asset to the point where it is worthless. What other business would allow an executive to put a company asset at risk to render it worthless - ok, maybe the drug trade
As others have pointed out, we got James on a free, because he had persistent injuries, same reason we got Delph on the cheap. He's not going to play every match. He's our most skilled player by a long way. We as supporters should be getting behind him and supporting him and the club, accepting that if our medical team think he is unfit, he is. The medical team have a responsiblity to the club to act responsibly and manage the club's assets.
Danny O'Neill
59
Posted 01/06/2021 at 12:58:56
Catching up here.
You're right Kieran, when fit, Saha was one of our best players at that time and his talent was never in question.
Similar to James, I always wanted Saha on the pitch way more than he was.What I always thought about him is that he was a player who wouldn't play if he got a sniff of an injury. An impression, because just as with James, I obviously don't have / didn't have insider information. It's what gave me food for thought in the parallels.
Now, some would say that is wise, as to play with an injury can lead to more serious injury, more so in the modern game. So he was looking after himself to prolong his career. Others would call them out for not playing through the pain barrier. Always an interesting debate to have; probably a separate one to be fair.
But, that's the limitations of having a thin and threadbare squad full of average players. You notice more when those players don't play. There is more reliance on them because the other players aren't good enough and don't give you what they do when they are on the pitch.
Which leads to Dave Abraham's call out. At places like Real Madrid and Bayern Munich, you can use and enjoy these types of players (James) but it doesn't get noticed as much if they are absent. Because the quality of squad is better and even if they are fit more often, you don't have to use them as often. Which for players like them who struggle, keeps them fitter for longer and for the right fixtures.
We need more depth of quality in our squad so we can enjoy players like this when they do play. Not just the random numbers game we've played in recent years. We need better quality in the team, better quality throughout the squad.
I appreciate I'm asking for the seemingly impossible, certainly in the short-term. But then ask a 1980s Chelsea fan or 1990s City fan if they ever thought it possible.
I don't know if this manager or this owner is the one to do it. But if we want Everton back on that platform, that's what the task is. Bring in better quality and build a squad that has better quality throughout.
Apologies for stating the blindingly obvious, but the longer we go on relying on the next half decent kid coming out of Finch Farm, this will be an endless cycle. Get back on the footballing map and that will come, but right now, we need a more immediate fix.
Frank Wade
60
Posted 01/06/2021 at 14:02:17
YouTube have me targeted as an Everton fan and just presented this compilation of James in a blue shirt. Best Everton player for a long while for ball skill and setup play. Let's just enjoy him while he's here. Suggest all Everton fans pop this one in their favourites list
Link
Mark Andrews
61
Posted 01/06/2021 at 14:42:56
He won't be coming back for the new season to work under "Eddie Howe".
Dave Abrahams
62
Posted 01/06/2021 at 15:14:25
Frank (58), well if I had been your manager I'd have known you were a genuine kid, an amateur, but still turning up to explain that you were not fit to play, you could have just stayed away and explained yourself later. So you suffered for twenty years because a very poor manager wouldn't take your word that you were not fit to play, yet you did play and suffered the consequences, I hope you learned from that, ie, not everyone is as genuine as yourself, it's a fault, to be honest, to think like that, best wishes Frank and thanks for your replies.
Barry Jones
63
Posted 01/06/2021 at 16:41:25
When you have to graft hard week in week out just to get a sniff at selection, like Tom Davies, you will be 100% fit. When you are allowed to drop out each week with any little twinge or psychological ailment, you will never be 100% fit, mentally or physically.
Tom Harvey
64
Posted 15/06/2021 at 11:15:24
This link might offer another reason why James was left out: https://www.caughtoffside.com/2021/06/15/colombian-national-team-takes-an-indirect-shot-at-everton-midfielder-james-rodriguez/
---
Add Your Comments
In order to post a comment, you need to be logged in as a registered user of the site.
Or Sign up as a ToffeeWeb Member — it's free, takes just a few minutes and will allow you to post your comments on articles and Talking Points submissions across the site.