Column
Meet Myra – Goodison's Unsuspecting Dog of War
Richarlison may have been the hero on the pitch in Everton's 1-0 victory over Chelsea on Sunday but there was another icon who announced herself to the Goodison faithful ahead of kick-off… Myra the dog!
Ell Bretland

01/05/2022
54

comments | Jump to last
Richarlison may have been the hero on the pitch in Everton's 1-0 victory over Chelsea on Sunday but there was another icon who announced herself to the Goodison faithful ahead of kick-off… Myra the dog!
The pooch went viral before the Toffees' vital Premier League win after it appeared she was paraded among supporters as fans welcomed the Everton team to spur them on in their battle against relegation.
Footage of Myra being carried through the crowds on Goodison Road led many to refer to the 'Dogs of War', Joe Royle's battlers who lifted the FA Cup in 1995, and as Everton scrapped in the same spirit for an important three points, the dog's presence prior to the big match proved even more memorable.
So, was that the plan all along for Myra — not named after former Toffees goalkeeper Thomas Myhre by the way — to be Everton's new mascot for the run-in?
Article continues below video content
Not at all, in fact, the canine's owners don't actually follow football.
Reece Van-Aston-Kerrigan and his partner Jasmine Priest live just two streets away from the Grand Old Lady in Walton and decided to take Myra, their 4-year-old Belgian Malinois, out for a Sunday stroll to Stanley Park.
What happened next, they were not expecting at all.
"Mate, it's been absolutely crazy!" laughs Reece, his dog now a superstar a few hours after Everton's triumph. "Everything has been a bit mad, considering we don't really watch football but it was such a big game!
"Our dog is quite a high-maintenance dog. They're working dogs, they need the exercise," he explains. "We noticed the match was on but left the house at about 12 o'clock (2 hours before kick-off).
"There was a small congregation outside Goodison, maybe one to two-hundred people but nowhere near as many as when the pictures were taken.
"The stewards wouldn't actually let us down Goodison Road (with the coach set to arrive, unbeknown to Reece and Jasmine) so we had to go around before we had our walk in Stanley Park.
"On the way back we thought, 'We'll just walk straight through' because there was nobody stopping us coming up from the other way.
"We were walking through 5 minutes after the coach arrived though so people were coming in and out of the pubs, taking pictures, cutting across our path… we got to a point where just everyone was coming towards us."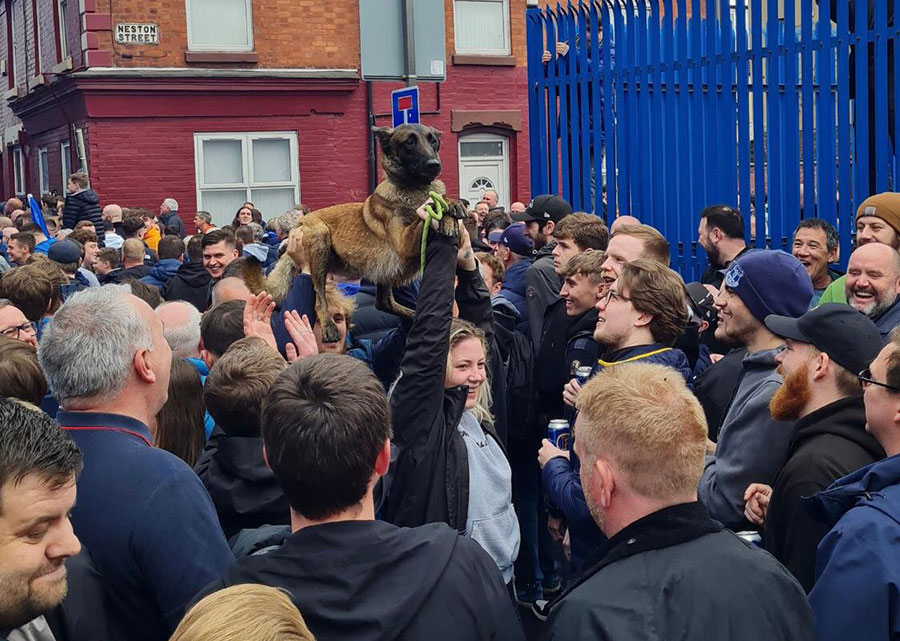 Myra and her owners continued to try to navigate the masses amid a few squabbles and irritations.
"The dog stood on some fella's foot. I remember him saying to me and his mate 'There's a dog standing on my toe!"
All was fine after Everton's win though it seems with Reece smiling: "I actually saw him tweet later: 'That dog stood on my foot, hopefully it's worth something…'"
With the crowds getting bigger and noisier, Reece and Jasmine were now at a standstill.
"In all honestly, I thought 'Fuck this' so I picked the dog up and started walking with her in my arms just to get through.
"She started wriggling though so I said to Jas, 'grab the dog's front legs' and I had the dog's back legs.
"We've pushed her above our heads to get through and then we just heard this mighty roar! 'Waheyyyy', everyone was clapping, everyone was cheering!"
"If you were to describe it, as soon as the dog went in the air, it was like the parting of the Red Sea."
In this case, it was a sea of blue, as royal blue flares could be seen as far as New Brighton and a cacophony of Everton songs enveloped the L4 air.
"We got to the other side, managed to put Myra on her lead and did think we might see it online…"
Hours later, their pet pooch is a viral sensation and a possible good luck charm as Everton look to extend their stay in the top-flight for a 69th consecutive season.
"The response we've had is unbelievable," says Reece, who Googled the result at full-time and actually had to create a Twitter account to see the gigantic response. Since then, his phone has been constantly hit with notifications.
The initial video had 300,000 views shortly after the game, while accounts with a million followers have shared the footage which has been viewed in places as far as Brazil.
"Someone has even done a watercolour painting of her being carried!" Reece exclaims, astounded.
After being brought over from Spain as a puppy, Myra initially moved from home to home until she found her forever home with Reece and Jasmine, just a stone's throw from Goodison.
As her owners chat to ToffeeWeb on the phone about a crazy day, Myra wanders over.
"I'm sat here living my life as normal and my dog has made global media!" Reece laughs. "That's the funny thing… as she's been carried through she's probably thinking 'What the fuck is going on?!'
"The fact it's put smiles on faces, lifted people's spirits and the team got a good result in the game is great."
"Everybody's going to have a good bevvy tonight thinking about 'that dog'" he jokes.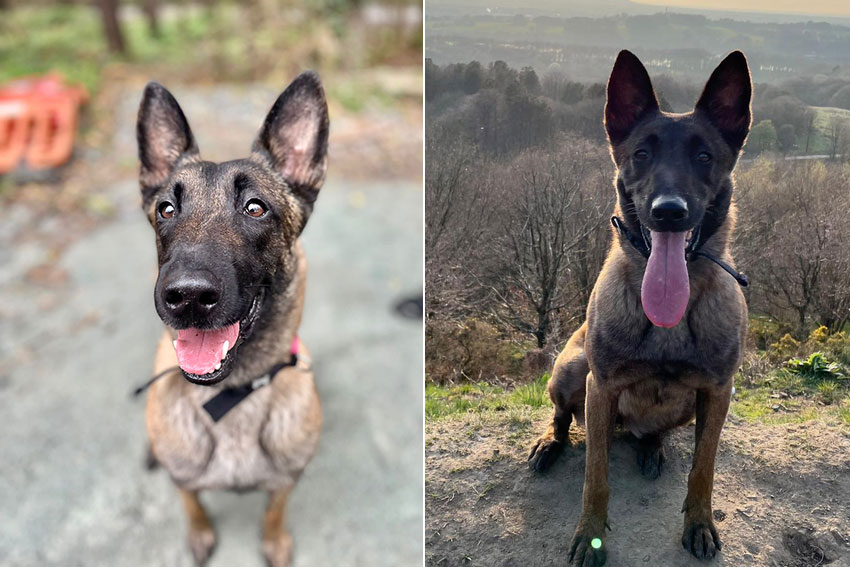 Despite not being football fans, Reece and Jasmine are already well aware the Blues are next in action at home against Brentford and have decided they will be doing their bit in the battle against relegation.
"We're more than likely going to do it again on the 15th," Reece admits after a look at the fixture list. Any superstitious marginal gains will do and are most welcome.
This was far from just another 'walkies' for Myra on Sunday, who will remain oblivious to the fact she is now forever written into Toffees folklore after an iconic journey home.
Richarlison may have scored the winning goal, but the pooch played her part too as the Everton supporters ultimately got the assist on a memorable day at Goodison.

Follow @ellBretland
Share article:
Reader Comments (54)
Note: the following content is not moderated or vetted by the site owners at the time of submission. Comments are the responsibility of the poster. Disclaimer
Jamie Crowley
1
Posted 02/05/2022 at 02:18:08
I think this is absolutely hilarious and brilliant.
Long live Myra!
Steve Brown
2
Posted 02/05/2022 at 06:44:39
Love the way the dog looks so regal and dignified all the way through.
Dave Lynch
3
Posted 02/05/2022 at 07:38:51
If we stay up I'll buy that dog the biggest fuck off bone I can lay my hands on.
Graeme Beresford
4
Posted 02/05/2022 at 07:45:42
Was hilarious to see…. Even someone shouted 'who let the dogssssss out'. Brilliant! Well played everyone!
Alan McGuffog
5
Posted 02/05/2022 at 08:50:03
Wait till the animal rights people get hold of this. Three points docked.
Michael Lynch
6
Posted 02/05/2022 at 09:04:53
Sums up the whole thing really - it feels like a throwback to the days before Sky and the Premier League, when the game was for ordinary local people (and dogs).
Two iconic images yesterday - Myra and then Richie holding the flare after scoring.
Just magnificent. Sums up what this city and this club is all about, mad humour and passion.
Derek Thomas
7
Posted 02/05/2022 at 10:47:05
Doh, There goes my investment in a gross of Peach Jumpers for sale outside the Blue Dragon next home game.
Danny O'Neill
8
Posted 02/05/2022 at 11:06:50
There's no way they'd have lifted my boy, but a great story. Goodison Road was something special yesterday.
We are respected wherever we may go. Marching down the Goodison Road!
Derek Knox
9
Posted 02/05/2022 at 11:25:50
Before I started to see the photos, I imagined it would be a 'Kerry Blue' only to discover a German Shepherd/Alsation type dog. The poor dog must have been overwhelmed with all them crowds, but hopefully is okay for it's 'experience'.
Has she got a Ticket for all the remaining Away games? :-)
Matthew Williams
10
Posted 02/05/2022 at 12:08:34
Just seen this brilliant story. Yesterday was a truly special day for all Blues, I simply couldn't see us winning but the lads showed up and fought for the cause. We are indeed a unique football club!
Onwards to Leicester next Sunday, another 3 points eh lads... and any chance we can take Myra and her owners with us too? 😏
Joe McMahon
11
Posted 02/05/2022 at 12:10:31
Derek, you are not kidding overwhelmed, she looks bloody terrified.
Anthony Murphy
12
Posted 02/05/2022 at 13:41:47
We've been paw all season so maybe this'll prove a turning point?
Only Everton could have an Ali as it's unofficial mascot
Nick White
13
Posted 02/05/2022 at 15:52:18
That's fantastic! What a lovely dog!
Brian Wilkinson
14
Posted 02/05/2022 at 17:08:56
This should keep that bloody Black Cat well away from our remaining home games.
Jack Convery
15
Posted 02/05/2022 at 17:55:38
A tail for the ages !
Brian Wilkinson
16
Posted 02/05/2022 at 18:09:56
I've already got a drama ticking over in my head.
The dog, the old Man, the flair and the fireworks, ( ok so I borrowed part of the title )
The plot starts as Evertonians are dejected after the Anfield trip, the piss taking from our neighbours, the media throwing street parties for our departure, suddenly one guy who has seen it all, a quiet guy sat in the corner of the pub, in his seventies smashes his glass on his table.
70 years of being the quiet one suddenly snaps, the room falls silent, for this guy is mild mannered and only occasionally curses a mild swear word, but he his broken and angry of all the injustices, he has had enough and is making a stand.
The room still silent, shocked at first hear his roar, Ive had enough of this, I'm not taking it anymore, I'm going to fight back, I'm going to get some fireworks, head down to the hotel the night before, and make those Southern wide boys get a northern welcome in the night ( apologies to our South based fans) then I am going to stand in Goodison Road and greet our team bus.
Forget the Queens jubilee, this party on the Day, will make Goodison Road shake, now who is with me, a great roar goes out in the pub as every single Evertonian starts to chant as one, spread the word fellow Evertonians, tell your mates, tell others on social media about the get together on Goodison Road.
Out of a dark gloomy time, an unlikely hero stands up, he has become a legend, yet no one knows the name of the old guy, but an idea was born and belief and pride came rushing back to every single Evertonian.
The following Day, Evertonians returned to the pub, but no one had seen or known what had become of the old guy, he was not seen throughout the week, what was known that the fireworks did indeed go off at the hotel.
The following Day a mass crowd did indeed converge outside Goodison Road, but still no sign of the old man, but a new hero emerged, after a dogs of war cry, as if by miracle, a dog appeared over peoples heads, being passed through the crowds, the crowd parted as the dog passed over their heads, the dog then disappeared into the distance, with the party mood still in full flow.
This carried on into the stadium, the old lady was rocking once more, the old guys words still ringing in Evertonians ears of fighting back, it was deafening, who was the old guy? No one had any idea, not even the locals in the pub.
A mighty roar went out out as Richarlison scored, the crowd were deafening, flares reigned on the the pitch ( not the seventies 28 inch flares) but royal Blue flares.
Richarlison stood there in awe with one in his hand, before throwing the flare into the crowd, out of the crowd rose the dog once more, he was curious and followed the crowd into the ground, as the flare took flight, the dog leaped up, and caught the flare in his mouth, before carrying it down, and dropping at a stewards feet to a tremendous roar from the crowd.
As the game ended Goodison erupted and partied on long after the final whistle, the dog went viral on social media, but what had become of the old man, who was he, was he the spirit of a past player, was he real.
Well I can finally tell you who that old man was, he was you and I, he was the voice of every single Evertonian, we have had him for some time in our heads, but chose to ignore the fighting back, the daring to sing at a game, to accept the media darlings putting us down.
He got into the head of all Evertonians, fight back, fight back, do not take it anymore, sing your hearts out, back the team, sing to your voice is Raw, play your part and the team will do the rest.
It is now up to all Evertonians to stick together, get behind the team and give it everything we've got for the remaining games.
Up the Toffees.
Tony Everan
18
Posted 02/05/2022 at 18:57:44
It certainly was a dogged performance from us yesterday, whilst Chelsea were paw.

Tony Abrahams
19
Posted 02/05/2022 at 19:13:29
I think the best thing about yesterday Brian, wasn't just about that old man who had seen everything, but more about the kids in their early thirties, late twenties and those younger, who have seen Everton win absolutely nothing.
I had a couple of pints with my oldest son and his mates after yesterday's game, and the passion they have got for Everton, and the lengths they go, to attend any game, made me feel very proud.
Nothing manufactured, just sheer love for our football club, I can't wait for Kenwright to leave, because that old man has convinced me, that once he leaves, Everton will win the cup, and this city will explode with sheer unadulterated joy, and this is something I can't wait, for those younger generation Evertonians to witness for themselves🤞
Danny O'Neill
20
Posted 02/05/2022 at 19:20:19
That's what got me Tony. Forget ageing fools like me, it was watching the young supporters that gave me hope. They've seen nothing yet have the faith and belief that will get this club back to where it belongs.
Spirit of the Blues belting out at the end. I didn't want to go home.
Allen Rodgers
21
Posted 02/05/2022 at 19:34:37
Tony & Danny, I've been saying this for a while. We have loads of young, local fans and I have no idea why they follow us, given our lack of recent success. I talk to them on the train to Kirkdale and back and they have passion for Everton.
The scenes yesterday were remarkable but imagine if we actually won a cup , the roof would lift off the whole city. May I live long enough to see it happen !

Kieran Kinsella
22
Posted 02/05/2022 at 19:51:23
Tony & Danny
I talked to my 10 year old nephew after the game and he was stoked. He proceeded to tell me all about how Gordon is his best player and how great he is. So I asked him "Do you think Gordon should be in the England squad for the World cup?" fully expecting an affirmative response. What I got was something that demonstrated an Evertonian pragmatism that defies his age. He said "yeah. . . well, maybe. . . as a sub. . . a spare sub. . . if there is an emergency."
Tony Abrahams
23
Posted 02/05/2022 at 20:03:34
Look at the fireworks, some people might complain, but those kids just went right into the middle of the city centre on a Saturday night, and went about doing what they felt had to be done. No hiding like rats, like those who scorched the Dixie-Dean statue, and I heard when they slyly tried to put a red scarf on Dixie, after last week's derby, they never got far either. Those younger Evertonians never let Everton down imo, no matter how many times, they've been let down by our players, and an egotistical actor, who must surely now be ready or made to leave our club, and take away this jinx.
Tony Abrahams
24
Posted 02/05/2022 at 20:08:17
During yesterday's game, my youngest son asked me if could he have a new Everton kit with Anthony Gordon's name on, Kieran!
Kieran Kinsella
25
Posted 02/05/2022 at 20:11:04
Tony
Great minds think alike
Terry Murray
26
Posted 02/05/2022 at 20:19:36
In which hotel were Chelsea staying?
Tony Abrahams
27
Posted 02/05/2022 at 20:30:20
The Hilton on the edge of Liverpool One, facing the Albert Dock.
Danny O'Neill
28
Posted 02/05/2022 at 20:38:17
Best day out I've had this season was Brighton away.
But the 2 best games have been Chelsea away and home.
Forget we took 4 points from the 3rd place team. On both occasions I watched young Evertonians showing the passion and desire that I can only preach about. But to see it in the kids who haven't been privilleged to see what I have been blessed to is humbling. Fantastic.
They are the future. I take more notice of the football and watch the clock these days!!
Danny O'Neill
29
Posted 02/05/2022 at 20:43:08
Let's not forget their celebration of painting a red number 6 on St Rupert's Tower Tony.
No shame.
Tell your lad to consider Mykolenko. Liking him too, the more I watch him and he settles in.
Joe McMahon
30
Posted 02/05/2022 at 20:53:29
Danny I agree, even more so when you consider whats happening to the Ukraine! He's looking good for the future.
Tony Abrahams
31
Posted 02/05/2022 at 21:04:07
I don't think I've ever watched the clock as much as I did during the last 20 minutes yesterday, Danny. The 7 minutes added might have felt a bit too long, but quite a few times yesterday we were taking over 30 seconds on goal kicks and throw-ins.
My biggest concern was that the people throwing the ball further into the crowd might have made us pay at the end, because I'm certain the ref added a couple more minutes because of this.
Danny O'Neill
32
Posted 02/05/2022 at 21:12:06
Time wasting can always come back to bite you be it players or fans.
I had those concerns yesterday.
Was it Bournemouth away a couple of seasons back that the celebrations added time that cost?
Not the same, but the ridiculous Chelsea away game where we snatched defeat from the jaws of victory.
Regardless, just keep the ball and play the game.
John McFarlane Snr
33
Posted 02/05/2022 at 21:19:17
Hi Tony, [19] and Danny [20] although I was present at the Bayern Munich game I can't recall the atmosphere being as electrified as it was yesterday. The look on the face of my grandson Josh, brought a lump to my throat, he has been a season ticket holder since the age of 6 and is approaching his 18th birthday.
I always sympathise with the younger supporters, I have been fortunate enough to have witnessed 4 League triumphs, 3 FA Cup wins, and the European Cup Winners Cup. On the downside, I witnessed relegation in 1951, at the age of 12, three months short of my 13th birthday. While relegation would be a disappointment to me, I have reached an age where I am able to handle it.
The attitude of the 'football fan' on Merseyside has turned toxic, and I wouldn't wish any young Everton fan to be exposed to the treatment they would receive if the worst was to happen.
Hi Kieran, [22] I have e-mailed a message to you, I hope it has reached you in Kansas, there's no need for you to answer it immediately, it's not a matter of life or death.
Danny O'Neill
34
Posted 02/05/2022 at 21:38:51
John Snr, yesterday was special. Outside, inside, before, during and after.
Whatever happens, we'll still meet up next season. You should have seen the lump on my 50-year-old throat yesterday, let alone Josh's!!
John McFarlane Snr
35
Posted 02/05/2022 at 21:47:55
Hi again Danny [34] I look forward to meeting up again if I'm still around, you're not the only one who is aging, I find that although man has been measuring time [30 seconds per minute, 60 minutes per hour etc], the older we get the faster time goes.
Brian Wilkinson
36
Posted 02/05/2022 at 22:46:33
While we are are on the subject of meet up, is there any ToffeeWeb meet up, before the end of the season?
John McFarlane Snr
37
Posted 03/05/2022 at 07:47:40
Hi again, Danny [34] no wonder time flies for me, I appear to have altered the passage of time, I think I'm losing the plot in my old age. I intended to write 60 seconds in a minute 60 minutes in an hour etc. Does talk about 'Confused Dot Com' ring a bell?
Derek Knox
38
Posted 03/05/2022 at 08:03:34
Brian W, good point and one that I have considered myself.
The thing is, with the uncertainty hovering about whether we will be in the Premiership next season, and still not decided yet. Once I know we are safe, I can give the Bramley Moore Pub a call which I am confident they can accommodate us at short notice.
It would be fitting if the Arsenal game is to be televised, that we could all meet up for that. Now I know the Bramley Moore is not at present that easy to get to, quite a walk from Sandhills, not on the Bus Route, but I am sure being the last game we could get Taxis between us say from Lime Street, that is if there any around. Or, we could pre-book Private Hires at a pre-arranged time and place. Obviously the travelling faithful, Rob Halligan, John Raftery, Brian Murray and Danny O'Neill etc, will be at the match.
Food for thought but always open to suggestions, provided they are possible.
Tony Abrahams
39
Posted 03/05/2022 at 08:06:55
I thought that 90 seconds was a minute towards the end of Sunday's game, John Mc, but I was made up that our younger generation of fantastically loyal supporters got to see Goodison at its absolute best.
I thought Bayern Munich was different because it was more about joy than relief, but Everton haven't won a cup for 27 years, and to turn up the way our fans did on Sunday was very special indeed.
I've written it on these pages many times but, for sheer noise, Munich wants some beating considering the crowd was heard by Pictor clock that night, (6.5 miles from Goodison Park) but the way the blue smoke was rising and could be seen clearly from the other side of the River Mersey, was a beautiful sight.
Keith Gleave
40
Posted 03/05/2022 at 08:14:45
My dog would never have stayed calm above your head.
Derek Knox
41
Posted 03/05/2022 at 09:19:41
If Myra is going to all of our remaining games let's hope, may I suggest the owners feed her on Winalot?
Or does that take the biscuit?
Brent Stephens
42
Posted 03/05/2022 at 09:22:03
Derek, not bad but just bow out there, Chum.
Brian Murray
43
Posted 03/05/2022 at 10:20:30
Tony Abraham's, count me in for that, kidda. Survival and a certain cull behind the scenes… big celebration.
Peter Carpenter
44
Posted 03/05/2022 at 11:05:21
This is all getting very weird and a bit medieval. Now we're carrying dogs down Goodison Road before kick-off! I just hope no one carries it a step further and sacrifices a poor pooch in front of the Holy Trinity.
John Pickles
45
Posted 03/05/2022 at 12:34:10
I've just heard, Myra has sprained a paw and is out for the season.
Derek Knox
46
Posted 03/05/2022 at 18:37:57
John @ 45, don't tell me, another one 'dogged' by injuries! :-)
Danny O'Neill
47
Posted 03/05/2022 at 18:52:35
That would be so Everton of her, John.
I would offer to bring my boy as a replacement but there's no way anyone is carrying him. He's closer to the Police horses in size and weight!
Brian Wilkinson
48
Posted 03/05/2022 at 19:15:57
If Myra is indeed missing, it could be a ruff afternoon, sorry Derek Knox effect taking effect.
Danny O'Neill
49
Posted 03/05/2022 at 19:20:27
It would be good to catch up again. London away games are a cheat for me Derek, but I guess it makes up for my reverse travels for the home matches.
I can't complain. I don't have it too ruff.
Can't believe you dragged me in the the bad joke glitter and realise Brian be me to it. I'll leave it there and get my coat.
Rob Halligan
50
Posted 03/05/2022 at 19:52:38
And more good news………NOT!
Craig Pawson is the referee for the Leicester game on Sunday, while Lee Mason is on VAR duty! Mike Dean is the referee for the Watford game next Wednesday, with Michael Oliver on VAR.
Danny O'Neill
52
Posted 03/05/2022 at 20:13:38
Fingers in my ears Rob on the ref stuff.
Fans make travel plans based on fixtures. Okay, they can change but the reasoning and timing is questionable and shows now consideration.
We are the gift that keeps giving and the FA keep taking.
Danny O'Neill
53
Posted 03/05/2022 at 20:29:09
A lot of footage of Goodison Road, and rightfully so, but can anyone find anything for after the final whistle?
Forget Grand Old Team, when Spirit of the Blues was belting out, I thought I was going to pass out.
Brent Stephens
54
Posted 03/05/2022 at 20:37:44
Danny,
https://www.youtube.com/watch?v=yIEtWPCxcmA&ab_channel=SameOldEverton-EvertonFanChannel
2 minutes odd in.
Danny O'Neill
55
Posted 03/05/2022 at 20:46:26
Thanks Brent. Fantastic!!
Mike Gaynes
56
Posted 04/05/2022 at 16:42:15
Rob #50...
Craig PAWson?
Too perfect.
---
Add Your Comments
In order to post a comment, you need to be logged in as a registered user of the site.
Or Sign up as a ToffeeWeb Member — it's free, takes just a few minutes and will allow you to post your comments on articles and Talking Points submissions across the site.
---
---
© ToffeeWeb