Everton History
"He Wouldn't Pull His Socks Up"
Becky Tallentire

30/08/2021
32

comments | Jump to last
Born: Brenda Blackbell
5th September 1950
Sunderland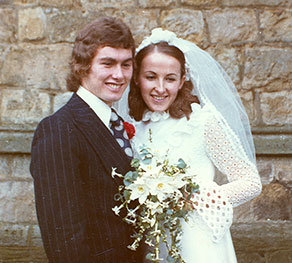 It was a beautiful summer evening in July 1970, and Dad had sent me down to the village pub early so I could save his seat. Although I was born and bred in Sunderland, my parents owned a cottage in Cotherstone in the North Riding of Yorkshire for years and my older sister Jill and I spent our weekends and holidays there for as long as we could remember.
Dave lived in West Auckland but his parents were away, so he was staying with his old school friend Roy Long in a nearby village called Whorlton. Roy and his friends Joe and John Richardson were farmers and Dave had been helping on the Richardson's farm. They'd all come into the pub after a cricket match and I noticed Dave the second he walked through the door. What struck me about him initially were his lovely bright eyes.
I vaguely knew one of the guys they were with, and he came over to say 'hello'. Dave was with him and before I knew it, we got chatting. I thought he was rather nice. I noticed he had lovely smile and those big white tombstone teeth, then I looked down and he was wearing Barkers shoes. They looked quite expensive and were immaculately polished. I always thought you could tell a lot about a man by his shoes. Dad's shoes were always smart because he'd been in the army, so I was impressed.
I would never have recognised Dave, but I had actually seen him before because I'd been to Roker Park with Dad to watch an England v Scotland Under-23 match and Dave was in the England team.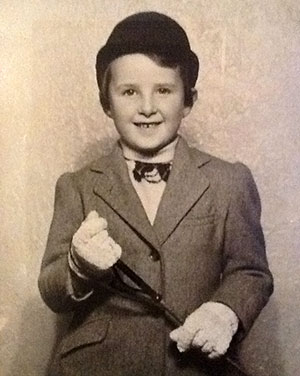 Brenda, age 7
Dad was a regular at Roker and had tickets right in front of the press box so he could just turn round and ask for the half-time scores from everywhere else. He was an architect by profession and he did a lot of industrial work, mapping out factories, schools and hospitals but he designed houses, too. He served his time with a company called Messer's W and TR Milburn then set up his own practice after the war, in John Street, Sunderland.
A great friend of Dad's was Jack Ditchburn, whose father had been chairman of Sunderland FC. Uncle Jack was a solicitor and he later became vice-chairman and latterly president. He was always a dear friend of the family.
Mum didn't work when we were kids and we had a privileged upbringing, although you're not really aware of that as children. I suppose you tend to just think everybody's the same. In 1953 mum bought the cottage, which was run down and very old fashioned, but we did it up over a period of time. Alan Berriman was a family friend and a builder by trade so they shared the cottage, renovated it together and the families had half each.
We were lucky because we got the end with the stable, so we would keep ponies and when we weren't there, they would stay on a farm in Barnard Castle with Dick Wilson, a former jockey who used to work renovating the castle and also kept a pub. We started with one little black fell pony but there was endless fighting between Jill and I so we also got a piebald called Scout, and he was mine.
I spent my life looking after him but I would ride horses for other people, too. I literally spent my childhood on farms, all I wanted was to be a farmers' wife, surrounded by chickens and animals. I was the horsier of the sisters as Jill was four years older and she grew out of it and became more interested in boys.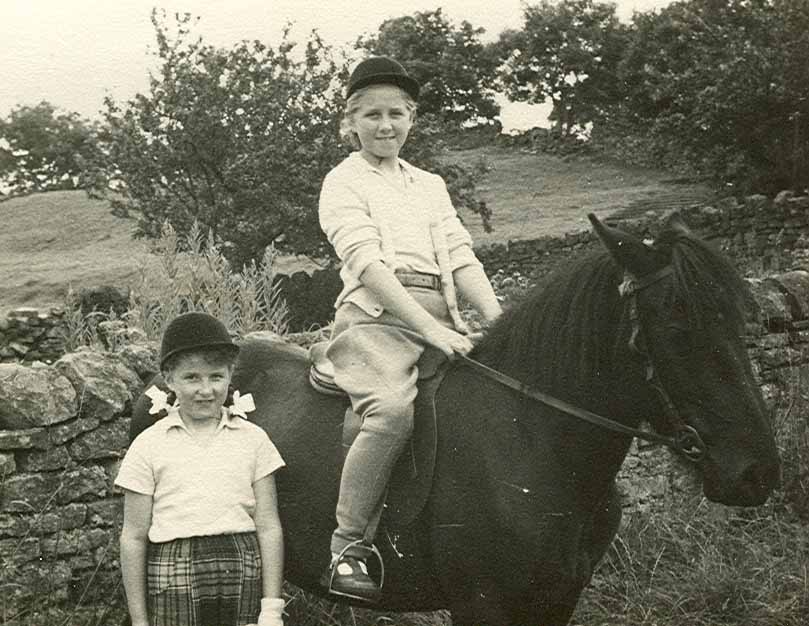 Brenda and Jill with Blackie
The Sunderland Church high school for girls was very posh. I started at the prep school when I was five and continued as a pupil there. I liked all the lessons except maths, in fact I still feel mentally scarred from being whacked over the knuckles with a ruler during a one lesson and I've never forgotten it.
It was a lovely little school, though, as the classes weren't that big, and most of the pupils were well–behaved young ladies. I left with the statutory amount of O' levels and won a scholarship to go on for A' levels in art, English and history but I left in 1966 and went to Sunderland College of Art and Design to do a foundation course. Because I'd been educated in such a protected environment, I found the college quite a culture shock. Suddenly I was thrust into this strange environment and everybody just seemed to sit about. There were some very nice people there but it all seemed disorganised to me, coming from such a disciplined background.
I didn't complete my course; before the year was up I went to Monkweirmouth College and did a shorthand and typing course. I always had an interest in the arts and had an opportunity to go down to London and study fashion, but it really wasn't my thing. I just wanted to try all different areas to see which I was best suited to, but by then I'd decided I wanted to teach. In those days you could do three years' teacher training and if you wanted to do a degree you could stay an extra year, but I thought it was more important to go out there and get a job.
I was offered a few but chose to work at Hedworth Field comprehensive in Jarrow. I was a form teacher and taught English and textiles. Textiles was basically technology, but my main course subject was art and design and I did PE as my subsidiary subject. I would have gone for PE as a main but one of my shoulders used to dislocate really easily so they wouldn't take me on medical grounds. They made a good call, too, because it came out so frequently in my second year at college that I had to have an operation to fix it.
Dave had been at Burnley since he was 15 and lived in digs with a wonderful couple named Winnie and Walter Edmondson, who spoilt him rotten. He's exactly a month younger than me and was born in Kirkby in Ashfield in the Nottingham area, where his mum came from. She moved up to the North-east when she married and they moved in with her father in law, David Rhys Thomas. He was a half-back in the team that won the first ever World Cup with West Auckland Town, they represented Britain against Juventus in the 1909 final. Grandad spent hours teaching Dave to play football and his mum tells the tale that his first pair of shorts were made from blackout curtains.
Dave and I got on like a house on fire in the pub that night and he asked if I would go out with him the next evening. I told him I couldn't possibly because I had a boyfriend in there at the time, but he was chatting to my friend over the other side of the bar. I must have just looked as if I was on my own. We settled on meeting for a coffee the next morning then went for a walk, and that was it really, we just clicked. He had to go back to Burnley soon after but from then on he phoned me every single day, sometimes twice a day, until we got married two and a half years later.
Geographically it wasn't the easiest of relationships to conduct but that was probably a good thing because it meant I could concentrate on my new job and he could keep his mind on his football. The miners did us a huge favour by going on strike, though, because some days there was no heating and the schools had to close down so whenever we didn't have to be there, weekdays or weekends, I would shoot off to Burnley. If the weather was too bad I'd catch the train, otherwise I would drive over in my clapped-out red Mini van, but it was quite a hairy journey because it was over the moors and there were some very isolated roads out there.
Looking back, my poor parents must have been worried sick about me but the car only broke down once. Another time I fell asleep at the wheel and ended up in a grass verge.
Dave was very happy at Turf Moor. He'd been there on schoolboy forms since he was 15 and at 16, he was the youngest player to make his debut in the first division for Burnley. On his 17th birthday, he signed as a full-time professional, although shortly before that, Don Revie came in with a very tempting offer for him to go to Leeds but Dave's parents had a verbal agreement with Burnley and the moral fibre to turn down the Elland Road manager's almost-legendary suitcase full of money. Dave was brought up with those same strict working-class values, and they have stood him in good stead all his life.
I'd watch him play every Saturday and it was a combination of scary and exciting. You're always wanting them to do well, but mindful that anything could happen. He didn't get many injuries, he was extremely lucky in that respect as I can think of one or two of our friends whose careers were finished because of them. I guess nobody could really catch Dave.
My parents were out in Majorca in the summer of 1972 when he rang them to ask for permission to marry me. They said 'yes' straight away. Dad was chuffed to bits with Dave being a footballer and as my sister's husband was a rugby man who'd played for Durham City, he had his bread buttered on both sides.
During the1972-73 season Dave was transferred from Burnley to Queens Park Rangers but going to London was quite a shock to the system. He'd been at Turf Moor since he was a teenager and was quite a country boy at heart, so to be suddenly thrown in to city life took his breath away. He went into digs with another lovely family, Mr and Mrs Parvin from Shepherds Bush. Luckily my sister was working for an airline at the time so I could quite easily get a standby flight from Newcastle to London and sometimes he would fly up to see me.
We married at Romaldkirk church in December 1972; the most beautiful church I've ever seen with a little village green. The only footballer who came was Bobby Kerr, who was married to a friend of mine and I'd been a bridesmaid at his wedding. Bobby was the captain when Sunderland beat Leeds in the FA Cup final in May 1973 when the manager Bob Stokoe ran on to the pitch in his famous celebration. Dad and I went to that game, too, we were Mackems through and through, and I can still name the team.
It was mid-season, so Dave and I couldn't go on honeymoon immediately. He hadn't even booked anywhere for our first night, though, and we ended up driving twice around Harrogate in thick fog. I kept thinking he was having a laugh and would pull up outside a wonderful hotel, but no chance.
We ended up in the Selby Ford motel and it really was as bad as it sounds. To this day, whenever we drive past it, our girls shriek with laughter and make us retell the tale. To compensate, we went for two weeks to Majorca the following close season and it was much better. In fact, we returned last year and retraced our steps. We went to the same hotel in Deia and would you believe, the same bloke was on the reception desk.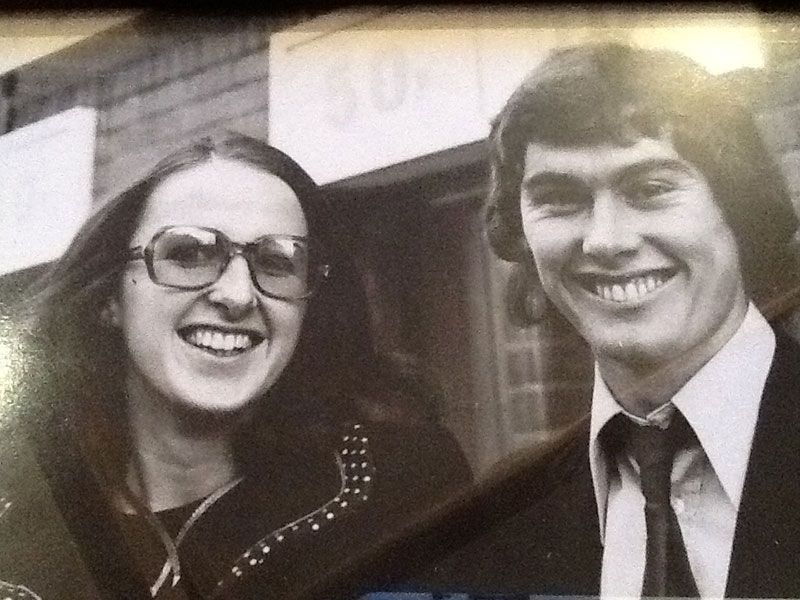 Brenda and Dave when he signed for QPR
When he was at QPR we found a house at Wokingham in Berkshire, which cost £14,950, an absolute fortune as we'd been looking at houses in Burnley for half the price. I had some savings because my granny had died and left me a little bit of money, and we pitched it all in for the house. As a teacher I was earning £60 a month and Dave was earning around the same per week.
Joyce and Fred Warren lived nearby and they really took us under their wing. If it hadn't been for Joyce, I don't know what I'd have done because when you're so far away from home and your family, you're in trouble if anything goes wrong. Dave and I met Adrian and Janet Whittle there, too, and I think Dave would still class him as his best friend. He lost Janet tragically young and with four children to bring up.
That season Burnley and QPR were both promoted and during training one day Dave was asked if he would be entitled to two bonuses, but it hadn't crossed his mind. Terry Venables was a team-mate and the PFA representative at the time and said he would fight the case for him so they had to take on Bob Lord, the hardline chairman of Burnley. Of course Terry won and by way of a thank you, we took him and his wife out for a meal.
Because we were strangers in town we asked Terry to book it and he arranged a table at the Sportsman club. We had a fantastic meal and after we'd eaten he took us around the gaming tables. All of a sudden Dave stopped dead in his tracks because there at one of them was the famous gardener, Percy Thrower, with a pile of chips in front of him. It looked so out of character, you would think Percy would be at home sitting in front of the telly with a cup of Ovaltine.
Dave's image was shattered. His other hero was Geoffrey Smith, who fronted a television programme called Mr Smith's Favourite Garden. John Motson was interviewing Dave at Everton for Match of the Day one afternoon and asked what ambitions he had. I think he meant in football but Dave was on a different train of thought and said that he would like to meet Geoffrey Smith. He lives in a place called Kettlesling, just outside Harrogate, good old John Motson arranged it and we have kept in touch with Geoffrey ever since. He's a genuinely lovely guy.
We were at QPR for five years and both our girls were born in that time. Helen arrived on August 2, 1974, and Dave was at the birth. I can remember him sitting there with tears in his eyes saying, 'It's a miracle'. Polly was born February 13, 1976. They are both sporty and played hockey and tennis for West Sussex
The whole transfer from QPR to Everton was strange because only a few weeks before, Dave had signed a three-year contract, but the next thing there was a phone call saying Everton had come in for him. Dave Sexton had been the manager but he'd left QPR to take over at Man United and Frank Sibley took over at Loftus Road. It wasn't long after that the offer came in, and I suppose £200,000 was too good to refuse. Dave spoke to Gordon Lee and the next thing he was in the car, heading north. We were on our way.
George Wood, the Blackpool goalkeeper, arrived on the same day and the headline in the Daily Express was 'Mersey millionaires set up big double transfer deal'. They made their debut on their same day, too, against Nottingham Forest in August 1977. I was very excited about moving to Liverpool because it was such an interesting city with beautiful buildings. I'll never forget the first time I drove up there. Dave had been put in the Holiday Inn and I couldn't find Paradise Street to save my life. I finally stopped the car and asked two blokes who were walking down the street and they said they were going that way so they hopped in and I gave them a lift. I was eternally grateful, I'd been doing circuits of the city centre for ages.
I have mixed memories of the Holiday Inn. I had my car broken into in the multi-story car park next door but the hotel manager was a chap called Jack Ferguson, a lovely man who was very keen on his football, and he loaned us his car for a few days so we could go and look at houses.
We also teamed up with two couples who were also staying there, one guy was a troubleshooter for Ford and had come up from Dagenham. Arthur Rothwell and his wife Jean also had three daughters, who used to play with our two. The youngest one was called Tasha and very sadly, she'd had leukaemia and she lost her fight. It was the saddest day I can ever remember and as young parents ourselves it really hit us hard.
We still keep in touch with the Rothwell's and they're living in Ormskirk now. The other couple that we've remained friends with is Marina and Kenny Dalglish. He'd been transferred from Celtic at about the same time and they had their kids, Kelly and Paul, with them. We all used to have good fun together, I think. I could hardly understand a word he said. He isn't as dour as some people seem to think, Dave and Kenny still play golf together and Marina and I keep in touch too.
We moved way off the beaten track, to a place called Dalton near Parbold. It wasn't the typical place for a footballer to live, but I suppose neither of us really fit that stereotype anyway. Our house was interesting, but it was rather close to a pig farm that was quite small when we got there, but he went into intensive farming and it grew rapidly, which didn't when we help when we came to sell it.
But it was a lovely place with views over open fields and most importantly of all, it had the most wonderful neighbours. Eileen and Les Earle lived next door and were absolute diamonds. I would never have survived as a footballer's wife if I hadn't been gifted without having the best possible neighbours wherever we've lived.
I think Dave was on £200 a week at Everton but all his bonuses went straight into a pension scheme - we never took them there and then because a bonus is just that. We were quite sensible with money; we knew his career would probably be short lived. I remember when Bob Latchford scored 30 goals in Dave's first season and won £10,000 and everyone at the club got a £192 share. Dave says he's still got his. His trophy from Superstars is still in our cabinet too. It's the ugliest thing you've ever seen but he was in the canoeing, cycling and running, and he did ever so well.
We didn't really have much of a social life and I didn't know many of the wives because we lived in such a remote place. The only time I got to see them was at a match. I was friendly with Lyn Pejic, Mike's wife, but they bought Kevin Keegan's house and lived near Mold in North Wales. I'd see her on a Saturday at the game but we didn't really socialise a great deal and we rarely went out. We'd go to any of the club dos but that was about it really. Dave enjoys the odd glass of wine now, but when he was playing he was a complete teetotaller even though there was quite a drinking culture then.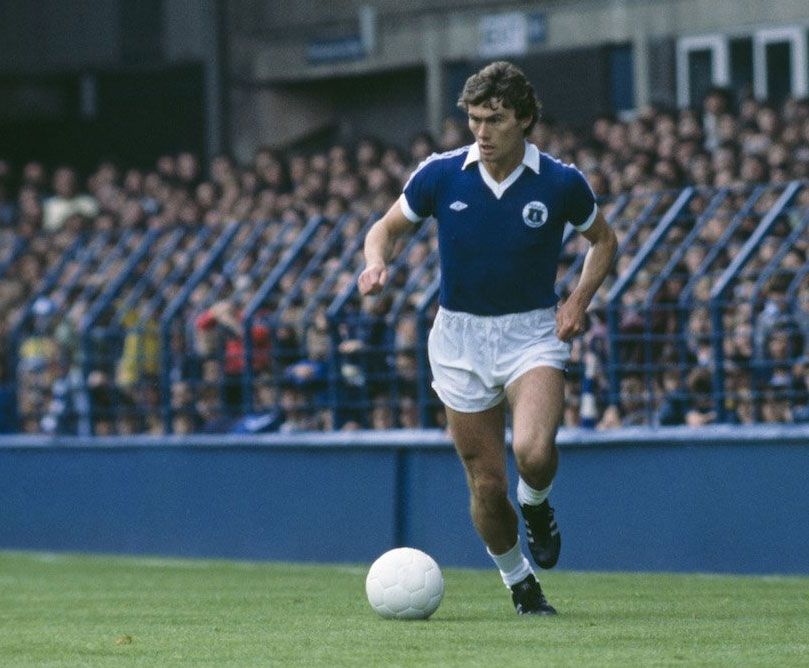 I would go to as many home games as I could but the kids always came first. Polly was 18 months old and Helen would be three when we moved to Everton, so I wouldn't want to leave them with anybody for too long. Another fabulous neighbour, Jenny Cosgrove, or one of her two sisters would sometimes look after them and I'd go to the match and then we'd pretty much come straight home.
I used to cook a lot and often entertained. I remember arriving at Anfield for the derby one day and I had just sat down in my seat when I got the most awful feeling that I'd left the soup on the cooker. I was panic stricken and simply had to phone Eileen urgently to get her to go and check. It was such a palaver to even get to a phone. I couldn't get out of the ground but I eventually found a policeman and had to explain my story to him. He took me into the surveillance room and announced my dilemma in a really loud voice to all the staff. I felt like such an idiot. Needless to say, I hadn't left the soup on at all and the match ended 0-0.
Dave was difficult to live with from Thursday onwards as the mental preparation kicked in and he started getting focussed for the match. He'd always take a while to wind down after a game, too, and would often relive games in his sleep. One night he knocked my front tooth out with a flailing limb and I had to have it crowned. He only scored six goals for Everton but he teamed up really well with Bob Latchford and it was far easier to just knock them over to him. The strangest goal I remember him scoring was for QPR against Sunderland after they'd won the Cup. The whole of Roker went completely silent. I think I was the only person in the whole stadium who stood up and cheered.
Everton were superb, probably the best of all the clubs the way they treated us. They put people at our disposal to help us and to come and check properties with us - the club were so professional in everything they did.
If anything wound me up it was newspaper reporters ringing up and speaking to me as if I was a complete bimbo, or being far too familiar with me when I'd never even met them. I hated to be thought of as a typical footballer's wife. People have an awful stereotype of women who marry footballers, but I don't think I ever fitted that bill. I used to shop at Chorley market and Lada sponsored Dave's club car.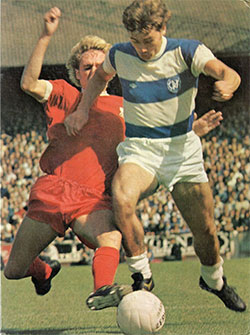 Dave in his QPR days playing against Liverpool
Dave's £420,000 transfer to Wolves was a disaster, really. I know we wouldn't have lived in a lot of places if he'd not gone there, but I always think it was a shame we never stayed longer at Everton. The main reason he left was because he was in a contract dispute, he didn't think he was earning as much as he was worth and asked them to review his salary. Bill Shankly was at Bellefield one day and gave Dave a bit of advice about money not being everything and I suppose he was right, but Dave was quite a sensitive kind of chap and his mind was made up. His timing could have been a bit better though, because shortly after he shook hands on the deal, which had still to be signed, Dave Sexton at Manchester United came in for him. We went and looked for a house in the Midlands but there was nothing we fancied so we stayed put in Dalton. With hindsight I suppose it was just not meant to be.
He never made it to Wembley with a club but I did go there to watch Dave play some of his international games. He won schoolboy, youth, Under-23 and full caps. I went to every one I possibly could and felt incredibly proud of him. An even better feeling, though, was when he was invited to play in an Old England versus Old Scotland match.
They played it before one of the Euro 96 games and ours girls were there with me. I always thought it was a shame that when he was playing professionally the children were too young to understand or realise the importance of it. They're so proud of him now, so to actually see him in action was wonderful. He is their idol and it's lovely because he thinks the same of them. There's such a great rapport between all three of them.
John Barnwell, now the chairman of the League Managers' Association, was in charge at Wolves when it all went pear-shaped for Dave. It turned sour for two reasons. Firstly because Dave refused to wear boots with studs, but mainly because he wouldn't pull his socks up. This was before they had to wear shin pads and Dave found them very awkward so he ended up falling out with the coach Richie Barker over it. Dave teaches at a school now and realises what a brat he must have been, but by that time, he'd played for England and hundreds of First Division games and couldn't understand what the problem was.
They told him if he didn't pull his socks up he wouldn't play another game for them. It ended up with Dave taking his boots off at half-time and throwing his shirt at Barker. He didn't go back out for the second half of the match and that was the end of that. Of course that was 1980, the year Wolves got to the final of the League Cup, and although I'd already bought my outfit for Wembley, I didn't get to wear it.
He was stuck in the reserves for a long time as a punishment. Thankfully, we'd never moved from Dalton so all the time he was at Wolves he commuted. Then we heard the Vancouver Whitecaps were on a recruitment drive and wondered what life would be like on the west coast of Canada.
We went together to negotiate the deal for Vancouver and met the men in a hotel somewhere in Birmingham. I really didn't like one of them but Dave knew the other guy, Tony Waiters, who had been a goalkeeper at Burnley. Bruce Grobbelaar was playing for the Whitecaps then but they were selling him to Liverpool and trying to take Dave over from Wolves. A three-year deal was pretty much agreed right there but we got Uncle Jack, the solicitor, to look over the contract and make some adjustments.
Johnny Giles was the Whitecaps manager and had arranged a promotional tour en route, so Dave flew out via Ireland in February 1981. Terry Yorath, Alan Taylor, Peter Beardsley and Barry Siddall were already in Canada and there was quite an established expat community. They all tended to live in condominiums but Dave wouldn't stay on his own, and he didn't want to go to a hotel, so they found him a brilliant family called the Mazzucco's who he moved in with. There were four boys and the dad looked and sounded just like Sylvester Stallone
Before I could join him, I had to tie up some lose ends and have my wisdom teeth out because that was one of the rules as medical treatment was so expensive there. Originally we were going over lock, stock and barrel, but our house sale fell through in Dalton so we had a last-minute change of plan and it stood empty. We gave Dad power of attorney and myself and the girls flew out from Manchester Airport on the April 12 and my parents were there to wave us off. It was the last time I saw Dad alive; he died of a massive heart attack a month later. That rocked my world to its foundations.
We rented a town house in Burnaby, Vancouver, and the girls went to Stoneycreek School - from time to time I would go and help the teacher out. The directors of the club were great people and our life was idyllic in patches but mine was lonely when he used to go away for long periods.
Dave Thomas earned eight England caps during his career
The North American Soccer League was just getting established, George Best was out there as were quite a few others towards the end of their careers. But then they changed the rules and clubs weren't allowed to have so many foreign players in the team. Dave had signed a three-year contract but the change came 18 months after we went, so the last in were the first out. That was fair enough, they were trying to get the game off the ground in north America and the local lads needed to have a chance to make their mark.
In some ways it might not be a bad thing if the same happened in England now because when are young British lads going to get a chance with all these foreign players here? There aren't too many opportunities for them to break through anymore.
We came back to England and he went to Middlesbrough for a short spell. So we didn't have to uproot the girls again, I stayed in Dalton and Dave stayed at the cottage in Cotherstone so I would drive over on match days to pick his parents up and take them to the game. Boro said they would give him a two-year contract but they only offered him one. At about the same time Portsmouth came in with a two-year offer so we went for the security of the longer contract and at the start of the 82-83 pre-season, finally sold the house after four years on the market and moved to the south coast.
Portsmouth were supposed to organise a house for us to move into but they forgot so we had nowhere to go and the removal people needed a place to deliver our furniture to. We sorted ourselves out with a rented house the day we arrived and part of the deal was that the club would pay the rent for six months but we were always getting the phone cut off and constant final demands for the overdue rent. It was very unsettling and embarrassing.
One morning I went out to buy some mushrooms at the farm shop and I saw the most beautiful wisteria covered cottage in one of the small villages. I couldn't get it out of my mind and dragged Dave along to have a look. Thinking we would be able to sell it quite easily in two years, when his contract was up, we bought it. That was 22 years ago and we've been here ever since. I guess Hampshire is home for us now and the girls have spent most of their lives here.
After my dad died, mum handed the Cotherstone cottage over to Jill and myself and after a time she wanted to get her cash so it had to be sold. My heart still breaks when I think about it.
When Dave finished playing, in 1986, he was asked to join the coaching staff at Pompey. He loved that, he really did, and was so happy with his lot, coaching the reserve and youth teams. Initially, Bobby Campbell was the manager but Alan Ball took over and told Dave they weren't going to run a youth team any longer so his services wouldn't be required. A few weeks later, Alan Ball recruited his mate Peter Osgood as youth coach.
Bruce Rioch, who Dave knew from their Everton days, invited him up to coach at Middlesbrough when he was managing them, but Dave was still smarting from the slap in the face from Portsmouth, we were settled here and the girls were at school.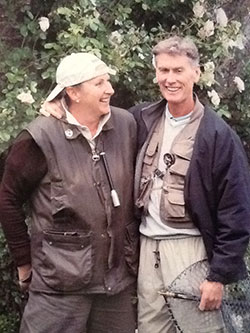 I went back to teaching and he opted out of football and started a little gardening business. He'd really had enough and he needed a break from the game. He did some garden maintenance and the local people were brilliant. He went to work for a chap called Mr Shand and they had a great relationship. As well as teaching Dave an awful lot about gardening, he got him back into fishing again. It was perfect because it got him through the rough patch.
Mr Shand had the most wonderful garden laid out by a top-notch designer and Dave helped him maintain it. He loved spending time with the old man, who was a lovely character and reminded us both of my dad. He also died quite suddenly, though, and Dave was devastated but he kept the garden going all the time Mrs Shand lived there. The new people who moved in have kept it maintained too, which is a relief as it's too beautiful to be left to go to rack and ruin.
I'd been working part time in the farm shop for a couple of years and one of my neighbours kept telling me to go back teaching because the school was desperate for supply teachers. I went there for a quiet chat with the headmaster and finally left nine years down the line – I only resigned when I heard of another job in a private school over in Chichester. They wanted somebody to sort the art department out and I was ready for a change by then. I spent another nine years there and finished in 2001.
Dave got back on his feet, he was doing match commentaries and analysis on the radio and just loved it - I hadn't seen him so animated for years. He worked with a guy called Peter Hood, who did the commentary and Dave did the analysis. He was really good at it, but sadly the local radio station lost the contract. He did go and work for another regional station but they wanted a Southampton player really, so that was short-lived. He was also doing some work in London for VNL but they went bust.
That was a digital channel that put the match out about 'as live' 10 minutes after kick-off and he did the commentary. He absolutely loved it and that's what he'd like to get back into, but in the meantime he's a part-time PE teacher at Bishop Luffa School in Chichester. He likes the people he works with but he needs a new challenge. We both feel we're ready for a new horizon and he keeps mentioning that it might be a good idea if we sell up and go and live in Majorca, but I'm not so sure. I think he just needs something to fill his time. I think he could still play if the truth be told.
Dave goes to watch Bognor in the Ryman Premier league now. He's a big friend of Jack Pierce, who's been there for 28 years and is the manager, groundsman, turnstile operator and a great man. It's a real family club and they play attractive football, and he still goes to Portsmouth to watch the occasional game too. Harry Redknapp is wonderful to him; he always manages to get him tickets for the game. Harry's a very likeable man, very open and well respected.
Helen lives in Epsom and teaches French and Spanish at Epsom College. She's married to Chris, who's a physio and former hockey player and they've got a son called Tom, our first grandchild. Polly is football mad and works as the Exhibition Manager for Wiley's publisher in Chichester.
It always saddens me a bit when I see sportsmen out of work. I wonder how we can allow people who were good enough to play for their countries to be wasted. Dave's so good with the kids at school and I've seen the way they react to him. They just love him.
Dave doesn't regret much in life but going to Wolves at the 11th hour and turning down Man United is his big one. Wolves led on to all kinds of other things for us, so you can't have too many regrets, but he sometimes can't help thinking he made a bad call.
It depends how you deal with it, I suppose, but I don't think I'd like to be a footballer's wife now. I think it's very intrusive and everybody is entitled to a private life. I think there are still some private players around today but people do court the limelight. I'd like to think that if we were earning that kind of money we'd do something useful with it and share it about a bit. It's a lot to be paid for entertainment.
We've had such a great time, we've been extremely fortunate and football gave us a lovely way of life. People still recognise Dave but that's not at all surprising because apart from a sprinkling of grey, he looks exactly the same now as he was when I met him. I think he must have found the fountain of eternal youth.

After a long battle with glaucoma, Dave Thomas is registered blind and has a guide dog called Hannah. He has raised over £75k and is also donating the royalites from his autobiography, Guiding Me Home and Away to the Guide Dog charity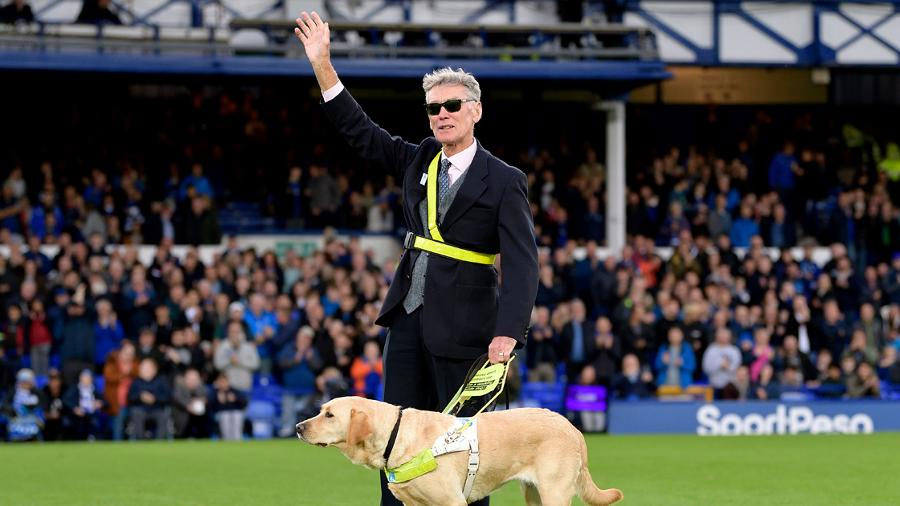 Dave Thomas 1977/78 – 1978/79
Winger
Born Kirkby-in-Ashfield
Nottinghamshire 5.10.50
Played 84 games
Scored 6 goals

Taken from Real Footballers' Wives – the First Ladies of Everton, still available for purchase in book or Kindle form. Copies are also for sale by contacting Becky directly via Twitter at @bluestocking63 or by email.

© Becky Tallentire 2004

Follow @bluestocking63
Share article:
Reader Comments (32)
Note: the following content is not moderated or vetted by the site owners at the time of submission. Comments are the responsibility of the poster. Disclaimer
Ray Mia
1
Posted 30/08/2021 at 21:02:19
Amazing read, can feel the heart and soul in the words. Wouldn't worry at turning down Newton Heath... Pulling on the Old Gold of Wolves must have been a thrill back in the day...
Freddy Maldonado
2
Posted 30/08/2021 at 21:40:19
Wonderful story. Thank you for sharing it with us.
John McFarlane Snr
3
Posted 30/08/2021 at 21:45:40
Hi Becky, thanks for another tremendous article from the not too distant past, they were ordinary people leading ordinary lives, unlike todays footballers and their wives, who are ordinary people leading extraordinary lives.
Peter Mills
4
Posted 30/08/2021 at 21:48:44
Dave is one of my favourite ever footballers, tearing down the wing with his socks rolled down, able to deliver the most accurate of crosses without breaking stride or looking up.

Unfortunately, I missed most of his best season for us as I was away at college in Gloucestershire in the late 70s. But I have wonderful memories of the weekend I was overcome with a bout of homesickness so set off to watch us at Loftus Road, alone in a very unreliable van which did everything to stop me getting to the game, to see Dave tear QPR to shreds as we won 5-1.

I met Dave a few years ago at a launch of Bob Latchford's autobiography, at Goodison. The focus was on Bob, I spotted Dave standing alone, so had quite a lengthy chat with him. What a lovely guy - he was overwhelmed that someone from the Everton Heritage Society had collected him from his home in County Durham and was going to take him home. He was very happy to talk about his eye condition, his lack of self-pity, his love for his guide-dog, the joy he gets from gardening, his fund-raising for charity.

As an all-time great Evertonian, for skill and character, I would say he is right up there.



Terry White
5
Posted 30/08/2021 at 22:07:33
John (#3), Becky's original article was written in 2004. Updated, of course.
Dennis Stevens
6
Posted 30/08/2021 at 22:15:56
Dave makes my all time Everton XI, wished we'd had him sooner & for longer.
Eugene Ruane
7
Posted 30/08/2021 at 22:37:39
Another superb and fascinating piece from Becky Tallentire.

Btw, subjective of course, but imo I don't believe there's ever been a better crosser of a football than Dave Thomas.

(Oh and if Latch had been relying on some of our more recent wingers for service, he'd have ended up with about 26 goals.)
Christy Ring
8
Posted 30/08/2021 at 22:38:02
Fabulous read, always thought Dave was pure class, a brilliant winger, should never have been sold, worked so well with Latchford. He definetly shoud have been a regular with England, sad the way Ball treated him at Pompey.
Kieran Kinsella
9
Posted 30/08/2021 at 22:45:02
Percy Thrower another legend. He was still around in my time but I was too late for Dave but a wonderful insightful article nonetheless
David Pearl
10
Posted 30/08/2021 at 23:03:00
Thank you. One of the first players l ever saw live along with Dave Smallman, Pejic, Lyons, Latchford, Andy King, George Wood, Terry Darracott. Early heroes. Funny what you remember as a kid. Although l can remember where l was sat for Bob Latchfords penalty vs Chelsea... they stuck us kids high upper Bullens
David Pearl
11
Posted 30/08/2021 at 23:03:04
Thank you. One of the first players l ever saw live along with Dave Smallman, Pejic, Lyons, Latchford, Andy King, George Wood, Terry Darracott. Early heroes. Funny what you remember as a kid. Although l can remember where l was sat for Bob Latchfords penalty vs Chelsea... they stuck us kids high upper Bullens
John Raftery
12
Posted 30/08/2021 at 23:22:10
A very fine player, the best supplier of crosses to Bob Latchford. In 1977/78 and the first half of the following season the team had a superb left flank with Mike Pejic, Martin Dobson and Dave Thomas linking up so brilliantly. We lost Pejic with injury in December 1978, Dobson left at the end of the 78/79 season soon to be followed by Thomas. Without those three Gordon Lee started to struggle as the club went into two years of decline which culminated in Lee's departure and Howard Kendall's arrival in 1981.


Paul Tran
13
Posted 30/08/2021 at 23:32:33
Great piece, great player in the first Everton team I really loved. You knew he'd hit the byline, you knew he'd put it on Bob's head/foot, you knew Bob would score. Finished 3rd & 4th, unlucky in the cups, great to watch. If only we'd bought a decent keeper
Alan J Thompson
14
Posted 31/08/2021 at 06:56:55
Peter(#4); I was at that QPR game as well and it poured down all game and hitched home the next day. Dave Thomas ripped them to pieces.

Another very good article that tells the ups and downs of very good footballers and everyday people.
Danny O'Neill
15
Posted 31/08/2021 at 08:55:37
Once again Becky, thank you for providing this. These articles always draw out the personal side of professional footballers, that us supporters don't always see or respect.

I'll get the sock thing out of the way first, as I too am a stickler and get mocked by my wife and son for being old and grumpy about the socks down culture creeping back in!! But that's just me! Right, that's off my chest.

I am just about old enough to remember Dave but not enough to comment on him as a player.

If I take away a 1977 pre-season friendly in Germany, Roker Park was my very first Everton away game. I think it was 1980 or 1981 and if I recall without looking, we lost 3-1 on the first day of the season. I think they had just been promoted too.

I never knew Peter Beardsley had been out in North America; every day is a school day as they say!

Alan Ball? Interesting, but I guess they weren't at Everton at the same time. I was going to say a bygone era when footballers went into "normal" jobs after finishing their playing careers, but it was 1986! Glad he got back into the game in some capacity.

On Wolves, I guess that's life. We all make decisions and it's only with the benefit of hindsight we know whether they were the right ones or not.

Fantastic stuff Becky, keep them coming.
Rick Tarleton
16
Posted 31/08/2021 at 09:17:42
Another moving and powerful article from this series. Dave Thomas was quite a player, a perfect foil for Bob Latchford, and a thrilling player to watch.
I enjoyed reading the article and hope that the glaucoma isn't total.

Thank you to Becky, Brenda and Dave for this episode.


Paul Birmingham
18
Posted 31/08/2021 at 09:30:57
An epic read, Becky, an outstanding story.
In them formative years, in reflection, possibly the best days for me going the match, and the Everton team of the time were almost there. The atmosphere and buzz, it was an adventure every home game. Dave Thomas was a fine player for Everton and gent off the pitch and very humble.
Where does time go? But the memories from those couple of seasons are as fresh as today.
Chris Jones (Burton on Trent)
19
Posted 31/08/2021 at 10:27:21
I love these insights into life as a footballer; Becky is to be applauded.
Dave was a splendid player and one I always loved to watch - at Everton and elsewhere! I can see him in his QPR hoops as well as the Royal Blue.
Brenda seems to be an absolutely smashing person. I was impressed how she remembered the names of folks from years before writing. She is obviously someone who cherishes those friends she makes throughout her life. She may have had a fortunate upbringing but she was anything but spoiled.
It would do for us fans to remember some of the detail of transfers when we're quick to moan about players. I seem to recall John Spencer had to have a heart op as a condition of joining us (under Walter Smith), but it is quite something else when a player's wife has to agree to undergo having her wisdom teeth out as a condition of his move to a new club! I wonder if any similar such agreements are involved in today's transfer deadline day shenanigans?
John Pickles
20
Posted 31/08/2021 at 10:41:40
I can't think of Bob Latchford without thinking of Dave Thomas, it's like Stan and Ollie, Eric and Ernie, Sharpy and Inchy.
He has to be in the all-time top half-dozen Everton players in his position.
Dave Brierley
21
Posted 31/08/2021 at 13:48:58
Another great read Becky. Love these tales of players from the past.
Like many of the above, I was a great admirer of Dave Thomas and often wodered how he got away with so few injuries with the socks down and no shin pads routine. It certainly worked for him.
Happy days indeed.

Len Hawkins
22
Posted 31/08/2021 at 15:11:27
Dave was a great player and his crosses for Bobby Latch were too inviting to miss which Bob rarely did.
Ron Greenwood was the England Manager when Bob got called up and they didn't play to his strengths no Dave Thomas, next game he'd pick Dave Thomas and play that midget Keegan at centre forward Dave was sending crosses in with no one there to make use of them.

Yet another great read of the Everton stars and their wives.
Jack Convery
23
Posted 31/08/2021 at 15:24:58
I loved reading this piece - wonderful stuff. Dave could not only put in a beauty of a cross but could pick himself a beauty of a life partner. The good the bad and the ugly of football contained in one piece.

I saw Dave Thomes play for EFC in the 70s and his link up with Bob Latchford had to be seen to be believed. The day we stuffed Coventry at Goodison lives long in the memory as well as the hatrick goal Latchford scored from yet anoth pin point cross from Dave Thomas.

The best comment I can make about Dave Thomas is that he was good enough to have played in our last 3 league winning teams. He should have earned a lot more England caps too. I wish him and his family well. They deserve it.
Jack Convery
24
Posted 31/08/2021 at 15:25:18
I loved reading this piece - wonderful stuff. Dave could not only put in a beauty of a cross but could pick himself a beauty of a life partner. The good the bad and the ugly of football contained in one piece.

I saw Dave Thomes play for EFC in the 70s and his link up with Bob Latchford had to be seen to be believed. The day we stuffed Coventry at Goodison lives long in the memory as well as the hatrick goal Latchford scored from yet anoth pin point cross from Dave Thomas.

The best comment I can make about Dave Thomas is that he was good enough to have played in our last 3 league winning teams. He should have earned a lot more England caps too. I wish him and his family well. They deserve it.
Jack Convery
25
Posted 31/08/2021 at 15:25:31
I loved reading this piece - wonderful stuff. Dave could not only put in a beauty of a cross but could pick himself a beauty of a life partner. The good the bad and the ugly of football contained in one piece.

I saw Dave Thomes play for EFC in the 70s and his link up with Bob Latchford had to be seen to be believed. The day we stuffed Coventry at Goodison lives long in the memory as well as the hatrick goal Latchford scored from yet anoth pin point cross from Dave Thomas.

The best comment I can make about Dave Thomas is that he was good enough to have played in our last 3 league winning teams. He should have earned a lot more England caps too. I wish him and his family well. They deserve it.
Alan J Thompson
26
Posted 31/08/2021 at 15:32:33
Len(#22); I remember the Italian Manager being asked before the game if there was anyone in the England side who he feared and his answer was, "Latchford of Everton", so he was asked why and answered that it was because he knew nothing about him. And every time Latchford made space in the box for the ball to be put in for him to move onto bloody Keegan would move into it letting defenders know about it and spoil the whole thing.
John Davies
27
Posted 31/08/2021 at 20:17:27
Wonderful piece about a wonderful footballer. Unquestionably my all time favourite left midfielder/winger.
I know many will call out Sheedy as their favourite but for me, Dave Thomas and Bob Latchford were the best attacking pairing I have seen in the Royal Blue jersey. Both would be in my all-time best Everton eleven.
Thank you to Becky Tallantire for her super, informative and moving article about Dave Thomas. Wishing him and his family all the very best for the future.
Tony Abrahams
28
Posted 31/08/2021 at 20:43:36
Great story, and I'm glad my childhood memory wasn't wrong when I've read so many on here writing about Dave Thomas's outstanding crossing ability, and If my memory is correct, whilst always wearing mouldies, rather than studs!?

That six nil game against Coventry, has never left me, and whilst Latchford got the goals, the absolute joy of watching Thomas, driving forward into the wide open spaces of Goodison, and standing the ball up perfectly, with such precision, was already making a young child like myself think, "who needs to score, when you can set them up like that"


David Currie
29
Posted 31/08/2021 at 21:35:13
Dave Thomas was the best crosser of the ball I have seen, was fortunate to meet all the Everton players in the dressing room in 1978. All the players including Dave were top lads.Should have got more caps for England.
Allan Board
30
Posted 31/08/2021 at 21:37:50
A Wonderful read. My first ever visit to Goodison was the 6-0 v Coventry, on my 10th birthday, courtesy of my 18 Yr old bro. Dave Thomas was fantastic that day and supplied proper ball in for strikers to bury. I too couldn't believe he had his socks rolled down, Terry Yorath took a shine to him and hacked him down a few times, but he still carried on running with the ball. Latch was my absolute hero, but Dave created so many goals for him, would be interesting to get the stats.
The 6th goal that day was just amazing for a young boy to witness and take in-beautifully crafted, stunning cross and brilliant volleyed finish.
Thanks Dave, I was only ever going to follow one team after that day.
Ken Kneale
31
Posted 31/08/2021 at 22:13:23
Another excellent read.
The team Gordon Lee started to build lost its way halfway through his tenure, sadly leading to many good players leaving; Dave Thomas was certainly one of those.
Dave combined being enjoyable to watch whilst being very effective in his role – a really fine player indeed who as others have said would grace any era.
Paul Swan
32
Posted 31/08/2021 at 22:51:58
I remember as a kid these players were approachable. Me and a few mates from Skem went to a bonfire in Dalton (which coincidentally is much closer to Skem than Parbold) and met Dave, lovely guy with no airs and graces. Often drive past the house mentioned in the article and it is a small cottage for those that know the area just down from Ashurst beacon. George Wood had what is now in hindsight a modest house just off the main road in Parbold. These days sadly you would be looking at security fences and mansions for the modern players. Great player and probably one of the best crossers of a ball I ever saw
Dave Abrahams
33
Posted 06/09/2021 at 21:56:25
I can't add anything to the wonderful tributes to a very good footballer,brilliant crosser of the ball, near perfection, there was absolutely nothing to dislike about Dave as a footballer and a man, except that he was allowed to leave Everton when he should have been given a much more generous and longer contract by Everton. Best wishes for your future health.
---
Add Your Comments
In order to post a comment, you need to be logged in as a registered user of the site.
Or Sign up as a ToffeeWeb Member — it's free, takes just a few minutes and will allow you to post your comments on articles and Talking Points submissions across the site.
---
© ToffeeWeb