Everton History
Tim Coleman: A Rebel, a Soldier and an Entertainer
Rob Sawyer

02/02/2022
9

comments | Jump to last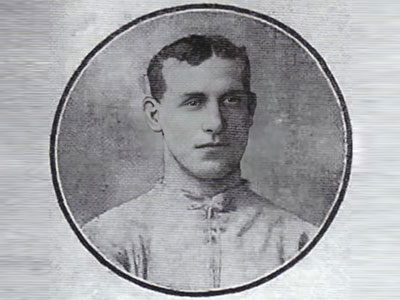 Everton, and other football clubs rightly commemorate their former players who made the ultimate sacrifice when serving in the armed forces in times of conflict. We should not forget, however, those connected with the Toffees who lost their lives whilst engaged in other forms of war work.
With London being pummelled during the Blitz, 59-year-old Tim Coleman – one of the great inside-forwards of his day, but at this point in his life a humble labourer – was engaged in the effort to patch-up bomb-damaged buildings. On 20 November 1940, he was repairing the damaged glass on the roof of an electricity generating station in Kensington. On the wet surface of the roof, littered with shards of glass, Tim lost his footing and fell to the pavement below. He was declared dead shortly afterwards at the nearby St Mary Abott's Hospital.
John G. Coleman was born in Kettering in 1881. He had a habit of referring to other children as 'Tim' if he didn't know their names. Eventually, the tables were turned, and he, too, was labelled Tim. The nickname stuck. He embarked on a football career as an amateur in his hometown. His brother, Albert, was the teaman at The Poppies and used to serve hot beverages, to players and fans alike, from a hut in the corner of the ground. A move to Northampton Town of the Midland League followed. After helping the Cobblers into the Southern League, he joined Woolwich Arsenal, of the Second Division of the Football League, in 1902. Within two seasons the diminutive inside-right had helped get the Plumstead club promoted to the top flight. For the Gunners he had an impressive strike ratio of approaching a goal in every two games, in 196 appearances.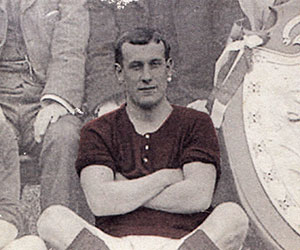 Tim Coleman at Woolwich Arsenal
Aside from his on-pitch contributions – Tim brought a bright personality and penchant for mischief-making to the party. Throughout his long career in football, reference would be made to 'cheery good humour in all circumstances', 'great natural wit', 'buoyant optimism' and him being an 'inveterate joker' and a 'comedian-footballer'. On one occasion, during a train journey to an away fixture, he purposely dropped a penny on the floor of the carriage compartment. It rolled under the seat, but no-one did anything until the train reached its destination. The Woolwich Arsenal players all disembarked except Charlie Satterthwaite, who was spotted on the floor, seeking the coin. He was unaware that Tim had attached said penny to a piece of string and taken it with him as he exited the compartment.
He also kept match officials on their toes. The noted referee J.T. Howcroft (with whom Tim continued to correspond for a number of years) gave a flavour of the 'Little Gunner' in a 1925 newspaper article:
On more than one occasion, Tim's conduct on the field, and his quaint mannerisms, have prevented ill-feeling arising between players. He was one of the smartest little players who ever put on a pair of boots, and I shall never forget one incident on the Plumstead ground.
Unfortunately, I had to strafe him and threaten to order him from the field if he repeated a certain offence. He turned round and asked me if I had the heart to send him off the field. I reiterated my threat, and to my surprise he replied: 'If you say you could find it in your heart to send me off, then I am not going to repeat the offence.' He didn't.
His sole England cap, after twice being an unused reserve, came at Goodison Park in a 1-0 victory over Ireland in 1907. Maybe this caught the eye of the Toffees directorate as, in February 1908, the Toffees beat Liverpool to his signature. The Blues' offer of £350 was enough to tempt the financially stricken Londoners. Tim was considered quite a capture, with one newspaper column declaring: 'He is a sinuous worker, speedy and a good shot. Coleman, in form, is a menace to the best defence.'
His first priority on arriving at Goodison Park was to help ease the club away from the relegation places. His five goals in 12 appearances helped secure an 11th place finish, only three points above relegated Bolton Wanderers.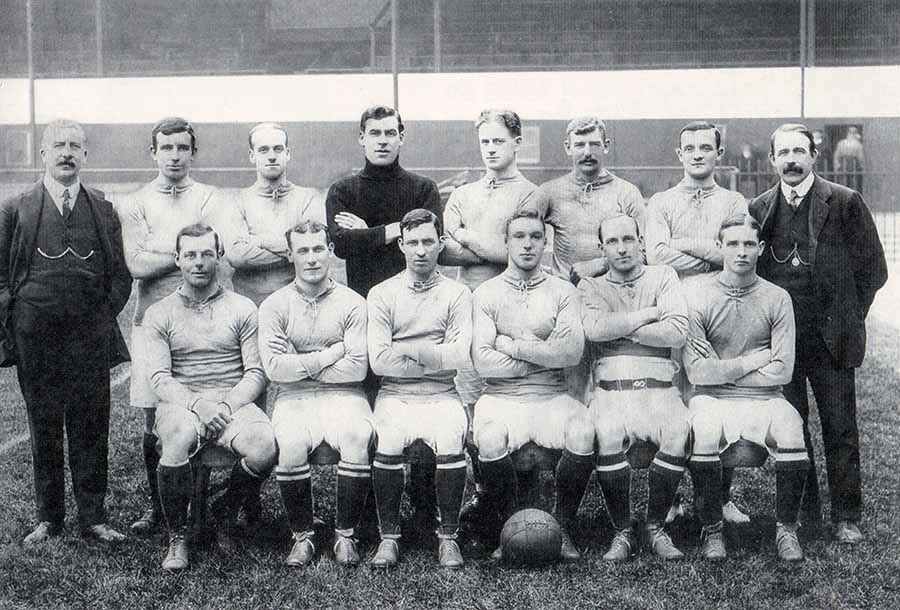 The 1909 Everton team
Gunners strike partner, Bertie Freeman, followed Tim to Goodison and, along with Sandy Yong (who moved to inside-left) and Jack Sharp, they formed a formidable attacking unit. In their first full Everton season in tandem, Bertie and Tim's 57 goals propelled the club to a title bid - however, costly defeats after Christmas consigned the Toffees to a second-place finish.
Tim's time on Merseyside coincided with a concerted push for recognition of a new footballers' union. Strike action was planned by footballers as the 1909/10 season approached. Although many backed down from industrial action when under pressure from their employers, Tim stood shoulder to shoulder in solidarity with the Manchester United squad, who had been suspended by their club. He trained with them at Fallowfield and, on the eve of the strike-threatened season, was photographed with the, self-proclaimed, Outcasts FC. Typically, he was the only player with the hint of a grin on his face.
Inspired by Tim's stance, the Everton squad members did a u-turn and reasserted their support for the union cause. On 30 August, a letter was sent to the Everton directors by the squad. It stated:
Gentlemen, you will by now have received the postcard notifying you of twenty-two players of yours having re-joined the Players' Union. Having in mind the suspension and refusal to pay the back wages to our own colleague, Coleman, and the players of Manchester United, whom we all recognize as being the means of enabling the Union to exist, we absolutely refuse to allow these men to suffer any punishment, or to leave them in the lurch. It would be most un-English like and unworthy of any footballer on principle.
We have no grievance against the club in any way, as the players are quite satisfied with the way you have always treated them. But when you are discussing this matter with the FA kindly remember that you owe some of your wealth to the loyalty of your players, who have been content to play for you without the payment of illegal bonuses or payments, when they well knew that most of their opponents were receiving such payments. Hoping this matter may be amicably settled.
I beg to remain, your faithful servant,
J. Sharp (captain) – on behalf of the players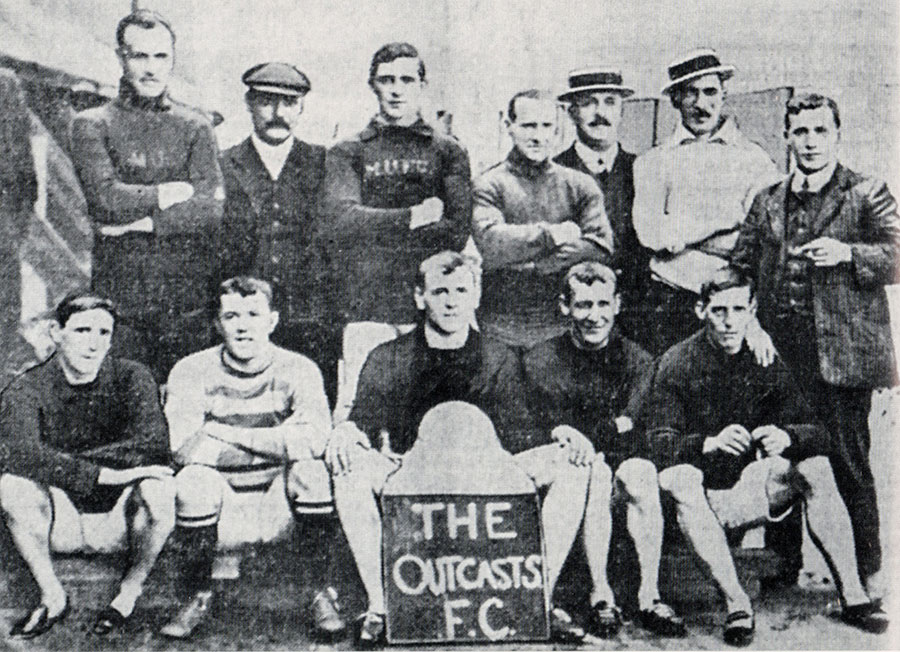 A détente, of sorts, was reached, and a player's strike was avoided at the 11th hour. Although not as high-profile or outspoken as the likes of the union's chairman, Billy Meredith, Tim had used his Weekly News column to get his views on players' rights across eloquently yet forcefully. This activism soured relations with Everton's directors and the player became convinced (with justification) that he was being played more sparingly in the months that followed season, as a direct result. He came to the conclusion that he had no future at the club. A transfer to Sunderland followed.
Why have I left Everton? Was the headline of his Weekly News column. His explanation: 'I had no alternative! I have no regrets in saying goodbye to Everton Football Club. My only regret is that I leave quite a host of good friends behind me in Liverpool.'
Views on Tim's time varied markedly – even within the same publication. Richard Samuel's Liverpudliana column of the Cricket and Football Field was rather sniffy about the departed forward: 'Coleman never genuinely settled down to sustained work; perhaps a change of air will enable him to avoid knocking the goalkeeper over when firing at the goal. Sunderland have secured artist in more ways than one.' In contrast, 'Nuggets' lamented: 'Tim Coleman has gone to Sunderland. No better forward ever wore an Everton jersey.'
Maybe Tim did find the North Sea air agreeable, for in his single season on Wearside, he netted a remarkable 21 goals in 33 outings for the Rokerites. Whilst there, a football ballad was penned in his honour by 'WAB' and published in several newspapers:
Here's to Tim Coleman
A true art-and-sole man
And one of the best South or Nor'ward
A trim English laddie
At football & 'daddy'
Knows all there's to know as a forward
A straight-way-to-goal man
Is comrade Tim Coleman
He doesn't weave pattern and figure
He's agile and tricky
The spheroid seems sticky to Tim
And his goal-crop grows bigger
With Woolwich he toed it
And other teams "know'd" it
His brainy manoeuvres were noted
And other clubs angled
Their golden bait dangled
And Tim from a red turned blue-coated
He stayed by the Mersey
Till soon a fresh jersey
Was seen on the form of our hero
And now there's no better
By Wear as a netter(This failing, mayhap he'll turn Pierrot!)
The best inside-right in The English League.
Write in and ask him the nets he has "busted"
Three cheers for Tim Coleman!
A top-of-the-pole man
He's hot stuff; in brief, Coleman's mustard!
The forward's subversive humour had not ebbed with time. Charles Buchan recounted the tale of Tim taking to the field for Sunderland against Preston 'wearing a false black moustache of huge proportions'. When he appeared for the second half without the fake facial hair, the referee was on the point of ordering Tim off the field, believing that Sunderland had fielded a substitute.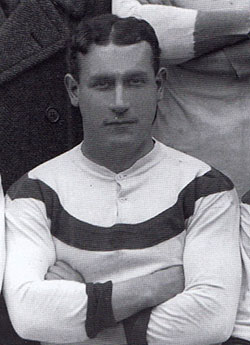 Coleman at Nottingham Forest
By the end of the season, Buchan had taken Tim's place in the Black Cats side, so Tim returned to London. He joined Fulham, in the division below Sunderland – a signal of his gradually waning powers. He made exactly a century of League and FA Cup appearances for the Cottagers over three seasons, still banging in the goals with regularity. The 1914/15 season, played in the shadow of the Great War, found him at Nottingham Forest – playing alongside Joe Mercer Sr. – father of Everton's Joe.
In February 1915 he enlisted (along with Mercer and other teammates) with the Middlesex Regiment 'Footballers' Battalion', serving under future Wolves supremo Frank Buckley. He was able to finish the football season with Forest, and also turned out for Queens Park Rangers as a guest whilst based in the south of England. He reached the Western Front in early November, serving in the machine-gun section of the noted Battalion's B Company. When away from the front Tim was able to turn out for one of the, understandably strong, Footballers' Battalion teams.
In late December 1915, reports of his death reached England from several, seemingly reliable, sources. Tributes poured in and Nottingham Forest put in place a plan to organise a collection for his widow, Nell. However, two days after reading reports that he had died in battle, Nell received a telegram from her husband confirming that he was very much alive and well. He would later joke that he hoped reports of his death had not upset his creditors too much.
Jack Cock, the Chelsea footballer and Middlesex Battalion comrade, who would eventually follow in Tim's footsteps by joining Everton, recounted a wonderful anecdote in The Globe. It encapsulated the essence of Coleman:
We had just relieved the French at a point in the front line, where they had been much worried by a very persistent sniper. This fellow also tried his wiles on us, and for two or three days nothing could be done. At last little Tim began to get restless. I was the sergeant on duty, and while he was acting sentry, he looked up to me and said: 'You just wait a bit. I'll settle that chap.'
No sooner had he said it than plop! came a bullet, an inch over his head. So, Tim strutted to the corner of the traverse and got his rifle, which he affectionately called 'Erbert. He lifted it high over his head with both hands, pointed it over the top of the parapet in the direction from which the shot had come, and let loose.
What happened to the sniper, nobody knows, but the curious fact is that we were released from his attentions after that. And, of course, there was absolutely no holding Tim Coleman, who would move around with his nose in the air and his hand on his little heart - the very picture of an undecorated hero.
Tim survived the war and was decorated with the Military Medal for bravery. After the armistice, but while still serving, he was playing for the Second Army Corps against a Belgian team. Afterwards he was approached by a man, who he did not recognise, who enquired if he was Tim Coleman. When he confirmed his identity, the man went on: 'Don't you remember when you were at the ----- (unnamed) hotel with Woolwich, and threw a glass at me; that glass going right through a looking glass at the back of the bar?' Tim replied: 'It must be a fairy tale, for I don't remember the beer being so strong as all that!'
Although his first-class playing days were over, he picked up his career with non-league Ebbw Vale (as player-manager) and, subsequently the Kentish side Tunbridge Wells Rovers – there he'd play alongside his son, Arthur. He was rumoured to be eyeing coaching opportunities in Spain but, in 1921, joined Maidstone United as manager (Arthur would join him there, and they'd play a few matches together in the reserve side). He also found time to coach the works football team of London's famous Savoy Hotel, competing in the London League.
In March 1925, Dutch minnows SC Enschede, located close to the German border, placed an ad in Athletic News, inviting applications for the post of trainer. Tim was the successful candidate. He led his new charges to the regional title, and they entered the national section of the season (which brought together the winners of the regional leagues). Tim's well-drilled side saw off Dutch giants Feyenoord home and away, and remained unbeaten in eight matches, to be crowned national champions of 1926. This high point was never to be repeated by the club, years later Enschede would be one of several teams merging to form FC Twente.
Although still known as a joker, there was a more serious side to the man, as evidenced by this snippet from Athletic News: 'With all his light heart, Tim is serious enough to care for our soldiers' graves in Holland.'
It seems that Tim returned to London in the summer of 1927. Here, living in a terraced street in Fulham, he dropped out of football – the ripples from his exploits overseas having failed to reach England. Out of the limelight he worked as a general labourer. In March 1939, The People's columnist, 'Chatterbox' bumped into Tim and described him as: 'The picture of health. Clear eyed and distinguished; only the greying hair betrays the passing years.'
When Everton travelled to Roker Park at Easter time 1939, Tim was there to watch his two former clubs. After the final whistle he went down to the changing rooms and introduced himself to Joe Mercer and they chatted about Joe's father.
Nineteen months later Tim died in that accident in Kensington. He left his wife and two sons – plus Tim's teenage niece, Irene Loweth, who they had adopted. A popular girl who enjoyed dancing, Irene worked at a firm of dyers and cleaners. Tragically, she was killed by German bombing in November 1943.
If any descendants of Tim read this article, I would appreciate it if they could make contact via ToffeeWeb or rsneston@gmail.com
Further reading: Fighting for Football – From Woolwich Arsenal to the Western Front: The Story of Football's First Rebel by George Myerson
Other credits:
George Myerson
bluecorrespondent.co.uk (Billy Smith)
enfa.co.uk
Find My Past
Athletic News
Daily News (London)
Cricket and Football Field
Derby Telegraph
Liverpool Echo
The Globe
The Fulham Chronicle
The People (Sporting Chatter, March 1939)
Sporting Chatter – The Chatterbox
thearsenalhistory.com
englandfootballonline.com

Follow @robsawyer70
Share article:
Reader Comments (9)
Note: the following content is not moderated or vetted by the site owners at the time of submission. Comments are the responsibility of the poster. Disclaimer
Dennis Stevens
1
Posted 02/02/2022 at 11:29:55
A fascinating read, as always, Rob. Thanks for sharing these tales of yesteryear with us all, & for your efforts in carrying out all the research required in the first place.
John McFarlane Snr
3
Posted 02/02/2022 at 11:46:56
Hi Rob,
I can't claim to be your number one fan but as someone who revels in the history of Everton and their players I always read your articles and the pleasure you provide. Well done, once again.
Peter Mills
4
Posted 02/02/2022 at 15:20:45
I find your articles very interesting, Rob. The research must be extremely time-consuming. Well done to you and all the Everton FC Heritage Society.

I suppose some of this stuff seems like ancient history to many people, but our fathers and grandfathers will have seen it take place. Which made me think what a depth of knowledge there is on this site, where some of the correspondents have supported Everton FC for half its existence.
Jack Convery
5
Posted 02/02/2022 at 15:35:17
Rob, that was an excellent piece, on a real character, who wore the Royal Blue. Thanks for all your effort and time that has gone into this article. It was a real pleasure to read.
Jim Lloyd
7
Posted 03/02/2022 at 09:26:39
What an excellent, well researched post! Bringing even more of our history alive, thanks Rob.
A great story of a great man, a great Evertonian and a great trade unionist!
John Keating
8
Posted 04/02/2022 at 20:46:08
Brilliant Rob
Another fantastic read
Gerry Morrison
9
Posted 07/02/2022 at 20:25:13
What a great read, one again. Thanks for that, Rob.
Neil Copeland
10
Posted 07/02/2022 at 20:52:27
Really enjoyed that Rob, thanks for all your hard work in putting it together.
Dale Self
11
Posted 08/02/2022 at 00:31:43
Yes, Rob, take a bow for getting me to read that. I'm not a history buff but that brutal beginning kept me in it. The pictures are very compelling, nice touch.
---
Add Your Comments
In order to post a comment, you need to be logged in as a registered user of the site.
Or Sign up as a ToffeeWeb Member — it's free, takes just a few minutes and will allow you to post your comments on articles and Talking Points submissions across the site.
---
© ToffeeWeb