Report
Goodison taps Everton DNA to drag Blues to stirring win over Arsenal
Lyndon Lloyd

06/12/2021
130

comments | Jump to last
Everton 2 - 1 Arsenal
This was massive.
Not since the doldrums of the 1990s and two scrapes with relegation has such a sense of impending doom surrounded this football club, as an air of rancour and mutiny threatened to compound a run of daunting December fixtures and leave the Blues in the bottom three of the Premier League by Christmas.
During the darkest days under Roberto Martinez, Ronald Koeman or Marco Silva, there always felt like a way out for Everton— either through the appointment of a new manager or dipping into the transfer market — but at times this past week it has has felt as though the club is running out of options and trapped, with an unpopular manager, precious little wiggle room for player acquisitions, and in danger of going into a tailspin from which it might not recover.
Depending on your view of the former Director of Football, Marcel Brands's departure yesterday might have removed one of the voices of reason — however futile — countering Farhad Moshiri's wildest impulses. Certainly the news only strengthened the resolve of a group of online campaigners planning the strongest protests against the hierarchy in a decade during tonight's game; a 27th-minute walkout that seemed to gather like a pall of uncertainty as the first-half progressed.
Throw in Lucas Digne's mysterious absence from the match day squad, a possible signal of discord at Finch Farm, Yerry Mina's aborted comeback from injury after just half an hour's play, and two disallowed goals for razor-thin offside decisions after Arsenal had taken the lead and it really felt as though the Blues had fallen into that cycle that appears to afflict struggling teams where everything starts conspiring against you.
What unfolded thereafter, once André Gomes had entered the fray with 25 minutes to go to provide the catalyst that fired the Toffees to a pulsating victory, was pure adrenaline; pure Everton. Not so much the overall performance — the hosts produced very little in the first half and had their understandable share of sloppy moments given how much the team has struggled of late and the Gunners might have scored twice themselves in the final 10 minutes — but all that is magical about Goodison Park at its most raucous; seething with a sense of injustice, the "bear pit" driving Everton forward and the team battling out a win by sheer force of the collective will of almost everyone in the building.
Richarlison was absolutely magnificent, putting in one of his most important displays in a Royal Blue Jersey to date as he literally ran himself to the ground for the cause. He had the ball in the net three times on the night but only one counted — the third and most cathartic, a handsome reward for ceaseless endeavour and guts.
Gomes shrugged off some rust in his early exchanges to add a crucially penetrative force in midfield playing a role in both goals. And Demarai Gray underlined his vastly underrated talent with two sublime strikes — one that came back off the bar to fall invitingly for his strike partner 10 minutes from and the other that rocketed off his boot and off the inside of Aaron Ramsdale's post in the third minute of stoppage time with the Arsenal keeper only able to watch as the destination of the points switched from red to Blue.
With Salomon Rondon ruled out with a hamstring injury, Benitez had to make the anticipated adjustments up front where Gray and Andros Townsend rotated in out of playing a support role for Richarlison but the surprise absentee in the starting XI was Digne.
Article continues below video content
That meant Ben Godfrey moving over to left-back as Mina made his much-anticipated return at centre-half following a number of matches out with a hamstring problem. Unfortunately, the Colombian lasted just half an hour before he was forced off with an apparent calf strain and was replaced by Mason Holgate who went on to have a fine game in his stead.
Up to that point, Arsenal, who had travelled to Merseyside in good form and had designs on moving back into the top five, had played the more impressive passing football without really threatening Jordan Pickford's goal. Instead, it was Doucouré who came closest to scoring in regulation time in the first half after Gray had intercepted a poor pass out from the back by Gabriel. The Frenchman was found in the box by Richarlison but could only drag his shot wide while the industrious Anthony Gordon had a shot blocked shortly afterwards.
Gray then flashed a dangerous ball across the face of Ramsdale's goal just as the clock was about to tick to that 27th-minute mark and a healthy smattering of disillusioned Blues left their seats on cue. While the demonstration might not have been as far-reaching as the organisers probably hoped – its main target, Moshiri ducked the occasion altogether (although, as noted in the comments below, perhaps he was adhering to the new Covid quarantine rules) – there had been plenty of media discussion of it in the build-up and it largely achieved its goal in that respect. On the night, however, it sparked the Grand Old Lady into its loudest cheers thus far as those who remained behind used the moment to show support for the players.
The game itself eventually came alive, though, just before the interval. Richarlison was fouled outside the box in the 44th minute and he thought he had put the Blues ahead with a typically excellent header off Townsend's free-kick. Sadly for him, the VAR adjudged him to have been fractionally behind the last man has he leaned forward to make his run to meet the ball.
And two minutes later as the half ticked through a couple of minutes of stoppage time, Everton were undone at the back as Kieran Tierney got beyond Seamus Coleman to centre for the untracked Martin Ødegaard to side-foot home from close range.
Everton were undaunted, however, and they had the ball in the net for a second time shortly before an hour's play had elapsed. Allan and played the ball to Doucouré who in turn picked out Richarlison to drill it past Ramsdale and wheel away in vindication but once again VAR returned an even more agonisingly hairline verdict.
With Goodison burning with a sense of being hard done-by, though, and Benitez playing his trump card in Gomes off the bench, the Blues dug deep and turned the match on its head in thrilling fashion. It was "Everton., that" in all the right ways.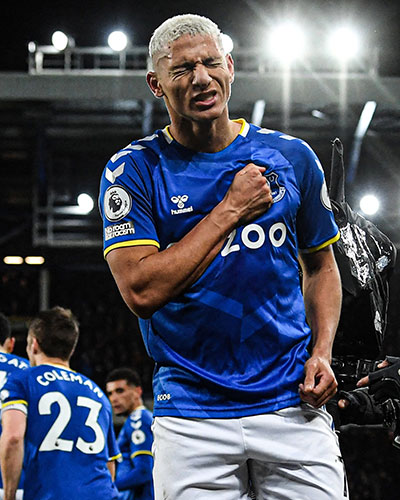 A picture of catharsis. Richarlison finally got his rewards when his third goal of the evening finally counted
The Portuguese's 79th-minute shot rebounded off a defender to Gray just outside the box and he attempted a delicious curling shot with his instep that cannoned back off the face of the crossbar to the waiting Richarlison who looped it deftly over the stranded goalkeeper to finally get his goal.
Yet Mikel Arteta's own sub, Eddie Nketiah, came within inches of killing those celebrations dead just four minutes later at the other end when he headed Bakayo Saka's cross from the right off the post from a couple of yards out. And it took two excellent defensive blocks from first Godfrey and then Coleman in the closing stages to deny Ødegaard a winner before Gray took centre stage.
Gomes danced through the centre-circle before playing Gray in, who used Doucouré's run down the outside as a decoy, took two touches outside the Gunners' penalty area before smashing the ball in off the far post to send the home crowd into delirium.
There was still time as Everton kept coming forward for substitute Alex Iwobi to put one over his old club with a third but Ramsdale foiled him brilliantly with a one-handed save. It was just as well, then, that when Pierre-Emerick Aubameyang was served up a gilt-edged chance in the final minute of injury time back down in front of the Park End, the Gunners' top scorer scuffed his shot harmlessly across goal before referee Mike Dean finally blew the full-time whistle.
If, when the history of Everton's 2021-22 season is written, the events of the past week, which saw Merseyside derby humiliation and the departure of one of the club's supposedly key figures, are seen as the nadir of the campaign then the importance of this stirring match in providing a turning point should not be understated.
Where the players' effort and desire has been criticised, perhaps harshly, of late, by the end there were towering displays all over the pitch. Godfrey toed the fine line between barely controlled aggression and refereeing censure and survived a VAR check for serious foul play when he caught Takehiro Tomiyasu in the face with a wayward boot.
Allan largely atoned for leaving Ødegaard open to score the opener with a tireless and purposeful display. Michael Keane showed leadership, resilience and some impressive distribution further up the pitch. And Anthony Gordon grafted ceaselessly for 87 minutes doing vital defensive work up and down either flank to help disrupt Arsenal's flow.
It's just one game and three difficult challenges await before Christmas but this should serve as the blueprint for the rest of the season and irrefutable evidence that this team is far better than it had shown since its previous win way back in September. It will hopefully have illustrated for Benitez the huge benefits of playing a midfield three, both in terms of defensive cover and attacking versatility. And it must be the platform from which the Spaniard can rebuild confidence and an identity in the squad he inherited over the summer.
In the meantime, Evertonians will have another of those memorable Goodison nights to savour and some faith instilled that this season might not end in the disaster some feared during that horrible winless run.

Follow @EFCLyndon
Share article:
---
Reader Comments (130)
Note: the following content is not moderated or vetted by the site owners at the time of submission. Comments are the responsibility of the poster. Disclaimer
Paul Niklas
1
Posted 07/12/2021 at 07:32:35
I hadn't realised the 27 on 27 meant only 27 left the ground. Well done.
The alternative support showed how it's done by a wonderful sound of clapping and cheering. Proud of my fellow supporters.
David Bromwell
2
Posted 07/12/2021 at 08:30:57
What a great night. But for me, three things of note: the manager is not unpopular with everyone, Lyndon:
1) Was it not he who signed Gray?
2) Intensity is key to Everton performances until and "when" we can improve on quality.
3) And finally, Richarlison was truly magnificent.
John Boon
3
Posted 07/12/2021 at 08:36:48
Great report and a far, far better display than anything we have seen of late. Richarlison and Gray were outstanding, but the entire team showed drive and purpose.
It would be ridiculous to say we are now the finished product, but we needed a win so badly and finally brought the dedicated fans to be the much-needed extra man.
I know the camera flashed to Bill Kenwright quite often. I am probably going to get criticism for saying this, but I saw him for what he is: "A genuine Everton supporter". He is blamed more than is ever fair for the doldrums of the past 20+ years. He is an easy target and fans have needed someone to blame. He is not beyond criticism and he may have made mistakes but I think the bully boys have gone overboard.
Win or lose, being an Evertonian has been one of the major pleasures of my life. Games like Monday's give us at least a glimmer of hope for a brighter future. All supporters need to continue to get behind the team and stop looking for people to blame. It is a negative way to follow a team and only leads to frustration. Just try to take it one game at a time.
David Pearl
4
Posted 07/12/2021 at 08:57:53
John, agreed!
Excellent report Lyndon.
Not seen Goodison rocking like that for a while, l loved it.
Wonderful to see Gomes again, hope he can stay fit. Reports we tried to sell him and Mina pre season but both offer something to this squad. The only thing that bugged me was Mina going off. Get him fit.
Onwards and upwards, we all needed that. A night that got us all on side again. Something to build on.
James Fletcher
5
Posted 07/12/2021 at 09:23:23
Apparently, the Mina injury was his calf… so not a recurrence. Hopefully that means it's not as serious as it might have been.
Kevin Prytherch
6
Posted 07/12/2021 at 09:49:55
Let's hope Rafa learns from this. Gomes and Allan function far better in a 3 man midfield and are both good players when played this way.
Although we won, it was alarming how much space Odegaard constantly had by simply standing between the midfield and defence. On another day, or against another team, we would have been severely punished.
Obviously Richarlison and Gray were excellent, but I thought that Anthony Gordon is showing more and more maturity. He was constantly up and down the pitch and isn't afraid of putting a tackle in. I think he'll be a vital part of the squad in years to come.
Brian Harrison
7
Posted 07/12/2021 at 10:13:34
The rumour swirling round Goodison before the game was that Digne and some other senior players had approached Benitez and said they weren't happy with his style of football. So was that the reason that Benitez left Digne out of the squad completely, despite selecting him to start most games? I think even Digne will admit that he hasn't been at his best this season, but leaving him out of the squad gives credibility to the rumour.
Everton started the game well and pressed high up the pitch and were by far the better side but cruel justice had been done when Richarlison scored only for VAR to rule it out and then, just to rub salt in the wounds, Arsenal scored right on half-time, much against the run of play.
Just a mention over the walkout on 27 minutes, it was hard to judge just how many walked out but the majority stayed in their seats and also used the 27th minute to be even more supportive, although everybody got behind the team from the first whistle.
I think when Mina went off after 30 minutes, I feared the worst. Holgate came in and, by and large, played well for the remainder of the game, but the star of the show in defence was Michael Keane – absolutely outstanding.
Arsenal seemed happy with their 1-goal lead and really didn't cause us too many problems. Everton again were the team looking most likely to score – and they did: again, it was Richarlison, and again, VAR over-ruled the goal.
Now I can think of many Everton sides who would have thrown the towel in, but not last night. Then Benitez takes off Townsend and brings on Gomes and goes to a midfield 3, something a lot of us have been asking for over the last few weeks.
Maybe this is what the players had asked for at their rumoured meeting with him. But, whatever the reason, it was the right decision; it freed up Doucouré to play 15 yards further up field and play to his strengths which is running at teams back 4.
Then, at last, the goal we had deserved came, a shot from Gray was touched onto the bar by Ramsdale and Richarlison made no mistake heading in the rebound. Goodison erupted as only Goodison can on night games.
I have to be honest, with the way the game had gone, having chalked off 2 of our goals, I would have been happy with a draw. But the players quite rightly wanted the win. And what a winner it was Demarai Gray unleashed an unstoppable shot that clipped the inside of the post on the way into the back of the net. Cue Goodison going apoplectic, the atmosphere was electric, best I have seen it for a while.
I think the players and fans deserve great credit for last night's performance, and none more so than Richarlison and Michael Keane, who were both outstanding, followed closely by some very good performances from their teammates. But that display from Richarlison took me back to watching Dave Hickson on one of his brilliant swashbuckling performances.
When I got home, I switched on Sky just in time to hear Carragher say that Benitez seems to thrive on causing unrest at clubs, and he should know. I think this victory was despite the despicable one and not because of him. This was players and fans coming together.
The delight on Seamus Coleman's face at the end said everything, you could see how pleased he was for his team-mates and the fans that we had got the victory we definitely deserved.
Finally, we were told Moshiri would be at last night's game; from my seat in Upper Bullens, I couldn't see, but I am reliably informed that he wasn't there, I wonder why...?
John Raftery
8
Posted 07/12/2021 at 10:28:53
The fan groups represent themselves and their own views. Only a very small minority of supporters participated in the walk-out. Indeed, without the advance publicity, I doubt anyone else would have noticed it.
Once he settled into the game, Gomes gave a very good account of himself. His composure and passing ability were just what was required in the final stages. A 20-minute cameo, similar to those he gave in the wins at Huddersfield and Brighton earlier in the season, does not however mean he can do it for 90 minutes. In the short term, at least using him sparingly as a second-half substitute may be the best option.
I was impressed with Anthony Gordon's ability in the air last night, especially in the second half. He got his head to several long balls lofted in his direction, enabling the team to switch the point of attack. We await his first goal but he is showing evidence of improvement.
It was pleasing also to see Gray back on top form although I thought he was one of our better players in the derby. The performances of individuals, notably Richarlison, Doucouré and Gray demonstrated yet again teams can only be successful when most of their best players are on the pitch.
Now that we have them back together, hopefully they will stay fit and available. With Calvert-Lewin to return at the end of the month, we can perhaps look forward to a few more victories in the coming months.
Barry Rathbone
9
Posted 07/12/2021 at 10:54:57
Brian Harrison 7
Dropping a player because he voiced possible squad opinion would be the greatest misjudgement since Custer stood atop the Little Bighorn saying "Injuns won't come up here".
Perceived victimisation would be a sure way of causing total meltdown – take it with a pinch of salt, mate.
Ray Robinson
10
Posted 07/12/2021 at 10:56:41
As someone who defends the right of fans to protest, I believe that the time for it is before or after the match. If the majority of the crowd had left on 27 minutes last night instead of a handful, how would the bear-pit atmosphere have been created that spurred the lads onto victory?
I agree, Richarlison was immense. Gray and Doucouré superb... and pleased to see others acknowledge how well Keane played, often stepping out into midfield.
Have to disagree on Gordon who I thought was very average and who rarely got involved in the first half and who struggled to cope with the tracking back and marking responsibilities, sometimes taking an earful from Coleman for his lack of awareness.
But let's not quibble. A bear-pit atmosphere, an incredible late winner. What's not to savour?
Alan McMillan
11
Posted 07/12/2021 at 10:57:43
Fair play to Richarlison for not sulking and feeling sorry for himself after having those two goals chalked off... the "chat" he had on self-discipline seems to have worked – delighted for him.
And I'm sure, once Anthony Gordon scores his first, we will see him flourish.
Jerome Shields
12
Posted 07/12/2021 at 11:03:16
This game showed that Everton, under the right management, have the capability that never made them a regelation candidate.
Dave Abrahams
13
Posted 07/12/2021 at 11:06:50
Brian (7),
"I think this victory was despite the despicable one and not because of him" – Who is the despicable one you are referring to, Brian?
I never took part in the demonstration even though I believed it be about Kenwright not Mr Moshiri.
Niall McIlhone
14
Posted 07/12/2021 at 11:13:12
Excellent match analysis, Lyndon – thanks – and the point about the midfield three is, to me, the salient one. With a fit and in-form Gomes, alongside Allan and Doucouré, we seem to have a basis upon which central midfield can manage the transition, on counter-attack, which is this manager's preferred style.
This, in turn, allows a spearhead of Richarlison, Gray, Townsend and Gordon, with options for interchange of positions. All four forward players also offer defensive (gegenpress) qualities too.
We will see how Rafa sets us up at Palace, but if – as it appears – Digne is out of favour, would Delph be a workable stop-gap at left-back? He played there for Man City in their Premier League winning seasons, and he has the skill set to be effective, although purely in the defensive role, as he would offer nothing going forward.
Anyway, it's damn cold where I live, but my heart has been warmed this morning by seeing Goodison truly rocking again, and with our fans and the team being back "on the same page". Perhaps we needed that horror show in the derby game – and its aftermath – to re-set the agenda... after all, catharsis is essential to the drama, as our Chairman will know!
Rick Tarleton
15
Posted 07/12/2021 at 11:25:58
It was great to feel uplifted by an Everton performance. It may not have been pure class, but it showed heart and guts to come back after going behind especially after the two very tight VAR decisions.
Richarlison looked like a Brazilian international and was the inspirational figure who led the second-half effort. Allan too was much more positive and the defence was a lot better, though we were fortunate on a couple of occasions.
Let us hope we can add a bit of poise to the effort and let's get three more points against a faltering Palace on Sunday.
Jay Wood
[BRZ]
16
Posted 07/12/2021 at 11:38:00
Richarlison was imperious last night. Gray – as he has done all season – is someone who can produce a touch of magic in the blink of an eye which completely turns a game.
But I'm also pleased that Lyndon acknowledges in his report how immense Michael Keane was also, something that was not acknowledged by others last night until a handful of posters did so this morning.
I understand the appeal Ben Godfrey has for some. A blood-and-thunder recovery defender whose fortes are his speed and strength. He isn't a ball-playing defender. In that regard, he appears to me more Phil Jones than Rio Ferdinand.
Keane by contrast was near immaculate in his defensive duties and time and again stepped forward into midfield, turning Arsenal back, with an accurate array of ground and long aerial passes.
There is a reason he is the only player to play every minute of our Premier League season to date.
Jacques Sandtonian
17
Posted 07/12/2021 at 11:40:32
Lovely report, summed up my experience of the game exactly. We've seen this Everton against Tottenham (without producing a goal), Brentford in the second half (without producing a goal) and Liverpool for about half an hour either side of half time.
I was impressed with the control in Everton's pressing game. Of course Arsenal were very poor, we should bear that in mind, but whether it's Benitez's coaching or the intelligence of the players on the pitch, the timing and co-ordination of our press has been impressive, even in the disappointing fixtures of the past few weeks.
The critical problems at the back have been the ease with which Coleman's lack of pace is exposed and the erratic form of Michael Keane. But if we keep working to this template we should pick up more points before too long.
Brent Stephens
18
Posted 07/12/2021 at 11:47:19
Jay #16, yes Michael Keane was very good, defensively and going forward (especially impressed with that).
A shout out to Allan as well. I know he can sometimes be too easily left standing by an opponent, but his work-rate and will to never say die are just immense.
In those last 15 minutes or so, I was taken by the number of times he was still busting a gut to get back to Keane or Holgate, to take the ball and then push forward with it. The car might struggle to get up to speed at times but the engine just goes on and on.
Robert Tressell
19
Posted 07/12/2021 at 11:47:33
Jay # 16, good to acknowledge Keane's contribution. Like quite a few of our players, he suffers from not being played alongside a suitable partner or blend of players. Keane + Zouma worked, especially with Gueye ahead of them. Nothing else has quite worked since.
We need to work on getting those partnerships right across the pitch to make us more than the sum of our parts.
Dave Abrahams
20
Posted 07/12/2021 at 11:54:16
Jay (16), Michael Keane was near immaculate last night.
The quicker you get over here to watch Michael together with me the better, only speaking to you when he does something wrong, I'll be speaking throughout the game!!
Immaculate !! nearly beats another poster on here who had him down as flawless, not once but twice last season, unbelievable.
Jay Wood
[BRZ]
21
Posted 07/12/2021 at 12:03:09
Dave, you give me an earache about Michael Keane in the virtual world of TW!
I'd have a full-blown migraine and brain hemorrhage listening to you at t'game!
Just seen we doubled Arsenal last night with a good 2-0 win for the U-23s. We remain mid-table and Arsenal 3rd, so decent.
Sweet.
Dave Abrahams
22
Posted 07/12/2021 at 12:08:26
Jay (21)
As I point out the many mistakes of Michael, your migraine will clear away as you see for yourself how many he makes.
To be honest I think he will be gone before you get over here to watch him together.
Rob Halligan
23
Posted 07/12/2021 at 12:25:34
Brian # 7. I think the reason Moshiri did not attend was due to the new enforced quarantine rules. I think it would be him returning to Monaco where he would have been required to quarantine.
Eddie Dunn
24
Posted 07/12/2021 at 12:53:45
My only quibble is that I thought Alla was poor. Too slow in everything he did. Caught ball watching when Odergaard came through to score and simply too slow to cover in a two. He makes Doucoure ineffective as the Frenchman can't get forward when leaving gaps that Allan can't fill. He has to play in a three. I know he has a good football brain, but so do I, but I'm 61.

Mark Stanley
25
Posted 07/12/2021 at 12:58:02
What a massive game that was for everyone last night, manager, players and supporters. And as I've said before these games hang on the most precarious of balances. If they'd buried their last two chances how different it might have been for all. But at the same time if Iwobi had more skill it could have been 3-1. Likewise against ManUre with Gordon in the last minute, Townsend high boot against Brentford (who are shit) and a Seamus error in the Derby, I could go on and people say it's swings and roundabouts in the season, but we seem to get more swings than roundabouts. I suppose that's what it is to be an Evertonian. I'm going to revel in a brilliant win this week and hope we tear Palace apart on Sunday as teams need to pay for our lack of roundabouts.
I agree that Richie was excellent last night along with Keane and Gray, and the others weren't far behind.
However... I'm sorry, but for me Gordon just isn't good enough. Slack passing, not composed in front of goal, struggles to tackle and his tracking back is half hearted. With Seamus in the autumn of his playing years he needs protection and he's not getting it. All the above applies to Iwobi too. We need a better right side as teams are going to target this, take note of Zaha on Sunday.
Kevin Prytherch
26
Posted 07/12/2021 at 13:04:03
Jay 16 - there are many reasons why Keane has played every minute. Mina has been injured half of the season, Godfrey was injured, then suffering from long covid and has also covered for the full backs and Holgate has been in and out and suspended.
Keane was quality last night, but games like that play into his hands. He is one of the best in the league at defending the edge of his own box. However, let's not get fooled that he will do equally as well when we play higher up the pitch. He won't.
We need to realise who is best suited to the game in which we try to play and play those players accordingly. Keane is a vital member of the squad, barring injuries, he should just be a squad player though.
Barry Hesketh
27
Posted 07/12/2021 at 13:15:53
Having watched the re-run of last night's match, isn't it strange how different it seems when compared to actually being in the stadium. The first-half quality-wise from both sides was far worse than I'd thought.
The Arsenal chances towards the end of the game were also far more clear-cut than I'd thought at the time, and the lad who hit the post should really have buried it and things would have looked very different this morning had he done so.
I was annoyed by Iwobi's missed chance at the game, but hadn't realised how deep he'd come from to get on the end of the pass from Richarlison, although I still think he should have buried it, I understand how having made such a long run, he wasn't possibly as composed as he might have liked to have been.
On another night, Godfrey could have collected three yellow cards and a red (I know that's not possible, but you know what I mean), but thankfully, his rash challenges weren't punished to the fullest extent of the law.
Last night was both an 'unlucky' and 'lucky' night which ultimately gave us all what we needed the most a victory and the three points.
It's a start and will do wonders for the confidence of the players and possibly the manager too, but the attitude of last night has to be maintained and hopefully, the team can use it as a catalyst to improve performances in the coming months.
Last night doesn't mean that the hierarchy should ignore the dissatisfaction that is felt by many Evertonians or the need for changes in how the club is run, but it proves that only the players on the pitch can alter the mood at the club for good or ill, their performances are far more important than what goes on in the boardroom and if Benitez can ensure that his players give everything in every game, the 'revolution' will happen on the pitch and not on the terraces.

Sam Hoare
28
Posted 07/12/2021 at 13:50:10
It will be interesting to see how we build upon last night. It was a great result but as ever the margins were razor thin and if Nketiah had buried that header from 3 yards out (as he should have) the mood on here would be very, very different.
I'm looking forward to a front 3 of Richarlison, DCL and Gray with Doucoure rampaging behind them. Though if Benitez doesn't fancy Digne we need an alternative who can dribble and cross, which Godfrey cannot.
Graham Mockford
29
Posted 07/12/2021 at 14:33:35
I've always suspected Ben Godfrey is a better player either at full back or in a 3. He reminds me of Kyle Walker. Maybe he'll mature in to a traditional centre half but I don't think his natural instincts are so.
The tackle early doors last night set the tone for a much more aggressive display than we have seen of late.
Jay Wood
[BRZ]
30
Posted 07/12/2021 at 14:52:56
Kevin, this on Michael Keane:
'but games like [last night] play into his hands. He is one of the best in the league at defending the edge of his own box.'
Ehrm...but that wasn't how the game played out, was it? Our game was not a deep-lying 'back-to-the-walls' one.
We mostly defended with a high line, near and beyond the half way line. And the centre back who primarily stepped forward with the ball, beyond the Arsenal press, into their half, hitting good ground passes forward and accurate long diagonal balls was...Michael Keane.
No problem Kevin. I'm used to the stereotyping you and others make of Michael, which often bears no relation on how the game actually played out or how he performed.
Charles Brewer
31
Posted 07/12/2021 at 15:15:56
Having watched his display last night, the attitude shown and the willingness to go anywhere on the pitch and get stuck in - not to mention the narky aspect to his game, is there any good reason why Richarlison should not be promoted to captain?
Not only would he gain authority both by personality and example, but he might be just the kind of character to get the team buzzing again. He might be the Roy Keane leader (less the filthy play) we've needed for so long.
Poor Seamus will never fail to give everything, but he is sadly past it and is now the main focus for opposition teams; I'd rather seem him put out to grass rather than be remembered as someone who played too long and made too many errors in his final season(s).
Eddie Dunn
32
Posted 07/12/2021 at 15:22:27
Jay- that's how I saw Keane too. His distribution has been very good of late and he seems happier near halfway than last season. Godfrey seems to have recovered his pace. A crazy game for him, he did set the tone but could easily have been in the shower.
Jay Wood
[BRZ]
33
Posted 07/12/2021 at 15:47:25
The data backs me up, Eddie.
The following is a really good site to get a collective and individual overview of who did what in the game.
Scroll down to the image of the footy field where you can then click on the image of any player which opens a window showing every metric of every play each made in the game.
Michael Keane had 58 total touches in the game, 51 of those were passes. 37 of those passes found their man for a 73% pass success rate.
Tellingly, 16 of his passes were in our defensive half. The majority - 21 - of his passes were in the Arsenal half. No other Everton player on the night got close to Michael's team high passes made in the opposition half. The next best was Richy with 16, Doucoure 15, Gray 11. Townsend 7.
How could Michael achieve those numbers if, as Kevin implies, he sat and defended deep the entire game?
Brent Stephens
34
Posted 07/12/2021 at 15:50:20
Jay, those stats confirm my impression of what I saw last night.
James Fletcher
35
Posted 07/12/2021 at 15:50:22
Continue to be impressed by Gordon - also nice to have someone else up field who wins a lot of headers.
James Newcombe
36
Posted 07/12/2021 at 15:56:44
It was a surreal game with the two disallowed goals, the late screaming winner, and how close Nketiah* and Aubameyang came to spoiling the party! Let's hope we can build on the performance, and somehow get some more quality in, in the new year.
*Out of contract in the summer. 16 in 17 for England U-21s. I can't say i've seen much of him, but dreadful miss aside, I wonder if he would be worth a punt?
Dave Abrahams
37
Posted 07/12/2021 at 16:12:42
Jay (33) stats, forget stats, fifty one passes, who to? Did it tell you that, how many went back to Pickford, back across the pitch to Mina, simple passes to Godfrey, two wasted passes to Gomes when he was marked by two men, one of those from a quick free kick that didn't need to be taken so quickly, one was a long pass in the first half under no pressure that went straight to the Arsenal goalkeeper, one was a long diagonal pass to Townsend in the first half that had Townsend leaping on the touch line to keep it in play.
Forget the stats Jay, if you could back to whenKeane was at Burnley would you still buy him for the money we paid for him, no forget about the money we paid for him, would you still sign him?
Jay Harris
38
Posted 07/12/2021 at 16:16:34
Jay,
I don't often disagree with you but Michael Keane is a liability IMO.
He did well last night going forward and has a good range of passing but look at where he was for the Arsenal goal, Ill give you a clue nowhere. He seems to lose all sense of concentration when the ball comes in the box.
A good CB would have made sure everyone was marked but he looked like a little boy lost which he does on far too many occasions.
Anyway lets not spoil a great team performance with dwelling on individuals. I thought the team were absolutely together and well driven on by the fans except for the 27 who left on 27 minutes.
Tom Bowers
39
Posted 07/12/2021 at 16:22:54
Sometimes you need a dose of reality to wake you out of your malaise.
Everton came out on a mission and it was obvious from the start there was more intensity than the previous 8 games.
Despite some decisions going against them (and one for them, the Godfrey incident) and losing Mina they still had to show some grit after going behind at a very vital time and we were all pleased to see the effort.
However with 11 minutes to go they were still behind and it looked like it was going to be yet another disappointing result.
Up pops our secret weapon and deal of the century Demarai Gray and you would have thought they had just won the cup although there was a heart stopping moment at the death when Arsenal should have equalized.
Sometimes in a bad run you also have bad luck but it was our turn to get some good luck and lets all hope now we see some better results into the new year.
Kevin Prytherch
40
Posted 07/12/2021 at 16:29:32
Jay - I must have been watching a different game to you, because when Arsenal were in possession we frequently dropped back and started to press them when they entered our half. This was a massive improvement on the Man City game where we didn't press until they were 20 yards in our half, but nevertheless it wasn't a high press. The defence frequently took up a position that was 10 yards outside our area.
When we had the ball we were far higher up the pitch, hence the large number of passes in the Arsenal half, and Keane did very well bringing the ball out - which is another of his strengths, he is also a very good long range passer. But this doesn't mean that we defended high up the pitch, or in the Arsenal half as you suggest, it simply means that we pushed up when we had the ball. The fact that we played a more direct style and only had 36% possession also gives an indication as to why he made more passes than more attacking players.
I'm not criticising Keane, like I said he is an excellent player at doing the job he does. But he shouldn't play against teams where we genuinely defend high up the pitch and leave space behind the defence. In these situations he is often either dallying too far behind the rest of the defence or is exposed by pace.
Mike Gaynes
41
Posted 07/12/2021 at 16:31:50
I finally got to see the replay of the entire game late last night, and I was so impressed (and so wrong before the game!) -- it was a passionate performance worthy of pride for all Blues. Gray has got to be the best comeback story in football this season.
Brian #7... "I think this victory was despite the despicable one and not because of him." Yeah, I know Rafa isn't popular, but if he takes the blame for games where the team's effort is weak, he deserves some credit for when they're strong, and there was some serious mental strength on display yesterday after Mina was injured and those two goals were chalked off. The team and the fans overcame the opponent, not the manager.
Jay #16, Keane has been amazingly consistent all season, and his numbers show it. He is 6th in the league in blocked shots, 2nd in interceptions, 5th in headed clearances, 7th in clearances and 11th in aerial battles won. He has made virtually no major mistakes. And he remains our best long passer while improving significantly on the shorter ones. He had a crossfield ball out to Gray yesterday that was downright majestic. He'll never be anybody's dream CB, but at this point he's doing a fine job and getting the absolute maximum out of his abilities.
As for Godfrey, I still have no idea how he stayed on the pitch. It was good to see his old aggression reasserted, but he'd better splash some cold water on his brain.

Mike Gaynes
42
Posted 07/12/2021 at 16:39:03
James #36, I haven't seen enough of him to have an opinion, but Arsenal fans certainly do. They think he's not good enough.
Jay Wood
[BRZ]
43
Posted 07/12/2021 at 16:39:41
Yep! An expected reaction.
There is statistical data (as per the Footmob website) and there is empirical data. That which you see with your own eyes.
Dave wishes to dismiss the statistical data which confirms the view that Michael Keane played the majority of his passes in the opposition half, thus disproving the claim that he sat deep defending the edge of his own penalty area for the bulk of the game. Dave further picks out the failed passes (one in four) rather than the successful passes (3 in 4). The failed quick free kick was Townsend, Dave. Not Michael.
Jay claims on empirical evidence that for the Arsenal goal Keane was 'nowhere'. You need to watch it again, Jay. Keane did his job. As Thierney's cross came on Martinelli ran to the near post. Keane was 100% right in tracking him.
Odengaard, the goalscorer, running late into the box was not his man. That responsibility rested more with Allan and Gray who were nearest to Odengaard but didn't track back, or even Godfrey who should have been more alert to the threat but didn't react quick enough.
Two unsurprising examples to me the lengths some will go to critique anything and everything about Michael Keane when there is clear and obvious evidence to suggest otherwise.
Brent Stephens
44
Posted 07/12/2021 at 16:46:12
With Arsenal's goal, Keane just had to go with Martinelli who started pretty much central in the penalty box. Holgate was five yards away on the edge of the six yard box so a ball over him would have found Martinelli unmarked. Godfrey was five yards away towards the other side of the six yard box so equally distant from Martinelli. Keane just had no choice but to go with Martinelli in my view. The problem was Odegard was allowed a free run into box and I think Allan or Gray should have gone with him.
Jay Wood
[BRZ]
45
Posted 07/12/2021 at 16:47:42
And sorry Kevin, but the line
'I must have been watching a different game to you'
is, I find, one of the most imbecilic cliches used on TW.
I know I watched Everton v Arsenal. Maybe you watched Rotherham v Stockport, two teams with similar shirts to the PL teams.
I'll give you the benefit of the doubt and presume you, like me, did indeed watch Everton v Arsenal. The difference being I watched it with my eyes. You watched it with your eyes.
Breaking news, Kevin. People can watch the same event and reach different conclusions.
Jay Harris
46
Posted 07/12/2021 at 16:55:16
Jay,
You are right people see things differently.
The way I saw it MF should have picked Odegard up but MK should have either shouted for cover or covered it himself. IMO he was nowhere near Martinelli nor Odegard and Godfrey was too late to the party too.
As I said lets just enjoy a momentous night for all blues.

Danny Broderick
47
Posted 07/12/2021 at 16:57:01
Some people just will not give certain players credit where it's due. Their bias prevents it. Michael Keane had a cracking game last night. I get that he's not the easiest on the eye, he's a bit awkward. But he never really misses a game, wins every header, his distribution has improved, and he never goes missing, unlike some.
There's a reason all of our recent managers have continued to pick him - you know what you will get from him, which is generally 7/10 every week. Mina is up and down and often injured. Holgate has dropped off dramatically. And Godfrey is still young so has ups and downs because he is still learning the game.
Keane is like Dave Watson, he just needs a decent consistent partner, preferably with a bit of pace.
Tony Abrahams
48
Posted 07/12/2021 at 16:58:22
Michael Keane, had a good game last night, and more importantly Everton won.
That was the most passive Arsenal team I've probably ever seen, and they were also very snide, constantly wasting time, with players feigning injury. I was glad about this, because once they opened up near the end, they carved Everton open a few times, missing two gilt edged chances, and also forcing two fantastic defensive blocks, from both Coleman and Godfrey, because when a team get the ball down and play forwards, Everton are just two easy to play against?
Dale Self
49
Posted 07/12/2021 at 17:01:27
I just want to applaud the nerve to go back and rehabilitate some players' reputations. The team dynamics overall have let some of them down even though a solid argument can be made that they haven't helped themselves with some less than steely responses. That is a place where the poster can take some shots and it shows some nerve to stand by some of these. Nice work Jay and others (Darren for Tom maybe on another level). Anyway, it is good to see and I hope they give enough for that to continue. Pssst, Gomes.
John Keating
50
Posted 07/12/2021 at 17:01:53
We still have a long long way to go.
The 3 points were everything last night, far more important than the performance, which overall wasn't great.
On another day Iwobi would have buried his chance but then again so would the lad who hit the post and Aubameyang in the last minute.
There was a noticeable difference when Gomes came on, Doucoure moved further forward and Allan sat deeper, where I think he's better.
Great result but the issues still remain. Now let's turn over Palace
Kieran Byrne
51
Posted 07/12/2021 at 17:02:49
Keane is/has been a good servant for Everton & his ball distribution has gotten better,but Martinez had Titus Bramble passing the ball at Wigan lol & he was one of the worst players ever.
Keane has 2-3 Bramble moments every game as his man marking& awareness of danger s terrible.
Mina is our best cb as he's played in big games & is more composed back there also he's a leader/talker.
That said I think we might have to bring in another cb in January as he's injured a lot.
Great atmosphere last night, the Goodison roar was back& Richy had his best game in ages & as for Gray what a bit of magic!!
Joe McMahon
52
Posted 07/12/2021 at 17:05:48
Tony @48, as bad as this Arsenal team were, IMO they are slightly better than the Arsenal 3 years ago that we face with Dunc in charge. They really were dreadful.
I loved the spirit the blues showed last night, and pulled together, we deserved the win. Several standout performances. Credit to the manager (he will have had easier weeks).
Dave Abrahams
53
Posted 07/12/2021 at 17:10:36
Jay (43) Keane made the quick free kick to Gomes, Townsend had been substituted for Gomes earlier in the game.
Going by your own stats Keane made over Twentyfive per cent poor passes a bit of a let down for someone who was nearly immaculate.
Would you still sign Michael Keane from Burnley if you could go back in time?
Danny (47), Keane is nothing like Dave Watson, Watson was a leader and a captain who made other players play, he led players same as Alan Stubbs, Watson has to be talked through a game, like Mina was talking to him and other defenders before he went off.
Stephen Vincent
54
Posted 07/12/2021 at 17:11:04
Got to love this site I've seen all manner of opinions and if you didn't know what we were talking about the casual visitor would think we were talking about half a dozen different games.
For the record I thought Michael Kean was really good last night and that Anthony Gordon did really well, switching wings when asked to and occupying the full back. When Iwobi came on, all of a sudden Tavares had the run of our right.
Jacques - what press, there wasn't one for the first 30 mins, after that it was sporadic and uncoordinated.
Brian - totally agree last night had nothing to do with Benitez. His team selection was pretty much Hobson's choice. Everyone understands that with the current personnel we can't just play with two in midfield, we get over run every week, Gomes should have been in from the start. Iwobi for Gordon - do me a favour. We had 32% possession at home to a poor Arsenal side. There is no way that the inspiration for last night's win came from Benitez it was 100% down to the players feeding off the crowds sense of injustice.
But isn't it great that we can have these diverse opinions?
Brent Stephens
55
Posted 07/12/2021 at 17:14:36
Stephen #54 "But isn't it great that we can have these diverse opinions?"
No!
Dave Abrahams
56
Posted 07/12/2021 at 17:18:47
At (53), that next to last line should have read: Keane has to be talked through a game, like Mina was talking to him and other defenders before he went off.
Jay Wood
[BRZ]
57
Posted 07/12/2021 at 17:20:12
Tony @ 48.
I thought Arsenal deserved everything they got last night. Even their goalscorer Odengaard lamented 'we started playing not to lose, rather than go and get the second goal.'
I understand Thierney is returning from injury, so maybe that was the reason Arteta replaced him with Tavares on 65 minutes. For me our former 'no-one-is-better' did us a favour, because from that point onwards there was little or no threat coming down that flank and we pinned them back more.
Arsenal were HORRIBLE in the last third of the game! Feigning injuries. Time wasting. Trying anything and everything to break up any rhythm of the game. It made our victory, in the face of a great deal of adversity, all the sweeter.
Once we equalised with a legitimate goal, as you say Tony they started playing forward again, but equally we were very dogged in our defensive work and aggressive in getting in and around their penalty area.
I saw nothing from Arteta in the period of negativity by Arsenal that he tried to cajole them to play differently. Not one of his substitutes worked for him either. Rafa's did.
Mike Gaynes
58
Posted 07/12/2021 at 17:24:07
Dave #53, you're right, the Watson comparison is off target in that Watson was a fiery leader and Keane is not, but they do play the same game in their focus on ballwinning over man-marking, sometimes to their detriment. And they carry the ball out of the back in a similar way.
I don't have to look retrospectively -- I didn't want us to sign Keane back then after watching Lukaku destroy him at Goodison in April 2017. But he has proven to be a solid, courageous competitor and a true Blue in my opinion, and I always admire players of character even if their abilities are somewhat limited.
Stephen Vincent
59
Posted 07/12/2021 at 17:28:56
Brent, so you just everyone to think like you. Well you must know that's not going to happen. Thank God.
Brian Hennessy
60
Posted 07/12/2021 at 17:30:08
Yes Arsenal were poor last night but I think we made them look poor. There was an intensity to our tackling and pressing last night that I haven't seen from us in a long while.
Long may it continue.
Joe McMahon
61
Posted 07/12/2021 at 17:30:21
Brian @7 Digne has been pretty woeful for a long time, we certainly didn't miss him. The comment from the awfull spitting pundit got me thinking, if Rafa Benitez is so duruptive why was he at that club for 6 years? The team seemed the most together last night I've seen for a long time.
Dale Self
62
Posted 07/12/2021 at 17:34:07
It's a windup Stephen. Outrageous Brent!
Oh yeah, that's not why I came here. Nice take Brian! I've read several stating it was dire but that was the game chosen. We pressed to disrupt their flow and it worked. Most of their possession was sterile and the moves forward typically ended with high risk passes over the top or ran out of options as the defensive rotations were effective. You could hear the coaches prompting the close downs and directing assignments. The focus was to block the channels and upon turnovers push up field along the sidelines to keep them from settling in our side and to give Duke some room to work it out of our end.
After the glow subsides we'll get into the choices between three in the middle and the 4-4-2. I like the 4-4-2 early on and then moving to the three in the middle later with the subs.
Brent Stephens
63
Posted 07/12/2021 at 17:34:07
Stephen my post at #55 was an attempt at humour! Too subtle maybe. Of course it's great we can all have opinions!
Danny Broderick
64
Posted 07/12/2021 at 17:39:43
Dave,
Michael Keane may not be a leader - he is very much a confidence player. But in terms of how they play, the comparison with Dave Watson stands up. Neither is the most mobile or quick on the turn. Both are good headers of the ball and solid defenders. Both need a bit of pace next to them. And both had a sticky start at Everton.
We saw the best of Watson with Ratcliffe and Unsworth next to him. And we have seen the best of Keane with Zouma next to him.
Watson was a 7/10 or 8/10 every week, Keane is similar. Not spectacular, but solid, he just needs a consistent partner.
Dale Self
65
Posted 07/12/2021 at 17:49:41
Stephen, I should have said a well intended windup.
Danny O'Neill
66
Posted 07/12/2021 at 17:54:04
I get told off by some for my comments on Keane, but I'll always credit him and any player when they play well.
He's showing consistency up agree, he needs to be led and talked through the game. I also agree that he would benefit from having a leader and consistent partner next to him, which he has rarely had.
Brent Stephens
67
Posted 07/12/2021 at 17:54:17
Dale, outrageous first post. You corrected that just in time.
Mike Gaynes
68
Posted 07/12/2021 at 18:01:32
Brent, that's what I've always admired about you. Your subtlety.
Dale Self
69
Posted 07/12/2021 at 18:03:34
Don't send Rob after me, please.
Dave Abrahams
70
Posted 07/12/2021 at 18:05:53
Mike (58) sorry Mike I just don't see Keane the same way as you do, I don't see him as a courageous competitor, not in a cowardly way, but he is just " too nice " and he can be definitely bullied out of a game, he never makes think that he could take control of our defence and inspire them to do better and as he is going on twenty nine I can't see him improving beyond what he is.
Danny O'Neill
71
Posted 07/12/2021 at 18:12:06
That's a good summary of Keane, Dave @70. A good aerial and defender, just placid if not led. And at 28, our oldest therefore technically most experienced, centre-back.
Dave Abrahams
72
Posted 07/12/2021 at 18:16:30
Danny (64) I didn't think Watson was particularly slow but he was definitely quicker than Keane, more solid in his tackling and although not as tall as Michael he left his mark on forwards when he went into heading duals, anywhere on the field, watch Keane he loses a lot of heading duals one on one, and as I say he's not going to get any better but each to their own, you like him I'm not fussy.
Darren Hind
73
Posted 07/12/2021 at 18:20:49
I stopped visiting Fanboy websites as soon as there was enough of them to continuously contradict each other. The difference between the stat and the fact was laid bare. The way "soccer" stats are collated has long since proved to be to be deeply flawed as far as I am concerned.
I have never quite worked out the difference between spouting stats and trying to support an opinion by offering somebody else's. Too often do I see stats form an opinion rather than support it.
Keane had a smashing game last night. Maybe his best. But some of the stats quoted here are right up there with the ones put up about Seamus last week I had to read the claim that he had made virtually no major mistakes this season about four times.
Some of the clangers keane has made this season have had many in the crowd sitting with their heads between their knees. I don't think anybody who watched those games needs to be reminded of them.
Re-writing of history aside. You are only as good as your last game and Keane was excellent last night.
The defenders all took up the correct position for Arsenal goal. They were entitled to expect midfield players to cover late arrivals into out box. Once again Allan, couldnt or wouldnt stay with his man and the Arsenal man strolled into our box without opposition
Kevin Prytherch
74
Posted 07/12/2021 at 18:21:24
Jay, you do love the condescending remarks don't you?
You're post 30 said
Ehrm...but that wasn't how the game played out, was it? Our game was not a deep-lying 'back-to-the-walls' one.
Then later on you say
Breaking news, Kevin. People can watch the same event and reach different conclusions.
I don't think we'll ever agree on the merits of Keane, but you do love to invite an argument
Jay Wood
[BRZ]
75
Posted 07/12/2021 at 18:41:03
Oh man up, Kevin.
And take responsibility for your own provocative statement 'dunno which game you were watching' to which I responded 'sorry Kevin, but...' etc.
Martin Mason
76
Posted 07/12/2021 at 18:43:06
Keane is, for me, a walking compromise in that he is actually very good in many aspects of his game and the occasional goal and superb sweeping passes make him a valuable player. His problem is that he is not top class in any one particular area and a compromise in many. I'd definitely class him as a position that we can improve on but it would cost a lot of money. He will be better in a better Everton side that establishes good attacking form and where he isn't turned or caught out of position so often. He was very good last night.
Well done Everton, it was a great performance.
Mike Gaynes
77
Posted 07/12/2021 at 18:46:36
Dave #70, he played through an infected foot for almost an entire season without telling anybody, and came back from a fractured skull in less than a month and never flinched from a challenge. So yes, I'd say he's courageous. You're right that he's not particularly assertive physically or vocally (a la Mina), but I've never seen him bullied. Not being a leader doesn't translate to not being courageous in my view.
No, he won't improve much, and he's not a CB to take us into Europe, but he's done better than I expected and I think he's earned genuine respect.
Tony Hill
78
Posted 07/12/2021 at 18:50:42
Keane looked confident last night and, as Danny @64 says, that's key for him. He looked to me as though he had a new view of himself.
How long that lasts we shall see, but I wouldn't underrate the ability of our manager to persuade players, perhaps players of limited self-belief historically, that they do indeed have gifts and should not be frightened to use them.
Tony Abrahams
79
Posted 07/12/2021 at 19:00:44
Arsenal did get everything they deserved Jay, with the irony being when they were all trying to pick Richarlison, off the floor after Everton had turned the match on its head.
I wasn't at that match Joe, but remember it as being a game when the two teams looked dead on their feet, but I thought Arsenal were very continental in their approach last night, and with Everton being the team that played with a lot more aggression, fortune definitely favored the brave, in the end.
Dogged defending, was Coleman and Godfrey throwing themselves towards the ball blocking goal bound shots, because Arsenal started cutting through us once we equalized, but the game had become really stretched by this stage, and Everton finally found a little bit of luck, for once.
Colin Glassar
80
Posted 07/12/2021 at 19:04:30
I see chairman Billy is to "oversee" a strategic review of the club. Does this mean they'll be swapping dark chocolate (my favourite) digestives for jammy dodgers? The man is a genius!
Peter Neilson
81
Posted 07/12/2021 at 19:13:57
Under FFP we'll be limited to Rich Tea anyway.
Robert Tressell
82
Posted 07/12/2021 at 19:16:33
The debate about Keane could be applied to a few in the squad - Mina, Gomes, Allan and even DCL. They all have their strengths and weaknesses and none of them are top class. And they can look quite poor if the team dynamics don't suit them.
We just need better players all round.
Anyway, on a lighter note, I laugh every time I watch the replay because you can see a moment when Gomes is about to release the ball forward and then obviously thinks "shit not Iwobi" and passes to Gray instead who is in a worse position.
It's like playground football - where you end up with a dud in the side to make up the numbers.
Graham Mockford
83
Posted 07/12/2021 at 19:23:49
As ever Keane dividing opinion. For me he's a decent centre half with a lot of qualities. He just lacks pace on the turn and struggles with the forwards who like to play on the shoulder. Too often to counteract this he can overcompensate and drop too deep.
What should be obvious though he's been first choice for five successive managers having only missed 23 of the last 167 games, maybe they were all wrong?
He is also a much better player when paired with Mina who is more vocal and more of an organiser of those around him.
Dave Abrahams
84
Posted 07/12/2021 at 19:23:50
Mike (77)Mike, the version I read of Michaels infected foot was that the period he never told anyone and the length of time he played with it was a lot shorter than almost a full season. He was treated with anti biotics and played in a boot that was two sizes bigger than the other one, and no one noticed plus every anti biotic I've ever taken, and I've taken plenty, slowed me down and ade me tired. I took that story with a large pinch of salt to be honest Mike, but yes courage comes in different forms Mike but playing a game of football is something to be enjoyed, courage shouldn't come into it, especially with the money that is earned now and Michael lives in a £3M priced house!!
Tony Abrahams
85
Posted 07/12/2021 at 19:37:44
This argument about Michael Keane, will go on until he leaves the club, or we can win a cup hopefully, imo Graham.
I don't think Everton have been much better than mid table since Michael, first pulled on the shirt, and looking at the table this season, only four teams have conceded more goals than Everton, which doesn't really surprise me.
He was good last night, I think he's had a few decent games lately, but our defence is still all over the place when teams attack us, and only when we rectify this, will we really push-on as a team?
Martin Mason
86
Posted 07/12/2021 at 19:40:06
I'd say Iwobi was our worst buy ever but then I think of Sigurdsson and think lightning can strike twice in the same ground. I realise now that sacking Brands was the best move that Everton have made in the current crisis. For a DoF to work his position must be well defined and all others must respect it not try to manoeuvre against it. If we can't manage with a DoF together with the other mega egos then we shouldn't have a DoF. Those who use a DoF correctly will fill the top positions and we'll never rise above mediocre. Not having a DoF will enable us to stay up this year that's all.

Mike Gaynes
87
Posted 07/12/2021 at 19:41:37
Tony and Dave, you're both right.
The bottom line is that Everton at this point has nowhere near enough talent to compete regularly with the best. We will eventually require improvement at every position. To me, midfield is -- and has always been -- the biggest weakness and the top priority.
Colin Glassar
88
Posted 07/12/2021 at 19:42:04
Peter 81, 50p a pack in Iceland. Surely we can afford that? To be fair, if we sold Iwobi we could afford two packets.
Graham Mockford
89
Posted 07/12/2021 at 19:45:58
Tony
I think that's fair enough but I don't think players like Keane are the pressing problem. It's the lack of depth in the squad that means we have had to endure players like Iwobi, Rondon, Holgate, Delph Tosun and Gomes still getting game time when it's patently obvious they will never be good enough.
Tony Abrahams
90
Posted 07/12/2021 at 19:51:16
I think it's a combination of Allen not being able to cover the ground, and because Keane, rarely plays on the front foot Mike, and it's probably because I used to play central midfield, that I look to blame the centre-half!
The biggest disappointment last night was watching Thomas Partey, because whenever I watched him for Atletico Madrid, (admittedly not that often) he was always full of aggression and forward running, and is definitely the type of player I'd love to play alongside Doucouré.
Mike Gaynes
91
Posted 07/12/2021 at 19:53:55
Graham, if our ultimate ambition is Top 4 and Europe, I'd say that in the long run maybe four out of the entire playing roster ARE good enough. I can see Pickford, Richarlison, Doucoure and perhaps Calvert-Lewin being of sufficient quality for the Champions League. That's it.
Brent Stephens
92
Posted 07/12/2021 at 19:56:00
Mike - and Gray?
Graham Mockford
93
Posted 07/12/2021 at 20:09:40
Mike probably true if you are talking about the first XI
I'd add Gray based on a small sample of games and despite his dip in form I wouldn't give up on Digne yet.
However it's about a squad so some of the players who are currently first choice could do a job for you.
First priority is to ship out the deadwood over the next two windows and add six or so quality players
Fran Mitchell
94
Posted 07/12/2021 at 20:17:37
I don't think it's necessarily being 'top-4' that is our target.
The reality is that to be consistently top4 is gonna be almost impossible considering the dominance of the top3, Man Utd have financial dominance that will always work.in their favour.
Look at Leicester, despite being the benchmark for many fans on how to construct a club, they have failed to reach top 4 and are having a poor season. But no-one will doubt their strategy.
Our ambition is for us to become a club worthy of supporting. A club that might challenge at the top, that will win the occasional cup, but equally will have the odd blip but that won't be the end of the world. A club with a strategy for long term.
I don't think it comes down to top-4. Because that's setting ourselves up for disappointment and failure.
We're currently a basket case of a club, and we've had loftier ambitions than we could realistically achieve, and this has led to a number of bad decisions that have ruined the last 5 years.
Mike Gaynes
95
Posted 07/12/2021 at 20:40:07
Brent and Graham, not yet, not based on 15 games. Give me a whole season of this -- which Gray has never achieved -- and yes, he makes the grade for me.
Graham, this isn't a dip in form for Digne. It's coming up on two full seasons -- the end of 19/20, most of 20/21 and nearly halfway through this one -- since he showed his best. I would not be surprised if Rafa has made the decision on him.
Fran, you are probably right that Top 4 is out of reach, but I don't think Moshiri and Usmanov invested in the idea to be Leicester either. I think Best of the Rest and the new stadium are their minimum ambitions.
Graham Mockford
96
Posted 07/12/2021 at 20:45:12
Mike
He still had more assists than any other player last season. He's at his best bombing forward. Benitez doesn't really play his full backs like that and I suspect that this is the root of the problem this year.
You may be right about Benitez's view though.
Stephen Vincent
97
Posted 07/12/2021 at 21:06:37
Brent, Dale - I'm blushing.
Dale Self
98
Posted 07/12/2021 at 21:10:50
You're fine. That was an easy laugh for me since I know Brent's humor but reading that cold with your name in there, it happens.
Keep it going Stephen.
Robert Tressell
99
Posted 07/12/2021 at 21:13:51
Mike 95, I think Moshiri invested out of vanity (and naivety about how far behind we were). I think Usmanov invested to build a stadium and redevelop some docks. There probably was an expectation of top 4 initially. Then probably some aspiration (albeit still naive) as recently as this time last season. The wheels have now come off the aspiration.
I don't believe Moshiri now has a clear ambition for his Everton project - because there are now 3 clubs with vast wealth and 2 additional commercial giants (along with quite a few similar / better resourced clubs).
I expect he would happily take the glory of a few cup wins and European adventure to make his pretty disastrous tenure look respectable.
Paul Birmingham
100
Posted 07/12/2021 at 21:26:34
Great hard earned but deserved win.
I met a few Arsenal lads this morning who'd stayed over night for a jolly, in the Weatherspoon handy for the station, and they said the atmosphere was great and knew that Everton would win.
Great to win, character and grit, long may this be the minimum every game.
Immense and brought the feel good factor back, which has been missing far too long.
Let's see what happens, next in the corridors of power at Goodison Park.
Next up Palace, and for more of the same.
Graham Mockford
101
Posted 07/12/2021 at 21:31:00
I think our transfer policy should be buy more players from Watford and stop buying them from Arsenal.
Or in other words buy players who still have something to prove.
Peter Neilson
102
Posted 07/12/2021 at 21:38:46
Moshiri is around about 15th in the Prem owners wealth league tables. Brentford, Watford, Brighton, Burnley, Norwich below. It'll take much more than throwing money at this to have any kind of success.
Peter Neilson
103
Posted 07/12/2021 at 21:49:21
Colin (88) 29p a packet at Asda. Are you advocating continuing spending as we did with Gylfi, Iwobi etc?
Brent Stephens
104
Posted 07/12/2021 at 22:08:31
Stephen #97 good man. My apologies, I never intended to embarrass. That's something I can do to myself far too easily! And I never meant to catch out - again, I think I easily fell for Brendan's wind up just a day or two ago - hook, line and sinker!
Dale Self
105
Posted 07/12/2021 at 22:22:46
Late in the show but I suppose this would be the place to shout, "We have defeated Arsenal three times in a row!".
Just thought that needed to be said. UTFT!
So if you hear Jules Laurens asking who is worse than Everton let him know, Arsenal. That guy is off the Xmas list.
Tom Bowers
106
Posted 07/12/2021 at 22:39:51
Without doubt they still have a long way to go especially when not in possession. Everton don't mark tight enough in the final third and before the end Arsenal should have scored twice from easy positions.
Yes Keane played better as many did but I am still not convinced about him, and his back four team mates. Digne has faded as has Seamus and Holgate is not at the races half the time. Mina is solid but not quick and appears crocked again.
They need to follow up with a good performance against Palace to put them in good heart for the tough one against Chelski coming up.
Jay Wood
[BRZ]
107
Posted 07/12/2021 at 22:44:38
The club has compiled another of those 'Goal From All Angles' video.
I appreciated on the night how well Andre Gomes worked the position in the centre circle, with 3 Arsenal players in close attention, to send the ball through to Gray, but until this video I hadn't really seen how well Allan chest controls Holgate's hooked clearance mid-way in our half before playing an astute reverse pass into Andre's feet. Vital to the whole move.
Also watch out for the pitch-wide angle (around the 2nd or 3rd angle shown) which shows the whole playing area. Note Holgate on the centre circle collapse to the floor in relief/joy and how nuts the whole team goes.
Good stuff.
Neil Copeland
108
Posted 07/12/2021 at 22:46:21
Stephen #97, not just you mate, I was wondering why Brent was so touchy!
Back to the game. The Arsenal time wasting antics really worked against them because it just wound GP up more which in turn made our players more determined.
A while since I have enjoyed and seen a proper game of footy, I thought our attitude was fantastic and the support magnificent.
I was talking to a couple of Gooners on the way back to the car park. They were well impressed with our support last night.
Bill Gienapp
109
Posted 07/12/2021 at 22:59:17
To speak to Robert's (99) point, it's kind of stunning to look back and evaluate the landscape of the league when Moshiri took over.
Leceister City, of course, had just pulled off their shock title win.
City was a powerhouse, but this was still the City of Pellegrini and they just scraped 4th with Pep due to arrive.
United, as we all know, swiftly derailed under Moyes, then had two okay-ish seasons under Van Gaal, finishing 5th, with Mourinho due to arrive.
Liverpool transitioned from Rodgers to Klopp mid-season and finished 8th. They were nowhere close to the side that Klopp would eventually build.
Chelsea were the defending champions, but imploded under Mourinho, finishing 10th, with Conte due to arrive.
Second and third went to Arsenal and Tottenham. Arsenal were still a Champion's League stalwart under Wenger, but hadn't seriously contended for a League title in some time, much to their fans' chagrin. Spurs were flying high under Pochettino by this point, but were still just a few years removed from being a comparable, if not lesser side than us.
Southampton, of course, finished 6th and qualified for Europe, which was a big part of the reason we went for Koeman.
It's not hard to see why Moshiri would evaluate that landscape, with so many clubs in flux, and conclude that Champion's League was attainable with a surge of investment.
Now we've got juggernauts entrenched at the top of the table and a league that's become so competitive that Ancelotti got us 59 points and that was barely enough to ensure a top-half finish, let alone any sort of European qualification.
Jim Jennings
110
Posted 07/12/2021 at 23:08:58
An alternative view of the Arsenal goal: Keane is facing the ball, sees Holgate marking nobody, doesn't yell at him to drop back and pick up the man running to the near post, so instead tracks him and leaves Odegaard free.
I tend to agree with Darren and have yet to see any statto count the number of times someone is caught out of position, lets someone run off him, picks the wrong pass, takes the easy option etc.
Keane had a decent game last night but let's not get carried away. 73% successful passes and more touches than anyone else, might be because he (his position) is the one outfield player least likely to be pressed into misplacing his pass by the opposition, because those touches happen to be furthest away from the opposition goal and therefore least likely to do any damage.
Dale Self
111
Posted 07/12/2021 at 23:21:47
Thanks again Jay. The view from the back is the one that captured it for me. I only have one complaint/suggestion: if you take your shirt off on a goal celebration, don't have another one on underneath. Other than that, fuck yeah!
Oh and don't be wearing a bro-bra either.
Andrew Keatley
112
Posted 07/12/2021 at 00:10:12
Jim (110) - "… the number of times someone is caught out of position, lets someone run off him, picks the wrong pass, takes the easy option etc"
Those are very difficult things to assess, and in the case of "the wrong pass" I'd suggest that will (except in extreme cases) generally be open to subjective interpretation.
Statistics are good in a binary sense; pass completed, header won, tackle made - yes or no. And then as aggregate measures; distance covered, shots on target, blocks, interceptions. Statistics are starting to get more complex, and working with interpretation and probability, with xGoals being a good example. I think we'll soon be looking at more complex categories, with passing difficulty being assessed in a similar way as xG, and with passes being broken down into distance, ground made, and possibly even number of opponents that a pass beats. So maybe we'll soon be looking at broken down stats for every player for every game, and I suspect doing so will encourage players to be more progressive - in the same way that the introduction of pass completion stats encouraged players to swap meaningless five yard passes on the halfway line when under no pressure.
I imagine that Michael Keane's detailed passing stats - if such metrics were already available - were very good last night. He made a lot of passes while under pressure, including a number of long passes that retained possession and put us on the front foot deep in the Arsenal half. His long-passing, off both feet, is crisp and strong and is something that we can use now that we have wide players with pace who want to provide that outlet.
I also want to give Doucouré some credit for the run he made outside Gray for the winning goal. Once the ball got to Gray there was a moment where Doucouré realised what Gray would probably want to do - and that it was up to him to make the touch line decoy run in order to give him the space and time to do it. Doucouré found the energy and pace and determination to make that 40 yard sprint, and Gray did the rest. That's great football.
Jim Jennings
113
Posted 08/12/2021 at 01:51:15
Andrew (112)
I agree with pretty much everything you say. I was just making the point that most of these "fanboy" stats don't tell half the story and are not the slam dunk that some people believe they are, to prove their point on how well someone performed.
Mal van Schaick
114
Posted 08/12/2021 at 11:26:44
Godfrey for Digne was a shrewd move, so I'll give Rafa some credit for that. Dogged determination and a 'never say die' attitude was just what was needed. Great result.
Tony Abrahams
115
Posted 08/12/2021 at 12:05:52
Watching the highlights again, it's obvious that our two central defenders are only a partnership in name.
Holgate's position for the Arsenal goal is atrocious, and Keane's position for the header that hit the post is possibly worse.
Why Holgate is drawn so far past the front post is hard to fathom, and why Keane is doing something similar, instead of anticipating that the danger area is a lot closer to our goal, just shows a complete lack of "understanding and togetherness" and these really are two massive parts of defending as a team.
I'm aware it's easy to be critical, but I'm also aware that it's impossible to defend "most things" by yourself, and that's why your partner is just as important as you are, sometimes, and it's why defending as a unit, whenever possible, is also so important for any team.
John Keating
116
Posted 08/12/2021 at 12:22:20
Tony,
I don't know about you but, every time Holgate gets the ball, I get nervous! Seems to me you can feel others round about feel similar?
He sometimes seems to wander around and get attracted to the ball and not look for the defensive shape or line. I'm sure there was a time in the second half he got caught in possession fannying around near the half way line… I must have a look at the tape.
The 3 points were all that mattered but Arsenal surely did have some chances.
Tom Bowers
117
Posted 08/12/2021 at 12:51:08
Have to agree, Holgate has not made the strides I expected him to.
He had great potential and, despite being quick, he is a liability, much like Stones was. His situation is like Barkley's who also failed to reach the heights after being sent out on loan.
Tony Abrahams
118
Posted 08/12/2021 at 13:29:46
I thought Holgate was going to lose the ball in a similar way that Coleman did on the halfway line against Liverpool, at one stage, but he had the sense to hoof it high and long. This old fashioned up and under never ceases to amaze me because it often creates more danger than six or seven passes ever does!
I think Holgate is very short on confidence but I still feel he was hard-done-by after the QPR defeat, considering he'd had a very good game alongside Keane just before this at Brighton but was totally bombed after this cup tie.
He is way too casual at times though, and that's why I think you can feel the crowd getting nervous at times when Holgate is in possession, John.
James Newcombe
119
Posted 08/12/2021 at 13:39:13
I think that Holgate would improve with football, week in & week out. His career has been very stop-start so far. I hope Branthwaite gets more of a chance soon; again, he needs to be playing.
Kevin Prytherch
120
Posted 08/12/2021 at 14:32:43
Tony 115,
I think that the issues for Arsenal's goal start far before Holgate's final position.
Both Allan and Doucouré try to press, but Keane and Holgate both stay deep. This creates a massive gap where Lacazette and Ødegaard are free. When the ball goes to Lacazette and he lays it off to Tierney, Coleman moves over and Holgate, possibly anticipating Lacazette to join the attack, moves across in tandem. When Lacazette doesn't dart forward, Holgate is then left marking no-one and can only stand there hoping to block a low cross. When the cross is high, he is taken out of the game.
This is where either Godfrey, who is alone at the back post and able to see everything, or one of the midfielders should have spotted the danger that Ødegaard presented and reacted quicker as Keane already had Martinelli to deal with.
Ultimately though, if Keane and Holgate had stepped forward 5 yards when both Allan and Doucouré initially pressed, then the space in which Lacazette got the ball wouldn't have been there and the goal potentially wouldn't have been scored.
Totally agree that it was a poor defensive decision between them, but I think the main mistake happened far sooner than the final positions.
Tony Abrahams
121
Posted 08/12/2021 at 15:00:38
It's why I repeatedly say that I think most of our defensive problems come about, because I just don't feel that we are anywhere near compact enough as a team, Kevin.
Nicholas Ryan
122
Posted 08/12/2021 at 15:56:45
As to the 27 minutes business. My impression was, that people left their seats at 27 minutes, but did not leave the ground.
Jay Harris
123
Posted 08/12/2021 at 16:12:57
Tony and Kevin, I would just add to that there is no leadership at the back to shout people into positions. Concentration and communication are very poor.
Stuart Sharp
124
Posted 08/12/2021 at 16:38:48
I agree about Holgate... 'casual' is exactly the right word. Whatever is going on in his head, that's how he looks.
There were several occasions on Monday when he almost lost the ball when pressed or was lucky to get away with a poor touch. It comes across as overconfidence, even if that's not how he actually feels.
The goal he gave away against Aston Villa is the perfect example – faffing around even when the last man back.
But maybe a run in the side would help? All I know is that he gives me the willies.
Darren Hind
125
Posted 08/12/2021 at 17:33:44
Tony,
I very rarely disagree with you when you speak about positioning of players... but I couldn't disagree with you more about Holgate's positioning for the Arsenal goal... It was textbook. I don't think there is a coach out there (worth his salt) who would not have expected him to take up that position.
When a centre-half sees his full-back beaten down the flank, the very first thing he is taught to do is go to the immediate danger. That is the near post. If you are playing left side (as Keane was), you go to cover the near post if Godfrey is beaten, and if you are playing on the right, as Holgate was, you cover that area immediately.
The reasons the centre-half is coached to do this are pretty obvious. You have to make sure the attacker doesn't have a free run at goal (the immediate danger). You also have to be there to cut out any low or poor crosses. However, If the attacker is good enough to lift a good ball over you into the danger area, the responsibility falls upon your partner (Keane in this case) and the other full-back (Godfrey). Both did their job and took up good positions.
The back four can only do so much. They are entitled to expect a man coming from deep will be tracked by a team mate... The Arsenal scorer actually runs past Allan and is completely unmarked when he scores.
For me Allan, gets a very easy ride on here (although he doesn't get it at the match anymore). No matter who he chases, he always seems to look like Reidy chasing Maradona. He doesn't run, he trundles.
I wonder how long it will be before those people who lauded him as a great Carlo signing start to admit his howlers. His form at the moment is abysmal. His awful pass to Rodri against Man City got the treatment it deserved. As did his willingness to sell himself so cheaply for the Shite's fourth the other night and why did he lie down When Henderson scored instead of breaking his neck to close him down? this is all in the last few games!
I know one thing: If Tom Davies had allowed Ødegaard to run off him and swan into the area as Allan did, he would have been hung drawn and quartered on here... That's four goals in the last few games.
I get why Allan is popular; he is a trier. He tackles everything that moves; he had a ready-made fan club when he got here, but he is proving to be a liability. More so than any of our much maligned defenders.
Holgate is playing with an arrogance. Not the arrogance of a good player, but the arrogance of a player who thinks he is good. He's been like this since he "made the big time" with his long contract and bumper pay rise. For me, that makes him the exact opposite of Allan: he isn't liked. While one of them is popular and gets away with murder, the other isn't and often gets blamed for mistakes he didn't make.
Stuart.
That perfect example of a Holgate mistake you gave... It didn't happen, mate. It was Mina and Keane you saw being skull dragged at Villa Park. Holgate didn't get on.
Kevin Prytherch
126
Posted 08/12/2021 at 18:34:34
Tony 121,
I totally agree. It's alright the midfield pressing higher up the pitch but, if the defence hasn't got the confidence to go with them, then we leave big open gaps between midfield and defence, as with Arsenal's goal.
Andrew Keatley
127
Posted 08/12/2021 at 18:56:35
Kevin (126) – Completely agree.
There were times in the first half where we tried to press Arsenal high but one of our central midfielders – sometimes Doucouré, sometimes Allan – wouldn't press.
The reason why seemed to be Lacazette routinely dropping into the pocket between our back four and the midfield pressers and, as neither Keane nor Holgate or Mina would follow Lacazette, it obviously put the onus on one of those two midfielders to take up a position in no-man's land to try to stop the quick ball into Lacazette.
If Keane or Mina or Holgate would have had the confidence and vision to step up and mark Lacazette – they were both completely alone and were not marking anyone – then our press could have offered some proper pressure. As it was, either Ødegaard or Thomas Partey or Xhaka were always able to use their man advantage and beat the press.
Danny O'Neill
128
Posted 09/12/2021 at 10:03:55
Still catching up after my travels.
On the Holgate - Keane debate. I tend to agree with most here.
'Casual' is a good way to describe Holgate. I hope to be proven wrong, but I don't see him reaching the levels I want for Everton. He seems to have a blasé "I've made it" attitude. I say that without knowing the individual admittedly.
Keane. I have to be careful as I've been critical since I thought we got seen off by Burnley, paying £30M for a Man Utd reject who was over-hyped and over-rated because he's English. Too nice for a centre-back.
Back to footballing opinion, for me, it's his concentration and anticipation that lets him down more than anything. Aside from that, he's a good footballer and decent defender. But he's 28 going on 29 now and I don't see that improving.
If we play higher up the pitch, way too often he watches the ball go over his head before reacting. And he doesn't have the pace to recover the situation. I don't want just 'decent' for Everton either, but that's an expectation thing.
Kevin @120. Mind the gap in midfield. Myself and others noted that last season. With the players we currently have, it calls for a 4-3-3 or to play a sweeper, which is almost the same thing. I actually think Allan could do that, but his instinct is to go and hunt the ball.
Given his legs aren't what they were, I could see him transitioning into something like what Mascherano did for Liverpool and then Barcelona? Maybe not as good, but just a thought.
Tony's point on the partnership thing is key. There has to be understanding and, as part of the centre-back union, it is more crucial there than anywhere else on the pitch because, if you mess up there, it's usually fatal.
In basic terms, communicate: one attacks, one covers the space. Don't both get drawn into the ball or the players. On the latter, that's why there is an argument for zonal marking. But you take responsibility for marking the space. And communicate; take responsibility.
Tony Abrahams
129
Posted 09/12/2021 at 11:03:23
Jay @124, I've just read most of this thread back, and I think you make the most crucial point, in an earlier post, when you said a good centre-back will organize and make sure everyone is marked.
I'm not sure it's always possible to make sure everyone is marked, but I'm probably being a little bit facetious because this is definitely the best description of what our back four are currently not doing, Jay.
Sorry for going on, but Ancelotti showed us last season how important it is to defend as a unit; if Benitez can get us doing something similar, with Gray and Richarlison breaking forward on either side of Calvert-Lewin, then I think we could develop into a decent team.
Darren Hind
130
Posted 11/12/2021 at 16:02:51
Just watched the Arsenal goal again. There was no press from us as stated above. Gabriel was able to just walk into our half while our entire team are camped well back at least 10 yards inside our own half.
Watching Allan again is worse than I thought when I watched it the first the first time. He simply quits as Ødegaard runs 30 yards to score unmarked.
---
Add Your Comments
In order to post a comment, you need to be logged in as a registered user of the site.
Or Sign up as a ToffeeWeb Member — it's free, takes just a few minutes and will allow you to post your comments on articles and Talking Points submissions across the site.
---
© ToffeeWeb