Pre-season training under Benitez starts for Everton first-team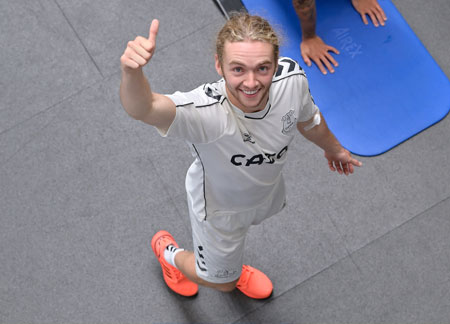 Most of the Everton first-team squad are returning to Finch Farm to begin pre-season training under the new Everton manager, Rafael Benitez.
The majority of the players returned to work today, including James Rodriguez following his omission from Colombia's Copa America squad last month. International players who have been involved in that competition or Euro 2020 will be returning later while others, like Moise Kean, Abdoulaye Doucouré and Bernard, are on a phased schedule due to quarantine requirements having returned from abroad.
That means Richarlison, Yerry Mina, Lucas Digne, Dominic Calvert-Lewin and Jordan Pickford will not join pre-season until a lot later in the month, with the Brazilian's absence extended because the club have allowed him to compete in the Olympic Games in Japan.
One welcome addition who is deemed fit enough to play is Jean-Philippe Gbamin who has played in only three games since joining Everton two years ago after a succession of injury woes. Everyone will be wishing and hoping that he can regain (and maintain) full match fitness this season.
---
Reader Comments (116)
Note: the following content is not moderated or vetted by the site owners at the time of submission. Comments are the responsibility of the poster. Disclaimer
Christine Foster
1
Posted 05/07/2021 at 11:20:21
Rafa to assembled first-team this morning:
"Welcome back, I hope you have had a good summer, because for some of you winter is coming."
"On the wall is a list of players I will be working with, if your name is not there, you will find an appointment slip with Mr Brands to discuss your future outside of this club."
"Those of you with appointment slips will not be allocated a first-team locker nor will you be allowed to train with the first team. Because of international duty, some players are not available. Nonetheless those not required have been texted appointment slips with Mr Brands."
"That leaves training for this morning. The 5 of you can get changed and report to Duncan Ferguson on the field outside. I hope you have a wonderful day, thank you"

Dave Abrahams
2
Posted 05/07/2021 at 12:04:38
Christine, did you happen to notice if any of those appointment slips were handed to any of the coaching staff?
Jack Convery
3
Posted 05/07/2021 at 12:12:39
I hope Delph's getting a text from his agent, informing him, he's found a mug, sorry… manager, who is willing to have him. All's that needs negotiating now is how much we have to pay the other team to take him!
Steve Brown
4
Posted 05/07/2021 at 12:16:51
Jack, Delph probably pulled a hammie entering the pin on his phone.
David Pearl
5
Posted 05/07/2021 at 12:17:37
Clean slate. That means everyone. You never know, Rafa might get a lot more out of a fit Delph, and erm.. Ya know, that lwobi.
Can JP stay away from injury before the first game of the season is upon us?
James is in the building!!!
Tony Everan
6
Posted 05/07/2021 at 12:20:35
Christine, thanks for the Monday morning laugh, it would be even more funny if the discards weren't earning a combined million + a week.
Delph looks a bit shifty in that photo, like he's been stealing something and hoping nobody notices his presence.
Dave Abrahams
7
Posted 05/07/2021 at 12:24:52
Christine (1), just spoke to a mate who was at Finch Farm this morning and what Raff actually said was ' Welcome back lads, summer is over, it will soon be autumn and if some of you don't get a spring under your arses you'll be gone by winter' or words to that effect.
Derek Knox
8
Posted 05/07/2021 at 12:26:06
Christine @ 1, Very amusing, if only it was that simple, it would go a long way to sorting a lot of the problems out, had it too cushy too long for some of them!
Steve @ 4, or injured himself picking up his appointment slip !
David @ 5, " Clean slate. That means everyone. You never know, Rafa might get a lot more out of a fit Delph, and erm.. Ya know, that lwobi."
Don't tell me you still believe in the tooth fairy too ! :-)
Mark Ryan
9
Posted 05/07/2021 at 12:30:28
Looks nervous. Is it the text he's just received from his agent saying "no calls for you as yet"
He probably doesn't care, because let's face it, wherever he goes he'll be warming the bench through injury. A good player back in the day but let's hope he's soon off. Would love to find him a new club, along with Iwobi.
Will Mason Holgate try harder under Rafa? something went wrong under Ancelotti but is there still a good player within. Not sure anymore…
Christine Foster
10
Posted 05/07/2021 at 12:56:23
Derek, quite true, if only it were that simple...
Dave, I would be disappointed if Rafa didn't draw a line under the past and state that every player has to prove his worth, but I also think that there are more on the wrong side of that line than the other side.
Yes, tongue in cheek, but somehow I think that list has already been drawn up... Probables, Possibles, and crap.
Pat Kelly
11
Posted 05/07/2021 at 13:01:58
Not going to be easy shifting the likes of Delph and Siggy. They'll be happy to see out their contracts. May not be too many takers for Bernard or Iwobi either. But shifting those four would be a great start.
Martin Reppion
12
Posted 05/07/2021 at 13:10:14
Not so much bothered about who goes. It is the clear gaps that need to be filled that worry me.
Right back (Denzil?), anyone with pace who can play in midfield or wing and a stiker.
Just tired of hearing us being 'linked' with countless centre backs when we could field a team of them already.
Tony Abrahams
13
Posted 05/07/2021 at 13:24:14
I'd say Delph looks more like an agent than a footballer, and one who doesn't appear to be very happy going back to work.
John Boon
14
Posted 05/07/2021 at 13:59:02
Hey. Let's be positive. Delph is obviously phoning his Mum to tell her he arrived safely but he is upset because she forgot to pack his lunch.
Ian Burns
15
Posted 05/07/2021 at 14:03:26
Delph is texting Colin Glassar to tell him "Iwobi's still here Col - shit I might get a game here - better get injured quick quick!"
Barry Shearer
16
Posted 05/07/2021 at 14:19:30
First day where I always have hope for the season before my heart is typically ripped out at some point during the season. Come on guys. Start today and let's have a successful season. Must admit. Not sure how long it will last, but nice to see James arrive. Nice touch too with that kid.
Dave Abrahams
17
Posted 05/07/2021 at 14:22:51
Christine (10), good titles for that list!! I think there are going to be some surprises at Finch Farm, hopefully for the good of all of us.
Robert Tressell
18
Posted 05/07/2021 at 14:25:36
Christine, your post reminds me of a story told to me by a bloke who worked for a chain of seafood restaurants. New management walked in, gave a quick half-hearted motivational speech and then said "who works for [seafood] restaurant".
Everyone looked a bit puzzled and put their hand up.
New manager then told three of them to put their hands down.
Minik Hansen
19
Posted 05/07/2021 at 14:27:01
Delph's updating the TW page to check our comments. He's gonna prove us wrong he thinks, staying fit and Rafa will get the best out of him or getting sold.
Nick Page
20
Posted 05/07/2021 at 14:32:12
Personally was hoping for more of a Gordon Ramsey, direct style approach from Rafa, "you, you, you, you…fuck off, fuck off, fuck off, fuck off".
Would do for me.
Pete Clarke
21
Posted 05/07/2021 at 14:37:04
I reckon Rafa will be on the phone to China and Newcastle tomorrow to bring some of his old players in having just realized what a load of crap he's just walked into. Seriously though, Is Delph one of our worst signings ever ??
Dave McDowell
22
Posted 05/07/2021 at 14:42:38
The problem about having so many "new" managers in a short period of time is the dreaded phrase "everyone starts with a clean slate".
This of course is the escape route for our past mediocre performers and every new manager believes they are the guy who can "get a tune out of…" (insert one of Kenny, Delph, Iwobi, Sigurdsson, Gomes, Tosun, Kean, Bernard, Gordon).
The only way I'd regain some respect for Ancelotti would be if he had left a sealed letter addressed to "my successor" with a list of the above names with the simple phrase "vendi tutto subito"
My fear is we get on the merry go round again, team sheet v Southampton "Gomes, Sigurdsson, Iwobi" - at this point spontaneous combustion is a distinct possibility.
Please Rafa, don't fall for the same flannel from the usual suspects, from the pitch right up to the boardroom.

Danny O'Neill
23
Posted 05/07/2021 at 14:43:16
Just because he's the photo on the thread. Delph; 57 appearances for City in 4 seasons. 24 for Everton so far. That's not a lot of game time since 2015.
It was a strange but regulatory necessary signing by City at the time. He was never going to feature regularly for them as he was never that standard.
I just wonder if all that time on the sides and in the margins as a result made him casual in his approach to wanting to play?
I never like to question a player's desire and it works the other way when players are stupid and play through pain and injury. Admirable as it is, they shouldn't. Detrimental to the team and to their longer term career. Always a balance.
Obviously I don't know and I appreciate some players can genuinely be unfortunate with injury, but Delph gives me the impression of someone who has lost his passion and interest in the game. A bit of a Jamie Redknapp.
Phil (Kelsall) Roberts
24
Posted 05/07/2021 at 14:52:47
I love the dislike for Bernard.
One more year left on his contract. Sad thing is he cost nothing but wages. The news seems to be on £120k per week.
So he will cost us £24m.
If he was on £20,000 per week and we had paid £20m for him he would get a lot less grief and yet he will have cost the club the same. And let us wind the clock back 3 years - - his ToffeeWeb profile says "exciting Brazilian attacking midfielder" and "Both Milan clubs, Napoli, Atletico Madrid, Tottenham and Chelsea were all said to have made contact". We thought Brands had done good. So glad everyone here has perfect hindsight. Perhaps you should offer it to the club.
Shifting him before next season will be a challenge - unless we pick up most of the wages.
David Greenwood
25
Posted 05/07/2021 at 14:58:20
Seeing Delph returning to preseason is just soul destroying.
He's not interested, doesn't try a leg and conveniently always injured when it comes to match day. He will still expect 60k into his bank account every week.
As mentioned above, its pointless even giving him a chance. He's had three years to take his chance and hasn't. Hopefully move him on, if not just tell him he's not in the first team squad, train with the others in the same boat (Bernard, siggy, gomes, iwobi etc) and don't come near Goodison ever again.
Put youngsters in their place, give them a chance and even if they are not up to it at least they will try.
Rant over!
Danny Broderick
26
Posted 05/07/2021 at 15:01:56
Sorry Phil,
Bernard would be classed as a bad signing whether he was free or cost £50 million. It's not hindsight, it's judging players by what they do on the pitch. If our DOF signs a good player, e.g. Digne, he gets praise. If he signs a duffer, like Gomes, he gets criticised for it. It's not rocket science, it's accountability!
Unfortunately, we've signed too many duffers under Walsh and Brands…
Jim Harrison
27
Posted 05/07/2021 at 15:04:22
Christ Christine! Remember when Niasse didn't get a locker, there was uproar!
Martin Mason
28
Posted 05/07/2021 at 15:10:55
Remember that we have a potentially brilliant new signing called Gbamin.
John Raftery
29
Posted 05/07/2021 at 15:12:51
I thought James wasn't returning.
Mark Ryan
30
Posted 05/07/2021 at 15:22:02
Glad to see Brands was there today having been some talk of him not being around at the moment.
I'd like to think he'll have had time to fully brief Rafa on who we'd like to be shot of. He must see it, the same way we all see it. Surely.
Hugh Jenkins
31
Posted 05/07/2021 at 15:40:43
I was pretty confident that I could name every player in Everton's senior squad , on sight.
However, I have to admit - when I saw the picture of Delph - I truly didn't know who it was?
That really tells me a lot about his impact since he has been here.
Matthew Williams
32
Posted 05/07/2021 at 15:41:56
Delph still around then?!.
Think I'll pass on this season...thanks.
Craig Walker
33
Posted 05/07/2021 at 15:53:09
Tony @6 Delph has been stealing a living at Everton since he signed.
Raymond Fox
34
Posted 05/07/2021 at 16:04:10
What do you expect, we can only buy players that the top sides don't want.
Why we expect them to suddenly turn into world beaters beats me.
The site is full of discussion about managers, its players who have to do the business on the field.
We fail simply because they have not been good enough for 20 years plus.
Prepare for another season of mediocrity!
Marc Hints
35
Posted 05/07/2021 at 16:08:20
If we don't sign any quality players soon we are relegation fodder I'm afraid, Rafa will get the same out of some of these players as previous managers, absolutely nothing.
I really am worried for this season, we cannot have a good season with the same squad surely?
There is no pace in the side, on the wings or in midfield. No backup to DCL or even Richarlison.
Do you really think we are going to do well with Delph, Gomes, Davies, Rodriguez (who I guarantee will be injured within the first few games as well as Allan)
We have Iwobi, Bernard who have had their chances and not good enough.
That's 7 players!
Tony Abrahams
36
Posted 05/07/2021 at 16:30:31
Honestly think the secret is not signing players the top four want, but signing good players with a very good work ethic, and then moulding them into being a competitive squad?
Hard working players improve, and that's what we need right now, especially if they've also got pace.
Brian Harrison
37
Posted 05/07/2021 at 16:37:54
Christine,
The problem is that the players have all the power these days not the manager. So if Benitez tells a few they are not in his plans they will just say thats fine I will still pick up my 60/70,000 per week till my contracts up in 2/3 years time. Once a player signs on the dotted line if he turns out to be useless as many of our players are then the problem is the clubs not theirs. So whether Benitez rates them or not that's what he has to work with for the foreseeable future, in fact some of the deadwood will be here after Benitez has left, how long has Iwobi got left on his contract?
John Raftery
38
Posted 05/07/2021 at 17:07:25
Tony (36) You are absolutely right. There are no short cuts to sustained success. It is a pity that was not recognised five years ago when the new money arrived. A little more patience then might have yielded much better value in the long run. An even greater pity was that the club kept repeating the mistake.
I will start to believe lessons have been learned if we see the arrival of fewer established names on big money and an intake of hungry, ambitious players with something to prove. This is not a route to overnight success.
Ed Prytherch
39
Posted 05/07/2021 at 17:12:42
Sigurdsson was our third highest goal scorer last season with 8 and he had the most assists with 10 despite being asked to play as a defensive mid fielder in many games. He always puts in a good shift. We would be stupid to let him go unless we got a very good offer.
Bill Gall
40
Posted 05/07/2021 at 17:18:31
Sadly, Brian sounds correct. In the modern game, the contracts are due to some agents who are not too interested in the clubs their clients sign for, but what they can get by getting their clients obscene monetary contracts.
It really gets me mad that James, who is on a contract at Everton FC, if true, is being offered to other clubs by his agent come lawyer.
As Brian states, many of the supposed deadwood are for sale but refuse to sign contracts with other clubs as they will lose too much money per week than what they receive at Everton, so the only thing you can do is run their contracts down and suffer the loss. Bolasie is an example.
Mike Gaynes
41
Posted 05/07/2021 at 17:18:47
John #29, I wouldn't expect James to be around for long.
Rodriguez and Benitez have a history, and it ain't good:
Robert Tressell
42
Posted 05/07/2021 at 17:23:02
This squad finished 10th and 3 points off 6th. We're not relegation fodder, we're just boring. With 2 or 3 new first teamers we should be much more competitive for the Europa League places and a Rafa led Everton could win that competition (as would have been the case under Ancelotti).
Sigurdsson should stay for tbe reasons Ed makes - but maybe as a quality reinforcement rather than as a regular first teamer. It's his last season before end of contract anyway so we'd get peanuts if sold.
Much as we despair, it's not out of the question that pace on the flanks and up front + a clear and stable role helps reintegrate Gomes and Iwobi too. Hope so anyway because I doubt they'll be sold.
No reason for too much doom and gloom but probably best wait to see if the likes of Bailey, Neres or Diaby turn up before expecting any excitement.
Tom Harvey
43
Posted 05/07/2021 at 17:23:48
Ed @ 39
Agreed, the other reason might be father time has called time on his legs, but last season he used his experience to be in the right positions, it was the crap around him that held him back.
Tom Harvey
44
Posted 05/07/2021 at 17:28:02
Bill @ 40
EFC has been spectacularly successful lately at handing out big juicy contracts to players who fall in the 'sponger' category.
Barry Rathbone
45
Posted 05/07/2021 at 17:33:16
Tony 36
Agreed.
We are NOT at the top table so throwing money at it like City, Chelsea and others is not an option. Greater imagination resulting in the likes of the Godfrey acquisition is where it's at. Hunger and ability coupled with decent guidance is the way for this club to form a competitive outfit we just need to be doing most of the work now.
Good call Tony Abrahams
Danny O'Neill
46
Posted 05/07/2021 at 17:38:08
Robert @42.
I said that on one of the other threads. I'm bouncing around so much there is inevitable repetition.
Viewed through one lens, we finished 10th and were off the mark.
Through another, we were literally one game away from qualifying for European football. We'll never know, but would that have retained Ancelotti??
Yes, it was all of our own making, and it should never have come down to relying on the last game, but we were not as far away as some would have us think. Especially with a few additions to the squad in the areas we have all extensively spoken about on these pages.
Ken Kneale
47
Posted 05/07/2021 at 17:48:49
John Boon -he was actually asking him Mum if she had redated last years sicknote to the PE teacher to say "Please can Fabian be excused training today as he has a slight sniffle".
Tony - absolutely correct on player recruitment - can you report to Mr Brands office in the morning please to assist him
Frank Kearns
48
Posted 05/07/2021 at 17:59:52
I have a suspicion that somebody at Finch Farm gets into our players heads and turns them into "lazy can't be arsed gum chewing gobshites who think they are owed a fantastic wage for having ridiculous haircuts, turning up for training and playing without any ambition or interest" or - they're all shite and at 71 years of age Mr Brands will see me as the next best thing - at least I'll care, but, don't ask me to run. NB: I've had a few😜
Bill Gall
49
Posted 05/07/2021 at 18:31:17
I don't see many changes coming soon, I think Benitez will have gone over videos and will prefer to see players himself rather than listen to people who have been at the club for a while telling him how good they are. There may be one or two in but, unless they get lucky, and another club is desperate, I don't see many going out unfortunately.
Colin Glassar
50
Posted 05/07/2021 at 18:41:33
As long as Iwobi goes I'll be happy - to a degree. He can take Delph with him.
Justin Doone
51
Posted 05/07/2021 at 18:43:25
When Newcastle completed the double over us last season, it showed Rafa had already done his homework on our team's weaknesses and players.
Forget who's here now, what's important is the incoming players.
Bring in the missing quality asap and help turn this unhappy fan into a believer in a brighter future.
Ray Robinson
52
Posted 05/07/2021 at 18:45:53
Justin, Steve Bruce was Newcastle manager last season.
Michael Boardman
53
Posted 05/07/2021 at 18:47:33
Justin #51, Rafa has been furloughed from Newcastle since 2019.

Justin Doone
54
Posted 05/07/2021 at 18:55:42
Ooopps..
Don't worry, the board made the same mistake.
We should have got Bruce!
Taxi on the way..
Frank Mullin
55
Posted 05/07/2021 at 19:14:18
OK guys. A ball hasn't been kicked yet and the whingeing negativity abounds. Rather than concentrating criticism on those players who failed miserably to impress last season and who need to be moved on, how about reminding ourselves of the not inconsequential number of decent players who can form the nucleus of this season's campaign.
From the top - Pickford, Mina, Godfrey, Digne, Allan, Doucouré, Rodriguez? Gbamin?, Richarlison, Calvert-Lewin.
Yes, of course we need to add quality and pace to supplement the squad but talk of relegation is just nonsense. We were 3 points off 6th for goodness sake and we lost our way in what should have been a stroll into Europe.
I'm no fan of Rafa (yet) but I don't think that would have happened on his watch. If he can get these key players to achieve consistency and fulfill their potential we're in with an excellent chance of the top 6.
Less of the doom and gloom ( until at least November ) please.
Shaun Laycock
56
Posted 05/07/2021 at 19:18:10
It would help if we bought players for a system of play and played them in the right position.
Sod this fannying around with 3-5-2, 4-5-1, 4-3-3 and have the players be 'adaptable'... set out our style of play, preferred formation and buy the best (affordable with resale value) player for that position. Then say to the opposition, "Go on then, come and beat us!"
When an upgrade is available, sell to buy.
Steve Croston
57
Posted 05/07/2021 at 19:42:31
If ever a photo of a player reporting for first team duty at the start of a new season, was added to get people's backs up, 'Fabian Delph returns to Finch Farm' was it!
Robert Tressell
58
Posted 05/07/2021 at 19:59:55
Makes sense to me, Shaun #56, but there's plenty more fannying around coming our way - with a lot of switching between exactly the three formations you describe. There's a good chance we won't have a settled formation or personnel until the 2022-23 season.
Sam Hoare
59
Posted 05/07/2021 at 20:09:38
Benitez likes players who are disciplined and work extremely hard. I expect the likes of Sigurdsson to prove more popular with him than Rodriguez. But he also likes players who can beat a man out wide and believe it or not Iwobi was one of our most successful dribblers last season! Don't be surprised to see him embrace some of the 'deadwood'.
Tony Abrahams
60
Posted 05/07/2021 at 20:56:43
Who was second Sam, Allan? If Benitez likes to see players going past their opponents out wide, I'd say he's going to have to move Iwobi inside, but I'd prefer Vierra, to take him back to London, because I'm sure that would be a win, win move for everyone concerned!
Seriously though, it does show how unadventurous we were last season, if Iwobi topped the dribbling charts, and yet the team played some really good stuff early on in the campaign.
I remember how good we were in the first half at Fulham, running forwards with and without the ball, and yet we were still lucky to get the three points in the end though, because our team just couldn't play on the front foot for long periods.
Football is like life, the more energy you've got, the more you want to do, and this more than anything else, is what Evertonians need to see from our team next season, imo.
Christy Ring
61
Posted 05/07/2021 at 20:57:17
David @25,
Delph is on £80k/90k per week, that's what you call stealing a living, and he'll definitely see out his contract this season, because no-one will offer him anything near it.
Hope the rumours about the Saudi's looking for Sigurdsson are true, he's past his best, and no one is going to match our wages of £100k+ per week.
Peter Fearon
62
Posted 05/07/2021 at 21:10:07
Ah yes, that time of year again. The first day of training, players returning to meet a new manager with a proven record of success. And the naysayers and nabobs of negativity on ToffeeWeb chime in with discouraging words, insults, sarcasm, denigration, pessimism and self-loathing. Good to be back!
Michael Kenrick
63
Posted 05/07/2021 at 21:20:40
Steve @57,
I looked around for some that actually showed pre-season training but all that I could find was asinine pictures in the Echo of players each behind the wheel of their blinged-out rigs, snapped by the Echo paparazzi, who appear to have been kept outside the gates of Finch Farm.
The shot of Delph was the only one that looked a little more approachable but I should have known the fact that he is doing what we all do with our smartphones would be too much for our comedic base to resist.
Jay Wood
[BRZ]
64
Posted 05/07/2021 at 21:27:10
Michael, if it's video footage you are looking for, there is a video on the club's YouTube channel, available through a link on the club site. Link below:
If you specifically want to see them training, you'll be disappointed. The footage is typical of day one back at school – testing and gauging the players indoors to see who has behaved themselves or binged in the off-season.
Mike Doyle
65
Posted 05/07/2021 at 21:27:13
Steve # 57,
Could have been slightly worse if Mo Besic had been snapped arriving (I know his contract expired, but I half expected him to turn up anyway).
David Pearl
66
Posted 05/07/2021 at 21:38:01
Instead of hoping these players fail, how about supporting them and wishing them well?
For the good of the club!?
And has anyone seen Moise Kean?
Anyway
The best thing would be for these players to give 2 fingers up to Ancelotti, get their heads down and support the new manager and Everton.
That would include Allan and James.
I want to see our best players run out at Goodison in 40 days time, along a few top class addititions.
And yes, l do still believe in the tooth fairy. Trouble is we have 6 centre midfielders. But lets give them a chance.
Jay Wood
[BRZ]
67
Posted 05/07/2021 at 21:53:44
Doing a quick head count of who appears in the photos and on video, there are glimpses of all you would expect to see who are not away on international duty, including the likes of Iwobi, Kenny and Brainthwaite, even James, but the two Brazilians Allan and Bernard are nowhere to be seen.
If as likely they are returning from Brazil which is a restricted country and because they are not on the UK govt's CV-19 green list (as Richarlison probably will be as a competing athlete at the Copa America), but on an amber or red list, they possibly fall under more restrictive quarantine rules and may have to isolate for 10-14 days on arrival in the UK.
All very disruptive. Or...their absence is an indication of being sold..?
Paul Birmingham
68
Posted 05/07/2021 at 22:27:12
Interesting point Jay.
Let's hope that Marcel had some targets and has done his due diligence and that Rafa also has got his own ideas, and both have some consensus of whom they jointly want to bring in.
If both have different views there won't be too much time to get plays in who will be ready to go in 5 weeks.
I sense Englands success in the Europa could inflate the average transfer fee, and potentially makes off loading the likes of many - Delph, Iwobi, Bernard etc very difficult.
But let's see as the Danes will battle all the way.
I'm hoping Italy can over come Spain, it should be some game.mm
Simon Harrison
69
Posted 05/07/2021 at 22:39:18
Shaun #56, Please take a bow mon ami. That is exactly what we should be doing.
Hopefully, now that the 'Project Reset' button has been pressed for what..? The fifth time (Koeman, Allardyce, Silva, Carlo and now Rafa), hopefully we'll get some joined up thinking, and instead of buying 'for a position', buy a player that has the attributes you want, E.g. height, pace, passing range whatever; but, is also multi-positional. It is the way football has been moving to slowly for a good few years now.
Personally, I'd love EFC to hire several two-footed players with pace, and with the ability to play either side, or the middle.
Then regards formation, it becomes much easier, and much more effective to be flexible.
A huge yes to sell to buy when upgrades become available. Plus another advantage is you can reduce the squad size by a couple and save on the wage and benefits bill.
However, let's hope that there is a plan, and whoever runs out versus Soton on the 14th, get behind them.
I'm personally going to give Rafa time, and as much as I'm interested in the 1st teams comings and goings; I'm just as interested to see what happens with the coaching staff, academy, and executive/board comings and goings. Or even, more pronouncements from Mr. Moshiri...
Just on a note about the pre-season fitness assessments, I can't believe we are still using skin-fold and calipers for body fat measurements.!? This club is operating about 12-15 years in the past.!?
In order to be the best, you have to have the best and use the best!
NSNO my arse in that video. Just shows how much needs to change in the club.
Simon Harrison
70
Posted 05/07/2021 at 22:45:41
David #66, again well, and I echo your sentiments.
Jay #67, good points. I noticed Moise wasn't there, and someone in the comments seems to think he is self-isolating; so, I presume that is the same for Bernard and Allan.
As long as they are in the country and can start start their fitness training, it should be OK I guess.?
As for sales, I think Brands has been touting Bernard according to another Toffee website (Sorry!) but, Allan has committed himself to EFC (I presume if Rafa wants him)?
BTW Jay, are you and your wife keeping safe and well in Brazil just now?
Good wishes all
Justin Doone
71
Posted 05/07/2021 at 23:36:08
I've heard we are set to have a new drinks partnership with Nescafe.
Apparently its been on the table for a while and is such an obvious marketing choice because of our growing south American partnerships and our astute owner is such a big mug!
It turns out my taxi was actually an ambulance.
George Stuart
72
Posted 06/07/2021 at 00:41:35
That headline just looks so weird.
Eric Myles
73
Posted 06/07/2021 at 02:50:45
Tony #60,
"Our team just couldn't play on the front foot for long periods."
I wouldn't be expecting any front foot playing under FSW.
Annika Herbert
74
Posted 06/07/2021 at 04:33:13
Good idea, let's keep someone whose legs have gone, that should help with the lack of pace in our midfield!
I wouldn't worry about getting a fee for Sigurdsson, I would give him away if we could find a club stupid enough to take him on.
Alan J Thompson
75
Posted 06/07/2021 at 07:54:17
Can only but agree with some observations like only signing players with two feet and despite the obvious contradiction, no more small Brazilians and somebody multi-positional like Goalie in & out. And can something be done about the name of that bloke Brainthwack, Brianwaite, Branflakes as it's annoying me never mind him.
And fancy going on your holidays so that Day 1 reporting back you go into quarantine for 14 days, nowt like professionalism eh? And now that bloke Kean doesn't seem to have turned up while one with no legs has.
I'm going back to bed as soon as I've taken these tablets.
Tony Abrahams
76
Posted 06/07/2021 at 07:56:44
Not unless he changes some of the personnel, Eric. Silva got the sack because he tried to play on the front foot with a pairing of Keane and Mina, whilst Ancelotti realized it wasn't possible, so played a pug ugly system that suited them, imo.
Godfrey looks like he could be very good, but he's inexperienced and so I've still got my reservations, until he gets a real leader who plays on that very important "front foot". Sammy Hypia, did a great job for Benitez, so maybe Rafa, can get a bit more out of Michael Keane?
I'm prepared for defensive minded football, and actually don't see anything wrong with it if every player is drilled properly into the system. I think that, if Ancelotti would have played the same system every week, then there might even be an argument that Everton could have gained quite a few more points last season. But yesterday's gone, and the same argument still stands imo, we need some quicker and better players.
Raymond Fox
77
Posted 06/07/2021 at 08:22:54
Forgetting the Liverpool connection – if you can – I think Benitez will do an above-average job as manager. He won't fail because of inexperience, that's for sure.
The interesting part of the season is going to be what Moshiri does on the transfer front. He's tried buying expensive near-top-class players with decent pedigrees but that has not been as successful as hoped for.
I think, if I was in his shoes, I'd be scratching my head real hard.
Robert Tressell
78
Posted 06/07/2021 at 08:47:31
Personally, I don't mind defensive football if it's well organised and you can see where the attacking threat comes from. A bit like how Tuchel approached the Champions League final. A back 3 of Godfrey, Mina and Holgate looks like it could work well. Or possibly a fairly deep duo of Godfrey and Mina in a 4-4-2 (though I think this exposes Mina a bit too much unless we're very deep).
The key thing with either approach is having a good quality RB / RWB and having someone like Bailey, Neres, Neto or Diaby in the RW (ish) position so that we've got pace, quality and numbers involved in our counter attacks.
The plan (as it was under Ancelotti) seems to be to sign such players - along with probably Romero as reserve GK and Mattheus Nunes as a centre mid player with some pace and drive to help carry the ball forward in counter attacks (albeit he probably drops out in a 5-2-2-1 formation).
If there's any money left then hopefully we can buy one or two more forward (striker / winger) options as we're desperately short in that area.
As for a leader, I think Benitez has to start demanding that of the likes of Godfrey and Holgate as he did successfully with Carragher. There's a limit as to what we can buy-in.
Ian Burns
79
Posted 06/07/2021 at 08:57:50
Just curious to know who brought Saint-Maximin to Newcastle – Bruce or Benitez?
Apart from the obvious gossip about James leaving and the odd splutter about Calvert-Lewin going to Man Utd, not much mention of us but I hope that will change once Rafa takes a look at what he has inherited.
I don't want anybody to think I look through the gossip columns of course!
Steve Shave
80
Posted 06/07/2021 at 09:40:07
If we buy Aarons or Dumfries (or a similar quality right-back) we do have the personel to suit 3-5-2. Digne and Dumfries rampaging up the wings would be interesting. 3 across the middle with Richarlison and Calvert-Lewin up top. Sign an electric winger to stretch teams off the bench, an excellent back-up striker too.
Andy Finigan
81
Posted 06/07/2021 at 11:56:30
I was supprise to see Marcel Brands on the opening day of players returning at Finch Farm and probably expected him to be busy on his phone but maybe he was giving Ben Godfrey and Michael Keane a vote of confidence after missing out on the European finals.
I also think there was a chance of him weighing up the prospects of Gbamin playing regularly from the off this season.
What I also noticed was how happy he looked and maybe the relationship with Rafael Benitez is far from fractious.
Alan J Thompson
82
Posted 06/07/2021 at 15:00:06
Andy(#81); As they say; "Keep your friends close and your enemies even closer" but let's hope it is just a case of car pooling.
Andy Finigan
83
Posted 06/07/2021 at 15:24:38
I must say, to me, pre-season training seems only so good until the full squad of players and any new recruits are together. Even friendlies seem pointless.
Tony Abrahams
84
Posted 06/07/2021 at 15:59:37
It's changed now, Andy, it seems very rare to have the squad all together until just before the season begins, because of all these constant summer tournaments each year.
Friendlies are definitely not pointless; players usually need a few games to get them up to speed, and the more experienced a player becomes, then the more they should become aware of what works for them. That's the whole point really, and this is why it's always important to get a good pre-season under their belts imo, because it stops them having to play catch-up.
Bill Gall
85
Posted 06/07/2021 at 17:01:43
Defensive football has its part in football. the attack can get you points but is the defense that keeps them. You need the balance and the quality in your players to be able to switch from one to the other.
Depending on the opposition the tactics can change from overly defensive to a balance of both.
Supporters may not like the defensive side of the game but unless you have the quality of players as per City, and other top teams, you may be forced into a more defensive type of play,just to hold onto a point.
At the start of last season Ancelotti was starting to get the balance, but once suspensions and injuries started to come in we never had the squad to compensate for them and that was when players were asked to play in positions they were not used to, and mistakes started to happen, and other players trying to compensate for the mistakes were pulled out of position.
I believe Ancelotti had he right ideas, but the problem was he never had the right players.
I was not in favor of Benitez being hired but listening to his comments on the type of players he wants, not only on their skill sets, but on their attitude, I am hoping we have got someone who is going to improve us every season, is kept for longer than 1 season, and eventually make going to watch Everton exiting again.
We are Evertonians we live in hope.
Robert Tressell
86
Posted 06/07/2021 at 18:23:54
Ian # 79.
Bruce brought Saint-Maximin to Newcastle, I think, not Benitez. Benitez brought in Almiron, Muto, Lejeune, Schar, Merino, Fernandez, Dubravka, Manquillo, Murphy, Atsu and Joselu.
Which is another reason I'm hoping that Brands runs the recruitment without interference.
Martin Mason
87
Posted 06/07/2021 at 19:06:53
Robert @86,
Don't forget though he was under massive budget constraints.
Ian Burns
88
Posted 06/07/2021 at 19:17:57
Thanks Robert 86 - looking at that list Bruce has done well!
Derek Taylor
89
Posted 06/07/2021 at 20:20:25
How did an insignificant club like Leicester City get it right twice (Ranieri and Rogers) whilst Everton with limitless funds can only come up with half a dozen no marks and a Red Shite has- been ?
How long ago did that gypsy -sorry, traveller- cast his spell ?
Matthew Williams
90
Posted 06/07/2021 at 20:32:54
You've changed the pic!?.
Not surprised really,as the original one screamed of...we're gonna come forth in Florida!
Robert Tressell
91
Posted 06/07/2021 at 21:45:06
That's fair Martin although he did spend well over £100m at Newcastle. For balance, he brought Higuain, Albiol, Callejon, Mertens, Jorginho, Zapata, Gabbiadini, Koulibaly, De Guzman, Allan and Michu to Napoli.
One observation is that he seems to buy-in a lot of players. I can't see that he goes for a particular profile - it's a mix. Although he does like to bring in players he's worked with before (eg a trio from Real). Although interestingly (and this is not unique to Benitez) the biggest success at Napoli was more modestly priced players like Koulibaly, Mertens and Jorginho, who he gave a step up to.
Eric Myles
92
Posted 07/07/2021 at 04:04:50
Martin #87, and look at what he did with no budget restraints; he almost bankrupted the RedShite.
£300 million in debt with the bank looking to foreclose. 69 players in the squad, he bought 23 in 1 summer!
As Robert says #91, he uses a shotgun approach to buying, let's hope Brands can rein him in like Ashley did.
Jamie Crowley
93
Posted 07/07/2021 at 04:26:38
I don't like Rafa as manager. I've made that abundantly clear.
But.
If Christine way back at #1 is correct, and he flushes the shite down the drain, I'll be on board.
I want change. I honestly don't care what that change is, I want change.
I want younger kids played. I want over paid shithouses to never see the pitch.
Hell, if Rafa is brave and move Bernard into midfield to pull all the strings, I'll be fine with it.
Something, anything, to signal a turn from the ordinary. Bravery, come what will, is what I crave now.
Laurie Hartley
94
Posted 07/07/2021 at 07:16:24
I watched the first day of training video and was pleased to see James there. I hope we can keep him.
Gbamin has been on my mind. I think this lad has been through hell and at 25 I am sure that he would much rather be playing than just picking up his money every week. I am hoping for the very best for him this season.
Like many I went through a period of desperation over Sigurddson but I thought he was really putting in a shift at the back end of last season.
I am with Colin over Iwobi – I am not going to go in for the reasons why though.
Jamie @ 93 – "Hell, if Rafa is brave and move Bernard into midfield to pull all the strings, I'll be fine with it." You might just see that.
I think Rafa will play players in their true positions and I believe that the only place Richarlison should play is on the left wing where he can drift inside onto his right foot. Similarly, Calvert-Lewin shouldn't be drifting out to the wings.
I also believe that you don't need to have pace in midfield. Ball control, craft, tenacity, and vision are the qualities I hope for in that area of the pitch. But they also need movement in front of them.
I keep banging on about this (I even tried to submit a talking points article on it but it never got published) but I believe that the acquisition of a right-back of the same quality as Digne, and a right winger with true pace, would completely transform this squad into a very good outfit. My choice of winger would be Traore purely for his strength and pace.
If James stays, I would put him just behind Calvert-Lewin. Only play Sigurddson in that position, and only play Bernard in that position when James is tired or injured.
So it's 4-4-1-1 for me.
I have gotten over the turmoil of the last 5 or 6 weeks and am looking forward to the transfer speculation and signing of our new right back and right winger.
If that happens I will look forward to the start of the new season full of hope.
One last thing – I hope the Goodison crowd give Rafa a fair go – if he does alright the past will soon be forgotten.
Robert Tressell
95
Posted 07/07/2021 at 09:00:30
I can't think of a Benitez side that built its attack around a player like Rodriguez or Bernard. Sigurdsson possibly because he covers a lot of ground, is disciplined in blocking passing lanes and makes a lot of goal contributions. But neither of our South American playmakers possess the physical attributes Benitez usually goes for.
They seem more likely to have roles as highly paid supersubs. This is probably their last season at the club anyway, if they make it past the summer window. He's not the guy to give youth a chance either (especially homegrown youth).
Seems much more likely he'll start with a 4-2-3-1 / 4-5-1 formation – and revert to a back 5 to make us more solid if (when?) results tail off.
Basically, this is Ancelotti Mark II with an inferior resume. Sounds bleak but probably means – with the additions Laurie #94 rightly describes – we'll be in with a very good shout of the Europa League places.
I doubt Traore will be a target due to inflated price tag for someone with electric pace but few goal contributions (Neto would be a better fit). As is almost always the case, there are much better cheaper options playing overseas – Diaby, Bailey, Neres etc all highly experienced, young, good goal contributions and probably cheaper than Traore.
Andy Finigan
96
Posted 07/07/2021 at 09:04:35
Tony @84,
You have a point; maybe I am just impatient to want to see us playing our best 11 and that's including additions. Let's hope we can find those players we need to give us all a shot of adrenalin that we deserve.
Tony Everan
97
Posted 07/07/2021 at 11:26:51
Nice of Peter Crouch to be taking the photos at Finch Farm, an excellent one there of our Tom.
Colin Malone
98
Posted 07/07/2021 at 12:29:19
I just hope Rodriguez is here and plays in our first home game with a full Goodison crowd, chanting his name. If that doesn't make him feel like staying, nothing will.
Martin Mason
99
Posted 07/07/2021 at 13:06:30
Eric@92, that is absolutely the fault of the DoF and Board. The head coach doesn't control the finances or even buy the players now.
Si Cooper
100
Posted 07/07/2021 at 14:13:41
Martin (99),
I doubt a head coach has ever controlled the finances. How involved a manager may be in influencing both the quantity and the specifics of the recruits is something none of us really know.
I strongly suspect, however, that the manager will be one of the factors that persuades / dissuades players to sign; in the case of Benítez at Everton, the likelihood of a strained relationship with those on the terraces will be a(nother) mark in the debits column.
I had thought, especially if the head coach is so insignificant in recruitment, that we would already be seeing some incomings by now, considering how obvious some of the flaws in the current squad are.
Martin Mason
101
Posted 07/07/2021 at 19:33:34
Si, too early in the window yet possibly and they for sure wanted the "manager's" input? Not having a manager in place before finalising purchases would have been suicidal.
Eric Myles
102
Posted 08/07/2021 at 03:09:21
Martin #99,
The RedShite didn't have a DoF when Benitez was manager.
Martin Mason
103
Posted 08/07/2021 at 19:39:08
Eric, they would have had somebody else who fixed budgets and controlled and approved spending.
Phil Wood
104
Posted 08/07/2021 at 20:18:39
Amazed that people are putting faith in Rodriguez. I haven't seen more than cameos from him last season.
He is capable of real touches of class but I don't think he can sustain his quality in the Premier League. The game is too fast and physical for him unless he has discovered stamina, pace and commitment to go with his great touch.
I hope he is moved on.
Eric Myles
105
Posted 09/07/2021 at 04:07:20
Martin #103, but not to choose what players to buy and how many.
Derek Taylor
106
Posted 09/07/2021 at 09:38:32
On the responsibility for the buying and selling of players, I suspect Catterick was the last of our managers to have this responsibility unquestionably. But didn't even he get in deep doo doo for not telling John Moores he'd flogged Alan Ball to Arsenal?
Danny O'Neill
107
Posted 09/07/2021 at 09:43:08
Howard Kendall first time around seemed to have quite a lot of say and influence I think, Derek. But then I was only a teenager so didn't look into such things as deeply then.
I do remember him taking a few turns of the transfer windows (as we would call it now), with lots of failed experiments and chopping and changing before he found his magic formula.
Mention of Alan Ball being sold. You have just woken my Dad from his grave. He still can't accept it, and he's been with the great Evertonian in the sky since 2008!!
Brian Harrison
108
Posted 09/07/2021 at 09:58:11
I would think Moyes was the last Everton manager who decided which players to buy.
I don't like the Director of Football role as what's the point of appointing a manager if another person is going to buy the players? Since we have adopted this idea, we have spent fortunes to go backwards.
Dave Abrahams
109
Posted 09/07/2021 at 09:59:36
Derek 106,
If you read a biography on Harry Catterick, there quite a few people from inside the club who were not surprised when Harry sold Ball. Alan had been ranting and raving for a few weeks about the way the club was going, including having a go at his teammates during a training session. "How do expect me to perform with players like this around me?" he yelled, amongst many other outbursts before and after games.
I doubt if John Moores wasn't told about the sale and after Catterick got twice as much for Alan than he had paid for him after six good years. I think John Moores would have approved of the sale.
Did Alan Ball play better for any other club than he had played for Everton? He was still a good player obviously but I think we got the best of him, sad though it was, at the time, to see him go.
Danny O'Neill
110
Posted 09/07/2021 at 10:15:10
It works if you fully embrace it, in my opinion, Brian. And there is the problem. You can't go half and half.
You see a lot of the continental clubs who do it and for those who get it right, it almost (within reason) becomes irrelevant who the head coach is. And that's the key; you're no longer seeking a manager, you are looking for a coach. Subtle difference.
Even despite the foreign influence, English football has largely not been able to fully embrace or implement the Director of Football concept. We've mainly half-baked it.
Like anything, not just football, it's the initial implementation of a concept or capability that is the biggest challenge. Once it's in and working and you iron out the inevitable teething problems, it should run smoothly and as planned.
I agree with your sentiment on Moyes. A very traditional British style of manager who likes to control activities from transfers to coaching.
When it came to transfers, we called him dithering Davey. Possibly, but in the modern game, by being too much of a traditional British manager, was he giving himself too much to think about and spinning too many plates?
When you do that, you can't afford as much time to everything. You become good at lots of things but don't excel in any particular area.
That's where the Director of Football and Head Coach concept comes into its own. Let the Head Coach focus on the first team. Work with the academy coaches who focus on the academy and ensure it is aligned to the first-team structure. Let the Director of Football go out and find the players that fit the coach's and academy strategy. But there we go again. You need a vision, a plan and a strategy throughout the club.
Billy Bradshaw
111
Posted 09/07/2021 at 17:57:05
What size are Tom's orange trainers, anybody?
David Cooper
112
Posted 09/07/2021 at 18:17:45
I wonder when or if Moise Kean will appear at Finch Farm for pre-season training? I can't see any reason why he shouldn't as he is still on our books. As far as I can tell, he has no reason why he would not have reported earlier this week except for any covid reasons.
Ian Horan
113
Posted 09/07/2021 at 19:16:58
Kean is scheduled to be back tomorrow with Allan and Doucouré. I see Zouma may be for sale, take him as a third centre-back. Godfrey and Zouma both have pace to burn. Then it's Mina and Keane alternating. A big powerful spine to the team as well with Doucouré, Gbamin and Allan. Just need a goalscorer… Ings to partner Calvert-Lewin or Richarlison.
Julian Exshaw
114
Posted 09/07/2021 at 19:27:05
Did anybody get excited seeing the banner headline on Sky Sports? 'Everton sign former England forward'. Alas it was the for the ladies' team.
Brian Murray
115
Posted 09/07/2021 at 19:48:38
Julian. Seeing her finishing and touch puts the likes of Tosun to shame.
James Flynn
116
Posted 09/07/2021 at 20:10:20
Zouma "pace to burn"????
He's a good athlete, no more. AND an accident waiting to happen.
There's a reason Chelsea, an attacking side, played him less and less over the last two seasons; especially once Tuchel got there. Any attacking opponent went past old Kurt kept right on going on goal.
Pace? Distin he's not. AND an accident waiting to happen.
---
Add Your Comments
In order to post a comment, you need to be logged in as a registered user of the site.
Or Sign up as a ToffeeWeb Member — it's free, takes just a few minutes and will allow you to post your comments on articles and Talking Points submissions across the site.