Pickford helps England to first final since 1966
England 2 - 1 Denmark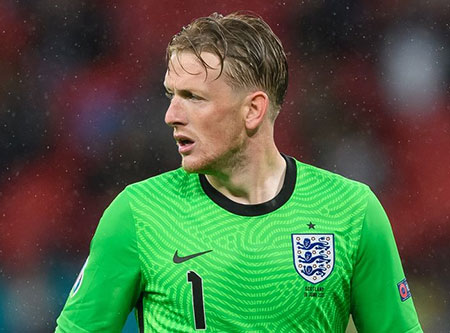 Jordan Pickford was beaten for the first time in Euro 2020 but England eventually overcame Denmark in extra-time, their efforts rewarded with a somewhat soft penalty that Harry Kane converted on the rebound.
The Everton goalkeeper came into tonight's semi-final having kept five consecutive clean sheets in the tournament and guaranteed the Golden Glove award. He passed Gordon Banks's record of 721 minutes without conceding a goal just before Mikkel Damsgaard smashed a brilliant free-kick past him with half an hour gone.
Pickford had had a couple of nervy moments and the inevitable criticism from commentators and, no doubt, the national press will surround the free-kick that was expertly executed by Denmark who shuffled a wall of red shirts across to unsight the keeper before Damsgaard hammered a dipping shot under the crossbar.
Raheem Sterling was foiled superbly by Kasper Schmeichel who turned in a man-of-the-match display for the Danes moments before he arrived in the box to meet Bukayo Saka's low cross only for Simon Kjaer to turn it into his own net.
Dominic Calvert-Lewin had been expected to be named amongst the long list of substitutes but was overlooked again when the 23-man matchday squad was announced but despite there being times where another striking option might have benefited Gareth Southgate, he wasn't needed.
It was Sterling whose penetrating run on the box drew contact from Maeler and the referee deemed it sufficient to award a penalty, with the video assistant referee electing not to over-rule the official on the field.
Schmeichel saved Kane's spot-kick but the Tottenham striker rattled in the rebound and England held on through the remainder of extra-time against a tired opposition to set up a date with Italy in Sunday's final.
Article continues below video content
---
Reader Comments (257)
Note: the following content is not moderated or vetted by the site owners at the time of submission. Comments are the responsibility of the poster. Disclaimer
Martin Nicholls
1
Posted 07/07/2021 at 15:03:00
So England play Denmark, rather than the more fancied Netherlands, in tonight's semi-final, but what thanks does our Jordan get for helping to ensure this easier passage to the final?
Those pundits who've slagged him off all season now forget his role in removing the world's greatest ever defender from the Netherlands ranks and thus mortally wounding their campaign! Once again I say, "Well done, Agent Pickford"!
Mark Ryan
2
Posted 07/07/2021 at 16:06:58
Always proud to have an Everton player representing their country including now those in the womens game.
Always used to cheer big Nev on when he played for Wales back in the day. It never did any good but he was a blue and so that's what we do. Hope Kane gets a hammy tweak when we are drawing 1 nil in the final and then Dom gets on and scores the 2nd to win the game.
Good luck Jordan, we'll all be watching. No running out and swinging a leg, there's a good lad
Kieran Kinsella
3
Posted 07/07/2021 at 16:46:08
If England lose, I'll be in the weird position of not being upset as there's no way I could be resentful of Denmark winning given the circumstances.
Likewise, Italy in the final. They've played good entertaining football. No dirty tricks and cynical stuff like some teams of old. I am glad Spain lost as they only won one game out of six within the 90 minutes. Italy deserve to be in the final, and whoever else makes it will be there on merit too. Unusual to have a tournament without villains e.g. Hand of God, or the Argentina team of thugs from 1990. But enjoyable to watch.
Dale Self
4
Posted 07/07/2021 at 16:59:16
As usual the commentators are a step behind complaining about his past form. The young man appears to have sorted out some of his shakiness and put on some fantastic performances. His leadership ability is also growing, it's been a real step up.
Dennis Stevens
5
Posted 07/07/2021 at 17:09:23
I'll just be happy if our players don't end up carrying the can for England's (inevitable?) failure
Frank Sheppard
6
Posted 07/07/2021 at 17:10:52
Kieran at number 3- Italy no dirty tricks you must be joking. They have faked more career ending injuries, and players shot by snipers than any other teams. Really takes the shine off their great skill, performances and team spirit. Cheats prosper.
Danny O'Neill
7
Posted 07/07/2021 at 17:18:21
I played a few matches when I lived in Italy. We think we are tough? They are cynically dirty and do it on the sly. And the talk elsewhere of making sure they get the foul when there is contact? Masters of the art.
Anyway. Down to the last 3. From the onset, Italy, my second favourites, Denmark, my dark horse and England who I always thought had a chance, more so when the path fell as kindly as it did for them. I've not done too bad!!!
I'll relax and watch the football tonight.
Fondness of living there and my sweepstake interests have me leaning Azzuri for Saturday!
Kieran Kinsella
8
Posted 07/07/2021 at 17:19:27
Frank
It's all relative. Every time England lose the ball in the final third they dive. But they only have about six attacks per game whereas Italy have 30 so exponentially go down more just as everyone does nowadays. The only egregiously dirty team I've seen were as usual Portugal with Ronaldo and Pepe taking histrionics, dirty fouls, provocation and ref harrasment to another level. Luckily, the refs were strong enough to ignore them although I'd like to see them properly enforce the rules and start dishing out cards for such behavior.
Kieran Kinsella
9
Posted 07/07/2021 at 17:22:58
Danny
I had a good mate who was Italian at Uni. Stocky little Gary Neville looking fellow. He taught me everything I know about shirt pulling, elbows, sly hacks, feigning innocence etc. He ended up leaving our Uni team for a much better one. But we beat his team in the local cup as he'd taught us the dark arts too well.
Danny O'Neill
10
Posted 07/07/2021 at 17:33:29
They definitely top the global league for that look of total innocent surprise and quality hand gestures Kieran!!!
Danny O'Neill
11
Posted 07/07/2021 at 17:39:59
Grealish knows a thing or two about how to get a free kick. Maybe we should call him Grealishiano
James Flynn
12
Posted 07/07/2021 at 17:45:30
Maybe Grealish HAD to. Even with all the games he missed last season, he was (by some distance) the most fouled player in the league.
Andrew Ellams
13
Posted 07/07/2021 at 17:45:43
Kieran, the Italians were shocking in extra time last night. They had clearly decided to kick Spain into penalties.
Danny O'Neill
14
Posted 07/07/2021 at 17:49:30
That's been the debate James. It's not disputing he gets fouled a lot, he just makes sure the ref knows when there is contact. It's not an Italian thing or foreign thing. Our players do it just as much now.
Derek Knox
15
Posted 07/07/2021 at 17:52:01
As a neutral but wanting England to progress, I think they will have to safeguard against treating Denmark too lightly, or Denmark could quickly become a Skidmark!
Having watched all of the games thus far, it pisses me off when I hear them talking about clean sheets, but never mention that it is Jordan Pickford between the sticks, let alone that his Home Club is Everton, biased or what? Yet if it is that Neanderthal piece of Mammoth Dung Hendo, the Liverpool connection gets more than a mention, as does most of the other players' parent Clubs.
Hope it is more of a Romantic Play than a TragiComedy, with Hamlet (Cigar) playing a leading role. Alas poor Southgate I knew him once, a Fellow of Infinite Jest (Not), He hath borne us on his back a thousand times! :-)
Kieran Kinsella
16
Posted 07/07/2021 at 17:53:49
Stat time.
We only lost 1 of our first 15 games versus Denmark, since when we have lost 3 of 6.
We've failed to win in our last five UEFA tournament clashes with Denmark
We have beaten Denmark twice at Wembley when their goalie has been a Schmeichel
Danny O'Neill
17
Posted 07/07/2021 at 17:54:54
They will have too much for Denmark Derek. It will be an Italy v England final.
Jordan has had a fine tournament.
Kieran Kinsella
18
Posted 07/07/2021 at 17:56:50
Andrew
Maybe they were bored of watching Spain's exhibition of sideways passing with no end result that's been going on for a month. Or maybe they heard Luiz Enrique's Bobby Robsonesque faux pas of announcing "we don't practice penalties." Or perhaps they were tired having actually played a good team in the prior round while Spain limply struggled by the displaced Albanians.
Danny O'Neill
19
Posted 07/07/2021 at 18:15:10
Must not have hit submit.
I'm going in again. London pub to watch England time. Dreading it.
Not only the dreadful "coming home" song but now grown men singing Atomic Kitten.
Looking forward to the match though.
Andrew Ellams
20
Posted 07/07/2021 at 18:17:46
Kieran, no end result from the top scoring team in the tournament?
Barry Robson
21
Posted 07/07/2021 at 18:28:21
Dont worry Derek if Jordan makes a mistake his home club will get loads of mentions.
Kim Vivian
22
Posted 07/07/2021 at 18:28:57
Live forum's open guys.
I'm English but I'm afraid I struggle to get excited these days with the team (Bar DCL and JP of course). Hoping England make it to the final but think it's a bit pissy that the Danes have not been allowed into the country for covid reasons (officially - but Brexit sniping between the lines) so they are struggling to take up their 5,000 allocation I understand.
They should offer them to the Scots and provide each Jock with a Danish flag/banner and song sheet.
That should help with the atmosphere.
Dennis Stevens
23
Posted 07/07/2021 at 18:31:18
Surely there's 5,000 Danes in the country - if not in London?
Kieran Kinsella
24
Posted 07/07/2021 at 18:41:21
Andrew,
Their goals per match is 2.2, the same as Denmark. But Spain effectively played an extra game as they had three lots of extra times so a further 90 minutes and effectively a seventh game. Factoring that in their average is 1.8, less than Denmark and the Netherlands.
Moreover, they scored 5 in one game against a team probably on the take. Their metrics on KPI for expected goals is 17.1 and they only have 13 (five against the on the take team) so really that's like 8, which means they suck. Kind of like when Oleg Salenko was WC top scorer with six (5 against Cameroon)
Kim Vivian
25
Posted 07/07/2021 at 18:47:45
Yeah - evidently there are about 20 odd thousand but they don't all want to go to a footy match of course (specially at £600 a ticket or whatever it is).
Rob Halligan
26
Posted 07/07/2021 at 18:49:03
Kim / Dennis. According to SSN there will be anything between 6K - 8K Danish fans inside Wembley tonight.
Rob Halligan
27
Posted 07/07/2021 at 18:50:08
DCL not even named amongst the subs tonight. 😡😡😡
Kieran Kinsella
28
Posted 07/07/2021 at 18:54:35
Rob
I guess Southgate feels he has enough goals in the team. If Kane got injured, Rashford could play. Sterling has played as a striker for City too. Plus, taking off your blue shades, if we were 10 minutes from elimination needing a goal, would you bring on DCL ahead of Grealish, Foden or Sancho? To me that would be a bit like bringing on Alan Smith for Lineker. A functional forward, decent in the air but hardly prolific and unlikely to create or take an opening that someone else couldn't.
Danny O'Neill
29
Posted 07/07/2021 at 18:56:37
I know where Kieran is coming from. I watched the first match & thought they looked a good team as you would expect but just lacked that cutting edge of previous recent teams.
I know that's harsh and the subsequent stats in the tournament don't necessarily support that, but I know what I mean and what point Kieran is making!!
Phil Bellis
30
Posted 07/07/2021 at 18:56:53
Any hint of a JP error and "former Sunderland goalkeeper" will become "Everton goalkeeper"
And still no mention of him doing England a favour by taking out Netherlands best defender
Kim Vivian
31
Posted 07/07/2021 at 19:03:41
Hope that's right, Rob - will make for agood atmosphere in there. Can't see us not progressing tonight but Italy will be a tough nut to crack. Their speed on the transition at times yesterday makes England look pretty pedestrian and they do seem a class above tbh.
Paul Birmingham
32
Posted 07/07/2021 at 19:05:24
As a partizan Everton fan, Everton comes first in football, every time and and yet again DCL, is not considered as an option for tonight's squad.
From a football perspective is Southgate telling him something about his playing style and potential?
Let's hope if he's telling him to work harder and do more, then he'll take up the challenge for next season for Everton.
Italy scrapped home last night, my pre tournament bet on Italy, is still on.🍻☘️
Danny O'Neill
33
Posted 07/07/2021 at 19:18:27
Devils advocate moment on Dominic. We love him and he's improved his game no end to get into the England squad for this tournament. One of a few highlights from what ended up being a disappointing season.
But ahead of Kane and Sterling as attacking options in the starting line up?
Ahead of Rashford, Foden and Grealish on the bench?
I don't think so. I said devil's advocate. Our best can't make the England bench.
But to reiterate, he worked hard to make the squad and tournament. It will have been a good experience for him. Providing he doesn't follow the traditional path of Everton players and being involved with England!!
Fran Mitchell
35
Posted 07/07/2021 at 19:22:03
Ramsdale, Johnstone 2 keepers seems to be a 'just in case of emergency'
Grealish and Henderson will almost definitely come on at some stage
Rashford and Sancho to play wide and with pace, one on the right, one on left. Rashford can also play down middle.
Trippier, James cover for both full backs
Mings, Coady cover for both centre backs
Foden - got to be on bench
Bellingham - important midfield option
Unfortunate for DCL - but there is logic to all the substitutes named. If Kane gets injured, there are options. Personally prefer to see DCL in place of Coady, but should we switch to 3 at the back for any reason, Coady suits it better than Mings.
Fran Mitchell
36
Posted 07/07/2021 at 19:22:59
But the redemption of Jordan Pickford is surely one of the stories of the tournament. Come on, Jordan lad!
Danny O'Neill
37
Posted 07/07/2021 at 19:30:14
In fairness, Fran, the improvement in Jordan was apparent with Everton's 2nd half of the season.
Barry Robson
38
Posted 07/07/2021 at 19:37:18
I'm sure there are millions of English women hoping England win. Due to domestic violence increasing by as much as 80% when England get knocked out. Unfortunately millions of women get knocked out too.

Christy Ring
39
Posted 07/07/2021 at 19:50:20
Rashford is the only striker on the bench, and he's not a target man. Can someone explain to me why Southgate doesn't put Calvert-Lewin on the bench, a direct replacement for Kane, but puts two keepers on the bench? Ridiculous.
Michael Barrett
40
Posted 07/07/2021 at 19:55:38
Pickford is shitting himself there...
Kieran Kinsella
41
Posted 07/07/2021 at 19:59:44
Poor old Champions League winner Chilwell hasn't featured at all.
Robert Tressell
42
Posted 07/07/2021 at 20:01:29
Jesus, Barry (#38), that's horrifying.
Chris Leyland
43
Posted 07/07/2021 at 20:09:03
Christy 39 – apparently you have to have 2 keepers on the bench.
Christy Ring
44
Posted 07/07/2021 at 20:50:35
Chris #43,
Thanks for clearing that up, I never knew.
Danny O'Neill
45
Posted 07/07/2021 at 20:52:02
Fairly even half. I do like the Danish right-sided player Stryger Larsen.
Good Danish team, good English team.
Said it before, we could do worse than shop in Denmark, Mr Brands.
Jay Wood
[BRZ]
46
Posted 07/07/2021 at 21:00:45
Other than 7-8 minutes at the start and end of the half, Denmark has been the better of the two.
England initially looked to do what they haven't shown all tournament. Quick, crisp, high intensity. And then the defence sat increasingly deeper, passing became pedestrian again and Denmark controlled the game.
Cracking free kick for them. Jordan looked a little off guard, but still got a fingertip to it. I'll wager he gets blamed rather than talk up the quality of Damsgaard.
England woke up again just before the break with Kane creating two chances in quick time, one of them leading to the equaliser. Quite clearly it's an exercise in futility crossing from deep into the Danish penalty when it's occupied by Orcs. The danger for England comes from getting in behind and playing ground balls into onrushing forwards.
The defence needs to push up a good 15-20 yards to squeeze the space in midfield and the ball needs to be moved on quicker than it has been nearly all tournament.
England can win this, but equally, so can Denmark. He who dares wins.
John Cook
47
Posted 07/07/2021 at 21:04:25
Spot on there, Jay, that prick Neville blamed Jordan with a little backing from Keane. To be fair, Ian Wright said it was a great free-kick. If England get beat, it's odds on Pickford will get the blame.
James Flynn
48
Posted 07/07/2021 at 21:12:58
Got used to the empty stadiums.
Great hearing the crowd roaring again.
Roger Helm
49
Posted 07/07/2021 at 21:33:47
Interesting contrast with last night's game. That looked like a Champions League match, this is more Premier League.
The other difference is how ugly the England fans are compared with the Europeans, but maybe that is just me.
Jay Wood
[BRZ]
50
Posted 07/07/2021 at 21:59:37
Agree on the contrast, Roger. England's football is so British.
Last night with Italy and Spain, you saw both teams playing quick, slick, one-touch football to keep the ball moving. England? Almost every time someone receives the ball, it's 2-3 touches minimal before moving the ball on. That adds up to an awful lot of nano-seconds over a game in which margins are so small in catching a player a smidgen out of position to take advantage of.
How bold will Southgate be in the many subs he still has in hand compared to Denmark?
Barry Robson
51
Posted 07/07/2021 at 22:44:01
I'm no England fan but hats off to Southgate. Great tournament plan and management.
Come on, Italy!
David Nicholls
52
Posted 07/07/2021 at 22:49:00
Surely you mean "Bring on Italy"?
Barry Robson
53
Posted 07/07/2021 at 22:50:10
No.
Jay Wood
[BRZ]
54
Posted 07/07/2021 at 22:51:43
Definitely the best team on the night, but I don't see enough smarts in this team or the tactics of the manager to beat Italy.
The best spell of continuous pressure on the Danish goal was in the first half of extra time. Just more of the same will see it safely home. But no. Pull off one of the few creative players the opposition is wary of getting a run on them and put on another defender.
Result? Denmark camped in England's half for most of the 2nd half of extra time (even down to 10 men), with England's best spell in this period the keep ball in the final two minutes.
Even though I thought Grealish was harshly treated in being a subbed out sub and whilst Saka has been 'OK' when starting, I can't understand how Foden, from being a starter, has had so little game time.
His movement. One touch passing. The perfect weight of his passing. His all-round intelligence. He should be on the pitch from the off.
English Bulldog or Italian guile and grit on Sunday? Il azzurro from what I've seen of this tournament.
Barry Hesketh
55
Posted 07/07/2021 at 23:00:41
Denmark conceded the game when they took the two goalscoring dangermen off after about 70 minutes; thereon, in it was all England. But if England plays that silly passing about at the back against Italy, they'll be punished. I don't like the taking it to the corner flag, when there's a chance to kill the game with a third goal, but it worked against the 10-men Danes in the last period of extra time.
I can only see a very tense and defensive game on Sunday and Italy are masters of that sort of match.
Congrats to Pickford for breaking legendary goalkeeper Gordon Banks's record of most minutes without conceding a goal for England… not enough to stop the pundits moaning about his performance, there must be some really great English goalkeepers in the squad??
Will Mabon
56
Posted 07/07/2021 at 23:11:00
Barry, the "best" part was when Dixon said in commentary, "That's two kicks on the run Pickford's shanked". The first was not shanked, it just went out of play, the second was passed to him awkwardly onto his right foot – not even noticed or acknowledged.
Henrik Lyngsie
57
Posted 07/07/2021 at 23:14:40
Congratulations to all you English ToffeeWebbers. We Danes exited the tournament with pride.
Stan Schofield
58
Posted 07/07/2021 at 23:15:40
Will @56: It's best to switch the sound off; that way, you don't have to listen to the absolute shite these so-called 'pundits' spout.
Justin Doone
59
Posted 07/07/2021 at 23:22:12
Congratulations to Pickford and the rest.
Grealish sub was strange but, if you win, it's easily forgotten.
Same for Pickford, I wondered where he had been hiding. Multiple poor kicks and distribution.
The Danish goal was a good free-kick. It was on target but it was not in the corner. I think a top keeper saves that. Small margins.
Phil Bellis
60
Posted 07/07/2021 at 23:23:16
Scouse, not English, was very evident in L1 and L8 tonight... Danes did great to get so far. 👌
Mike Doyle
61
Posted 07/07/2021 at 23:29:05
Henrik #57,
Without the highly questionable penalty, the game was heading for penalties. Great shame the game was decided that way.
If that penalty was given against Everton in a Prmier League game most TW posters would have been very unhappy.
Colin Glassar
62
Posted 07/07/2021 at 23:42:09
Great performance by our Danish friends. They should be proud of themselves but England's strength in depth proved decisive.
Jordan's nerves are starting to show. He's still won me a shitload of points in my euro fantasy football league.
Paul Smith
63
Posted 07/07/2021 at 23:45:17
Well done, England; we can beat Italy, who we're lucky to beat the Spanish.
Neil Copeland
64
Posted 07/07/2021 at 23:53:47
Should be an interesting final. England have grown into the tournament and showed a lot of fight to come back from a goal down. Italy have looked the best team in the tournament but creaked a little against Austria and were a little fortunate against Spain. It's up for grabs, the raucous Wembley support may just make the difference.
Joe Corgan
65
Posted 07/07/2021 at 23:56:15
Christ, I'm over the moon. Unlike many, my allegiance to the national team is as big as my support from Everton.
Barring an FA Cup Final or two, Sunday is the biggest match I'll ever have watched.
I'd love to win on Sunday but I'm over the moon that we're there. Going to really enjoy the build-up for the next few days. It could be another 55 years til we reach another final.
Neil Copeland
66
Posted 07/07/2021 at 00:01:46
Joe, spot-on, mate, me too. It's already a fantastic achievement and we should just enjoy it.
Come on, England
Will Mabon
67
Posted 08/07/2021 at 00:07:21
Stan, you're right, I realized that years ago, never normally watch the TV anyway. I watched the match in company tonight and had no choice. Won't be doing it come Sunday!
Kevin Prytherch
68
Posted 08/07/2021 at 00:08:58
Commentators are always biased.
Southgate brought a sub back off tonight and was praised for making big decisions, I don't recall Ferguson getting praised when he brought a sub back off.
Pickford getting blamed for the goal, but no one's mentioned the blatant fouling that gave the needless free-kick away in the first place.
Will Mabon
69
Posted 08/07/2021 at 00:16:41
A good point, Neil - only one game perhaps, but for many years it was unlikely England would have recovered from being a goal down, particularly in a major tournament. I just hope Southgate doesn't get intimidated into overuse of the cautious approach for the final.
Denmark have been great. I thought they looked a little less energetic tonight than in previous games, but we did hold possession well from them.
Rob Dolby
70
Posted 08/07/2021 at 00:16:52
Pickford looked a nervous wreck, it's a good job that he didn't have much to do. I think he has matured and did well for us last season but there is always a moment of madness in him.
Schmeichel on the other hand looks a great keeper. Is he better than his dad? I think his footwork and reflex saves are better, maybe not the physical presence but football has moved on from that aspect.
England deserved the win, their free-kick was as soft as our pen.
Italy will be a different proposition. Their midfield and forward movement could be our undoing. We need massive games from our midfield to have any chance.
Will Mabon
71
Posted 08/07/2021 at 00:21:14
Kevin, I saw no blame for Pickford in that goal. It's impossible to cover everything and sometimes keepers will attempt to "read" the shot, at the cost of just a foot or so lost in position, or gained, depending how it pans out.
Not that everyone will agree...
Will Mabon
72
Posted 08/07/2021 at 00:25:20
Rob, such fine margins and run of the ball. Commentators praising one shot Schmeichel saved, then switched to saying how well he spread himself (true as it was) when the replay showed the shot basically hit him in the guts and bounced off.
Rob Halligan
73
Posted 08/07/2021 at 00:25:56
Pickford had no chance with the Denmark goal. Anyone who thinks otherwise needs to give their head a serious wobble. The more I see it, the more I think he did very well to get even a finger touch on the ball.
It was a hell of a free-kick, with plenty of power and dip just under the bar to fly in. Just because it wasn't right into the corner doesn't mean Pickford should have saved it. But then again, this is TW and all the experts on here know better.
Will Mabon
74
Posted 08/07/2021 at 00:29:41
Rob, no doubt some of the media will "know" better tomorrow as well...
Jay Harris
75
Posted 08/07/2021 at 00:30:46
Pickford might have been a bit nervous but he still did his job apart from a ridiculously conceded free-kick by Shaw that who wasn't even mentioned again.
The idea of a wall is that it protects one side of the goal and the keeper defends the other.
It was a great free-kick but again no commentator criticized the wall for failing to block. No, it's easy to blame the goalkeeper who had no chance.
Will Mabon
76
Posted 08/07/2021 at 00:36:22
He's had a good tournament, Jay, and I haven't seen too much nervousness myself. I could see it in the past but nothing to worry about now. He's a good part of the reason we are in the final and have conceded only one goal.
Jay Wood
[BRZ]
77
Posted 08/07/2021 at 00:48:19
It was a fantastic free-kick, hit with power and perfect technique that looped the ball high, but with late dip that flew into the net. Two men were in position to take it and Damsgaard took it so quickly, gaining a nanosecond. Jordan clearly still got a fingertip to it.
I had Brazilian commentary but imagined English pundits would be all over Jordan, for that and a couple of stray kicks. The only one I'd personally call him out for was the dreadful throw-out intercepted just outside the penalty area in the first half. Otherwise, he was catching, punching, diving and smothering the ball without a single blip.
In the second half of normal time, he had two poor backpasses to deal with. One he kicked into touch, the other on his right foot was kept alive by Denmark but came to nothing. I'll wager something was made of Jordan's perceived failings and nothing of the poor backpasses to him. Or, indeed, a couple of other plays between those incidents when both Walker and Shaw took wild swings at the ball in their own penalty area, skying them both and keeping their team under pressure.
As he was in the 2nd half of the season for Everton, Jordan is having a great tournament and the first keeper ever to keep five straight clean sheets since the first game.
Rob Halligan
78
Posted 08/07/2021 at 00:58:44
Jay,
Kasper Schmeichel kicked one or two into touch. Nothing was said of him doing such a bad clearance. Having said that, he was probably still MotM.
Don Alexander
79
Posted 08/07/2021 at 01:11:25
To me, whole tournament has been a bit of a drudge, the ball constantly moving sideways across the pitch for minutes on end whilst no player ever seems to make a run forwards. I admit though that they've been enlivened by a few phases of play here and there that've really excited me.
Moving on, I watched tonight's game and once again saw slab-head McGuire present the only serious aerial threat in their box. Now, given that we won by an own-goal and a lucky penalty, I'd've thought that an England manager, realising with McGuire that an aerial threat in their box is a prime goal-scoring strategy, would have had England's best striker when it comes to aerial presence on the bench at least.
We now face Italy; wily, devious, defensive bastards as they are. On the grass, they're masters of the dark arts but, when the ball's 2 feet higher in the air than the aging Chiellini and his campadres can even dream of reaching, I just wonder if "Sir" Gareth (and that is gonna "come home" folks, regardless) might extract his head from his ass and select, even on the bench, the one attacking aerial supremo he has in his squad, he also being the only player, under Southgate at the time too, to score the only goal in a World Cup Final itself?
James Flynn
80
Posted 08/07/2021 at 01:13:05
Terrific free kick for the goal. The only ball past Jordan in 5 games is one Christiano or Lionel would have given a stamp of approval to.
As Evertonians, we have to accept that the national press, pundits etc in England know the same thing we've worried about the last few years. Pickford's a mistake waiting to happen. And happen. And happen.
Except he's been excellent for the last 7 or 8 months. That the national press and pundits would've taken no mind of since he only plays for Everton; which club has given them no reason to follow or care about.
Anyway, who cares what some speech-enabled manikin says on TV. They don't matter.
Jay Wood
[BRZ]
81
Posted 08/07/2021 at 01:34:11
Yes, Rob. I saw the same thing. A couple of clearances by Kasper hit into touch of the full under nothing like the pressure Jordan received the ball in a couple of situations.
The Dane's save from Kane was outstanding. So was Jordan's pair from Braithwaite and Damsgaard, even though the latter was eventually called offside by a smidgen which our lad didn't know when making the save.
I caught an earlier England match with Lee Dixon the in-game pundit. He didn't miss a single opportunity to slag off Jordan – and invented a few more for good measure besides.
It's really, really strange how unappreciated Pickford is in some quarters.
Kieran Kinsella
82
Posted 08/07/2021 at 02:44:23
Henrik/Soren
Congrats your team did you proud.
Joe
I'm with you. I wasn't around in 66. I thought we'd blown it when that cross whisked by Gazza's foot in 96. I'm in shock. On paper, we should've won; as Colin said, we had more depth but, after my 44 years of failure; handballs, penalty shoot outs and Iceland, I'm on Cloud 9.
Will we beat Italy? I don't know. They've been brilliant and greater than the sum of their parts. But to be in a final for the first time in my lifetime is unbelievable. If Italy win, they win, no complaints from me (unless it's via the hand of God) but I'm just ecstatic to be here, expecting a great final and may the best team win.
Don Alexander
83
Posted 08/07/2021 at 03:01:14
To Jay and many others pissed off with pundits constantly doing us down, and it grates with me too by the way, I'm forced by a measure of analysis of the past 30 years to wonder whether they may just have a point.
In those 30 years, after Walker, we've had Big Joe's "Dogs of War" team, DVDs of their finest moments being all but non-existent; Walter "Disappointing" Smith's team – 'nuff said; Moysey's "Knives to a Gunfight" team, their finest moments' DVD being even more absent than thOSE of the Dogs of War; and then the tsunami of chaos delivered by Mr Moshiri.
For good reason, we're regrettably eternally last on MotD every week due to what others have described as "zombie" football. They, and the Beeb, are generally right.
So, is there ever going to come a time when us lot, genuine fans, TW posters, some of us seemingly endowed with especially insightful points of view, are going to register our ire together not on some nouveau ex-Kopite manager – as hideous as he is, but on the self-serving moron who's been at the top of our club for nearly all of those 30years – according to his self-proclaimed title (but only he, other mega-rich shits and God above know the actual truth on his alleged status).
He and those he backs are a hole in our heart. Moshiri, or whoever pulls his strings if that's the case, need to eradicate his and their influence before we can ever hope to mount a credible campaign, surely?
Derek Knox
84
Posted 08/07/2021 at 03:25:29
Don @ 83, whilst there is some credence in what you say, I nevertheless think you are overlooking that we have had some very good players over the years who have neither been utilised to their full potential, by various Everton Managers. That should not make them the subject of being picked on by journos, whilst being rarely picked for National Duty.
As many have alluded over the years, the Media seem to have a total dislike for us, for whatever the reason, but yet overlook the misdemeanours of players at the darling clubs! As soon as we get genuine talent, they are sold to those clubs with hardly a mention of where they started their careers.
Christine Foster
85
Posted 08/07/2021 at 03:39:21
So I was up ridiculously too early for the game as I didn't want to sleep in... 7am kick-off but up at 4am... was it worth it? Of course it was, because of the crowd and the atmosphere and the occasion of it all. Conversely, I thought the game quite poor from a footballing perspective, few chances overall, but never mind the quality, what a result for England!
The ITV commentary team (apart from Ian Wright) of Dixon, Keane, Neville seemed to be just waiting for an excuse to have a go at Jordan Pickford, in truth he did make a hash of a couple of throw outs, but again his saves were excellent. If Pickford went to Man City, he would be being praised as much as Peter Schmeichel who, according to the BBC, was Man of the Match.
I so want Everton to stuff every single one of their Top 6 clubs this season and win something... I can dream.
On a couple of other points, Kane is vastly over rated IMO.
Honestly, I am amazed if he is the best striker in English football. If Calvert-Lewin had the same quality of service, he would give just as good if not better results. His time will come.
Mount and Saka, neither are good enough for the final; Foden and Grealish should start.
Lastly, the number of times there was no-one up front in the middle waiting for a cross, I lost count of the number of times we were in a good position to cross but had no-one to aim for or just Kane with 4 or 5 players around him, never going to win a thing.
Italy should be so difficult for England to overcome, but do it they must. I have a feeling the crowd may well carry them over the line.
Jack Convery
86
Posted 08/07/2021 at 03:46:28
Jordan's doing okay. No chance with that strike. No goal conceded from open play is some record to have at this stage of the tournament.
Players I'd like Everton to be looking at are obviously Dumfries of the Netherlands, the blonde Swedish midfielder, whose name escapes me, Schick from the Czechs and my favourite of the whole thing – Dammesgard of Denmark – he's a star in the making.
I've watched all his appearances since coming on for Eriksen as a sub. He handled that situation really well and has been a standout performer, even before tonight's great free-kick. Ericksen hasn't been missed. He's 21 and Definitely worth a punt and, in my opinion, will be worth a lot more in a few years time. So sign him, Mr Brands.
As regards the Italians, it's Young Guns versus Old Masters. I hope England win but the Italians may just have a bit too much nous for them.
Kieran Kinsella
87
Posted 08/07/2021 at 03:56:13
Christine,
Fucking hell, ITV had Peter Schmeichel as man of the match even though he retired 15 years ago???!!
Typo apart, I did think Kasper was excellent. I like him a lot as a goalie and a man, He tried to save victims of the helicopter crash, then stepped up when Christian Eriksen had his coronary. I even chuckled at his cheeky post-game response to "It's coming home." Great player, I'd have loved him to be an Evertonian.
MotM? not so sure. Putting aside my blue-tinted glasses, the ex RS Sterling is the man who's impressed me most. He's the guy making it happen for England. He's suffered horrendous racist abuse on Twitter, and tabloids misinterpreting his gun tattoo as something supporting violence. I'm as partisan and tribal as it gets but I truly admire this young man as a player and a human being. He's not just my MotM but my player of the tournament.
Joe Corgan
88
Posted 08/07/2021 at 05:59:06
Christine 85 - Interesting point on Kane. I've been slagging him off for months for what I saw as his poor positioning but he does get goals nonetheless. He also had 14 assists last season (highest of anybody in the league). Despite that, when I watch him, he always seems to me to be out of position. He's always drawn towards the ball and pops up on the wing or in midfield when there's nobody in the box.
I was always taught, as a striker, you should be in the middle. Ready to receive the ball in the box. Or hanging off the shoulder of the last defender.
I now find myself scratching my head. More goals than anybody in the league, more assists too. Clearly the game must have moved on from when I was taught to play football! Perhaps the problem (if there is one) isn't Kane being 'out of position', it's the fact that no-one then fills in the gap.
Danny O'Neill
89
Posted 08/07/2021 at 06:18:25
Well, I survived another sitting in my London local. Yes, the same cringeworthy songs but the mood has changed. Observing last night, this is due to booking requirements, which I noted has changed the clientele.
The number of what I would call traditional Ing-ur-land supporters has diminished. They seem to have been replaced by more who now see it as trendy to follow football, but have never followed footballWell not from some of the shouts I heard last night. But they have a brand New England shirt. I'm in two minds as to which is more irritating!!
Anyway, the match. Not a classic. I thought Denmark were good, particularly in the first half. I said earlier, I do like their right back / right wing back, Larsen. Schmeical is some keeper; no disrespect to Leicester, and I know they've offered him all he needs as a player in recent seasons, but I'm surprised the really big clubs aren't hovering. Denmark simply tired and as suspected, England had too much in the end, but a close game. For me, and I called it early, I thought Sterling made a / the difference. Almost every time he had the ball, there was a sense of danger and something happening.
We mention Schmeical. Jordan is a very good and much improved keeper too. I'm not going to dwell on a couple of mistakes; they happen. Rob @73, I believe we've come out in defence of the goalkeeper's union in the past to counter those who are convinced every goal can be avoided, just like on FIFA 2023 or whatever the latest version is.
That was a perfectly executed free kick. Fairly central? Yes, But the pace, direction of travel and late dip gave the keeper no chance in real time. Those who think otherwise because they watched it second hand in slow motion have possibly never defended or tried to save that type of shot??
One more sitting surrounded by the natives to go, then I can get back to the real business of Everton.
Don't let me down on my sweep stake Azzuri. Forza Italia.
Robert Tressell
90
Posted 08/07/2021 at 07:24:30
Jack # 86, Fjorsberg
Kieran # 87, Sterling has end product and brilliant movement. He's not a dribbler like Messi but he certainly delivers.
Overall, England have been extremely professional. Just one goal conceded en route to the final (and it was the best free kick of the tournament by a mile). Recovered from going a goal down – which took a lot of character.
Panicked a bit but then settled down and I think it's worth calling out Stones and Walker for just how calm and mature they are. Brilliant performances in defence.
Rice is not my cup of tea because he has no passing range whatsoever but he does a job.
Jerome Shields
91
Posted 08/07/2021 at 07:26:58
I thought Kane was world class, but fortunate with the penalty. Sterling was an outstanding threat, but again was fortunate to get a penalty. Overall, England deserved to win; they kept threatening and were too strong for Denmark. Denmark's goal was outstanding and would have beaten 99% of goalkeepers.
Southgate's tournament management has been outstanding. They will be a real threat to win in the final. A very British team in terms of tactics and play.
Danny O'Neill
92
Posted 08/07/2021 at 07:38:31
Christine & Joe @88, I've commented often to differentiate Kane from Dominic.
Initially I too didn't understand the hype around Kane when he burst onto the scene. But the more I watch him, I see a much more complete striker than Dominic.
I remember not really being impressed with a young striker we signed from Dumbarton. A few years on, he turned into Graeme Sharpe. Repetition time from other threads, but Kane in many ways reminds me of Sharpe.
Ian Bennett
93
Posted 08/07/2021 at 07:58:00
I am not interested in Gary Neville's opinion. I'd far rather hear from a goalkeeper.
Neville knows fuck all about goalkeeping. What he should know is that Luke Shaw gave away countless free-kicks, when Denmark's main threat is free-kicks. Again, club bias exempted Neville from criticising a Man Utd player – yawn.
My limited knowledge is that the lad put it over the wall, at pace, and just under the bar. Pickford had no time to react, and no keeper has the range to cover his side of the goal plus cover the underside of the crossbar on the other side. Denmark had intelligently blocked off Pickford's view of the ball. The lad had a free hit, if he could get it up and down.
For the record, I hate Pickford. He's been excellent for England, and he would probably perform better at a top club side. But, for Everton, he has been poor at times – whether that is being over-worked, lack of concentration, or just shit players around him dragging his standards down.
Jerome Shields
94
Posted 08/07/2021 at 07:59:43
A 60, 000 crowd with no attempt at social distancing at Wembley is hard to explain, during Covid. Could create a surge on its own and will football be worth?.
Rob Halligan
95
Posted 08/07/2021 at 08:35:38
FFS, the red echo in full flow regards their RS bias. They have given every player ratings for last night. Here's what they say for Pickford and Henderson .
Pickford -6.
Should he have done better for Damsgaard's free-kick? His worst game of the tournament regardless. Passing unusually poor and unsettled his side on more than one occasion in the first after gifting the ball straight back to Denmark, but much-improved in the second half and extra-time.
Jordan Henderson (on for Rice, 95) - 7
A great overlapping attacking threat down the right, whipping in a couple of crosses then helped England see it out after taking the lead.
I agree on the fact that it was probably Pickford's worst game so far, and a 6/10 is about right, but how the Fuck can Henderson justify a 7/10 in 25 minutes of play time, when all be did was mainly help play keep ball towards the end of extra time?
Andrew Ellams
96
Posted 08/07/2021 at 08:51:00
There is no comparison between Kane and Calvert-Lewin.
Kane gets in positions DCL never does, Kane is deadly in any situation; DCL is not.
I suspect that, if Ollie Watkins progresses this year along with Mason Greenwood, our boy's England career could be short-lived.
Stan Schofield
97
Posted 08/07/2021 at 09:01:14
Don@83: The bias shown by pundits has been going on for well over 30 years, and included the mid-80s period when we were winning trophies. It seems to go back to Catterick treating the media with the contempt it often deserves, but these days a large contribution to it is simply the prevalence of former Man Utd and RS players and supporters in media forums.
But arguably it simply mirrors much of the media generally, being full of drivel which is noise above which a coherent and truthful signal is often hard to discern.
Danny O'Neill
98
Posted 08/07/2021 at 09:04:22
Rob. Doctor Danny prescribes don't read the Red Echo!! Or even as in the 80s we used to refer to it, the Liverpool (FC) Echo.
Peter Warren
99
Posted 08/07/2021 at 09:25:16
Didn't think Pickford was at fault for the goal. I thought he looked nervous throughout however - his Achilles heels are firstly he goes bonkers at times and secondly, (linked to first) rather than catch easy crosses he punches. To be fair to him on the second, he's rubbish at catching and his punches this tournament have been good - that said, spreads the anxiety in the team.
The Danes knew Pickford's weakness and tried to exploit - ie on corners having everybody on top of him - good tactics.
Overall, he's having a fantastic tournament and doing fab. He's young (particularly for a goalkeeper) and can improve and experiences he's had (& having) internationally and us will improve his mental state and assuredness.
If the price was right, I'd still sell but I can't help compare any goalkeeper with Big Nev so always going to be tough and unfair comparison. Only Martyn for us have I seen fit to lace the big man's boots.
Andrew Clare
100
Posted 08/07/2021 at 09:31:35
Good luck to England. It wasn't a penalty and Italy are a far better team but you just get the feeling that England are destined to win the trophy. Just like the World Cup winners in '66 England play with heart and energy but not in the 'School of Science' way like Italy, France, Spain or Everton in the sixties😉.
Geoff Lambert
101
Posted 08/07/2021 at 09:34:01
Who needs the Pickford bashing pundits when you have them on your own forum? Come on England come on Jordan...
Kim Vivian
102
Posted 08/07/2021 at 09:46:23
There has to be some benefit of having impaired hearing - such that I do rely on lip reading in conversation, so commentary without subtitles, although I 'hear' it, I struggle to understand it.
It's a blessing not to have to listen to some of the inane outpourings of some (probably all at some point) pundits and commentators and I do not read the Echo, so shite as outlined by Rob above thankfully passes me by. I noted the observation that Pickford had allegedly 'shanked' the ball a couple of times which was pathetic. He did deliver - not sure if it was kicked or thrown - the ball straight to a Dane in our own half at one point, but didn't see any other particular weakness in his game last night. If he was a couple of inches taller he may have got to the free kick but if any player wants calling out it is Kane for that appalling penalty.
He and England got bloody lucky there. Dodgy pen to start with and if Schmeichal had gathered the ball after saving it, or indeed pushed it out for a corner, there was a fair chance that we might have seen burning effigies of Kane this morning rather than hero worship had it gone to pens and we lost. Small margins as someone pointed out.
Anyway, on to Sunday and good luck England (we will need it against the Italians I think) and I will be watching in a pub in Dartmouth without subtitles so can just enjoy the game without the drivel.
Jerome Shields
103
Posted 08/07/2021 at 09:47:05
Danny O'Neill
104
Posted 08/07/2021 at 09:47:24
I said that to my English supporting wife Andrew. England have that sense of momentum about them that they are going to win. Like Kendall's Everton and Klopp's Liverpool.
Italy are the better team but England have momentum. There's a lot to be said for momentum. England to win for me and my sweepstake blown.
At least it will be out of their system and 2021 can be the new 1966 for the next 50 odd years.
On a positive great again to see even more fans back where they belong and the atmosphere. Not just the draw, but pretty much having a home based tournament with supporters has definitely benefited England.
Kim Vivian
105
Posted 08/07/2021 at 09:49:47
..and maybe we can win the fa cup, Danny, this coming season...!
Brian Harrison
106
Posted 08/07/2021 at 09:52:25
I am surprised that in all the posts there is very little mention of Gareth Southgate. I have to admit he has selected players and formations that I would never have selected, but he has been right in every selection. He unlike many managers is very articulate but even more important tactically he is brilliant and makes sure he and his players conduct themselves properly.
To pinch Tina Turners song, " We don't need another hero weve got Gareth Southgate".
Dave Abrahams
107
Posted 08/07/2021 at 09:52:42
I thought England deserved to win because they were the better team for a good part of the game which again, for me, wasn't a very good one, when the performance of the England team matches the hype of the media, which huge numbers of fans gobble up, I'll give them the credit for that performance, I've seen nothing to impress me so far in this tournament by England, nevertheless I think they will be too strong for an Italian team that seemed to wilt when the Spanish team equalised then took over the game, that's if Southgate lets them show what they can really do, if he sticks to safety first it will be just another average game, then again if he does that and England win, the majority of English fans will be more than happy and the hype will become endless.
Derek Taylor
108
Posted 08/07/2021 at 09:53:05
'I hate Pickford !' What a quote from an avowed Evertonian @ 93.
No wonder there are wars when our own supporters are moved to such extremes over a bloody footballer !
John Pickles
109
Posted 08/07/2021 at 09:53:17
I don't think Schmeichel's performance was that different to Pickford's. If Pickford could have done better with the goal then Schmeichel could have done better with the penalty. He had done the hard work in getting down to the left, if he had held it or pushed it out to the left it wouldn't have been a goal.
As for the 'great save' from Sterling(?), it hit him at speed, he couldn't have got out of its way if he tried.
Andrew Ellams
110
Posted 08/07/2021 at 09:57:53
Just spoken to a Danish colleague and they are up in arms this morning over their players having laser pens shone in their eyes. I guess that was what the referee called the UEFA delegate over during the second half.
Who goes out of their way to take a laser pen to a football match. Or even feel the need to own one?

Rob Halligan
111
Posted 08/07/2021 at 10:02:24
John, it wasn't a "great save" from Schmeichel, it was a "terrible miss" by Sterling. You're right, it just hit him and I doubt he knew anything about it at all. Either side of Schmeichel and it's a goal.
As for the penalty, again you're right. He should have done better. It wasn't a hard strike by Kane, and when you see it from behind, Schmeichel seems to have the ball well smothered within his body and his arms around the ball. In my opinion, he should have held it.
Kevin Prytherch
112
Posted 08/07/2021 at 10:13:16
England, and Southgate, were lucky last night. We scored an own goal and a dodgy penalty.
Although England finally bossed the game after the 70 minute mark, the amount of times there were either no one, or just Kane, in the area surrounded by 5 Danish defenders was astonishing. Kane is undoubtedly a brilliant player, however his tendency to drop deep leaves no one for anyone else to target. We work the ball out wide and have no one to deliver it to.
Calvert-Lewin, in that England team, would score just as many as Kane by simply hanging around the goal. I think Southgate got lucky because, when we were chasing a goal, he had no one on the bench who could change the game up front. Thankfully for him, we got the penalty. When we are chasing a game like that, Kane and Calvert-Lewin could compliment each other and we'd have more than one target in the box.
England were poor for 60 out of the 90 minutes, they need to do better in the final.
Danny O'Neill
113
Posted 08/07/2021 at 10:15:47
Let's absolutely believe in that Kim. FA Cup and a top 6 finish!
Brian @106. On Southgate, he's articulate but safe in my opinion. I think he is suited to coaching rather than management, which is probably why the international role suits him rather than club.
And please, I have yet again been subject to endless renditions of an altered Atomic Kitten song last night that saw grown cockney men singing about Southgate being the one who still turns them on. Very disturbing.
Dave @107. Magnified down here. If England win this, I will need to find a quiet place to escape the hysteria. Roll on 13th August and all things Everton.
John @109. I beg to differ. When you coach a keeper, you teach them to follow the flight of the ball, especially when coming in from wide areas; they should be tracking from post to post. It "hit" Schmeical because he followed the flight of the ball and was in the right position. Just like a striker, it's often about being in the right position. Richarlison scored what some called a jammy goal near the post off his thigh last season in front of the Park End. Nothing jammy about it; he got himself in the right position.
Conversely you could harshly argue Schmeical didn't do so well on the equaliser, but maybe he was expecting a shot onto the near post? Fine margins, decision making and always an element of luck.
Rob Halligan
114
Posted 08/07/2021 at 10:27:43
Just watched the brief highlights on the BBC website. Did anyone else notice what seemed to be another ball on the pitch when Sterling broke into the penalty area for the penalty? If it is another ball, Sterling seemed to almost run right past it. Surprised play wasn't stopped if it was another ball.
Andy Crooks
115
Posted 08/07/2021 at 10:28:43
Although it was a soft penalty England deserved to win. Sterling had a good game but I thought Kyle Walker was excellent.
However, for me the tournament has shown what is fundamentally lacking in British and Irish football. We are worthy at best but more often ponderous and deadly dull. It is hard to express what is missing but I would describe it as having no zing, ping, chill or any sign of joy.
Average players are elevated by the media because they are all we have. To me, this goes to the very roots of the game where the joy is coached out of kids. I watched an under twelve game some time ago and one of the wannabe coaches was screaming at his team to " hold your shape",
It kind of made me pissed off.
Sadly, England winning this competition will only endorse pragmatic football.
Danny O'Neill
116
Posted 08/07/2021 at 10:32:36
Don't trigger me Andy Crooks. I'll end up getting my scratched records out!!
Brian Harrison
117
Posted 08/07/2021 at 10:34:49
Danny 113
I know quite a few on T/W think the same as yourself about Gareth Southgate, that he is safe and takes very few risks, reminds me of all the same comments that was said about Alf Ramsay in 1966. But many thought he was taking a big risk in playing Kalvin Phillips instead of Grealish or Foden next to Rice. Many thought is was a risk to include Maguire in the squad as he was carrying an injury, and hadn't played for a while. I doubt at the start of the tournament if many even considered Saka getting a start. Then add the fact that after the first couple of games many were calling for Kane to be dropped And there were quite a few who thought Sterling should have been left on the bench, not forgetting how he stuck by Pickford when the majority wanted him dropped.
Admittedly they don't play as openly as France or Portugal, but they have both been knocked out, the job of a manager/coach is to find a formation and team to win a trophy, Southgate is on the verge of doing this and is the only English manager to get to a tournament final since Ramsay.

Dave Williams
118
Posted 08/07/2021 at 10:35:30
Andrew and Jerome- what if DCL improves again next season??
Why are people so keen to be down on our own player? Yes, he needs to kick on again next season but let's wait and see. Are you two of the posters who rated him as " championship at best" at the start of last season?
Give the lad a break!!
Simon Dalzell
119
Posted 08/07/2021 at 10:37:09
The decision to take Grealish off was the only way Denmark were going to get back in the game. Shocking. Before this, they couldn't get in our half.
James Newcombe
120
Posted 08/07/2021 at 10:41:43
They can't complain about the penalty decision, whilst saying nothing about the free kick they scored from - ridiculous decision. There's nothing wrong with scoring an OG either, they all count the same. I see all the Scots on Twitter moaning about how Denmark only had 10 men for a period. Somehow it's England's fault they blew their way through six subs!
The oxygen thief who shone the laser pointer at Schmeichel should be made an example of, however. The keeper really should have made more of a fuss about it.
Charles Brewer
121
Posted 08/07/2021 at 11:14:37
Pickford was certainly nervous last night, but then so was the entire England team, at least for the first 30 minutes.
On the subject of the free kick/goal. It would appear that there is an optimum distance (from about 5 to 10 metres outside the penalty area) where a skilled FK-taker can get the ball over a wall and down enough to hit the goal. Nearer to the goal this does not seem possible, and further away the effect is lessened.
The modern theory appears to be that the wall defends one half of the goal and the goalkeeper defends the other, however, if the FK-taker can get the shot right he has a virtually undefended shot because the GK is a long way across the goal.
If the ball is placed over the wall accurately, the GK only sees it when it is some 12 metres away which, as we saw last night does not give enough time to react.
A goalkeeper seeing a ball hit 25 metres away has about twice as long to react, and would be much more likely to make a save.
I therefore question whether it would be better to have no wall (or at least a minimal one designed to cover the area very close to the post) at least when he FK-taker is known to be good at up-and-down shots.
The GK would have to make more saves, but I suspect the average GK is better at moving about and making saves from 25 metre dead ball shots than he is at stopping 12 metre shots when he starts off in the wrong place.
Liam Heffernan
122
Posted 08/07/2021 at 11:27:25
I see Jordan Pickford is again the whipping boy for the RedShite-loving media. He's getting all the blame for Denmark's goal but, after watching the free-kick a number of times, it's my opinion that Harry Kane actually drops his head and the ball goes over him. Has anyone else seen this?
Barry Hesketh
123
Posted 08/07/2021 at 11:30:53
During the pre-match build-up on ITV last night, am I the only one who was perplexed by Bob Paisley being included in the montage of previous England managers during past tournaments, Don Revie, Alf Ramsey, Bobby Robson, Terry Venables et al. I may have missed a moment in history but I'm fairly certain that Bob Paisley for all of his achievements had nothing to do with England in a professional capacity.

Andrew Ellams
124
Posted 08/07/2021 at 11:47:54
Barry @ 123, it's just another excuse to shoehorn them in somewhere again. Same as the odd decision to being Saint Trent in for interview in a previous game.
Ian Burns
125
Posted 08/07/2021 at 11:52:10
Pickford looked somewhat anxious throughout the whole match last night and it wasn't his best match. I think his early errors unnerved him but I must defend him over Denmark's goal. No keeper was stopping that shot, it was a tremendous free kick and credit were it's due, in this case to the taker.
I also agree with Simon (119). Southgate got lucky last night with that decision to take off Grealish for Trippier. He handed the last 15 minutes to Denmark, which was entirely unnecessary. Fortunately, we kept the ball for the final 3 minutes, which ironically was England's best movement of the whole game.
Sunday will be tense but Southgate's choice of first eleven will be interesting - the usual ten plus Saka or Sancho or Grealish?
Rob Halligan
126
Posted 08/07/2021 at 11:53:42
So now we know, Pickford totally blameless for the Danish goal, according to Paul Merson. If he says Pickford is not at fault then that's the end of the matter!!
Tom Bowers
127
Posted 08/07/2021 at 11:55:24
Yes, England were second-best in the first 30 minutes and the slick-passing Danes deserved their lead. Had they held it till half-time, England may have had trouble getting back into the game but, to their credit, they got back quickly.
The tough Italians may not be as accommodating in the same position so England had better score first. It could well be a penalty shootout with Pickford turning out to be the hero.
The Queen is already preparing Southgate's knighthood whatever happens.
Derek Moore
128
Posted 08/07/2021 at 12:04:37
They finally did it, well done England.
Southgate has as nearly many major semi-final appearances and does own as many wins as every other England manager in history combined. Never rated him, but you certainly don't argue with those results!
Hope they don't shrink "in the moment" but give the best account of themselves in the final. The home crowd should hopefully help.
Well done again.
Mark Ryan
129
Posted 08/07/2021 at 12:30:24
If Jordan stands 1 metre to his own right he saves the shot but he wasn't and that's that. As Merson says, "lay off the kid". It was well struck and the balls move very easily in the air.
He's been exceptional throughout, will win the Golden Glove, and he's one of ours.
We should all be made up for him. His levels in this tournament can only help is confidence going into our new season, so we should all be pleased.
England 2-0 if he plays Sancho or Grealish. I think the game got to the young Arsenal boy last night and Grealish or Sancho can win us free-kicks against the tough-tackling Italians
Danny O'Neill
130
Posted 08/07/2021 at 12:32:02
Effective and efficient, Brian Harrison. Pretty much sums up English football. Like you say, it's worked so far. Blessed by the luck of the draw, mind, but then that's football. He's done well and I think the international scene suits him. He would be a good club coach, but could you see him accepting a coaching role over the top job at a club? I doubt it, but who knows. He's too young to be England coach forever, so what next?
Rob Halligan, you mentioned the Merson word. Sin Bin. Take 10 minutes.
My wife is an accountant and the owner of her company has just purchased 4 tickets for the final. I had to do a double-take on the receipt. Genuinely seen with my own eyes; £7,495 per ticket. I don't swear a lot but "Fuck me!"
Wow! I have no idea where they are, but I hope that includes overnight accommodation, all inclusive drinks and food, pre-match, half-time and post-match entertainment.
And a guarantee that Italy win so I win £82 in my pub sweepstake.
Rob Halligan
131
Posted 08/07/2021 at 12:49:11
Mark # 129.
If Pickford stands one metre to his own right, he is then leaving the whole of the left-hand side of his goal totally exposed. At the point of contact (when the ball is struck), he is just slightly to the left of centre, guarding the side of the goal he is meant to do, with his wall defending the side of the goal in front of the ball.
I hear what you're saying, but Damsgaard would have noticed this, and probably would have tried to put his free-kick to Pickford's left. Pickford was in the right position prior to the kick. People just need to accept, not you by the way, that it was a well-executed free-kick, hit with power with plenty of dip, flying in just underneath the bar. Pickford had no chance.
ps: 17 minutes long enough, Danny? 😁😁😁
Ray Robinson
132
Posted 08/07/2021 at 12:54:36
He had no chance with the free kick because he's simply not big enough. A taller keeper might have got it. Not his fault but to be up wth the top, top keepers, he'd have to be 3 or 4 inches taller. Not going to happen!
Andy Crooks
133
Posted 08/07/2021 at 12:59:21
I am pleased for Jordan Pickford. Frankly, it was only my support for him that had me cheering for England to hang on. This was the first time in the competition I have felt like this.
Did anyone else find the commentary hard to stomach? Now, I find it strange that grown men should paint their faces but, hey, they were having fun. Nor do I expect commentators to display 1950s BBC style neutrality. In fact, had that been an Irish team last night I suspect the commentator would have burst a few blood vessels.
However, to me, the braying jingoism of the match commentators was a tad too nationalistic. I didn't need to be told by the commentator on ITV, who sounded like he had wet his pants, that this was going to change my life. Some part of me was telling me that it likely wouldn't.
If this comes across as curmudgeonly, I will try to be a ray of sunshine come Sunday.
Last thing, does anyone else think that Martin Samuel is an appalling "journalist" who panders to the agenda of his employer in a manner that turns brown-nosing into an art form.
Colin Malone
134
Posted 08/07/2021 at 13:03:52
How overrated is Declan Rice? Henderson is light-years ahead of him. Need some guile in midfield, not a crab, running around like a school kid.
Darren Hind
135
Posted 08/07/2021 at 13:25:41
I don't think England are getting the credit they deserve on here.
Despite the criticism, I think Pickford has been the best goalkeeper in the tournament so far.
Walker has done what Walker does and has looked the most athletic player in the competition.
Stones has organised the men around him magnificently and has been superb – Is he the first man to get to a major final without breaking sweat?
McGuire has been a constant threat in the opposition box.
Shaw has put in some wonderful crosses.
I accept the midfiled players are more workman like than other countries, but they have been industrious and done their jobs asked of them.
Kane gets better as the tournament goes on... and although some find Sterling a disagreeable little sod, if you asked the neutral who has had them off their seats the most times, many will point to him.
Denmark are no mugs and this game was always going to have attritional periods, but I don't think there is any doubt England deserved to win.
The Italian midfield will be technically superior to England's (assuming Foden and Grealish don't start) but I think England have enough to create all sorts of problems for them. This is one tough call…
BTW; Where is Tony Abrahams and his full eyewitness report from last night?
Article please!
Andrew Clare
136
Posted 08/07/2021 at 13:38:28
Andy # 133,
It's best to turn the sound off. Then you don't have to listen to the crap.
Barry Rathbone
137
Posted 08/07/2021 at 13:51:53
Andy 133
Spot on.
I'm English but the jingoism of the pundits and commentators spoils it for me plus they talk such unadulterated cliched shite.
Danny O'Neill
138
Posted 08/07/2021 at 13:57:07
Good call. I forgot to mention Stones. Last season and now, he is really showing the class he always had. I said about 18 months ago when he was second string for City and seemed out of favour, we should make a cheeky bid to get him back. But he's come good for club again and country now, so that outside bet of a ship has sailed.
Don't get me wrong, I know he would likely have moved on regardless given his talent and where we were / are, but I wish we'd have collectively been more patient with him as a young centre back learning his trade. His coolness is what I love in a ball playing centre back. Sadly for a generation of Evertonians who know no better, he freaked them out and gave them high blood pressure. Often because, as a player who wants to retain possession, there was often not a lot of options in front of him.
This may not be palatable with many, but Stones reminds me of Alan Hansen, one of the best centre backs I've visually witnessed.
Danny O'Neill
139
Posted 08/07/2021 at 14:04:24
Andy @133, I'm a self-declared non-England follower. I can just relax and watch the football when it comes to international, which mostly during this tournament has been enjoyable.
Fortunately, I've not had to listen to the commentary as I've watched all the England matches in my local Irish Pub.
There's always a downside to everything. Unfortunately, that's because it has been drowned out by previously mentioned cringeworthy chanting and songs, which has included hearing Chelsea and QPR fans singing in admiration of Harry Maguire. Very odd. Me singing for Jordan Henderson? I feel ill thinking about it.
Maguire is another who has had a great tournament by the way.
Kieran Kinsella
140
Posted 08/07/2021 at 14:11:18
Darren, I totally agree
Danny & Brian
I think Kosovo rattled Southgate. Up until that game a year or so ago, we were much more attack minded scoring four or five a game as we did against Kosovo. But their late comeback and an uncomfortably close 5-3 score line seemed to unnerve Gareth.
Since then we've been far more conservative. That said, we are winning and we are in a final so as far as I'm concerned hats off to the man.
Ian Burns
141
Posted 08/07/2021 at 14:15:48
Darren - 135 - great post and absolutely spot on.
You are obviously not old enough to remember Bobby Moore whose ruddy kit never got creased let alone breaking a sweat!
Danny O'Neill
142
Posted 08/07/2021 at 15:03:35
More recently and less close to home, Ian, talking of players like that, the Lothar Matthaus of his later career when he switched to sweeper and orchestrator, always struck me as someone who played the game effortlessly.
Tony Abrahams
143
Posted 08/07/2021 at 15:14:44
I'm tired, Darren, the train has just left Runcorn station, but it was a wonderfully joyous occasion, a terrific atmosphere. I do remember saying to a fella standing behind me, "Who's the only player on the pitch who doesn't kick it more than ten yards?"
I think Stones passed it only the once further than that, but I'd had a drink. It was brilliant to be able to spend some real time with my oldest two sons.
My only criticism was that England were too cautious imo, but I've never been to Wembley before and saw the whole ground celebrating the way they did, which was absolutely fantastic – especially after the misery of the last 17 months of soulless football!
Raymond Fox
144
Posted 08/07/2021 at 15:21:39
Pickford is an okay keeper and I think he will need to be better than okay against Italy.
Anybody else find all this hullabaloo about us reaching the final embarrassing? It's football, for god's sake, on what level is it important? Maybe it's me getting old and cynical, I don't know.
Plus I see a few morons who support England have as usual managed to disgrace the country again.
I would prefer England to win the final even though I had a small bet on Italy early in the tournament to win it. But, to be honest, I'm not too bothered what the result is.
Ian Burns
145
Posted 08/07/2021 at 15:36:53
Tony - 143 - pleased somebody on here was at the game and was able to enjoy the experience - maybe a longer post when you have recovered?
Stones might not have sprayed the ball about but he was defensively sound. I am surprised in truth at what a good partnership he has built with Maguire.
Darren Hind
146
Posted 08/07/2021 at 15:45:41
Good for you, Tony... and your lads. Made up you were able to be there together.
Next time you get down there, it will be even better because it will be us.
Robert Tressell
147
Posted 08/07/2021 at 15:56:31
Ian #145.
Stones has been excellent throughout.
It is the accurate 10-yard passes that allow us to retain possession – rather than Beckham and Gerrard trying to hit worldies all the time and conceding possession to the opposition.
Rice is the player I'd expect more of. He is very limited indeed on the ball. If we had Busquets in that position, we'd be next level.
Dave Abrahams
148
Posted 08/07/2021 at 16:16:26
Liam (122),
That was my impression. Kane definitely could have headed that free-kick by keeping his head up, maybe could have even lifted it up further instead of lowering it.
Kane has improved his overall game considerably in the last two years, adding playmaking to his goalscoring ability. Add this to his diving technique, although he failed with his one for the penalty but managed two or three outside the box. He's not as good as Sterling's, whose dive was perfection to the finest degree.
Henderson's was a disaster, he even forgot to scream as he dived!!
Andy Crooks
149
Posted 08/07/2021 at 16:37:18
I meant to add, my view of the game was possibly altered by having a good bet on Maguire to score in 90 minutes @ 8/1. I will do the same on Sunday.
Will Mabon
150
Posted 08/07/2021 at 17:26:21
Raymond @ 144:

I couldn't agree more re. the commentary "Hullabaloo". Patronizing, bread & circuses fayre arrogantly phrased as if for the perceived little people whose whole lives begin and end with only football. I'm surprised they didn't suggest Ovaltine at the end.
Ditto some of the "Fans". The ridiculous booing was a genuine embarrassment. I've only just read of the laser pens in the thread above; not surprised.
Kieran Kinsella
151
Posted 08/07/2021 at 17:42:59
The booing makes a mockery of the kneeling. The Sun has been villainizing other countries for not kneeling whilst filling their pages with jingoistic casual racism directed against our opponents.
Who would boo Denmark? What antipathy do we have towards that country? Aside from being underdogs and the Eriksen situation, why anyone would disrespect them is beyond me.
If it were 1939 and we were playing Hitler's Germany, then yeah… but this behavior is shameful. The FA and the tabloid media should get off their moral high horse and address it.
Pete Clarke
152
Posted 08/07/2021 at 17:43:01
Most goals scored in any match are preventable – especially once viewed 10 times over on a television screen.
Steve Sherwood in the 1984 FA Cup Final is an example of poor goalkeeping but it helped us to our first trophy in many years.
That Danish free-kick was pretty close to perfect and only an anticipated leap could have saved that because Pickford had no sight of the first millisecond.
Let's not stoop to the low levels of the dickhead ex-pro TV pundits with all of this over-the-top analysis. They should know better.
I'm no England fan but, having watched the highlights, I think England were value for the win even though it was a shithouse move by Southgate to take Grealish off. He is a creator and would have kept a very tired Danish defense busy for sure. I would love him at Everton.
Anybody comparing Calvert-Lewin with Harry Kane needs specs. Harry Kane was doing exactly what top midfield players do and putting lovely weighted passes through for Sterling and Sako. The fact that he's a striker makes him all the more special in my eyes.
If England beat this very good and streetsmart Italy, I will be very surprised. I just hope they don't both bore everyone to sleep trying to get to penalties.
Alan Williams
153
Posted 08/07/2021 at 17:48:21
Very, very proud to be English this morning, my hangover has eased, booked pub for Sunday and have taken Monday off work.
I love watching England as it allows you to go the pub with all your mates, regardless of what domestic team they follow, and for once we are in it together.
To all those weirdos that spout "Scouse, not English" we are all laughing at you, get the chip off your shoulders and join the party atmosphere, you miserable sods.
If you look at some of the fan parks, you can see Black, White, Asian, boy & girls all hugging and celebrating together, that's the positive message this tournament is giving us, embrace it, it's a great feeling.
Very proud Englishman that just happens to be from L4! Come on, England!!!

Steve Brown
154
Posted 08/07/2021 at 18:02:58
Why are the pro-English posters so aggressive towards those who don't share their passion? My son went to the game last night and loved it, but honestly I am just not that bothered.
The pundits are a turn off and a lot of the fans who attend are a bit too jingoistic – what have the poor Danes done to be booed? No thanks.
Denis Hignett
155
Posted 08/07/2021 at 18:19:07
Was that an all-time record for back passes to the goal keeper?
We all know that Pickford is left-footed, so why pass back to his right foot? Asking for trouble!

Geoff Lambert
156
Posted 08/07/2021 at 18:26:19
Steve #154: "but honestly I am just not that bothered."
I just don't understand why people who are not bothered read and participate on a England thread.
Mark Murphy
157
Posted 08/07/2021 at 18:40:54
I'm not that bothered about England but I watched the match in our cricket club after nets.
There was a good atmosphere but I was one of several who was given abuse for not standing for the national anthem (how long have teens and early twenties lads been into the Royal Family anyway?)
And following the anthem got treated to a loud rendition of "No surrender to the IRA" – again teens and twenties – why???
I thought England played well and deserved the win and I hope they do win it but, as I said, I'm not that bothered, so I won't comment.
UTFT!

Terry White
158
Posted 08/07/2021 at 18:58:29
Denis (#155), also I thought some of the back passes were unnecessarily firm forcing Pickford to kick hurridly or take a chance of miscontrolling the ball with a Denmark player bearing down on him.
Bill Gall
159
Posted 08/07/2021 at 19:00:05
The free kick, Pickford had the English wall lined up covering the right side to the middle of the goal. Denmark had 2 players that were to the center and the left of Pickford's goal and he had to be more to his left in case they moved and left an opening, the rest were in a position to go for a headed goal to Pickford's left. He had to choose what way to go as he was limited in his vision on the free-kick taker. That he managed to get a touch on the ball from a great free-kick meant he had about 2 seconds to realize what way to go.
Most of the negative comments are from pundits who have never played in goal and could not catch a balloon.
I mentioned on the forum at that time that Kane seemed to withdraw his head, another 1 inch it would have touched his head and either hit the bar or gone over.
There still seems to be a number of Pundits, and one of the worst is Kevin Kilbane, who will only reluctantly give any praise to Pickford and can't wait for him to make a mistake to say, "I told you so."
Let's get off his back and give him some praise for beating one of England's greatest keepers Gordon Banks's record.
As Evertonians we have criticized Pickford for some of his mistakes, but are you not supposed to learn by your mistakes? It might be that Pickford has, and this will benefit Everton.
Danny O'Neill
160
Posted 08/07/2021 at 19:11:43
Still young for a keeper as well, Bill. He will get better.
Andrew Ellams
161
Posted 08/07/2021 at 19:32:19
Looks like UEFA are finally going to punish the FA over booing of a national anthem. I think the rule should be if you boo theirs then your's doesn't get played.
Frank Crewe
162
Posted 08/07/2021 at 19:36:57
Andrew @161.
As someone who can't stand national anthems, that would suit me down to the ground. Also, knowing England, they would play ours first to avoid the booing ban.
Neil Cremin
163
Posted 08/07/2021 at 19:38:33
Bill,
Just coming on this post and I will declare before I post that I have been one of Jordan's biggest critics.
On the goal: No blame. It was a brilliantly taken free-kick.
I also concede that he is one of the best shot-stoppers in the business and comes off his line quickly to snuff out dangers in one-on-one situations.
However, Jordan's distribution last night was as bad as I have ever seen. At least two kick-outs directly out of play, at least two more directly at the opposition in very dangerous positions. He was lucky that neither resulted in a goal because, if it had, the abuse after Van Dijk would be mild in comparison.
I thought he had settled down after Carlo had "protected him, dropped him or left him out due to injury". He seemed to be much calmer and composed when he was regularly back in the team but, for me, he reverted back to his old bad habits last night.
Stan Schofield
164
Posted 08/07/2021 at 19:40:58
The comments about Pickford are very irritating. The simple fact is, he's been top-notch in this tournament, and will no doubt get the Golden Glove. The soft-lad dopy excuses for 'pundits' simply need to be ignored, because their only post-playing expertise is talking out of their arses. Some of these fellas get several hundred thousands of £/year for this shite. There's something very wrong going on.
The RS-based shite talk about Pickford is just another example of their feral nastiness. If they were mature adults, they'd be focusing on the positivity of the overall England success so far, in a spirit of unity and togetherness, but they're too base for that, and their behaviour is symptomatic of many of the ills of the modern game.
Barry Hesketh
165
Posted 08/07/2021 at 19:45:58
A shot across the bows to all of those who may want to watch Premier League football via non-traditional platforms in the coming season as the courts handed out a significant sentence to a man who provided and viewed streaming services to the public.
Faulkner pleaded guilty to both the unlawful supply of content and his own use of the service to view content he should have been paying to watch. The judge recognised that Faulkner's use of the unauthorised service was a crime in itself which lead to him receiving a separate sentence of four months' imprisonment. The court heard that crime was made more 'serious' and 'sophisticated' by the involvement of Virtual Private Networks (VPNs).

Premier League director of legal services, Kevin Plumb said: "This sentencing demonstrates yet again that the courts take piracy crimes seriously and there are significant consequences for criminals involved in all forms of piracy.

"Legal action will be taken against those supplying unauthorised access to Premier League football, regardless of the size or scale of the pirate operation.

"This defendant was also given a separate four-month prison sentence for simply watching the unauthorised service. If it were needed, this should dispel any misconception that watching pirate streaming services is a grey area or is not an offence in any way.
I think we may see many more sentences handed out in the near future as the businesses providing legitimate services and the footballing authorities look to claim back some of the lost revenue due to Covid-19.
For what it's worth, I think that the providers are overcharging for their product in the UK and they would likely see a rise in legitimate subscriptions, if they provided more affordable, and flexible packages, which might deter some from seeking to watch on illegitimate platforms. For those that pass on links via fansites or social media, be careful as you never know who is watching.
Derek Moore
166
Posted 08/07/2021 at 19:50:13
Is it so odd though? I am English, and I
do
wish them well. But I'm not interested really in the national team, and know now I never will be.
There's a boatload of reasons, and everybody is different. But a big reason for my own indifference is the national press, and their ruthless exploitation of the England team no matter what the circumstances are. Those bastards don't miss a trick, they never have and never will.
You can already see some of the shite in the papers, and to my mind – an outsider really – Pickford already looks like he's being set-up to be a potential fall guy should it all go tits-up on Sunday.
Paranoid? No, I know how these bastards work. They hack the phones of murder victims and lie about it, they make up hideous lies about fans at a tragedy like Hillsborough, and they most of all seem to love to bait fans of the national team at the big moments.
If it does go tits-up for England on Sunday, the press reaction will be utterly predictable, and I almost feel like I've read half of the nationalistic tripe that'll make it to the editorials page in the next few days before it's been written. These guys wait years for stuff like this.
There's a lot of other reasons as well, but I thought that one had not been mentioned that and it's quite significant in my own indifference. I feel much same the way about the royal family – personally I wish them no ill will at all, but I really dislike how the press use them. And that ultimate obsequence to the gutter press is at the heart of why I don't invest a lot of energy in following either.
I hope England win and win well on Sunday. But mainly because many of the press would rather someone get sent off, or miss a penalty, or a wide open goal than write the simple feelgood story that England are European Champions. The feelgood story sells less papers. The feelgood story doesn't give the opportunity to follow someone and their family around later and ask them how they feel for letting the nation down.
The media are jackals; lower than snake shit, as my dad would say. Which is part of the reason I'm discussing these weighty issues right here, on an independent and supporter-led internet blog among a peer group with a large commonality of values.
It doesn't seem so odd now, does it?
Barry Hesketh
167
Posted 08/07/2021 at 19:50:19
Apparently, UEFA has no such award as the Golden Gloves, it seems that it's a made-up award?

Dennis Stevens
168
Posted 08/07/2021 at 19:55:03
Re the national anthem, why are England using the UK anthem? It's as much the anthem of the Welsh, Scots & Northern Irish. Although, I'm sure they're much happier with the anthems they use & very readily willing for England to commandeer the dreary uninspiring dirge.
Tony Shelby
169
Posted 08/07/2021 at 20:18:10
Dennis (167) - I'm not sure but it'll be interesting to see how people feel about singing it when Charles takes over and it's "God save the King…"
Ray Robinson
170
Posted 08/07/2021 at 20:19:06
I am an English Evertonian and proud of both. For those of you who couldn't care about the national team because of the booing of other teams' national anthems and of the scapegoating & jingoism that the press might employ if the team lose or win, why is that a reason for indifference towards the national team?
That's an argument, wholly justified, with excess nationalism and the obnoxious nature of the popular press. Why turn it against the national team, who, for the first time in many years, seems to comprise genuinely likeable, diverse, grounded, dedicated and caring young men?
C'mon England!
Paul Tran
171
Posted 08/07/2021 at 20:19:59
Tony #143, glad you all had a great time.
I thought it was a good performance by England. More chances, shots on target, more energy & stamina. In the 'negative' second half of extra time, the ball was in our box once. Once.
People ask what Rice & Phillips do. They do what's missing in our midfield. They work, hassle, tackle, play the odd pass, cover the back four and allow the forward players time and space. The Germans ran out of ideas against them, the Danes ran out of gas against them. Southgate has worked out the best team doesn't always have the 'best' players.
I went to four semi-finals on the 1980s, against the 'mighty' Southampton, Luton, Sheffield Wednesday & Norwich. All four were gritty workmanlike wins. They were marvellous. Doesn't have to be like the Harlem Globetrotters.
Got their work cut out on Sunday, but I bet Italy are thinking the same.
John Boon
172
Posted 08/07/2021 at 20:36:08
Darren (135),
Please do not be surprised but I also agree with you on all points. For me, following and watching England is never like watching Everton. Everton are my heart and soul and I am never really relaxed when they are playing. However, I am English and it is just common sense to support them. For the most part, I am also enjoying watching this England team, and also most of the Euro games.
Considering they are a bunch of players from many different teams, England have blended together as well as could be expected. I think Foden and Grealish could be given more time, but I do not see them in game preparations or practice.
I am sure Evertonians would like to see more of Calvert-Lewin but he is not in the same class as Kane in regards to being the "complete" centre-forward. I just hope he benefits from playing with him.
Mark Brennnan
173
Posted 08/07/2021 at 20:54:27
They won it in 1966? Really? No-one ever said…
Derek Moore
174
Posted 08/07/2021 at 20:55:25
"Why turn it against the national team, who, for the first time in many years seems to comprise genuinely likeable, diverse, grounded, dedicated and caring young men."
Fair enough, Ray, if that's your view, but I actually don't really care for Maguire, Kane or Sterling at the best of times. And I actively despise Jordan Henderson, one of the few modern players who still stirs me enough to really viscerally dislike them. "Hendo", England shirt or not, is certainly a bridge too far for my support to journey.
This England team is far more generally likeable than most of its recent or near recent predecessors though, I'll freely admit that. Southgate's personal history – the bloody penalty – and his own nice but dim persona probably have much to do with the goodwill in addition to the results.
Stan Schofield
175
Posted 08/07/2021 at 21:05:53
John @172:
I feel that, if Calvert-Lewin got the level of service that Kane does, he'd excel more than Kane. Kane struggles when the support struggles, as does Calvert-Lewin. On the whole, Calvert-Lewin has a higher level of skill than Kane, but has been frustrated playing for a dysfunctional Everton side.
Many Evertonians will appreciate Calvert-Lewin more when he's left us for a top club. This always happens when our best players leave for brighter pastures, Stones and Lukaku being examples.
Danny O'Neill
176
Posted 08/07/2021 at 21:52:53
A few things to comment on from the thread.
Glad you had a good day out Tony. It was great to see fans and an atmosphere back in force. Shame it wasn't Everton but then that's going to be next May.
Interesting point on the passing thing. How different a player is Stones for England as apposed to City? He definitely sits back a lot more. At times last season, you could have been forgiven for thinking he was playing in midfield. With England, aside from corners, he rarely ventures too far from his own 18 yard line.
The booing of other national anthems is a shameful English thing. They've always done it and its embarrassing as much as it is disrespectful. And on national anthems, yes, England need their own one, not stealing the UK one. God Save the Queen / King is the anthem of the United Kingdom, not England or London.
Alan @153 & Geoff @156. I'm Everton and British. I served my nation in uniform for 28 years. This is an Everton website and this is a broader football thread relating to the Euros outside of Everton. Not all Evertonians support England. Just because I don't doesn't make me a weirdo or mean I can't comment. I've actually been quite complementary to England's steady progress in the tournament.
I'm a proud Brit, just not an Englishman. But I can observe and comment on their performances on a football discussion forum.
Kristian Boyce
177
Posted 08/07/2021 at 22:06:11
I don't know if anyone's just seen the BBC article about the free kick goal, and that it shouldn't have been allowed. Along with the very soft decision to give it, the movement of the 3 Danes in the wall actually caused an infraction and technically the whistle should have blown. But that's in the past and I'm excited for Sunday.
One thing this tournament has shown is the bitterness online towards the England team and the nation as a whole. I've had to leave a couple of other international Everton forums that I'm in as there's been some absolute pure hatred towards anyone English. I'm so hoping that we do win on Sunday, just to see the reaction.
Ray Robinson
178
Posted 08/07/2021 at 22:08:55
Stan, I'm certainly not knocking Calvert-Lewin who, I agree, has been starved of service and is a gem of a player but to suggest he has a higher skill level than Kane is pushing it too far in my opinion.
Kane can shoot fiercely and cleanly from long range with either foot, has provided numerous assists for others, and has the vision to play the sort of defence-splitting pass that led to the own goal last night.
Could you really see Calvert-Lewin hitting that volley that Kane tried against Ukraine?
Kieran Kinsella
179
Posted 08/07/2021 at 22:13:55
Kristian
Maybe an internet thing. I'm in Kansas City and have friends and acquaintances from the US, Mexico and El Salvador all rooting for England. No idea why, I'd have thought the latter two groups would go for Spain as they avidly follow the league there.
Stan Schofield
180
Posted 08/07/2021 at 22:20:14
Ray @178:
No, I couldn't see him hitting that volley, and I take your point. But, I think of many goals Calvert-Lewin has scored where he's displayed very unusual levels of skill that you don't see from Kane. He's scored from a few back-heels, and in particular, that goal against West Ham, from a Keane through-ball from defence, where he took it first time on his left foot, flicking it onto his right foot, and then first time into the net, was absolutely top class.
He and Kane have different skill-sets, both are very good, but I believe that Calvert-Lewin is a more balanced and elegant player, especially for a big lad. He's probably as good, or better, than anyone else in the Premier League, in the air. There's far more to come from him, and in time I'm sure he'll be England's No 1 striker.
Stan Schofield
181
Posted 08/07/2021 at 22:28:27
Ray @170: Good post. There's a difference between patriotism, which is loving your own country whilst respecting other countries, and nationalism, which is simply disliking (or in extreme cases, hating) other countries.
Patriots are sensible people, whereas nationalists need counselling.
John Boon
182
Posted 08/07/2021 at 22:28:36
Stan (175),
I think that Calvert-Lewin is far more of an athletic specimen than Kane. I am sure he is faster and better at receiving long balls, something that he had to do far too often last season.
But: Ray (178) astutely explains the main difference. Kane's contribution is easily observed by the fact that he has scored with his left, his right, and his head in equal amounts during last season. He has also provided far more assists than Dom.
That said, I am a big supporter of Dominic Calvert-Lewin. I just feel that he can improve his statistics with the right support and coaching. I also feel he can learn from Kane.
Dave Long
183
Posted 08/07/2021 at 22:37:49
I'm expecting to see Calvert-Lewin diving more in around the box after his time with the England camp. Kane and Sterling are masters of this. (I can't stand this.)
Has anyone seen the shooting drills England training video? Calvert-Lewin gives a decent account of himself. If he could learn from Kane how to strike a long shot, that would be appreciated.
I think Calvert-Lewin shoots the ball incorrectly. He jabs it like a long pass rather than the leg following through in a classic shooting action.
Calvert-Lewin is strong, holds the ball brilliantly, excellent in the air and fit and fast. Just his shooting holding him back.
Robert Tressell
184
Posted 08/07/2021 at 22:40:11
Calvert-Lewin is a very good player with exceptional physical attributes. He does a great job for us but, if I'm honest, I think he's a touch short of what it takes to be a top striker.
Kane is a top striker. A bit leaden footed right now but he scores and assists, holds the ball up, wins fouls and lets Sterling do the running in behind (like Son does at Spurs). Calvert-Lewin is someone to try if we're desperate – but Rashford and Sancho are probably a better bet.
Bill Gall
185
Posted 08/07/2021 at 22:45:02
Talking about Kane, he never got any flack from his penalty kick as he got the rebound. I thought it was a poor penalty kick; not much pace behind it.
Paul Birmingham
186
Posted 08/07/2021 at 22:58:19
Feckin the arrogance and ignorance of those TV pundits scratching a living out of blagging how to play football.
Facts state none of them ever won a full professional tournament, in their England careers.
But great for the English nation, which collectively if you take in the respective regional disasters in the economy over the years, since 1966, is a fantastic achievement and testimony to the spirit of the people, and to the England squad.
I get my dismay and reality checks on Calvert-Lewin not being in the squad, but the petulant scolding by a crap right back, who only got 22 caps in 9 years, of Everton's goalkeeper, tells a story.
Rise above the pundits' verbal spites, and let's believe that the omens of 1966, a good year for Everton, will resonate next season.
Still I approached my stake on Italy before the tournament, based purely on form, and facts. Let's see what happens. In it to win it!
nb: Are there any TW plans for the long awaited TW beer in Town?
Ernie Baywood
187
Posted 08/07/2021 at 23:13:49
If it wasn't for that reckless moment where he rolled the ball to an opponent nobody would be talking about Pickford. As it is, people start dissecting the rest of his performance. Should he have got to an absolute worldy? Is his kicking suspect on his right foot? (Isn't everyone's weaker foot weaker?)
One mistake in 6 games. And he's won some of those games with saves. The mistake didn't result in a goal and didn't change the result. Well played Jordan.
As for the final, I think Italy are a gift. Spain would have been a horrible match up for England but Italy are basically an old style English team. The 'wily' campaigners at the back are fodder for Kane, Sterling and Saka.
It's a final, so has the potential to be tense, but I've a sneaking suspicion that we're about to see a one sided final. I think England are a terrible match up for Italy. 3-0 England and celebrations starting from the hour mark.
Kristian Boyce
188
Posted 09/07/2021 at 00:12:57
Kieran @179, I think you're right about the keyboard warrior mentality of internet abuse. Amusingly, when I signed off from one of the groups, I reminded a couple of them that I can't wait to meet them in person in a few weeks time in Florida for the games along. That very quickly shut them up!
Saying that, we've had a bunch of American lads come down to the local bar with us. Partly to cheer on England, but also to be a part of the atmosphere. We have a pretty sizable English population here in North Carolina, so the pub has been packed. Many of the guys said they've never experienced a real soccer pub atmosphere like it and joined in with the celebrations.
I'm not too sure what they made of the celebrations last night though. They all had their phones out recording 40+ English guys n' girls who were in their 40s & 50s, jumping around like lunatics at the final whistle.
Pete Clarke
189
Posted 08/07/2021 at 00:46:11
Kane is a top football player. He can, as seen in his display against the Danes, drop deep and pick lovely passes. He has good power in his shots, can dink the ball over a keeper and gets a few with his head. All round great player.
Calvert-Lewin is more of an old-fashioned centre-forward right now but is nowhere near Kane's ability. He has time on his side, though, and he has seen close-up in this tournament what is required at the top level Unfortunately he hasn't had much game time to show what he can or can't do and we will find out soon for ourselves if he has improved his overall game.
Back to Jordan Pickford. You do get the feeling that these pricks in the studio are actually waiting for him to drop a clanger so they can justify their own thoughts on him. 'Pricks' is too nice a word for them and I wish we had our own representative there to defend him.
This time last year, we were all also a bit doubtful about Pickford but he had a very good season just gone and has improved a lot. Let's hope for another clean sheet.
At 27 years of age, he is still pretty young for a keeper and looks a lot fitter than last year too.

Eddie Dunn
190
Posted 09/07/2021 at 08:40:00
Pet,
Spot-on. Kane is a clever player and has so much variety in his game. He has looked slow and is perhaps carrying an ankle issue but he is getting so good at pulling defenders out of position and opening up space for Sterling etc to exploit.
I thought it was dim of Southgate to have 2 goalies on the bench and no room for Dom. I also disliked him pulling Grealish off. His tactic worked – so he wasn't criticised – but it just brought them on to us and could have been costly.
As for Jordan on the free-kick, I think a taller guy might have got to it, but it was a hell of a shot, hit with such pace. He had looked edgy, for the first time really in this tournament. I wonder how he will feel in the final?
Chris Leyland
191
Posted 09/07/2021 at 09:26:03
Eddie (190),
I don't think you can accuse Southgate of being "dim" for selecting 3 keepers given the rules:
Each manager must select a matchday squad of 23 for each game, which must include three goalkeepers.
Eddie Dunn
192
Posted 09/07/2021 at 09:47:23
Chris,
I did wonder! So he's not dim then!
Stan Schofield
194
Posted 09/07/2021 at 10:21:08
Pete @189: Not everyone had doubts about Pickford. He was simply going through a period of relatively poor form, as happens with most (perhaps all) players. His ability has never been in doubt for many of us.
Dave Abrahams
196
Posted 09/07/2021 at 10:36:25
Stan (194),
I think Pickford's relatively period of poor form was for most of the time he has been at Everton, after a good first season. In the last six months, he has become a safer and calmer goalkeeper. Although he was like a cat on a hot tin roof during periods of the Denmark game. For England's sake, I hope he stays calm on Sunday.
Stan Schofield
197
Posted 09/07/2021 at 10:50:20
Dave, that's right, but that was bad form, perhaps being ironed out now by experience and maturity. Trouble with bad form is, you never know how long it will last, and there can be a tendency for some supporters to want to 'get rid'. The worst ever case of this (from the club rather than the supporters) was the sale of Alan Ball.
One thing I'll say for England, they've consistently had very good keepers, and there's a reason that Pickford has been England's No 1 keeper for a few years now. It's because he's bloody good.
Barry Hesketh
198
Posted 09/07/2021 at 11:50:54
I've just watched a video of Aston Villa supporters castigating Jordan, admittedly it sounds like the two Irishmen are hoping that England doesn't bring it home, and that having Jordan in goal according to them will help to prevent England from winning on Sunday. Curiously, given their standpoint on England, they call for Jordan to be dropped, because of his 'howlers' in the last two games.
It seems that the nation and those that want England to lose the final, can't lose, they have their scapegoat primed and ready. I really don't understand and have never understood the dislike of Jordan.
Is he the best available to England right now? Of course, he is. Could Everton buy a better replacement? Probably but at some considerable cost. Would Jordan receive the same scrutiny if he was plying his trade elsewhere? I don't think he would.
There is an easy solution to the predicament that Pickford finds himself in: he should tell his fellow defenders to take responsibility for punting the ball upfield and ask them to refrain from passing the ball to him so often, unless it's absolutely necessary.
Obviously, the incident with Van Dijk hasn't helped his popularity among the media, with even a group of Dutch fans blaming him for their poor showing in the tournament, but this 'witchhunt' as Neville Southall described it pre-dates that incident and shows no signs of abating, at least whilst he remains at Goodison.
The whole narrative surrounding Jordan, has spoilt for me what has been a very good tournament, and will spoil my enjoyment of the final, regardless of the outcome.

Stan Schofield
199
Posted 09/07/2021 at 12:11:36
Barry, spot in, there are many people who are simply 'narks' with a lot of negativity, social and other media give them a platform to talk their biased mob-mentality drivel, and they spoil what should be great occasions.
I have some red mates, and when Allison was making blunders last season, I was sympathetic but assured them how good he is. However, there's been no hint of reciprocity with Pickford, and indeed there never is. Many are simply nasty when it comes to Pickford.
Re Van Dijk, it's always bad for such an injury to occur, but I've told my Red mates that, while Pickford did not set out to deliberately injure him, earlier in the game Van Dijk deliberately injured Rodriguez. For Pickford, there was no intent to injure, but for Van Dijk, there was intent to injure.
The point here is that, if he hadn't set out to deliberately injure Rodriguez, the course of the game would have been different and, in all likelihood, Van Dijk would not have been injured in that way. That's what we call Karma. But the Reds I know, and the media, try to ignore what happened here, and have no answer to this point.
George McKane
200
Posted 09/07/2021 at 12:34:44
I said this before and I repeat just as more of an update.
There are enough RS Fans (most of whom I know are not alright, not as humans but as moaning biased RS, but don't go the match) Enough media RS "experts", enough pundits and so calling Pickford, Everton The Blues and that's why I ask that we on TW and The Live Forum while criticizing play or form do not call our own club and players (and worse, fans) unpleasant names.
Season Ticket bought… enthusiasm brewing for August. Blue Skies everywhere. Cosmic Bluetiful waves and grooves all the way. Up The Blues.
Raymond Fox
201
Posted 09/07/2021 at 13:08:54
Jordan's a good keeper, the best England have, but he's some way to go before we can call him great. He's still young for a goalkeeper at 27; he has plenty of time to mature and improve.
I said in an earlier post that I was not too bothered if we win or lose on Sunday. What I should have said is I won't lose any sleep if we lose. I would I prefer for us to win, of course I would.
I think the lethargy is because us older guys have been let down by the national team that often since 1966 that we have given up on them.
Barry Rathbone
202
Posted 09/07/2021 at 13:43:55
Once a keeper starts having regular brain farts – and be honest: Pickford has had more than his fair share – the die is cast.
Calamity James and Grobbelaar the Clown spring to mind despite both being reasonable goalies, not to mention various Scottish keepers who made ricks at internationals but were okay domestically.
It's just something Pickford has to carry around… unless he drops it – arf, arf!
Brian Wilkinson
203
Posted 09/07/2021 at 15:30:06
Back in the Old Days, keepers made saves then the ball was kicked upfield; you never saw this short passing from the back. When they did, a goalkeeper back then could pick the ball up.
We have seen it first hand at Everton and also at England, there is far too much playing ticky-tacky football between the defence and the goalkeeper. Sooner or later, a mistake will happen, and the blame will always be down to the goalkeeper.
What I will say on the game itself: a very very soft penalty for me; however, I do think the one on Harry Kane was a penalty.
Ian Burns
204
Posted 09/07/2021 at 16:00:14
Kristian 188,
Where abouts in North Carolina are you based? My son was coaching near Morehead City but had to return from the USA due to Covid restrictions.
As long as Pickford reverts to his earlier tournament form, he will be fine. Despite the back four having a great tournament, I am more worried about how Shaw is going to handle Chiese (not sure I have spelt that correctly) – he just might have Shaw on toast.
Stan Schofield
205
Posted 09/07/2021 at 19:54:59
I truly have not been bothered about England but, on this occasion, I want England to win, and for Pickford to save their bacon pulling off some great saves, so that he becomes a hero and all those pundits waiting for him to cock-up are silenced.
Come on, England.
Bob Parrington
206
Posted 10/07/2021 at 12:45:04
Jordan Pickford. Hopefully you don't take to heart the load of crap that has come your way from the likes of Lee Dixon (Dickhead for short). Credit should be given to the free kick taker and the fact that you even managed to get a finger tip to the ball.
OKAY, you did make a couple of frustrating clearance mistakes but, as life's story goes, you never get anywhere without making the odd mistake or two..
Keep cool, do your very best in the final (as we believe you always do) and turn a deaf ear to the shit brains that want always to be critical of you.
Good luck wishes for the game vs Italy! My accountant and my hairdresser are Italian and I reckon they are really worried!!!!!!
George McKane
207
Posted 10/07/2021 at 12:51:16
For a very obvious bias against Everton and Pickford in particular read The Times/The Euros this morning - - VVD incident mentioned again - - EFC need to get their Press Officer (if they have one????????) to challenge all of this crap - -to challenge Pundits/Media/Referees/EPL - - also we need to stop slagging our own players off - - there are enough people doing it - - we can mention poor form or poor play but "slagging and name-calling" is unacceptable to me - - and calling fellow Blues names - - we can all disagree - - but we are Blues - - when everyone is against you its time to stick together. Cosmic Blue Waves.
Brian Williams
208
Posted 10/07/2021 at 12:58:02
Well said George. It pisses me off when that trash sites like Newsnow have headlines about us, covering one thing or another and then quotes "Everton fans" comments from social media and some of the comments are embarrassing and really derogatory to our own players.
I really wish Evertonians would have more of a siege mentality and not fall into the trap of destroying our own players on social media because that's what "people do."
Keep any of that in house if it has to be said in the first place.
Bob Parrington
209
Posted 10/07/2021 at 13:01:31
Brian @ 203. Having watched the two penalty decisions time and time and time again, I have to make 2 points FMO.
1. The foul against Kane has 100% penalty nailed on to it. No doubt. No question. Absolute shit refereeing from a guy who had refereed the game generally very well.
2. The second and decisive incident. Might I first state, as a True Blue since 1953, Raheem Sterling has performed brilliantly for England. When you look at the penalty decision it comes from 2 contacts within perhaps a second of time in which he was first knocked by one Danish defender and, as falling from this, he was again sent down by the second Danish defender. Clear penalty, don't know what the fuss is about. if it had been at the other end of the field there would have been shit all media coverage of it - Nailed on penalty they would say.
Barry Hesketh
210
Posted 10/07/2021 at 13:03:23
Well said George, as I've said on previous occasions, nobody wants Everton FC to be successful other than us as Evertonians, constructive criticism of all who represent the club is allowed and welcomed, but let's leave the easy sneering cheap-shots to those who have no interest in seeing Everton FC or its representatives succeed.

John McFarlane Snr
211
Posted 10/07/2021 at 14:30:56
Hi all, [but George in particular], gone are the days when we fiercely defended our players in the light of criticism from mainly, Liverpool supporters. The internet appears to have developed a new breed of fans, who demand perfection from the players and make no concessions to human frailty. It seems that mistakes are considered acceptable if made by the opposition, but if made by Everton players there's hell to pay, and the sad part is that some of the critics have hardly kicked a ball in their lives. George, I see on another thread that Derek Knox is attempting to organise another get together, if God spares me I would be delighted to renew our friendship, meanwhile keep up your positive attitude.
George McKane
212
Posted 10/07/2021 at 14:34:45
Lovely John - thank you - be great to meet up again.
Barry Hesketh
213
Posted 10/07/2021 at 18:32:29
I meant to post this earlier but Channel four is showing a re-run of the whole match between England and West Germany from 1966, if you still want to see it it'll be on C4 plus one in about five minutes.

Jeff Armstrong
214
Posted 10/07/2021 at 18:52:57
Barry, just watching the game, lots of mistakes and sloppy passing, pitch looked wet and slippery and a lot of nerves on show.
Barry Hesketh
215
Posted 10/07/2021 at 19:03:49
Jeff @214
I'm expecting much the same tomorrow, but I doubt the referee will be as enjoyable to watch - he's a real character this guy doing the World Cup Final.

Jeff Armstrong
216
Posted 10/07/2021 at 19:08:52
He was Swiss Barry, I think he took his neutral status to a new level whilst refereeing England v Germany.
Barry what do you make of the standard of play compared to today? I don't think Cohen would even get in the squad!
Barry Hesketh
217
Posted 10/07/2021 at 19:16:40
Jeff @216
It's so difficult to assess whether players from various eras would get in today's teams, I would imagine the players from that era would struggle with the athletism on show in today's game but they might just beat modern footballers with their football brains and skill levels.
Tony Abrahams
218
Posted 10/07/2021 at 19:56:01
George, John Mc, I have written enough on these pages about how I'd love to see Evertonians unite, and this is exactly what I'm on about. It's us against the world, would do for me, and although it doesn't have to be all the time, which I'm aware is impossible, but getting behind the team when they play isn't impossible, and having witnessed England fans from all over the country, really getting behind the team, the other night, you can see how much it helps the players on the pitch.
I don't like talking about the other crowd, and for years I thought the opposition wilted at Anfield, but then I realized how much harder it makes the Liverpool team work, and the harder you work, then the "harder it always is" for the opposition imo.
Brian Murray
219
Posted 10/07/2021 at 21:35:14
Let's hope we are celebrating on Sunday and the rest of the week because of at least four signings. Good luck Blighty as well.
Jay Wood
[BRZ]
220
Posted 10/07/2021 at 22:18:18
Anyone aware that we played a training game at Finch Farm today v Accrington Stanley? Two minutes highlights here, a mix of academy and first team players.
Danny O'Neill
221
Posted 10/07/2021 at 22:45:06
My son mentioned the Accrington fixture Jay. I personally wasn't aware of it.
But good to see Everton back. One more night of Atomic Kitten and then it's all eyes on the real business of 14th August!!
Paul Birmingham
222
Posted 10/07/2021 at 23:16:22
A wins a win, and Rafa, won't take shirkers and lazy arses.
Make your own minds up.. But I reckon this season that mediocrity won't be accepted at Goodison Park.
There's a long way to go, but I'm backing Rafa, he does know the score.
Roger Helm
223
Posted 11/07/2021 at 08:57:04
Astonishing that the second biggest, numerically speaking, European football nation hasn't been in a final for 55 years.
There is something seriously wrong with how we are producing young players. Answers on a postcard please.
Danny O'Neill
224
Posted 11/07/2021 at 09:02:17
Roger, don't start me.
As much as I don't follow England, I wish them well tonight, But if they do win, and I think they will, it will simply mask over the flaws in our grass roots system for another 55 years as we will continue with the "fingers crossed" approach that a few good players will materialise at the same time. Rather than properly invest and restructure.
It's only just gone 9am and the hysteria is winding me up. Time for the dogs to go out again!
The BBC has just suggested that come the final whistle we could be talking about this England team in the same breath as the World Cup winners of 1966.
This is the Euros right? So more like winning the FA Cup than the Premier League?
I need to leave it. I think living in London has really affected my view of the England football team and support base!!
Eddie Dunn
225
Posted 11/07/2021 at 09:07:22
Roger- I think you are thinking of the UK as a whole. England's population is 55m, leaving them fourth in the list with Germany top with 83m, France second with 67m, Italy third with 60m.
Danny O'Neill
226
Posted 11/07/2021 at 09:12:20
That's correct Eddie. England comes in as 55 million. Also, in the context of international European football, you have Turkey (83 million) and Russia (146-ish million).
But Roger's point is valid in terms of how our system has not produced. When you compare the England record to that of the likes of Germany, Italy and France, it is poor. Even Holland in relative terms has out performed over the years.
And then when you get into the detail of the quality of players those countries have produced, England pales into insignificance.
Tony Abrahams
227
Posted 11/07/2021 at 11:52:57
Roger@223, maybe it's changing, in a similar way that France, began to reap the rewards of an academy system, they put into their young footballers, a few years before they won the 1998 World Cup, and then the euro's two years later?
France had Zidane, but they were definitely based on physicality imo, and it's interesting that England, have got to a final using players and a system, that most of us probably think we could improve upon, if we were picking the current English team?
Dave Abrahams
228
Posted 11/07/2021 at 12:16:32
Jay (220) thanks for that Jay, you might be in Brazil but you are miles ahead of a lot of us back home in Liverpool, Cannon, Gibson and Gordon scored the goals in the 3-0 win.
Derek Moore
229
Posted 11/07/2021 at 12:39:34
Thankfully, it's definitely changing guys. It should have happened earlier, but it doesn't really matter now. That can't be changed. It's what happens from now that matters.
Similar to what happened after the disastrous 1996 Olympics, the entire national program and setup was restructured and re-resourced following the failure to qualify for the 2008 edition of the Euro tournament.
Since then, England have seen their under 20s win the world cup, the womens team make two consecutive world cup semi finals and the men make a semi final and now break through for their first appearance in a major final since we all know when. These are the significant, tangible benefits of a true high performance program, one borrowing elements from similar programs that saw English rugby and cricket achieve success after many wilderness years of being in a nadir.
The FA changed their structure, and many of their functions because it wasn't working and wasn't ever going to work. They looked at world class, proven programs across the world and in other sports, looked at the logic and feasibility of integrating them into a new approach for football, and then shamelessly stole them whilsat setting up their own program.
A program that has generated more success for the national team in less than fifteen years than almost it's entire existence up until then.
It was the sort of thing we were promised as Evertonians with Brands arrival. Will we ever see the same renaissance however?

Robert Tressell
230
Posted 11/07/2021 at 12:43:47
Tony # 227, I think France were able to win because the Premier League conditioned so many of their technical players to the physicality they lacked. It meant Zidane had the freedom to do his brilliant stuff. We're lacking a Zidane, a Pirlo or a Xabi etc to control the game but we've got everything else. That's why the player that worries me the most is Rice. He's disciplined and has done a good job but he looks very much like a centre half trying his hand in midfield. Absolutely no passing range. If we could swap him for Busquets we'd be a level above.
Phil Bellis
231
Posted 11/07/2021 at 13:28:43
To add to an element of this thread
https://twitter.com/mainteamsports/status/1170448708409974784?lang=en
(sorry, can't do linkie things)

Danny O'Neill
232
Posted 11/07/2021 at 13:44:39
Hopefully it is Derek, and I do agree, this England team is an improvement in some ways. Maybe not style, but that goes back to getting the best tune out of the guitar you have.
But, my observation with the English game and FA investment remains that it still seems to be focussed on and exclusive to the elite academies at the top of the pyramid. Ones and twos lucky enough to get through benefit from the investment the FA has put in place. But that investment is only at the top. Meanwhile, elsewhere, on the sloping, badly maintained parks, where lines are marked (I won't call them pitches) . I'll stop the scratched record!!!!
To my crossed fingers analogy of English football's approach. I don't think there is much of a plan other than provide outstanding facilities for those fortunate enough to make the elite. Hence us not producing the quantity of top players that other countries do in comparison. Also the type of player we tend to produce is rarely of the same standard, but that's down to the culture of what you see on the parks. Which is where most of our kids play football, not in the academies, but that's what feeds them.
So, while I agree to a degree, that it does seem to be improving, if the FA really want to tap into and develop more of the talent that is out there rather than hope and pray that the planets will align and a decent bunch will happen to come along at the same time, then I'd like to see more bottom up investment & restructuring at grass roots. That's how Germany, Holland and France do it.
I guess that's my point and prior frustration. We have talent, but for many previously discussed reasons, we don't identify or develop enough of it from grass roots. But it is out there. We can do much, much better.
Jay Wood
[BRZ]
233
Posted 11/07/2021 at 13:49:54
Dave Abrahams @ 228. My pleasure mate.
If you want to escape from what I imagine is the wall-to-wall hype over a certain game of togger today, let me give you another goody.
I know you, like me and a few others on TW, like yer clikky. I'm watching the Roses match streamed live on YouTube. Join me here:
Red Rose going extremely well on the first day with the little 'n large openers, the towering Jennings and the short arse Davies. Just returned from lunch. Davies gone to his 50, Jennings not far behind. Almost a ton up without loss.
On all day, every day. Been watching Lancs games all summer this way. Enjoy!
Tony Abrahams
234
Posted 11/07/2021 at 13:56:13
Fair point Robert, about the English game helping certain French players, but I'd argue that Vierra and his partner Petite, were already physically streets ahead of most of their English counterparts, and that France won the World Cup in 1998 because they were the most physically athletic team in the tournament.
Danny O'Neill
235
Posted 11/07/2021 at 13:56:39
Jay, it's pretty hysterical. I switched off hours ago as clearly there are no conflicts or world events for the British (???) media to report on. I put the Sopranos on to escape it.
But like the fool I am, I've got a table booked in my local west London boozer for later. The wife follows England so I have to earn points for when I drag her out to watch Everton.
Dave Abrahams
236
Posted 11/07/2021 at 13:59:42
Jay (233), No Jay I was up to date on the roses game, 95 without loss and Yorkshire put is in to bat!! Going out now but will catch up on the game later( the cricket one)
As for the biggest hyped up game of football, possibly in the history of the game, I'll be watching that and hope we see a good game of football, may the best team win, even though we'll never hear !!the end of it if England finish on top.
Danny O'Neill
237
Posted 11/07/2021 at 14:01:28
It's a myth that foreign players aren't physical Tony. They just use physicality differently. We think "getting stuck in" and a good tackle is physical. The Italians are very physical, just not as obvious. The French players you mention were physically powerful, but could play a bit too.
Derek Moore
238
Posted 11/07/2021 at 14:12:53
It's a different model Danny, and I agree with virtually everything you've said. The high performance model the FA has embraced is all targeted at the top, elite group and those on the fringes of it.
Ben Stokes, Jofra Archer, Jos Buttler, Eoin Morgan and Chris Jordan are obviously very high performers for the English cricket team, and benefit massively from the central contract system and it's related perks around the national team. None of them truly owe their existence to grass roots cricket in England. This is the model.
The assumption, frankly, is in (especially) mens football the clubs for their own reasons will find and develop the best kids, no matter where they are from. The FA can wait for the pick of these and build a high performance setup around each "generation" of players, whilst keeping a cohesive style of play and utilising modern sport science for every advantage.
It's a world away from Iceland, and how they started the revolution in their football and national team. But as you alluded to Danny, you cut your coat according to your cloth, and the national team has enjoyed it's most successful sustained period in fifty years.
England fans should also be able to realistically expect more success like this in the coming years, despite the historical context of underachievement. The FA are getting much better at equipping and preparing a group for tournament success, something borne out not only by the progress in this tournament but also the nature of it. An England team assuredly swatting the Germans in a knockout tournament game is the real measure of how far they've come.

Chris Williams
239
Posted 11/07/2021 at 14:22:23
I've had to turn Sky off too, and they're not even showing the match! For them it's an excuse to fill the time with a procession of mediocre dimwits spouting bullshit and ignorant platitudes. And then repeating said bullshit on a 20 minute cycle.
I think Hell might be a bit like that, with Jim White as the devil.
The live cricket stream is great, and great relief, with good informed, non-biased commentary, and no hyperbole.
Danny O'Neill
240
Posted 11/07/2021 at 14:27:24
Great points Derek. I love discussions like this.
I suppose my hope is that regardless of which way around they build the house (top down or bottom up), I truly hope that the investment filters down, as there is much more to talent to tap into rather than hoping for a once in a generation team every fifty years. Sustainability and consistency is not something the English game has majored on. It tends to be about hoping for the here and now quick win rather than a strategy. As you say, there are signs that is changing.
Germany were always in transition for this tournament. A few left overs from the 2014 team, a few up and coming, but they lacked something in-between in my opinion. They will go away, study and rebuild. Just like they always have done (4 World Cups, 3 Euros and countless near misses). They have a proper football strategy built from the grass roots up.
Hey, I'm not even an England follower, but I care passionately about the English game and development of home grown players.
Derek Moore
241
Posted 11/07/2021 at 14:55:39
I can't help but think that by leaving the development of talented youngsters entirely to others the various national bodies in English sport are missing a trick. Obviously cricket is in a vastly different position to football. The production line of elite English cricketers with not so English backgrounds really does look sustainable, viable and it has been successful.
Football obviously enjoys far higher rates of participation and thus more and deeper competition than a sport like cricket enjoys. A ground-up approach is IMV exactly what's required but for money and simplicities sake, England have gone in the drection they have.
And perhaps with the pre-eminence of the Premier League, the various academies and scouting networks will find talented youngsters and mould them into the next generation of Kane, Sterling and Stones for the national team to profit off. The ends sadly have entirely justified the means thus far; having found a successful formula of sorts you'd expect the FA to cling to it like religious doctrine. An investment in the very foundations of the game is probably not on the agenda.
The national lottery investment and what it has done for the British Olympic team is what English football needs to truly transform itself from the bottom up. It was only after leaving the UK and living in other countries that the lack of accessible sporting facilities in Liverpool became so obvious. You don't miss what you don't have. Something massively improved upon since I first left in the mid-nineties. Everytime I have returned I have noted the impressive improvement in opportunities sporting youngsters in Liverpool have now, and rightfully so.
The Aussies teach all their kids to swim from the age of 5. Then they throw them in the pool every spring at every single school until they are 15. This lets them identify all of the talent, late bloomers (for swimming) and prodigies alike.
Voila. You have an entirely self-sustaining production line of swimming talent for the World Championship and Olympic level virtually forever.
There's no real reason (other than finding who ought to pay for it) why English football should or could not be exactly the same.


Eddie Dunn
242
Posted 11/07/2021 at 15:01:24
Danny 226 -indeed, and let's not forget Belgium who have been the number one team in the world lately with a population of 11 million.
Danny O'Neill
243
Posted 11/07/2021 at 15:03:21
Bottom up is definitely my view Derek. You never build the roof first.
As you say a restructuring from the ground up would uncover many more Sterlings', Stones', Kanes', and Foden's than the few gems we have seen come through.
They are out there.
Danny O'Neill
244
Posted 11/07/2021 at 15:16:41
Good call Eddie. I visit Iper (proper Flemmish spelling of the more well known French Ypres) most years.
Their local team, which I believe hovers around their 4th team has outstanding facilities. Fantastic setup.
We should also mention Denmark and Croatia, countries with populations similar to Scotland.
Jerome Shields
245
Posted 11/07/2021 at 15:47:04
Pickford's saves will be crucial to winning this final.
Danny O'Neill
246
Posted 11/07/2021 at 15:52:43
I shall correct my predictive spelling.
** Ieper (Ypres)
** 4th tier
Danny O'Neill
247
Posted 11/07/2021 at 15:55:33
Whatever happens tonight Jerome, Jordan has played a key part in getting England to this final. He's been great for them in the tournament. And on the back of a great second half season for us too.
Dave Abrahams
248
Posted 11/07/2021 at 16:06:45
The big game has stopped for tea, Lancashire now 176 for one with the game resuming shortly.
Jerome Shields
249
Posted 11/07/2021 at 16:10:04
Danny #247
It's his ability to pull off unorthodox great saves could frustrate the Italian sharp-shooters.
Actually I fancy Calvert-Lewin as a sub, I think the Italians will contain Kane. . Calvert-Lewin is used to feeding off scraps.
I wonder if Ancelotti's coaching and advice might prove useful to them both.
Jay Wood
[BRZ]
250
Posted 11/07/2021 at 16:16:25
Dave @ 248.
Good to see you've got your priorities right Dave!
Good call by the Tykes to put Lancs into bat (titter!). Creaming 'em at the moment.
Andy Crooks
251
Posted 11/07/2021 at 16:33:56
Dave, while you are talking cricket; I am convinced that Frank Hayes hit six sixes in an over for Lancs. Did I dream that? Also, did Lancs play at Stanley Park Blackpool? I think my dad to me to see them play Middlesex there.
Alan McGuffog
252
Posted 11/07/2021 at 16:39:39
Andy...pretty sure they used to play a fixture there. Also at Aigburth and Birkdale which was a pretty little ground. Always went to that fixture...
usually a small to middling sized crowd.
Except in 1981...turned up expecting to stroll in. Crowd a mile long fellas escaping the TV. Charlie and
Di's wedding day of course
Derek Moore
253
Posted 11/07/2021 at 16:42:04
I think Andy you're slightly misremembering Hayes hitting Malcolm Nash for 34 in an over – five sixes and a four – a few years after the great Sobers had originally put Nash's name in the history books.
Hayes did hit six sixes in an over once, but it was in a club game is my understanding.
Dave Abrahams
254
Posted 11/07/2021 at 16:51:53
Andy (251), yes Andy Lancashire always had at least one game in Blackpool every season, not sure where about in Lancashire, I couldn't verify Hayes scoring 34 off one over either, Gary Sobers definitely did in a limited overs game, I think.
Alan (52) yes I saw Leicestershire at Aigburth in the early fifties, they batted all day and slogged their way to over 350 with very little loss of wickets, Inever went back for the final two days, missed seeing Cyril Washbrook and Winston Pace batting for Lancashire and never saw them in person batting, only in the field.
Dave Abrahams
255
Posted 11/07/2021 at 16:54:08
Andy (251) that should have read " not sure where about in Blackpool". Not Lancashire!!
Terry White
256
Posted 11/07/2021 at 16:59:03
Dave (#254), Sobers hit Malcolm Nash for six sixes in an over in a County Championship game, not limited overs.
The county games were held at Stanley Park in Blackpool, the last one being in 2008.
Alan McGuffog
257
Posted 11/07/2021 at 17:07:36
Terry, you are a cricket buff by the sounds of things. Did you ever hear the rumours (total cobblers of course) that Sir Garfield once had a goalkeeping trial for the Blues?
Dave Abrahams
258
Posted 11/07/2021 at 17:13:21
Terry (256), yes I'll take your word for that, a county game, I wasn't sure, but was it against Glamorgan?
Derek Moore
259
Posted 11/07/2021 at 17:26:41
Nash only ever played for Glamorgan in the County Championship.
Chris Williams
260
Posted 11/07/2021 at 17:27:40
Dave,
It was against them, for Notts I think. Nash was a pretty decent County bowler. I think Lancs played Glamorgan at Colwyn Bay, occasionally.
Today's match was originally planned for Scarborough apparently, but Covid put a stop to that.
---
Add Your Comments
In order to post a comment, you need to be logged in as a registered user of the site.
Or Sign up as a ToffeeWeb Member — it's free, takes just a few minutes and will allow you to post your comments on articles and Talking Points submissions across the site.