Small goes AWOL as Everton contract hopes fade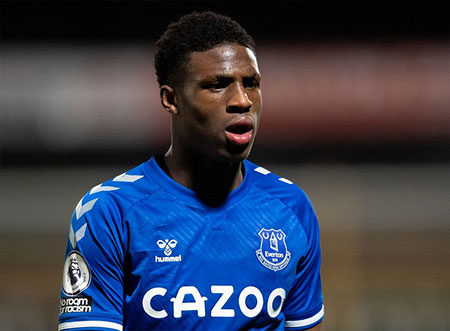 Fears appear to be growing at Everton that they will not be able to convince young prospect Thierry Small to remain at the club as he prepares to sign his first professional contract.
Small, who became Everton's youngest ever first-team player, when he made his senior debut last season in an FA Cup tie, has not reported for pre-season training at Finch Farm, amid suggestions that he is set on a move away from the club because he doesn't see a short-term pathway to regular action playing for the senior side at Goodison Park.
Small initially came to prominence when he was featured on the BBC's Wonderkids series and there has been plenty of buzz about him in Everton's Academy, such that at 16 years and 176 days he replaced James Rodriguez against Sheffield Wednesday, setting a new club record that had been held by Jose Baxter since 2008.
Initially signed from West Bromwich Albion when he was just 11, in what was considered a coup as he was already being coveted by scouts from many other clubs, Small graduated to the Under-23s last October and has been very impressive so far, making a total of 13 appearances in Premier League 2, scoring 3 goals. He has since been capped by England at youth level and received his first call-up for the U19 squad in May 2021.
According to The Athletic, Everton have prepared a tempting three-year professional contract for Small which he is eligible to able to sign when he turns 17 on 1st August. However, the youngster's failure to show up last Monday and his continued absence from training at the start of this week has been accompanied by reports that Manchester United, Arsenal and Bayern Munich are circling, hoping to tempt him away from the Toffees.
Small's recent change in agents is being seen as an indication that he wants to move on in the belief that Lucas Digne and Niels Nkounkou are standing in his way at first-team level. However, Everton are said to be determined to keep him and it is understood there was contact between the club and his representatives yesterday as Blues officials look to get him to agree to stay.
---
Reader Comments (118)
Note: the following content is not moderated or vetted by the site owners at the time of submission. Comments are the responsibility of the poster. Disclaimer
Dave Williams
1
Posted 13/07/2021 at 09:18:04
It doesn't sound promising does it! If Nkounkou is better then Small has to go unless we sell Digne to clear the way a bit and raise £35-40M.
I haven't seen him play but certainly if Digne and Nkounkou stay then Small will go. Perhaps that is best if his attitude is anything to go by.
Colin Glassar
2
Posted 13/07/2021 at 09:22:49
He will probably join a long list of talented youngsters who have left the club in recent years to find opportunities elsewhere, eg, Lookman, Vlasic, Deulofeu, Robinson etc…
Even 16-year-olds demand first-team action these days and are prepared to walk if not given the chance. Perhaps they should look at the likes of Ravel Morrison and Tom Ince to see how easily "promise" can turn into shit.
Bill Griffiths
3
Posted 13/07/2021 at 09:27:18
He seems to be very highly rated but, in the few games I have seen him, he didn't impress me at all. I guess they need to let either him or Nkounkou go.
I don"t think either of them are ready for regular first-team football at this moment in time.
David Pearl
4
Posted 13/07/2021 at 09:30:53
He opted for 1-to-1 private training for a week to get fit and contemplate probably. Niels could play further forward but either him or Small should be offered a loan to get valuable game time. He's not getting near Bayern Munich's or Man Utd's first team either this season. It would be good if he signs as he could be one of the best.
Phil (Kelsall) Roberts
5
Posted 13/07/2021 at 09:35:52
I remember the Year 6 teacher at our kid's school. She said he was a delight because he was an 11-year-old while all the other kids wished they were 18. There is too much pressure on kids to grow up too quickly.
And the chance of him getting in any club's 1st XI at 17, especially a position where a mistake equals a goal, is pretty small. I assume he thinks the seats on the benches elsewhere are more comfortable.
Dave Abrahams
6
Posted 13/07/2021 at 09:36:04
Colin (2), I don't think many 16-year-old's demand first-team football, even Rooney, his absolutely outstanding talent took him into Everton's first team.
I'd wager a very big signing-on fee is at the bottom of this alleged move, together with big wages. He hasn't got the talent or ability, at the moment, to get a permanent place in any top team. What he's got is the potential to be a Premier League player. Let's see how far that gets him.
For me, he wasn't the best player in the U18s, he was certainly better going forward than he was defending, where he wasn't always comfortable or a great reader of the game. Then again, he's still just 16.
Brent Stephens
7
Posted 13/07/2021 at 09:39:07
For his age, his talent and potential seem big. A strong, attacking left back. I fear we're going to lose him.
Jim Lloyd
8
Posted 13/07/2021 at 09:40:48
On the one hand, it shows belief in himself; but it's what his attitude is that I wonder about. All I can think is that our coaches, and the manager, will have decided what his path is to, hopefully, the first team.
If he wants to go, and the article implies that his one-to-one training is an indication that he wants to go, maybe the new manager's first job is to get an assessment from the coaching staff, then give him an interview.
Andrew Ellams
9
Posted 13/07/2021 at 09:46:02
If he is being advised to behave like this or it's off his own bat, it doesn't look good.
Is it another kid believing his own hype way too early and will eventually fade away to a career well short of what it could have been?
Clive Rogers
10
Posted 13/07/2021 at 09:48:53
This is crazy. If he goes to the Mancs or Bayern, he will probably be even further down the list and we may well never hear of him again.
Michael Lynch
11
Posted 13/07/2021 at 09:55:08
I think you have to take the media reports with a pinch of salt. There's no logic to him thinking that he'd get more first-team opportunities at Arsenal or Man Utd so, if he does want to move on so he can play senior football, then he'll either go down a division or to a "smaller" Premier League club.
It's possible that he's thinking long-term and wants to go to a Sky club so he can get the best coaching and work with the best players, and he's prepared to sit on the bench or play in the U23s for a while yet.
Of course, it could be about the money.
Danny O'Neill
12
Posted 13/07/2021 at 09:56:31
Us old heads can easily criticise enthusiastic youth getting ahead of themselves.
On one hand, great to see ambition and desire to succeed if the story is true. Never knock that out of a player, just try to channel it.
But, the boy (he's a boy) would do well to understand that he is someone with potential but is still developing. There are very few players like Rooney in the footballing world who are ready made at 16. We've had many a discussion about coaching and youth development. This player would do well to stay and develop rather than do a Scott Parker (to coin a phrase) and jump ship early only to warm the bench elsewhere. And I say that without my Everton spectacles on. There are other examples.
If I don't turn up for work, I don't get paid or I get penalised unless there is good reason, usually health or family stuff. If he simply has not turned up for work, I hope there is good reason other than not fancying it.
I don't want to be harsh on the lad himself. He is very young and inexperienced. I smell an agent at work. Not someone who has the player's or the individual's best interests in mind.
That said, if the Bayern link is true, why wouldn't you jump at that opportunity? And from his point of view, with Digne and Nkounkou in front, it could be a long wait at Everton.
Kind of contradicting myself a bit there, but trying to analyse both from an Everton and the player's perspective.
Brian Harrison
13
Posted 13/07/2021 at 09:58:06
We don't seem to have a great track record of late with young players: Sandro, Vlasic, Kean, Lookman, Deulofeu… I have no idea what the problem is but it wouldn't encourage too many parents to let their youngsters come here.
Justin Doone
14
Posted 13/07/2021 at 10:01:46
I certainly don't know all the facts but any player that's refuses to turn up for training shows a huge lack of respect. The club can't fine him as he's not contracted.
I presume there has been some communication and the club know his intentions. Whilst it's disappointing, that's a person's right. He is in effect a free agent but being an Everton youth product we need to be compensated accordingly.
Minimum of £1M plus a large percentage of any future sell on, say 25%. I think he's got all the tools to have a successful career. How successful is up to him.
This isn't the behaviour of someone who hasn't got options, ie, been tapped up by another club.
Everton have been fined and banned for their youth transfer activites in recent years and need to put up a fight against this, to try and keep him and stop him from easily joining another club without agreement.
Andrew Ellams
15
Posted 13/07/2021 at 10:02:17
This stinks of a grubby agent. There needs to be rules on this sort of thing for players under the age of 21.
Pat Kelly
16
Posted 13/07/2021 at 10:03:37
Sandro, Vlasic, Kean, Lookman, Deulofeu were no great loss to Everton. Small may be likewise. If he doesn't want our contract, so be it. Plenty more fish in the sea.
Gavin Johnson
17
Posted 13/07/2021 at 10:09:25
Sad news. He looks one of the best young players to come through in a while. I'm guessing we won't get compensation either as he's not yet a professional?
Danny O'Neill
18
Posted 13/07/2021 at 10:16:18
Always hard to tell at such a young age.
Depending on how this works out, time will inevitably tell if he is the one that got away… or becomes the next Cadamateri.
Robert Tressell
19
Posted 13/07/2021 at 10:34:01
We took him from WBA at a very young age. He's not a local lad with an affinity for the club. We poached him and now other clubs want to poach him from us.
I disagree he'd be further from the first team if he moved to a very big club. Alphonse Davies is an example of a huge club trusting youth in the very same position. Greenwood, Foden, Alexander-Arnold, James etc are all examples of exceptional youth breaking through.
His chances with us are limited because Digne is very good and because the club is a mess with a revolving door policy on managers and a short-termist approach to recruitment.
In reality it might be best for Small to move to a better run club who he trusts to give him a route to the first team.
I don't want that to be the case but it's yet another downside of bad club management.
Alex Kociuba
20
Posted 13/07/2021 at 10:45:40
Pat, I wouldn't have Vlasic on that list, he's scored every other game for CSKA and a Croatia international. Still only 23.
Michael Kenrick
21
Posted 13/07/2021 at 10:53:22
The question raised about his current contractual situation is interesting, and I know very little about this.
My understanding is that young players before their 17th birthday have scholarships with the club's academy. But I presume this is some form of mutually binding contractual agreement between youth player and club, albeit not 'professional'?
In this context, Transfermarkt indicate his current 'agreement' with the club runs through June 2022.
If this is true, then I assume he is not strictly a free agent and should be obliged under that agreement to turn up for training as and when required by the club.
Perhaps Tony Abrahams could tell us what type of agreement he had at Nottm Forest, although times and contracts may have changed since then?
Barry Hesketh
22
Posted 13/07/2021 at 11:05:11
I can't see how the club can be blamed for a young player not returning for duty when expected and for not tying him down sooner, as he's not allowed to sign a professional contract until August 1st when he's of age. If the lad feels he has better options, then good luck to him but, similar to Rooney, it will be his agent that is pulling all the levers and there's little the club can do to prevent it happening.

Kevin Dyer
23
Posted 13/07/2021 at 11:08:21
Obviously, I'd love him to stay as he seems very highly rated. I'm surprised he isn't tempted as we clearly have a pathway for him and the contract isn't long, so if in 2 years he feels he's not making the promised progress he could request a move, with 12 months contract left we'd sell him and he'd still only be turning 19.
I know it's only Football Manager 🙂 but the game has an extensive scouting system, probably on the same level as many top teams and is littered with "can't miss" prospects at 16/17 who go nowhere in their real-life careers. Case in point: Jack Rodwell in my old FM 2010 game ended up going to Man City (!) where he enjoyed a fabulous career, ending up as England captain with 100+ caps...
Raymond Fox
24
Posted 13/07/2021 at 11:42:41
Look at it from his view, he has zero chance of first team football at left back with Digne at Everton. He must have had more tempting offers to go elsewhere obviously. His decision now could be the most important of his life.
Our problem is how long can we keep hold of Digne, because the Champion League clubs must be casting an envious eye at him.
Mark Ryan
25
Posted 13/07/2021 at 11:43:02
I'd have happily crawled naked over a mile of broken glass to get a contract with Everton as a lad but this lad is looking for a quick route anywhere to stardom and it's most likely his Mum or Dad and agent alike saying "We could try elsewhere…"
If he's not a Blue then I get it. Wants to play straight away. Naive and not a true blue. I get it in this day and age of agents and big bucks. I hope he stays and the club manages him well.
Tony Everan
26
Posted 13/07/2021 at 11:55:36
Sounds like his new agent is bending his ear. Other clubs will be offering big financial incentives for him to sign on. So there may be some financial leverage going on at the heart of this. I mean, if he moved to Bayern or Man Utd, would he be any closer to the first team?
I'd be disappointed if he left; I've watched him a few times and I can see why he is coveted. Considering his age, he is already a physical specimen and will get stronger. He's pretty quick, direct and confident and has no fear at all about attacking from the left-back position. He's still raw and has a long way to go but I can see him making a Premier League player.
We're going to have to offer him the going rate, close to the other offers he'll get, and to give him some firm assurances on pathways to the first team. It may be unpalatable to the club to appease his agent but, in the long term, it would be a good investment for Everton as long his development is managed well.
Tom Harvey
27
Posted 13/07/2021 at 11:56:04
Money-driven soulless kids in a money-driven soulless business.
We the fans provide all the soul they could ever need, but the Covid bubble isn't the only bubble they're in, they just don't see or hear us.
Danny O'Neill
28
Posted 13/07/2021 at 11:58:17
Good insight Tony @26. Thanks.
Peter Roberts
29
Posted 13/07/2021 at 12:15:09
Alex #20
Not only that, but there are rumourings were looking at possibly taking him back.
I can see why he didn't settle. New country at 19, miles away from home, manager who signs you gets sacked midway through the season and replaced by a dinosaur. No wonder he got fed up pretty quickly.
Colin Malone
30
Posted 13/07/2021 at 12:34:13
Elliss Simms quoted that his learned more at Blackpool than at the Everton under 23's. Might be the same situation. No talent is coming through and it needs urgent addressing.
Dave Abrahams
31
Posted 13/07/2021 at 12:44:37
Everton signed Garbutt from Leeds Unt. cost us £750,000, Leeds were up in arms over it, Garbutt was seventeen, Leeds couldn't stop him from signing for Everton and there were other clubs after him. If this lad wants to leave Everton there is nothing we can do to stop him going even if we offer him the same deal as the clubs who want him or even a better deal, which might tempt him or his agent. What we will do is to present a very good case of how we have looked after him since he signed at eleven years of age, the cost of his training and how he has progressed as a player under the coaching he has received, I don't know how they work the compensation out but we will get a good fee, I don't know if a % of any future transfer comes into the compensation, doubt it though.
Derek Knox
32
Posted 13/07/2021 at 12:46:23
Ah, is this what they call the Benitez Effect? How many more will choose to walk ?
Frank Wade
33
Posted 13/07/2021 at 12:52:53
Just reading up on Agents for young players, as the agents make their money from moves. The curent FA rules are that no football agent can sign any player under the age of 16. Between the ages of 16 and 18 years the signing of a player must be via the parent or guardian. So, likely his guardian's head has been turned, again.
As others have said, ive seen jim a few times, but apart from his physical attributes speed and strength, he didn't look like the next Rooney, or Garbutt even.
Tom Bowers
34
Posted 13/07/2021 at 12:53:18
He is young and is probably having his ear talked off by others.
He and every one else knows he has talent so he will make a move in the direction he feels is right for his career and I am sure his agent has a big say in the matter especially with big contract money in the offing.
Robert Tressell
35
Posted 13/07/2021 at 12:53:25
Vlasic left because he arrived at a badly run club with a conveyor belt of managers and no route to the first team. Vlasic would easily get into our midfield now. He just needed a season to acclimatise first.
I don't blame him or Small.
Successful clubs can blood these sorts of players in European dead rubbers and the league cup. We can't (or largely don't).
If Small leaves it says more about the club than him in my view.
Tony Abrahams
36
Posted 13/07/2021 at 12:58:42
I thought a scholarship went for two years, but once a kid turns 17 years of age, then he can sign professional terms. If this is the case, then I'm sure he would be breaking his contract, if he elected to sign for another club now.
From the outside looking in, he's probably going to become a millionaire within the next few weeks, so I just hope it doesn't affect his desire.
Ray Roche
37
Posted 13/07/2021 at 13:05:41
I was told from a reliable source, and posted on TW two months ago, that Small was leaving Everton. His and his 'guardian's' heads have been turned.
Robert Tressell
38
Posted 13/07/2021 at 13:26:10
Just to reinforce (or tediously labour) my point, Everton have had 7 different managers including 2 caretakers since we took Small from West Brom.
If there were any loose promises about a long-term strategy and focus on building a team based on talented youth, they will be starting to look very hollow.
Ian Bennett
39
Posted 13/07/2021 at 13:28:03
Could be another Sean Doherty
https://en.m.wikipedia.org/wiki/Sean_Doherty_(footballer)
Tony Abrahams
40
Posted 13/07/2021 at 13:31:24
You surprise me saying that it would tell you more about the club, than it would about the kid, Robert T, and that's coming from someone (me) who has started to become quite critical of most things in Everton's academy.
I was hoping that the new system of fast tracking players, which looked to be getting implemented last season, might be a real game changer for us in the future though, and also provide a lot more experience for the younger kids coming through, moving forwards, and would therefore be very surprised if this wasn't a money motivated move?
I've just seen you have made your point Robert, so just ignore me mate!
Michael Kenrick
41
Posted 13/07/2021 at 13:47:43
Thanks, Tony.
I think you're right about him having broken some agreement by not turning up. But if he's wanting out anyway... although presumably Everton hold his registration? Does that give their position any strength in a hostile transfer?
A bit puzzled by references to Vlasic in this... he was always a first-team player. (Okay, since I'm the Arbitor of Literal Truth, he did play in one single U23s game that season... 4 years ago!!!)
He wasn't very good. He was given plenty of opportunity to prove himself at senior level. But 2017-18 wasn't a great season. I'm not convinced he's that much of a loss, is he?

Tony Abrahams
42
Posted 13/07/2021 at 14:09:00
I don't think Vlasic, is much of a loss because he never made it at Everton, but it doesn't mean he's not a good player though, and we were probably unfortunate to have him at such an unsettled period, because he did look to have quite a bit of ability imo.
If Small is contracted to Everton until the end of next season, then it sounds like he his going to turn down a professional contract with the club. If this happens then I expect him to be transferred, but I'm not sure if it would be for a nominal fee, or go through a tribunal, unless he goes abroad, which I think means he will leave for next to nothing?
Justin Doone
43
Posted 13/07/2021 at 14:10:54
I'm not sure youth contracts or scholarships are worthwhile other than holding a player's registration.
Like in other jobs, they are in place more as a basic responsibility of what to expect whilst being trained up, but can be easily got out of if it prevents their development or an offer of a better contract.
Registration is key, because Everton could hold on to it and delay things should they want to be awkward but ultimately compensation is usually agreed between clubs or with FA involvement.
I remember when Fulham 'stole' Doherty, he was a decent young player who reminded me of Osman. But real progressive player 'development' is a hard thing to judge.
Gary Smith
44
Posted 13/07/2021 at 14:11:30
We have the best left-back in the league, in his prime (27) tied to another 4-year deal. We have great 'potential' backup in young Nkounkou, as well as the knowledge that Godfrey was a tank when he played there too.
Small would be better signing up to a contract with us, and asking for a loan to a decent League One side. If he turns out to really be the 'next big thing', then good luck to him – the rules about kids and contracts are there for good reason.
He could just as easily turn out to be Luke Garbutt, Liam Walsh and Brendan Galloway too if he ballses up this decision. And thinking he somehow has more chance at Man Utd, Bayern or Arsenal sounds like a poor bet.
Bobby Mallon
45
Posted 13/07/2021 at 14:32:46
You know what, it's not about game time with this kid, it's about money and what he can get.
Jamie Crowley
46
Posted 13/07/2021 at 14:44:59
If I were turning 17 and my club just hired a manager known for dour, boring tactics, and my club hadn't won shit in how many years? I'd be off in a shot.
Why stick around and play crap, uninspired football (Rafa is known for this) with a club that probably won't win diddly due to crap, safety-first, dour football?
Truth.
Brian Wilkinson
47
Posted 13/07/2021 at 14:57:02
Oh right, so this is down to Benetiz then hey Jamie.
Nothing at all to do with his agent asking to sit tight until August, then sign for another club and make himself very rich, without even kicking a ball.
Glad you put me straight, on that one.
Jay Wood
[BRZ]
48
Posted 13/07/2021 at 15:44:55
I echo Dave Abrahams' sentiments @ 6.
I know Dave, like myself and a few others on TW, try to watch as many live games of the academy teams as we can.
Small has got a good press because he is Everton's youngest ever 1st team player (but not if you ask Dave who recalls a lad playing in the Senior Cup in the 1950s who was younger!) and he featured on some BBC Whizz Kids programme, highlighting his skills.
But as Dave said, Thierry wasn't the best player in the U18s and certainly not with the U23s. He's got some ability and he looks good in 2 minutes highlights clips. Impressive going forward. Not so good at his day job, defending.
Of all the players that have passed through Everton's Academy In the modern era, only Wayne Rooney at 16 or 17 already had 'IT'. It was evident he was destined for big things.
Thierry Small hasn't shown anything near having 'IT'. He could be a good 'un. He could be yet another kid who never made 'IT'.
If the player's head has been turned by those whispering advice in his ear then there is little the club can do about it. Ridiculous then to blame Rafa, Brands or regarding his (still only rumoured) impending departure as a structural failure at the club and an obvious condemnation of all who work with Academy players
Dave Abrahams
49
Posted 13/07/2021 at 15:47:44
Jamie (46),
This kid has been making noises about hanging on signing a contract for the Blues while Benitez was in China. The reason he got five minutes with the first team was a sweetener to try and persuade him to sign up when he is 17.
If Everton hadn't been 3-0 up with minutes to go, he wouldn't have played that day. He might be worth the wait and hassle to get him to join us; time will tell.
Terry White
50
Posted 13/07/2021 at 15:53:34
Sounds like people who have seen Small, including Jay (#48) think he has the same capabilities as someone many on TW would like us to sign, Max Aarons: "Impressive going forward. Not so good at his day job, defending."
Perhaps defending is not considered an essential for a full-back in the modern game?
Eric Myles
51
Posted 13/07/2021 at 16:23:49
Michael #21, I assume you are not a parent?
Try getting a teenager to do what's best for them!
Alan J Thompson
52
Posted 13/07/2021 at 16:24:01
Well there's the incentive there, your own locker with the 1st team. Now, where have we heard that before? As they say, where one brown cow goes all the other brown cows follow.
Oh, and how legally binding is any agreement with a legal minor?
Eric Myles
53
Posted 13/07/2021 at 16:27:39
Alan J, they should get Niasse on the 'phone to Small telling him what a privilege it is to have a locker at Finch Farm.
Jamie Crowley
54
Posted 13/07/2021 at 16:36:41
Brian W and Dave "Legend" Abrahams -
Fair enough. If this kid has been hanging on for a big contract prior to Rafa's coming, I stand corrected.
My post was one of a first person slant: What I would probably do under the circumstances.
Rafa coming in can't help. The prospect of the style of football most likely played surely would be a factor, in my opinion.
Brian, I'm not trying to set you straight, only offering a first-person perspective / opinion.
Sam Hoare
55
Posted 13/07/2021 at 16:45:14
In other full-back news, it sounds like we are closing in on Dumfries for £15-£18M; he might not have been my first choice but he will be a solid fit, I think, who'll give us a bit more dynamism on that right flank. (Though don't expect him to repeat his Euro form too much!!)
Ray Roche
56
Posted 13/07/2021 at 16:50:34
Sam, where did you see the report on Dumfries?
Robert Tressell
57
Posted 13/07/2021 at 17:04:42
Good news Sam. Dumfries should improve us and it resolves a problem position for a reasonable fee.
On Small, he is basically the epitome of a modern full-back. When you watch the U18s or U23s, he stands out because he has the speed, stamina and end-product along the entire left flank. He reminds me of Alphonse Davies of Bayern. You could play him anywhere along that flank.
I made a comment in one of the matches that Kyle John is probably a more mature, rounded footballer. John understood how to receive the ball, beat the press, and work the ball upfield. With Small, it was more "Charge!"
But, despite this lack of maturity, he has end-product. Kyle John is a really good player for the U23s but seems very unlikely to have the career Small will.

Jay Harris
58
Posted 13/07/2021 at 17:05:48
While I have a lot of time for the "kids" and their development, at 17 years of age he will only listen to what he wants to hear and then presumably regret it when he matures.
I don't doubt Small has the tools but, with an attitude that says "I won't bother going back there and won't let anyone know," he can sail on by from my point of view.
There are already too many overpampered spoilt brats with attitude and, for me, there are plenty more fish in the sea.
Give me attitude and determination over ability anytime.
Dale Self
59
Posted 13/07/2021 at 17:11:24
It's not a good look is it?
Paul Swan
60
Posted 13/07/2021 at 17:31:03
I saw several of his games last season and I have to say I was the opposite of impressed by Small. Frequently giving the ball away and left totally out of position. Not what I expected given all the hype around him and several players well ahead of him for that position. Not short of confidence but seemed very limited to me.
Sam Hoare
61
Posted 13/07/2021 at 17:40:45
Ray, there's been a few reports out of Italy. Inter who were our main rivals for him now reportedly going for Bellerin. But nothing confirmed by sources of high repute.
David Cooper
62
Posted 13/07/2021 at 17:41:55
From what I saw of him in the games that were shown in full on YouTube, my impression was that he was certainly physically stronger and faster than many of those in the U18 team. However, he often ignored other players in better positions to make the play himself. Often he was unsuccessful. It's hard to judge a young player on such a small sample but I thought he was playing for himself to be seen rather than being a team player.
All of us who have coached youth players know that often those who develop physically ahead of their peers standout at lower age groups but when those peers catch up physically they often go ahead of them as they have developed other important talents.
However we are not in a position to lose our best young players but if their heads, and those of their parents or guardians, have been turned then there is not much we can do.
Mike Gaynes
63
Posted 13/07/2021 at 17:58:35
Sam, I would call that great news if true. In a side that desperately needs pace and presence, Dumfries would bring both -- and while he may not be a lockdown defender, his anticipation is outstanding (evidence that heroic shot block).
At the rumored price, I call him an excellent buy. Hope you're right.
Sam Hoare
64
Posted 13/07/2021 at 18:07:22
Mike, yes, he seems a good fit and decent value at £15m. The analysis I've read paints him as a pretty good defender, not beaten often, very solid in the air and able to get up and down a lot; though his crossing is pretty mediocre.
I think he will suit Benitez pretty well actually and at 25 is a good age to hit the ground running but still have resale value and time to improve.
Barry Rathbone
65
Posted 13/07/2021 at 18:26:18
As others have said, if this lad has decided to simply down tools, then he's a wrong 'un and needs binning regardless of how good he is (or thinks he is).
Put his gear in a bag and tell him to meet Big Dunc at a Motorway Services for collection.
Ray Roche
66
Posted 13/07/2021 at 18:29:55
Thanks Sam👍🏻
Tom Bowers
67
Posted 13/07/2021 at 18:34:13
I suppose Small would be looking at other youngsters breaking through with big clubs, such as Sancho and Bellingham, but he has to remain cautious and not get too far ahead of himself.
If he is good enough, he will progress as there are many big clubs with big money to offer but none of them will guarantee a first-team place until you have proven yourself at the highest level… and even then, you may have to face opposition.
Alan McGuffog
68
Posted 13/07/2021 at 18:41:25
Something odd here. Shouldn't Spurs be looking at hijacking any proposed move?
Danny O'Neill
69
Posted 13/07/2021 at 18:56:12
I do hope you're right about Dumfries, Sam.
John Hammond
70
Posted 13/07/2021 at 19:07:58
An almost 17-year-old left back with 5 mins of Premier League experience isn't going to get near the first team of most Premier League clubs. If he thinks his prospects are better elsewhere, then good luck to him.
Dave Abrahams
71
Posted 13/07/2021 at 19:29:09
Mike (63),
Here's one that should be of big interest to you:
According to The Daily Mirror, Manchester City are interested in Antonee Robinson of Fulham.
Oliver Molloy
72
Posted 13/07/2021 at 19:52:43
Of course this is his new agent at work, it will be all about the money, money, money.
If the club has done everything correctly and he doesn't want to play for us, fuck off then.
Karl Meighan
73
Posted 13/07/2021 at 20:17:46
If he was good enough, he wouldn't need to move or he doesn't trust in his own ability. I thought all these young players were fearless? As somebody posted earlier, probably had a better offer from his agent; either way, I would be surprised if he plays regular football for a first team in any league in Europe this coming season. I cannot blame the club here; they cannot change his age.
Phil (Kelsall) Roberts
74
Posted 13/07/2021 at 20:26:47
Reading through, the thought that comes to mind is the kids who physically mature quicker always stand out amongst the ones whose hormones take a little longer. We all know mates who were 5ft-3in at 16 and 6ft-3in at 20, and those who were 5ft-9in at 16 and still 5ft-9in at 20. (Sorry, I'm old, I don't do cm.)
How much of Small's wow factor is simply that he has physically developed quicker than his peers? Give me a teenager who knows how to play, has the brain to play over someone with the physical attributes. Rooney was – in the nicest sense of the word – a freak. He had the brains and he had the physicality at 16. Look at others who have been great athletes at 18 or 19 and never made it because they did not have the football brain.
What's the view on Thierry Small? All down to his size compared to his peers?
James Flynn
75
Posted 13/07/2021 at 20:43:12
Well, Dumfries PSV manager is on record saying he doesn't expect Denzel back for next season.
Just turned 25, he's played a ton of games already as a regular, so well-experienced for that age. Pretty much reached the "Now or never" part of his career.
He's bound for someplace. I'd think the "someplace" he'd prefer is where they pay Premier League wages.
We'll see if it's us soon enough.
Paul Birmingham
76
Posted 13/07/2021 at 21:52:52
These rumours about Thierry Small have been around since last year.
If the lad wants out and whilst decent not an outstanding young player, let him go.
There's another massive season at Everton as the Rafa era gets going.
I've no real feeling what's gonna happen this season and perhaps that makes the contemplation easier.
Hopefully the players who've been on international duty return, fresh and positive...We shall see.
Put Delph as the bonus player in any deal with Small going, and that would be a good result.
Danny O'Neill
77
Posted 13/07/2021 at 22:19:51
I hope so James.
Mike Gaynes
78
Posted 13/07/2021 at 23:22:40
Dave #71, thanks, that's definitely a very interesting piece of news on this side of the pond. The USA #1 goalkeeper Steffen is now City's #2 keeper behind Ederson, and he would certainly help Robinson bed in quickly. I'm just not sure how much playing time he would get with Zinchenko, Mendy and Cancelo all still there.
It still infuriates me that we sold Antonee to Wigan for pocket change. Fulham then got him from Wigan for a mere £2 million. Bet City (or Wolves) is about to pay a whole lot more.
John Raftery
79
Posted 13/07/2021 at 23:30:32
The first time I saw Rooney playing in our youth team, I thought 'wow'! I saw Small playing last season in the televised youth and development games. While his performances were decent for his age, I did not think 'wow'!
Derek Thomas
80
Posted 14/07/2021 at 00:52:36
As Dick the Butcher might say today - "The first thing we do, let's kill all the Agents."
Derek Knox
81
Posted 14/07/2021 at 05:52:48
John @ 79, that's a good point you make, it seems to have been a trend for quite some time that Agents, or Journos latch on to the ' new ' tag and associate it with one of the all time greats. Of course nearly everyone then believes it, even those within the game, now how the hell can anyone predict that a young player, and they are all talented by the way, or wouldn't be on the books of Big Clubs or even smaller Clubs at that age. Is going to be the New Rooney/Dixie/Young etc?
How many times have we seen very promising youngsters at our Club 'tipped for greatness' then their careers take another turn, usually for the worst because of outside influences, or God Forbid serious injuries?
Phillip Warrington
82
Posted 14/07/2021 at 06:33:13
The trouble for Everton is we are now chasing the mid-table teams who have gone ahead of us, not only on the playing field but also in how they run their clubs financially.
The one thing that has really got me baffled is this: with not living in Liverpool, you don't get much news about the U18 and U23 teams. When you look at the tables and results for these teams over the last 4 years, they are right up there and winning titles...
So why don't we have at least one exceptional player come through and make a place for himself in the Premier League team. They don't have to be world beaters but just one player who is technically sound and gives his all.
Colin Glassar
83
Posted 14/07/2021 at 08:04:47
Let's not aim Small, let's go big and go Dumfries!! It's a done deal, apparently.
Ron Sear
84
Posted 14/07/2021 at 08:36:39
If any of these Everton youngsters read ToffeeWeb and sense the horrible criticisms they are likely to receive in the future, it's hardly surprising that they want to bail out as soon as possible. It always amazes me that 'fans' want to slag off their players at every opportunity. The whole point for me is you support your team no matter what, even if they go down in a game or league.
Martin Reppion
85
Posted 14/07/2021 at 09:12:07
Has anyone ever read Andy Gray's autobiography?
In it he mentions a young footballer at Villa, who I can remember, but according to Gray nobody does, because he faded really quickly due to his lax attitude and bloated ego. The player in question was Bryan Small, this lad's uncle.
It seems there may be a family attitude problem. I hope I am wrong.
Danny O'Neill
86
Posted 14/07/2021 at 09:54:57
Are the Dumfries links genuine? Well, as genuine as any speculative transfer rumour can be?
I hope so.
Ray Roche
87
Posted 14/07/2021 at 10:08:05
Collin @82
It'll be a 'done deal' when he's wearing the shirt at Finch Farm.
Colin Glassar
88
Posted 14/07/2021 at 10:10:29
His shirts already hanging in the changing room, Ray. Next to Riquelme's and Moutinho's.
Martin, I remember seeing Brian Small play. He was a very gifted player who seemed to just disappear one day.
Who remembers the Spurs (or Arsenal) player back in the 70's who was a great little player but gave it all up to become a preacher? I can't remember his name.
Ray Roche
89
Posted 14/07/2021 at 10:14:03
😁👍🏻
Mark Ryan
90
Posted 14/07/2021 at 10:15:43
Martin @ 84.
What's the saying "The apple never falls far from the tree"...you might just be right. Brilliant bit of detailed undercover scouting if true. Nice work, young Sherlock.
Dave Williams
91
Posted 14/07/2021 at 10:18:14
Colin- not Peter Knowles of Wolves?
Derek Knox
92
Posted 14/07/2021 at 10:24:55
Ray/Colin, or at least seen in a chippie in Halewood, ordering non-fattening Fish Chips, Mushy Peas and gravy ! :-)
Peter Gorman
93
Posted 14/07/2021 at 10:29:28
Colin - it was David Icke, except it wasn't Spurs (or Arsenal) but Coventry and Hereford.
Ian Burns
94
Posted 14/07/2021 at 11:35:02
Colin - Dave 90 is correct. It was Peter Knowles of Wolves who retired at 27 years old to preach the beliefs of the Jehovah Witness religious cult.
He was a very talented midfielder. If memory serves me correctly, he also had a brother who played around the same time.
Andrew Ellams
95
Posted 14/07/2021 at 11:43:02
Ian, his brother was Cyril 'Nice One Cyril' Knowles
Ian Burns
96
Posted 14/07/2021 at 11:53:50
Thanks Andrew - I had forgotten about Cyril - played for Spurs I think
Brian Wilkinson
97
Posted 14/07/2021 at 12:35:47
Best response has to be the David Icke one from Peter@92, love it.
Alan J Thompson
99
Posted 14/07/2021 at 16:39:19
I remember seeing Knowles, a 17 year old, playing for Chorley against South Liverpool at Garston (Holly Park) and here was this kid not only running the game but directing everyone on his own side as to where they should run while he was busy carrying the ball until they all arrived at where he directed them.
His brother played full back for Spurs and I can't remember if it was him or Kinnear who put Alan Ball out in the first Easter game in London but Alex fixed him up in the game at Goodison on the Monday.
Martin Reppion
100
Posted 14/07/2021 at 16:52:17
Cheers, Mark.
I get all my insider info from retired players' books years after the event.
Martin Mason
101
Posted 14/07/2021 at 17:02:27
Get lost, Small, another small cancer excised from the body which is healthier as a result.
Alan J Thompson
102
Posted 15/07/2021 at 07:09:18
Martin (#101);
I'm not sure you understand cancer that well; it's not just the bit you remove – it is the cancer that doesn't immediately reveal itself.
Tony Everan
103
Posted 15/07/2021 at 10:25:51
Has the boy been found yet? How do we know he's not in a dark, humid corner of a Burmese opium den?
Mick O'Malley
104
Posted 15/07/2021 at 14:09:25
I despise the attitude of these no mark player's surely if he wants to move he would be better of busting a gut in training to show the right attitude, if he wants to go fair enough then go but at least show up for training instead of hiding away
Alan J Thompson
105
Posted 15/07/2021 at 15:15:48
Mick(#104); May be we should wait until he tells his side of the story as we are talking about a 16 year old and perhaps somebody should be having a word with whoever leaked this little bit of tittle tattle.
Ray Roche
106
Posted 15/07/2021 at 15:53:39
Alan, to be fair, this story, Small balking at signing another contract, has been rumbling on for several months. He and his family have been got at and their heads turned. Unless Everton can pull something out of the bag, he's gone.
Alan J Thompson
107
Posted 15/07/2021 at 16:20:18
Ray(#106); I don't know but I thought they were waiting for his 17th birthday so they could offer him a contract but Everton seem to leave these things until the last minute. As for having their heads turned, well, it wouldn't be the first time and do you know when the last agreement/arrangement expired and what it may have contained, is it a standard thing for minors? I don't know but I might want to wait until his side explain as I assume they have been asked where and what his position is.
Ray Roche
108
Posted 15/07/2021 at 16:30:53
My 'source', I don't want to sound too much MI-6, did say that he'd be leaving. This was a couple of months ago. I think his 'side' of the story will involve money.
Chris Williams
109
Posted 15/07/2021 at 16:45:25
Feeling better Ray?
Alan J Thompson
110
Posted 15/07/2021 at 16:47:44
Ray(#108); So it is not so much a matter of going AWOL as doing that of which the club was aware but they hadn't shown him or his new Agent the "tempting new" contract they have been preparing until yesterday? I'd have thought it might have been better showing him before they broke up for the close season.
Ray Roche
111
Posted 15/07/2021 at 17:48:49
Chris@109
Yes thanks Chris, bit stronger each day, but still getting tired and chesty if I overdo things!
Alan, whichever way we spell it, Small wants out. He's gone AWOL because he's failed to turn up, whether or not he's seen the new offer, and I would be astonished if he hasn't, I would imagine he's been aware of it some time ago. It's not a 16/17 year old who is making decisions, it's 'family', 'agent' or whoever claims to have his best interests at heart that's pulling the strings.
And the bottom line is money. Always will be. Agents or 'advisers' can bleat on about first team chances but it invariably boils down to what's in the brown envelope that's slipped to the parents.
David Pearl
112
Posted 15/07/2021 at 20:17:43
Ray, glad to hear you are on the mend and hope you get back 100% soon.
What with Digne injured and Nkounkou going to the Olympics (made up for him) isn't Small now our first choice left back? I think he should get his arse back to Finch Farm and pick up his Florida ticket so he can show Rafa what he's got
Ray Roche
113
Posted 15/07/2021 at 20:23:16
Thanks David, yeah, I wonder if that's crossed his (Small's) mind?
David Pearl
114
Posted 15/07/2021 at 20:36:30
Or he has heard he might also have Marcelo to contend with soon too. We cant go to Florida with only Godfrey capable of playing there... if we want to win it.
Gary Smith
115
Posted 15/07/2021 at 20:51:56
David@112 - recon even if Digne is out (not heard either way?) then Godfrey would be the logical senior choice to step in here. Another option may be Branthwaite too persists….again, not sure where he's at after Blackburn injury? Lewis Gibson too maybe?
David Pearl
116
Posted 15/07/2021 at 20:59:45
Gary, l know we have emergency cover but would much prefer a natural left back. Perhaps Baines cam make a comeback for a couple games. Joking aside, Smalls needs to be on that plane. Foolish if he isn't... unless he's after a bigger signing on fee and his heads in the clouds.
Gary Smith
117
Posted 15/07/2021 at 21:16:23
David - couldn't agree more than Small is foolish. Digne has injuries, Nkounkou hasn't nailed the backup slot yet, and you're right that (even if many wondered if Digne could get back in!) Godfrey needs to win the CB position for his own….however, if he wants to be stupid, I genuinely don't think it'll impact us at all.
John Boon
118
Posted 17/07/2021 at 05:19:23
I don't think such a young player even deserves so much attention. Obviously he is guided by adults who probably consider him as their way to fame and the goldmine it will bring. From the games I have sen him play in he has potential. If he wants to leave let him and focus on other young prospects who don't want to leave. Unfortunately for him he may not be quite as good as all those advisors have told him.
Michael Kenrick
119
Posted 22/07/2021 at 10:13:29
Seems the latest on this one is that it's none of the Super League wannabees but simply Aston Villa who have turned his head. The kid wants to return to his roots.
Poor lad, he's just homesick. Probably doesn't like them gobby scousers and their wicked wit!
---
Add Your Comments
In order to post a comment, you need to be logged in as a registered user of the site.
Or Sign up as a ToffeeWeb Member — it's free, takes just a few minutes and will allow you to post your comments on articles and Talking Points submissions across the site.