Howard and Dr France collect awards at US fan event
Tuesday, 25 July, 2021
Tim Howard and Dr David France were both honoured at Everton's evening for North American supporters held in Orlando, Florida last night.
Howard, who spent a decade at Goodison Park and gained international fame for his exploits in goal for the United States at the 2014 World Cup in Brazil, was voted as the first EFC North American All Star by members of supporters clubs across the Continent.
Dr France, meanwhile, was presented with the inaugural EFC North America Trailblazer award by EFC Fans Forum member Tony Sampson for his tremendous efforts in furthering ties between the club and America and Canada where he has lived for the past four decades since emigrating from Merseyside in the late 1970s.
Howard, who is now a regular pundit on NBC Sports and ESPN in the US, was the guest of honour at the event staged at The Plaza Live venue where he was interviewed by Darren Griffiths and Graham Stuart.
Article continues below video content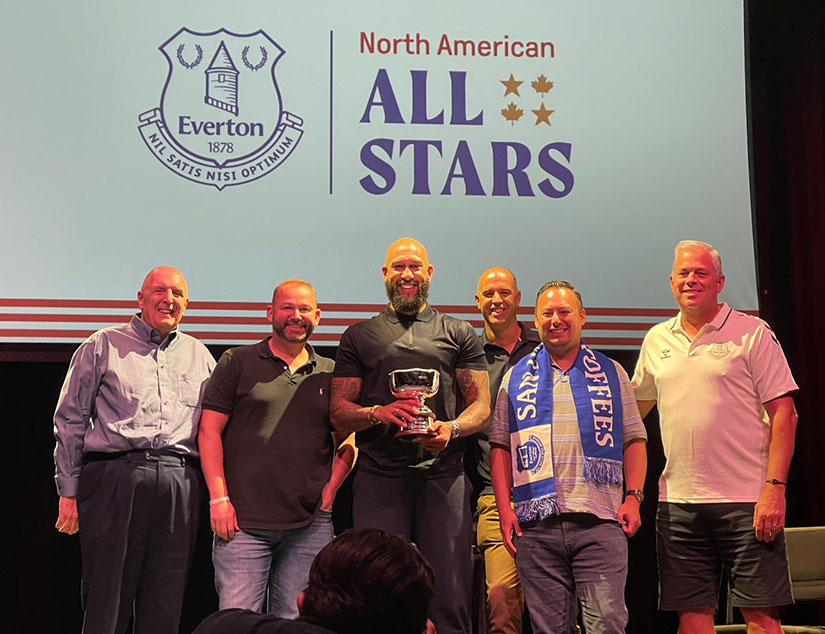 Tim Howard pictured with his EFC North American All Star trophy and members of the steering committee behind the inaugural award (Photo courtesy Michael Setterberg)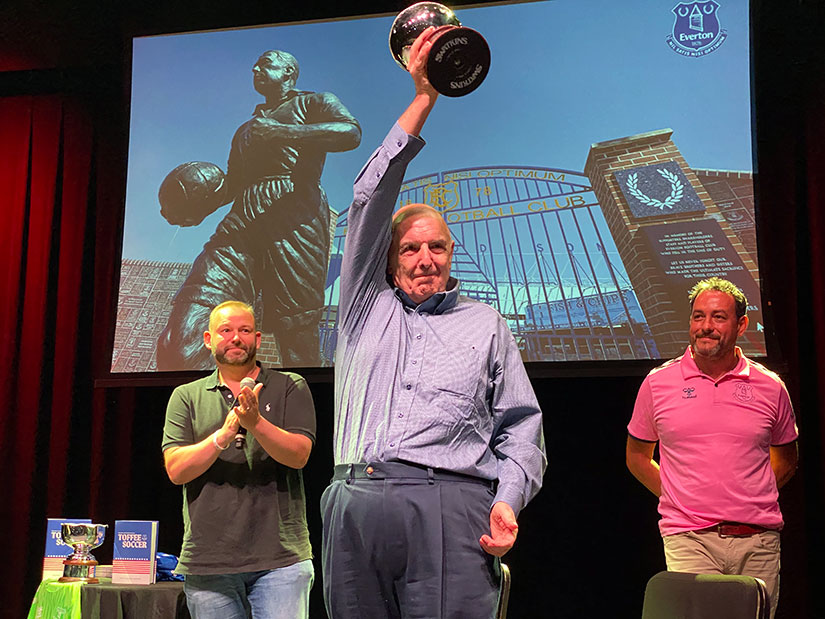 Dr France has been a trailblazer across The Pond in strengthening ties between the club and its North American fans
The fans evening was a chance for US-based Toffees to hear from Howard, who is an international ambassador of the club, about his greatest memories as an Everton player, his thoughts on the new signings, and how he feels the team will do this season.
Darren also interviewed Dr France himself on stage who explained how following his beloved Blues changed once he moved across The Pond. David is feted with having travelled over 2 million miles supporting Everton from across the Atlantic but his greatest achievement was, of course, the enormous trove of memorabilia now known as the Everton Collection.
He stayed behind after the event to sign and dedicated copies of his latest book, Toffee Soccer which he co-wrote with Darren and ToffeeWeb's resident Everton historian, Rob Sawyer.
Sampson was also on stage during an interview with Jurgen Mainka, Executive Liaison for Everton in the USA, who spoke about the potential for growth in the States and how the relationship between the supporters across the Atlantic and the club can be nourished and expanded through engagement and technology.
---
Reader Comments (21)
Note: the following content is not moderated or vetted by the site owners at the time of submission. Comments are the responsibility of the poster. Disclaimer
John Raftery
1
Posted 27/07/2021 at 22:43:12
Many congratulations to both David and Tim for richly deserved recognition. I look forward to reading Toffee Soccer as soon as it arrives through the letter box!
Peter Mills
2
Posted 27/07/2021 at 23:20:03
I second the congratulations of John#1 and send very best wishes to David and Lady Elizabeth.
Mike Gaynes
3
Posted 27/07/2021 at 23:27:20
Magnificent. What an appropriate and deserved tribute to Dr. France.
And the good doctor is looking good!
Warmest wishes to David and Elizabeth. Can't wait to read the latest epic.
Derek Knox
4
Posted 27/07/2021 at 23:31:36
Agree John, great Ambassadors for the Club, and with Tim too probably a reason many US Blues have become one of the family.
Lyndon, apart from yourself, Tim and Doctor France it would be interesting to me, and I'm sure others too, to know who the others are in the photo. It seemed to be a good and successful day.
I only managed to watch in parts as the OS Live TV coverage was again awful, sound issues, crackling at first, then out of sync with the video, then buffering, freezing etc. The only way to watch was to Log out and then back in again. This was an issue too, as it took ages to Log back in, and obviously missing more of the game.
Why am I not surprised? I have contacted Everton FC and complained that this is an annual occurrence, and a disgrace for a Club of our standing that we have not had a proper Everton TV. They charge a decent fee each year to watch, which as a mug, I have paid, somehow expecting that it 'would be different this time' only to find the same old Laurel and Hardy Production.
Lyndon Lloyd
5
Posted 27/07/2021 at 23:50:16
Derek, the other gents in the photo are Tony Sampson (Chicago Evertonians), Paul Brown (San Diego Toffees) and Jeff Wallner (Cincinnati Evertonians)
Derek Knox
6
Posted 27/07/2021 at 00:00:24
Thanks Lyndon!
Kristian Boyce
7
Posted 28/07/2021 at 04:12:05
It was a great evening and a decent sized crowd as well. I think everyone there could have listened to Dr France's stories all night. Obviously the big draw for the US based fans was getting to see/hear Howard. Many people I've spoken to this week have said that he was the reason they support the club, something which the man himself touched upon. He alluded to that this was one of the great joys in his life, hearing that he had an impact bringing so many people to the club he loves.
He also had a few interesting tidbits about his time with us. I guess he was technically tapped up by Moyes the season before joining us as they had a meeting in a hotel, where he told him that he wanted him at the club. He also mentioned that during his 10 years, he only knows of 2 teammates who had no interest in being part of the club. He said that every other player was touched by the club during their time here.
Mike Gaynes
8
Posted 28/07/2021 at 06:29:58
Kristian... dare I guess... VDM and Drenthe?
Any other nominees from the gallery?
Derek Knox
9
Posted 28/07/2021 at 07:31:45
Mike G, You stole my thunder there, I was going through (mentally, wasn't easy) all the players that would have been there alongside Tim over ten years, and they were exactly the two that I would have gone for. At least we got a few performances out of Royston Drenthe.
I have to give Moyes his due, he generally was pretty thorough pre-recruitment, in checking players out, so I don't know what happened there as far as assessing their characters went. By the same token, he didn't always get it right player-wise either, I can think of a few well paid nightmares who should never have crossed the threshold. Still, all history now, but one we never seemed to learn from!
Danny O'Neill
10
Posted 28/07/2021 at 07:54:58
Oh, don't know about that. VDM did seem to like the club, he just hit the rocks (with ice).
Kroldrup & Nyarko?
Anyway, let's not have me go off topic. Looks like it was a fantastic evening and great to see the US blues out in force. We absolutely should be capitalising in this. It's not just Tim Howard, we have other ambassadors and player that have been touched by Everton.
I'm big on this because in a few years time, providing the retirement plan works out, I'm splitting my time between the UK, my house in Florida and hopefully Germany!!
Tony Shelby
11
Posted 28/07/2021 at 08:06:28
Has anybody seen the god awful third kit?
Looks like a Leeds Utd fan has been run-over by a motorbike!
Danny O'Neill
12
Posted 28/07/2021 at 08:08:49
Just had an email notification Tony. Odd.
Brian Wilkinson
13
Posted 28/07/2021 at 08:21:29
Hi Tony, yes and have to admit, being run over by a bike was my first thought as well.
The rest of the top was a decent design, shame the marking down the middle, has spoiled it.
Ron Marr
14
Posted 28/07/2021 at 08:21:33
Gosling maybe.
Phil Parker
15
Posted 28/07/2021 at 09:38:30
Congratulations to David and Elizabeth. Richly deserved. The new 3rd kit must be a nod to our late 50s away kit, Bobby Collins, Jimmy Harris, Dave Hickson come to mind, all of whom who thanks to Dr France I met at the first Hall of Fame dinner. What night that was.
Simon Dalzell
16
Posted 28/07/2021 at 11:34:44
Tony (11). That's the reason I like it !!
Nicholas Ryan
17
Posted 28/07/2021 at 14:33:57
I hated the 3rd kit on first look, but I'm slowly coming round unlike those psychotically bad Goalie jerseys!!
Kristian Boyce
18
Posted 28/07/2021 at 16:12:06
Danny, I think you're going to be very much in luck by having a house in the States by the sounds of it. During the interview with Jurgen Mainka, he very much stressed that the US was a long term plan. I highly suspect that Florida is going to be some sort of 'home base' for us for the next few years, especially as Jurgen's office is situated in Miami. I'm fully expecting that we'll be over here next season for an actual tour, with at least one game in the sunshine state. I also wouldn't be surprised if we are over mid-season for one of those warm weather training breaks as well.
Dave Williams
19
Posted 28/07/2021 at 17:57:22
One of the blokes in the photo looks the dead spit of Inchy albeit a few stone heavier?
Eto'o never seemed too enamoured with us either!
Brian Wilkinson
20
Posted 28/07/2021 at 20:50:08
Seems we have a large following in the USA, yet like a lot of posters have already said, none of the shops over there stock the Everton shirt.
Surely Everton could come up with making the shirts available overseas, by getting the top sports shops into some kind of sales marketing, with a percentage going to the club.
Dale Self
21
Posted 28/07/2021 at 22:47:29
Mike, I'll throw Eto'o in to that speculation. Would have preferred to throw him from a train. Congratulations Dr. France and Tim.
But Tim, man, Toffee Soccer??? Ugh. Yanks bringing us down again.
---
Add Your Comments
In order to post a comment, you need to be logged in as a registered user of the site.
Or Sign up as a ToffeeWeb Member — it's free, takes just a few minutes and will allow you to post your comments on articles and Talking Points submissions across the site.