Rodriguez among five players missing for Saints clash
Friday, 13 August, 2021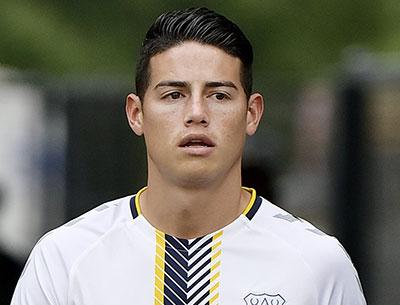 Updated Evertonians hoping to finally see James Rodriguez in the flesh at Goodison Park look set to be disappointed as the Colombian won't be in the squad tomorrow.
Like Moise Kean, James has been training away from the rest of the first-team squad in what was presumed to be a precaution as the club continues on finding both players new clubs before the transfer deadline but Rafael Benitez has indicated some of his players are quarantining in line with Covid-19 protocols, with Rodriguez among them.
Rodriguez has been using the video community Twitch to interact with his fans over the past couple of weeks and he has given little indication that his future belongs at Everton.
Against a backdrop of media talk that Rafael Benitez has told him definitively that he doesn't suit the Spaniard's plans for the team, James has claimed that he simply wants to play where he is wanted.
Last evening, he cast doubt on his participation in this weekend's season-opener against Southampton when he said on his channel: "There is a game on Saturday… but I don't know. I don't think I'll play. Everything can happen until the end of the month. Soccer always changes fast," he concluded in reference to the possibility that he will be able to secure a move away from the Blues this month.
If he is successful, it looks as though Evertonians won't get the chance to see Rodriguez play for their team. Certainly, supporters won't see him tomorrow when the new season kicks off.
Benitez said in his pre-match press conference that he has spoken with James and that the club will do its best to find the right solution for him.
"I have had my conversation with him and he knows my idea," Benitez said. "Now, he is not available so not an issue for tomorrow.
"We will discuss with every single player with their agents to find the best solution."
Kean, meanwhile, has reportedly made it known that he wants to leave the club in the next fortnight and he removed all photographs from his time at Everton from his Instagram feed this week.
A permanent move to Paris Saint-Germain, where he spent last season on loan, does not look to be on the cards after the French giants refused any other arrangement than another temporary spell before signing Lionel Messi on Monday.
Although Benitez refused to name all of the five players currently isolating because of possible exposure to Covid-19 or a positive test, the Italian is thought to be one of them. In all, it is reported that five players will be missing tomorrow due to pandemic protocols.
---
Reader Comments (178)
Note: the following content is not moderated or vetted by the site owners at the time of submission. Comments are the responsibility of the poster. Disclaimer
James Flynn
1
Posted 12/08/2021 at 22:28:00
Oh well. NEXT and NEXT.
Let's see who we get.
James Flynn
2
Posted 12/08/2021 at 22:29:12
Both to Italy?

Joe McMahon
3
Posted 12/08/2021 at 22:32:24
I'm sick of this club being disrespected by players, and being an endless joke on the pitch and in the media. Where are goals going to come from this season?
Bobby Mallon
4
Posted 12/08/2021 at 22:33:27
Best player we have had in an Everton shirt for a very long time, a bonafide galactico and we hire a manager who hates him could not make this shit up. He also brings with him millions upon millions of fans worldwide. ( I haven't mentioned the other one as he's never wanted to be the next Lukaku and he never will be). RAFA really.
Shane Corcoran
5
Posted 12/08/2021 at 22:33:52
Although I'm not against either leaving, I'm not sure I'm on board with banishing them from training.
Surely with our lack of attacking options one or both would be worth having on the bench.
Jay Harris
6
Posted 12/08/2021 at 22:34:24
Ive got more sympathy for James and none whatsoever for Kean.
James has been left abandoned by Ancelotti but Kean should knuckle down and stop throwing his toys out of the pram.
Lets hope they both find other clubs before the window shuts and EFC do not give in to a loan deal again.
Ciarán McGlone
7
Posted 12/08/2021 at 22:39:06
This is managerial madness.. if indeed they are not included in training.
Lyndon Lloyd
8
Posted 12/08/2021 at 22:41:32
Shane (5), I suspect the rationale is to minimise any chance of them picking up contact injuries. I suppose they could do the running and skills drills with the team but if they're both leaving, there probably isn't much point.
It's utterly depressing, really. James, on his day, can win a game on his own but we can only guess if he really wants out because Ancelotti's gone, whether it's Benitez pushing him out because he doesn't want him, or the club have said he has to go to raise funds/save on wages.
The not knowing is the frustrating part but, ultimately, it boils down to one of the few genuinely creative members of the team no longer being there.
Mike Oates
9
Posted 12/08/2021 at 22:50:55
If you look at the training videos today, not only are James and Kean missing but so is Gomes. Looks like all 3 are destined to be shown the door BUT only if the right offer comes along.
What a way to start the season, 2 weeks ago these lads were all together as a group in the US, now cast asunder. Gives me the creeps thinking if we cant get rid of them do they just hang around - what a way to treat Gomes if its correct he's been banished as well.
Shane Corcoran
10
Posted 12/08/2021 at 22:57:55
You're probably right Lyndon.
Mike, was Gomes missing at Old Trafford due to an injury or did I imagine that?
Tony Everan
11
Posted 12/08/2021 at 23:00:57
Looks like neither will be here by Sept 1st. I hope any deals are done soon so we have good time to strengthen. Last minute panic buys are risky business.
Andrew Keatley
12
Posted 12/08/2021 at 23:02:28
James Rodriguez does not want to play for Everton Football Club, and is the highest paid player at the club (largely considered to be somewhere between £140k and £200k per week). He is a mercurial talent but is injury prone and his presence has the potential to unbalance the team defensively.
Moise Kean does not want to play for Everton Football Club, and is on about £53k per week. He is highly rated by some, but I think he's benefitted from playing up-front for teams that are flat-track bullies and when given a tougher assignment (i.e playing for Everton) he looks totally out of his depth.
Moving them both on gets rid of 2 problem players, reduces the weekly wage bill by roughly £200k, and sends out a clear message about the sort of unity and direction that the club wants to take. I hope it happens and we can recruit one or two talented players who are champing at the bit to play for this magnificent club.
And if the underwhelming sideways merchant Andre Gomes can be offloaded too then Rafa and I are starting to really get into sync.
Dale Self
13
Posted 12/08/2021 at 23:02:56
Backing Rafa here. If they cannot commit to full effort with the squad they have no business being in training. Are we training them for another club? If their presence is deemed disruptive in that their training effort does not mitigate their posturing for transfers why demotivate the others in the team by appeasing them?
This isn't a Rafa issue. They are well outside the lines of acceptable professional behavior. If we can't dock their pay, embarrass them into silence.
Si Cooper
14
Posted 12/08/2021 at 23:04:18
If their exclusion is simply to protect them from injury so deals can be struck then so be it. They better be profitable deals enabling some additional incomings, however, otherwise it just looks like we are crippling our attacking options.
Seems to be massive weight on the likes of Richarlison, Townsend, Gray and DCL to convert chances.
I so need to be pleasantly surprised by our squad actually coming together as a cohesive unit that regularly punches above its weight!
Jerome Shields
15
Posted 12/08/2021 at 23:05:10
It was reported on ToffeeWeb that both these players where absent on a recent Everton team training video. So this holds up with Lyndon's report. My first reaction is until something concrete transfer wise arises, they should be preparing for selection on Saturday.
Rodrigues saying he doesn't think he will play as if it is his decision and Kean effectively giving the same impression I find hard to understand. Though Rodriguez at the end of last season seemed to be able to decide he was too tired to play.
Benitez in his talks with them must have come the conclusion is that they where not prepared or going to fit into his plans. In the case of Rodriguez earlier report must have been true, of Benitez effectively telling him to sling his hook. It does make sense to move Rodriguez on to get a possible fee.
Everton are going to need to move these two on and get in players. They can't surely be contemplating going into this season with a depleted squad.
Mark Ryan
16
Posted 12/08/2021 at 23:07:30
Naive in the extreme for anyone to think that this is anything to do with Rafa. He's been told that they MUST be sold to bring in revenue. Clearly we need to strengthen and there is no money. The hierarchy sees him as saleable and so he is the fatted calf. In an ideal world we would all want him to be our Marquee player but times have changed, we have to balance. Sooner we accept it and stop blaming Rafa the better. If he plays Saturday and gets injured we are fucked because we cannot sell him = no strengthening. Simple as that. Again, this is why Ancellotti ran away. He knew his hands would be tied
Si Cooper
17
Posted 12/08/2021 at 23:08:19
Dale, you seem to be taking the view that Rodriguez and Kean are being actively disruptive. I.didn't get that from the article so can you confirm that is the case?
Justin Doone
18
Posted 12/08/2021 at 23:10:34
Pathetic and disappointing.
I want to known if this is Brands or Rafas decision?
They are Everton player's until they are sold. Unless everything has already been agreed in terms of their sale, this is no way to treat people.
Players themselves may yet have to be reintegrated should they fail to be sold ASAP. They're unlikely to care much about the management, team or club after being treated disrespectfully.
We are in effect continuing to 'wee' every last penny down the drain.
Dale Self
19
Posted 12/08/2021 at 23:10:44
Just going by the social media posturing Si. If it is simply a matter of deals on the table that cannot afford the risk of a training injury ok. Otherwise, they have without doubt displayed questionable behavior at the most costly of times for the club. F' em! Sorry, but that is the other side of playing the field, you lose those who would've supported you.
James Stewart
20
Posted 12/08/2021 at 23:10:56
If James leaves what little interest I have left in watching us play will swiftly die.
Benitez would be a fool to deny us seeing James in the flesh when he is only a couple of results away from a toxic reaction.
The whole club is a farce from top to bottom.
Si Cooper
21
Posted 12/08/2021 at 23:11:40
Mark Ryan, please indicate what are facts and what is opinion in your post at 16?
Tom Bowers
22
Posted 12/08/2021 at 23:12:36
Despite obvious skills neither of these two turned it on often enough last season and we can all speculate different reasons.
Having said that there were others who performed the same way but are still pencilled in for this new season or so it seems.
If these two are released soon then it may free up some salary space that may be used to replace them.
Attacking wise we will be shorthanded if what we have left come up short or get injured.
The two new guys are not real target men nor goalscorers so it's going to be tough until something is done in the market.
Vijay Nair
23
Posted 12/08/2021 at 23:21:22
"the highest paid player at the club (largely considered to be somewhere between £140k and £200k per week)"
Andrew (12), I'm not sure where you've plucked these numbers from, but Spotrac (usually a reliable source of such info), has his wages at £90k a week. Hardly the highest earner at the club. That honour goes to Mina.
There are a whole host of others on more than James, incl "he who shall not be named".
https://www.spotrac.com/epl/everton-fc/payroll/
Steavey Buckley
24
Posted 12/08/2021 at 23:23:10
James does not fit in with Rafael Benitez's first time passing football to get the ball up the field as quick as possible in greater numbers. The type of football Everton fans want. Last season, passing the ball forward was so slow options up front were closed down, and DCL and Richarlison were isolated and greatly marked. So no going back to the bad old days.
Colin Glassar
25
Posted 12/08/2021 at 23:26:58
I just want to go to sleep and wake up next season. I don't think I can handle what I feel is coming.
Chris Hockenhull
26
Posted 12/08/2021 at 23:33:34
Andrew (12). Spot on. There is the situation/ truth of it all
Tim Greeley
27
Posted 12/08/2021 at 23:35:26
So there was never any thought given to the fact that for 90% of last season we were well within shout of top 5 and perhaps running it back with the "addition" of Kean and JPG along w/ Gray and Townsend could have given Everton quite a bit of a shot?!?! Personalities ate hard to calculate but jesus man, this is embarassing. More and more omens that this season is set up for potential disaster
Laurie Hartley
28
Posted 12/08/2021 at 23:36:09
Unfortunately Rodrigues is now a square peg in a round hole.
He, like us and Moshiri, was left high and dry by Carlo. Better for him and all of us that he moves to another club.
As for Keane, after he got pulled as a sub by Duncan, Everton was never going to be the club for him.
Any player that wants away should be allowed to go provided we don't get short changed on the transfer fee. It's common sense really.
I wonder how Allan is feeling at the moment?
Andrew Keatley
29
Posted 12/08/2021 at 23:49:19
Vijay (23) - You think DCL is still on the £20k per week contract he signed in 2017? He signed a new 5-year contract extension in March 2020, and is on around 3 times that amount now.
There are all sorts of sites that have a punt at club salaries. Considering that a lot of contracts have annual uplifts and other performance-based stipulations that can affect the basic wage from one year to the next, sites like Spotrac are just snapshots that are rarely up to date.
If you think James (or his agents!) was happy to move to Everton, from Real Madrid, to be on a basic salary of £90k a week after being on over £200k per week for several years, then you are living in a dream world; I imagine he would have at least wanted parity with the club's highest earner. No idea if Real Madrid agreed to pay the shortfall on any wage discrepancy, such was their desire to get him off their books - but they supposedly agreed a sizeable percentage of any future sale as a way of trying to avoid losing him for free when his contract with them expired in 2021. Either way, with his CV, I'd be completely amazed if James is only taking home £90k per week, and I have heard rumours that he is actually costing us £200k per week.
Anthony Jones
30
Posted 12/08/2021 at 23:57:22
Kean can piss off but it is very sad that James is on his way out.
He has the best vision I have seen in an Everton shirt.
James Flynn
31
Posted 12/08/2021 at 00:00:33
If they're outgoing, who is inbound?
Wish they both stayed. Kean looked like he didn't want to be here. And James stated he came to us because his favorite manager, who left, wanted him.
Who are we getting in is important. I wonder who.
Kieran Kinsella
32
Posted 13/08/2021 at 00:10:21
Andrew 12
Contrary to that perception James said he was happy at Everton and planned to stay post Carlo. After returning to FF and supposedly being told he's not wanted now he's taking a "I want to go where I'm wanted" attitude which seems reasonable if he has been told to leave.
Mark Ryan
I don't see Rafa - malcontent that he is - taking orders about picking the team from anyone. If as Lyndon suggests they're being held back to prevent injury then I expect that's something Rafa is on board with in hope of replacing them.
All of that having been said, no offers have been incoming and James could injury himself posting on Instagram so I'd use him regardless as a sub if nothing else. We've no other creativity!
Dave Williams
33
Posted 13/08/2021 at 00:15:20
Andrew #12- I agree every word!
Jim Robinson
34
Posted 13/08/2021 at 00:48:51
Surely Benitez isn't so stupid that he would start his Everton reign by selecting a squad minus James, Gomes, Siggy, DCL and Kean. At this stage it's all speculation but if we're relying on Iwobi and a Crystal Palace reject to improve our performances then we are indeed in deep shit.
Meanwhile I've seen a report that Everton have received a windfall payment of 90m GBP from the league courtesy of Sky. Anyone have any information on this ?
Derek Thomas
35
Posted 13/08/2021 at 01:13:34
Lyndon @ 8; Probably a mixture of all three of your points. Benitez...and Us will have to put up with what is.
All I ask is at the least we show some effort and commitment, no zonal defending, play your best 11 (should he actually know it, sometimes a task in its self) no rotation for he sake of it...there are international breaks every 3 weeks until November ffs - multiple sicknotes if required, yes you Richarlson, we've bent over backwards to humour you - now its time to payback the high wages you get.
Time for talk is over - deeds now, no bottling it.
Andrew Keatley
36
Posted 13/08/2021 at 01:14:14
Kieran (32) - Players often say what they think stands them in the best stead.
Jim (34) - Townsend was not rejected by Palace. I believe that there were contract negotiations at the end of the season between Townsend and Palace but he decided to move to Everton.
Phil Smith
37
Posted 13/08/2021 at 02:02:46
Insane. It really is. The 2 players likely to get people of their arses. I give up with this season already. We'll be struggling to stay up this year.
No one else is coming in. Not of any note at least. Who'd want to come to us at the moment? I wouldn't.
Simon Dalzell
38
Posted 13/08/2021 at 02:10:13
I don't think either had any desire to stay. Both have bad attitudes. In particular James. I have no time for him. Despite his undoubted ability, he is a shirker with no stomach for a fight. Prima Donna. If he feels he's being pushed out, he has himself to blame. He quit last season jetting off champagne in hand with a huge grin on his face. Inappropriate at best.
Derek Knox
39
Posted 13/08/2021 at 02:37:53
Colin @ 25, I think I know what you mean, someone comes in and snaps Iwobi up before the Transfer Deadline! I know you would be gutted, but there is always Hope, now who does he play for ? :-)
John Boon
40
Posted 13/08/2021 at 03:08:19
Both talented but spoiled in different ways. We don't know exactly what is happening, but Who does ?. I hate to see talented players leave but if their loyalty is in any way questionable let them go. BUT it must be on Everton's terms and not theirs.
Darren Hind
41
Posted 13/08/2021 at 04:05:08
Disappointing.
But we cant spend the season dwelling on who might have stayed. who should never have been allowed here .What might or might not happen.
We are where we are. As of tomorrow there are matches to be won and they have to be won with whoever Benitez decides to play.
Mal van Schaick
42
Posted 13/08/2021 at 06:51:45
Rodriguez downed tools after twenty minutes of the manure friendly. He won't be around much longer.
Sell him, Kean, Gomes and Delph, get Perrera, Rondon and Guta in. I think Kenny might go and I would sell Davies and Iwobi. We missed a trick by not going for Willock.
We must have players lined up to come in, it's just case of getting our deadwood out.
Mick O'Malley
43
Posted 13/08/2021 at 07:04:29
Great let's get rid of our one and only player who can actually pass a ball and chip in with goals and fill the side with tackling machines, surely Benitez can set the side up to include James while he is still here, not arsed about Kean
Jeff Armstrong
44
Posted 13/08/2021 at 07:12:21
It's ok to say let's move them on, but who wants them? The window closes and we are left with them both excluded wasting £180,000 a week, we should use them if only on the bench as an option, because until someone wants them, they could be here for months.
Ian Jones
45
Posted 13/08/2021 at 07:12:57
Sad to see Rodriguez may be on his way, especially as the fans at Goodison have actually seen him play. I don't think the quote 'Once Everton has touched you nothing will be the same' applies to Rodriguez.
I think he only has a 2 year contract. Assume as players enter the last year of a contract, most clubs assess the worth of a player to the team and more often or not try to extend the contract. Can't see this happening here so on that basis and if, as is being reported, Rodriguez is not that interested in staying, best to get as much value from a transfer.
Conor McCourt
46
Posted 13/08/2021 at 07:27:22
I have to back the club on this one. For me Kean is a player I was desperate to come back to us and play as he needs to get into the Italian World Cup squad this summer. I believe he has the best movement of any of our strikers and our most natural goal scorer and I was hoping he would show a few Blues the real Moise Kean.
However he has no desire to be here and it is now unfortunately best he moves on. James isn't our future but highlights the stupidity of the Benitez appointment and is a stark warning of what's to come. Not only will he polarise the fan base but he will polarise the players when we need every player on side and contributing.
Gary Smith
47
Posted 13/08/2021 at 07:31:15
I used to fume at how Koeman treated Oumar. The lad was a poor footballer, but had the right attitude from what I could see.
However, if there is anyone deserving of a repeat of that treatment it is Moise Kean. He was shown the crowds love, and has never given us a single ounce back. He's a prima-donna who thinks he's better than he is. For me, forget any transfer (only Inter a possibility and I doubt they will) just put him in the u23's and any missed training = a fine. 12 months out the game might change that gobshite attitude of him and his cockroach agent.
James on the other hand, I have sympathy for. Carlo was a mentor to him, and that's WHY he came here. He gave us a chance, and I think that if he met the crowd he'd realise he can be loved here like he is in Colombia. I think the issue is Rafa doesn't like him. Something from Madrid maybe.
Overall though I agree with most: what a shitty, negative way to start the season. My prayer is that Gordon, Broadhead, Simms, Dobbin et al are ready and given a go. We are so lightweight in attack it's unreal.
Charles Brewer
48
Posted 13/08/2021 at 07:35:19
This promises to be one of the worst Everton teams in history. The strategy appears to be to play the most expensive Sean Dyche Burnley team possible.
I'm sure Rodriguez is an awkward customer, he's very talented and has no doubt been flattered and accommodated throughout his career. But this is where a world class manager earns his pay. It's not by getting some clogger like VVD at the RS to go and kick people, moronic thugs do that anyway. It's not about getting over the hill mediocre players like Andras Townsend or Gbamin to run about for another season.it's about keeping Kevin de Bruyne, Lionel Messi, Chritiano Renaldo or James Rodriguez interested enough to deliver world class football alongside players of half their ability.
As we go into this season with players being forced to grovel to every crap political abomination around, I wonder if I'll even be looking at the results by Christmas, as Everton record another unlucky 1-0 loss to Chelsea, West Ham or Brentford.
Jay Evans
49
Posted 13/08/2021 at 07:49:42
Whatever the reasons Bobby Mallon has it right. How absolutely depressing.
I have never, ever looked forward to going (back) to the match tomorrow so much - for obvious reasons.
I have never, ever been so underwhelmed by an Everton squad kicking a season off.
Give me strength.
Gary Carter
50
Posted 13/08/2021 at 07:51:20
This is genuinely depressing and a strong indication of how dire things are going to be under Benitez, to freeze out our only genuine match winner is ridiculous. I expect us to get a thumping from Southampton. I also don't understand why he bothered playing Kean and James in our friendlies if they are not going to feature for us.
We will be in a relegation battle this season under the fat dinosaur Spanish waiter and his boss coco the clown
Danny O'Neill
51
Posted 13/08/2021 at 08:00:08
There are multiple dynamics here.
On one hand, we've a player who came to play for a manager he trusted. Let's not kid ourselves he that he came to Everton because we are Everton. I think most know why he is / was here.
Then, we've changed managers. That manager will have his own thoughts, own plan and that will include what players he wants. Stating the obvious, but if it's not his type of player, then he goes.
Finally, maybe the financial side, but I'll be honest, I don't confess to know the intrinsic details of that.
Bottom line, and as a supporter, I will be disappointed if we lose James. We need more quality like this, not less of it. But he has to want to be here and the manager needs to want him in his plans. If either or neither of those align, it doesn't work.
I feel for the "starved generation" of Evertonians that may never get to see a player of genuine quality in the flesh gracing Goodison.
Benjamin Dyke
52
Posted 13/08/2021 at 08:25:44
Andrew 12 spot on.
I'd add that James is blatantly too slow and too weak. He won't play again at a top level club in my opinion.
Kean has not been a good fit from day one and when he has played he's been hopeless. Another dreadful 20m + purchase
Gomes is also too slow and too weak.
What a waste of money and time
All bought under Brands time.
Onwards and upwards. Desperate that we get rid for real money so we can get new faces in
Chris Gordon
53
Posted 13/08/2021 at 08:32:52
Our Italian international striker who smashed nearly 20 odd goals on loan in France last year refuses to play for us, and our head and shoulders best player who is our only genuine world class player is hated by our new manager and is being forced out. You seriously couldn't make this debacle up !! But hey it's ok, we signed Andros Townsend on a free 👍
Jim Lloyd
54
Posted 13/08/2021 at 08:34:05
I can't see this season producing one of the worst teams ever, in Everton's history. Could be wrong but the team should have scored at least two goals, and had at least one penalty against Man U. I can't see it being one of the best teams either, by the way!
Rodriguez? I'd love to see him play; and might well do yet (a week being a long time in football, as they say)
However, from what I can remember of his history before coming here, he's had a very patchy one since the world cup when he was brilliant. Benitez has seen him and weighed him up as a player, as have other managers. They have found that although extremely skilful, there are problems with his attitude.
Just since coming to Everton, what happened in the last part of the season, he pronounced himself injured and then swans of to Columbia in his jet and pronounces himself fit. I don't think that went down well with our players, and nor did Ancellotti's Laissez Faire management style during the latter part of the season.
If it's the manager who has made the decision not to have him in the team, then I back the manager. If it's the club, who are looking to bring in some money, then I back the club.
As for Kean, it's very likely that he's wanting away from the club and to get back to Italy. It's easy to say, just play him, he's our player but we don't want in the team someone who's not interested.
As for Gray and Townsend being mediocre. From what I've seen of them in the friendlies, both of them have impressed and are likely to prove good team players.
Dave Abrahams
55
Posted 13/08/2021 at 08:40:27
In the past on here it's been said many times that " The manager sees them in training all week and picks his players on the strength of what he sees at Finch Farm". This applied to many managers and many players, maybe it applies to Mr. Benitez, James and Kean, it seems obvious that Kean wants away and James will follow the money and do what is best for him, and him alone.
Sam Hoare
56
Posted 13/08/2021 at 08:48:43
Bit of a mess if true.
My guess is that once the window shuts and neither Kean nor Rodriguez have received suitable bids they will be forced to turn their minds and focus back to Everton and will be re-integrated back into first team properly.
Chris@53 I don't believe for a second that Rodriguez is being forced out. If he turned up to training in good condition with a smile on his face and raring to play for Everton I'm sure he would be very much in contention, but his twitch comments suggest he's had one eye on leaving since Carlo departed and I don't blame Rafa for wanted to leave out people who don't wanna give their best for the club.
Eddie Dunn
57
Posted 13/08/2021 at 08:51:26
James may well be a talented player capable of winning games but it has been clear for some time that he put his country before his club and his attitude has been disappointing with no-shows, strange injury problems and early substitutions.
It is clear that Rafa wants players who will put in a shift, not players who will undermine morale. Big shot Kean has a bad attitude and will not be missed.
I want players who want to play for us and if these two don't then they can push off.
Martin Nicholls
58
Posted 13/08/2021 at 09:23:37
Steavey#24 - Benitez plays "the type of football Everton fans want". That's a novel opinion!
Christine Foster
59
Posted 13/08/2021 at 09:33:35
Frankly, not bothered about Kean, bad fit for the club and the Premier, get shut asap at a profit.
James ? If Benitez had half a brain he would have played him till Christmas and then made the call. It would give him the opportunity to mold into the new set up or not. If we had Siggy available I would have almost reluctantly said OK, as Dave Abraham's said, if he doesn't fit with his view, he is gone.
Politically, Benitez is inviting suicide if this is his decision. Things go badly and it won't be forgotten. The acid test is who we will depend on for creativity and results.
Whatever, truth is that yet again you cannot help but think we are shooting ourselves in the foot once more.
Quantity over Quality = poor football. By the looks of it Benitez is making a point. His way is the highway.
Anthony A Hughes
60
Posted 13/08/2021 at 09:51:24
There's likely to be very little creativity in the starting line up tomorrow. I expect to see the two non goal scoring, non creating crabs in midfield Davies and Allan alongside our non goal scoring, non creative box to box midfielder Doucoure.
We're going into the season woefully under prepared squad wise, short at right back, short up front with no cover for DCL and lacking a dynamic pacey central midfielder.
Chris Corn
61
Posted 13/08/2021 at 09:54:30
Threads like these show why we are internet amateurs. The notion that Benitez would pick James simply to keep supporters onside is laughable.
The man had threatening banners posted by his home and still took the job. He didn't fancy James at RM whether that was down to lack of fitness, attitude or both.
Put simply, James is Ancellotti's man. James had to follow Ancellotti round to get game time and missed loads of games.
Shame we likely won't get to see him as he is undoubtedly super talented when on his game but we need to get used to it. Our punt at Hollywood failed dismally (as did all before it).
Kean I could not care less about other than getting an appropriate fee for him. If we loan him out again it's just further evidence of the mess that has been Evertons recruitment strategy during the Moshiri era.
Ajay Gopal
62
Posted 13/08/2021 at 09:55:11
I am looking forward to Rafa's press conference, it may clear up a lot of speculation going around. For all you know, James, Moise and Gomes were all in a party where one of the participants turned Covid positive, and they are all isolating! (I challenge anyone to come up with a more optimistic scenario!)
Jim Lloyd
63
Posted 13/08/2021 at 09:57:59
I don't think it's as easy as blaming Benitez for the decision re Kean and James.. Assuming that Benitez does have experience of James as a person, as well as his football ability, he's already assessed the value that James could bring to the team; and has his doubts. Otherwise he would be playing him.
James' performances and appearances over the second half of the season especially when he shot off to Columbia, suddenly fit again, I don't think impressed his fellow players, and as far as I'm concerned, Ancellotti had already, left mentally.

Then again, the financial position the club is in, is open to question. Do we need to get wages off the books, can we sell, send on loan or use what players we have. It might be, that if no one come in for either, then they might well start thinking about playing for this club, rather than wanting away.
Personally, I'd love to see James because of his skill; but if the manager decides not to play, he's done it for a reason (and it's nothing top do about liking him or not) I back the manager.
Chris Corn
64
Posted 13/08/2021 at 10:06:26
Anthony at 60...the crabs that are Allen and Doucoure where the same people were creaming themselves over last year when they signed. I don't necessarily disagree by the way. However it's up to the manager to get the players to do a job.
We accumulated 59 points last season to finish 10th. Ancelloti ran up the white flag at Goodison from Xmas onwards. In another year that could have seen us in the Euro spots. 61 pts got 4th in 2005.
I don't agree that we are relegation candidates all of a sudden because of two players who want out and played about 30 games between them last season. Nor are we likely to trouble the top spots.
Its same old same old really.
Rob Halligan
65
Posted 13/08/2021 at 10:13:06
I've still picked James in my fantasy football team. Hope he does well!!
Teddy Bertin
66
Posted 13/08/2021 at 10:44:21
Interesting one with Kean is that he's not been available to select on Fantasy Football since the season close.
I contacted them and asked why he can't be selected considering he's playing and scoring in the pre-season friendlies and they said his registration and status with the club isn't confirmed so they can't list him.
He is registered with the club and his status is that he's owned by Everton (he even appears on the Official Prem website which feeds Fantast Football). However, they obviously haven't registered him for something to do with the league otherwise he would be on the official Premier League FF app.
It's a really bad situation because we need a striker, he's a great talent and we want £50m for him to make the whole saga worthwhile. No one will pay that but at his age and with how he played at Juve and then PSG last year that's what we should be looking at

Steve Brown
67
Posted 13/08/2021 at 10:50:46
Jim, it is not correct that James 'shot off to Columbia, suddenly fit again,'. The Everton medical team advised that he wouldn't be fit for the World Cup qualifiers but might be ready for the Copa America.
The refresh your memory:
Link
Equally, you haven't got the first clue whether his fellow players were impressed/unimpressed by his fitness availability.
Alan J Thompson
68
Posted 13/08/2021 at 10:59:05
This looks like it will be our speedy, cheap winger, a bloke upfront who has run his tripe out for his country and possibly a bloke with a sore toe. In defence we'll have Digne at left back, Coleman or Holgate at right back and two from three in the middle.
And in the middle of the park covering the defence and spreading the ball forward yes, well, errm, I'm sure they'll give it their best shot.
The nearer Saturday's kick-off comes the more I feel we'll spend the season trying to dodge relegation with awful football under a manager who shouldn't be here. I've never felt this much uneasiness about a new season.
Meanwhile, a widely regarded world class footballer and a young talent most pundits were surprised came to Everton will be falling out of the loft in search of their suitcases.
Rennie Smith
69
Posted 13/08/2021 at 11:16:36
Even if James is not in the manager's long-term plans, surely you make the most of having someone of his class on the pitch? Get some good use out of him for a couple of weeks then bid a fond farewell. A half-arsed James has more skill and potential to win a game than the rest of them.
Sad that we'll never get the chance to watch him play live.
As for Kean, he can feck off whenever he likes as he couldn't hit a barn door. Even his goal in Florida was a lucky rebound.
Joe Corgan
70
Posted 13/08/2021 at 11:35:15
It's a disgrace really.
Two players with a combined weekly salary in the hundreds of thousands. And all they're being asked to do is train, and then kick a football around for a couple of hours on the weekend.
Yes, I know they want to leave but, as yet, it seems that there are no imminent suitors. So, in the meantime, is it too much to ask for them to give 100% for the club they agreed to play for? Thousands of fans will be paying ~£40 to watch the game on Saturday. How many of their entrance fees will be going straight into the pockets of the two players with their feet up?
Now we don't know if they're refusing to play, whether they're in peak condition or whether Rafa simply doesn't want them around the squad. In any case, we should be able to call on them to do a job to the best of their ability lest, sod em. Withhold their pay.
I sure wish I had a job where I could be paid week-in-week-out even when I didn't have to actually do any work.
John Chambers
71
Posted 13/08/2021 at 11:47:43
Kean reminds me of Ballotelli, great talent but shocking attitude and not delivered, so if we can sell for a reasonable fee I would be more than happy.
James I see slightly differently. I always felt he was over rated before joining us and still do. That said he has the ability to deliver as he showed last season so I would be happy to see him stay, even as an "impact" player off the bench with 20 minutes to go
Danny O'Neill
72
Posted 13/08/2021 at 12:11:53
Sadly, large parts of our fan base have become fearful of quality.
Regardless of the internal politics of manager & player, we shouldn't want rid of the likes of James or Kean. We want more of them. But they need surrounding by better players.
And to flip an argument I've seen used on here a few times. If Moise Kean from Italy who banged in an average of one goal every other game for one of Europe's current top clubs was Mike Kean from Garston, we'd be screaming to lay off the kid (he's 21). There is potential there and he's going to get better. And tell me a decent striker over the years that hasn't had attitude?
Sadly, it looks like the player doesn't want to be here, but with our collective attitude towards him, why would he want to be?
Anyway, stop dragging me down. I'm going to enjoy tomorrow either way!
Tony Abrahams
73
Posted 13/08/2021 at 12:15:13
I'm sure Rodriguez could be out of Everton tomorrow, if he was prepared to lose money, and the closer it's getting to the beginning of the season, he does seem to be changing a couple of his phrases. Let's see what happens, if he's still here in the last week of the transfer window, and maybe then he will have to choose between being loved, over earning more money, because nobody is going to pay him what Everton are paying him. Of this I'm certain, so I just hope he still likes playing football, otherwise he probably won't be going anywhere!
I'm hoping someone comes in for Moise Kean, because it sounds like he's being young and petulant, and think that if Benitez could get rid of all the players who don't want to be here, (isn't this Brand's job?) we might finally begin to have a better chance.
Danny O'Neill
74
Posted 13/08/2021 at 12:27:24
In a lot of ways Tony, that's where I have sympathy for Brands.
We have appointed a DoF, but not implemented the model properly and allowed him to do his job. Especially with the last and current managerial appointments.
I won't repeat myself from the summer as what I suggested didn't happen and we have Benitez. But we're not allowing Brands to set strategy and shape the squad for a head coach to just coach. Too much interference from ownership, chairpersons and "alpha" managers. He's literally stuck in the middle.
To your Rodriguez analogy, I can only assume a healthy wage is keeping him in position. That and his new found board status, because professionally, if I was Brands, I'd have walked long ago.
Bill Gienapp
75
Posted 13/08/2021 at 12:53:37
I've seen no real indication that James is trying to force a move, so I'm not sure where these attacks on his negative attitude are coming from. If anything, Benitez seems to be the one who's clearly in a snit about him being here.
And since it doesn't sound like there's an immediate suitor for either (the latest on Twitter is that Inter haven't expressed any real interest in Kean), I hope that Benitez is prepared to actually utilize them this season.
James Marshall
76
Posted 13/08/2021 at 12:56:12
It's lazy to blame Benitez as appears to be the case from reading online (not just on TW) but surely this situation wasn't created by Benitez, it was created by James?
He (James) goes on about only joining Everton because Ancelotti was here, and that the team isn't very good so surely Benitez is actually defending the club - something he vowed to do in his first interview.
People are going to be all too eager to lay into Benitez, but a little reality check appears to be needed in my view.
James and Kean have both made it very clear they don't want to be at Everton. I don't see how that's the fault of Benitez. He's making his opinion on the matter clear by making them train alone - seems like a reasonable thing to do in my view.
Sukhdev Sohal
77
Posted 13/08/2021 at 14:14:12
Rafa has said 5 players have Covid (including James), and Kean will probably be in that. I don't believe that for some reason. He's freezing out our world class playmaker and our only other striker (who is good enough to get a few Premier League goals).
Maybe they aren't as committed as some other player, but what good can come out of weakening your team and putting yourself at a disadvantage?
Pat Waine
78
Posted 13/08/2021 at 14:17:46
I would be more than surprised if we get any money on James. and would not be at all surprised if Kean goes on loan again which will leave us up the creek without a paddle again.
I firmly believe that Koeman wrecked Everton and every manager since has been dealing with the mess left behind by him and Walsh.

Bill Hawker
79
Posted 13/08/2021 at 14:32:24
Rafa has one job and one job only. To win football matches. Rightly or wrongly, he's going to do whatever it takes to win. If that means play Kean and James, he will. If he thinks he has a better chance of winning without them, then they won't play. Simple.
Michael Nisbet
80
Posted 13/08/2021 at 14:56:04
Anyone know who the 5 players are? James, and Kean most likely. Delph? The unnamed international?...
Brian Williams
81
Posted 13/08/2021 at 15:05:27
Rodriguez among five players in Covid isolation
Not sure the headline is correct, to be honest. It was certainly said, at the presser, that there are five players unavailable but I'm pretty sure Benitez said "two" were in isolation.
Andrew Bentley
82
Posted 13/08/2021 at 15:10:54
Smells of bull that they need to self-isolate. Suits Benitez and the club to have this reason for not playing him when they are trying to get rid. Bet the other one is Kean….
Michael Barrett
83
Posted 13/08/2021 at 15:20:28
Fuck them. He will only want grafters playing – that's our only hope of staying in the Premier League.
I feel a bit sorry for Benitez... and I used to hate the fucker; he looked shocked in the presser that he has a dog's dinner of a squad he has to get a tune out of.
Bill Gall
84
Posted 13/08/2021 at 15:20:57
Apart from what we read from journalists who have to make up juicy storylines to sell papers and improve their bloated reputations, has the manager came out and said, "James is not in my plans and we want to sell him"?
The only thing I have heard him say about James is that they would like to improve his fitness.
The window doesn't close until 31 August and most clubs in Everton's position are waiting till late in that day to see how desperate teams are to either sell or buy, up until the last minutes.
Yes, Everton have players they believe they may be able to sell but are unwilling to lose too much money on them, and clubs who want to buy have to be prepared to accept their wage demands – that is the holdup on most transfers today.
John Keating
85
Posted 13/08/2021 at 15:40:13
Not much we can do with players who have, or have to quarantine, due to covid.
We don't know the politics and possible offers being played out for any of our players; however, in the present climate, the players supposedly up for sale could well remain with us. If Everton are paying a player's wages, then that player should be available for selection.
It's okay for Benitez to tell players they're not in his plans, but he'll look a right dickhead if any of those players are still here after the window closes, and, at some time in the future, we need that player to play.
In a perfect world, all players surplus to requirements would move on before the window closes; unfortunately, we're not in a perfect world...
Jerome Shields
86
Posted 13/08/2021 at 15:42:00
Covid rules are the reasons. I thought that players were deciding whether they wanted to be selected to play or not.
I was beginning to half-believe that was the case.
Bobby Mallon
87
Posted 13/08/2021 at 15:53:35
Bill Hawkes @79. He does not like Rodriguez, end of.
I think that's vice versa. It's so maddening that we have hired a manager who can't get on with our best player.
Then again, Rodriguez just may not want to play for us anymore... same as Kean.
Joe Bibb
88
Posted 13/08/2021 at 16:07:55
Pickford is playing... he didn't 'catch' Covid!!!
Raymond Fox
89
Posted 13/08/2021 at 16:12:24
Kean needs to get the hell out of it quick, he doesn't want to play for us.
James, as I've said before, was in our team that finished 10th last season so he aint any miracle worker, he'd be off as well if he got a good offer.
We do look like a very moderate side as we stand though and I don't know yet where the goals are going to come from. ,We need to strengthen the squad in midfield and more importantly get a goalscorer from somewhere.
We've probably lost Sigurasson, who knows... Delph is a complete sicknote, Gbamin – again, who knows? Will he stay fit.
I think defensively we are pretty strong; scoring will be our problem again I fear.
It strikes me that Benitez wont stand any shit from anyone and will want players who will give 100% for us. I don't think the play will be pretty but I think we will have a team of fit triers.
Chris Corn
90
Posted 13/08/2021 at 16:15:40
Bobby Mallon, the only manager who really accommodated James and his injury record over recent years is Ancelotti. That's why he followed him around. Carlo upped sticks and left without glancing behind him at the first opportunity.
James is a great player when on song but he will not give us 20 games this season and that's best case IMO. Ancelotti was happy to let him miss weeks at a time regardless of whether he might have been able to play with a bit of desire. Benitez isn't.
Colin Malone
91
Posted 13/08/2021 at 16:29:41
So many kids looking forward to seeing James at Goodison. Well Rafa has fucked your day up, and mine by the way.
Isolating... my fucking arse.
Paul Jones
92
Posted 13/08/2021 at 16:38:04
John 71says that Kean reminds him of Balotelli. If he had similar talent and comedy value I may have been sorry to see him leave but cannot see any attributes.
Geoff Williams
93
Posted 13/08/2021 at 16:44:03
It took Ferguson less than 20 minutes to realise that Kean was not up to the job so I won't lose any sleep should he depart. James, on the other hand, is an exceptionally talented footballer who could provide the team with the X factor. There is a dearth of class players in the squad so losing him will be a shame. I don't feel confident of Benitez getting the best out of the players available to him and expect us to be fighting to avoid relegation from the outset.
Anthony Flack
94
Posted 13/08/2021 at 16:46:54
Iwobi woukd be just as effective in isolation
Andrew Bissett
95
Posted 13/08/2021 at 16:48:18
If I were a buying club I would want any potential player I was purchasing in isolation for the duration of negotiations so that he didn't have to once we confirmed his signing
Brian Williams
96
Posted 13/08/2021 at 16:53:24
I get the distinct impression that Benitez is absolutely focused and determined to do the very best at the club.
Whether that be for his own gratification or for more catholic reasons doesn't matter too much but it appears that he won't stand any messing and if you don't graft and/or your face doesn't fit then you're "isolating."
It'll be interesting to see if he can do what several previous managers have failed to do.
I think there'll be a fair few casualties along the way.
Richard Mason
97
Posted 13/08/2021 at 16:58:43
So Gilfi, Kean, Gomes and James were 4 first team players missing in the latest training video.
Gbamin was present as was Delph, is Gilfi included in the 5??
Who are the other 2 missing??
Brian Harrison
98
Posted 13/08/2021 at 17:12:45
Is it coincidence that the 2 players that Benitez is looking to offload have to miss being in the squad as they are self isolating because of covid. I find it strange that Benitez has a record for moaning constantly about the lack of money he needed at some of his previous clubs, so why has he signed for us as I am sure he was made well aware of our financial position regarding FFP.
I don't think he has any empathy with our club but seeing as he had been out of work since returning from China, after a poor season he was desperate to get back managing in the Premier league and look who came calling. I hear some ex reds players saying he will do a good job, no doubt they said the same when he went and got Newcastle relegated. Lets hope we get off to a good start despite him being in charge, I don't like the man I want him gone asap, but I just hope he doesn't put us in a perilous position before that happens.
Andrew Ellams
99
Posted 13/08/2021 at 17:23:10
Oh this is going to be one hell of a season
Bill Fairfield
100
Posted 13/08/2021 at 17:54:32
Just let the manager manage. Anything will be better than the shite served up last season.
Dale Self
101
Posted 13/08/2021 at 18:08:04
Not that I know what's going on but we should consider that Benitez is first trying to build a system. This requires regular appearances in the same position to establish some expectations and geometry for runs and passes into space. While James is one of the game's princes of creating space with a pass he is not available enough to build a system around. This may be why Benitez is hesitant to commit and would just as soon go with another lineup.
Peter Neilson
102
Posted 13/08/2021 at 18:13:33
Brian (98) I'm guessing he has around 7 million good reasons for signing up for a local job. He must have been told about the financial reality before he signed on the dotted line. With 4 permanent managers in the last 5 years I'm not anticipating a long relationship. On the positive side we go into the season on pretty low expectations, maybe we'll be surprised (that old optimism again).
Ajay Gopal
103
Posted 13/08/2021 at 18:20:52
Rafa mentioned 'Everton' in his press conference at 9:48 in the 15:40 long video. I don't know if it is a mental block? I find it slightly bizarre. Anyone else noticed it or feel the same?
Mike Gaynes
104
Posted 13/08/2021 at 18:25:23
Interesting Guardian interview with Andros Townsend:
"I understand when I signed maybe Everton fans, or fans in general, didn't understand why this club, with their ambition, would get a free transfer from Crystal Palace," said Townsend, who is aware of the perception his career was on a downward trajectory. "A lot of people wouldn't have expected me to get this opportunity. I had a spell at the start of my career with Spurs fighting for the top six, then I had a spell when I was battling relegation each year and fighting to get into the top 10 was a good season. I feel I have a lot of doubters wondering if I am good enough to play at this level. My hunger is probably more than it was in the past. This is what gets me out of bed: trying to prove those people wrong."

https://www.theguardian.com/football/2021/aug/12/andros-townsend-everton-i-feel-people-doubt-im-good-enough-for-this-level?utm_term=357895bd32f5b6112b456298e107c13f&utm_campaign=TheFiver&utm_source=esp&utm_medium=Email&CMP=fiver_email
Dale Self
105
Posted 13/08/2021 at 18:27:51
Rather Evertonian if you ask me. UTFT!!!!!
Roger Helm
106
Posted 13/08/2021 at 18:33:26
James is brilliantly talented, can win games with goals and assists, and any team should be able to accommodate him, perhaps in front of a midfield four. Nine piano lifters and one piano player is a good mix. Build the team around him!
But football is a team game and especially in the EPL there is no place for slackers. One malcontent or bad apple can poison a dressing room. Better to have players totally committed to Everton. So I say get rid, especially if we can get a transfer fee.
So now you know where I stand.
Derek Taylor
107
Posted 13/08/2021 at 19:04:21
The very best managers have the skills to get and keep all their club's players 'on side'. I don't think too many of us have ever seen Benitez as amongst that group. The phrase 'Would cause trouble in an empty house ' comes to mind !
Karl Meighan
108
Posted 13/08/2021 at 19:08:47
i would rather have a unbalanced team full of the quality that James has than most of the shite that will be replacing him. James produced more in the few games he did play than Sigurdsson and others have served up over a couple of seasons. Even if he is not at his best his presence on the field takes away opposing players and he's not a bad passer of a football either.
i don't see how we have a better chance of getting results against any team if James is not playing. I would like to see him fit playing with Goodison full and behind him, let him feel loved get him buzzing again and who knows what he will produce.
Jack Convery
109
Posted 13/08/2021 at 19:15:47
Colin at 25 - me and you both.
Kean can go - no problem with that.
James was left in the sh*t by his mentor. Carlo was left in the sh*t when James kept declaring himself unfit to play. James will never run through a brick wall for EFC - quite a few of them won't - however he's are most skilful and intelligent player and as such we need that in him. De Bruyne would and does spill blood for Man City, and would whoever their manager was.
It grieves me that we will never see him parade his ability in front of us at Goodison. I know he will be amazed at the adoration he would receive the moment he did his 1st piece of magice.
As for tomorrow a draw. A hard long season awaits us - though I hope to be proved wrong.
Peter Mills
110
Posted 13/08/2021 at 19:34:02
How many players did Manchester City have self-isolating last season when they persuaded the authorities to postpone their game against us?
Dale Self
111
Posted 13/08/2021 at 19:39:21
Just watched the presser and who was that git from the BBC pushing the point that the fans want to see James and doesn't Rafa feel pressure to play him? Artful dodge by Rafa to emphasize team expectations and not good for James that he would only divulge that some players need to isolate and he is one of them. The response to Townsend and Gray fitting in where he highlighted their relationships with the other players was telling.
Nick White
112
Posted 13/08/2021 at 19:50:22
I'm not sure of the stats but I'm guessing with no James and no Gylfi in the team we are missing quite a lot of attacking goals and assists. Hope the new wide players can fill the gap as otherwise not sure where the goals are coming from!
Michael Connelly
113
Posted 13/08/2021 at 20:50:08
James, in reality, is useless when we don't have the ball, with his crab like movements; In effect it's defending with 10 instead of 11. For Benitez, I think that is too much of a luxury for the Premier League. Plus the fact that he is brittle and will get injured easily, so can't be relied on. If he was quicker then he would be a much better all round player, but then again if he was quicker, he'd still be at Madrid.
Pat Kelly
114
Posted 13/08/2021 at 21:14:16
Rafa has drawn a line under James and Kean. They are not part of his plans as it's clear Everton are not part of their plans. We won't see either of them in an Everton shirt again. They were not suited to the Premiership when they arrived. Two more mistakes best forgotten or at least learned from. Maybe some profit can be made on Kean but as he's been written off we're not in the best negotiating position.
Dave Williams
115
Posted 13/08/2021 at 21:35:20
James has no affiliation with us and doesn't try so why pick him?
Chris Corn
116
Posted 13/08/2021 at 21:35:49
I'm assuming Arsenal must be relegation candidates now..
Paul Birmingham
117
Posted 13/08/2021 at 22:15:18
Time to knuckle down and get up for the fight.
Soton will be up for it and the first game of any season can bring some some crazy results.
But I like to believe that Rafa has taken in the landscape of FF, and will provide some potency and game changing play.
But the first game is the first game of every season.
Remember Alan Bailey, and the Everton team v Birmingham City...40 years ago? That team in reflection and compare to now. Different times and football was a different world.
Scary, very scary, where the time has gone.
Let's take the positives and hopefully a fighting victory tomorrow.
Every player playing for the Everton shirt and blood, sweat and tears for 96 minutes.
What's Our Name?
Paul Birmingham
118
Posted 13/08/2021 at 22:16:54
Peter, a good point.
Laws for them and us.
Hugh Jenkins
119
Posted 13/08/2021 at 22:38:03
Chri (116) - Bit early to call Arsenal relegation candidates, but, their next game is home to Cheslea next Sunday and the following Saturday they are away to Man City. So, they could be still at the bottom after three games and although its a long season, losing, like winning, can become a habit and I'd rather not be bottom after three games. Time will tell. However, the odds on Arteta being the first Premiership manager to "leave" his post, is shortening with the bookies, as I type.
Tony Shelby
120
Posted 13/08/2021 at 22:38:09
Remember the joy of watching Everton at the beginning of last season?
That rollercoaster of ecsatasy was partly because of James and the magic he brought to each game.
In summary:
What the fuck is going on?!
Oliver Molloy
122
Posted 13/08/2021 at 22:44:20
Thank fuck we were not away to Brentford tonight!
Benitez needs to win the game and he and all of us know that Southampton will fancy this because of all the shite going on with us. Who knows what the fuck is going on, we just seem to be in a mess but I still think we will win.
Benitez didn't fancy or trust Rodriquez at Real Madrid, and it really didn't make a difference due to the squad they had. With us, he is the only player with vision and pin-point accuracy.
I agree it is a shame that Goodison maybe will not get to see this guy in the flesh for he would undoubtedly feel the love.
As for Kean, the quicker we can get him out to fuck, the better – Balotelli Mk 2.
I made a comment on another thread about Mancini not selecting him for the Italy squad and that speaks volumes.
Hope it's a good day for all going to the game.
Tony Abrahams
123
Posted 13/08/2021 at 22:52:29
I remember it like it was yesterday, Paul B. Ainscow, Eastoe, and Biley helped Everton come from behind on a lovely sunny opening day.
I'd forgotten it was Kendall's first game until I just watched it again on YouTube. I hope that Benitez gets a similar reception one day, because it will only mean one thing!
Jerome Shields
124
Posted 13/08/2021 at 22:59:15
I thought Rafa's pre-game press conference was good. Work and effort central.
Chris Corn
125
Posted 13/08/2021 at 23:00:32
Hugh 119, my point was that people on here are writing us off as cannon fodder. We have pretty much the same squad plus three new acquisitions that accrued 59 points last season. Some of them are internationals for top-ranked nations.
We are just in the same position as about 10 teams in the Premier League... Arsenal being one of them.
Jerome Shields
126
Posted 13/08/2021 at 23:14:44
Actually, I am glad Rafa is Manager. Everton is a very tough job and it will take a tough experienced manager like him to do the job. Ancelotti's style would not have suited the current circumstances and Nuno Espirito Santo did not have the depth. As for anyone else, they would not have had a mission. Rafa's "never give up" attitude and keeping trying to improve is a focused mission that players can buy into.
Mike Gaynes
127
Posted 13/08/2021 at 23:16:50
Chris #125, we don't have "pretty much the same squad"... assuming James is departing and he-who-shall-not-be-named won't be back, we've lost our only two productive midfielders. Between them they generated 14 goals and 19 assists last season. We have NOT replaced them. Not remotely. Gray and Townsend combined to produce 5 goals and 8 assists.
If we don't add a couple of capable midfield attackers by the end of this month, 'cannon fodder' will be an appropriate description. Most of the other 10 teams you mentioned have improved themselves, some significantly. We have not.
Soren Moyer
128
Posted 13/08/2021 at 23:27:58
Sad really! There are other players that should be ahead of him when it comes to selling the undesired!!!
Paul Birmingham
129
Posted 13/08/2021 at 23:30:10
Tony, zackly 100%, that's my best parallel with Everton's past history for tomorrow.
But I have to say again, it's scary where times gone. But we get by and get on with life - Everton.
But hope eternal.
Let's worry and think about all matters Everton, and fekk the rest as they don't count.
What's Our Name?
Neil Cremin
130
Posted 13/08/2021 at 23:58:45
Oh, it will be so interesting to see the threads tomorrow night. Win, lose or draw.
How many 90 degrees will we see?
Ernie Baywood
131
Posted 14/08/2021 at 00:53:03
Seems such a strange situation. I was too young to enjoy the 90s and James is the most talented footballer I've seen at our club. Lots of drawbacks too, mind, but the most talented.
You can argue that he doesn't fit a certain style, but I'll disagree. You find a place for him. It can't just be 11 marathon runners, you've got to have someone directing them.
All seems very inevitable now but it's hard to get anything but deflated that we've effectively swapped James Rodriguez for Andros Townsend. With no offence meant to Townsend at all.
I don't even particularly feel 'backs against the wall' for this fixture. Everything just feels a bit 'meh' around the club.
Nathan Ford
132
Posted 14/08/2021 at 00:56:06
I've read so many differing posts on James, Kean and Rafa, it's absolutely crazy.
I was never a fan of Rafa coming to the club but, unlike James and Kean, he wants to be here. In all honesty with FFP and players not wanting to be at the club Rafa is literally fucked. How do you build or transform a team in the situation he's been put in??
If we can rid ourselves of both of these players before the end of the window, he can at least be given a fighting chance. I'm hoping for a positive result against Southampton but fearful that we won't win. We have a mid-table squad at best so shouldn't expect anything more.
Derek Thomas
133
Posted 14/08/2021 at 00:58:10
Thing is with both teams today, you never know which one will turn up. The one who have shipped in 9 twice in recent memory or our lot of bottling under-achievers.
We really are the ultimate 'life's a box of chocolates' club.
I hope to be pleasantly surprised, but then I'm daft and have been since before Carey took his taxi.
Bill Gienapp
134
Posted 14/08/2021 at 00:58:28
This, to me, is so many Everton fans in a nutshell --
"James is a luxury player, he's lazy, he's a Prima Donna. Who cares if he has world class ability, you can't count on him. We need players who work hard and give 100% every week. At the end of the day, all we want is guys who'll fight for the badge."
"Interesting. So you must be a big fan of Tom Davies?"
"No, he's terrible. Get rid."
Ernie Baywood
135
Posted 14/08/2021 at 01:10:35
Does he, Nathan? I'm not sure. If I need a job and there's a one going around the corner from my house I'm not necessarily committed, but I'm there.
James and Kean have options, that's probably the difference.
I might sound anti-Benitez but the truth is I couldn't care less about Benitez. Which is kind of part of the problem. I do care about the fools who hired him. It's an obviously bad hire - and it will go south very quickly. If his head isn't being called for within 10 games I'll be shocked. I almost feel for Benitez, but then, he knew this too and still took the job. What basket case this club is.
There's a lot of hyperbole on here are times. 'Worst team I've ever seen' and all that stuff. But I don't think I've ever felt this disconnected or unexcited about a season.
Kieran Kinsella
136
Posted 14/08/2021 at 01:41:10
Mike 127
Thank you. Someone else who's noticed the glaring problem with midfield after James and Sigurdsson: productivity.
Doucouré says he will be playing a more advanced role which could help. But at Watford in that role, he was a bit of a free spirit, scoring the occasional 30-yarder. He wasn't a creator.
Obviously Davies, Allan and Gomes have the creative talent of a colour-blind hedgehog — in a bag. So we are hoping Townsend becomes to Calvert-Lewin as Hinchcliffe was to Big Dunc? Or that Gray suddenly evolved into Fernandez?
Ernie Baywood
137
Posted 14/08/2021 at 01:52:55
Oh, and does anyone believe this rubbish about players isolating?
We have 5 isolating. I won't tell you who. James, Kean, and Gylfi aren't available. Why? Well we have 5 players isolating, but I won't tell you who.
I'd have much more respect if the club or manager said that James and Kean aren't available as they don't want to play for the club, or because we don't want them at the club.
Feeding us bullshit like this just widens the disconnection between the fans and the club. We're supposed to be on the same team.
Jamie Crowley
138
Posted 14/08/2021 at 02:07:37
Ernie -
It's just cover for those out the door. Maybe 1-2 players are isolating, but I don't know how you believe any of the three players you mentioned are isolating.
Way too suspicious. I'm with you. First thing I thought of when I saw that news.
Terry Nolan
139
Posted 14/08/2021 at 05:38:24
Rodriguez has been in self-isolation for many, many years. I'm wondering if anybody can tell me when he last played a full season for any of the many clubs he has been at??
He says he wants to be at a club who wants him… I'm sure there are plenty of retirement villages who would be happy to take him and his zimmer frame.
The guy is just a waste of space who is not a team player, he has no heart and his best attribute is not running and when he is tackled he goes down and cries like a baby. My grandma could mark him out of a game… Quicker we get rid of him and Kean, the better.

Jonathan Tasker
140
Posted 14/08/2021 at 06:43:24
A new manager that is already hated by a lot of the fans.
One of our players who will probably never play for us again due to circumstances beyond our control. James, one of the most talented players we have ever had, seemingly refusing to play.
Suddenly, no money being available because we have massively overspent in recent years. Years of underachieving... yet all of the culprits are still at the club, including Kenwright, Ferguson and Brands.
This season heralds disaster. As we saw from Brentford last night, not all of the clubs coming up are rubbish. Will there be three teams worse than Everton? I wouldn't be so sure.
David Hayes
141
Posted 14/08/2021 at 07:10:12
The wet-lipped bulbus toad, that I really expected to lick his own eyes as he was speaking about how to isolate half the first team from the rest by refusing to deal with them or play them, then to inspire the rest (the mainly talentless remainder) to victory is beyond comprehension. He might get lucky and spawn a win but, it will be all-time low in style and class from now on.
Danny O'Neill
142
Posted 14/08/2021 at 07:16:28
Well, as I get ready to head home for the day, the signs are good. Walking the dogs this morning we bumped into a Great Dane called Blue.
Colin Glassar
143
Posted 14/08/2021 at 07:26:49
Just read the doctor (of what exactly?) David France article in the Echo. As he's the, considered, expert on all things Everton, he actually made me feel slightly more optimistic, and realistic, about this season. What a shambles we've become. COYB!!
Karl Meighan
144
Posted 14/08/2021 at 07:31:41
if running is all you need, Terry, why are we scouting players from football matches? Shouldn't we get our players from the London marathon?
I want to go back to Goodison and be entertained with our team having most of the ball. Before the pandemic, when players can pass and keep the ball, defending is done by the opponents.
Jerome Shields
145
Posted 14/08/2021 at 08:10:28
Rodriguez has confirmed he is isolating having come into contact with someone with Covid.
David Hayes
146
Posted 14/08/2021 at 08:18:43
Mike #104 there is nothing interesting about Andros Townsend.
10 years ago, he was nearly really good. No amount of hunger can turn back the clock. We all seem to believe average players can become much better if only they tried harder. They can become more effective with hard work in a team unit, but individually they don't get better by being hungry.
Quality players have natural ability, or a particular skill that sets them apart. A team of average really hardworking players gets you relagated after one or two seasons. We are heading in the wrong direction with signings like Andros.
Roger Helm
147
Posted 14/08/2021 at 09:41:31
Colin 143, Dr France is a chemical engineer with multiple postgraduate degrees. Brought up in working class Widnes, he failed his 11 plus but later took charge of his own education and went to Salford Uni and later to Texas where he made his fortune in the oil industry.
Along the way he created the Everton Collection, the world's greatest football memorabilia collection, and the Everton Former Players Foundation charity, since emulated by many big European clubs.
I usually object to non-medical PhDs calling themselves "Doctor" but I make an exception in Dr France's case.
Len Hawkins
148
Posted 14/08/2021 at 09:55:38
I'm just phoning for some help to get me up off the floor after rolling all over it laughing. "Until we sell Iwobi" someone said –that is the funniest thing I have heard in years!
Unless Moshiri has a brother owning a football club, who the hell is going to buy him? Most football clubs don't throw money away like buying a bin bag with a couple of bricks in a box off a bloke in a transit that spotted someone who he believes will swallow his spiel that it is a box of brand new Rolex watches for £20.

Steve Griffiths
149
Posted 14/08/2021 at 09:59:06
Bill @134, exactly well said. Personally, I'm gutted James won't be taking any part today after renewing my season ticket following an absence of 10 years. I was looking forward to seeing the first world class footballer to grace the Old Lady since the days of Andrei Kanchelskis.
Ah well, here's to looking forward together watching Tom Davies and Allan chugging around the pitch (giving 100% mind) but failing to get near the opposition and giving the ball away every second opportunity.
Eddie Dunn
150
Posted 14/08/2021 at 10:00:16
On James, what is all this about whether he "feels the love" of a full Goodison? This guy feels the love... the love for himself. He doesn't give a toss about us and all the adulation of a packed Goodidon Park wouldn't make any difference. He came here to get some game time in order to play for his country under a former boss who blew smoke up his arse.
Now he wants to play on a bigger stage. He has zero commitment to EFC so let's all drop the pretence that a few Mersey cheers will somehow change his mind.
Chris Corn
152
Posted 14/08/2021 at 10:15:01
Mike Gaynes 127, regardless of his current absence Sigurdsson is one of the reasons we are in the financial situation we are in. Not withstanding that he didn't set his own fee, IMO quite comfortably one of the worst transfers we have ever made. About 3 times overpriced.
Dave Williams
153
Posted 14/08/2021 at 10:30:46
Jonathan #140 you forgot to mention that there has not been a spade in the ground yet at Bramley-Moore Dock.
Oh, hang on. !!
Michael Connelly
154
Posted 14/08/2021 at 10:47:37
James has stated that he wants to play at a club that wants him. Problem is: Benitez doesn't want him. I think he would be happy to stay otherwise.
On a separate note, should the players not all have been fully vaccinated by this stage?
Christine Foster
155
Posted 14/08/2021 at 11:08:48
I don't agree with most of the comments regarding James. I doubt he will be sold by September; I expect, if he is an Everton player in September, he will be playing.
Why? He is the only creative midfielder we have on the books and I doubt he will be replaced by anyone, better or not. It wouldn't surprise me, if he did go, that we would sign Barkley on a free! Oh dear... I must stop drinking Australian white!
Jerome Shields
157
Posted 14/08/2021 at 11:10:46
Christine, I agree regarding James, unless a big fat fee is forthcoming. . . which I doubt.
Jerome Shields
158
Posted 14/08/2021 at 11:13:32
See you have learnt not to call it New World Wine.
Stuart Sharp
159
Posted 14/08/2021 at 11:13:49
#147
>>>I usually object to non-medical PhDs calling themselves "Doctor"
Why is that Roger?
#142
>>>Have been enjoying your pre-match excitement Danny. Safe journey! Just starting our ritual here for the first time in 18 months. Despite all the recent misery, I'm starting to feel a bit giddy. After a pint, I may even allow optimism back in!
Christine Foster
160
Posted 14/08/2021 at 11:22:33
Jerome, a few nights in Yates wine lodge in Moorfields meant it will always be Aussie white irrespective of a fancy label!
Danny O'Neill
161
Posted 14/08/2021 at 11:26:59
Not much to do on the train Stuart, so I'm full of optimism. Ahem!!
Here's hoping we all have a great day!!
John Cartwright
162
Posted 14/08/2021 at 11:39:24
Christine, I completely agree and want James to stay, surely he could be accomodated for home games, and perhaps an impact substitute away. The more serious deadwood such as Iwobi, Delph, Siggy and Gomes offer much less and are on considerable wages
Alan J Thompson
163
Posted 14/08/2021 at 11:45:48
The only recognized world class player we have who might be available for only 20 games which some see as a reason to let him go. Have you asked yourselves who will replace him for those other games and if it is likely that they will contribute that which James is capable. Let's aim for that mediocrity for which so many seem to be asking rather than take a chance that we might achieve more with somebody of high quality, even for less than a full season..
David Hayes
164
Posted 14/08/2021 at 11:56:19
Anyone ever seen Rafa and Baron Greenback in the same room ?.
Alan J Thompson
165
Posted 14/08/2021 at 11:57:37
Christine(#160); May I suggest you choose the area from which Australian wine emanates more carefully as 26 of the 100 wines widely considered the best in the world come from Margaret River, although I doubt selling it by the half pint would go anyway to improving it.
Drew O'Neall
166
Posted 14/08/2021 at 11:58:37
Both potentially good players but you have to put pressure on them to leave or you have what we've had for the past 4-5 seasons which is a load of expensive deadwood hanging around.
The same fans who moan about the deadwood are criticising the club for pulling the only levers available to them to get these wages off the books.
Karl Meighan
167
Posted 14/08/2021 at 12:01:19
Eddie @150 he wont be the only one will he? if you think players in todays football care about fans or anything other than how much they can earn then so be it. Even Davies from Huyton probably doesn't give a fuck and he's local, if a kiss of a badge means they love the Club they play for I guess there's alot more players who feel they belong than I ever dreamed of.
if we want to see skill technique and more I would happily take 10 games of James than what any other midfielder at Everton will produce this season and in seasons to come. I doubt I will be entertained or treated to a piece of skill from anyone in the pitch wearing blue but I live in hope.
Tom Bowers
168
Posted 14/08/2021 at 12:05:31
We can only speculate as to what is really going on with these players.
Media trash talk is always rife these days especially during a transfer window and it is not always wise to read into too much. Only the club and the player know the truth.
What they do or have done on the pitch is what is important and the truth is that coming from a big club doesn't mean you are a shoe-in even if you get the big wages.
Everton have had more than their share of one season flops and most of us have to agree that the likes of Kean and James have been overall disappointments.
Today I just want to see 100% commitment on the field no matter who plays as it just wasn't evident in so many games last season.
Alan J Thompson
169
Posted 14/08/2021 at 12:15:57
Davies from Huyton? I always thought his family were from the Wavertree area.
Billy Bradshaw
170
Posted 14/08/2021 at 12:17:40
Jonathan @140 so you think it could be relegation, well I suppose this time next year you will probably tell us you don't think there is three teams in the championship worse than us. COYB
Barry Rathbone
171
Posted 14/08/2021 at 12:33:00
Alan J 163
The issue with Rodriquez and his inability to play regularly - the reasons for which seem many and varied - is he becomes a "special case". In other words the notion of some being "more equal" than others arises in the changing room which is never a good basis for any team.
He's a great technician but I understand the manager not tolerating that sort of shite. Yet, oddly enough, it delivers a great opportunity for Benitez to stamp his mark on the club. He should say these things about Rodriquez at the presser and offer anyone "out" who complains. Most love that sort of stuff bar the sensitive souls who cried when Allardyce called them out.
Great believer in "every cloud" etc
Eddie Dunn
172
Posted 14/08/2021 at 13:04:14
Alan @163,
I don't doubt his quality and I would be happy if he would play 20 games and give his best to the team. The problem is that the man is not committed. Therefore he is unreliable. A luxury player who demands special treatment. If he was so good then why aren't there a queue of clubs banging on our door to take him off us?
The world and his dog can see that he is not fit enough and his loyalties are even more questionable than average. He may produce the odd goal and one or two good assists but balance that against his injury problems and his attitude and you see that the downside counters the good things and team morale plummets when one player is given special treatment.
It's a team game and our new boss rightly wants guys who want to play for Everton FC.
It seems that James and Kean do not... end of story.
Soren Moyer
173
Posted 14/08/2021 at 13:52:20
Iwobi is on 100K a week! Seriously!!!? I say get rid of him first if thats possible at all!
Alan J Thompson
174
Posted 14/08/2021 at 18:15:10
Barry (#171); I think most professional footballers welcome top quality players and I don't see James as a Pogba type, and what examples can you give of "that sort of shite"?
Eddie (#172); What special treatment or are you referring to a long-term injury he may be carrying which his national team manager queried but had to back down, and is the odd goal or assists as many as others offer? Presently, it appears it is the manager who doesn't want him, if press reports are to be believed.
Myself, I hope we hang onto any player that shows, even in flashes, ultimate skill. I seem to remember a story about those across the park who used to hang a picture of Alex Young standing arms crossed, watching from a distance in, I think, a 5-0 derby shellacking.

Roger Helm
175
Posted 16/08/2021 at 19:10:45
Stuart 159, I don't know why it irritates me, it just does. I think it started with Dr Ian Paisley.
Usually by "Doctor" we mean a medical person. I guess it is normal when a person with a higher degree is in the context of their academic environment, but in everyday society it just seems to me a bit pretentious. But that's just my opinion. Some might say they have worked hard for it, so why not use it at every opportunity. Perhaps it helps getting restaurant seats, I don't know.
Graham Mockford
176
Posted 16/08/2021 at 19:39:13
Roger #175
The term doctor originated in medieval times and applied to many academic pursuits. It was a license to teach. It was not adopted for medical practitioners until the 19th century so in fact you would probably be better getting irritated at the the quacks.
Both my sons have PhDs, I think they mainly just use opentable.com
Darren Hind
177
Posted 16/08/2021 at 20:01:44
I take it your boys got their brains from their mother, Mockers ?
Graham Mockford
178
Posted 16/08/2021 at 20:30:02
Darren
No fortunately they got her looks and my brains. They'd have been fucked the other way round
Roger Helm
179
Posted 16/08/2021 at 22:13:51
Graham, thank you for the information, although I was referring to the present day, not mediaeval times. I don't think any reasonable person would be irritated at a medical practitioner referring to themselves as Doctor X.
If it comes to it, the word means teacher, from the Latin docere, to teach, so perhaps schoolteachers, or indeed any worker with a training role, could call themselves Doctor.
Graham Mockford
180
Posted 17/08/2021 at 07:41:56
Yes Roger I'm aware of the etymology.
And you're right no reasonable person would be upset, but then again is it reasonable to be irritated by someone calling themselves a title earned through eight years of university based academic study?
Roger Helm
181
Posted 17/08/2021 at 20:26:52
Graham, that is what I said in post 175. Anyway, I was only talking about my own experience. When in my work I come across a person with a PhD wanting to be called doctor, I think "here we go...". Perhaps I have been unlucky.
---
Add Your Comments
In order to post a comment, you need to be logged in as a registered user of the site.
Or Sign up as a ToffeeWeb Member — it's free, takes just a few minutes and will allow you to post your comments on articles and Talking Points submissions across the site.