James won't play against Leeds
Tuesday, 17 August, 2021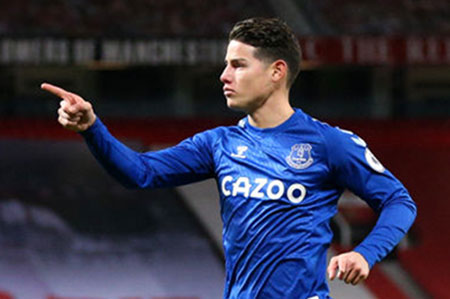 James Rodriguez says he will be absent from the squad when Everton travel to Elland Road on Saturday and might have hinted that he could soon be leaving the club.
The Colombian missed the season-opener against Southampton, officially listed as "isolating" as a precaution due to the latest wave of Covid-19 infections, and it is likely, but not confirmed, that he will still need to be in quarantine this coming weekend.
James was on Twitch again last night, speaking to fans on his channel, a forum on which he has already made clear that he wants to be where is wanted. The inference, based on press speculation, has been that new Blues boss Rafael Benitez has informed him that he isn't part of his plans this season.
He said on Twitch that, "Everton are playing this Saturday but I'm not going to play," but followed that later with a post to Twitter saying, "Never stop believing" along with two emoji's suggesting that he will soon be happy.
That could mean that he and his agent, Jorge Mendes, have lined up a new club for him. Rodriguez has made no secret of his desire to play in Italy and has been linked with both Milan clubs this summer, but they were said to have lost interest.
A move to Seville has been mooted but the rumour was that James wasn't keen while his name has frequently been mentioned in connection with Atletico Madrid.
---
Reader Comments (331)
Note: the following content is not moderated or vetted by the site owners at the time of submission. Comments are the responsibility of the poster. Disclaimer
John Zapa
1
Posted 17/08/2021 at 05:33:54
Basically the club have been paying him for the last 4 months without any return. That's around £4m wages paid out for nothing. If he doesn't get his move, and ends up unhappy on the bench, hardly contributing, it's the worst outcome for all parties.

Alan J Thompson
2
Posted 17/08/2021 at 05:49:36
It is still not clear if he has said he will not play or if he has been told he won't be considered to play and as John(#1) says, it does appear to be not only a waste of money but also of talent.
Colin Glassar
3
Posted 17/08/2021 at 06:35:26
What a waste for him and the club. The most talented player we've had since Arteta and we'll never see him in the flesh at Goodison. Very sad.
Derek Knox
4
Posted 17/08/2021 at 06:54:35
Colin G, how very true, a truly talented individual, but I can see the Financial aspect to this as well, what is the point of having a Top of the Range Sports Car in the Garage, if it's rarely available to be used, and only in 'wet weather' ? Being the Devil's Advocate too, James is a Global Figure and has a massive following, not to mention the number of Columbians who have become Evertonians (albeit temporarily). Not sure how this is reflected as a financial bonus to Everton (?)
How can we build a successful side too with James (who is capable of winning a game) but whose appearances are only sporadic ? I love the guy and love to see his silky skills for us, but not an easy player to build a team around, due to his limited availability. It is a dichotomy to say the least, but you can always take solace in the fact that we still have Iwobi ! :-)
Danny O'Neill
5
Posted 17/08/2021 at 07:01:52
Damn shame. I was really looking forward to watching him play.
I wouldn't say we haven't had a return. Would have like to see him play more? Yes. But then I could say that about Paul Bracewell, one of my all-time favourites.
When he did and does play (never say never), he shows us what he is capable of.
Sadly, from my perspective, it seems he is on his way and if a player doesn't want to be here, then no point in keeping him, especially if the manager doesn't fancy him. Now if the manager wanted him, I'd be digging my heels in.
Mark Tanton
6
Posted 17/08/2021 at 07:02:53
Off you pop, lad.
Dave Whitwell
7
Posted 17/08/2021 at 07:08:10
Cant wait for him to be gone, clearly has no desire to play for our club, even last season there were times when mysterious injuries kept him from playing.
I want to see talented players playing for this club more than anything, but what's even more important is that they want to be there. We will never get the best out of them otherwise.
There needs to be a steward enquiry into the handling of this though. I'm presuming he wanted to go and made that clear even before Benitez arrived, if that's the case then why the hell was he not moved on at the start of the window? We could've accepted a much lower fee and saved on his wages.
If it wasn't his choice then what is Rafa thinking not using a player of such talent. Either way it's really bad handling yet again from our club.
David Pilkington
8
Posted 17/08/2021 at 07:30:18
Get rid ASAP! No resilience, no commitment, always injured, attitude stinks… not the qualities I want to see in a player at Everton. As for comparing him with Arteta… the guys not fit to lace Arteta's boots!!
Tony Everan
9
Posted 17/08/2021 at 07:42:09
The "never stop believing " comments are apparently Atletico Madrid's club motto. So the speculation is that his agent is striking a deal with them. Carlo has changed the bedding in his box room, so he'll be fine in Madrid until he sorts himself out.
Tony Everan
10
Posted 17/08/2021 at 07:53:06
A little research says that may not be true, their motto is also "our hearts unite us, Atletico unites us".
Also " another way of understanding life"
Sounds like they have a few mottoes they can call on. Probably good business for the Madrid tattoo parlours.
Graham Mockford
11
Posted 17/08/2021 at 07:55:27
It became fairly clear on Saturday why he doesn't figure in the managers plans.
We are going to play a higher tempo more direct style of football and I suspect for most that will be welcome. Does anyone really see that suiting Rodriguez?
And that's before you ask the questions about his durability and desire.
Rob Dolby
12
Posted 17/08/2021 at 08:05:52
I am struggling to understand how Rodriguez divides a football fan base.
He played 20 games last season but is injured too much.
He set up a goal at Anfield that nobody in our squad from the last 20 years could provide but is a luxury.
His passing, vision and guile are world class but his speed, tacking and aggression are terrible.
Arteta, Beardsley, Sheedy and McKenzie are the closest players that I have seen to Rodriguez.
These type of players don't come along very often. Why not just enjoy them for what they are.
Eddie Dunn
13
Posted 17/08/2021 at 08:13:37
Another narcisstic prima donna.
I can't imagine him saying to Rafa... "Boss, I am getting myself super-fit for the coming season and I'm willing to run through brick walls for the shirt. I am going to make it impossible for you to drop me."
A spoilt brat.
He must have some interesting clauses in his contract. (just like the bloke who bought him).

Danny O'Neill
14
Posted 17/08/2021 at 08:17:31
I think it comes down to a couple of things Rob.
Firstly, every individual's view on football and what they like in a player is different. I get that and we all see the game different.
Then the generational thing. Stereotyping here and no offence meant, but we've had a generation grow up with no expectation of seeing great players. There are 20+ year olds who never saw Kanchelskis. Others from older ones have just been beaten into submission and acceptance.
And finally there seems to be a view that a player like James should have all the attributes, play 68 games a season without showing any signs of fatigue or injury and do the world class stuff all the time. I like expectation, but we have to balance that with a dose of realism.
Tongue in cheek that last one, so don't take me too serious. I draw parallels to Lukaku. Bemoaned by many because he was apparently lazy and had a poor touch. But he's a striker and scored goals. Always confused me that one.
I'm with you. Players like this are there to be enjoyed and should be. They are part of a team that is made up of many different component parts and types of player. And more so these days, part of a squad.
20 games in a season is not a bad return in the modern squad & rotation driven game.
Graham Mockford
15
Posted 17/08/2021 at 08:25:52
Rob
' He set up a goal at Anfield that nobody in our squad from the last 20 years could provide.'
Like a lot that has been associated with the player this is just pure hyperbole. Sure it was a nice piece of control, a clever pass inside the centre half but nothing that we didn't see Arteta, Pienaar, Osman or evening Barkley do on loads of occasions.
The desire to big him up amongst some fans as a world class talent is probably more reflective of the dross we've been served up in the last five years but the bottom line is that since a stellar World Cup 7 years ago he has failed to establish himself at the highest level.
Jerome Shields
16
Posted 17/08/2021 at 08:25:53
I am not surprised that James is not in the game against Leeds. Leeds where a lower table type side last season, which on one occasion last season overran Everton. James is upper league player and probably in Benitez eyes not suitable for such a game.
I expect a defensive type formation against leeds with Everton keeping the play in front of them. This will suit Keane and Mina. Attack will be counter in nature, with a hard fought midfield. Not suitable for James.
As the season progresses other Premier League teams will cop on to the tactics of Evertons first two game, so the introduction of James will provide the necessary variation. Kean will probably be used the same. This will be the case unless a big fat fee is offered, which I doubt. James was not going to play every game this season anyway. He is not fit enough.
Gbamin is the more interesting case. It was reported that he had a knee injury on the BBC sport website, but at Bentiez Presser it appeared he was not selected, because of social isolation.
Everton's first away fixture will show if the away form of last season has transfered to this season.
Barry Rathbone
17
Posted 17/08/2021 at 08:31:11
Don't care how talented a player is if they don't fancy it here get shut pronto
Danny O'Neill
18
Posted 17/08/2021 at 08:33:55
That last sentence is a fair point Graham and probably where the frustration with the player comes from. He has never truly fully established himself.
Which is frustrating because he does have the talent. And much more than those players you list.
And was a huge Osman fan. Always underrated and criticised by a lot of Evertonians.
Really looking forward to a fit Gbamin establishing himself Jerome.
Steve Hopkins
19
Posted 17/08/2021 at 08:34:04
I find it interesting that his mindset, or perception of his mindset, isn't "I'll work harder to prove Benitez wrong and get back in the team" but instead it's "I'm taking my ball and going home"
Niall McIlhone
20
Posted 17/08/2021 at 08:37:26
James did bring some goals to the table last season, and in view of our not having our other No 10 contender available, we have to be concerned as to where the contribution to goals might come from other than Richy and DCL?
It's already clear that the manager has in mind what tactics he intends to use and, clearly, James is surplus to needs, as the system does not revolve around a No 10 lynchpin.
Mendes will find a club for him, but I feel it may involve Everton FC picking up part of the tab on his wages? None of this looks good for the club, but then, Ancelotti sold all of us a dream that he ultimately failed to deliver, and he dropped the club in the mire as a result.
Tony Everan
21
Posted 17/08/2021 at 08:37:53
Benitez is creating a clinical and efficient team based on relentless power, pace, and athleticism in tandem with good technical ability. One that is mean defensively and clinical offensively. A team that allows him to create methodical stability and get results with consistency.
An efficient BMW of a football team. James Rodriguez is the incompatible Ferrari component Benitez will not install.
It means will suffer from not being able to see his mercurial talent and dream of a left foot. But the intention is to sacrifice that to try to achieve a more formulaic and hence more sustainable progress.
Saturday's match is an indication that we will not be starved of great moments and flashes of brilliance without him.
Paul McCoy
22
Posted 17/08/2021 at 08:38:06
Not sure if he's been forced out or is forcing his way out. Either way though, I'm sad to see him go and will always remember him for that derby assist. By far the most gifted and talented footballer at the club by a huge margin.
Lee Courtliff
23
Posted 17/08/2021 at 08:41:24
Definitely a 4-3-3 away from home with hopefully JP coming in alongside Doucoure and Allan. Gray used as an impact sub.
It's a real shame that we'll never get to see James play at Goodison with a full house. He's an exceptionally talented player that we cried out for, for years.
I understand both sides of the argument, both have merit. If it was me in charge, I'd use him as starter at home and an impact sub away. But, unfortunately, it's obviously not going to happen.
Robert Tressell
24
Posted 17/08/2021 at 08:42:20
Probably being protected to better enable his transfer. That frees up wages / cash to bring someone else in. Probably for the best if his heart is not in it and Benitez is sceptical about using him.
He's a lovely player and sad that he won't be seen in the flesh at Goodison but, as last season showed, his silky skills don't exactly lead you to the promised land. Football is a team game after all.
As ever, I'd rather see us start building something for the longer term - because every attempt to build for the here and now in the past 30 years has failed.

Jerome Shields
25
Posted 17/08/2021 at 08:42:51
Steve #19
James is a narcissistic. Even his social media comments are narcissistic. His emoji comments which actually mean' looking forward to play' are giving the opposite impression , because of narcissism.
Anton Walsh
26
Posted 17/08/2021 at 08:47:02
Nice to have him when we need a goal but not so good when trying to hold on to a lead.
Rob Dolby
27
Posted 17/08/2021 at 08:49:02
Graham 15. If I would have witnessed Arteta, Pienaar, Osman or Barkley play that pass, I would have referenced it. It's no fluke he is a top quality footballer. Possibly only Sheedy could have controlled that ball with his left and slid the pass through.
We waited a long time for that victory. To win away at the big boys, we need quality – not just quantity.
My point being Rodriguez can do stuff on the football field that 99% of players playing for any club can only dream of.
I also enjoy watching quality over workrate.
Paul O'Neill
28
Posted 17/08/2021 at 08:51:41
One of Rafa's first tasks is to find out who wants to be here playing for Everton.
We all acknowledge how good this Rodriguez can be, but he really took the mickey last season. Getting "injured" in the warm up to games and jetting off to South America when he was too injured to play in a team that really needed him.
He isn't a kid and the mould is well and truly set. He will not change.
Well done, Rafa, for having the bottle to make a difficult decision.
Danny Baily
29
Posted 17/08/2021 at 09:02:33
I really like the idea of James being at Everton. However, his output last season is par for the course for him. Around 20 games and in single figures for goals.
He's undoubtedly a quality player but not what Everton need and not what the Premier League demands. We need someone who is a consistent fixture in the starting lineup. Especially so given that he's a top earner at the club.
Bobby Mallon
30
Posted 17/08/2021 at 09:04:38
Rob @12 and Danny @14, well said both of you. He really is a joy to watch. Vision passing, just a shame we won't get to see him in the flesh.
Joe McMahon
31
Posted 17/08/2021 at 09:07:12
For the money he is on, the commitment to Everton is a disgrace. He doesn't want to be at the club, but happy still to accept his absurd wages. I just want him and Kean gone.
Chris Corn
32
Posted 17/08/2021 at 09:16:27
I'll go back to a point I made on an earlier thread. Ancellotti was prepared to accommodate James missing periods of games because he loves him. Were there games he could have played in but didn't or wouldn't take a risk?
I remember Sir Alex Ferguson lauding Louis Saha's talent but lamenting the fact he wouldn't play if he had the slightest twinge.
It appears Benitez doesn't share the shame view of James as Ancelotti and, at Real Madrid, said he wasn't fit enough, though the ability was not in question. Seems he's not changed his standpoint.

Michael Nisbet
33
Posted 17/08/2021 at 09:16:35
I don't get why people are saying he doesn't want to be here. He's been told he's not in the plans. That's why he's not playing. Nothing wrong with his attitude.
He can't help being injured, and he even played through injury several times last season.
Yes, his style of play means he'll often be considered a luxury player, but when he does play, he helps unlock stubborn defenses. He won us points last season we wouldn't have had without him.
The debate about whether he should play or not, I can see both sides of, but questioning his commitment to Everton? I haven't seen any evidence so far that it's lacking. It seems to me that it's Everton who have decided he shouldn't be here, not the other way around.
Danny O'Neill
34
Posted 17/08/2021 at 09:20:37
Another good parallel Chris Corn.
Saha was a great talent who we and Manchester United didn't see enough off and as you say, Sir Alex rated him highly.
Allegedly though, if he had a sniff of an injury or broken bootlace he wouldn't play. Only wanted to play if 100%. I say that just from reading, not from any type of inside knowledge.
James could be the same. And as Michael says, it comes down to managers wanting or not wanting a player. This might not be down to the player's attitude or wanting / not wanting to play for Everton.
Bobby Mallon
35
Posted 17/08/2021 at 09:20:48
Graham Mockford
36
Posted 17/08/2021 at 09:28:56
Rob @27,
I can only suggest you weren't watching hard enough. The four players named have over 1,000 games between them with hundreds of goals and assists.
James played 26 times scored 6 goals and had 5 assists.
Sure he has some genuine quality but never has a player who has contributed so little in real terms been put on such a pedestal. Even comparing him with Sheedy makes me laugh – not in the same universe!
Mal van Schaick
37
Posted 17/08/2021 at 09:31:30
He's a luxury player with a cultured left foot, but unlike Kevin Sheedy, he doesn't have the work ethic to go with it.
It's best for him and Everton that he moves on, and plies his trade elsewhere.
Ray Smith
38
Posted 17/08/2021 at 09:32:43
2 weeks to go before the window shuts.
Regrettably deadline day is going to be busy for a lot of clubs, us included; at least Jim White won't be fronting Sky Sports News this year.
Are James & Kean part of a bigger picture, which will have a domino effect once a particular transfer goes through (not necessarily Everton) that we, for obvious reasons, are not privy to?
Otherwise, as I said in a previous thread, we will either be stuck with them, or have to give them away for next to nothing.
It's painfully obvious that James wants out. He has Spanish citizenship, so the European rule on foreign players doesn't apply to him (I believe). If he is/was committed, he should force Rafa to play him by rolling his sleeves up and show him his commitment! But that won't happen methinks.
As for Kean, it's gone very quiet now that Messi is at PSG, and the Italian links appear to have gone cold or dried up as well. Hopefully he may be on the bench on Saturday, and get the chance to show what he can do, but again, it appears to me, he's in the same camp as James.
Not sure where I heard it or read it, but why did Mancini drop him from the Italian national side? – 'attitude', apparently.
Gordon White
39
Posted 17/08/2021 at 09:32:49
He is a gifted player. But he just doesn't fit into the style Rafa wants to play. And having someone with his skills, who may only be available for a part of a season, is a luxury we can't afford.
I think if Everton are going to prosper they need team players, not the likes of Rodriguez or Lukaku, whatever their abilities. Goals need to be coming from across the team. There has been too much reliance on one or two players in a relatively small squad. A small squad in terms of quality.
I have to say I didn't think about Rodriguez once during the Southampton game.
Chris Corn
40
Posted 17/08/2021 at 09:41:18
Danny 34,
As I'm sure you and others will agree, football is a game of opinions, even at top-level management. Some coaches don't fancy a player for whatever reason. Gullit didn't rate Shearer who, to me, was one of the best strikers this country has produced.
Gullit was one of the world's best players at his peak so he was qualified to judge. Didn't do him any favors mind 😄
That's football. A game of opinions, as can be seen from the variety of views on this topic.
Christine Foster
41
Posted 17/08/2021 at 09:45:20
Michael Nisbet, couldn't have said a better word. It's the club making the decisions, not the player. He has not bad-mouthed or criticized the club or anyone, his only comments are that he wants to be wanted by a club.
Some of the posts on here are just incorrect and an attempt to categorize him as lazy and not wanting to be here. He has been told he is not wanted, what the heck do you expect him to say?
To say we are better off with lower quality players who can just run (but cannot kick a bloody football straight) is nonsense. If that's the football you think is wonderful, that is aspiring to win anything... look at Chelsea, Man City, Liverpool, Man Utd – they work but they have quality.
Without doubt James has the quality but not the fitness, and that's all down to the manager and he has made the call, not the player. We will be a poorer club without him.
Stan Schofield
42
Posted 17/08/2021 at 09:45:26
Putting aside the game of 'football manager' as to whether Rodriguez will or will not fit into 'Benitez's style' (whatever that may be….), it appears that he is still under quarantine, and has stated quite simply that he won't be playing the next game, which appears to be a given anyway, given the quarantine.
All the rest is merely idle speculation and gossip, with the usual ridiculous extrapolations and assumptions that many posters are prone to making. Reality check, folks, unless you're journalists inventing stuff to make money.
Brian Harrison
43
Posted 17/08/2021 at 09:52:05
I thought, when Ancelotti left and was replaced with Benitez, that James's days here would be numbered. Also because of our perilous position with FFP rules, then some of our high earners would be encouraged to find pastures new.
Just 2 weeks left of the window and, apart from the ones whose contracts were coming to an end, for which we didn't receive a penny, we have yet to reduce our wage bill.
I think both Kean and James will be moved on before the window closes but it wouldn't surprise me if they both went on loan. With money being tight and clubs aware of Everton's need to get players off the wage bill, a loan deal might suit the buying club.
Danny O'Neill
44
Posted 17/08/2021 at 10:09:42
Very true, Chris. Opinions, views and seeing it different. That's what makes the game beautiful and hooks us.
Mal @37. My favourite Everton player in my lifetime so far. I was blessed to watch his entire career in a blue shirt and witness some sublime moments.
My best mate (RIP) and others at the time would disagree with you on his work rate. Despite his brilliance, Dave used to always go on about his idleness and seeming dislike of a tackle when the opportunity to do so presented itself. Not me by the way, but to Chris's point, it's all how we see it.
But then he would love him for those moments of magic he gave us.
Rob Dolby
45
Posted 17/08/2021 at 10:12:56
Graham 36. We obviously have differing opinions on the player.
I see a modern galactico that has won practically all domestic honours in Spain and Germany. He is past his best but still a joy to watch on the ball. Others see things a lot differently.
Comparing a genius of a footballer with a wand of a left foot with a very low pain threshold and workrate. Now tell me who I am referring to: Sheedy or Rodriguez?
Paul McCoy
46
Posted 17/08/2021 at 10:15:29
Comparing Osman's or Barkley's skill level to James...
Cheers, Graham, I really needed a laugh this morning.
Pat Kelly
47
Posted 17/08/2021 at 10:19:14
The gift that keeps on taking.
Tony Shelby
48
Posted 17/08/2021 at 10:26:30
Why the fuck can't we just use him as a "super-sub" for the time being?
If you own a classic sports car, don't leave it in the garden to rust. Give it the occasional run-out. It's then more likely to remain mechanically sound and it will be seen by other people who might fancy buying it from you.
Gavin McGarvey
49
Posted 17/08/2021 at 10:42:18
I don't think it's ridiculous to compare Osman, Barkley, Arteta and Pienaar to James. They are all pretty good players and we could do with more like them rather than less. Certainly, I'd have the equivalent of Arteta back in the team in a heartbeat.
Also, I think Osman was unfairly maligned for being something he wasn't; he wasn't Gerard or Lampard. Despite lacking the physicality of those players, he was a skilful player and in another era might have done considerably better than he did. That being said, he had a decent record for Everton, and scored some good goals.
Barkley is not a bad comparison; he perhaps lacks the finesse of James, but more than anything, like James, it has been his injury record that has held him back.
I think it's fair to say that James is our first superstar footballer in a long time and it says something about us as fans that we put so much in terms of hopes on him coming good.
Benitez moving him on is a statement of intent and one that a lot of us will be uncomfortable with. It's a bit like selling that dream car and buying something more practical; necessary, perhaps... but hardly to be welcomed.
Paul Hewitt
50
Posted 17/08/2021 at 10:54:53
Money grabbing, bone idle, lazy waste of space. Get shut of quickly.
Mark Murphy
51
Posted 17/08/2021 at 11:02:56
I can't see Diego Simeone giving James a game tbh.
Len Hawkins
52
Posted 17/08/2021 at 11:03:45
It is a situation that is totally alien and unbelievable for people who have worked for a living.
I went to work, did my job, got paid every 4 weeks. If I wanted a day off, it was subject to being sufficient co-workers to cover my work. Similarly, if I wanted certain weeks off, it was a case of trying to swap with someone.
If I couldn't be arsed doing my job properly, after a couple of warnings, I was up the road.
So how can we comment on "workers" who get three or four times our annual salary... a week and can't be arsed whether they play or not, and whilst "injured", post pics from a private jet supping champers or whatever?
I read that PSG have offered Pogba £500k a week, £2 to 2.5 Million a month to decide after a couple of weeks he doesn't like it and sits back drawing a lottery win every month.
It is a stupid crazy world that football has moved into and is totally unfathomable to 99% of supporters. You pay a month or more wages to buy a season ticket and watch arseholes on millions decide whether they want to be bothered or not... ridiculous.
David Hayes
53
Posted 17/08/2021 at 11:09:46
In the absence of real fact, speculation and presumption take over and become fact depending on whether driven by disappointment or dislike due to being let down by someone who should be true as you are to the cause.
The only real facts are Rafa has history with James – none of it positive. Benitez is an "I am the boss" type of coach with no idea how to handle the special cases that all unique talents are. So a battle of egos results.
Benitez, in answer to a question about James, said, "I don't care how many followers you have on social media, or what your name is, you are just a player."
It's got nothing to do with James's lack of desire and everything to do with Benitez's inability to manage individual personalities who need more than "You do this, when I tell you". Massive shame and waste of talent but, if that's what it takes to get the rest in line and working harder, then it must be done.
Paul Birmingham
55
Posted 17/08/2021 at 11:18:50
A damn shame as he's the only player at the club who can read the game, spot and make a killer pass and finish well.
But, if he wants away and his and Rafa's styles don't blend, as it seemed at Real Madrid, then best for all parties he leaves.
Bill Fairfield
56
Posted 17/08/2021 at 11:23:55
James is finished here. Take a nominal fee, get his wages off the books, and move on.
John Wilson
57
Posted 17/08/2021 at 11:25:08
Clearly, just like the previous manager saw Everton as a cash-cow, now we have a manager who is not influenced by reputation but sees qualities in effort, desire and commitment as essentials alongside skill.
Clearly James does not fit into that category but, as he proved towards the end of last season, is still content to add to his bank account until some other soft club falls for his perceived talents.
Bob Parrington
58
Posted 17/08/2021 at 11:25:42
The thing that gets me on this kind of subject is the amateur dramatics occurring between the player, the club and the press.
Time for some honesty rather than spin along bullshit!
Ray Robinson
59
Posted 17/08/2021 at 11:34:05
Strange how many criticise Sigurdsson, Gomes, Delph et al for being a bunch of overpaid lazy arses but are willing to give Rodriguez a free pass for being the same. I know he's a magical talent but the Premier League is not a showcase for Harlem Globetrotters. It's competitive and demands hard graft.
I don't know the full story but, in the absence of facts to prove otherwise, I tend to side with Benitez on this one. For whatever reason, he's a-draining the club of precious resources at the moment.
Rob Dolby
60
Posted 17/08/2021 at 11:51:02
Gordon 39.
Are you saying that you wouldn't want Lukaku back because he wouldn't improve us?
Mark Ryan
61
Posted 17/08/2021 at 12:12:06
The club is caught between the devil and the deep blue sea with this one.
If they see him as an asset to sell at this moment (FFP rules and all that), then they cannot play him and risk him getting injured. If he gets crocked, then we cannot sell him in this window.
It is not his decision. He is not agitating for a move, in my opinion. If we don't sell him in this window, then he will get played by Rafa and I have no doubt about that... but why play him and risk injuring him if you plan to sell him and then quickly re-invest into the team in key areas?
It would be madness. It would be akin to owning a Ferrari and taking it for one last spin whilst blindfolded before you sell it. It's too big a risk. [Only my opinion.]
Jimmy Hogan
62
Posted 17/08/2021 at 12:35:02
All this talk of his ability, fitness and attitide reminds me of a song we used to sing at Chelsea supporters in the 1970s. It went:-
"Osgood was good
Now he's no good"
Mike Allison
63
Posted 17/08/2021 at 12:42:55
This has been, and is being, handled so badly. What's wrong with: "James is available for transfer because we've got FFP issues and he doesn't suit the coach's vision. Teams are welcome to make offers. In the meantime, he's a huge talent so he'll be an option from the bench."
Or even: as above but "he won't play whilst we're inviting offers. If the deadline comes and goes, we'll use him."
The information shouldn't be coming from the player himself.
Danny O'Neill
64
Posted 17/08/2021 at 12:53:57
Players like this will always divide opinion between those who prefer the grafters and those who prefer quality. In an ideal world, you have a player of this talent who has both; Ronaldo maybe? I think that's what differentiated him from Rooney. The latter, I believe, relied too much on his ability alone. That may seem a ridiculous thing to say considering what he achieved in the game, but hopefully some will understand my logic.
On a separate note, but kind of related considering we're talking about who maybe suiters if, sadly, James is on his way out, did everyone see Barcelona's announcement of their debt? GBP £1.15 billion. And considering the ESL gang were reportedly breaking away to address that type of problem, Real Madrid and Juventus in a similar situation?
David Pearl
65
Posted 17/08/2021 at 12:55:55
Mike @63,
I agree, it's being handled badly by the club. My opinion is he should be in the squad. Why get rid of our best players?
Looking back to the game on Saturday, l thought Townsend played in a very similar fashion so he would fit in quite well with the current manager's system.
We need a right-back. If we need to first raise funds, then sell Delph and Tosun. If we don't sell Kean, then use him too. We own their contracts.
Graham Mockford
66
Posted 17/08/2021 at 13:24:03
Rob @45,
Well I'm not sure who you are referring to but one was an integral part of our greatest team where there was not a lot of room for lack of work rate.
One missed a load of games because he was a) fatigued or b) his balls hurt.
I'm sure you can spot who I'm referring to...
Graham Mockford
67
Posted 17/08/2021 at 13:27:42
Paul @46,
I'd take Osman every single day. Someone who knew what it meant to pull on the blue shirt and did so with distinction over 400 times to someone who didn't fancy playing because he was fatigued.
Frank Thomas
68
Posted 17/08/2021 at 13:28:48
Why does anyone become a footballer? Because you enjoy playing, you like to win, and you are paid very well. I am sure James will play for us again and, in his next game, he will be brilliant; ditto for Kean... why? Because, if they don't, they will not get Ancelotti's chance to improve next game? A strategy that failed miserably. They will instead be put back on the bench and another player, even a youngster who has worked very well and hard in training, will be given a chance.
Loaning players out should be for 'try and buy' and only used once in their contract period; other than that, they should be left in our training group or even training separately.
We are being played for mugs; we are buying players and, after a first unsuccessful year, they are loaned out, sometimes getting wages subbed by us – no wonder we have a £165M wage bill.
I don't blame the 'hangers on' who will drop in salary if they leave Everton, who then play for other teams displaying their talents until their contracts run down, because they have a chance to 'display' their talents on loan waiting for a bumper salary when their contracts run out. We end up getting nothing for a player we have bought.
James and Kean will soon realise they are being 'played' by agents and teams who want us to drop their price. Well done, Rafa: hold out for the correct value. Both players, if they stay, will end up with lots of goals this season. Then watch the vultures swoop next season.
One question: Why are we hanging round and not buying Hoppe for £2M? A no-brainer. 6 goals and 1 assist in 15 games in the German league.
Jason Li
69
Posted 17/08/2021 at 13:44:22
If we could easily afford it, definitely keep James. But if we can't then have to sell as footballers as an asset quickly drop from 29 years old, and we can invest in a younger player or two.
Another factor is that Richarlison is very good in the 9.5/10 role, and is brilliant defensively too. Worth keeping the Brazilian happy I reckon as he is our best player over 60 games a season.
Doucoure can get into the box no problem and is a great sight charging up the pitch as the wide players run down the wings.
If Richie plays more centrally, then another winger is needed.
But then so is another right back and back-up striker, and a commanding centre-back.
Eddie Dunn
70
Posted 17/08/2021 at 13:49:06
It's a shame the Central League has gone, I would stick Kean and James in the reserves for a couple of years.
People often say that we need players who would grace a top four club. James wouldn't get near an English top four club.
This guy had a few goals and assists last season. He usually failed to last 90 minutes and copped-out of various games. Compare him to Richarlison who grafts the full game and is world class.
James can limp off into his golden sunset as far as I am concerned. Another mercenary who couldn't give a f*ck about Everton.
Chris Locke
71
Posted 17/08/2021 at 14:06:26
IMO there are a lot short term memories on TW.
At the beginning of last season the team started off well with attacking purpose. A great deal of the creativity came from James and it saw us put lesser clubs to the sword at Goodison Park.
Then teams not only worked out and countered our tactics but we also had some injuries in key positions.
When James returned to fitness the entire game plan had changed and we were suddenly a defensive team who would look to hang on to a one goal lead.
James and players of his ilk are not suited to the mind numbing bore fest that Carlo subjected us to for the second half of last season.
I'm disappointed if its true that Rafa can't find a place in his plans for this season.
He proved against Man Utd (away) last season that he has the magic in his boots to turn a game or 3 for us.
Nothing we could buy for his wages (£6million) would get us anything near as good as James.
So unless the club have already sold him I really don't see the point of leaving him to rot.
Whatever happens James work rate and commitment to the cause were not the reason we played so sh1t so often last season. That accolade must fall squarely at the feet of Carlo who clearly (in hindsight) stopped giving a fook as he knew he was on his way.

Jamie Crowley
72
Posted 17/08/2021 at 14:18:20
This is simple, and we need to end this saga.
James is the most talented player I've seen in Blue. If people are disappointed his stay with Everton hasn't been overly successful, or they are sad they never got to see him play live and in the flesh, that's completely understandable.
It's also completely understandable that Rafa doesn't see him in his plans. He's a luxury, and very often injured. I think everyone can agree, as well, James seems to clearly not want to be at Everton since Carlo left.
It's just time to say thank you and move on amicably.
We're assembling a team of players who give 100%. I'll take that and ship out the diamonds that waltz around a lot. We're not breaking the Top 4 any time soon, so I want a team that I can get behind - one that runs through walls and leaves it all on the pitch. So for me, James leaving is absolutely no big deal at all, 'cause he ain't that type of player.
Tony Shelby
73
Posted 17/08/2021 at 14:22:59
It seems a very long time since: "Up da doffees!"
Jamie Crowley
74
Posted 17/08/2021 at 14:23:10
Frank Thomas @68 -
Hoppe would be a fantastic signing. A brilliant signing in my opinion.
He's very, very rough around the edges. He's young and doesn't have a ton of experience.
But that kid runs his ass off, has real (albeit raw) skill, and in my opinion would fit into this squad Rafa is putting together very, very well.
I'd love to see Everton "go more Brands" and start buying some of these kids before their value goes up. Why not? If we adopted an "Ajax Light" model I'd be thrilled.
Hoppe is an "Ajax Light" kind of buy.
Christy Ring
75
Posted 17/08/2021 at 14:25:12
I thought he was pure class when he did play, but when I saw the picture of him flying back to Colombia in the private Jet, before the season had even finished was enough for me. If he does go to Athletico, we'll have to give him a payoff.
Sam Hoare
76
Posted 17/08/2021 at 14:32:20
Would love to see Rodriguez playing for us and giving his all but if he's determined to leave (which seems the case) then I just hope we can get a decent bid for him.
Twitter rumours today were that we are progressed in a loan with permanent option on Frank Anguissa. 95% of twitter rumours have little in them but this could be an interesting one as it gives us a central midfielder who loves to carry the ball whilst being pretty useful defensively. Might allow Doucoure to play further forward and add more strikes like Saturday's.
Jay Harris
77
Posted 17/08/2021 at 14:34:10
My take on this is you cant blame Rafa for him going.
He obviously did not want to play for us last season, walking off the pitch saying he was injured and then saying he was unavailable through injury basically imitating Carlo by downing tools and still collecting a hefty salary while watching his team mates struggle.
I have no time for people like this no matter how talented they are and it seems the Columbia manager feels the same.
Robert Tressell
78
Posted 17/08/2021 at 14:38:45
I'm expecting him to leave for free, Sam. His contract is up in June 2022 anyway - and so a purchaser is, of sorts, doing us a favour in picking up the cost of his wages for the next year.
That's how we got him from Real isn't it?
I doubt anyone would pay a transfer fee, given his wage demands, contractual situation and injury record.
Danny O'Neill
79
Posted 17/08/2021 at 14:47:30
I wanted to let the US lads come in with the view on Hoppe.
When I've watched him for Schalke he's looked lively and he certainly seems to have an eye for goal. And that's been in a poor Schalke team as well.
Came through one of Barcelona's offshore academies in the US, of German heritage and Schalke, despite the recent slump are a massive club, so Everton won't phase him.
Only 20 as well, so potential to get better.
I'd take a punt. And sorry to go all commercial and corporate and never a reason to buy a player, but supports our US strategy?
John McFarlane Snr
80
Posted 17/08/2021 at 14:52:20
Hi all, my opinion, for what it's worth, is that we can have our say in all things Everton, but unless we have proof of events we are dealing in supposition. My take on the James Rodriguez situation is, if he doesn't fit into the Rafa Benitez plan I would be disappointed, but any football manager stands or falls by his decisions. On the other hand if James Rodriguez wants away, the sooner it happens the better, The old adage of "one bad apple" springs to mind. It's my belief that if Everton FC didn't fold when Dixie Dean, Tommy Lawton, Joe Mercer etc. left the club, then there's not much chance of them doing so, by losing James Rodriguez.
Sam Hoare
81
Posted 17/08/2021 at 14:55:23
Robert, a freebie may well be more likely. Though he's perhaps fitter now than he was and after 6 goals and 4 assists last season the club may feel that he's an asset worth keeping unless some sort of fee can be offered. Difficult to predict but given we've already shed a fair amount of wages I would think that unless a fee is offered (to help with FFP) we're better off keeping and using him for 1 more year where hopefully he'll play well in order to secure the best new contract elsewhere.
Barry Rathbone
82
Posted 17/08/2021 at 15:00:45
He just doesn't play enough it's as simple as that.
Bayern wouldn't put up with it nor Real Madrid I suspect coaches roll their eyes saying "here we go again" when he starts his "fatigue" caper or whatever the latest malady is. Before the covid absentee list came out it was odds on he would be front and centre.
Not arsed if he's swinging the lead (I think he is) he's not on the park enough and needs shifting
Alan J Thompson
83
Posted 17/08/2021 at 15:01:26
Jay(#77); I think the Colombian national coach said something similar and was proved wrong. Anyway, let's offer Chelsea a cheeky swap, James for Bakayoko, Barkley and Drinkwater then all the get rid fans on both sides will be happy.
Jamie Crowley
84
Posted 17/08/2021 at 15:12:46
Jay Harris @77 -
I side with your view of this.
Alan Thompson @83 -
If we could get Drinkwater and Bakayoko in return for James, I'd be very, very happy with that. Usually, in any deal, you want the best player. But seeing how James is out the door, that's not the case here, and those two players would bolster the squad.
Duncan McDine
85
Posted 17/08/2021 at 15:14:20
I'm struggling to understand the comments about his lack of commitment being due to Benitez not fancying him. His attitude stank the place out for at least the second half of last season… months before his Italian sugar daddy had fucked off to Madrid. I loved watching him play for us, but he decided he wanted out well before Rafa turned up, so with that in mind - he's got to go, and our new manager is quite right to keep the sulky ones (Moise!) well away from the team. Superstars or not, they've got to go.
Jamie Crowley
86
Posted 17/08/2021 at 15:16:05
Duncan -
Some will ignore the glaring obvious for talent.
Talent unrealized due to attitude and injury. Ergo, near worthless.
He wants out, get whatever you can for him on OUR terms.
Robert Tressell
87
Posted 17/08/2021 at 15:25:11
Sam - he could join Gonzalo Higuain, Ryan Shawcross and Keiran Gibbs at Inter Miami! I'm sure the local Colombian community would love it.
David Pearl
88
Posted 17/08/2021 at 15:32:53
Drinkwater? Someone been on the Drinkwine again? How many more players must we sign only to give them away for free?
Alan J Thompson
89
Posted 17/08/2021 at 15:38:10
David(#88); The point is that Chelsea are trying to unload the three players for the same reason people are saying they want James gone. If you get them for free you just have to make sure the necessary "get out" clauses are in the contract that is if the Manager doesn't fancy them.
Michael Lynch
90
Posted 17/08/2021 at 15:57:54
He's a classy player, but if he's as good as some on here seem to think he is, why don't Chelsea, Man City, Man United, Real, Barca, the two Milan clubs, or even Arsenal come in and make us an offer?
The fact is, no major club in Europe wants him. Not even clubs at our level want him.
So, yes, I'd love to have seen him play at Goodison, but it's not like selling Lineker to Barca or Lukaku to Man Utd or even Barkley to Chelsea. Nobody else wants James.
James Newcombe
91
Posted 17/08/2021 at 15:58:37
Drinkwater? That is one of the worst shouts i've seen on here. What a decline he has had.
David Hayes
93
Posted 17/08/2021 at 16:03:00
James#72
"Diamonds that waltz about" ?. Players who run through brick walls ect. Clod hoppers you mean Stoke City as was. No quality just brute force and ignorance. What James does in one pass is more productive and enables avenues of attacking play that gets you goals consistently. The fact he doesn't have to break stride or break sweat to do it is a massive asset worth 5 of your clod hoppers.
Steve Brown
94
Posted 17/08/2021 at 16:06:34
Let's get the facts right on James.
1) He is the best player in the squad.
2) Excluding the Nameless One, he produced more goals and assists in 26 games them the rest of our midfielders combined.
3) His attitude didn't stink in the 2nd half of the season, he was injured as confirmed by Danny Donachie and the medical team.
4) He didn't ask to leave or state he doesn't want to play, he was told that he was surplus to requirements and excluded from the squad.
5) He is evidently a popular guy in the squad as evidenced by the training coverage from Florida.
6) He returned to training on 1st day back and has trained properly ever since.
By all means, if he is not the right profile for how Benitez wants the squad to play, then make that point. But please be factual.
Chris Locke
95
Posted 17/08/2021 at 16:09:56
Many on TW talk about a lack of ambition at Everton and why don't we sign this player or that. Then, we finally get a player who has the X-Factor and supporters pan him for being injured whilst questioning his commitment to the cause.
What is this based on? Articles from the RS-loving media that we all know is full of shit. On top of that, no-one knows the dream he was sold before coming here.
Have none of you ever been sold a great job only to find out the company was a complete car crash and not how you imagined and you can see no option but leaving asap. I admit that being paid several million pounds would soften the blow but still he's just a man with wife and family.
I can however guarantee that no-one suggested to come for a few good games followed by a season of 10-behind-the-ball, backs-to-the-wall, mega-boring, directionless and spineless football.
Now of course the opinion by many could be right and he may have downed tools because he's an overpaid work-shy mercenary. Personally I'd like to think the best of an Everton player and would love him to stay and play.
Surely the chance of genius from James for 15-25 games in a season is better than 50 games of mediocrity from Gylfi and Co.
This is all of course just my opinion and not an attack on anyone or their alternative. Different strokes for different blokes and all that.

Chris Locke
96
Posted 17/08/2021 at 16:15:16
Very well put Steve @ 94.
Wish I'd read your post before spending 30 mins writing an essay that no one will read
Graham Mockford
97
Posted 17/08/2021 at 16:16:10
Steve 94
You seem to be confusing facts with opinions as other that 2) where you quite rightly point out he was our second most effective midfield player in relation to assists and goals everything else is just conjecture on matters you could not possibly know for sure.
David Pearl
98
Posted 17/08/2021 at 16:16:18
Chelsea have so far sold fringe players for around £80M. Our fringe players generally go for £2M... if anything at all. Actually not only did we give Walcott away for free we paid for Southampton half his wages for last season. Its painful.
You don't make any leap forward getting rid of your best players. Surely Brands could have used his influence to have gotten Dumfries for the £12M Inter paid for him. Are we that scared of FFP? Who is the second choice having missed out on him?
I'm guessing we have to wait for deadline day to see deals for James, Kean, Delph and Kenny go through as we then scramble to add to our own squad. Then again we don't need any squad players, we need a couple starters, as in a forward and a right back. Still.
Bill Gall
99
Posted 17/08/2021 at 16:22:42
We as supporters want to see a winning team and the difficulty in the premiership is it is one of the most competitive leagues in Europe, and to have a player with the skills that Rodriguez has you have to have a team with the skills to assist him and Everton don't.
He would look good in a team like City with flair players around him but in a team that for this season want to improve from last season with a manager who believes it will be achieved with hard work and fitness, a player like Rodriguez may only be used as a sub or considered expendable.
It seems all the comments are coming from him and until we see the club say they are willing to let him go, or have received an offer for him I hope he stays.
David Pearl
100
Posted 17/08/2021 at 16:39:42
Bill, l think the way Rafa set us up is perfect for him with Dom, Richy and Gray... along with a freer Doucoure and us playing a higher line. Seems though that a decision has been made to use his wages to pay for another right back. Makes no sense to me. Brands has been pretty poor off the back of Walsh.
Matthew Williams
101
Posted 17/08/2021 at 16:51:37
No player is bigger than our club, he wants away too... then go.
Personally I'd rather have Insigne and hope that he wants to play in the Premier League and settles in and starts to really enjoy playing for us and hopefully win things with our club.
Ian Bennett
102
Posted 17/08/2021 at 16:56:48
There are apparently over 40-50 high earning players that clubs can't give away for nothing, it was quoted the other day.
There is clearly a big log jam of clubs trying to shift players on like Delph, James, Coutinho, Umtiti etc.
Could be some last minute amazing free transfers and loan deals, just to get players off the books.
Ray Robinson
103
Posted 17/08/2021 at 17:04:39
Agree Ian. A massive fire sale about to happen this transfer window. Perhaps some amazing last minute bargains to be had?
Dave Abrahams
104
Posted 17/08/2021 at 17:11:30
Ian (102),
I agree with that completely, I think, just my opinion. Everton will be glad to let him go for free, just to get his wages off the books. I doubt very much if any club will pay money to sign James. The problem will be James finding any club willing to pay him more wages than he is getting at Everton, so he will be here for another season and fans will be delighted, upset or couldn't give a Donald Duck.
I think his wages could be used on a player who wants to play for the club and is committed to playing for 90 minutes every week, another bargain like Godfrey, but we may not be able to afford him at the moment.
Tom Bowers
105
Posted 17/08/2021 at 17:18:21
We need players who are totally committed on the field and James, talented as he is just doesn't seem to fit the bill.
Everton must have a huge wage bill especially for players who are not active so it's possible there will be some movement soon with a few of them.
With many clubs wanting to get players on loan only it could be a stumbling block with the likes of James who must be earning big money.
Anyway I am only interested in the next game and the lads who will be involved. Leeds will still be smarting from the Manure debacle so it will be a tough game for the Blues but aren't they all ?
If the defence can cut out the errors then they can get the rewards.
Mike Gaynes
106
Posted 17/08/2021 at 17:21:11
Jamie and Frank, Hoppe is still valued by Schalke at $10 million, not $2 million. That number will come down as the end of the window gets closer, because Schalke has no choice but to sell him. However, Newcastle appears to be first in line for him when the price is right.
Bill Gall
107
Posted 17/08/2021 at 17:22:00
David
I don't agree as that would mean dropping Townsend and that means there would be no coverage for Coleman and, that has been proved before as James is not good at covering for the right-back if he goes up field.
We still need strength in the midfield as well as a right-back, and at the moment the team is going to be players with fitness and stamina that will play into the system the manager sets up.
As much as we would like to see James produce some of his, skills this manager has been hired with a lot of restrictions financially and has to get results with the squad he was given, and sell to buy, and maybe he believes to buy the player he wants he has to sell players who have proven are not very reliable.
Robert Tressell
108
Posted 17/08/2021 at 17:25:11
It'd be great to get Hoppe and a new RB. Could be a very hectic close to the transfer window.
Dale Self
109
Posted 17/08/2021 at 17:36:13
Given last week's performances I wouldn't give him a start anyway. I get the sentimentality for the talented one but we need mentality and a decent amount was on display in the second half last week. Same 11, would have put him on the bench but not fussed about this bit of drama.
David Pearl
110
Posted 17/08/2021 at 17:39:06
Bill, l think one of the problems James had was having to go deep and move around to try to get himself on the ball so yes he would sometimes leave the RB exposed. If we play that higher line l think it would help him. Anyway, we shall see what happens. Two long weeks to go. I was thinking we might overachieve a little this season but its an even tougher league this time around.
Ian Pilkington
111
Posted 17/08/2021 at 17:58:30
Those who are happy to get rid of James overlook the fact that no club is going to be willing to sign him either on a free or on loan and continue to pay him the same salary as his current contract.
We will therefore have to resort to paying at least half of his salary until next June if he is going to move elsewhere. Surely it makes far more sense to make use of his enormous talent for the remainder of his contract, even if like last season he plays in only 20 games?
Tony Abrahams
112
Posted 17/08/2021 at 18:01:22
The difference of opinion on this subject of James Rodriguez swings the full 100%!
Quality in spades, but neither the energy or the inclination to do the dirty work, which tells us as much about the manager who deserted us, and the manager who was desperate for the job?
Carlo, gave Rodriguez, Carte-Blanche, but I doubt this even exists in the footballing ideology of Rafa Benitez?
I know which one I prefer, and a little thought entered my head reading this very interesting thread, because Everton seemed clueless when they played without Rodriguez in a lot of games last season, and when he did play, it was "mostly" about letting James do his stuff, (it worked sometimes) and looking back it's possible that these instructions/tactics, stopped some players thinking for themselves? (Some can't even do this, I know!)
Michael Burke
113
Posted 17/08/2021 at 18:07:45
It beggars belief subsidising the salary of a loan player who has no future at the club. I'm not necessarily talking about James here. Ian #111 makes an excellent point about use him rather than pay someone else to benefit from him.
Why did we pay Southampton last year for Walcott? Subsidising should only be used for players who are going out on loan to gain experience for the betterment of EFC in future years.
Stan Schofield
114
Posted 17/08/2021 at 18:09:29
It's amazing how people are over-excited about one game after the Southampton win, and an apparent sycophantic attitude to Benitez. Both are way too premature. This time last year Rodriguez was the golden boy, Ancelotti was apparently a genius on ToffeeWeb, and we were playing open attacking football, going on a record points start to a season.
Some need to get a grip in their enthusiasm and naivety in wanting to ditch individuals like Rodriguez, and their premature positivity about Benitez.
We need a squad with variety and strength in depth to cater for very different styles of opponents, and to cater for injury problems which Everton have been having for a long time.
Everton have a record of raising us up then letting us down, through a succession of managers and different teams. So be careful in thinking that Benitez's style, whatever it is from game to game, will solve our problems, or that ditching players like Rodriguez will solve our problems.
Mike Gaynes
115
Posted 17/08/2021 at 18:14:42
Steve #94, that says it for me!
Andy Crooks
116
Posted 17/08/2021 at 18:18:31
James at his peak would never have been near our club. We took a chance that there might be a bit left. There was, but we all missed it.
I wish he had played in front of a full Goodison Park. It is just so sad that he didn't and won't. Bold gamble that failed.
Rafa should have given the dice another throw, in my view, but he pretty much just represents the Carlo era. Did that really happen?

Frank Kearns
117
Posted 17/08/2021 at 18:19:33
Who's decision is this - his, or Rafa's?
Stan Schofield
118
Posted 17/08/2021 at 18:23:50
Steve @94:
Good post, too many on ToffeeWeb are busy expressing opinions without having the facts. No wonder the news media gets away with peddling shite, it seems that that's what a lot of folks want.
Christy Ring
119
Posted 17/08/2021 at 18:29:29
Alan #83,
Bakayoko's and Drinkwater's careers havegone downhill, both on massive contracts, and Chelsea can't get rid of them. We have enough duds on big contracts. Danny was on loan at Burnley, sent back by Dyche for off-field problems, on loan at Villa, sent back by Smith for headbutting a teammate in training?
I always liked Ross, but couldn't see him coming back, maybe Zouma?
David Pearl
120
Posted 17/08/2021 at 18:35:59
Frank, l believe Rafa said he talked to James when he got back and told him 'his thoughts' and that he would try to find a solution... so we can probably figure out what that means. He wants to use his salary to bring in other players as it appears we are not looking to break FFP and bring anyone else in before we find him a home.
We have his contract so should use him until an acceptable offer comes in. We got a few off the wage bill already, and finally Sandro! Perhaps if we hadn't spent £50M on paying off failed managers we'd be in a better position. Or if we wrote into Carlo's contract that he could walk away for nothing.
Michael Connelly
121
Posted 17/08/2021 at 18:50:00
The only place on the pitch for James is in the No.10 role, where any damage from him not being able to defend, is limited. Arguably, there is still a role for him in that position given his stats from last season and particularly with Gylfi out of action for the foreseeable.
However, it is apparent that Benitez doesn't see enough value in him, particularly as he is as soft as sh1te. I imagine Rafa has someone else in his head to bring in for that position before the summer is out, which will no doubt see James being shipped out of the club.
Barry Hesketh
122
Posted 17/08/2021 at 18:52:24
If James wants to leave Everton of his own accord, then fine, he can leave. If Benitez believes that he can get a better work ethic, team spirit in his team, by James leaving, again that's fine by me. Would I prefer James to stay, of course, I would.
Benitez is being paid to make decisions, some we'll like, quite a lot we probably won't, but if he can continue getting positive results with Everton generally playing closer to what we'd like to see, then he'll be proved correct.
We don't know the background or the details surrounding James and we'll probably never know, it's just a pity, he hasn't been able to witness what a full Goodison looks like, during his time with Everton.
I understand people saying we shouldn't get carried away by one performance, but come on, after the year that we've witnessed since January at Goodison, it was a welcome relief and a joyous day last Saturday and it should be enjoyed. I'm sure we'll have enough bad days to be critical and miserable as the season unfolds, which is why we should be happy when the team puts in a good performance and emerges with the three points.
Stan Schofield
123
Posted 17/08/2021 at 19:04:35
Barry@122: Spot on, we should enjoy Saturday's result fully. But some folks are getting a little carried away. It's one thing enjoying a fine result, and quite another to extrapolate from it in drama-queen fashion, ready to get rid of certain players at the drop of a hat and based on inadequate information. Balance is the key.
Brian Harrison
124
Posted 17/08/2021 at 19:05:49
Just seen a clip on twitter presumably put out by Everton and basically they ask all the first team squad who is the most skilful player in training. A few said James but the vast majority said Alex Iwobi, so he obviously does things on the training ground that he doesn't do in matches.
Darren Hind
125
Posted 17/08/2021 at 19:08:29
I remember standing on the Goodison Road terrace when Sandy Brown made such a full-blooded tackle, his momentum took him clean over the wall. He flew through the air and landed with such a thud by our feet, He lay motionless for a few seconds. I thought he was dead... at the very least.
Then he jumped up and was back in position before the Burnley player could even take the throw in. "Fucckkenell" I thought, "This fella's a monster."
I'd already started to play grown-up footy and harboured ambitions of being a pro footballer myself. This was as close to the pitch as I had been. I was white as sheet "Is this how hard you've got to be?" "Dont worry" said me uncle..."They're not all like Sandy." Thank the lord he was right.
Only then did I fully realise that even pro players came in all shapes and sizes.
James is no Sandy Brown; it's difficult to imagine two top players being so far apart in the way they approached the game. James had more skill in his bootlace than Sandy... but Sandy would have been more sought-after than James is now.
We all love to purr when we see people play like James in full flight, but very few top managers will trust fragility. James is fragile. The queue to sign him will be about as long as the queue to sign him last year.
I don't see any takers. Not credible ones anyway. That could be good news for those who so desperately want him to stay. Rafa will not deprive himself of a role of the dice when he is in the shit. We may get the best of both worlds – a new, more combative team... sprinkled occasionally with Columbian Stardust!
Graham Mockford
126
Posted 17/08/2021 at 19:37:02
Darren
And of course the greatest oggie ever
Stan Schofield
127
Posted 17/08/2021 at 19:37:16
Darren, you're right, he is fragile, as many players are, mostly lesser ones, evidenced by injuries. But more pointedly, Everton are fragile, and have been for too long, influenced by a terrible lack of quality and a readiness to ditch quality when we do have it. Everton's fragility comes out in the attitude of many posters on this thread. We are so unused to quality, it seems it's in our makeup to reject it eagerly.
Graham Mockford
128
Posted 17/08/2021 at 19:44:01
Stan,
That's utter nonsense. It's the fans' problems that the team are fragile? Do me a favour.
Opposing teams realised that James doesn't like physicality and actively targeted him all season long. For fuck's sake, the lad didn't play because he had sore nuts.
James Flynn
129
Posted 17/08/2021 at 19:53:17
Brian (124) - Thanks. I went and found the link:
Link
.
In addition to those two players, I counted 5 calls for Demarai. So, hopefully they translate that onto the competitive pitch.
All three at once would suit me. Attack, attack, attack. That's part of defending too.
Mike Gaynes
130
Posted 17/08/2021 at 19:53:20
Darren #125, that would be my guess too. It certainly seems like he's not going anywhere soon. And sooner or later he'll play. Rafa is a lot of things we don't like, but stupid isn't one of them. He may not want James, but when we're a goal down in the 70th minute and he looks down the bench to see him sitting there between Davies and Gordon, he's going to make the call.
Stan Schofield
131
Posted 17/08/2021 at 19:53:23
Graham, Everton are fragile, and too many Evertonians seem willing to accept the mediocrity on which much of this fragility is founded. That is especially true of many posters on ToffeeWeb.
Ray Robinson
132
Posted 17/08/2021 at 20:04:57
So Stan, your solution to this fragility is to play the most fragile player of them all?
Graham Mockford
133
Posted 17/08/2021 at 20:06:58
Stan
I don't think many accept mediocrity but I am genuinely surprised when some fans place a player on a pedestal on the back of 20 odd games where he did some decent stuff, did some bang average stuff and didn't really appear to fancy it very much. Especially when I hear comments like 'the best PL player in our history'. I mean I know we haven't achieved much in 28 years but I could name 20 players who've been better without breaking a sweat.
He is a bit of an irrelevance. We should be playing to the strengths of Richarlison and DCL. High tempo physical football is the best option because if we try to play possession football we will always come up short against sides that can afford to buy the best footballers.
And also as Darren points out James wouldn't get near a top side
Andrew Keatley
134
Posted 17/08/2021 at 20:17:15
Who needs James*? According to a video the club just put out asking pretty much the entire first team squad who was the most skilful player in training the overwhelming answer was…
Alex Iwobi
Yup - more skilful than James. Demarai Gray got a few mentions too.
* I'm not really suggesting Iwobi can actually replace James, but it's good that his team-mates have such belief in him. And maybe there is a world in which he can replicate some of that training ground form come match-day…
Tony Abrahams
135
Posted 17/08/2021 at 20:22:07
Thanks for that link James, and how interesting that a player who most people don't rate, is considered the most skilful by a lot of his teammates.
My own guess is that Iwobi, has got no real confidence in himself when playing out wide, and maybe if he could up his desire, and start to really believe in himself, then he could become a very good player, in a more central position?
Graham Mockford
136
Posted 17/08/2021 at 20:25:54
Tony,
The only problem with that is I don't see us playing with a No 10 under Rafa. I think we've got a lot of 4-4-2 coming our way.
Stan Schofield
137
Posted 17/08/2021 at 20:25:59
Ray, we had fragile players when we were great. The greatest team of them all in the late 60s had players with disruptive injuries. It was common to have to modify the team list in the programme before a game, because of injury. We didn't get rid of them, but substituted and coped with the injuries. In the modern game, we need strength in depth to cope, which we've lacked.
Strength in depth includes the flexibility to have different options to cope with injuries and the styles of different opponents. We can't do that effectively without players of high quality. We need the likes of Rodriguez, complemented both by others of his quality AND more physical players of a different style.
Rodriguez in himself is not the answer to Everton's problems, but he and his ilk are more likely to help solve these problems than relying on the lower flexibility options of a more workmanlike approach by itself. The top teams have this flexibility, and we need it to progress.
Robert Tressell
138
Posted 17/08/2021 at 20:26:30
Totally right Graham - high tempo physical football is what we need. And we need to recruit players with the physical characteristics to play that way.
We can't (yet) match the quality of richer clubs, so we need to match them at least physically.

John McFarlane Snr
139
Posted 17/08/2021 at 20:29:13
Hi Graham [126] I don't know what your reason is for posting the link showing Sandy Brown's own goal, I stood behind the Park End goal that day and as I saw it, if he hadn't made the effort to clear, Bobby Graham would have had a great chance of scoring. I think that you are being disrespectful to Sandy, I remember him as a player who played in numerous positions for Everton, including goalkeeper, any one can score an own goal, not many can be relied on to give his all in various positions.
David Currie
140
Posted 17/08/2021 at 20:29:33
Graham 133, Good post and better that James leaves but not sure there will be any takers as no club will pay his high wages. Maybe Beckham at Inter Miami would have him and there he would have lots of fans behind him.
Bill Gienapp
141
Posted 17/08/2021 at 20:31:24
I've yet to see any evidence that James is the one hellbent on a move - if that was the case, he almost certainly would have concocted an excuse to get out of the Florida trip and just lay low while his agent sorted out his options. I suspect it's a combination of Rafa not being particularly keen on him, the board being all too happy to shed salary, and James himself being generally indifferent about the whole thing - fine to stay, fine to go.
People can question his durability and reliability all they want. It doesn't change the fact that he contributed more than 90% of the squad last season.
As I've said before, we can't (and shouldn't) be building around him, but the idea that we have no use for him, or that we're better off without him is nonsense. The second half blueprint against Southampton is all well and good, but if you don't think we're going to need genuine midfield creativity at some point this season, you're nuts.
Tony Abrahams
142
Posted 17/08/2021 at 20:33:03
I never saw a 4-4-2 on Saturday, Graham, but I might be wrong because some other people did?
I saw us pushing four up front at times when Pickford, was ready to kick it long (4v4 once, which was very refreshing!) but I thought both Gray in the first half, and Richarlison in the second, played in between the midfield and Calvert-Lewin, and maybe this is a role that might also be suited to Iwobi, at some stage this season?
Stan Schofield
143
Posted 17/08/2021 at 20:34:51
I'm sort of gasping in astonishment at the moment. Last season on ToffeeWeb, Rodriguez was hailed for his style and effectiveness, whilst Iwobi was constantly criticised as a waste of time. Despite all of that, it now seems that Iwobi, after one game, is being talked about positively whilst the same folks want to ditch Rodriguez.
This fact alone illustrates the ridiculous nature of some of the negative Rodriguez comments on this thread. Especially so when allied with the reliance on assumptions rather than facts by many posters. It's fucking surreal.
Tony Abrahams
144
Posted 17/08/2021 at 20:46:50
It's me who is talking about Iwobi, Stan, because of what his fellow teammates have said about him. Let's face it the lad has been mostly very poor since he came to Everton, but when you hear his teammates talk about how skilful he can be, then I'm just suggesting that maybe he's been getting played in the wrong position since he arrived at Everton.
You can feel the exasperation coming off the page on some of your posts Stan, but post 137, explains your reasoning best, but please don't for one minute think that I'm calling for Iwobi to play, more just suggesting that he maybe could become a good player for Everton, but never out wide where he has offered very little.
Ian Burns
145
Posted 17/08/2021 at 20:47:06
If Iwobi is supposed to be one of the most skilful players at Finch Farm, then I am surprised because I have not personally seen it on the pitch, even occasional glimpses of him when playing for Arsenal.
It can only be a complete lack of confidence which one would hope would be built up in short shrift by Benitez.
My point being if Iwobi steps up to the plate, as much as I would love James to stay, we may well have a ready made alternative – he has just been hiding behind a lack of something in his mental fortitude.
Incidentally, I am not making out Iwobi is another James – far from it!

Daniel A Johnson
146
Posted 17/08/2021 at 20:47:49
Given the wages his contribution and attitude at times has been severely lacking.
Unfortunately yet another player we will ship away and prob still have to foot 50% of his wages.
Graham Mockford
147
Posted 17/08/2021 at 20:59:14
John 139,
Certainly not meant as disrespect, he was a great Evertonian. His penalty that won the Borussia Monchengladbach game will always be remembered.
It was in hindsight a funny own goal, even if it didn't feel so at the time.
Mike Gaynes
148
Posted 17/08/2021 at 21:01:41
Ian #145, skill in training does not necessarily translate to effectiveness on the pitch, as we've seen with Iwobi. We've certainly seen some slick dribbles and sharp short passing from Iwobi, but he can't shoot or make good decisions under pressure, which aren't "skills" that dazzle teammates in practice.
I once played with a guy who could juggle the ball 200 times. He looked dazzling on the sidelines before the game. Absolutely sucked when the whistle blew.
By the way, for anybody who's bored this evening, you might want to click into the German Cup match. Bayern and Dortmund are putting on a great show.
John McFarlane Snr
149
Posted 17/08/2021 at 21:03:47
Hi Tony [142],
I suppose that I can be considered as a dyed-in-the-wool dinosaur. When I attend games, I see 11 players on one side trying to beat 11 opponents. Formations such as the Diamond and Christmas Tree pass me by. I suppose that over the years I have witnessed many false Number 9s without realising it, but I can't come to terms with the Number 10 situation.
We used to describe footballers by their positions, for instance players wearing the number 8 or 10 shirts were either defensive or attacking wing halves, later to become mid-fielders.
As for stats I have no interest in how far or fast a player runs, or how many passes or tackles they make, I believe I know enough to appreciate whether a player has had a good game or not.
Stan Schofield
150
Posted 17/08/2021 at 21:04:09
Tony @144: I wasn't really thinking about your posts, but the general positivity about Iwobi (after one game and some training comments) compared with a lot of very negative comments about Rodriguez (following a successful impact last season despite injury problems after being deliberately clattered by the thug Van Dijk) is remarkable. And laughable.
Andy Crooks
151
Posted 17/08/2021 at 21:04:23
Stan,
I rate Iwobi highly and want to keep James. Either of them in the No 10 role will give us more than crosses (though crosses are great).
At first James or Iwobi seems a bizarre selection dilemma. If James goes, then Alex it is.
Jim Jennings
152
Posted 17/08/2021 at 21:05:54
"For fuck's sake, the lad didn't play because he had sore nuts."
Graham,
You've mentioned that twice now on this thread. You have absolutely no idea of the severity or seriousness of that injury. It is about as dumb and reductive as saying that Christian Eriksen missed a few games with a pain in his chest.
Mike Gaynes
153
Posted 17/08/2021 at 21:06:25
Andy... Colin Glassar is on his way over to your house. With a big bag of rocks. Cover your windows.
Graham Mockford
154
Posted 17/08/2021 at 21:06:48
Stan,
Let me help you: we should get rid of both.
Graham Mockford
155
Posted 17/08/2021 at 21:08:40
Jim,
It's clearly not, one collapsed and nearly died, one had sore nuts.
John McFarlane Snr
156
Posted 17/08/2021 at 21:11:53
Hi Graham [147],
Apologies for misinterpreting your post, my response was because I thought you were poking fun at Sandy, once again my apologies.
Graham Mockford
157
Posted 17/08/2021 at 21:16:20
John,
No problem at all, I'll always remember him because when I was five my dad gave me a shilling for reciting the Everton team by shirt number:
West Wright Brown Kendall Labone Harvey Husband Ball Royle Hurst Morrissey
And 51 years later, I can still do it!
Tony Abrahams
158
Posted 17/08/2021 at 21:17:02
Ian@145, I have written on these pages before that I thought Rodriguez had more confidence in Iwobi than Iwobi had in himself at times.
Rewinding to the goal he scored at Wolves last season, I thought that was very skillful, especially because he did something that not many Everton players can do, which is to follow their pass, and this if it's done often enough, becomes a really great skill imo.
It obviously comes down to desire, and the more fight that any player shows, then the more the crowd gets behind him, and this is a lesson that I personally hope that every Everton player adopts this season!
Oliver Molloy
159
Posted 17/08/2021 at 21:22:59
I think he will end up a deadline day signing for Leeds and set the place alight like their former player Cantona did for Man Utd and we will all be scratching our heads wondering "What The Fuck!"
Don't be surprised if it happens.
James Flynn
160
Posted 17/08/2021 at 21:26:16
"I saw us pushing four up front at times when Pickford, was ready. . . . . "
Interesting that. I'm sure I saw Holgate forward a couple times. But he's done that before.
Folks commented on Doucoure up in the attack. It was Keane all the way forward and shooting had me wondering, "What's he doing way up there?"
Maybe (And I hope) Rafa has told them all to go if they see a chance and it's their teammates' responsibility to cover for them. The more attacking threat you can deliver, the better.
I had time for Don Carlo, but he's the reason we're not in Europe this season. His Tony Pulis impression got us where Pulis got Stoke; nowhere.
Mike Gaynes
161
Posted 17/08/2021 at 21:26:23
Off-topic, but I could have sworn Jags had retired a Blade last spring. Now I read that he signed for Derby. He's gonna play for Rooney!
Ian Burns
162
Posted 17/08/2021 at 21:27:44
Tony,
Mike at 148 doesn't appear to have a great deal of faith in Iwobi and I have respect for his opinion. I likewise respect many of your observations, so my question is – without making comparisons with James – does Iwobi have any hope of making an impact with us?
In my own opinion, I believe Carlo Ancelotti has a great deal more to answer for, other than just seemingly leaving us in the lurch. I truly believe he sucked a great deal of confidence out of any number of our players, including Iwobi.
Tony Abrahams
163
Posted 17/08/2021 at 21:28:41
Have you read about the training sessions that Leeds do, Oliver? I thought they were gonna come in for Delph, because he'd played for them before, but then I saw them play, and realised it's obvious you can't play for Bielsa if you're not prepared to run, which obviously rules out both our choices!
Graham Mockford
164
Posted 17/08/2021 at 21:33:24
Oliver,
There is more chance of Liverpool coming in for Pickford than Leeds taking James.
Tony Abrahams
165
Posted 17/08/2021 at 21:38:23
I doubt it Ian, but not because of a lack of ability, (I think Iwobi can get his head up, because it's probably the first thing they learn you at Arsenal?) but more because I think he lacks real desire.
That observation about Ancellotti, is something I suggested before Ian, because most things went through Rodriguez, when he played, and Ancelotti often went to a 4-4-2, when Rodriguez never played, and this never suited us at all.
Darren Hind
166
Posted 17/08/2021 at 21:40:25
John and Graham,
I wonder why his own goal against Liverpool is remembered so much? There where others who had that dubious distinction (Wright, McCloughlin, Lyons).
Why does nobody ever talk about the time Sandy sealed a game against "them" by scoring in the right end?
James,
One of the features of Saturday's games was how many men we were prepared to push forward when we attacked. I wasn't expecting that from a Rafa team. obviously it's risky... but long may it comtinue.
Graham Mockford
167
Posted 17/08/2021 at 21:46:57
Darren,
I think it's just the way of things, it was a pretty iconic own goal. Walk into a pub and ask any group what they remember about Sandy. Pound to a penny, 3 in 4 will mention the own goal.
Doesn't detract from the fact he was a great Everton player.
I mean if I said what's the first thing you think about when I say Barry Horne? It's obviously his 30-yard screamer against Wimbledon. But that doesn't represent his strengths or his career at all.
Stan Schofield
168
Posted 17/08/2021 at 21:54:53
Darren, a red mate recently mentioned that own goal when I mentioned Sandy Brown. I told him it was unfortunate, because Brown was fantastically skilled, and as you've said, hard as nails, being able to play in any position. He was often pencilled in when there was an injury in the lineup West, Wright, Wilson (then Newton), Kendall, Labone, Harvey, Husband (then Whittle), Ball, Royle, Hurst, Morrissey.
I told him that Gerrard is often known as Slippy G, despite all his great performances for Liverpool. I think it shut him up about Brown.
Anyway, the point about Brown is directly relevant to the discussion about Rodriguez and a need for strength in depth. We currently lack the latter. In the late 60s, we had strength in depth. We had a reserve team that were '1st team ready', and the total of that plus the 1st team was effectively a 1st team squad analogous to today's squads.
But it was a strong squad, and that's what we need now. Just like we had Harvey who could be replaced by Buckley when injured, so we now need the likes of Rodriguez who can be replaced by 'fill in the blank' when injured.
Graham Mockford
169
Posted 17/08/2021 at 22:03:46
Stan,
I think you are quoting our 69-70 Championship winning side. Ray Wilson never played in it after suffering injury. Keith Newton was bought to replace him but it was mostly Sandy Brown at left-back that season.
Whittle of course played a very important role.
Darren Hind
170
Posted 17/08/2021 at 22:05:43
I get that. The fact that the own goal was shown at the start of MOTD for a couple of seasons went a long way to perpetuating the image of the "greatest own goal"... Even back then MotD was produced by Kopites.
But in 1966 we were leading Liverpool at Goodison. Truth is, we were on the rack. Fred Pickering had to come off and Harry Catterick had no hesitation in sending Sandy up front for a "straight swap" He duly obliged by scoring our third and settling the match.
Never gets a mention.
Graham Mockford
171
Posted 17/08/2021 at 22:16:06
Darren,
I'm not denigrating Sandy, top player.
But unfortunately for him for whatever reason it will always be remembered.
Even my Evertonian sons know him because of Danny Baker's Own Goals and Gaffes.
It would be worse now, of course, with social media, he would have world wide notoriety.
Oliver Molloy
172
Posted 17/08/2021 at 22:21:01
Graham,
I heard that Pickford contacted Van Dijk after his brilliant challenge and Van Dijk told him to fuck off.
The derby will be interesting with these two meeting in the box.
Dave Abrahams
173
Posted 17/08/2021 at 22:22:17
Darren (170), I think that was the game Alan Ball scored the first two goals and Sandy got the third, a header, he wore a shirt with no number as the substitute.
Sandy was a good solid no-frills full-back who gave his all in every game he played for the Blues, did he score one of the penalties against Borussia Moenchengladbach in the first-ever penalty shoot out in the European Cup?
Graham Mockford
174
Posted 17/08/2021 at 22:27:36
Dave
He scored the winner
Apart from Rankin saving the last penalty.
Dave Abrahams
175
Posted 17/08/2021 at 22:31:01
Graham (174), I was just about to apologise, I never saw your post at (147), didn't realise it was the winning penalty, thanks for the link.
Andy Crooks
176
Posted 17/08/2021 at 22:38:51
Oliver, I think Jordan needed stronger antibiotics.
Andy Crooks
177
Posted 17/08/2021 at 22:40:16
Sorry, misread "contacted".
Stan Schofield
178
Posted 17/08/2021 at 22:41:05
I always thought Sandy Brown had tremendous composure in any position he played. Very reliable. That's why the own goal thing is very ironic.
I remember reading Howard Kendall's book 'Playing for Everton' in the late 60s. He said that Brown was a tremendous athlete, and in many ways the ideal footballer.
Dave Williams
179
Posted 17/08/2021 at 22:44:15
Stan, that team was before Mick Buckley's time. The replacement for Harvey was Tommy Jackson who also filled in for Ball (until Whittle came through in 1968) and Kendall.
The strength in depth was not great in numbers – we had Darcy, Kenyon, Brown, Rankin, Whittle and Jackson and I am struggling to think of more. The big thing was that those players would all play anywhere for the club and were good enough wherever they played.
A marvellously skilful side and very tough boys too – they would have beaten Howard Kendall's team, in my opinion.
Graham Mockford
180
Posted 17/08/2021 at 22:49:14
Stan,
Trust me 69-70 was mostly:
West Wright Brown Kendall Labone Harvey Husband Ball Royle Hurst Morrissey
I got 5 Lucky Bags on the back of it.
Oliver Molloy
181
Posted 17/08/2021 at 22:52:56
Brilliant, Andy, laughing my balls off!
Dave Abrahams
182
Posted 17/08/2021 at 22:53:15
Graham (157), what a great team that was, with six of them costing nothing, Johnny Morrissey stolen from Liverpool for buttons. West, record signing for a goalkeeper at the time I think., Sandy not a lot, £28,000? Alan Ball a record fee and Kendall pricey at the time, sadly we should have won a lot more with that talent.
Bill Gienapp
183
Posted 17/08/2021 at 22:56:10
Iwobi certainly isn't bereft of ability. He has on-the-ball skill, and he's a good dribbler. As Mike said, his issue is end product and decision making. Plus, he seems to wilt when the going gets tough, or at least he looks as if he's playing scared.
Dale Self
184
Posted 17/08/2021 at 22:56:42
Ay, Barry Horne getting a mention in the old timers' review, I love it.
Graham Mockford
185
Posted 17/08/2021 at 22:59:38
Dave
I was never lucky enough to see that team. I was 5 when we won the league but I did get an Alan Ball painting for my birthday and a pair of white boots for Christmas when I was 6.
Fortunately I was 18 when Howard's team ruled Europe, saw it all. Appreciate there are many on this site who never got to experience such great times.
That's why this James is a great Everton player gets my goat.
Oliver Molloy
186
Posted 17/08/2021 at 23:01:39
So, anyone on here heard any whispers from sources about potential in-comings?
Mike Gaynes
187
Posted 17/08/2021 at 23:54:03
Andy, you scamp!
Don Alexander
188
Posted 17/08/2021 at 00:05:29
The main thing about Sandy's own-goal was that we were at the time regarded as champions-in-waiting (after 1968-69) and that the own-gaol (and if an opposing player had scored it, it would've been hailed a perfect header) was on MotD, then only a few years old and regularly attracting TV audiences similar these days to only royal weddings and the like.
The magnitude of Sandy's inadvertent gaff, and the massive publicity that we now all know can accrue from it, was only exceeded all those years ago by a fabulous rugby league player, Don Fox, missing a last-kick-of-the-match bog-standard winning conversion in the Rugby League Cup Final in '68 (known as the Water-splash Final due to the monsoon weather).
Sadly, those close to Don Fox say he never ever got over the impact his gaff had.
https://youtu.be/2ffVOIoJ1eI
Don Alexander
189
Posted 18/08/2021 at 00:11:14
Oh, and Sandy lived in Maghull at the time and I used to deliver his newspaper! Must have his autograph somewhere, he was a pleasant bloke!
Derek Thomas
190
Posted 18/08/2021 at 01:57:22
Don @ 189; its a measure of both Sandy as a player and person and...if we would admit it...the collective 'We' as fans, that for all we go on about School of Science, your Youngs, Holy Trinitys etc, even MacKenzie and James, even after over 50yrs you still can't get many to say a bad word about Him.
It wasn't his fault he wasn't Parker or Wilson or Labone (just as it wasn't Denis Stevens's fault he wasn't Bobby Collins)...every team needs somebody to push the piano on stage so the Maestro can perform, he was probably the best piano pusher we ever had. Some fans underate them, Managers love them, every team needs one (or two).
Sandy was neither the best nor the worst player we ever had. The OG wasn't his finest hour, no doubt his best remembered but tbh, the whole team had an off day that afternoon. Shankly's tactical re-gig left us struggling.
His finest hour was, in my mind, getting sent off after 5 mins for laying out Revies snide in chief Giles (spits) there are just some things you don't do on a football field, whatever it was Giles did...I was there, but as Wenger used to say so often - I was temporarily unsighted and didn't see it.
Anyway, Sandy was having none of it - down he went.
Legend.

James Flynn
191
Posted 17/08/2021 at 02:41:12
Darren (166) - "obviously its risky..."
Spoken fairly. I'm for "nothing risked, nothing gained". We don't possess overwhelming firepower. We do have players to provide "enough" goals.
Just enough that opposing managers have to set up knowing that when Everton have the ball, they're attacking. In numbers.
One game out of 38 doesn't even amount to anecdotal. Watching it, though, I'm hoping what we saw Saturday was just a taste of how Rafa will have us playing all season.
Defend as a team. When we have the ball, attack attack attack. Let the other team do the worrying.
Danny O'Neill
192
Posted 18/08/2021 at 06:18:34
Great to wake up to the recollections.
Graham Mockford, we are of a similar age although you've got a few on me! I too grew up listening about the 60s teams and was 12 when we lifted the FA Cup in 1984 as we embarked on those all too brief years of glory. But it gave me the taste and I watched some fantastic, exciting football.
I too thought Iwobi done well in his cameo on Saturday. He made an impact, so maybe that's his thing? I personally think it's a lack of confidence with him. He doesn't seem to belief in himself most of the time, which leads to doubt and poor decision making.
The most telling thing about that second half was the fact we watched an Everton team on the front foot. Now I never took much notice of Mr Benitez in previous years, but reading the preamble of many, that is not what I thought we would get.
Teddy Bertin
193
Posted 18/08/2021 at 08:06:21
I think we're all conning ourselves a bit here.
He's not a primadonna, apparently he's a gentleman.
He's not going online every night and disrespecting Everton, he's keeping in touch with his fans as he's a global superstar.
He's not overrated or doing things that we saw Osman do a thousand times, he's one of the greatest Colombian footballers of all time and a top class talent.
He's not out of the team because Rafa only wants aggressive, strong direct players and no number 10. We're playing Gray in a number 10 at points, hardly a powerhouse. Surely James could do 45 mins in there and do as good a job as Gray?
The difference is fitness. He clearly can't get fit. Rafa needs players that can defend at high tempos for 90 mins.
Colombia sent him back when they really needed him. Rafa has looked at him in training and said it's not going to work.
They both been careful and respectful in what they have said, they may have even made the covid thing up to stop a media frenzy that would distract the team.
Bottom line is the guy can't get fit enough to contribute in a run of games and we need momentum and a solid lineup.
Carlo said he had a plan to get more minutes from James this season, Rafa doesn't think it will work for the team. Also if it's the choice between James being able to play the last 25 mins of a game or brand new signings then Rafa wants new signings.
It's shame as he is a class passer of the baller with great vision and a wicked shot but so was Rooney when he came back and it doesn't work.
Danny O'Neill
194
Posted 18/08/2021 at 08:23:26
Teddy Bertin. Take a bow!
Eddie Dunn
195
Posted 18/08/2021 at 08:28:55
Teddy,
You may be right but to counter some of the James worshippers, I saw him come deep in so many games, saw him demand the ball from other players when he could have been running into space... he often slowed our play at times when we needed energy and momentum.
I loved some of his skill and clever passing, a few nice goals... but please, please folks, it's a long time since he was a world-beater, he is almost in the Ginola category, in the twilight of his career.
Phil (Kelsall) Roberts
196
Posted 18/08/2021 at 08:34:48
1. Sandy only played half the season as we bought Keith Newton from Blackburn halfway through and he played Left Back.
2. My dad's best memory of Sandy. Penalty Shootout with Borussia Moenchengladbach in 1971. 3-3 coming into the last penalty and Sandy took it. Row Z we feared. Ran up, back of the net, kept walking, picked the ball out of the net, and then slammed it down on the penalty spot: "Okay, sunshine, your turn now. I scored."
Danny O'Neill
197
Posted 18/08/2021 at 08:36:54
Which is such a shame at 30 Eddie. Just like Rooney at 32.
At least you could forgive Ginola. Being 36 and a wide attacking player, you could forgive him for being past it by then.
I still think we can accommodate James if we use him correctly. But that's probably the heart and purist speaking over the head.
And by that, I mean by virtue of the manager's ideas. But, come September, if he is still available to play for Everton when he's fit, I'll be made up.
Steve Shave
198
Posted 18/08/2021 at 08:39:44
Barry @122,
"If James wants to leave Everton of his own accord, then fine, he can leave. If Benitez believes that he can get a better work ethic, team spirit in his team, by James leaving, again that's fine by me. Would I prefer James to stay, of course, I would."
Exactly how I feel about the situation too. I think we have to trust Rafa to have the club's and the team's best interests in mind. We have no concept of what is happening behind closed doors or if Rafa has been told to get shot.
Let's just trust that if he is going, it's in the best interests in the club. For whatever reason that may be. I can only assume that to be the case because he is some player, our best by a country mile.
I am also inclined to agree with Graham and others above, I think a hard-working 4-4-2 is what we will see this season. Apart from this excluding our talented Columbian for obvious reasons, I welcome that more direct approach.
"Crosses, crosses, crosses" Shearer said on MotD, 17 in one match to be precise, with Calvert-Lewin's and Richarlison's heading abilities, this is music to my ears.
I still think if we can shift Kean we could splash the ££ on a top winger and get Rondon in on a free for striker back-up. Sarr is my ideal choice for this role... No chance, I suspect, but I can dream.
Peter Mills
199
Posted 18/08/2021 at 08:57:02
Sandy Brown played left back in the 69-70 season until just before Christmas (Derby County at home) when he was replaced by Keith Newton. Keith then played 12 league games before getting injured at Spurs mid-March, with Sandy coming back very capably for the run in.
A small story about Sandy. Tommy Wright was selected for the FA Cup final in 1966, despite Sandy having played well at right back in the semi-final, his display at Burnden Park including a late goal-line clearance. Some players would have sulked at missing out on the big day at Wembley. I was told that Sir John Moores was so impressed by Sandy's demeanour on the day, carrying the kit, geeing up the players, doing anything necessary, that he presented him with a set of silver cutlery.
John Chambers
200
Posted 18/08/2021 at 09:02:46
There are quite a few comments here about the Title-Winning team of 1969-70, the first one I remember as I was 10.
People talk of the strength in depth we had. Actually only 17 players made an appearance that season, 2 of whom only total 3 matches if you add their minutes, whilst 3 (West, Hurst and Royle) played every minute.
The apparent strength in depth in those days was a bit of a fallacy as, whilst we used to get photos of A and B teams showing about 20 players, very few ever got near the first team as fewer players missed with injury, probably because we were a lot less aware of the long-term damage people did by playing with injury.
Also, for the younger followers on TW, you only had 1 sub on the bench who was often a Sandy Brown type player who could cover many positions.
Here is an interesting link:
Dave Abrahams
201
Posted 18/08/2021 at 09:07:26
If James was a boxer, he would be an ex-World Champion now, fighting 4-round fights and losing some of them.
Christine Foster
202
Posted 18/08/2021 at 09:17:22
Derek Thomas
203
Posted 18/08/2021 at 09:40:34
Phil @196; Peter @199; There is more to that tale.
October-ish, maybe early November, we were running away with the League and the mid week Sportsnight With Coleman did an 'in-depth' piece with the usually (not at all like a sound bite for all occasions - Shankly) invisible Catterick.
They showed various clips, "Talk us though this for the viewers at home, please Mr Catterick." and he did... 3 or 4 times, in full tactical detail.
We'll never know, but I think that Harry got seduced by the glamour of the occasion and gave away more than he wanted, for all I know he fell for the old now (but newish trick back then)... "Now we're off the air, Harry, what about this, what about that, what about Sandy Brown being the worst player in the team?" Some version of this actually went out to air – I saw it, heard it.
Catterick supposedly went ape-shit when he saw the finished article. Which is why the cameras got banned and hardly any footage... post Sandy's derby, of the best team ever, except for brief news coverage of the WBA game, survives.
Damning Sandy on peaktime TV, plus the public nature of the OG did Sandy's confidence no good at all, Keith Newton was rapidly signed over Christmas and Sandy was 'rested'
I seem to be the only one who remembers that 'Sportsnight with Coleman' piece, don't ask me what I had for my tea 2 days ago though – but this all happened... so now you know the whys and wherefores.
Brian Murray
204
Posted 18/08/2021 at 10:00:01
Derek. Yes and depriving future generations of not seeing footage of a glorious time for us. The Chelsea 2-5 thrashing etc. I was there as a small kid but didn't know that was the last of us as a force obviously.
Dave Abrahams
205
Posted 18/08/2021 at 10:03:01
Christine (202),
With the greatest respect, James has great moments, can't be denied, but nowhere near enough to justify his staying here. I've clapped his good moments, and just accepted his many poor ones, because he is a player who has seen much better days – nearly all of them before he came to Everton.
Christine, I love you girl like a brother, but I think you are letting your heart rule your head, I think you've been there before when Wayne came back... but, if he stays, I hope he turns it on for your sake.
Christine Foster
206
Posted 18/08/2021 at 10:17:33
Dave, maybe your right about Rooney, even Barkley... heart ruling head?
Problem is, Dave, we have had so few players – really good, skillful players – in the last 20 years, I think it's a crying shame to listen to some of the comments on here at times. I have watched some bloody awful players in blue, seem bad managers come and go, seen teams without a clue, and every now and again you see a spark of a player who can unlock an opposition with skill. Such is James. Such was Rooney... such was Barkley.
I'm not a hopeless romantic, Dave, I am a pragmatic Evertonian but, instead of settling for mid-table nothingness, I hope to have players who others can aspire too. James came here because of Ancelotti, no other reason, and has been left in the lurch, but it is clear that Benitez has no time for him. He will be on his way, but I lament that we cannot utilise his skill, no matter how fleeting that is.
"It's football Dave, but not how I knew it."
Len Hawkins
207
Posted 18/08/2021 at 11:02:09
Just a memory of Sandy Brown I have from 1968.
I got a lift home one night on the pillion of my mate's scooter. We got about 50 yards when a car driver decided to turn right with us blocking his way and I had my first taste of proper gymnastics, somersaulting through the air with the greatest of ease. Unfortunately, the landing wasn't perfect and I checked in to hospital for the next 3 months.
I was 18 and there was a cadet nurse of a similar age who was a good looking girl and we got on well. I mentioned I watched Everton and she said "Oh, I'm going out with Terry Owen, we often go and babysit for Sandy Brown."
As one great striker says, it's a funny old world, innit?
Steve Shave
208
Posted 18/08/2021 at 11:26:30
Teddy 193 would a "gentleman" miss a game for his employing club at a time when they needed him to then post a photo of himself sipping champagne on his private plane? That doesn't resonate with my understanding of gentlemanly behaviour.
Bill Gienapp
209
Posted 18/08/2021 at 11:43:36
Given that many are *still* bitching about letting Lukaku leave without a replacement, I'm surprised how cavalier some are about stamping out what little midfield guile and creativity the squad actually has at the moment. Seriously, the main alternative to James last season was Gylfi and, well... *ahem*
Anyway... what exactly is the plan if James leaves? We can't expect the Southampton approach to work every week, particularly against the better sides - you need tactical options. Maybe - maybe - lightning could strike with Iwobi, but I'm not holding my breath. What do you honestly think we'd get for James and, more importantly, what do you think that would realistically buy in terms of a quality replacement?
Danny O'Neill
210
Posted 18/08/2021 at 11:59:20
Or something that can unlock a good team Bill. Like when that sublime, knew what he was doing before the ball came down, half volley cushioned pass unlocked the Liverpool defence.
Here's another slant on this discussion. I wonder how many players of the past had similar attitudes to that many are accusing James of having. But we didn't have the visibility through social media and constant 24/7 coverage?
I would suggest there were a few.
For very different reasons, but with parallels, I'm sure many Manchester United fans could have slated George Best for his attitude and lifestyle resulting in him not being available or at his best as much as he could have been. Most I know don't. They just enjoyed the moments he gave them.
Tony Abrahams
211
Posted 18/08/2021 at 12:20:21
Being younger the thing that I will always remember Sandy Brown for, is a song I heard on the way home from that beautiful game in Rotterdam.
I'd seen footage of the own goal, but then I heard a group of drunken Evertonians, singing a song about Sandy Brown and beans on toast, and it still makes me smile to this day!
Chris Williams
212
Posted 18/08/2021 at 12:30:31
Sandy Brown was a great club servant, played everywhere, and was a very good athlete.
He was officially the second hardest shot in English Football, after Peter Lorimer, and according to Alex Young, won a bet on a club holiday after the 66 cup win, by swimming a length of the pool with a lit candle on his head. I'm not sure why.
He was certainly the hardest puncher as Lorimers mate can confirm, horrible little shit.
Often the butt of Gordon West's practical jokes who even gave him stick for not saving the penalty West gave away when getting sent off for thumping a Newcastle player, doing his throw out follow through 'accidental' contact trick once too often.
He was poorly for a long while and was another one helped by the Former Players Foundation. After retirement apparently he worked in a biscuit factory.
Different times.
When I got married in 1970, we lived in Maghull, and our local was the Red House. Sandy was often there at the weekend, and Roger Kenyon And his wife and mates were regulars. Decent regular blokes.
Danny O'Neill
213
Posted 18/08/2021 at 12:41:20
Tony, aside from me planning for Norwich home next month, you've now got me thinking of those European trips I hoped to be on this but will be on next season!!
Robert Tressell
214
Posted 18/08/2021 at 13:05:12
Bill #209 that's a serious issue. Losing Gylfi and James removes a very substantial chunk of goals and assists from an already low scoring side. I did an article about it called Succession Planning a few months ago.
This summer should have been the time to buy younger replacements (like Olise) and give them a chance to bed in before Gylfi and James respective contracts end in June 2022.
As it happens, these two productive but flawed players look likely to depart a year ahead of schedule - and at a point in time when we have no money to reinvest into the side. I don't think anyone will pay a fee for James (or more than a nominal fee anyway).
It will surely catch up with us even if Gray and Townsend (and maybe Iwobi and Gordon) do ok. I'm afraid our squad is far too weak to give us lots of options if Plan A doesn't work. Which is why we're probably going to finish between about 8th and 10th this season.
With Lukaku it was different because we could see his departure coming a mile off and it was clear it'd be a big fee. Not unlike Villa's situation with Grealish this summer. We completely squandered a very good opportunity to rebuild and are still paying for it.
Dave Abrahams
215
Posted 18/08/2021 at 13:06:23
Christine (206),
"It's football, Dave, but not as I knew it."
I understand you completely, Christine. I despair at a lot of today's football and it sickens me to watch it, that's why I understand you. And I appreciate, honestly, the football James provides at times...
Not enough for me, Christine, he leaves us a man short too often. Watching some of his passes is fine, watching him trying to defend or running back is painful, and it is part of the game, always has been.
Give me the old football matches back that I grew up with and learned to play. It's not the same game, it's not even a man's game anymore with the whistle going every 10 seconds for fouls that are created by cheats and encouraged by managers, fellow players and pundits that would leave great players from the past redundant simply because they knew how to win the ball and put their team on the attack, just wouldn't be allowed today.
I'll shed a tear with you, Christine, because as you say it's not the football that I know or want, but it looks like we're stuck with it.
Barry Rathbone
216
Posted 18/08/2021 at 13:06:33
Just watched Sandy Browns own goal again and it looks as bad now as it then. Without an rs in sight he chooses to nod it over but launches into a diving header crashing it into an empty net!!
It's remembered because it looks so deliberate (wasn't of course). Weirdest og ever.
Brian Wilkinson
217
Posted 18/08/2021 at 13:40:22
A lot have commented on that pass at Anfield, it is up there now as folklore of the Bracewell pass, there have been some other games as well that have painted James in a very bright light.
Bracewell only for injury is a player who did it week in week out, tackling,playing killer passes, that is a player who I hold in high esteem.
In James, I see the talent, but I just do not see the commitment to warrant all the hype, he missed a hell of a lot of games last season,he had some good games, but he also had some poor games as well, there was one game in particular last season where Richarlison kept making space and runs on the left, only to be ignored by James, who elected to play the ball backwards instead.
There is no doubting he has been a quality player, but for me injuries have crept up on the player, for all his qualities, not many other clubs are banging on the door to buy him, it is obvious Everton are now looking to build a team and see James as surplus, they want someone who can do it every week, instead of in three weeks, out for 4 weeks, getting James off the wage bill, could be the difference of bringing in another couple of astute signings.
So yes we have been lucky to have James, but I think Fulham could also say the same, when they landed George Best.
James is clearly split 50/50 by supporters, for me I would prefer to let James and Kean go, to try and get a few in this window, I will not mention Delph as no one is that stupid to match his wages.
Either way no one is wrong wanting to keep James, same as those who want his wages off the bill, to bring in a couple more signings, that can play on a more regular basis.
Danny O'Neill
218
Posted 18/08/2021 at 13:53:04
Brian.
Bracewell, the player that we sadly never saw enough of because of injury. But what a player.
And that pass. Stop it. You'll have me watching Howard's Way tonight and Mrs O'Neill reminding me I'm nearly 50, not Danny aged 15.
Steve Brown
219
Posted 18/08/2021 at 14:22:47
Graham @ 97, you make my point for me.
You obviously don't like James as a player but all you offer is generalities - "I am genuinely surprised when some fans place a player on a pedestal on the back of 20 odd games where he did some decent stuff, did some bang average stuff and didn't really appear to fancy it very much."
The more broad point that you and other posters make is that we need high tempo, physical and direct football to be successful. If that is the case, then I am amazed that we have not won a trophy since 1995. For the majority of the those 26 long years, that is what we have been served up.
Graeme Beresford
220
Posted 18/08/2021 at 14:38:25
I completely understand a manager not wanting James. I get it. He won't really challenge, won't track back and often when he played, we got beat and/or conceded goals.
However, to me, the guy is a gem. Whereas, on one hand, you can't afford passengers, I also think he's one of the best players I have ever seen in an Everton shirt, even in those mere 20-odd games he played.
The ability to get the ball from deep and spread a 50-yard crossfield pass right to one of our players' feet, the ability to put a defence-splitting ball through... but, more important for me was his actual ability to finish. I think every shot he actually had for us ended up as a goal. That goal against Man Utd, the ball through against Liverpool... he's just class.
I get it if he doesn't want to be here but, if there is any indication he will stay, then I think he can defo help the team and play a major part in the season.
Ian Hollingworth
221
Posted 18/08/2021 at 15:00:21
Barry @17
Don't care how talented a player is if they don't fancy it here get shut pronto
Will we have 11 left? lol
Tom Bowers
222
Posted 18/08/2021 at 15:16:52
James will not be missed. He has obvious talent but how many players have come here with credentials and failed to really impress consistently? We still have some here apart from James.
Leeds will come at us hard and fast like they did at Old Trafford and we can only hope our defence is solid enough to keep them off the scoresheet. Good teamwork all round will get a result.
Brian Williams
223
Posted 18/08/2021 at 15:18:08
He leaves us a man short too often.
from Dave@215.
And that, for me, sums up exactly in a realistic, pragmatic way, the "problem" with James.
He has shown some sublime skills on occasions but IMO not enough occasions to make up for the fact that he leaves us a man short too often.
We're simply not good enough in most other areas to play with a man short for any period of time.
David Midgley
224
Posted 18/08/2021 at 15:32:34
Danny your missus doesn't let you know you're nearly fifty, your body does.
Mike Gwyer
226
Posted 18/08/2021 at 16:07:31
It's been stated already but I totally agree with it; without James we would still be hunting a win at Anfield.
We have no other player who can take the ball and make the pass that Richy put away. Which is worse, only having one player who can make that kind of pass OR having to carry James through the 90 minutes?
For any Evertonian going to Anfield, its been an annual fucking nightmare, so I know what my answer would be.
John Skelly
227
Posted 18/08/2021 at 16:21:59
Call me naive but to put one of our marquee signings on the Not Wanted List is a bit of an overreaction.
We should keep him and use him when convenient.
Graham Mockford
228
Posted 18/08/2021 at 16:33:03
Mike 226
Claiming we can't win games without James is just nonsense. For a start we won 2-0.
The skill for the assist was lovely for sure but let's not overdo it. He had four assists all season behind Digne and Gylfi. And the assist in the derby was his only one in 19 games.
As I've said, some Evertonians seem to have created a mythology about him rather than the evidence of last season.
He started like a house on fire in the first five games and after that was bang average with 3 goals and 1 assist in 19 games. Not only that, he was injury prone and didn't show a lot of heart.
Add that to a more direct style of play to which he is clearly not suited, I don't see any reason not to move him on if we can find someone who wants him.
Alan J Thompson
229
Posted 18/08/2021 at 16:34:10
If everybody could do it and do it all the time then it wouldn't be magic.
Winston Williamson
230
Posted 18/08/2021 at 16:43:14
He's just frustrating. It's clear, and has been for a while, his heart's not really invested with us.
That's fine. That could be said about a few of the players here, but he's like having a sexy girlfriend who never wants to see you!
If he showed as much effort on the pitch as he puts into his online image, he'd be worth sticking with. But he doesn't, so it isn't.
Darryl Ritchie
231
Posted 18/08/2021 at 16:49:57
James is holding all the cards.
Dale Self
232
Posted 18/08/2021 at 16:54:14
To sit out and damage his already questionable value, yes.
Brian Wilkinson
233
Posted 18/08/2021 at 18:09:45
Everyone mentions the pass in the derby, but I have not seen one comment from an even better pass from Digne, that Coleman headed straight at the goalkeeper, or the four outstanding saves from Pickford.
Had Richarlison failed to score, but Coleman buried his chance, would we still be talking about the pass.
Yes it got us ourderby win, but overall, I thought he had some decent games, other games have passed him by.
I think overall, he is the equivalent to marmite, no doubting a fully fit James is some player, but far too many games are missed by the player for my liking.
Stan Schofield
234
Posted 18/08/2021 at 18:20:27
John @200:
I think it was I who referred to the strength in depth of the late 60s team. I'm not looking at just the 69-70 season, but basically from when Kendall signed to form Ball, Harvey & Kendall. The strength in depth is about quality rather than just numbers. All the substitute players were of suitable quality to keep our momentum going when there were injuries.
That's something we lack at present. We have the numbers for a full squad, but lack the quality to compensate for injuries. That fact was stark last season after we started so well with a first-choice 11 that looked like they could beat most teams, when injuries then demonstrated our lack of quality in depth (strength in depth). The top teams have this through a combination of very high quality players like Rodriguez and different players of a more physical and athletic nature.
The Townsend and Gray signings might move us a little forward in terms of this strength in depth, but we need to retain the highest quality players like Rodriguez otherwise we could be back to square one.
Darren Hind
235
Posted 18/08/2021 at 18:30:47
The Brown own-goal was nowhere near the worst. Just the most famous.
Nobody who witnessed the game at Anfield the season after will forget the horizontal header John McLaughlin powered into his own net... This after Tommy Wright had already given them the lead... And what about Micky Lyons sending the 40-yard lob over Georgie Woods's head???
We've had more than our fair share of our players "choosing their moments"...
There are some really fascinating comments about him in this thread. I suspect he would have been universally supported back in the day. But the modern game and the bit part we have played in it has (for me) clearly shaped opinion. We are no longer aristocrats and some believe we have a better chance of fighting our way back to the top than playing our way there. As ever, the truth will lie somewhere in the middle.
For me, it boils down to an either/or. If he finds a club, the discussion ends; but, if he is still here, then surely he has to figure. We are not in a position to let a class act waste away while his contract runs down
Bruce Jack
236
Posted 18/08/2021 at 18:31:41
Having followed Newcastle closely for years, Rafa is the type that will only play those who follow instructions perfectly. Those always include getting back into position. If he believes a player won't, that player will not be on the pitch.
It does not matter to him that it is (or is not) the most skilled player. Be prepared to scream at him for these decisions, but he will not care.

Martin Mason
237
Posted 18/08/2021 at 18:34:16
Poor James was a victim of the Ancelotti sting. A lovely player but he just isn't what we need now. Good luck to him wherever he goes. He won't be poor.
Danny O'Neill
238
Posted 18/08/2021 at 18:44:21
I don't know if I said it here or elsewhere, but forget own goals. My worst derby moment outside of that Glenn Keely / Ian Rush game was the Gary McAllister free-kick and Paul "Coco the Clown" Gerrard moment. That was after it should have been our free-kick and to rub salt in the wounds, McAlister shifting the ball 10 yards forward without the Ref checking or correcting the position.
Sorry, I'm bitter and can't leave it!!
Back to James. I hope he's still with us after the window closes and I hope I get to see him live against Norwich.
Dale Self
239
Posted 18/08/2021 at 19:11:22
Not the worst I suppose but not getting that goal off of Hutchinson's back against the Red Shite was one of the most unjust turn of events I've seen in the derby.
Christy Ring
240
Posted 18/08/2021 at 21:00:59
Brian#217 Danny#218 Bracewell what a player, was my favourite, cut down in his prime and hadn't even reached his peak. He was heading to the World Cup with England, until Whitehurst ruined his career, with such a Cowardly assault.
Brian Wilkinson
241
Posted 19/08/2021 at 00:28:20
Christy, interesting fact about Bracewell, he played in 4 f a cup finals, and ended up on the losing side in all 4.
Still one of the finest midfielders we had in the Eighties, only injury robbed him of a fantastic career.

Barry Jones
242
Posted 19/08/2021 at 01:42:03
Darren hit the nail on the head. How many clubs are lining up to sign James? That tells you all you need to know about his qualifications as a "professional" footballer. A few fleeting moments of magic every so many games is not enough.
Terence Leong
243
Posted 19/08/2021 at 03:30:04
Players like James will always split opinions. My contributions here would be -
If we as a team cannot perform because of one flair player, then it's not always about that one player.
James' dip in performance corresponded, not just with the injury, but also a shift of tactics by Ancelotti to go "Italian" by being alot more defensive; we started out scoring but also leaking goals.
His body language, the way players interact with him on the field shows doesn't show him as one who downs tools or is causing problems in the dressing room.
When you compare him to a superstar wannabe (because he is not, at least not yet), people are giving him alot more grief than Moise Kean, who sulks, seems to play for himself only and has hardly done anything for us.
Kean probably costs the club alot more, when you put his wages and transfer fees together.
The fact is that Rafa has supposedly already decided that James is not part of his plans; it is different if Rafa has been working hard to coax and fit James into his plans.
Given the formation that Rafa started with, I don't see why it cannot work with James in it. Especially over the course of a season...Gray has also come with a reputation of being talented, but not consistent, while Townsend (I like the guy) is no spring chicken.
Together with Iwobi, and the three behind DCL, James can play a key role, as all these abovementioned can play across the field.
Lester Yip
244
Posted 19/08/2021 at 06:42:26
Agree with a lot of comments here. James has his special use. To creates chances when we are chasing a game. If we're in a the lead and protecting it, he won't play. When we're losing 1-0 and other sits deep and organised (e.g. Burnley), his magic pass might work. Of course nothing is for sure, but he's the only one in the team has that kind of passing range, accuracy and consistency in the team. If it's about personality clash issues with the manager, then it's different.
Christine Foster
245
Posted 19/08/2021 at 06:46:38
Dave #215,
Sadly I am forced reluctantly to agree with you, the Premier League has produced a different version of football that often seems alien to me. Perhaps we will see no heading next season... the thing is getting silly.
Had a few moments in the early hours to consider a response but after a 1 am ambulance into A& E at Waikato Hospital for a "cardiac event" this morning, laying there and realizing how much things meant to me, I cannot let myself get wound up and I need to let the angst out and accept it for what it is, not passion infused football but a game of touch rugby... agree with you Dave.
You know, as soon as I did, my numbers came back up and the Geordie doctor asked me how I managed to keep my stress levels down after he saw my nightie with Rupert's tower on it...
So back home, I am resigned to the sanitized version of a game I love, of a team I love, and a manager I find hard to live with. Thanks, Dave, for spelling out a reality I hate to live with but love to be part of.
Brent Stephens
246
Posted 19/08/2021 at 07:11:44
Christine #245 - I hope you're okay. Love the idea of the nightie with our tower on it. I might get one!
Seriously, best wishes.
Neil Copeland
247
Posted 19/08/2021 at 07:22:31
Christine #245, I hope you are okay. There is nothing any of us can do other than offer our full support to the blues, so take it as it is and try to enjoy the ride.
I think you may have started something with that nightie, sounds good to me too. 😄
Jerome Shields
248
Posted 19/08/2021 at 08:10:21
Christine#245
Best wishes. A Health upset I have found can be part of lifes journey giving perspective of what matters, with hopefully to chance to recalibrate and extent it. This recalibration may only be heading in the right direction.
As ever I am ever hopeful of Everton at the start of this season. The win has helped a lot. I find I have accepted our dysfunctional Board and the Finch Farm Club. My main hope is that Rafa by his unacceptably, may prove acceptable. This is based on his possible ability to build a adaptable team and interchange players to suit.
It's been a strange Transfer Window with little concrete fact and loads of speculation with a persistent half truth narrative. To build a adaptable team Rafa needs a variation in skilled players. Rodrigeous being one of them. Against Southampton and Leeds his skills will not be needed, but against other team they will. It is then better to keep him fit and active for those games, unless I big money move is possible , which I doubt.
Rafa in the pass was so much into player rotation, I would go so far as to say he invented it. Against Southampton Everton benifited from his Managing in the Championship experience, hopefully they will benifit from his Top Six experience against whom Everton will have difference players with different tactics. Pass Outstanding players where only as good as the team and manager they played for. Hence them moving on. A good footballer , plays for a good team , if he wants to win something.
Since I started philosophical I might as well end so:
Out of frustration and despair, both transient things, a person is reborn with new words and new powers.
Best of luck Christine.
Christine Foster
249
Posted 19/08/2021 at 08:42:31
Thank you for the best wishes and hopefully the stress of watching the team this season won't be the cause of more A&E visits! The nightie was a Christmas gift from the catalogue outlet shop in Liscard Village, a snip at £5.99, albeit the Christmas before last, so they should still have a truckful!
Seriously, like John Lennon said, "Life is what happens when you're busy making other plans."
But a sort of clean bill of health if I can pass the stress test, that's running on a treadmill while wired up to an ECG machine.
We'd better win on Saturday... so a little note to everyone, take good care out there – this isn't a pre-season fixture!
Geoff Lambert
250
Posted 19/08/2021 at 09:02:07
Winston @230: "His heart's not really invested with us."
How many of our squad are?
Maybe we should ask the Premier League to not allow flair players who don't pull their weight to play in our league. Then again, why should we? – when we have fans doing it for them.
The game is turning into a game of big, strong, superfast athletes. Give me a moment of skill anytime over this robot football.

Danny O'Neill
251
Posted 19/08/2021 at 09:33:35
Hopefully Darren's nail-on-the-head comment is that Barry Jones and come September, James is still part of our squad. And I get to watch him at Goodison against Norwich!
Hope you're well, Christine.
Andrew Ellams
252
Posted 19/08/2021 at 10:21:16
If James doesn't leave in this window, he should be up for a lot of time bench warming this season.

Dave Abrahams
253
Posted 19/08/2021 at 10:22:40
Christine (245),
Fuck football at the moment girl, get yourself better, your health is the most important thing, you only live once and your life is the most precious thing you have. Try and relax, think of happy things like The Wedding House where you lived and help to run with your parents and the characters that still make you smile now. Very best wishes and a few prayers thrown in. God bless, Christine.
Paul Birmingham
254
Posted 19/08/2021 at 10:33:39
Christine take care all our thoughts and prayers are with you and if Everton win it's always a he a tonic for the day.
Christine Foster
255
Posted 19/08/2021 at 12:31:42
I remember about 6 or 7 years ago I was waylaid in the Monro pub in Duke Street by a fellow Evertonian after a match. He was talking to his mate about ToffeeWeb and he said, "It's the best fan site in the UK! I told him I agreed, on which he snorted and replied, "And how would you know?" To which I told him it was my goto place for all things Everton.
I added, with too much drink and bravado, that I often commented on stuff on the site. Thinking he was calling me out, he said "I know of most posters who post regularly and, unless you're Christine Foster, I don't believe you."
I quietly opened my purse and slide my driver's licence across the table. He said nothing, went to the bar ordered me a rum and coke. Came back and gave me the biggest hug I have decently had in many a year.
He said, "I have made more friends on ToffeeWeb than I ever had in my life, yet I have never met them."
I understand what he meant now, I feel the same. One day somewhere at a ToffeeWeb gathering close to the new ground, it's my intention to put faces to all of you I feel I know so well. To get extraordinarily legless and laugh and reminisce about Everton teams, about ToffeeWeb characters, with glasses raised to Michael and Lyndon and a special hug to those who have wished me well through all of my travels. I may never meet you but I know you well, thank you.
David Pearl
256
Posted 19/08/2021 at 13:09:17
Glad you are doing well and back home Christine. Keep your feet up.
I'm currently flat on my back wacked out on tramadol. In my Everton pyjamas of course.
Tony Abrahams
257
Posted 19/08/2021 at 13:26:47
Onward Evertonians is the song Christine, so I hope you are feeling a bit better now, and are hopefully going to be strong enough, to get up in the middle of the night to watch our team, in a few more days!
Eddie Dunn
258
Posted 19/08/2021 at 13:55:23
That's a great little story Christine. I shared a cab to the ground a while back with a chap who turned out to be a regular reader but not a regular poster. We had a couple of pints before the game before heading our seperate ways. ToffeeWeb is a marvellous resource.
Alan McGuffog
259
Posted 19/08/2021 at 14:11:43
Christine... he sounds a real charmer. Hardly surprising that he wasn't over burdened with pals.
Jay Harris
260
Posted 19/08/2021 at 15:19:46
It wasn't Doddy, was it, Christine.
Mind you, he has become the Lord Lucan of ToffeeWeb.
Very fond memories of the Monroe and glad you're back safe in New Zealand. I won't call it home because we all know where your "home" is.
Chris Williams
261
Posted 19/08/2021 at 15:28:17
Used to love the Monro. Went there before going into the Pink Parrot,on a Saturday night in the 60s. Doors like a Wild West saloon. A bit like that inside sometimes.
Dennis Stevens
263
Posted 19/08/2021 at 15:35:18
Back safe in New Zealand, Jay? Haven't you heard there's A covid case there?!
Mike Gaynes
264
Posted 19/08/2021 at 15:39:58
Christine, glad you're home and comfortable after that scary experience. "Cardiac event" is one of those loaded terms like "minor surgery" and "precautionary biopsy" -- when you're the one going through it, it's an earthquake. Warmest wishes for a full and complete recovery, and may the Blues gladden and heal your heart quickly!
Mike Gaynes
265
Posted 19/08/2021 at 15:47:33
Yep, Dennis, the entire country of New Zealand closed down for one case. China just did the same for two of the largest, busiest shipping ports in the world... they had one case apiece at Shenzhen and Ningbo, and they shut everything down completely.
There were seven new local cases at Ground Zero in Wuhan, where my wife's family is, and the authorities are now re-testing all 11 million residents of the city.
Overreaction? Maybe. Understandable? Definitely.
Brian Wilkinson
266
Posted 19/08/2021 at 16:35:09
Great story that, Christine, Mihael and Lyndon could be onto a winner here, have some pin badges made with ToffeeWeb on.
Great little incentive to seek out who the other ToffeeWeb person is. I would certainly buy one.
Be good to have a ToffeeWeb meet-up at some point over the years.
John McFarlane Snr
267
Posted 19/08/2021 at 16:38:08
Hi Christine [245],
I hope you are feeling better and continue in that vein. I would like to be added to your list of friends and, if my application is approved, I would consider it a privilege.
I, like yourself, long for the football we grew up watching but I'm afraid that it's gone forever.
Take care of yourself and 'best wishes'.
Brian Wilkinson
268
Posted 19/08/2021 at 16:44:19
I hope I am included on your friends John Snr, always come across as a perfect gentleman, and love reading your posts.
John McFarlane Snr
269
Posted 19/08/2021 at 17:00:28
Hi Brian [268] thank you for kind words, I plan to attend the next get-together at the Bramley-Moore on September 25th, and I would take pleasure in putting faces to names, and I hope that yours is included in that category. I'm afraid my character is not looked on in the same way, in some areas.
John Cartwright
270
Posted 19/08/2021 at 17:00:58
Get better soon, Christine, your posts usually coincide with my thoughts. All the best.
Dale Self
271
Posted 19/08/2021 at 17:01:47
Christine,
As always, your voice has given the rest of us a chance to reflect. I hope you settle into a heart rhythm that keeps you going for a long time. The chance meeting that creates a new friendship is one of the most cherished things in life and I hope you have many more of those. Well deserved.
Julian Exshaw
272
Posted 19/08/2021 at 17:09:02
Christine Foster. Wishing you the best of health and long may you post!
Brian Wilkinson
273
Posted 19/08/2021 at 17:42:21
Hi Christine, apologies, I never saw your post further up about your visit to A&E, and here's me harping on about pin badges.
Hope everything goes well on the treadmill and you pass a full bill of health.
John Snr, thank you and I will certainly try and get to the next meet up.
Neil Copeland
274
Posted 19/08/2021 at 17:46:22
Christine, great post as always.
Before the game on Saturday, I was enjoying a cheeseburger and saw a face I thought I recognised. After glancing at each other a couple of times, the penny dropped.
It was a bloke I went to primary school with 50 years ago and last saw approx 30 years ago. He was there with his dad and son. Funnily enough he posts on here from time to time and we both said to each other "I've always wondered if that was you on TW". It's a small world at times.
Jason Li
275
Posted 19/08/2021 at 18:23:55
Loads of interesting comments on TW about the superstar footballers at the club, but there's plenty on here who are superstars that also make Everton.
Hoping all the best for your recovery Christine.
Eddie Dunn
276
Posted 19/08/2021 at 18:53:00
Christine,
May I add my best wishes for you to make a full recovery from your "episode". I always enjoy your posts.
Steve Carse
277
Posted 19/08/2021 at 19:00:00
Danny (238),
I share your view on that McAllister goal. I can recall at the time hollering to no-one in particular to knock the dead ball back 10 yards. You blame the ref for not correcting matters – I blame the players who made no effort to do so. McAllister cheated. We either didn't notice or, more likely, lacked the collective personality to do anything about it. We're still like that now.
A colleague of mine was a top ref in the late 70s and 80s. He used to say how much he hated reffing the mid 80s Everton side because they were always in his ear – to the extent of giving him down the banks even when he'd given us the decision! No coincidence that that was the most successful side in our history.
Christine Foster
278
Posted 19/08/2021 at 19:08:00
Jay, good grief... Doddy, the very mention of his name brings a smile.
We used to have a few ding-dongs in here, all in the best possible taste, as the departed Kenny Everett used to say.
Actually, I think ToffeeWeb pins would be a brilliant way to both raise money for running the site and raising its profile, I would be honoured and proud to wear it. A gap in the market?
There would be a few places to find me watching games, oft tucked away in a corner of The Mons (chaos before a game when at home too) or in The Pilot in New Brighton (only when desperate as it's a red pub) and latterly The Ship in Victoria Street, New Brighton, great pub with good screens for games... seems to me I have lived my life around pubs, lol.
A lot of my family are Reds so it's often the case I end up sitting quietly on my own to watch away games when "home" – at least, it starts that way!
In Brisbane, it used to be the Pig and Whistle in Eagle Street (and Indroopilly). When I get the chance, I will often sit with one or two of my boys as they are as far flung from home as I am!
Back to the football... yep, Dave A, on reflection, I am a romantic when it comes to the Blues, because once you have been bitten by Brilliance in Blue, you long to hope to see it again. Okay, that's living in the past but it's the one measure I have that I can relate to.
I do feel angry for those who have not had the opportunity to touch, to see and feel the wonder of something so special it makes your heart swell with pride. It doesn't matter where I am on matchday, I am at home.
To each and all of you, be proud of being a Blue; look for the brilliance of individuals even in the mediocrity of teams; look for the joy of watching joined-up football, where the objective is to score goals, not the amount of possession you have.
We are family... (I got all my sisters and me...) and I'm proud of every bloody one of you... oh, and me too! Lol!
Dale Self
279
Posted 19/08/2021 at 19:10:13
Hip, Hip, Hooray, Christine!
Christine Foster
280
Posted 19/08/2021 at 19:15:50
Lying in the dark writing to ToffeeWeb... waitng for the morning light! The wonders of technology... Thank goodness!
Dave Abrahams
281
Posted 19/08/2021 at 19:17:58
Dale (279), three times, Dale, followed by "For she's a jolly good fellowess!!"
Darren Hind
282
Posted 19/08/2021 at 19:18:45
Warmest wishes, Christine.
Do what the meds tell you – unless, of course, they make stupid suggestions like "Go easy on the Irish single pot."
Christine Foster
283
Posted 19/08/2021 at 19:25:17
Darren, that's never going to happen, a beautiful malt, best served intravenously, lol, or with a splash of lemonade!
Darren Hind
284
Posted 19/08/2021 at 19:27:18
You can take the girl out of Scottie Road...
Christine Foster
285
Posted 19/08/2021 at 19:31:17
Belatedly, I begrudgingly it seems, muttered thank god at last, when as pointed out by Shearer on MotD, crosses, crosses... How many times in recent years have I been found screaming like a banshee "Just cross the bloody ball!!!"
I may grow to like what Benitez is trying to do, instead of endless and soul-destroying crab football... it's a start.
Dale Self
286
Posted 19/08/2021 at 19:42:17
Got it Dave. Next time.
And yes we do look to have some action deep on the flanks. If Townsend can set up his cut-in moves while Gray develops some possession and decision-making, we may have a second move when teams shift to deny the cross. Tentative good times but nothing tentative about our support for Everton. UTFT!!!!
David Pearl
287
Posted 19/08/2021 at 19:47:45
Christine, you've been a star today. Loved reading all your posts. I'm sure we all agree that it would be great to see lots of early crosses in the box this season and we may have something to build on. All the best, l hope you feel better soon.
Bill Gall
288
Posted 19/08/2021 at 19:48:19
Christine wishing you a speedy recovery.
I went through about 16 months with cardiac problems before they finally decided I would need 2 valves replaced. But still having things on my bucket list that has now included a game at Bramley-Moore Dock, I was happy to get through with it, especially when it was in the off-season.
My wife said I would have turned the operation down if Everton were playing. The people in the hospital, when checking my blood type, looked at me when I said it was royal blue.
Christy Ring
289
Posted 19/08/2021 at 21:21:11
Christine wishing you a healthy and speedy recovery, a true blue.
Peter Mills
290
Posted 19/08/2021 at 21:58:38
Very best wishes, Christine.
Bobby Mallon
291
Posted 19/08/2021 at 22:02:16
Best wishes Christine get well soon
John Hall
292
Posted 19/08/2021 at 22:24:40
Best wishes Christine and hope you are recovering well. You are in a wonderful place in NZ, sit back, relax and take in the views as they say.
A lovely Geordie accent will cheer most people as I know from my daughter in law.
Stan Schofield
293
Posted 19/08/2021 at 22:44:03
Christine, all the best for a speedy recovery.
Derek Thomas
294
Posted 20/08/2021 at 01:14:40
Christine @ 228; jeez no wonder you have 'ze dicky ticker' putting lemo in whiskey (with or without an e)...you're poisoning yerself woman - full recovery please.😁
Santosh Benjamin
295
Posted 20/08/2021 at 01:40:34
Dear Christine,
Sorry to hear about your health issue. Wishing you a complete recovery.
Geoff Lambert
296
Posted 20/08/2021 at 01:52:23
Hope everything goes well for you Christine.
Nicholas Ryan
297
Posted 20/08/2021 at 02:27:47
The strong rumour is, that James will be moved on, so that his wages can be used to pay the striker Joaquin Correa from Lazio. If that happens, fair enough.
But, if James stays, he simply HAS to play. You cannot have a truly world-class player on the club's roster, but NOT have him on the pitch.
Best Wishes for a speedy recovery, Christine.
Mike Corcoran
298
Posted 20/08/2021 at 08:50:51
According to his Twitch account, this article should be called "James doesn't know we are playing Leeds."
Billy Roberts
299
Posted 20/08/2021 at 11:22:56
Mike 298,
My thoughts are very similar. This article could also be called:
James won't play for Everton again, possible transfer imminent.
James doesn't want to play for Everton on Saturday.
James doesn't want to play for Everton again.
James can't play for Everton because he's injured/ not fit.
James can't play for Everton because they won't risk him.
James won't play for Everton on Saturday because Benitez doesn't fancy him against Leeds.
James won't play for Everton again because he doesn't fit into Benitez's long-term plans... etc, etc.
Excellent article again by Lyndon and some excellent posts that has me changing sides constantly. I would love to see James playing regularly and producing the magic but in a winning, offensive and solid team.
We will only see the situation clearer when the transfer window closes. Till then, we are all just guessing.
Alex Gray
300
Posted 20/08/2021 at 12:36:21
The fact that he's admitted he doesn't even know who we're playing this weekend is telling to be honest.
Billy Roberts
301
Posted 20/08/2021 at 13:53:07
Alex@ Mike,
If that is genuine, if he doesn't know who we're playing on Saturday?
That is appalling.
Ray Smith
302
Posted 20/08/2021 at 14:22:40
Darren 284
How well do you remember the Scottie Road?
My mother and grandmother lived in Horsley Street and Warbutton Street off the Scottie Road. This was between the 1920's and late 1950's, before being demolished later.
Sorry if it's off topic, but they were both Evertonians.
Iain Latchford
303
Posted 20/08/2021 at 14:27:24
How come Gbamin was training with the squad in the week, but can't play tomorrow as he's self isolating (again)?
Christine Foster
304
Posted 20/08/2021 at 15:14:31
Ray, according to old maps, Horsley Street and Warburton Street where off Low Hill and Kensington Street and Mount Vernon Street, which is going into Edge Lane... Not sure when they ceased to exist, probably post-war clearance, so it's eastwards going out of the city, Scotland Road is more northerly.
Paul Rimmer
305
Posted 20/08/2021 at 15:34:15
James played just once in the last 6 games of last season... A home defeat to Sheffield Utd. The writing has been in the wall for a long time during which he has earned a fortune. An expensive luxury who wants away.
Darren Hind
306
Posted 20/08/2021 at 15:45:41
Yes, Ray, I made a comment to Christine based on a post she made some time back.
Somebody once spoke about Appletons sports shop and Rooneys the fruit & veg shop next door was mentioned. To my surprise, Christine came on and told us that she occasionally worked for her dad in Rooneys.
I read somewhere that around a quarter of a million people lived or grew up in the surrounding streets of Scottie. Rooney's was slap bang in the middle, which is why I occasionally refer to Christine as the "Scottie Roader"
I still live just off Boundary Street. I often drive down Scottie, but you could be anywhere with a row of fast-food restaurants and a supermarket. All those marvelous shops and Iconic pubs have long gone. You would not recognise it from the madhouse it was when your mam was growing up.
Mores the pity

Jay Harris
307
Posted 20/08/2021 at 15:53:12
Christine,
May I add my best wishes for a speedy and full recovery to the others and suggest there is no better tonic than reminiscing on ToffeeWeb and an Everton win.
Ray for the record Horsley Street and Warburton Street ran between Hall Lane and Mount Vernon where most of the expanded Royal Infirmary is now being built.
Christine, I think those streets were still in existence in the 60s.
Christine Foster
308
Posted 20/08/2021 at 16:16:49
Thank you Jay here I am, awake in the middle of the night reminiscing, all I need is a good win tomorrow!
Darren, I used to know the girl in The Boundary pub, long gone as well, the bread shop in Latimer Street, mum and dad ended up less than half a mile from where they met in The Goat on Dock Road I think. In fact, my UK doctors (until I came here) were in Limekilns Lane, opposite the Rising Sun, before Lee Jones... roots damn it.
I lived around the world but all roads lead back to Scottie. I did okay for a girl from Scottie... but then I love a challenge and not many better a scouser, even fewer a blue one!
Hugh Jenkins
309
Posted 20/08/2021 at 16:47:07
Hi Christine
Might I add my good wishes for your speedy recovery and also a non-recurrence of the problem, coupled with a wish for a inspirational victory away at Leeds tomorrow.
Steve Shave
310
Posted 20/08/2021 at 19:36:50
Alex 300 took the words out of my mouth. James quoted as saying on social media he "didn't know who we were playing at the weekend". Absolute disgrace and an embarrassment that. If you don't know then shut the fuck up and find out. Disrespectful!
Anymore comments on here about what a "gentleman" he is etc etc bullshit? He can't even show respect to the club who pay his enormous wages and the fans who adore him. Just fuck off.
John Wilson
311
Posted 20/08/2021 at 20:10:21
So, let's just make an opinion on a world class player [oh he is!], who is playing by a video game and just relaxing, and probably bored by all the Evertonian's questions. He is probably being sarcastic and or obtuse. Stop being so literal. It's a case of 'Be Careful What You Wish For.' May well wish for an answer...imagine loads of people annoying the shit out of you.
Tony Abrahams
312
Posted 20/08/2021 at 20:16:48
Funny John!
Steve Shave
313
Posted 20/08/2021 at 20:31:00
John 311 actually he said it on a "social media platform" as quoted in the Guardian. It does iritate me actually because these are professional players, media trained and he can't even pretend to be interested in his employing company. It's not good enough and quite simply players should not be naive enough to find themselves in that situation. Lukaku used to do it all the time, much to the irritation of many on here.
John Wilson
314
Posted 20/08/2021 at 20:48:36
Human rights analogy: Right to a Private Life.
James is eating at his fave restaurant and a fan walks up to him and asks for his autograph, to which James' responds, 'am just having dinner, if I see you on the way out I will.'
Red Echo reports the story as James refuses Blues' fan his autograph as James is too self important.
These are just two narratives, the post above and this second one, where each is capable of being twisted to suit the observer's subjective views.
Ok not perfect analogies, but the point is James has a right to a private life. Let James have his private life.
Dave Abrahams
315
Posted 20/08/2021 at 20:53:13
John (314), yes of course they have a right to be left alone, I'm not interested what they do off the field, only on it.
Steve Shave
316
Posted 20/08/2021 at 20:56:07
We see this differently, John, and that's okay. I agree, private life is private life; in my opinion, private life is not social media if you are a professional representing your employer.
I'm just saying it is very unprofessional and disrespectful to place himself in a position and not handle himself more thoughtfully.
David Currie
317
Posted 20/08/2021 at 21:16:56
Steve 310, I went off James when he decided to leave on a plane instead of supporting his team at City. Why not fly out a day later?
On finding out that we play Leeds away he said " I hope they win". I presume he has left Everton or he would have said "I hope we win".
Steve Shave
318
Posted 20/08/2021 at 21:18:59
Agree David.
Joe McMahon
319
Posted 20/08/2021 at 21:25:31
In a private Jet smiling as well David.
John Wilson
320
Posted 20/08/2021 at 21:30:36
James is here circumstantially at Everton. It's just a shame that sod's law happened. No one's fault. Again Be Careful What You Wish For. We wished for and got Carlo - Carlo world class manager, and James world class player. In a parallel universe Carlo is still here giving James the pitch and for Everton as a team to work around him. We now have Rafa that's not his fault either. No Carlo's, not James and not Rafa's fault. Complaints: For Eyes and Attention of Sod's Law. Ref: Hate You, You Bastard!
Martin Nicholls
321
Posted 20/08/2021 at 21:32:53
Does anyone seriously believe that a member of our squad doesn't know who we're playing tomorrow? Something lost on interpretation methinks.
Eddie Dunn
322
Posted 20/08/2021 at 21:36:02
Just saw Gana Gueye hit a 40 yarder for PSG v Brest. Would'nt we love to still have him ?
Jim Lloyd
324
Posted 20/08/2021 at 22:10:16
As one of those who'd have loved to see him play, the indications are that he's not that bothered. I'm not so sure there was any loss of interpretation, I think we're seeing more of the facet of his personality, that's seen his career, nowhere near living up to his talent.
I think other teams/cluibs have had a go at building a team around him anf it hasn't worked.
As for us, I think we need a Team, and I think that's what Rafa is building. If we aren't able to buy players form large amounts, then he'll want everyone to pull their tripes out every week. I thin kl whwen he swanned off to South America after being "injured" for weeks, and then declaring himself fit for the national team, pissed a lot of the team off. And I don't blame them.
Andy Crooks
325
Posted 20/08/2021 at 22:29:31
Martin, I fear that some of our squad may not know who we are playing at half time. Gone are the days when when the kit alone might offer a clue. Perhaps the cocoon of the Premier league makes one Saturday drift into another. Seemed like that in Carlo's Butlins love in.
Ian Burns
326
Posted 20/08/2021 at 22:34:31
Ms Christine Foster - profuse apologies for being so tardy to this thread. I loved your story about meeting a fellow TWer 6 or 7 years ago and although I am so late, I would also like to wish good health and quick recovery.
I pray we can deliver three points tomorrow and Mr James remembers who we stuffed during his last weekend on our books!
Bill Gall
327
Posted 20/08/2021 at 22:36:20
As long as the manager knows who we are playing that is all that matters,
Gavin Johnson
328
Posted 20/08/2021 at 22:40:01
Of course he knew. It's just brinkmanship so we let him go on a nominal fee a free transfer. There's no way we're getting 10-12m euros when he's on £190,000 a week. If a club was to pay a fee like that he'd have to drop his wage demands considerably.
Sean Kelly
329
Posted 20/08/2021 at 22:44:00
Hi Christine. I wish you a full and speedy recovery. I've experienced several of those events. Four things get me through family, drink, a sense of humour and ToffeeWeb.
Best wishes
Geoff Cadman
330
Posted 20/08/2021 at 23:31:02
Christine,
I hope the tests prove nothing untoward and you are soon back to your best. I did a stress test 20 years ago and, although worrying at the time, turned out okay.
Regarding James, when he joined, he was a free transfer who it was widely reported had taken a significant salary reduction to join Everton and link up with Ancelotti. It's only recently I have seen the £200k a week reported.
For me, when he doesn't play, the anger is born out of frustration because I know we are better with him in the side. It reminds me of when Rafa joined Liverpool and Michael Owen went from Hero to Zero in a short space of time.

Ray Smith
331
Posted 21/08/2021 at 02:38:56
Thank you Darren, Christine and Jay for the updates on Horsley Street and Warbutton Street.
I was only 7 when we moved south, so being 70 now, you will understand that I must have been having a senior moment. 😂😂😂
Billy Roberts
332
Posted 21/08/2021 at 07:23:23
John Wilson
Human rights activist.There's loads of work for you in Afghanistan.
James is here by "circumstances"? Really? Would they be the ones where he signed a contract to play for Everton in return for a very good wage? What a nightmare.
As for your analogy of him not signing an autograph becoming a newspaper story? ... I mean, the Echo is an absolute rag but that is a ridiculous comparison.
Poor James, let him have his private life on his private plane if that is what he wants.

Benjamin Dyke
333
Posted 21/08/2021 at 07:41:15
James is undoubtedly talented and capable of things no other player in our squad is. But the big problem is he's physically weak and he cannot sprint.
Benitez has correctly decided that we need more pace in our play and a more direct style with getting behind on the wings and getting crosses in and not having a Number 10, and therefore James has no place. Plus he's earning so much that Benitez could have 2 to 3 players in that do fit his style if/when James goes.
But no top club will touch him for the same reason we're not playing him. So he has to be frozen out so he gets fed up and accepts a lesser wage and moves on. And Everton will no doubt make up the difference for what he would have got if he can't get a similar contract hence it's a complicated transaction.
All the other stuff about James is just pantomime.
Mark Andrews
334
Posted 21/08/2021 at 11:14:05
Prodigious talent, fragile mindset. James runs away from clubs far too often.
Phil Wood
335
Posted 21/08/2021 at 15:27:52
Best wishes Christine. Hope you are 100% very soon.
Christine Foster
336
Posted 22/08/2021 at 12:56:23
Thank you everyone, enjoyed the game too, stay safe.
---
Add Your Comments
In order to post a comment, you need to be logged in as a registered user of the site.
Or Sign up as a ToffeeWeb Member — it's free, takes just a few minutes and will allow you to post your comments on articles and Talking Points submissions across the site.