Iwobi carries good start for Everton onto international stage
Saturday, 4 September, 2021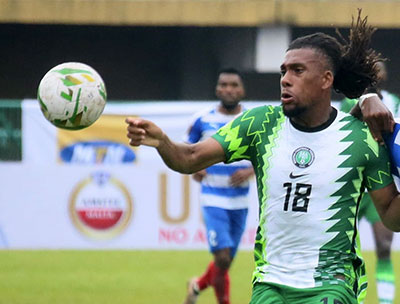 Alex Iwobi continued his impressive start to the season by picking up the man-of-the-match award yesterday in Nigeria's World Cup qualifying victory over Liberia.
Kalechi Iheanacho may have grabbed both goals but it was Iwobi's efforts that were officially recognised in the 2-0 win in Group C.
Iwobi has begun 2021-22 really well at Everton under Rafael Benitez and he scored his first goal of the season in the Carabao Cup win at Huddersfield last month.
Meanwhile, Seamus Coleman has had Evertonian nerves on edge as he has played all 180 minutes of the Republic of Ireland's two qualifiers against Portugal and Azerbaijan.
Article continues below video content
The Irish were beaten in agonising fashion 2-1 by the Portuguese thanks to a headline-grabbing performance by Cristiano Ronaldo who became both his country's and the men's game's all-time top international goalscorer when he turned the match on its head following John Egan's headed opener.
Ireland's hopes of picking up their first win were scuppered by Azerbaijan this evening, however, and it took a late Shane Duffy goal to earn the home side a draw.
Everton's other only senior full-back, Lucas Digne, also featured in both of France's matches this week as they were held by 1-1 Bosnia on Wednesday and by the same scoreline in Ukraine.
Jordan Pickford was in action for England again on Thursday evening and kept another clean sheet as Gareth Southgate's men ran the gauntlet of boos and racial abuse from the stands in Hungary to comfortably beat the hosts 4-0.
---
Reader Comments (47)
Note: the following content is not moderated or vetted by the site owners at the time of submission. Comments are the responsibility of the poster. Disclaimer
Bobby Mallon
1
Posted 04/09/2021 at 21:52:35
I just hope they all make it back in tiptop condition.
Andrew Brookfield
2
Posted 04/09/2021 at 22:06:00
Pickford has played 39 games for England and has a clean sheet percentage of 85%
In comparison Shilton had 48% and Gordon Banks 53%
David Pearl
3
Posted 04/09/2021 at 22:16:22
I've been surprised that Iheanacho has been on the bench for Leicester this season after the way he finished last year.
And let's see if lwobi can keep up this form and improve for more than a few games.
John Boon
4
Posted 05/09/2021 at 01:51:46
I would like to see more supporters realise that Iwobi does have lots of potential. He is still relatively young and could benefit from good coaching and encouragement from fans.
I also understand the frustrations when you see him flying round the field like a blinded moth. If we get the best out of him, he will be like a new player. I still have hopes.
Mark Andersson
5
Posted 05/09/2021 at 03:29:30
He is now a world-beater... sell him while he is worth more than we paid for him!
Drew O'Neall
6
Posted 05/09/2021 at 04:29:29
Congrats, Alex Iwobi, we all hope you can achieve success at Everton – including those who express themselves with negative remarks.
Kieran Kinsella
7
Posted 05/09/2021 at 04:34:37
Andrew
That's an interesting stat though, in fairness to Banks, England didn't play Andorra, Montenegro, or even Slovakia in those days. As for Shilton, no excuse as he played in the era when Turkey were good for an 8-0.
Kieran Kinsella
8
Posted 05/09/2021 at 04:37:56
Iwobi if nothing else is a trier. I actually like the guy cause he gives 110%. He reminds me of Oxlade-Chamberlain: both have a tendency to rush, panic and work themselves into the ground. I honestly think his biggest issue is that he over-does it, gets knackered, and fucks up. If he was a bit more selfish and calmer, he'd have better stats.
Jim Lloyd
9
Posted 05/09/2021 at 07:07:31
I think it's illogical to even think about selling him (unless it was said ironically, of course). I think he's learning under Rafa to use his talent in a more disciplined way.
I hope he progresses, as I like his attitude and, if he becomes a more effective player (like he's showing he can do), all the more good news for EFC... and us watching him.
Danny O'Neill
10
Posted 05/09/2021 at 07:16:24
Like many, I can't help but like this lad. His effort and commitment are fine. At 25, he can still come good and be part of a successful Everton squad. Maybe we just accept him for what he his; unpredictable and inconsistent. We're going to have to for at least this season anyway!
Andrew @2. I don't want to take anything away from Jordan as he really does seem to have matured and turned the corner, both for Everton and for his country.
But genuine question on that stat. Do you / we think that is because of the more cautious and defensive nature of football in the modern game? Particularly on the international stage, where a lot of the games are akin to a chess-like stand off?
Peter Warren
11
Posted 05/09/2021 at 07:31:30
I think he's hopeless and doesn't try very hard. Almost every time I see him play, he is clueless.
That – added to the fact that he can't pass, tackle, cross, head or shoot – makes me very worried how we decided to splosh plus £30M on him.
Eddie Dunn
12
Posted 05/09/2021 at 08:00:35
I hear he is the "most talented" in training. He may have some speed and he may well have terrific skills but he often demonstrates a lack of positional awareness and, like Peter says, he can't tackle and his crossing is usually terrible.
I don't doubt his effort, though, and his directness is refreshing.
I did think he was useless but I hope I was wrong and look forward to seeing more of his talent.
I am, though, sick of international football.
Sam Hoare
13
Posted 05/09/2021 at 08:11:36
Some of the flak that Iwobi has received has been overblown in my opinion. Perhaps it's the result of us overpaying for him, which is not his fault of course.
He has of course been quite poor for the two seasons before this but he was certainly no worse than Bernard who received much less criticism. And even despite being poor and in and out of the team, Iwobi still had some of our best dribbling and creation from open play stats.
He's not a good crosser, I think that much is obvious to both stats and to the eye, which is why he is better centrally or cutting in with an overlapping wingback. The trouble last season was that Ancelotti either played him out wide (often with Holgate behind him, who doesn't overlap, or with Coleman, who'd been told to hold position more) or he was played at wingback where his poor crossing is an issue.
If Iwobi is given confidence and played more centrally, or at least outside but with license to cut inside, then we might yet see more from a player who's started the season pretty well under the new manager.
Danny O'Neill
14
Posted 05/09/2021 at 08:35:42
Interesting points on the crossing. Tackling I'm not so concerned about. He's an attacking player.
Back to the crossing. Maybe his call last season to be played more central was justified and a bit of his own frustration coming out??
Back to how we coach players in this country. He's fast, must be a winger. With that concept in mind, Lineker would have been a failed winger who couldn't pass, couldn't tackle or track back.
Coaching and management must come into this, not just the player himself. I hope it's not too late for him as I see talent in there. Let's open it and realise it given how much we've spent on him.
Peter Warren
15
Posted 05/09/2021 at 08:50:55
Lineker said he played on the wing a lot at Barcelona – as Danny says, a waste of time. I think people are right: Iwobi is best played in the centre but I just don't see anything with him.
Andrew Brookfield
16
Posted 05/09/2021 at 09:19:24
Danny @10 – quite possibly although Joe Hart was at 57%. I agree option and tactics play a part so you can't read too much into it, impressive all the same though.
Stan Schofield
17
Posted 05/09/2021 at 09:36:06
This international football has become very irritating, because there's too much of it, and it's disruptive to club football.
Dave Williams
18
Posted 05/09/2021 at 10:36:53
Rafa is known for his intense coaching of players to make them better and Iwobi has the raw talent but, as others have said above, he lacks the awareness sometimes of how to make best use of it.
Could be that Rafa will really get a hold of Alex and teach him how to play, and we would then have a very good player.
Geoff Lambert
19
Posted 05/09/2021 at 10:46:33
Yes Stan, and there is the world cup finals in 9 months.
Paul Birmingham
20
Posted 05/09/2021 at 11:40:15
I hope Rafa can instill confidence and belief in Iwobi.
He's shown potential but in my view bottles it often and poor descision making, but so far this season and it's very early days, he's playing like a new player, and has made some killer passes.
Let's see what happens but the last managers style and techniques it could be argued didnt inspire many players nor supporters.
Onwards and upwards for Everton and to beat Burnley.
Minik Hansen
21
Posted 05/09/2021 at 11:49:48
He played on the right wing, still got motm. Is this where he plays for Nigeria? Do they also put him behind the striker? I believe he thrives more when positioned centrally, atleast I've seen a game where he seemed more confident there.
Dave Roberts
22
Posted 05/09/2021 at 13:14:50
It's not just goalkeepers who are responsible for clean sheets nor for conceding 10!
It depends just as much on the quality of the team as a whole, especially defensively, and even the quality of the opposition.
Having said that though, I think Pickford is developing into a really world-class goalie.
Gavin Johnson
23
Posted 05/09/2021 at 13:32:45
Iwobi could be a decent player for us as a No 10 in a 4-2-3-1. What has mudded the waters is that James is staying and, while I want Iwobi to get a fair crack in that position, I'm picking James to come off the bench to unlock a defence if our 4-4-2 isn't working.
Dave Abrahams
24
Posted 05/09/2021 at 13:57:12
Iwobi seems to be having a better season and I hope it continues, in the past and even this season he has lacked bottle, that doesn't mean he is a poor tackler, just that he gives up without even trying to manoeuvre the opposition player to release the ball or go backwards, but he is having a better season, going on, mostly, reports, I haven't seen much of the games.
Sam (13), to say he was better than Bernard who you thought got better treatment by the fans than Iwobi, is just making Iwobi the better of two poor players.
I'm content to see if Mr. Benitez can improve him into a more consistent player for Everton, if he can put more heart into his play, we will have a better and more useful player.
John Boon
25
Posted 05/09/2021 at 14:37:41
Peter Warren (11),
Your comment seems to contradict 90% of supporters who have posted on this particular article. Wherever you work and whatever you do in life, I hope your employers give you a better chance of being a success than you do for a young player who does always try.
We need to give all players some hope that they can succeed where they may have previously failed. I think the present management team are already getting more out of him. They must be letting him know that they have far more belief in him than you do.
All people in this world need to know that they have some worth. We all need to be given a fair chance and, for some, it just takes longer. Give him a chance!!!
Jamie Lenard
26
Posted 05/09/2021 at 15:08:00
A couple more decent games and he might have a song.

John Raftery
27
Posted 05/09/2021 at 15:26:09
I think one of the reasons Iwobi looks better is that he is now playing in a team with significantly increased attacking momentum, generated by the addition of two forwards with pace, Gray and Townsend. Iwobi himself has always had pace but now has options on the move in front of him. Previously there were too many around him unable or unwilling to make the runs, standing still and waiting for a pass to feet. That made our attacks too easy to snuff out.
We often like to single out a scapegoat for collective team failings, on and off the pitch. Last season Iwobi was one of the prime candidates, unfairly in my view. I am very pleased to see him finding decent form. If he can add more conviction to his play in the opposing penalty area a few more goals might follow. No doubt Rafa will be working on this aspect in the weeks ahead.
Sam Hoare
28
Posted 05/09/2021 at 15:34:26
Dave, yes, I hope I made it clear that Iwobi has been poor. Similar to Bernard. And yet the criticism he receives is twice as bad, I'm not sure why.
Ajay Gopal
29
Posted 05/09/2021 at 15:58:04
I agree about the majority sentiment here that Iwobi seems to be improving and, hopefully, he can build on that.
As others have alluded to, one thing that he (and most others in our team) lack is composure. If Rafa can build that into Iwobi – and others like Holgate, Davies, Gordon – then, we will surely be more solid as a team and create more chances.
I also do hope that players like Branthwaite, Gordon, Davies, maybe Onyango and Dobbin are given opportunities to play some significant time.
Brian Williams
30
Posted 05/09/2021 at 16:42:58
Jamie #26.
He did have a song, borrowed from the film Madagascar (I think)... but it soon died a death, rather like his form.
Tony Everan
31
Posted 05/09/2021 at 17:15:25
There are good signs from Iwobi that he is improving his game. Benitez and his coaches have helped him over the summer? Something positive has happened, he looks to me like he is fired up and enjoying his football.
There have been brief flashes of what he can do over the last two seasons but then he loses confidence easily, wilts away and becomes an inconsequential player and often a liability.
The true test now will be if he can find consistency to play at his best level and improve. He's given himself a bit of a foundation to prove himself, now he needs to grab the opportunities that Benitez will give him over the next few weeks.
Christy Ring
32
Posted 05/09/2021 at 17:15:31
Iwobi seems to be a different player this season under Benitez. I hope it continues, Seamus said his skill in training is unbelievable, so hopefully there is a player in there.
Jon Harding
33
Posted 05/09/2021 at 17:23:31
Sorry Geoff @ 19 but the World Cup finals are not in 9 months time; they're over a year away after FIFA finally realised it was a bit hot for football in the Middle East in the summer. This means Stan @ 17 even more disruption to our club football next season.
Bobby Mallon
34
Posted 05/09/2021 at 19:31:09
Can't believe we don't get Premier League football till next Saturday. These international games are depressing.
Danny O'Neill
35
Posted 05/09/2021 at 19:51:40
Hate them Bobby. No Everton. But I have no international football affiliation.
Gary Smith
36
Posted 07/09/2021 at 07:18:51
A lot of the players naming him as one of the quickest in the latest video (Godfrey apparently "catches pigeons"). After last weeks video where most of them named him as the most skill full too.
There IS a player here, we've just not seen much of it in actual games.
Think Rafa's 'break at pace' approach, with Iwobi, Gray, Calvert-Lewinand Richarlison all being very quick must give other teams a lot more to think about than worrying about James, Sigurdsson and Gomes jogging the counter. Will also play more to his skills.
Keep it up Alex, prove the doubters wrong!
Martin Krogh
37
Posted 07/09/2021 at 08:07:41
According to most of first team players, Iwobi is the one showing the most flair and skill in training. Quite sursprising, yes, but I reckon he will deliver this season on the pitch as well… Maybe...
Colin Glassar
38
Posted 07/09/2021 at 14:34:19
Some context here, please. It's Liberia. Liberia!! Even I could put in a shift against Liberia!!
Iwobi is shite but some of you refuse to see it. I suppose if you stood in a big, steamy, dog turd you'd see some potential in that as well, right? You can't polish a turd no matter how much you try.
I'm not saying Iwobi is a turd, far from it, but he is shite.
Brian Williams
39
Posted 07/09/2021 at 14:49:20
According to most of first team players, Iwobi is the one showing the most flair and skill in training.
And that statement, which I've also read in several places, sums up the problem with Iwobi. He's lacking the mental fortitude to put those skills into practice in the heat of a real game.
I've said previously he lacks courage, bottle, whatever, but I thought "mental fortitude" sounded less aggressive. But take your choice from any of those.
Kevin Molloy
40
Posted 07/09/2021 at 15:08:29
He's been put in a position where he is comfortable and the difference is night and day. Not sure what that position is like, but he's definitely not a winger.
I reckon Alex will play over 30 games for us this season, and be one of the better players. Words I didn't think I'd be typing a few weeks ago.
Justin Doone
41
Posted 07/09/2021 at 20:45:26
Iwobi MotM, good on him. He needs to keep on working hard and improving but as with many of our players, good but not great.
As long as they perform well as a team, work hard for each other, take their chances and don't mess up, it's a foundation to build upon.
John Boon
42
Posted 08/09/2021 at 21:21:50
My post(25) and advice regarding Peter Warren(15) could also apply to Colin (38). You are both masters of the English language. You both give young footballers a real opportunity to fail miserably. I sincerely hope neither of you coach or have anything to do with children.
David Hayes
43
Posted 11/09/2021 at 11:22:30
I have no hope for this guy. The TW insiders at Finch Farm and the red faced never kicked a ball in 40 years say he can't walk, talk or dress himself. His team mates who work with him daily say that he can do all of what's required for an attacking player and better than anyone else in the squad
Now, who do you go with. Let's wait and see.
Colin Glassar
44
Posted 11/09/2021 at 12:02:30
I've seen enough football/footballers over the years John, to recognise a shite player when I see one.
Opinions are like arseholes, we all have one, John. In my opinion, Iwobi is a poor footballer. History will show us who is right.
Brian Williams
45
Posted 11/09/2021 at 12:16:27
A piece in the Echo online (I think) today talked about Iwobi and used a phrase referring to him as a Monday to Friday player. It's not unheard of for sure.There've been a number of them.
Amazing in training where there's no pressure from a crowd or the media, no real chance of getting injured, but unable to take that level of play into the actual match.
So the players saying he's amazing in training means "just" that.
Benitez MAY have found a way to bring out better play from him in the actual games but it's early days.
But for anyone who's watched us/him over the last couple of seasons it's been obvious that in the main he's been poor.
Danny O'Neill
46
Posted 11/09/2021 at 12:50:01
That phrase makes sense to me Brian. It made me think back to my youth.
In a training setting of 4 on 4, or 6 on 6 where there was bit more freedom, I had mates who were way better than me from a skills or technical ability perspective. Likewise at 5-a-side.
But put them in an 11-a-side full on match setting, they were lost, whereas I thrived at my own level.
Iwobi for me has done reasonably well so far in the 3 games this season. Maybe this manager can get more out of him. He's young enough to be shaped and developed.
My repeated observation of him is that he confuses me as much as he seems to confuse himself. The blessing being, he confuses the opposition too. You just never really know what the outcome will be when he receives the ball!
Brian Williams
47
Posted 11/09/2021 at 13:00:17
Danny same here mate with regard to playing/training with those type of players.
I've watched Iwobi closely and carefully over the last couple of seasons and he constantly avoids or backs out of 50/50's, avoids tackling, and often jumps out of being tackled rather than trying to maintain posession.
He seems to like playing football but doesn't like the physical side of the game.
I maintain, as I've said numerous times, he's got the skill but not that fearless determination and bravery required.
That's just my opinion.
If Benitez can help him in that regard he could be a very good player.
---
Add Your Comments
In order to post a comment, you need to be logged in as a registered user of the site.
Or Sign up as a ToffeeWeb Member — it's free, takes just a few minutes and will allow you to post your comments on articles and Talking Points submissions across the site.