Doucouré: My understanding of the game has improved under Benitez
Thursday, 30 September, 2021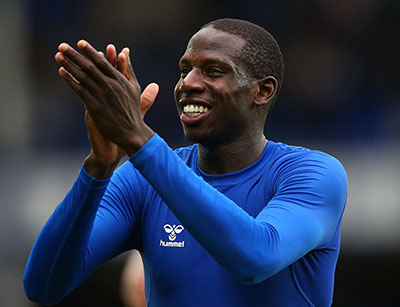 Abdoulaye Doucouré has credited Rafael Benitez for some of the improvements in his game that lie behind his terrific start to the new season.
The Frenchman has already matched his tally of Premier League goals from last term with strikes against Southampton and Norwich City, a reflection of a more box-to-box approach under the new manager that has reaped dividends so far.
Doucouré has dovetailed effectively with Allan in midfield from a defensive perspective but he has come alive in the final third, weighing in with three assists already on the campaign.
"I am very happy with the games I've played this season and I am learning with the manager every day," Doucouré told evertonfc.com. "Everything changed in my game and my understanding of the game improved.
Article continues below video content
"The manager gave me a lot of advice — simple advice that makes a difference — and I try to take that on the pitch and help the team as much as I can."
Doucouré admitted that mistakes were made in what has been the Blues' only League defeat thus far, a 3-0 reverse at Aston Villa that looked more emphatic judging from the scoreline than things actually were on the day. However, he was happy that the team bounced back against Norwich last Saturday and hopes Everton can build on that when they travel to Old Trafford this weekend.
"We had to learn from what happened at Aston Villa.," he explained. "The Premier League is very tough and you have to be 100 per cent in every aspect.
"The margins were really fine in that game but there were things we should have done better.
"It was a setback but it was really important we kept working hard to continue the momentum we built from the start of the season.
"It is a very good start, we have a massive game at the weekend and all the focus this week is on having a very good result at United. We feel very good and are happy with the number of points we have but it is only the beginning and we have to keep working to improve."
---
Reader Comments (80)
Note: the following content is not moderated or vetted by the site owners at the time of submission. Comments are the responsibility of the poster. Disclaimer
Paul Hewitt
1
Posted 30/09/2021 at 05:41:45
So it looks like Benitez is actually improving the players. I see much improvement in the next 12 months.
Derek Knox
2
Posted 30/09/2021 at 05:46:47
I have to agree, Paul, maybe what we needed, a kick-ass Manager who takes no truck or shirkers. Let's see if he can do anything with Iwobi, Delph and Gbamin!
Paul Hewitt
3
Posted 30/09/2021 at 06:21:06
Steady on now, Derek. Benitez isn't a miracle worker.
Mike Gaynes
4
Posted 30/09/2021 at 06:42:59
It's rare to see a mid-career player -- in this case age 28 with 160+ games in the Premier League -- improve as much as Doucouré has this season. His attacking nous and passing awareness are so much better than a year ago that I can't believe my eyes sometimes.
And if he says Rafa has made the difference, I'll just have to believe him.
Bill Gienapp
5
Posted 30/09/2021 at 06:45:16
As I've said on a couple of other threads, I feel like Benitez may turn out to be what we thought we were getting with Koeman (a no-nonsense pragmatist), only with an actual work ethic.
Peter Warren
6
Posted 30/09/2021 at 07:24:00
Hey hey, hold on a minute. Benitez has only been here 2 minutes and the one tough game we had in the Premier League, we got stuffed 3-0 and we've already been knocked out in his first cup competition by the mighty QPR and, if we're honest, we were v lucky to beat Huddersfield.
As for Doucouré improving, he was fantastic at Watford, I kept telling my sons I wish we'd buy him. Without doubt, Benitez is giving him licence to do what he's good at – using his power, pace and athleticism to influence the game. However, don't read too much into these snippets, just arse-kissing with a new manager.
I think it's going to be a hard slog and let's not judge Benitez too quickly. I can see some very poor results coming but again that doesn't mean Benitez is shite.
By end of September last year, Carlo's Blues were a better outfit than Benitez's Blues and then we were pretty much crap the rest of the season bar a win against Spurs in the cup.
It will take Benitez a while to get the players he wants and team playing how he wants. So far so good, yes, I agree... but it's a long season.
Marc Hints
7
Posted 30/09/2021 at 07:34:53
Blimey anyone seen the training footage for the Man Utd game. Looks like half the team missing!
Jim Bennings
8
Posted 30/09/2021 at 07:46:38
There no denying that Doucouré has started showing the type of playing style that he had at Watford.
I do believe that last season Ancelotti was rather lazy in his formations and his lack of dynamism in encouraging players to attack in numbers, perhaps not helped by a lack of pace in wide area's.
The goal Doucouré scored against Norwich, that goal wouldn't have happened at Goodison last season because for the last 16 home matches we stopped committing players to attack.
Bob Parrington
9
Posted 30/09/2021 at 08:15:39
I'm hoping we are seeing, at last, the rise of fortune that comes from having a match up between the players and the manager/coach. This is something I have mentioned many times on TW. Mismatch and things go south (as per the last 3 or 4 managers/players combos). Match and things can go on to years of success.
I just hope that what we are seeing and hearing now is the start of the process.
Robert Tressell
10
Posted 30/09/2021 at 09:21:06
I've been pleasantly surprised how good Doucouré is. At Watford, I saw him as a good box-to-box player, good engine etc and a few nice thumping goals. Last season, he performed very well as an intelligent, disciplined sitting midfielder. Basically he's never going to be top class but he's a real asset – a Europa League standard player of the type we did well with (relatively speaking) under Moyes.
Sounds a bit of a backhanded compliment but these sorts of players, like Gray and Townsend, can provide the building blocks of a very good side.
Niall McIlhone
11
Posted 30/09/2021 at 09:27:10
Mike #4,
Good point regarding the player's improvement, in particular, he seems to be less prone to giving away possession with mis-placed short passing, which was a flaw to his game last season.
He seems to have a new lease of life in a more progressive role, and has shown he can both provide assists and finishes. A big bonus, and crucially important given injuries to our star forwards.
It remains to be seen how Everton will fare against Manchester United with such a depleted squad, but the improvement in midfield play overall this season has been marked, when compared to the final third of last season.
Building on your point, Mike, it is a credit to Doucouré that he accepts he has improved with coaching; he is now becoming a very important player, and it also helps that he continues to link well with Allan.

Brian Harrison
12
Posted 30/09/2021 at 09:46:01
I find that a 28-year-old still has to be coached as rather sad; good players at that age shouldn't need anybody to coach them. Their inability to think for themselves and needing a coach to be telling them all the time of what they should be doing, is something you expect to be said by U18 players.
When I think back to the great players who changed the way their team played without instruction from the manager who in those days sat in the stand to watch the game.
Today, with managers on the touchline shouting orders, reminds me of watching kids play, so they spend 5 days a week on the training ground and yet they still need the manager to constantly remind them of what they should be doing... a bit pathetic really.
Stan Schofield
13
Posted 30/09/2021 at 10:15:15
As Peter @6 says, there's a long way to go…..
Colin Battison
14
Posted 30/09/2021 at 10:15:22
When you release the shackles off Doucouré, he is a very dangerous player. Unfortunately, last season he was used incorrectly by Ancelotti as a holding midfielder and was basically covering his own space as well as James Rodriguez, so had very little license to get forward.
He looks fitter, leaner and his passing, which reminded me of Carlton Palmer last season, has improved considerably. I remember Howard Wilkinson describing Carlton Palmer, saying "He covered every blade of grass on the park because his first touch was shite." This was a bit like Doucouré last season.
Danny O'Neill
15
Posted 30/09/2021 at 10:20:00
I know there could be an element of marketing and promoting the Benitez brand on the club's part, but to repeat myself, I've noted how hands on he appears to be on the training ground and how interactive he is with the players. On an almost individual basis. That indicates good intricate coaching philosophy.
I like Doucoure's statement about simple advice. In this day and age of over analysis of football, complete with Carragher's swipe button, rewind, pause, fast forward etc, it's very easy to forget that sometimes football is actually a simple game played in the moment.
Derek, I hope he can do something with Iwobi, because there is a footballer in there somewhere. I have no idea where, but there is. Gbamin too, but will he ever be fit? And now he's in the shit disciplinary wise, so not looking good for him. Let's hope. Delph - no thank you. For me he's gone already; he was a long time ago.
On the Villa game. Again, it's football. You win some, you lose some. You have good days, bad days, lucky days and unlucky days. We rightfully judge each game, but ultimately it's where we are in May that matters.
Don't forget Anfield Peter. That was a great result and pretty good performance. I can still see James' pass, but also, the not as much talked about Tom Davies swivel on the edge of our box, look up and direct forward pass into the path of Richarlison who then fed Calvert-Lewin to win the decisive penalty.
Kevin Molloy
16
Posted 30/09/2021 at 10:46:57
One very pleasing aspect about this season is how we are closing games out. Doucouré's last goal, the crucial second, which meant we weren't hanging on the edge of our seats for the last 20 minutes, like we seem to have been doing for every victory in the last 10 years.
It must make such a difference to players when they get used to closing down a game with 20 minutes to go, by the end of the season you would think they would have so much more in the tank than the poor buggers still panicking at minute 95 every week.
Steve Griffiths
17
Posted 30/09/2021 at 11:13:41
Seamus & Dominic appeared on the latest club training video, although both seemed to be doing their own individual stuff & did not join in team game. Hopefully, both will be able to join in today or Friday and are available for selection Saturday, even if it's only from the bench.
No sign of Richarlison but you never know. I agree, the manager appears to be getting a tune out of a number of last season's players early doors, particularly the central midfield two. Doucouré appears to have had the shackles taken off, that the Italian (can't bring myself to mention his name) put on him last season & looks more like the player I saw at Watford, putting out fires & then marauding forward.
Along with Gray & Townsend, absolutely outstanding in the first few games, long may it continue.
Tony Abrahams
18
Posted 30/09/2021 at 11:19:15
Very good post by Peter @6,
I was genuinely worried after reading a report in the Echo (I think?) that Everton now have a midfield that is the envy of many clubs, just before we go to play on the wide open spaces of Old Trafford.
Tony Everan
19
Posted 30/09/2021 at 11:29:31
Credit to Benitez and Doucouré, the manager has found they key to using Doucouré to his best. He has never looked happier with his game. Peter W at 6 rightly says though it is early days , consistency over the season is what matters.
Steve 17
I saw that, great to see them both on the training ground. As they were not part of he main training session I don't think they will be involved on Saturday. We will be looking strong after the international break.
Calling our TW scouting department. Linked today with the young Spanish , Roma midfielder Gonzalo Villar. From what I have read one of his main attributes is driving forward with the ball from midfield initiating attacks at pace. Anyone know anything about him. I think there could be some mileage in this one, Benitez will know all about him.
Robert Tressell
20
Posted 30/09/2021 at 11:40:45
Tony, we were very strongly linked to Villar when he went to Roma. He was, at that time, playing second tier football in Spain, I think, and doing well for the Spanish U21s.
I think this will be the profile of player we focus on for the time being – age 23 to 25, looking for a step up or chance to play more football, relatively low cost.
Baines, Arteta, Cahill, Pienaar and others all fell into that sort of category and formed the basis of a very good side under Moyes.
But seems an unlikely signing in January unless we offload Gomes maybe.
Jerome Shields
21
Posted 30/09/2021 at 12:06:24
A bit too early in the season to make any judgements. Doucouré's runs will be getting more attention in the coming games. I do think that Benitez is working from the right bases, but Everton do need better players, since some players have been improving for a long time and seem unable the maintain consistency. Ancelotti did try to improve individual players, only to see them drift back.
This is just Doucouré being wheeled out by EvertonFC. com.
John Kavanagh
22
Posted 30/09/2021 at 15:11:00
Tony @19 and Robert @20.
Villar appears to be a quicker version of Gomes with a slightly better short passing ability based on his YouTube vids. Very limited goal threat?
Seems he is deemed not good enough for Roma's first team, but I would still have him rather than Gomes as his extra pace in midfield would help us a lot alongside Allan and Doucouré in a three man midfield and he would provide cover for Doucouré or Allan off the bench in a 4-2-4 type set up.
I can see Gomes being on the way out in January to a league operating at a much slower pace that suits him more.
James Flynn
23
Posted 30/09/2021 at 16:27:46
"Doucouré: My understanding of the game has improved under Benitez"
Gerrard said the same about Rafa.
Martin Mason
24
Posted 30/09/2021 at 16:28:01
So glad that an already good player can be able to admit to learning. I like him very much and am beginning to feel that we've for once put a round peg in a round hole by recruiting Benitez. I believed wrongly that he was just the next step down for us.
Bobby Mallon
25
Posted 30/09/2021 at 16:44:28
Brian Harrison, load of tosh.
All players learn from different coaches all through their careers. Great players went to Barcelona at ages of 20 to 28 and failed under Pep because they could not grasp his way of playing they could not learn the way he wants players to play the game.
Roger Helm
26
Posted 30/09/2021 at 16:46:59
I always thought he was good. For years I have been moaning about our players being small, weak and slow, but he is a real athlete with a great engine. If he keeps up his box- box-play, there will be many more goals from him.
Dale Self
27
Posted 30/09/2021 at 16:49:22
As a recovering happy clapper (trademark, Darren), I have to admit that this sounds like cloaked criticism of Ancelotti and I accept it. There was no push back at the time of the "I am not a magician" presser pout and I've wondered about that since.
Good to see a player step up and say what needed to be said and give credit where credit is due. Rafa appears to have won over what was a dysfunctional squad. Perhaps he can get some stability in positions without too many injury setbacks and continue to contribute to the players' form. They clearly relish the chance to improve with more structure and direct instructions.
John Skelly
28
Posted 30/09/2021 at 16:50:59
Benitez seems to be the right fit for this team.
I will comment again in December too if my hunch is on course.
Bill Gall
30
Posted 30/09/2021 at 17:23:05
We are starting to see a difference of examples in our squad. As most of them have been playing with different managers using them in different positions and styles. We are now seeing a manager who at times is using some of them in different positions brought on by injuries who is instilling how he wants each position to play, as both an individual and team player.
It is too soon to judge the future, but Benitez appears to have the correct approach and tactics to allow each player to improve his position in a team effort, and here is hoping without naming names, he can improve a few more to a better standard.
James Flynn
31
Posted 30/09/2021 at 17:33:18
Bobby (25) - "Brian Harrison load of tosh. All players learn from different coaches all through their careers"
Agree. On "tosh" and "learning".
Bill Hawker
32
Posted 30/09/2021 at 17:34:28
@Brian #12. Works for the big clubs, why wouldn't it work for us?
Darren Hind
33
Posted 30/09/2021 at 17:49:43
Shut up and play, lad. We heard enough of this shite about the previous managers.
Don't tell us you are improved, show us and do it over a period of time – not a couple of matches.
If the game was played with the gob, we'd be perenial Champions League qualifiers
Paul Birmingham
35
Posted 30/09/2021 at 18:22:36
Early days of this season and a massive game at a United, and a very tough run of fixtures.
True Grit, and reliable. over the course of every game this season and then to review.
Saturday will be a t of fitness, desire and character at a United and it's the minimum needed.
I really Doucoure, has a stormer and All the team, and they turn up, and play United off the park.
Tony Everan
36
Posted 30/09/2021 at 18:33:28
Robert @20,
Thanks for your insight.
John @22,
It's a good point, it would be more good business if we could get a move for Gomes that suited him and brought Villar in. If Benitez fancies him he could improve this lad's game too. A loan deal in January with an option to buy could be another shrewd manoeuvre.
Don Alexander
37
Posted 30/09/2021 at 19:39:55
Most rational fans realise that the club has to feature something about the club on its own TV channel on a daily basis. Doucouré's having a good season and was asked to talk about it I assume. Only a gobby idiot would decry him for doing so.
Darren Hind
38
Posted 30/09/2021 at 20:07:51
Why wouldn't the sort of idiot who constantly claims a group of junior coaches who have been here five minutes are responsible for 30 years of decline, believe a 28-year-old when he says a man he met a few weeks ago has changed and improved everything in his game?
Daniel A Johnson
39
Posted 30/09/2021 at 20:19:08
After all the salivating over the Big Don Ancelotti early on which proved to be way OTT let's just give Benitez another 15 matches.
He's had an extremely lucky/easy fixture list so far let's see how we do against sterner opposition in the coming weeks.
Christine Foster
40
Posted 30/09/2021 at 20:19:30
It's rather simple really, certain players can adapt to the way certain coaches want them to play. Their individual skillet and attitude align with what they are being asked to do. Round pegs into round holes. Everyone happy.
I think we have had a surplus of octagonal pegs that needed rounding... or expensive kindling..
Brent Stephens
41
Posted 30/09/2021 at 20:23:50
Christine, players with their own skillets! You're cooking tonight!
Christine Foster
42
Posted 30/09/2021 at 20:28:28
Darn predictive text lol.. good one Brent!
Kevin Molloy
43
Posted 30/09/2021 at 20:38:07
I think there is a rather basic reason that things are starting to knit together. I would say it's staring us in the face, but I think a lot of Evertonians would rather talk about the weather than acknowledge the fact that the current manager is right out of the top drawer.
The stars aligned for once, and I predict we will enjoy more and more of the rub of the green as he settles in.
John McFarlane Snr
44
Posted 30/09/2021 at 20:46:02
Hi Christine [40],
You will be pleased to know that a toast to absent friends took place in The Bramley Moore, and your uncle Tommy was singled out for special mention. It wasn't the intention to ignore others, it was simply because his was the latest death we knew of.
I trust you are in the best of health and looking forward to returning home, I'm sure that your attendance at one of the get-togethers would be welcomed.
Darren Hind
45
Posted 30/09/2021 at 20:57:59
I don't know about top draw.
I'm pleasantly surprised by the more positive tactics Rafa has adopted, but if he loses on Saturday (and we have to accept we might) He will have lost three out of four and the pressure will build far more quickly on him than it did on Carlo.
Tough weeks ahead of Rafa. If he comes through unbruised I think he can relax and start to enjoy the job
Christine Foster
47
Posted 30/09/2021 at 21:12:53
John 44#, Thanks so much for remembering my Uncle Tommy (Costello) and I am sorry that the tyranny of distance prevents me joining post match gatherings at Bramley Moore, fingers crossed it won't be too long. Alas my recent run in with a CT scan shows some significant heart disease that looks like I have a few more challenging encounters to be had at Waikato cardiac unit. Such is life, too many cream buns.. so taking care of myself at the moment, if you shake me I will rattle!
Fingers crossed for an unlikely result tomorrow it would do me the world of good!
Kieran Kinsella
48
Posted 30/09/2021 at 21:14:21
Nothing new in this teaching old dogs new tricks
Leighton Baines has no doubts he's learning from manager Roberto Martinez. Gareth Barry recently suggested that even at 33, Martinez was still broadening his education and Baines was quick to share those sentiments.
"I would definitely agree with Gareth," he said. "As a group I think everyone will have learnt a lot from the manager.
"I have never worked under anyone like him. He is always introducing new things and he has so many ideas about how to play the game.
"I think we are all still learning and for someone like Gaz - with the experience he has - to have said what he did, you can get no higher praise than that."
Leon Osman is enjoying life under Robert Martinez.
"It's been new, it's been challenging but it's been good. It's different to learn new systems; we are learning "
The 32-year-old is looking forward to Everton's pre-season tour of the United States.
John Boon
49
Posted 30/09/2021 at 21:26:19
Not too much to say other than well said, Don(37). However. congatulation to the eloquent response from the writer of (38) with his expected pearls of wisdom. The leopard never loses his spots. Mind you leopards also cannot write.
Darren Hind
50
Posted 30/09/2021 at 21:31:26
I guess obsessives will always obsess.
The footy fans will simply talk about footy.
Bill Gall
51
Posted 30/09/2021 at 22:11:22
Of course it is possible to teach a person in a few weeks, my wife only took 4 weeks to teach me to boil an egg, still struggling with the chips.
Rob Halligan
52
Posted 30/09/2021 at 22:17:28
Bill, you're ahead of me, mate!!
Don Alexander
53
Posted 30/09/2021 at 22:23:09
John (#49), thanks but I wasn't referring to any individual, it was more a point about the need in this day-and-age for players and clubs having to feed a never-ending media demand.
Can't imagine why anyone on TW would imagine I was referring to them personally but, "if the cap fits, etc etc"!
John McFarlane Snr
54
Posted 30/09/2021 at 22:35:18
Hi again Christine [47] I'm sorry to learn of your current health condition, I trust that you come out of it with all guns blazing. I know how you feel regarding the 'rattling', I take 18 tablets a day, a weekly injection for type 2 diabetes, and a monthly self-injection for pernicious anaemia. I also suffer from "Evertonitis" but apparently there's no known cure for that.
I'll make it my resolution to share an evening with you and fellow Toffebbers in The Bramley Moore. Best Wishes John.
John McFarlane Snr
55
Posted 30/09/2021 at 22:43:26
Hi Christine, [47] it was meant to read, 'sharing an evening with you and fellow ToffeeWebbers', I'm afraid that as well as walking like an old man, I am now spelling like an old man, but at the age of 83 I suppose that's understandable.
Christine Foster
56
Posted 30/09/2021 at 22:45:47
John, many thanks for the best wishes. Lord, the things we endure just to make it through to the next game!
Afraid we all suffer from Evertonistis... my GP here, also a recently relocated scouser from Old Swan surgery, Dr Ernst Berhs, assures me he can treat everything else apart from that. Apparently it's genetic, you are born with blue blood...
Best wishes, John!
Brent Stephens
58
Posted 30/09/2021 at 22:58:08
Jim, and the common factor is…?
Bill Gall
59
Posted 30/09/2021 at 23:06:34
Hi, John #54
I guess that is the price for old age and maybe supporting Everton. When I turned 65, I was told I was entering my golden years; unfortunately, mine turned out to be the rusty ones. I have ended up with 1 new knee, 2 heart valves replaced and I wished I only had to inject myself weekly as I inject myself 4 times a day for Type 2 Diabeties.
But I will be there when the new ground opens, and maybe before if this Covid-19 crap clears up, and would love to go to the pub after the game.
Jamie Crowley
60
Posted 30/09/2021 at 23:08:50
Christine Foster -
Be well kid.
Don Alexander
61
Posted 30/09/2021 at 23:40:05
Best wishes to all with ill-health but with a modicum of luck and determination I've found over the nigh-on fifty years I've had it that diabetes (type 1 in my case) can be managed.
I'm no stranger to a bit of needle as a consequence.
"Evertonitis" (and thanks for the term Christine @ #56) on the other hand that still wracks me!
David Pearl
62
Posted 01/10/2021 at 00:40:19
Hmm and here l was feeling sorry for myself with my 4 tablets a day plus inhaler. Tramadol messing me head, a larged left side of my blue heart, 2 cracked ribs, 3 protruding discs and nerve damage... and l'm only 51. Just a kid... still with a killer free kick.
Also waiting on 2 knee ops from old football injuries. And to think age 14 l was a jujitsu black belt with a back flip into a fighting stance.
However, l had my first thai massage tonight and felt the best l have in 5 years... for all of half an hour.
Bringing me back down to earth is the fact we have Rafa as our manager. From where l sat the last home game, next to Stephen Vincent, a cracking blue met through ToffeeWeb, its near on impossible to aim a disgusting microwaved goodison cheese pie to the back of his head... due to the top tier stand getting in the way.
John Boon
63
Posted 01/10/2021 at 01:01:35
No matter how many pills any Evertonian may take, there are cures for "Evertonitis" beyond medication:
(1) A good well deserved win can do wonders;
(2) A win no matter how it is achieved worth a general pick me up;
(3) A draw, depending on who we play, can give "mild relief";
(4) A loss can result in significant relapse;
(5) A loss to them, return of suicidal thoughts;
(6) A win against them, complete recovery and a guaranteed 12 months of Bliss, including forgiving anybody you may have slighted on ToffeeWeb.
That only lasts for a week. I must have a guilty conscience.
Chris Jones [NZ]
64
Posted 01/10/2021 at 01:20:39
Christine,
I don't post on here much as I always feel at least half a day behind the thread and someone else has generally posted what I'm thinking, but I really enjoy reading your posts. Just wanted to wish you all the best with your health.
Aroha from New Zeland.
Christine Foster
65
Posted 01/10/2021 at 01:26:19
Don, afraid John Snr has the accolades for the diagnosis of "Evertonitis" having said that it regularly infects some 39,838 people on a fortnightly basis. Apparently they are all locked up together to endure 2 hours of endless hope.
But never fear – I hear a new hospital for treatment is being built on Dock Road...
Christine Foster
66
Posted 01/10/2021 at 01:29:04
Chris, only half a day behind? Lord, somedays I feel light years behind the rest of the world!
Wait, this is New Zealand... we are light-years behind the rest of the world!
Greetings from Kihikihi!
Christine Foster
67
Posted 01/10/2021 at 01:30:07
Jamie 60* sure as hell going to try buddy!
Christine Foster
68
Posted 01/10/2021 at 01:33:54
As the discussion went with my GP here (but he is from Old Swan):
"Try not to get anxious or stressed."
To which I replied, "I'm an Evertonian!"
"Oh," he said... "I will write you a new script."

David Pearl
69
Posted 01/10/2021 at 01:37:40
Kevin #43,
He's right out of the sock drawer. The dirty rotten kopite sock drawer. With holes.
Phil Smith
70
Posted 01/10/2021 at 03:17:25
Marc (7), yeah, I noticed that. And also that Gbamin was very prominent - playing the joker role - so he might actually start on Saturday. No Gomes, Calvert-Lewin, Coleman, Richarlison, Tosun, Simms, Pickford or Delph (phew). I didn't see Kenny there either. I did see that Tom was the only one in a tee. Hard scouser.
Steve Brown
71
Posted 01/10/2021 at 06:01:32
We'll have a better idea of Benitez after the Man Utd game. Our away record last season was outstanding.
Danny O'Neill
72
Posted 01/10/2021 at 06:22:49
I think Benitez is enjoying the job already. I think many Evertonians are starting to like him. But yes, it's going to be a testing few weeks. Seat belts strapped for an "Everton October"? Or will they pleasantly surprise us? The important thing is not to get carried away either way it goes. The season ends in May.
Evertonitis. Thank you John Senior, I now know what has plagued (blessed) me for my entire life. The dogs worry about my condition. The wife has another word for it. Childishness!!
God speed Christine.
Tony Abrahams
73
Posted 01/10/2021 at 07:46:28
You're still doing well David P, if it took you half an hour for your happy ending mate, and looking at Benitez, it's obvious we are going to have bad times, but if the work rate and effort remain, then I'm also sure we should be able to give most teams a game, although we will need our better players fit against those better teams.
Tomorrow is very interesting, I personally think we defend to deep as a team whoever plays in central defence, so whilst I'm expecting us to pack the midfield, with only one half fit centre forward, I just don't know how we are going to get any real possession of the football.
Michael Kenrick
74
Posted 01/10/2021 at 11:21:33
Interesting article in the mainstream media of a similar vein:
Abdoulaye Doucouré: Everton's New Attacking Threat – Forbes Magazine
James Nalton is the journo. Takes a fairly detailed look at tactical issues and formations that some of our resident experts may have opinions on. I've not seen that name before in the media. Seems like he's a freelance who mostly covers them other lot...
Danny O'Neill
75
Posted 01/10/2021 at 12:05:26
Interesting read Michael. I'm far from being able to profess to being one of the resident experts, merely a contributor, but I'll have a go.
I'm not convinced with the opinion we've been playing 4-4-2. I've not seen that.
When I've seen the lineups, I've thought 4-2-3-1 but with the way Doucoure has been playing, is it a more fluid adaptation of the 4-5-1 formation?
With Allan sat in front of the defence, a 4-1-4-1 if that makes sense before I get lost in numbers?
Tony Abrahams
76
Posted 01/10/2021 at 13:21:27
All those different formations give me headaches, and especially when written by a journalist trying to form his own narrative.
Can anyone remember a song written by a couple of mad/funny Evertonians, during our great spell in the mid eighties called the toffee-wrap? A song that explained football tactics, and trying to stop a great team better than anything!
Paul Tran
78
Posted 01/10/2021 at 17:13:28
It's not about what players say in the first few months of a manager's time, it about what they say, or neglect to say, a couple of years later.
Most players prefer playing at pace, with purpose, so no surprise the players look like they're enjoying themselves. What you see on the pitch tells you far, far more than any official interview.
Chris Jones [NZ]
79
Posted 01/10/2021 at 20:24:45
Christine,
When I first got here in the 90s even the capitol was closed on Sundays - we're catching up slowly. I'm in Lincoln just south of Christchurch btw.
Christine Foster
80
Posted 01/10/2021 at 21:37:17
Chris, we first arrived in 81, you had to book a international call at the post office of no more than 10mins. We were "bonded" to a company for 2 years, sent to live and work in a mill town called Tokoroa and eventually built a home in Rotorua before returning to the Uk in the early 90s. Family used to send us parcels of goodies and the football echo would arrive every week.. a lifetime ago..
Chris Jones [NZ]
81
Posted 01/10/2021 at 23:53:45
Christine that's some experience of "the colonies" - I can remember buying the weekly British paper to read the football when I first got here. There's something to be said for the internet when we can watch every game live now (or first thing on a Sunday morning with a pot of coffee and the telly to myself). Enjoy the game tonight
Christine Foster
82
Posted 02/10/2021 at 03:08:19
Not so bad tonight, Chris, only starts just after midnight. Spark has good coverage thank goodness! Makes you think, I saw an interesting one the other day, it's only 66 years from the Wright brothers' first flight to landing a man on the moon...
Sitting in the post office cubicles in Putururu, waiting to be connected to Liverpool for 10 mins once a week, seems just as ridiculous... Enjoy the match, Chris!
Bill Gall
83
Posted 02/10/2021 at 03:10:01
Hi Christine,
I remember when I came to Canada in 1976, to Saskatchewan. There was no coverage or scores in any newspapers. I went back to Liverpool for a month in 1978 and paid for the Pink Echo for delivery expecting it every week, but they just sent 4 or 5 copies once a month.
I moved to New Brunswick in 1985 and found an English paper that came from Toronto once a week. It may be the one that Chris #81 is talking about, it was the International Express.
Now, I can get every Premier League game on TV.
Kieran Kinsella
85
Posted 02/10/2021 at 05:13:05
So in other words he talks the talk but can't walk the walk
Lee Brownlie
88
Posted 02/10/2021 at 07:54:25
Brian Harrison (#12),
So one of our players states that he believes the new manager has improved him, and that's somehow both 'sad' and the player is speaking like a trainee youngster??
Further, that our manager getting involved, barking instructions from the side of the pitch - as opposed to, say, nonchalantly supping his coffee like he couldn't give the slightest shit - means our players need constant coaching, and it's all 'quite pathetic really'??
Really???
Fuck me, you really are digging for the most negative crap you can come up with, aren't you??..
---
Add Your Comments
In order to post a comment, you need to be logged in as a registered user of the site.
Or Sign up as a ToffeeWeb Member — it's free, takes just a few minutes and will allow you to post your comments on articles and Talking Points submissions across the site.