Gordon's brace gets his Young Lions career off to a fine start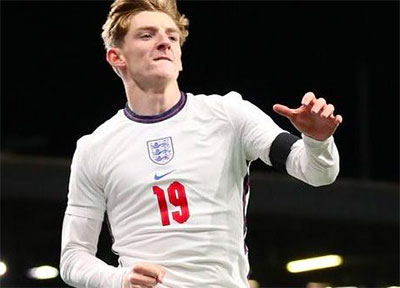 Anthony Gordon scored a brace inside the first 15 minutes of his first England U21 start as the Young Lions saw off the Czech Republic U21s 3-1 in Euro 2023 qualifying at Turf Moor.
Fellow debutant Folarin Balogun scored the third goal in England's win.
Gordon was only called up to the U21s for the first time last week, but immediately repaid U21s manager and former Evertonian, Lee Carsley's faith in him by making his mark on his debut early on.
Within five minutes, his strike was helped into the net by Filip Kaloc's leg. While there was some debate over whether it was an own goal or not, there was no denying the second was Gordon's as he turned the ball home from Conor Gallagher's saved shot.
---
Reader Comments (61)
Note: the following content is not moderated or vetted by the site owners at the time of submission. Comments are the responsibility of the poster. Disclaimer
Brent Stephens
1
Posted 11/11/2021 at 18:33:14
Anthony Gordon debut tonight for England U21s
Brent Stephens
2
Posted 11/11/2021 at 19:10:21
Gordon deflected goal. Looked to be on target before the deflection. Great start to his debut.
Brent Stephens
3
Posted 11/11/2021 at 19:15:56
Second goal for Gordon for England U21s.
Brent Stephens
5
Posted 11/11/2021 at 20:52:13
And Anthony Gordon named as MotM in the England U21s game. Unlucky to have his first goal deemed to be an own-goal.
David Pearl
6
Posted 11/11/2021 at 20:57:11
Made up for Gordon, he can come back with a smile on his face.
Allen Rodgers
7
Posted 11/11/2021 at 22:03:41
Well in Anthony.
Kieran Kinsella
8
Posted 11/11/2021 at 22:07:31
Brent
That should do his confidence the world of good and hopefully keeps him ahead of Iwobi at Everton
Brent Stephens
9
Posted 11/11/2021 at 22:18:16
Kieran, I think his trajectory is hopefully on the up now compared to Iwobi. As you (and David) say, he should come back with a smile on his face and confidence boosted. Getting towards his U23s performance level.
Derek Knox
10
Posted 11/11/2021 at 22:34:43
We always see Anthony at his best playing on the left, and coming in on goal from that flank, so it beggars the question why did Rafa have him mostly on the right with Andros and Seamus there too, on Sunday against the Spurs?
Jim Lloyd
11
Posted 11/11/2021 at 22:34:45
Well done, lad! Keep up the good work you've shown in the first team.
Brent Stephens
12
Posted 11/11/2021 at 22:38:55
Derek, that's a fair question, though I thought Gordon played well on the right as well. He's pretty much two-footed so it might not matter that much.
Christy Ring
13
Posted 11/11/2021 at 23:04:28
Delighted for Gordon, will definitely give him more confidence.
Coleman was superb for Ireland tonight, hardly gave Ronaldo a sniff playing in a 3-man defence.
Gary Smith
14
Posted 11/11/2021 at 23:05:35
Some reason for optimism, until Rafa binned him for Iwobi next game – to 'show us'.
Brent Stephens
15
Posted 11/11/2021 at 23:12:35
Love your optimism, Gary.
Dale Self
16
Posted 11/11/2021 at 23:25:41
Well, there hasn't been a lot of good news and Anthony has come thru superbly. Let's all hope this is a start for a new generation of blues who get it and get it done.
Fran Mitchell
17
Posted 12/11/2021 at 00:32:37
I really like Gordon. He's a determined lad, and he plays in a direct manner. Not lightening quick, but quick enough and has good feet. Still adapting to first team, so will have good and less-good games, and his stamina will improve with time.
Reminds me a bit of both McNeill, and Harvey Barnes and I think he can emulate their success in their respective first teams.
Really look forward to when he gets his first Everton goal.
Hopefully the first of a wave of young players to enter from the academy.
Mark Taylor
18
Posted 12/11/2021 at 00:33:57
Gordon has done okay in the games he has played. Not set the world on fire but he's been solid enough which, in our team right now, puts him at above the centre-line of performance.
He probably still won't make it, because that is how Premier League standards are, but he has enough about him to have a shot at it. I hope Rafa gives him a decent run so we at least find out.
At the very least, he has a bigger potential upside than some of the alternatives which is why he deserves his chance.
Mike Gaynes
19
Posted 12/11/2021 at 02:50:55
I disagree, Mark. I think he will make it. He's only 20 and has clearly and significantly improved his skills since we first saw him, along with considerable physical development and increased confidence.
One key to a young player's ultimate ceiling is how quickly and consistently he "steps up", and Gordon seems to be passing that test. I see more of a Premier League player in him than I ever did in Kieran Dowell for example.
Steve Brown
20
Posted 12/11/2021 at 04:54:58
Weren't Borussia Dortmund interested in signing Gordon when he has 17 years old? Like all the youngsters, the managerial changes and squad instability has hindered his smooth progression and first team opportunities. But, it has always been telling for me that he has never been sent on loan but trained with the first team squad.
It would be a refreshing change if we didn't write him off prematurely. I think he has the makings of being a good player.
Darryl Ritchie
21
Posted 12/11/2021 at 05:01:59
Anthony Gordon… off to the races!
Andy Kay
22
Posted 12/11/2021 at 06:06:34
Funny how Radcliffe, Sharp, McMahon, Heath at Stoke, Steven, Borrows ect all given debuts and full game time as teenagers, learning their trade before becoming 1st Division regulars either with us or other clubs. Add in Southall, Sheedy, Mountfield, Irvine – all being around 20 when they were playing regularly.
I know squads are bigger and the game has changed but seriously if players like Jonjoe Kenny and Tom Davies haven't nailed down a blue shirt in the 1st team by now it isn't going to happen. We need to start looking at Branthwaite, Gordon, Simms starting soon, otherwise they'll end up like a Dowell, or Baningime. These kids need to sink or swim.
And Brands should be looking to bring in the next versions of Saka, Loftus-Cheek, Smith-Rowe, Bellingham. It's the only way we'll ever challenge again. No more Walcott, Iwobi, Rondon type signings. No-one will come to Everton because you won't get game time and our future will be the same as the past 5 years. Give the kids a run.
Jim Bennings
23
Posted 12/11/2021 at 06:31:28
Well done, lad!
Whisper it quietly but maybe this lad has appeared so far to have a sensible head on his shoulders, something of a rarity in today's younger footballers.
He needs strongly advising now by good people at the club that the hard work has only just begun and he needs total dedication to his profession.
Danny O'Neill
24
Posted 12/11/2021 at 06:40:36
As well as the goal(s), it sounds like he played really well Brent. Should be great for his growing confidence.
I've liked what I've seen of him this season and would agree with Mark Taylor and Mike Gaynes. He's coming through and doing well, so hopefully in time he can establish himself more consistently and regularly. I'm normally one for wanting players, especially wide ones, to play on their natural side, but I've seen enough of Gordon to see either side doesn't phase him.
The pace thing doesn't concern me either. He's no Usain Bolt, but what he does have is good feet and a quick change of pace. That is often more decisive in beating a defender than trying to win an out-and-out sprint with them in my view.
I think I know what you're saying Andy, but that's not the only way we will challenge. All the top teams are packed with signings from elsewhere and complimented by a few home grown players. I agree on the players you call out, but we just need to get our transfer strategy better as well as improving the output of the academy. But realistically, based on history, most clubs can only expect ones and twos to become first team regulars. Even more difficult these days where it's very much a squad game.
I hope the manager "manages" him accordingly. And as frustrating as that will be for some, it's going to mean him being rested for periods as he continues to develop. But hopefully, he can make that decision more difficult for the manager and be rested less frequently.
Anyway, finishing on a positive, really pleased for the young man, just bottle it up and bring it back for next week.
Bob Parrington
25
Posted 12/11/2021 at 07:26:57
Mike @19,

I'm with you on this. I reckon he will make it, providing the coaching support is there along the way. When on the left he just about always turns inside on to the right and good coaching might help him become less obvious.

He has the guts to go for it and good on him for this! We need players like him, who have the balls to just get up and on with it. Hopefully, we have a few young-ones coming through who can follow his example!!!
Niall McIlhone
26
Posted 12/11/2021 at 09:15:56
Well done, young man. I personally think that the manager will give Anthony a run in the team, or at very least, start to introduce him off the bench in some games at an earlier stage, where he can run at defenders.
Had we had both Calvert-Lewin and Richarlison fit and firing, we might have been talking about Gordon having 5 or 6 goal assists already this season. As it is, we have been largely toothless in the centre-forward position in Calvert-Lewin's absence.
Brian Harrison
27
Posted 12/11/2021 at 09:56:18
I watched the game and Anthony Gordon was impressive throughout the whole game, he not only scored 2 but laid on a tap in for the striker only for him to miss the target from a yard out.
Later in the game, he drove into the box took the full back on then dragged the ball back leaving the full-back on his back but the keeper made a save, but in all honesty, Anthony will be disappointed not having scored a hat-trick on his debut.
Anthony isn't yet the finished article but he is improving game on game and we all hope he keeps on progressing the way he is. I think most of us are always pleased to see a local boy come through the ranks.
Alan J Thompson
28
Posted 12/11/2021 at 10:00:39
Congratulations on a good international debut and the lad definitely has promise but winning World Cups at youth levels seem to mean very little, or offer much opportunity, at Everton.
Joe McMahon
29
Posted 12/11/2021 at 10:01:36
Andy @22,
The game was different 40 years ago, many young players were thrown in the deep end then. These days, you have many established players that are big and physical, they would knock 17- to 20-year-olds over like skittles.
James Newcombe
30
Posted 12/11/2021 at 10:12:53
Looks like we have a good one. Our transfer activities should be focused on finding the next...and the one after that.
Eddie Dunn
31
Posted 12/11/2021 at 10:23:18
It's such good news, I hope the confidence grows and this kid develops with us into a top player.
Dave Abrahams
32
Posted 12/11/2021 at 10:23:37
Mike (19),
I don't think Gordon has improved his skills since we first saw him, he has always had them but you are correct he has improved, considerably, his physical development, confidence and more importantly his work rate, which has only come since Benitez took over.
In the past Anthony, like Dowell, could sparkle and get you off your seat, then go missing in the same game for long periods, his ability was never in doubt but other elements of his game made you wonder if he could reach the top.
Now he looks much better and I believe he continue to improve the more he plays, he now wants the ball more and goes looking for it, he was even shouting instructions to his team mates last night, although he looked spent in the last 10 minutes.
I think if he continues to listen to Benitez, he will learn more and could save Everton a lot of money in the future, I used to say to young lads I sent down to Notts Forest, the most important thing to use, in coaching sessions, are your ears, use them and you will learn.
Jim Bennings
33
Posted 12/11/2021 at 11:04:37
What would really kick-start his Everton or rather his club career, is a couple of goals, get that monkey off his back now at club level.
He's not had many appearances, I think Preston included it's something like 32 outings all in all?
Hopefully before this season is finished he's got at least three or four goals to his name.

Ken Kneale
34
Posted 12/11/2021 at 11:10:53
Jim,
I am hoping for the same, preferably starting with all three or four on 1st December around 8:15 pm.
Vijay Nair
35
Posted 12/11/2021 at 11:11:11
Be interesting to see where young Gordon fits in once Calvert-Lewin is back on deck. I suspect he'll be back on the bench with Richarlison back on the left of our attack
Personally I'd like to see him get more game time in rotation with Richarlison and Gray. He certainly brings a different dimension to our play.
Brent Stephens
36
Posted 12/11/2021 at 11:13:48
Vijay, good point. And nice to have that sort of problem!
Dave Williams
37
Posted 12/11/2021 at 11:23:24
He stands a good chance of making it. The work he is doing to build himself up is indicative of someone who is determined to succeed and by the expression on his face on Sunday he really cares about the club and wants to win.
He will learn a lot from Rafa but needs the boo boys to stay off his back when he goes through a bad patch. They have all but ruined Tom and a weaker personality than Dom has would have gone the same way.
Let's get behind Anthony and enjoy his progress.
Jay Wood
[BRZ]
38
Posted 12/11/2021 at 12:24:52
I like Anthony. I like what I've seen from him in every appearance this season.
He is a little bit more robust, but can still be too easily nudged off the ball at times. To counter that, what we are seeing more effectively from him this season is him doing the dirty work of helping to defend and getting back and winning the ball.
As for his pace, in cricketing terms he is what can be classified as fast-medium. He doesn't have 'Whoosh!' pace, but he does have that quick short burst of pace that can – and does – carry him beyond his defender which opens up opportunities for both himself and his colleagues.
What he also has as a very useful asset is good control at pace. He can also pick out a pass into and around a crowded penalty area. Increasingly we are seeing him play some smart 1-2s on the edge of the opposition's penalty area which pulls players out of position, unable to pick up runners. He has also played in some lovely deliveries from the flanks that have resulted in goals and near goals.
With a smidgen of luck, he could have scored one or two goals by now. On some chances he has snatched at shots rather than compose himself to ensure it hits the target.
Developing nicely, is Anthony.
Tom Bowers
39
Posted 12/11/2021 at 12:26:49
The lad has talent but how many have emerged through Everton's recent history and fallen by the wayside mainly because of foreign managers who when appointed prefer to bring in players from there own neck of the woods.
The likes of Foden are few and far between and, yes, it would be nice to see Gordon hit the top, Everton's failing as a team just now doesn't help his progress.
Everything is a mess at the moment and, until Rafa sorts it out (if he ever does), I cannot see young hopefuls like Gordon getting a proper run out.
Tony Everan
40
Posted 12/11/2021 at 12:28:42
Early days to make any grand assumptions but the trajectory is a good one. It is clear he has natural ability and has a footballing brain. You can't coach some things into a player, some have it some don't.
This season Gordon has matured physically through hard graft in the gym and in training, to me looks mentally stronger and more determined. It's all coming together.
I'll echo what Dave says above, get behind him support him through thick and thin and above all enjoy his progress.
Danny O'Neill
41
Posted 12/11/2021 at 12:32:42
Vijay, Brent, Anyone really,
Given he's not fully developed yet, thoughts on him also being used in the number 10 role? In the middle of the 3 with Richarlison and Gray / Townsend either side?
I'm not making direct comparisons, but it's just that a former player of ours, who didn't necessarily have blistering pace done this. As well as holding legendary status (in my head!) as a wide left midfielder, he also done a very good job in what we would now call the number 10 role for a period and on occasions.
Don't worry, I'm not getting carried away and about to proclaim the next coming of Kevin Sheedy!!!! I wish. Then again, I might resent them for not being Kevin Sheedy!!!
Just a thought.
Dave Abrahams, I like that (the ear thing). In a similar way, when I brief on management and leadership, I like the analogy that we were born with 2 ears and 1 mouth. So theoretically, we should listen twice as much as we speak.
Peter Warren
42
Posted 12/11/2021 at 12:39:06
Andy #22,
I've got to agree. Whilst the game is different, it's the only chance we have of getting to the top. I can't believe Kenny, Davies, Branthwaite are worse than we have and surely only potential to get better. Calvert-Lewin confounded most his critics – but they have to play.
The knock-on effect is that young players of potential will be desperate to join Everton as you get a chance.
This should be the model and clear direction – but this must come from the top. Maybe needs must will dictate this given the dire straits financially we are in – seriously we must be the most mis-managed club in the Premier League.
Brent Stephens
43
Posted 12/11/2021 at 12:43:25
Danny,
I honestly don't know about the possibility of Gordon playing in a Number 10 role. For the moment, he's learning about playing wide at Premier League level so maybe best for now to give him time at that.
Brian Harrison
44
Posted 12/11/2021 at 12:53:33
Brent #43,
I have to agree, it's a bit premature to be thinking about playing Gordon in the Number 10 role, when he has yet to establish himself in the side. That's not a criticism of what Danny was suggesting – just a bit too early in his development at the moment.
Regarding the Number 10 role, I think Demarai Gray is tailor-made for that role-playing just behind Richarlison and Calvert-Lewin.
But I think it looks like Benitez wants 2 midfield players supported by 2 wide players playing behind Calvert-Lewin and Richarlison. My dislike of that system is when the middle 2 are Allan and Doucouré and 1 of them go and join the attack, it leaves a massive hole in midfield.
Now that Delph is back fit I would like him to play Delph in between Doucouré and Allan, then when either go forward you still have cover, and I would play Gray just behind Calvert-Lewin and Richarlison.
Barry Hesketh
45
Posted 12/11/2021 at 13:02:17
The thing that impressed me last night, was his willingness to run off the ball, not aimless runs but runs which demanded the player in possession could find him if they so wished. He's far from the finished article but I think there are great days ahead for him, if he continues to do the donkey work and shows his ability with the ball as often as he did last night.
I think one of his weaknesses, is similar to Iwobi, he's not very good when facing his own goal and can sometimes hit a poor pass which puts his defence in trouble. Given his age and lack of experience, he had a good game last night, the trick for him is to find the consistency of performance, Carsley will be a good manager for him in that respect, and he's certainly worth a place in the Everton squad, if not quite ready to be an automatic choice in the starting line-up.

Danny O'Neill
46
Posted 12/11/2021 at 13:47:00
I'd agree with that, Brent and Brian, just something I see in his play that might be something to consider as he develops in the future.
Peter, I don't yet know enough about Branthwaite other than a lot of people are talking about him. I think Davies has developed into a very decent squad player over the past 2 seasons for where we are now, although I'm beginning to think Benitez doesn't rate him as much as the previous managers. Many (myself included) still drool at Rodriguez's pass to Richarlison in last season's derby. But Tom's swivel on the edge of our box, carry forward, look up and early ball into the path of Richarlison that led to the penalty was one example of what he can do on his day.
As for Kenny, I'll have to disagree with you having watched him quite closely and really wanting him to succeed. But for me, he's not better than a stand-in Holgate or an out-of-position Ben Godfrey or a twilight Seamus Coleman. Unfortunately, as much as we want these kids to succeed, and to do so at Everton, it's not the case in most cases.
This all goes back to what standard the academy is producing. There's a circular debate. If we don't play them, we don't know if they're good enough versus if they're not good enough, managers won't risk them.
So far, and to me, it looks as though Gordon has been managed well. And to be fair, it looks as though Benitez has seen something he likes, because he just seems to have stepped up this season. Although I imagine a lot of what we're seeing now was happening last season to develop his all-round game, mentality and physicality. These things never happen over night. Ready-made players like 16-year-old Rooney are a serious rarity. Alex Ferguson's "Class of 92" are freaks of nature.
But I agree with the sentiment of improving the standard of output from the academy. It's just not the sole answer in my view.
Fran Mitchell
47
Posted 12/11/2021 at 13:48:19
Look at Smith-Rowe at Arsenal. He's a year older than Gordon and, after breaking through last season, while being a bit inconsistent, now he is really stepping up.
Gordon could be similar. He won't set the world alight every match, but that's part of his development. But if we're patient and supportive, while giving the correct training and discipline, he could really step up and be a top top player.
When Calvert-Lewin was 20, he was written off as Championship fodder. But hard work and persistence has made him an indispensable player and England international. So things look good for young Anthony.
Hopefully he''ll serve as an example to Onyango, Dobbin, Simms, Cannon and Co. And also his performance can give confidence to management in giving young lads a chance.
Andrew Ellams
48
Posted 12/11/2021 at 13:52:42
I thought Gordon could make a Number 10 when I first saw him. He has very good ability with the ball at his feet and a good turn of pace. He looks more like somebody who will become more of a Barkley type player, running through the middle from deep.
Peter Mills
49
Posted 12/11/2021 at 14:08:43
Anthony is developing nicely. Perhaps the most impressive element of his performance against Spurs was his character, getting up on 4 or 5 occasions to get on with the game after receiving some rough treatment.
Francis van Lierop
50
Posted 12/11/2021 at 14:26:26
Well done, Anthony.
Minik Hansen
51
Posted 12/11/2021 at 14:52:23
He will only build muscles up, that lad. Good progression, lucky to have him here at Everton, saves a lot of time and money. If he gets better and better and can get a better team around him, it'd be superb.
Jay Harris
52
Posted 12/11/2021 at 15:35:38
Two things I have always felt and liked about Anthony are his work rate and his willingness to go for goal.
In a squad that is desperately short of goalscorers, he will be an asset in the near future.
Mark Taylor
53
Posted 12/11/2021 at 16:20:28
Mike @19,
Of course I hope you're right that Gordon makes it. There is probably not a lot between our judgements. I think he has a real chance but, on the balance of probability, won't... but it's not that far to your position, just the other side of the centre line.
For sure he has a better chance than Dowell, who never struck me as likely to make it. My comment here is really a reflection of just how hard it is to crack the Premier League, bearing in mind that even Dowell is ultra-talented in absolute terms.
The important thing for me is that he's given a chance. He's plenty good enough to deserve that right now and it is pretty clear he has much more possible upside than an Iwobi or even a Townsend.
It's perhaps true he tended to be a bit peripheral in his early days but he does seem to be getting more involved and paying more attention to defensive duties.
Dale Rose
54
Posted 12/11/2021 at 16:33:07
Always liked him, delighted for him.
Darren Hind
55
Posted 12/11/2021 at 17:28:26
I was mystified when the boy was invited to sign a 5-year contract then promptly sent out to Preston North End.
We all know that Carlo made more kids disappear than the Pied Piper, but I was at a total loss as to why he sent this boy out. Especially when we were nosediving down the table.
Anyway, seemingly no harm done. He has made 5 appearances under Rafa and worra ya know. The potential we had all witnessed in the first place is once again on display in a blue (and white) shirt.
Joins Calvert-Lewin and Davies in the first-team squad and will oust an expensive signing from Arsenal in the not too distant... Dobbin and Simms surely to follow
Well in, Rhino lad. Keep 'em coming!
Jon Harding
56
Posted 12/11/2021 at 19:30:42
Well in Anthony lad!
Lee Carsley - future Everton manager?
Mike Gaynes
57
Posted 12/11/2021 at 19:32:53
Amen to that, Jon. Picture 11 starters with shaved heads.
Simon Dalzell
58
Posted 12/11/2021 at 22:47:08
Steve (20). He was on loan at Preston from 1 February until the season end this year.
Steve Brown
59
Posted 13/11/2021 at 04:43:08
You're right, Simon, I forgot about that.
On this segment from The Athletic, it talks about his pace. I would like to see more of that:
In the absence of Dominic Calvert-Lewin through injury, only Ben Godfrey is consistently quicker in training ground sprint drills.
"My playing style is really quick and explosive," Gordon said in a virtual media session on Monday. "The manager (Benitez) was completely right. I've been working on it for a while and working hard in training to keep on improving."
Phil Smith
60
Posted 13/11/2021 at 19:18:03
Steve (20), he was at Preston last year.
I see Antony Evans is back in the UK playing for Bristol Rovers. Surely he's too good for that league? Had some promising cameos in the Bundesliga. Shame it never worked out for him. Scored the winner again today. 3 goals and 5 assists already.
Michael Kenrick
61
Posted 15/11/2021 at 17:00:21
I see Paul Tait has been talking about Gordon:
"He always had potential, but he wasn't always a high-flyer.

"He went through what a lot of the young boys do, when they have growth spurts and start growing into their body.

"That can affect you and sometimes you can lose a little bit of confidence. That's something Anthony never lost.

"He always had belief in his own ability. We always felt, once he matured physically, we would have a player on our hands. He's done that now.

"I believe he is one of the quickest at the club over 10 and 30 metres, so physically he's got all the attributes.

"And I always felt he had that Premier League quality in terms of his in-possession work – he can go past players and he can finish. He always stood out in that regard."
Gordon had a difficult loan spell at Preston North end last season but look at the spin Tait puts on it:
"Sometimes you need to go through those things to build that resilience as a young player.

"Every loan is a good loan. Even if you don't play a lot for whatever reason, that's where you build that resilience.

"I think that's given him that extra bit of fight and hunger to maybe prove a few people wrong and say, 'Look, I am a good player and I deserve to play in the Premier League'."
I don't buy that, 'Every loan is a good loan.' Very self-serving that these guys can do no wrong in their decisions for the young players when it's obvious that some loans have not been at all successful.
Tony Abrahams
62
Posted 15/11/2021 at 18:08:13
I understand where you are coming from, Michael K, but Tait, would just spin it even more by saying that if they don't find that resilience, then they aren't going to push on, in the dog eat dog nature of professional football, which is what he would have probably said if Gordon had failed!
---
Add Your Comments
In order to post a comment, you need to be logged in as a registered user of the site.
Or Sign up as a ToffeeWeb Member — it's free, takes just a few minutes and will allow you to post your comments on articles and Talking Points submissions across the site.